The Early Days - Headed into the 20th Century
This section is dedicated to some of the influential books that released information on fishing and particularly fishing with lures or early advertising. It will also feature many of the iconic fishing writers and journalists that at one time released a book with some content on fishing but with an emphasis on lure fishing and spinning.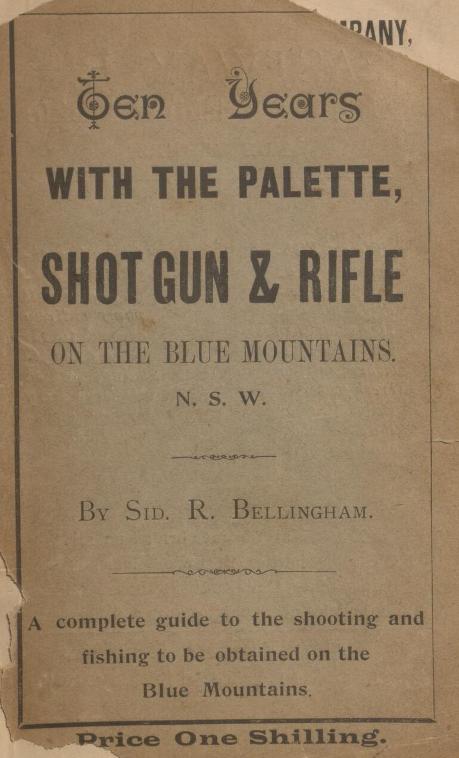 The book 'Ten Years with the Palette, Shotgun and Rifle on the Blue Mountains' by Sid Bellingham contains an early Eastways Brothers advertisement and interesting commentary on early hunting and scenery in the mountains of NSW. A very rare publication.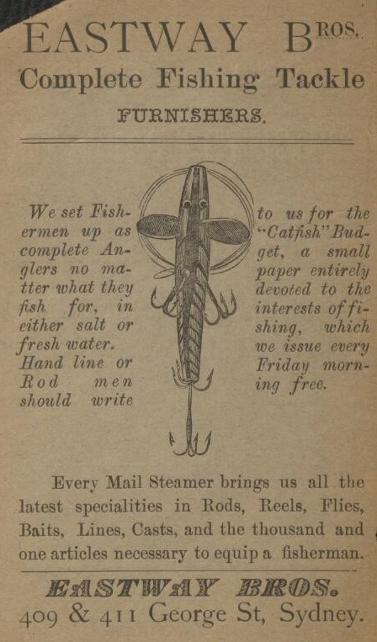 http://gutenberg.net.au/ebooks06/0608241h.html - Project Gutenberg Zane Grey travels and writings in Australia.
The Modern Era - The 1950's and beyond:
After World War II and with the return of the ex servicemen and women from military service, Australia began the Cold War age and it is really when lure fishing became popularized. The majority of lure fishing at this time included spinning with metal or lead slugs, wobblers or bladed lures. There was still a remnant population of fisherman using devons for trout through into the 1960's and 70's as they were still being made but in smaller numbers due to an influx of imported and local products. It was during this time that the boom in imported products really took off which in turn spawned the local manufacturing industries in Sydney and Melbourne.
H.O Hopkins:
H.O Hopkins is one of the pioneers of Australian lure angling and released a small book in 1951 called 'Salt-water Spinning'. This book outlines early techniques using metal and lead slugs to catch pelagic fish such as tailor and salmon. These high speed spinning techniques still work today although the lures used have evolved. Hopkins was a casting champion, avid angler and part time writer who was well respected in the angling world - maybe a bit before his time but he definitely spurned an Australian industry with companies such as Halco, W.R Hardy and Wonder starting around this time. Many early lures are mentioned in this book including the Catchmore Spinner, Keel Spinner, Graeme and Hardy spinners, the KU-T and Hardie Head. Most of these lures are rarely found today in good condition although occasionally they do show up. H.O 'Sailor' Hopkins (as he was known) also endorsed the 'Skipjack' which was released by Magnet products in the early 1950's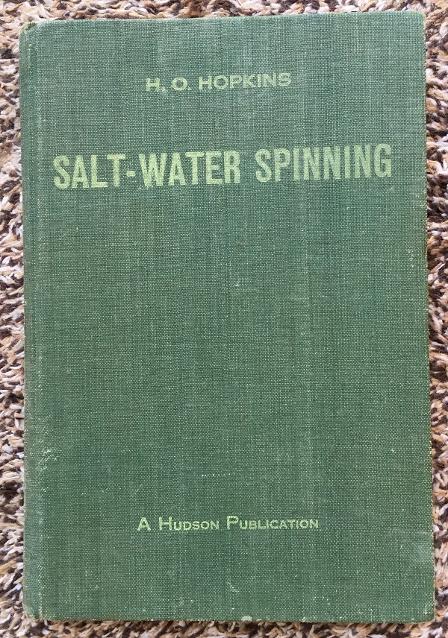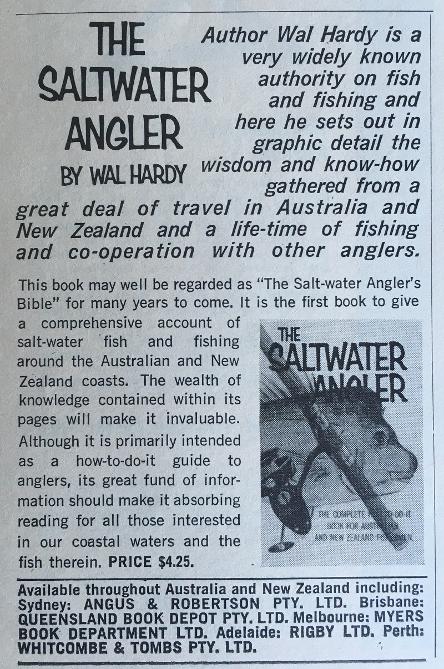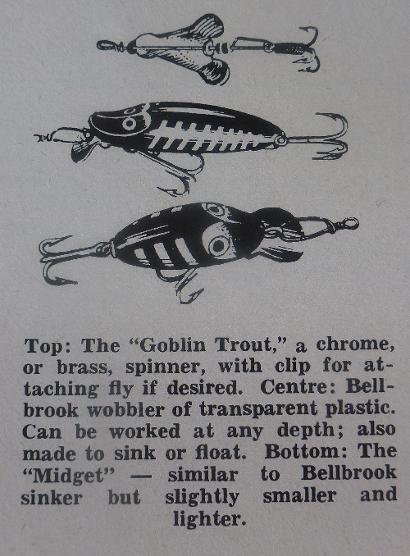 Wal Hardy:
Wal Hardy was an avid fisherman and prolific writer and contributor to journals and publications who was making metal plugs from the 1950's under the name of W.R
.

H

ardy

, Carlton, NSW. He wrote an extremely popular book 'The Saltwater Angler' which went into 6 editions between 1966 and 1977. The orginal advert for the book is from the Anglers Digest 1967
The extract below left shows Hardy's version of the 'Goblin' and the lures made by Bill Southam in Sydney with the Bellbrook range of lures mentioned.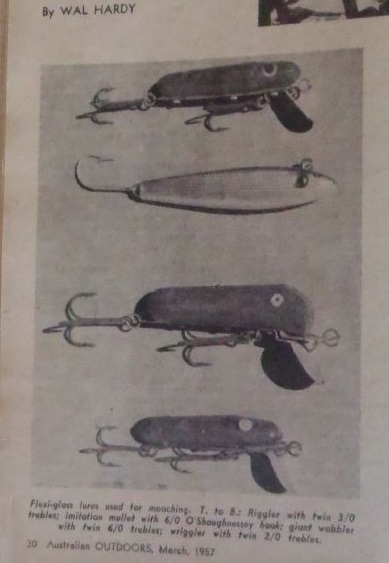 Manufactured by W.R.
Hardy

, Carlton, NSW, the range of metal

lures

(including the 'Tailor Ticer' and 'Rigglejig') were manufactured from 1950 through the 1960's. Wal also mentions the Graeme spinner which was available by at least 1949 and made by Bennett Engineering in the Manly area of Sydney. The 'Tailormatic' was an early Halco copy of Wal

Hardy

's 'Tailor Ticer'.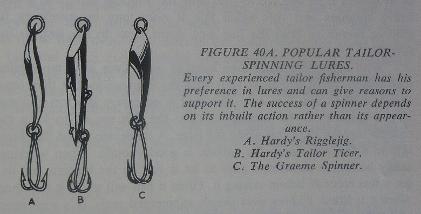 Vic Mc Cristal:
Vic Mc Cristal is defintely one of the pioneers of Australian lure fishing and one of the first people to embrace and support lure fishing as a viable option when angling. He published a book in 1970 entitled 'Great Fishing with Lures' and has been an active journalist and fishing contributor for decades. His 'River to Sea' column in Modern Fishing magazine ran for many years which often had a focus on lures and lure fishing. An article named 'Hand and Eye' in Lure Fisherman c.1990 recalls the influence of the Heddon Tiger on Eric Moller's early designs.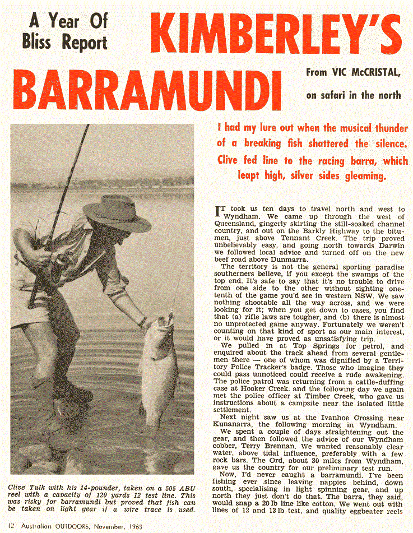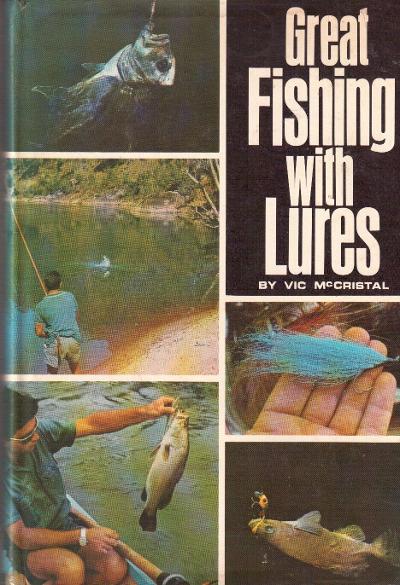 Left shows an early Vic Mc Cristal article from Australian Outdoors, 1963. Even from the earliest days of lure fishing Vic has always embraced everything about lure angling for a wide range of species. He was a prolific writer and contributor to many angling publications as well as the books he wrote.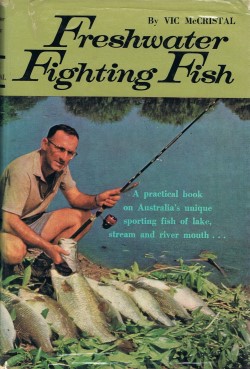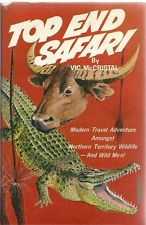 Below is the books released in chronological order;
1. Freshwater Fighting Fish 1964
2. Top End Safari 1967
3. The Family Fisherman 1969
4. Great Fishing with Lures 1970
5. The rivers & the sea 1974
6. Vic McCristal's Fishing Tackle 1974
7. The Fisherman's Boat 1976
8. Practical Fishing with Lures 1979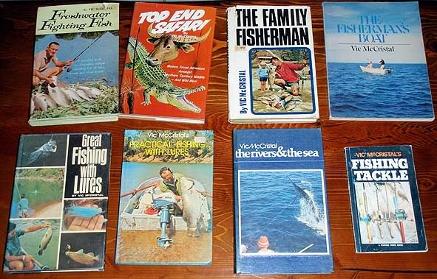 Vic Mc Cristal's book that especially looked at fishing with lures was an earlier release in 1970.
Lance Wedlick:
A prolific writer who contributed to many publications and magazines but also released many small booklets and instructional guides. Titles include 'Trout Fishing' and 'Spinning for Trout, Murray Cod, Redfin & Bass' which both have useful information on lure fishing as well as other angling techniques.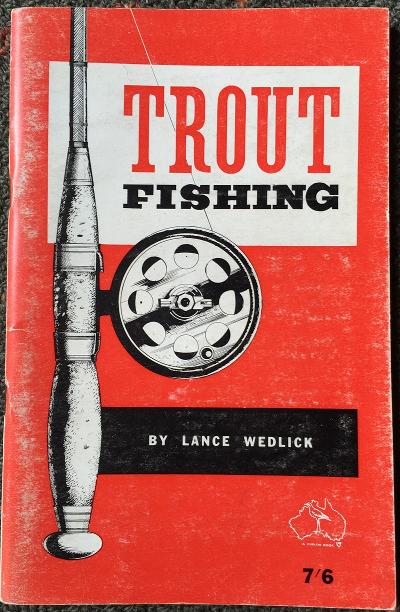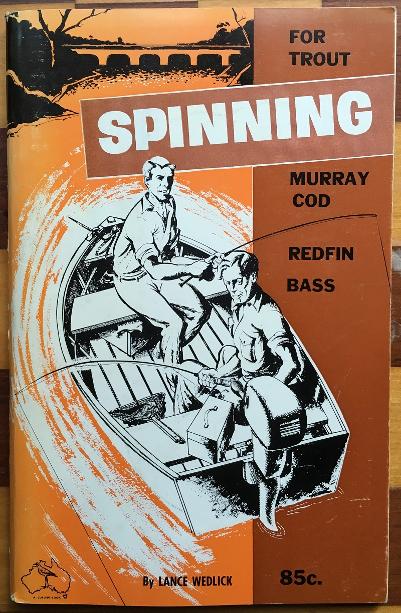 Gordon Hume - 'All about Spinners':
This is a cracker of a small booklet that was released in 1965 and contains advertisements and small articles about fishing with lures and the art of 'spinning'. The booklet was published in Adelaide so gives a great snapshot of what was available and being advertised in 1965. Unsure on the history of Gordon Hume however he did release a number of other small books and publications.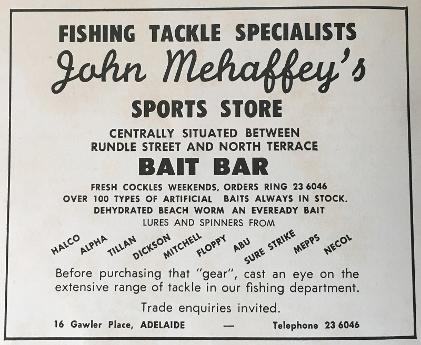 The advertisement above for a local specialist fishing store John Mahaffeys mentions Halco, Alpha, Tillins and the obscure Necol spinners along with the European imports. 'All about Spinners' contains lots of great information is relatively easy and cheap to source as there are still a few copies lying around to be found.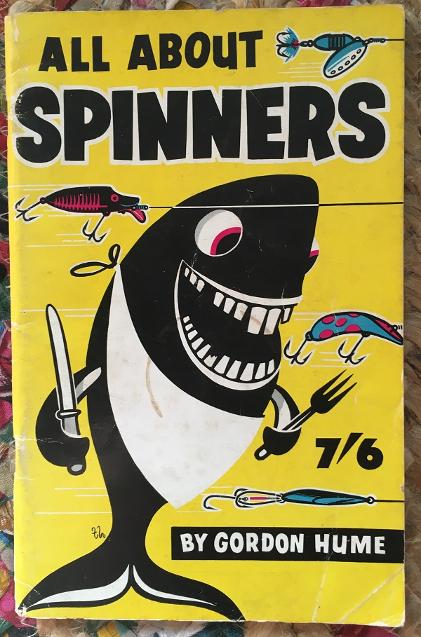 Dick Lewers:
Dick Lewers was one of the original fishing writers and he was prolific with his own column for many years called 'Ask Dick Lewers' where magazine readers would write in with angling related questions in Fishing World magazine. This is one of the longest fishing columns to survive through the 1950's and into the 1980's. Dick was an active contributor to all things angling and was a passionate man and extremely keen angler. More to come . . .
'Whilst all good things must come to an end, I was saddened to read that Dick was saying goodbye to his readers and finally retiring his column – a column spanning an incredible 47 years which has no doubt enriched the knowledge of those seeking advice and engaged multiple generations of fisher folk with critical thought and direction. Dedication and loyalty to that degree is rare in our current age and I doubt there will be another magazine column with such longevity.'
http://www.fishingworld.com.au/news/blog-thankyou-dick-lewers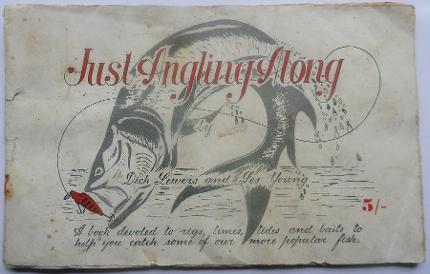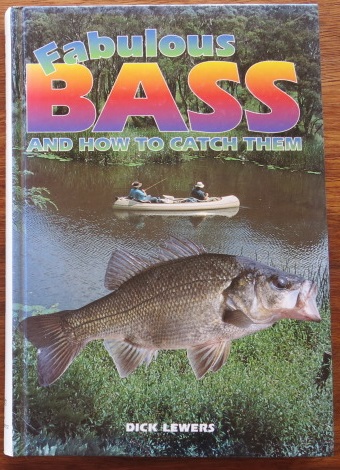 Dick Lewers publications have become more collectable. These two are the hardest to come by; 'Just Angling Along' was co-authored with Les Young around 1957 and 'Fabulous Bass - How to Catch Them' was released in the 1990's.
Rod Harrison:
Rod Harrison has been active in the fishing scene for many decades and is a legendary fisherman to boot. Rod has always been at the cutting edge of fishing with lure or fly and still is a major contributor to a number of fishing publications. Rod is another of Australia's fishing journalists that has supported and fished with lures since the 1970's.
'Harrison's Lure Lure' column started in the January 1989 of Fishing World and really illustrates how the use of lures had become popular enough to dedicate space every month. This first column talks of the history of Nilsmaster lures and how in 1972, Cliff Blake a tackle importer with Stewart and Allwood, Sydney started importing Nilsmaster lures from Finland as a better option than the Abu 'Hi-Lo' which performed poorly on Australian native fish. By late 1972, the Nilsmaster 'Invincible' caught its first barramundi. He also contributed to 'Lure Logic' in Freshwater Fishing (Issue 27) with an article called 'Mixing it with the Makers' on Rob Gaden (RMG Lures) and Bill Clarke (Bills Bugs).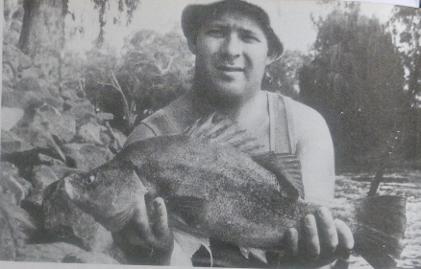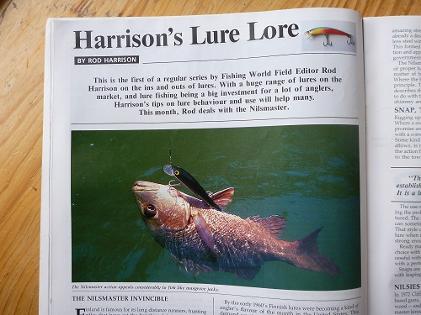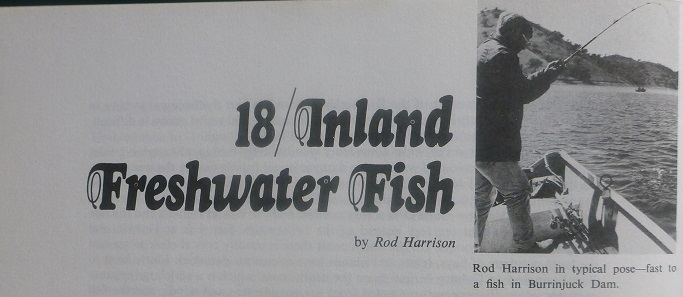 The photo left was in Turnbull's 'The Sportsfismermans Bible' with a young Rod Harrison contributing Chapter 18 on inland freshwater fish.
Roger Hungerford:
Roger Hungerford has been involved in the Australian angling scene and has published a number of books including a small instructive book in 1975 called 'How to use Lures'. It covers basic lure types and applications but most importantly gives us a good idea of what was popular in Australia at the time.
In the book he shows some of the classic old lures that were popular in the mid 1970's including the range of imported Dickson and Sportsmaster lures plus some interesting Teal lures amongst many others. An easy book to pick up cheap.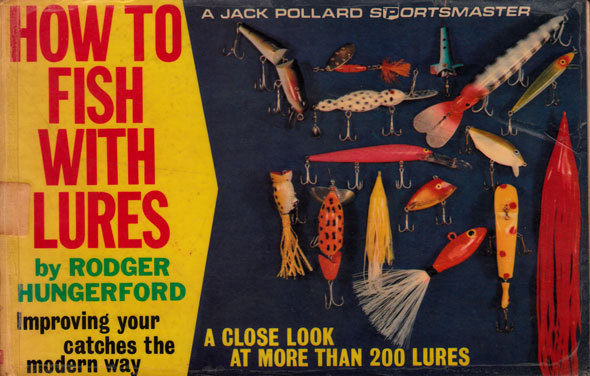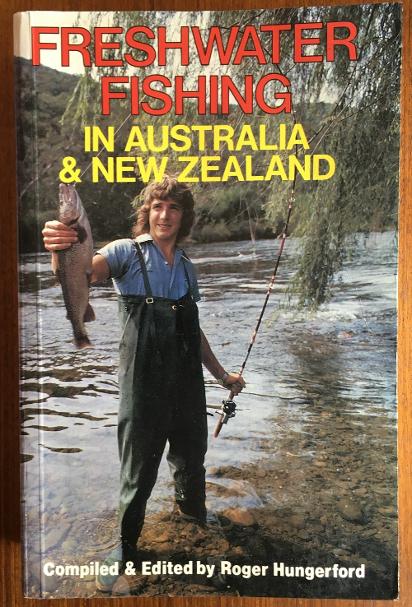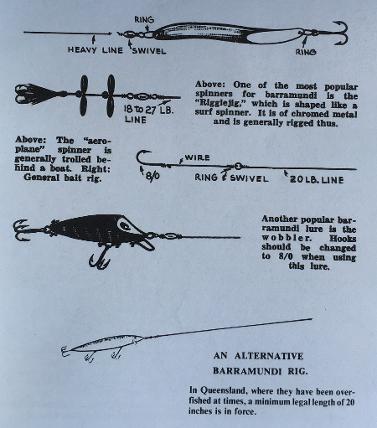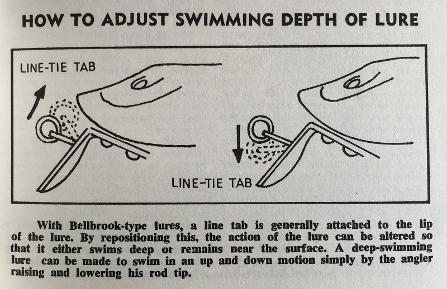 Roger Hungerford was a prolific author of fishing material and the book 'Freshwater Fishing in Australia and New Zealand' features some useful information on lure fishing although half the book is dedicated to fly fishing. In the book he shows some of the classic old lure shapes that have impacted on the Australian angling scene and includes the early Thistle Brand Doodle Bug.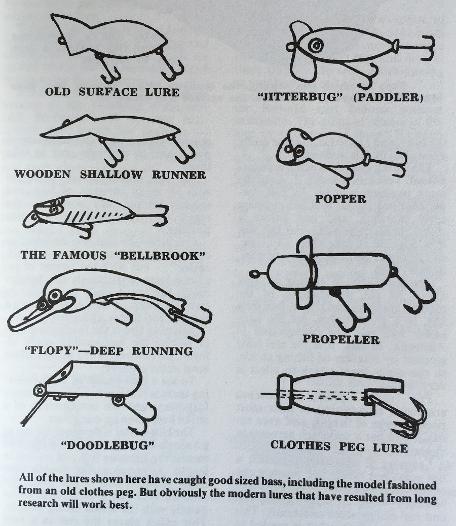 John Turnbull:
John Turnbull released the landmark book 'The Sportsfishermans Bible'.
It included a number of chapters that were written by the fishing legends of the time including Vic Mc Cristal (first chapter), John Bethune, Rod Harrison and John Mondora.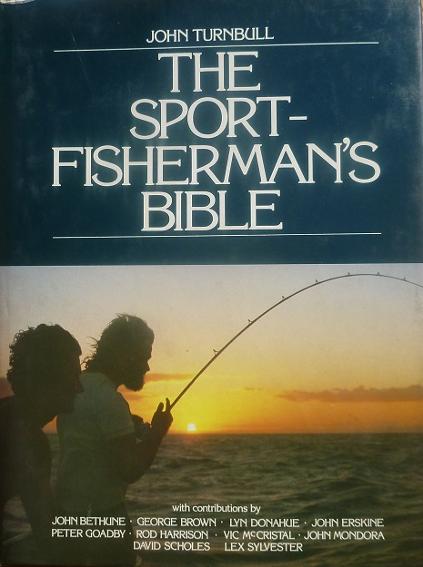 John Bethune:
John Bethune - 'Bethune on Bass' was released in 1993 and talked of the old days in Australia when bass fishing was in its heyday. The story of the introduction of the Flopy into Australia and some of the lures they were using in the 1960's and 70's gives a great insight into Australian lure history. This book is now collectable and commands high prices.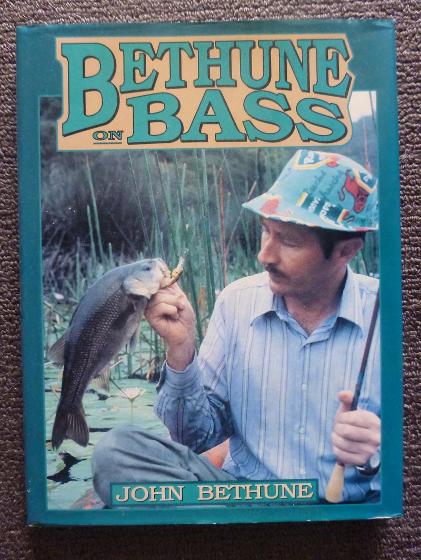 Frank Prokop:
As Frank Prokop noted in the in the 'Lure Encyclopedia' (2004), his first articles for Fishing World magazine were in 1985 where the depth of 38 freshwater lures were tested at Blowering Dam. Frank then collaborated with Rod Harrison for another test of 72 lures for publication in September 1988 Fishing World which was well received (lures were tested at Talbingo Dam this time). The article was entitled 'Lures in Depth - How deep do they dive' and Australian lures such as the Newell 'Kadaitcha' and Downunder 'Boomerang performed well nearing the 6m mark which compared with the deepest, imported Magnum Hellbender at 6.45m diving depth.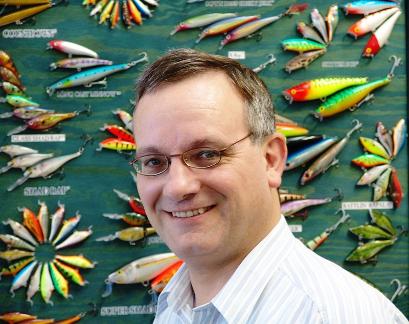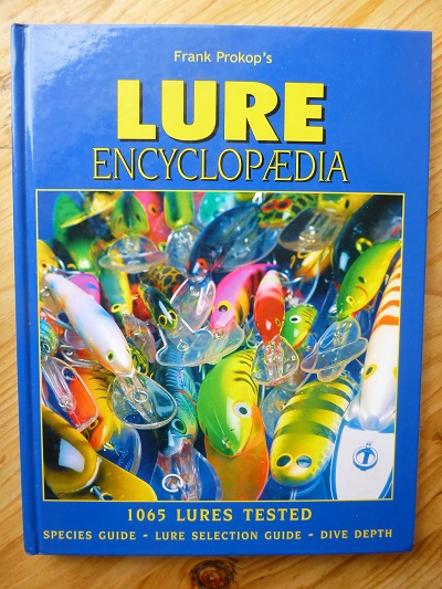 The Modern Era - Books from Other Countries:
There is a wealth of information out there for lure makers and collectors but there are still many useful books that were printed in the United Kingdom, United States and Europe. All the books showcased here were found in Australia