Useful Resources and Publications
The Australian fishing scene in the last decade has seen an emergence of magazines and publications that either focus on lure fishing directly or have articles specifically on lure fishing techniques. However for those who research thoroughly there are older publications that contain interesting material that focuses on lures and lure fishing also. With this comes all the advertising material that lure makers used as marketing tools. There are some definite pioneers in the fishing fraternity that have either published books or written articles for fishing magazines. Names include Vic McCristal who released 'Great Fishing with Lures' in 1979, Wal Hardy, Dick Lewers, Alex Julius, Rob Harrison, Peter Goadby, Rodger Hungerford, John Bethune - 'Bethune on Bass' in 1993 and of course Frank Prokop. As Frank Prokop noted in the 'Lure Encyclopedia' (2004), his first articles for Fishing World magazine was in 1985 where the depth of 38 freshwater lures were tested at Blowering Dam. Frank then collaborated with Rod Harison for another test of 72 lures for publication in September 1988 Fishing World which was well received (Lures were tested at Talbingo Dam this time). In 1991 'The Freshwater Fishing Encyclopedia - Lures and How to Use Them' (RRP $7.95) was released with contributions from Steve Starling, Fred Jobson, Bill Classon, Craig Northling as well as Frank and Rob. This publication has since become collectable in its own right. In 1995 the 'Lures In Depth' (RRP $14.95) book was released by Frank Prokop and Bill Classon looking at 650 lures with the aim of measuring which lures dived deepest. From the mid 1980's through to the late 1990's there was a definite increase in articles focusing on lure fishing methods or the background on lure makers. Advertisements started showing Aussie lure makers with imported makers in direct competition. The acceptance of the Australian lure makers had begun on a bigger scale than at any previous time in history and has continues to this day.
Early Australian Publications and Advertising Material

Many earlier publications are either difficult to source or contain little information on fishing lures focusing more on rods and reels and earlier tackle preferences. Remembering Australia was an isolated market before the Second World War so anything pre 1950's related to lures would be considered early in Australian terms. Much of the earliest advertising material when found will be from large wholesaling companies that carried specialist fishing tackle. These will be covered in Early Australian Companies. Few of these companies still exist today.
The big name of the early angling scene in Sydney was Mick Simmons which started in 1877. Very little information is available from the early days however there is a 1918 photograph of a Mick Simmons fishing competition at an unknown location shown right. Mick Simmons Sports Stores are still in operation and have adapted to modern markets to stay successful over all those years. The main shop was in George St, Sydney but they also had other branches throughout the Sydney metropolitan area as they expanded throughout the years. They released extensive catalogues that were available for mail order as early as 1919.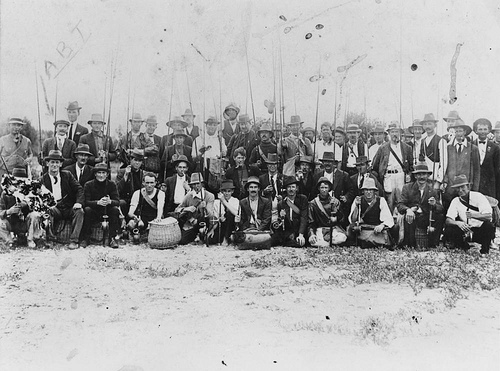 An extract from the D & W Chandler Ltd Catalogue from 1935. The company had two addresses working from Melbourne.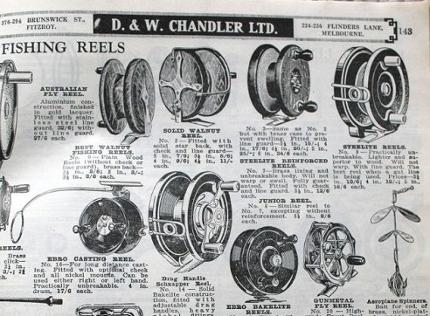 Keplars in Sydney ran a mail order house c.1950 and were selling Graeme spinners which were made in northern Sydney at the time.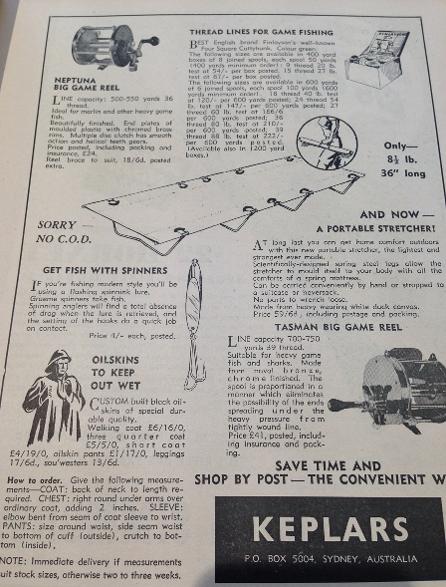 Manufacturers of the devon minnows were prolific and the Magnet Devons were originally made by H.F Fischer from at least 1949 in North Coburg, Victoria until the rights to make the Magnet went to R.W Stewart of Little Collins St, Melbourne. At this stage Basser Millyard was the agent in NSW, J.H Wilberforce for WA and Howard Micklem in South Australia. It was common in the early days for there to be multiple distributors depending on state or region of distribution from the wholesalers and agents.

The Wonder Fishing Tackle Company was another Victorian manufacturer of lures, making the Wonder Lure range in the 1950's and the following shows an early address c.1950;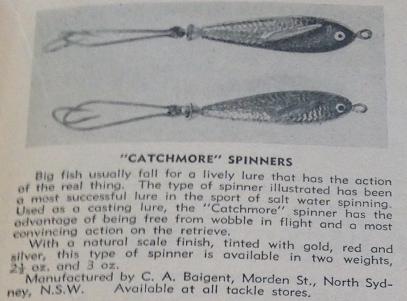 C. A Baigent manufacturer of the Catchmore Spinner. North Sydney, 1949.
Craig & Aitken below sold the 'Sure Strike' spinner in 3 sizes (1 1/4, 1 3/4, and 2 1/2 oz weights) c. 1950. They were made of solid copper and dull nickel plated.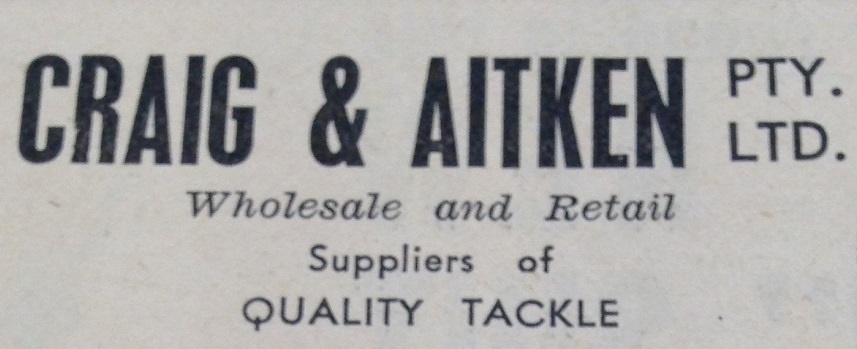 Manufacturers of the Crown Devons also had some changes in the early 1950's with V. R Lawler & Co. manufacturing these lures originally.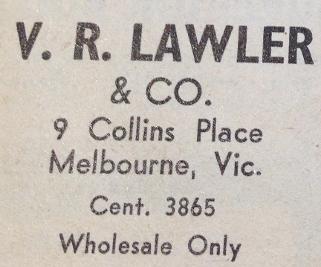 In 1949 the wholesale agent for Victoria and Tasmania was Hubert Johnson Pty Ltd of 324 Collins St, Melbourne. Agents for QLD were;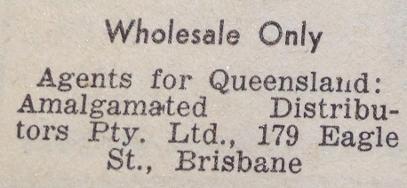 The Wonder Fishing Tackle Company and wonder range was wholly operated by J.M. Gillies by 1966


There was also a number of Sydney companies that were operating by the 1950's including the Sydney Fishing Tackle Supply who were advertising the 'Water King' range of lures.


Old Fishing Catalogues;

There are many early companies that released at least some content related to angling and fishing. This is looked at in Early Australian Companies and the history of lure fishing in Australia.
The photo right appeared in Ron Dunn's book on the History of Angling in Australia and shows early angling related and sports catalogues from Melbourne Sports Depot (M.S.D), Hartleys Sports Stores (Melbourne), Sydney Fishing Tackle Supply, Anthony Hordens and Sons (Sydney), J.M Gillies the distributors and wholesalers of fishing tackle dating back many years.
Other names to look for include Eastways Brothers, Mick Simmons, Cowles and Dunn all from Sydney and operating large sporting, hunting and fishing supply companies all the way back to 1900 or so. Charles Davis and the Bridges Brothers in Hobart, Tasmania released old catalogues that are rare and do sometimes appear. Sydney based businesses like Smiths Sports Stores run by Jim Smith who was a rifles expert and as well as gunsmithing he also targeting the fishing market releasing yearly 'hunting and fishing' catalogues featuring a range of angling products including lures.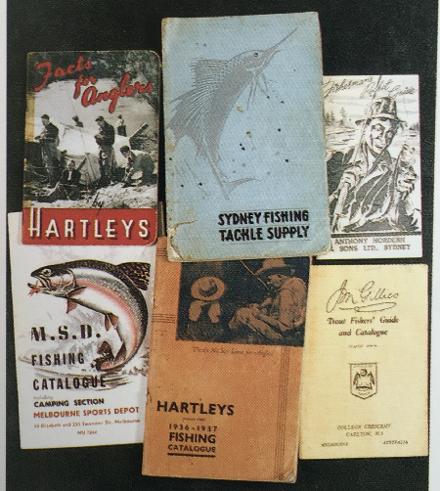 Outdoors and Fishing;

There are some earlier publications that need to be mentioned in the context of Australian lure fishing. The Outdoors and Fishing magazine is an early publication that contains lots of early information pertaining to lures. Publications like 'Outdoors and Fishing' and 'Anglers Digest' sometimes referred to fishing lures or contained advertisements for distributing companies or manufacturers that sold lures as part of their respective range of angling products. 'Australian Outdoors' started featuring the odd article in the early to mid 1960's and increasingly through the 1970's when the spinning revolution started the modern craze towards lure fishing. However it was
Outdoors and Fishing

magazine before 1950 that had at least some focus on angling remembering that half the publication was geared towards the shooting public.
The edition right is the inaugural first edition featuring a breaching marlin and the September 1949 issue had a focus on angling including a fishing competition advertised on the front cover. The May 1950 edition shown below has a 'Heddonesque' cover shot of a bass attached to runt style lure breaching the water with gum leaves as a border.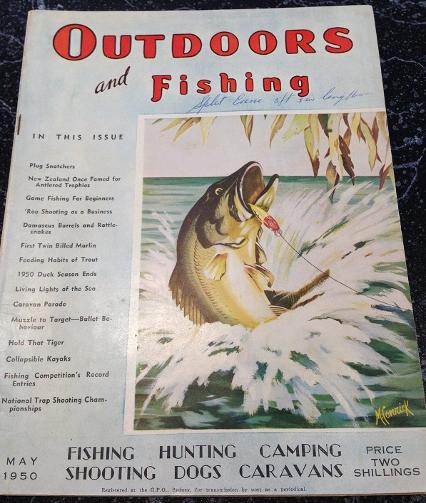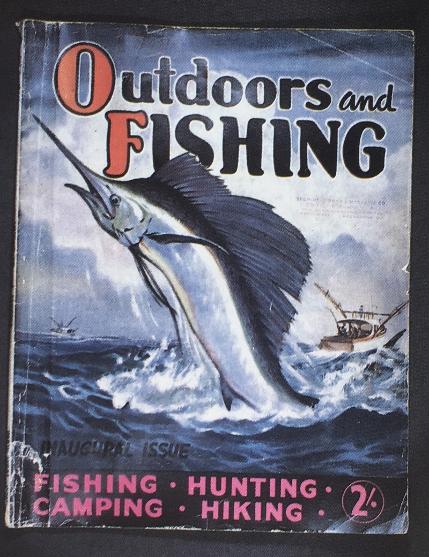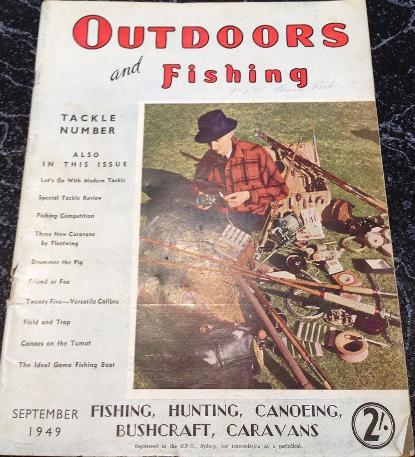 Below shows the range of W. R Hardy (Carlton, Sydney) and Graeme lures made by Bennett Engineering (Manly, Sydney) which were available in 1949. The Bennett factory was situated at Golf Parade, Manly at this stage. It does show how popular spinning with metal lures had become by 1950 with some epic captures recorded in the days before lures were truly accepted as the first choice for many anglers.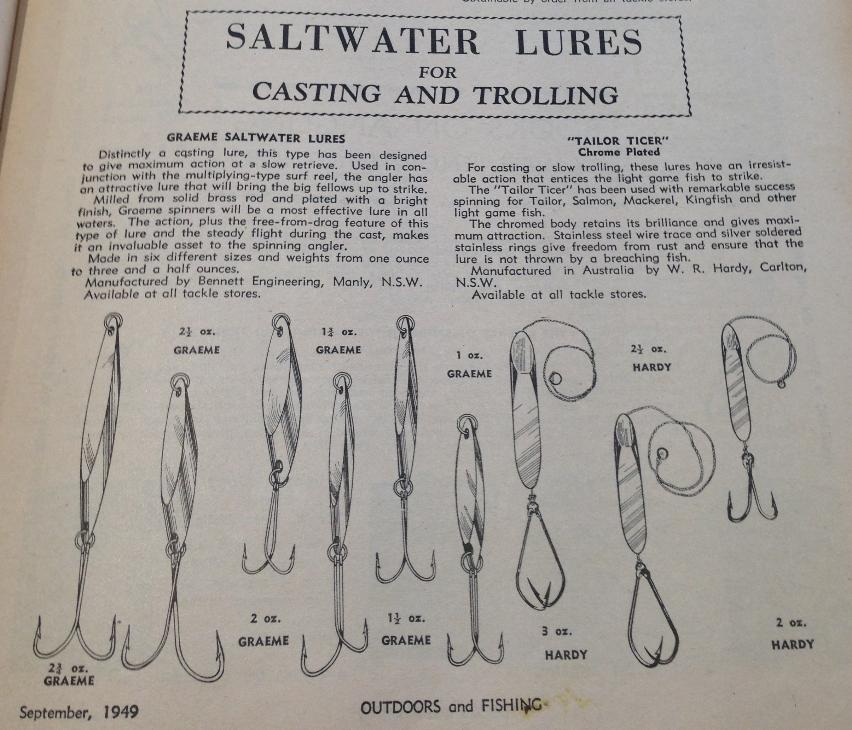 After the magazine became Australian Outdoors there was a fishing annual released each year which always contained great articles about fishing with lures during the early 1970's by some great fishing identities. . . more to come.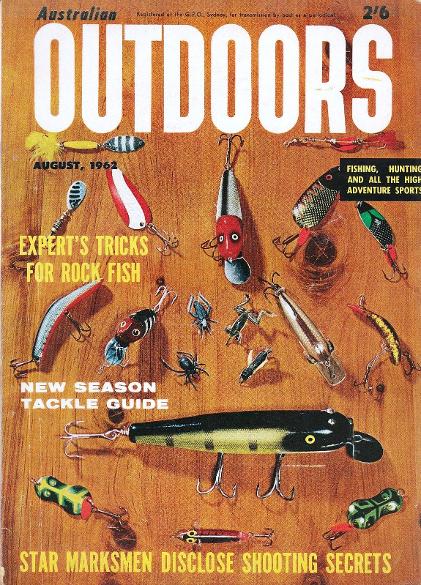 Australian Outdoors, August 1962 features Fresco lures including 'Tubby', Bellbrook wobbler in Black Albert colour and other imported lures such as the Rublex Flopy and Creek Chub.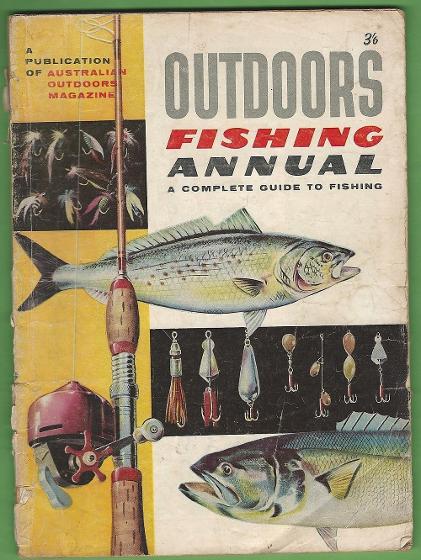 Australian Outdoors, Fishing Annual, undated but price indicates early 1960's. Cover features some of the early Wal Hardy lures such as the 'Mackeral Master' and the 'Twirler'.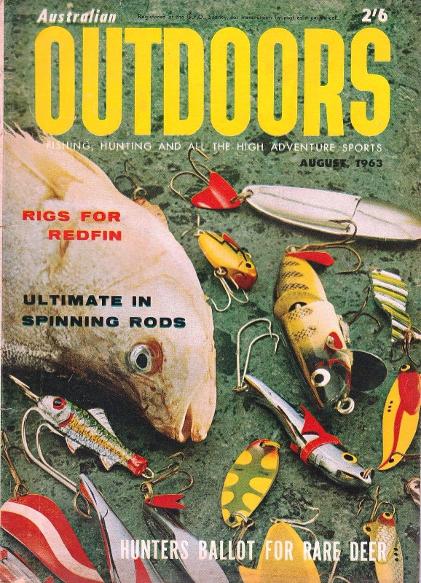 Australian Outdoors, August 1963 features D.K lures including the 'King Codder', 'Redfin Bobber' and a number of the D.K range that are hard to find today.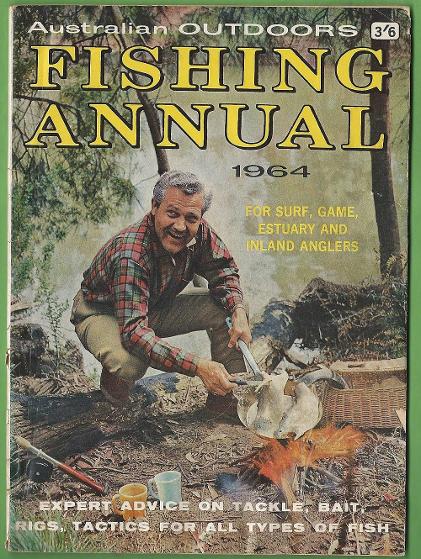 Australian Outdoors, Fishing Annual, 1964. Cover features more hunting than fishing in this edition.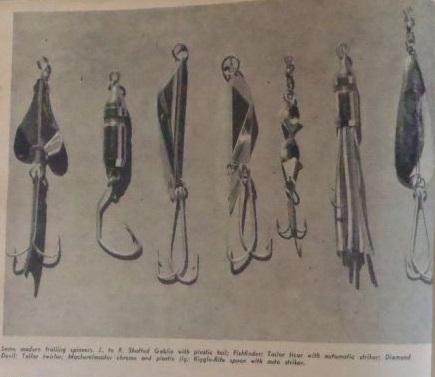 Left shows some of the Hardy range from a 1962 publication of
Australian Outdoors
magazine.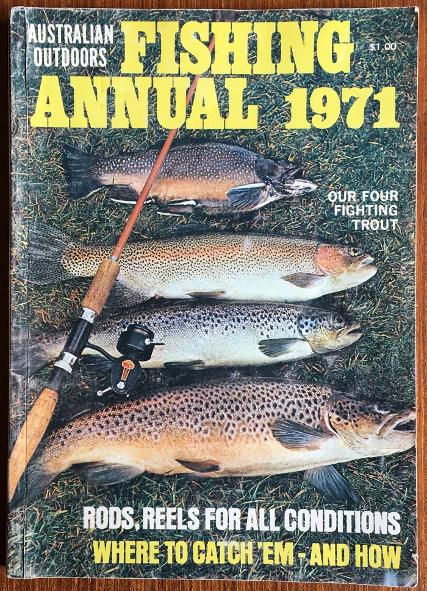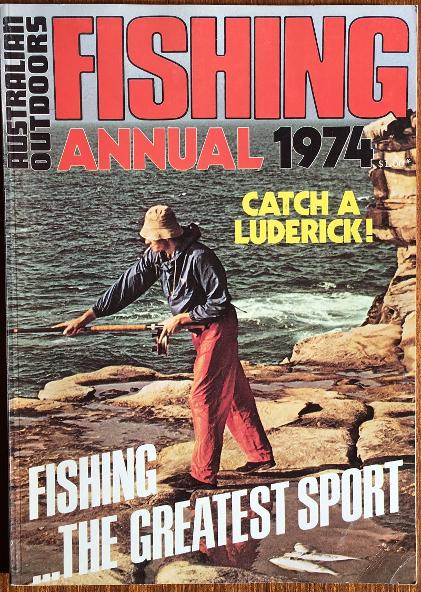 Anglers Omnibus;

Shown right is Editions 2, 3, & 4 of the Australian 'Anglers Omnibus'. These books pre-date the mid to late-sixties lure explosion in Australia when imports from the US and Europe really opened up the field of angling with lures. Only a couple of the 100-odd short 'chapters' actually deal with
lures

, specifically '

Lures

and Lines for Spinning' and 'Spin-Fish for Bigger Bags', very light-weight treatments of land-based rock spinning. Most of the

lures

pictured are lead-head feather jigs and

Hardy

rock & surf spinners, with a Bellbrook Swayback or two thrown in. There is a full-page advert for

Hardy

's

Lures

in the 2nd Edition featuring the Tailor-Ticer, Goblin, Riggle-Rite, Twirler, Mack-Master and Cunje-Dodger. See Hardy Lures, NSW.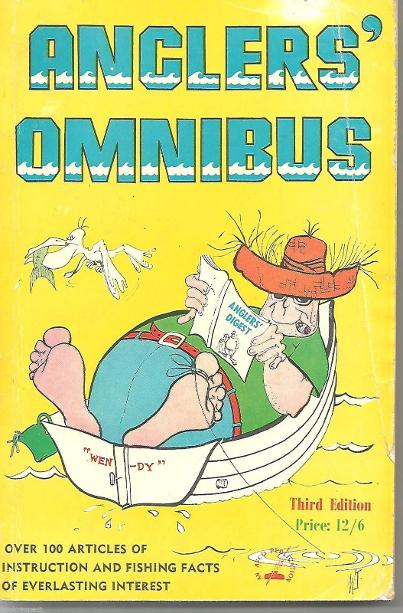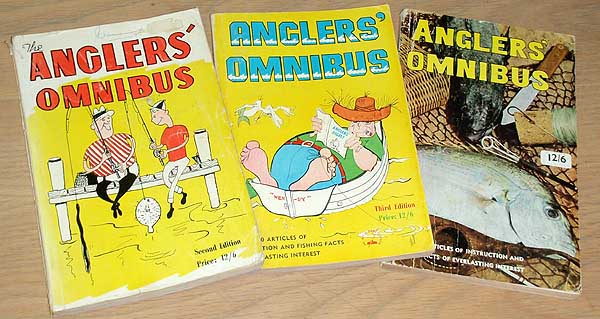 The first edition was released in 1956 up to 19th edition for 1987. The 'Omnibus' was compiled and edited by Rodger Hungerford who was also responsible for a number of other books between 1958 to 1988.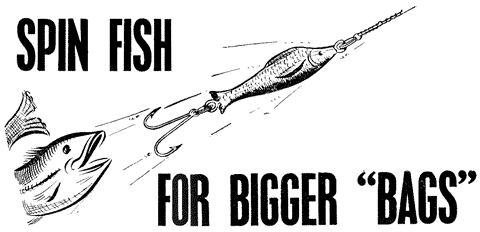 The promo above ran in the first few issues of Anglers Omnibus in 1956-58. The lure below is still not identified however shows a striking resemblance to the lure shown above down to two single swinging hooks on the rear that are offset from each other and slightly different sizes. The lure is very similar to the 'Catchmore Spinner' which was available from the late 1940's.

Anglers Digest:
The classic article shown right was printed in Anglers Digest 1966 at the height of Heddon 'Meadow Mouse' fever and written by Ern Melleuish in his 'Freshwater Fishing' column and describes shaping a balsa mouse imitation complete with flocked or fur body from a real mouse.
Below - Anglers Digest Xmas 1969 issue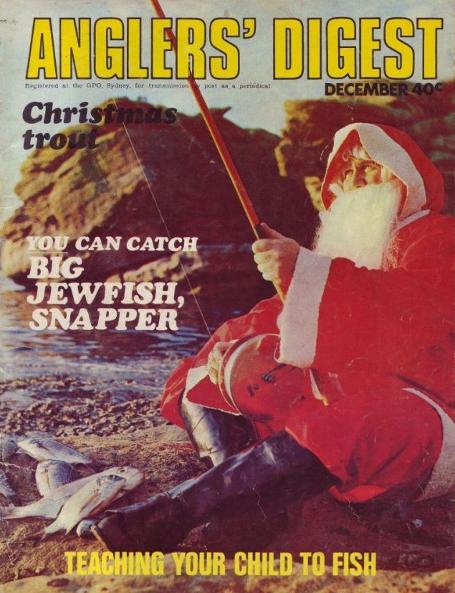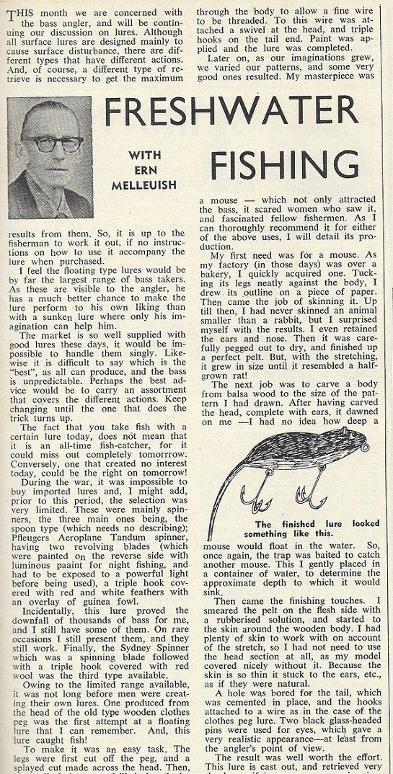 An advertisement from 1948
Anglers Digest
magazine is shown below. E
arly advertisements for 'Alpha' Tackle which was the name used to market products from the manufacturing giant M.B. Wragg and Company Pty Ltd in Melbourne.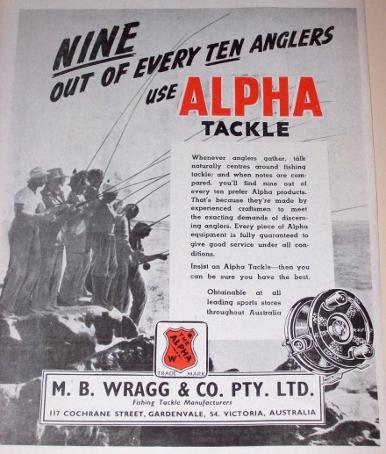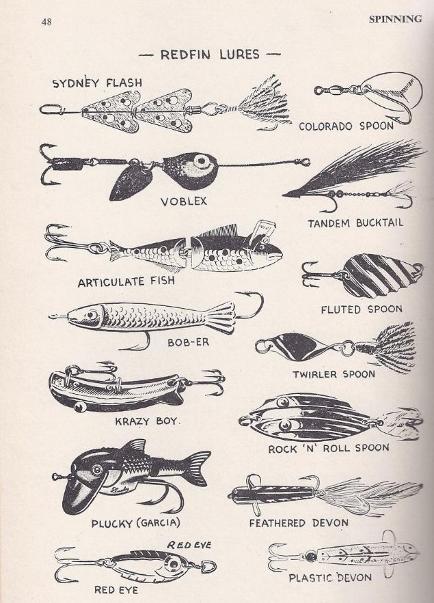 A classic 1971 publication, the Complete Book of Australian Fishing, featured a small chapter showing some of the lures that were becoming popular at the time. Below shows the metal lures recommended for the catching of redfin or English perch including standard wobbler patterns of the time and including a design referred to as 'Slim Jim'. These are actually the Alpha range of products at the time and includes the Alpha 'Wobbler', 'Copy Cat',' Billabong' and 'Slim Jim'.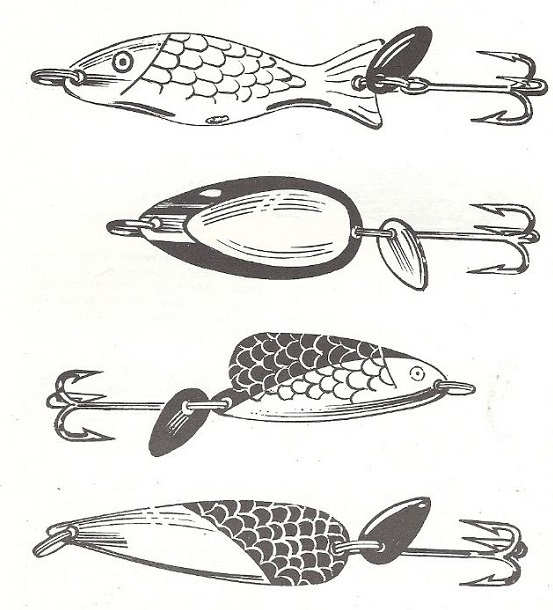 An earlier small publication called 'Catching Redfin' featured a page showing a number of the lures that were used for redfin (English Perch) during the late 1950's and into the 1960's. Redfin were another of the poor stocking decisions similar to the European Carp that are still in plaque populations throughout much of the southern east coast and inland rivers of NSW, Victoria and Tasmania. Apart from the French made Voblex and Plucky there are the fluted spoons, Red -Eye, Rock n Roll and Crazy Boy spoons released by Stewarts in Melbourne in the late 1950's through into the 60's and 70's. Also shown is the early Superflex articlated fish which was a copy of the French Depose lures. The Bob-er is a lure that is often heard about but rarely seen. There is also reference to the Sydney Spinner which was available as early as 1900 and is a copy of an older English spinner. There are single, double and triple bladed versions of the Sydney Spinner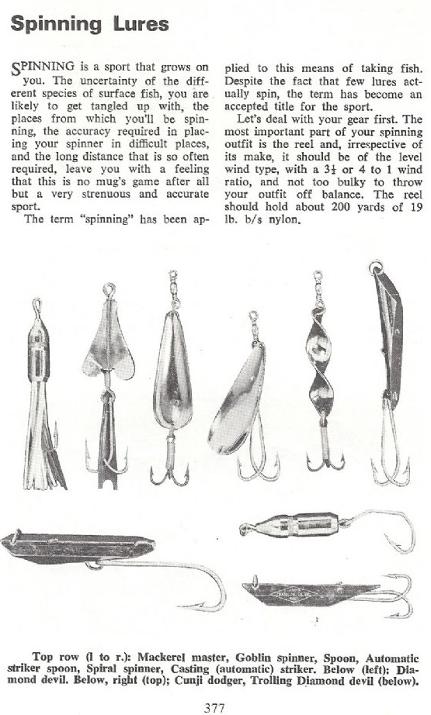 Page 377 talks about the spinning lures of the time many of which were in the Wal Hardy range of lures and are still quite old fashioned for the time considering the Flopy (France) and Abu lures (Sweden) were well established by this stage. M.B Wragg had the rights in 1968/9 it seems to market and distribute the Flopy and the Flatfish range and were also agents for Wonder Lures. See M.B Wragg and Company Pty Ltd
Australian Sportfishing Summer Edition 1968 shows some interesting older style lures including the 'Doodlebug' with and without propeller.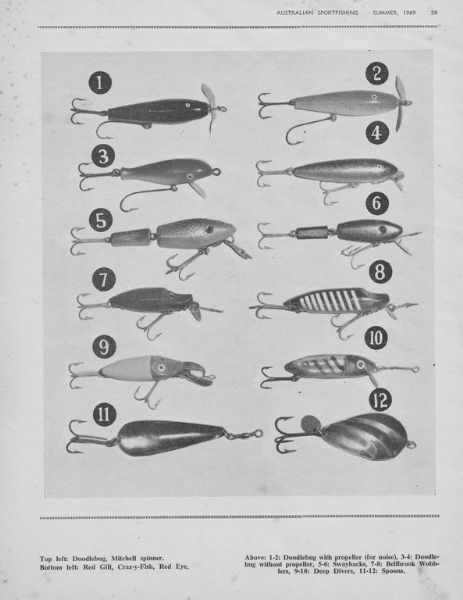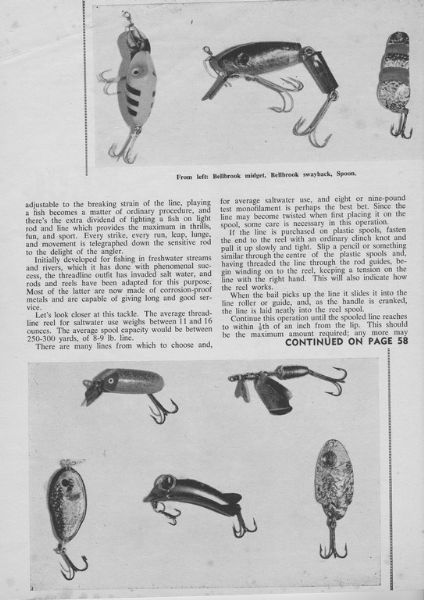 Angling Clubs and Angling Reports:

There is great information about yearly captures, records and club activities that can be found in publications such as the Northern Tasmanian Fisheries Association Angling Reports which were released each year and were a newsletter format where each region would report on the events or captures of the year. Many of these small publications contains informative localised advertising and small historical articles.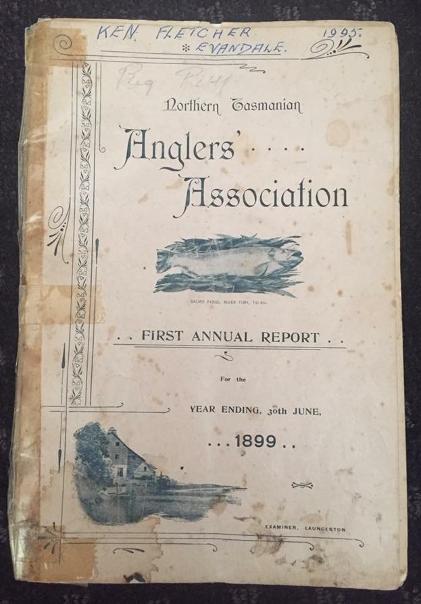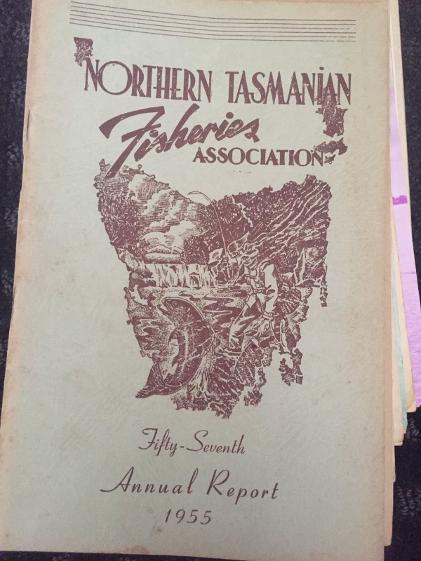 The first Northern Tasmanian Angler's Association report was first released in 1899. An extremely rare item and these publications are full of interesting reading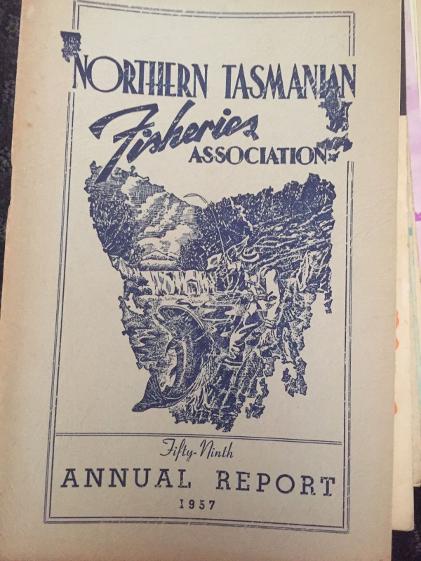 Tasmania had alot of promotional material published in an effort to attract anglers to the established trout fishery.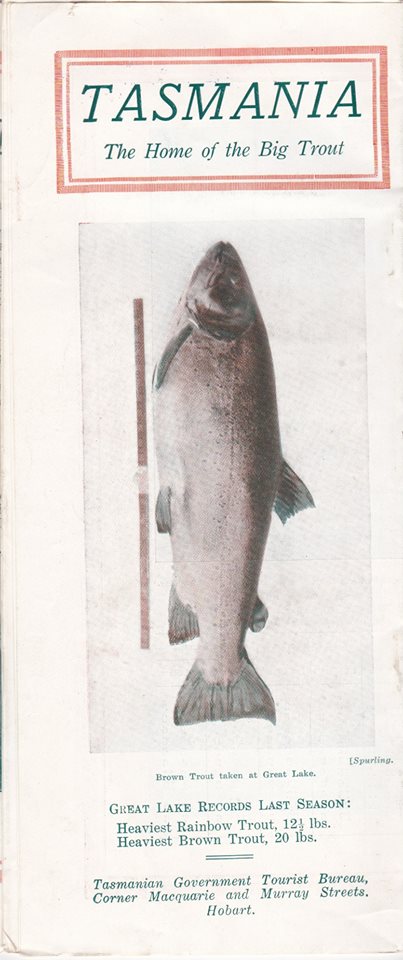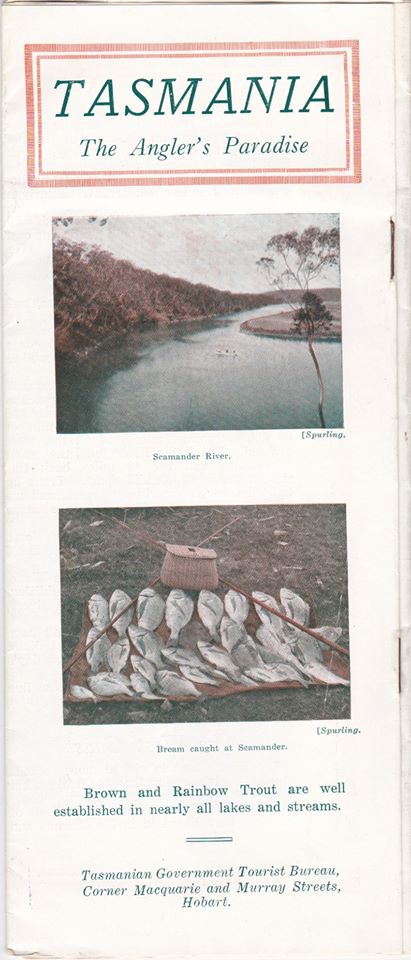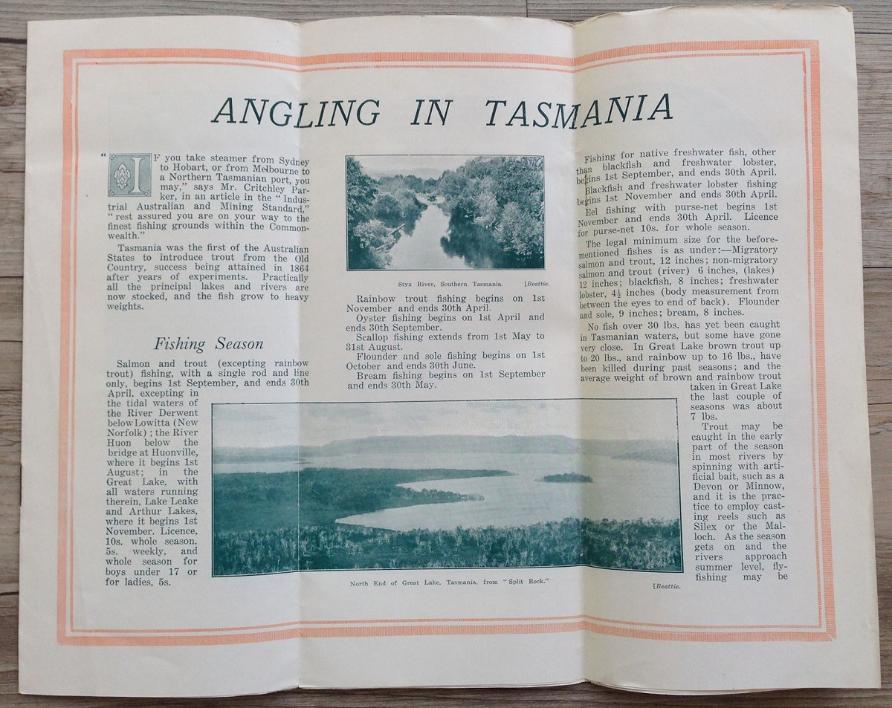 Tasmanian Angling Reports:

Shown are some examples of this publication dating from the first edition in 1981. The 1982/3 editions used the same cover with different colour schemes before cover changed in 1984-86 and then again in 1987-1990.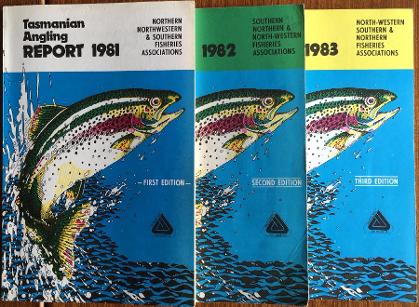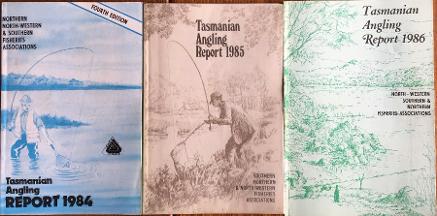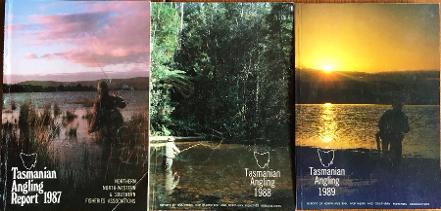 Earlier scientific papers/government periodicals:

There is some valuable information to found in old periodicals and publications form government agencies such as the Department of Primary Industries and Fisheries departments. Localised publications are also invaluable in dating events and getting insight into the angling scene in general.
'The Fisherman' is one such publication that was released in Sydney by in the late 1960's and early 1970's. It was a mail order subscription booklet and was the official journal of State Fisheries of NSW that was released to the public for the grand sum of 20c in 1968 and 50c by 1972.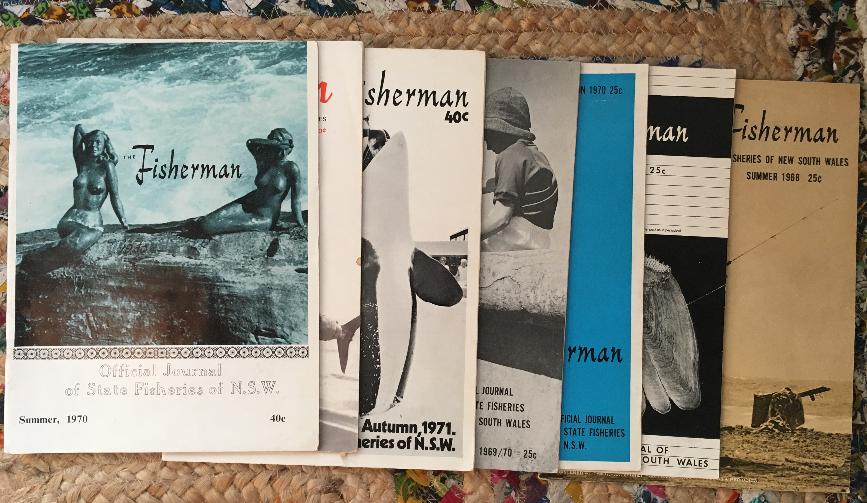 There are some incredible articles in these publications including these two as random examples.
One of the most informative articles that was released in 1968 and entitled 'Fishing the early years of Settlement' and outlines the documented history of angling in colonial Australia.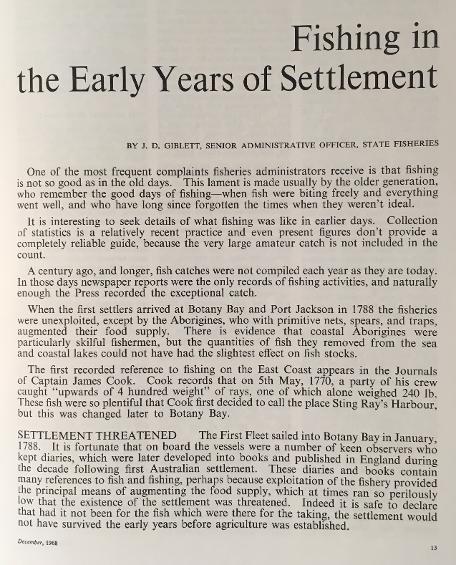 Another about about the stocking and followup of rainbow trout into Manly Dam an old Sydney reservoir in 1966. Article written and published in 1969. Came with detailed published data for this failed experiment before the standard stocking of native species as we know today.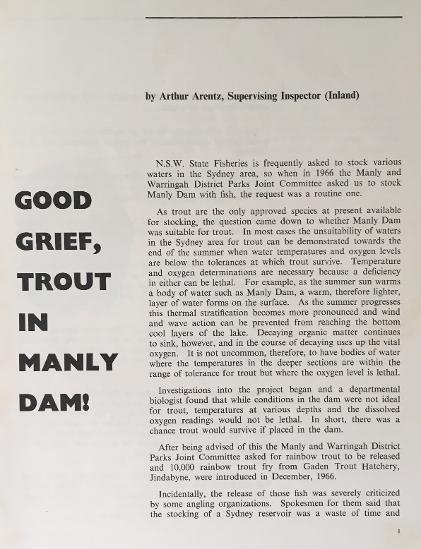 Early Mail order and Online lure sales:

Although there had been some historic fishing tackle retailers that had come and gone over the years - companies like Bransfords in Cairns, QLD had a whole range of lures that were marked especially for the shop.
Bransfords History: From http://www.bransfords.com.au/articles/bransfords_story.asp
Our store is dedicated to the memory of Australia's greatest game fishing pioneer, George Bransford. George first saw the waters out from cairns in 1943 whilst stationed here during the war. He spoke to the Local mackerel fishermen who told him of marlin over 14' in length, and even though he thought they were exaggerating at the time he never forgot and vowed to return one day to explore the waters of the outer Barrier reef in search of the big breeding female marlin over 1,000 lbs.

After working his game boat 'seven days' in Florida with a partner George's curiosity got the better of him and he made a quick trip to cairns again in the early 60's. After further questioning the local mackerel pro's they told him of many marlin being caught in the 30 to 35 lbs. Bracket and George's logic told him that wherever you find good numbers of juvenile marlin there had to be a breeding ground close by where the big fellas hung out. He then got hold of some long-line charts that showed the biggest concentration of black marlin in the eastern pacific was out from cairns. George reckons he was 98% sure he could find them, but, there was only one way to find out!

George convinced his wife Joyce to move to cairns so they sold their home in Florida, put all their belongings on a ship and flew out to Sydney. They then bought an old car and made their way to cairns. The Bransfords soon settled
The boat that started the rush to Cairns, the original Sea Baby
into our tropical lifestyle and it wasn't long before George met up with local boat builder Harold Collis and between them they designed and built the 'Sea Baby' which was launched in 1964. On her maiden trip around Fitzroy Island Alan Collis caught the first black marlin and Joyce caught a 120 lbs. Sailfish. Not a bad start but George knew he had to venture further out to find the big ones.
In September 1965
they caught two marlin over 200lbs. And George was seeing bigger fish. That same month, around 2p.m. they hooked a really big black...Harold Collis was the angler using an 80lbs. Outfit. He played it for almost seven hours and then handed it over to his son Alan, then half an hour later the line gave way. Trouble was it was 10p.m. And George didn't have a clue where they were. He estimated that fish had towed them 28 miles down and out from the shelf. George worked his way back to the Euston light and eventually found his way back home. To his dying day George reckoned that fish weighed 1500 lbs. Or more.
The story that made international headlines
was the capture of the first black marlin in the world over 1,000lbs. George and his Canadian deckie Richard Obach were out prospecting new waters in September 1966 when a big black latched on. Richard was the angler and he played this huge fish on old fashioned 80 lbs. Tackle for several hours before he and George managed to gaff it.

They took it back to cairns
where it was eventually weighed on a crane, as there were no facilities on hand to weigh fish of this size. A new world record on 80lbs. Tackle...and that was the start of cairns international reputation as the 'black marlin capital of the world'. Anglers came from far and wide to ply these pristine barrier reef waters the most famous of whom were Lee Marvin, Wilbur Smith, Jack Nicklaus, Ernest Borgnine, Jimmy Carter and the list goes on. The saddest thing in my book is that George Bransfords never received the recognition he truly deserved as The man who put cairns on the global map...perhaps one day?
George went on to build sea baby 2
, then opened a tackle shop called 'Bransfords'. His store was full of the rare and unusual, much as it is today. But he was restless and sold up then moved to Hawaii when he lived in Kona and built 'Sea Baby 3'. After ten years or so he and his wife Joyce missed Australia and again packed up their bags and returned to live on the gold coast where George took up hang gliding and went on to become the oldest hang glider in Australia. Sadly Joyce passed away and George decided to move back to cairns which he used as abase to explore new fishing grounds in PNG and Micronesia.
It was 1994
when George died and I will long remember a conversation we had only a few months before his passing. I asked if I could use the name 'Bransfords' for our tackle store. His reply was short and sweet...'Why not...sure as hell nobody else is using it!'. He asked if we were going to give good advice, friendly service and sell at competitive prices, to which I replied that we would, so George gave his blessing and even visited our store to give us a few tips on merchandising and display.
We are proud to be associated with the name 'Bransfords'
and only hope we can maintain the standards that George asked of us.
Bransfords is now one of the top five tackle shops,
(on turnover), in Australia and we boast the biggest range of tackle in Queensland. If you decide to give us a try I know you won't be disappointed. Our motto is "Recommendation by a satisfied customer is our greatest complement"
The Modern Age: The 1980's and beyond
Harbord Tackle Supply:
Harbord released yearly mail order catalogues from the late 1980's through to about 1995 when they ceased trading. They grew from humble beginnings with the owner Chris Zacos promoting the business with vigorous advertising campaigns and soon established an Australia wide mail order focus.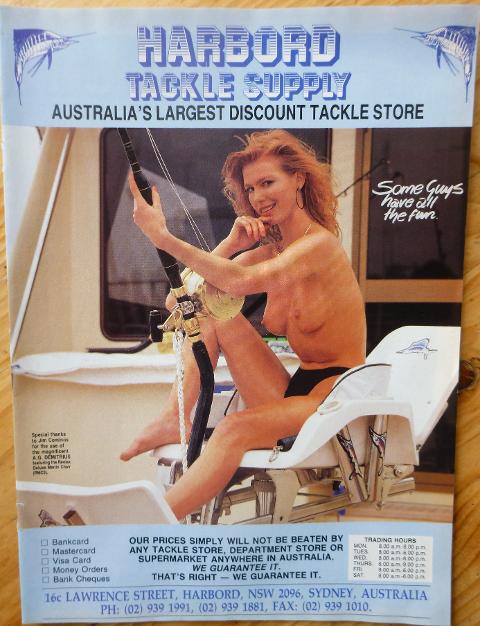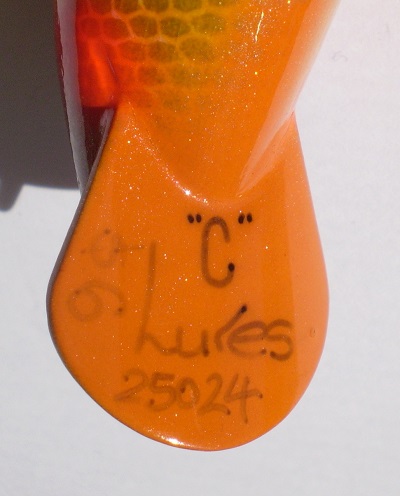 Left is an early Carl Grist C Lure marked with wholesale price and catalogue number.
By the late 1980's and into the 1990's there was a few fishing retailers that put a focus on selling lures - A Sydney business, Harbord Tackle took over the retail mantle from Drummoyne Tackle and Compleat Angler, starting an aggressive marketing campaign releasing large glossy catalogues and mail order services that have since become an amazing source of information on lures and associated fishing tackle that was available at the time.

The shop which was situated in Lawrence St, Harbord saw many Australian lures that are now highly collectable such as the early Leads and C Lure ranges, A & B Lures, Bills Bugs when many of the brands were still crafted from timber and supply was limited.

The catalogues include early C-Lures and Leads Lures amongst many others and the advantage is they often have models, prices and colours. MO's from Coffs Harbour have continued the tradition to this day however in the modern computer age, consumers are able to purchase lures online and many cottage makers have set up websites and Facebook pages for marketing their products to by pass the retail sector and big wholesalers.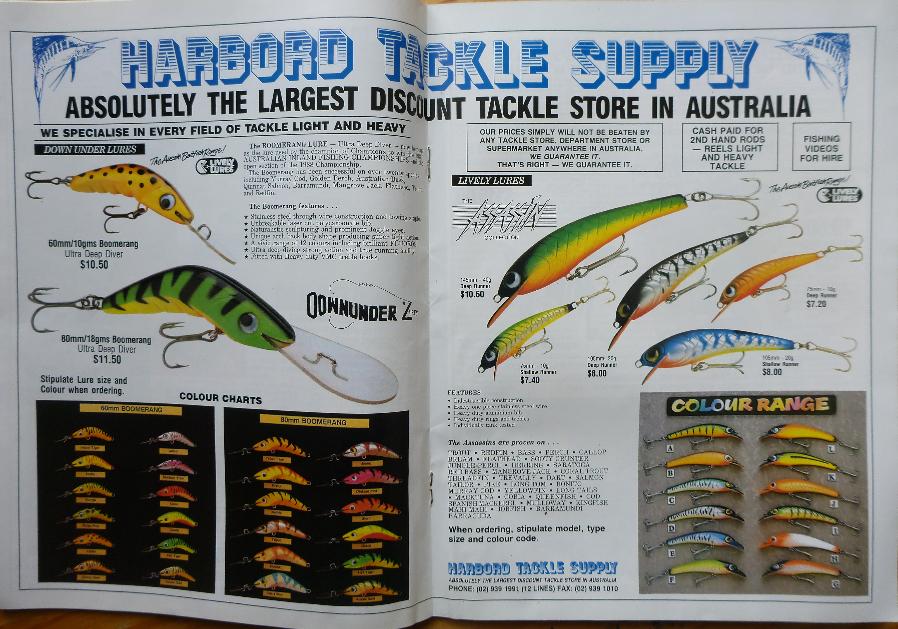 Frank Prokop:
As Frank Prokop noted in the in the 'Lure Encyclopedia' (2004), his first articles for Fishing World magazine were in 1985 where the depth of 38 freshwater lures were tested at Blowering Dam. Frank then collaborated with Rod Harrison for another test of 72 lures for publication in September 1988 Fishing World which was well received (lures were tested at Talbingo Dam this time). The article was entitled 'Lures in Depth - How deep do they dive' and Australian lures such as the Newell 'Kadaitcha' and Downunder 'Boomerang performed well nearing the 6m mark which compared with the deepest, imported Magnum Hellbender at 6.45m diving depth.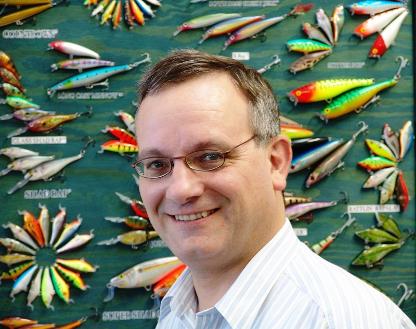 In 1991 'The Freshwater Fishing Encyclopedia
-
Lures and How to Use Them'
(RRP $7.95) was released with contributions from Steve Starling, Fred Jobson, Bill Classon, Craig Northling as well as Frank and Rob. This publication has since become highly collectable in its own right and can be credited with bringing Australian lures into the spot light with a steady increase interest in using lures instead of other traditional angling methods.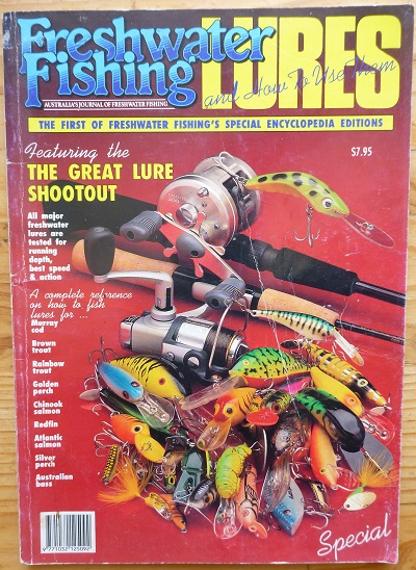 In 1995 the 'Lures In Depth' (RRP $14.95) book was released by Frank Prokop and Bill Classon looking at 650 lures with the aim of measuring which lures dived deepest. This was an AFN publication without advertisements and was a serious text on comparing differing lures and their potential to dive.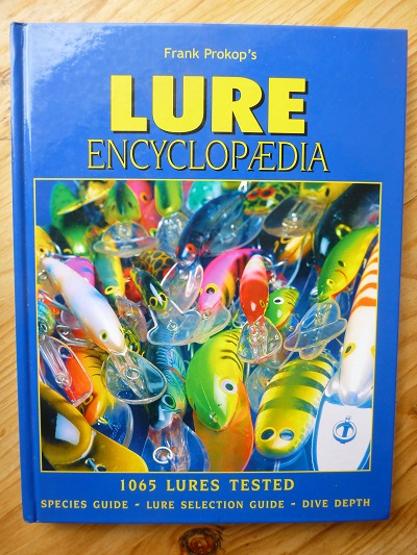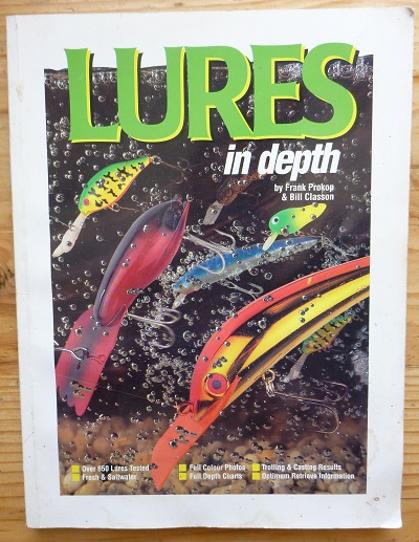 The interesting and useful publication below was released in 1984 and started a trend towards supplement publications that focussed on tackle and fishing lures in particular.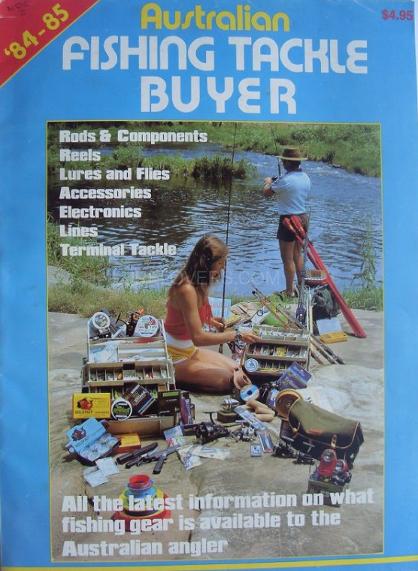 There has been a big influx of fishing publications/magazines in recent years with Freshwater Fishing having always supported lure fishing amongst all other forms of angling they publish. Older magazines from the 1990's are a great resource for lure information whether it be from articles or from advertising.
There is an excellent article 'Tenterfield Battlers' about lure maker Brett Campbell in Modern Fishing, Nov 1996.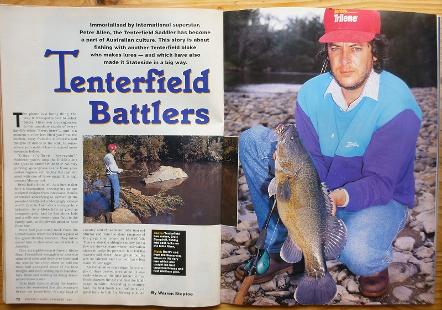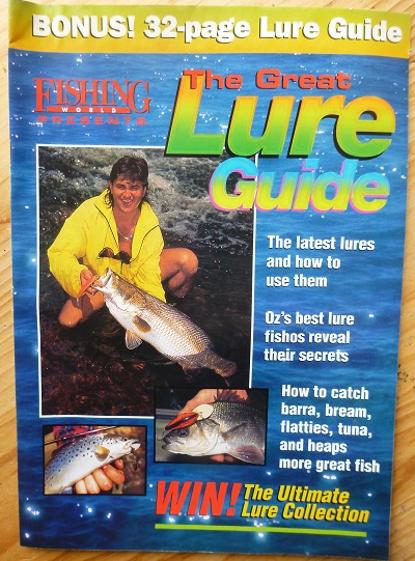 By the mid 1990's articles and even special magazine supplements were released such as the 'The Great Lure Guide' a 32 page Fishing World extra in May 1997 which included an industry profile of the Halco Tackle Company. It was by this time that soft plastics and jig fishing had become the craze. There is still a tendency for successful lure designs to be created in plastic offshore in Asia and the reason sighted is usually for the lure maker to keep up with demand.
A fantastic article in
Modern Fishing
Sept, 1989 entitled 'When the Seascape was King' describes the 1970's craze of spinning metal slugs like Werner Kossman's WK 'Arrow'. Harrison's Lure Lore (Fishing World October 1989) talks about 'slugging it out' using metal slugs - the craze was actually an old reliable technique for catching all sorts of pelagic fish where you needed to put in a big cast to get to the fish so 80 -120g slugs were perfect for casting in any conditions. Around the same time
Freshwater Fishing
magazine started to focus on lure fishing with an article 'Are the Fish Colour Conscious?'(Issue 18), 'Boomerang Breakout' (Issue 24) and 'Bass Hunting with Lures - SEQ Impoundment Style' (Issue 39) as earlier examples in the early to mid 1990's. Other examples heading into the 1990's of specific lure fishing articles include 'Return of the Boomerang',
Modern Fishing
, Feb 1990 'The Fibreglass Frigate',
Fishing World
, April 1990, 'Schools In',
Modern Fishing,
May 1990 about HSC students making lures as part of the curriculum, 'The Physics of Diving Lures',
Fishing World
, September, 1990. 'Lures for Low Tide Lizards' -
Fishing World,
January 1992.
'The Kadaitcha Club':
The Kadaitcha Club was an idea that although unsuccessful long term did produce some reference material for lure collectors and angling historians. It was a subscription membership with limited numbers that was instigated in the hope of networking and collaborating in the lure collecting fraternity. Named after the famous Peter Newell 'Kadaitcha' model the club issued membership badges and released two newsletters before it was disbanded by 2011. The newsletters were released in June 2009 and March 2010. Each membership was issued with a commemorative lure. 2009 membership was a limited edition Mudeye lure. 2010 was a Custom Crafted Hammerhead and a Brett Campbell Platypus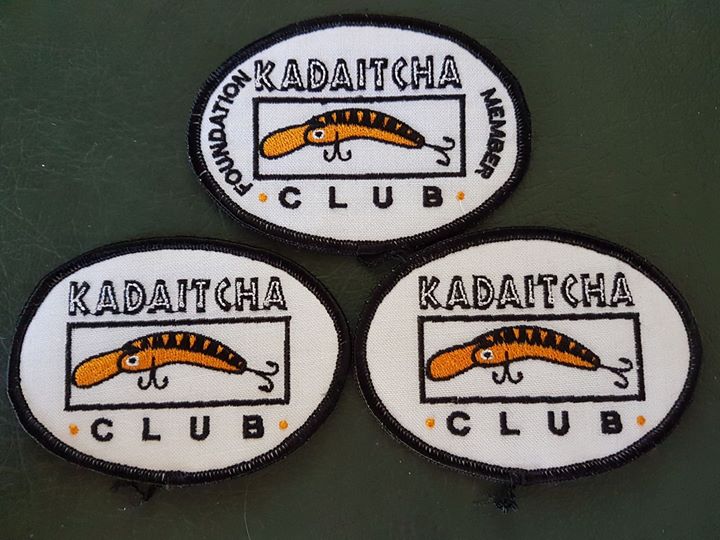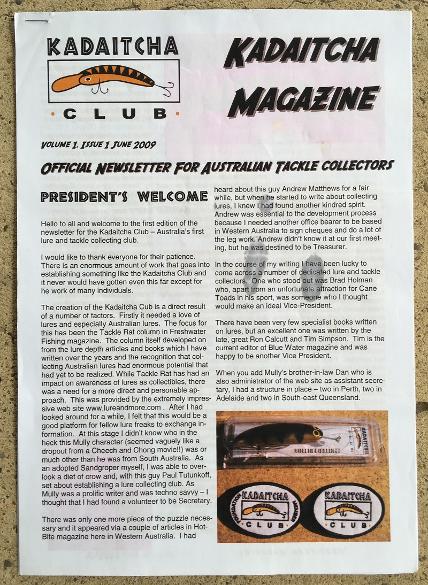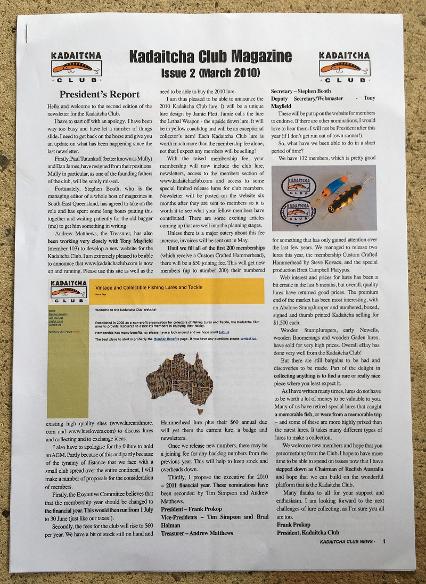 There has been an explosion of online resources that have started to appear since 2005 with specific lure forums such as Lure and More and the newer Lure Lovers forum creating discussion and capturing information about lures. As well as the peripheral fishing
websites such as Fishing Monthly, there is alot of up and coming lure makers and established lure makers that are marketing themselves via Facebook or selling lures exclusively through Ebay. As well as this social media has seen the creation of Facebook pages that are aimed at the lure collecting and fishing fraternity. These include; Australian Lure Collectors, Aussie Lure Sales, Aussie Made Lures, Australian made Tackle, Australian Fishing Tackle Buy Swap and Sell and many more that deal with lures or sale of lures.
As well as this there is the Australian Lure and Fly Expo each year which is an opportunity for collectors and lure fanatics to get together and network each year in one place. See videa below of early Expo.