There are literally hundreds of different lure manufacturers in America - major conglomerates to cottage makers. For a comprehensive summary of obscure and less common USA made lures there are many great reference guides and websites available. This is an overall historical guide to some of the larger manufacturers that have helped influence and shape modern lure design in Australia.

Creek Chub Bait Company (CCBC): Garrett, Indiana, USA

CCBC are one of the 'Big 5' American lure makers and unofficial accounts indicate that some of the founders of the Creek Chub Bait Company were making lures several years before the company's "official" founding (selling them to friends and local anglers). Around 1915, George Schultess, Carl Heinzerling and Henry S. Dills joined forces to establish this now famous firm, then housed in a very small factory building in Garrett, Indiana. Henry received a patent in 1919 which was a process to paint a fish scale pattern on lures by spraying paint through a fine mesh netting ( a method modern lure makers taker for granted). Soon after it was patented, CCBC sold the rights to share this process in a business deal with Heddon for $1.00. The second partner was George Schulthess (1873-1945) who moved to Garrett c.1881. He eventually became a successful entrepreneur dabbling in real estate, taverns, farming & much more. George was also the city mayor and eventually became the head of the shipping department at Creek Chub. Carl Heinzerling (1881-1950) was another local businessman who brought his unique talent & cash to the table. His family moved to Garrett in 1892. His time was split between the hardware business & CCBC until his son began working at the store c.1930, allowing more time for Carl at Creek Chub. Together they began production of their first bait, the Wiggler which was released to the market in 1916. It wasn't long before they expanded into many other designs. The company's success jumped in quantum leaps over the next several years. Similar to so many other start up companies, the genesis of CCBC evolved from a humble beginning.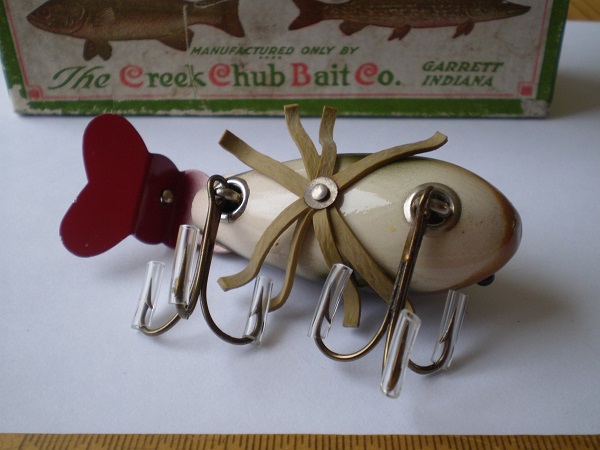 (Above and below) CCBC Crawdad showing characteristic bib style, cup hardware and belly feelers which are pinned in place (feelers have normally perished from age are absent)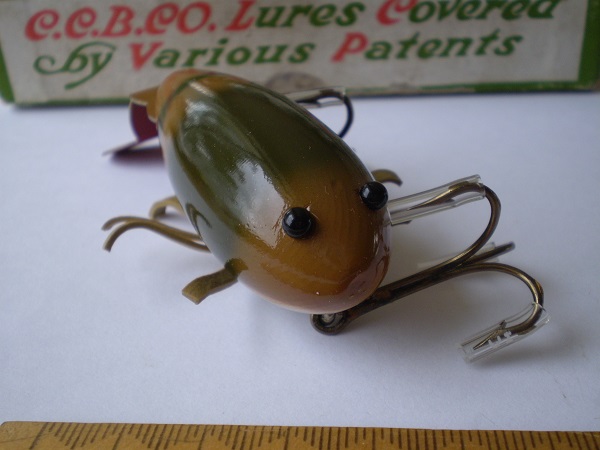 One of the great success stories was the Pikie design first offered in 1920. It was basically a cigar shaped lure that received rave reviews from anglers. Over the ensuing years CCBC sold approximately 50 million Pikies in one piece, jointed two and three piece bodies. The sizes ranged from tiny fly rod baits to huge models for saltwater fish. Some sizes were made until the company closed in 1978/'79.

Creek Chub capitalized on the fly rod boom of the period by introducing several fly rod baits in 1922. As time passed many other fly rod types were added to their inventory. During the 1930's and The Great Depression, CCBC realized their first line of quality baits were too expensive for many anglers. It was a competitive market and CCBC decided to offer a lesser quality line of baits that could compete in the second tier market and went under the name of 'Shur-Strike'. When viewed today, many of CCBC lures still retain their brilliance and quality finish. Most of the Shur-Strikes were offered under other sporting house brand names such as Montgomery Ward, Sears, Western Auto plus local & regional stores sold Shur-Strike lures under their own trade names. Around the same time Creek Chub also entered into an agreement with a large Canadian company – Allcock, Laight & Westwood Co.to produce a huge array of sporting equipment. Although their arrangement with Creek Chub survived for many years, the exact details of production & sales are obscure. Their paint patterns & lure hardware are different than CCBC Garrett products so many believe the lures were finished in Canada.

The change to a reinforced lip occurred on several baits in 1936. Also, a wire ran from the lip through the body & out the tail. It was strung through the hook eyes, preventing them from being pulled out of the body. This hardware is known as through-wire rigging. Approximately 16 new lures were added to the line in the late 1930's and several lure models known as "hair baits' were among those added to Creek Chub's offerings during this period. They incorporated dyed horsehair for the lure's tail.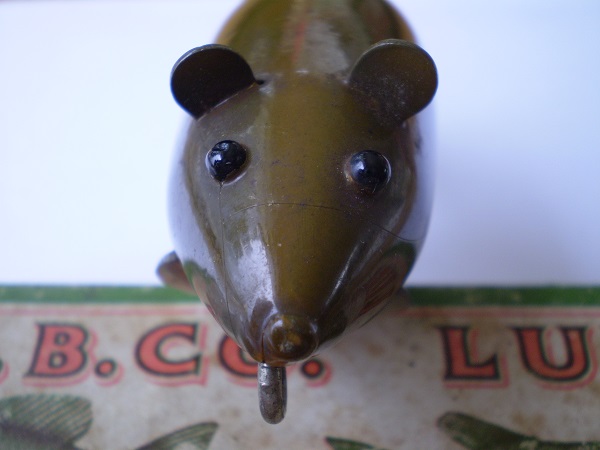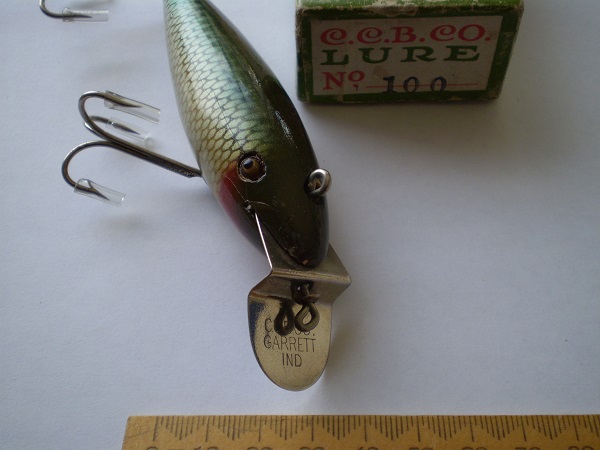 (Above and below) Example of CCBC 'Wiggler', model number 100 which illustrates the early scale pattern patented by Henry Dills in 1919. Showing box and catalogue c.1930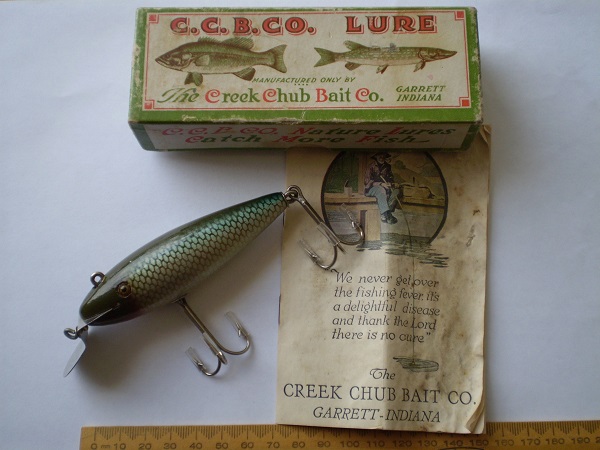 They soon moved again to a building previously known as the Garrett Hotel Annex, their base of operations for the next 60 years. At one time, some of the lure prep work was completed at other shops in & near Garrett and another company was formed by CCBC known as Lures, Inc. The new company first operated in another town but was moved to Garret. At its peak about 85 employees worked there. They did all the prep work on lures, leaving the final painting, assembly & shipping to the mother company. The whole operation was a community effort, the employees were local and women were hired at CCBC to do the fine detail work including the excellent lure painting & other finish work. Many generations of families worked at the company. Descendants of the founders were also employees & were on the board of directors. The company employed several traveling salesmen that introduced the product to sporting goods stores within USA and eventually lures were sent to many countries throughout the world. CCBC survived the Depression, many recessions & several wars. Their inventiveness & innovations brought them from a one-lure company in 1916 to a major player in the market by the 1920's. In 1924, a host of new designs were added to their line. By the late 1920's, catalogs were about 50 pages, a far cry from the 1916 one page flyer.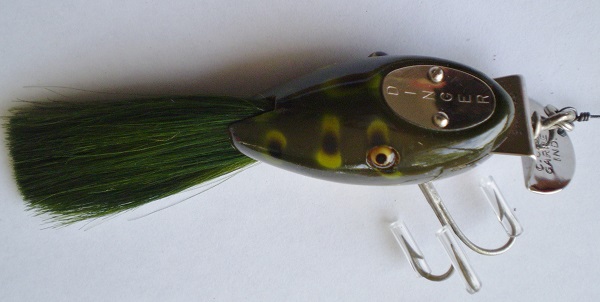 (Above) CCBC 'Dinger' - One of the earliest lures incorporating 'hair' tails from 1936 onward. Smallest size before the fly rod lures of which there were many. c.1939

(Below) CCBC 5100 'Dingbat' showing reinforced bib c 1950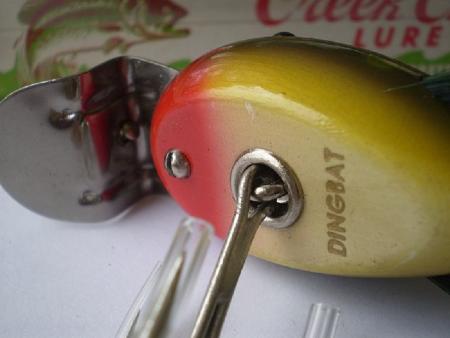 There are so many different CCBC lures that existed since inception and there is definitely not enough room on this website to go into them all in detail. Recommended reading is . . .

CCBC No 3219 'Plunker' - the model numbering system is fairly easy with CCBC lures. The last two numbers are the colour code (19 - frog spot) - 'Plunker' is 3200 series.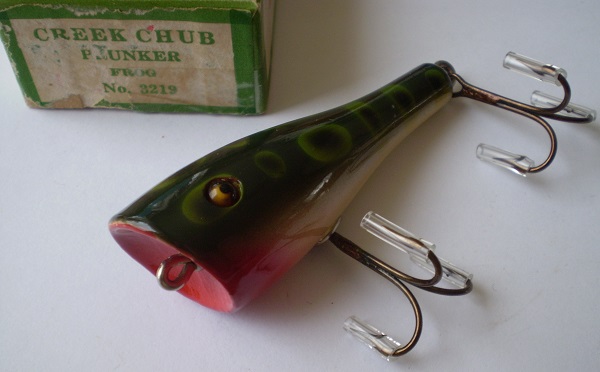 Early 'No -eye Pikie': Hand painted black body/white head w/ unmarked bib c.1920

Soon after WWII ended around 1946, the demand for CCBC lures was overwhelming and the company was unable to respond to the orders. The glass eyes had been imported from Germany before the war, the hooks were from Norway & England so it would also take time to secure new supply chains. Metal for the lips was also in short supply due to the war effort. Orders were backlogged for 18 months. A new Deep Diver lip was inaugurated in 1950 as an option on several baits. A special size box was made for these lures. During the same year the company brought to the market two new fluorescent colors in bright hues (Rainbow Fire, Fireplug). These lures "glow" under a black light. They were discontinued within 5 years. Harry Heinzerling, the son of Carl, was hired around 1950 and became a master salesman for the company. By 1952 he was pushing the directors to offer a new line of baits geared for the spinning reel market which was the latest sensation of the fishing hobby. These reels could handle smaller baits easier than bait casting reels. A line of spinning baits were thus introduced, known as the "The New Creek Chubbies". CCBCO housed these baits in a newly designed plastic top box, which made it easier for the customer to view the bait while on display in the store. The 1950's also saw a myriad of large saltwater baits added to the line. Eventually many were discontinued in the late 1950's due to a shortage of White Cedar.

Harry Heinzerling also realized that plastic lures were necessary for the continued growth of the company. When many of the cedar baits were discontinued, the plastics often took up the slack in sales. By 1960 glass eye baits had their final swan song. During the 1960's & 1970's wood & plastic baits of the same series were sometimes produced in tandem. Some ultralight lures were produced for the lightweight spinning tackle. The large color catalogs & smaller "pocket catalogs" (placed in lure boxes) were already a product of the past. Smaller flyers & 2-3 page color price sheets were the order of the day. In retrospect we can see a definite economizing by the company. Over the years CCBCO introduced over 75 CATALOG color combinations & more than 145 different standard lure models. Some of these colors & lures were made for a very short time while others were offered for decades.Creek Chub would actually take direct orders for a time from stores or individuals for custom color combinations. These are known as "specials". Today they are highly collected by Creek Chub specialists. By nature, they are rare, desirable & often expensive. The wealth of color & hardware combinations is unending for "specials". Creek Chub even sampled the metal lure field starting in the 1920's. They were never made in the quantities or selection as the wood & plastic baits. Harry decided to retire at 70 in 1978. His relatives & the other founder's descendants had established other careers & weren't interested in running the business. Therefore, when Harry retired the company closed, too. Most of the equipment, company name & supplies were sold to the Lazy Ike Corporation & was moved to Iowa.
Fred Arbogast:
Fred Arbogast was one of the most inventive lure makers and came up with arguably his most famous lure the 'Jitterbug' just prior to WW2 c.1938-39. Although other models like the 'Hawaiian Wiggler' and 'Tin Liz' were to be remembered, other models like the 'Pugnose' and 'Fred's Frog' have disappeared over time confined to specialist collections.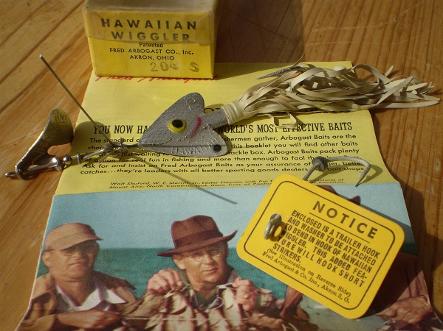 (Above) Early patented version of the Arbogast 'Hawaiian Wiggler' - 204 S (Shad) with catalogue extra stinger hook on card. c 1975.
(Below) The Hula Dancer was an early Arbogast model and shown here in early patented box w/ Akron 3 address c.1950's. These boxes were marked for particular lure models - in this case 800 series. The lures feature a one piece belly frame similar to earlier Shakespeare 'Dopey' lures.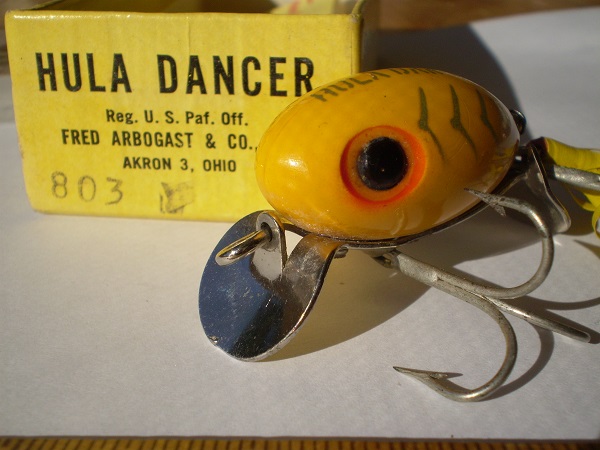 (Below) Long discontinued 500 Series Arbogast 'Pugnose'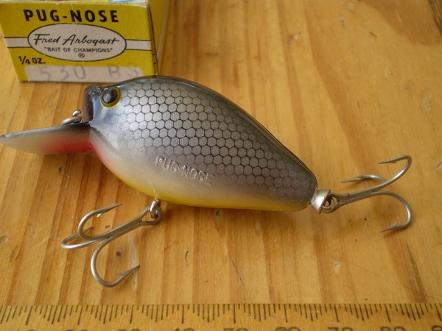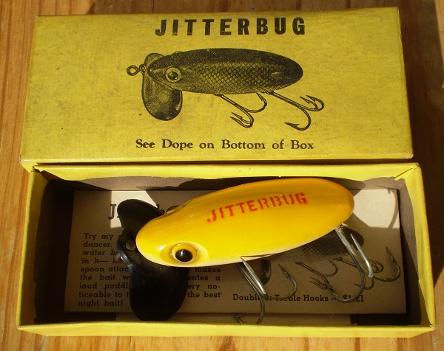 (Above) Early Fred Arbogast 'Jitterbug' in WW2 era box c.1943-6. Black plastic bib and box insert. Colour yellow/white belly.
The 1941 catalogue lists 8 original 'Jitterbug' colours and the lure was constructed of cedar. In a way Fred Arbogast was a victim of history as the war restricted access to metal and wartime Jitterbugs were released with plastic bibs. Similarly a good supply of cedar became difficult so lures were constructed with plastic bodies mid WW2. Earliest bibs will have no markings, then will have the typical Arbogast, Akron, Ohio pressed into the metal with no patent numbers. Later bibs have various patent numbers added over time. There are also a number of different belly hook hardware variations during the war years and earlier models will have brass line tie and hooks.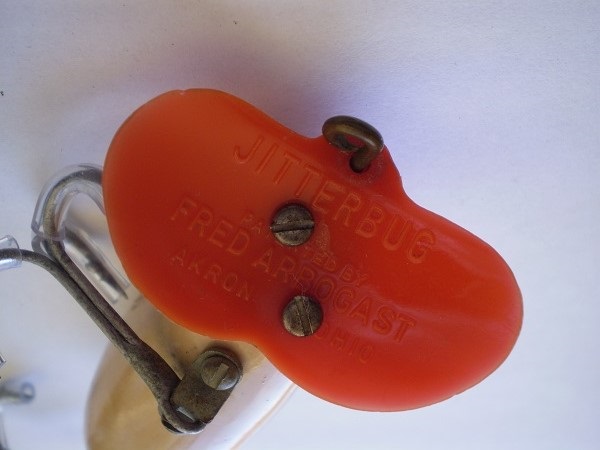 (Above) Plastic and metal non patent bibs and two versions of WW2 hook hangers.
(Below) WW2 Jitterbug in early Perch scale.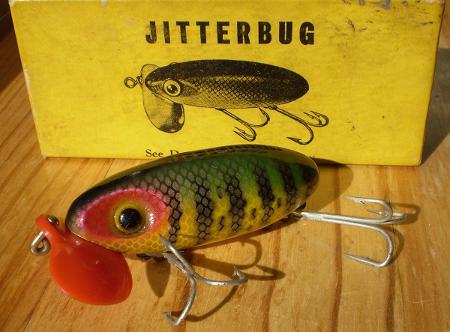 Arbogast released the 'Seeins believin' series of lures in the early 1970's which featured special lure finishes on the 'Jitterbug' and 'Mud Bug' ranges, two of their most popular and best selling lure models. This produced a range of collectable colours including, sparrow, chipmunk, mouse and red wing blackbird.

(Below) Example of packaging for 'Seeins Believin series' - colour is sparrow.
The 'Mud bug' became a staple of the Arbogast range and is still made to this day. They came in 1/8oz, 1/4oz, 3/8oz, 5/8oz and 1 oz sizes. There are also some larger versions with larger wide bibs.

(Below) An old salesman sample ring with a few of the later added colour variations.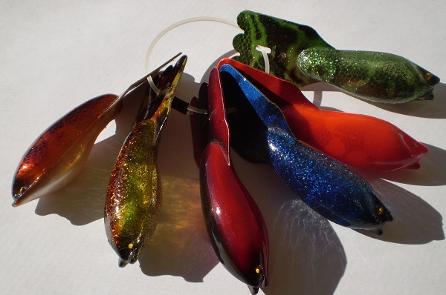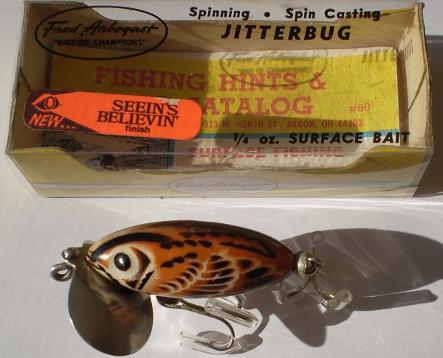 Heddon Lures:
Heddon lures are one of the great historic lure companies.
James Heddon was a Bee Keeper living in Dowagiac Michigan in the late 1800's, whose family roots were in England. Though James Heddon alone was not solely responsible for the success of his antique lure empire, with the help and leadership of his sons William and Charles after his death in 1911, Heddon and Sons along with great inventors and staff would revolutionise the fishing tackle industry forever.
James Heddon with a career in politics and newspaper publishing helped him launch what became the most important lure company in American history.
The first of the commercially made Heddon lures was the Dowagiac Casting Bait known to collectors as the Slopenose. It emerged in 1902 and was in the product line for about a decade and features the cup hook hanger patented by James Heddon & Son in 1902. The Heddon Dowagiac Killer appeared around 1902 or 1903 and came in a white picture box. The lures had two or three belly weights and no eye detail. Some Dowagiac Killer lures had two propellers; the oldest ones had one, on the front. . .the first "downleaping" bass box Heddon offered, made only in 1912. Note the white border. A year later the typical "red border" boxes became the standard. another rare Heddon box - the "blue border" Heddon Dowagiac Game Fish Minnow carton offered briefly in 1913. It was later replaced with the typical "red border" box used for the next half-decade. Prior to 1910, the Heddon Dowagiac minnow was sold in slide top wooden boxes.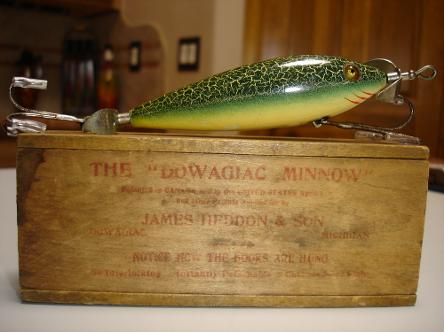 (Above) The Heddon 300 Minnow in early wooden box c.1908. These type of items are extremely rare and after 1909/10 all wooden boxes were discontinued in favour of cheaper ornate cardboard boxes.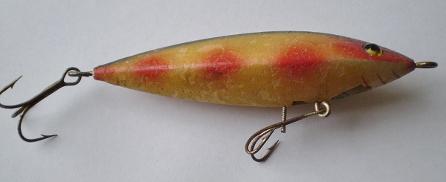 The 900 Swimming Minnow (above) is an early classic that was made for only two or three years around 1909-1911. This elegant lure included a fixed double hook on the belly. The motto of this lure was, "It Swims, It Swims." . These rare 900s tend to chip because of the beveled edges. The Swimming Minnow had a neat, beveled body.

Around 1912, the first of the "leaping bass" boxes was introduced. The version with the bass leaping to the left, was made only one year and is called the "Pine Tree" (hence very rare and sought after). In late 1912 or early in 1913, the "downleaping" bass boxes appeared. The first versions had white or blue borders. and they survived until the boxes changed in the mid 1930's and then again around ww2.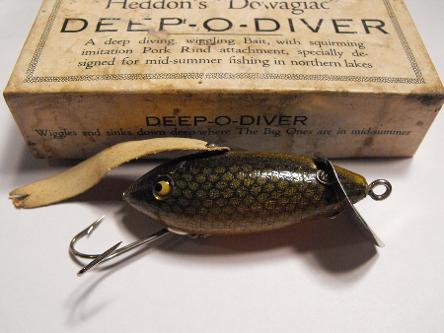 (Above) The Heddon's Dowagiac Deep-O-Diver is a small version of the famous Crab Wiggler. These lures had a pork rind attachment on the top, and were introduced in 1919 in this special intro box. Although not very attractive from a graphics standpoint, Deep-O-Diver boxes are quite desirable. The Heddon Deep-O-Diver introductory box can be found in two sizes. There is a longer version which is rarer than the short version also having a different rosette border on its top label.
The 1600 series Deep Diving Wiggler appeared around 1914. Note the "inch worm line tie" on the nose, for which Heddon was awarded a patent that same year. Some versions are side hooked; most had hooks mounted along the belly. The 1600 was one of the first Heddon lures to utilize L-rig hook hardware.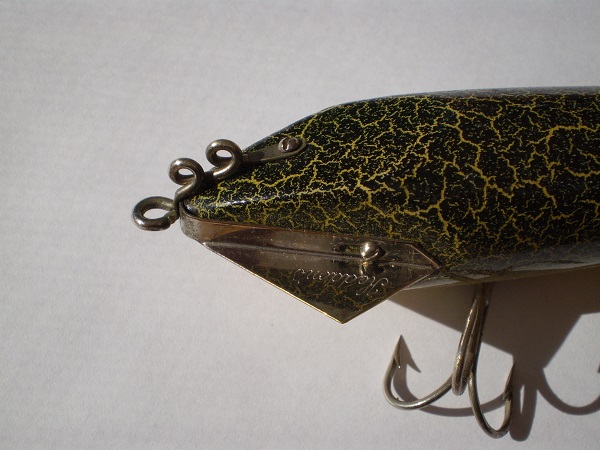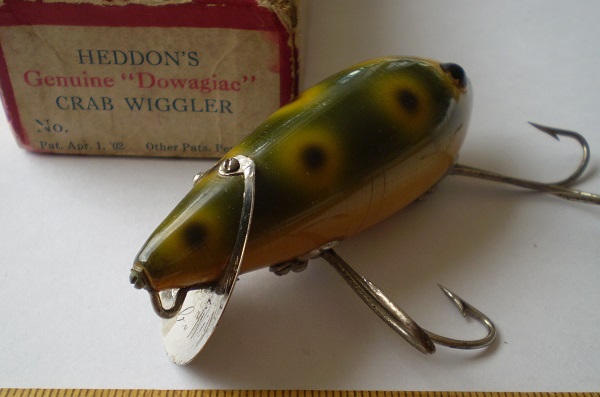 The Crab Wiggler was introduced around 1915. The first boxes had the "Crab Wiggler" logo, in addition to the typical downleaping bass graphics of the early teens era. The color flyer that accompanied these lures described the bait as "new." The earliest Crabs have a U-shaped collar; later ones are O-shaped, but all Crabs are quite collectible.

(Below) Crab Wiggler on left oldest with U-Collar marked 'Heddon Dowagiac'. Older 1600's have 'Crab Wiggler' added in different font and O-Collar. Yellow/Black lure is a Deep-O-Diver with pointed O Collar.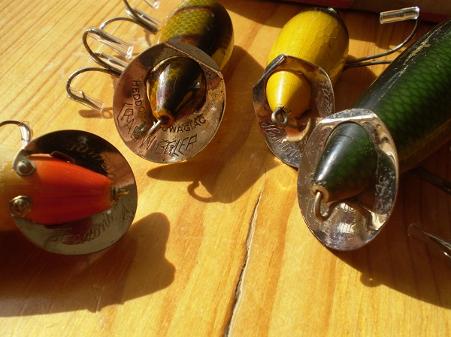 (Left) Early Crab Wiggler in Frog Spot with U-Collar - showing box markings which are waterlogged and original markings are faded and unreadable. L-rig hardware. The interesting part of this lure is that it was found in Australia with original hanging card and is a very early illustration of how Heddon lures were adopted by a world market.

(Below Left) This Musky sized 'Flaptail' is in a common finish, the "Man Holding Bass" style box for this Giant Musky Flaptail dates this piece to mid to late 1930s. This bait has Heddon cup hardware, through wired, typical of saltwater lures of that era.
(Below Right) This is a 110 series glass-eyed Heddon River Runt, the forerunner of the common plastic lures called River Runt Spooks. This color is called Dace and in 'Brush Box' - late 1930s.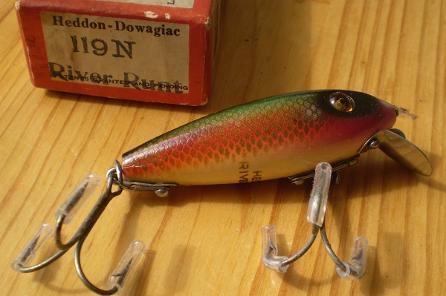 (Below Left)The Heddon Lucky 13, introduced around 1920, was a fixture in Heddon's product line well into the 1960s. These early no eyed examples date to the late 1920's with L-rig hook hardware.
(Below Right) Heddon 'Zig-Wag' c.1925 showing colour chart on side of box.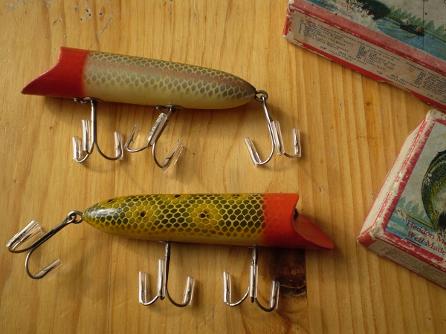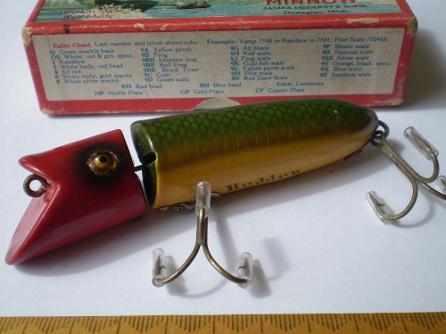 The later Heddon River Runt baits made into the 1940s were packaged in this 'up leaping bass' style box. These pretty boxes are easy to find, but still desirable. Box on left from early 1940's - 1950 or so. Box on right has earlier catalogue and 'Wall-eyes' on box and dates earlier from late 1930's - 1942 or so. You may find later marked lures with 'Transition hardware', a mix of newer surface hardware and later rear '2 piece' or 'flap rig' hardware. Its common to find this on 'Crazy Crawler lures.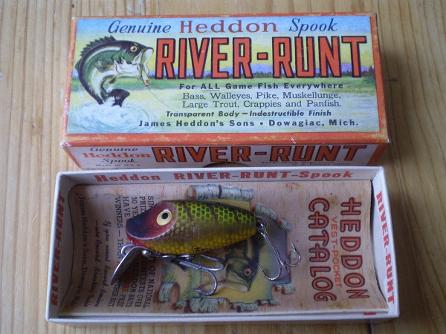 The later Heddon baits made into the 1950s were packaged in this style box with the bass leaping up, and the muted rectangle Heddon logo. These pretty boxes are easy to find, but still desirable.

Pictured right is the Heddon 'Go Deeper Crab' D1900RH illustrating later 'Banner box' from approx 1950 until they were replaced by plastic top boxes due to the cost of two piece picture boxes.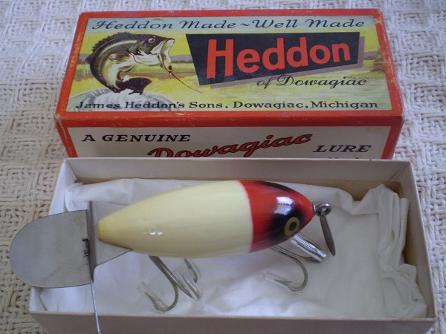 Paw Paw Bait Company:
The Paw Paw Bait Company from Paw Paw, Michigan, USA has a long history dating back to the Moonlight Bait Company formed in 1908 by Horace Ball and Charles Varney. In 1923 the company merged with The Silver Creek Novelty Works becoming the Moonlight Bait and Novelty Works Company. Legendary lures such as the Pikeroon lures finally evolved into the Paw Paw shapes that we recognise today. Around 1923/24 Heddon purchased the patent rights to the Zig Zag, Fish Nipple, the Lady Bug and the folding chair. Like most of the big companies of the time Paw Paw Bait Company sold lures to Sears who marketed them under the Meadowbrook Lures name. Paw Paw Bait company came into existence around 1927-1930 and also purchased Arnold Tackle and applied paint and hardware assembly for other companies including Shakespeare and South Bend. They also release lures under the Lucky Lures and J.C .Higgins labels. In 1970 Shakespeare bought out all Paw Paw lure rights and equipment.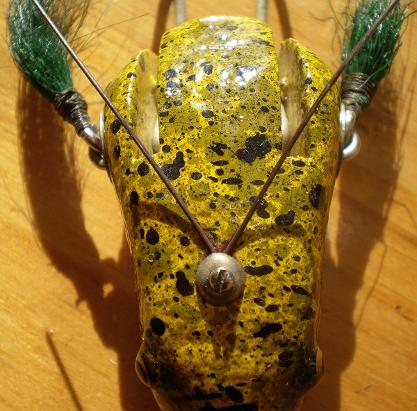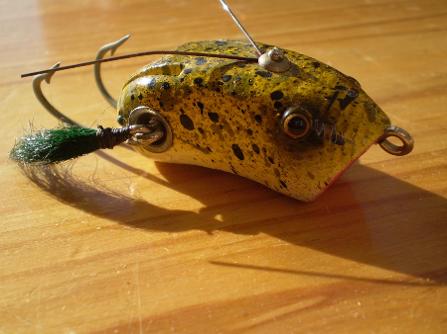 (Above) The classic Paw Paw 'Wow Bug'.
(Below) Example of later 1970's Paw Paw by Shakespeare packaging when Shakespeare purchased the Paw Paw company.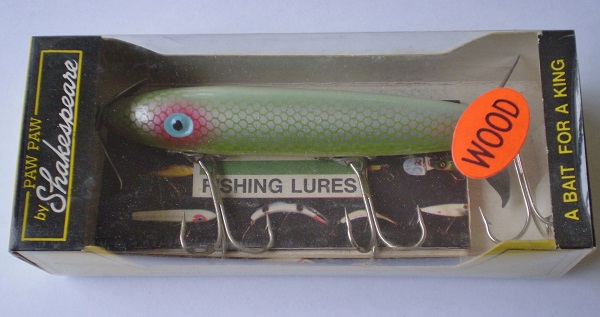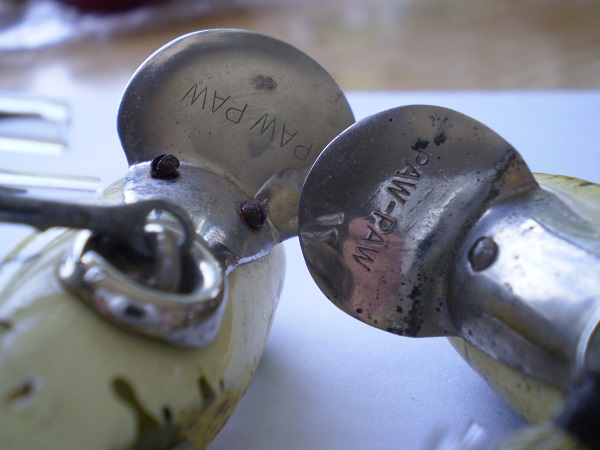 (Above) Example of hardware on bottom of Paw Paw 'Wotta Frogs' showing markings on reverse of bib. Some lures may be unmarked.
(Below) Examples of different Wotta Frog hardware. The earliest c.1960 has a metal 'V' while later versions are held in place with surface hardware.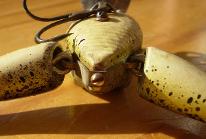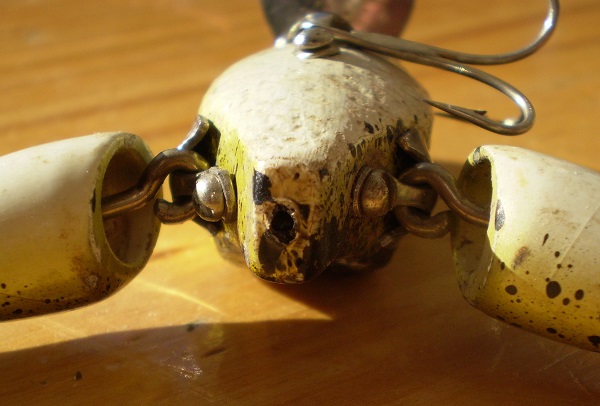 (Below) Showing Model no 73 Paw Paw 'Wotta Frog' and fly rod versions in yellow and green frog splatter finish.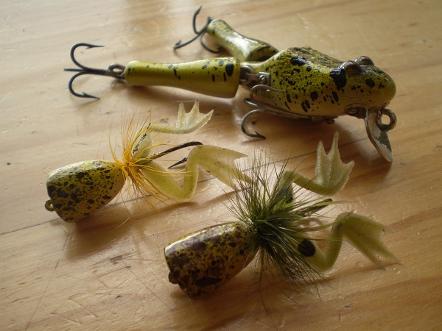 Pflueger Enterprise Company:
Founded in 1881 in Akron, Ohio, E. F. Pflueger's Enterprise Manufacturing Company was the first major commercial tackle company to produce fishing lures. The 1900 catalog, produced two years before James Heddon featured 126 pages of "Fish Bait and Anglers Specialties." Pflueger's company, which was taken over by his son was renamed E. A. Pflueger Company in 1906. In 1883, the elder Pflueger patented a luminous lure paint designed for night fisherman. A lure from that period, the Luminous Flying Helgramite, had wings and feathers, was made for only a year and is one of the most collectable of all Pflueger lures.
Throughout the early part of the 20th century, Pflueger produced numerous lure models however eventually competition from Heddon, CCBC etc proved too much for the company. The Four Brothers brand was started in 1916 and phased out by the late 1920's - mainly for marketing high quality reels but also some nice spinners. Many eaely Pflueger lures will have 'Neverfail' hardware, a curved wire form on cup hardware to secure hook .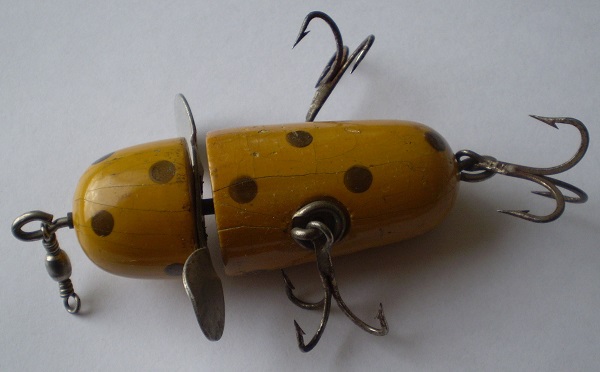 (Above) Early Pflueger Globe c.1915. Side hooker with 'Neverfail' hardware.
(Below) Example of typical 'Canoe' box and 3750 Pflueger 'Globe' on card. 5 1/4 inches c. 1931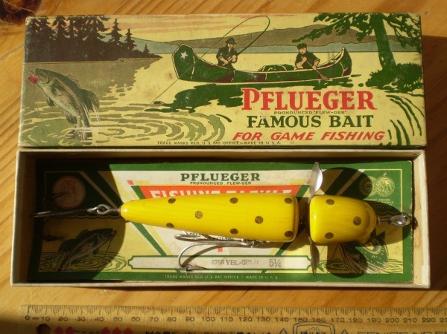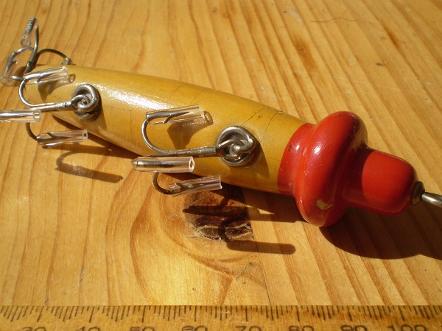 (Above) Early version of the Pflueger 'Woodpecker' a classic early lure that most manufacturers having a similar model. c 1912 with Neverfail hardware.
The Pflueger 'Globe' was an ingenious model that used a rotating head section to create action and remained in the catalogue from approx 1915 till the 1970's.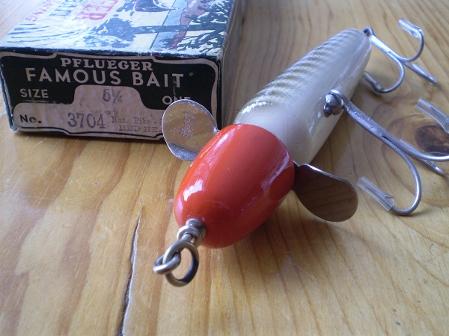 (Right) An example of a glass eyed Pflueger 'O Boy' showing bib markings. Most Pflueger lures have a tradition of being marked on the front or back of the bib.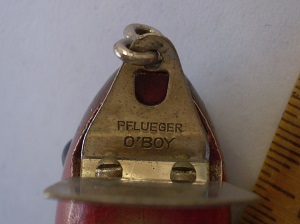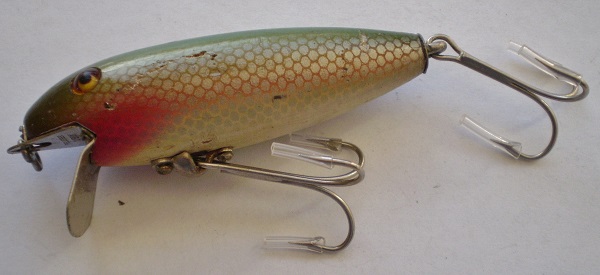 One of the classics is the Pflueger 'Live Wire' which was an early celluloid lure with dual props. Released for a short time c 1935 with red rhinstone eyes and plastic dorsal fin it had changed to a different lure and dropped the dorsal fin by 1939.

By the late 1930's Pflueger all but discontinued its line of lures, which is what helps make those lures so rare today. In 1954, Pflueger introduced its first spinning reel, and in 1966 the company was sold to Shakespeare. Today the Pflueger name continue to make reels and rods.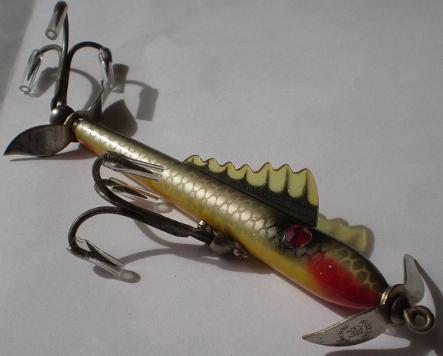 Shakespeare Lures:

Shakespeare Company's longevity was due in part to its ability to produce good affordable products during America's many economic recessions and depressions. The Shakespeare Company founder, William Henry Shakespeare, Jr., was born on September 21st, 1869 in Kalamazoo Michigan. William Shakespeare Jr. became engaged to his long-time sweetheart, Miss Cora Monroe, and the two were married on November 10th of 1892 .For five years he devoted much of his spare time to designing and crafting his level-winding reel concept into a physical reality. Once perfected, Shakespeare filed for the patent rights for his "fish-line reel" on May 13th, 1897 and was awarded patent #591,086 on October 5th, 1897 for his invention.

Lure manufacturing was only ever part of a much bigger enterprise for The Shakespeare Company although by the early 1920's they had an extensive catalogue that included 3 and 5-hook designs to compete with Heddon and Pflueger. In the mid 1920's they release the 'Swimming Mouse' and by 1938 the 'Pad-ler Mouse'.
Early Shakespeare Swimming Mouse No 578 with card insert - Lure is 578 Y - Yellow a less common colour for this model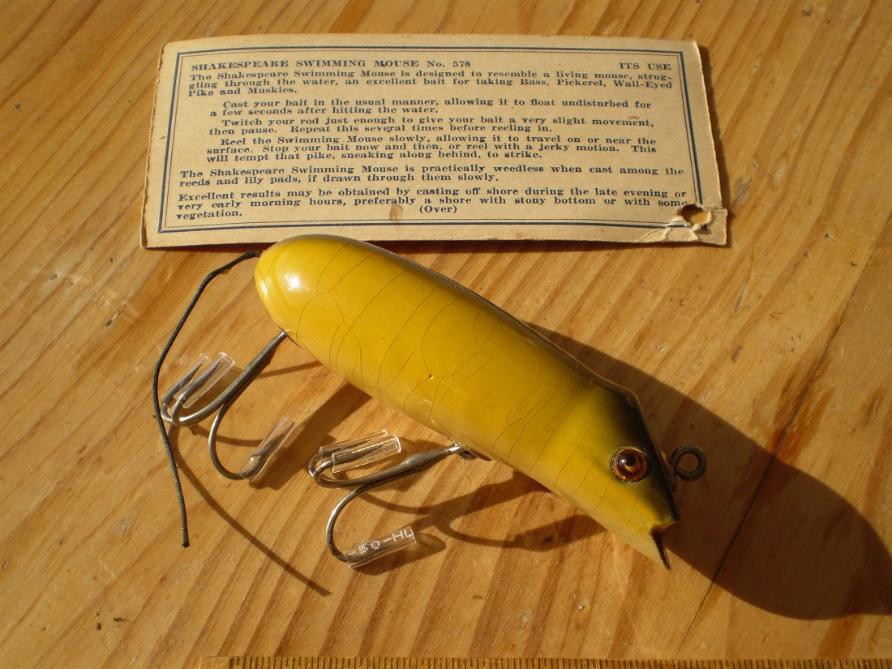 Shakespeare advertisement for the the Paw Paw by Shakespeare range was found in Australian Outdoors Fishing Annual 1972. Other advert is from Tasmanian Angling Report 1985.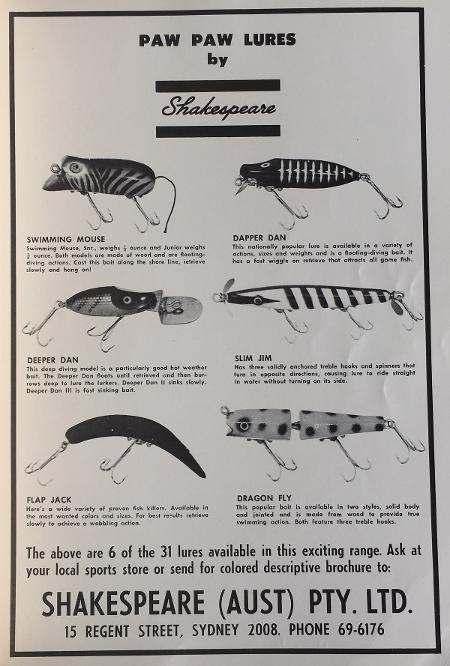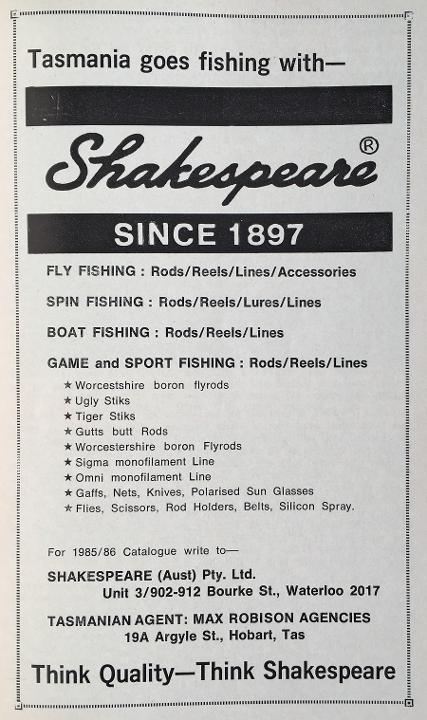 South Bend Lures:
South Bend lures are not as well known as . . to be completed