This year the competition was held on Sunday the 27th October, 2013 and deferred from the previous day due to severe westerly winds, heavy rain and poor weather. Snowfalls to 500m had been common for the preceding weeks and above average rainfall means Lake Pedder was full with Mc Partlans channel running hard to Lake Gordon.
Due to the delay this year a number of anglers were unable to attend. Chris Robertson (CTR Lures) and Clinton 'Bill' O'Keefe (C.O.K Lures) had to return home. The other part of Team Robbo, Mick Robertson is in the USA till 2015 but is keen to compete again when he returns. A number of other anglers including Ian and Rosie Cooper were also unable to attend but will be back in 2014 with their awesome timber Stumpjumper copies made from King Billy. Defending champion Nathan was also absent on the day and rumour was that he was out partying hard the night before! But with the absentees we gained a few newcomers including a Ben Campbell from Hobbled Lures, a couple of competition anglers, Andrew Pender and Damien Virieux who sure make some fantastic timber lures of high quality. It was also a complete pleasure to have Peter Henmen attend - not only is Peter a legend fly tyer but he can make some serious lures with great fish attracting colours specifically made for targeting trout.
Leaving Maydena there was still snow on Mt Mueller and the previous days high winds had abated.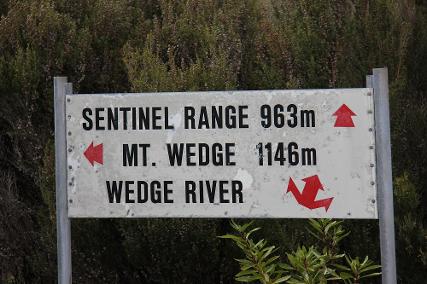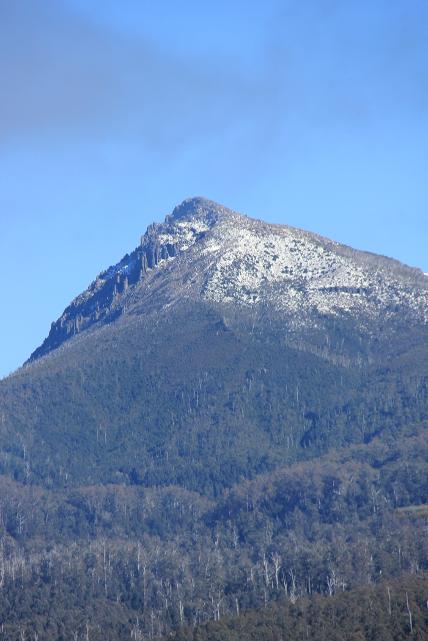 The Sentinel Range was looking spectacular and was shrouded in mist and coloured purple from one direction and then shifting colour. Always looks different.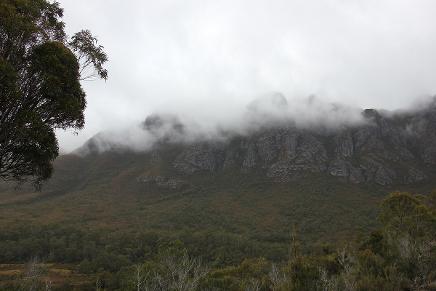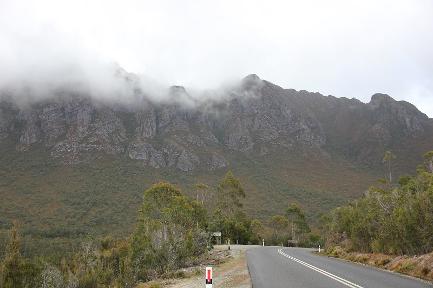 Although the weather had been bad the previous day, it turned out good on the Sunday and there was a good roll up considering the cancellations.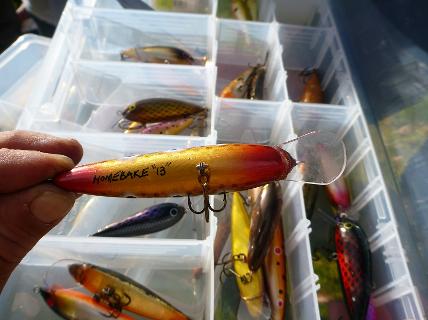 The lure above is marked 'Homebake 13'.


The after comp BBQ was a big success this year with most of the anglers returning to Maydena and discussing lures and showing their wares. The photos below feature some of the magnificent creations.
There are some dedicated lure makers as shown left and there were some amazing creations this year with lots of guys making lures just for the comp. Lake Pedder does need a select type of lure so some of the patterns are quite refined and imitate the indigenous galaxia and yabby. The fish below was caught on an MXB Pedder crayfish imitation which features prominent orange spots on a black body.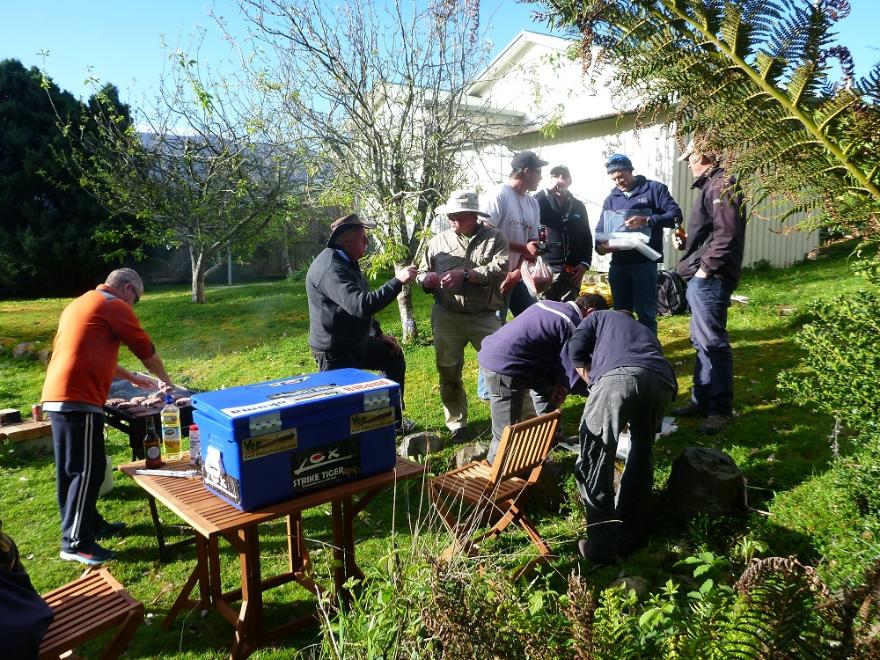 The photos below feature some of the magnificent creations by the Pedder Homebake anglers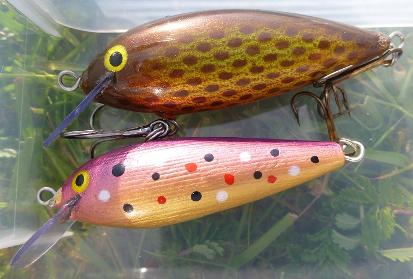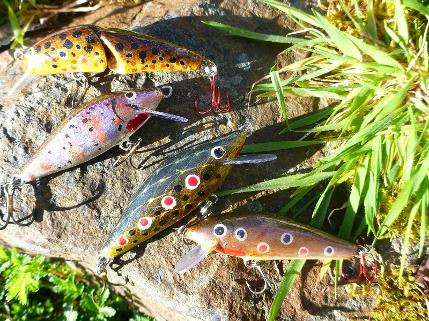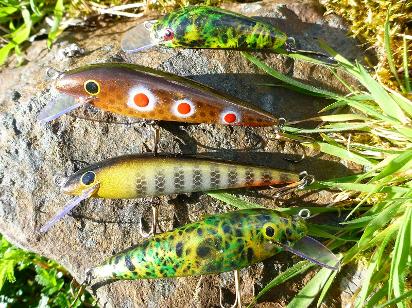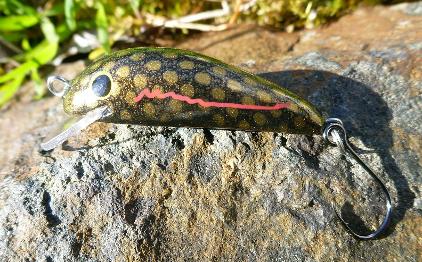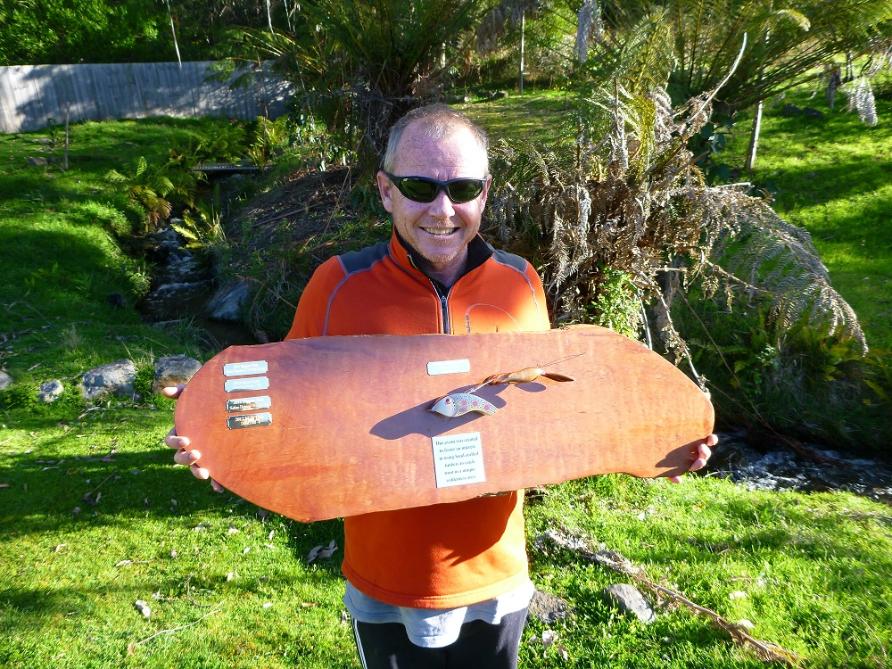 The proud winner Ben Campbell a.k.a Montah Steel of Hobbled Lures with the perpetual trophy