Pedder 'Homebake' 2019 was held on Saturday November 2nd, 2019 in good conditions. The weather had been sketchy and variable in the week leading up to the competition and it was decided to start a little earlier ( by 9am) as stronger winds were predicted for the afternoon.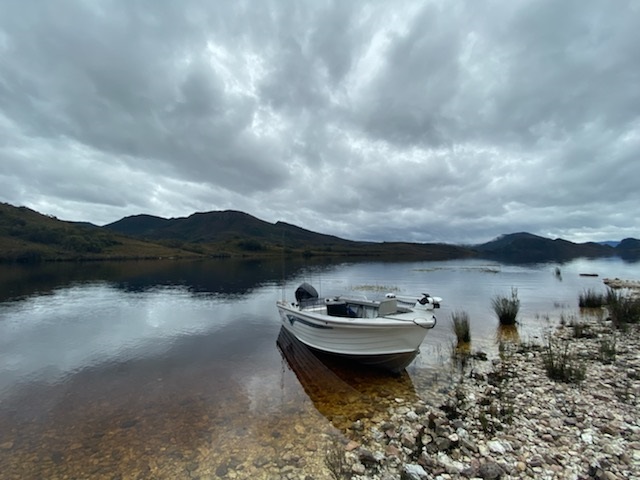 Team Norton on the water and ready for action
Upon arrival Lake Pedder was picture perfect and light breeze picked up by 10am with increased gusts into the afternoon. Minimal rain overall although there were a couple of light showers.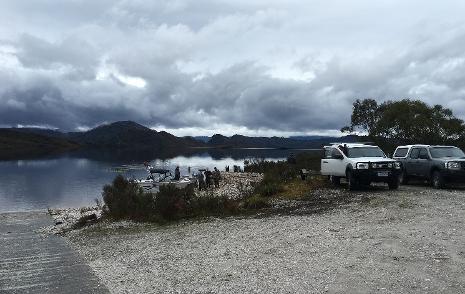 The fishing was good this year with each boat getting good quality fish in the 1-2 pound range. The water was high from recent rains and Team Tyenna (David Dick and Neil 'Nobby' Clark) boated the most fish on THL lures. Mat Dayton caught the biggest fish and David Dick caught most fish (12). There was literally only 10-20 grams between the largest fish so it was local knowledge again with many fish caught in the old river channel where water was moving. Small lures were preferenced in gold and blacks, dark greens and olives.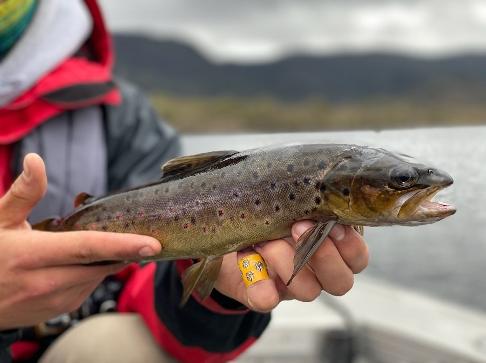 Team Norton on the water with Chris Watts at the helm.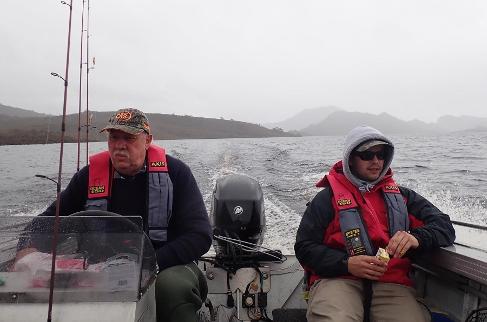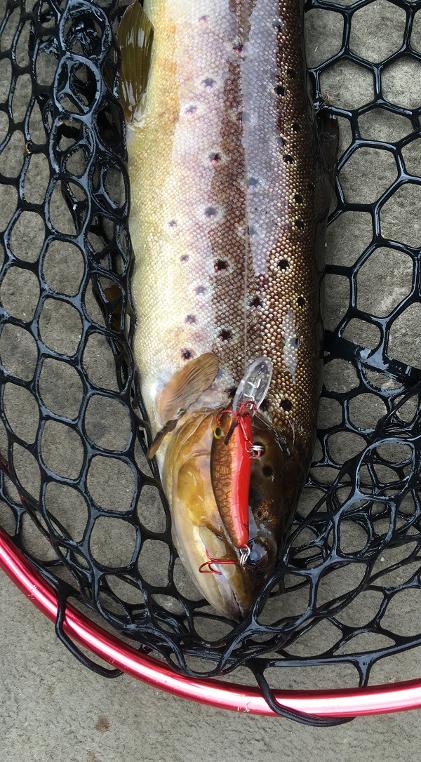 Above - Nice brown caught by Roger Dayle on Team Adept on a VP 'Reverse Yabby'.
This years prize for Biggest Fish (heaviest fish) was the Powell prize pack made by Travers Powell who has sponsored Pedder Homebake since 2011 when the competition started. This set will also include a special edition Powell Lures cap and was won by David Dick. Since Tyenna Dave also won most fish category he was given the choice of the prize packs. A worthy winner and the man to beat.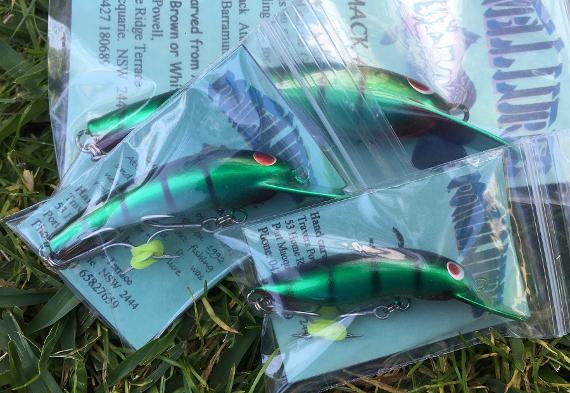 This set is metallic green with black stripes - a magnificent set that includes a Mack Attack, large Trout and the lure that shall not be named.
The prize for Most Fish will be a special edition MXB Lures prize pack made specifically for Homebake. The winner of this category will get an extra lucky dip prize as well.There are two MXB 'Skinny Clutch' and a spotted yabby. The Clutch was made to fish estuaries and large rivers such as the Derwent and was developed last year with Andrew DeVries (Adept Lures) and Ben Campbell (Hobbled Lures) to target bream and trout.
This prize pack was won by Mat Dayton on his ITB (In the Box) Lures opposite. The top lure has had the bib smashed out after winning Homebake on several occasions. Will Mat retire this lure and make another? Time will tell and proves you dont need slick lures with fancy airbrushed designs to catch fish!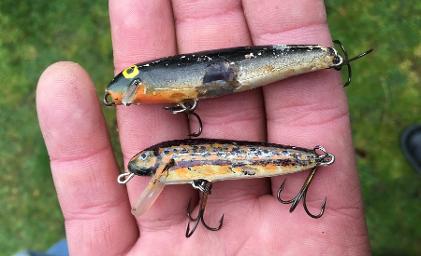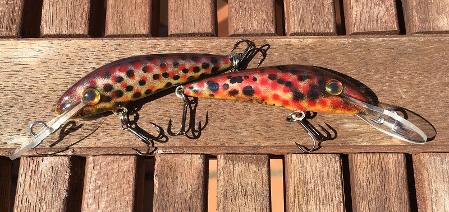 The Clutch are made from King Billy Pine. Yabby is silky oak.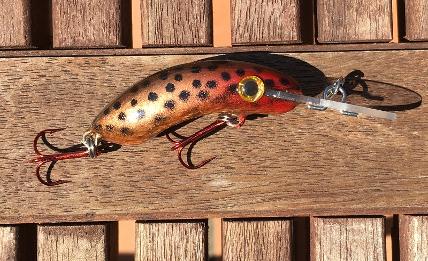 There was an extra prize category added last year for Most Fish on specific maker's lures - since anglers are able to use handmade lures made by another person this category acknowledged the maker. Last year Adept Lures won the prize since they caught the most fish overall by a couple of anglers. This year was won by David Dick of Tas Highland Lures (THL) and a special award is being made.
There are some special lures in the prize pool set aside for the most successful maker on the day including some beautiful Brian Fros fish cakes and foiled minnows. Brian won Pedder Homebake in 2017.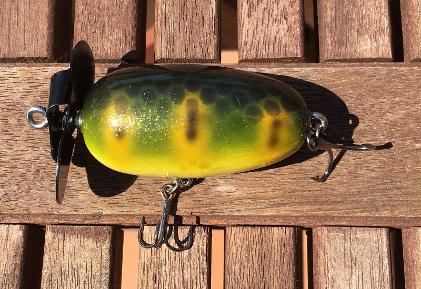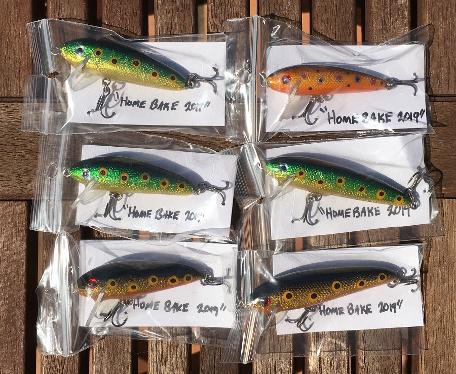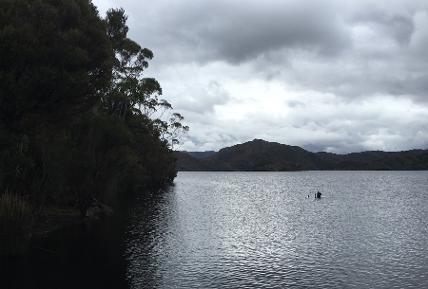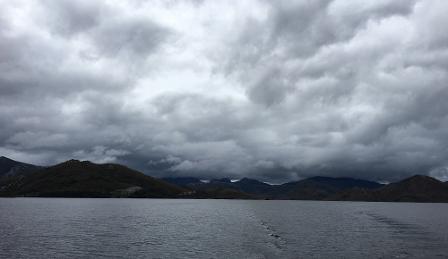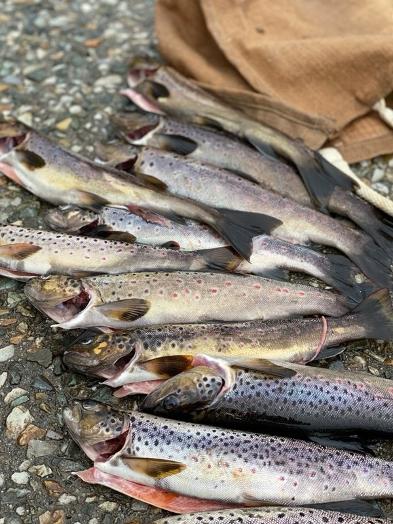 HJK Lures are back sponsoring Pedder Homebake in 2019 and there was a wide selection of shallow diving minnows and surface sliders in the lucky dip prize pool. These lures are hand made in Innisfail, QLD by Howard Kelly and are through wired - some with foiled finish.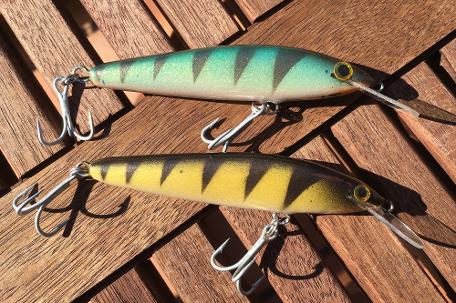 Some of the fine trout caught this year - Pedder fish eat well
Brian Fros and his mate Justin Dare fished for the first time this year with his boat. Both Brian's and Peter Denmen lures accounted for good bags of up to eight fish each.
Peter Denmen turned up with more beautiful lures this year which are showcased here and include brown trout patterns in many variations and 'old school' green and gold frog patterns. Again the competition was tough this year