Pedder 'Homebake' 2018 was held on Saturday 10th November, 2018. Although the weather was a little wet, the wind was 20-25km/hr most of the day and fishing was relatively good although the fish were hard to hook. There were 8 boats this year including Team Denmen (Peter Denmen & Brian Fros), Team Dread (David Dick & Roger Dayle), Team Surf (Mat Dayton and son Alec), Team Old Cobber (Scott Norton & Chris Watts), Team Adept (Andrew DeVries and Ben Campbell, Team Hole (Richard Hole and son) Team Launceston (Ron Springer & 'The Stonemason'), Team Nobby (Neil Nobby Clark and Kids)
The following honour role for this years awards are;
1. Biggest Fish - Scott Norton - Powell prize pack including special edition Powell Pedder Homebake cap
2. Most fish (7) - Mat Dayton - Mixed Lures prize pack (4 lures)
3. Mystery award - Andrew DeVries (most fish caught on Adept Lures). Special trophy to be forwarded to Andrew by Xmas.
4. Lucky Dip prizes - a wide selection of specially created lures made by Homebake participants and other donated items. Lures include Hobbled, MXB, THL, Fysshe and Morrie Kneebone Lures as well as a few other surprises.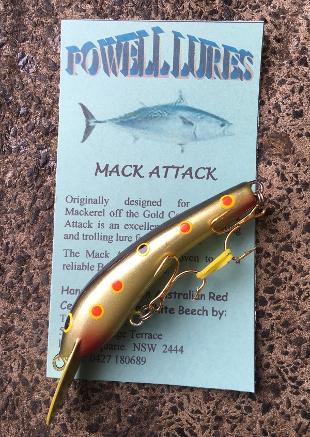 There will be some great prizes this year including Powell prize pack for Biggest Fish which includes a large Mack Attack, Trout Attack and Scorpion in brown trout spotted dog. Travers Powell has sponsored this competition since say one and some of the lures won in previous years have been used and have caught fish in remote Tasmania. The theme of the competition has always been 'spotted dog' and these lures certainly hold to the theme . . . congratulations Scott Norton.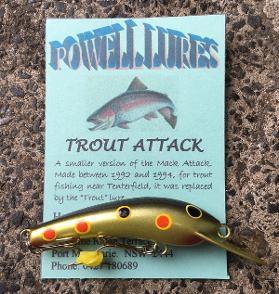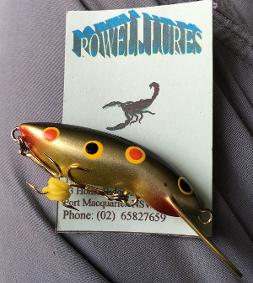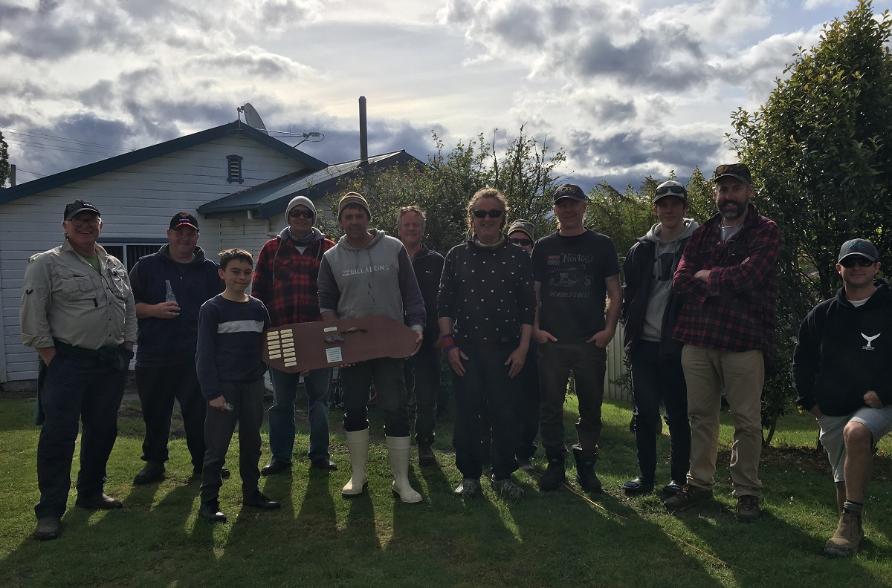 Pedder Hombake BBQ ceremony with the Tasmanian luremakers. From left - Andrew DeVries (Adept Lures), Brian Fros Lures, ITB Lures (Mat Dayton and Alec Dayton), Scott Norton (Old Cobber and timber lures), Denmen Lures (Peter Denmen), Roger Dayle (MXB Lures, NSW), Ben Campbell hiding in the back (Hobbled Lures), David Dick (THL Lures), Owen & Richard Hole, Chris Watts (hiding)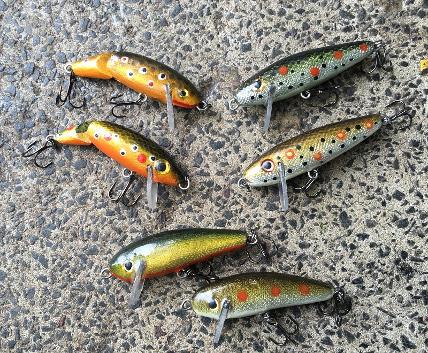 Further prize packs that have been received are some lures from last years winner Brian Fros (below) with a triple pack of his smaller timber minnows and also a selection of older and newer Peter Denmen Lures.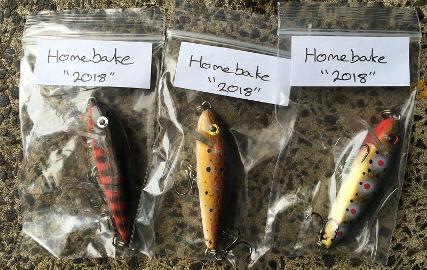 The drive through the Sentinels was spectacular this year with mist and rising cloud over the mountain peaks. Rain on the top of O'Shea and the view from the water looking towards the wilderness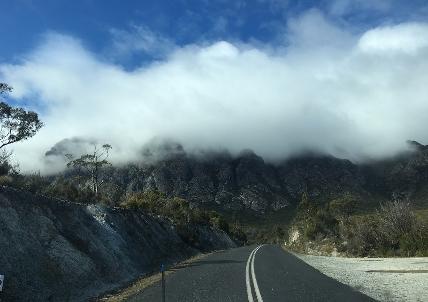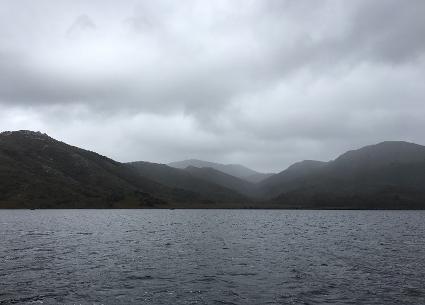 There were some great lures that were made for Homebake this year. A little Morrie Kneebone lure was given to Team Hole and Owen caught 6 six fish during the day on this very bright creation. There were a number of 6 fish bags among the competitors. Biggest fish was a little under 2 pound and there was a number of fish caught that went close to biggest fish for the day.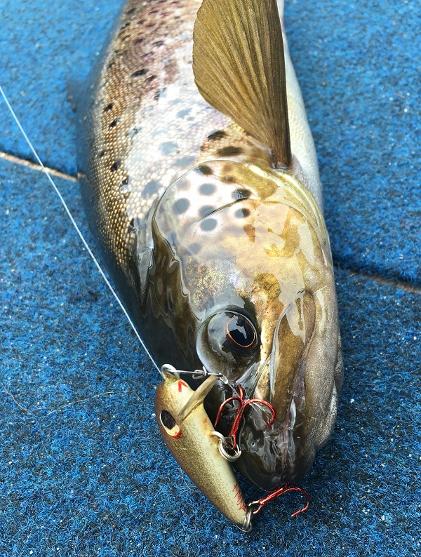 MXB 'Offcut' made from an old Hobbled Lures blank offcut.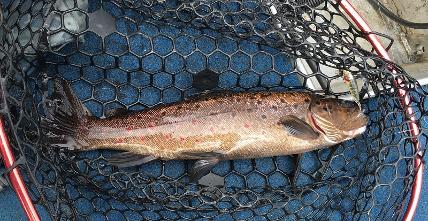 THL caught trout - lot on red spots on this little trout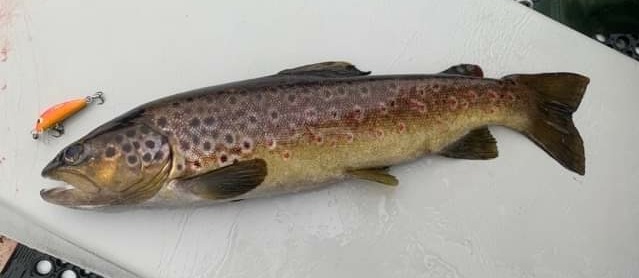 Owen smashing them on the MK - a very bright lure in shades of pink, orange and yellow with sparkles.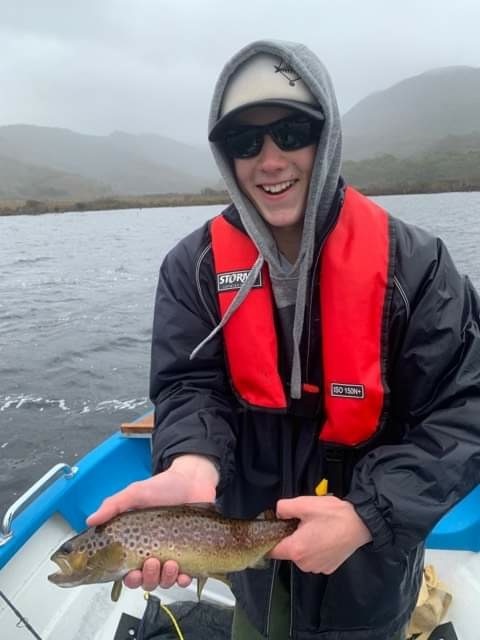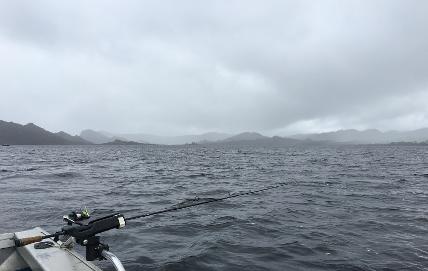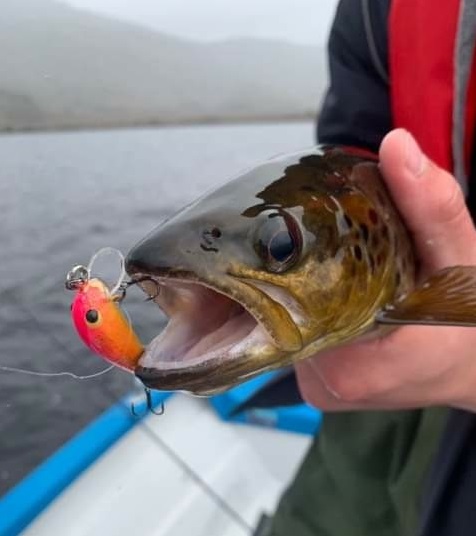 The fish opposite was caught by Team Springer on the hand made cobras - thanks for coming down from Launceston for your first time in the Pedder Wilderness.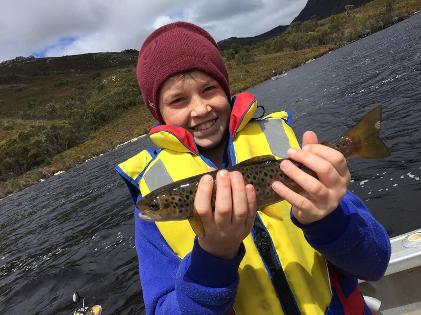 Zac Clark's first trout - well done and the dog loved it too . . .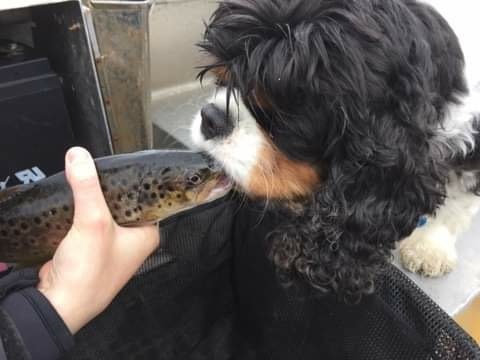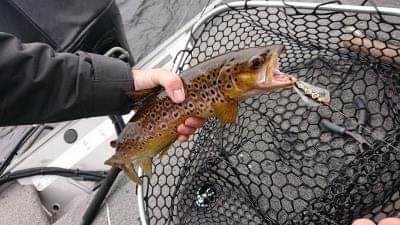 The story of the lost THL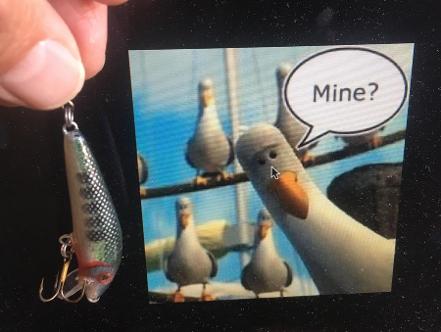 There was a rush to get lures done this year and with a week to go Tyenna Dave found his lure box a bit empty for the comp and knocked up a few lures to use on the day. With 4 little THL minnows ready for action something happened during launching the boat, and transferal of the lures from the car to the tacklebox. Three lures made it and one was lost at the boat ramp or the car or somewhere in between. And of course it was the favourite little barred minnow that was to go on the rod first. Quick search party . . . everyone's keen to get on the water. Lure lost and written off as either being never found or driven over and ruined anyway!!
Return to the ramp and and the search party begins. A few keen anglers fan out and trace the steps from the car to the ramp. Finally the little 4.5cm THL minnow is found. Dave has left to set up the BBQ. Well done Scott Norton - you are the true winner on the day. When presented back to Tyenna Dave at the BBQ he graciously stuck to the 'finders keepers' motto.