*Banner image - A & B 'Swamp Rat' c.1992
A & B Lures - Inverell, NSW:
Allan Sloman uses white beech and many other timbers to shape an impressive range of lures designed for native fish. In 1994/95 the A&B range was being supplied to Harbord Tackle and advertisements placed in Fishing World magazine May 1995 listed the models as the 'Dirty Rat' (7cm body), 'Tiny Boy' (5.5cm body) and two sizes of 'Barra Blaster' at 9.5cm and 13cm.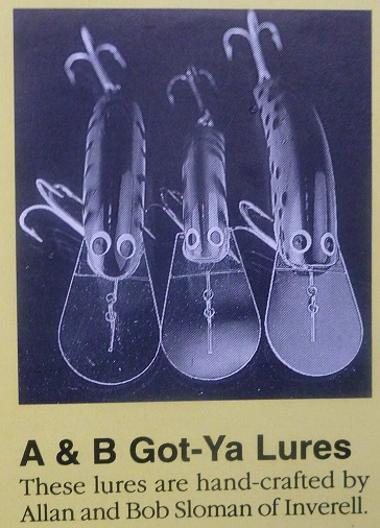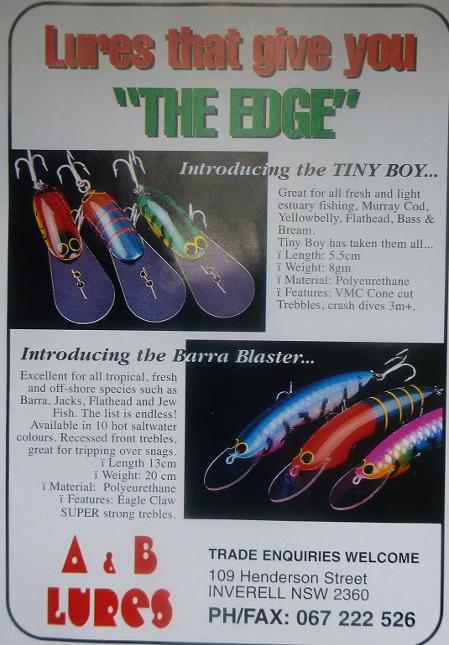 Photo left shows review from Freshwater Fishing magazine c. 1993. The advertisement above shows the 'Tiny Boy' and 'Barra Blaster' being introduced to the market in 1993/4.


Photos of lures left shows an early metal bibbed 'Barra Blaster' compared to the polycarbonate bib model - slight stencil variations but overall lure shape near identical.
Below shows the A & B signature for the 'Barra Blaster'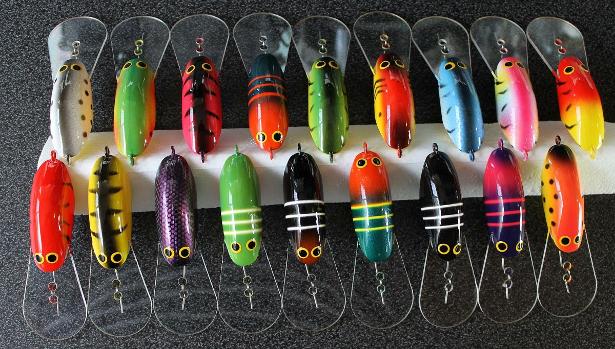 Tiny Boy colours and original in packet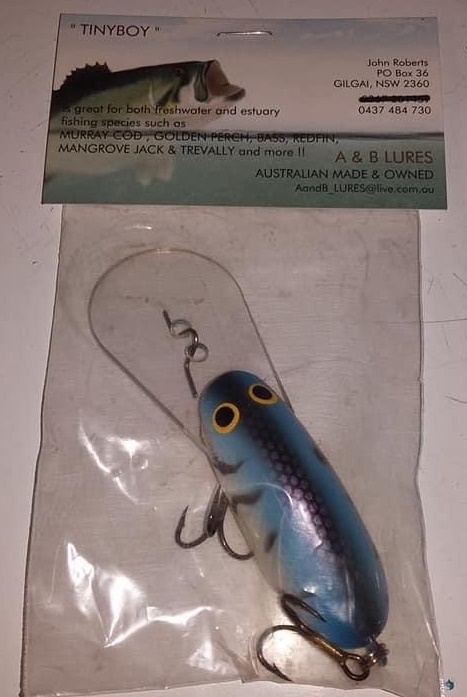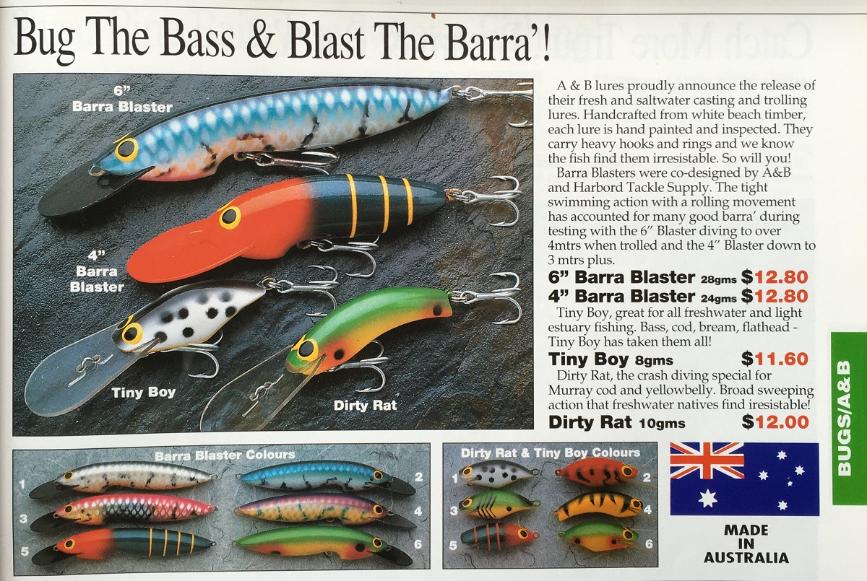 Harbord Tackle Supply 1995


There was also an early model named the 'Mighty Mouse' c.1994. The lure below has an interesting history as it was rescued from the Bargain Bin at Harbord Tackle Supply, fished for a couple of years and then sold to a collector for $55 in 2009. Today it would be worth considerably more on the open market.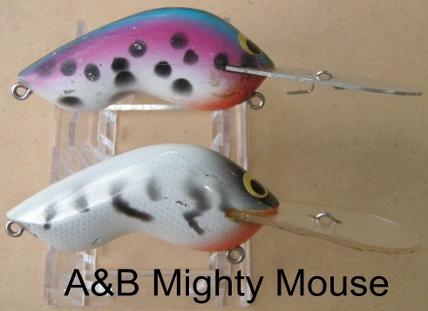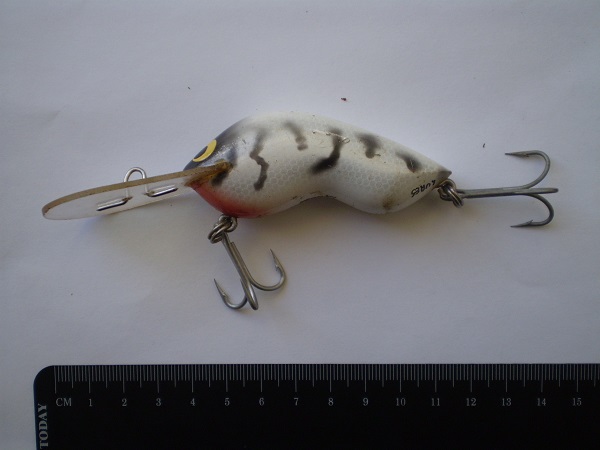 The 'Black Rat' was made around 1991/92 after the rights to make this model were purchased from Rob Gaden. The A&B 'Tiny Boy' and 'Barra Blaster' models were later purchased by J.A.R Lures and available in 2011.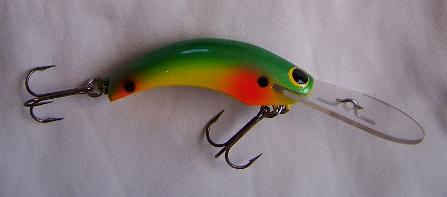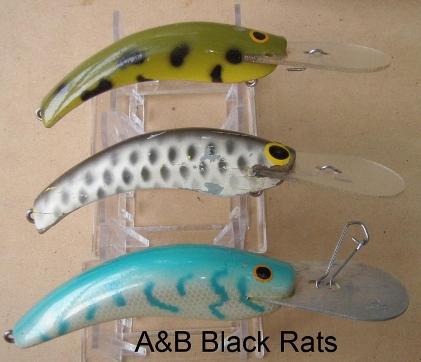 In approx. 2010 Allan purchased the Brett Campbell designed 'Bedourie' (below) and a few collaboration lures were made including the 'Mega Bedourie'.
Right is shown a clear coated or 'nude' Bedourie.

A& B Lures especially the older timber models sell consistently well on Ebay and collector forums. Recent sales on Ebay include c.1995 'Barra Blaster' 90mm ($25 - 43). A wooden metal bibbed version achieved more than $100 in Nov 2011. The 'Dirty Rat' seems less common and sells in the range $35-65 for wooden versions and models NOC. The 'Tiny Boy' is the most common and although J.A.R Lures continue to make this model, it sells well in both timber and plastic.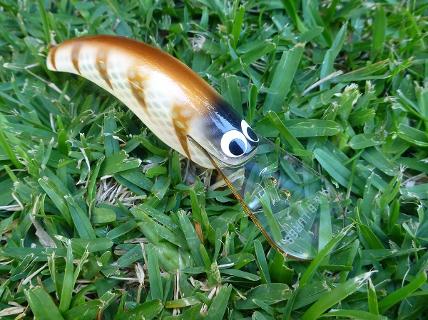 Above - A 'Black Rat' from a run in 2010.
The A&B 'Black Rat' seems to hold value especially any earlier metal bibbed versions. An XL 'Black Rat' c.1995 w/ rounded bottom, one of 6 made sold on Ebay for $90.95 in Feb 2010 and most A&B custom models sell up to the $100 mark.
(Below) A mix of A & B lures including earlier Got-Ya 'Dirty Rat' models on cards, newer 'Black Rats' and some other models including a lovely scorpion style lure with the 'Mc Sea Scorpion' shape.