Viper Lures - QLD:
Shane Murphy started making Viper lures from the early to mid eighties and is still making lures today in small quantities. Early Murphy creations will be built heavy duty from timber, with metal bibs and hand signed bellies. Initially Shane marketed his hand crafted lures through a local outlet and this is really where Viper Lures started. The lures below are two of the earliest lures from this era and are both signed 'Murphy's Lure!' and would have been sold at Ronny Ross's Barber Shop in Tenterfield around 1986. The Viper brand grew quickly and a distinctive shape developed in several sizes.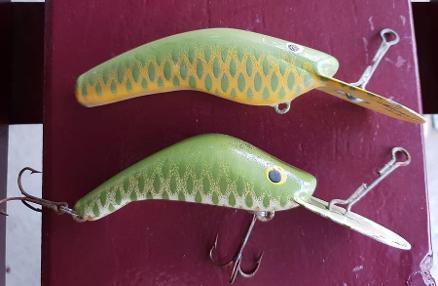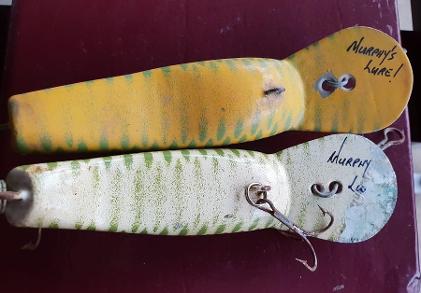 Early article on Viper Lures from mid 1990's
The lure shown below is an early pre 1990 Viper 4" and is hand signed and without the characteristic 'V' on the bib.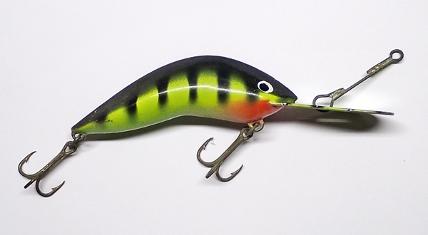 Photos show smallest size Viper 'Bass' in characteristic early pattern.

Interestingly the Viper lures are often referred to as Viper 'V' Bass however the 'V' was only ever part of the logo and signature as opposed

to the model.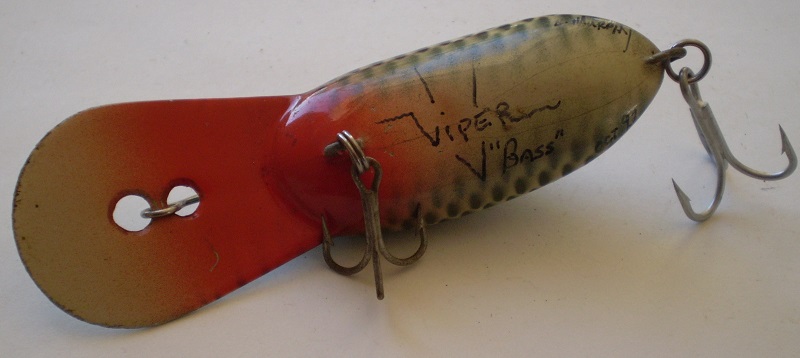 Viper 'Bass' in red/black. c.1991 (above)
Photos above show smallest size Viper 'Bass' in characteristic early pattern. These lures are uncommon and command high prices in the collector market. Metal bib hand signed and dated Oct 1991.
**In a conversation on Lure Lovers the lure left was shown as it was bought in the Tenterfield area. Shane confirmed that he first stocked Tenterfield in 1986-88 and this lure was signed without the big 'V' or the bib 'V' so would date to this era.


'Shane Murphy was born and raised in Tenterfield, NSW. Home of many a great lure maker. He lived there for all his school years. It wasn't until the mid 70s that he left town to persue an apprenticeship as a Diesel Fitter with BHP in Newcastle. Shane finished his apprenticeship, and in 1980 he moved to Queensland where he got a job with Hastings Deerings , Caterpillar. He worked all around Queensland for three years until September 1983, when he married his wife Susan, and settled down in Alexandra hills, on the bayside of Brisbane.
Shane always kept close ties with family at Tenterfield, and returned home often to visit family and fish the local waterways. He did a lot of fishing in Northern NSW and Southern QLD, places like Tenterfield Creek, Mole River, and Dumereq River, and Glenlyon Dam, were at the top of his list. He began carving a few of his own lures in 1984/85, and was encouraged by his brother-in-law, Brett Campbell, who really helped him out in the early days. Shane sold his first lure at Ronny Ross's Barber Shop in Tenterfield in 1986, it was about 5 inches long and called simply a 'Murphy Lure'. This lure was followed by the Platypus later in 1986.'
**Extract from biography for Viper Lures written by Matt Fraser (2015). See this full biography on the Lure Lovers forum.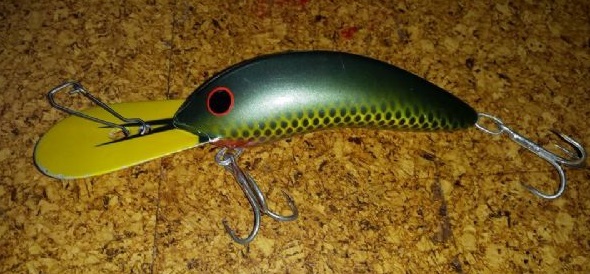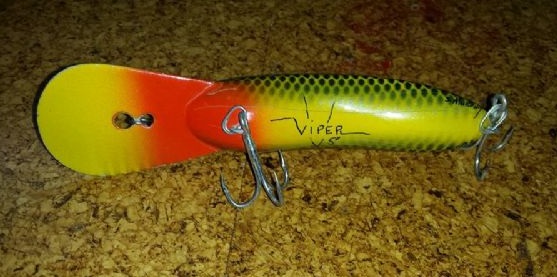 An uncommon model is the Viper 'Log Runner' below. This particular lure was posted on the Lure and More forum several years ago and is an early version and would date to the early 1990's. Shane has continued making the 'Log Runner' in small numbers over the years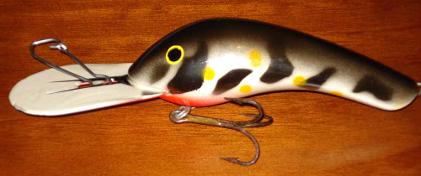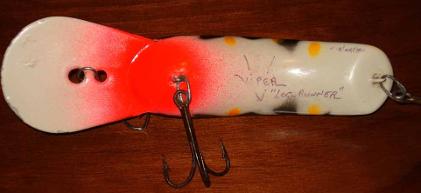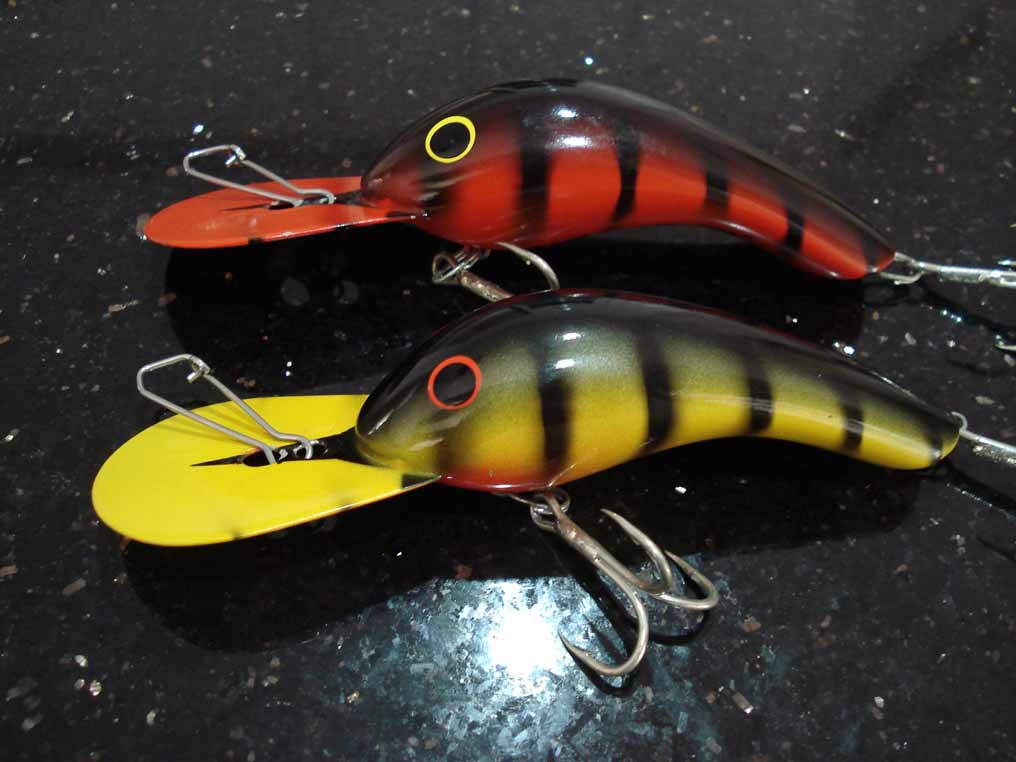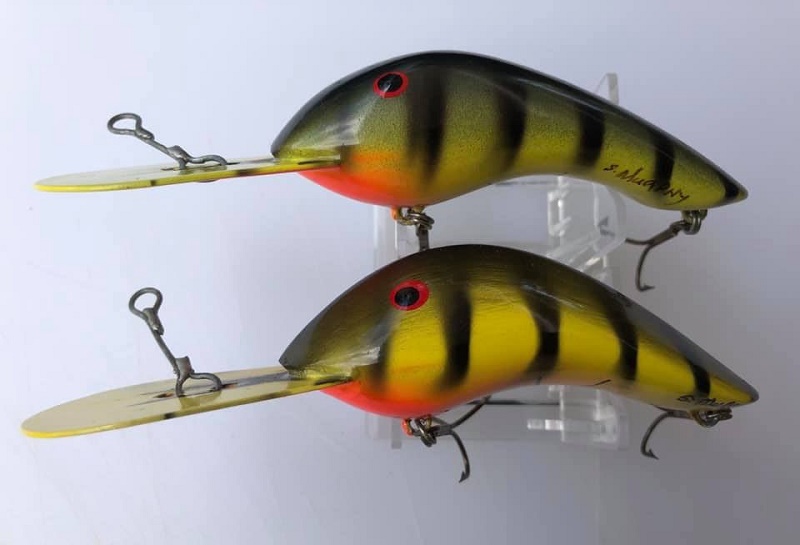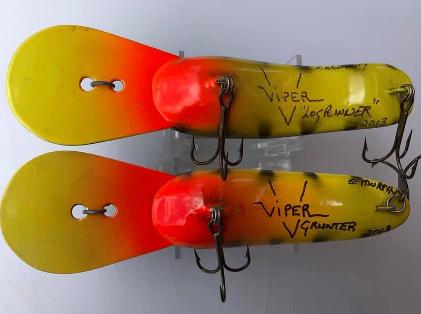 By far the most common models in the Viper range are the standard 3,4 and 5 inch models although larger sizes are least common. Timber metal bibbed models were made through the 1990's quickly moving to polycarbonate bibs. The sizes are shown below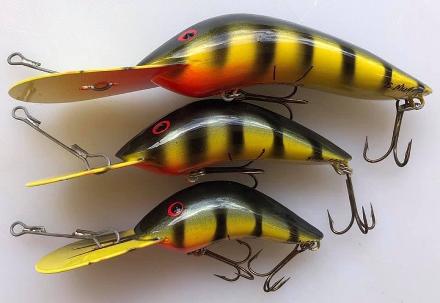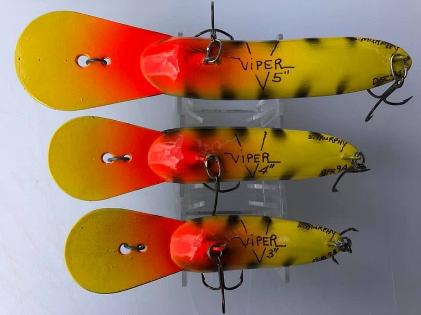 Modern metal bibbed Vipers - note bib shape and all lures are dated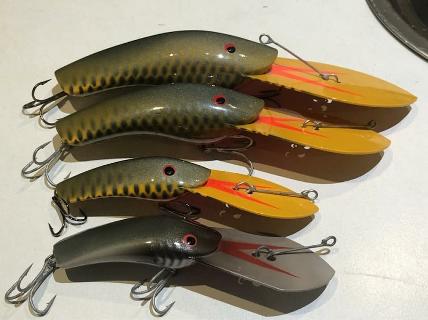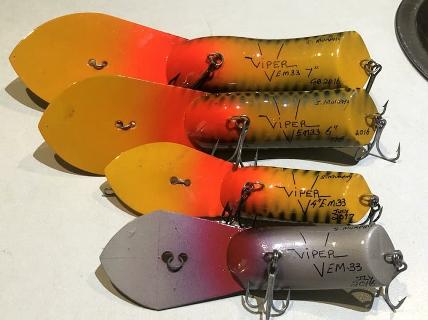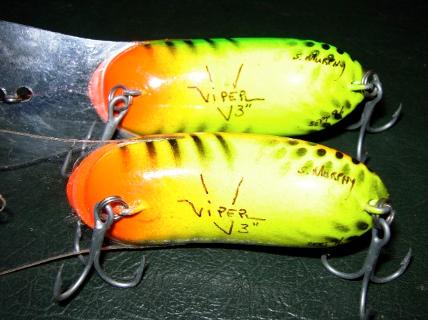 Viper comparisons for older clear bibbed timber versions showing belly markings and signature.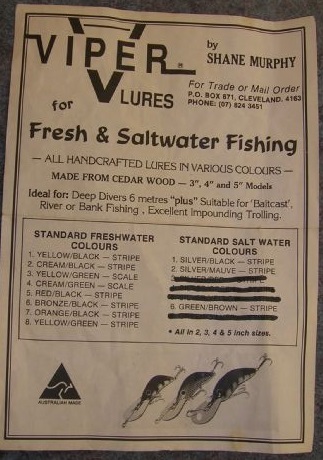 The lures opposite show two eye colour variations.
The Viper series of lures were made with clear plastic bibs and were eventually moulded. The timber/polycarbonate bibbed versions will still fetch high prices however the metal bibbed versions hit prices up to $150 each if in mint or pristine condition.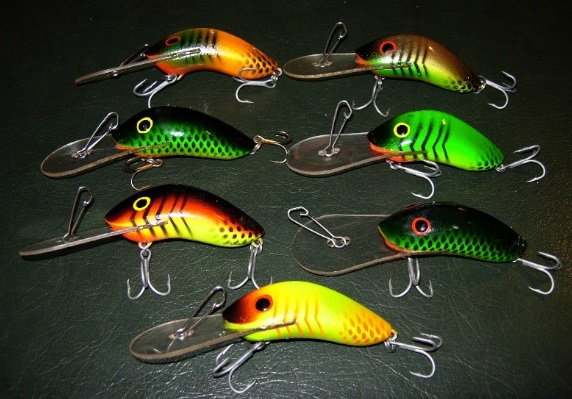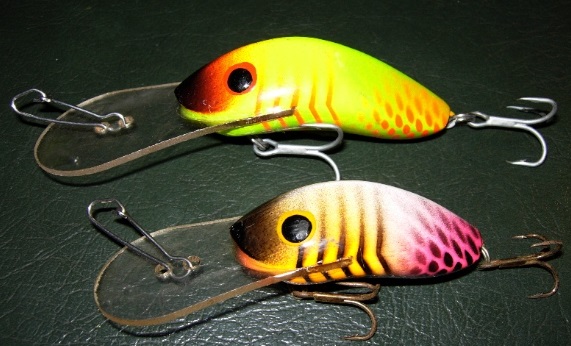 The moulded versions were originally being moulded by Strike Zone tackle for Shane. Strike Zone folded after several owner changes around 2008/9.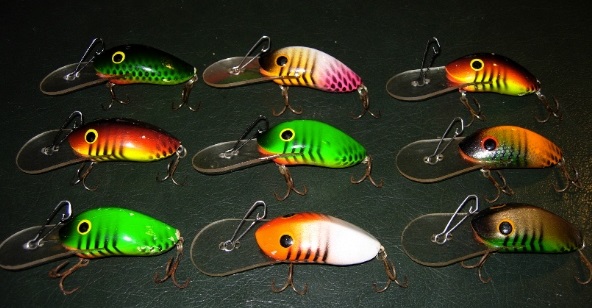 Left shows an early advertisement for Viper Lures. It lists 8 freshwater colours and originally had 7 saltwater colours although a few have been deleted from this paperwork. Listed are 3 sizes at the top and in asterix on the bottom it mentions the 2 inch model also. Viper lures are still being made in small numbers.
Below shows a wide range of Viper packaging for later moulded models.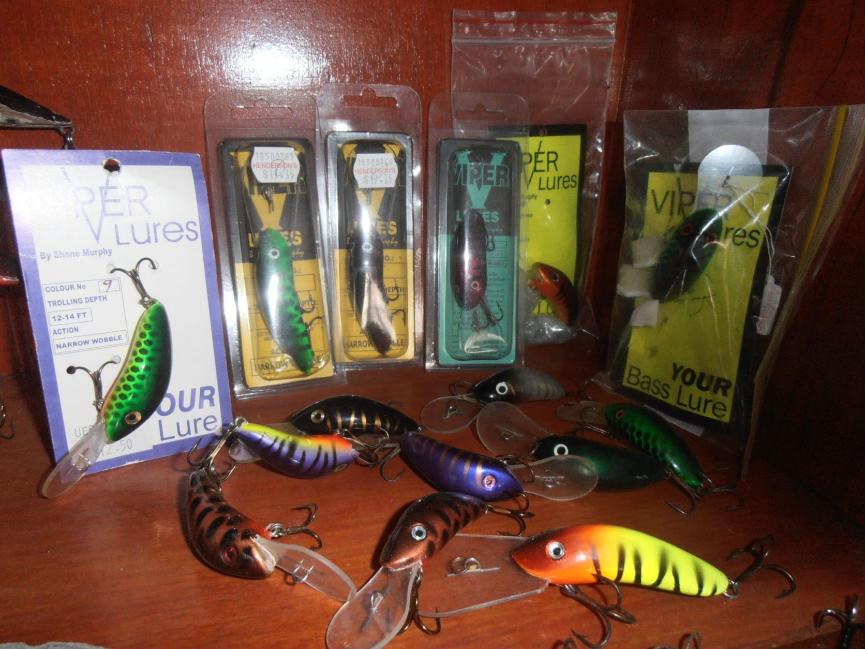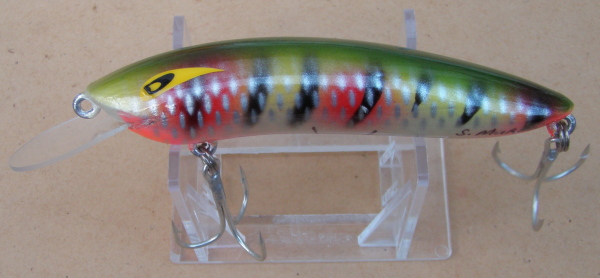 A more recent model of the 4 inch Viper 'Barra'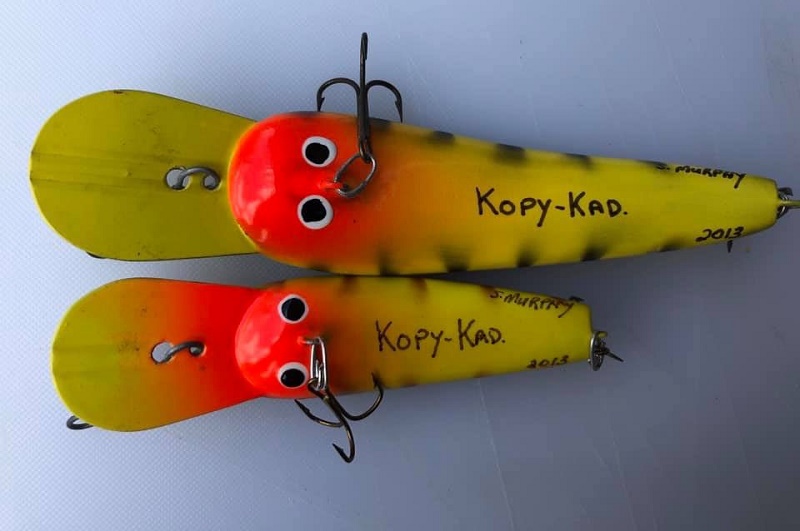 In recent years Shane has been making some great exhibition lures and collectables. More info coming soon . .