*Banner Image - the Lure Hub OZ Serge tacklebox from the 1990's
Serge Pertovt was making lures from the South Coast of NSW and started making small wooden lures c. 1992/3, went to injection molding in 1998 and ceased production entirely by 2005. In 2015 Serge came back onto the market with a new range which is all moulded. The earlier handmade versions are characterised by metal bibs and a distinctive shape. Earlier models will be found in yellow package as illustrated below and were distributed by SAGA Tackle. Later moulded models will come in different packaging and were distributed by STM Tackle in Sydney. Models include two sizes in the Serge original diver in shallow and deep (55mm and 75mm), 'Flathead' or 'Wiggly One' (85mm). Moulded divers came in a deep dive version and by this stage the entire shape of the Serge lure range had changed. Another model 'Squidly' was also released in plastic.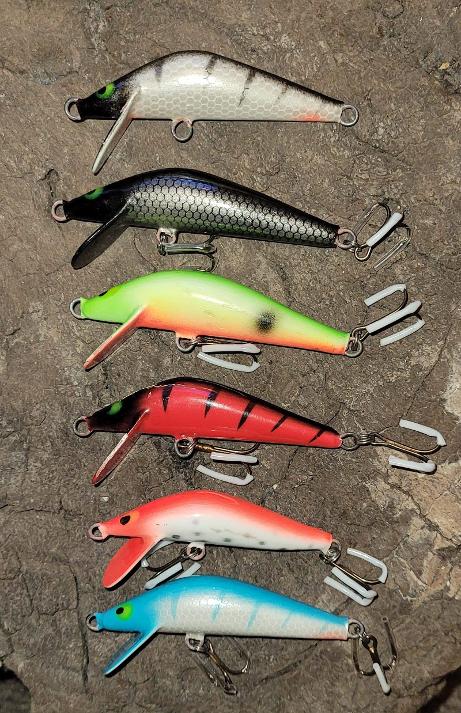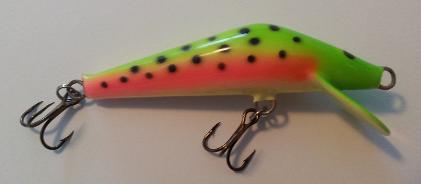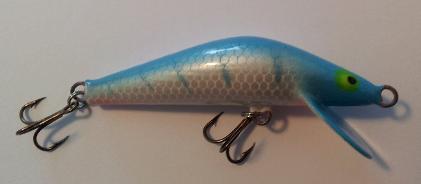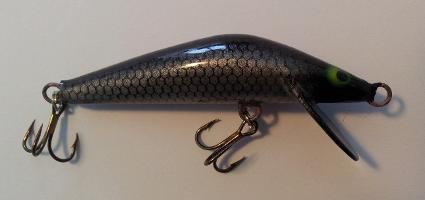 The three lures shown left and above are some of the earliest era Serge lures and have a characteristic shape and the eyes that change in later models from an airbrushed eye to the painted version.
(Above) An example of earliest packaging for Mini Serge shallow diver. Earlier yellow packaging is for timber models c.1992-98.
(Right) Collection of small timber Serge lures showing colours and variations - all earlier metal bib, timber models.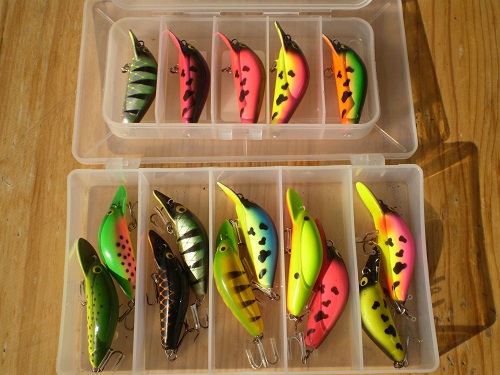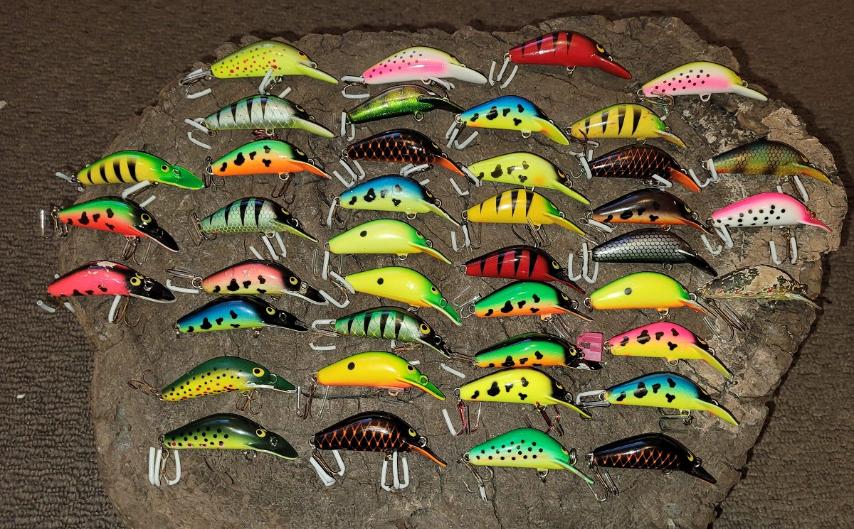 (Above) Some examples of rare colours and variations in the smallest timber Serges. Photo courtesy of Rocco Pannucio
(Below) Trout colours and early uncommon colours - there is also lots of colour variations to look out for plus bib differences in the timber metal bibbed models. More information on this will be added soon.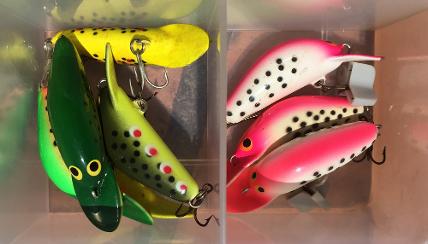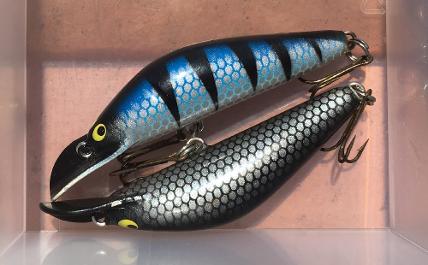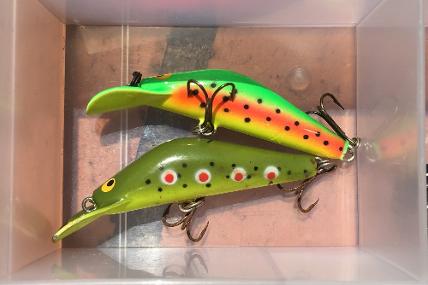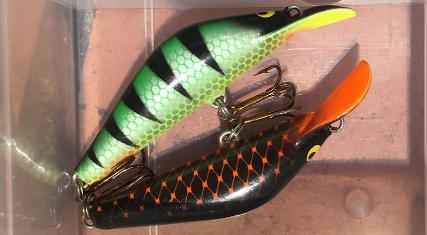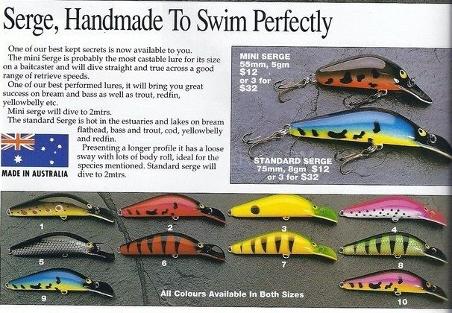 The Harbord Tackle Catalogue from 1995 lists the Mini Serge (55mm and 5g) and Standard Serge (75mm and 8g) available in 10 colours being brown trout, rainbow trout, silver scale on black, yellow tiger, red tiger, green scale tiger, yellow, yellow/blue/black, purple/orange/black, red/black but it seems that there were more patterns added quickly and the trout patterns soon seemed to disappear and are hard to find.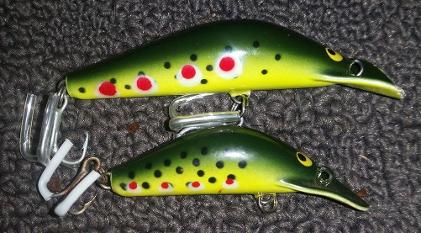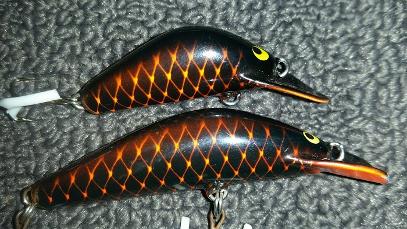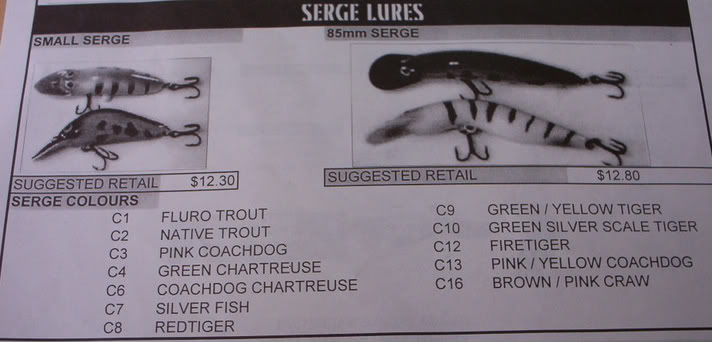 The above Serge paperwork shows the Serge colours that were available before 1998 with retail prices (expensive at the time). There were 12 different colour patterns but not all were available for the 85mm Serge.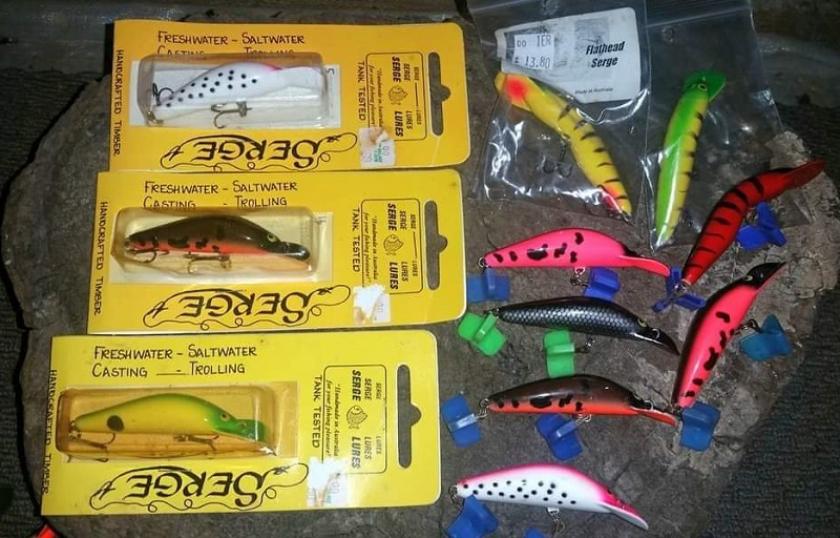 Right shows the packaging that was used during this era and the small timber Serge lures were also packaged in packages with Compleat Angler headers.
The paperwork below shows the introduction of the plastic Serge model - the small Serge deep in 1998. Same amount of colour patterns available and after this date all lure were made of plastic and moulded. There are also some bib variations on metal bibbed Serge lures.
Well worth the investment as the earlier models are now a high demand item and increasing in price all the time selling in the $35-70 range depending on colour and condition. Earliest straight bib models will fetch up to $100 each. There are not many colours outside of the specified range that was released at the time however Lure Hub OZ did sight an older timber Serge at Expo 2018 with an interesting colour scheme that had never been sighted before (gold scale over black base)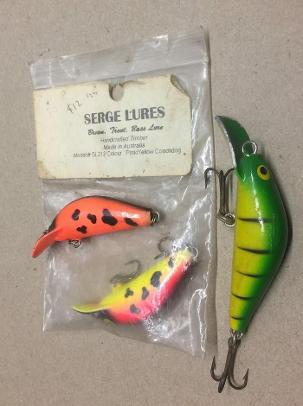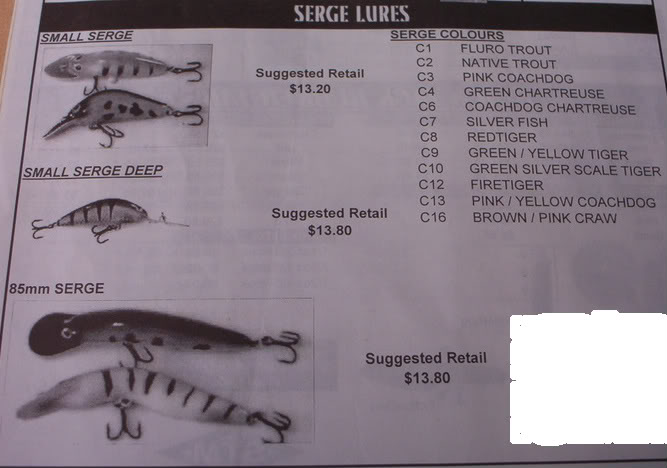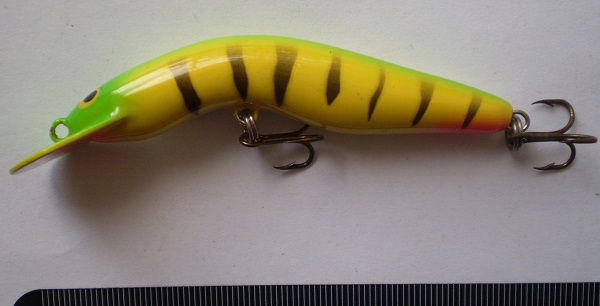 Serge 'Flathead' or 'Wiggly One' 85mm - moulded -uncommon. Early 85mm models are difficult to find in any condition but occasionally turn up as mint specimens from collections or tackleboxes.
Serge small deep in clamshell STM packaging who distributed these lures at the time.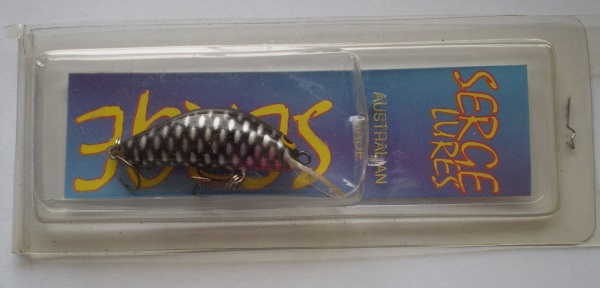 Serge small shallow in STM packaging who distributed these lures at the time.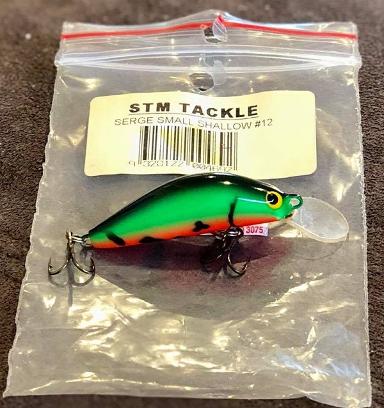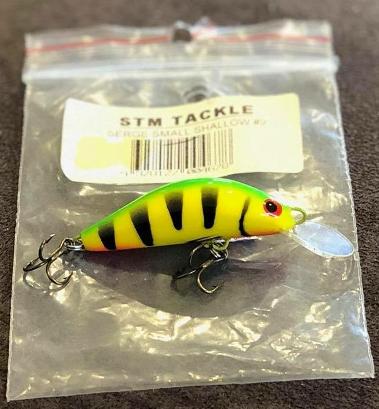 More Serge lures showing the modern moulded range will be added soon . .