Australian Lure Manufacturers G

If you know of an Australian lure maker no matter how young or old that we have not mentioned in the following list feel free to contact us to have the details added or updated.
*Cover banner photo is part of the Gidgee nude set in red cedar c.2011
3G Lures - N.T:
Made by George Voukolos, Greg Chan, and Rob Gaden c.1998
Apparently George and Greg were partners in Fishing and Outdoor World until Greg left to coach the Olympic trap team. Examples shown are of the 3G 'Black Adder' on cards. No longer being produced. They were available in approximately 12 colours. Sales on Ebay from 2009 -2013 indicate that 3G Lures sell erratically ($4.81 - 39.00).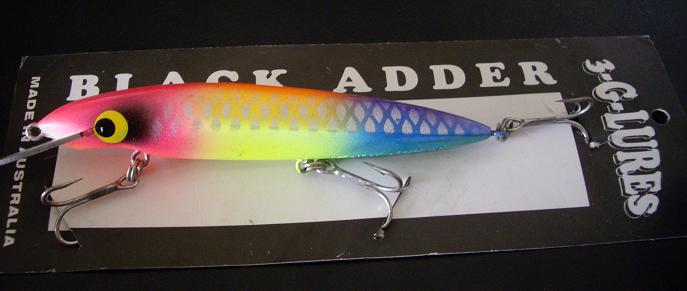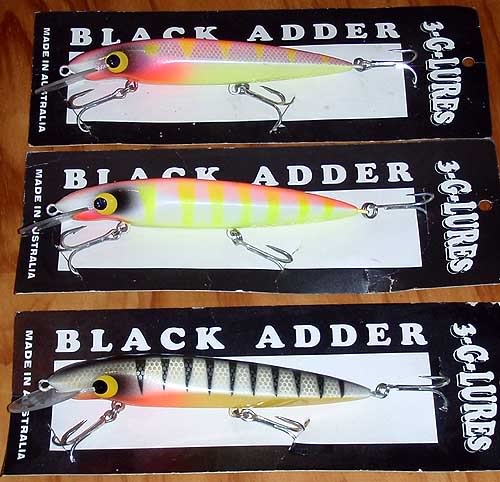 G Lures - N.T:
Made by Graeme Forrester and brother Bob Forrester who made Forrester and Basstad lures. Certainly a NT family connection in the lure making trade. High quality timber lures with the northern Australian look that was heavily influenced by Leads and C lures in design and shape. Available since the 1990's and still turn up from time to time. Uncertain if they are still being made. The photo right shows the evolution of some G Lure models with the the top two left in the picture the earliest and hardest to find. Often unidentified.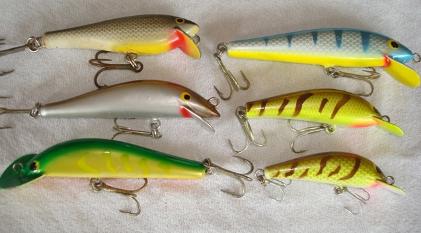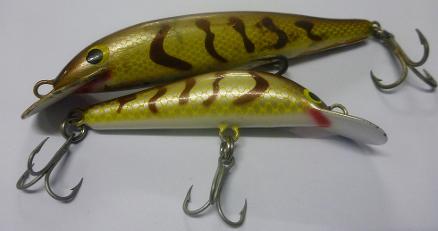 The two lures above show older versions of the G lure made by Graeme Forrester. Although the shape is virtually the same as newer versions of the same lure, the older ones will have the red airbrush line where the body meets the bib.
Below is earlier packaging listing post office box at Palmerston NT, however there are a few other different packages that have been used over the years.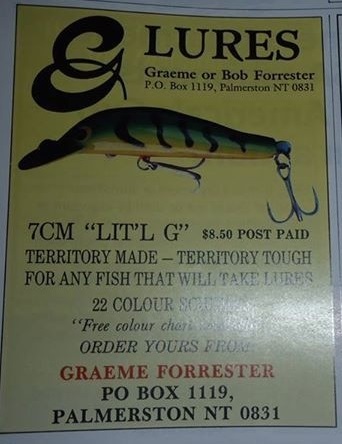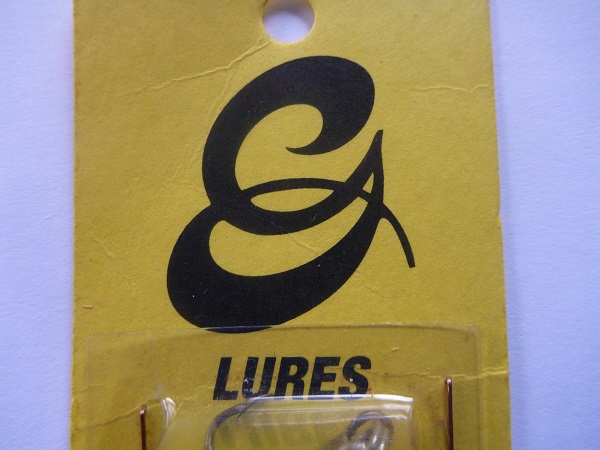 An early advertisement and close up of G lure logo. Note was available in 22 standard colours with both Graeme and Bob as contacts.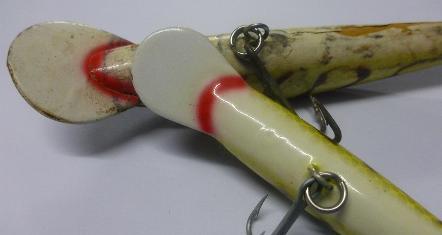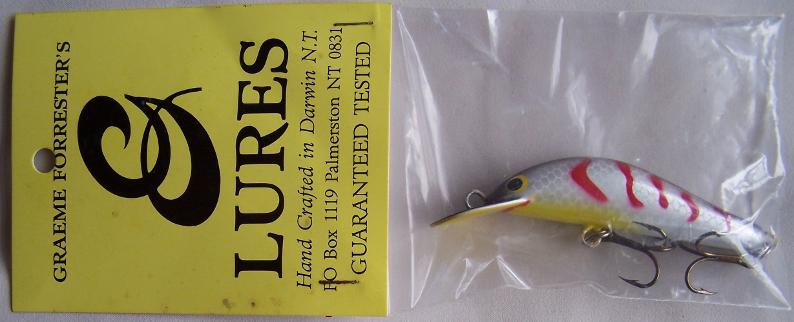 Gainey, 'Tub' Gainey Lures- NSW:
'Tub' Gainey has been making lures since the 1990's and his biggest influence was Mudeye lures. Made in Ashford, these lures may also be referred to as 'Tubs Lures' and may be marked on belly with 'tub'. Not made in large numbers.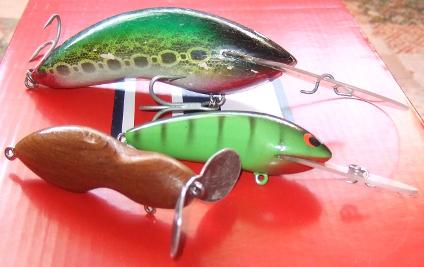 Some interesting models such as the surface crawler shown in the photo above and more standard deep diving shapes.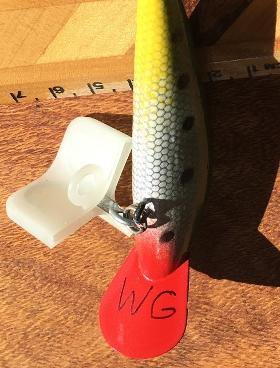 Galina, Wal Galina Lures - QLD:
Wal Galina made timber lures in small numbers. Wal was a keen angler from Mareeba and some of his lures were sold through Bransfords in Cairns.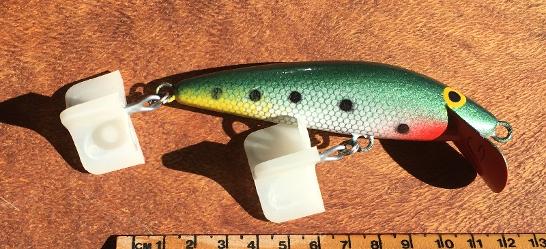 Gallo, Ron Gallo Lures - QLD:
Ron Gallo was born in Cairns in 1935 and lived with his parents in Freshwater (a Cairns Suburb) for all of his young life. Ron's father moved from northern Italy to Australia when he was 10 years old and started work on a cane farm, after which he became a commercial fisherman and netmaker. Ron made his first lure in 1951 using the blade of shiny steel for making a spoon lure and made his first handmade Barra lure in 1956. In those days there were very few wobbler type lures available until Dave Fangyuen introduced Bellbrook lures to Cairns in the late 1950's. See full page bio . . .
Here's a quote from Bransford Tackles website about Mr Gallo when he was inducted into Bransfords hall of fame in March 2007:
''Ron Gallo is the North's estuary expert. He was the owner of one of Cairns' first tackle shops and his generosity as a retailer almost sent him broke. His lure-making skills are superb and he always has the time to help others, particularly youngsters. His achievements as a barra fisherman speak volumes and his knowledge of Lakefield is unrivalled.''
Ganesey Lures - QLD:
These lures were made in Weipa by Stephen Gane and were otherwise known as 'Ganesey Lures'. Early timber models will have eyelashes and most will be signed. A distinguishable shape and quite easy to identify.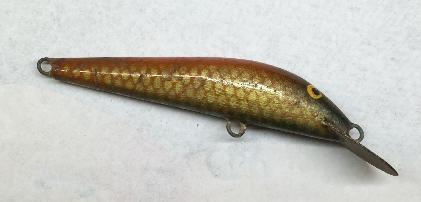 Early timber models will have eyelashes and most will be signed. The metal bibbed versions come in a shallow and deeper diving model. Timber and later moulded models will have the bibs pinned with a single pin or 'phillips head' screw.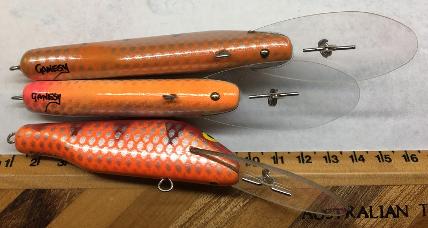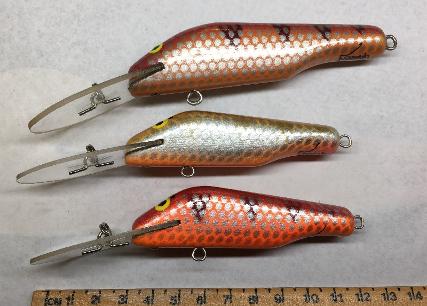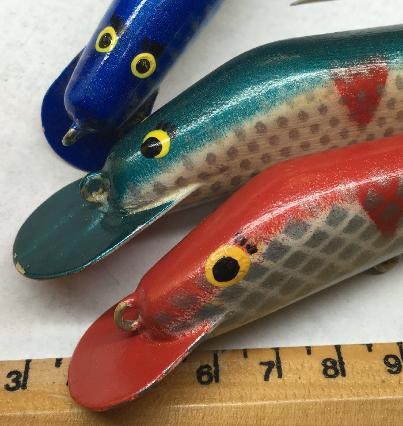 A different Ganesey model below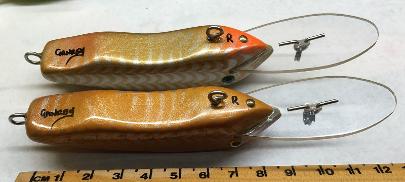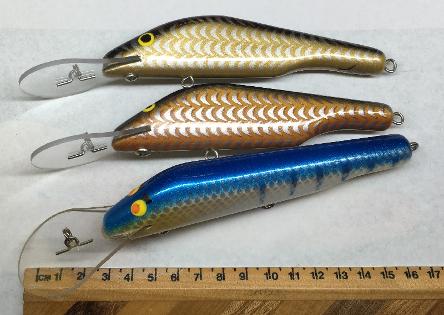 Moulded models showing deep diving bib and comparison with earlier timber model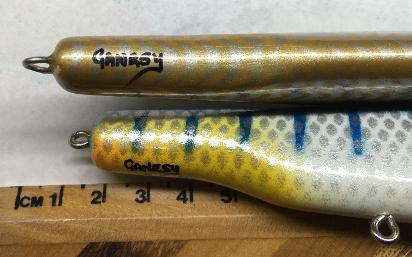 Ganley, Bob Ganley Lures - SA:
These lures were produced by Bob Ganley as a sideline to the squid jigs he made in the early 90's. These lures were made of exploded foam. Models included;
Bob Ganleys Frenzy 150, 120, 90
Bob Ganleys Muddie 125, 90

(Above) Packaging c 1992 of the Frenzy model 90 sinking model. The instructions on the reverse of the packaging gave tips for using the lure in different situations whether it was the floating or sinking model.
(Below) Showing the Frenzy 120 and 90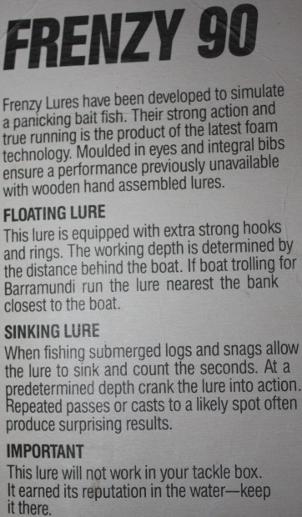 (Above) Bob Ganley 'Muddie' which is a much different shape to the Frenzy model and easily identified.
Gappys Lures:
Gappys Lures will rarely if ever be found as they are a backyard lure made for personal use. Two different models are shown. More information coming soon.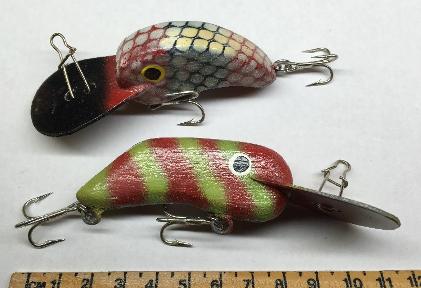 Garra Lures - QLD:
Terry Marshall from Wallangarra is an old school Australian lure carver from the 'Tenterfield School' of makers and has been making timber lures since the 1970's. Garra lures have a characteristic style with painted metal bibs and soldered tow points and are excellent Murray Cod lures. See full page bio under Garra Lures
Garry's Timber Lures - NSW:
Garry's Lures are another of the cottage industry makers that was crafting timber lures from the shed. The lures shown right were purchased around northern NSW and the card yields some interesting information that the lures are made from Huon Pine which is a rare Tasmanian timber. Looks to be two sizes with double or single hook versions. Maker is tentatively identified as Garry Swindle.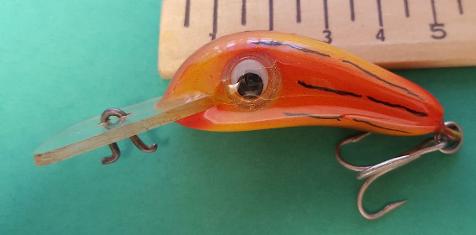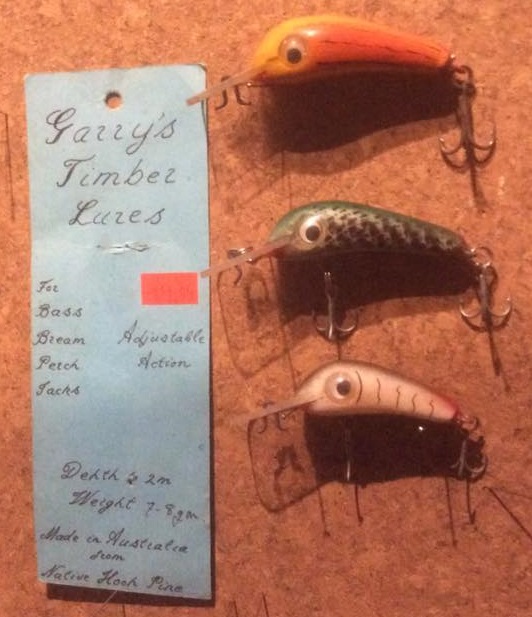 Garwood, Cliff and Gladys Cobras - TAS:
Cliff and Gladys Garwood made iconic winged cobra style lures in north west Tasmania and were from Devonport. This is a remote area of the world where the locals are resourceful and this couple were a team with distinct roles in the manufacture of their product. The insert for the lures would often be a barred feather with hand painting and foiling also evident.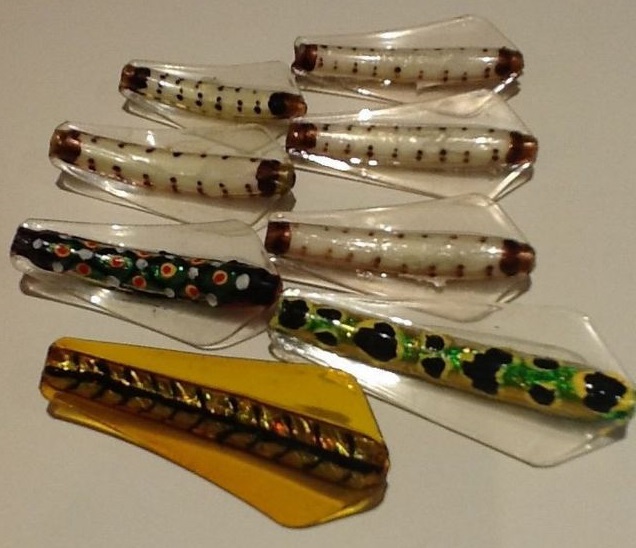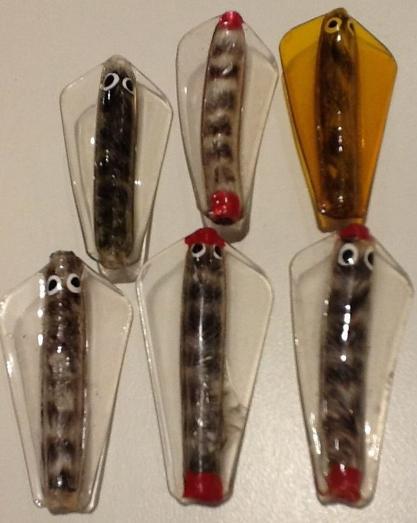 Gaz Lures - QLD:
Gaz Lures are an obscure luremaker from Cairns. No information other than a timber model named 'Yorkeys Knob' with square faceted sides and top. Rare and age unknown. Photo kindly supplied by Tony ' Seaweed' Bartlett.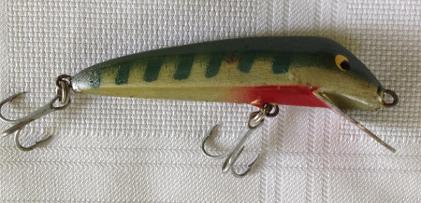 Geihe, John Geihe Lures - NSW:
John Geihe from Tenterfield had been a hobbyist lure maker for over 20 years and was a neighbour and good fishing mate of Peter Newell. His lures are highly effective hand made timber creations and show a deep understanding of lure making probably helped with advice from Peter. The lures will not be signed and will always feature the 'Tenterfield Towpoint', (a soldered wire eyelet) adopted by so many of the Tenterfield makers including Peter Newell.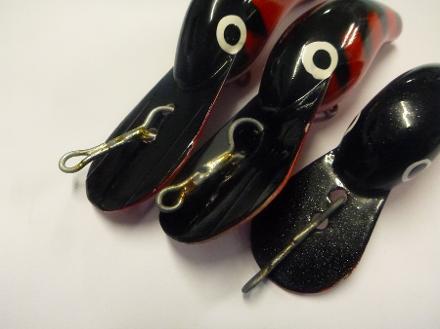 The lures showcased here are signed as a rare momento for his good friends in the favourite red and black combination. The top two lures feature the 'screen door' bibs named after the doors that were demolished for lure bibs and also used on early Peter Newell lures.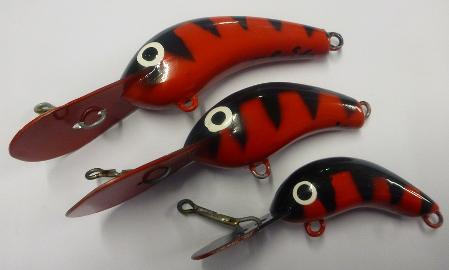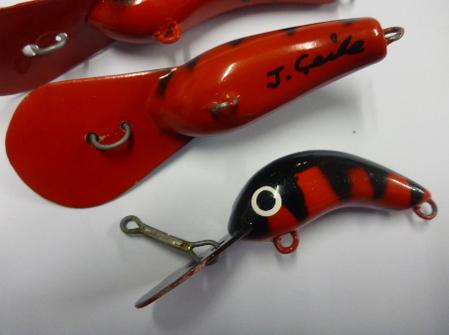 Geo Lures - NSW:
Geo Lures were made in the Maitland area. An interesting frog shaped timber lure very similar to the Fysshe Frogs which have been made for many years. Definitely an older lure but unsure of exact vintage or maker. One lure has a weighted bib and they look to be through wired.
Interesting packaging with a rounded card and hand written. Stapled to bag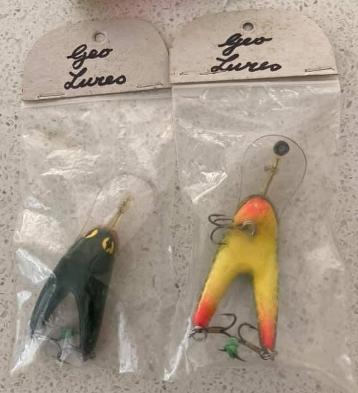 George, Phil George - NSW:
Phil George is based in Glen Innes and makes a distinctively shaped lure. Most found are moulded but some do show up made of timber (possible prototypes). His lures were also marketed under the Rhubarb Lures label. See Rhubarb Lures
George, Mike and Bill George - QLD:
Mike and Bill George of Tully, QLD were shaping conehead poppers in the mid to late 1970's, a design that many have copied since. The earlier versions will have larger bulbous head with later models c.1979 having a straighter profile. Rare.
Gerus, Gerry Gerus Lures - QLD:
Gerry Gerus was from Cairns and sadly passed away a couple of years ago. He was a carpet layer by trade and made some fantastic custom knives as well as a few lures such as cut faced poppers.
Gidgee Lures - QLD:
Tom Barrett seems like a relative newcomer to the lure making scene however he has been making his high quality hand made timber lures for many years and they have been available commercially since 2009. Tom spent some time in Tenterfield and his lure making was heavily influenced by the makers in this area. Gidgee Lures now hold a good part of the Australian hand made lure market. See full page bio under Gidgee Lures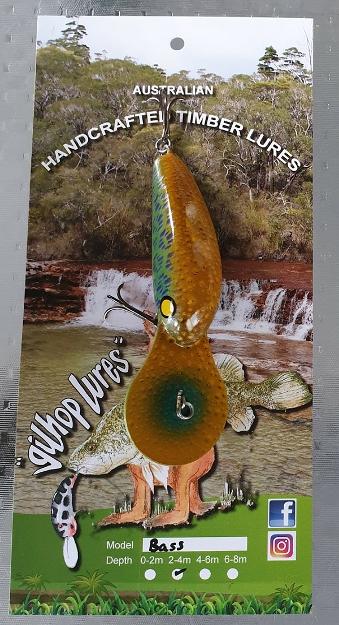 Gilhop Lures - QLD :
Gil Hopper started making hand made timber lures in 2018 and by 2019 a few carded lures appeared at Expo. Gil is a true lure angler and appreciates timber lures - he collects, fishes and makes timber lures.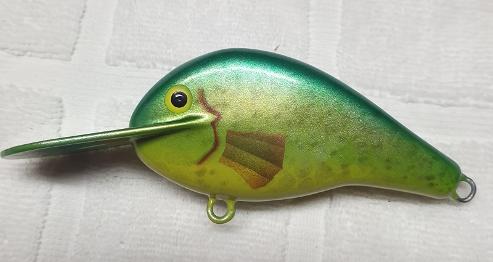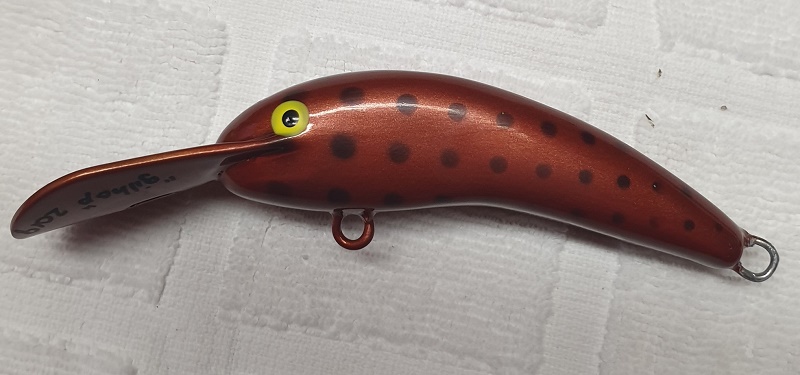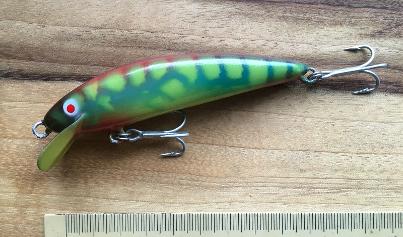 An example from the first batch which was traded at Expo 2019

Gillies Lures - J.M Gillies Pty Ltd - VIC :
A range of lures distributed by J. M Gillies Pty Ltd from South Melbourne, Victoria who are a major wholesaler for all sorts of
angling products including lures.
J. M Gillies is an historic Australian stalwart of the tackle industry and has had the rights to sell lures such as Wonder Lures in the early 1960's and many other brand name lures since then. In the early days J. M Gillies had distribution rights to a wide range of domestic and imported lures.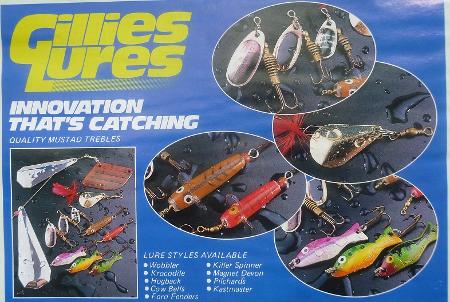 Several advertisements showing the Gillies range c. 1993/4
The Gillies line of lures were old style spoons, spinners, devons and attractors which were imported. Gillies did own the rights to distribute Wonder Lures from at least 1966.
Gillraker Lures - Port Macquarie, NSW :
Made by Paul Gill from Beechwood, NSW. Original contact address was Beechwood Crescent, Beechwood c.2009. Little information known or whether these lures are still available. Definitely only ever a localised distribution. Lure and card shown right.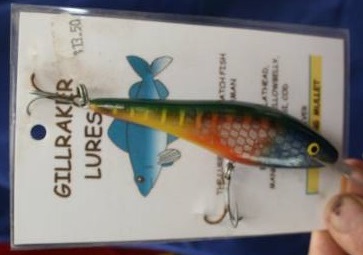 GJL Lures - QLD :
GJL Lures were made of western red cedar with aluminium bib in the early 1980's.
The following information was provided by Ben Lamb - "my old man got them on his first trip to Barra Base on Bathurst Island back when they were still building the camp and the guests were in tents"
It seems there were a number of models which were sold locally. Unsure of makers name but possibly GJL are the makers initials. Quality purpose built lures from someone who knew what they were doing.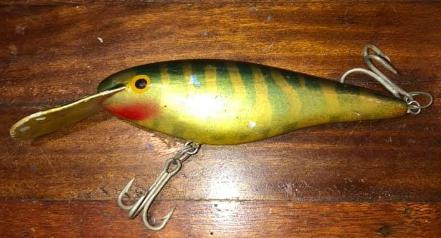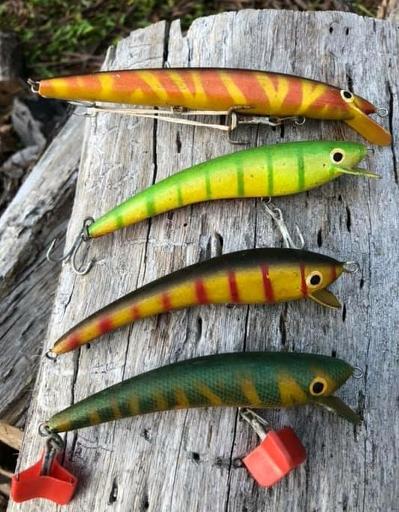 Glanville, Bruce Glanville Lures - QLD :
Bruce Glanville shaped lures in the 1970's and 80's. Classic Queenslander style lures, hand painted and in minnow and popper shapes. Bruce was based in Townsville.
Photos show a number of older models including poppers and minnow styles.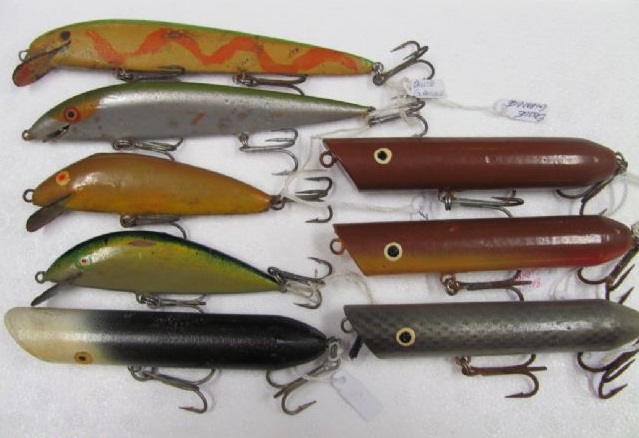 GN Lures - QLD:
Gordon and Margaret Nunn were shaping hand made poppers from the late 1970's and into the 1990's from Gordonvale, south of Cairns. The Nunn Family only ever used GN Lures stickers as labels. The business was sold in the mid 1990's and the new owner used this kind of stamp for the label. GN Lures didn't stay open long after it was sold. The advertisement from Northern Angler lists jigs, bloopers, chuggers and trolling heads available in the mid 1980's. Lure Hub OZ remembers a range of GN Poppers being available at Compleat Anglers stores in the late 1980's.
(Below) The banana colour poppers were the most popular while glitter belly will mean an early short run. Pin eyes will also indicate earlier age after which the eyes changed to small painted eyes and the later larger eyes. Marked with 'GN' on belly or popping face.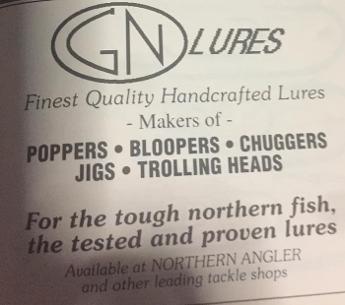 Right shows a GN popper in packaging made for the shop Eathornes.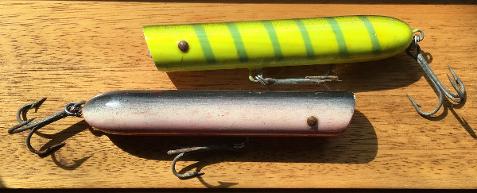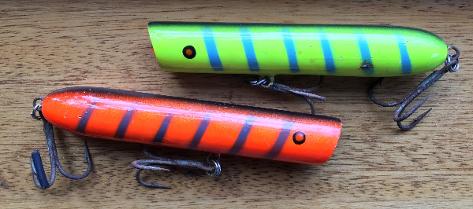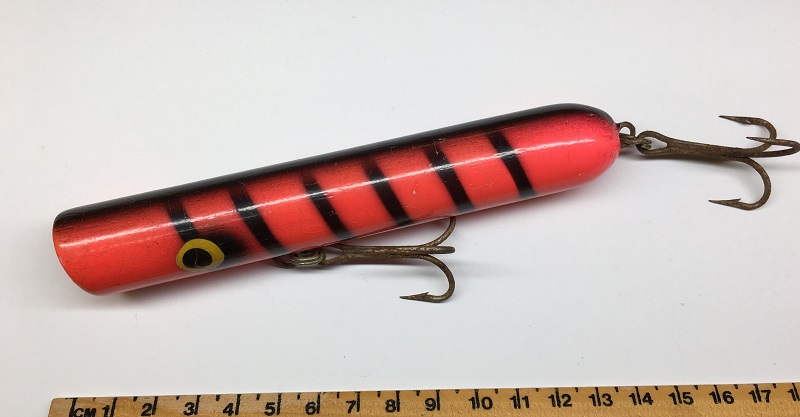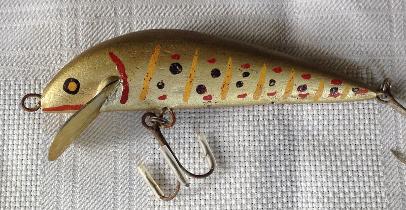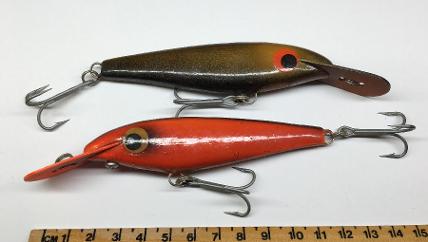 Bibbed Gordon Nunn lures are quite scarce and hard to identify although the eyes such as the 'Moller' style lure above does show the GN eye similarity. This lure would date the 1970's. The bibbed lures below are dated much later and have larger eyes similar to the evolution of the popper eyes. The round stamp is often missing.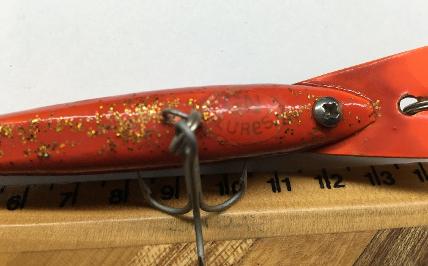 Goanna Lures - NSW:
Hobbyist lure maker Ron Davies who makes D Dads Lures has also marketed some lures under the name of Goanna Lures. They were never made in large numbers but some were available at Expo 2014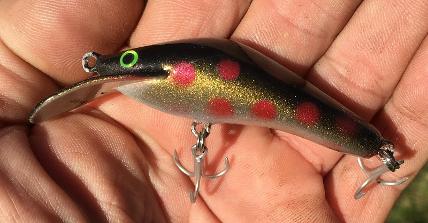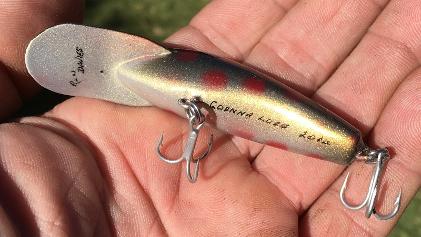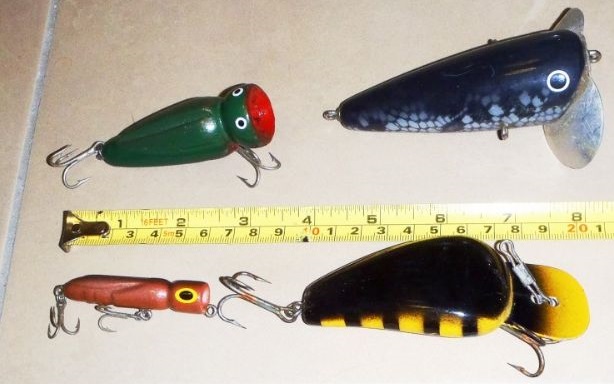 Goanna Lures - :
Goanna Lures are made by Brian McFarlane.
Photo from Lure Lovers forum
Gobbler's Lures:
Extremely interesting hand made lures that were released in a small production run early 2021. A timber bent minnow style lure. Also there is a range of soft plastics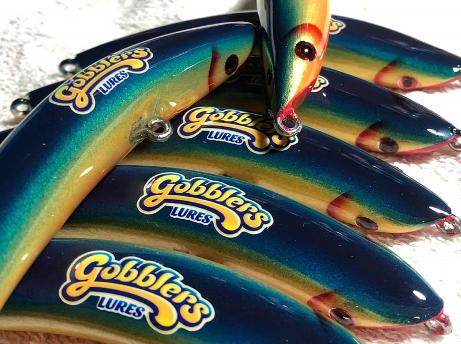 Gobsmacked Lures - NSW:
Extremely interesting hand made lures that are made in Goulburn, NSW by Jamie Judd. The lures are turned on a lathe and resemble bees, bugs and surface critters. Gobsmacked Lures are a highly effective lure for Murray Cod and has evolved into a wide range of diving and surface lures.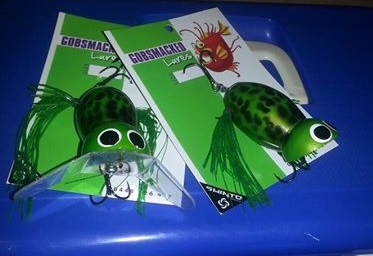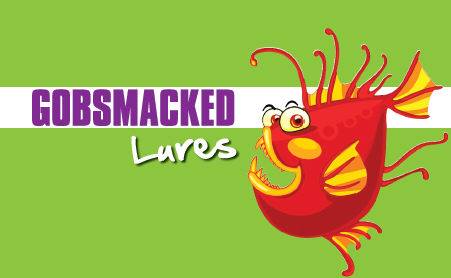 From Fishing Monthly 2014;
'Gobsmacked lures is a family owned and run business operating out of Goulburn, NSW. Owner Jamie Judd has always had a love of fishing and loves to tinker with his own lure designs. Jamie said 'when my hobby turned into a business, I was glad I could pass this passion onto others as well as my children who loved helping me make lures. My youngest daughter even had a lure without hooks as a baby rattle. My main passion is surface lures, especially designed for targeting Aussie natives. While I love fishing in general, there is nothing more exhilarating than that big BOOF when your lure gets smacked off the top. Hence the name Gobsmacked, because often thats how that sight leaves you Gobsmacked'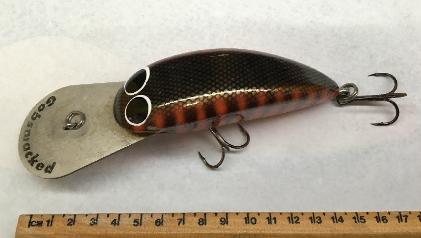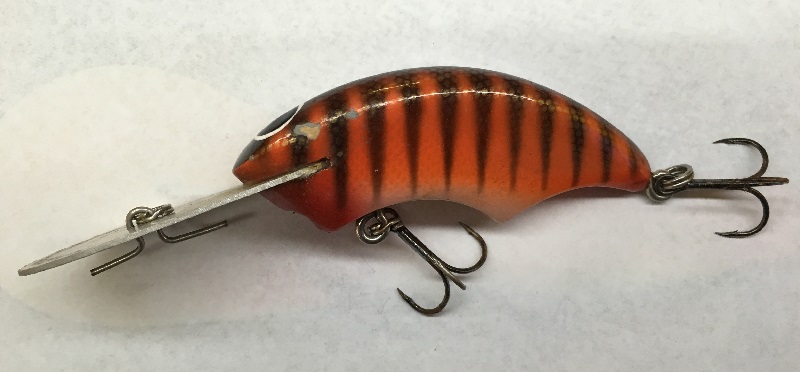 An early diving Gobsmacked model with metal stamped bib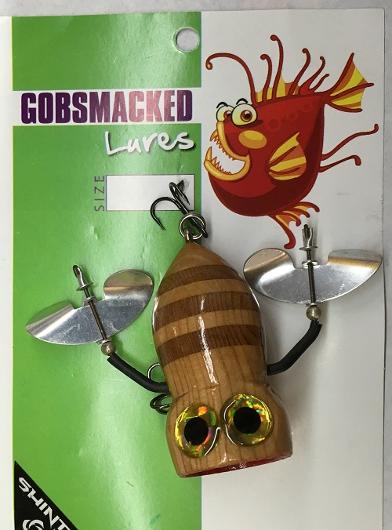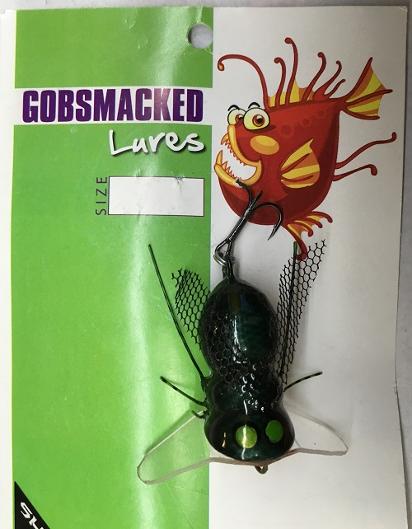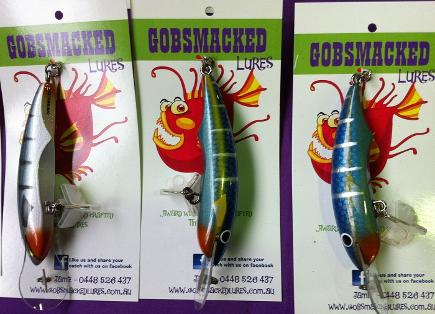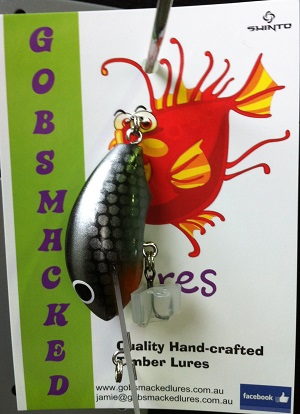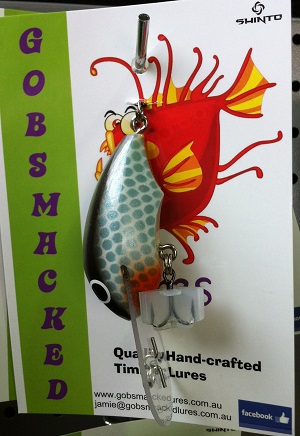 Gobsmacked Lures range in size from 50mm bass lures to huge lures for targeting Murray Cod.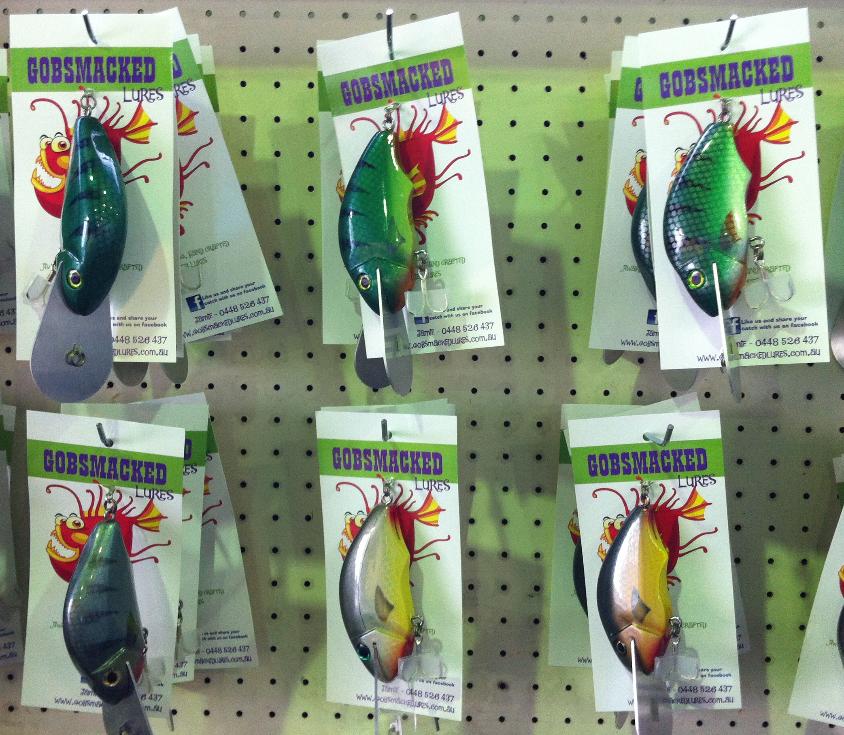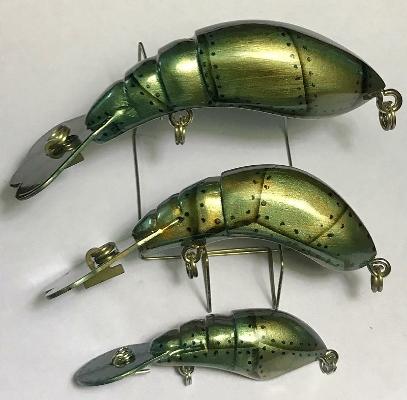 Gobsmacked Lures released the 'Steam Punk' colour pattern on special order in 2018. Lure Hub OZ was lucky enough to secure a couple of the smallest yabby model and the lures are first rate.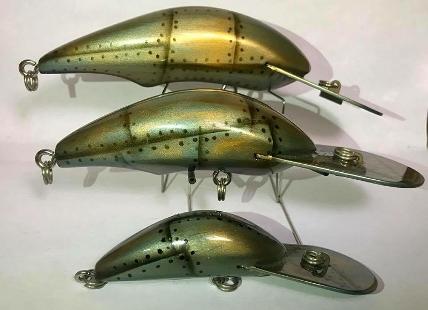 Gofor Lures :
The lures made by Flicks that predate Flick's Lures. Similar card to the Pressey River Barra Bait that was also made by Flick Robertson.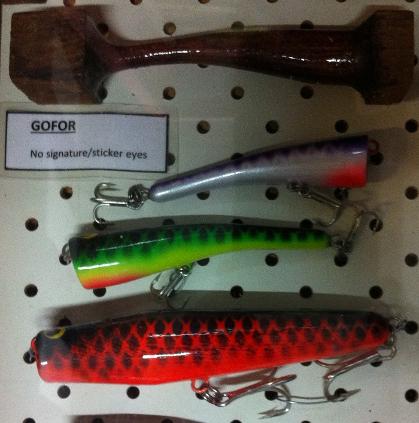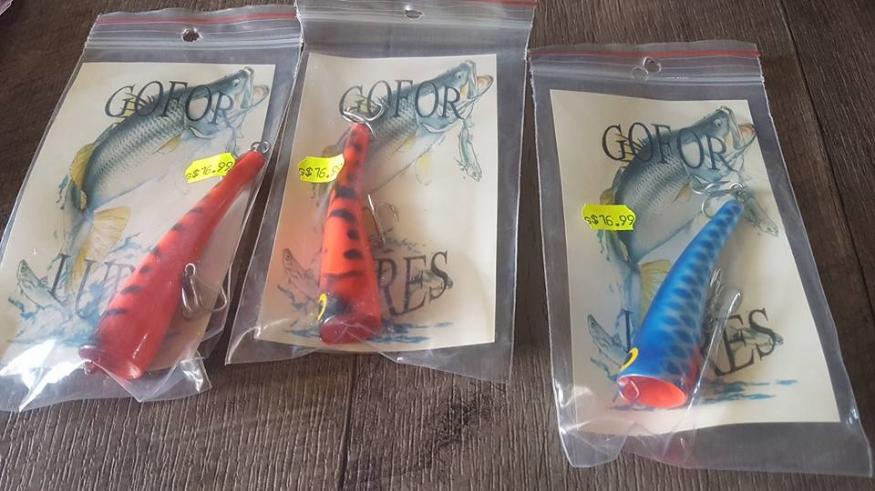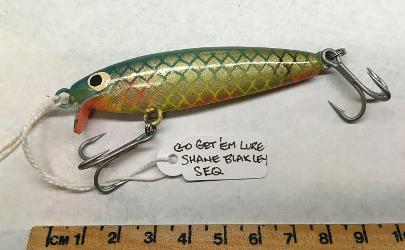 Go Get Em Lures - QLD:
Shane Blakeley made an excellent timber lure called 'Go Get Em' and is from the Maryborough area. Lure shown below is 120mm and sold for $19 in 2013.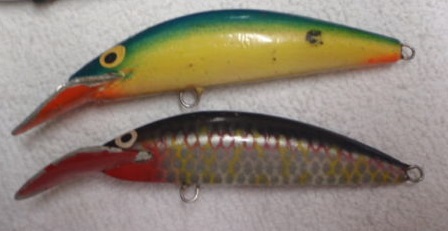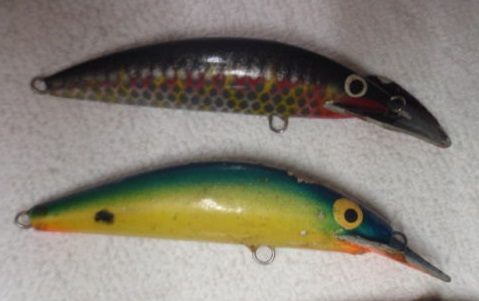 There were a number of Go Get Em lures that came up for sale on Ebay in April 2016 and sold in the $10-20 price range;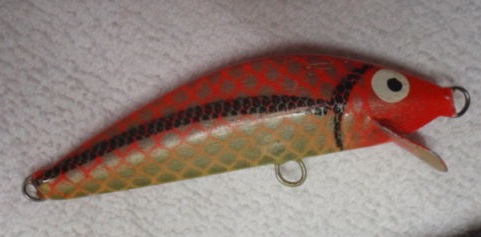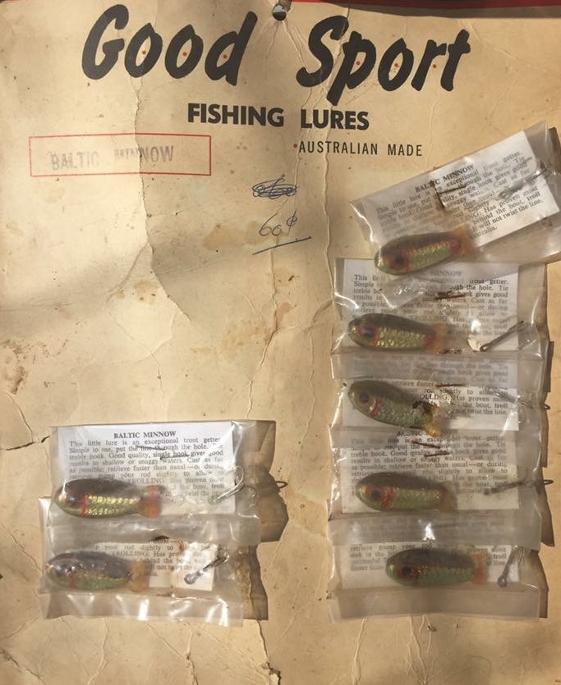 This original card appeared on Ebay in 2017 and shows some of the original packaged Baltic Minnow lures stapled to backing card.
Good Sport Lures:
Good Sport Lures were an Australian company selling the 'Baltic Minnow'. There were many copies of the original Baltic series of lures although these look like original Bernie and Kensia made Baltics stapled to a trade card.
The prices for Baltic Minnows between 2015-2020 have skyrocketed and considering they were always a cheap option and a great fish catcher for salmon and trout, it really is hard to fathom why collectors will pay big dollars for a vintage lure that is quite common on the market.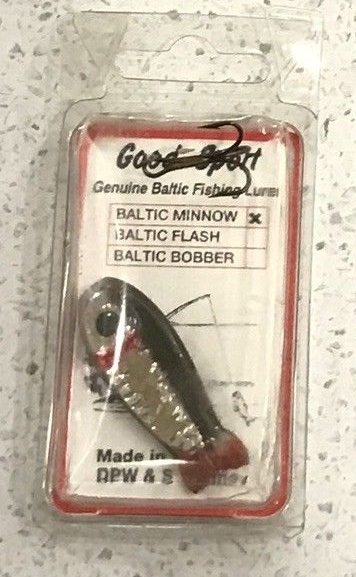 Goodoo Guru Lures - QLD:
Goodoo Guru lures are made by Christopher Neilsen who is a jeweller by trade. Chris is a relative newcomer to the Australian cottage industry lure making scene and made a big impact by winning the best 'Cottage Industry Lure' at the 2014 Australian Lure and Fly Expo and then following up in 2015 and 2016. Definitely one of the more cutting edge lure makers from the new breed of cottage makers emerging in Australia that have taken lure making to such a high level. Chris has however been making lures for many years and made the River Ratz Lures with Sean Sly when he was a young man (not many years ago!). Below - 2016 award winning entry.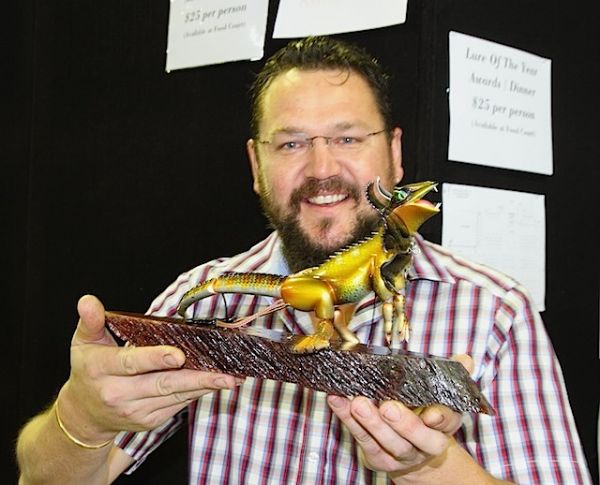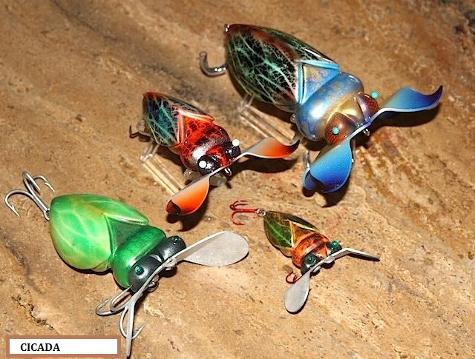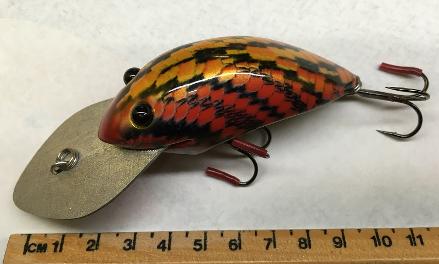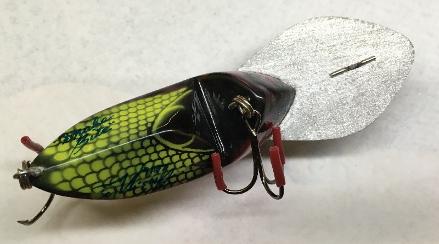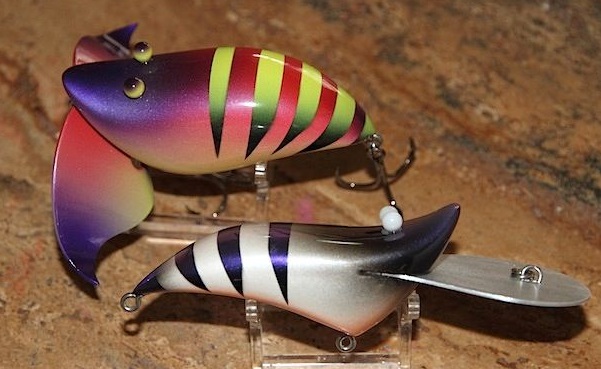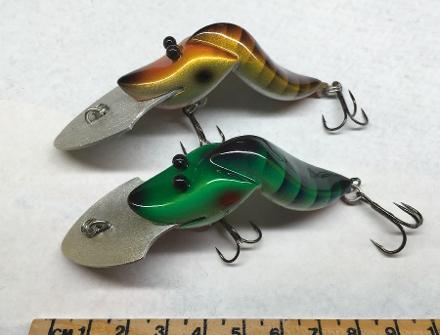 A couple of 'Bubba Gump' models from 2015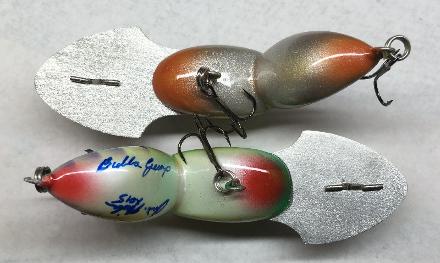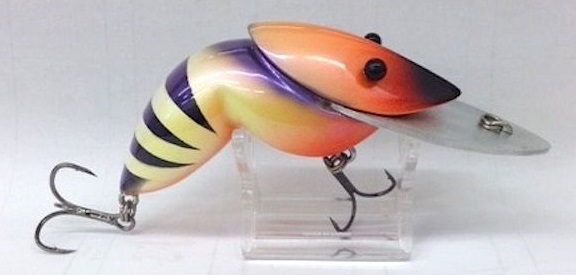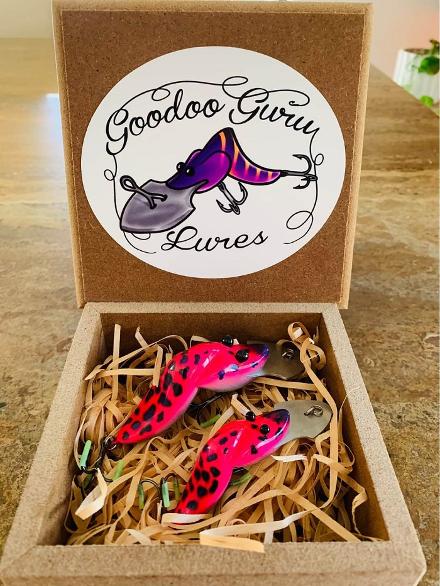 A 'Bubba Gump' set from 2021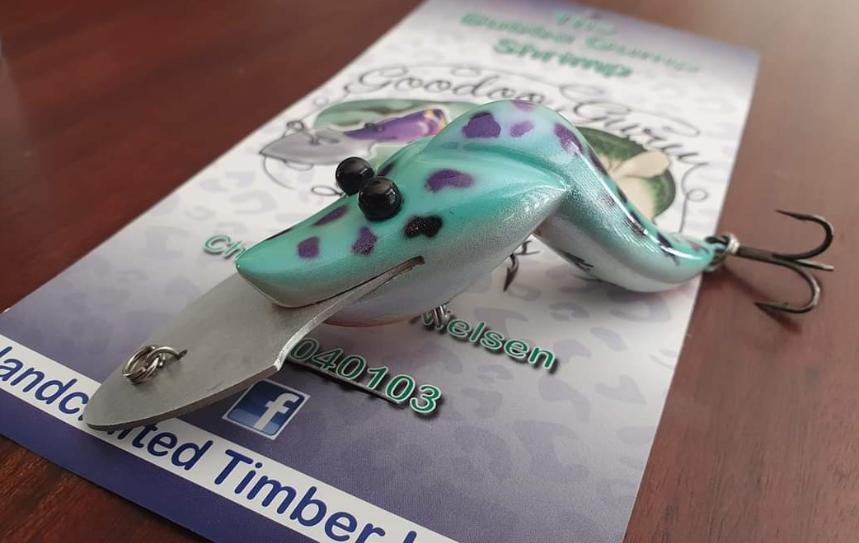 Gotcha Lures - VIC:
Little known about these lures except that they come from the Bendigo area of Victoria. They are made of timber with heavy duty eyelets and polycarb bibs.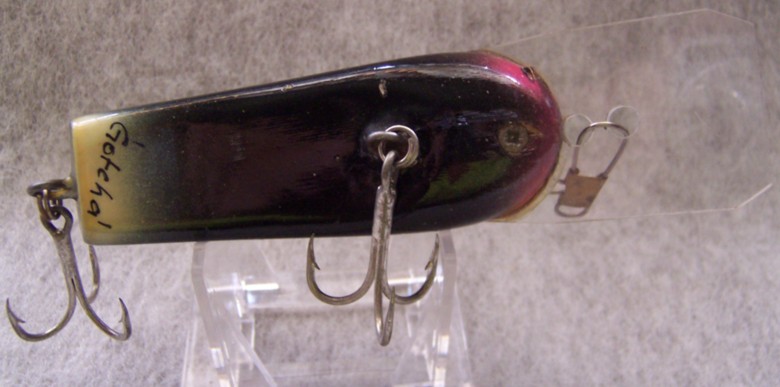 Bibs on these examples are pinned by Phillips head screw and signed 'Gotcha' on underbelly near tail.
Gotya Lures - QLD:
Gotya Lures were made by Clayton Kuhl who now makes Sandfly Lures. Clayton is a very versatile and inventive maker and all the lures showcased were made a number of years ago before Sandfly Lures was started.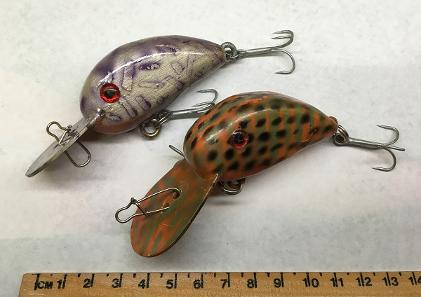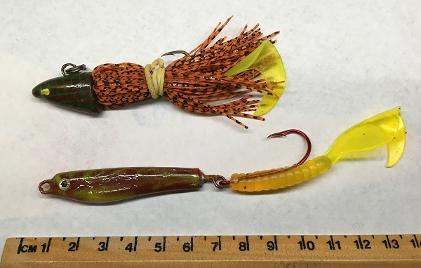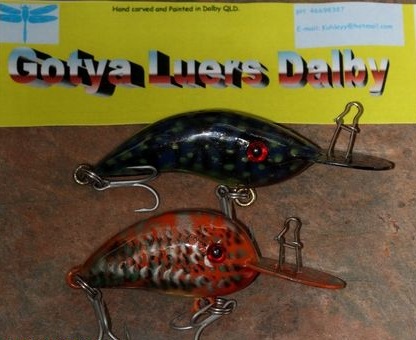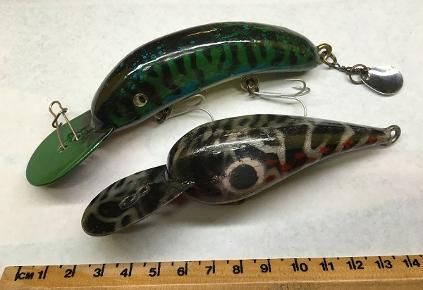 Goulburn Lures - VIC:

Made by Graeme Sanders. Lures were originally made in timber in small numbers before being moulded. The early timber lures photographed below belong to Bryan Power who kindly shared the with Lure Hub OZ. Uncommon lures and hard to find. Made to last - these lures have been well used and caught fish.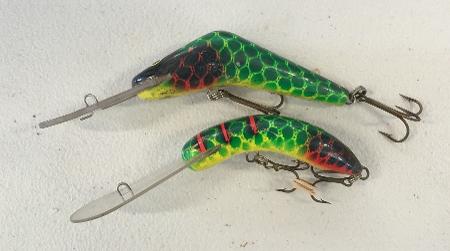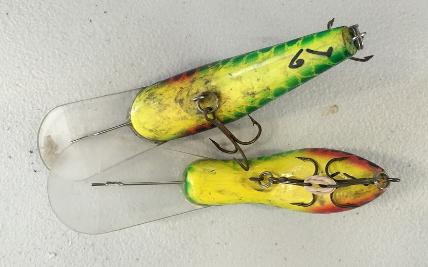 Another timber Goulburn Lure was unearthed at Expo 2019 and shown below - signature never changed and all timber lures sighted have been signed underneath near the tail.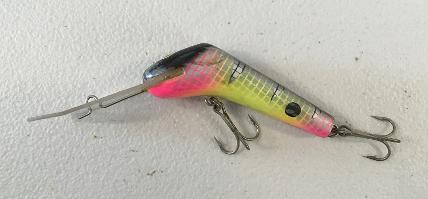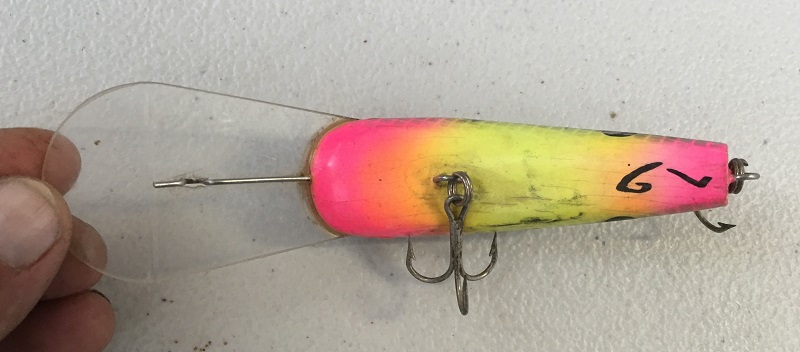 Smaller versions of the very interesting design called the 'Codger' are towed from the bib as illustrated right. Found on a yellow card with green script. Available in at least 12 colour combinations. The older models will be signed on the belly - more modern versions will have the logo etched into the bib.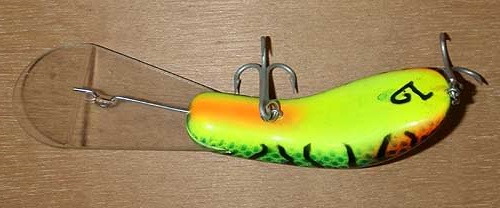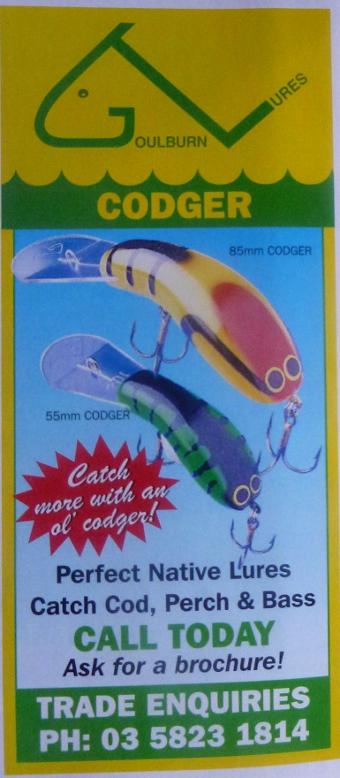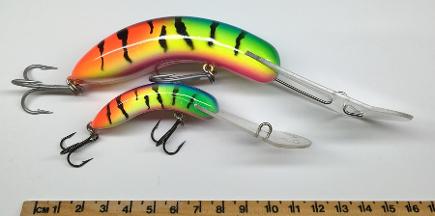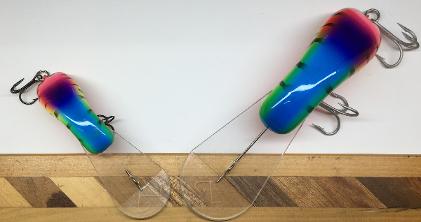 Gould, John Gould Lures - QLD:

Made in Bowen by John Gould who kindly shared the following information;
'I made them to sell from about 1990 to about 2000, they were mainly sold at the markets also used to sell a lot to fishermen as a bulk deal for gulf trips. They were all made from red cedar and Queensland beech mainly from the Eungella area they were all marked out with templates ,cut out with a band saw shaped with an old timer pocket knife and painted with acrylic lacquer car paint using an airbrush. I still have the airbrush, band saw and the pocket knife may even have the templates.'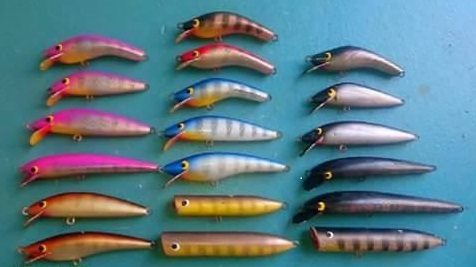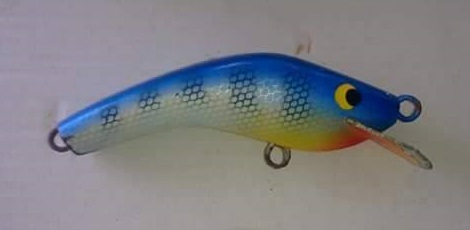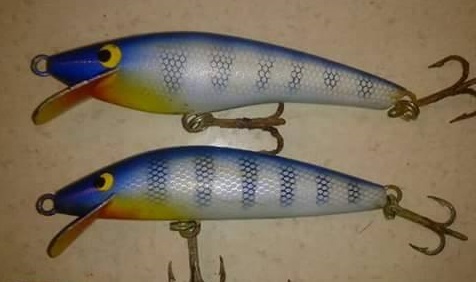 GR Lures - NSW:

Made by Troy Erland who is an avid fisherman and keen lure maker who makes lures in small numbers. Well made timber lures that catch fish.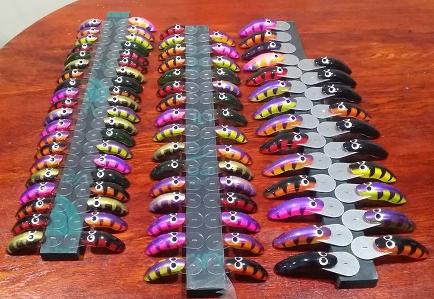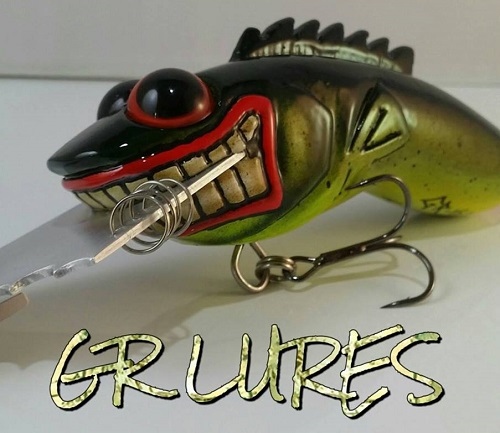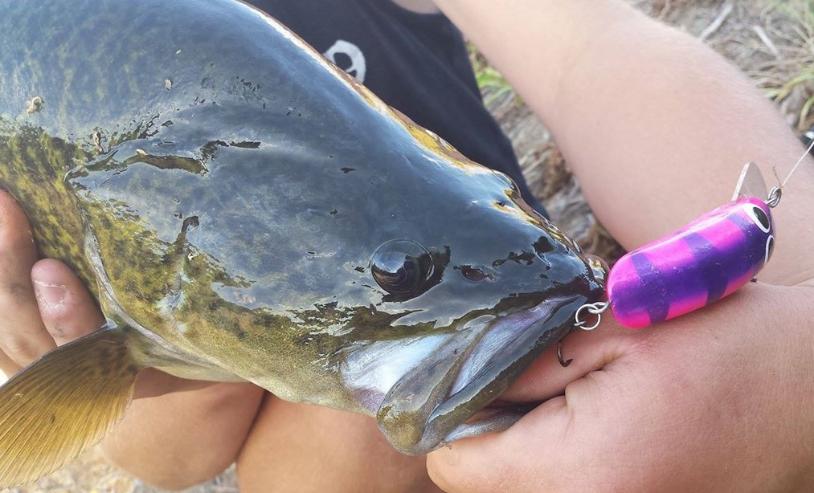 Graeme Lures - NSW:

Made by Ken Bennett from Bennett Engineering on the northern beaches of Sydney. Graeme spinners are uncommon and came in five sizes - No 2, 3, 4 and 6 plus an XX larger sized metal spinner with 3 hooks. These lures date to the late 1940's and 1950's when Graeme Bennett was also making the Graeme reels which came in a number of different models. The factory was first located at Golf Parade, Manly later moving to Condamine St, Manly Vale in Sydney.
The lures shown right are sizes 3 and 4 and both are fitted with a pair of swinging single hooks which is the way they were released. Interestingly one is fitted with a box swivel. Both are marked with logo and hence easy to identify - that said they do turn up rarely.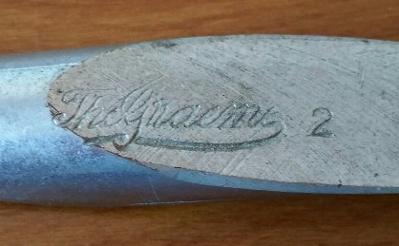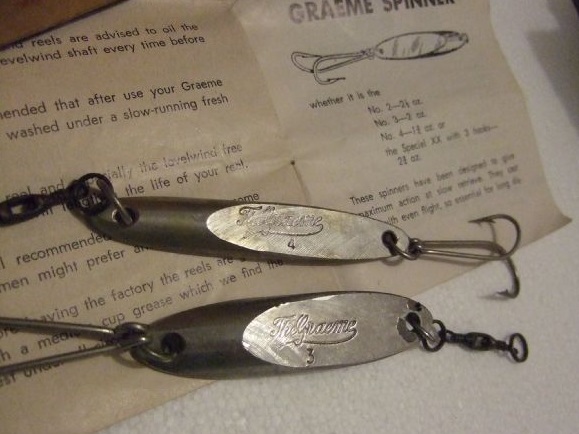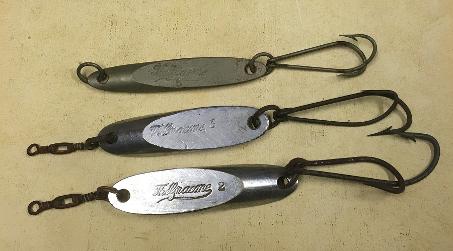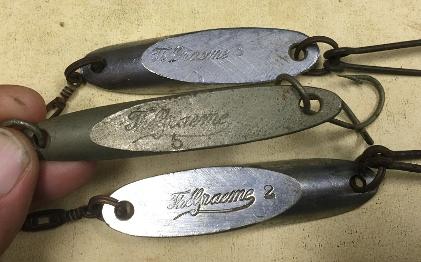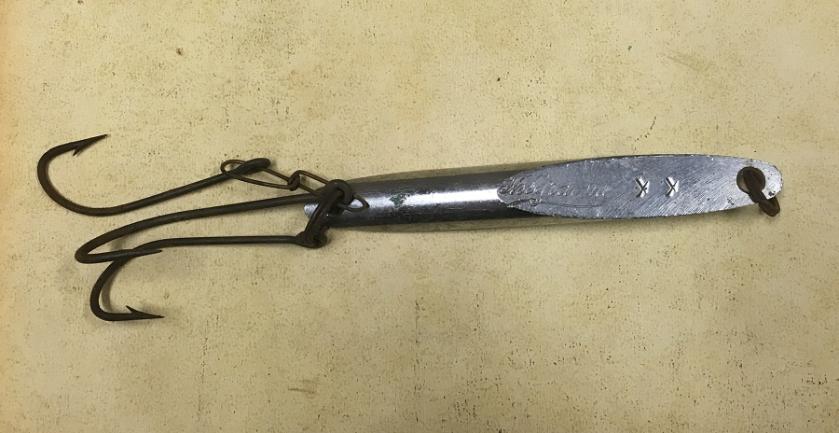 Graeme 'Special' or Graeme XX with original 3 hook rig.
The extract below dates to 1954 and actually lists a number 6 model weighing 1 1/4oz and the Graeme 'Special' with 3 hook rig.

Gray, Ron Gray Lures, NSW:
Ron made a wide range of moulded lures with some very interesting designs. He was originally based at Hat Head and later moved to the Yamba area in northern NSW. He did make some lures from timber however these are rare and it is more common to find the moulded models. Lures shown were found in the collection of Ted Sartori, NSW and have not been made for many years. Apparently there were many more models and designs that Ron made but they are rarely seen and only turn up in small numbers.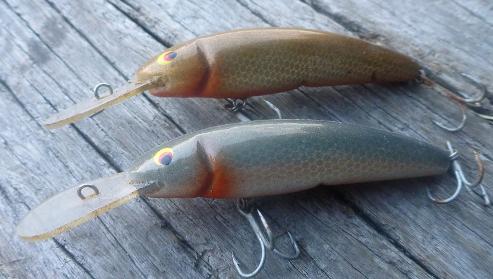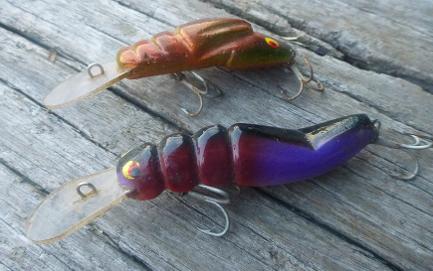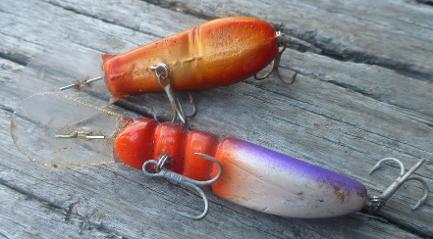 Greenfish Custom Baits - QLD:

Made by Harry Watson of Boonah
Grieve, Gordon Grieve Lures - QLD:

Gordon Grieve is a hobbyist maker from Woodford in South East Queensland. The following history was kindly supplied by Gordon;
''As I headed towards retirement I collected a lot of softwood timbers thinking I might turn my hand to one of the wood crafts one day. Being a Signwriter I had a large amount of sign enamel colours in stock. It was a natural progress from that point. Having a few hundred shop bought lures and being a keen fisherman for the last 40 years making my own lures was the next step. So for the last 3 years I have been making my own lures, trying to keep my own designs, which is not easy as there are so many styles out there. I make for my own consumption, give to friends and sell a few locally at times. As for colours I like to mix these up in every batch so the identifying marks are my initials, GBG, the name of the lure and the shape.''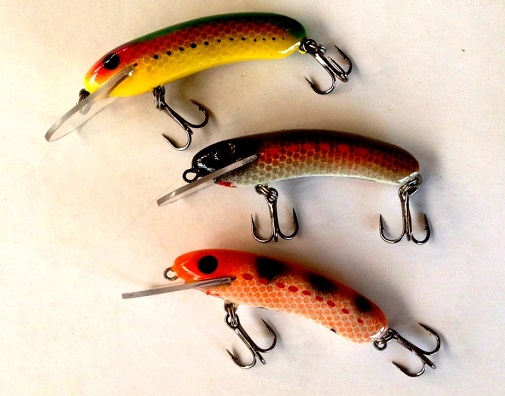 GBG 'Skinny Mino' (above) and 'Tubby Mino' (below)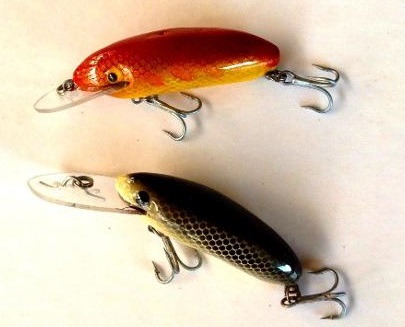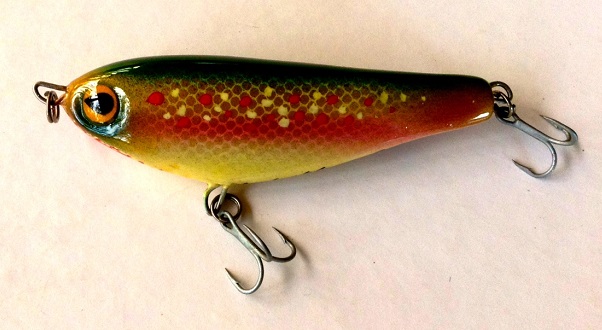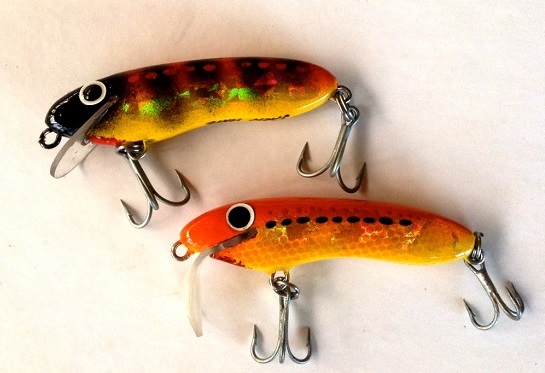 GBG 'Jack Mate' (above) and 'Jack Mate 2' (below)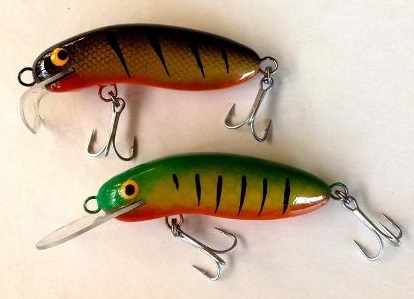 GBG 'Budgie' below left. Below is the GBG 'Popper' in colours 'Sunrise' and 'Sundown'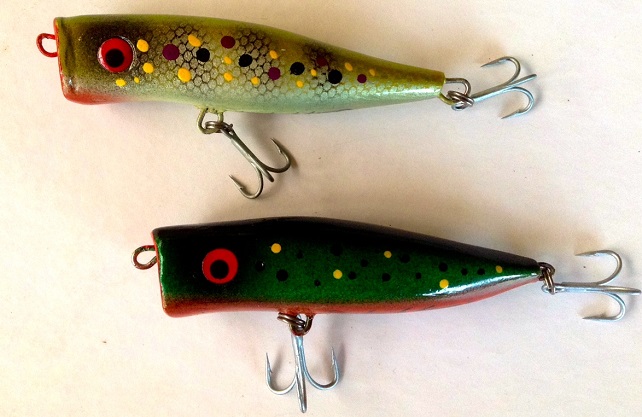 Grist, Carl Grist Lures - QLD:
Carl Grist is the original maker of C-Lures but still continues to make lures in small numbers of extremely high quality lures each year. He also makes lures in collaboration with Eric Ward who is a good friend and also an amazing lure maker in his own right. Showcased here are some lures that have been made by Carl in the last 5 years or so. Lures will be signed 'Gristy' with year of manufacture.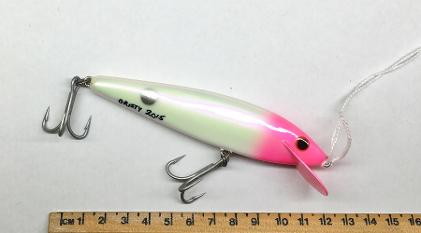 Shallow minnow style lure 2015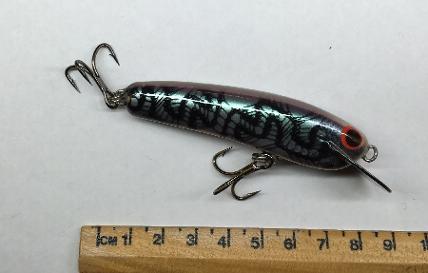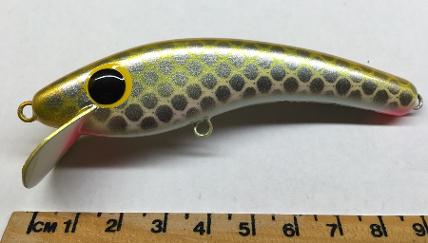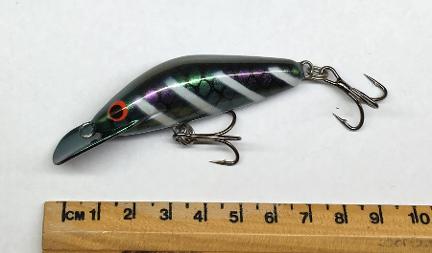 Lure above is one of only a few in this colour and gifted to Lure Hub OZ by Carl at Expo 2017. A lure commemorating the early C-Lure shape
Guduu Lures - NSW:
The first Guduu lure was sold on Ebay in Febuary 2012 and they are made by Matthew Munro who lived at Mungundi then Torquay area.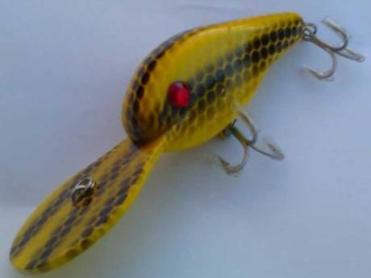 Grumpy Lures - QLD:
The new range by Grumpy Lures were released at the Expo 2019 in Beenleigh. Chris Anderson is an incredible timber lure carver and has realised a great range of lures with a first class finish and airbrushing.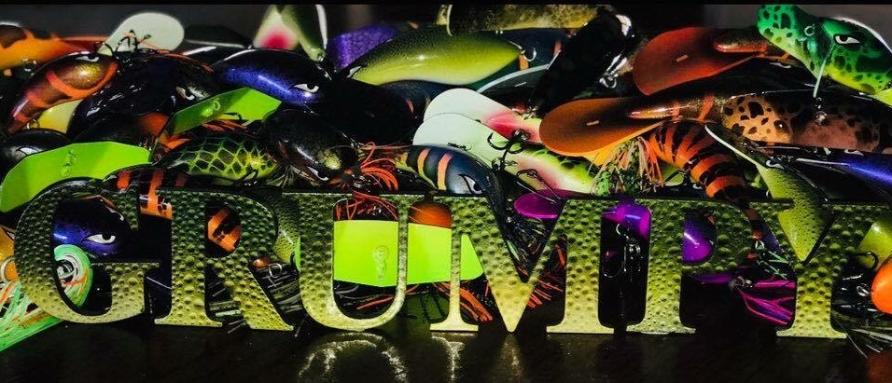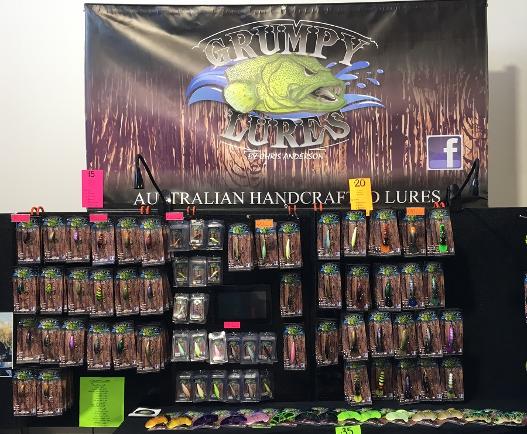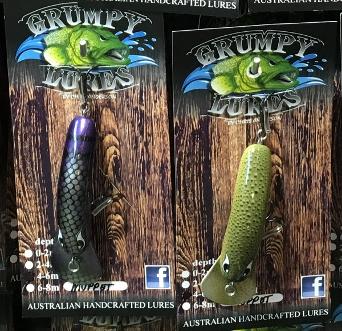 Above - Grumpy 'Muppet'
Left - The Grumpy Expo stand 2019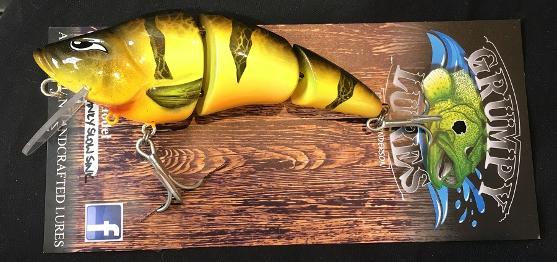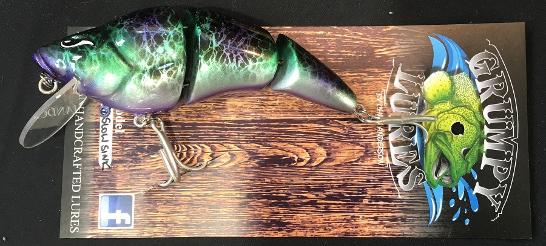 There was a small number of slow sink segmented lures available as shown above. Spectacular creations
Right - Grumpy 'Salty Tight'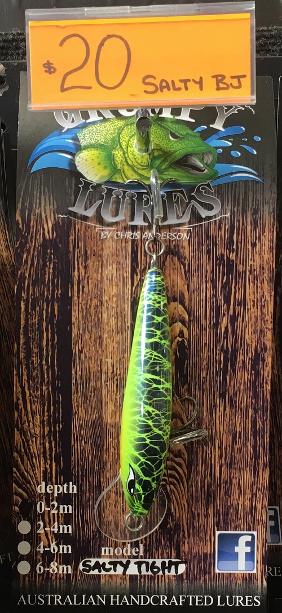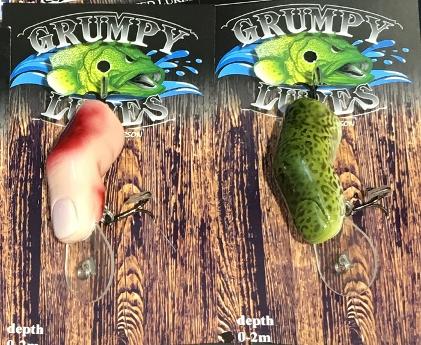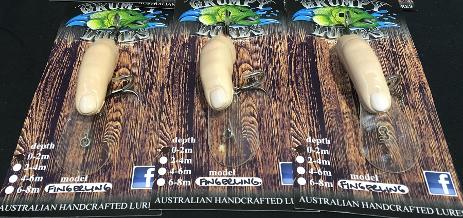 The Grumpy 'Fingerling' or 'Cod Thumb' - one of the more interesting models in the range
Guru's Lures - NSW:
An obscure lure that was unearthed on the Australian Lure Collectors Facebook page. The following information was shared by David Bridge. The makers name is Steve Sheridan from Kendell, NSW. The group of lures shown right belong to John MacMillan who shared this photo in response to the carded example that was put up by Gary Wade. It shows a wide range of sizes and some have a squared off 'coffin style' bib. Unsure how many models were made but lures are timber.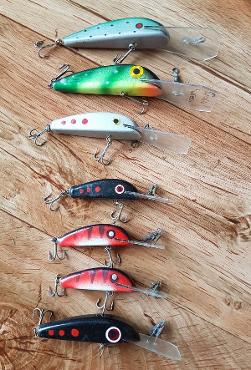 Gwydir Gobbler - NSW:

Made by RP & KJ Elvins (Dick and Karen Elvins) and some of the earlier lures may be marked 'Elvins'. Characteristic bib with two large holes for towpoint. The only piece of information covering these lures is an advertisement in the New South Wales Fishing Monthly Sept 1999 listing the lures available at Bingara, Inverell and 'other various shops in the north western district'. There is also a connection with 'Disumat' or 'Sumat' lures.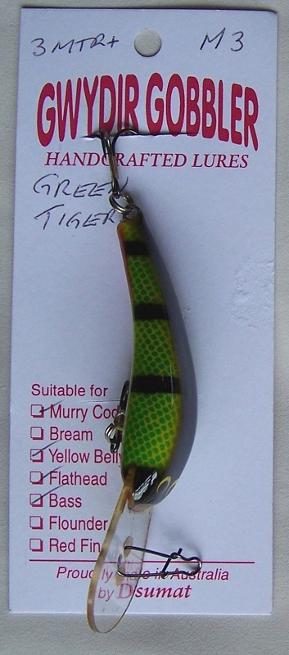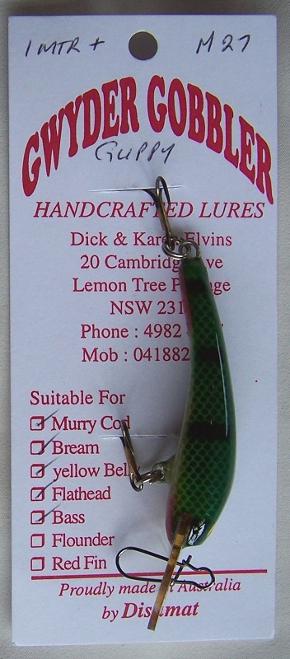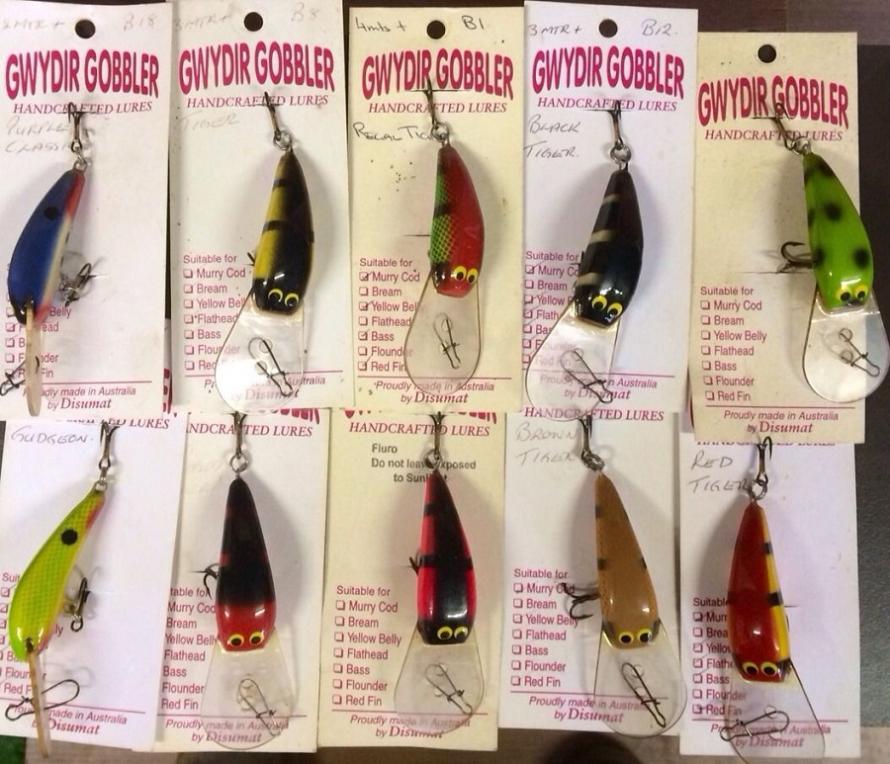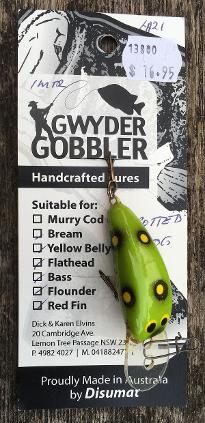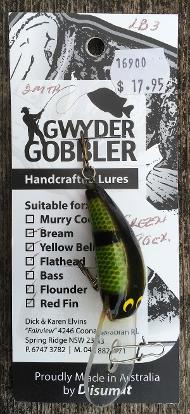 There seems to be at least 3 card variations in the older cards with red printing; the plain card with hand written models and colours, the addressed card and the card for the fluoro colours which had 'Do not leave exposed to sun' printed onto the card.
The carded lures left show the change in contact address
on the modern cards from Lemon Tree Passage to Spring Ridge. The frog spot lure dates to 2016 and the perch pattern was purchased in 2017.
Gwydir Gobbler lures continue to be a high quality product and have been available now for at least 20 years