Australian Special Releases

There has been quite a number of limited edition sets produced for the collector market in the last 5 years however there are examples of a number of collector sets dating back over 10 or even 20 years celebrating Australian lure makers. Examples include Deception 10th Anniversary set with 200 released in 1992. Custom Crafted also released a set of four lures in a presentation box as early as 1991.

AC Crayfish:

Made by Anthony Curtis and 50 sets were released July 2011 for $250 each. This lure was first developed for a project initiated by Frank Prokop called "Stairway to Heaven" and then later released commercially.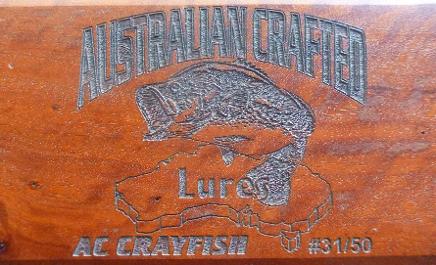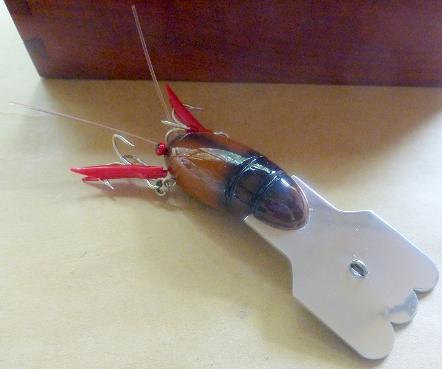 AC Invader 120mm:

Made by Anthony Curtis and 12 sets were released. Photo shows #10/12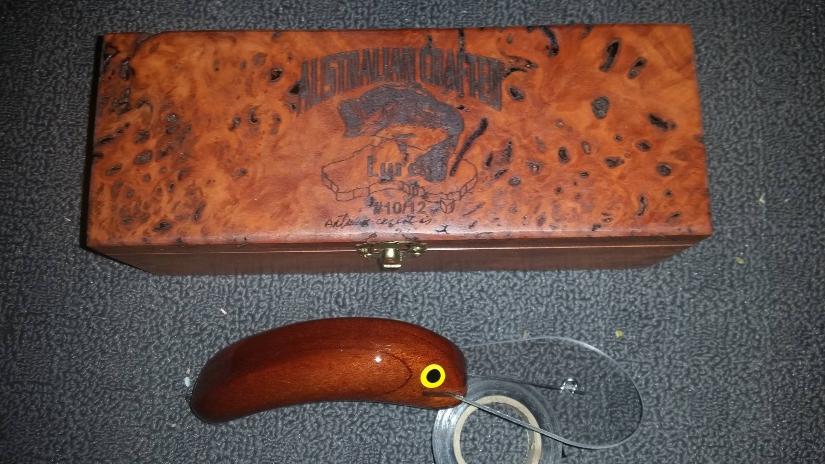 AC Nude Set:

Limited edition release of 30 nude clear coated timber lures with certificate of authenticity. . . .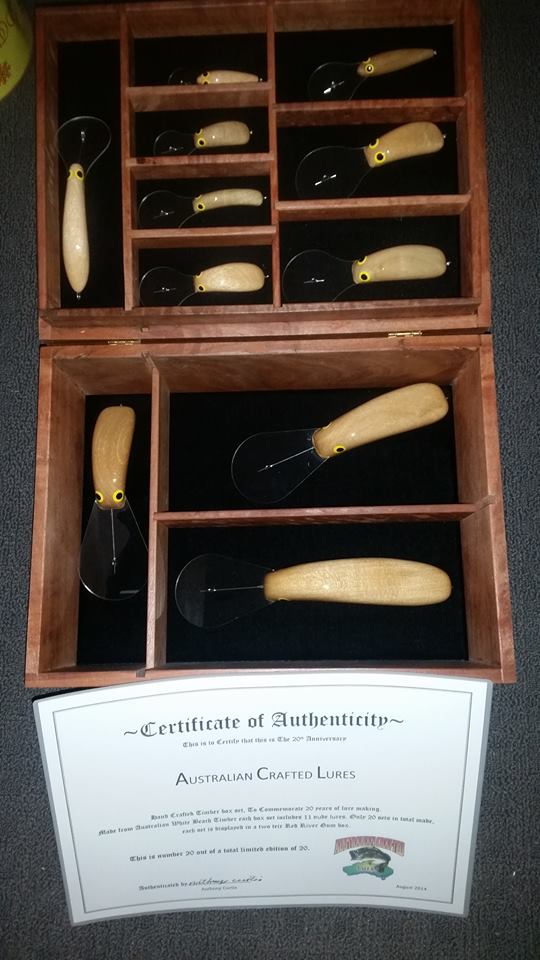 Brett Campbell - Limited Edition 2011:
Brett Campbell Collector Set was released May 2011 in a limited release of 10 sets. Original price was $600. This set was issued to mark the 25th Anniversary of Brett's first 'Snyper' lure made in 1986. It seems that only 10 sets were done of the original 25 planned and this resulted in some unusual numbering as some collectors had reserved numbers greater than 10 from the original 25 on offer. To the best of my knowledge the numbers used were 1, 2, 3, 4, 5, 6, 7, 8, 13 and 25. Set No. 1 was done in Blue and Green colours with the remaining sets all Yellow and Black (Holden Monaro colours). The boxes are made from Brazilian mahogony and according to a conversation with Brett when the sets were made, the boxes were expensive when they were made and this was part of the reason the set became expensive for him to produce. This set belongs to Lure Hub OZ and is marked set No 5.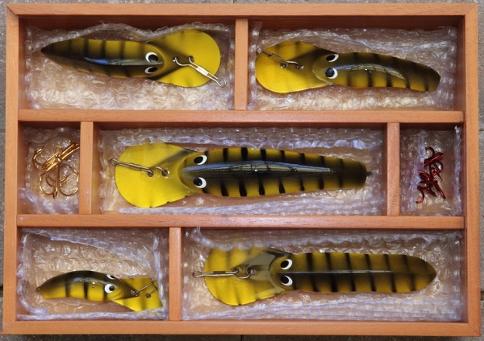 C Lure - Carl Grist 'Cooktown Tiger' Set - 2013:
Carl Grist released a '30th Anniversary Set' in early January 2014 - 30 sets of two early 'Cooktown Tigers' to celebrate the beginning of 'C' Lures back in 1983. Apart from having a renewed interest in carving timber again, Carl was encouraged by Barry Cross and others to create a set like this for the collector market.
After much consideration Carl started carving again seriously in 2013 to produce the 'Cooktown Tiger' pair in four of the original colours. The lures were produced with the vertical stripes as opposed to the diagonal stripes you will see on C lures. This was the original stripe pattern on the very early models that Carl shaped up and painted thirty years previous. Lure pictured is one of only 4 sets that were made in the original 'Black Albert' colour pattern. Boxes were made by Ollie Hardt from Ollies 'Stingray' Lures.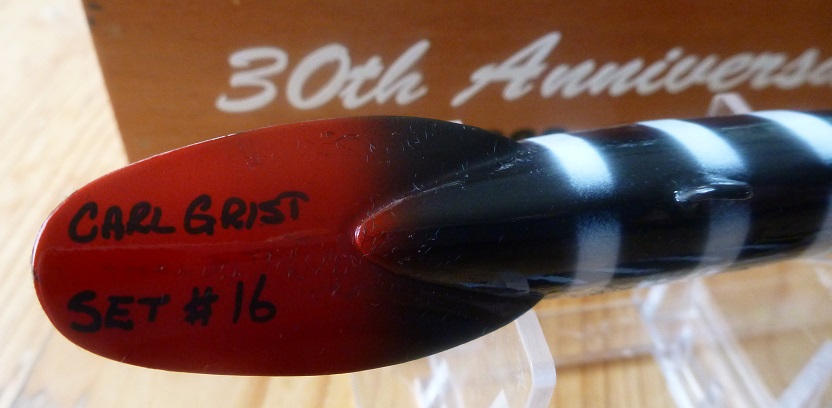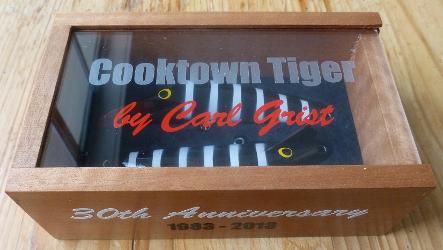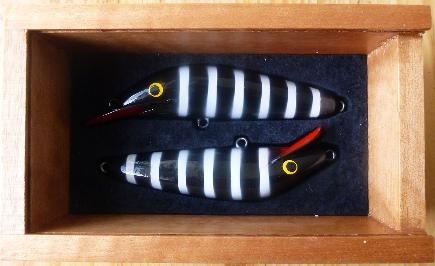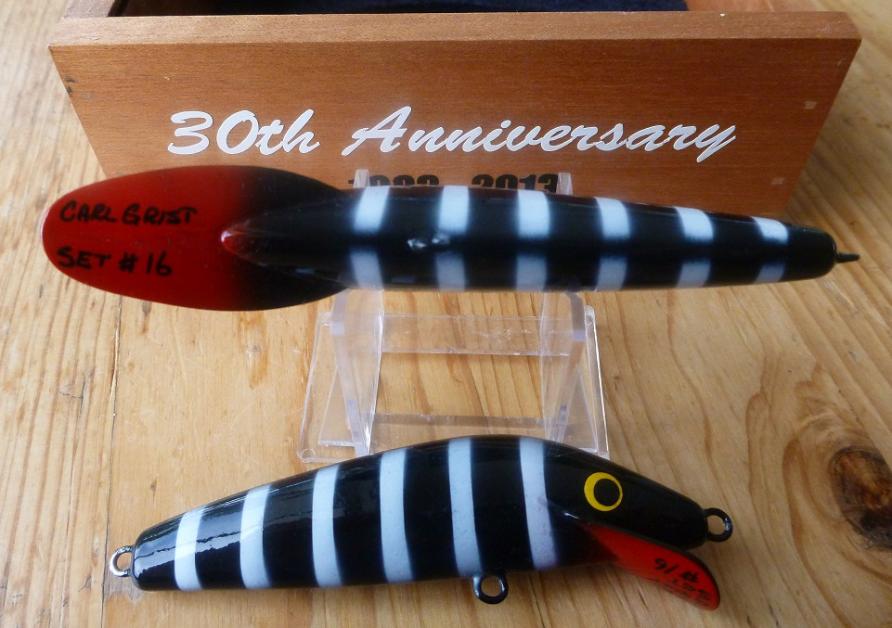 Custom Crafted 10th Anniversary Set
Steve Kovacs was another of the successful lure makers who saw the potential in releasing collector and special edition lure sets. This limited edition set was released in 2017.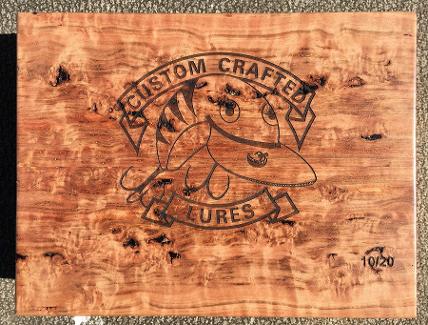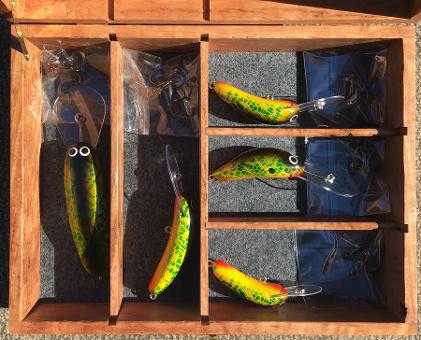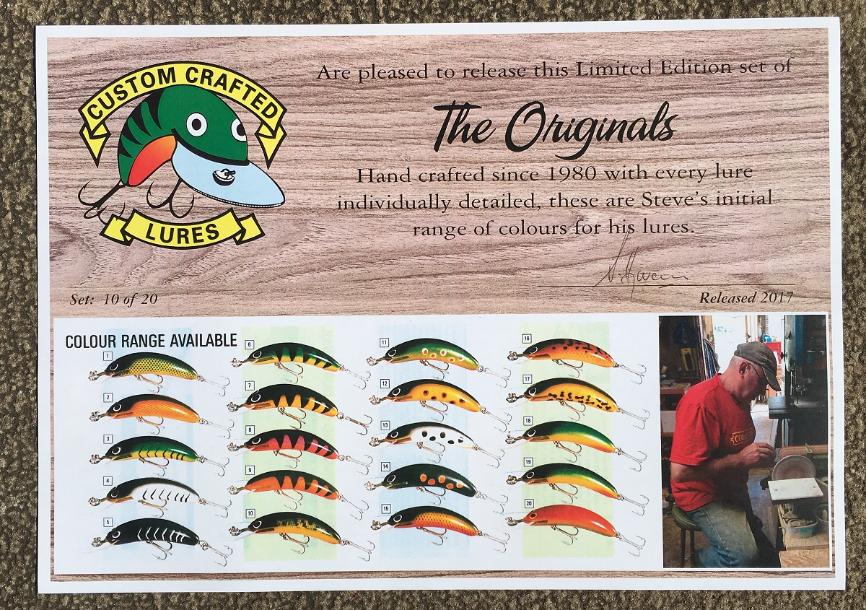 Deception 10th Anniversary Set
Paul Kneller was one of the first to pioneer the limited edition or special collector sets with his release of the 10th anniversary set for Deception Lures in 1991/2. There were a number of variations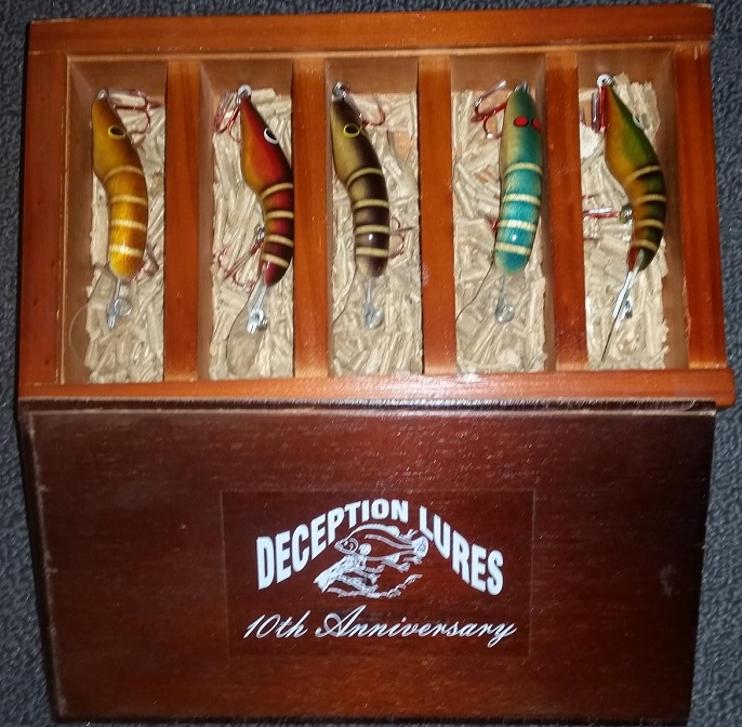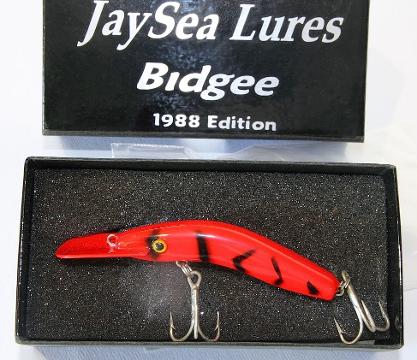 Jaysea 'Bidgee' Lure - 1988 Edition

Released in 1988 this was an early collectable from Jaysea. Unsure of how many were made.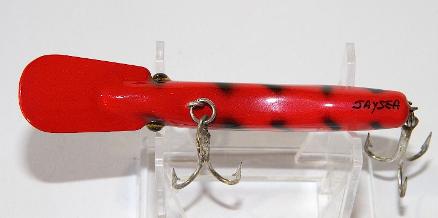 Kadaitcha Club Limited Edition Platypus Lure

Brett Campbell made these lures for the members of the now defunct Kadaitcha Club in December 2009. There were 83 released for the financial members of the Kadaitcha Club at that time and the price was $50 per lure.

Notes: These lures were only available to members of the 'Kadaitcha Club' at the time. There was a limit of one only lure per member and they came individually numbered with the members' own Club Membership numbers, which ranged from 2 up to 200.



Kadaitcha Club Limited Edition Custom Crafted Lure

Steve Kovacs of Custom Crafted Lures released this limited edition Kadaitcha Club issue of the CC 'Hammerhead' in 2009. Unsure of how many were made however it was probably 200 as they were for the financial members of the Kadaitcha Club as part of the subscription.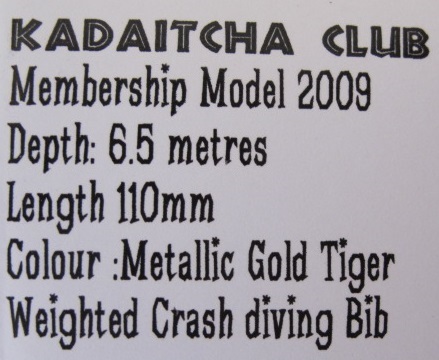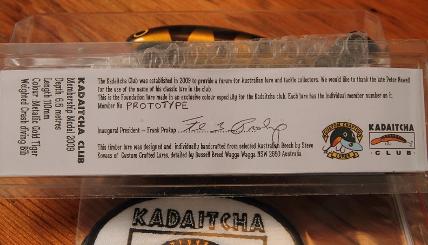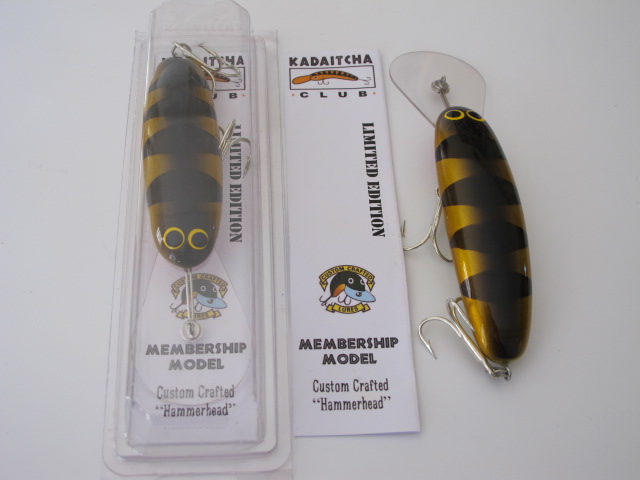 Apart from the 200 numbered Custom Crafted Hammerheads there was one Prototype also released. This lure was auctioned to help raise funds for the newly formed club.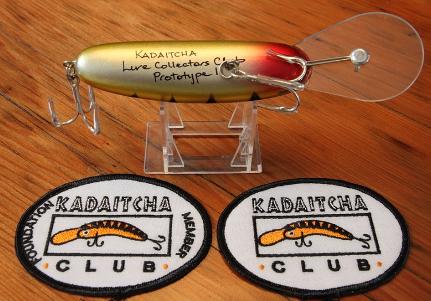 Kadaitcha Club Limited Edition Mudeye Lure

Jamie Flett produced the membership lure for the Kadaitcha Club for 2010. The lure was released October 2010 and there was apparently a selection of four colour options before the final decision was made. This was one of the last releases for the Kadaitcha Club before it collapsed and ceased to exist. There was 200 of these made for the financial members at the time.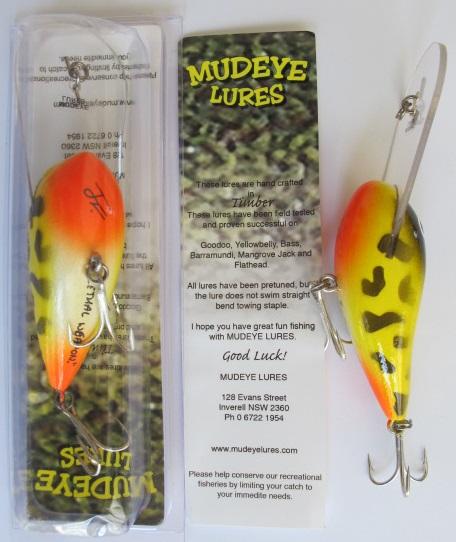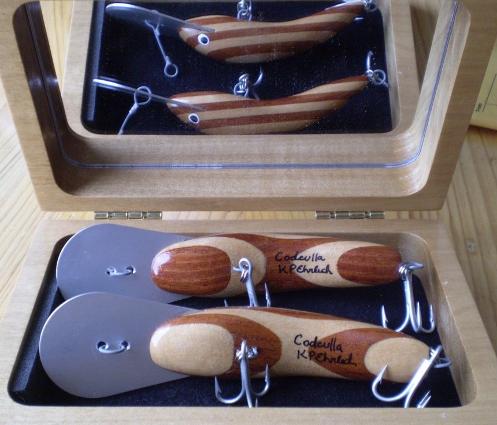 Kezza Lures 'Codculla Set Number 6
Kezza Lures Laminated 'Codculla' Boxed set
Kerry Ehrlich from QLD is a cabinetmaker by trade, a keen competition angler and avid lure maker. He released these red cedar/white beech laminate 'Codculla' sets around 2010. Presented in an attractive timber box with mirrored inner lid and velvet base, the pair of 'Codculla' lures are an opposite lami-lure pair. Features large twisted eyelets, metal bibs and soldered front towpoint and Kezza lures usual craftsmanship. Hand signed and each set comes with a laminated card of authenticity.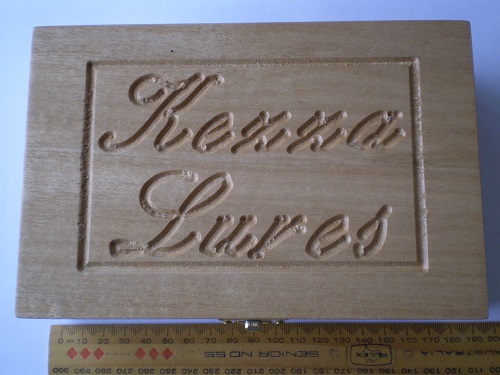 Paul Kneller Deception 'Scampi' - Collector Sets 2011
Paul Kneller Scampi Collector Sets were released in 2011 in a limited number of 40 sets at a price of $600 per set. Two versions were done - 20 sets were done in popular traditional colours and another 20 Australiana sets done semi-nude in six different timbers. Paul Kneller released this magnificent inlaid, laminated creation using a duo of Australian timbers - red cedar and white beech. To commemorate an early pattern and including jointed nippers and twisted wire eyelets. Presented on a timber plinth with gold engraved name plate.
The Yabby 20th Anniversary 'Singles' - 2012:
Made by Paul Kneller and released in June 2012. There were 72 released and the cost was $80 alone or $120 with a matching stand. These Singles were released some time after the Complete Sets and were intended for collectors who may wish to acquire just one of the lures. They were also made from White Beech as in the Complete Sets but did not have the Red Cedar inserts. Seven different colour schemes were done with 10 lures of each colour being made. The one exception was the Red and Black pattern for which there were 12 lures made and each had a matching stand notated with 'LureLovers.com'. Some additional 'specials' were also done for individual collectors. One magnificent set made from six different timbers (White Beech, Red Cedar, Rosewood, Huon Pine, Silky Oak and Mangrove) was also made. These came with their own matching stands made out of the same timber. This set was offered for private tender on 26 July 2012.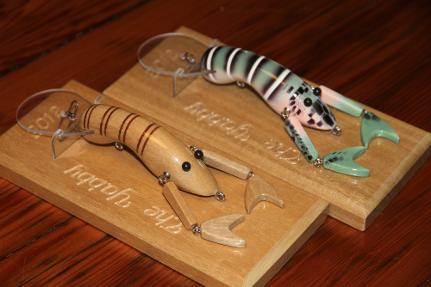 The Yabby 20th Anniversary Sets - 2012:
Made by Paul Kneller and released February 2012. Original release was 25 and the price was $1000. A set of 6 "first series" body shape Yabby lures with reticulated claws presented on a white beech backing board. The lures were also made from White Beech with body segments created by the use of Red Cedar inserts to replicate the characteristic body rings traditionally associated with Paul's paint schemes. Paul used the same translucent paint patterns as with his 10th Anniversary Shrimp Sets, as well as this time also including the additional 6th colour scheme that had been left out of the Shrimp Set.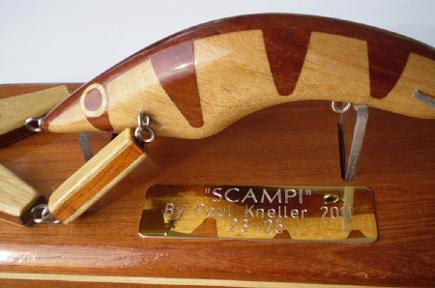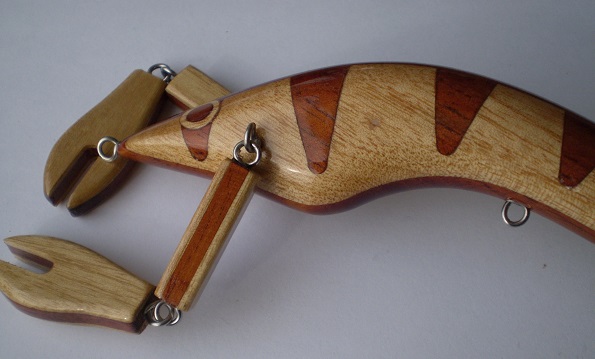 Paul Kneller Laminated Scampi:

Paul Kneller released this single lure in May 2011. Limited release of 25 at the price of $200. This magnificent inlaid, laminated creation using a duo of Australian timbers - red cedar and white beech. To commemorate an early pattern and including jointed nippers and twisted wire eyelets. Presented on a timber plinth with gold engraved name plate.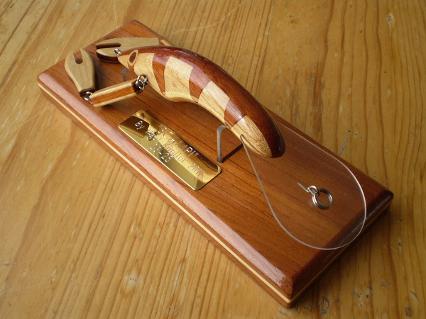 Lewis, Peter Lewis 10th Anniversary Kadaitcha Set 2019 - NSW

Peter Lewis was a good friend and work collegue of Peter Newell and in 2018 it was decided with Kathy Newells permission that a 1oth anniversary set would be made by Peter Lewis commemorating the 10th anniversary of Peter's passing.
25 sets were made and the No 1 lure was auctioned to the highest bidder via online auction and sold for $580. The remaining 24 lures were sold to collectors for a fixed price of $350 per set which included paperwork. Released December 2018/January 2019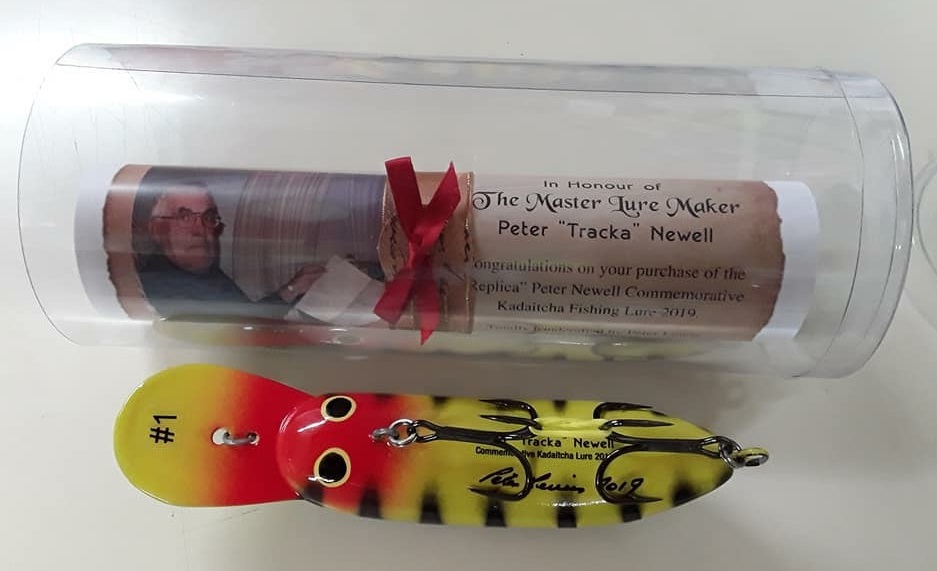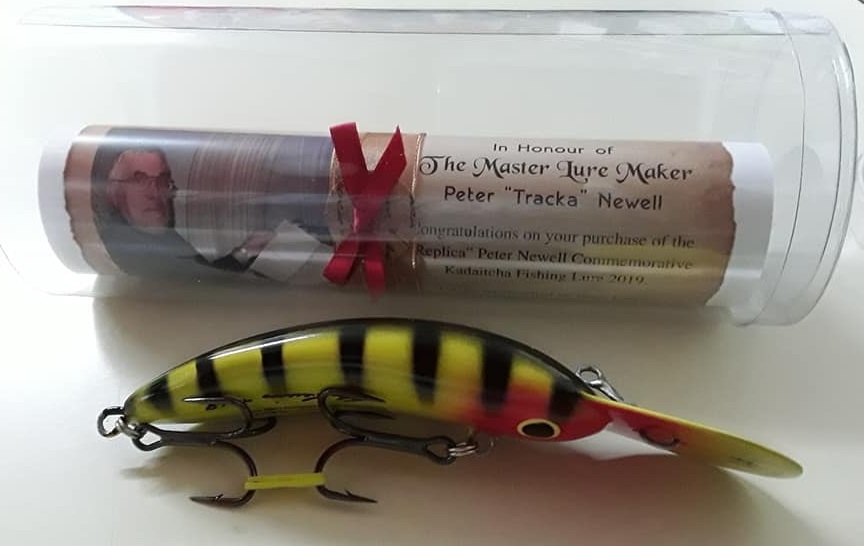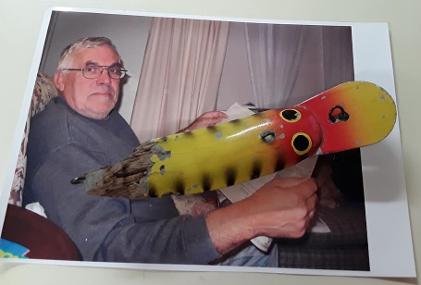 Powell 25th Anniversary Set - NSW

Travers Powell celebrated his 25th anniversary of lure making with a set of 9 lures that included . . .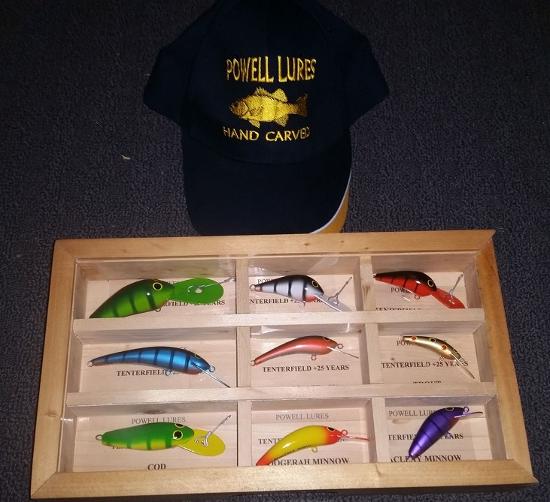 Rayna Lures Boxed sets - NSW

Peter Rayner has started releasing some special edition sets of lures in recent years. His lures are of a very high standard and the finish he gets on his lures is up there with the best in the business. This set was released in 2013 with 7 sets produced and released in nicely presented box and each set individually signed.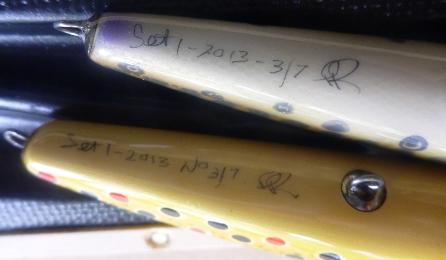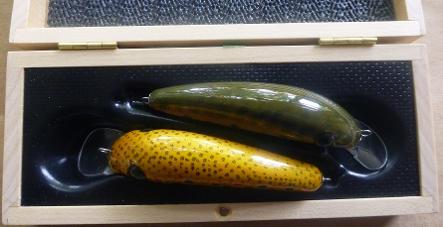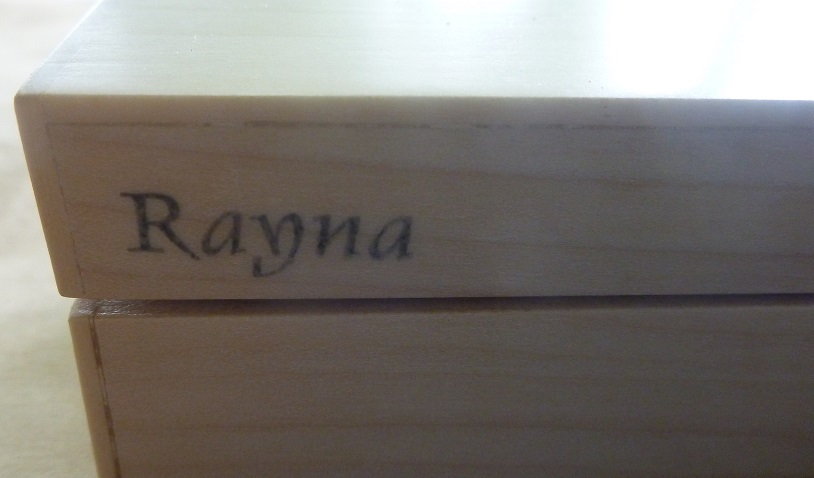 RMG - Rob Gaden 30th Year Anniversary Box Set
Rob Gaden released this anniversary Box set in July 2010. 30 sets to commerorate 30 years of lure making with the original cost being $1200. The White Beech timber used to make the lures was sourced from York Brothers ship builders. It was off cuts left over from 1980 (when Rob first started) and had been used to line the walls and floor of the wheel house of the 'Mistique' as well as for the entire deck of the 'MV Lannaki'. An additional special' set was also done in Black and White.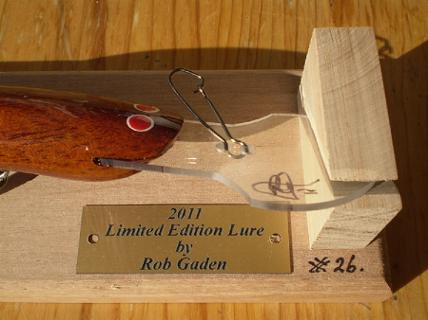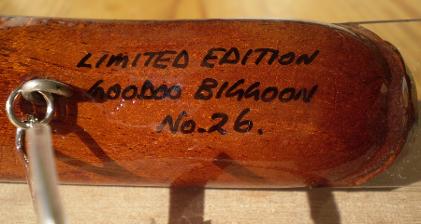 RMG - Rob Gaden Limited Edition Set - 2011

Original release was 50 and price was $250. Rob Gaden of RMG fame although having a developed a large range of successful lures that he sold to Halco a number of years ago and a current range with the Cutting Edge Range, has always been innovative and active in releasing hand carved creations of past patterns or adaptations of past lure models that morph into a yearly release. The 2011 set featured a nude red cedar 'Goodoo Biggoon' which featured the original 'Biggoon' body with an 'axe' style bib. An interesting adaptation of an early RMG lure.


RMG 'Bakers Dozen' - Tribute Set - 2011:
Keith Baker Tribute Lure - 'Bakers Dozen' was released by Rob Gaden in July 2011 for $375. Rob Gaden released this very limited edition set of 13 lures (the bakers dozen) as a tribute to legendary lure carver Keith Baker in 2012. Each hand carved crayfish lure were presented on a red cedar timber mount and include the eggs on the belly and the swinging claws which were features on some of Keith's special creations. Rob was granted permission from Keith himself to create this limited tribute set Lure #1 was presented to Keith as a gift from Rob and another of the lures was offered as a prize in a Fund Raising Raffle for the Lure and More website.
Keith Baker retired from lure carving not long after this and is over 80 years old.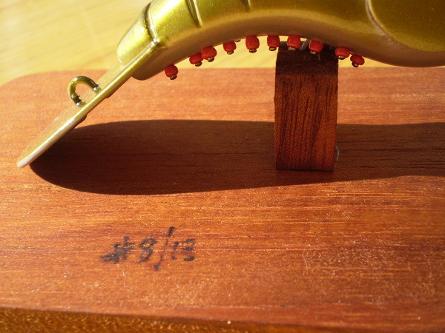 (Right) Close up of belly signature including lure number
(Below) The 'Baker's Dozen' Crayfish lure on cedar cedar. Front section features yellow bead eyes mono feelers.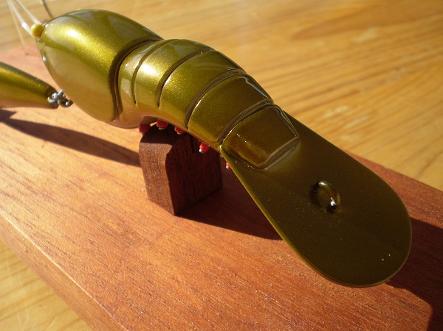 (Above) Front bib angle showing tow point and carved section.
(Left) Side profile showing the 'pinned' egg sacs on underside.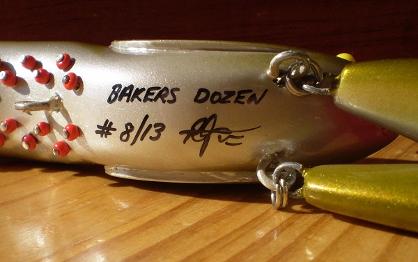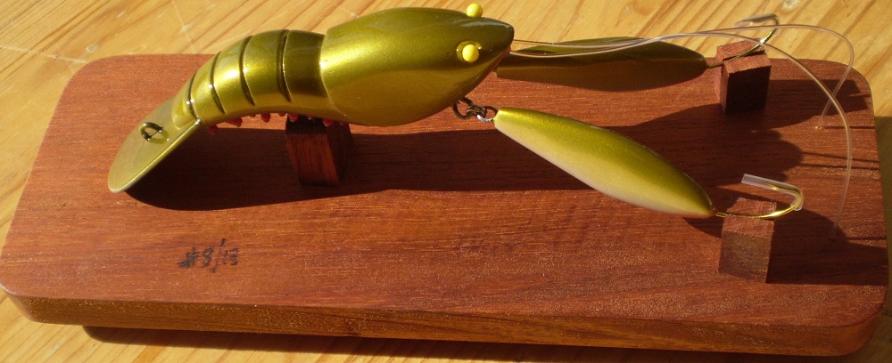 RMG 2012 Limited Edition Lure Set:
Rob Gaden released this set at the end of 2011. Original release was 50 at the price of $200. Matched pair of Tor-Toof and Rellik Doc in a black presentation box. An additional "special" set was also done in Black and White.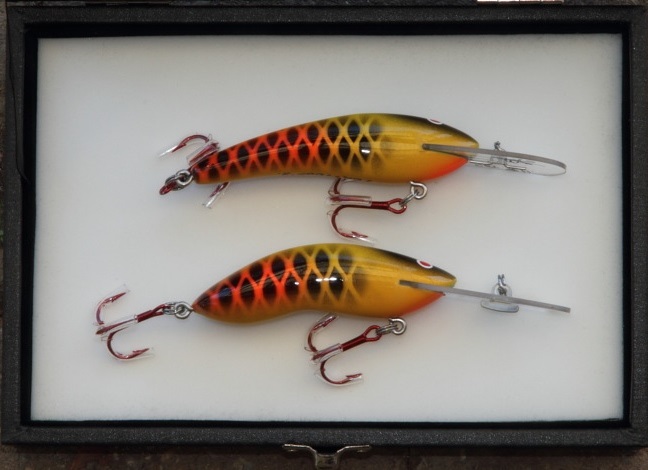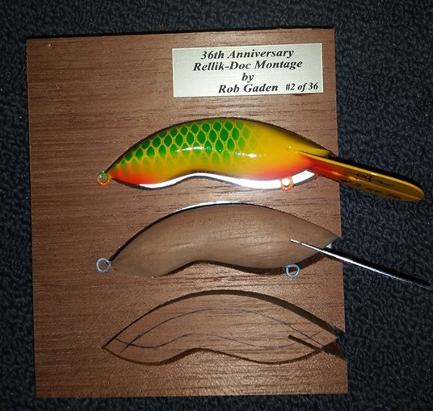 RMG Rob Gaden 36th Anniversary Rellick Doc Montage:
Rob Gaden released this set and others that contained the broken down processes for making of his lures. This particular set commerates the making of the Rellick Doc model which was an extremely popular design that Rob kept for himself after the sale of some of his designs to Halco.
Stump Jumper Limited Edition Pearl Inlay Lure:
The Pearl StumpJumper was created by John Ellis and only 20 were ever made. These lures were never intended for public consumption but for personal use only by those who generously received them. The 20 plastic lures are covered in mother-of-pearl shell inlay and the presentation box is black with the Stump Jumper motif in pearl also. Recent prices paid for these lures on Ebay and through various forums include $1500 in January 2010 and $2026 in October 2012. A rare limited edition indeed.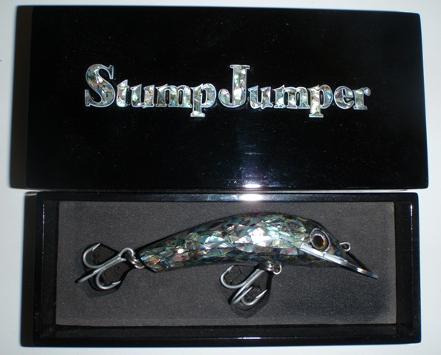 Rupes 'Ironhide The Final Timbers' Lure Set:
Rob Gaden Jnr released this set in 2015 as an addition to the original Rupes 'Ironside' Lures that were released in 2012 (?).