Australian Lure Manufacturers L
If you know of an Australian lure maker no matter how young or old that we have not mentioned in the following list feel free to contact us at to have the details added or updated.
*Cover banner photo is Love Lures special set by Shane Love c. 2013
Lure Manufacturers Australia L
Lakeside Lures - NSW:
Lakeside Lures was the trading name for the range of 'Baltic' lures made by Bernie Szot.
Lambert, Glenn Lambert Lures - NSW:
Glenn Lambert made a timber lure called the 'Lambert Bird' in very small numbers. Based on the mid north coast of NSW
Lane, Des Lane Lures - QLD:
Des Lane made timber lures. See Fairdinkum Lures.
Lances Lures - QLD:
Lances Lures are made by Lance Butler ( Northern Australian Sportfishing). Models available are the Series One 'Little One' which should dive to 2 metres. Little information available on these lures. c 2010. Bibs may be inscribed with 'Lances Lures'. Below is an earlier timber model and right shows a more recent Lances Lure on card c.2013.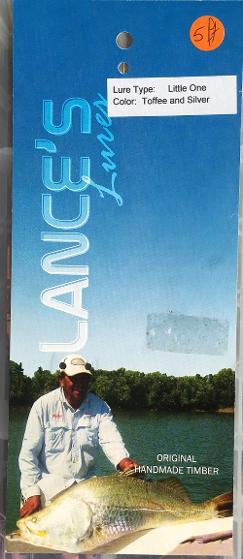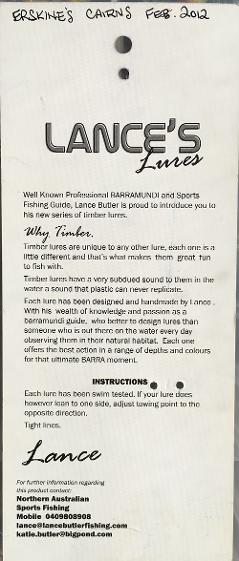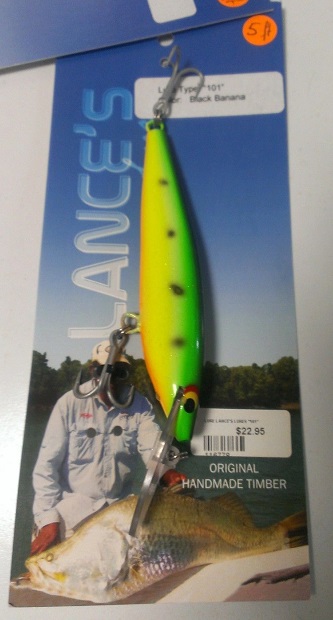 Lances Lures are all made from timber and shown left is the back of the card for model 'Little One'.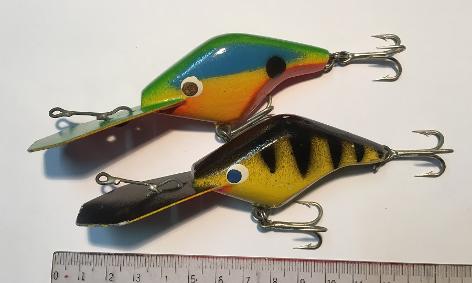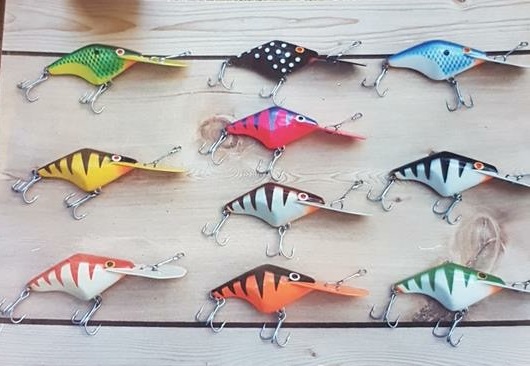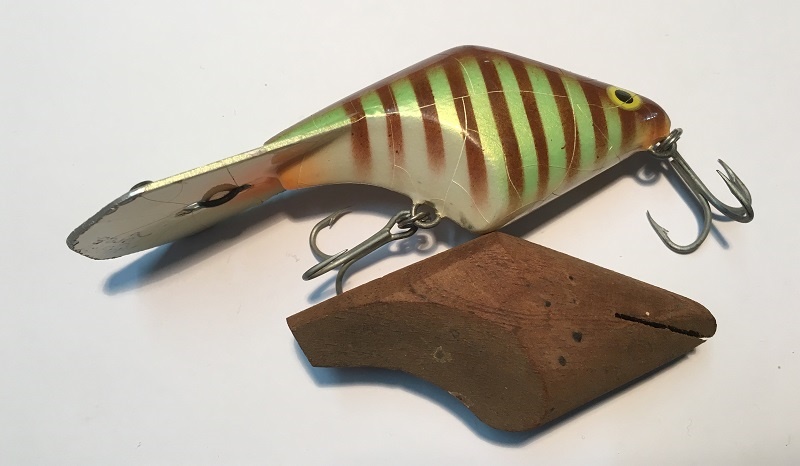 Langa's Lures - QLD:
Langa's Lures are made by John Langsdorf from the Toowoomba area. Sometimes sold from Nobby Pub. A quality timber lure with some very nicely hand shaped models. A keen lure angler and only made in small numbers. Many will be signed.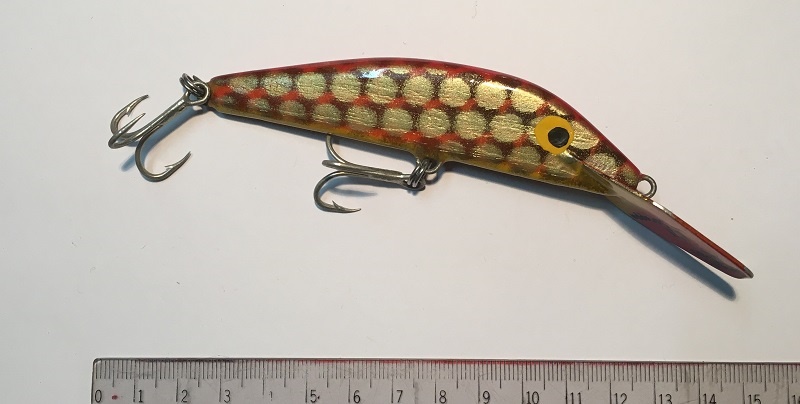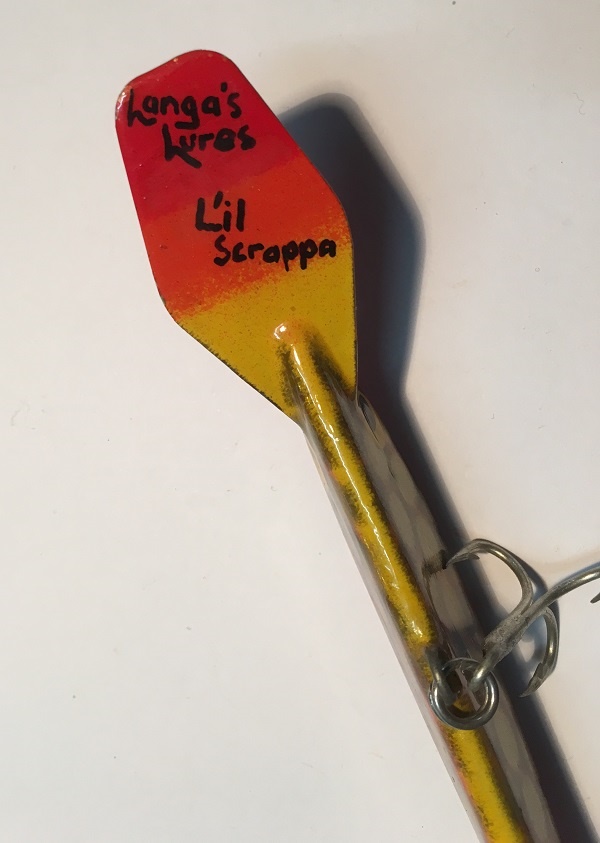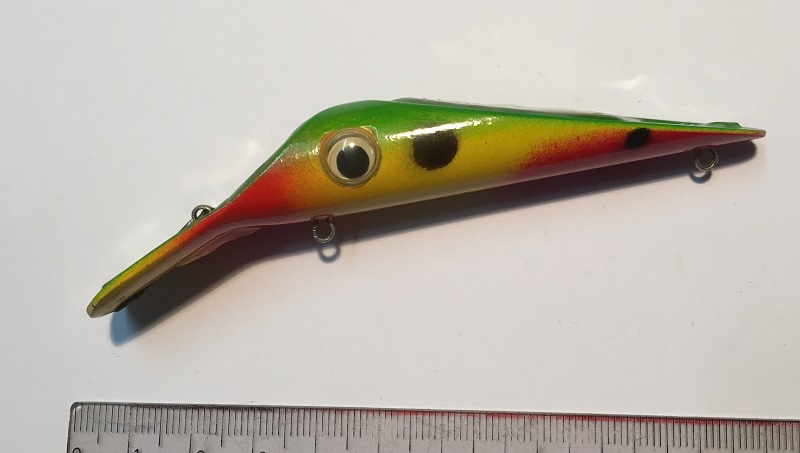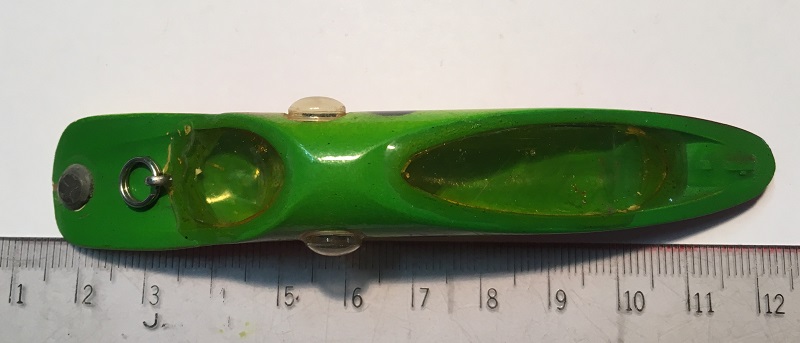 Langa's Lures tube lure - filled with resin and weighted. A classic innovative lure from simple materials.
Lapaz Lures - QLD:

Little known about these moulded lures. Original design is attributed to Mick Palmer and also known as "Mad Micks Flatty Lures" They are a distinctive design with thick bibs. Photo of Lapaz lures below. Moulded and called 'Real Thing' and 'Tempter'. Photo bottom right shows two timber Lapaz and the bib with front part turned upward along a fold line.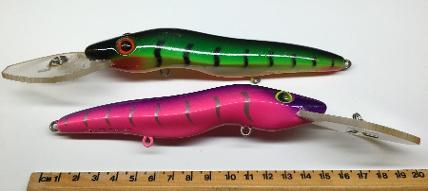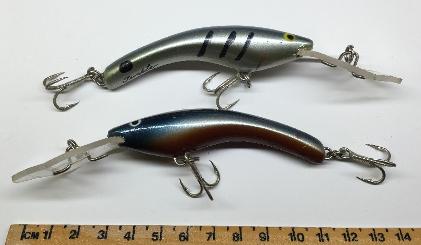 Largemouth Lures - VIC:

These huge cod lures are designed to crash dive to 25ft and biggest size is 250mm. They were still available in 2014 and there are a number of sizes down to 50mm sizes.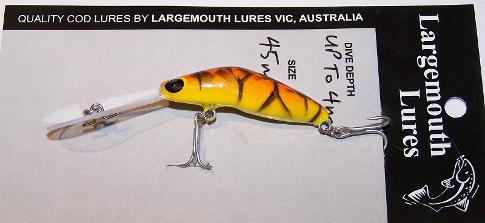 Larrikin Lures - VIC:

Larrikan Lures were made by Graham Reid from Victoria. They were hand shaped from balsa and originally his lures were made under the Kingfisher brand. He was not able to use the 'Kingfisher' for very long after legal action forced him to change the name and Larrikin Lures were born. Graham passed away a few years ago now and his lure making legacy has been taken up by his son Robert Reid who is now making S.O.L (Son of Larrakin) Lures.
Frank Prokop rated Larrikin lures highly and this was posted on the Lure and More forum in 2011;
'Got a phone call from the son of Graham Reid the maker of Larrikin Lures to say that Graham had lost his fight with Cancer on January 2. You can see a number of his lures in my Lure Encyclopaedia - they are very high quality and very under-recognised. I felt honoured that the family rang me to tell me the sad news.' Frank P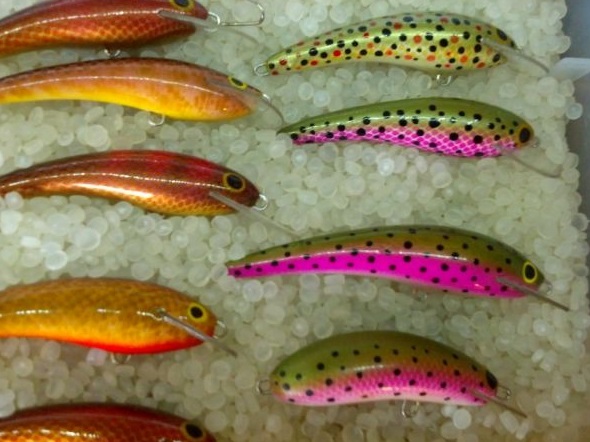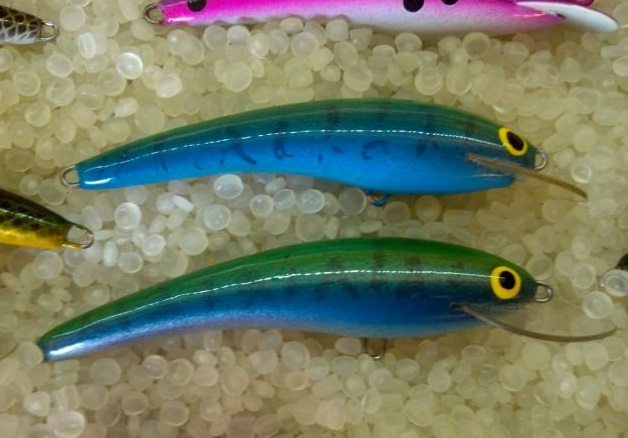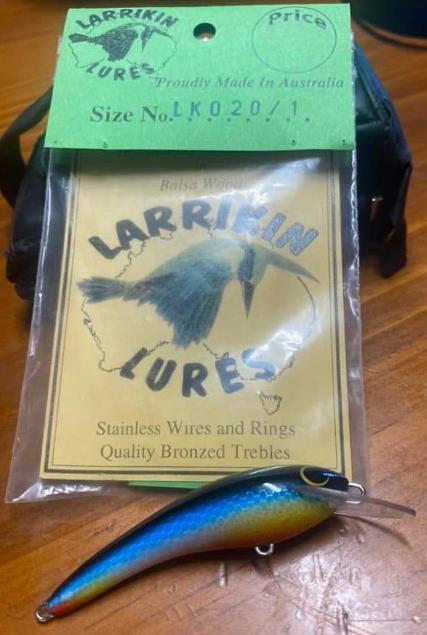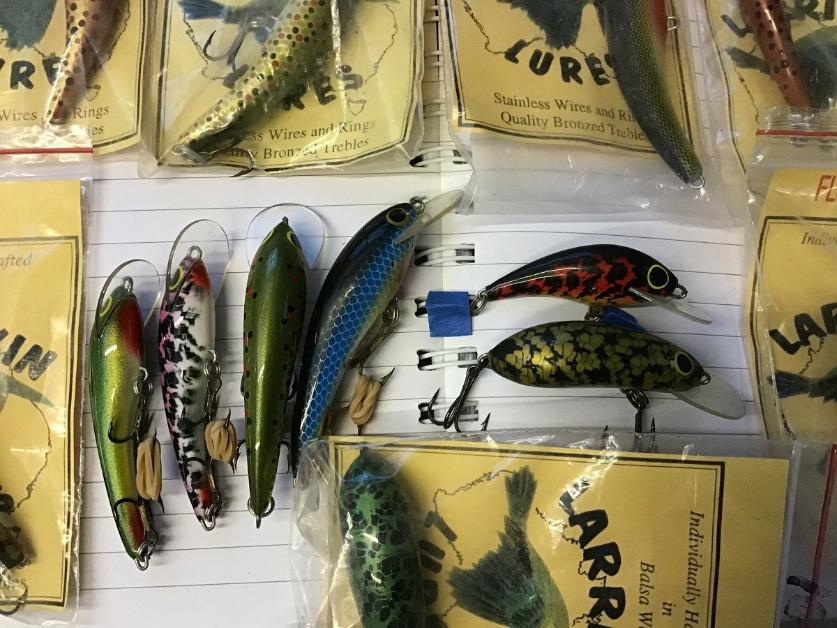 Larrys Lures - NSW:

Larry's Lures is another of the obscure Australian lures that have appeared on cards in the last couple of years. The lures shown here were uncovered at Expo 2019 on laminated cards. Handcrafted from timber they bare a quality product from someone who really knew how to make a lure. Definitely vintage and no information on maker other than his name was 'Larry'. Old phone code pre.1997 is for Camden, Campbelltown, Picton area of Sydney.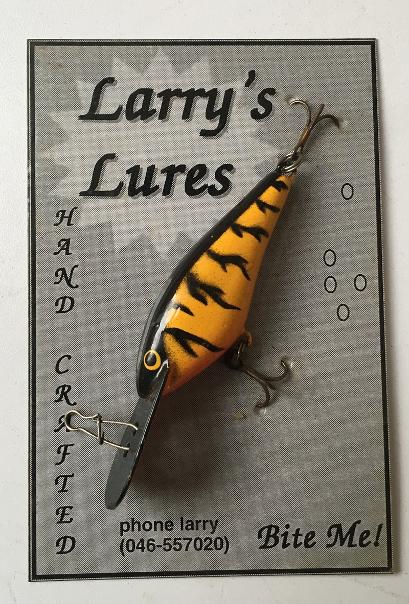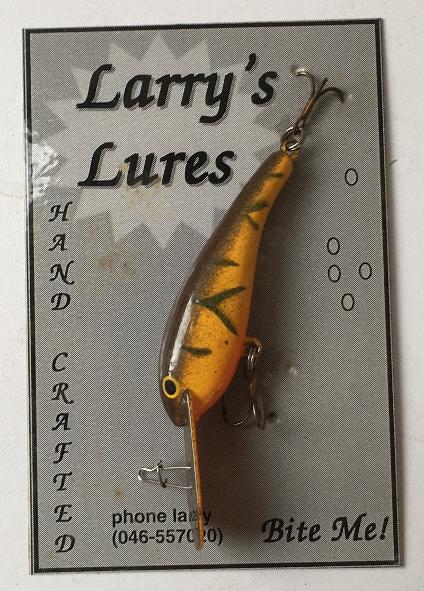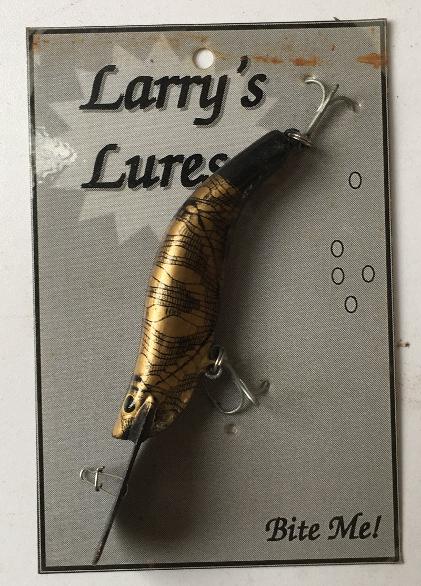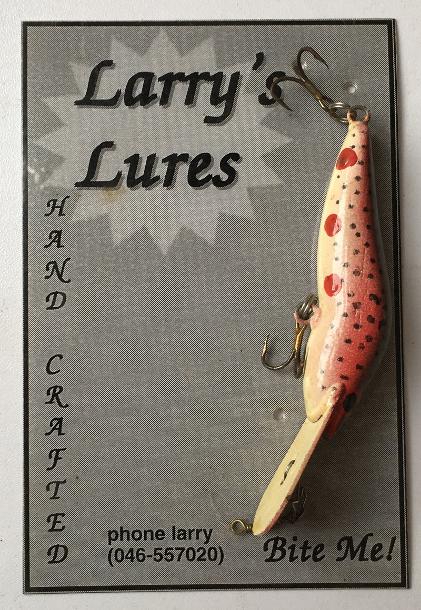 Lawes, Robert Lawes Lures - QLD:
Timber lures made by Robert Lawes from Labrador, Gold Coast. Lures shown were made around 2011.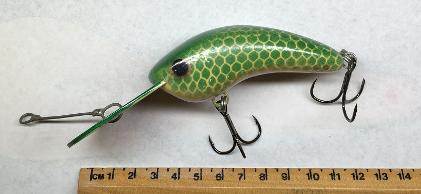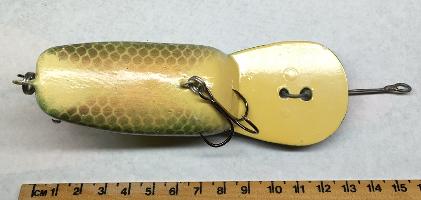 Lawson, Craig Lawson - QLD:
Craig Lawson was making large surface lures in the early 1980's. Shaped in a similar style to the Arbogast 'Scudder', Craig even recessed the eyes and cupped the face with precision. Tail is weighted with a sinker for long casting and stability. Quality lures.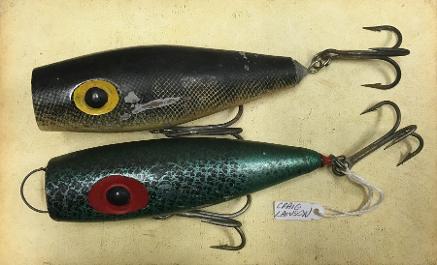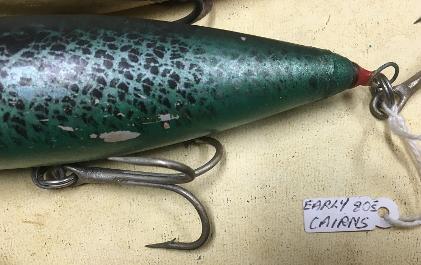 Lawson Lures, Don Lawson - NSW:
Don Lawson is a New England maker who has been around making lures since the mid 80's. He marketed a range of lures called the 'Riverking' and the legendary 'Panther' or more correctly the 'Emmaville Panther' after the area he makes his lures.
Don

mainly makes plastic lures these days but also puts out a limited number of timber lures but these generally

don

't get stocked in the shops.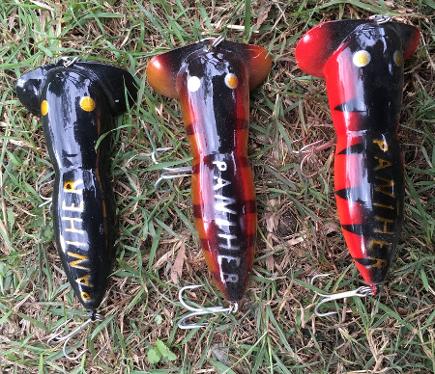 The larger older River kings may have the bib tow point onto the lower screw eye as shown on the lure below.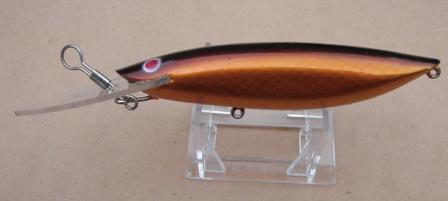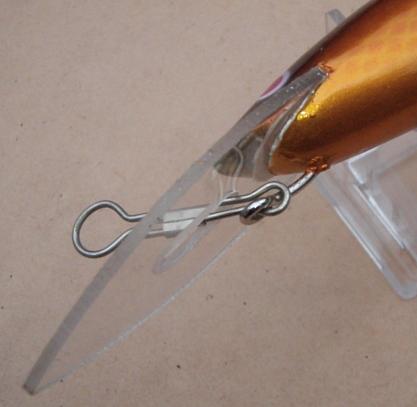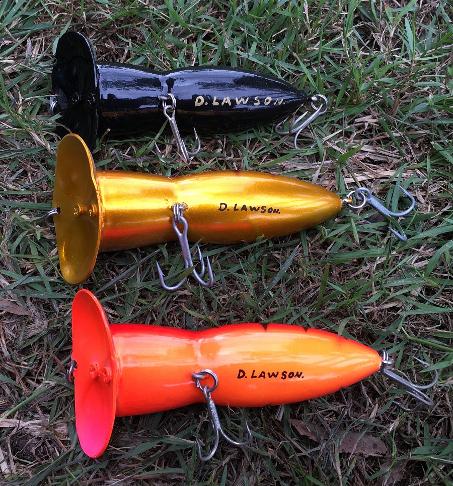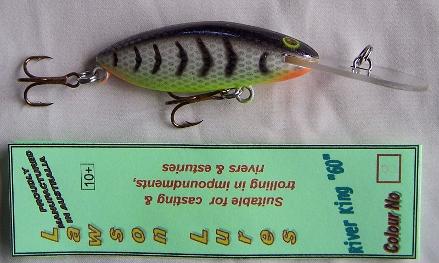 Don was also taught to make lures by Rob Gaden from RMG Lures which was documented in the following from the Lure and More Forum, 2011.

RDR - 'Don made his first lure in my shed in Glen Innes . . .the year was 1990. The very first of them was made by cutting the head of a "Scorpion" about 7" long , that I had carved & was laying on the bench. He cut the head off ( with my permission ) on my band saw & started mucking around with bib shapes , sizes , & angles. Only a handful of these were ever made by hand......but several hundred timber " River kings " were made. That's because I made the bodies for him on an over-head plunge router , that I had at the time. I even made the master-jigs to make the bodies for him. After just over 12 months , the lure was sent to Lively lures for moulding in Urathane....as Don wanted easier production. That is when the polycarb bib was first used in this lure.'
The early ones were made from metal using old style ribbed alloy door type kick plate bib. The current 60mm Riverking range are all plastic.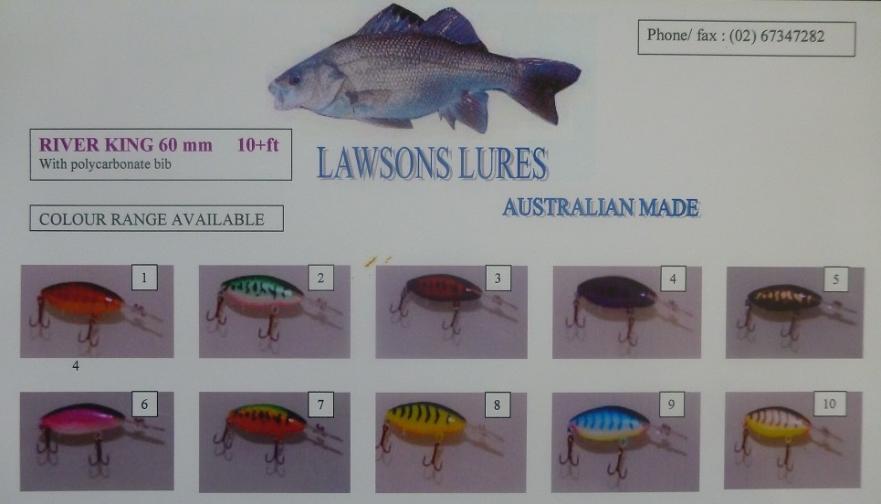 These colour charts show the range for the River King 60 (above) and the River King 85 (below) after they went to plastic in the mid to late 1990's.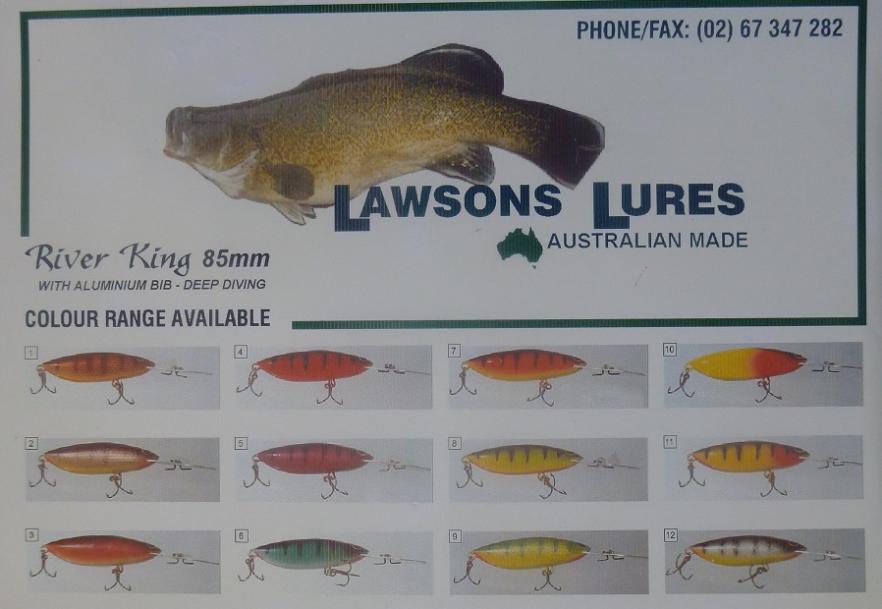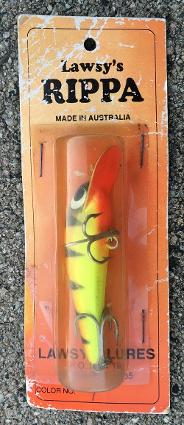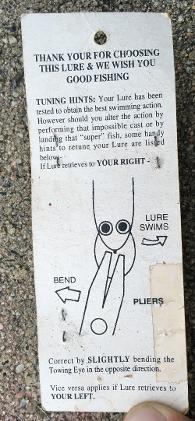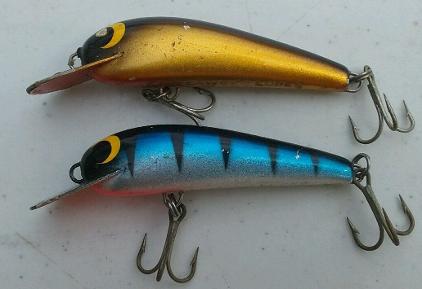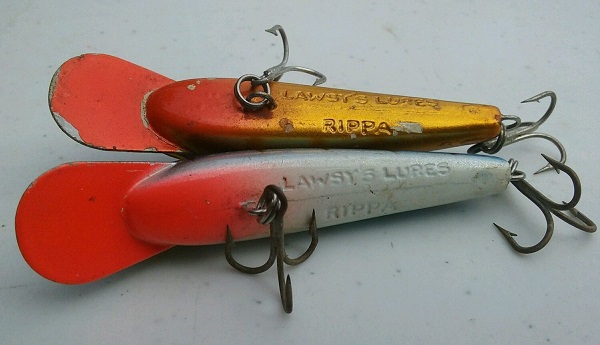 Lawsy's Lures - QLD:

Made by John Law - these lures are another to come out of the Allan Dolan's Lively Lure factory.

The Barra Supreme marked mid runner

The 'Bladesta' was a small bladed spinner shown on green card with Swan Hill address.
(Left) The Lawsy's 'Rippa', a small bibbed shallow diver which will have the moulding marks on the belly.
(Right) The belly view of the Barra Supreme which is also shown on a pink card with a stamp for Swagman Lures and a Fyshwick, Canberra address.

LB Lures - NSW:

A quality hand crafted product from hobbyist maker from Tenterfield. Lures are named after family members.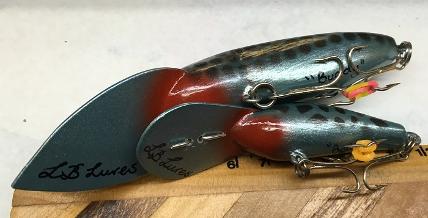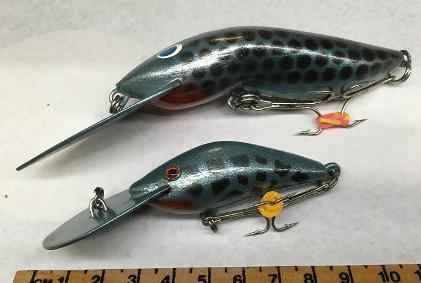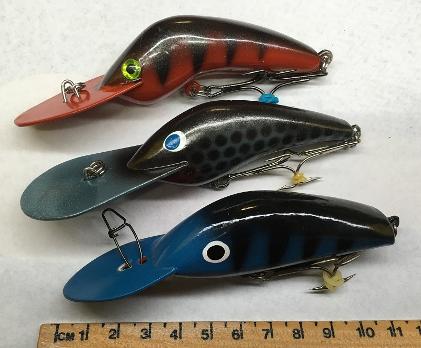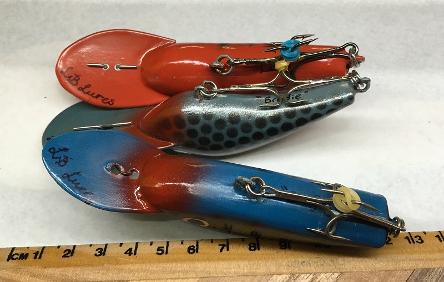 LB 'Brodie' - top two plus another model.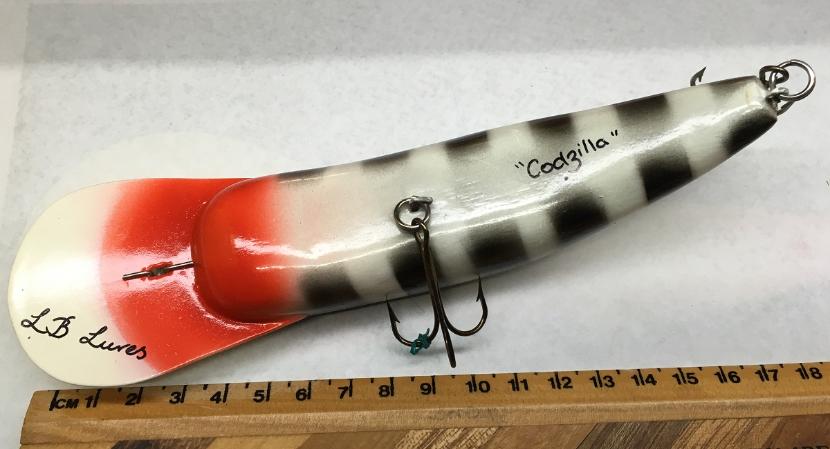 LBM - Lures by Moose:

Made by Brad Day, the foam creations are some times labelled LBM such as the 'Poppit' below. Cards will also have Lures by Moose and the map of Australia bottom of card such as 'Swallow' model. Also listed on the website under 'Lures by Moose'.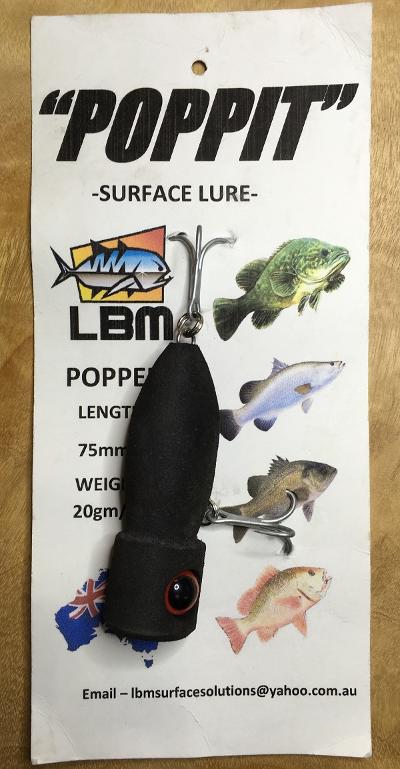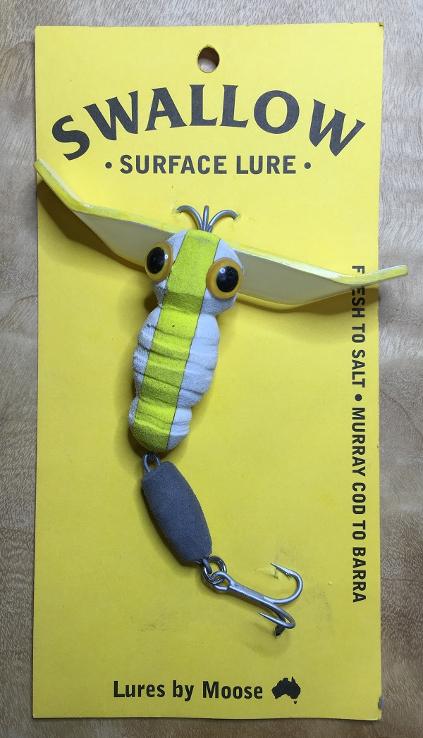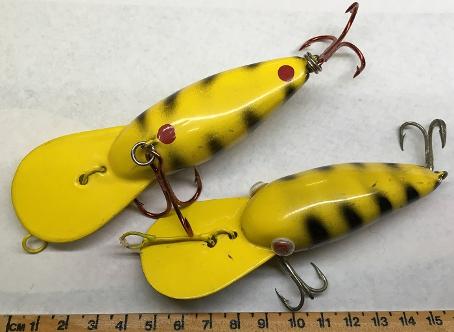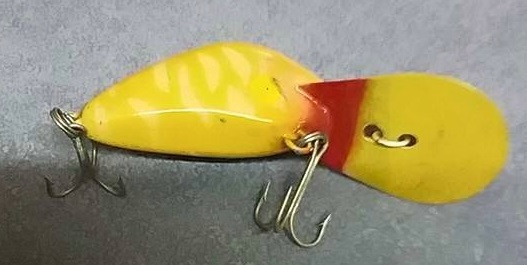 Leach, Gary Leach Lures - NSW:

Made in Inverell as far back as the 1970's. All lures are timber and many will have dolls eyes. Also made a very interesting yabby imitation lure as shown. Hobbyist lure maker.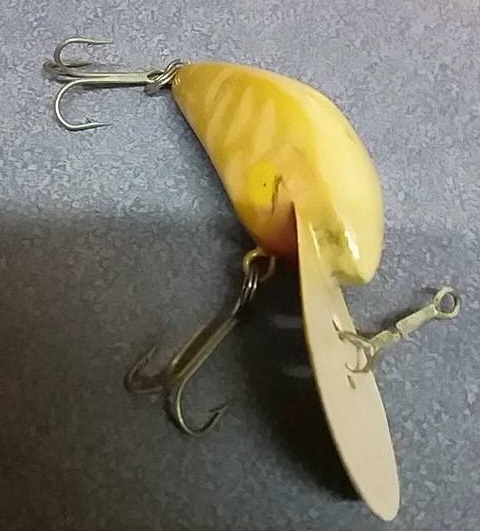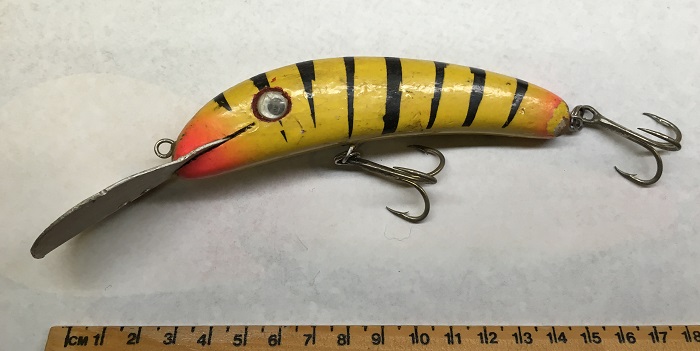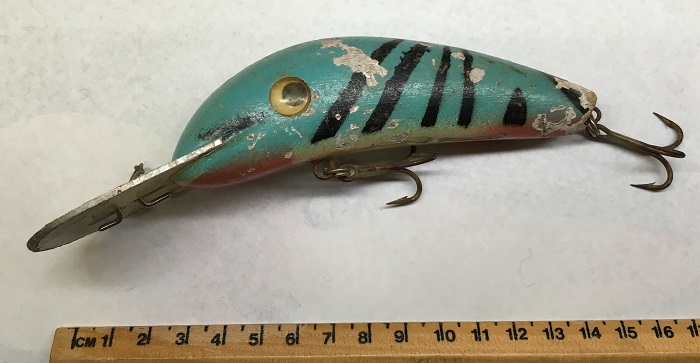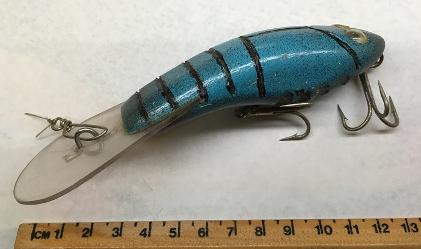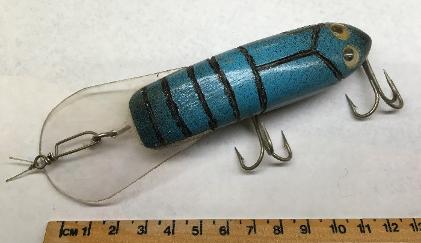 Leads Lures - QLD:

Terry Leadbeater sure makes a mean lure and his earlier lures are in higher demand than ever. All lures are made of timber and Leads Lures has built a reputation for making hard wearing lures suitable for pelagic northern fish. Early Leads lures will have hand signed bibs as shown below and paint patterns will be slightly different as they evolved over time. See Leads Lure full page
Leavey Lures - NSW:

Mick Leavey owns and runs Yamba Bait and Tackle and has released a range of moulded lures suited to estuary fishing and a specific model for large mulloway. His family members own and run the BP service station which is also a bait and tackle outlet. At the BP is a mount of a large jewfish that Mick caught in 2015 on one of his lures.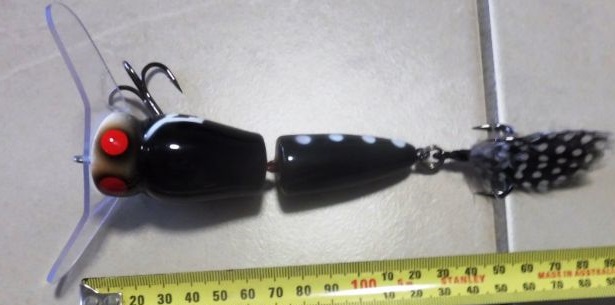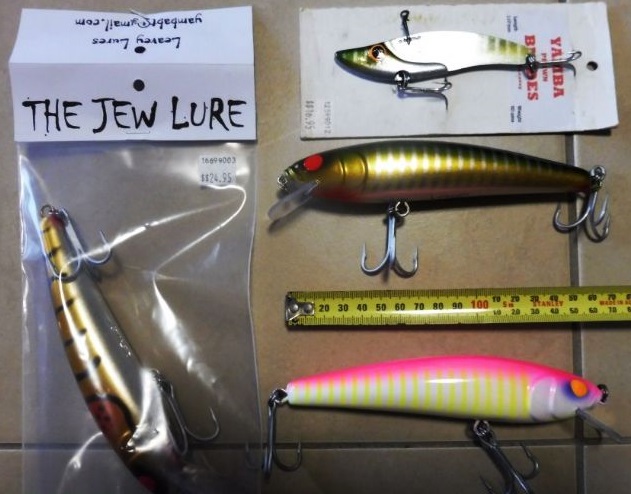 Left is the 'Murray Moth' and above is the 'Jew Lure' and 'Yamba Blade'.
The 'Jew Lure' showing name moulded into the belly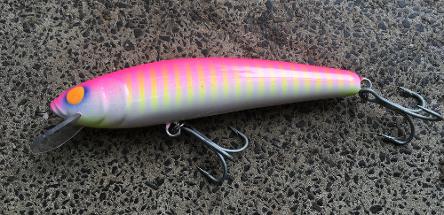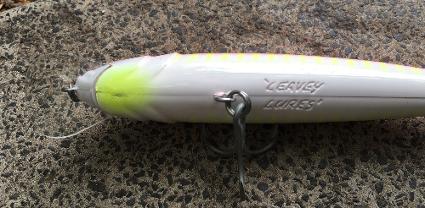 Lees Lures - QLD:

Richard Lee makes a wide range of lures suited to tackling northern pelagic species and has a wide range of models that he has been making for at least 20 years. Still making lures in 2017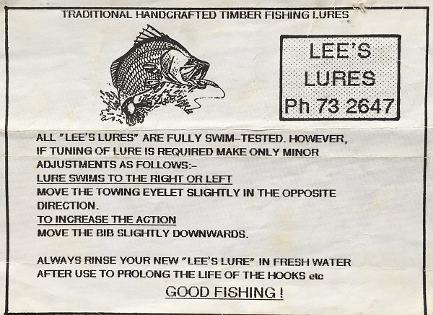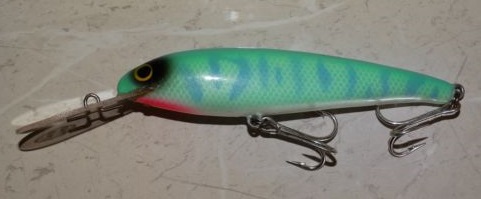 The lure shown is a Lee's 'NQ Sardine' showing Lee's bib sticker which is similar to what Leads and C Lure did in marking their lures.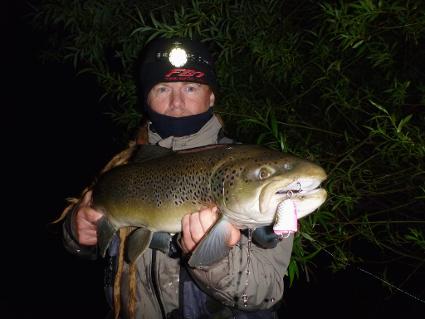 Left shows an early Lees Lure card with tips for tuning lure.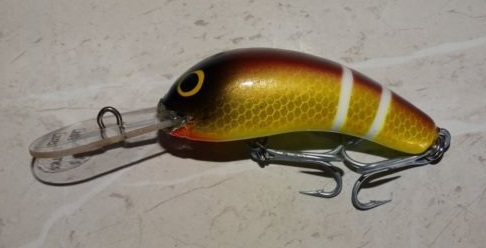 Above is shown a Lee's 'Frog' and below is another different style of popper. Most of the popper models made by Richard Lee will have the customary large ring for attaching line or snap to the front of the lures popping face. As these photos illustrate Lee's lures have excellent paint patterns and finish which is hard wearing and hold up to heavy fishing applications.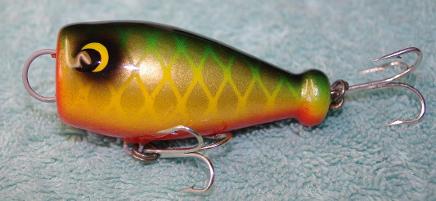 Photo left is of a large Tasmanian trout caught on a Lees popper. Not specifically designed for trout but worked none the less.
Lee, Jim Lee Lures - QLD:

Jim Lee makes some amazing lures from red cedar. They have only ever been made in small numbers for personal use.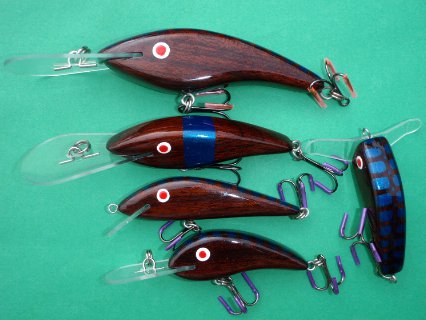 Lefty's Lures - NSW :
Lefty's Lures are a timber lure made by Jason Goodson from Sawtell. Simple design but unsure of exact years of manufacture.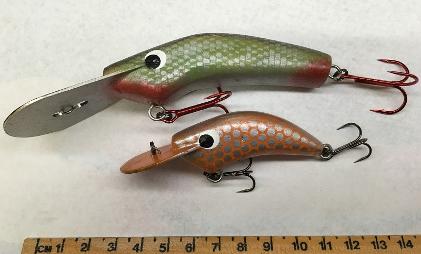 Legend Lures - NSW:
Legend Lures may also been known as R.T.B Legend Lures named after the maker Ray Broughton. Over time the R.T.B part of the name became less significant and the plastic versions were normally referred to as Legend Lures and have been around since the 1980's. See RTB Legend Lures full page bio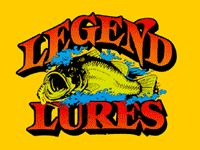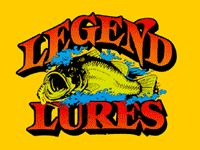 Legohead Lures - VIC:
A recent addition to the Australian lure making scene in the last few years, Legohead Lures have forged a reputation for making timber lures that are suited to Murray Cod and Australian native fish. Made by Dean Capello, the Legohead range is one of the most original lures to come out in recent times and Legohead Lures fetch big money if you can get your hands on any!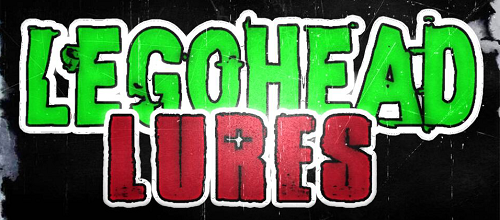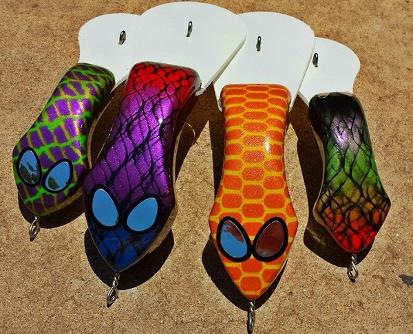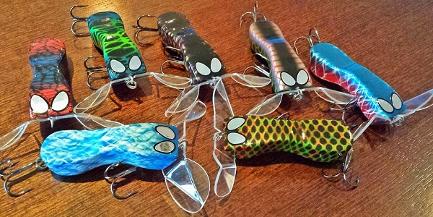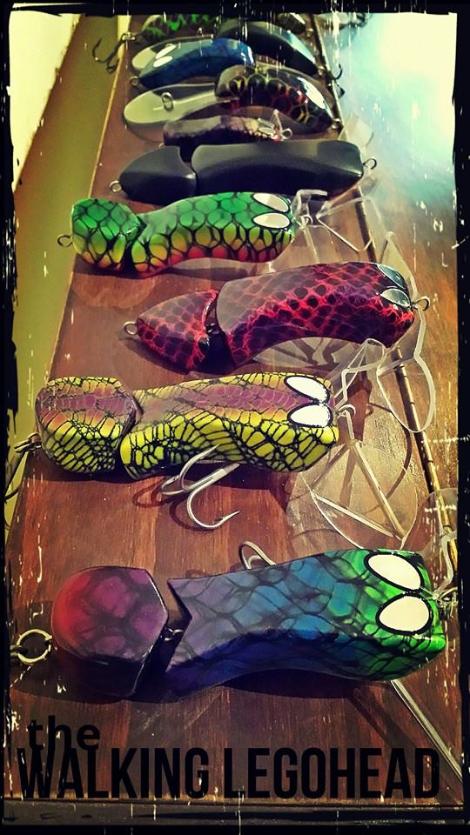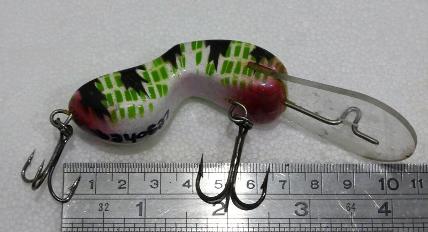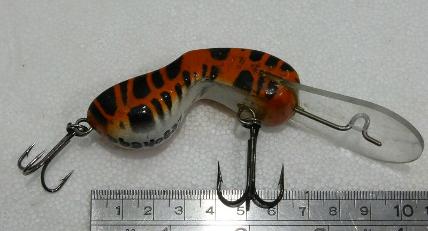 Above - Two examples of earlier Legohead lures smaller size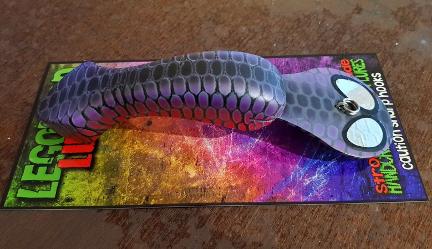 Legohead 130mm divers c.2018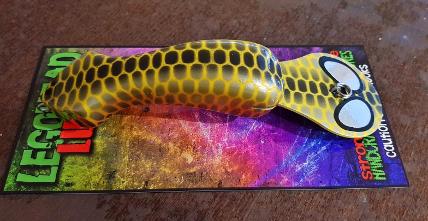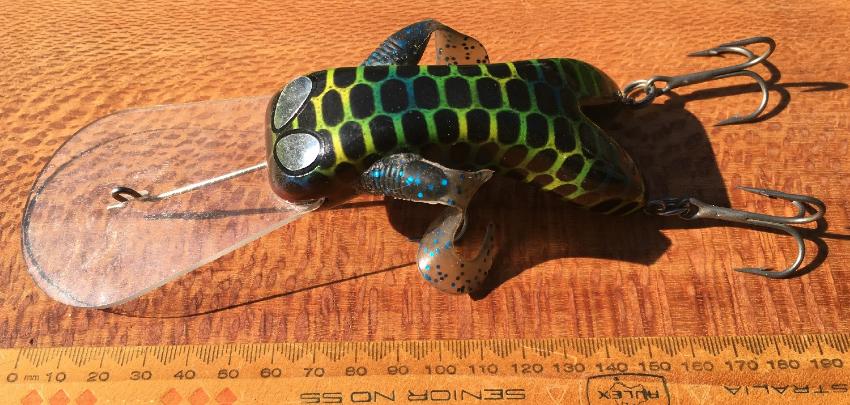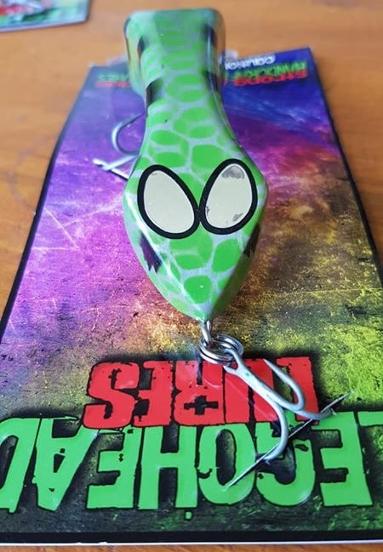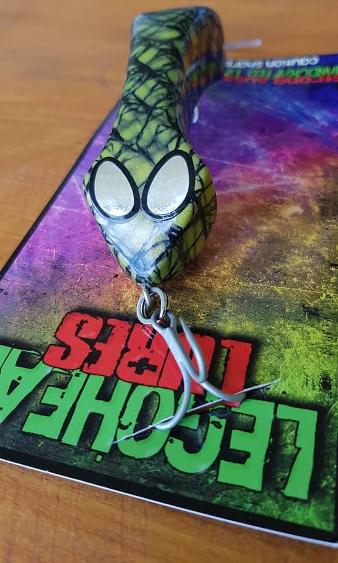 Lennon, Wayne Lennon Lures - VIC:
Made by Wayne before starting Oar-gee Lures. Lures are made of timber and show distinct signs of what was coming with the Oar-gee range which took the market by storm in the early 1990's. These lures would date pre. 1990 and would have been made as early as 1988.
The 'Lennon Bug'. Very reminiscent of the later Oar-gee 'Barra' but in a smaller size. Rare lures if found and identified.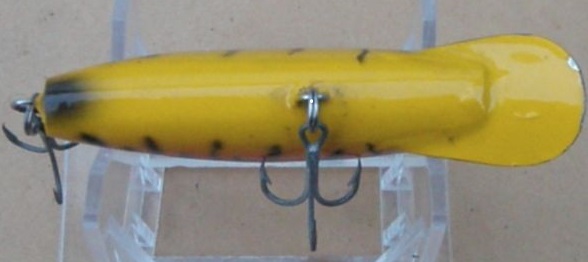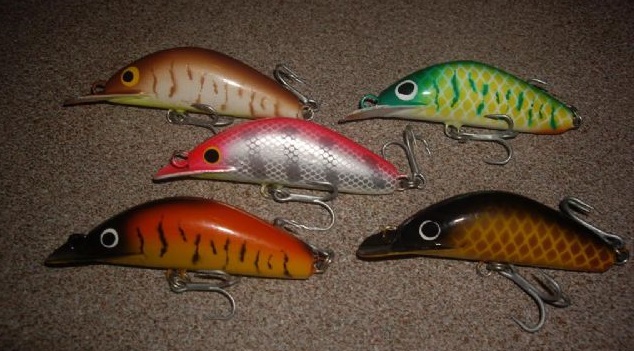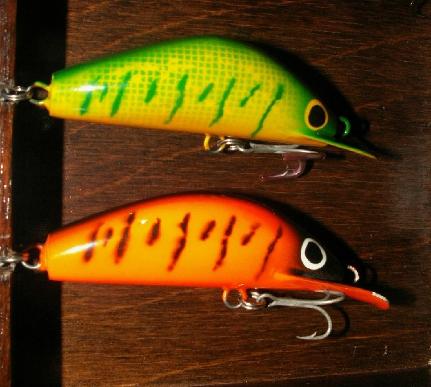 Lennys Lures - VIC:
Made by Len Maples from Wangaratta, Victoria - the following quotes come from the Lure and More forum and really tell the story of Lennys Lures. Unfortunately Lenny passed away in 2019.
'Lenny is my father, a mad keen Barra fisherman, who got sick of having to replace expensive lost lures in the mid 80's. He lost interest after illness and handcrafted all his lures from Tasmanian Huon pine, making various sizes colors and shapes adaptable for fresh water cod or salt water'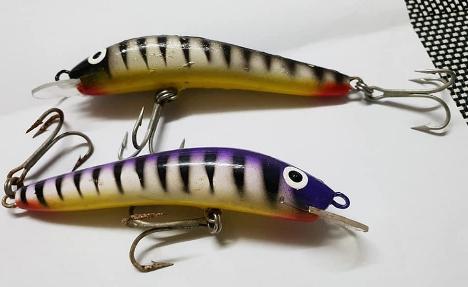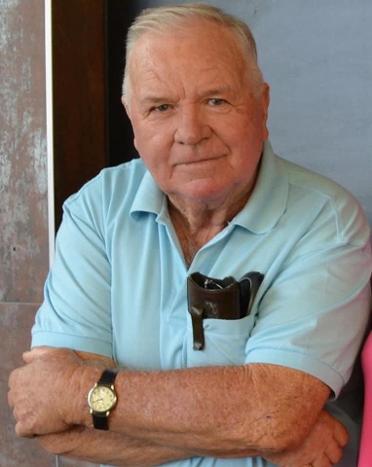 'Dad, Len Maples from Wangaratta, is a life time member of the Booraloola fishing club, in his 70's now, he used to experimented on all different sorts of shapes and sized lures. From small 2inch (bug jumpers) to 6-7 inch barra lures, various sized/shaped bibs for different dive action, even trialed a few with ball bearings inside for a rattle affect, he mainly made them for himself, but when people started to show interest, he made and sold them privately. He still has a collection he uses for his own needs, but after health and marriage problems he lost interest and hasn't made a lure in almost 10 years. But they were very successful, with my then 16 years old brother Roy making front cover of fishing world magazine, August 93' with a 45lb barra caught in the Daly River, Darwin on a blue lure of Dad's.'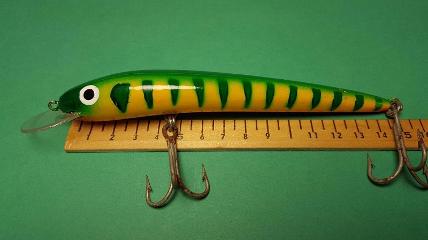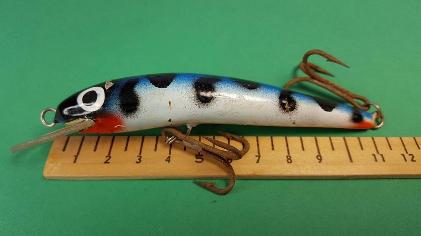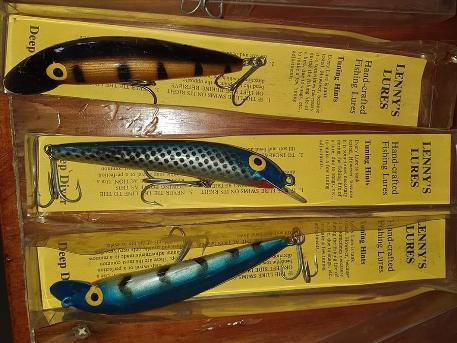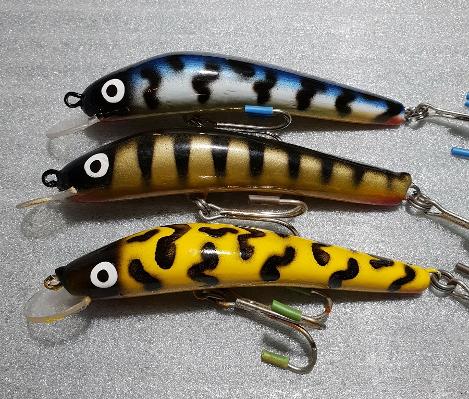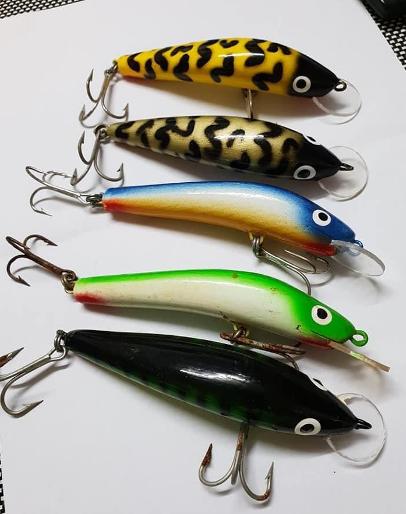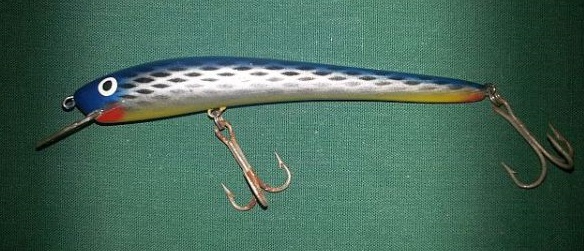 Leplures - Gordon Leplaw - NSW:
Gordon Leplaw of Port Macquarie, NSW has been making timber lures for many years since the 1980's. A highly skilled maker who is not afraid to experiment with body shapes as shown.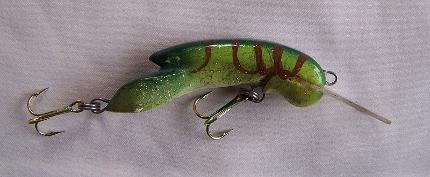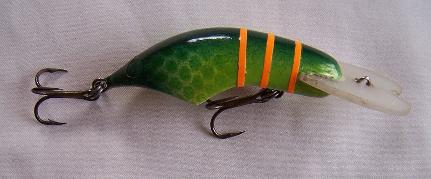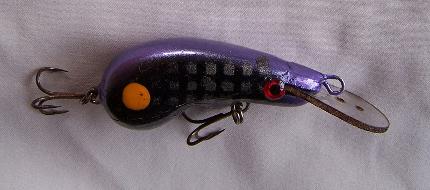 Leplaw Lures also did copies of successful lures which show the deep though and understanding of lure mechanics. Below is a Leplaw 'Spinner' and the Leplaw 'Stumpjumper' version.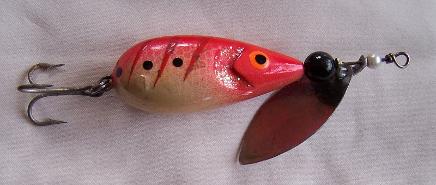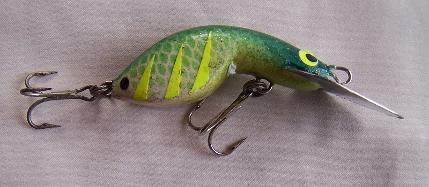 Leplaw Lures show a wide array of shapes and patterns resembling yabbies, shrimp and minnow or plug style lures. Below is the Leplaw 'Alpahabet plug' and another couple of diving plug style lures.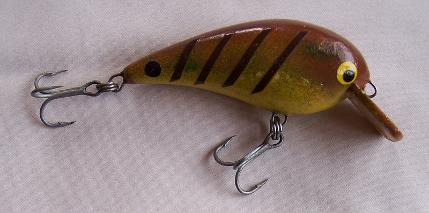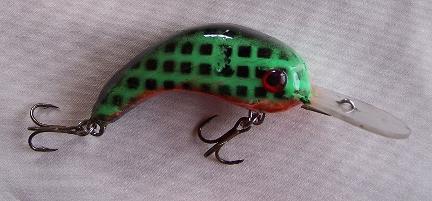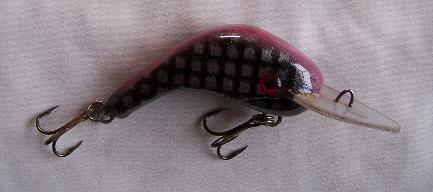 Lethal Lures - QLD:

Lethal Lures is situated at The Caves, about 40km north of Rockhampton, Central Queensland. They produce tough, reliable hand crafted timber lures which are fitted with quality components and individually tested and fishing ready. From Darren's early creations, the catch rate improved from better design & paintwork, he started making more for himself and then for family and friends. After small beginnings at local markets Lethal Lures 'Barra Slayer' has been available through local tackle shops since 2011.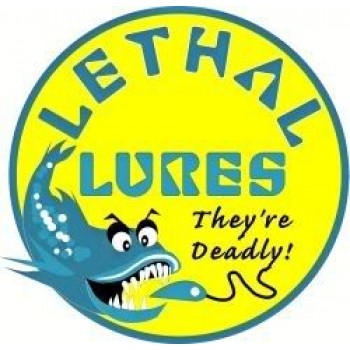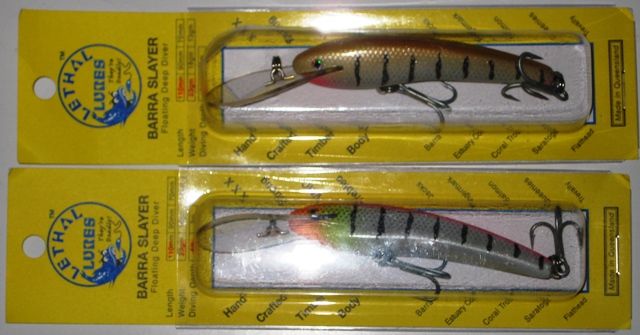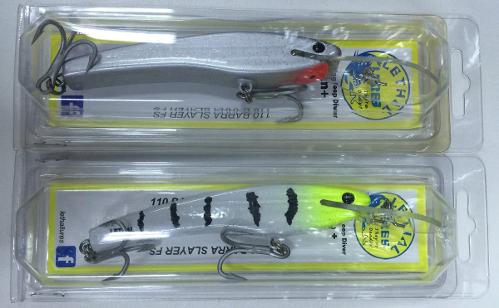 Lethal Lures
'Chunky Morsel' - a smaller model at 70mm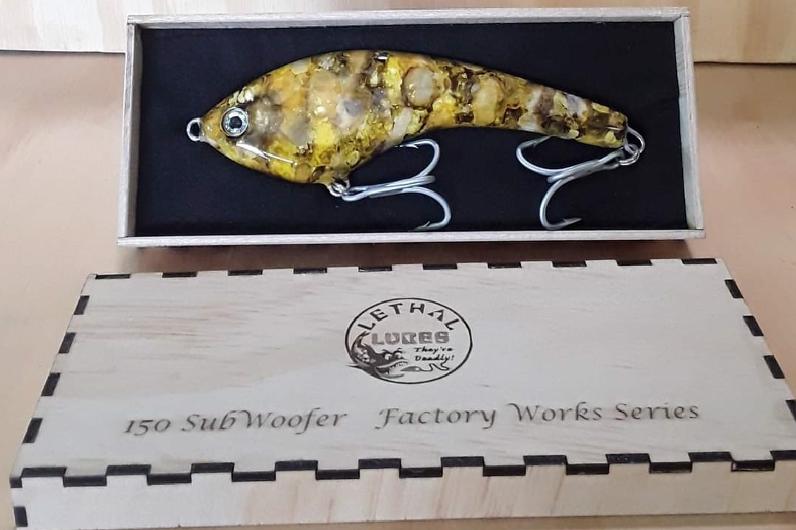 Les Barlow Lures - QLD:

Les is still making lures in his 80's. See Barlow, Les Barlow Lures
Levo's Lures - QLD:

Rick Levingston is another of the current cottage lure makers who has been shaping specialist exhibition pieces and one off lures as well as small production runs for a few years now. Models like the small 'Ambigua' has a great shape while others resemble small birds and critters. Definitely high quality finishes on Levo's Lures. Ordering is direct through Rick himself.
Opposite shows some exotic Levo's Lures creations including the 'Frankinator' (top of photo) which was a giant horned lure made for Frank Prokop as a gift. Rick is an accomplished jeweller and his skills have been transferred to lure making - who know what's next??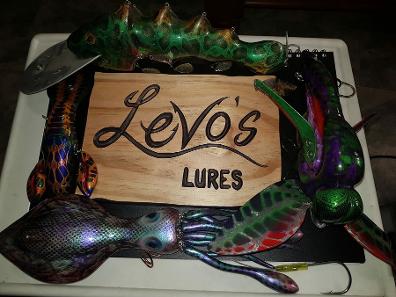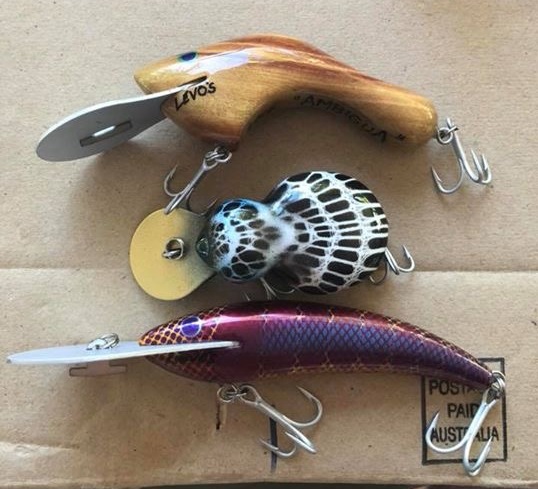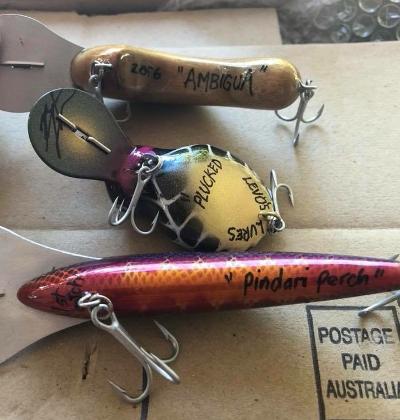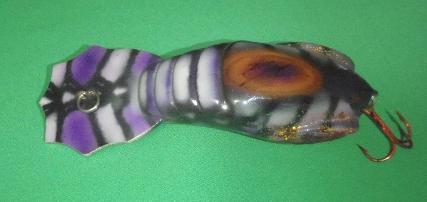 Levo's 'Crayfish' (above) & 'Sqidzo' #2 (right)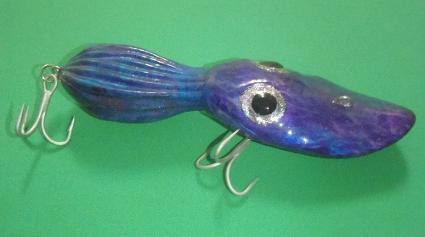 Made in 2018 - baby birds by Levo's Lures No 1 & No 2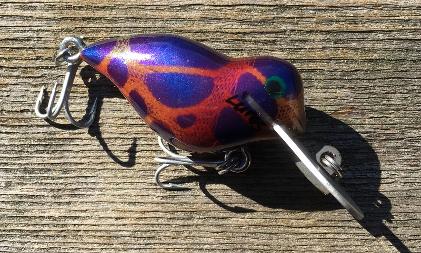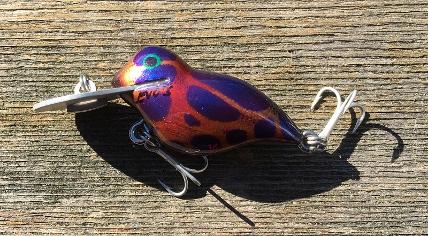 Levo's Lures 'Zappa Crays'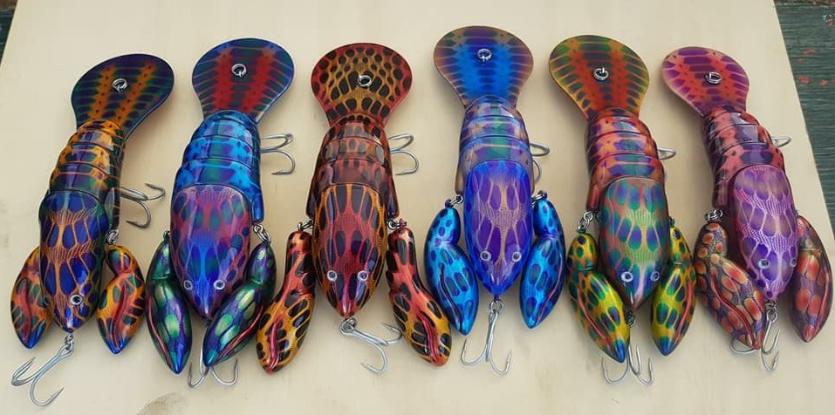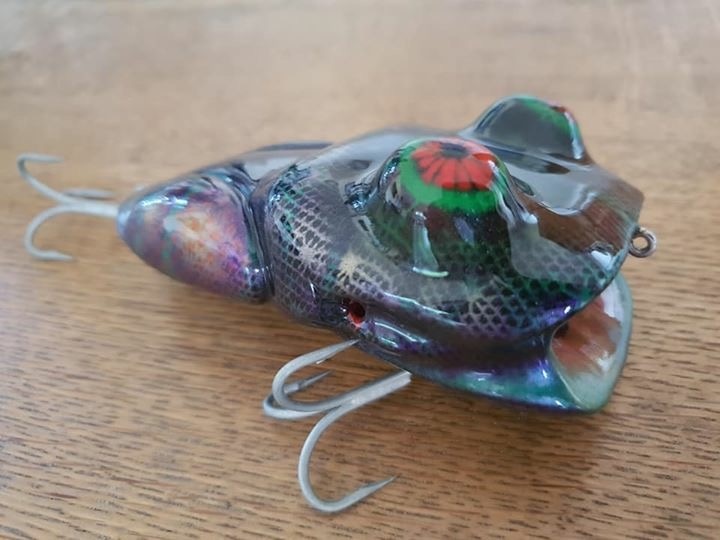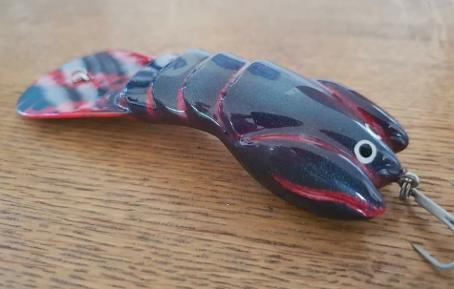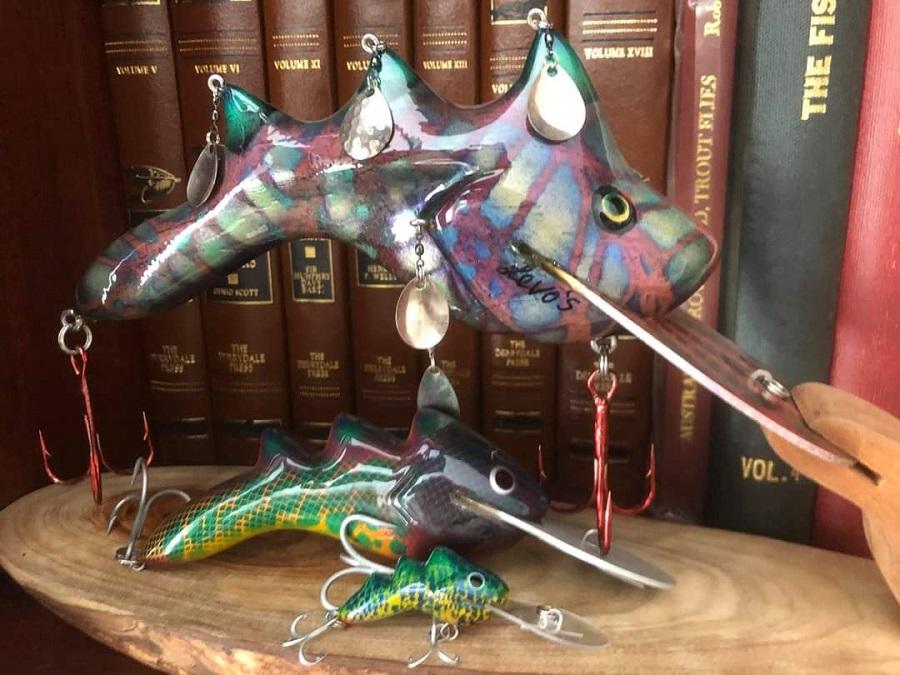 Levo's Lures 'Frankinator' set - the large Frankinator was made for Frank Prokop by Rick and presented to Frank at the 2016 Lure Expo. Photo courtesy of Frank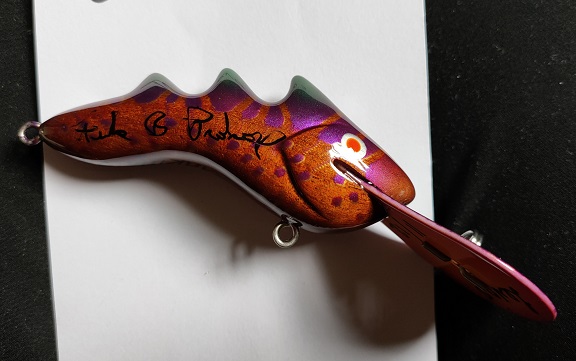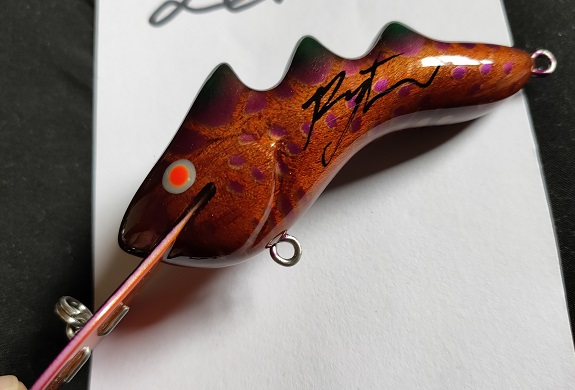 Lewis Lures - QLD:
These lures were hand carved by Keith Lewis from Currumbin on the Gold Coast who was a regular angler and camper at Glenlyon Dam. His early lures had metal bibs and later started to use lexan/polycarb bibs. Uncommon and signed near tail. Lures are a classic yabby imitation or crayfish pattern and come in three distinct sizes as shown in the photo on the right.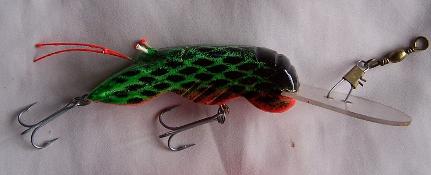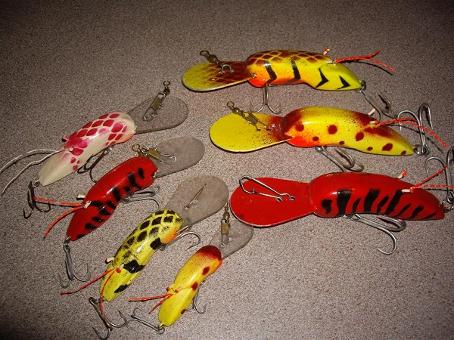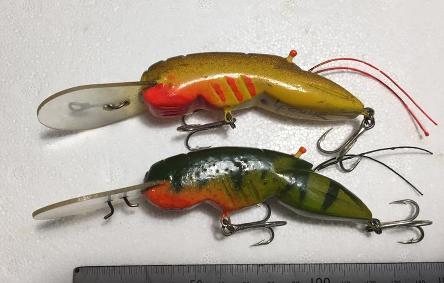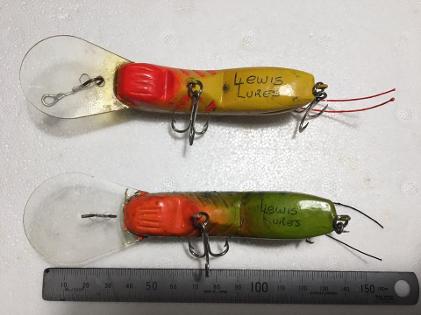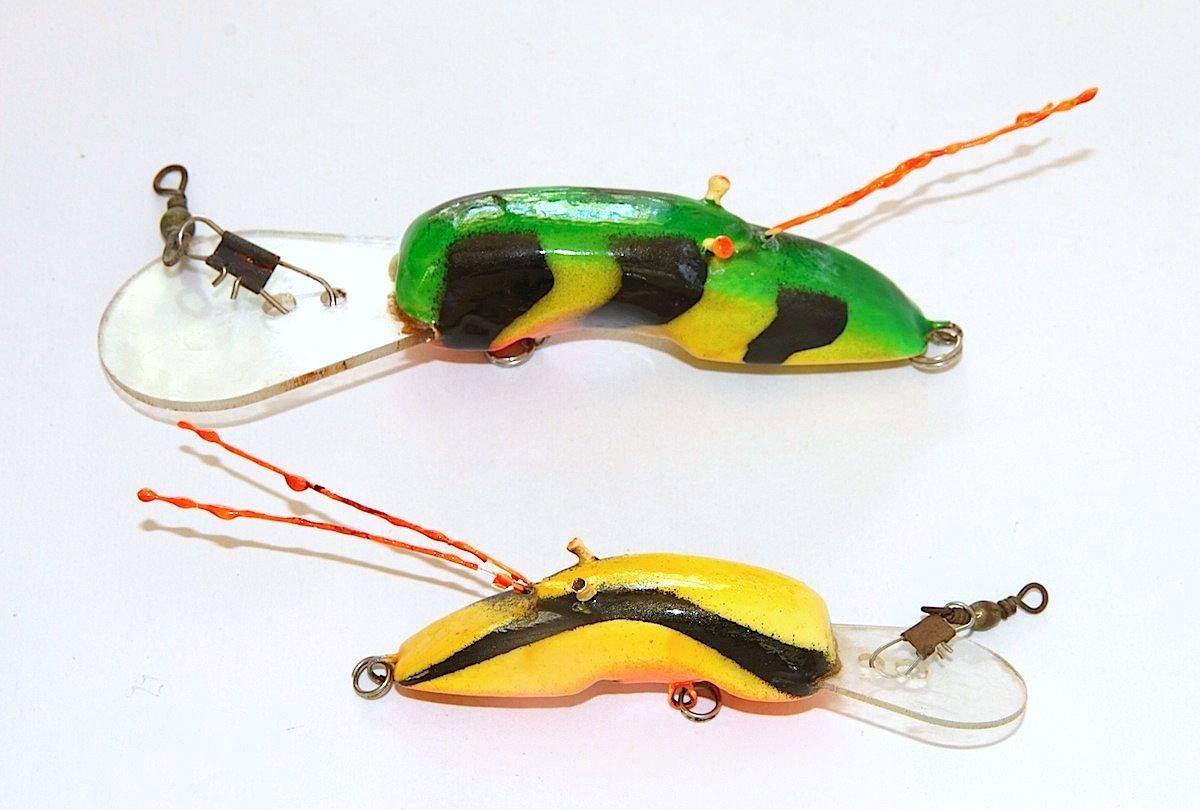 The lure below was confirmed as a Keith Lewis minnow - a much more uncommon model as mostly yabbies were made.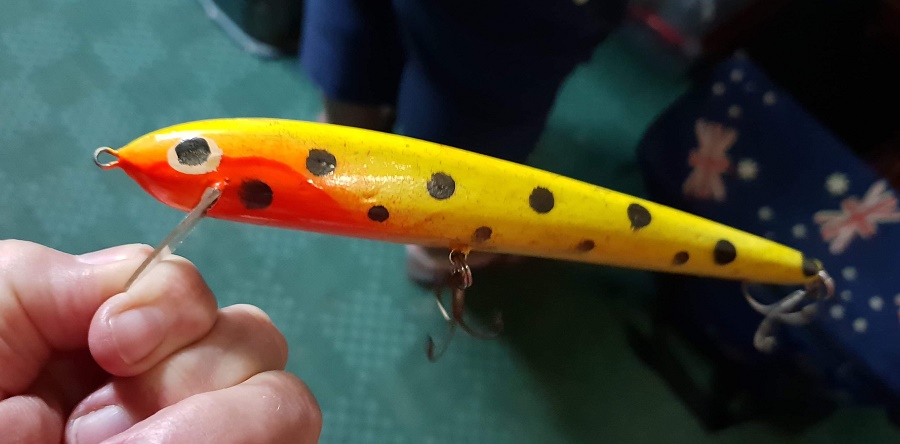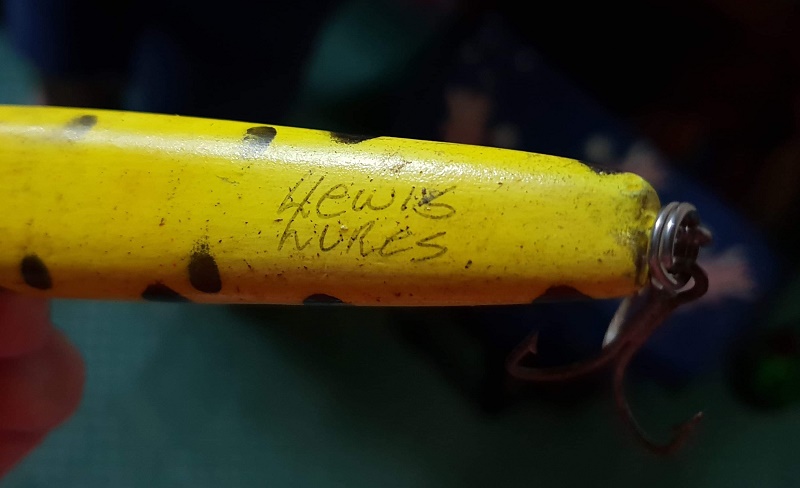 Lewis, Peter Lewis Lures - NSW:
Not to be confused with the lures in the previous bio, Peter Lewis was a good friend and work colleague of Peter Newell. He was in fact Peter's boss as sergeant at Tenterfield police station and they forged a great friendship over the years and it was Peter Lewis that nicknamed the young Peter Newell 'Tracka'.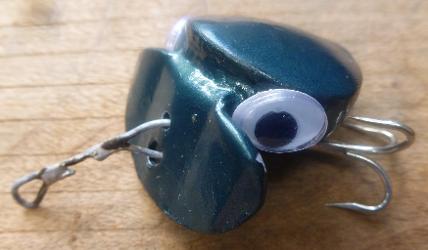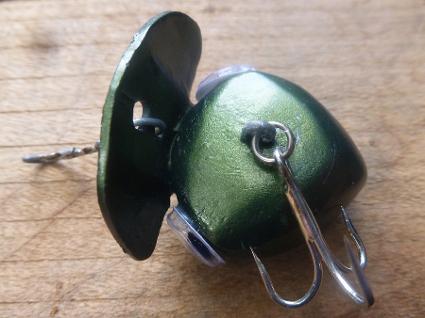 Peter Lewis lures are made from prime cricket bat willow which is grown on his property. All Peter's designs are original especially 'The Turtle' aimed especially for river and creek casting.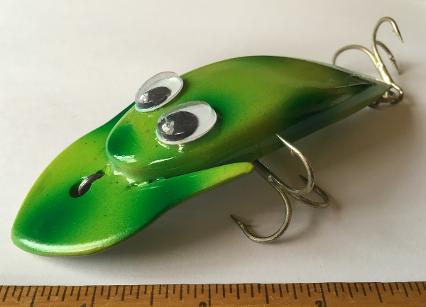 A few random Peter Lewis lures from a few years back.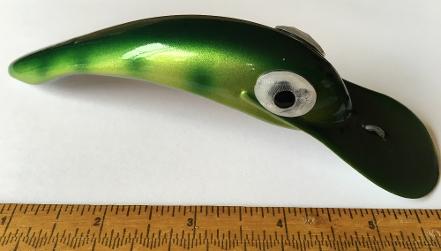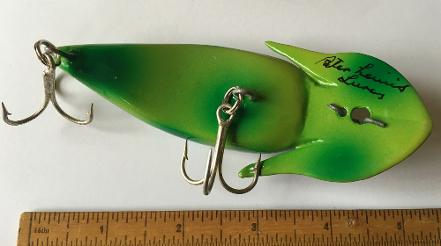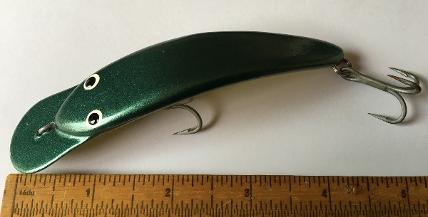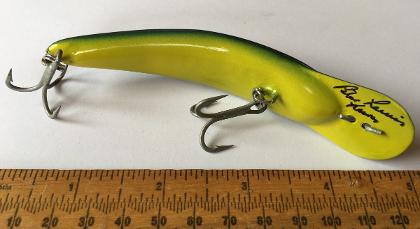 The following photos showcases some of the amazing creations made by Peter Lewis. Lure Hub OZ had the pleasure of meeting this humble, creative man in July 2017 and he had just made a few Helin T60, T50 Flatfish copies and a Kwikfish of the same size with its subtle variations and differences.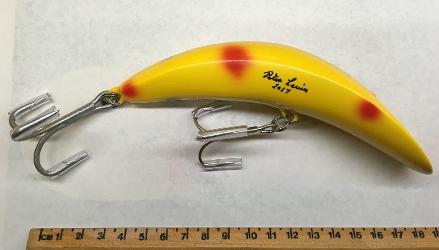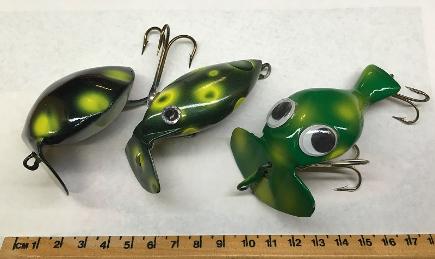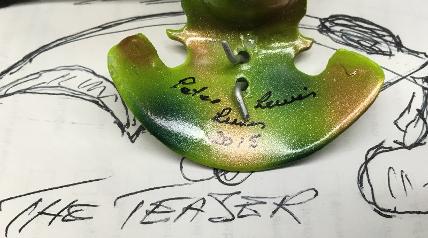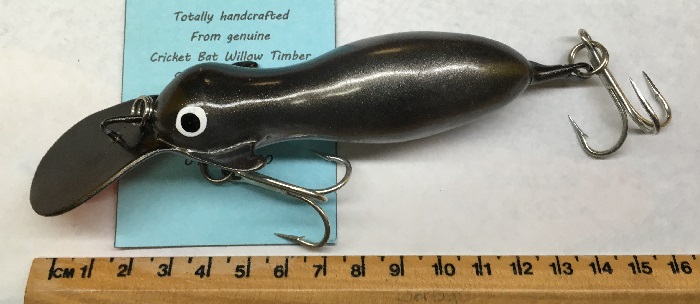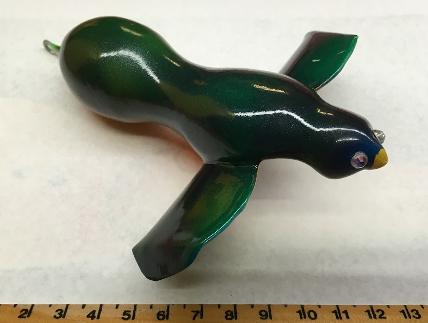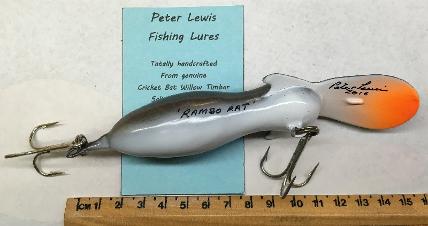 The 'Rambo Rat' shown above, the 'Parrot', an incredible surface bird lure (left) and another creation below.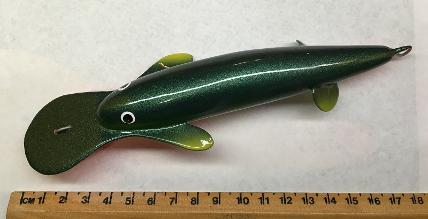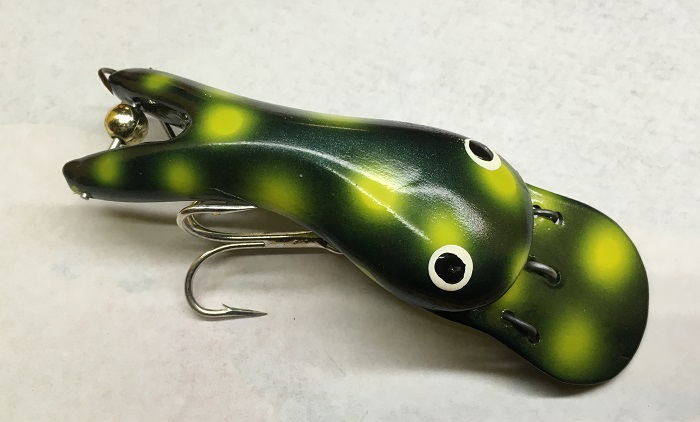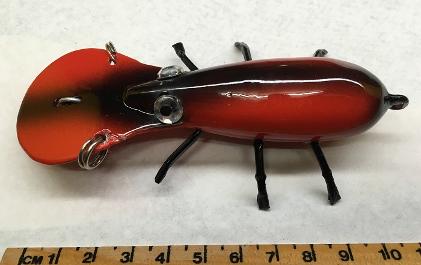 The 'Turbo Seeker' shown below and 'Turbo Rat' (right). These spinning surface lures create lots of noise, motion and bubbles.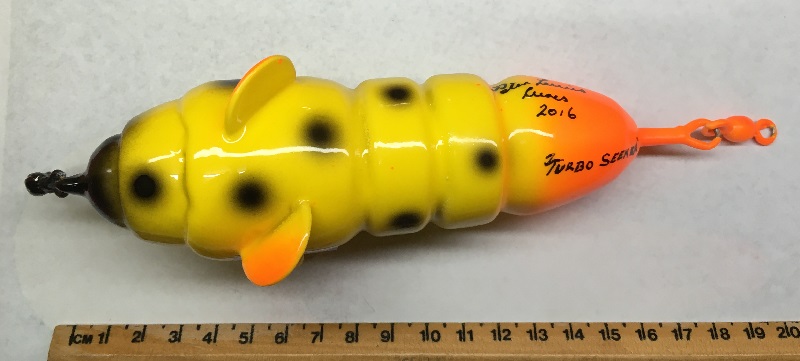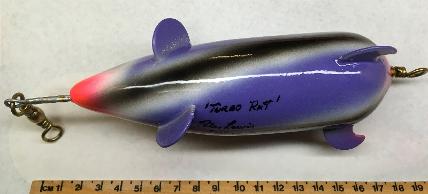 Peter Lewis lures come in a wide array of shapes and sizes suited to most freshwater applications for native fish. Also shown are some of the different backing cards.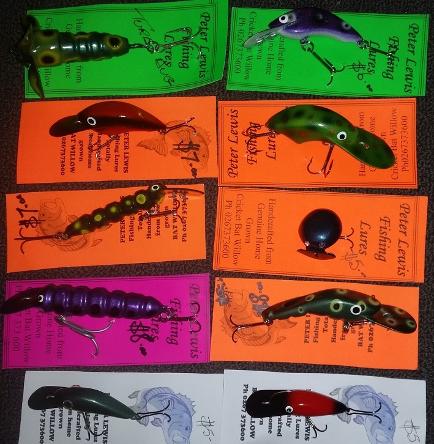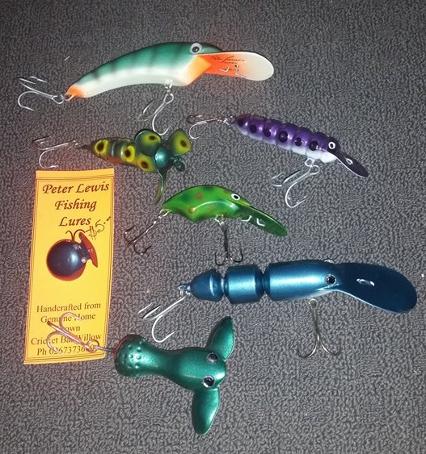 The 'Weismuller' is a larger surface lure named after the actor who played the original Tarzan and who was a champion swimmer.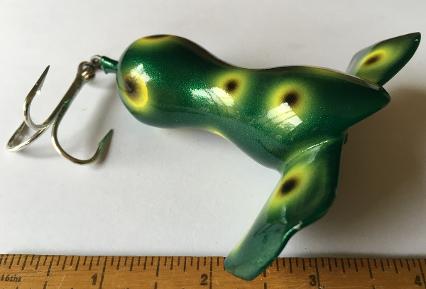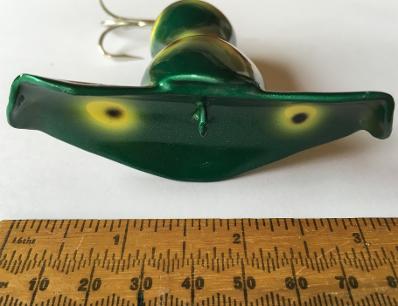 Below shows a 'Turbo Bug', 'Turtle' and 'Cod Bug' in frog spot pattern.


Liddle Luck Lures - NSW:
Little Luck lures are made by Rick Liddle in the Gunnedah area. The following quote is from the Lure and More Forum; 'the maker was a local fella who has since left town, he made about 150 of these lures and would paint them according to the colours that people wanted so they are more a custom finish lure'. Made in the late 1990's.
Life - Like Lures - TAS (?)
Life - Like Lures are a vintage lure that were unearthed in Tasmania. Definitely vintage there are two known models that imitate a tadpole (Taddy) and a whitebait pattern (Tiddler). Unknown maker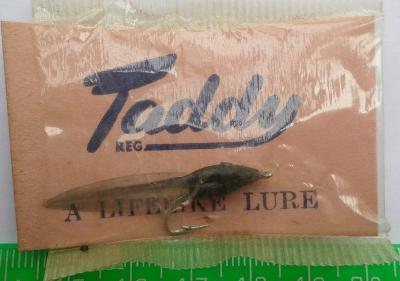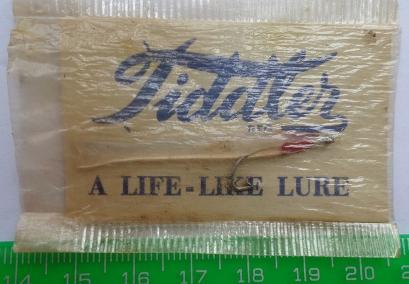 Lightning Spinner :

The 'Lightning' Spinner was advertised as a big game lure in the Mick Simmons Surecatch Angling Guide for 1936/7. A simple concept running a single sleeve attractor on a lead trace. Available in four sizes.

Link Lures - NSW:

Link Lures are a cottage industry new comer to the market in 2017 and are made by Ron Selby from Belmont.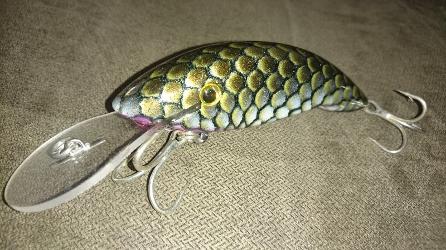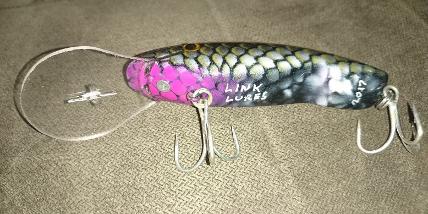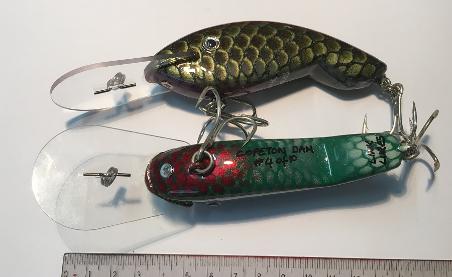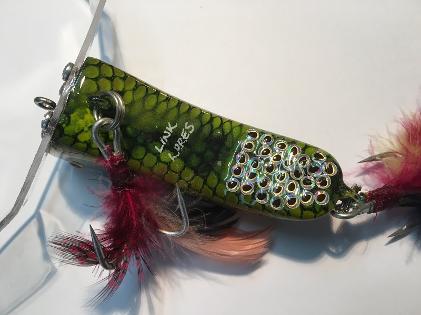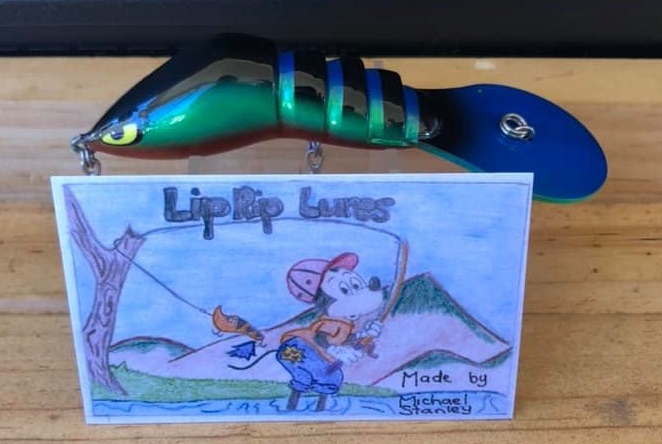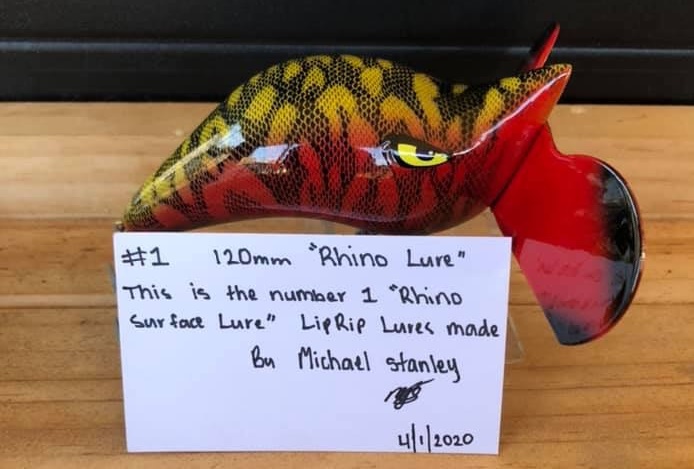 Lip Rip Lures:

Lip Rip Lures are made by Michael Stanley who is a hobbyist lure maker who has just started making lures in the last couple of years. Since 2020 Lip Rip has made some excellent lures.
Lip Rip 'JR Marbo Cray' - the first made - 70mm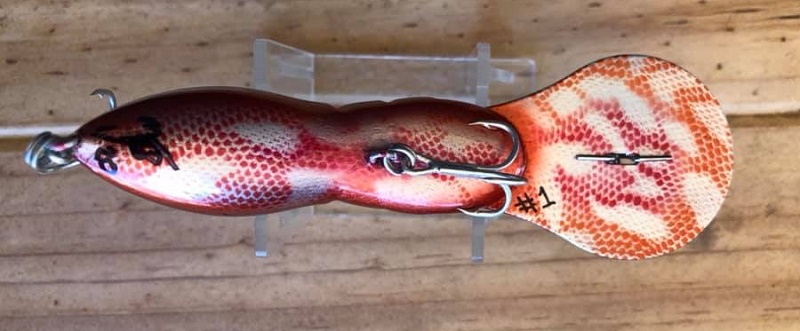 Lip Smackin' Lures -:

Lip Smackin Lures were making lures around 2014/15 with various surface models. Unsure is they are still being made?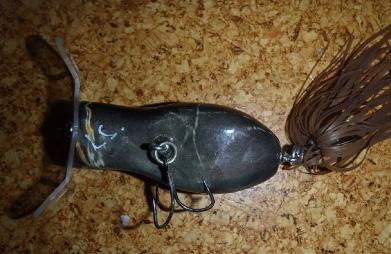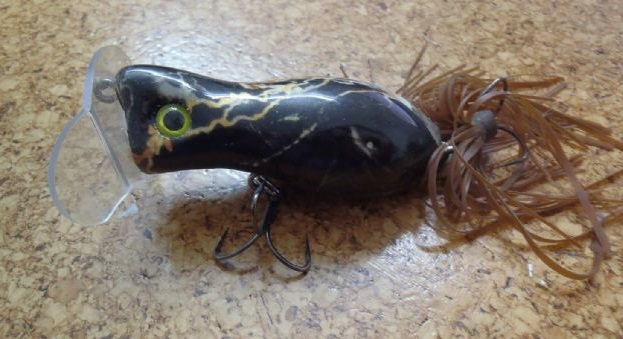 Little Ripper Lures - QLD:

Little Ripper lures are made by John Wust from Cabarlah near Toowoomba, QLD. Hand made from timber they are an excellent lure and come in a few sizes and are designed for deep water applications and for catching native Australian fish. Still in operation in 2019.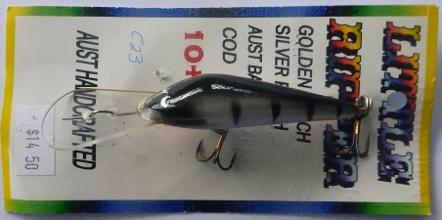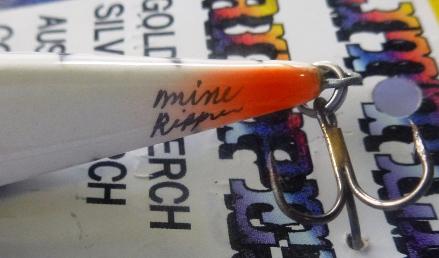 Photo shows the Litte Ripper 'Mini Ripper' on card.

Little Ripper lures were originally made by John Charles Wust who made them in small numbers and sold at local flea markets. These lures were marketed under his own brand and signed J.O and earlier ones were signed J.C but this name was changed due to Jaysea being in production at the time. Hand made from timber they are an excellent lure. Originally made in 70 colours they are now made in 51 colours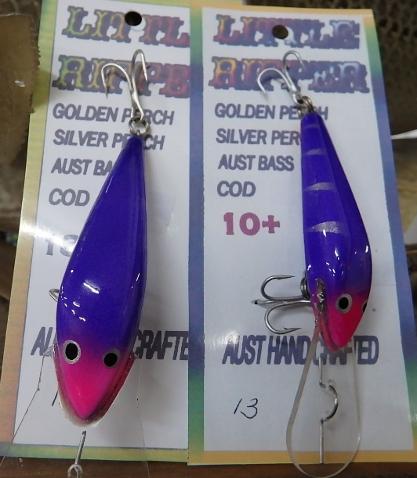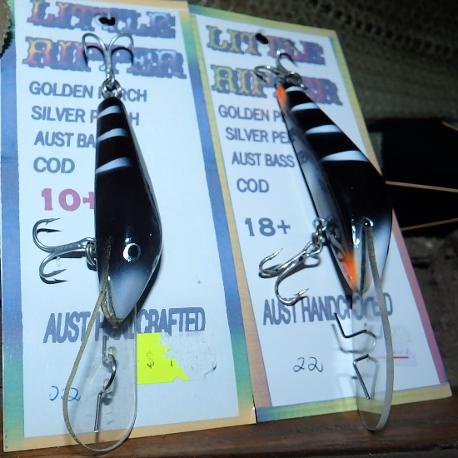 Live Craft Lures:

Live Craft Lures are made by Peter Wygold. Quality timber lures includes surface and diving models. Used to make lures under the name of Outcast Lures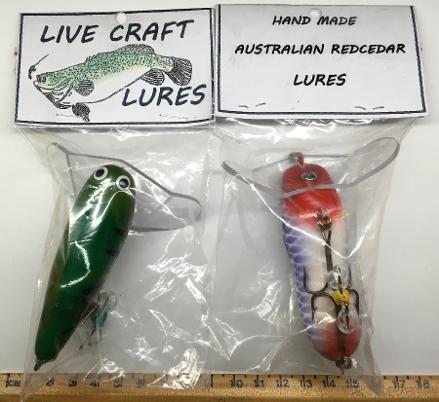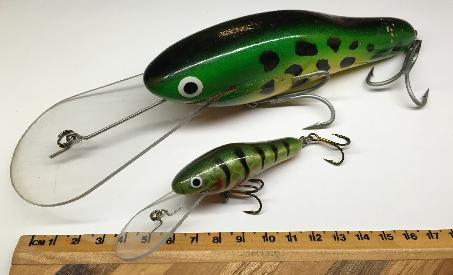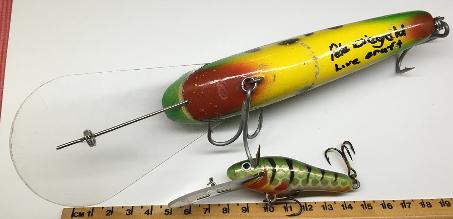 Live Craft large yabby - a spectacular lure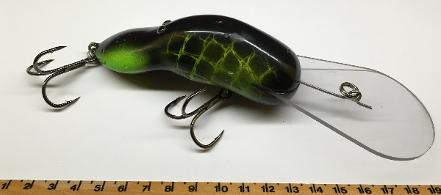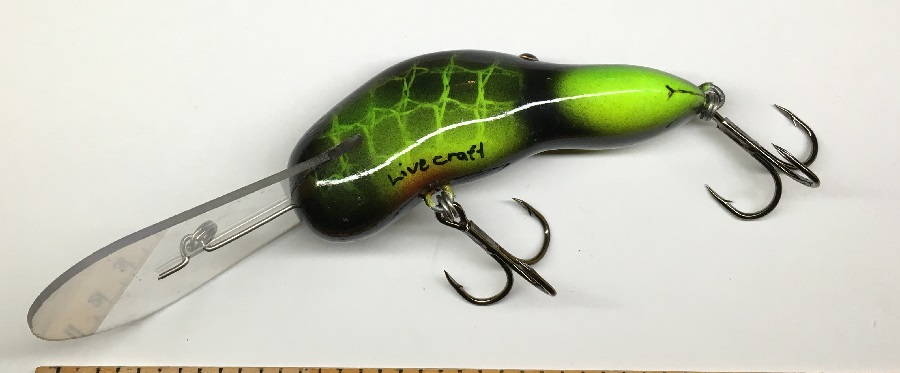 Lively Lures - QLD:

Lively lures have been and continue to be a pioneer of the moulded lure manufacturing in Australia since 1987.
See full page bio under Lively Lures.
Lizard Lures - QLD:
Lizard Lures were made by Dennis Hawkins from Glenview. The following is an extract from Lure and More;
'I started Lizard lures when i was 18 just after i finished school in 1994. I had played around with carving timber lures for a while and i came up with one design which i thought looked alright and swam really good too. I met Peter Howard who was a partner with Alan Dolan from Lively Lures just after they had split up and Peter liked my lure and liked me so he hired me to run the production of the lures. I was put off after about 12 months as the business (peter's business) wasn't doing so well and i ended up selling Lizard Lures to a mate of mine Jackson Hopkins in 1996 before i went to the UK for an 18 month working holiday. While i was in the UK Lizard Lures was sold to Dennis Hawkins from Hawkeye Lures. A lot of people think he started Lizard lures but he didn't. I think he ended up winding the business up and just selling them through the Hawkeye brand. I only had the one lure that was a 75mm deep diving lure designed for flathead. The lure proved very popular with bass and yellowbelly as well as jacks,cod etc. The lure got down to about 12 feet. I started with only 6 colours and then added another 2 colours later on. I will post some photo's soon and would love the lizard to be recognised as a part of QLD's cottage luremakers history. Jackson did make a smaller lure too about 50mm but i don't think Dennis made it, i'm not sure? I only own about 8 of my own lures and would love to track down at least a colour set of my own lures! The first 100 or so did not have any writing underneath and then we re-did the mould and it had the name written for the remainder.'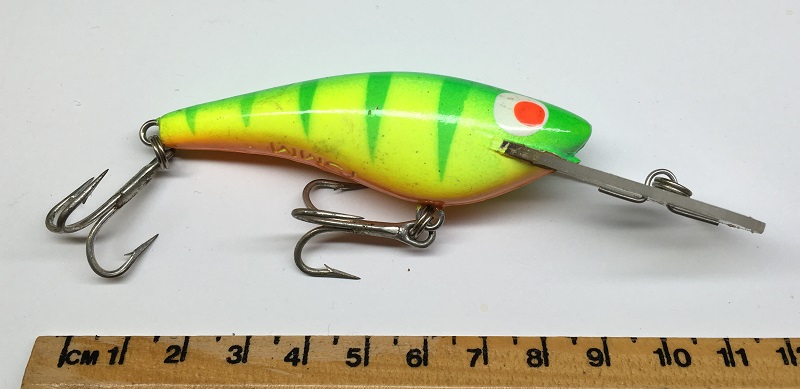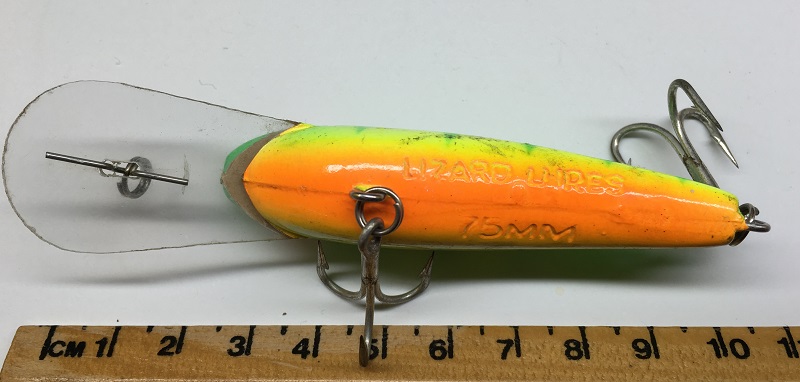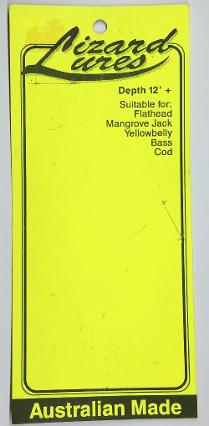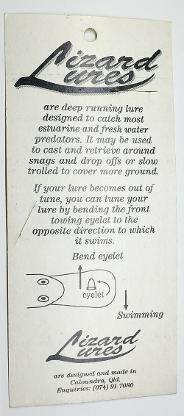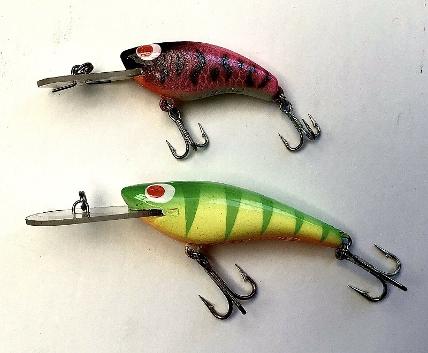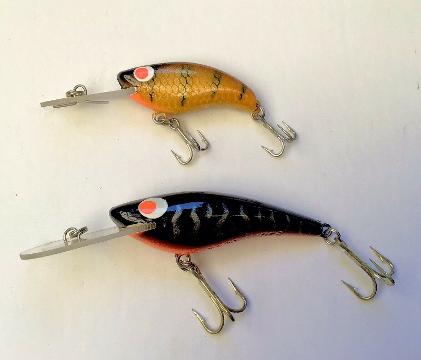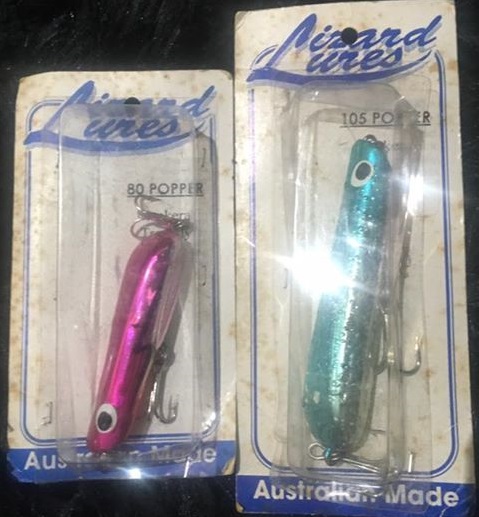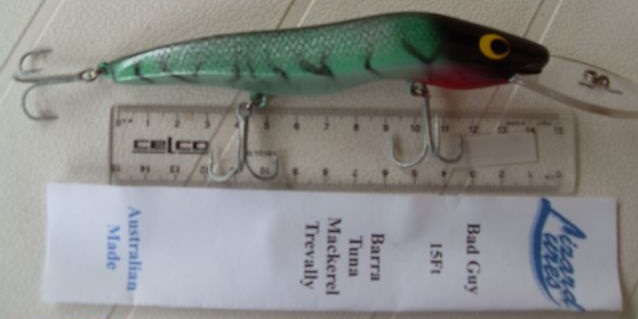 Lizard Lures, Johnno Johnson - NSW:
There is another obscure Lizard Lures which has been confirmed by business cards in the name. Hand made timber lures made by Johnno Johnson from Gunnedah who also colloquially known as 'the meat inspector from Inverell'. A high quality hand made product with numerous models which will in most cases be marked or initialed with the model name. Distinctive colour patterns.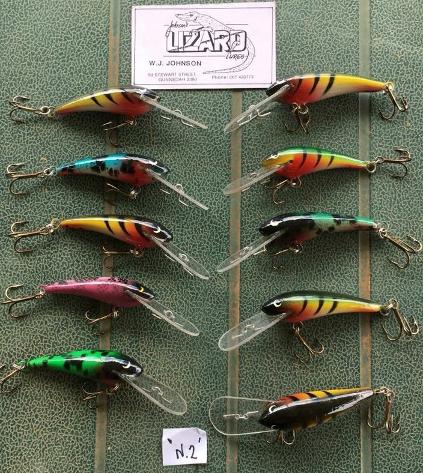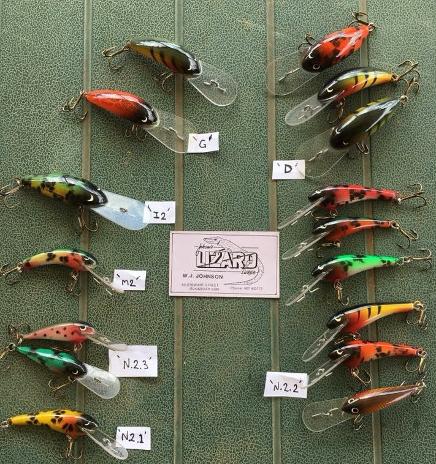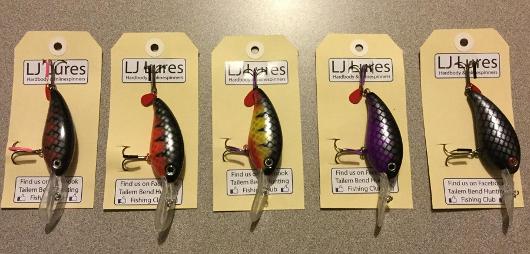 LJ Lures:
A relative newcomer to the Australian lure making scene with lures available since 2019. A high quality product.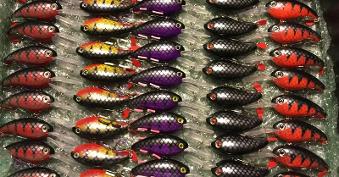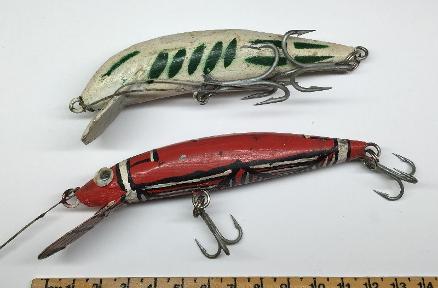 Lloyd Lures - QLD:
Lloyd Lures are rough timber hand painted minnow lures by a fishing character only ever known as 'Lloyd'.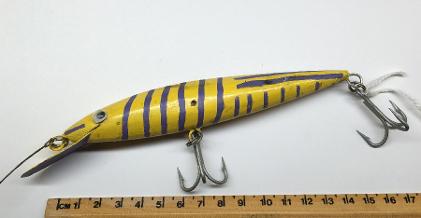 Lobby Lures - QLD:
Don Lobwien from Brassall, QLD shapes up lures under the name of 'Lobby Lures' and used to be called Roo Lures. Well known for fishing Glenlyon Dam. Most modern Lobby Lures will be characterised by 'doll eyes'. The lure below is a signed early model.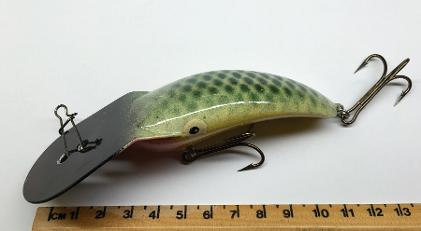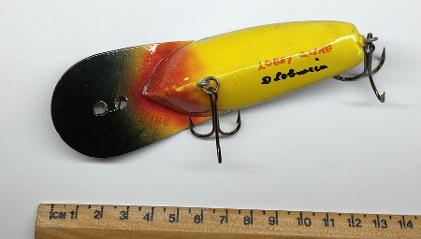 Lures shown are the 'Buff' in two sizes which were purchased at the Lure Expo 2016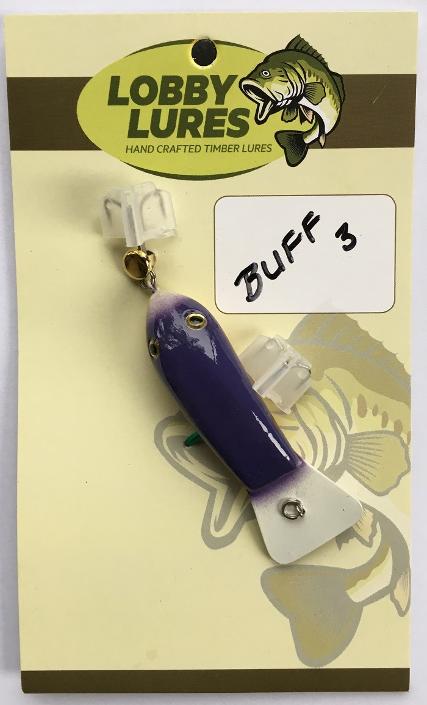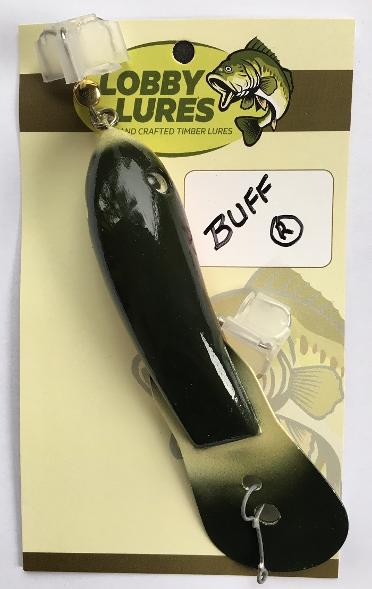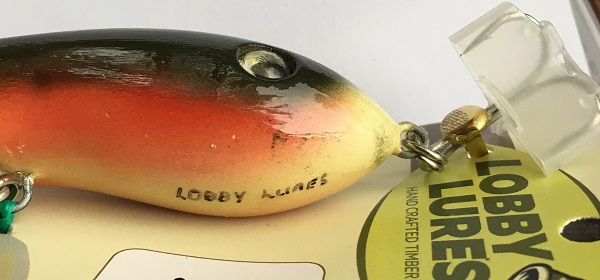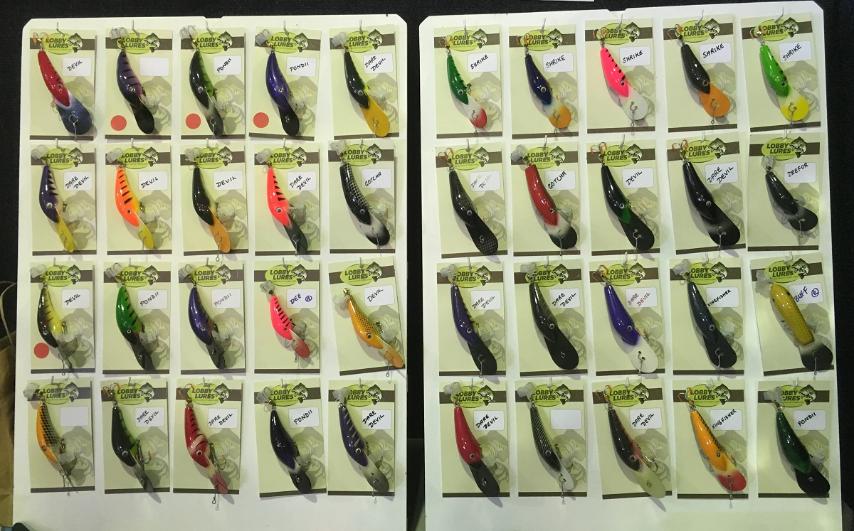 Local Lures - QLD:
Ron Henderson has been making timber Local Lures for over 40 years aimed at bass and jacks in northern N.S.W and South East QLD. Lures were mainly made for family and friends , swapped or given away to fellow members of the Brisbane SFC. Since moving to Northern QLD 25 years ago, manufacture has only been occasional but in 2012, Ron started to make enough and sells at the local markets. Below shows some of the earlier Local Lures with the rough time lines of when they were made.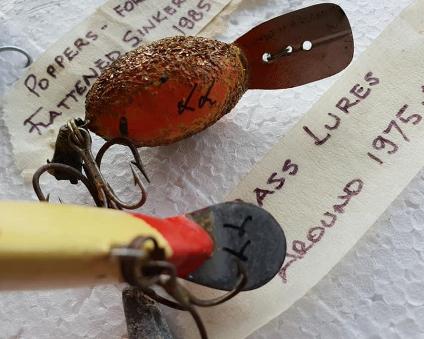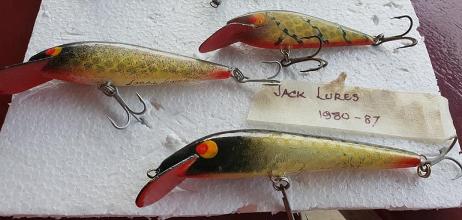 'The name Local Lures came about 30 years ago when Ron and his wife left SE Queensland and travelled by caravan. Before leaving Ron roughly cut out a box full of lure bodies and bibs and carved and sanded them wherever he stopped. As a joke they were called Local Lures and the name stuck hence 26 years later in Cairns the lures are still called 'Local Lures'.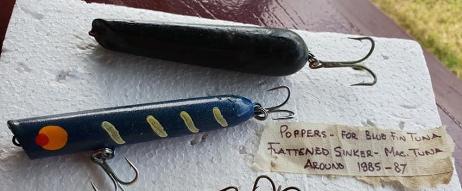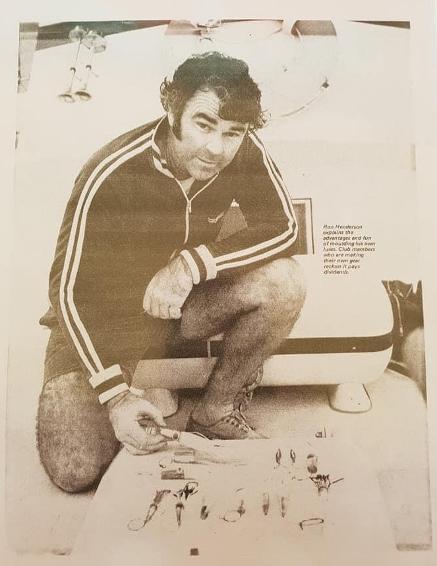 Local Lures current range which are still being made in small numbers.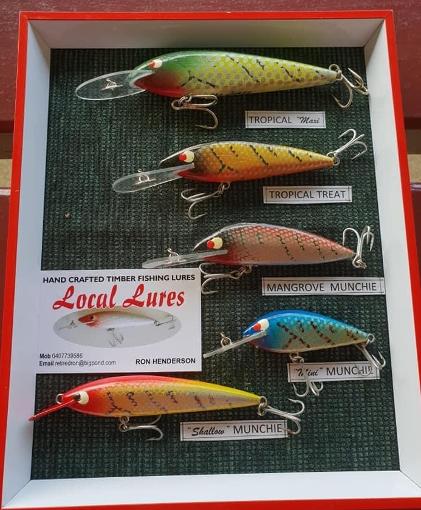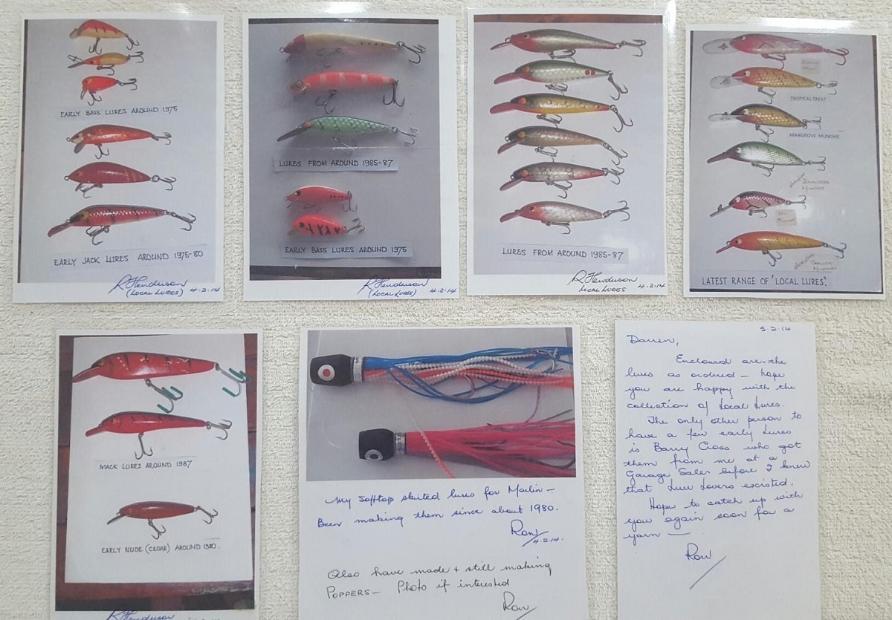 Paperwork and models that includes a letter from Ron.
Local Lures:
Brian Mc Farlane also made a small amount of timber lures under the name of Local Lures. See McFarlane, Brian McFarlane Lures
Lofty's Lures - TAS:
Another established Tasmanian producer of Cobra style lures targeting trout and similar species. Greg Hynes started making Lofty's Cobras in 1989 from Mole Creek and by the 1990's had established a large amount of the business for the Cobra style of lure. See full page bio under Lofty's Lures
Log Leaper Lures - VIC:

Log Leaper lures were originally made in timber and as the name suggest they were designed to bounce over logs similar to the Stumpjumper design.
There was also a collector series of lures made by Fred Zass C. 2009. Released individually and each lure named after a rare fish - they just never took off. Only ten made and each one named after a rare or endangered fish such as the 'Speartooth Rhino Shark'shown below. Each lure was signed and came with a collectors card and certificate and it's own web site with all the data on the lure/fish.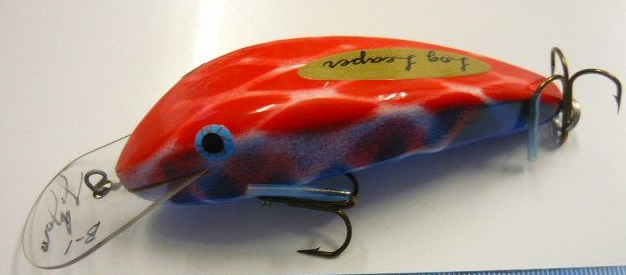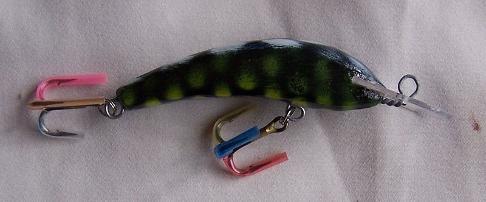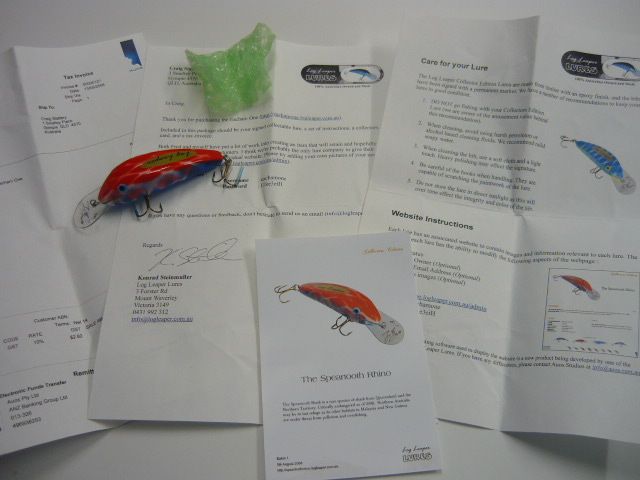 Logical Lures - VIC:
These two lures were unearthed in 2017 in Victoria amongst a large lot of other lures. Timber with transfer label on bib.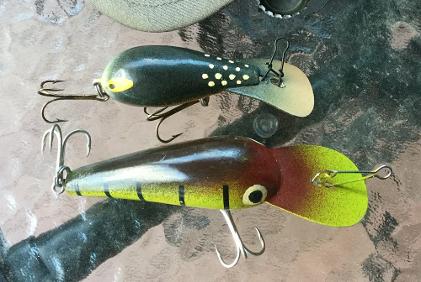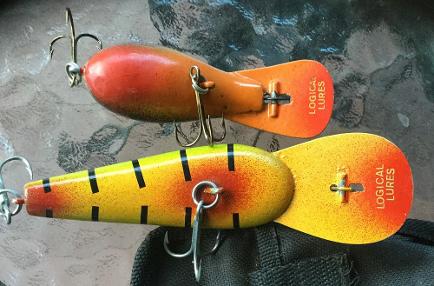 Lollback, Pat Lollback Lures - NSW:
Apparently Pat Lollback was influenced by Travers Powell, whilst he was a bank manager at Tenterfield. Pat now lives in Yamba and is still making lures in limited numbers since 1994. He does a 'Guppy' in three sizes (small, medium and large), a 'Long One' and a 'Small Bass'. The large Guppy has a good following at Glenlyon and the Small Bass is mainly for his own use in the smaller creeks and backwaters. There is also the Lollbass series as shown right. The photo below is from Debbie Dare at Glenlyon Dam Tourist Park and shows some of the range of Pat Lollback lures that are available.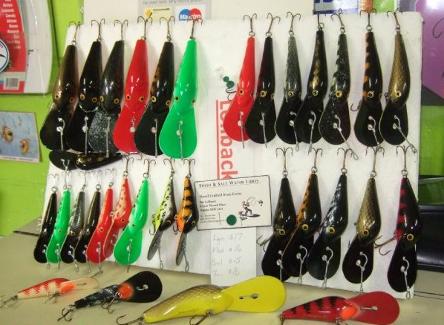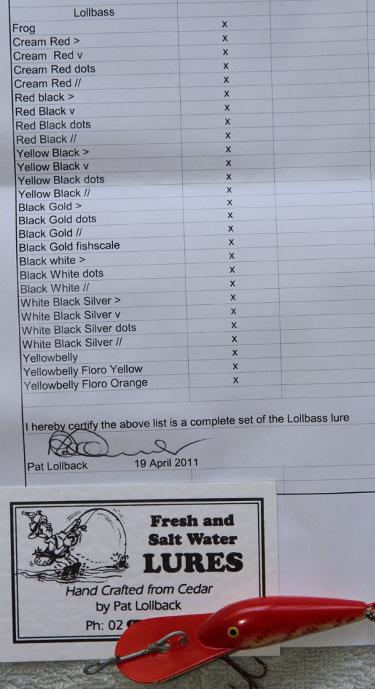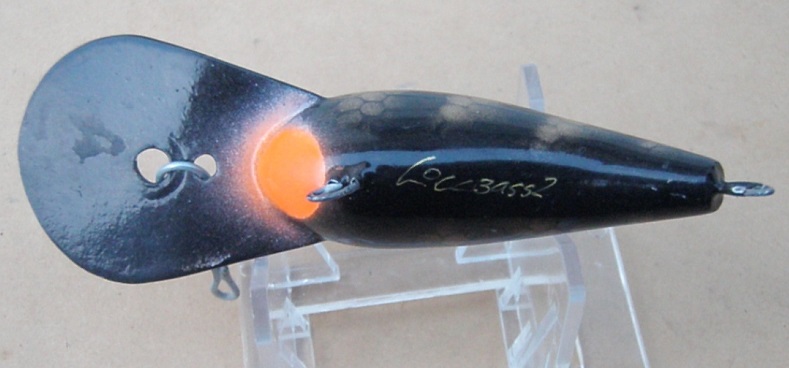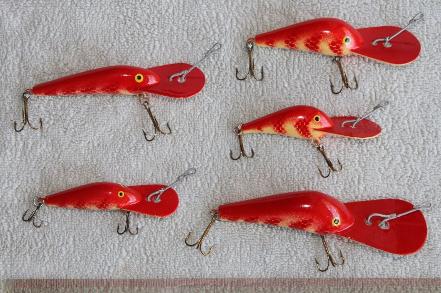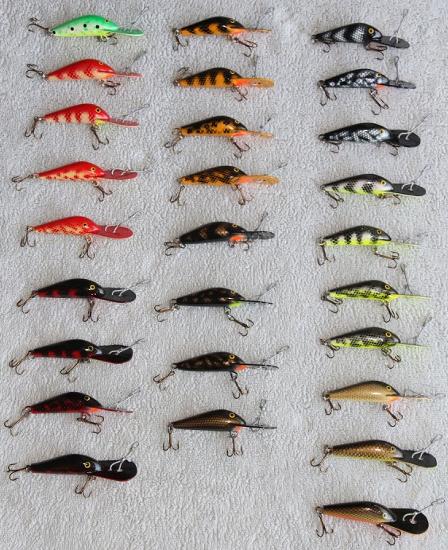 Lollypop Lures - QLD:
Lollypop Lures are made by Danny 'Robbo' Robertson in Hervey Bay and shaped from timber. Facebook page since 2012. Top lure in photo below is called the 'Wang goolba Prawn' and the lures are dated to 2014.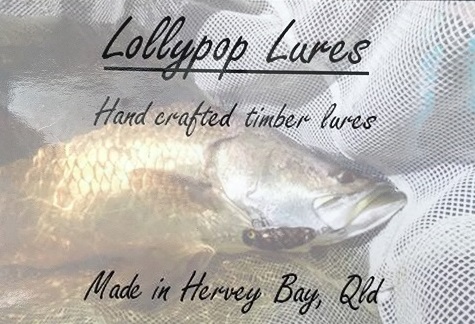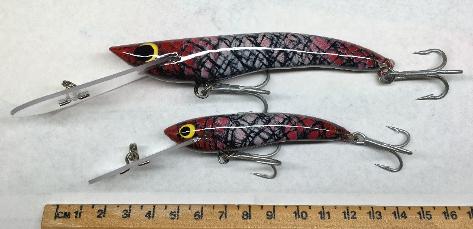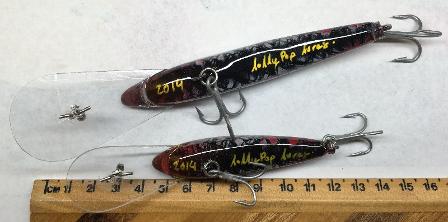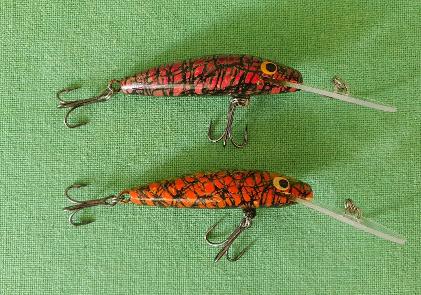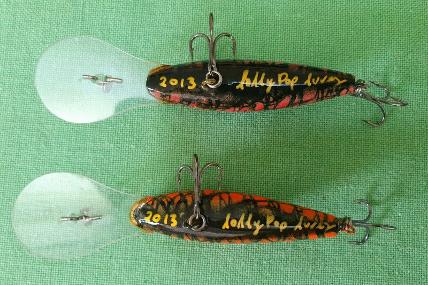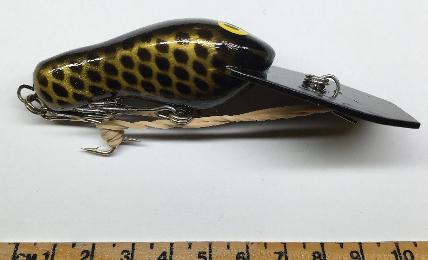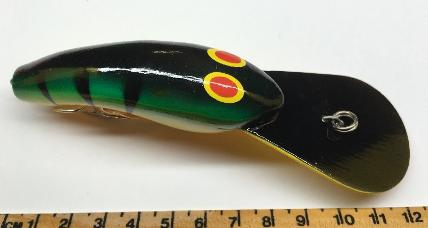 Loolah Lures - QLD:
Loolah Lures are made by Noel Stevens. Another quality hand crafted lure product.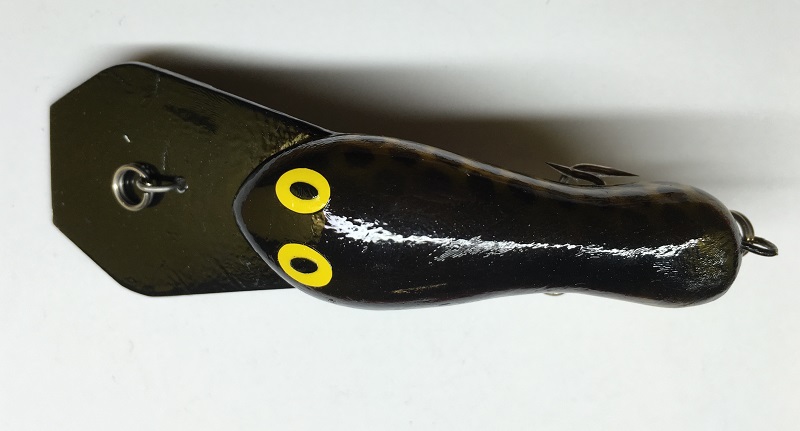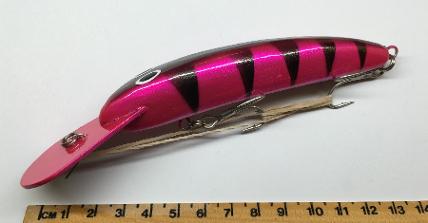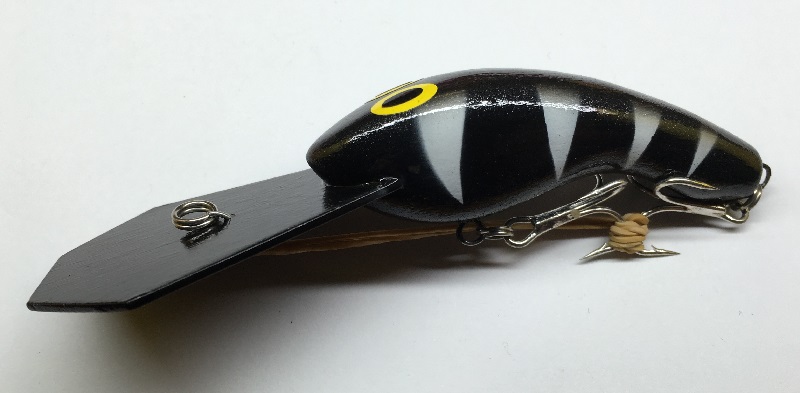 Loona Lures:
Loona Lures are made by Andy Mc Granahan Recent maker since 2019. Another quality hand crafted lure product designed to target species such as cod, yellow belly, trout, Lures are made from various timbers and lure shapes. His passion came after collecting timber lures over many years and thought too give it a go in manufacturing them.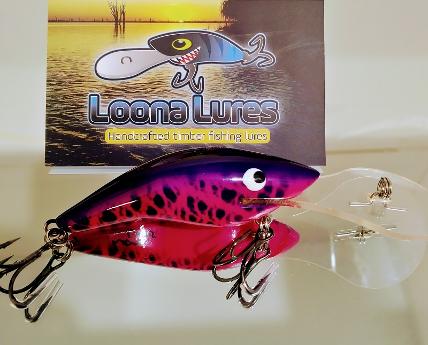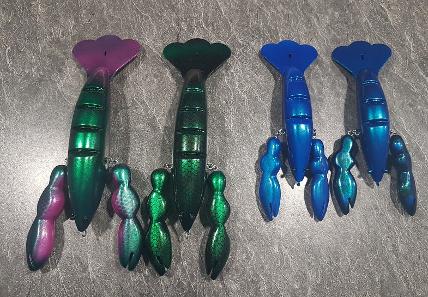 Loona Lures 'Cray' in two sizes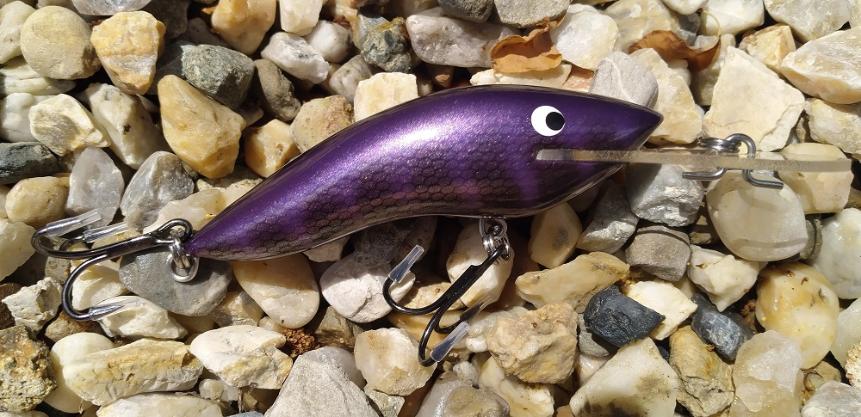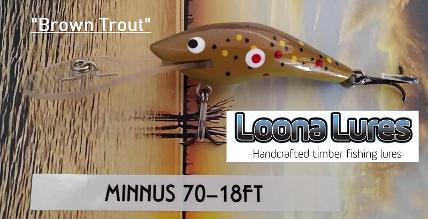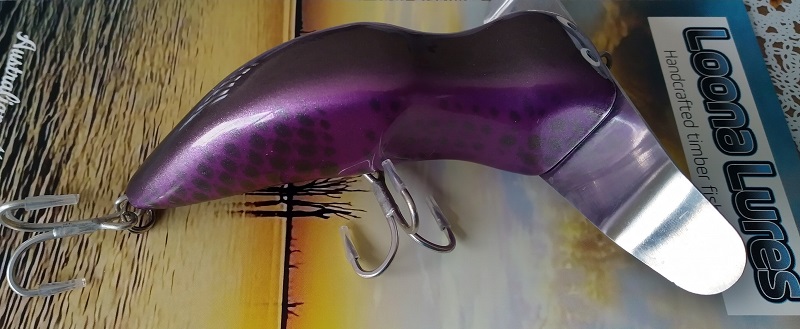 Love Lures, Shane Love Lures - NSW:
Love lures are some of the more cutting edge Australian lures that are being made today. Shane is a serious carver of timber shaping up crays, critters and everything in between. In the last five years (2009 -2014) he has produced some of the more amazing creations and has recently gone to moulding of some of his designs. One to watch in the coming years to see what Love Lures comes up with next.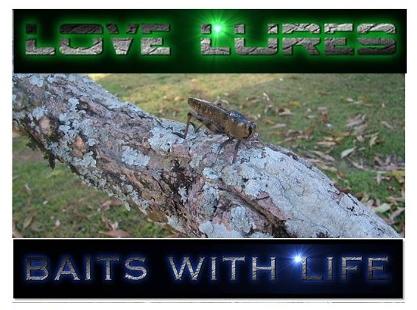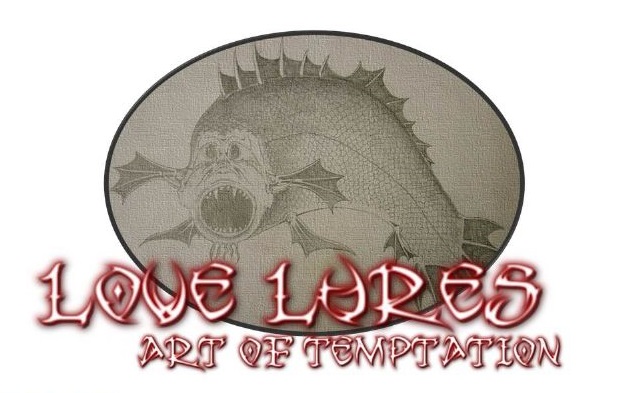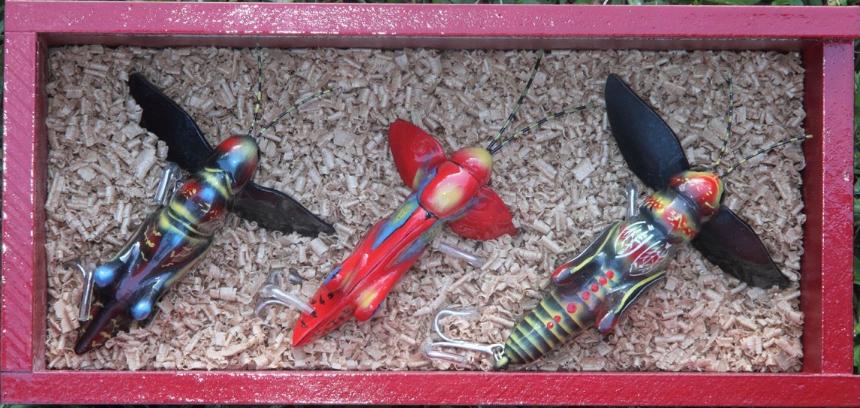 Low, Hubert Low Lures - QLD:

A very rare lure if found. Hubert made lures in the early 1970's in Mourilyan Harbour which is via Innisfail in FNQ. They were a timber popper similar to a CCBC 'Darter' lure with stepped lip. Hubert was originally from USA hence the influence of his designs. Quality made, hand painted with sequins for eyes. There are some great photos of more Hubert Low lures on the Lure Lovers forum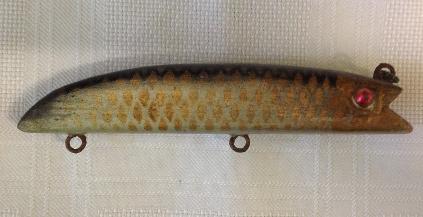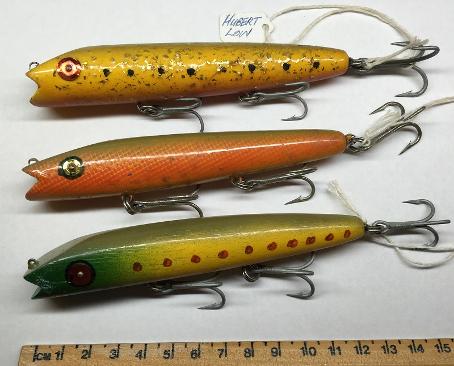 Lowe, Harvey Lowe Lures - QLD:

Harvey Lowe made timber lures and was from the Townsville/Cairns area. They are characterised by hand painted scales and fins on some lures such as the one shown left. Uncommon but quite easy to recognise as they are so original and well made.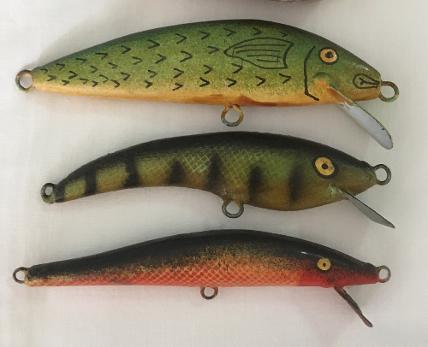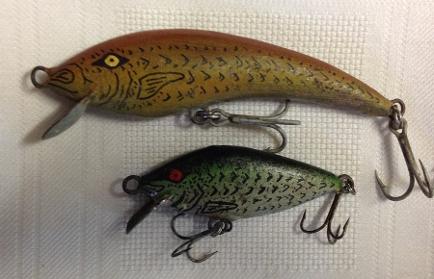 The eyes are a distinguishing feature. Harvey also made other styles of lures but only ever made lures in small numbers for personal use or for angling friends.
LTL Lures - QLD:

LTL (Light Tackle Lures) are hand made timber lures available from Fishermans Corner, Hervey Bay in the early 80'. Also available at Hervey Bay markets. Made by Austin Chandler and were available in at least two sizes as shown.
Right - a very large early LTL lure
Below - The Light Tackle Lures card showing image of a trevally with logo.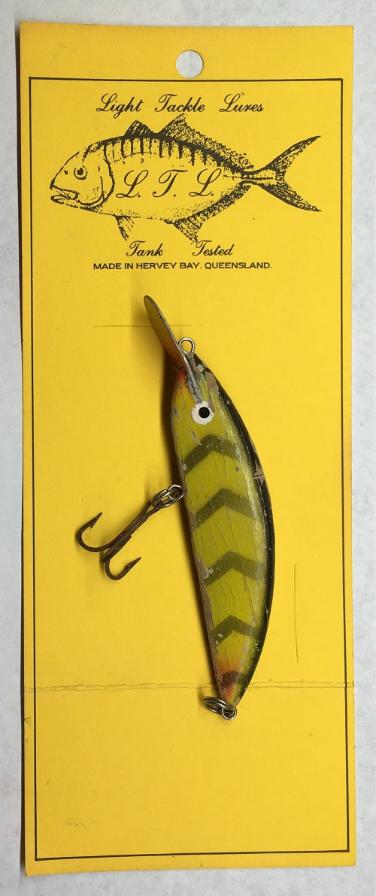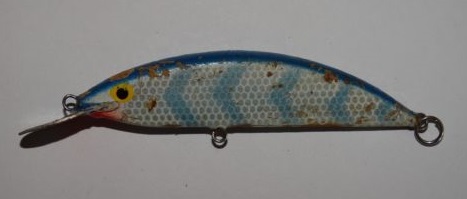 Some early LTL Lures made by Austin Chandler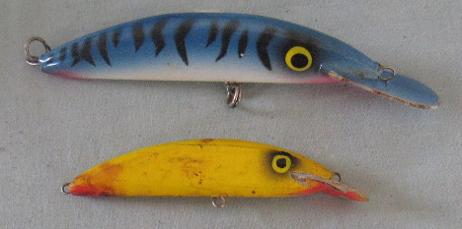 Lucky Lures - QLD:
Quality timber lures in various styles primarily diving models. Made in Ipswich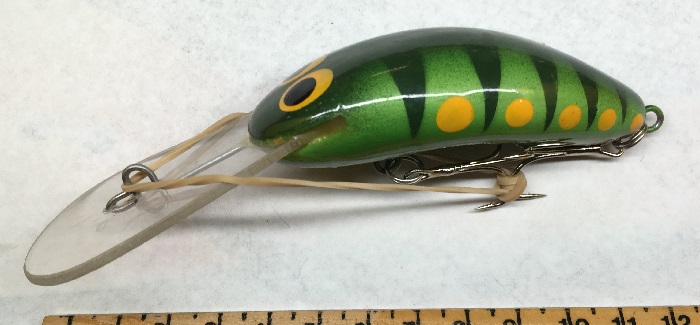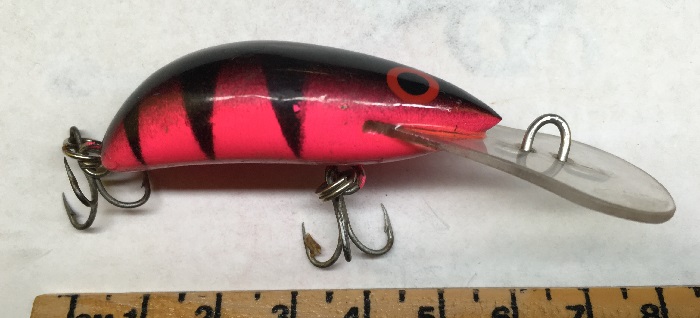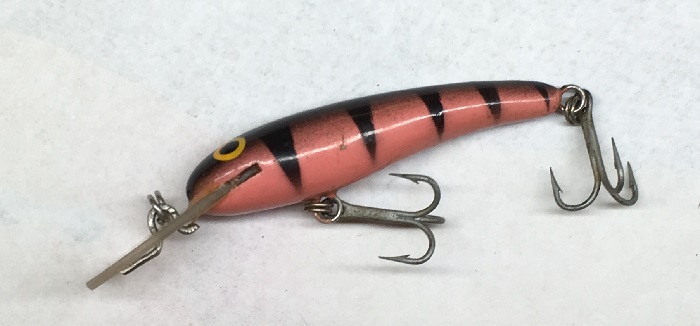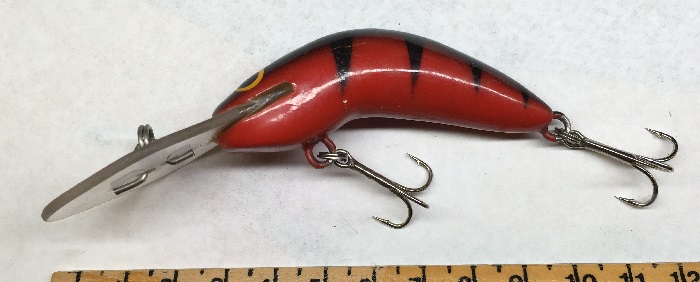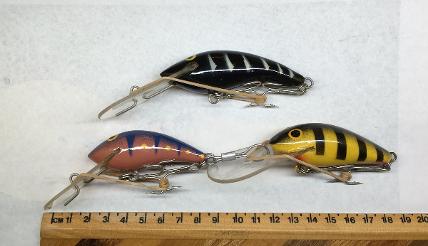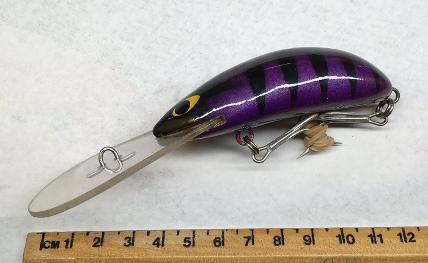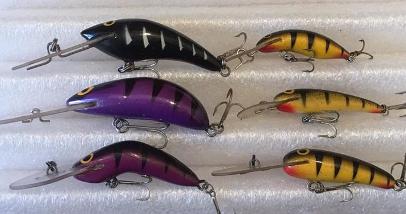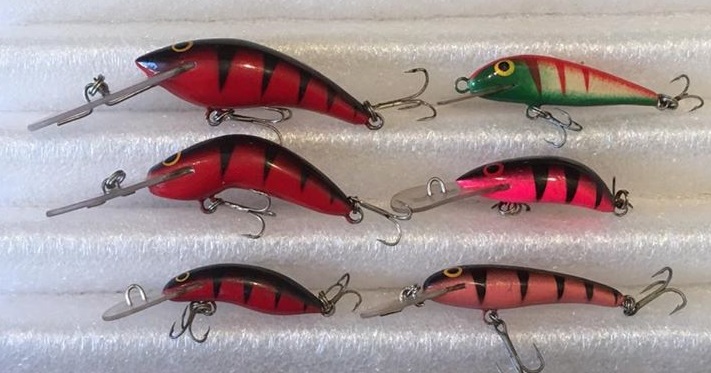 Lucinda Lures - QLD:
Lucinda lures were made by Lou Tietzel until 2010 and are now highly collectable. See information on authenticity cards below which outlines the history of Lucinda Lures.
(Opposite) The classic 'Spinner Minnow' with the metal spinner blade on wire stem.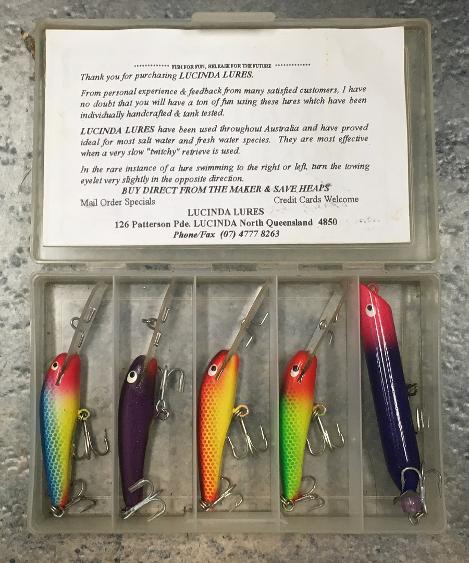 Above - Early Lucinda lures set sold with paper insert. Most later sets and special releases were sold with a signed laminated certificate of Authenticity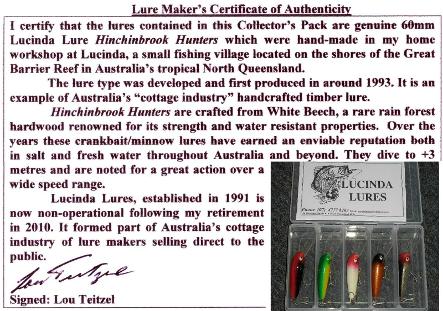 (Below) - The Lucinda Lures 'Fat Boy Fizzer Popper', signed on belly which was released with a Certificate of Authenticity.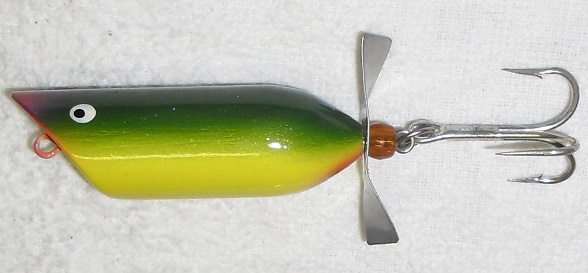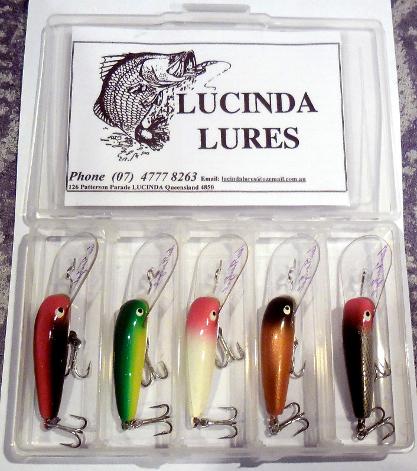 (Above and below) Lucinda Lures collector pack of five 'Hinchinbrook Hunter' lures. Shows signatures on belly on all of these special edition sets.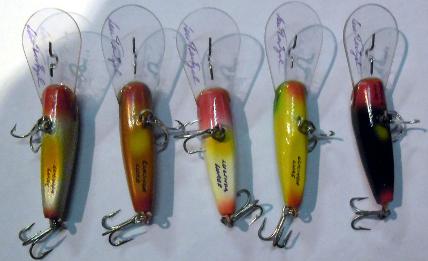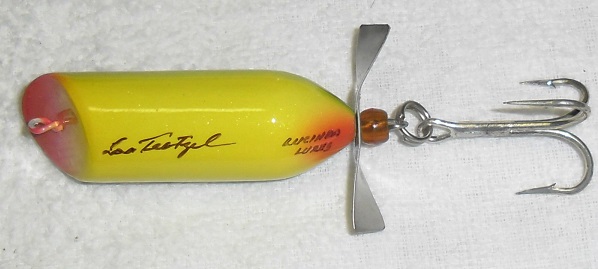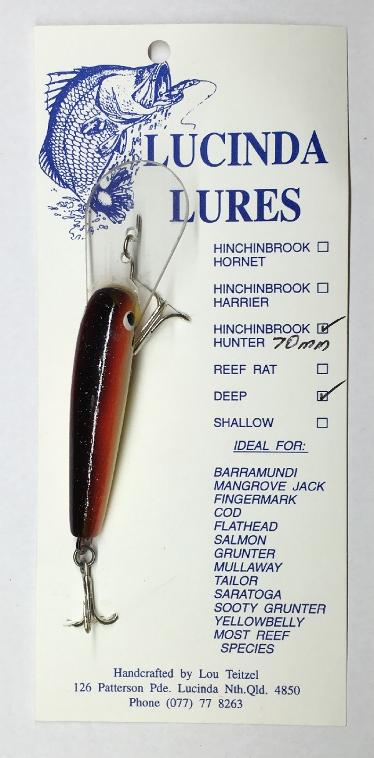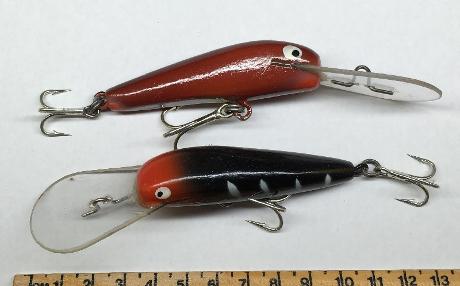 A pair of older Lucinda Lures 'Hinchinbrook Hunter' deep model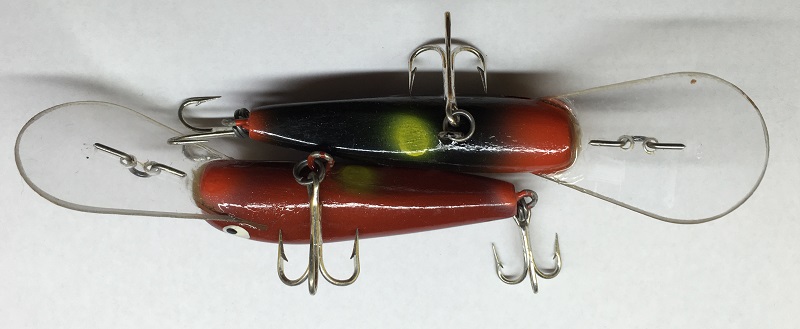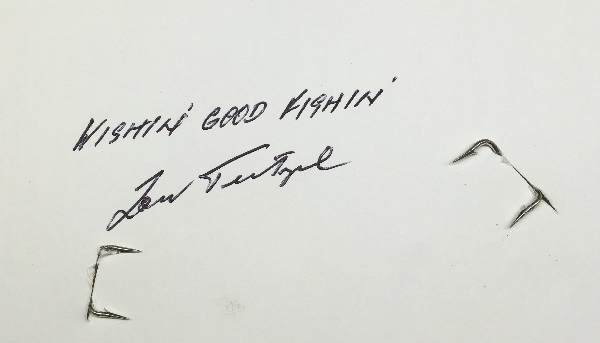 Lure Man Lures - NSW:
Lure Man lures are made by Vin Ward from Cobar. The lures below are 55 and 60mm. Otherwise no information.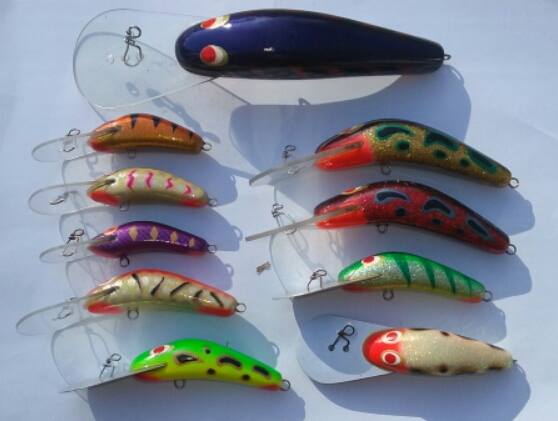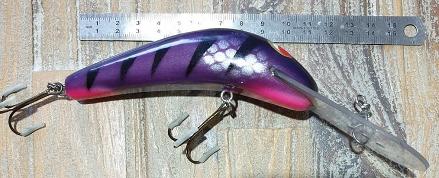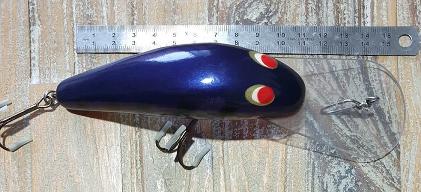 Luremark Lures - QLD:
Luremark lures were made in Toowoomba by Mark Warmington. Photo below shows various models including the 'Scud' and the 'Goodoo'.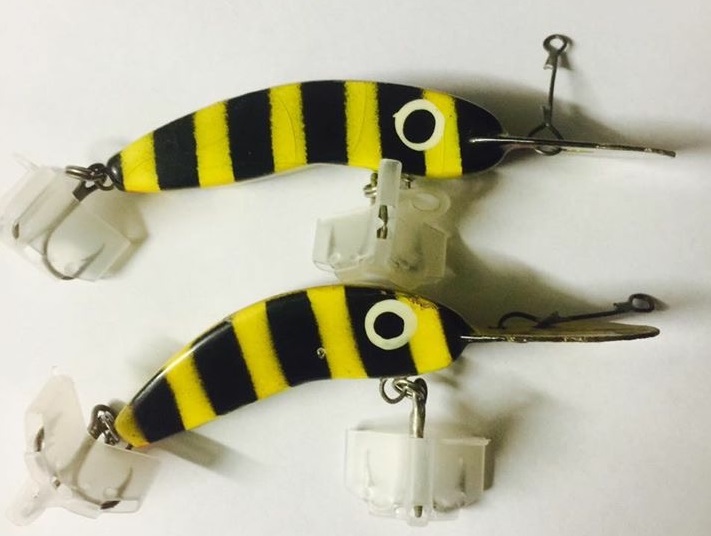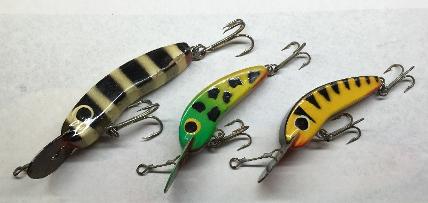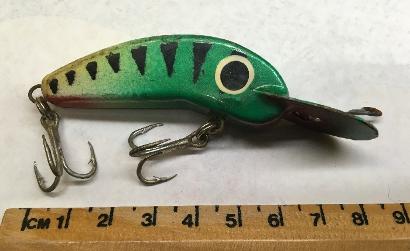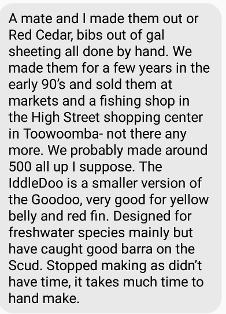 The information above provides the history of Luremark Lures. The photo right was published in an article written by Brian Dare from Glen Lyon Dam and shows a Murray Cod caught on a Luremark 'Scud' lure.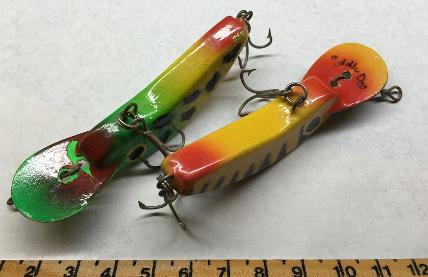 Below - The Luremark 'Scud' w/ different sized bibs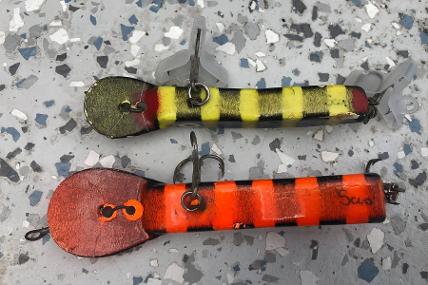 Lures by Moose - VIC:
Lures by Moose (LBM) are made by Brad 'Moose' Day. The foam paddlers and surface lures were called the 'Swallow' with the slogan 'fresh to salt -Murray cod to barra' - the lures are made by inserting a full wire harness through the body and then slit finished. They may be found on a dark yellow card with 'Swallow' in large letter and 'Lures by Moose' followed by a small Australia on the bottom of the. Unsure of how many colours but only found in two (black and multicouloured).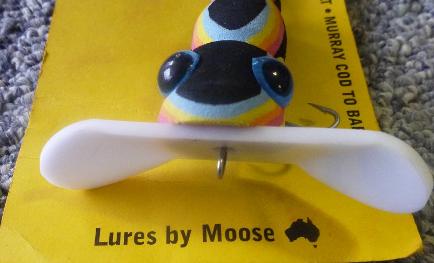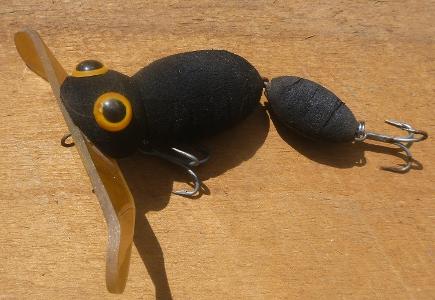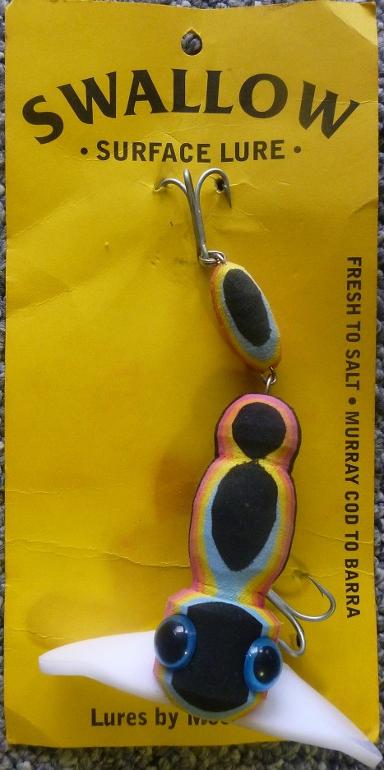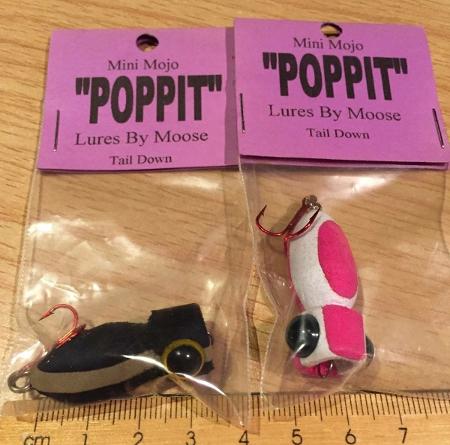 Lures by Moose 'Poppit' on card and 'Mini Mojo Poppit' in different packaging.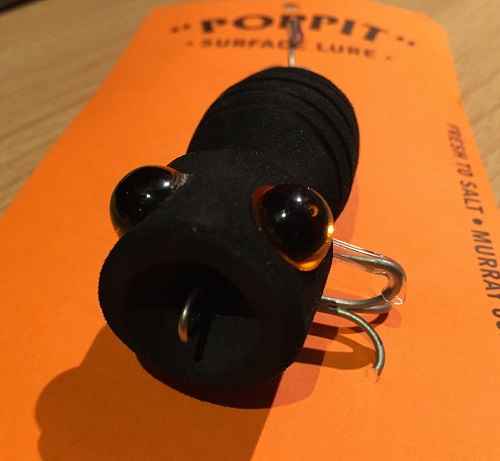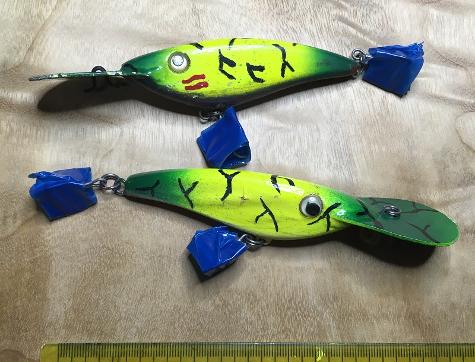 Luxford, Dick Luxford Lures - NSW:
Dick Luxford shaped timber lures in small numbers and is from Inverell area.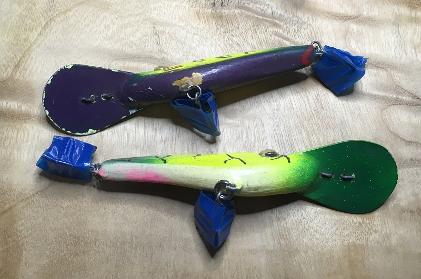 Lynam Lures - QLD:
Lynam Lures have been made for the last twenty years by Mark Lynam. They are a hand crafted lure constructed of timber and presented on a simple folded white card as shown below. Will have 'Hand crafted in the Granite Belt, Stanthorpe, QLD' with a contact phone number and the Lynam Lures name at the top and a fish on the lower part of the card. Reverse of card has information about the model and construction.