Lure Manufacturers Australia S

If you know of an Australian lure maker no matter how young or old that we have not mentioned in the following list feel free to contact us at lurehuboz@outlook.com to have the details added or updated.
*Cover banner photo is a Stingray Lure made by Ollie Hardt
S & M Sporting Goods/ S & M Manufacturing Company - VIC:
S & M Sporting Goods are a historic Australian lure manufacturer that were based at Carrum Downs, Victoria. They produced the Vibrobat Lure in the early 1970's and the paperwork was exactly the same as the Fresco Lures paperwork for their version of the 'Sonic Vibrobat'. It offered a $100 prize for the biggest fish caught on the Vibrobat in 1971. It can be assumed that the 'Fresco' brand was owned by the S & M Sporting Goods company. Paper work for 1971 names the company as S & M Manufacturing Co. See Fresco


Salinka Lures - QLD:
Salinka lures are an obscure lure that were made in Tin Can Bay. The advertisement right describes the Salinka range and it seems they were a moulded lure with full through wire construction that were available in 8 colours according to this advertisment that was found in an old fishing publication from the 1990's.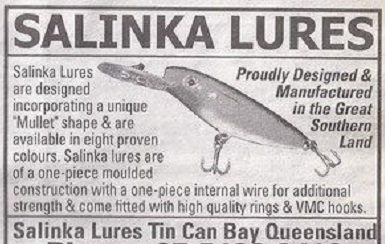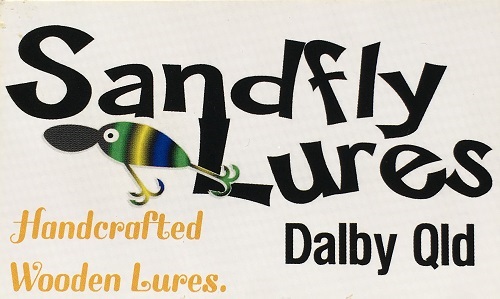 Sandfly Lures - QLD:
Sandfly Lures are another recent luremaker that has emerged in the last few years. An inventive maker from Dalby, Clayton Kuhl produces a large range of crayfish, yabby and heavy duty critters that are made to fish. There is a large amount of effort that goes into every creation by Clayton so it will be interesting to see how far Sandfly Lures can push the limit in the future.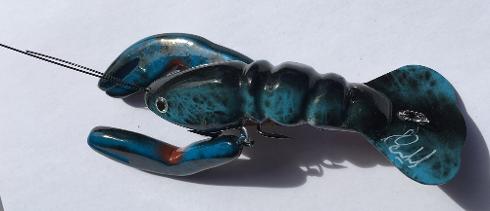 Saul, Jim Saul Lures - NSW:
Jim Saul made lures from his northern NSW home many years ago and is now elderly and lives at Evans Head. His lures are timber with hand made metal bibs that are screwed into place with heavy duty eyelets.
Lures are easily identified and are uncommon. Another example of a regional hobbyist lure maker. Lures have not been made since the 1980's. There is also mention of Hurstville so maybe Jim was born or lived in Sydney in his younger days.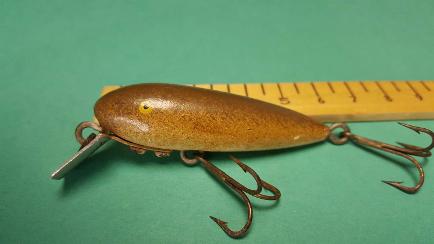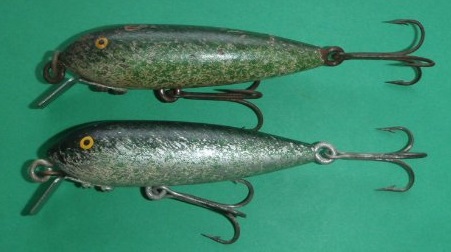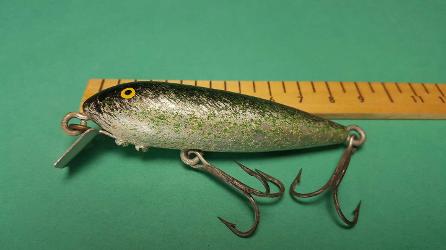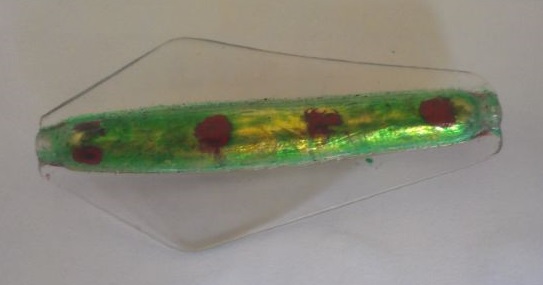 Savage Lures - TAS:
A locally made product that was available in Hobart. Unknown maker that was producing the ever popular cobra style of fishing lure. This colour is one of the best producing colours for trout in Tasmania.
Sawynock, Bill Sawynock Lures - QLD:
Bill made lures in very small numbers and his lures were characterised by having no eyes. Rare - the pictured lure below came up for sale in 2013 and is shown opposite with a different model.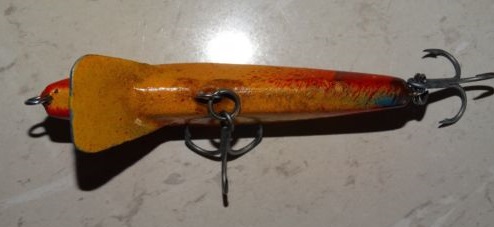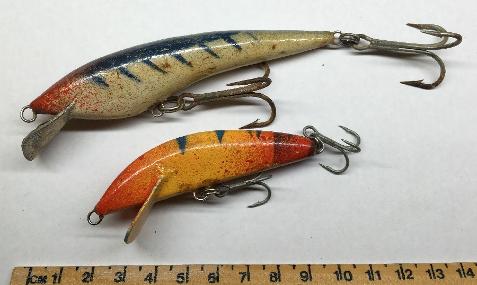 Schooner Lures:
Made by Trevor Westcombe. Interesting clam shell packaging and green card with a schooner glass (a 375ml measured glass for serving beer) and a slogan 'Tin Shed Crafter'.


Made to dive to 18ft. Unsure how many different models were made.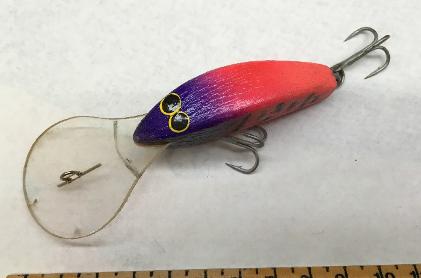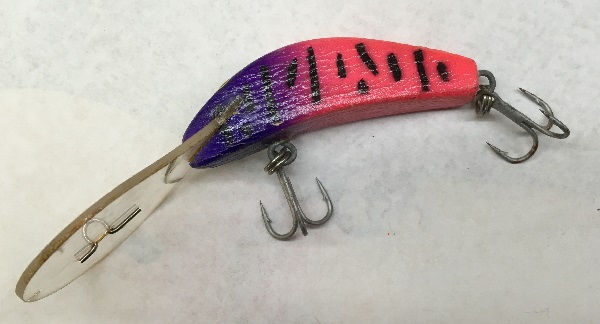 Scoobs Lures - WA:
Made by Chris Scobles. Models include the 'Seaducer Rooster', 'Interceptor'. These lures are moulded and could be purchased from Mo's Tackle in 1997. No longer available.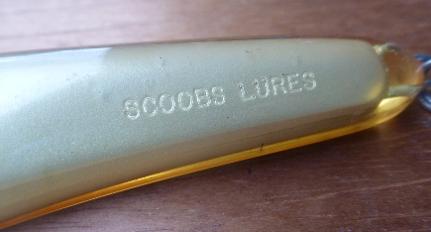 ''Here's an historic bibless lure by Scoobs, the 'Interceptor'. Its a big bugger, around 7 inches long and quite heavy, solid resin with a coloured insert. The insert has been signed 'Top End Fishing Supplies' on both sides with hand-written black fibre-tip pen prior to casting in the resin. Presumably these things were commissioned by Steve Compain at the time he opened the store at the 11-mile out of Darwin. Top End Fishing Supplies opened in 1994'' - Tony 'Marrakai' Orr
Scorpion Lures - NSW:

Scorpion Lures was the original name that Peter Newell named his lures. The brand was very short lived as Halco who had recently obtained the rights to make and market the 'Scorpion' lure pattern from RMG didn't want the Scorpion name used by anyone else and the name was changed to 'Classic Woods'. See full page history for Newell Lures.
Scruffy Lures - NSW:

Scruffy Lures are made by Damien Haynes and are a recent addition to the database from a hobbyist maker who makes larger surface paddlers and diving lures.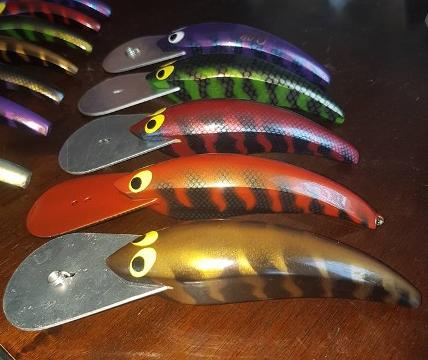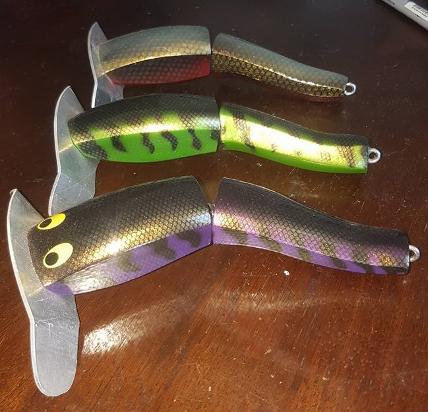 Scurvey Dog Lures - NT:
Only information is that Scurvey Dog Lures are made by Wayne Baldwin.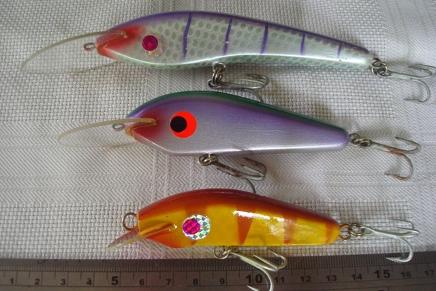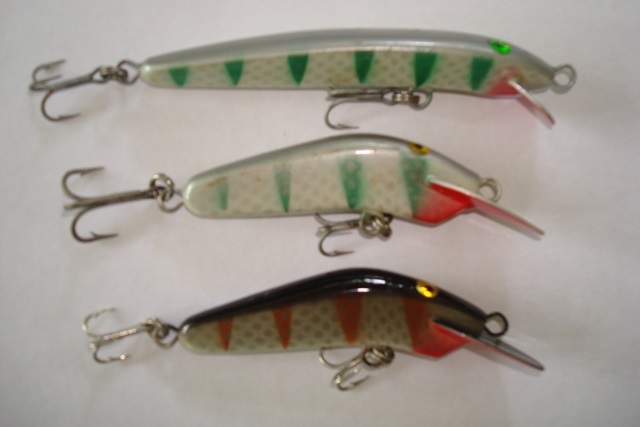 Seagull Lures - W.A:
Made by Errol Wishart who was based in Esperance in Western Australia. An interesting looking lure as shown. Handcrafted from timber.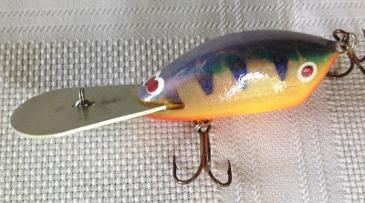 Seaweed Lures - N.T:
Made by Tony 'Captain Seaweed' Bartlett for charity. Tony is an avid collector and fisherman who can make a fantastic lure and utilises a wide range of timbers. Tony also makes Barra Guru Lures in small numbers and has been making lures for more than twenty years. Apart from the bibbed minnow style lures, there is also a small range of other models that have been shaped under the Seaweed Lures banner.
It should be noted that Tony has been a big supporter and contributor to this website and most helpful in providing information and photos of rare and obscure lures especially from northern Australia.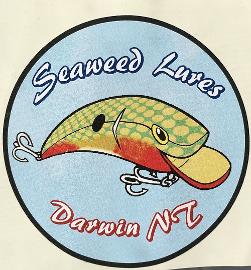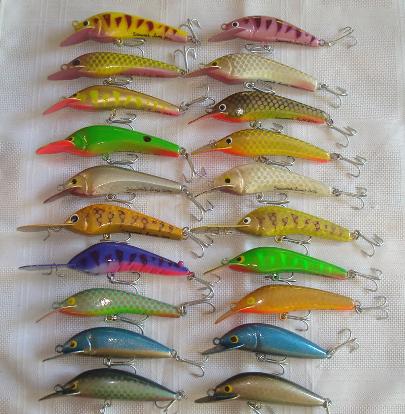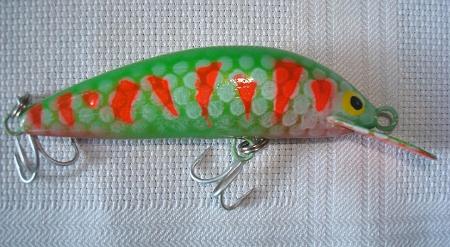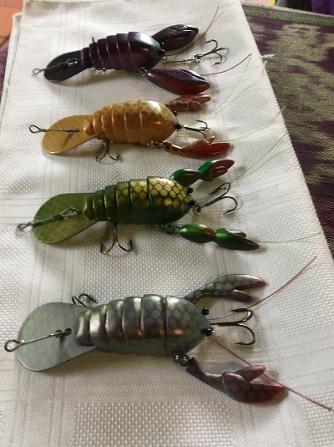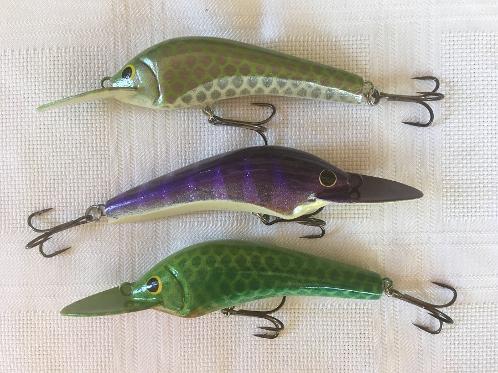 Tony has been making some excellent yabby and large shrimp patterns in the last couple of years. The lures shown here were made for Expo 2018 and include the 'Seaweed Cherabins' below.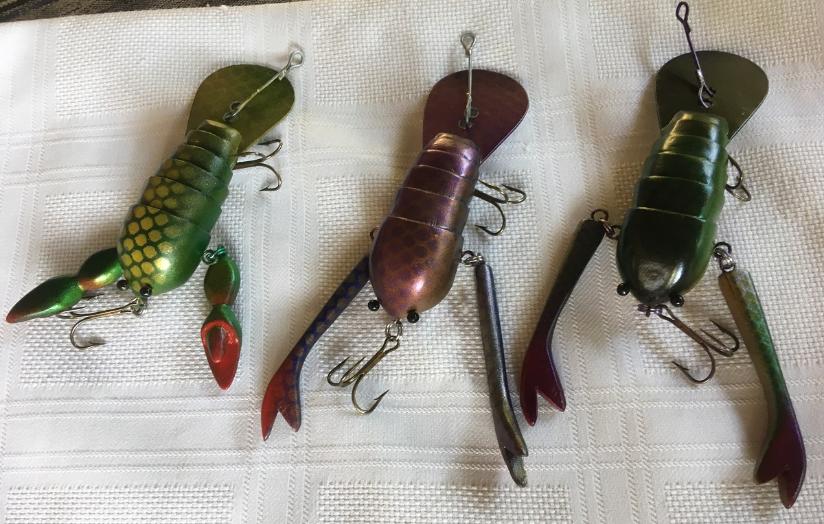 Secret Creek Lures - NSW:
Made in China from timber however designed in Australia. Shown right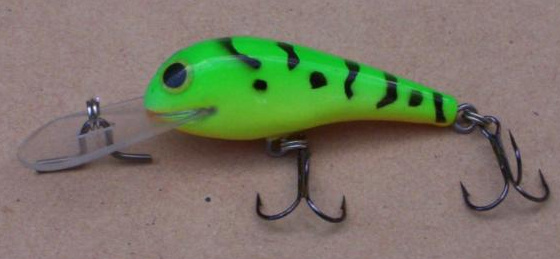 Seeker Lures - VIC:

Ken Hendry was the name behind the original Seeker design. After his passing the Seeker name was carried on by Mark Dobbin in 1996. See full page bio under Seeker.
Selwyn Spinner - NSW:

The 'Selwyn Spinner' was advertised and described without a photo in the 1954 catalogue for Craig and Aitken Pty Ltd, Sydney. Shown below are some different versions of the Selwyn Spinner that fit the description provided.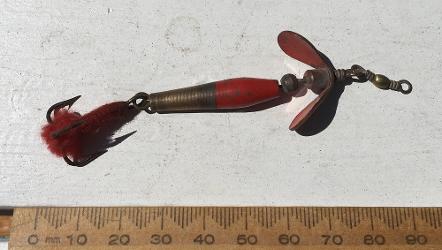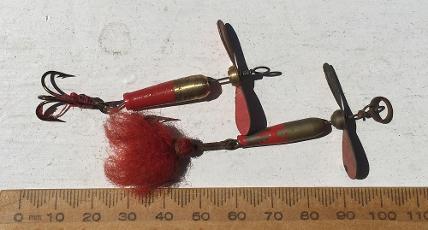 Seppo Lures - NSW:
Seppo Lures were made by Keith 'Seppo' Bush from Tenterfield/ Wallangarra area. Keith was an ex-patriot American hence the name of his lures - Australians referring to the 'Septic Tank' with typical humour. Simple shape with soldered front towpoint typical of lures from this area. Only ever made in small numbers and rarely found outside the New England area of NSW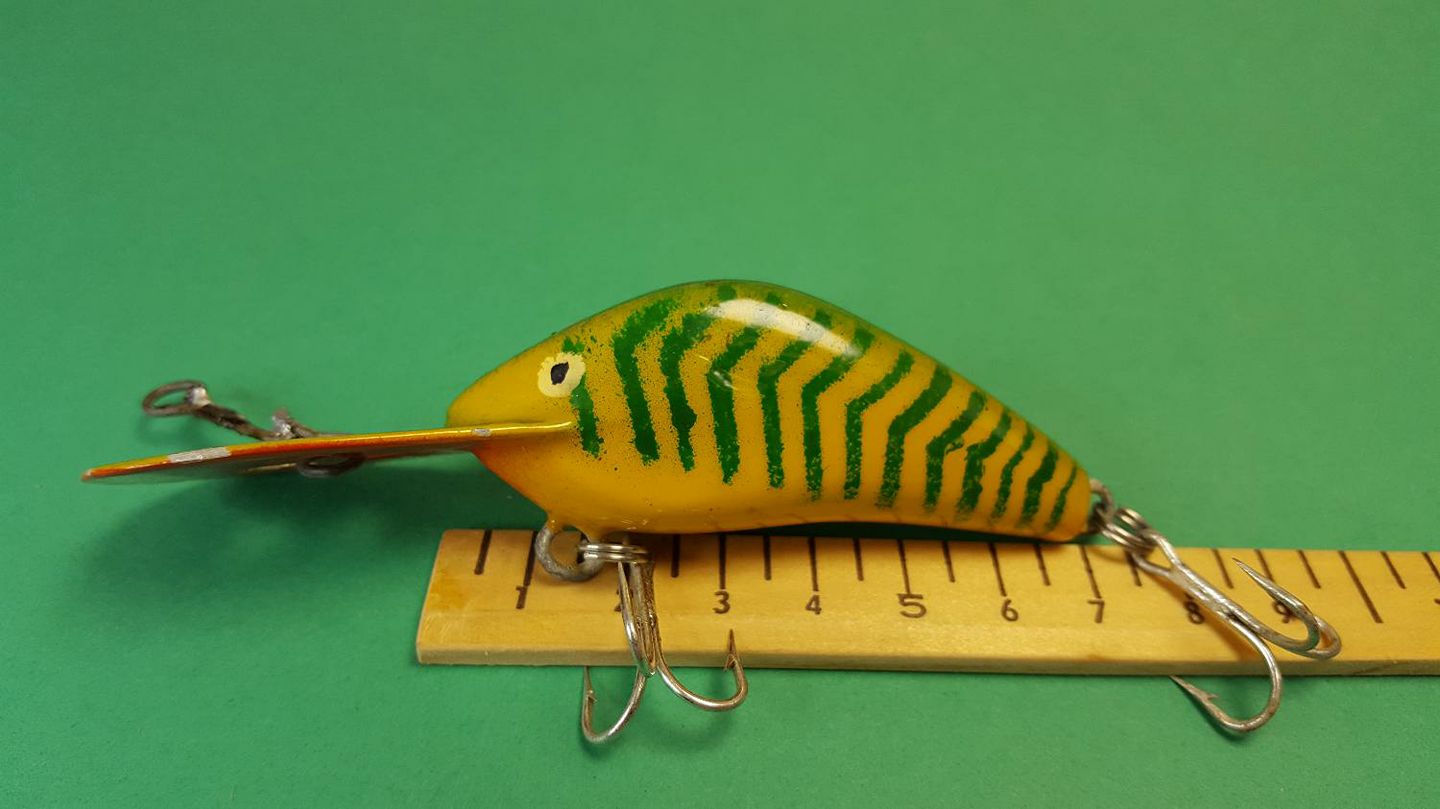 Serge Lures - NSW:

Serge Pertovt was making lures from the South Coast of NSW and started making small wooden lures c. 1992/3, went to injection molding in 1998 and ceased production entirely by 2005. See full page bio under Serge.
Shazza's Lures - QLD :

Shazza's Lures were made by Roland and Sharon Gray who were located at Deception Bay, QLD when selling lures in 2003. It seems the enterprise was fairly short lived and lures are no longer made.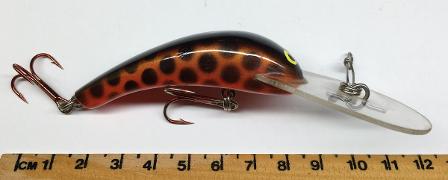 Sheehan and Smith Lures - NSW:

Richard Sheehan and Brendan Smith are based in Delungra, NSW and shape up some good quality lures as a partnership. Very distinctive lures and many will be signed R & B - See R & B Lures under R

Simpson, Ernie Simpson Lures:
Ernie made minnow style lures in the 1970's. Little further information.
Siren Lures - NSW:
Siren Lures were a range of lures made by the founding makers of the 'Boomerang' lure range and Downunder Lures. The Siren lure range is reminiscent of a smooth bodied Boomerang and are found in a bag with header card. These lures are hard to identify from other smooth bodied Boomerang versions however the Siren range is uncommon and were only made for a relatively short time before they were released as the Downunder 'Boomerang'. See bio in Downunder history
SK Lures - QLD:
SK Lures are made by Shane Kendricks and Kerry Mogg from Toowoomba and were originally made in timber before being made in moulded plastic. See full page bio under SK Lures.
Skippy Lures - NSW:
Skippy Lures are made by Shaun Allen in Gunnedah area. Lures are constructed from timber with polycarbonate bibs which are signed. Rarely seen and this lot were sold on Ebay in 2012 for $100.