Lure Manufacturers Australia S

If you know of an Australian lure maker no matter how young or old that we have not mentioned in the following list feel free to contact us to have the details added or updated.
*Cover banner photo is a Stingray Lure made by Ollie Hardt
S & M Sporting Goods/ S & M Manufacturing Company - VIC:
S & M Sporting Goods are a historic Australian lure manufacturer that were based at Carrum Downs, Victoria. They produced the Vibrobat Lure in the early 1970's and the paperwork was exactly the same as the Fresco Lures paperwork for their version of the 'Sonic Vibrobat'. It offered a $100 prize for the biggest fish caught on the Vibrobat in 1971. It can be assumed that the 'Fresco' brand was owned by the S & M Sporting Goods company. Paper work for 1971 names the company as S & M Manufacturing Co. See Fresco


Salinka Lures - QLD:
Salinka lures are an obscure lure that were made in Tin Can Bay. The advertisement right describes the Salinka range and it seems they were a moulded lure with full through wire construction that were available in 8 colours according to this advertisment that was found in an old fishing publication from the 1990's.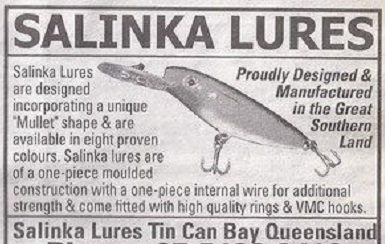 Sam's Cobra Wobblers - TAS:
Sam's Cobra Wobblers were made in Tasmania by Roger Moore who worked on the hydro electric dams in the south west wilderness around Lake Pedder, Lake Gordon and other big projects in the 1960'sand 1970's. Unsure of the exact years that Roger was making lures but they were made for personal use and were lighter with narrower 'wings' for working shallower areas and rivers. Lures were photographed next to Styx River after a chance meeting with a relative of the original maker during a fishing expedition. The lures are still being used in 2019 which is great story in itself.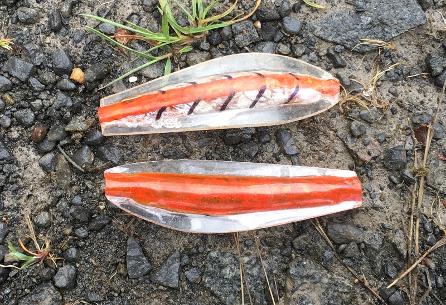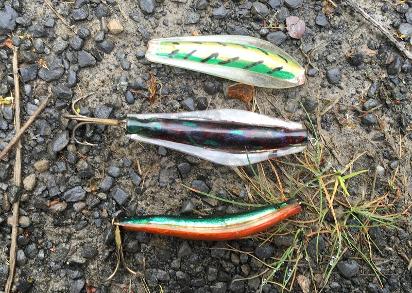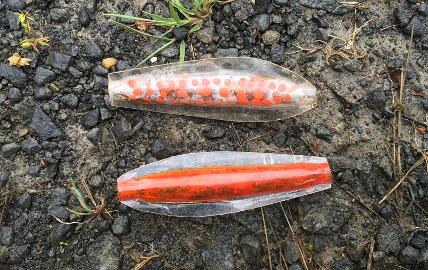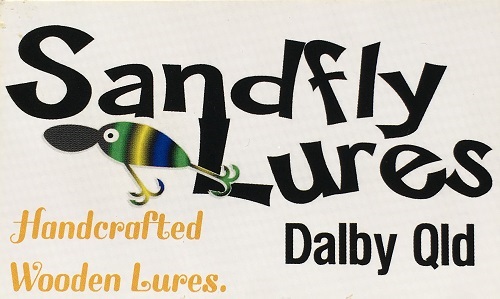 Sandfly Lures - QLD:
Sandfly Lures are another recent luremaker that has emerged in the last few years. An inventive maker from Dalby, Clayton Kuhl produces a large range of crayfish, yabby and heavy duty critters that are made to fish. There is a large amount of effort that goes into every creation by Clayton so it will be interesting to see how far Sandfly Lures can push the limit in the future.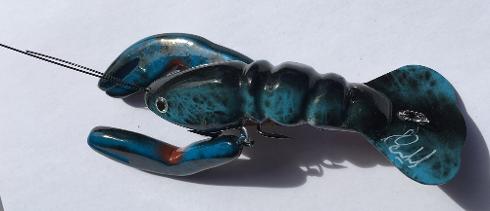 Saul, Jim Saul Lures - NSW:
Jim Saul made lures from his northern NSW home many years ago and is now elderly and lives at Evans Head. His lures are timber with hand made metal bibs that are screwed into place with heavy duty eyelets.
Lures are easily identified and are uncommon. Another example of a regional hobbyist lure maker. Lures have not been made since the 1980's. There is also mention of Hurstville so maybe Jim was born or lived in Sydney in his younger days.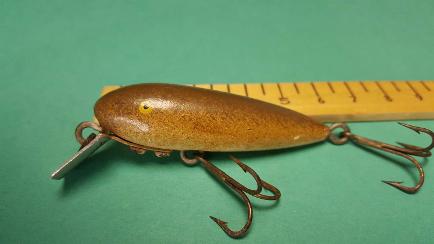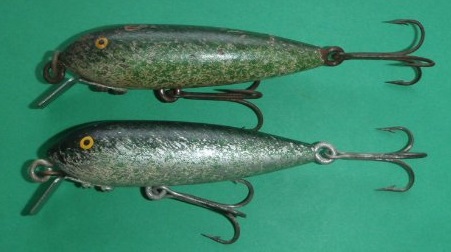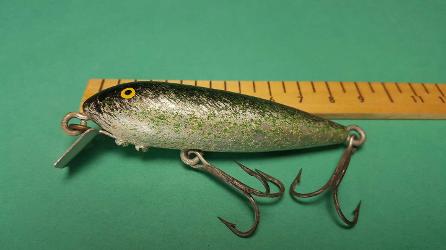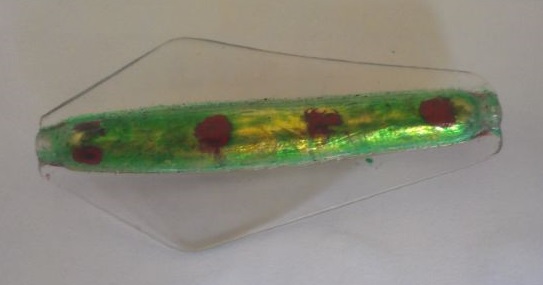 Savage Lures - TAS:
A locally made product that was available in Hobart. Unknown maker that was producing the ever popular cobra style of fishing lure. This colour is one of the best producing colours for trout in Tasmania.
Sawynock, Bill Sawynock Lures - QLD:
Bill made lures in very small numbers and his lures were characterised by having no eyes. Rare - the pictured lure below came up for sale in 2013 and is shown opposite with a different model.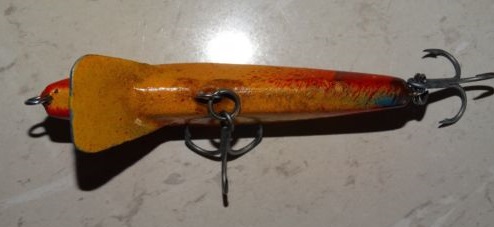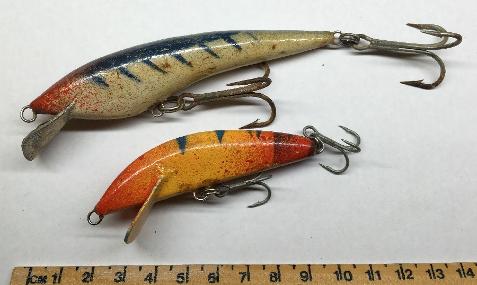 Schooner Lures:
Made by Trevor Westcombe. Interesting clam shell packaging and green card with a schooner glass (a 375ml measured glass for serving beer) and a slogan 'Tin Shed Crafter'.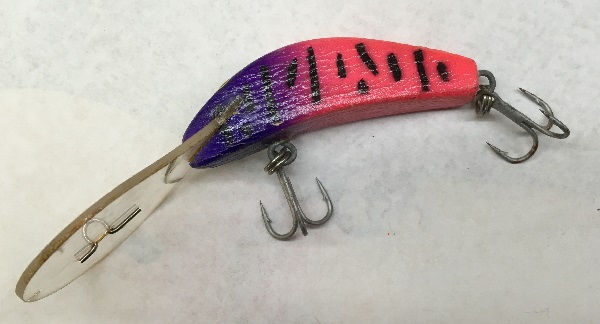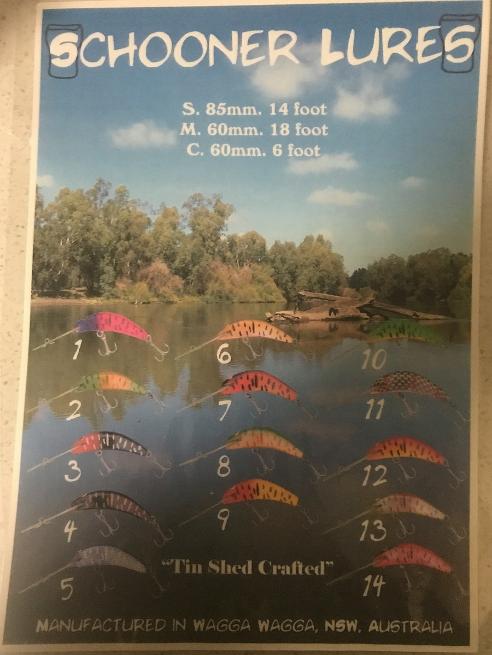 Scoobs Lures - WA:
Made by Chris Scobles. Models include the 'Seaducer Rooster', 'Interceptor'. These lures are moulded and could be purchased from Mo's Tackle in 1997. No longer available.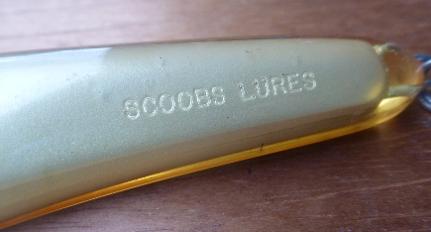 ''Here's an historic bibless lure by Scoobs, the 'Interceptor'. Its a big bugger, around 7 inches long and quite heavy, solid resin with a coloured insert. The insert has been signed 'Top End Fishing Supplies' on both sides with hand-written black fibre-tip pen prior to casting in the resin. Presumably these things were commissioned by Steve Compain at the time he opened the store at the 11-mile out of Darwin. Top End Fishing Supplies opened in 1994'' - Tony 'Marrakai' Orr
Scorpion Lures - NSW:

Scorpion Lures was the original name that Peter Newell named his lures. The brand was very short lived as Halco who had recently obtained the rights to make and market the 'Scorpion' lure pattern from RMG didn't want the Scorpion name used by anyone else and the name was changed to 'Classic Woods'. See full page history for Newell Lures.
Scruffy Lures - NSW:

Scruffy Lures are made by Damien Haynes and are a recent addition to the database from a hobbyist maker who makes larger surface paddlers and diving lures.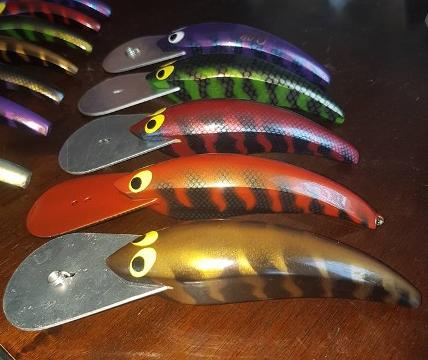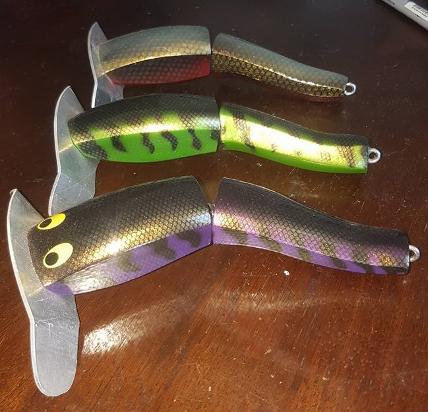 Scurvey Dog Lures - NT:
Only information is that Scurvey Dog Lures are made by Wayne Baldwin.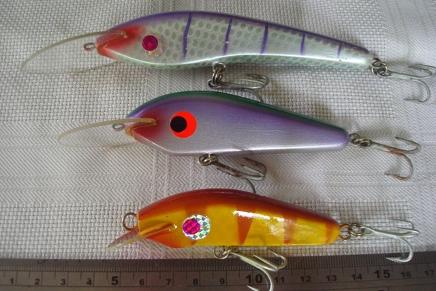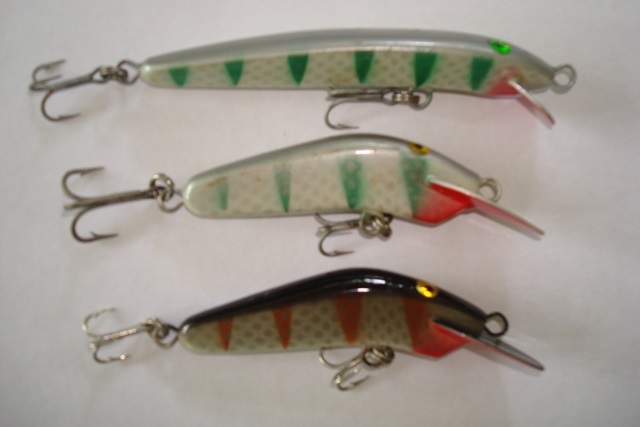 Seagull Lures - W.A:
Made by Errol Wishart who was based in Esperance in Western Australia. An interesting looking lure as shown. Handcrafted from timber.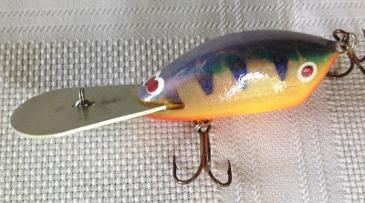 Seaweed Lures - N.T:
Made by Tony 'Captain Seaweed' Bartlett for charity. Tony is an avid collector and fisherman who can make a fantastic lure and utilises a wide range of timbers. Tony also makes Barra Guru Lures in small numbers and has been making lures for more than twenty years. Apart from the bibbed minnow style lures, there is also a small range of other models that have been shaped under the Seaweed Lures banner.
It should be noted that Tony has been a big supporter and contributor to this website and most helpful in providing information and photos of rare and obscure lures especially from northern Australia.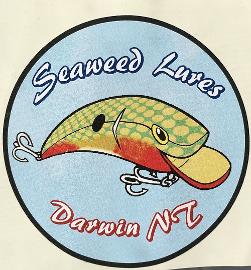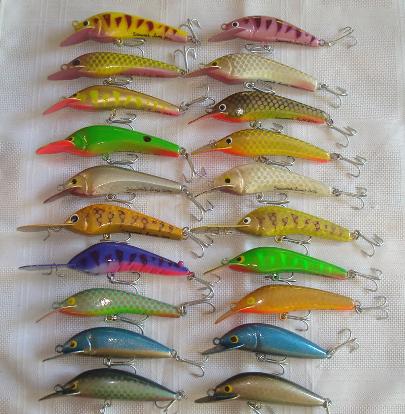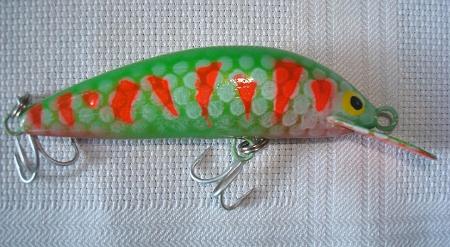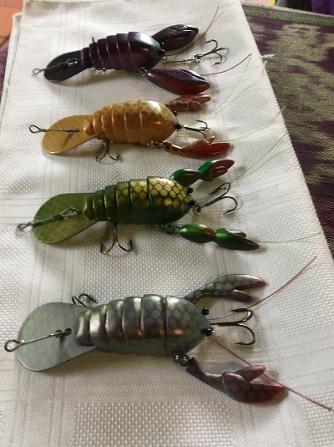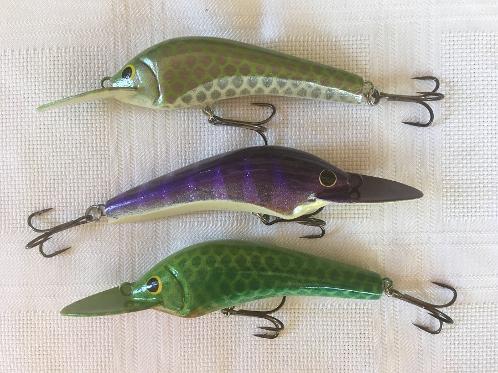 Tony has been making some excellent yabby and large shrimp patterns in the last couple of years. The lures shown here were made for Expo 2018 and include the 'Seaweed Cherabins' below.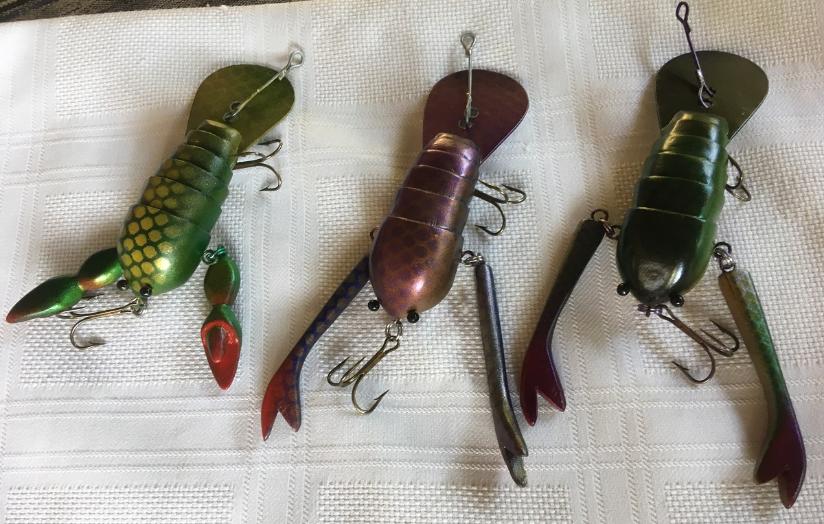 Secret Creek Lures - NSW:
Made in China from timber however designed in Australia. Shown right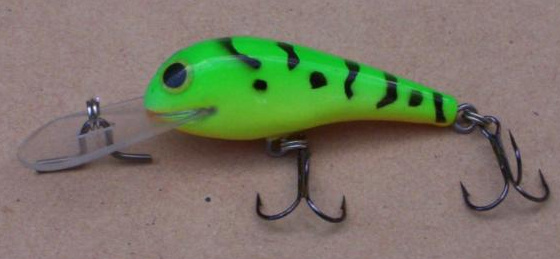 Seeker Lures - VIC:

Ken Hendry was the name behind the original Seeker design. After his passing the Seeker name was carried on by Mark Dobbin in 1996. See full page bio under Seeker.
Selwyn Spinner - NSW:

The 'Selwyn Spinner' was advertised and described without a photo in the 1954 catalogue for Craig and Aitken Pty Ltd, Sydney. Shown below are some different versions of the Selwyn Spinner that fit the description provided.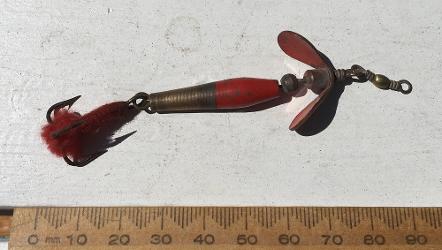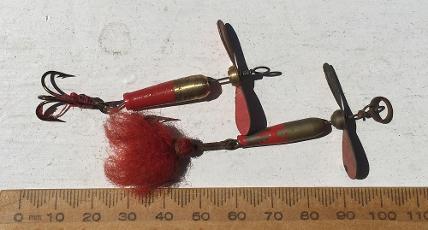 Seppo Lures - NSW:
Seppo Lures were made by Keith 'Seppo' Bush from Tenterfield/ Wallangarra area. Keith was an ex-patriot American hence the name of his lures - Australians referring to the 'Septic Tank' with typical humour. Simple shape with soldered front towpoint typical of lures from this area. Only ever made in small numbers and rarely found outside the New England area of NSW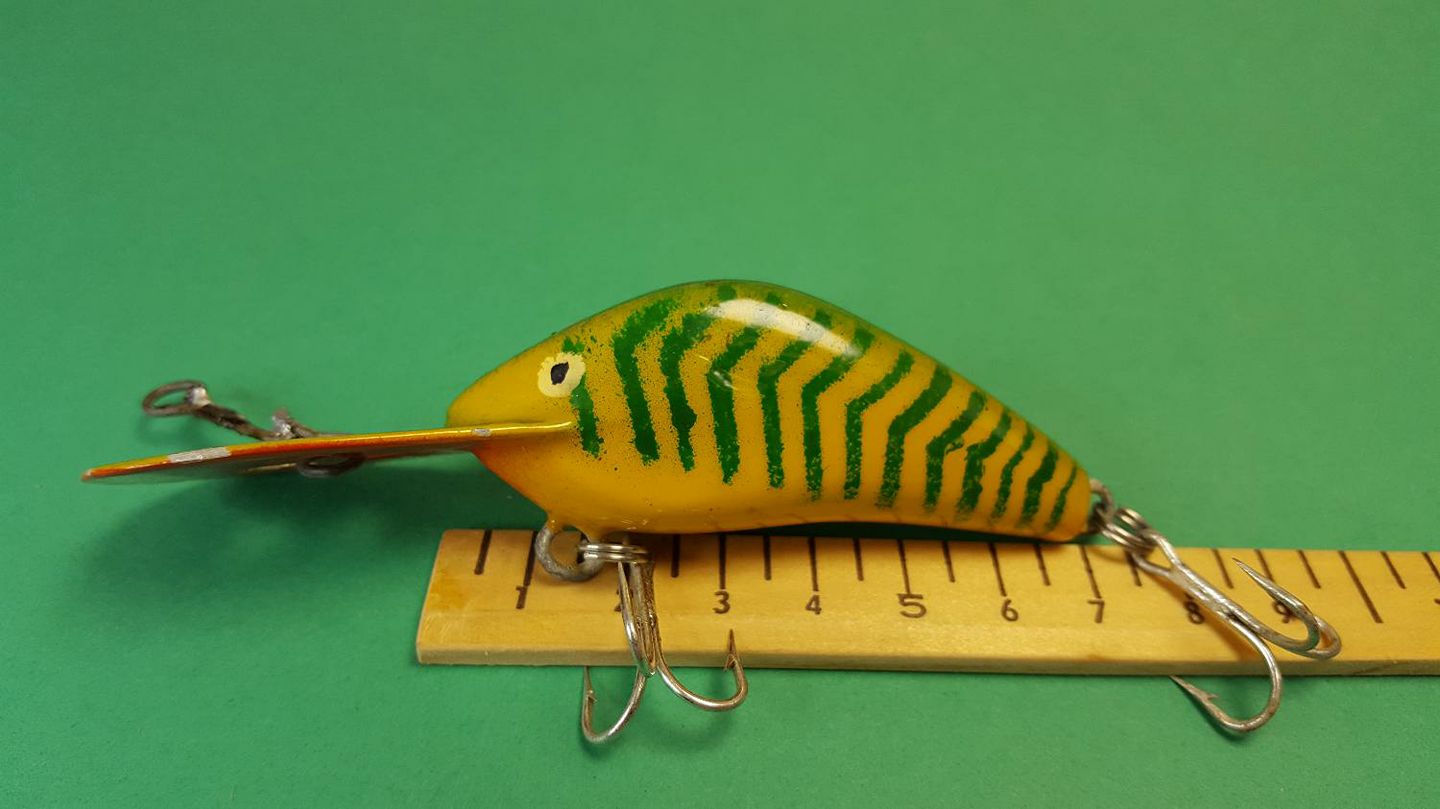 Serge Lures - NSW:

Serge Pertovt was making lures from the South Coast of NSW and started making small wooden lures c. 1992/3, went to injection molding in 1998 and ceased production entirely by 2005. See full page bio under Serge.
Shazza's Lures - QLD :

Shazza's Lures were made by Roland and Sharon Gray who were located at Deception Bay, QLD when selling lures in 2003. It seems the enterprise was fairly short lived and lures are no longer made.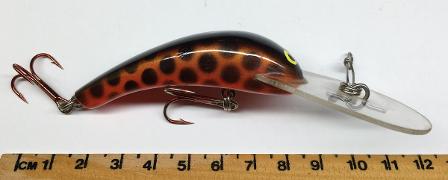 Sheehan and Smith Lures - NSW:

Richard Sheehan and Brendan Smith are based in Delungra, NSW and shape up some good quality lures as a partnership. Very distinctive lures and many will be signed R & B - See R & B Lures under R
Sherfox Lures - NSW:

This lure is an original design labeled under Sherfox Lures and found around Wyangala Dam area. No other information.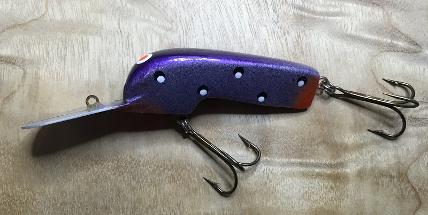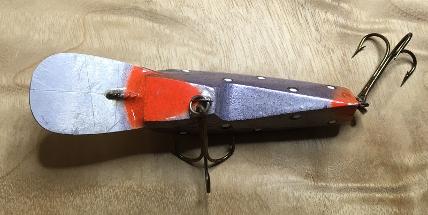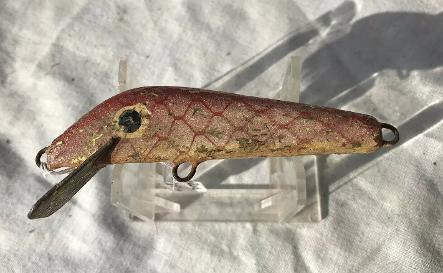 Simpson, Ernie Simpson Lures:
Ernie made minnow style lures in the 1970's. The lure opposite was offerred for sale on Ebay in 2020 and attributed to Ernie Simpson. Little further information.

Siren Lures - NSW:
Siren Lures were a range of lures made by the founding makers of the 'Boomerang' lure range and Downunder Lures. The Siren lure range is reminiscent of a smooth bodied Boomerang and are found in a bag with header card. These lures are hard to identify from other smooth bodied Boomerang versions however the Siren range is uncommon and were only made for a relatively short time before they were released as the Downunder 'Boomerang'. See bio in Downunder history
SK Lures - QLD:
SK Lures are made by Shane Kendricks and Kerry Mogg from Toowoomba and were originally made in timber before being made in moulded plastic. See full page bio under SK Lures.
Skippy Lures - NSW:
Skippy Lures are made by Shaun Allen in Gunnedah area. Lures are constructed from timber with polycarbonate bibs which are signed. Rarely seen and this lot were sold on Ebay in 2012 for $100.
Slade, Frank Slade Lures - NSW:
Made by Frank Slade from Ballina on New South Wales north coast - timber lures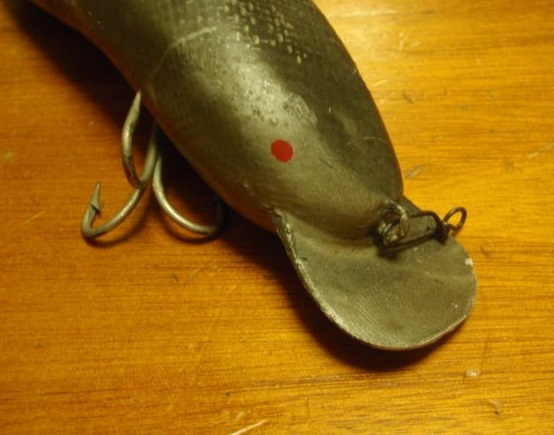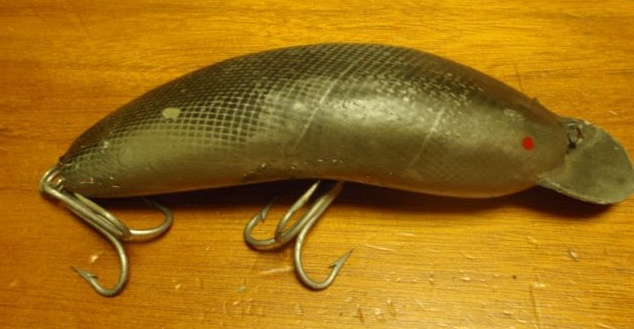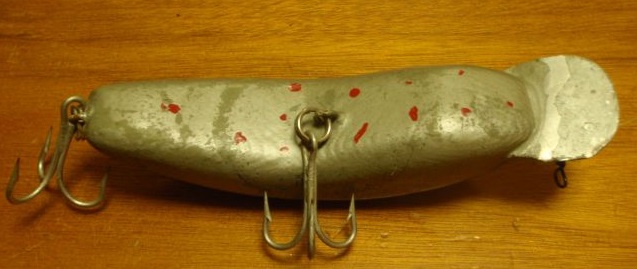 Smak Lures - QLD:
Matthew and Tony Mott from Murgon.
The Golden Child is a lure designed by Cameron Smith of S.E QLD. It is produced by Smak lures of Kingaroy. They also do a mega sized lure with the same shape, called the Gobsmak.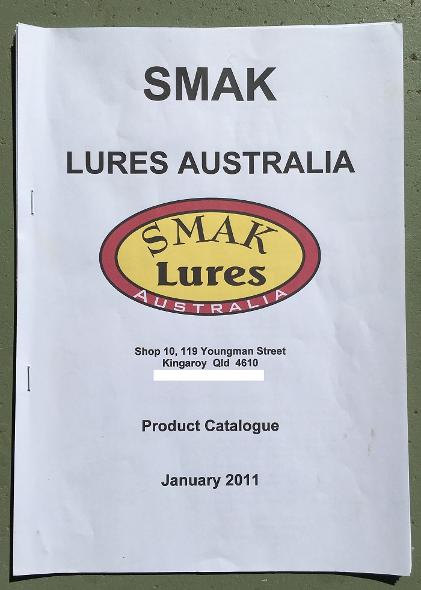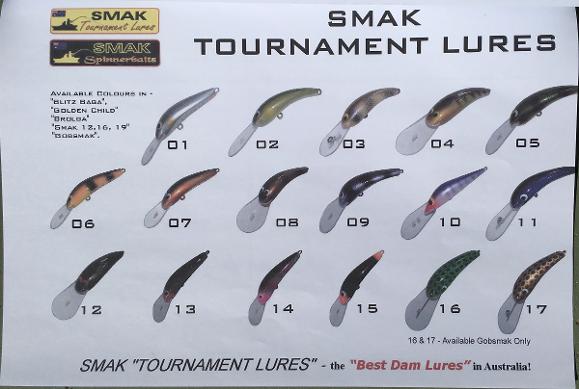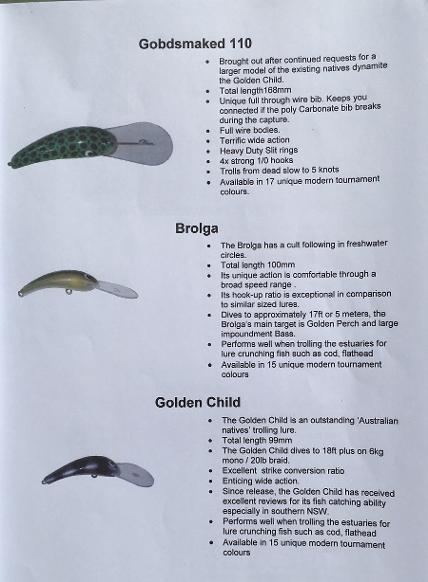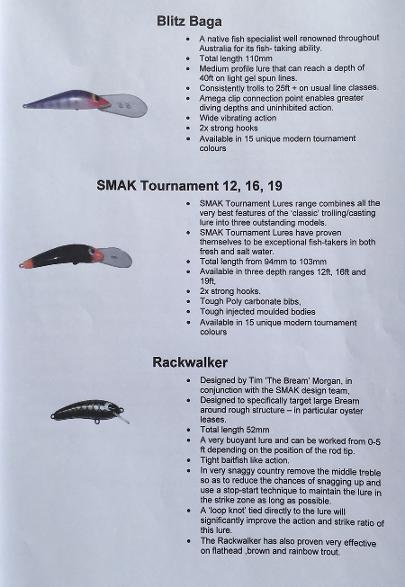 The review below mentions Shane Kendrick being involved in the making of Smak lures and Steve Temperly's 'Brolga' design which was originally part of the Jabiru Lures range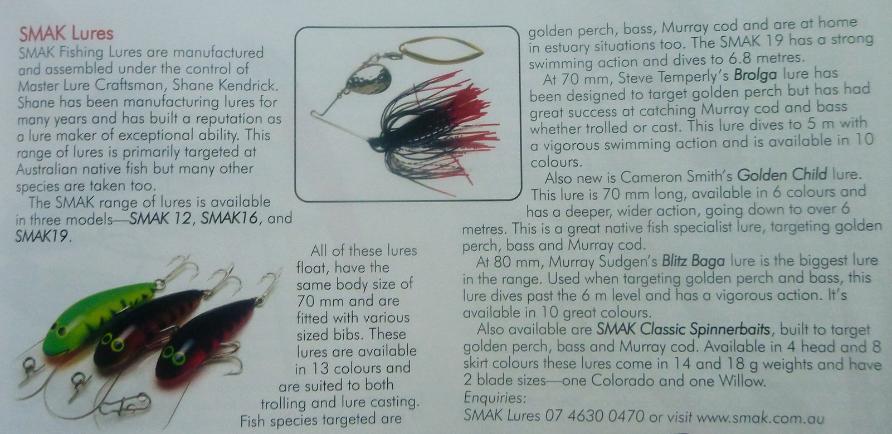 Smick Lures - QLD:
Smick lures are made in Dalby, Queensland and are a hand made timber lures. Smick Lures have started selling lures since about 2012/13 and are the brainchild of Ashley . . . .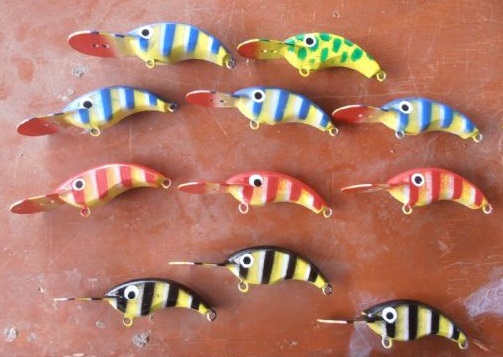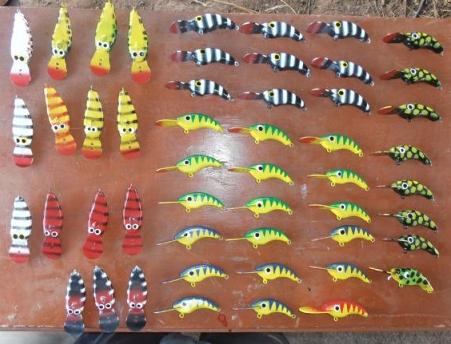 Smith, Ash Smith Lures - NSW
Ash Smith lures sold wooden cod lures around 2010 - 13. There has been approximately 40 Ash Smith Lures sold on Ebay in this time and they sell in the $15-20 range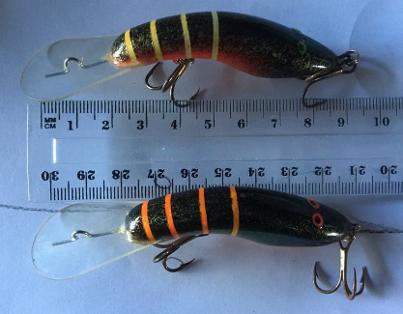 Smith, Barry Smith Lures - NSW, NT:
Barry Smith used to reside in the Hunter Valley at Kurri Kurri and was well known in the Newcastle area with other lure makers such as Gary Akers from A.K Lures. Barry made a great lure which were normally a copy of lures he liked fishing with - a perfectionist he would refine the designs until they were exact. His nickname was 'Xerox'. All of Barry's lures were painted with spray cans and his lures are high quality and made to fish. He now resides in Darwin.
Left is two impressive Deception copies - it could be viewed that if Barry 'xeroxed' your pattern he liked the lure.
Below is a copy of the USA made 'Hellbender' lure with hand cut heart shaped bib and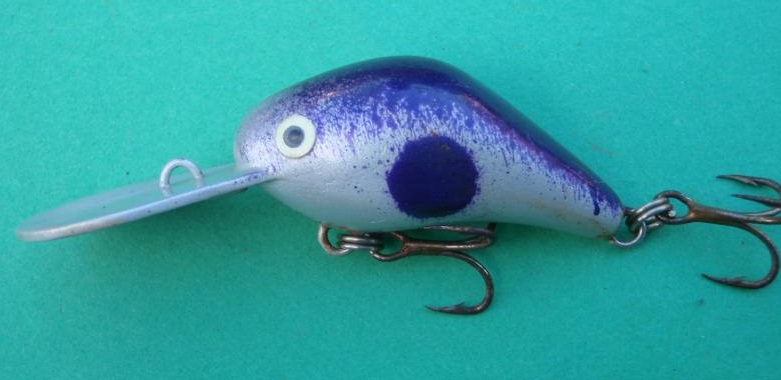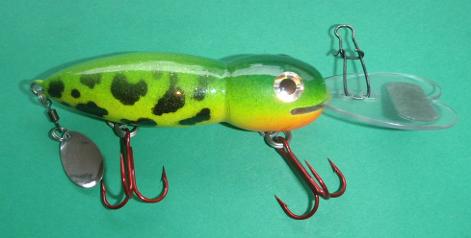 Smith, Brad Smith Lures - QLD:
Brad Smith markets his lures under the name Brad Smith's Lures or Smithy's Lures.
Smiths Jigs - TAS :
Smiths Jigs are an iconic Australian jigging lure that were used to catch tuna and other pelagic fish. Made from an early hard plastic with the double hooks wired into place they have been available since the 1970's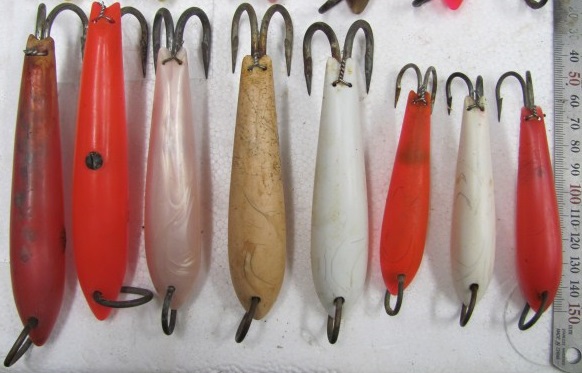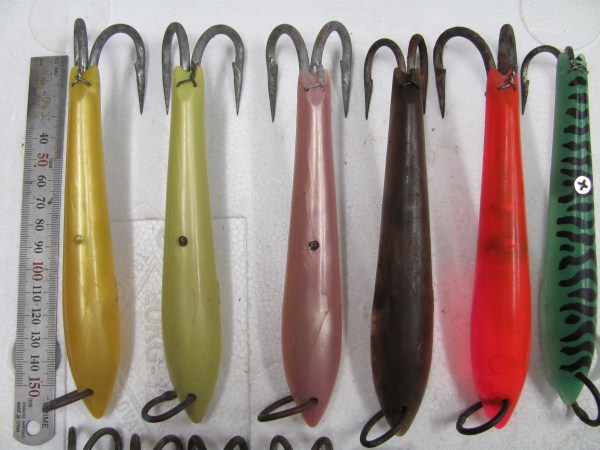 These photos were posted on the Lure Lovers forum a few years back and show a good variation of models and colours in 3 different sizes.
Opposite - Modern Fishing Sept 1980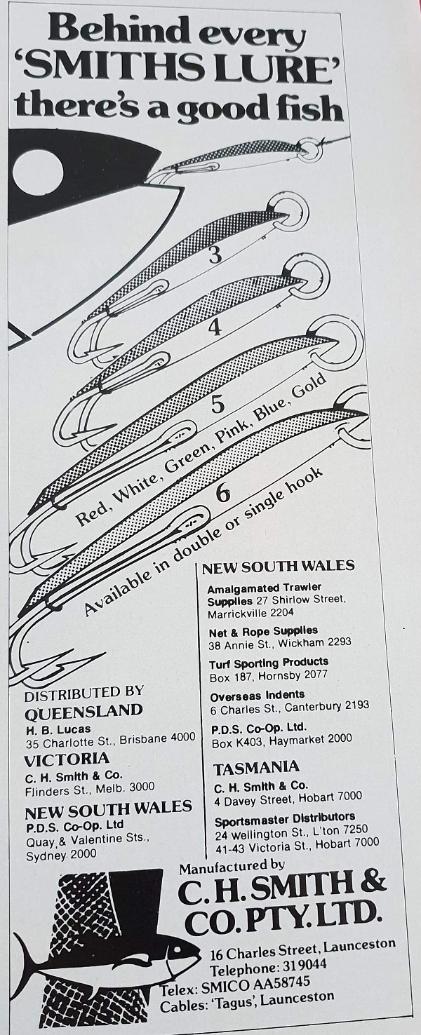 Smith Wobblers - TAS:
Another legendary vintage north western Tasmanian lure. Little information other than they were made in the 1970's and there were lots of different shapes as shown in the photos. These lures were available in the area of the Central Plateau and Western Lakes in Tasmania. Hand made and heavy for their size, they are small (anywhere from 3cm - 7cm) and its obvious why they catch fish.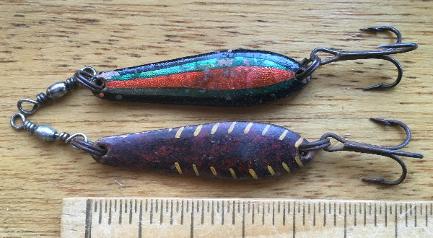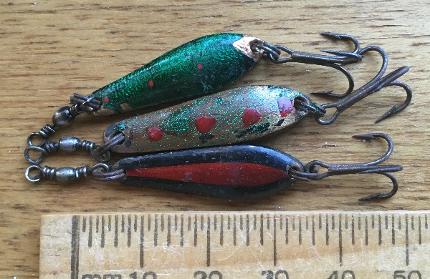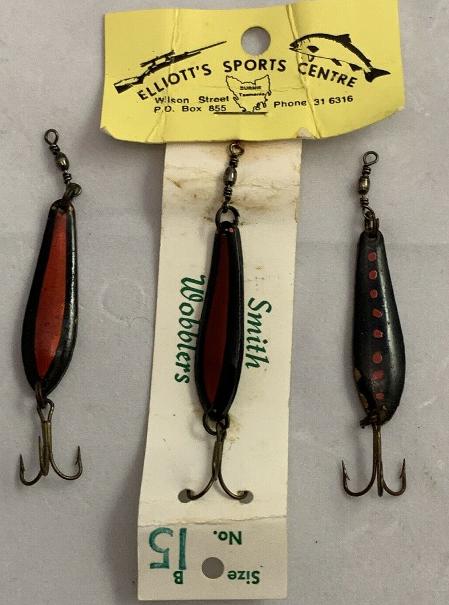 Above shows the original cards for Smith Wobblers that were sold at Elliots Sports Store in Tasmania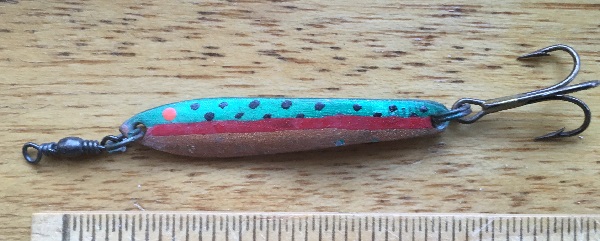 The fish shaped wobbler was made in at least two sizes as shown below.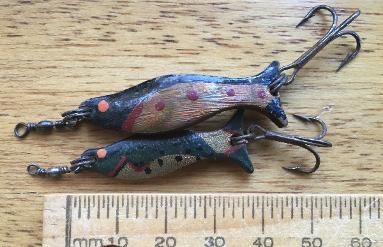 Smithy's Lures - QLD:
Brad Smith is a local identity on the Gold Coast and owns a tackle shop on the banks of Currumbin Creek including some fishing guiding. The lures were developed in the 1990's to suit local conditions and species. The 'Lil' Mate' was the original model designed for the bream population in the canals of the Gold Coast. The 'Digger' was for flathead, jacks, trevally and the 'Yobbo' is the newest model. Originally moulded by either Mac's lures or Lively lures however newer models are made in China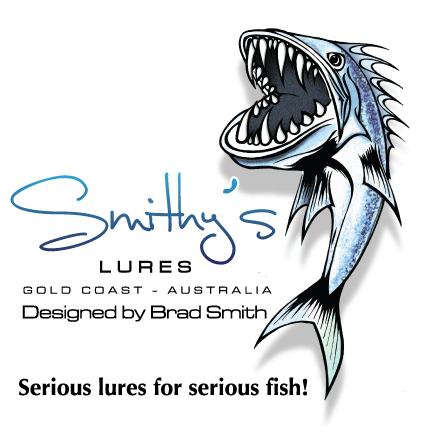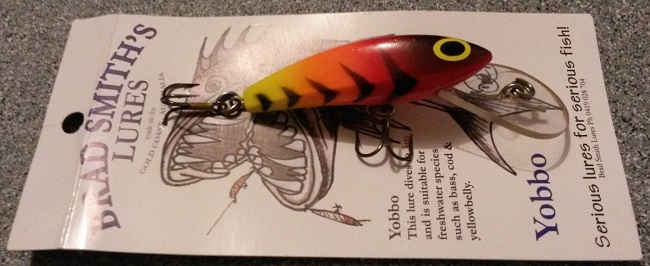 The following Brad Smith Lures catalogue is from 2009 and shows the full range of models and colours at that time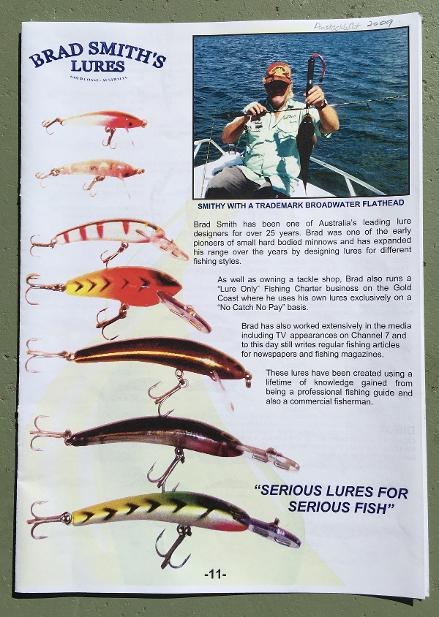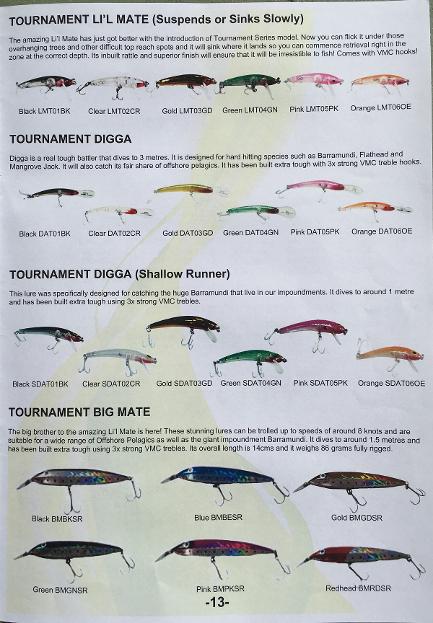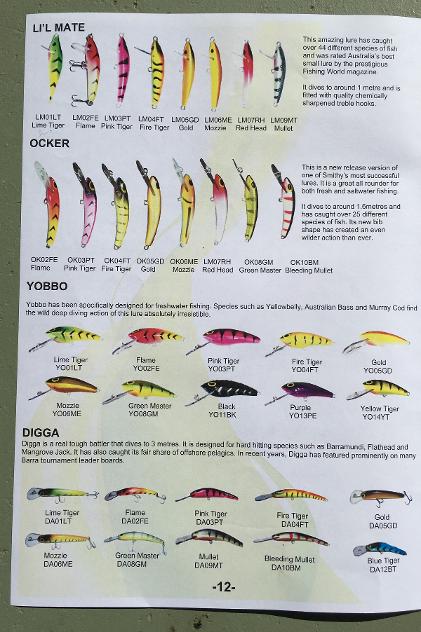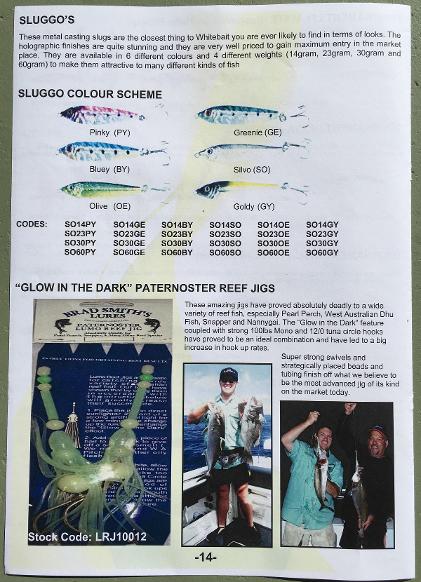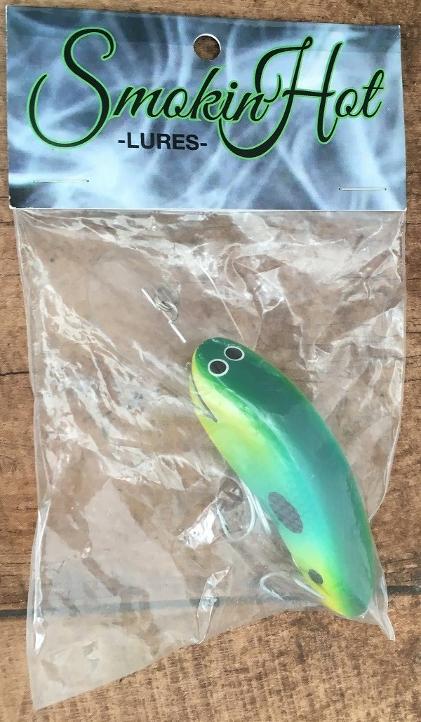 Smokin Hot Lures - QLD:
Smokin Hot Lures are made in Dalby, Queensland by Kerry Hunt. A fairly recent product from the last few years. Lures below were for a giveaway on the Lures Downunder Facebook Page for Junior Anglers posting photos of their catch. Lures are 80mm and signed on belly.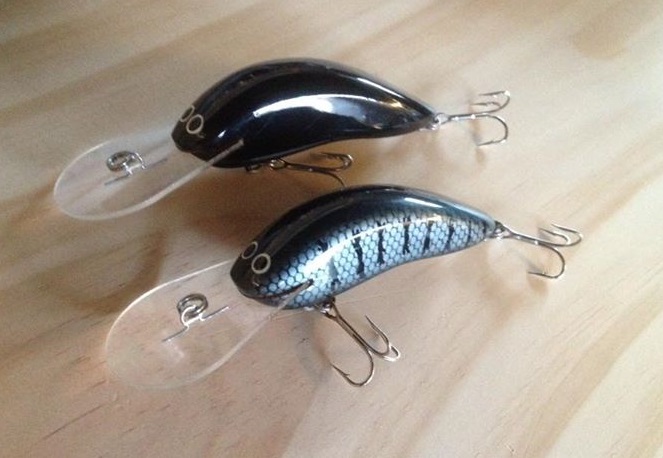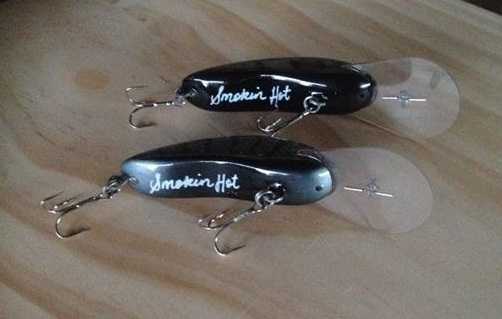 Smokin Hot Lures have also made other patterns, nudes and exhibition pieces of high quality. A few are shown below including the pair of black/white yabby models.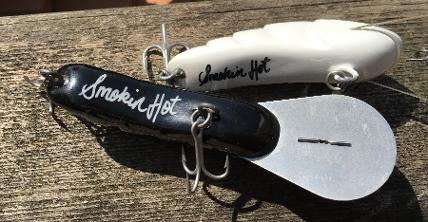 The lures below are a pair of larger lures - one is a clear coated nude and the other has a green scale over black over half the body. Beautiful creations both signed by Kerry near the tail and with the belly signing as well.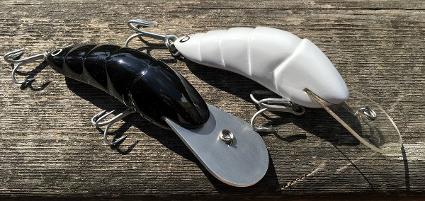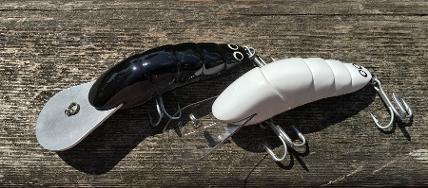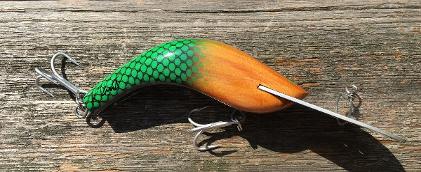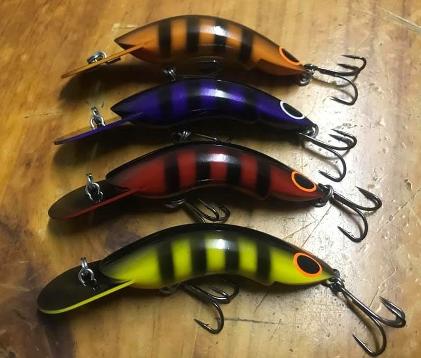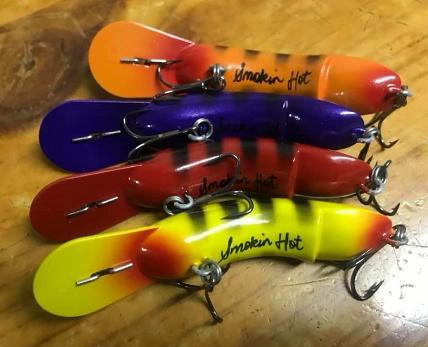 Snakehead Lures - NSW:
Snakehead Lures arrived on the Australian lure scene in 2014 and are made by Brian Kroie. Lure below is made of Tasmanian Oak and is confirmed as an early example by Brian on the Australian Lure Collectors Facebook page.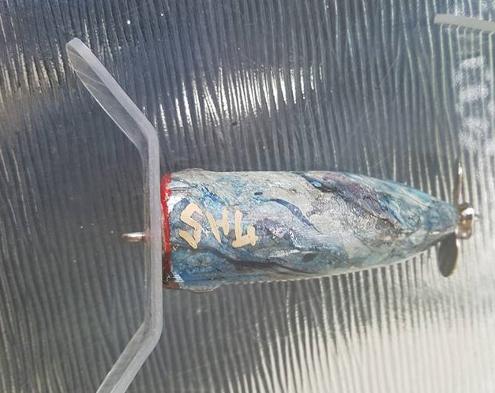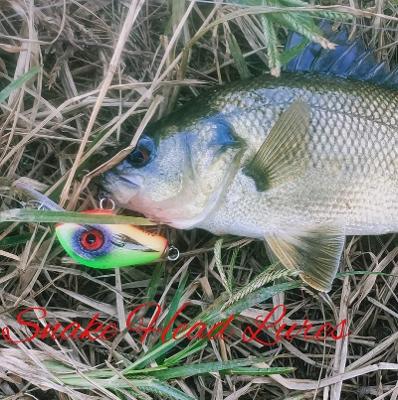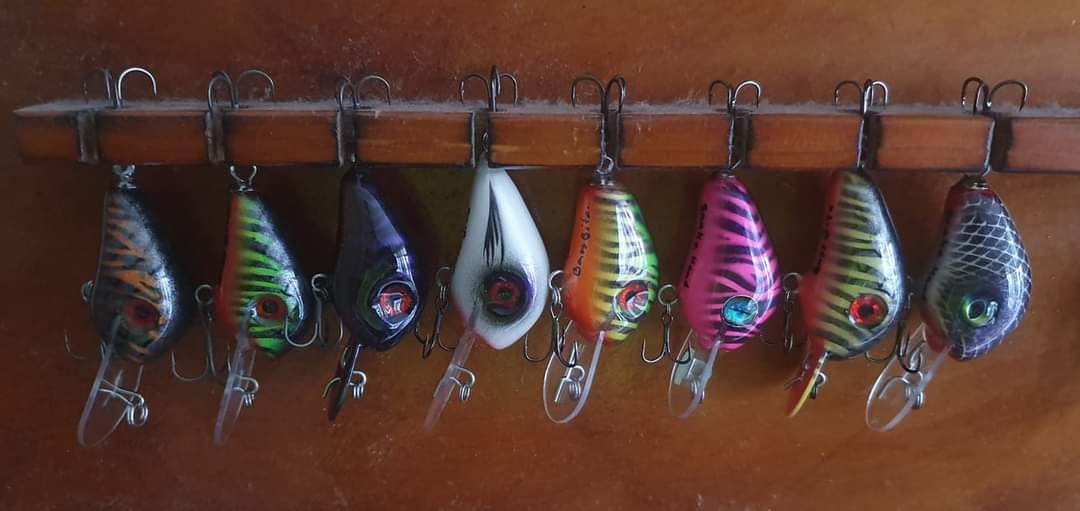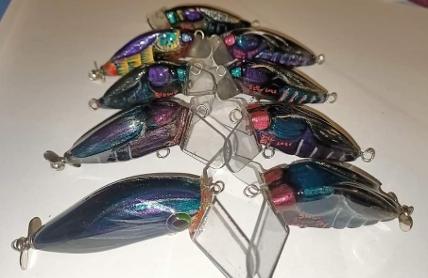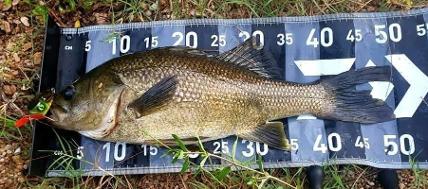 Snakehead Lures surface critters are an extremely effective lure for bass. Great finish and carving on these.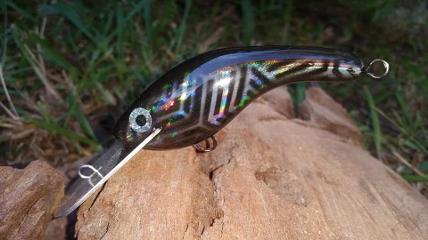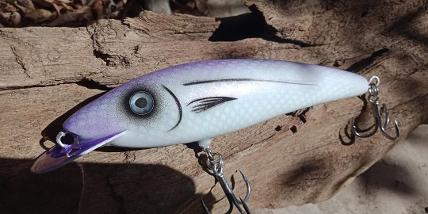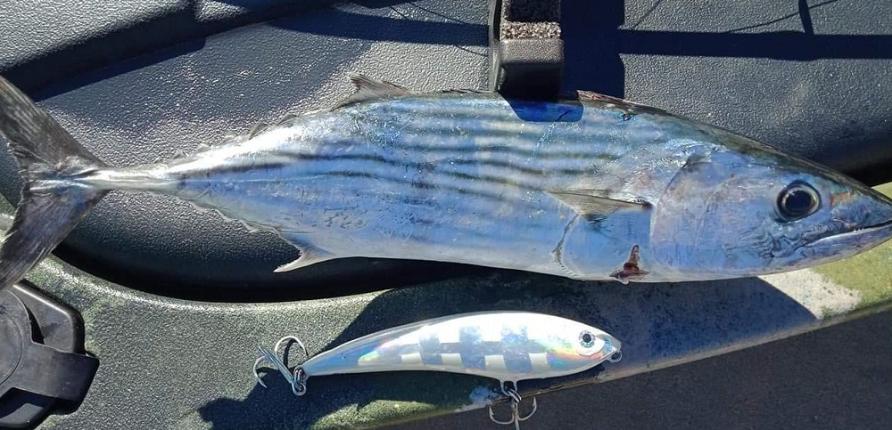 Sniper Lures - NSW:
Sniper Lures are made by Adam Falkenberg. Quality hand made timber lures that are still available. Models include the 'Sour Grape' and the 'Fatboy Slim' as shown. Around 2011 Adam made some very nice Sniper Crays as shown also but these were only in small numbers.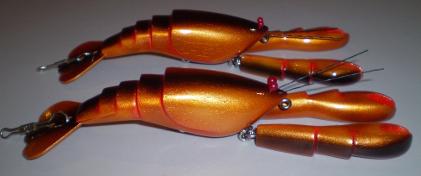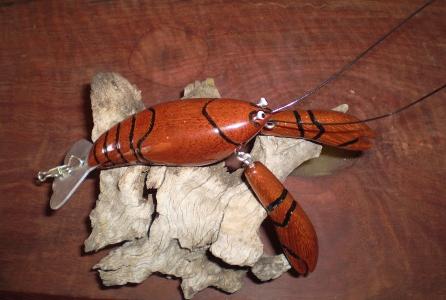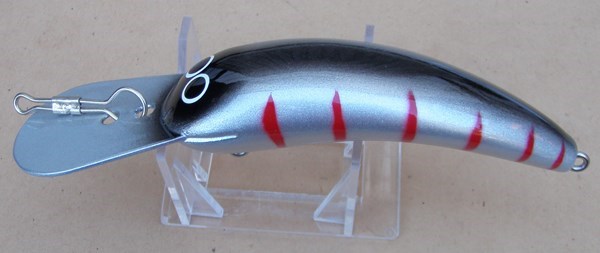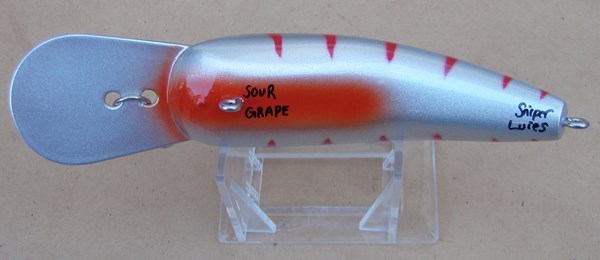 (Below) The Sniper 'Head Butt'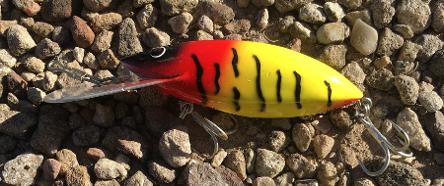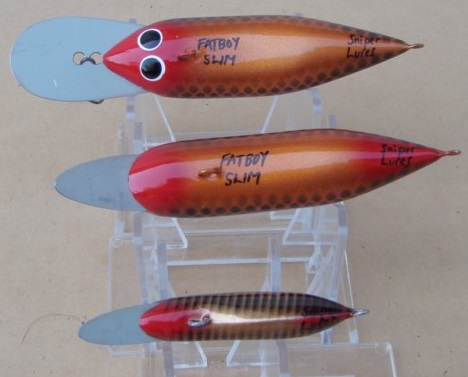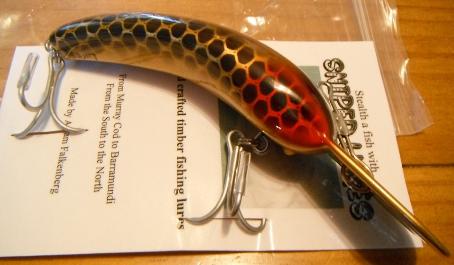 (Above and left) Sniper 'Sour Grape' showing card.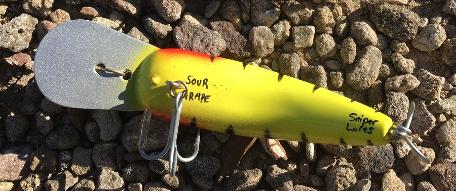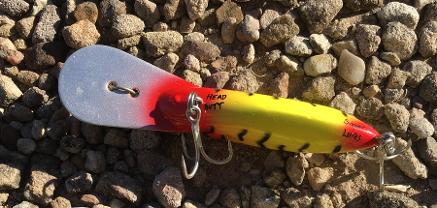 (Below) Three models including two versions of the 'Fatboy Slim' - in both deeper diving model and a shallower version that is towed from the body. The bottom lure is not named however looks to be influenced by the scorpion and merlin shapes.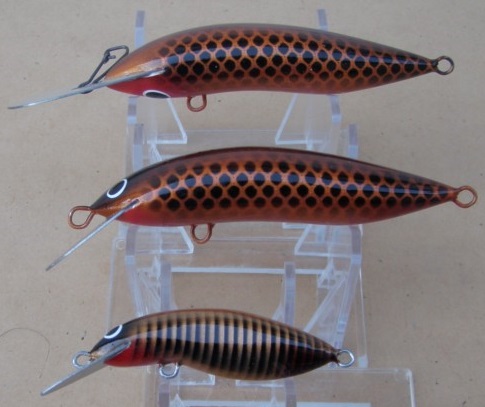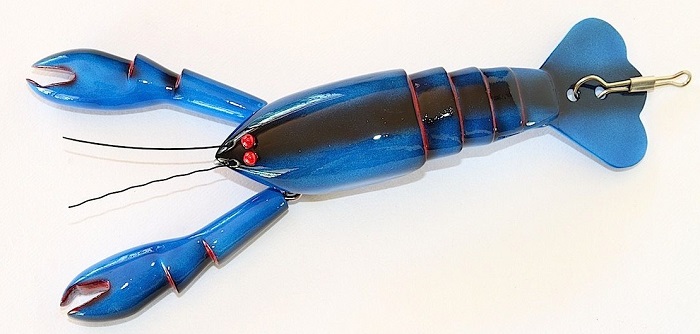 Soden, Doug Soden Lures - QLD:
Doug Soden made popper lures in small numbers and is a hobbyist lure maker from far north Queensland.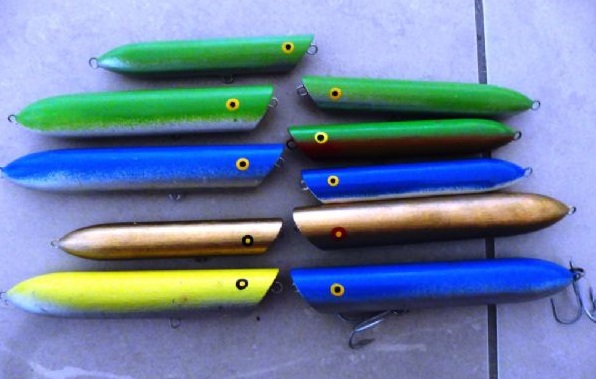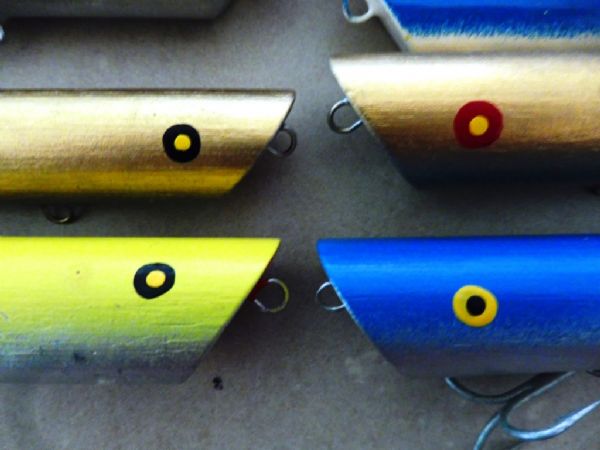 S.O.L Lures - VIC:
S.O.L Lures has been shaping timber lures since at least 2014 - Son of Larrikin is Robert Reid who is the son of Graham Reid who made Larrikan Lures and sadly passed away a couple of years ago. Robert has decided to carry on his father's lure making legacy and is making some nice carved timber lures. The S.O.L Yabbies were a small run and signed and dayed 2014.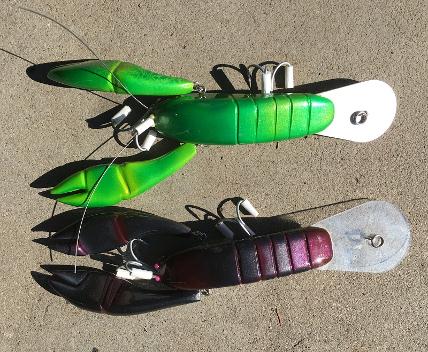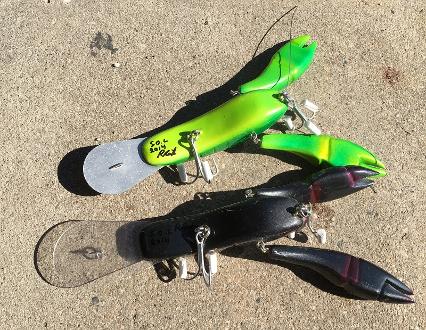 Solo Lures - VIC:
Solo Lures are made by Sam Cunsolo since 2014 and he makes a quality timber lure which was reflected in his award at the Expo 2017 for best bibbed lure.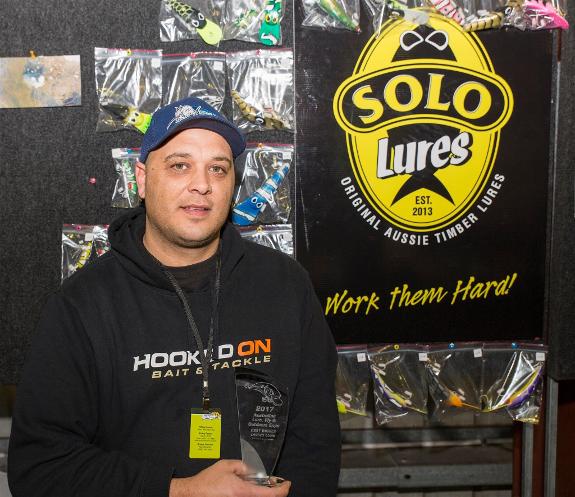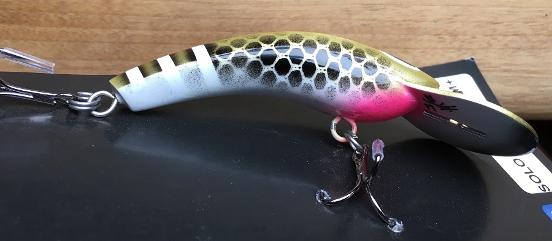 Solo Lures 'Offcut' from Expo 2019

Sollett, Ross Sollett Lures - QLD:
Another of the obscure Queensland backyard makers who was based in Cairns in the 1970's. Very reminiscent of the old Nilsmaster Lures and minnows like Rebel that were popular at the time. Both lures below have three hook hangers and are a larger lure suited to big barramundi or saltwater angling.



Sonar Lures - VIC:
Sonar Lures were made by Shaun Aplin from Eaglehawk who was Ken Hendry's (Seeker Lures) nephew. He was helping Ken at the finish before the business was sold to Mark Dobbin at Marong. Shaun Aplin then went on to make grub shaped Sonar Lures and is now deceased. Carded lure right shows a 'Grub 50' but card is for another colour.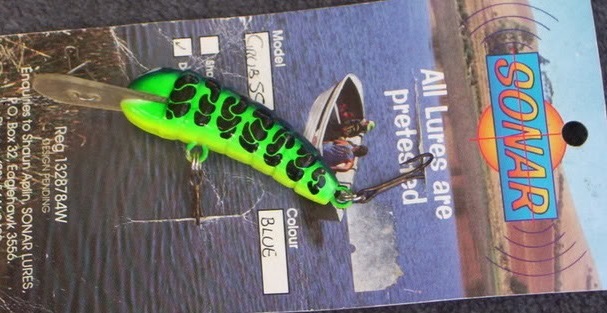 Sook Lures - QLD:
Sook or Sook's Lures are made by Greg Claussen who sells his wares at Victoria Point markets. He provides a cut away of his lures which displays how far the twisted wire hook hangers are embedded in the timber. He also pins his bibs however his unpinned bibbed lures will hold 20kg of lead during testing. Another cottage maker and lures are signed on belly near tail.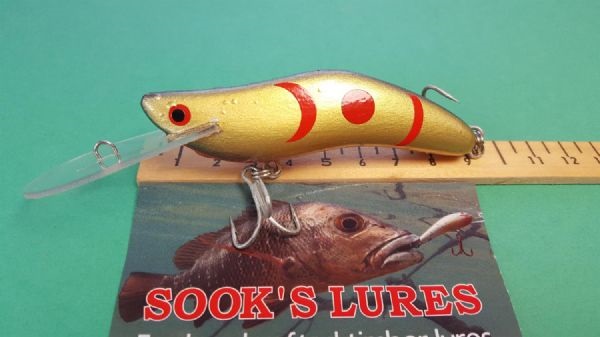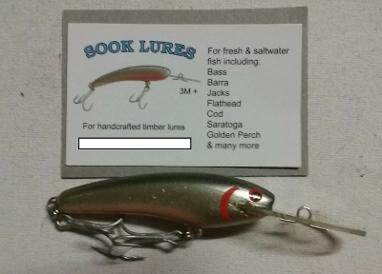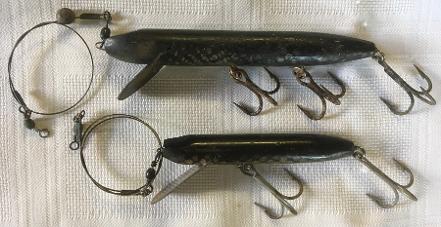 Sorbello, Joe Sorbello Lures - QLD :
Another of the early pioneering cottage makers who was making and using lures in the 1960's. Based in Cairns. The lures shown left are both rigged with swivels and wire traces and are of basic construction with simple paint finishes.
Sorenson, Richard Sorenson Lures - QLD:
Richard Sorenson made a wide range of timber lures in many different styles. There is not much information about this maker however anectodal evidence suggests he assisted Henry Hall in learning how to make lures. There is an uncanny resemblance to a Barra King style lure in the lot below which demonstrates a wide range of lure models.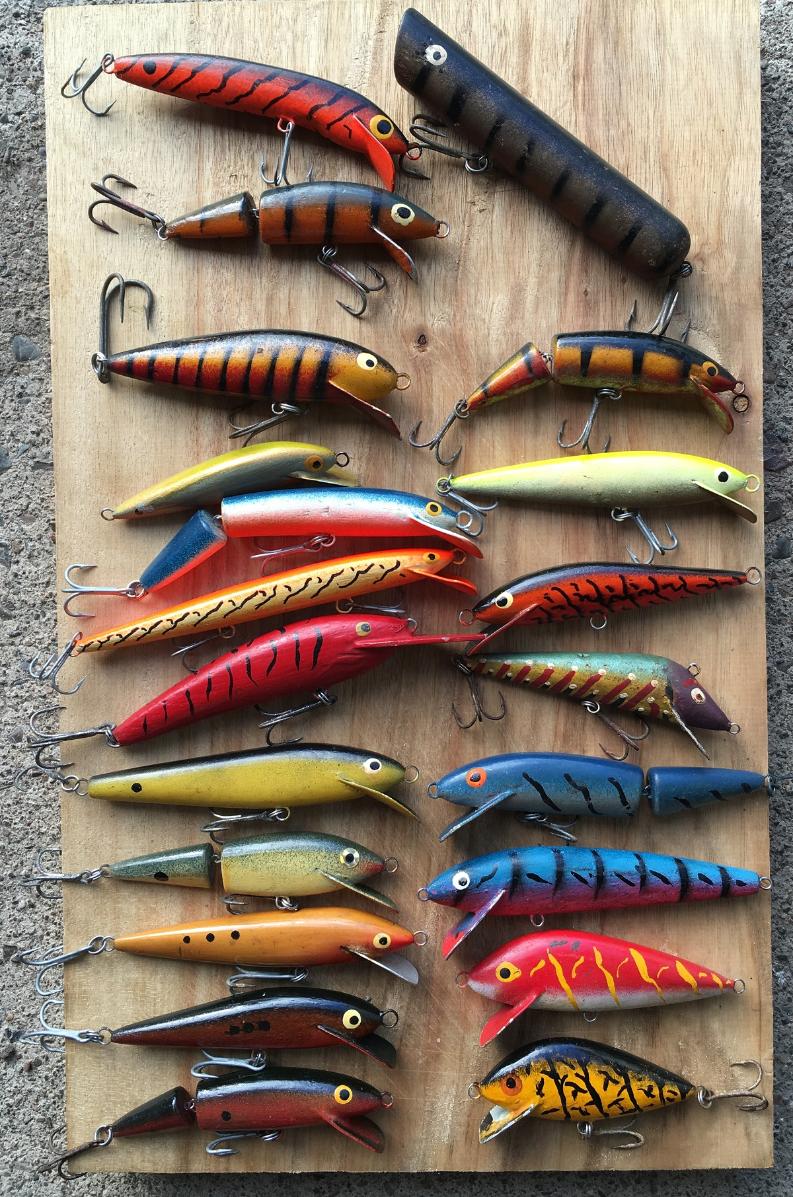 Southern Cross Lures - QLD:
Southern Cross Lures are made by Patrick Jones. The lures are made from timber and have the classic 'Tenterfield Towpoint' or soldered front eyelet that runs from a metal bib. Southern Cross Lures came into existence in 2013 and before that were known as Spit n Image Lures. The lures are made in Goondiwindi and Patrick is a good friend of fellow lure maker Kerry Ehrlich from Kezza Lures. The Southern Cross card shows an Australian flag with the stars of the southern cross over the flag. Beautifully made lures.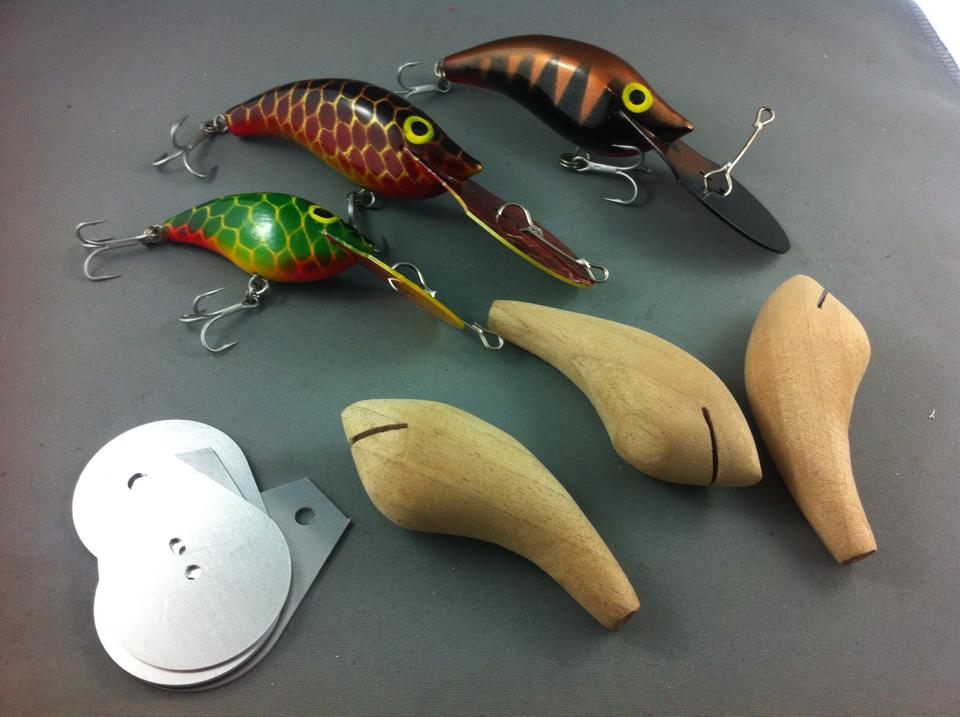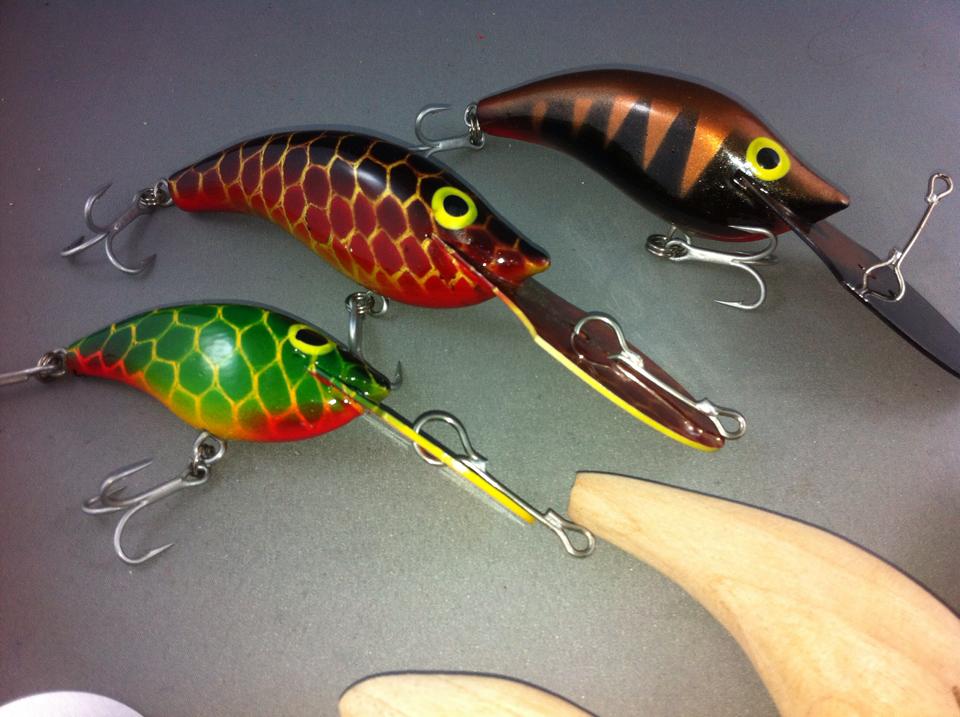 Spawn Lures - QLD:

Spawn Lures is owned by David Haydon who purchased the original lure design of the 'Bass Pig' from Dave Pearce around 1999. This model was then redeveloped and the Spawn range was marketed for a few years and then discontinued and are no longer made.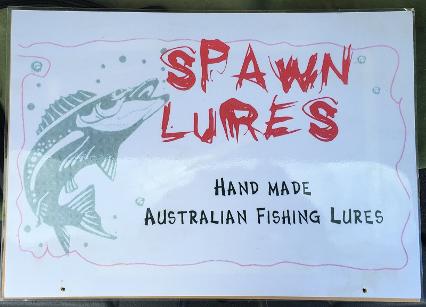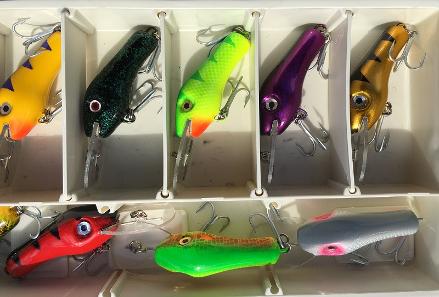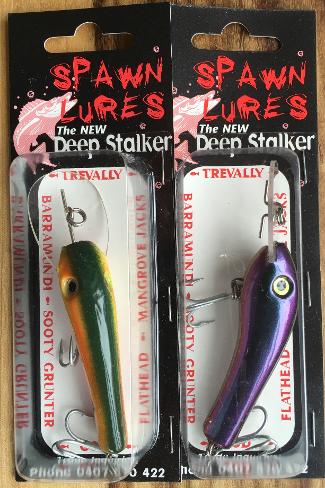 The following photos show the original Spawn model and colour range. The three models released were the 'Deep Stalker', 'Bass Pig' and 'Baby Bass Pig'. The lures were available in 42 colours and special order colours were also available. Spawn Lures ceased production by 2004. All lures shown here are from this era and have not been produced for over 15 years. Lures are well packaged with a plastic window stapled to backing card.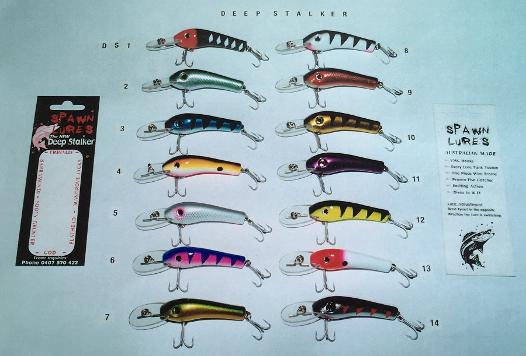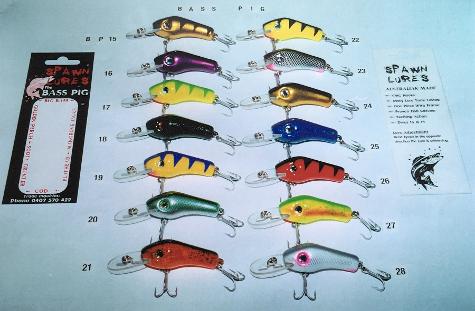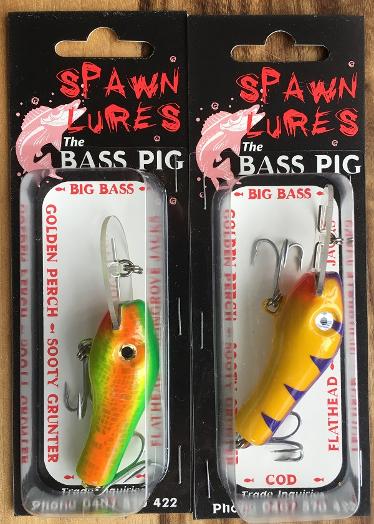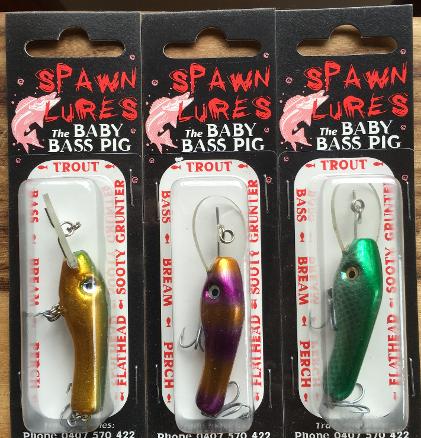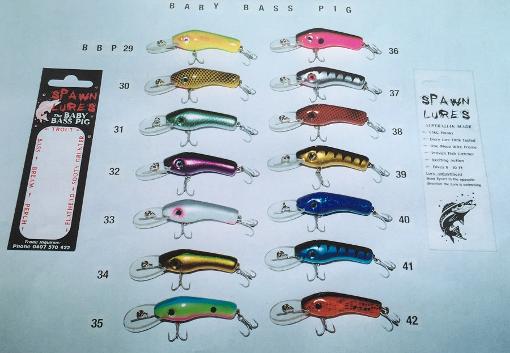 Speed King Lures - NSW:

Speed King XSP lures were similar to ABU Killer (Sweden) and Rebel (USA) moulded plastic lures. Available c.1975 in floater and sinker models and made in Australia about 1975 by Rebflex Sports Pty Ltd, 9-19 Frederick St, Rockdale, Sydney 2216. Packaging claims a full range of colours similar to many other minnow lures of the period. Rebflex was the manufacturing and importing arm of Chapmans Sport Store in Sydney. Gary Chapman (now deceased) was fairly innovative and either made or imported many tackle items and sold them under the Rebflex label.

Other models include the Speed King Jig (lead knife style), a Sea Devil Spoon Jig (resin encased mother of pearl) and a Speed King Bucktail Jig. Similar lures were available as Abu Killer copies at the time and included Daiwa and Dickson.
Sportland Lures:

Sportland imported and distributed a wide range of plastic lures that copied the popular lures in the 1970's. Similar to Daiwa and Dickson, the lures were usually made in Japan and of mediocre quality. Lure shown is similar to a Colorado spoon design.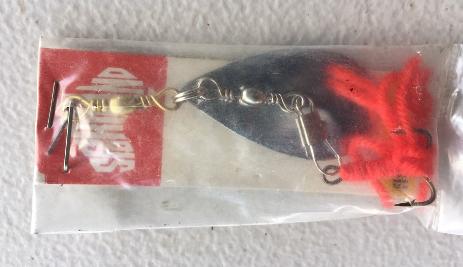 Sportsmaster Lures:

Sportsmaster released a range of fishing products including some lures. This model was released with the flaptail spinner attached and was mentioned in several early publications. c mid 1950's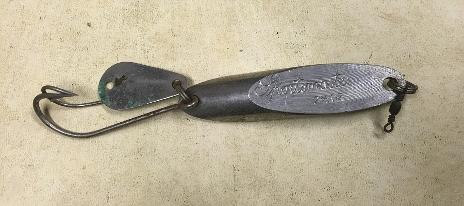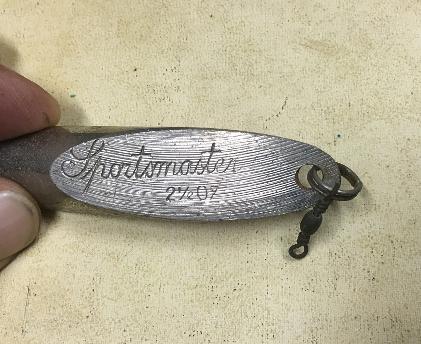 Sportsmaster Distributors - TAS:

Sportsmaster Distributors released a range of lures under the label of '365 Sure Kill' - Silver Flash lures. See Sure Kill Lures
Spradbrow, Ian Spradbrow Lures - QLD:

Another of the Cairns makers producing lures from the 1970's into the 1990's. Lures were made to fish with and were manufactured in garages and backyard sheds. Big red eye is a giveaway of a Spradbrow lure. Passed away around 2013.
Below is two unfinished blanks made of unknown timber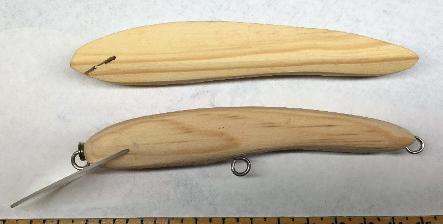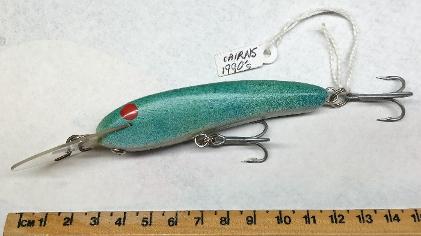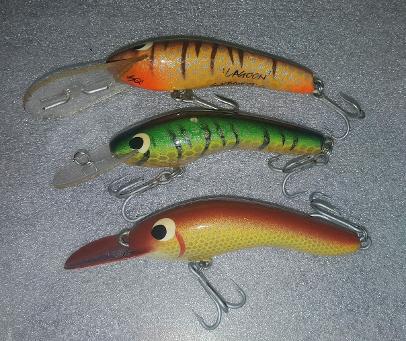 S.Q (Stream Queen Lures) - NSW:

Stream Queen lures are made by Scott Burrows. There are examples of both timber and plastic versions. The lure below is an earlier wooden version of the 'Lagoon' which is signed with both the lure name and the signature of the maker. Top two lures left are definitely S.Q lures but bottom lure not sure. To be confirmed. Uncommon and no longer made.

Stalker Lures:

Another Stalker Lures were made by Wayne Lister. Reverse of card has 'Proven Lure for . . .' and has a list of native Australian fish that includes Murray Cod, Golden Perch, Flathead, Trevally, Estuary Cod and Mangrove Jack. Fairly sure they are no longer made, bottom of card has a mobile contact number. Below is shown a couple of early models;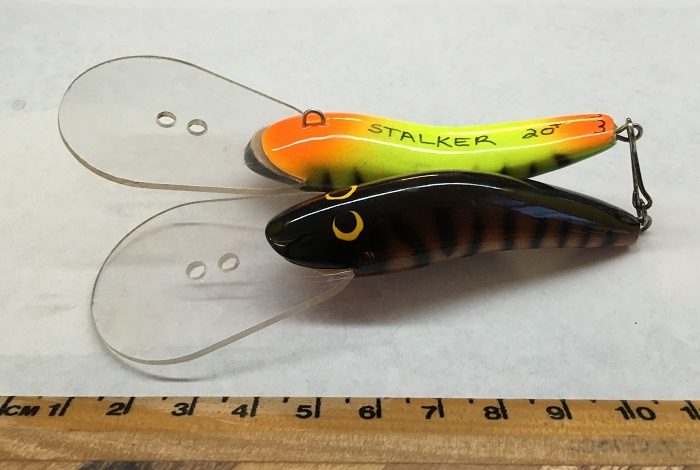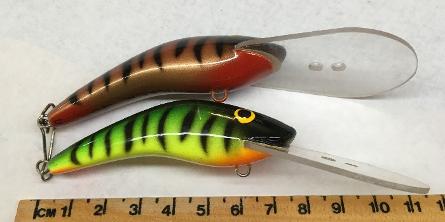 Stalker Lures - NSW:

Stalker Lures are made by John Langley from Kyogle who makes a wide range of different styles of timber lures.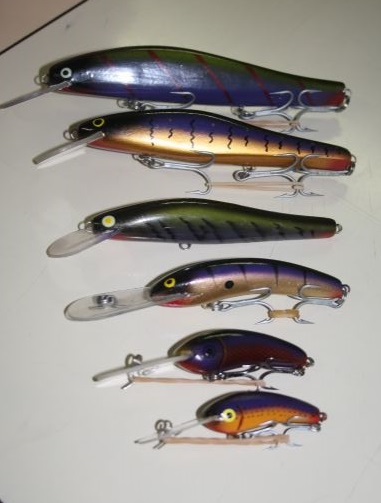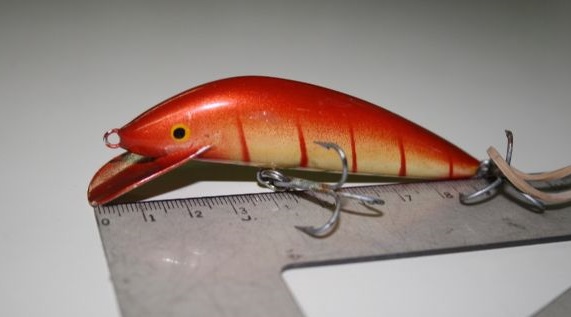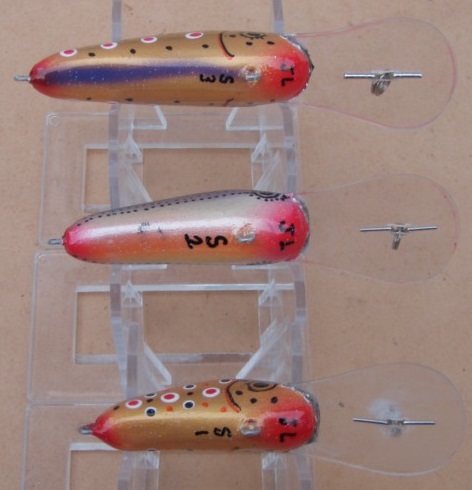 STDZ Lures - NSW:

Mark 'Steady' Stead started making lures approximately 5 years ago in 2012 and has quickly come up with a fine product. He is based in Rankin Park, Newcastle. The following correspondence from April 2014 outlines the STDZ Lures history.
'I have be making lures for some 18 months (since 2012), at the insistence of that funny fellow from Jerseyville called Ted Sartori from Esoteric Lures. I have been active fisherman all my life, gravitating to lure fishing just about exclusively since my ANSA days, some 25 years ago. Targeting mainly Bass , Lizards and Bream, occasionally the native freshwater fishes but, not Brown, Brook or Rainbow Carp.
In the lure making methodology I have been taught by Ted and adopt mainly his techniques with a little influence from Bob Schofield of 'Bob' Lures. I am still very much on a learning curve but am progressing. My intent is to be of such quality that fellow lure makers are comfortable and willing to swap lures.

Very Best Regards,
Marc Stead.'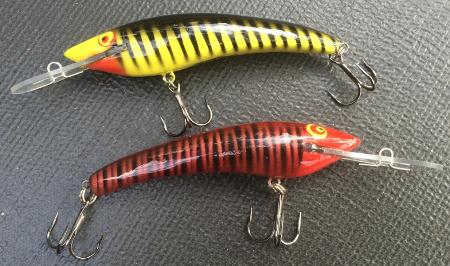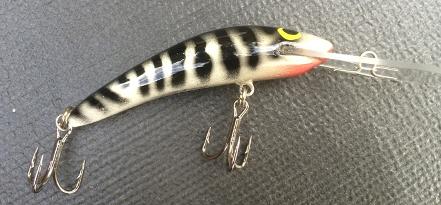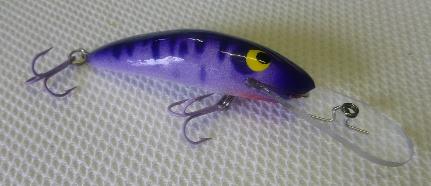 Lure Hub OZ met up with Mark in July, 2018 to have a look at some of the more recent STDZ lures.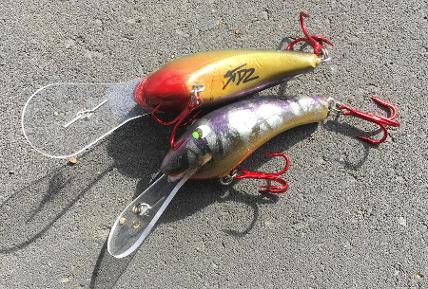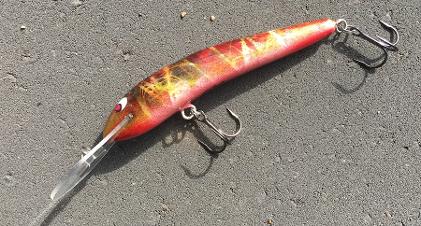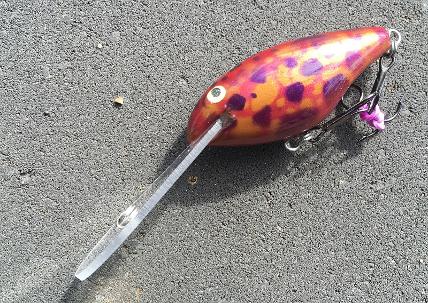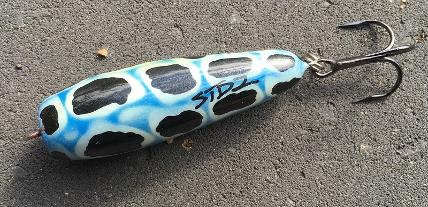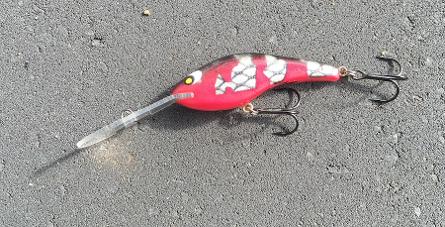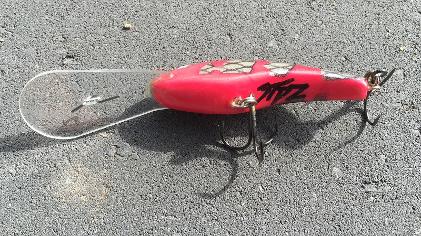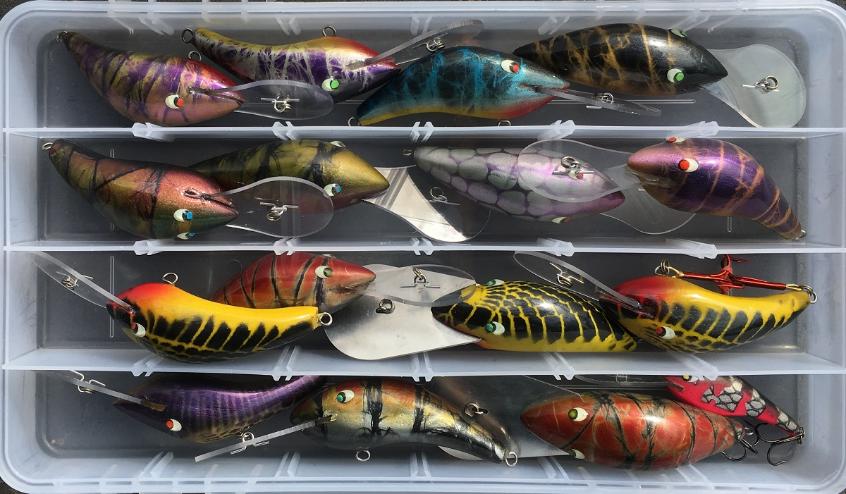 Stealth Lures - NSW:

Stealth Lures were made by Neil Schultz from Coominya and are rarely seen. Hand carved and produced in 'country Queensland' from select timbers.
Model shown right and below is a surface lure called the 'Movember' released 2011.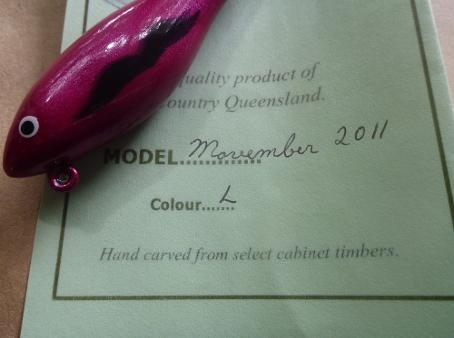 Photos show presentation card and lure, the B1 Model in colour Sunrise.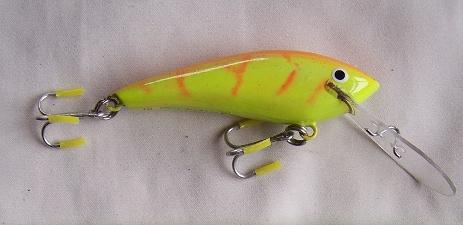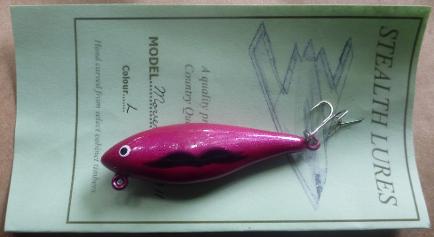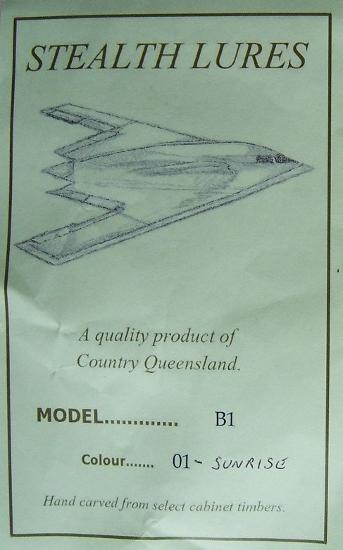 Stedman Stunners Lures - QLD:
Made by Barbara Stedman who is originally from Tamworth but now lives in Mackay but also spent time around Brisbane. Lures are not normally signed but have been made for many years since the early 1990's. One of the early model names was the 'Black Night Stalker'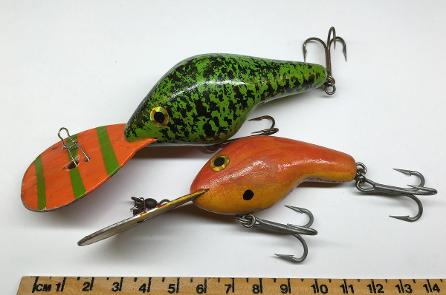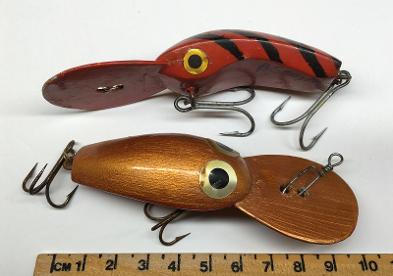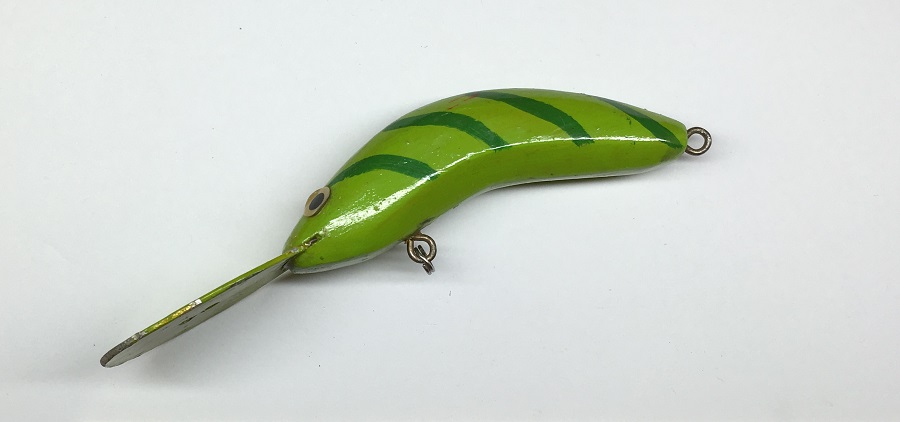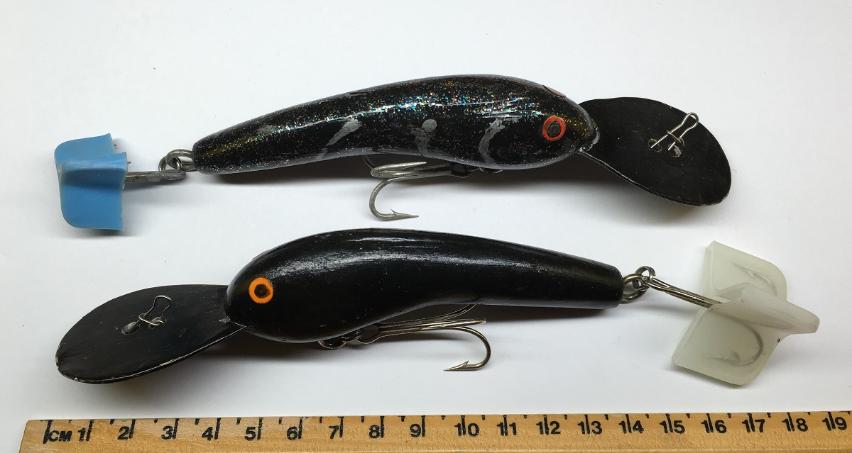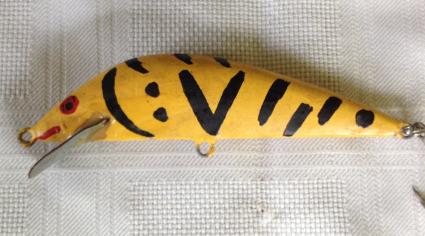 Steele, Darryl Steele Lures - QLD:
Darryl was from Brisbane and made a small amount of lures for personal use. A definite Moller influence with the hand painted finish and minnow style in this earlier lure left.
Stewart's Fishing Tackle, R.W Stewart Lures - VIC:
R.W Stewart made the plastic 'Magnet' Devon spinner and is one of the early pioneers of commercial lure production in this country. See full page bio under Stewart's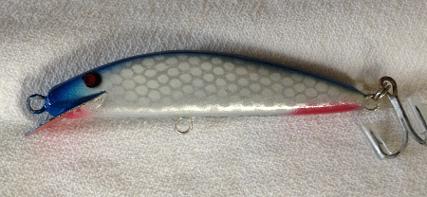 Sticko Lures - QLD:
Cottage maker Dave 'Old School' Sticklen made timber lures and was based in Bundaberg, Queensland. Unknown vintage.
Stien, Ken Stien Lures - QLD:
There is reference to a lure maker called Ken Stein on the Lure Lovers forum in a 2013 post that was posted by Barry Cross with some examples of Kens's varied style which included Moller style minnows and scorpion shaped lures. Another of the cottage makers from Queensland.
Ken kindly contacted Lure Hub OZ in September 2017 and provided the following information and photos. The lure shown right is identified as an older model by Ken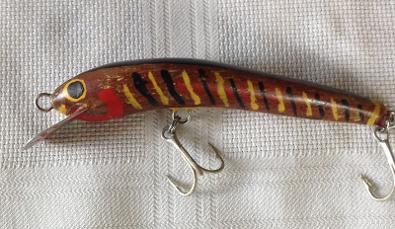 Lures right are Stien Specials shallow versions - note most lures will be signed near the tail.
Lures left are some 'Scorpion' shaped models that were made more recently.
. . . "they have all caught fish. The later ones have been very successful on the estuary fish north of Cooktown where I go at least once a year since 1988." Ken Stien
Stien Specials 3 inch (left)
Stien Specials 4 inch (below)
Stien Special deep diving model shown left
Lures below are made from red cedar and called Stien 'Fishing Furniture'

Stimpson, Ian Stimpson Lures - QLD:
Ian Stimpson made Wild Thing Lures. The photo right shows a lure that is the exact shape as an earlier Wild Thing Lure. See Wild Thing Lures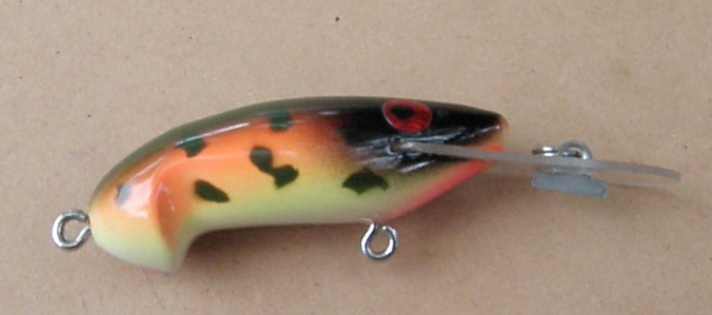 Sting Lures - TAS:
Sting Lures have been made since the mid 1990's by Tony Morecroft who manufactures a large range of 'cobra' style trout lures. Sting Lures are still available in 2020.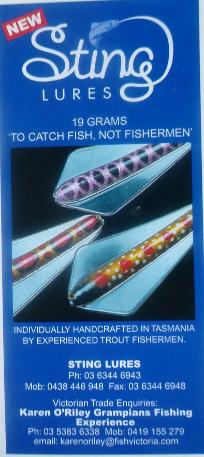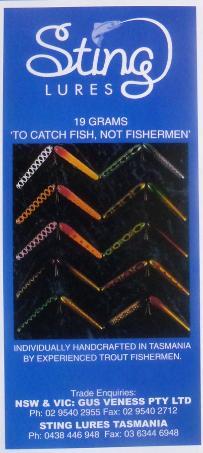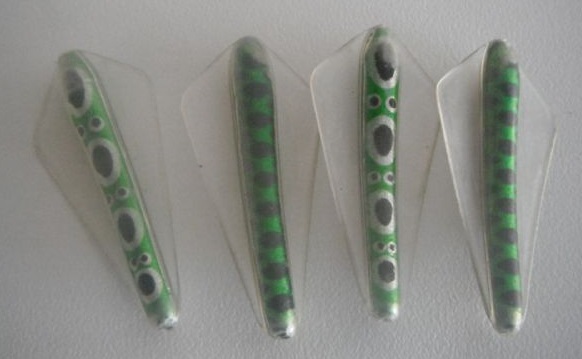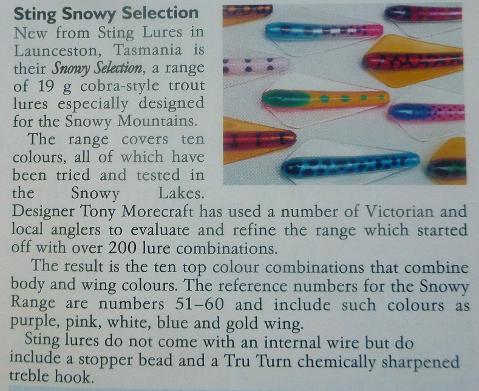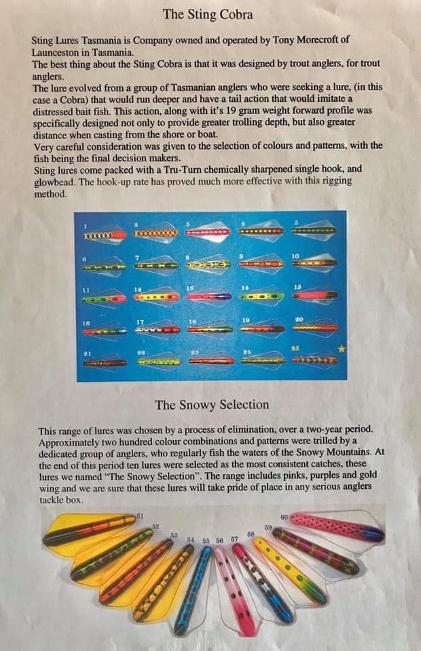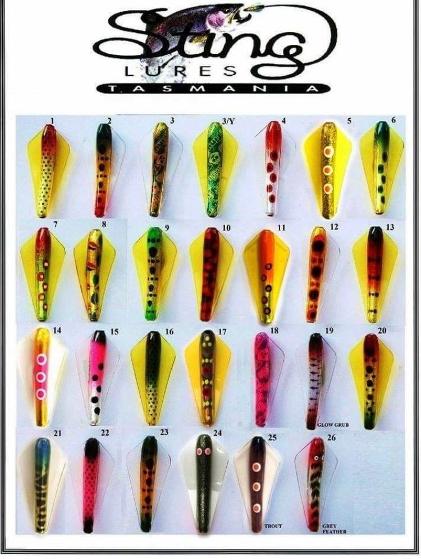 Sting Lures Snowy selection advertising material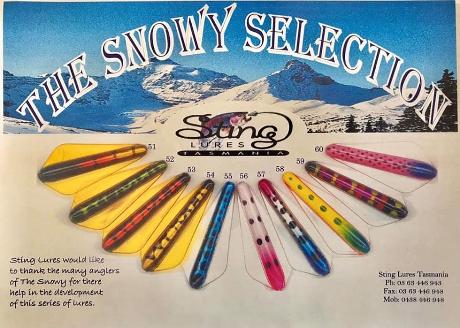 Stingray Lures - QLD:
Ollie Hardt makes a mean lure and is one of the most inventive lure makers in Australia at the moment. Characterised by hand made stick on eyes, all Stingray lures are hand made from timber and with a very original shape. They are also known as Ollies Stingrays and will be signed on the belly. The earliest lures were made in 1996 and were then known as Ollies Lures. See full page bio under Stingray
Stix Customs - N.T
Simon Xeurub is the maker of Stix custom lures and is based in the Northern Territory. Simon creates a wide range of timber lures especially for tournament barramundi and bass bass anglers. Stix also releases different types of lures as collector pieces utilising exotic materials that are both native to Australia but also select showcase international timbers.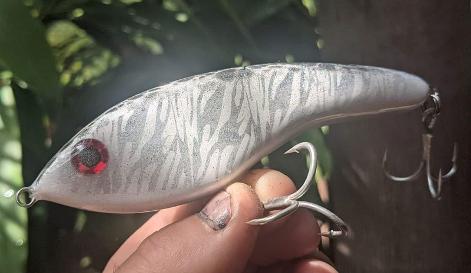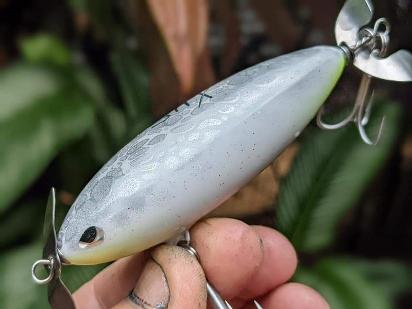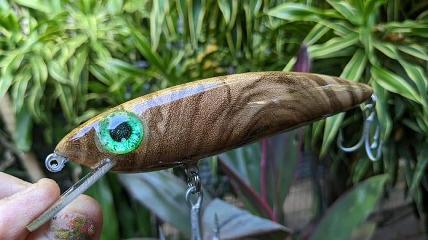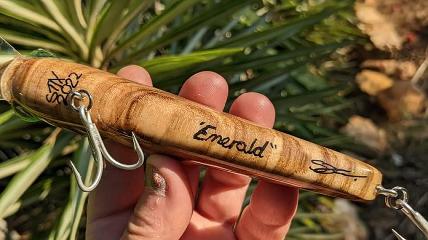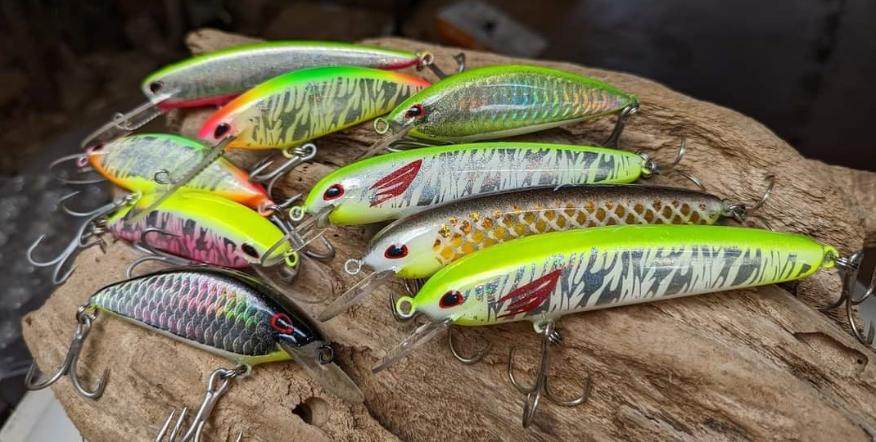 Stockwell, Peter Stockwell Lures:
Peter Stockwell Lures are another timber lure from a hobbyist maker who made lures for personal use. Interesting eyes on the lure shown right. Little information at present . .