Lure Manufacturers Australia C

If you know of an Australian lure maker no matter how young or old that we have not mentioned in the following list feel free to contact us to have the details added or updated.
*Cover banner photo is a Champion Brand Lure 'Thommos Charger', QLD
C Lures - Carl Grist -QLD:
'C' Lures were made and developed by Carl Grist in the early 1980's. Carl's influences are the early QLD school of lure makers including Eric Moller and that classic Queensland style of minnow that attracts those northern salty pelagics and native river fish.
See full page bio in C Lures - Carl Grist section
CAM Lures - QLD:
Chris Mc Bride released some beautiful little sets in 2015 and markets under the name of CAM Lures. Looking forward to where this maker ends up with future creations. Some colour patterns reminiscent of old Nilsmaster Lures. Quality finish and there is also a range of minnow styles. Lures shown here are #2 and #4 Sooty Packs.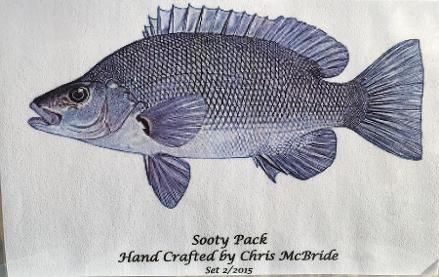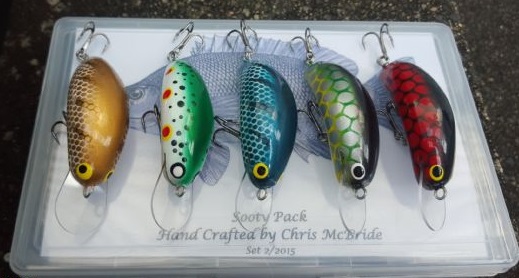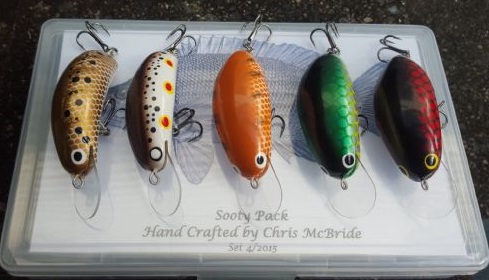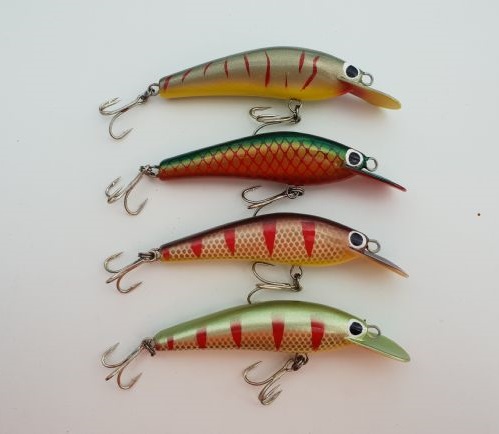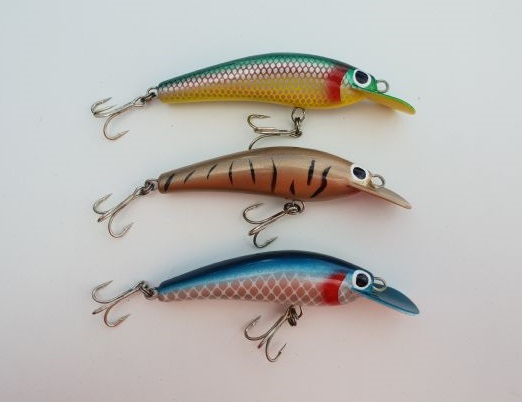 Some sets of CAM Lures that were sold on the Lure Lovers forum several years ago. Chris Mc Bride sure knows how to make a lure and use an airbrush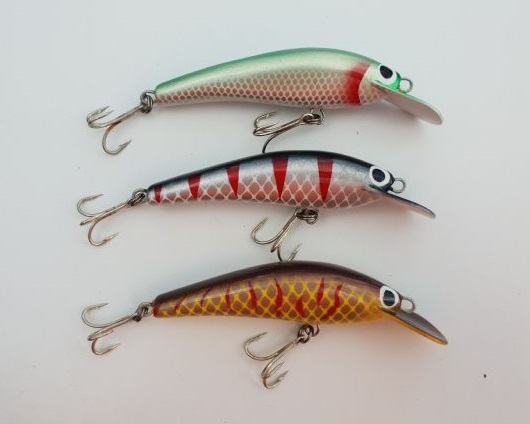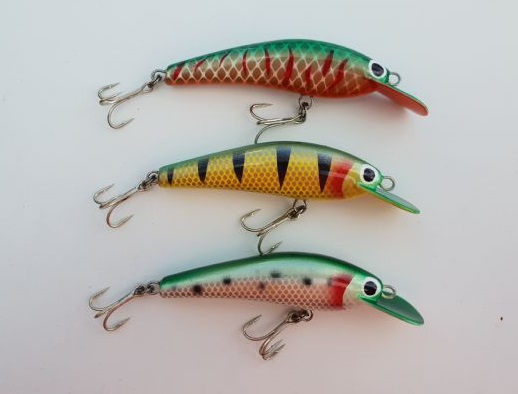 Caino Lures - QLD:

Caino are individually hand tested timber lures that are made by Brett Cain in Dalby, QLD. He has released the 50, 60 and 80mm 'Native Wrangler' and the Surface Paddler which are available in 2016.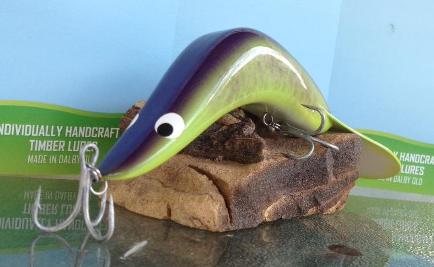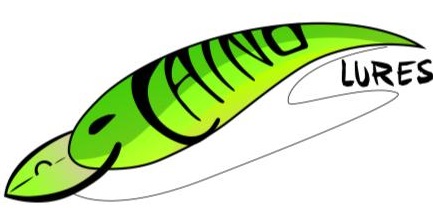 Campbell, Brett Campbell Lures - Tenterfield, NSW:
Brett Campbell started making lures in the mid to late 1980's admiring the work of fellow Tenterfield lure maker Peter Newell who made the legendary 'Kadaitcha' lure. His first lures were primitive and used screw-in hangers and aerosol can finish. The early flatfish/Kadaitcha style lures soon evolved into the distinctive Brett Campbell style with the Goodooga 12 finishing Brett's 'handmade era' and his lures becoming noticeably more streamlined. By 1991/92 Brett had moved forward and accepted a lure designing job with Berkeley in USA. There are a number of specialist Brett Campbell collectors and his original designs are highly valued. In 2011, Brett released a 25 year anniversary as a boxed set. Brett retired from lure making in 2014 and is one of the most inventive of the Australian lure makers who had a great eye for shapes and ideas that are recognized worldwide. See full page in Brett Campbell Lures section.
Candles Gliders Lures - TAS:

Candles Gliders were the legendary lures made by Kevin 'Candles' Tompkinson. A cottage industry maker his lures are uncommon as he often used Cadbury chocolate paper wrapping on his lures.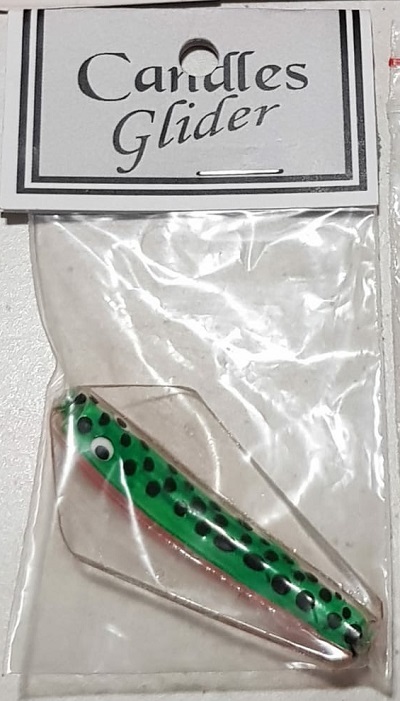 Shown right is two examples of the Candles 'Wonder Glider' with the green chocolate wrapper as foil underbody. The reason this material was used probably evolves from the fact that the Cadbury factory was located locally in Tasmania for many years and the foil wrapping was readily available.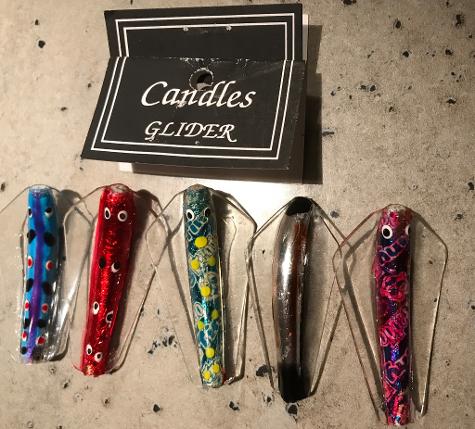 Below is the original colour codes for Candles 'Wonder Glide' which lists 26 colours in the standard range but there were many custom colours and variations.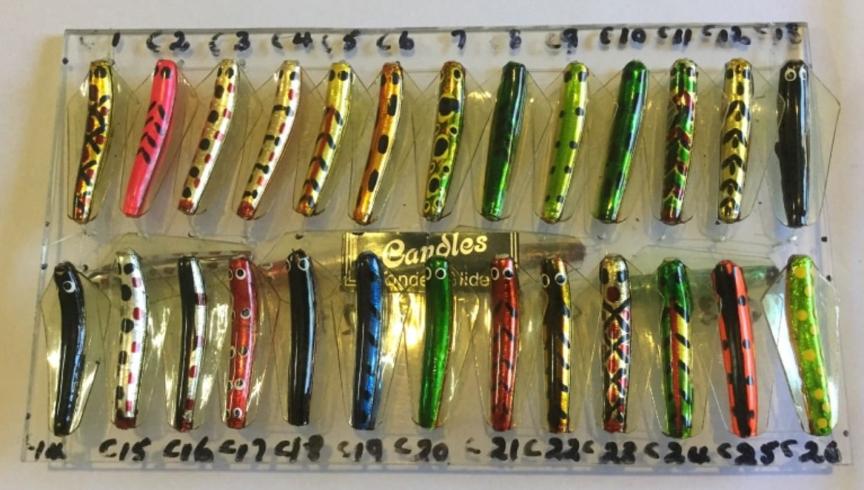 Cania Bug - QLD :

A lure made in Monto, Queensland by Greg Mundt and named the 'Cania Bug'. Timber with metal bibs.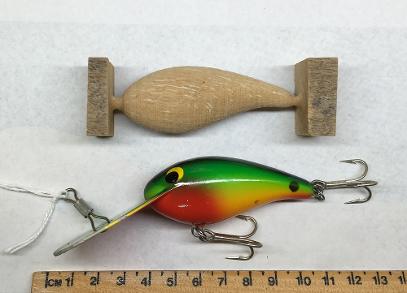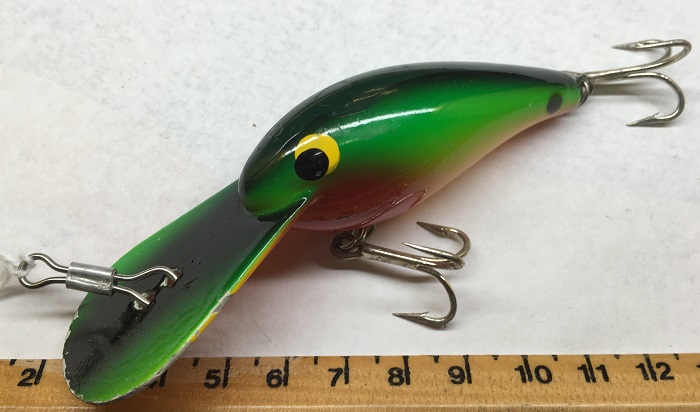 Cannells, Bobby Cannells Lures - TAS:

Another of the resourceful cottage industry makers in Tasmania. Bobby Cannells hand pressed his little creations and decorated with hand painting and red eyes. Three examples are shown left and they are quite distinctive and will have the characteristic red eyes.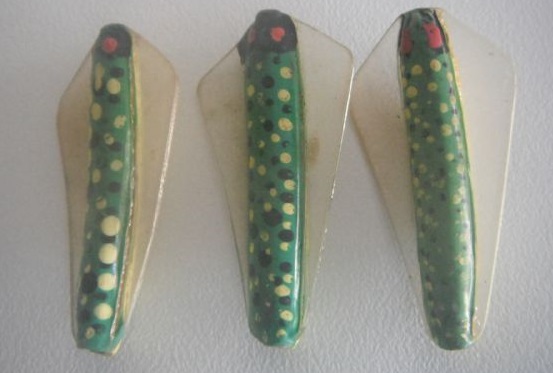 Capner, Alfred Ron Capner Lures - NSW:

Ron Capner was born in 1923 and passed away in 2012. He spent his childhood in Nerang , QLD. In December 1947 Ron married at Tweed Heads where he commenced to raise his six children. During this period he worked for a bus company (Blue and Red Bus Co.) as a bus driver and he worked in a sawmill (Standard Sawmill Murwillumbah) and also mowing lawns. Having an urge to return to the farm life he enjoyed as a child he purchased a farm at Pumpenbil in 1964, there he worked long hard hours and transformed this property into a model dairy farm. Ron had a passion for wood turning and enjoyed making wooden hand reels for fishing, wooden bowls but also some fishing lures. The spinner pictured right is a Ron Capner cod spinner - completely hand made.
Ron was a family man who enjoyed working with his hands. He spent many hours in his shed making an amazing variety of wooden items from furniture to turned wooden bowls. His fertile garden continually produced an abundant variety of fruit and vegetables which he generously gave away to friends and relations.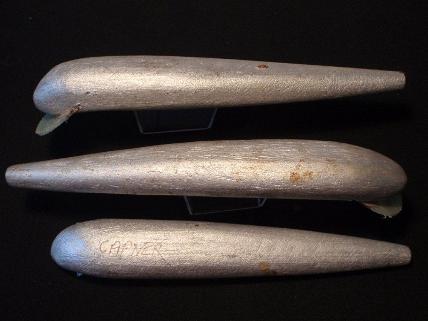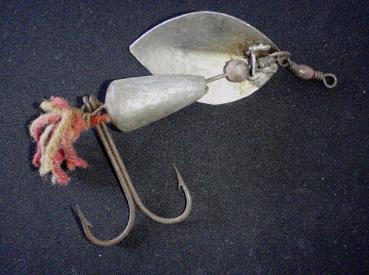 Captains Lures - QLD:

Captains Lures are made by Kirk Binnington in Cairns, Queensland.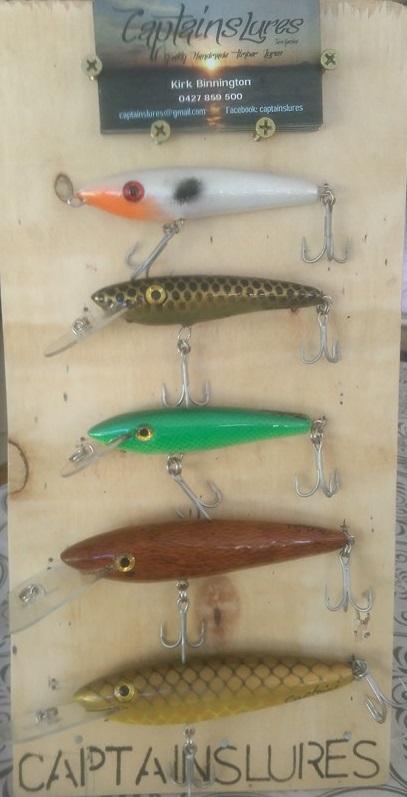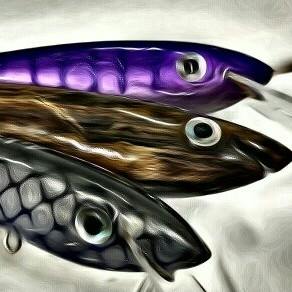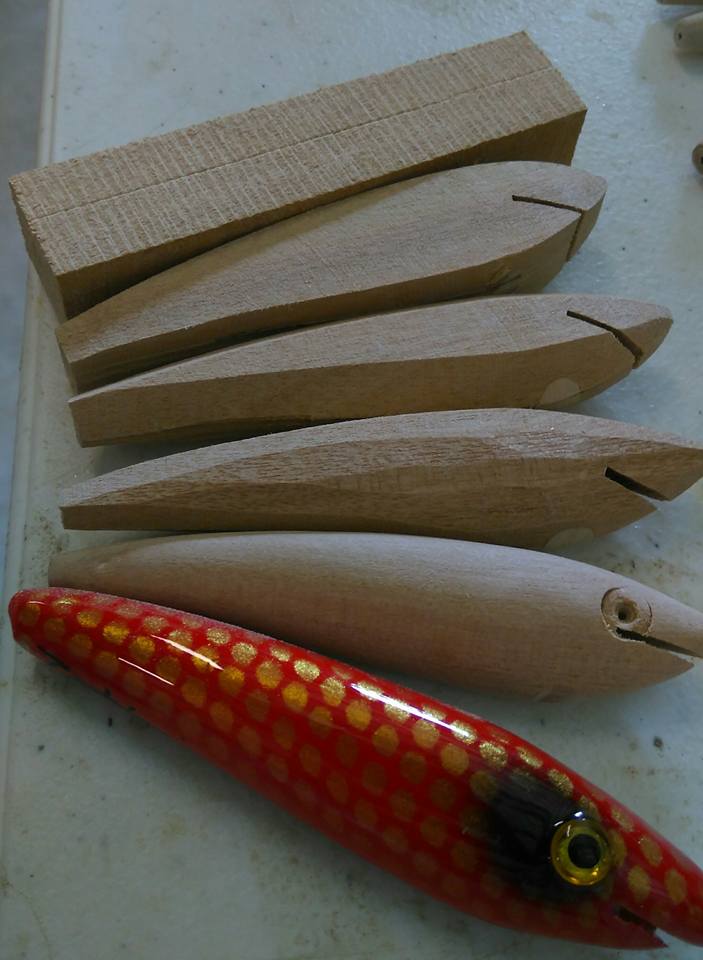 Castaway Lures:

Castaway Lures is an obscure copy of the Deception or Whitmore style of lures.
They were a range of lures that were moulded by Strike Zone. Card below shows the large version of the 'Illusion' which dived to 15 ft. Earlier card is shown left and had a palm tree on the backing card.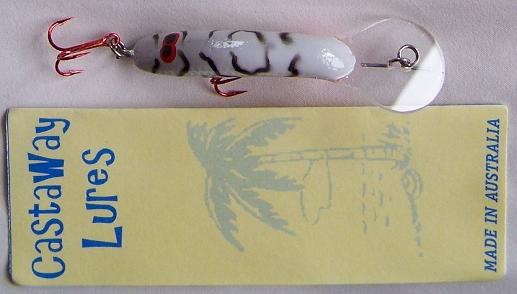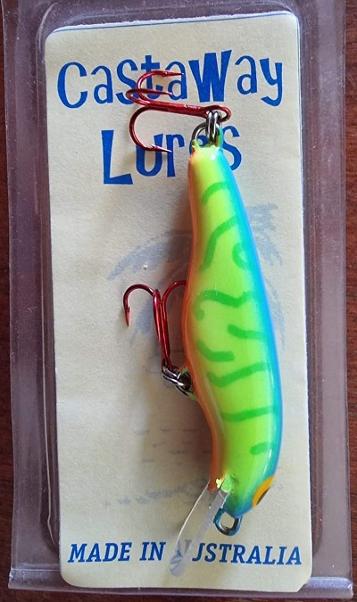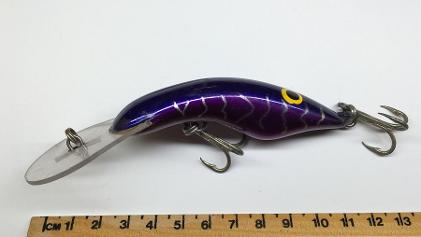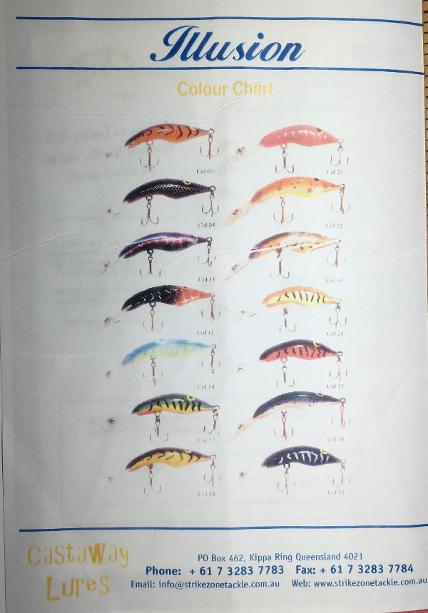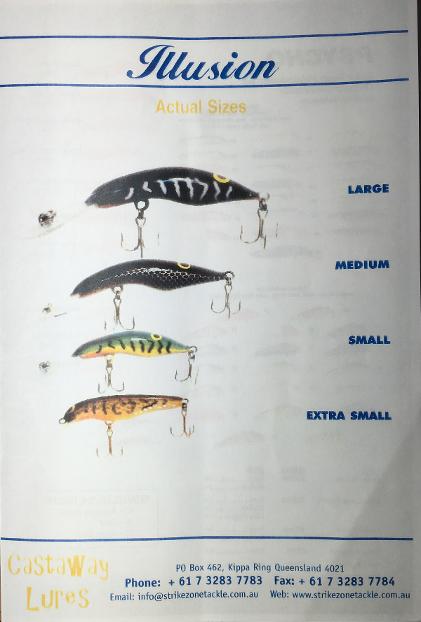 Catchem Lures - QLD:
Catchem Lures were made in northern Queensland but little information other than what is shown on the carded lures opposite. Model below is called the 'Gotcha' and came in shallow and deep diving model - the same body size. Unknown vintage but no longer made and rarely seen.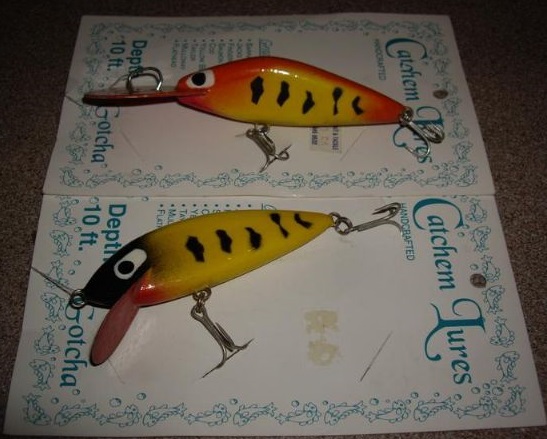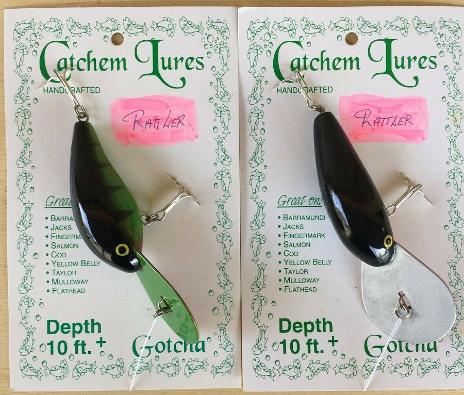 Catchem Lures 'Rattler' on Gotcha cards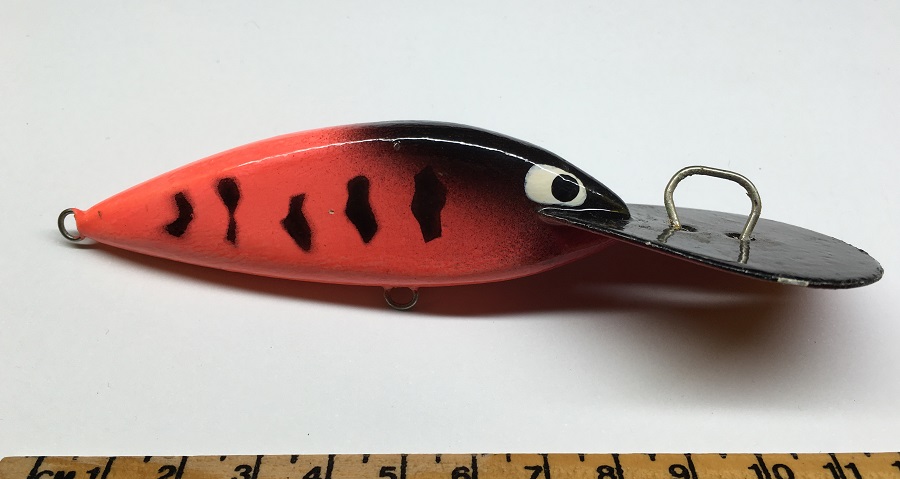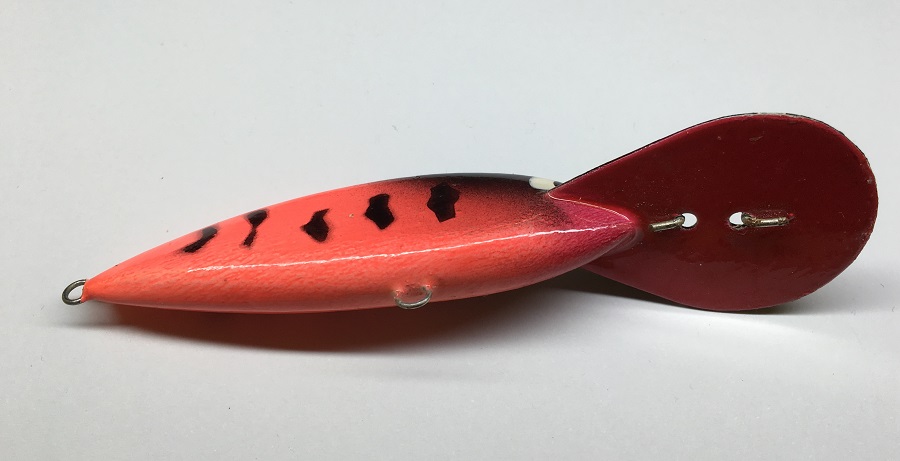 Catchmore Spinner - NSW:
The 'Catchmore spinner' was available in the late 1940's - 1950's. A 1949 advertisement from Outdoors and Fishing magazine explains 'the Catchmore spinner has the advantage of being free from wobble in flight and a most convincing action on retrieve'.


The 'Catchmore spinner' was also available in a different version that was made by Qualtac Company in Sydney.
They were available in 2 weights (2.5 and 3oz) and colour is described as 'natural scale finish, tinted with gold, red and silver'. They were manufactured by C.A Baigent, Morden St, North Sydney. The advertisement is from 1950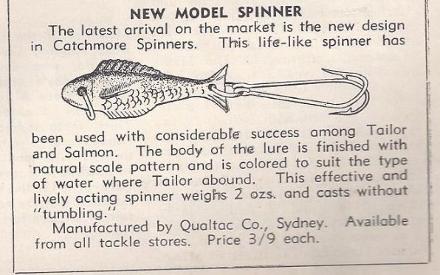 Caveman Club Lures - QLD:
Another cottage lure maker that has recently started making and selling lures from Kilcoy, near Lake Somerset, QLD.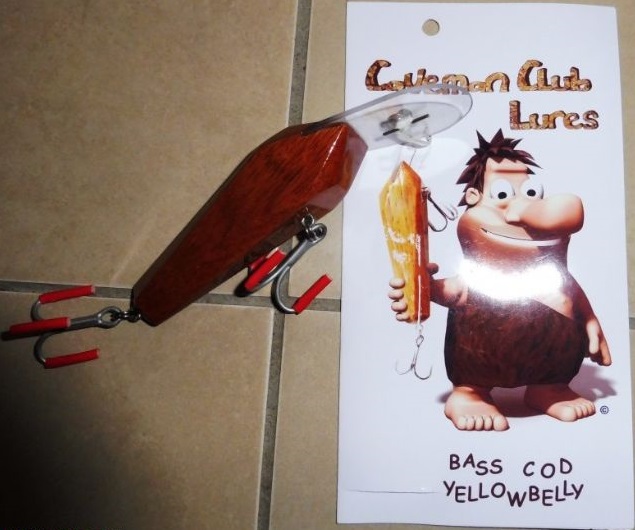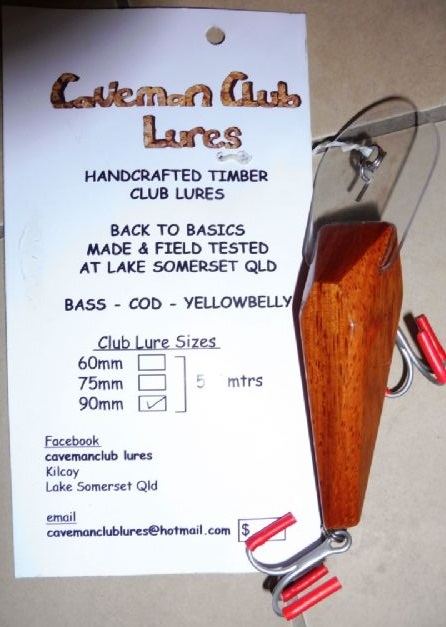 Cayle, Gary Cayle Lures - QLD:
Another of the hobbyist makers from Queensland - Gary 'Jerry' Cayle is from the northern beaches of Townsville who shaped timber lures in small numbers. Simple sprayed paint finishes and cupped meatl bib.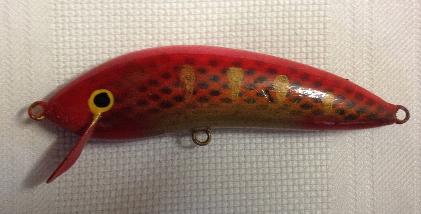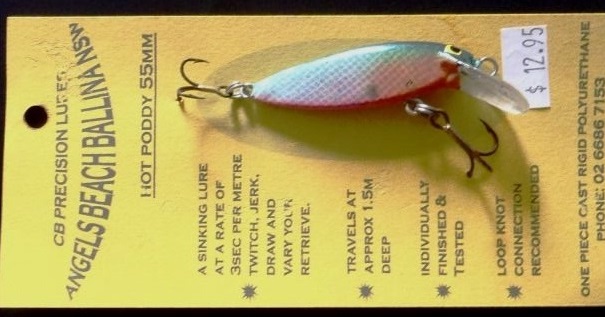 CB Precision Lures - NSW:
CB Precision lures are a one piece cast polyurathane lure that were made in Angels Beach, Ballina, New South Wales. Little known about maker or history of CB Precison Lures other the information on the card shown left for the Hot Poddy at 55mm.
Cedar Lures - QLD:
Cedar Lures were made by Eddie Watson from Ipswich, a good mate of Ian 'Fysshe' Salmon from Fysshe Lures who were both members of the Ipswich Sportsfishing Club. Cedar lures look a bit like some Fysshe Lures and are shown below. Look for heavy gauge wire for the front tow point on the diving models. Eyes will normally be red on white. There are various models from smaller diving lures suitable for bass to large minnow style lures suitable for large pelagic fish.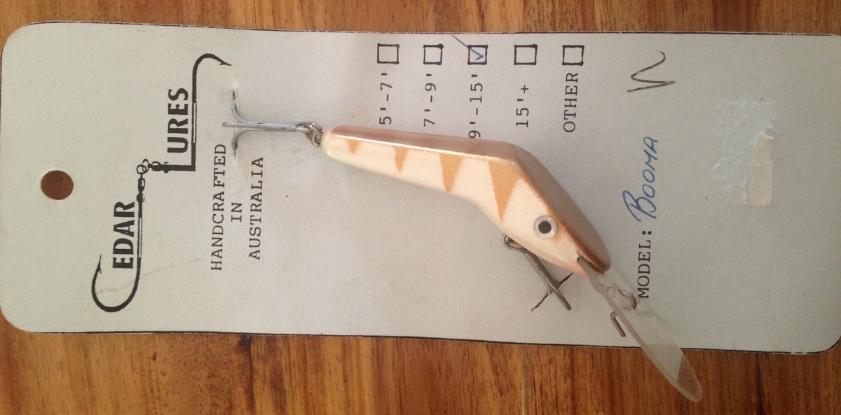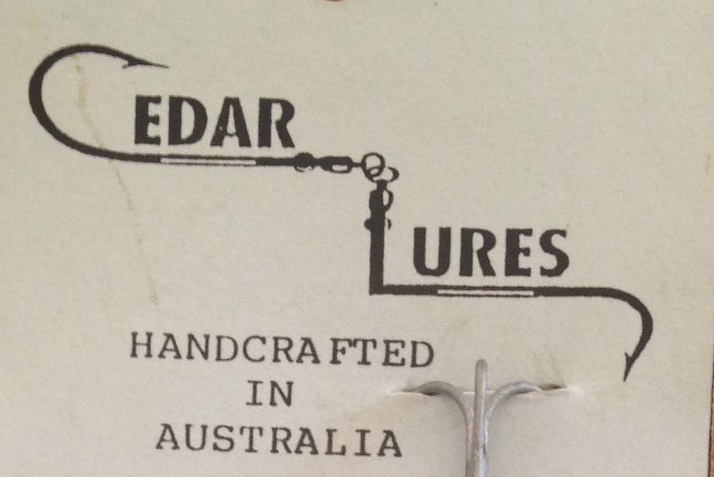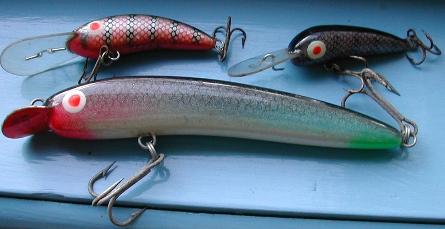 Cedar Lures are rarely found on the card and are uncommon.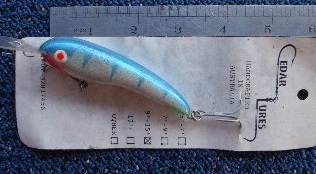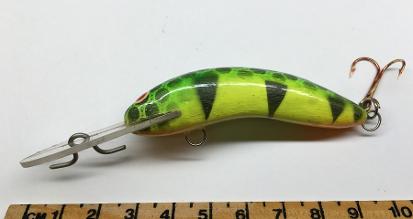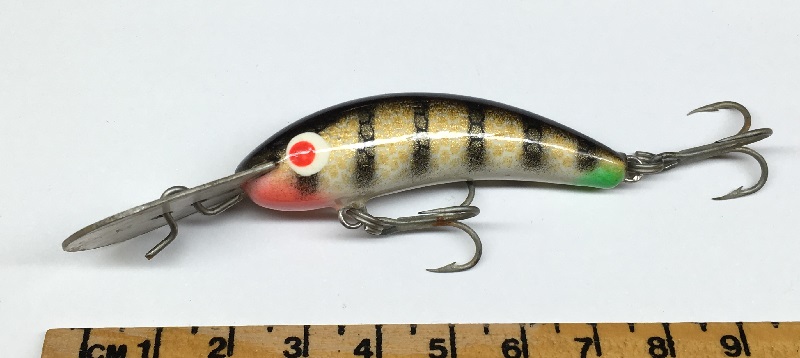 Chambers, John Chambers Lures - NSW:
John Chambers was based at Stockton near Newcastle, NSW and made some fine timber lures in the style of minnow shaped lures and baitfish. High quality finish and construction - John really is a great lure maker and his lures are often hard to identify. Gary Akers of A.K Lures knows John well.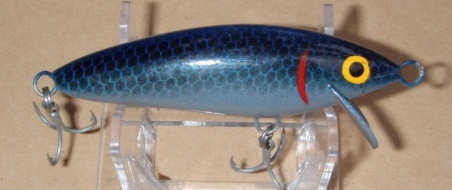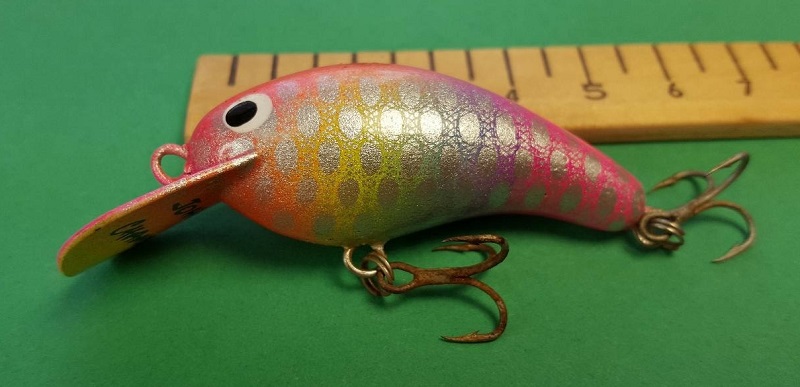 Champion Brand Lures - QLD:
These lures were produced from 1988 onwards by Greg And Lynne Thompson in Queensland. Greg was Jeff Thompson's (Australian test fast bowler) brother. Nice lure made of moulded plastic which were good for Barra and Macks and called the 'Horsebreaker'.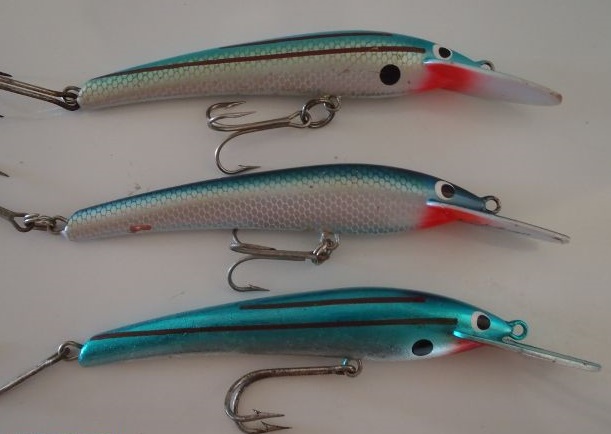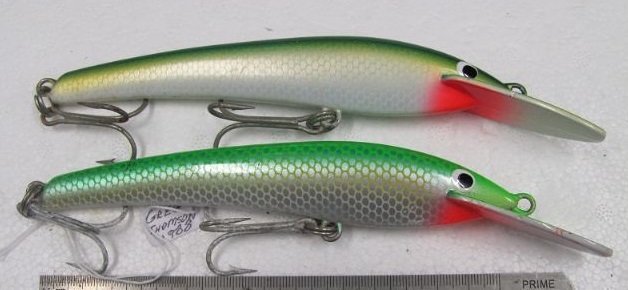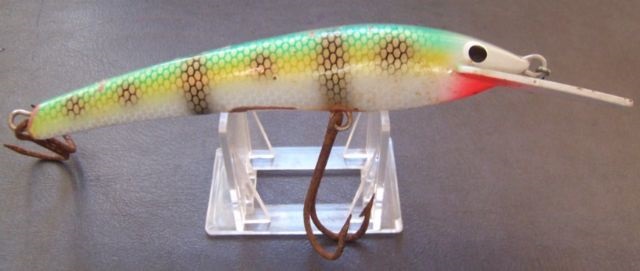 The lure opposite is a rarer carded 'Thommo's Champion Lures'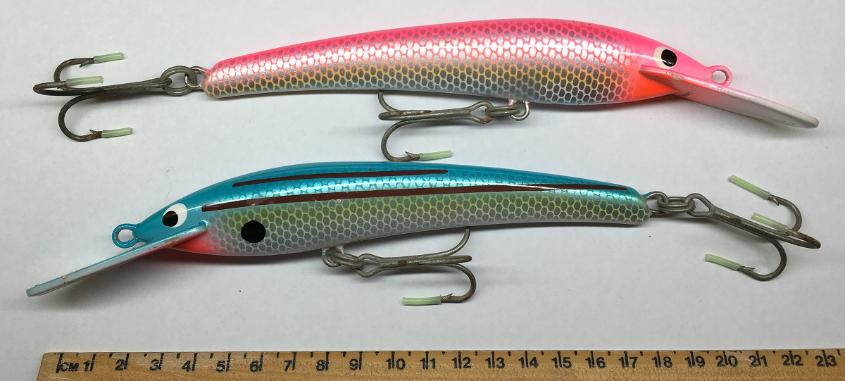 Some lures are found fitted with doubles and trebles with heavy duty split rings. Lure below shows an unused example of a 'Horsebreaker' which is fitted with heavy duty doubles. Unsure whether they were originally released with doubles or maybe both options were available.

Chamos Lures - South Australia:

Quality timber lures made by Luke Chamings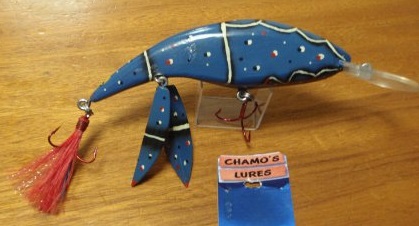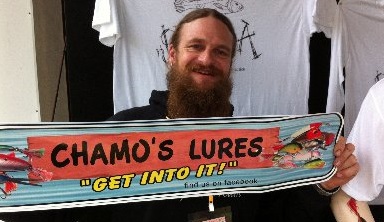 Chan, Andy Chan Lures - QLD:

Hobbyist maker shaping lures for personal use, Andy Chan was making lures in the 1970's.
Chilli Lures - NSW :

Timber lures that are made by Chris Bird. Two piece construction from balsa wood with sides made on a router and then glued together. Hobbyist maker from Terrey Hills on Sydney's northern beaches.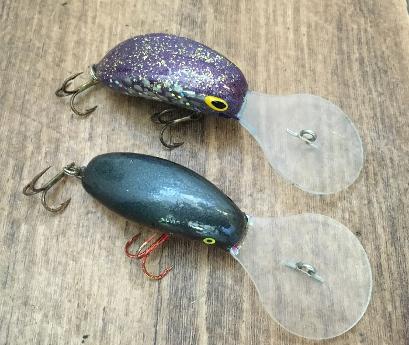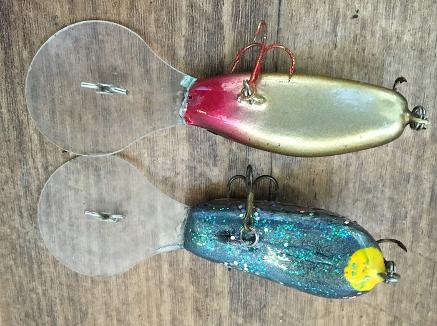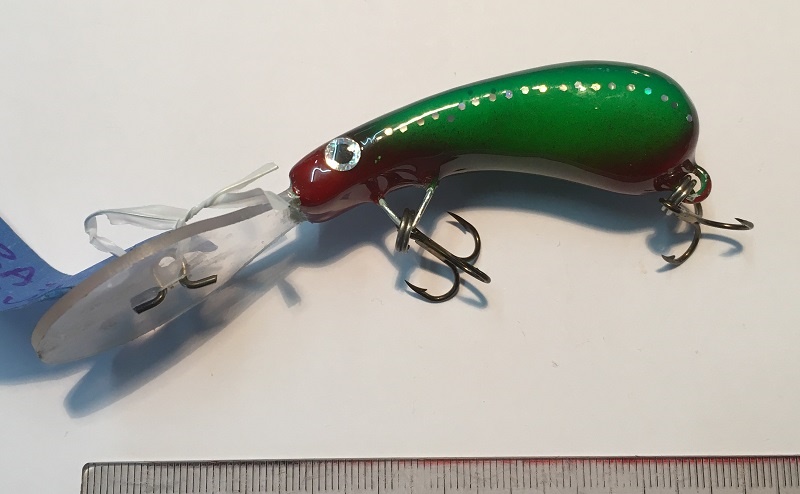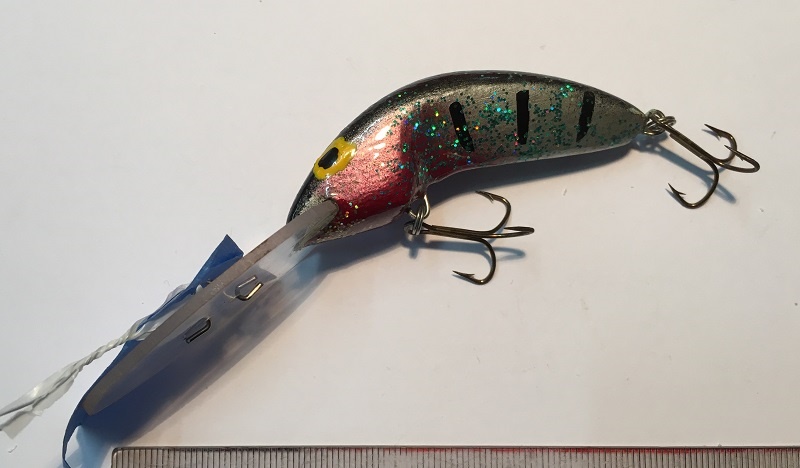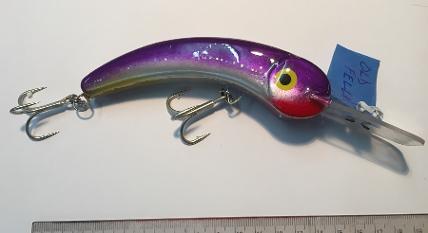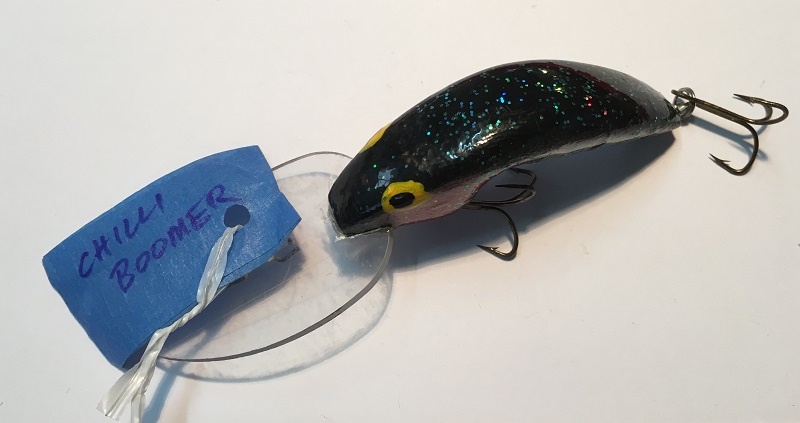 Chilton Tackle Co. - QLD:

Quality made timber lures made by Blair Chilton in Queensland. Super crazy paint patterns on these lures that are made to target native fish. The Chilton Tackle Company is a family run operation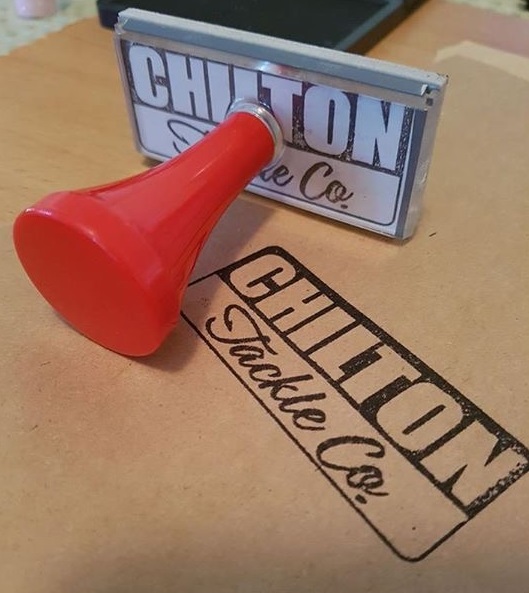 Chilton Tackle made a splash at the 2017 Lure Expo with a range of high quality products. This was the first larger scale production that Blair and family have taken on and some of the product range is displayed below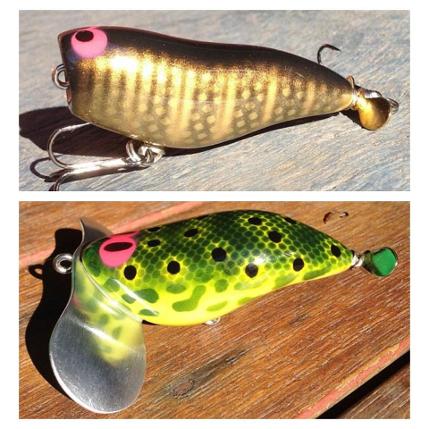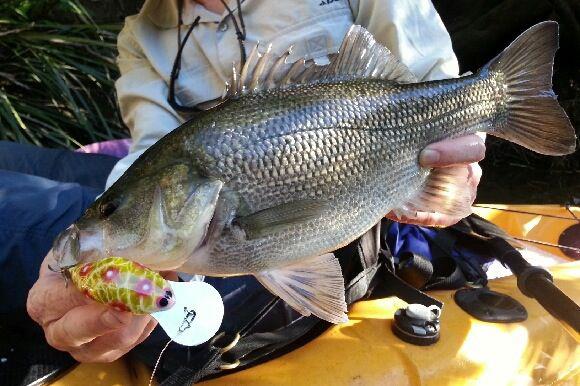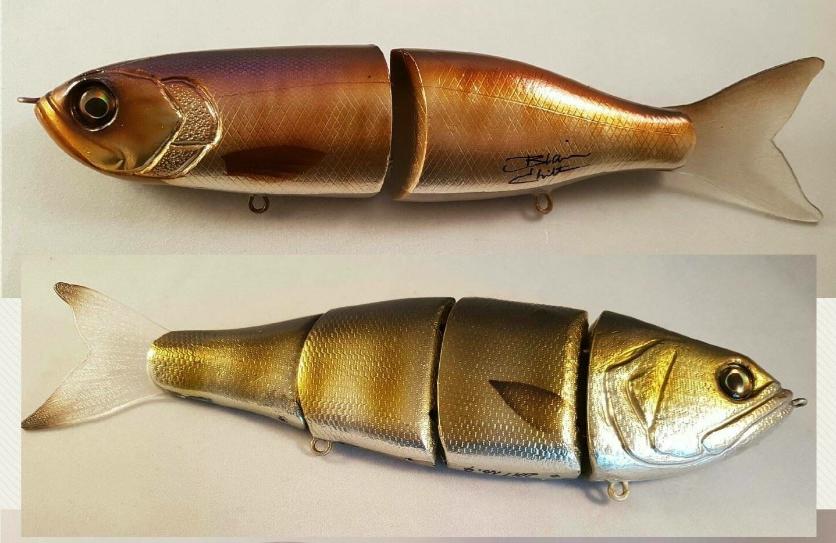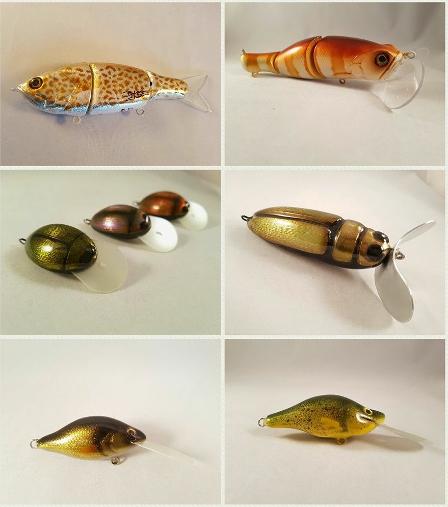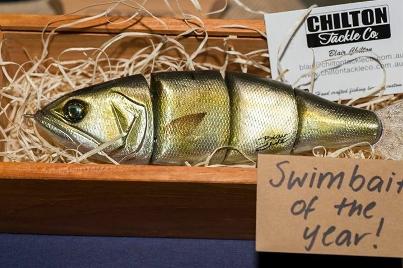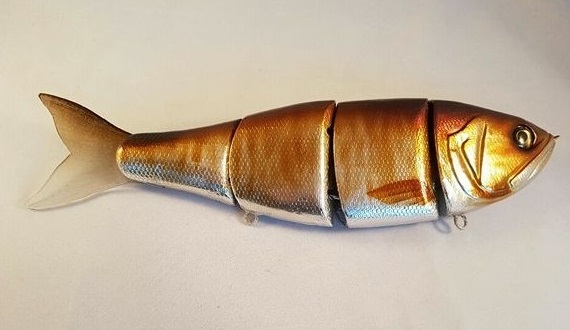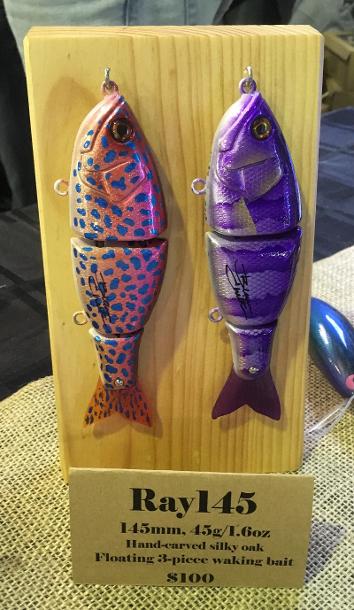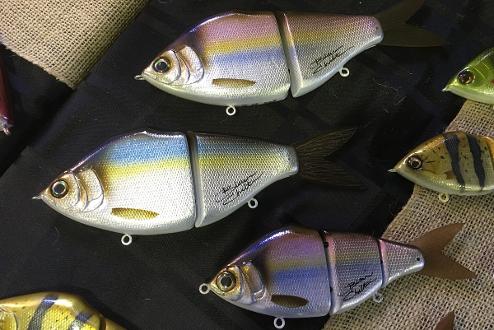 Chilton Tackle creations from 2018 Lure Expo. Photos hardly do these justice but quality and finish is exceptionally high.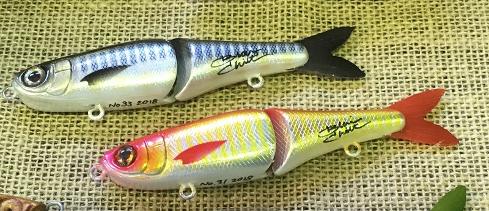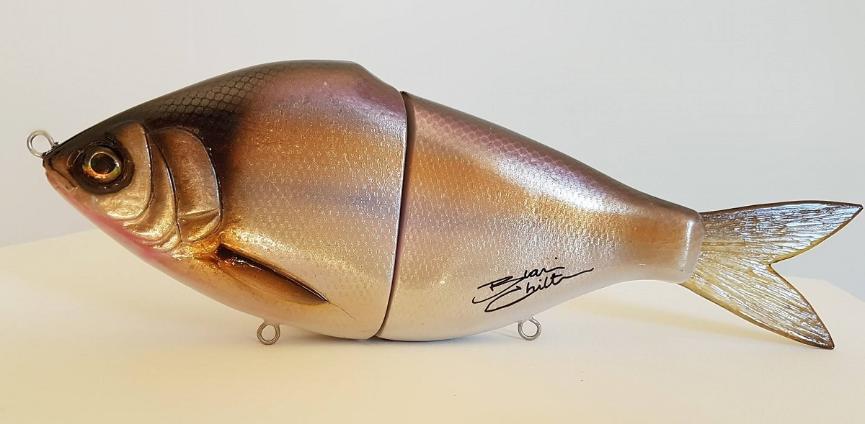 Chopsy Lures - QLD:

Quality made timber lures made by Grant and Bray Anderson (makers are brothers) of Ipswich. Both very talented luremakers who quit making lures around 2008. Interesting shapes for targeting Murray Cod and includes the surface paddler 'The Prince'.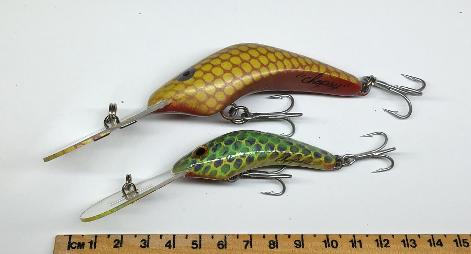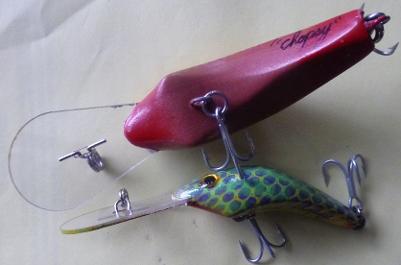 Christmas Lures - VIC:

Near indestructible timber lures made by Dave Penfold from Yarrawonga, Victoria. These lures are big and are made from cedar that is then soaked in bondcrete overnight and then painted. Made since 2012/3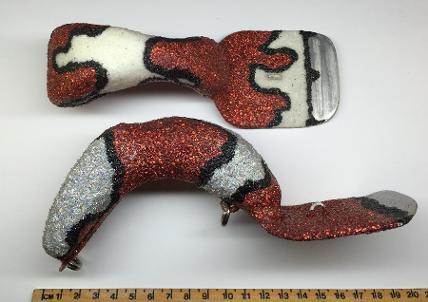 CJS Lures:

This lure was listed on Ebay in 2016 and is marked CJS and BRB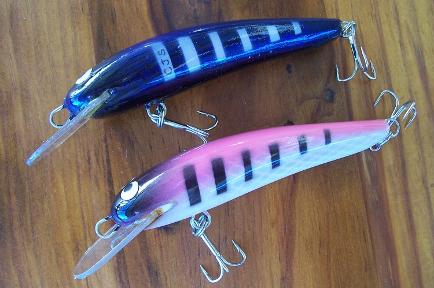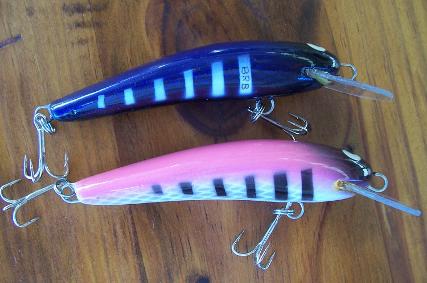 Clark Lures - TAS:

John Clarke has been making lures for many years in the old style of winged cobras which still catch trout in large numbers in Tasmania. Based in New Norfolk on the banks of the Derwent River, Clark lures are still available in a large range of colour combinations.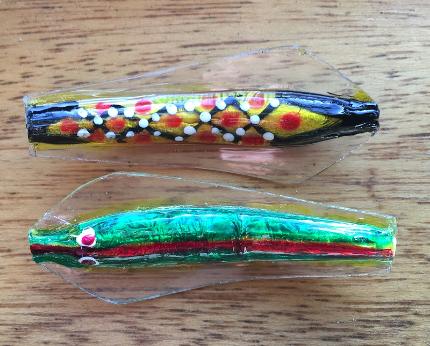 Clarke, Kevin Clarke Lures - NSW:

Kevin Clarke is one of the founding partners of the Downunder 'Boomerang' team that successfully became one of the most successful and popular lures in Australian history. Kevin's lures are still being made today in small numbers and they still have that classic style. See KC Lures.
Classic Lures - NSW:

The Classic range of lures are made by Rob Gaden - see full page bio and history Rob Gaden Lures / RMG Lures
Clints Customs - NSW:

Clint's Customs are a high quality range of timber lures that were released in 2018 - more to come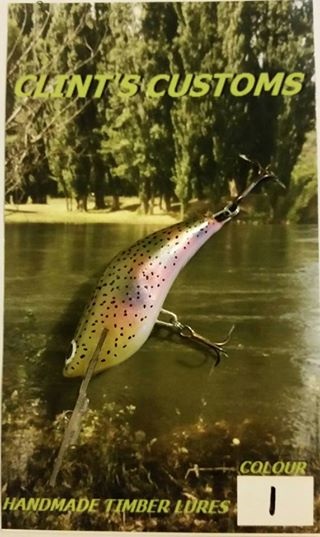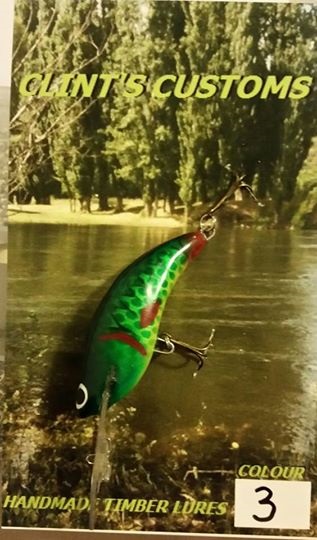 Clyde River Lures - NSW:
Quality made timber lures made by a gentleman who lived at Toubourie and moved up to Port Macquarie and sold them at Milton markets.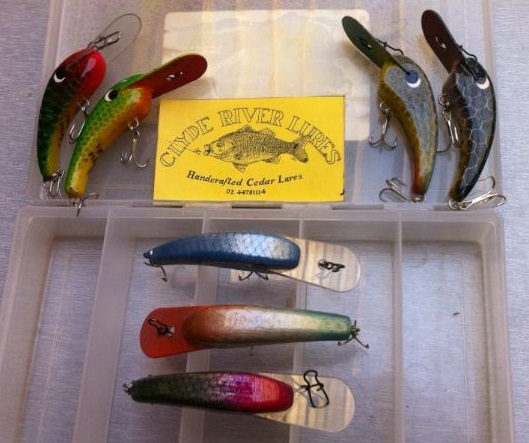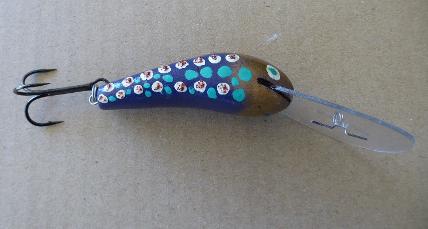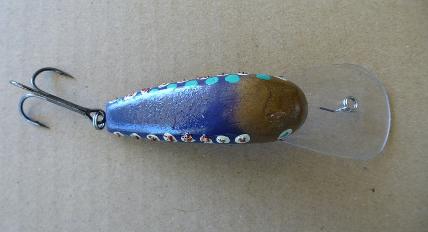 Cobbah Lures:
There was a couple of lures listed on Ebay in January 2018 with hand cut polycarbonate bibs marked 'Cobbah'. Of unknown origin and maker however were found in the Canberra region. Rough paint jobs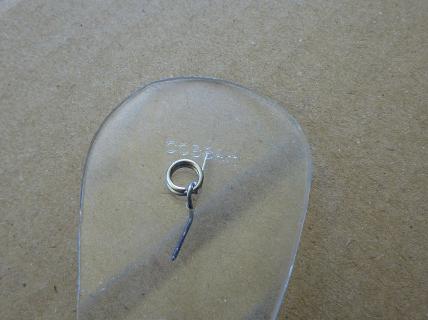 Coddog Lures - VIC;
Made in Tallygaroopna by Clayton Groves. Lures come in 3 sizes 80, 110 and 165mm. More info coming soon . . .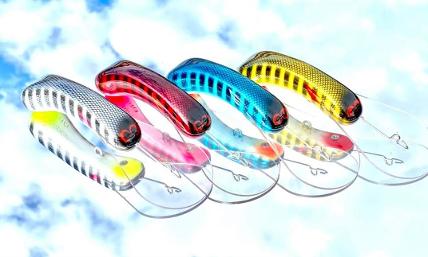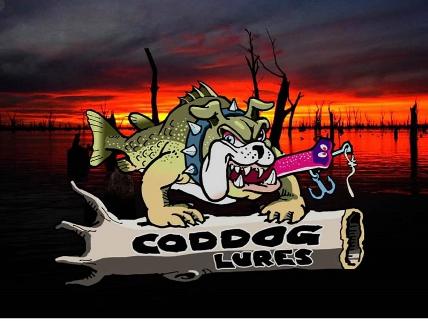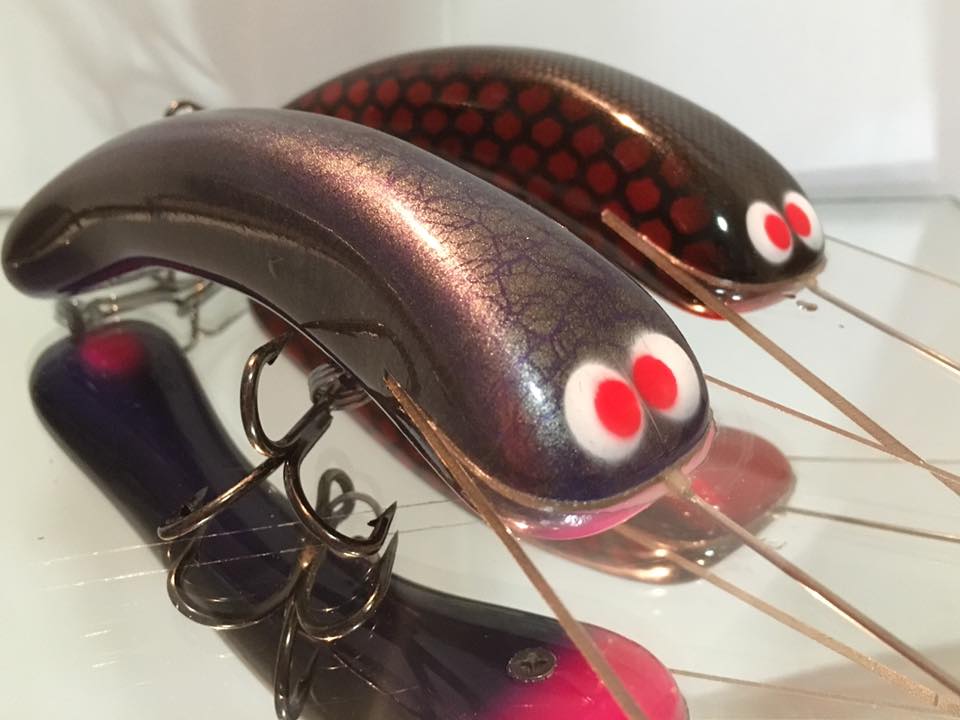 Cod Hound Lures - QLD
Made by Wade Turner of Toowoomba, Queensland. Wade worked as a fishing guide for many years throughout Queensland and New South Wales under the banner of Cod Hound Kayak Tours offering a Kayak based fishing charter targeting Murray Cod, Golden Perch and Australian Bass in most major river systems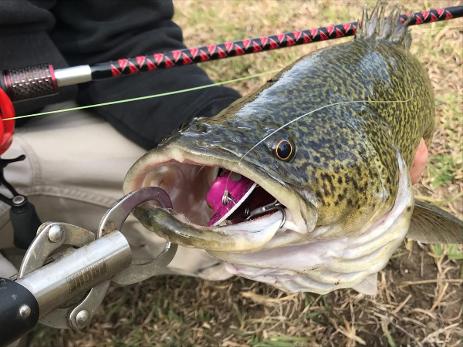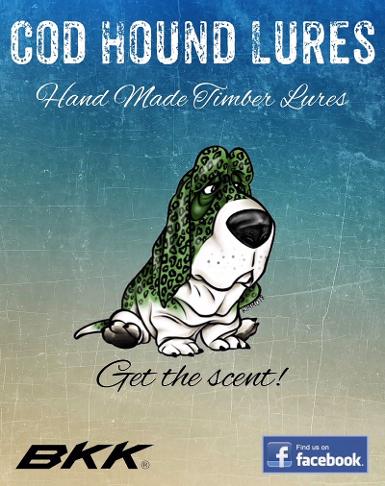 Wade progressed into making Spinnerbaits in his last year of guiding and was awarded 2nd place for Australian Bladed Lure of the year in 2016. In 2017 Wade drew inspiration from his favourite Lure the Bryan Power "Bug" and started on his own path in timber Lure making creating the PD Croaker (poison dart frog) a subsurface Lure designed for Murray Cod. Wade attributes his success in Lure making to his peers Bryan Power (Power Lures), Patrick Jones (Southern Cross Lures), Billy Allen (BRA Lures). He also owe thanks to Chris Anderson and Kimmo Baldwin (Thug Lures) for getting him into making Spinnerbaits.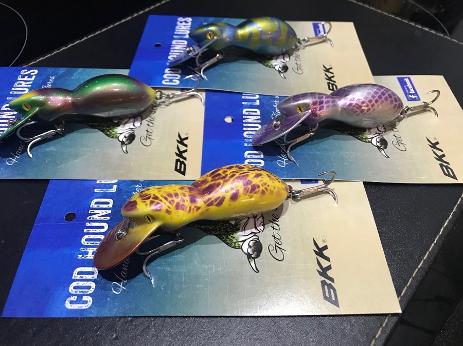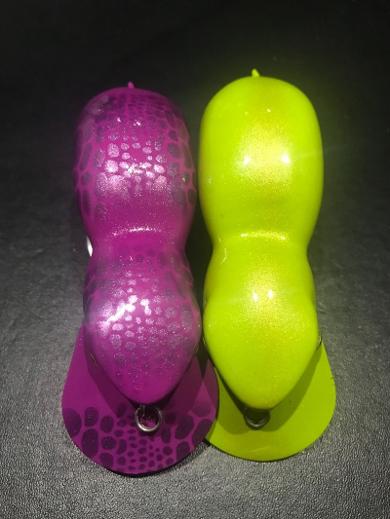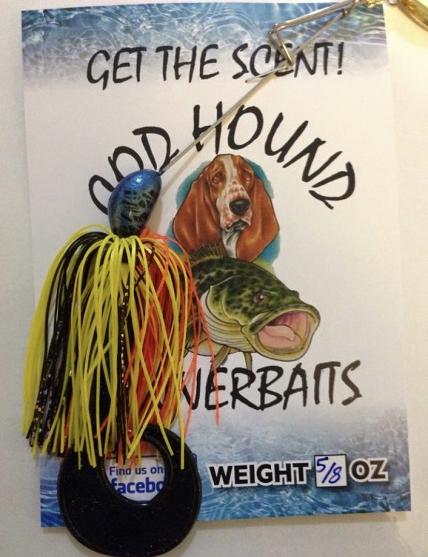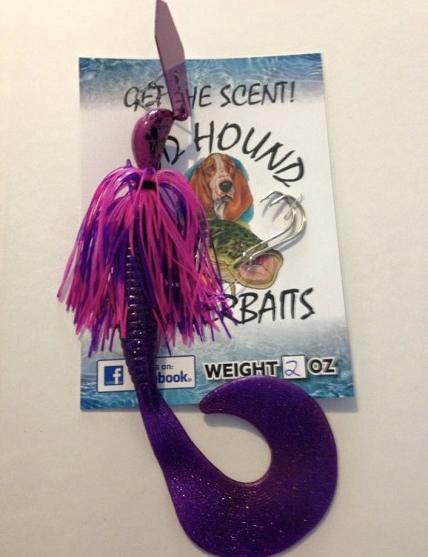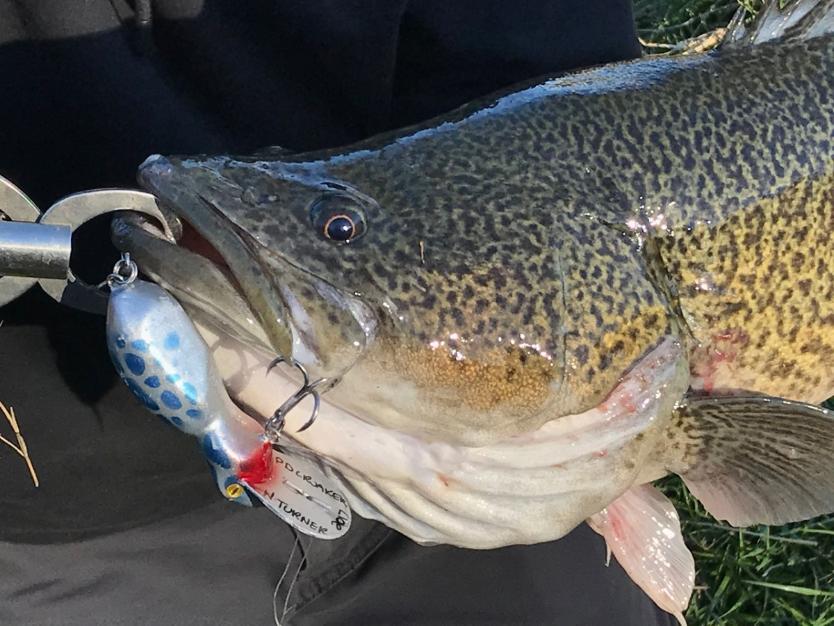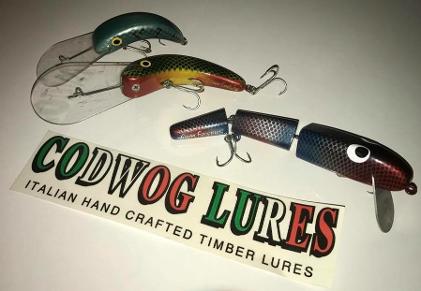 Codwog Lures - VIC;
Made by . . . more info soon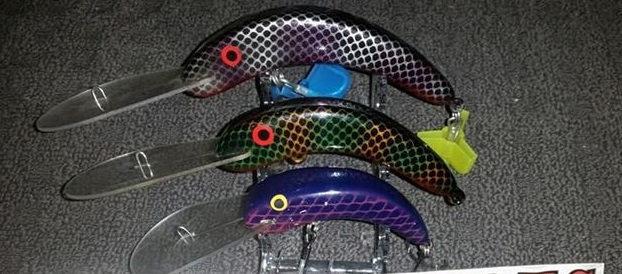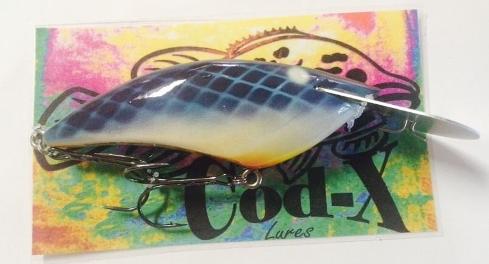 Cod X Lures - NSW;
A relative newcomer to the lure making scene - the lure shown left was made for the Lures for Cures cause in 2015. Jason Cox is from Uralla, NSW and has a distinctive style which reflects his passion for tattoos. Some of the crazy hand drawn art on the big cod surface lures have to be seen to be believed. Also makes large spinnerbaits.
At Expo 2016 Jason was free-hand drawing patterns on the lures demonstrating how his patterns are a blend of airbrush art and freestyle art. Unsure if lures are still being made in 2018.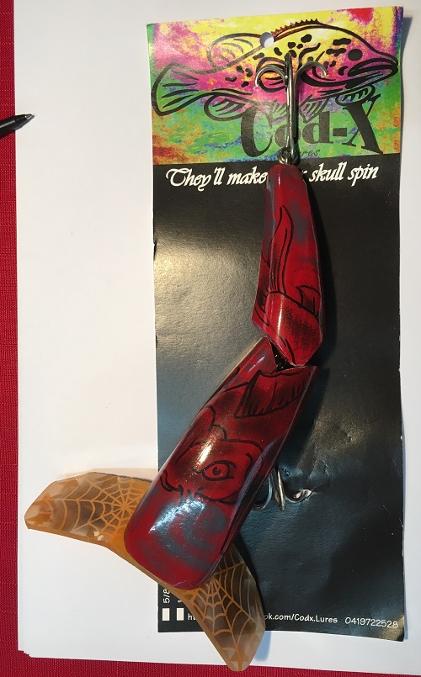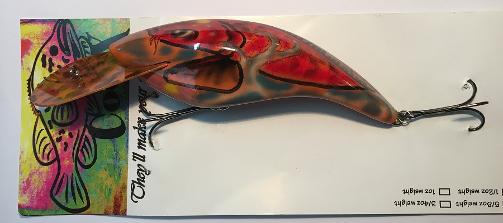 Lure below is the Cod-X 'Carp'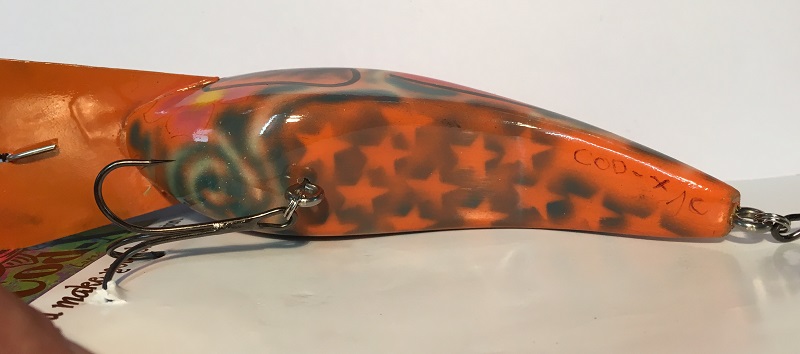 Lure below was purchased from Expo 2016 and is a surface lure with hand painted finish on signed card.
Codseeker Lures - NSW ;
Codseeker lures were made by Michael Poulos. The original 150mm codseeker had the round nose and flat sides and was in production from approx 2001 to 2005. Models were 150 mm (7m+), 105mm (6m+) and 80mm (4m+). Designed for Murray Cod with a big wide body action. Codseeker shapes changed a little over time with the earlier versions being more flat sided as opposed to the newer rounded versions.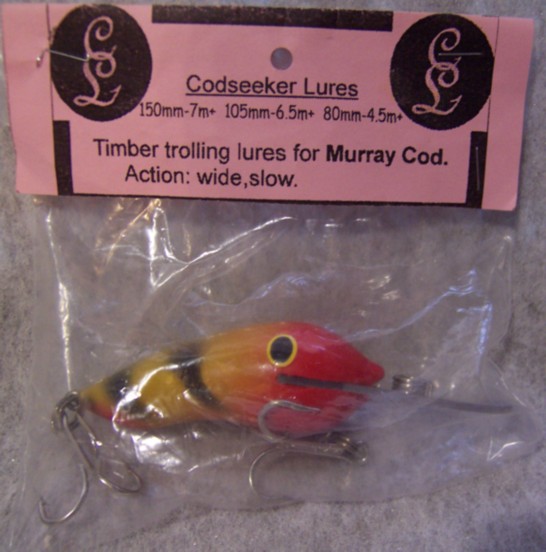 (Below) Colour chart c.2009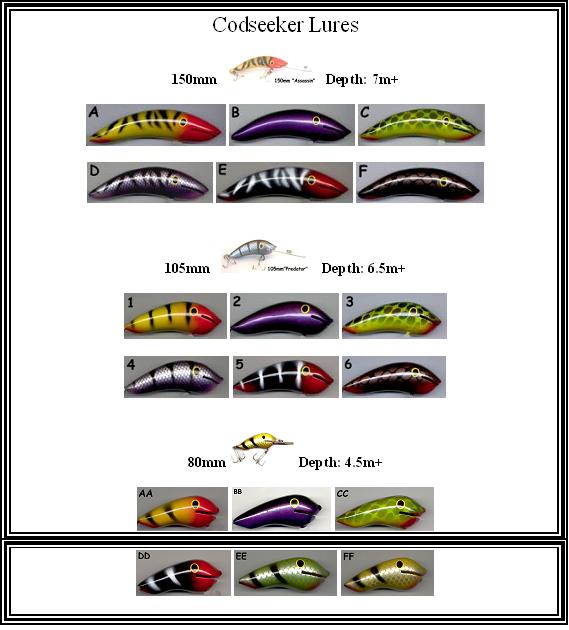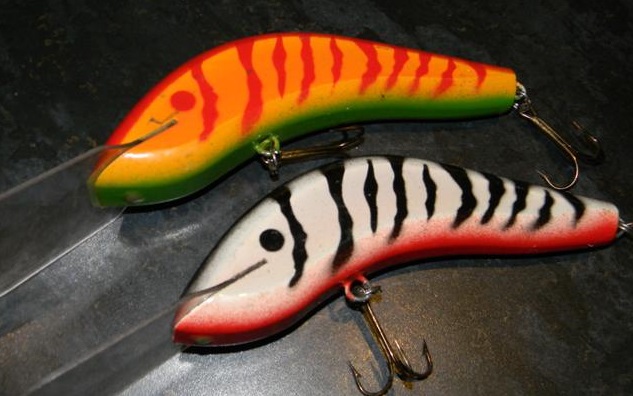 Above shows examples or earlier Cod Seeker Lures with the flatter sides and there are also examples of through wired models that turn up from time to time. Below is an earlier review of Codseeker lures listed as available in 6 colours.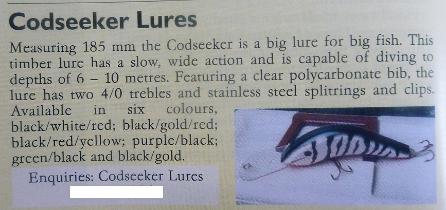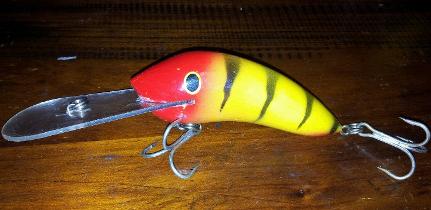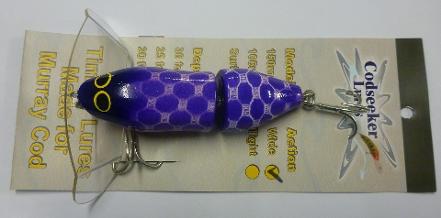 (Above) Newest card for Cod Seeker lures. The surface Paddler in newer pattern.
(Below) An earlier Mos catalogue showing the rounder current shape.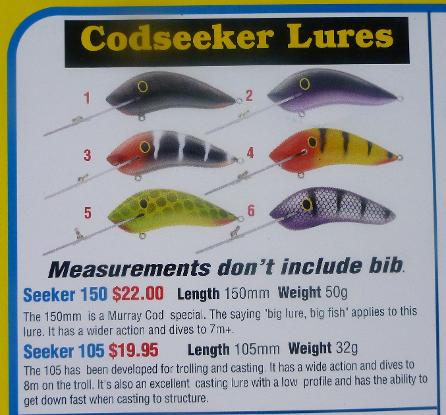 Below is a video of Michael Poulos explaining the history of Codseeker Lures - a great reference for Codseeker collectors.
(Above) Codseeker lures showing a combination of the older flat sided model and the rounder current shape.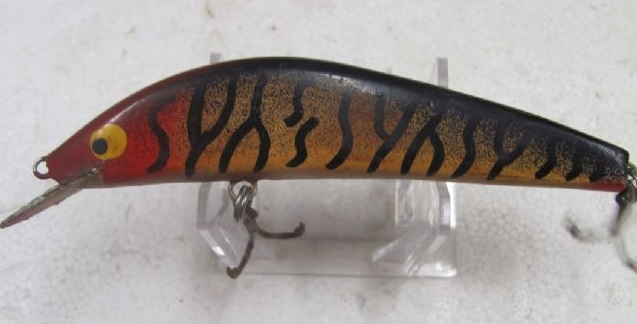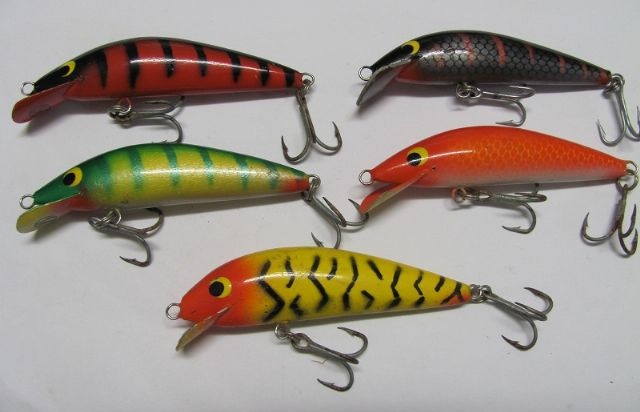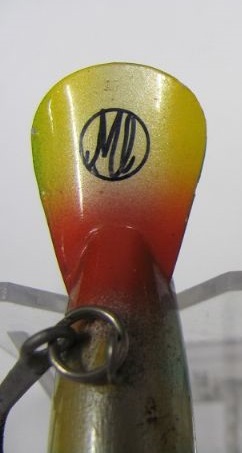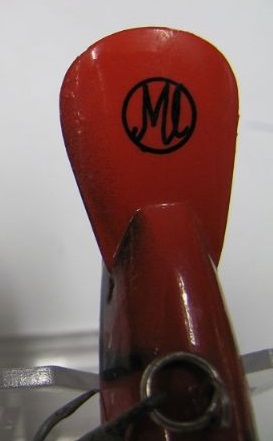 Coffey, Mal Coffey Lures - QLD:
Mal Coffey has been making high quality handcrafted timber lures for many years now and lures will be marked on the bottom of the bib as shown below. Left is a very early MC Lure from the 1980's.
The review shown below is from Freshwater Fishing 1991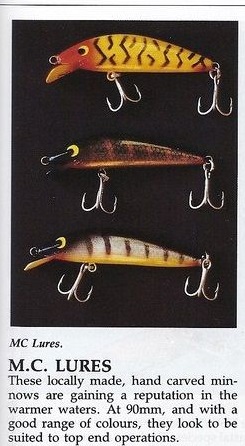 Coffin Lures - NSW:
Coffin Lures are made in Gulgong and the information was provided by Jeff Pollard;
'You will see my first versions were a little fat when I first started out , these changed after about the first year when I started to make them slimmer . I also used round eyes/stickers. The new eyes came in this year. You will also see that sometimes I forgot to sign the JRP on some of them Jeffrey Robert Pollard. I think I started making these around 2009, before that I just made other minnow types that I sourced inspiration from Killalure Trout baits and Deception , before I came up with this shape , making it unique and my own.
They come in two sizes , approx 55mm and 75 mm . No real names as such , just big and little one . I am now concentrating on some BIG Cod Walkers, Jointed for the Copeton sized giants. Lures are made from Australian Red Cedar and Western Red Cedar. First few were made from Pine which swelled and flaked the paint.' Jeff Pollard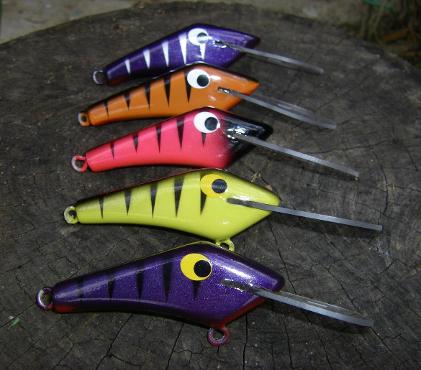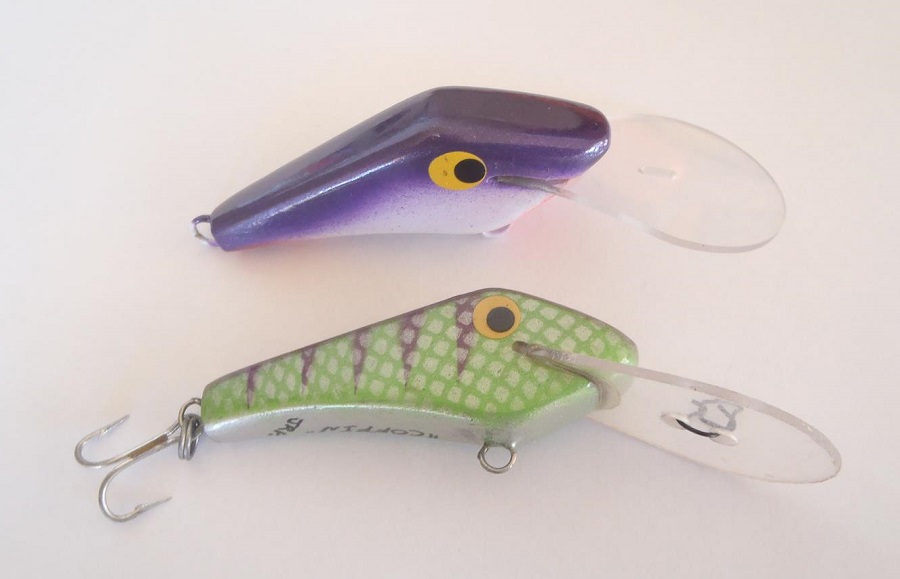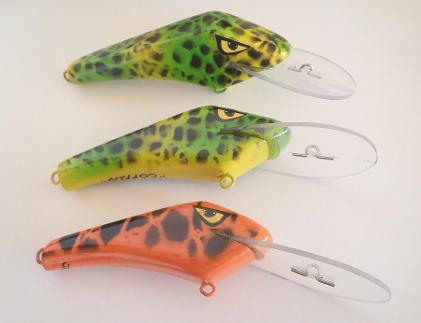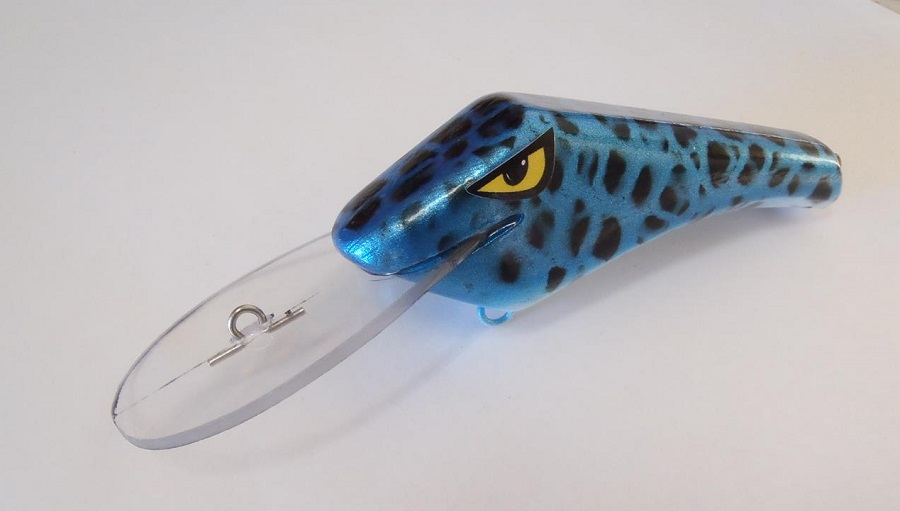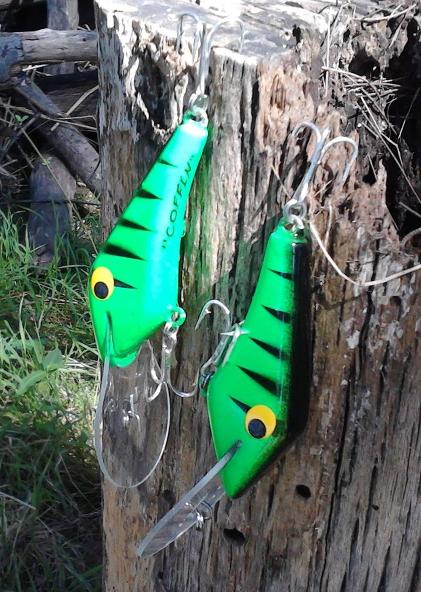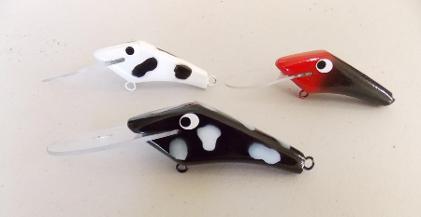 The earlier lures are shown with above with the round eyes and are pre 2017.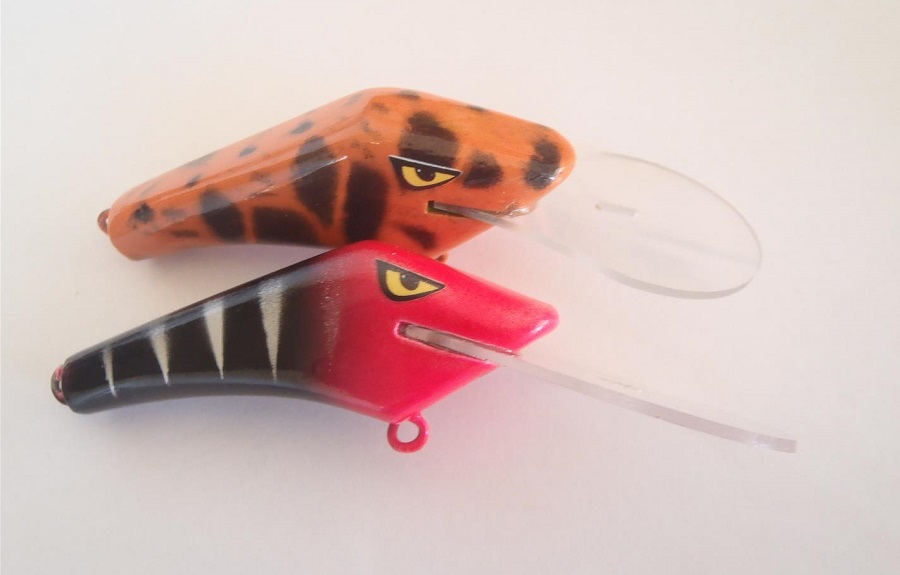 COK Lures - TAS:
Clinton 'Bill' O'Keefe from Devonport, Tasmania has been making lures since 2011 and is a long time friend of the Robertson brothers (CTR and MTR Lures). COK lures are hand shaped from Huon Pine, White Beech and occasionally Meranti - lures are made for targeting trout both rainbow and browns. All of Bill's lures will be signed on the belly and dated with year that they were made.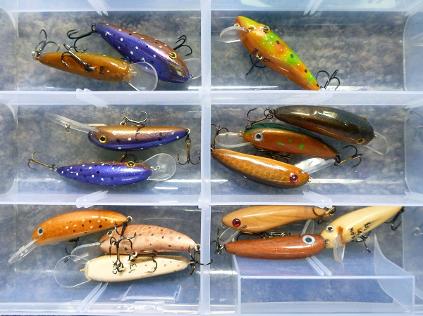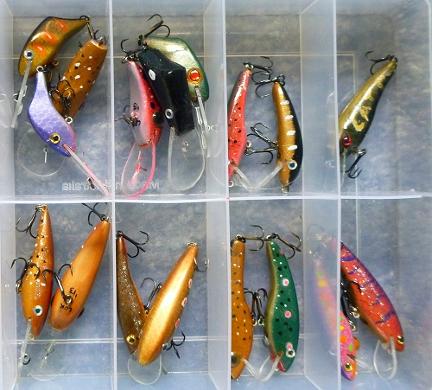 (Above) Early COK lures in various shapes c.2012.

(Left) Newer versions ready for Pedder 'Homebake' 2013
Collerson, Steve Collerson Lures - NSW:
A hobbyist maker from Orange inland from Bathurst, NSW. A hand made timber lure with heavy duty eyelets and a thin deep diving bib. Unsure of exact vintage when these were made.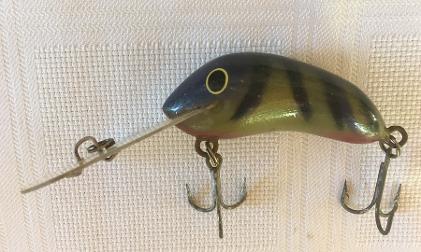 Collett, John Collett Lures - QLD:
Made by John Collett in northern QLD - earlier lures between 1982-6 were called Herberton Lures and will be signed on the belly. After this time John marketed lures under the Wild River Lures banner. See Wild River Lures
Come in Spinner Fishing Lures - A.C.T :
Obscure older timber lure as shown right shown with hang tags. Timber with a shortish, square shaped bib and a flat curved belly. This photo was shown on the Lure Lovers forum several years ago. The maker is Graham Lupton from Queenbeyan near Canberra and lures are no longer made.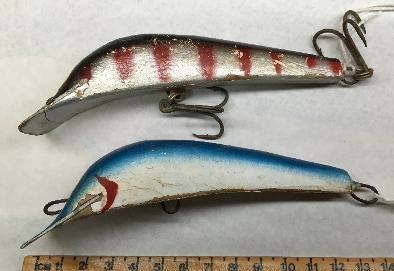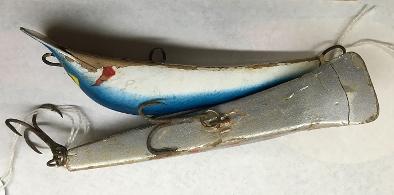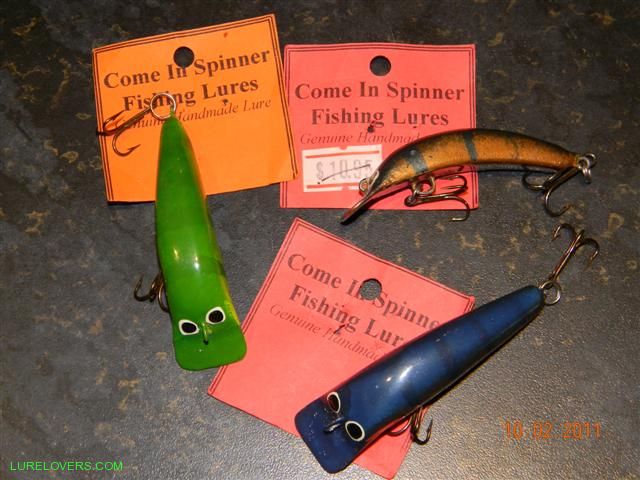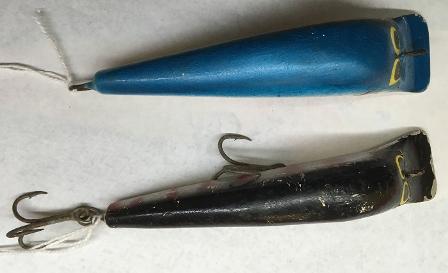 Conara Lures - TAS:
Obscure vintage lure that was unearthed in Tasmania in 2014. Found on white card as shown they were a devon minnow style lure typical of the populist lures of the time. Came in a number of colours but not known how many. Lure pictured right.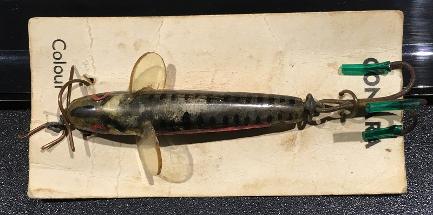 Cooby Cobba Lures - QLD:
Cooby Cobba lures were originally made of timber by Robert Styan. They were then moulded and made in plastic. Timber models are uncommon and all lures will be marked with the distinctive Cooby Cobba logo towards the rear of the lure belly.
The extract below is from Fishing Monthly, 2014
Cooby Cobba Lures is one of the many lure companies emerging from the boutique or cottage lure scene. Manufacture of these lures commenced around the time Toowoomba's Cooby Dam opened for fishing in the late 80s.
Early models were out of timber, now their lures are manufactured using polyurethane with quality components moulded in, including through the bib stainless steel wire and laser cut polycarbonate bibs. Lures are a slow rise floating lure with the 60mm model being the flagship of the range. Based on the same profile, 90mm and 50mm models were introduced while still maintaining the great swimming action Cooby Cobba Lures are known for. Lures are effective either casting to the fringes or trolling. Pillie and Poddy Mullet are other models in the range.
Although originally designed for Murray cod, golden perch and bass, don't be fooled into thinking this is the case; these lures have accounted for many a finned quarry including fickle jungle perch, ultra aggressive sooty grunter. Had there durability tested on barra, jacks, fingermark and trevally. Ambushed by big flathead and fooled the wily bream and shy whiting.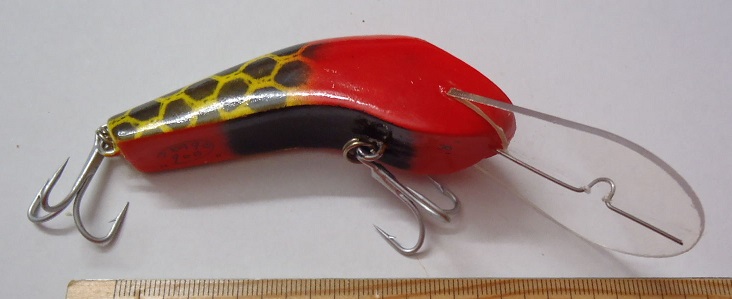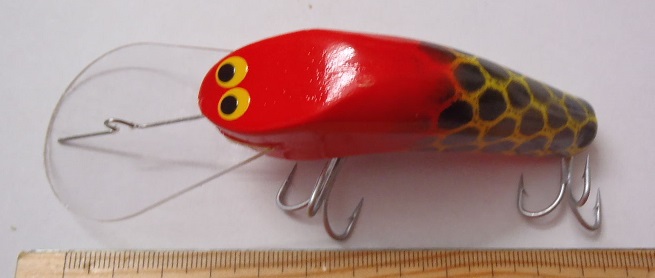 Cooby Cobba lure above shows the earlier timber model which is uncommon while the photo below shows the moulded versions.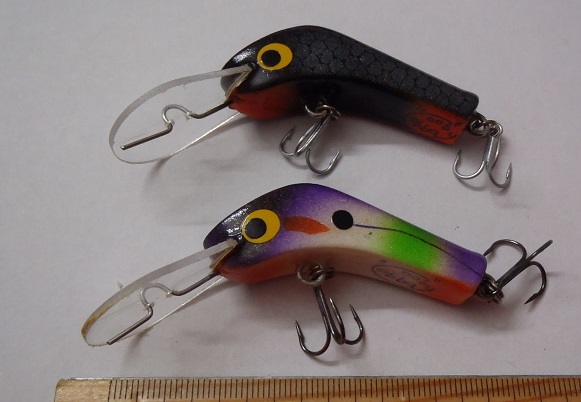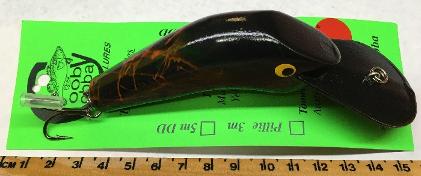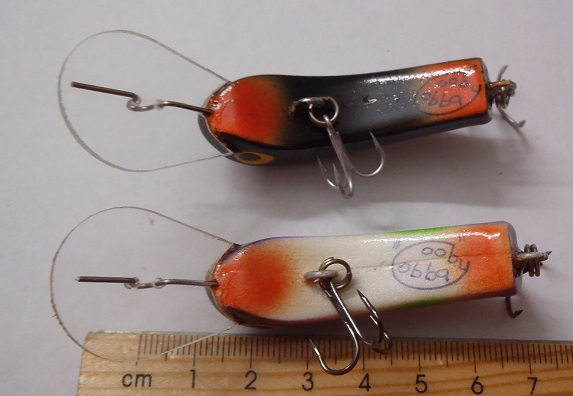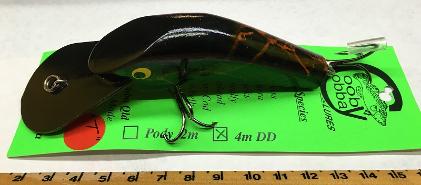 More recent lures including surface paddler below on the card.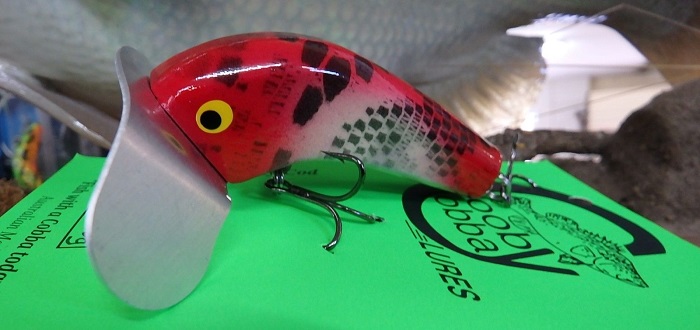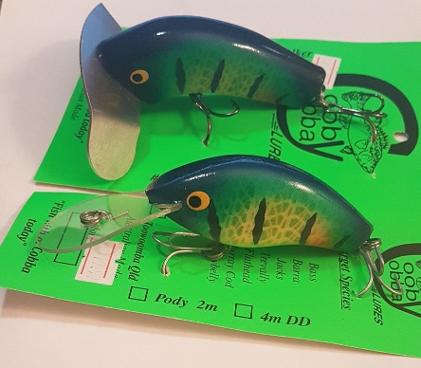 A run of Cooby Cobba lures were made for the Fish n Bits store in Toowoomba and are marked on the belly as shown below.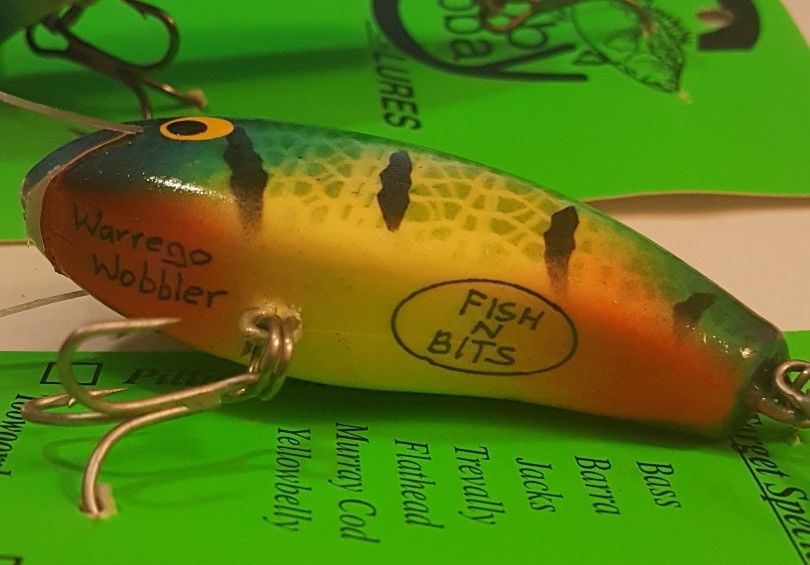 Cooby Doo Lures - QLD :
Cooby Doo lures were made in Pittsworth, Queensland by John Dalton and are a timber cod lure. Unsure if there are any other models however the early telephone codes suggests pre-1996 so lures would date to early 1990's. Great little phrase on card states 'If you can't catch a cod on a Cooby Doo I suggest you take up bowls'.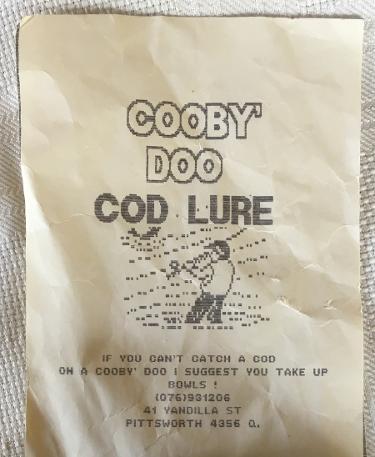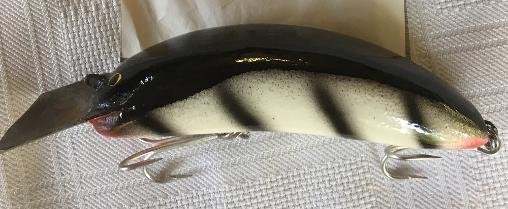 Lure above came with card shown opposite. The lure below is the same model in a different colour. These are a big lure made for big fish.
Cook, Athol Cook Lures - QLD:
Athol Cook is another hobbyist maker who made and sold from the markets in Townsville. He made approximately 300 lures between the years of 1998-2003 and he was taught by George Dempster so his lures are sometimes hard to distinguish from Dempsters. A quality handcrafted product.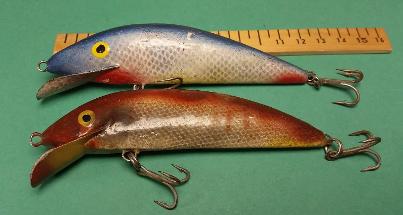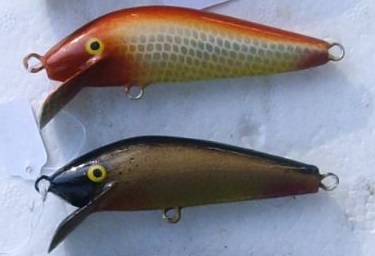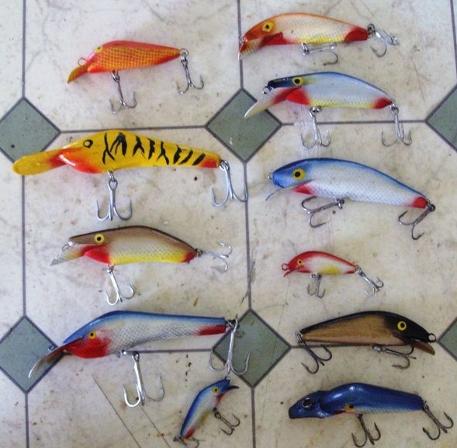 Copp, Phil Copp Lures - QLD:
A keen angler who also made a substantial amount of lures which show up on occasions. Based in Townsville the following information was supplied by Phil himself after Michael Maskell, an avid North Queensland collector tracked him down;
'Phil was more than happy to supply me with a pic of his remaining lures and some info. Phil was quite active in the sportsfishing scene and produced 300-400 lures for a period during the 90s. His lures accounted for barra over the benchmark 1mt and many bluewater sportsfish. Phil is into photography and competing in marathons nowadays.'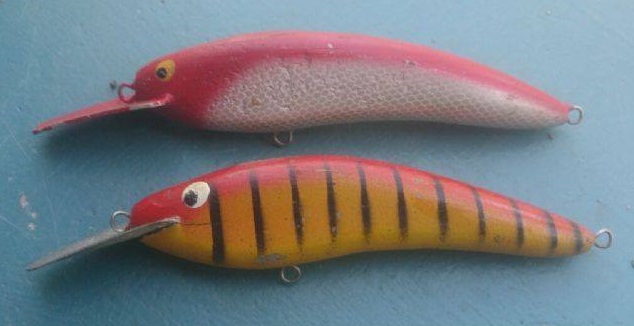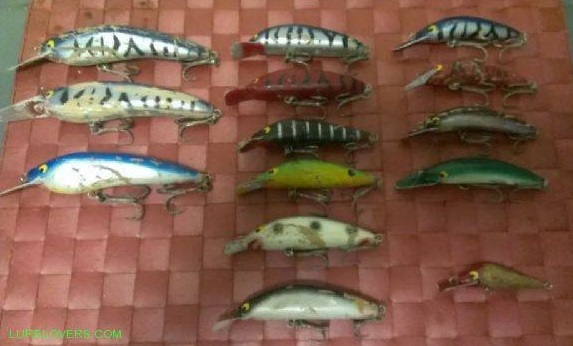 The lures above were first shown on the Lure Lovers Forum and the original lures left in the possession of Phil Copp.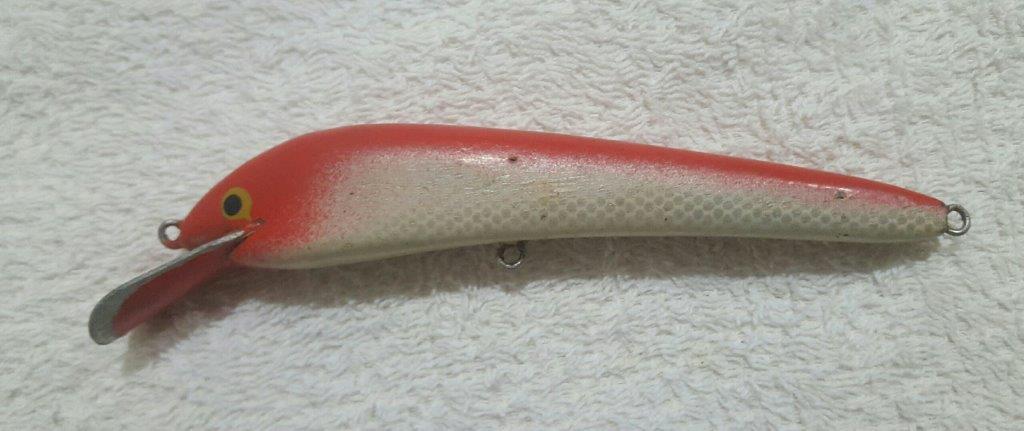 Coppen, Barry Coppen Lures - QLD:
Obscure vintage lures made in El Irish, Queensland and date to the 1970's/80's. See Koppen, Barry Koppen Lures.
Coster, Stan Coster Lures - NSW :
Stan Coster is based in Tamworth, NSW and makes a classic metal lure made from a empty .303 bullet cartridge as shown.

Coutts Lures - NSW :
Couts Lures have been made since approximately 2010 by Jim Demmery from Coutts Crossing, near Grafton ;
'The lure below was made in 2010 and is the first one put on the market. Jim's made around 200 lures to date (March 2011). He's a retired builder and carves lures to keep his brain going. Currently he uses red or white cedar and maple for his lures.'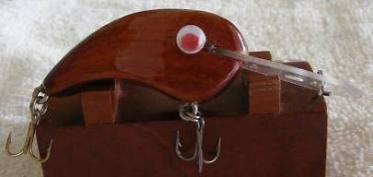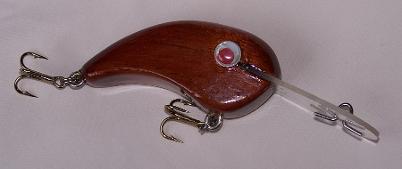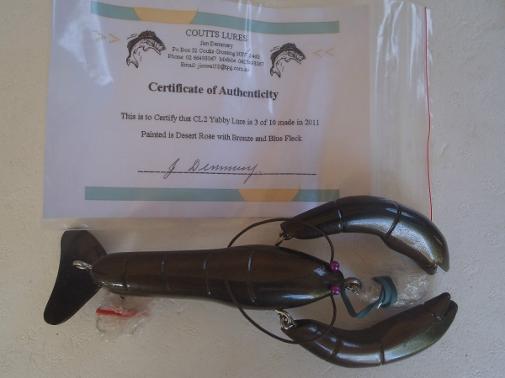 Coxon, George Coxon Lures - QLD:
An interesting timber squid imitation made by George Coxon in the 1960's. The lure has a hole in the rear end suitable for through rigging or weighting.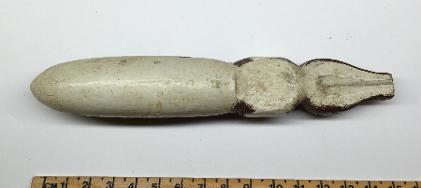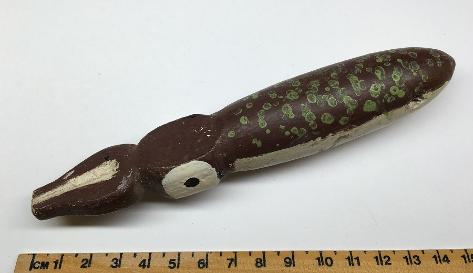 Cracken Lures - QLD:
Cracken Lures are made by Robert Gordon from Ipswich. Quality timber lures and some very interesting original designs that have been made for a few years now. Lures will be signed on belly normally near the tail of the lure.
Photos below are from the Craken Lures Facebook page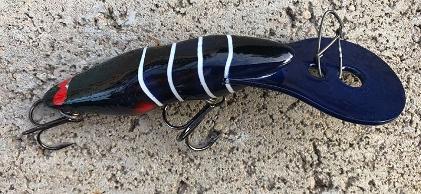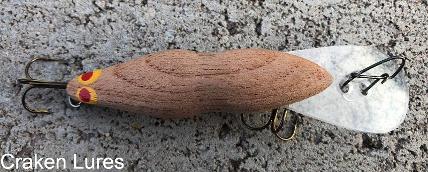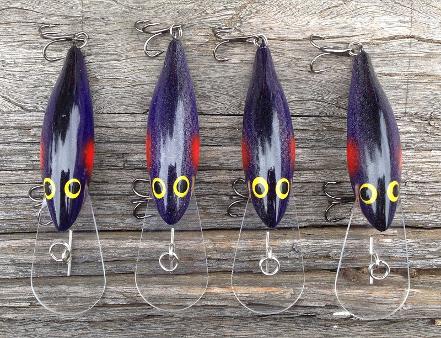 C.R.A.F.T Lures - QLD:
Made by Roy Durrie from the Gold Coast. Roy started making lures as C.R.A.F.T Lures in 1986. Older lures were called R.D Lures and these were made from 1979 - 86. There are a wide range of lure styles covering all fishing applications.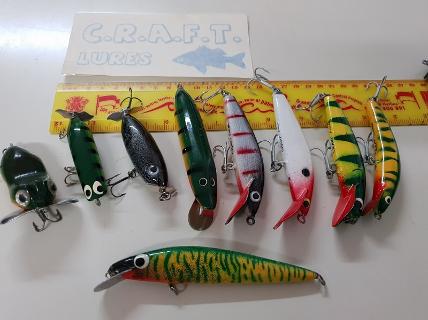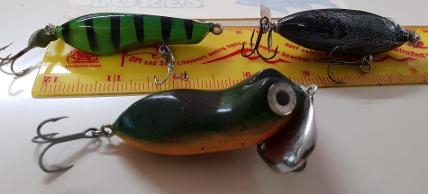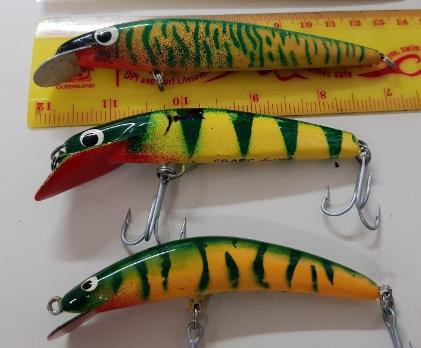 Newer and older minnow style C.R.A.F.T Lures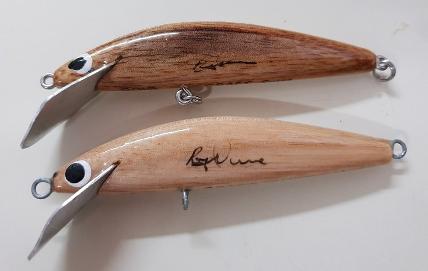 Photos show a C.R.A.F.T 'Crafty Duck'in the box c. 2007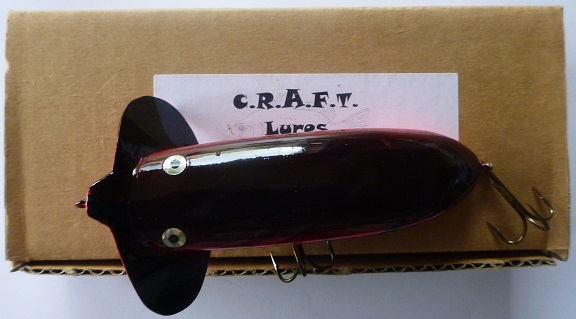 Nude versions of the 'Funky Frog' and various other nude timber models including River Runt or Bellbrook copies.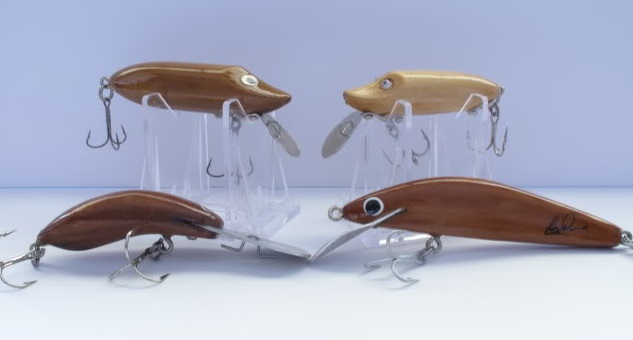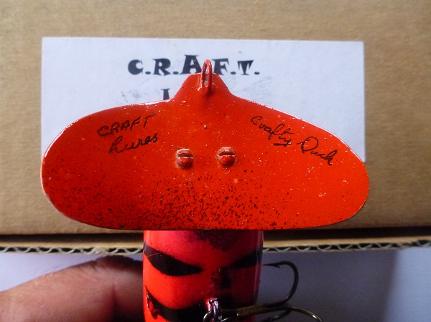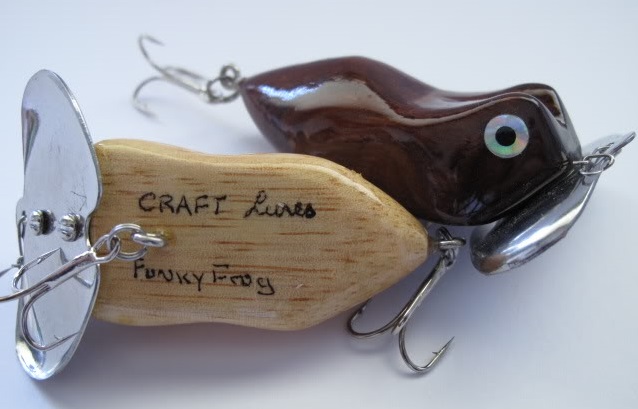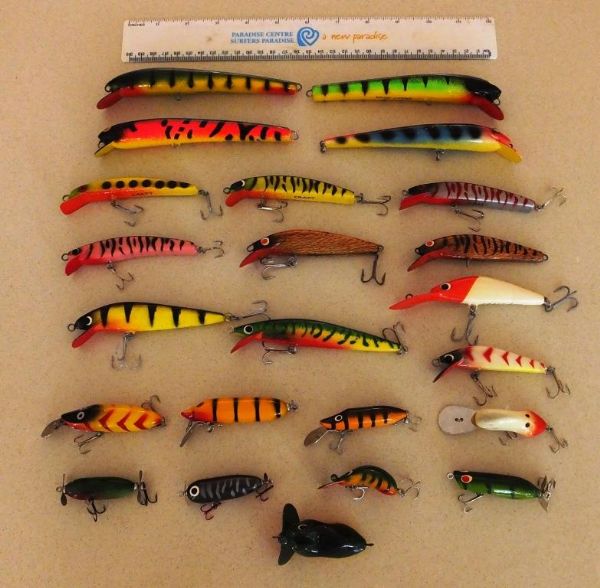 The lures shown below were sold on the Lure Lovers forum and show the wide range of lure styles created by C.R.A.F.T Lures.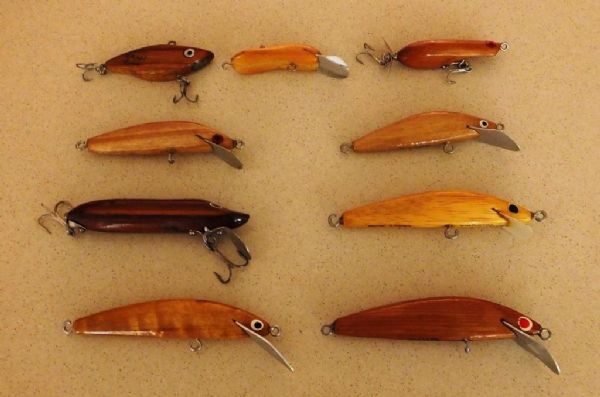 Craftmaster Lures - TAS:
Craftmaster Lures were originally made by John Bennett before he sold the business. See Bennett Lures, John Bennett
Cramp, William Cramp Lures - TAS:
William Thomas Cramp was an influential angler in Tasmania and is entered in the 'Hall of Fame' at the Salmon Ponds on the Plenty River. The information given to Lure Hub OZ by the Cramp family suggests that William was a keen wood turner and also made a few lures. He was a good friend of Dick Wigram who had made Mary Cramp a small fishing rod when she was a girl - her expertise was obvious and she was the female casting champion at the Salmon Ponds when they held competitions. The Cramp family was an iconic part of the early trout stocking programs with George Chatfield Cramp heavily involved in the early part of the 20th century and Richard Cramp later working for Inland Fisheries.
The lure shown top right came from the Cramp collection and is a smallish lure about 6cm that looks to made of King William Pine as the bottom eyelet has been ripped out.It is in the style of an old South Bend lure and was probably turned on the wood lathe by William Cramp.
The bottom lure is another that came from the same collection and measures about 3-4cm with a small triangular plastic bib. Interesting vintage lures from an iconic Tasmanian family.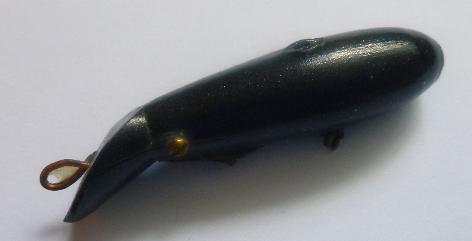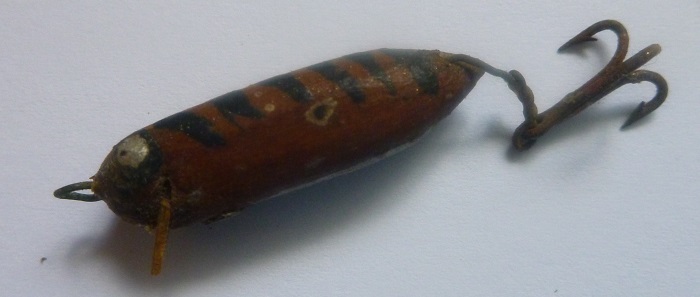 Cranney, Ian Cranney Lures:

Ian Cranney made lures in small numbers before the Viking brand was founded. Ian was a tool maker by trade and earlier timber lures are sometimes hard to identify and uncommon. Ian was making lures as a teenager that were of high quality.
There are some features that are worth noting including a square towpoint fitted through two hand drilled holes on the bibs. Also the turned down edge of the bib is something Ian did High quality finish and ab excellent timber lure maker. Later models were marketed under the I.C Lures label which are rarely found on a yellow card.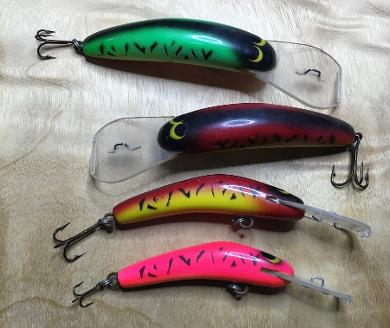 Crazy Lures:

Crazy Lures by George Miller were made in the 1980's- early 1990's. George is still making lures in small numbers for personal use
Croaker Lures:

Croaker Lures are large surface lures made by Steve Patti and were available in 2016. Made to target Murray Cod.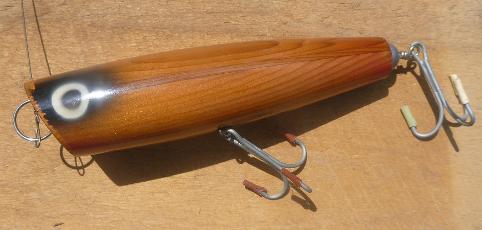 c. 1989 and made of cedar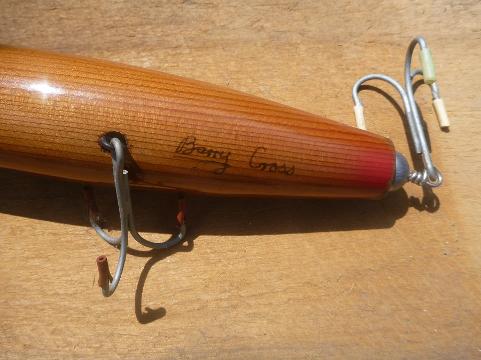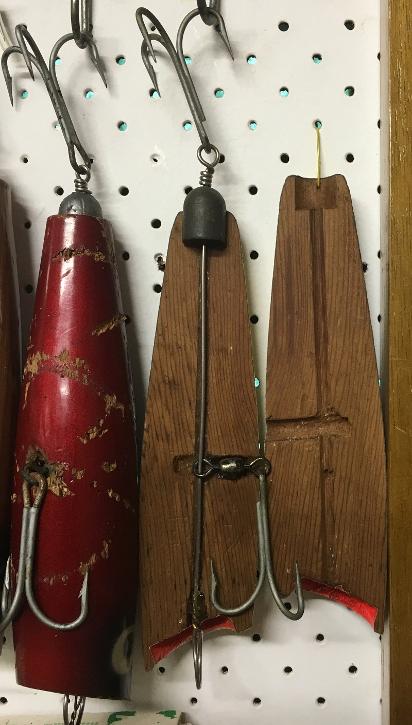 Cross, Barry Cross Lures - QLD:

Barry Cross is a prolific lure collector and boat skipper from Cairns, QLD who has been involved in the fishing industry for many decades. Although Barry mainly collects lures and fishing related tackle, he has made some lures including this giant bluewat

er popper which is about 8 inches long, through wired with heavy duty stainless and finished in clear coated cedar. Fitted with massive 8/0 trebles with a fitted wire trace. The smaller versions are less common. Some of these lures were painted by Ron Gallo in collaboration with Barry Cross.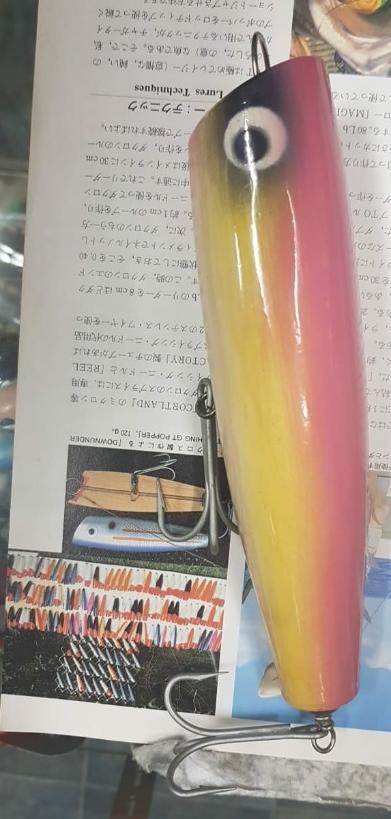 Opposite and below shows internal construction and unwired bodies.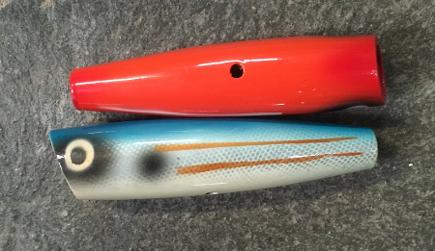 Crown Devon Lures - VIC:
The Crown range of lures, spoons and devon spinners is credited to V.R Lawler and Co who were situated in Collins St, Melbourne.
See V.R Lawler and Company
Crystal Lures - QLD:
Crystal lures were available in 1990's and had a finish with sparkles all over the lure and hand painted white/black eyes. The Crystal Lure business was a partnership between Dave Pearce and T.C. Good in the mid to late 90's and lures were made in Brisbane. Dave sold his interest to TC who went on on to develop the Zed lures using the resin system which they developed in partnership. Shown right is a few different style including the ST 'Zed' which was a experimental moulded lure and certainly an interesting shape and shown in packaging.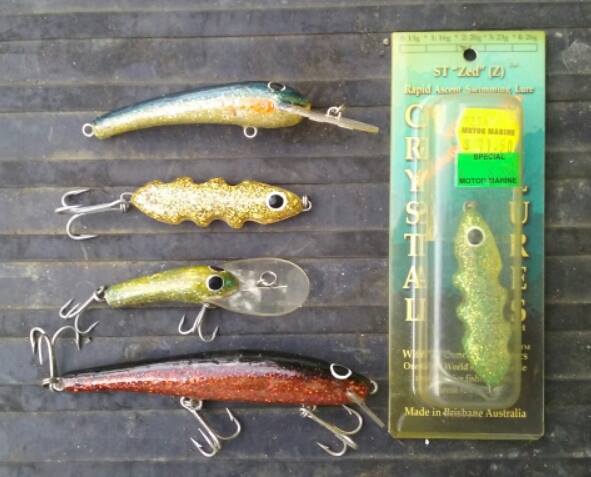 CTR Lures - TAS:
CTR Lures are made in Devonport, Tasmania by Chris Robertson. Using native Tasmanian timbers including Huon Pine, King Billy Pine and Tiger Myrtle, Chris shapes a large range of lures resembling frogs and minnows. Having only recently started making lures since 2011, CTR lures are of high quality using a hard shell finish.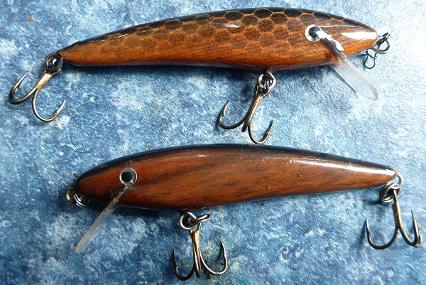 (Above) Top lure is made of King William (Billy) Pine, bottom lure is Tiger Myrtle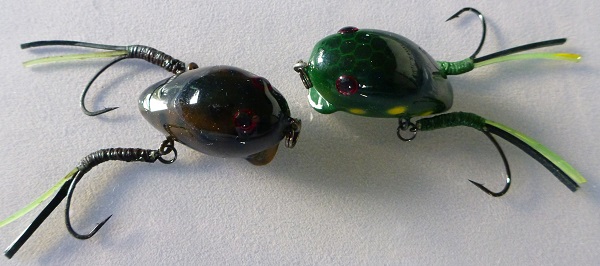 (Above) The classic and highly effective CTR Frogs

(Below) Interesting shape made from a nice piece of Tiger Myrtle.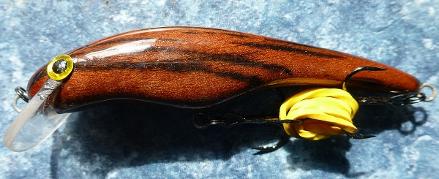 Cubit, Leon Cubit Lures - TAS:
Classic fish cake style lures made in Huonville, Tasmania by Leon Cubit who has been making surface lures for trout for over 40 years since the 1970's. Leon is currently in his mid seventies and his lures are still available in small numbers. Fish Cake style lures are a surface lure modeled after the original Helins 'Fish Cake' lures that were made in the the 1970's. The wooden bodies were fitted with a paddling prop on the front that produced an enticing noise like a struggling insect of animal. Furthermore they came with opposite spinning props to help avoid line twist by swapping the lure regularly. Cubit lures work on exactly the same principle but body is tapered towards the rear of the lure.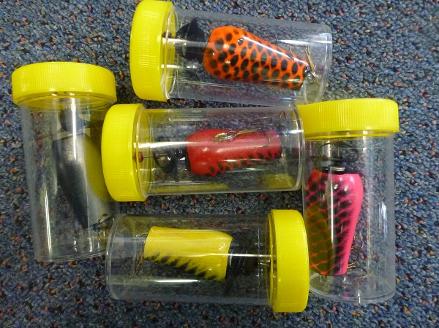 (Above) Some Leon Cubit lures c.2013. Each lure is presented in a heavy duty plastic screw top plastic bottle. Photo courtesy of Wigstons Sports in New Norfolk, Tasmania which has now closed down.
(Left) An earlier Cubit lure which would date to the 1990's and illustrates the tapered body and oversized hook hangers which is characteristic of most Leon Cubit lures although there are other variations.
Cudgeefish Lures - NSW:
Cudgeeefish Lures were made by Kel and Donna Bartley of Rylstone and are extremely well made and original. Kel sadly passed away in 2007. See full page bio under Cudgeefish
Cullen, Vince Cullen Lures - NSW:

The late Vince Cullen was from Yamba and was making timber lures from the late 1990's into 2000's. More information to come . . .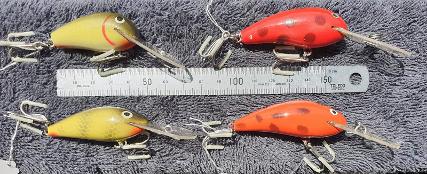 Cullington, Alan Cullington Lures - QLD:

The lure opposite is attributed to Alan Cullington from Cairns and was called the 'Swiminnow'. Crude timber stickbait style lure.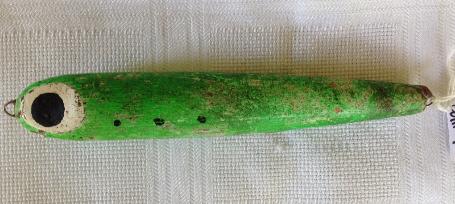 Cummo Lures - NSW:

These lures are made by Keith Cummings from Maitland, NSW. Makes a fantastic Heddon Crazy Crawler copy and other models that are hand painted and include an awesome copy of the Rublex Floppy.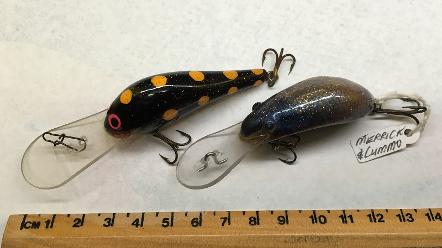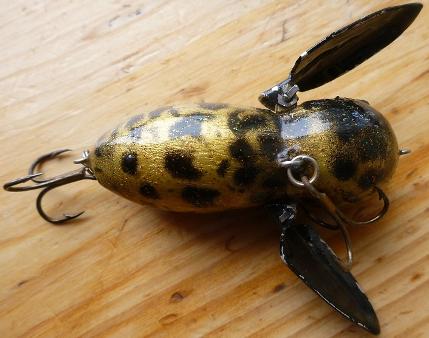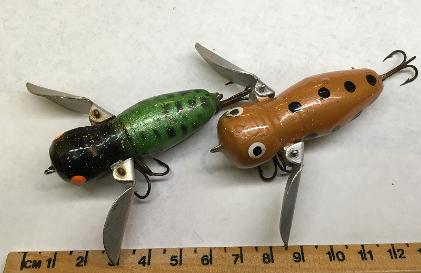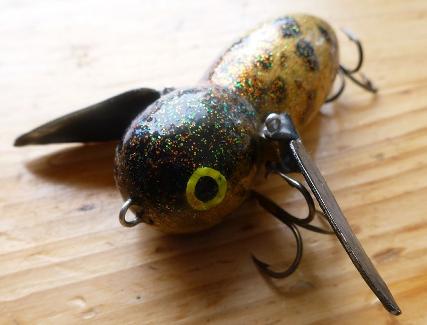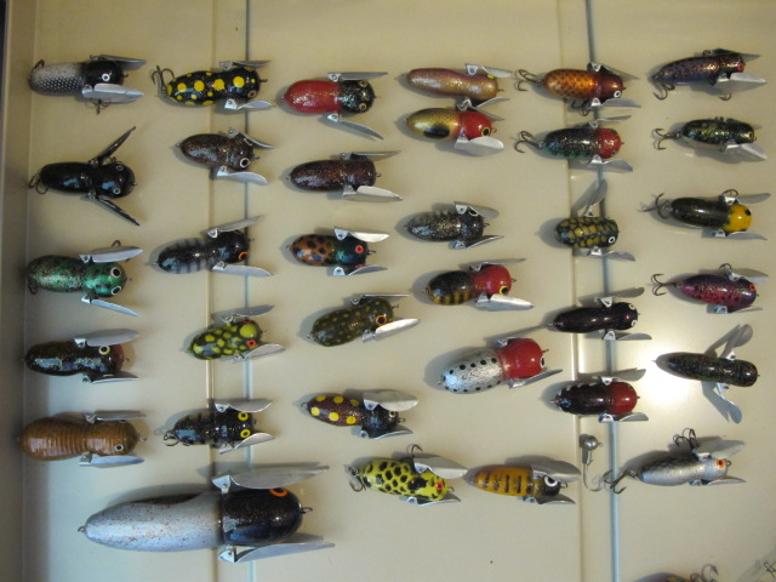 Curley's Lures - NSW:

Curley's Lures are made at Muswellbrook, in the Hunter Valley, NSW by Brian Kennedy and have been made for more than 30 years. They are constructed of timber and extremely well made lures. Curley was still carving a few lures up until 2013 however he has now stopped due to age and ill health. His lures are made in many different styles including copies of the legendary Rublex Floppy from France and a model called the 'Guppy' which looks to be influenced by early Newell lures.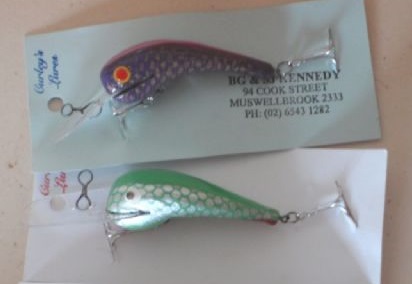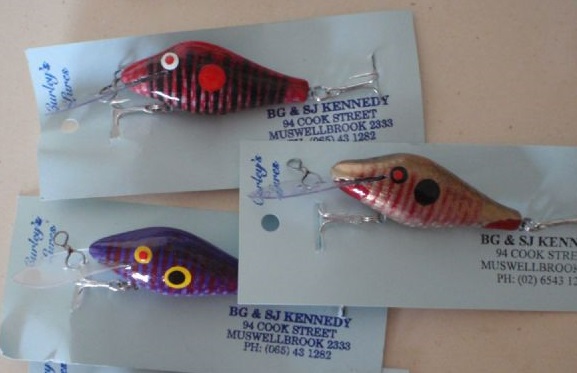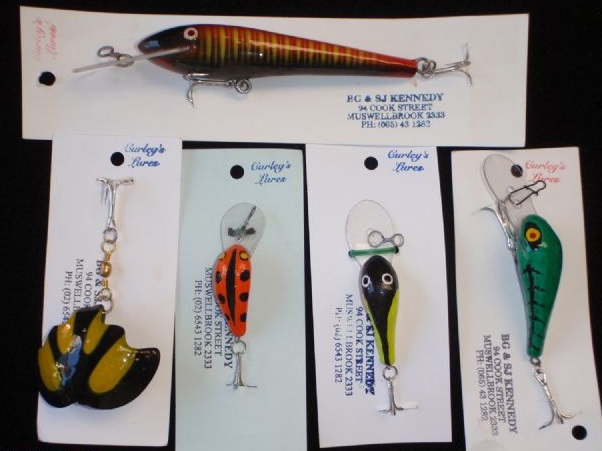 A variety of Curley's lures showing a wide range of influences including the classic copy of the plastic 'Vibrosonic'or 'Vibrobat' lure, larger minnow styles and bass lures similar to Flicks lures.
As can be seen by the photos many lures will have soldered tow points however some will also be found with standard heavy duty clips.
There is some variation of the display cards which are stamped with 'Curley Lures' and the contact address and phone number. Brian and his wife are now elderly.
'Brian started out with a knife, then onto Stanley blades and eventually moving into mechanisation with a band saw, linisher. Originally he sold his lures up and down the Hunter area (Newcastle NSW) at weekend markets and the like, until his good wife's health deteriorated to the extend they could not travel.'
Lure Lovers forum
Custom Crafted Lures - NSW:
Steve Kovacs from Wagga Wagga has forged a reputation for making quality lures. He was one of the early Australian lure makers to release a special edition set of 4 plastic lures in a presentation box in 1991/2 when his range went to plastic. See full page bio
Cut - Throat Lures - Central Coast, NSW:
There is not much information around regarding these lures. They are made by Mark Upton and the label gives his address as Wyong. The only mention that I could find about Cut-Throat Lures was in an article written by Vic McCristal for Modern Fishing Magazine back in Sept. 1988. They apparently came in various sizes from 8cm up to 14cm. He also apparently worked on the Gold Coast and is living in Southport area. No longer making lures due to illness.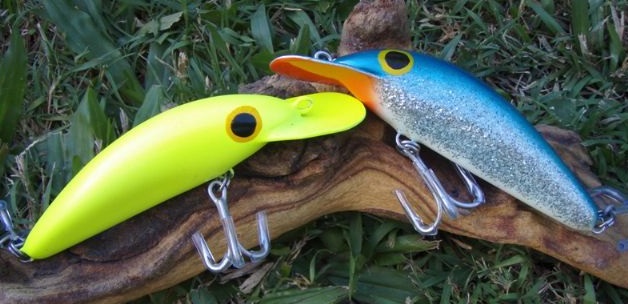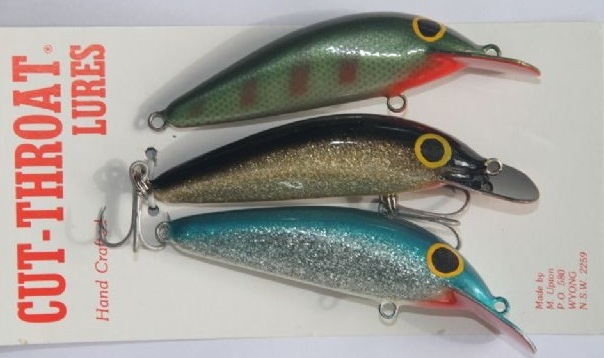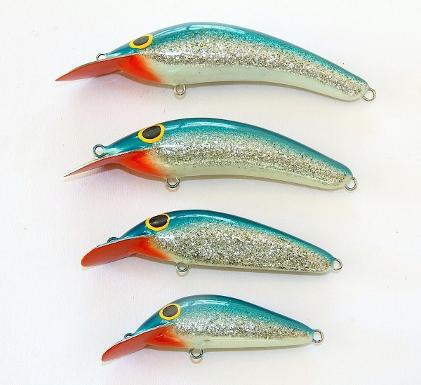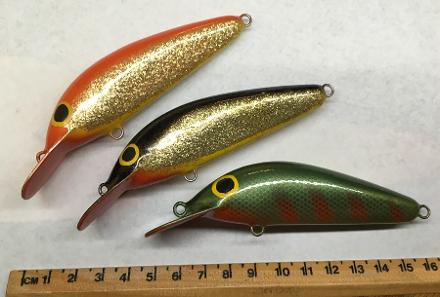 The colour set shown here came up for sale via Ebay in 2016 and shows 4 separate models. These lures are in high demand and command high prices when available.

Cutting Edge Lures - NSW:
Cutting Edge Lures is a range of lures developed by Rob Gaden and released to the market in 2012. The range includes the 'Rattlin Runts' and the 'Axe' which is a throwback to an older design explained here by Rob Gaden on the Lure and More forum;
' . . . it has taken 3 years of hunting & hounding other people to get a hold of these 2 lures. I now know the where-abouts of 5 of them , but the owners are reluctant to part with them , even after substantial offers. Only a hundred were made , and sold to 1 shop in Darwin in 1991. Because of the weakness of the timber/screw-eyes combination , the lure was dropped. I got urathane molds made around the same time for the "Rellik-doc-barra" & the 4" Scorpion , and there were not enough spare funds left over to do the same with this model.'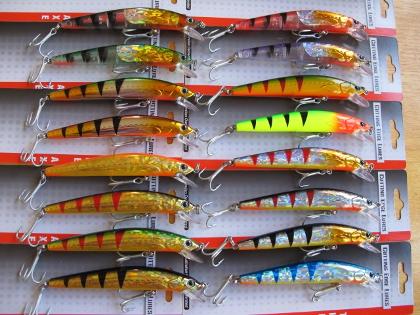 The original 'Barra-axe' photographed below next to one of the new 'Axe' lures.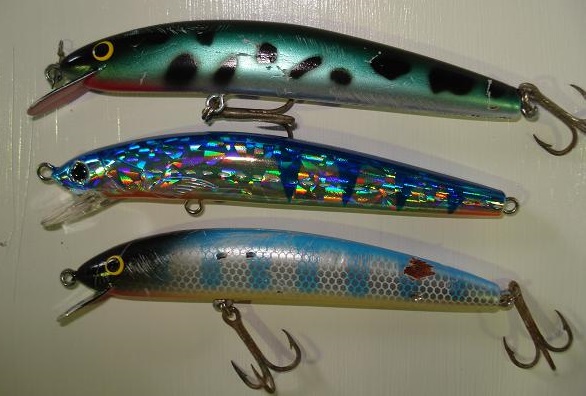 Cutting Edge Lures 'Rattlin Runt' shown below which is available in a wide range of colours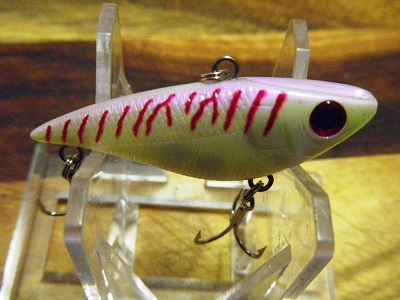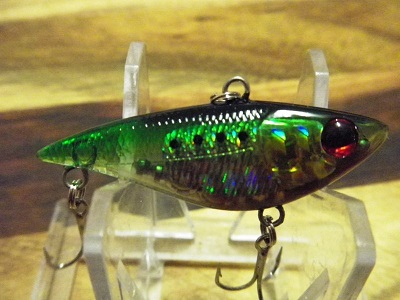 (Right) Cutting Edge Lures 'Rattlin Rapier' which included a holographic insert in the cheek/body of the lures and the 'Tomahawk' below - 3 sizes 55, 75 and 95mm