Lure Manufacturers Australia T

If you know of an Australian lure maker no matter how young or old that we have not mentioned in the following list feel free to contact us to have the details added or updated.
*Cover banner photo is of Tas Highland Lures Squid Jigs c.2016
Tackle Addict Lures:
Tackle Addict Lures have been made since 2018. A range of large saltwater poppers and stickbaits with an excellent hard case finish. More to come . . .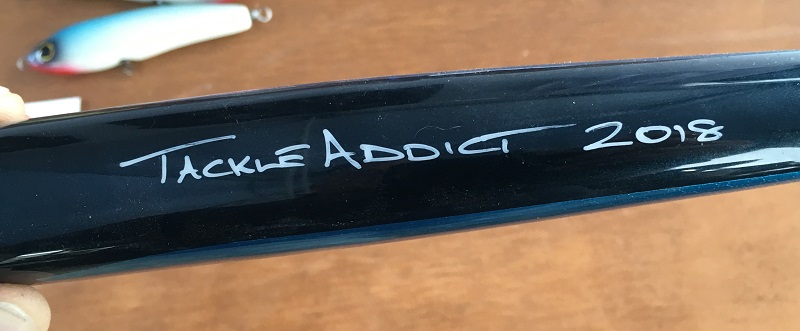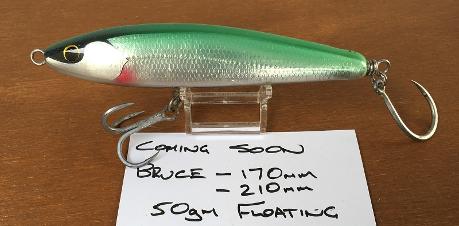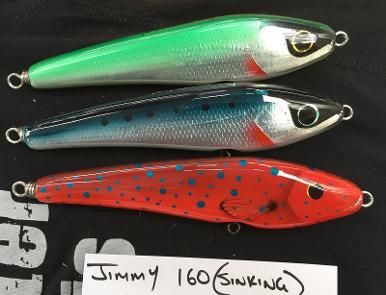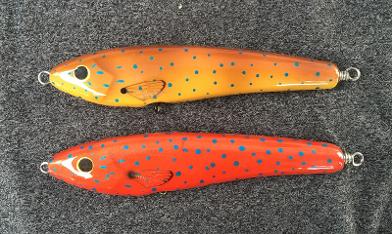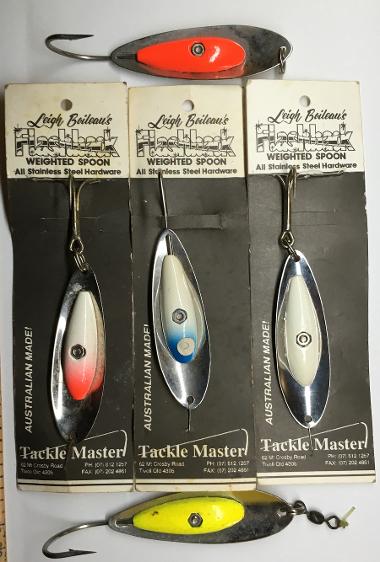 Tackle Master Lures - QLD:
Tackle Master Lures were the brainchild of Leigh Boileau who made spoons such as the weighted 'Flashback' spoon and the 'Blade Runner'. Leigh also made Mirror Spoons.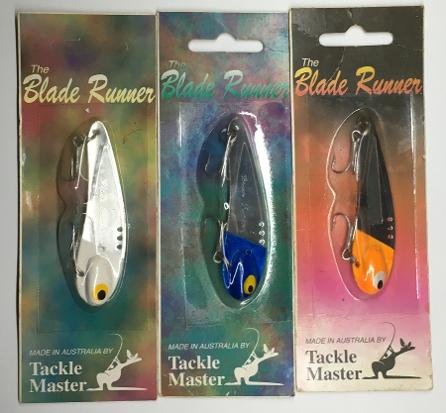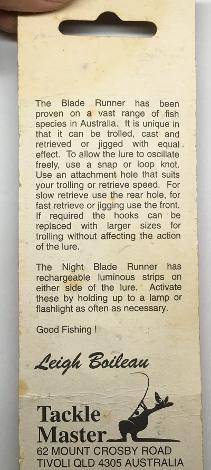 Reverse of cards for 'Flashback Spoon' and 'Blade Runner'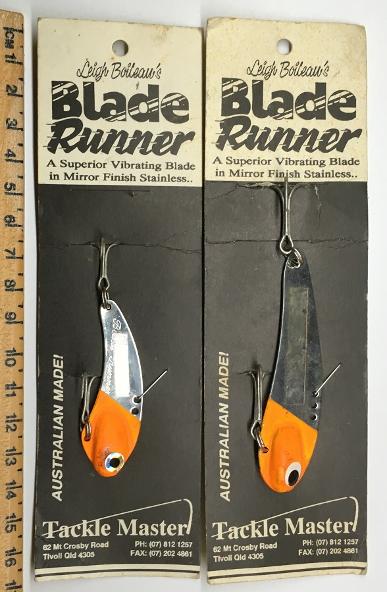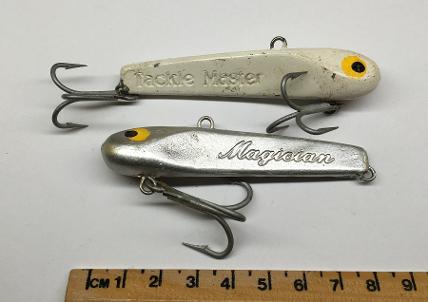 The Tacklemaster 'Magician' is another of Leigh's designs that shows up occasionally.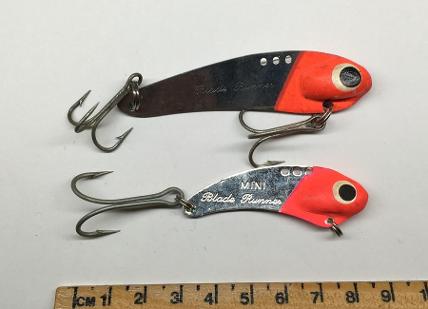 The standard size 'Blade Runner and the mini version
Tacklerat Lures:
Tackle Rat Lures are one of those lures that show up occasionally but no idea of maker or area of manufacture. Lures were shown as unknown examples by Gary Wade.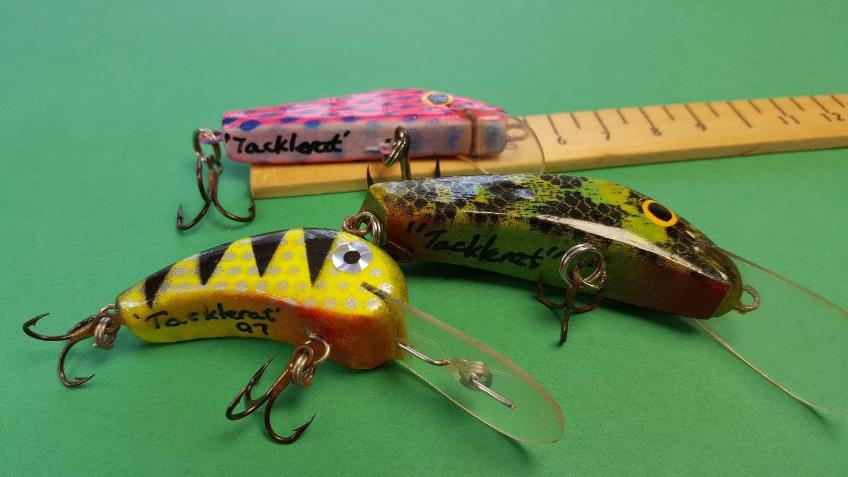 TAG Lures:
TAG Lures are a handcrafted timber lure that is made in small numbers. More information coming soon . . .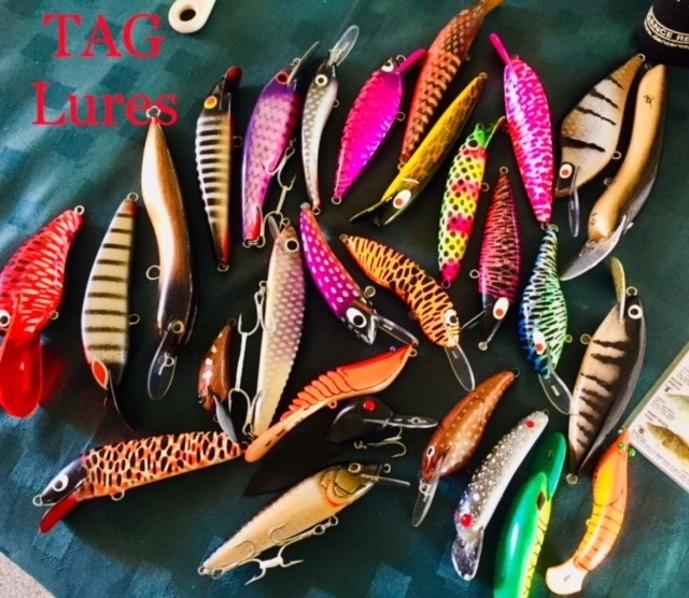 Tailer Guard or Spinner :
This lure was advertised in the Sil Rohu Fishing catalogue dated November 1941. Fitted with old barrel swivel and wire snap.

Taminmin Lures - NT:
Little known about these wooden lures but it looks like they are part of the Forrester brothers stable and are related to G lures, Bass Tad etc. The pictured lure below was sold on Ebay for $30 in 2012 and was a 110mm scorpion shape. Taminmin is the name of a rural college in Humpty Doo, Northern Territory so there maybe a connection.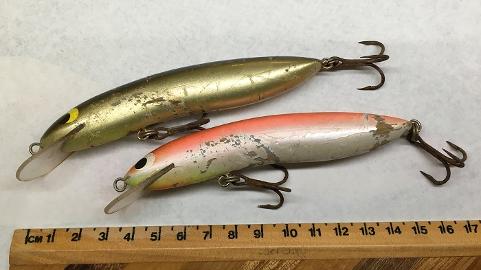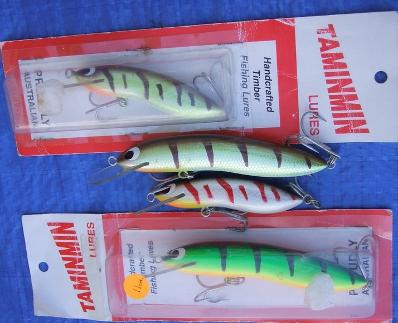 Tas Craft Lures - TAS:
Very little known about these exceptional lures that were made in Tasmania and that the maker, Dick Reynolds is sadly deceased. Dick was also a reknowned rod builder in Tasmania. The lures range from small 'spotted dog' grasshoppers, minnows similar to jointed Walures, and many other patterns that are unique in their own right. Lures would have been displayed on a metallic blue card as shown in the photo with a map of Tasmania in the left corner and leaping trout below. c.1980's and 90's.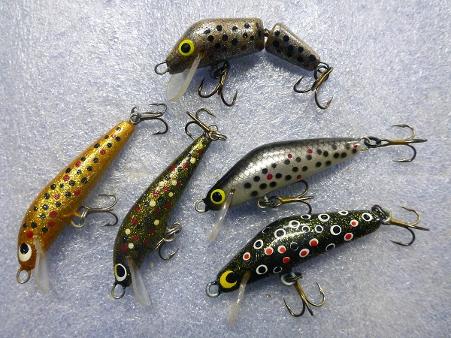 (Above) A nice selection of Dick Reynolds made lures - high quality small trout minnows.
(Right) Example of early Tas Craft card and two unique lures in 'spotted dog' patterns. This is a typical, highly successful pattern used for trout and mimics the spawning spots on brown trout.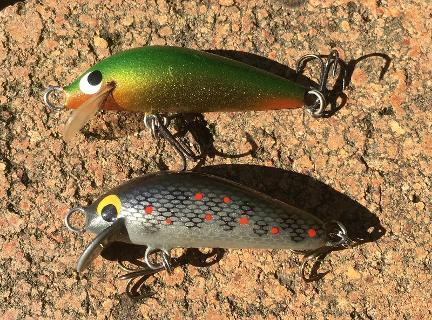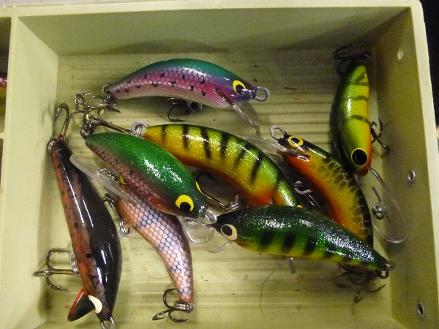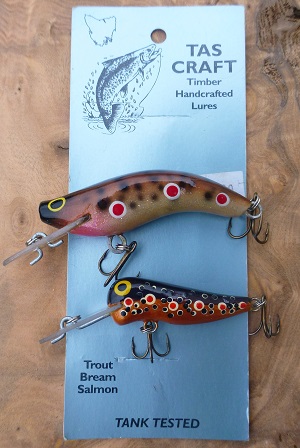 (Left) Examples of Tas Craft lures - high quality timber lures. The jointed models are sometimes mistaken for Walures however the eyelets are different and the colour patterns are noticeably different.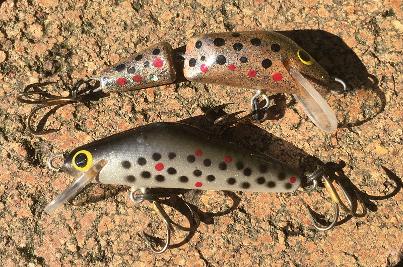 All the lures in these photos were found in Tasmania and purchased at auction. Dick Reynolds lures are of exceptional quality and finish with some outstanding original designs and generalist copies of successful Tasmanian lures like the Walure but also many other influences. No ongoing sales records and rarely seen.
A big thank you to Ricki Strang for access to lures.
Tassie Devil Lures - TAS:
A popular lure now recognised worldwide is the Tassie Devil lures. See Wigstons Lures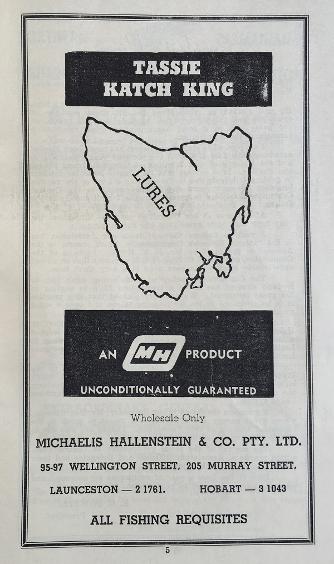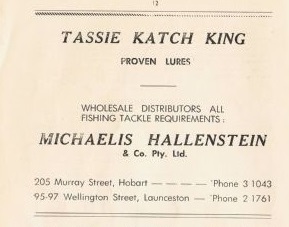 Tassie Katch King Lures - TAS:
An obscure lure from the 1960's. Michaelis Hallenstein & Co Pty Ltd were a wholesaler of fishing tackle and were advertising these lures in local Tasmanian publications such as Southern Tasmanian Licensed Anglers Association. Adverts left are from 1961.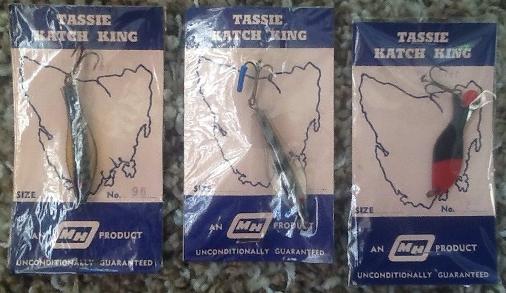 The lures show three separate models including a cobra, a devon and a spoon similar to the Wonder wobbler shape. The spoons are fitted with a small plastic attractor on the rear treble and these colours are good reference colours to distinguish from other makers. Lure presented on a blue and white card with a map of Tasmania and in a sealed bag.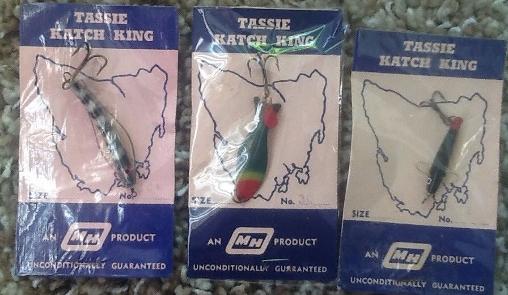 Tassie Lures - TAS:
Another of the resourceful lure makers from Tasmania. Unknown maker or area of manufacture. The individual lures without cards are both different but one matches a Tassie Lure on the card. They were uncovered in Launceston so this may be a clue to origin. Definitely vintage with the copper split rings. Simple stamped card. Two other models of metal spoon are also shown. The little red ring on the treble if still present is a good identifier.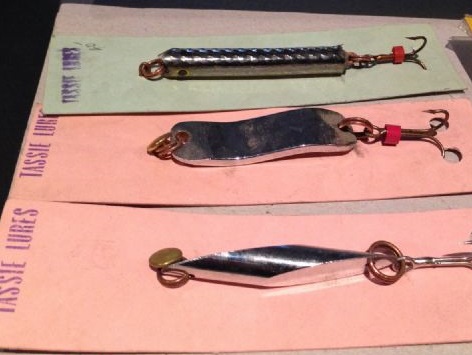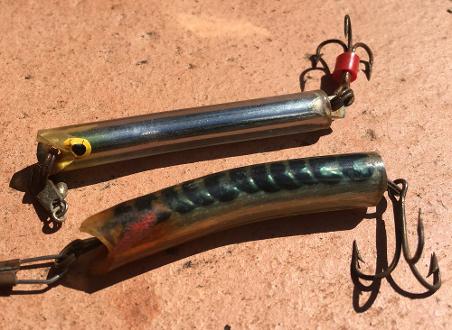 Tas Highland Lures - TAS:

David Dick is an avid trout fisherman who lives in remote south western Tasmania. As well as enjoying fly fishing and making fishing flies, 'Tyenna Dave' as he is known makes a serious trout lure. Shaped by hand from King William Pine (one of the rarest Australian timbers), with through wire construction, these lures are ballasted for heavy flow rivers eliminating 'blow out'. Finished in a combination of hand painting and air brush, his lures feature hand cut poly carbonate bibs and hard epoxy finish. THL can cater to any size lure but release 4 distinct models, the 'Highland Fling', 'Highland Minnow', 'Highland Killer' and 'Trout Popper'.
(Right) The first run of THL lures were released in 2011 and were made from balsa. Some of these lures had extremely good actions and do survive however the models evolved quickly and by 2012 THL Lures were made exclusively of King William Pine. These lures will only be signed 'TD' which stands for 'Tyenna Dave'.
(Below) Examples of early balsa THL minnows in sizes 6-7cm. These were the beginnings of the rainbow and brown trout patterns and the frog pattern. The top pattern was adapted from one of JD's excellent colour schemes.
(Below) Examples of early balsa THL minnows in sizes 4-5cm. Not many of these survive and date to 2010/11.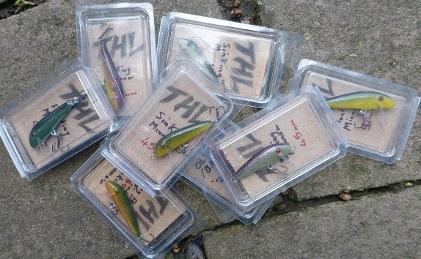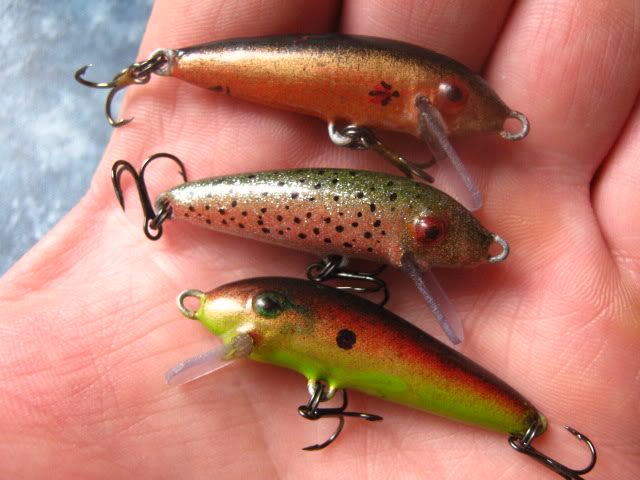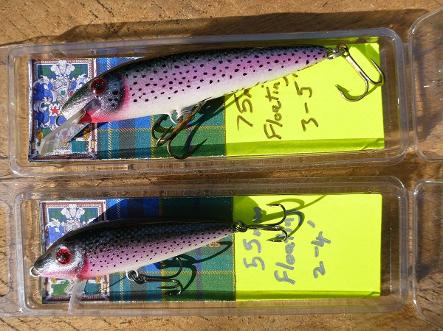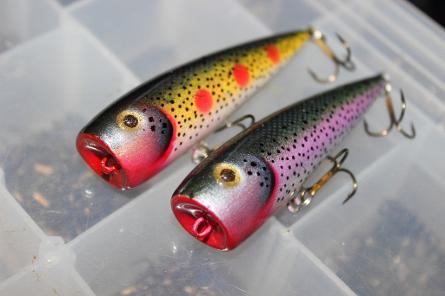 Later THL 'Trout Popper' in rainbow trout and spotted brown trout colours.
Left shows later THL packaging and showing THL 'Highland Fling' and 'Highland Minnow' in rainbow trout colour.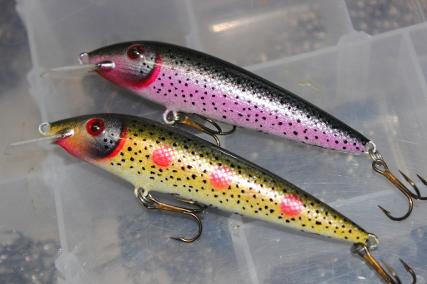 Later THL minnows in rainbow trout, spotted brown trout, AU, blackfish and brook trout colours. These lures are all through wired and made from King William Pine.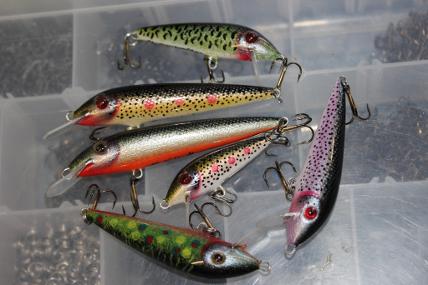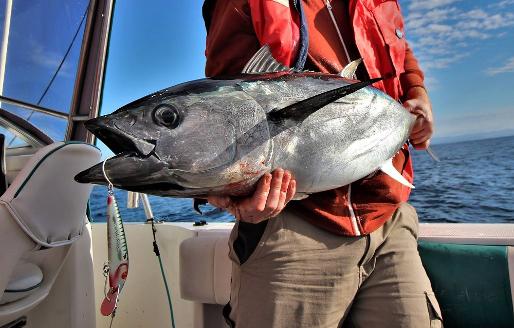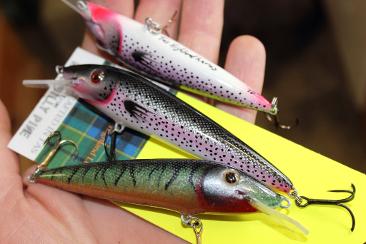 Left shows a nice tuna caught off Maria Island on a larger beefed up version of the THL Minnow.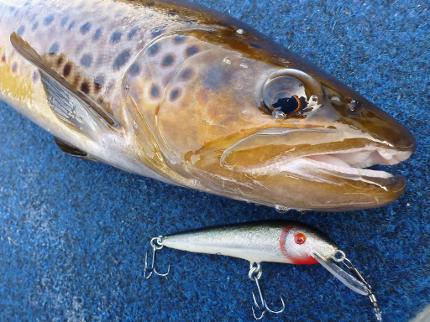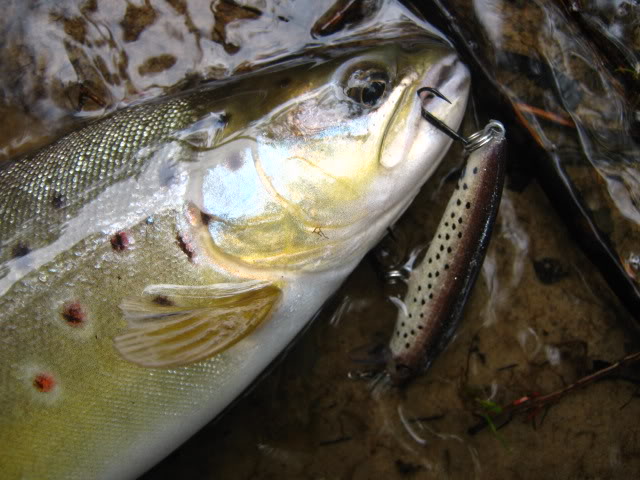 Tas Highland Lures have forged a reputation for attracting lots of larger sized trout - these photos show an early foiled Huon Pine 'Fling' and a smaller balsa 'Salmon' - an early colour.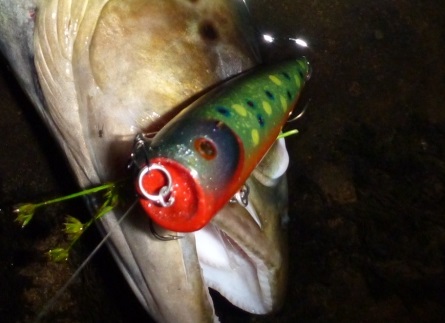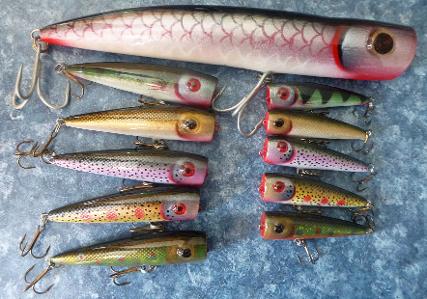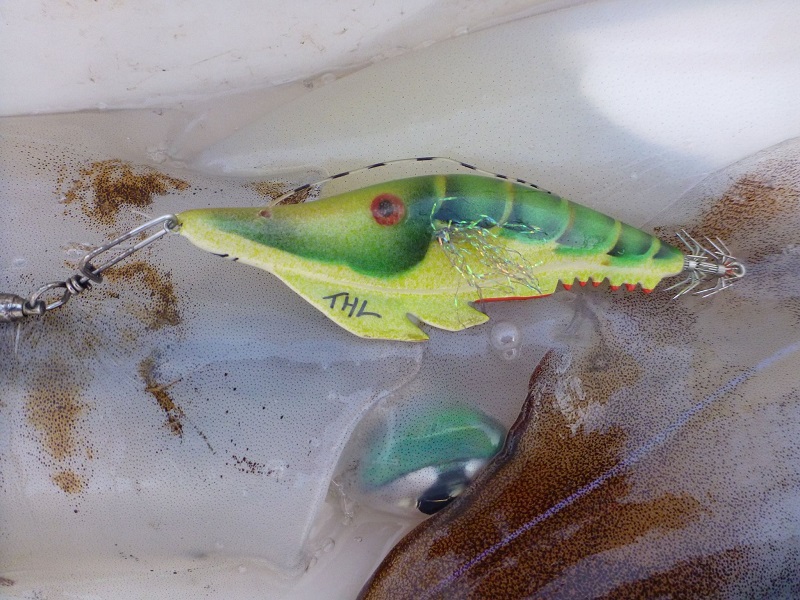 From late 2011 Tas Highland Lures were made exclusively from King William Pine (usually referred to as King 'Billy' Pine).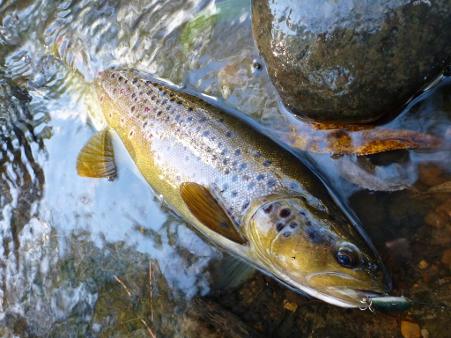 Below shows an early THL 'Highland Fling' with the older scale pattern. Spotted brown trout pattern. Opposite is a balsa minnow in salmon colour c.2010.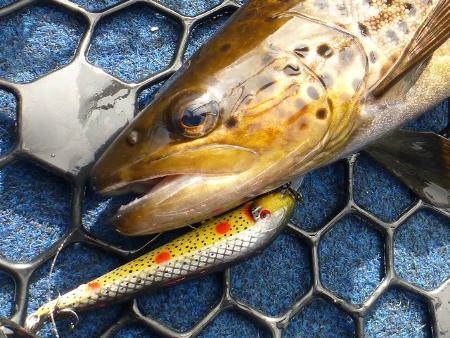 (Left) THL popper in brook trout colour - this colour has become a staple in the THL range and is a highly effective pattern.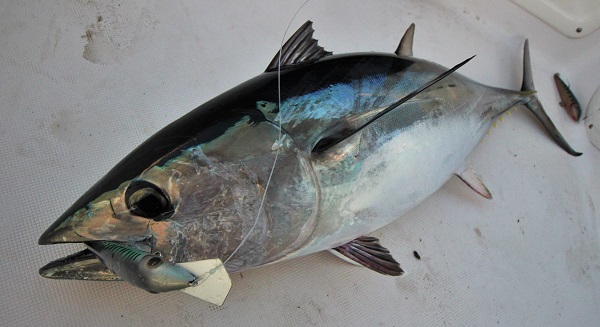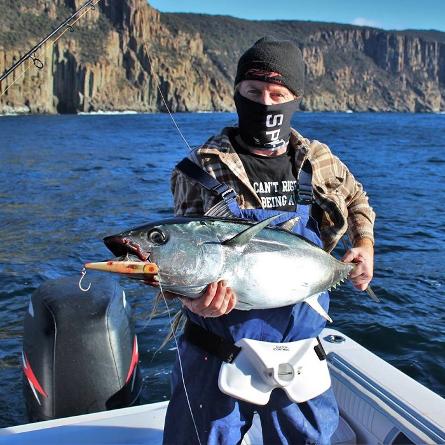 Tyenna Dave has also started making some larger lures and also a range of poppers that are suited not only to trout but to estuary and saltwater species too. Some of the larger lures developed in 2014, were made to target offshore species such as Southern Bluefin Tuna and feature the first THL lures with aluminium bibs. The THL Squid Jigs were first used off Maria Island in 2015 and proved themselves on some nice specimens.
Tastic Lures - NT:

Tastic Lures are made by Dean Blackman from Palmerston, Northern Territory.
More info soon . .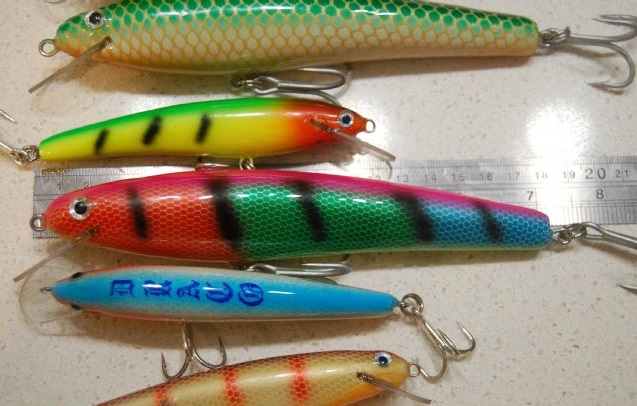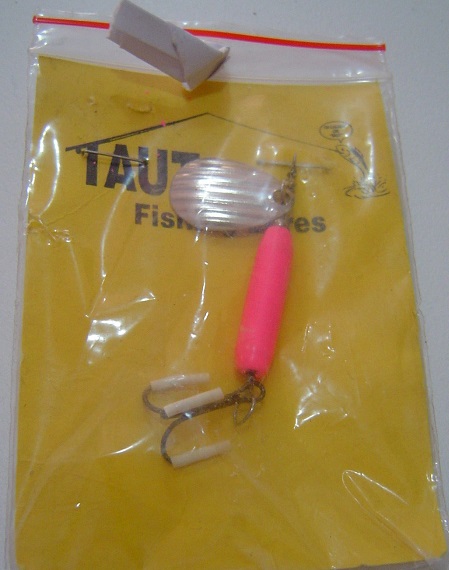 Taut Inline Spinners - VIC:

Taut Lures are made in Ballarat, Victoria and market a range of inline spinners similar to old school indiana spinners and colorado spinners. Below is shown an earlier single bladed spinner on a yellow backing card.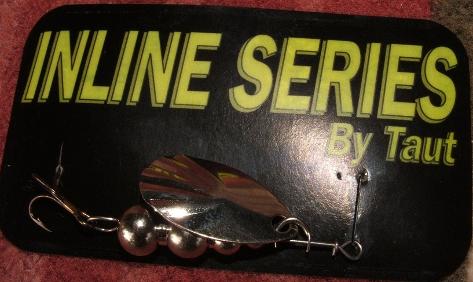 Tayatrick Lures - NSW:

Tayatrick Lures are made by Eriz Larsen who started the Facebook page 'Timber Lure Making and Painting'. A small range of lures have been produced from 2014 with the first models being primarily surface lures however Eriz does also make diving bibbed lures in more recent times.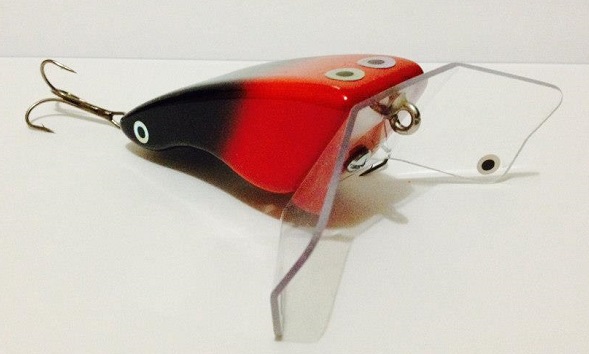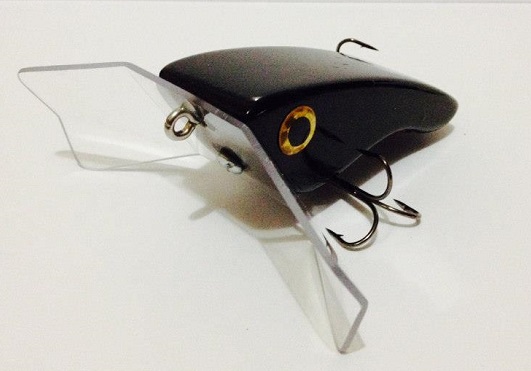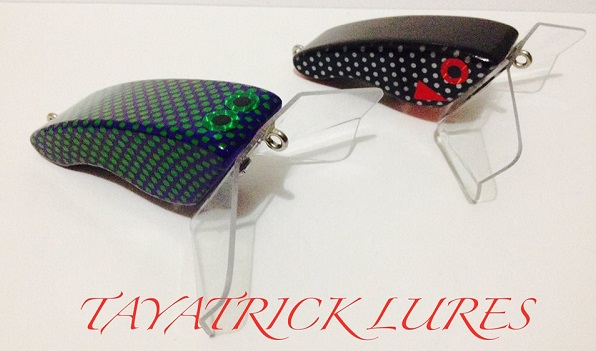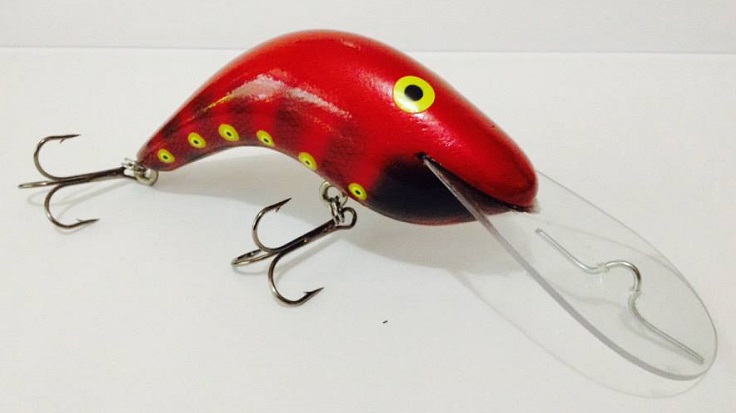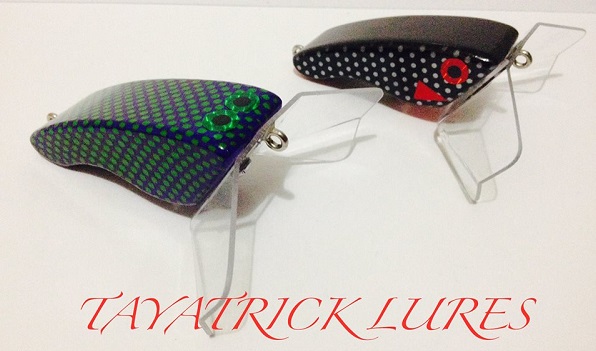 Taylormade Lures - NSW:

Taylormade lures are made by Robert Taylor and have been made since the 1990's. There are a number of packaging variations including the ones shown. Much of the earlier Taylormade lures focused on surface lures and paddlers however the range has expanded from its beginnings and include a number of deep diving models.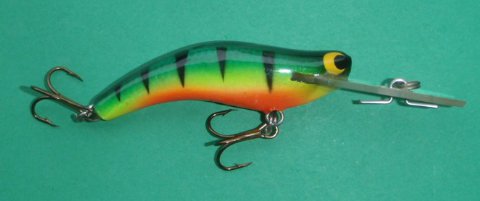 The card below is a later card but again it is now a few years old and still showing original price on the shelf.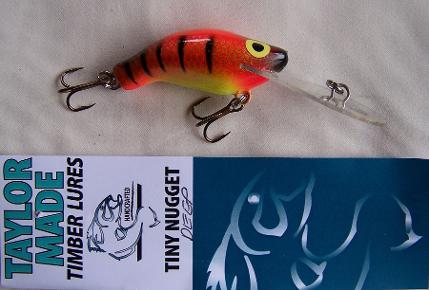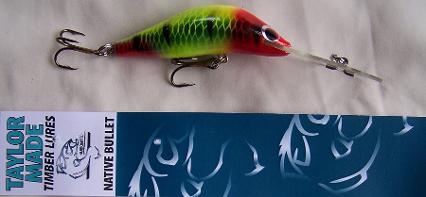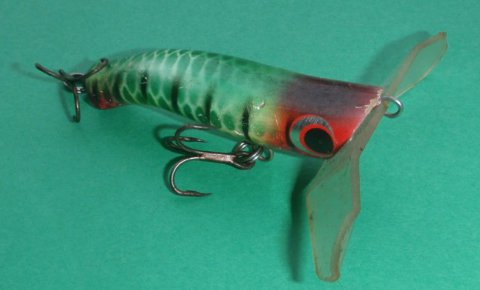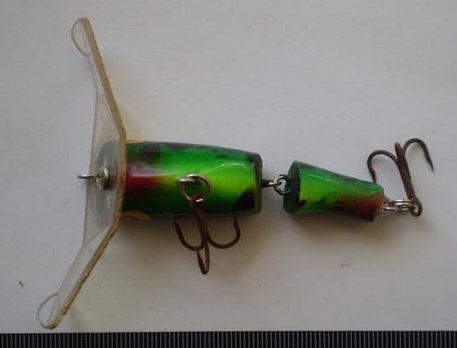 The lures shown left are the earlier timber models with twisted wire eyelets and hand painted eyes. Paint fisnishes have always been first class. The eyes on the lures above and below show the later stick on eyes that were used although they have been used for alot of years now.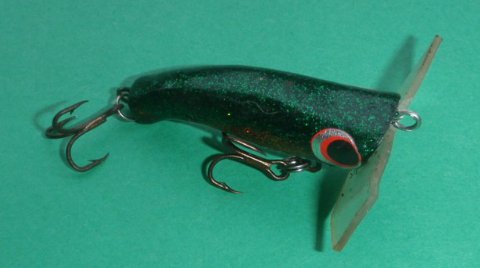 The card below is one of the earlier cards once the Taylormade range was made in more volume. It still features the foil stick on eyes which are a real easy way to identify Taylormade lures.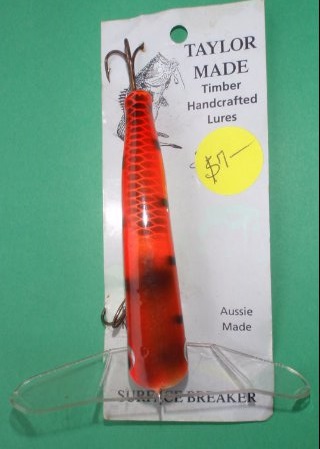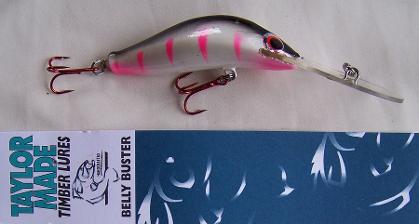 T.C Lures - QLD:

T.C Lures were made by Trevor Clark who was a hobbyist maker who released a small amount of timber lures onto the market. There was a T.C lure featured in Frank Prokop's 'Lures In Depth' publication. There was a model called the T.C 'Tiny' which was available on a plain white card from Mudgee Camping and Fishing back in the 1990's.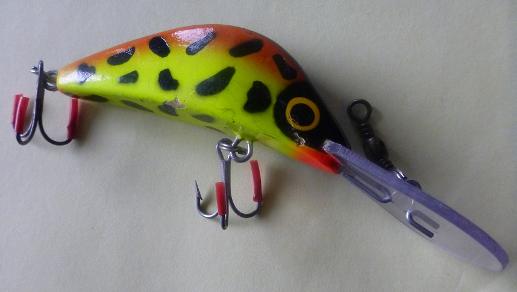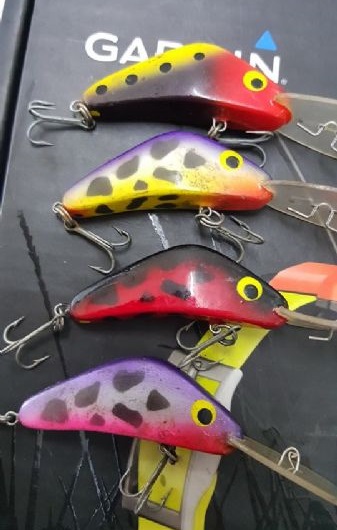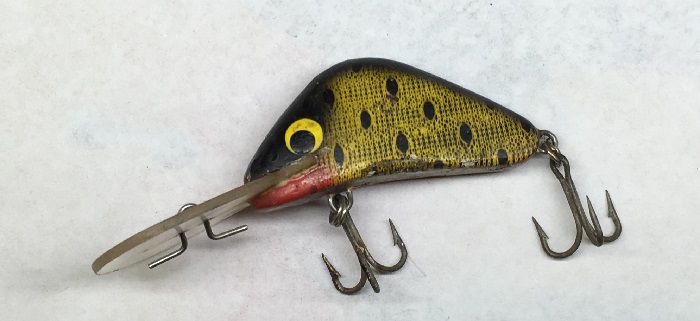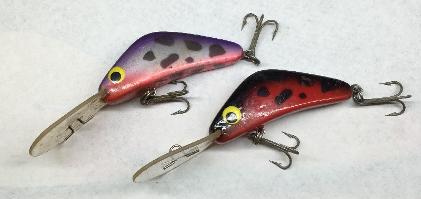 Tel-Lure Lures - TAS:
Another of the unrecognised vintage makers from Tasmania (these are labelled as being made in Tasmania as they are most found in Tasmania and Victoria. It is possible they were manufactured in Victoria.). The Tel-Lure has a very distinctive shape and finish. Heavy cobra style with painted wings. Photo opposite show some of the colours. From the Trout Trollers Facebook Page.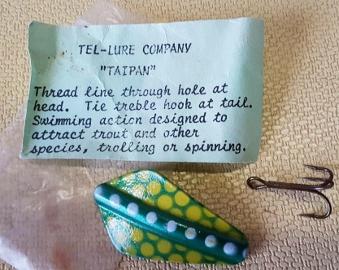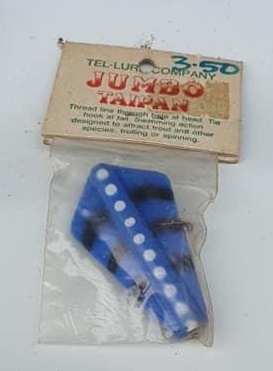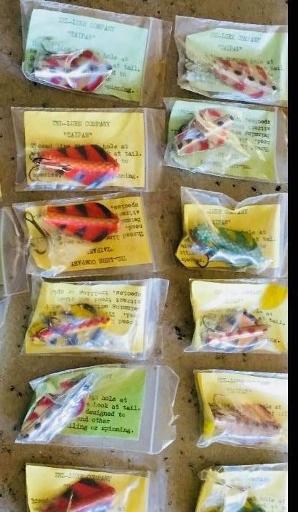 Tenterfield Lures, Trevor Mc Feeters - NSW:

Legendary lure maker Trevor McFeeters, is another lure maker from Tenterfield, definitely a 'hot spot' of the Australian lure making scene. See full page bio under Mc Feeters - Tenterfield Lures
Terminal Tackle:

Terminal Tackle are not common and were made by Steve Barrett. Otherwise no other information.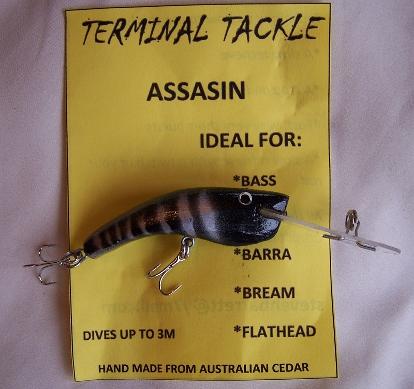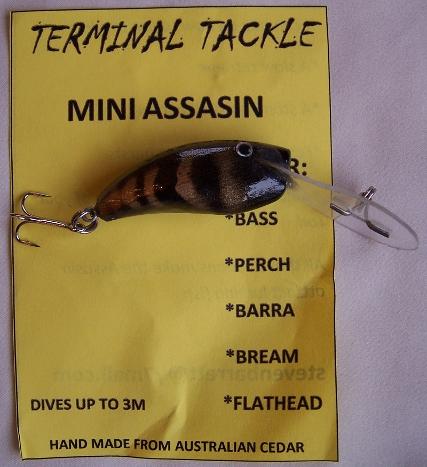 Territorian Lures - NT:

Territorian lures are another from the Forrester brothers stable in Northern Territory. The Forrester Brothers have made a number of excellent lures under the names of Forrester Lures, G Lures (Graeme Forrester) and Bas Tad. It looks like Bob Forrester is the man behind Territorian Lures. The photo shows a model called the 'Bonanza' and the logo for Territorian Lures was a map of the state of Northern Territory with a large bird flying towards it.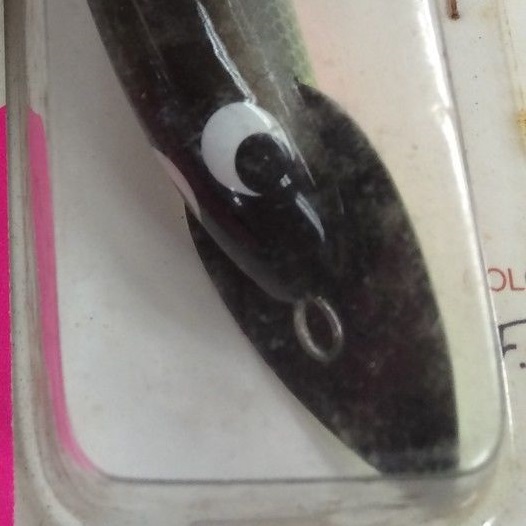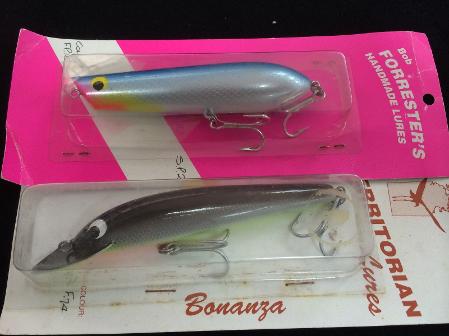 Territorian lures have a distinctive shaped bib which is angular and pointed and comes out wide from the body. High quality hand made lures that fetch decent prices when they appear on the market. The early card shown left mentions 'Robert's Territorian Lures' and also Forestwood Products who distributed the Bass-Tad range of lures.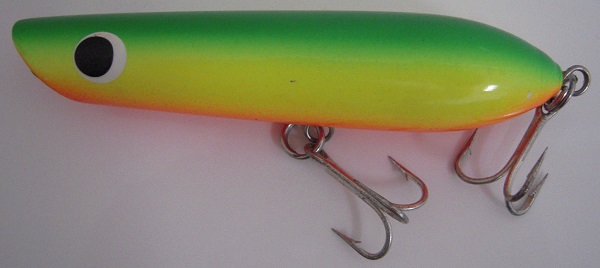 The Lure Factory - N.T:

The Lure Factory was owned and operated by George Scotland in Palmerston and was a back-yard operation running from the late 1980's into the 1990's. Making barramundi lures the their product was sold through the tackle shop at the 11 mile before Steve Compain took over. Vintage lures and no longer made. An extremely well made lure and difficult to find.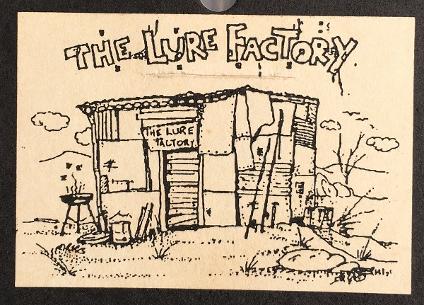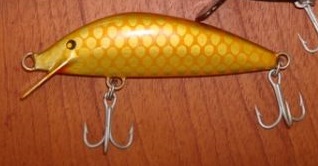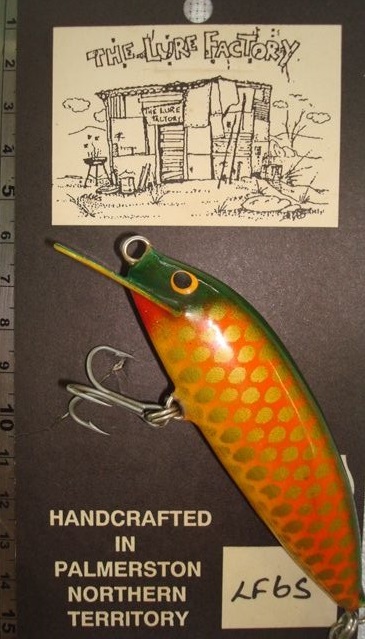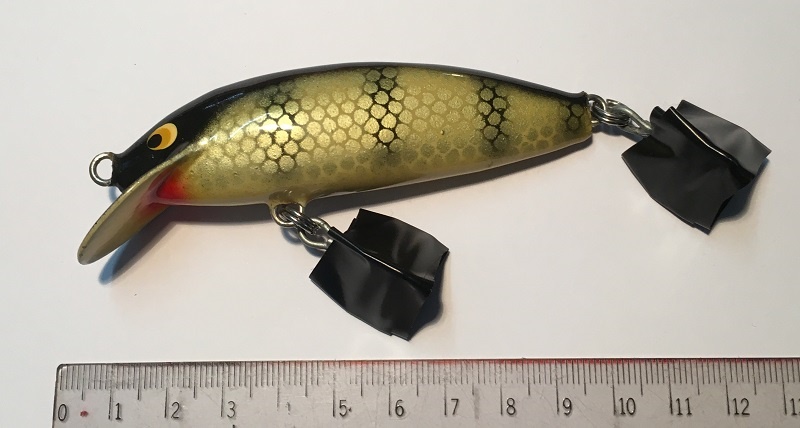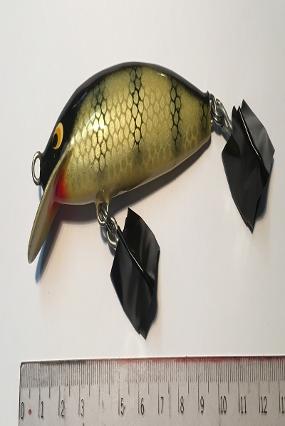 Thirsty Lures - VIC:

Thirsty Lures are made by C.J Wilson who is a friend of Rick Peel the current owner and maker of Mudeye Lures. Lures are larger jointed surface lures aimed at targeting native Australian fish. Made in Yarrawonga. Various models shown below. A high quality product that is in high demand.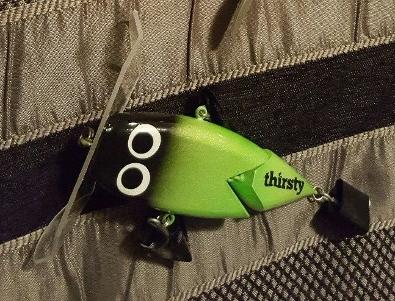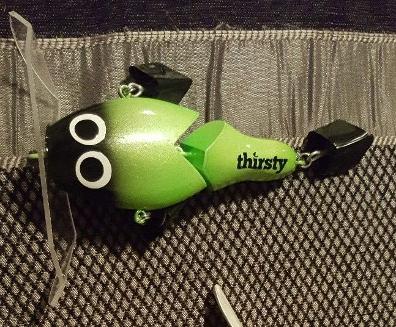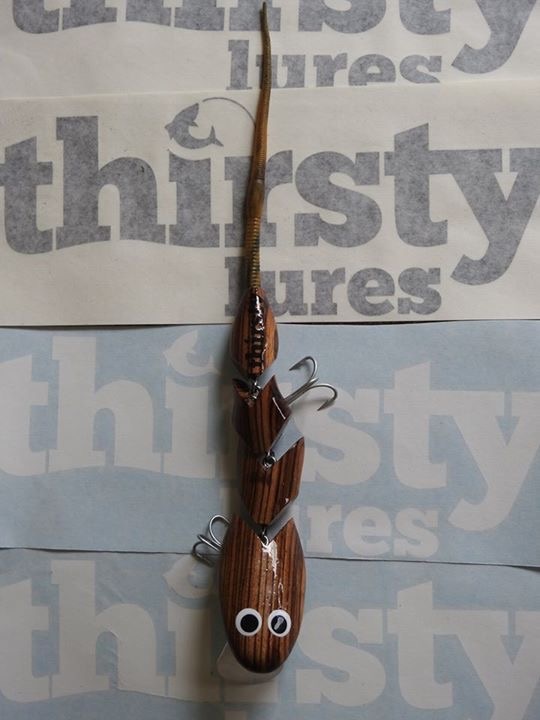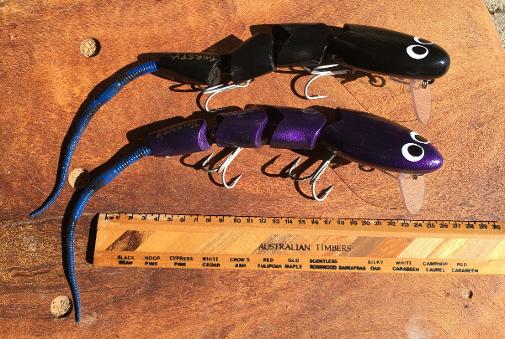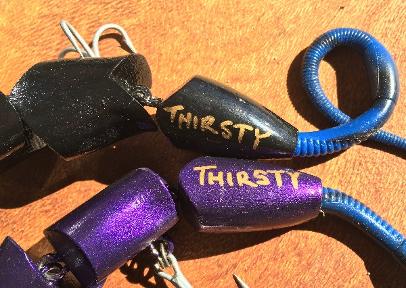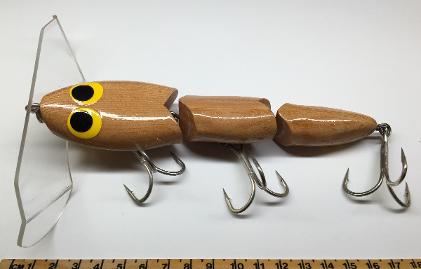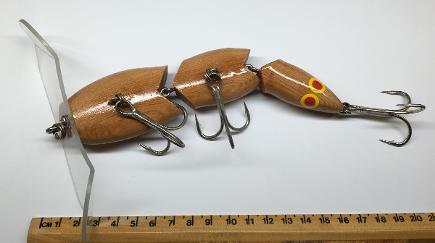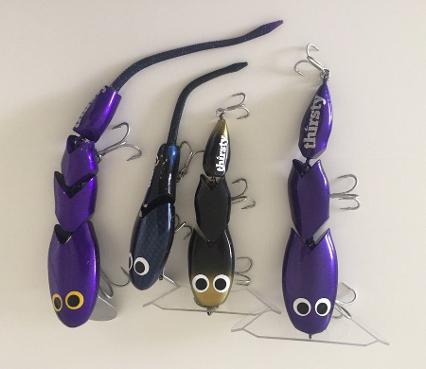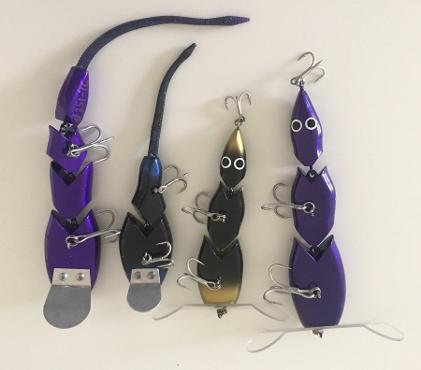 Thistle Brand Lures:

Thistle Brand Lures are one of the earliest Australian examples of a commercially made lures and date to the 1930's. It was called the Thistle 'Doodle Bug' and was marketed under Thistle Brand Lures and apparently made by David Whitton. The lure pictured is only 4cm in length. Other wise little information other than anectodal evidence.


Thomas, Aubrey Thomas Lures - QLD:

Aubrey Thomas made lures from his home in Stanage Bay Rockhampton, Queensland. His lures have the distinctive style of the QLD minnow and shows many influences. The lures feature metal bibs and a very original hand painted finish that are relatively easy to identify.
The photo right was shown on the Lure Lovers forum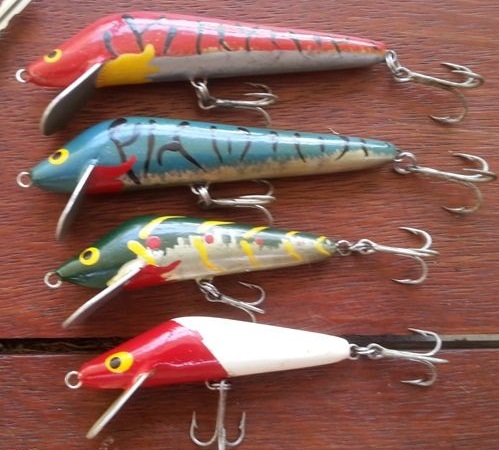 Thompson, John Thompson Lures - NSW:

The following lures were sourced by Gary Wade from Reel Deal Fishing and the history is supplied by Gary;
'The following lures were sourced from John's step nephew in Murwillumbah as John is confined to a nursing home due to dementia. John and two older mates nicknamed Puddy and Cyrill met when they were sugar cane cutters on the Tweed River at Murwillumbah in the 1960's/70's. As technology advanced and mechanisation took over, John and Cyrill moved to work on various farms in the Tenterfield area and eventually went their own ways with John settling on a property in Moree, NSW. Nephew Brad confirmed that all these lures were made by John from skills he learnt whilst around the Tenterfield area and some influences can be clearly identified.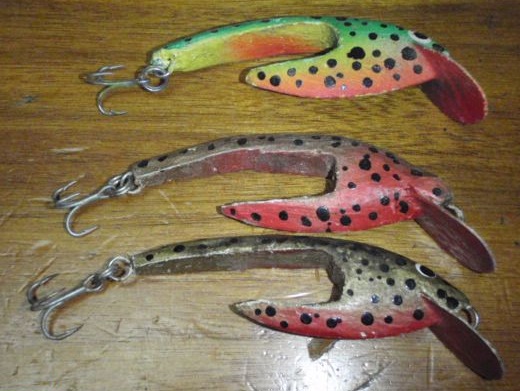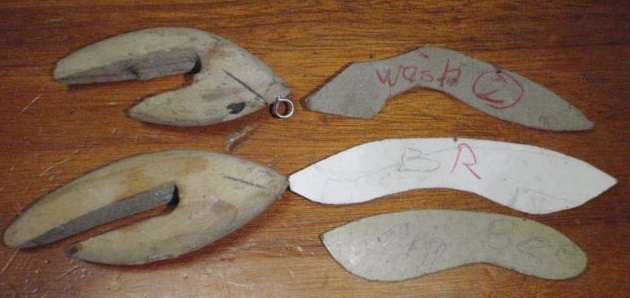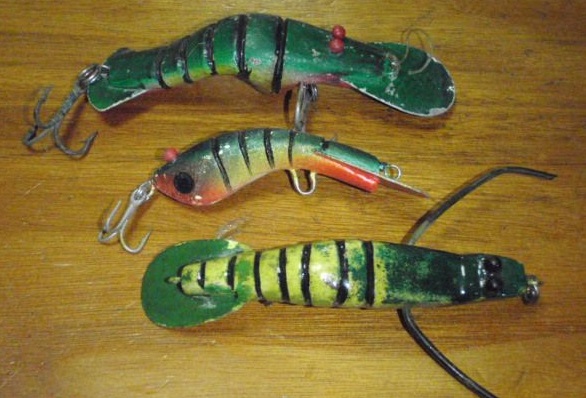 Thommos Charger Lures - QLD:

The 'Thommos Charger' are a plastic lure with an exceptional airbrushed finish that were marketed under Champion Brand Lures. No longer available. See Champion Brand Lures.
Thong Thing Lures - QLD:

The range of Thong Thing Lures were made by Les Baker in the 1990's. Shaped from foam thongs the following article was posted on the Lure Lovers forum and was originally published in 'Better Fishing'.
There were many copies of these lures and a large range of styles so it is difficult to identify the original Thong Thing lures unless they are in the packet. They are a classic Australian invention using discarded or cheap 'thongs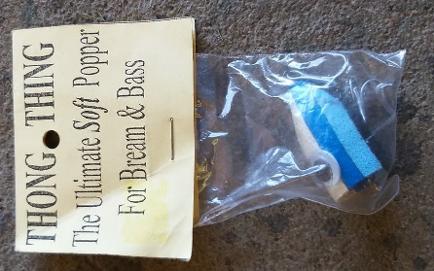 Thready Salmon Lures - QLD:
Below extract from Fishing Monthly 2012

Thready Buster Lures
This popular soft lipless crankbait will be on display at the show with an exciting new range of colours and a lure to suit your needs.
Originally designed to take advantage of the fantastic threadfin fishing in the Brisbane River, the Thready Buster lures have grown in popularity so that now there is hardly a sport fish that is not being targeted with them.
Tough, durable and Australian made, the Thready Buster lures provide a silent and lifelike option whether you're fishing for bass, redfin, trout, flathead, threadfin salmon or mulloway right across our country.


THUG Lures - QLD:
Thug Lures are made in Cambooya, near Toowoomba, Queensland by Chris Anderson who has been making timber lures since 2015 and Kimmo who is the man behind the air brushing. See full page bio under Thug Lures
Thump Lures:
Thump Lures are made by Wes Watson who is based in Ipswich, Queensland and kindly provided the following information;
Gday , thought I would share some info and lures from Thump lures. Wes Watson is my name and I am Eddy Watson's son (he made Cedar lures). Dad taught me to make lures as a teenager. Thump lures was a name I used when I was younger and after a conversation with Debbie Dare she suggested I keep using the name. I mostly make cod lures and like to keep experimenting with surface lures. 'Lunartiks' are my surface lures. Wes Watson, 2017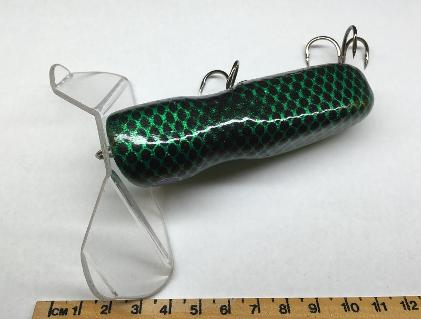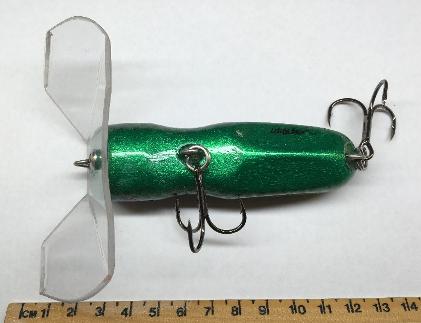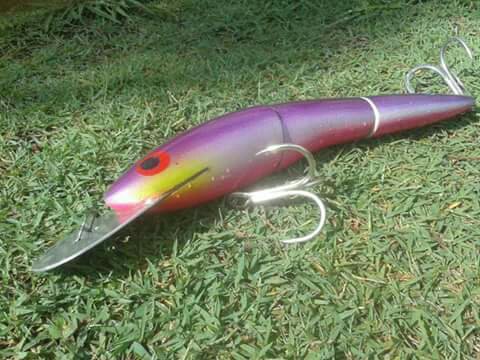 Thump Lures 'Sir Beast' (left) and a metal bibbed surface paddler below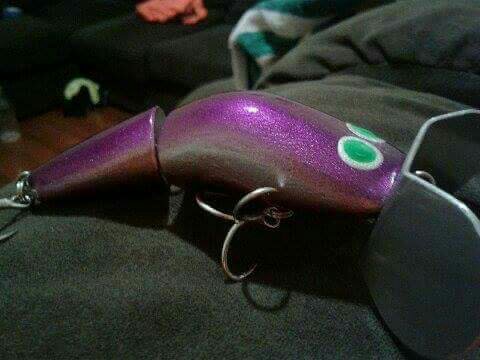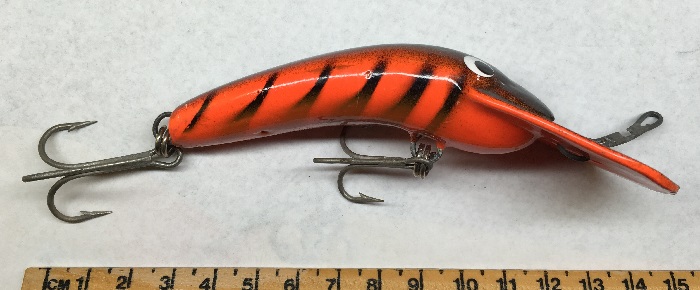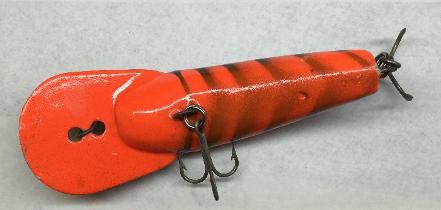 Thumpa Lures - QLD:
Thumpa Lures are made in Withcott, near Toowoomba, Queensland by Brian Woolacott who has been making timber lures since the mid 1990's. His earlier models around 1997 will feature metal bibs and the Tenterfield towpoint. Later models will have utilise plastic polycarbonate bibs.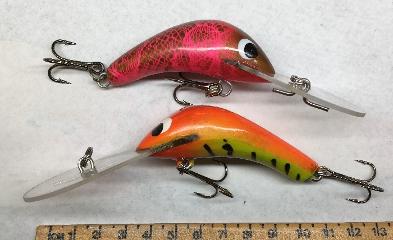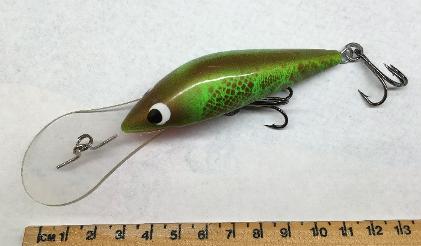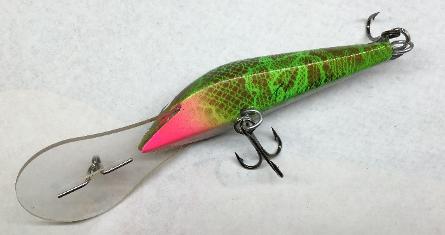 Thunderbolt Lures - VIC:
Thunderbolt lures are made in St Kilda, Victoria and are a 'cobra' style lure similar to Tassie Devils that are aimed at catching trout. There are also Thunderbolt metal spoon 'Gudgeon' range that are shown bottom right. Found in black packaging with plastic window as shown and unsure if they are still available. Advert below is from Lure Directory and dates to 1995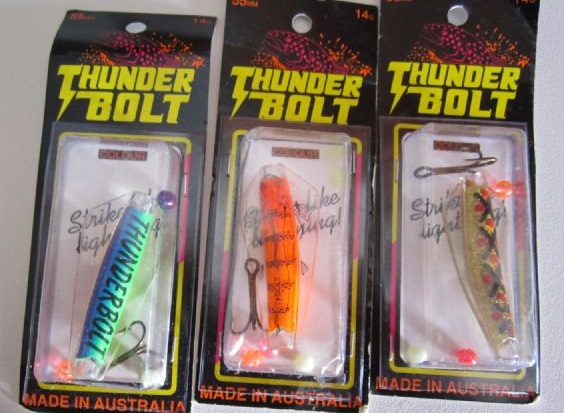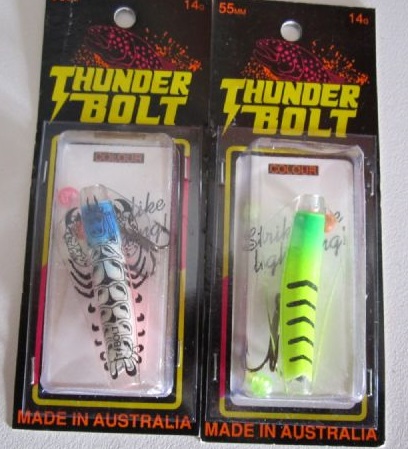 Thunderbolt Lures colour and model catalogue introducing 'The Naturals' range c.1995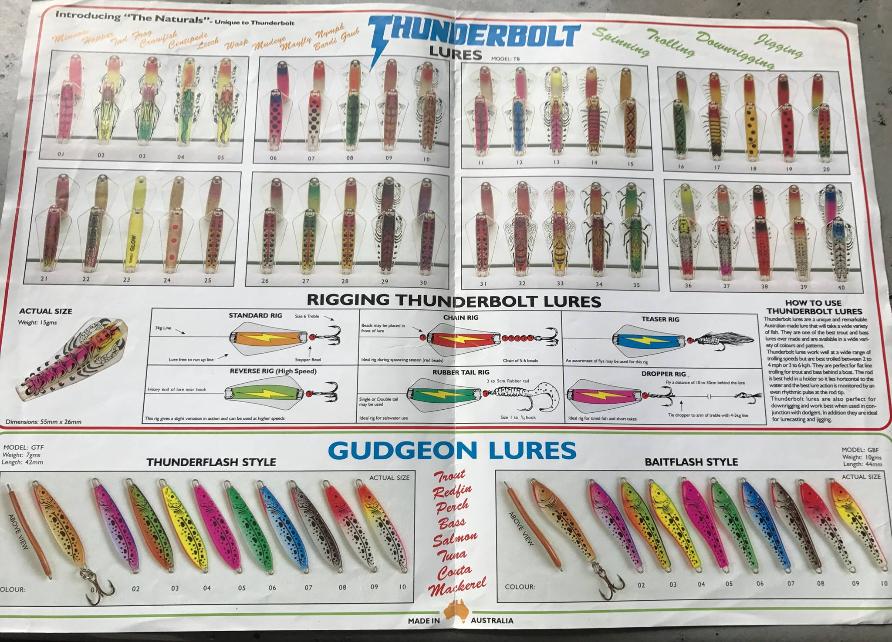 Tidal Lures - QLD:
Tidal lures were made by Brett Choice in the 1990's. The photo right shows the Tidal 'Horny Herring' which was reviewed in a 1994 publication. Rarely found and no longer made.
Tidal Water Lures - NSW:
Tidal Water Lures were made by Dean Hayes who unfortunately passed away with cancer in 2009. He was a fishing guide on the Hawkesbury River in NSW. See Deans Tidal Water Lures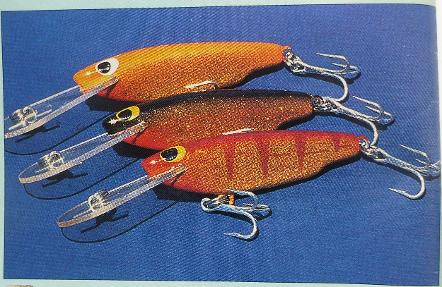 Tiegar Lures - NSW:
Made by Lively Lures for Tiegar, started life as Legend Lures. The Teiger lures are polyurethane and have had 4 owners since being made in the early 90s. They may have R&M moulded into the belly of the lure also. Owned by Garry Armstrong of Moama.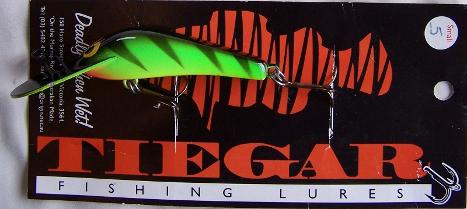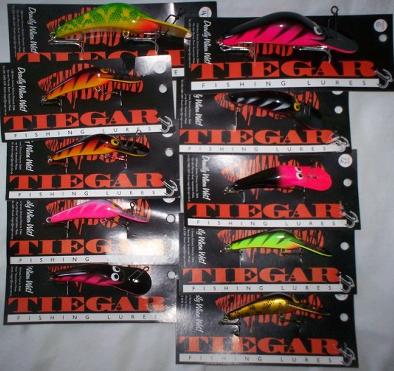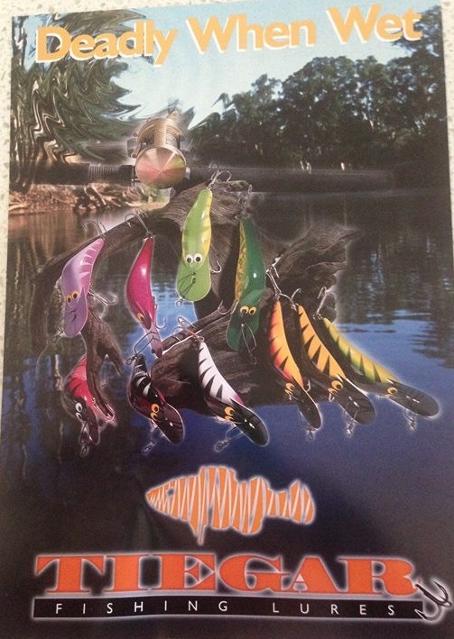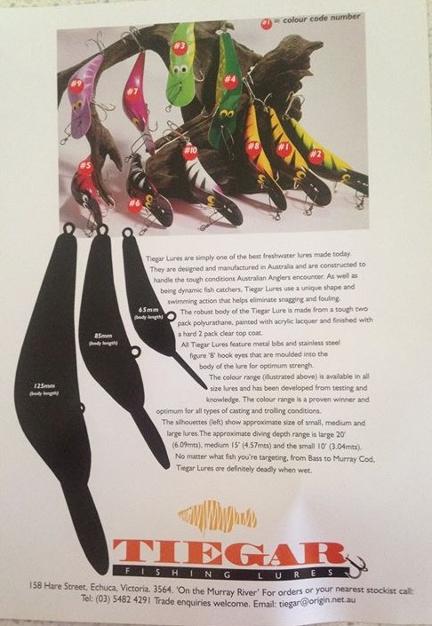 Tiger Lures - TAS:
Tiger Lures are a Tasmanian made lure that resemble a Tasmanian devil or 'Cobra' style lure. Unknown maker and these are a cheaper copy of the legendary Tasmanian Devil lures made by Wigstons.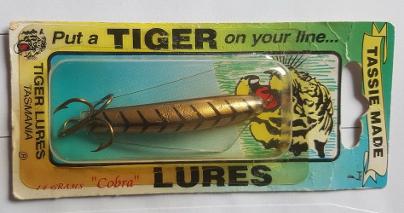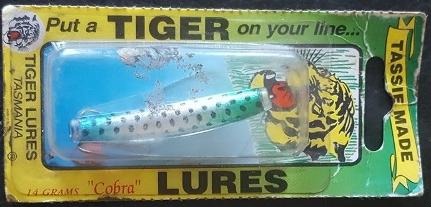 Tillack, Lowell Tillack Lures - QLD:
Lowell Tillack is an avid Murray Cod angler from Goondiwindi in Queensland. Lowell is a hobbyist lure maker who builds timber lures, a quality heavy duty lure. Lure models include the 'Speckly' which will be marked Rippa Till.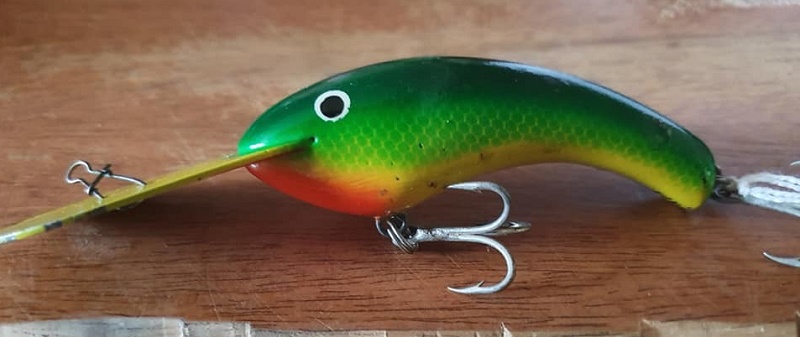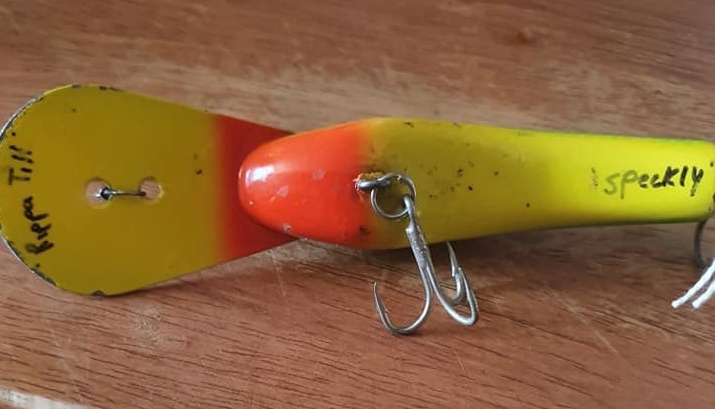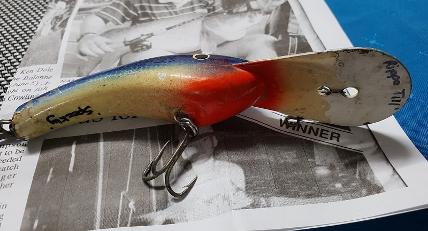 Tillin Lures - TAS:
Tillin lures have been made in Tasmania for approximately 60 years and are still being made. Ted Tillin started making his lures in his garage as a cottage industry in the early 1950's. In 1958 he moved his business to a factory in Blackwall, West Tamar. A highly successful lure for targeting trout, Tillin lures are in the style of old Devons, Cobras and Ashleys. Available in large range of colours as shown. Ted died in 1970 and the business was purchased by Alan Best and Terry Charlton and is still operated by Alan today. See full page bio under Tillin Lures.
Tilsan Lures:
Tilsan lures is the company that was started by Til and Sandra Martinello. Til sponsored the 'Windermere Classic' in 1990. The lures were built because Til was tired of paying the high price for Rapalas back then. The lure worked and were further developed for the market. Tilsan Lures took the market by storm in the late eighties and the company invested alot of money in a replicating process that produced balsa blanks of high quality. Their lures have a manufactured one piece stainless steel metal harness that runs from head to tail and ballasts the lure. See full page bio under Tilsan Lures.
Timber King Lures - QLD:
Timber King lures from Edmonton in North QLD are made by Andy 'Nando' Mariani. Timber King lures are made in over 25 different designs ranging from 60 to 180mm. Nando was born in Mareeba in 1963, fishing all his life and started making his 'burnt wood' lures by 1979 in Innisfail (these lures had designs burnt into the timber as paints were too expensive in the early days).
Lures are made from available timbers including white beech, milky pine, Kauri pine and Bunya pine. All bibs are made from aluminium and eyelets are twisted stainless steel. Timber King lures were originally made to fish and for mates and family.Some were sold and then into wider angling circles. Timber King lures are a well made lure and will be signed with model number.

Below shows a single hooked version of the Timber King lures while below right shows the 'Bream Bait' with a single tail hook.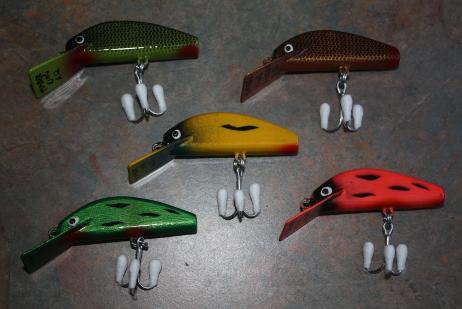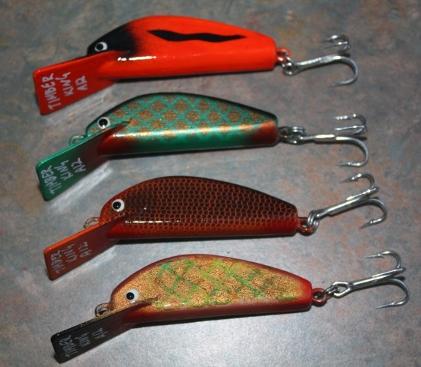 Tinaroo Lures - QLD:

Designed by Laurie and Lorraine Petersen for targeting large barramundi in Lake Tinaroo. Originally made in timber, an early Tinaroo lure is carved from one piece of timber with bib included and has a distinctive look. They are uncommon and there are jointed versions too. Two old versions are shown right.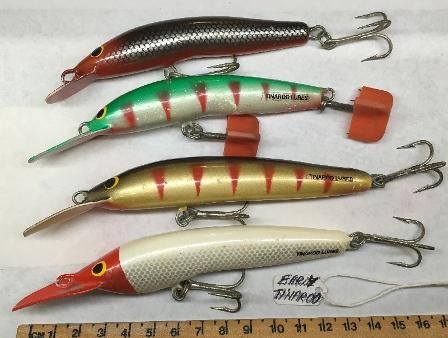 Many timber models will be marked with a Tinaroo Lures transparent label near the tail.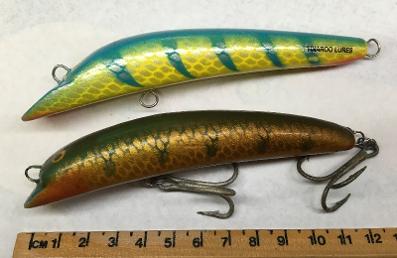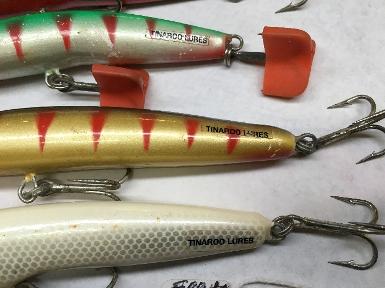 The lures were later moulded. Lure models available in the 1990's were 'Old Faithful' and 'Too Deadly'.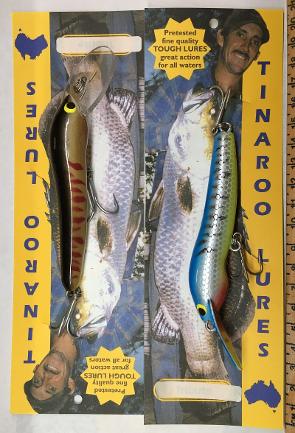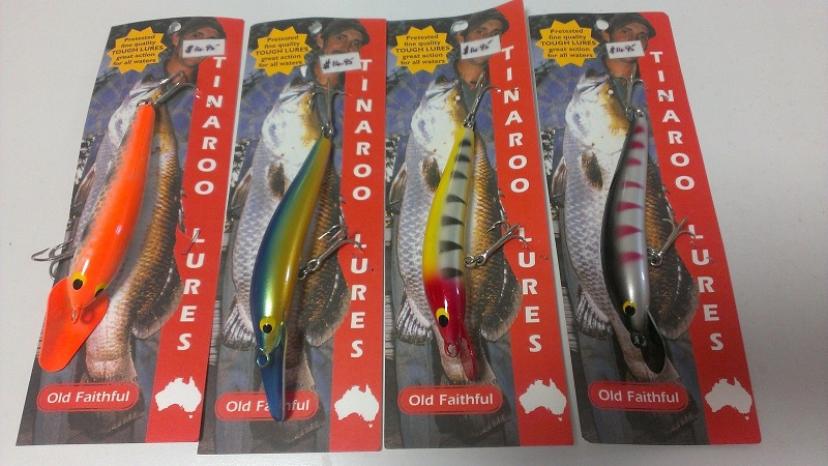 Tin Shed Crafted Lures:
Tin Shed Crafted Lures made a lure called the 'Schooner' circa 1990. No other information.
TLC Lures - NSW:

There is little information known about these lures other than they were made in the Central Coast area and an advert under the name of 'Tight Line Company'. This presentation box was purchased by Lure Hub OZ in 2006 and contained 4 models. All lures are moulded and have a clear stick on transfer with the model name printed as shown. Models include the 'Torpedo', 'Shark', 'Kingfisher' and 'Bug'.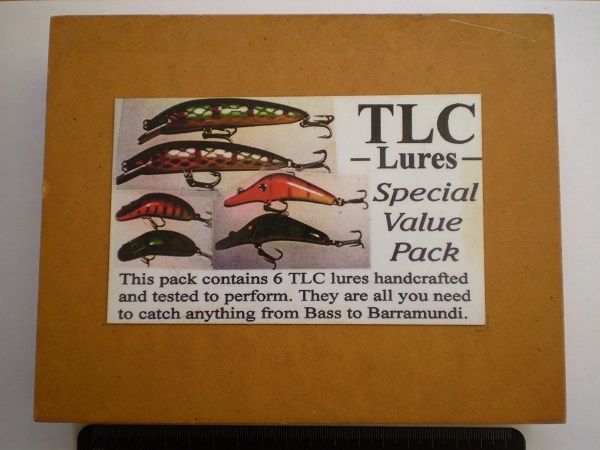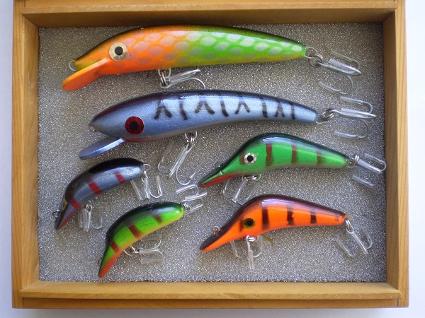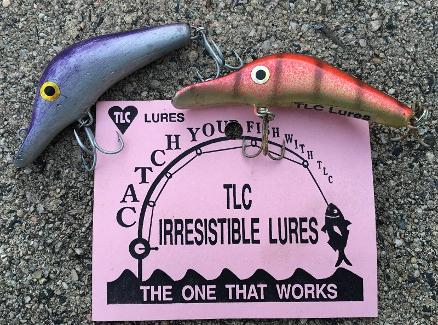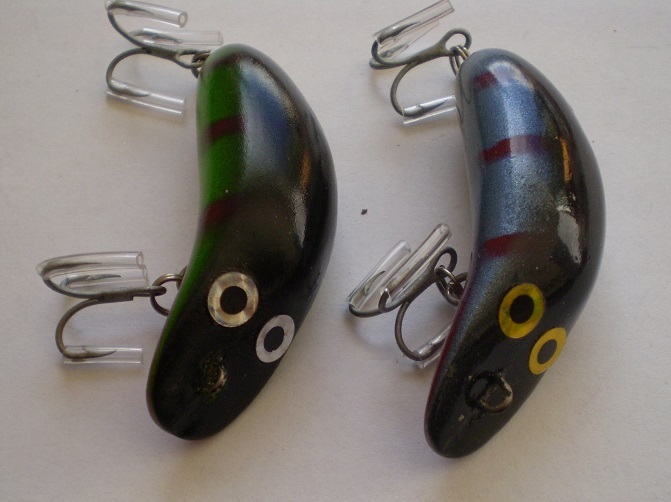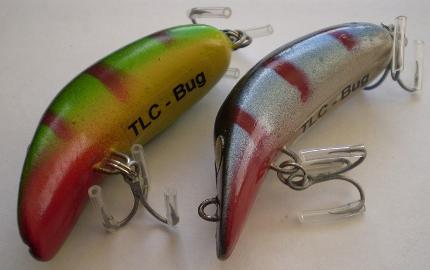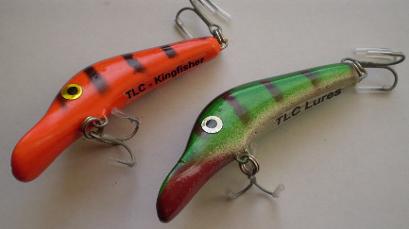 The above cards in pink and blue were uncovered at Expo 2018 with a couple of moulded blanks.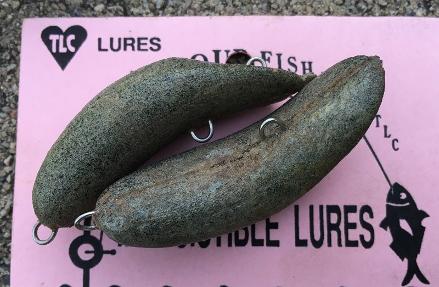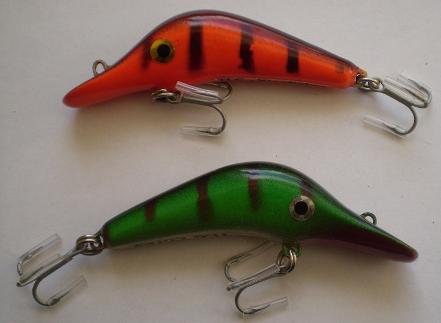 TLC 'Kingfisher' with different stickers.
There are a couple of different stickers that have been found namely a 'TLC Lures' and TLC - with name of model such as 'TLC Bug'. There is also a transfer with a logo and TLC Lures This may help with timelines in the future.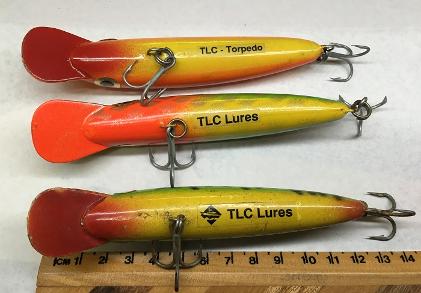 TM Lures, Tom Murray Lures - QLD:
TM lures were made by Tom Murray of Atherton c late 1990's. He now resides in Weipa. They are a solid well made Barra type lure with distinctive paint patterns as well as most being signed TM under the bib. He used to sell them locally on the Tablelands before he went to Weipa.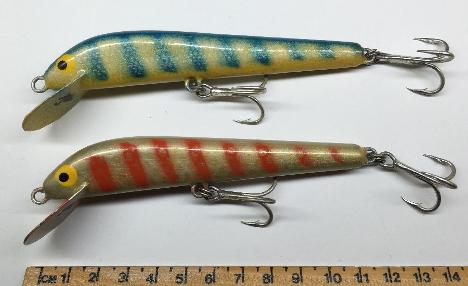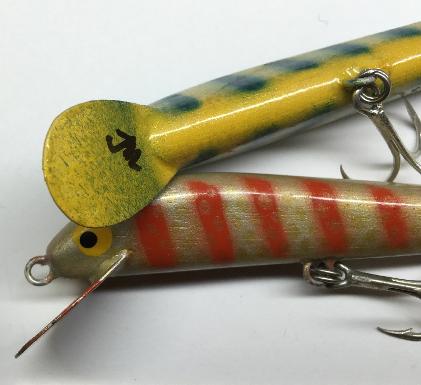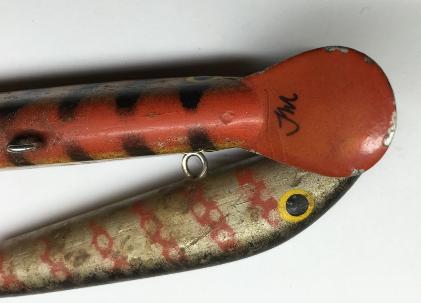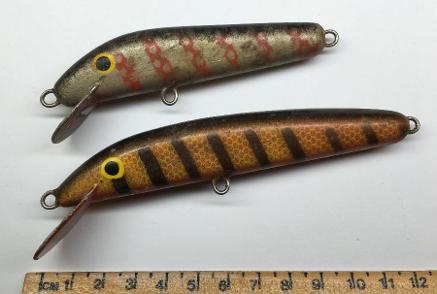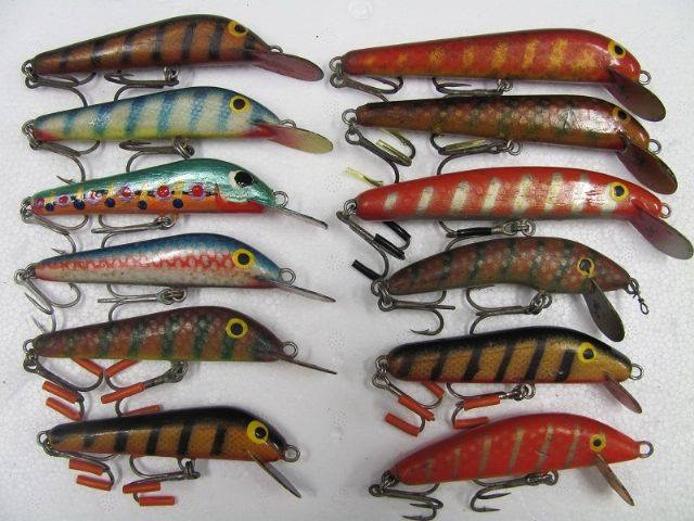 Photos below are from the Lure Lovers forum and are an example of some TM Lures shown by Barry Cross.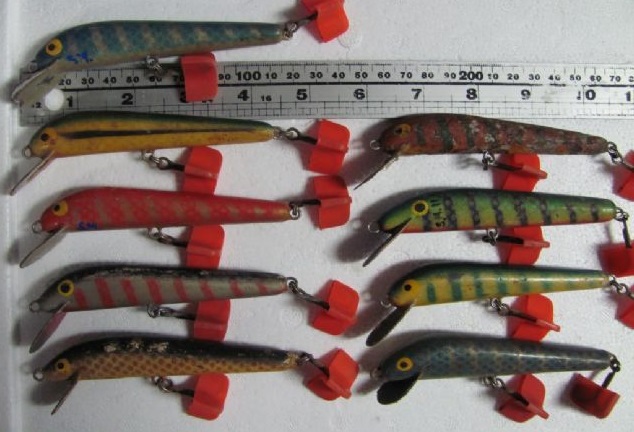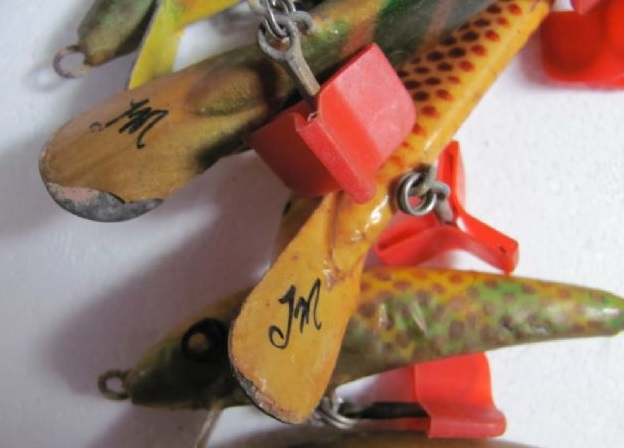 TNT Lures - NSW:
No current information
Toddys Lures - NSW:
Toddy lures are made by Lyall Todd who makes a number of models including the 'Moth Grub' shown below and the 'Frog' opposite but also Bardi Grubs and Ladybirds.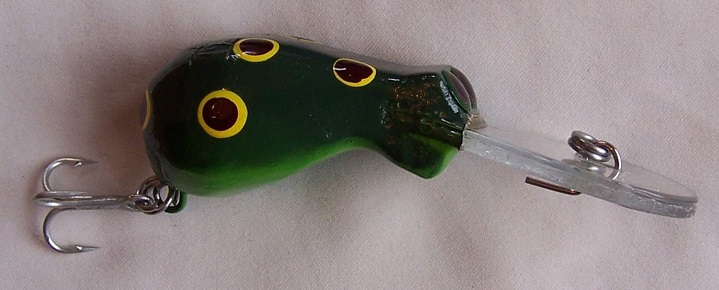 Tomza Lures - NSW:
Made by Dave Dixon from Inverell who works part time for Kingfisher lures and sold from Inverell Fishing and Hunting. Lure models include the 'WoodyRatlr', 'Brokbak Ratlrs (articulated)' and 'Woody Coblar' (right). High quality handcarved timber lures with a slogan on the bottom of the cards as shown - 'Let your Grandma enjoy fishing too'. A true classic catchline.
Lure and More Forum 2009: '' I have made a few lures over the years but only for my own use. Started doing a bit of muck around work for Mike at Inverell Fishing and Hunting. He thought that the Tomzas might be a saleable item. The lures are only a hobby, but I have caught fish on most of my own lures so they seem to work. The snap of the lures shown by Capt. Seaweed are called WoodyRatlr. Did a few Brokbak Ratlrs (articulated) and have just finshed a few which Ive called Woody Coblar. These are basic catfish shape, should work well on cod. Nothing fancy to my lures, just a retirement hobby.
So enjoy yourself, GO FISHING WITH A TOMZA WOODY.''
Dave Dickson.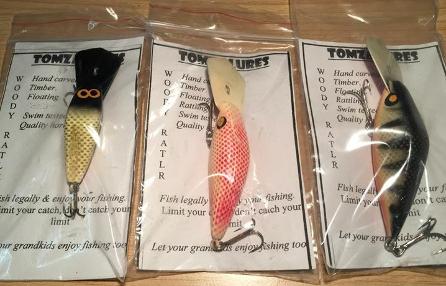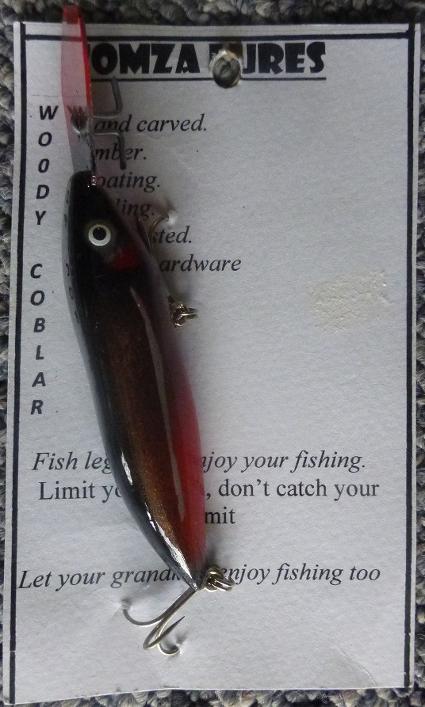 Lure and More Forum 2009: '' I have made a few lures over the years but only for my own use. Started doing a bit of muck around work for Mike at Inverell Fishing and Hunting. He thought that the Tomzas might be a saleable item. The lures are only a hobby, but I have caught fish on most of my own lures so they seem to work. The snap of the lures shown by Capt. Seaweed are called WoodyRatlr. Did a few Brokbak Ratlrs (articulated) and have just finshed a few which Ive called Woody Coblar. These are basic catfish shape, should work well on cod. Nothing fancy to my lures, just a retirement hobby.
So enjoy yourself, GO FISHING WITH A TOMZA WOODY.''
Dave Dickson.
Tonk Lures - NSW/QLD:
Rob 'Lure Nut' Dunn made a small amount of timber lures in the 1990's. His aim was to develop a lure for deep impoundment trolling for Australian Bass and Golden Perch (yellowbelly or callop). The lures utilised deep diving polycarbonate bibs. This particular lure was designed for fishing Glenbawn Dam trolled deep along the river beds - enough were made for mates. Models included the 'Long Tonks', 'Fat Tonks' and 'Small Tonks'. The feature of the 'Long Tonk' and all of the Tonk models was an extremely high frequency at relatively low speeds.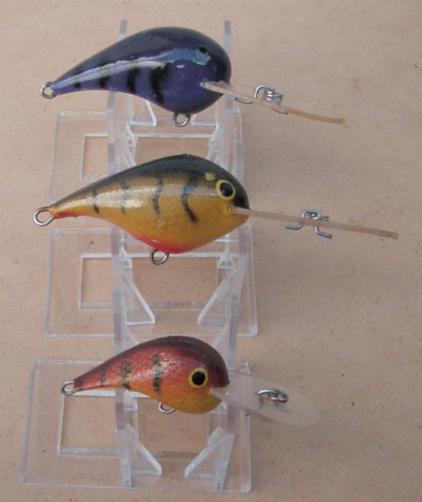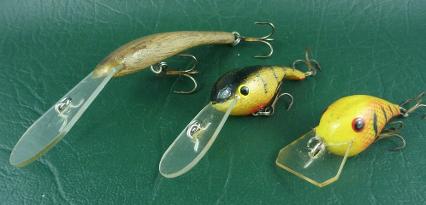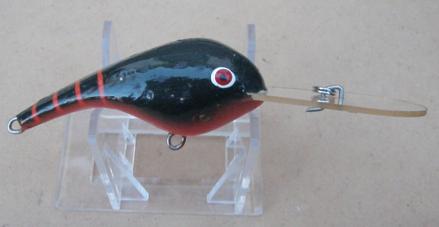 Model above is a very early 'Long Tonk' while the other photos show three different models and the comparison that includes the ' Tonk' (top), 'Fat Tonk' (middle) and 'Little Tonk' (bottom).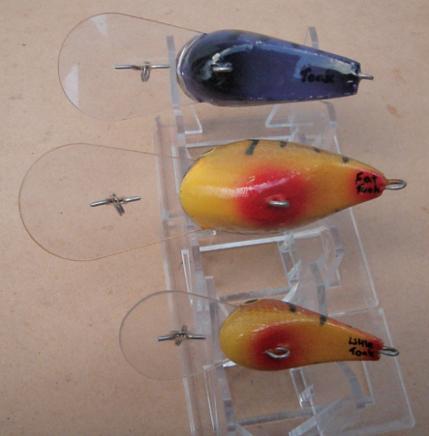 'In the photo left are the two other Tonks - 'Little Tonk' variant with a squared off bib, the nudie was called a 'Slim Tonk' with an amazing action, the middle one was a Tad Tonk and the other I'm now officially naming 'Simons Stubbie Tonk' cause it's a variant' R.Dunn 2010
A few earlier designs and alternative card shown opposite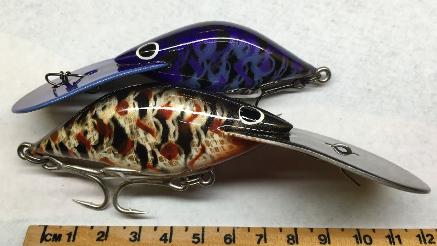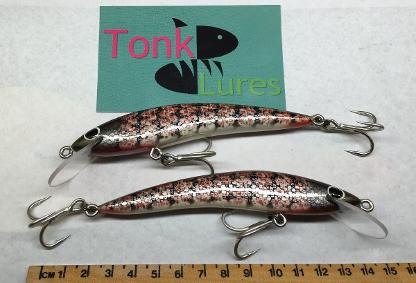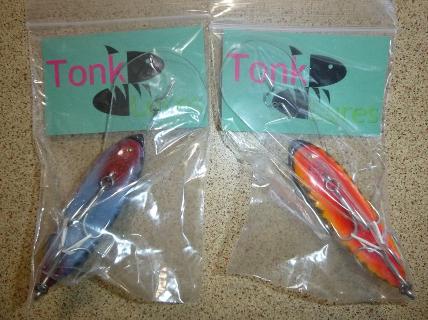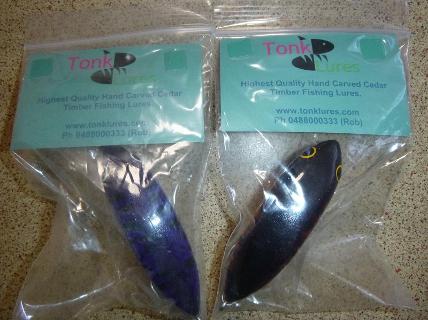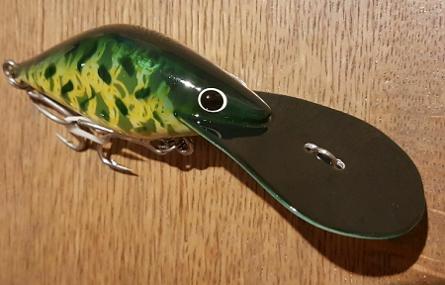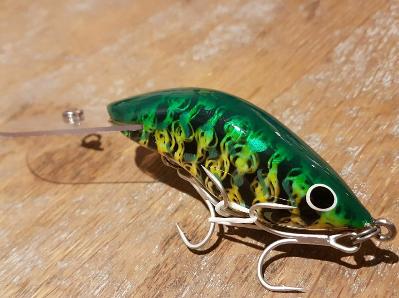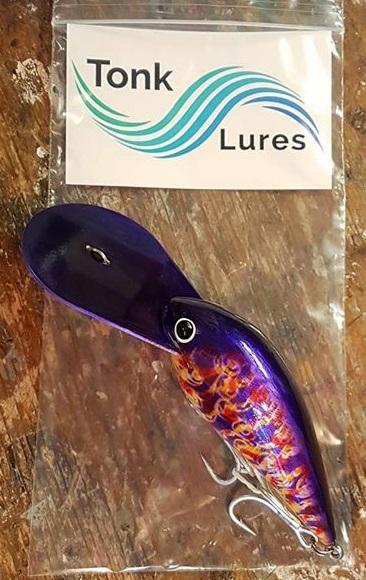 Due to work commitments Tonk Lures were not made for a few years however Rob approached Ted Sartori from Esoteric Lures to assist in developing the modern Tonk series of lures and from there Rob has now developed a system for making his lures, developing the lure making process on his own.
There has been some more Tonks made by Rob in 2014 when he had a resurgence of motivation to make more lures due to a bit of extra time.
Lure Hub Oz caught up with Rob after Expo 2016 and the modern Tonk lure is a work of art and purpose built and it will be interesting to see where the Tonk lure goes from here. After a lapse from making lures for the last couple of years, Rob is again making a few more Tonk lures in 2018.
Below shows a range of Tonk Lures that are owned by Nick Haralambakis who has caught good fish on the Tonks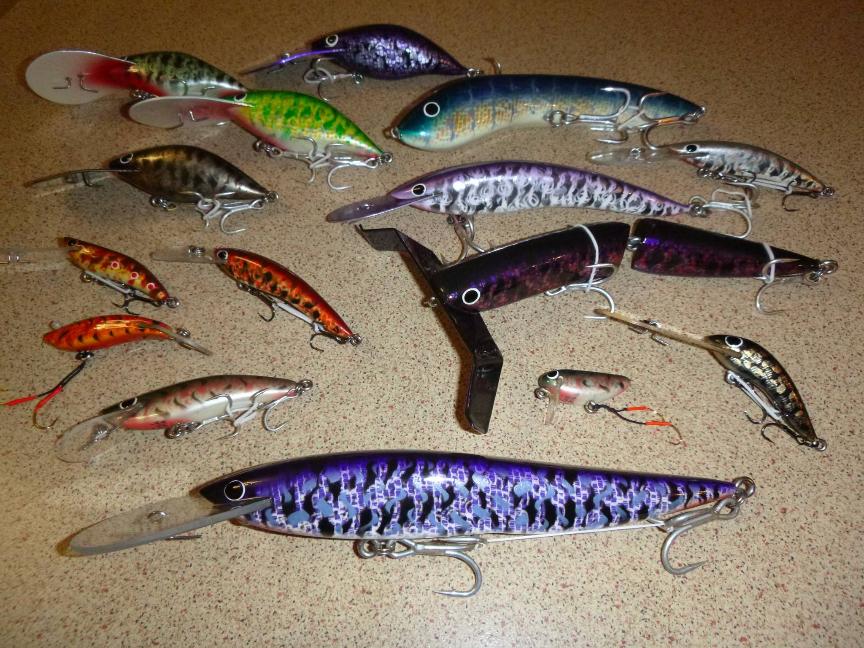 Toogoodtogetwet Lures - NSW/QLD:
No current information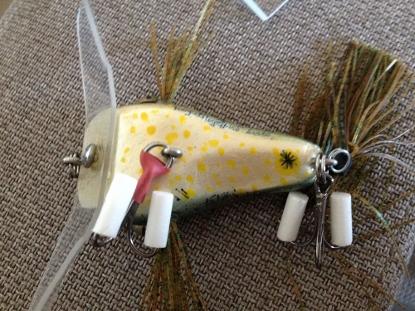 T.P Lures - NSW :
Made by Tony Pullen from Grafton who is an avid bass angler. T.P Lures are all individual and resemble struggling bugs, birds or animals on the surface. Most lures are made as give-aways in bass comps and are not commercially available.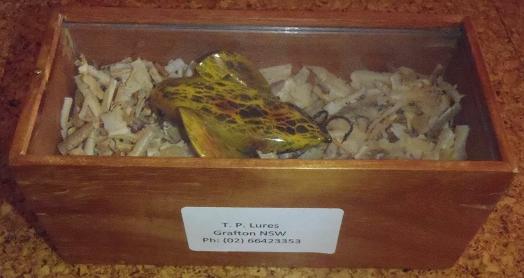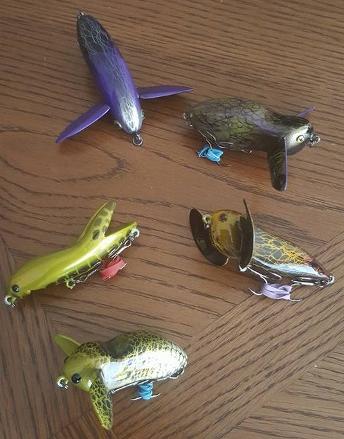 The following is some examples of Tony's work over the previous few years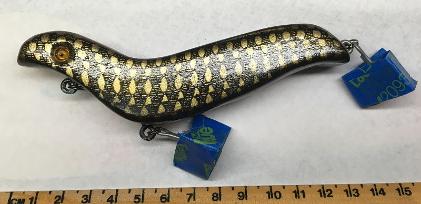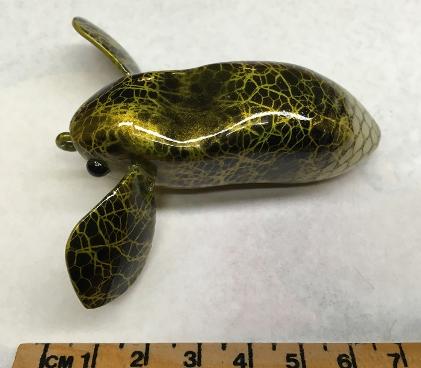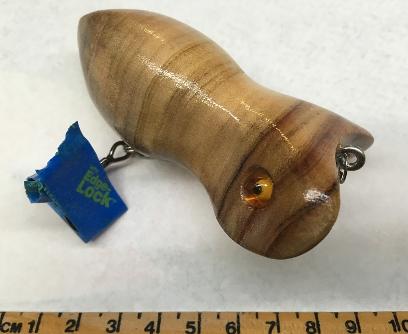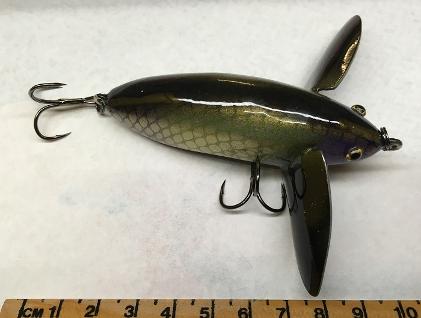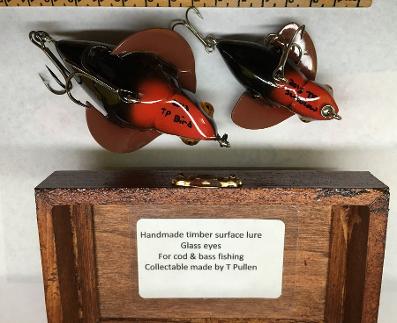 The TP 'Bird' was a special set released a few years back with glass eyes and an amazing design.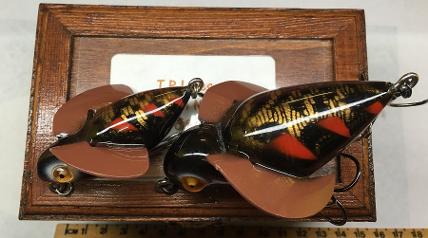 Tossa Lures :
No current information
Trackka Lures :

Obscure Australian lure maker as shown in photograph below right with the model 'Pigmee'. No other information except what is on card with Trackka logo and model name. Looks to made of timber, flashy with a single treble and is a small lure with a large bib for its size.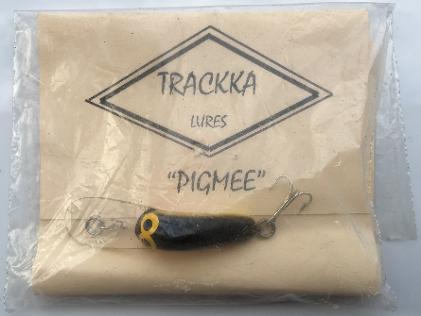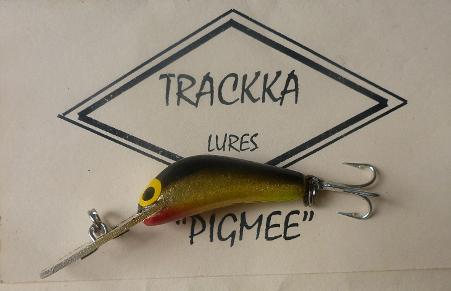 Tredrea, Bill Tredrea Lures :

This is one of the pioneers of lure making in Australia who was shaping timber lures as early as the late 1950's.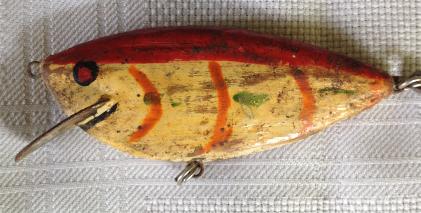 Trewman Lures :
Obscure Australian lure maker. A Trewman Lure was mentioned in Frank Prokops 1991 publication 'The Great Lure Shootout'.
Troll Hand Crafted Lures - QLD:
Troll Hand Crafted Lures were made in Queensland by John Rowe. See John Rowe Lures.
Trout's Delicious Lures - TAS:
Trout Delicious Lures are an unknown entity. These ones were uncovered in Tasmania and are the only examples ever seen,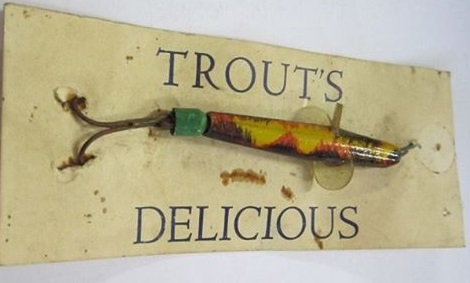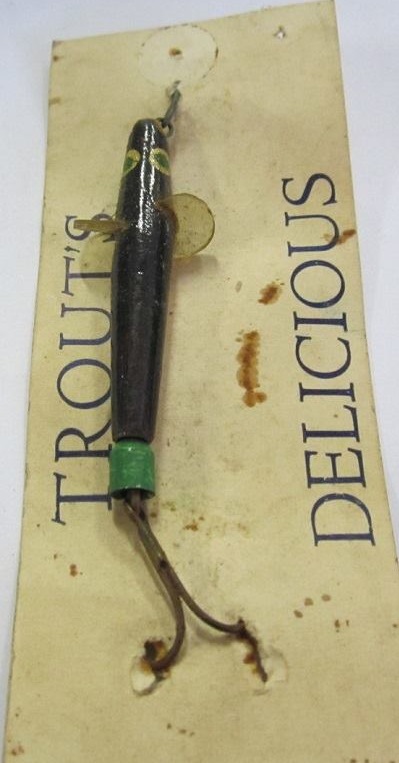 Tubs Lures - NSW:
'Tub' Gainey is a long time cottage lure maker who also signed his lures 'Tubs'. There are a wide range of style and models as shown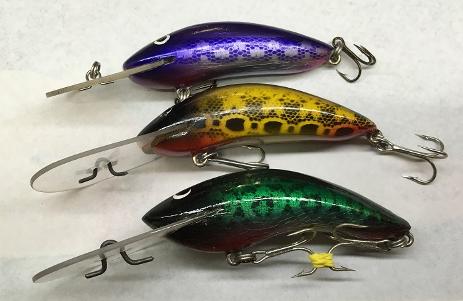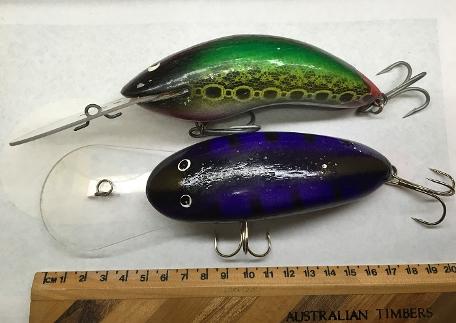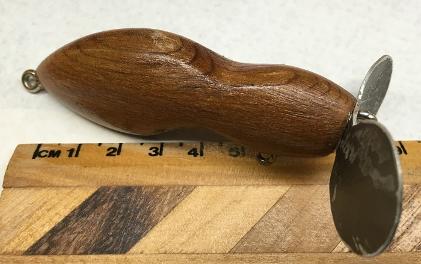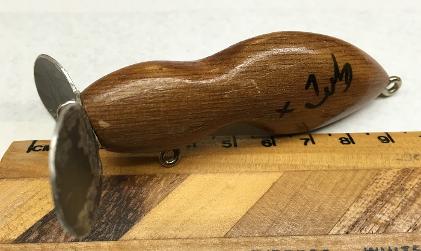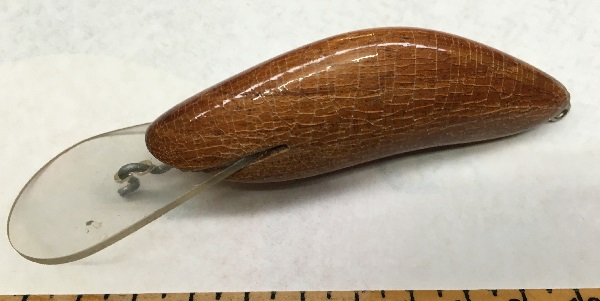 Tuckertime Lures - S.A:
Heath Bassett of South Australia makes some exquisite timber lures. Early Tucker Time lures shown right - all timber and hand signed by Heath Bassett, South Australia. c.2009. 85mm bodies with deep or shallow bibs. Tucker Time lures have an exceptionally hard wearing high gloss finish and are designed for targeting murray cod and golden perch. As of 2012 Tuckertime Lures have been moulded and are no longer made in timber except in small numbers and from 2014 Heath has decided to dedicate more time to the moulded lures and was offered a chance to expand. Updates as they happen.

(Right above) Example of comparison of Tuckertime 'Big Boys' showing comparison to standard size
(Right below) Tuckertime signatures
(Below) Early Tuckertime lures c.2010 showing bib variations - shallow and deep divers.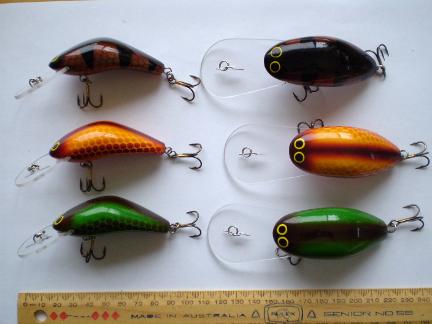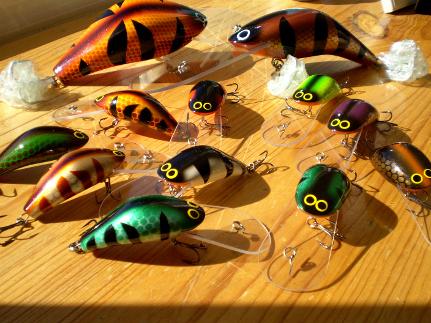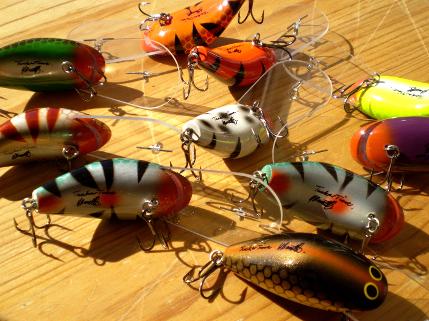 Below shows some of the early colours and promo shots for Tuckertime Lures c.2009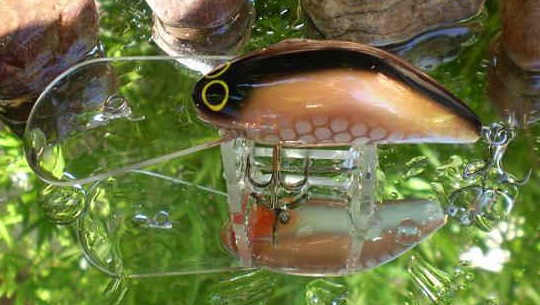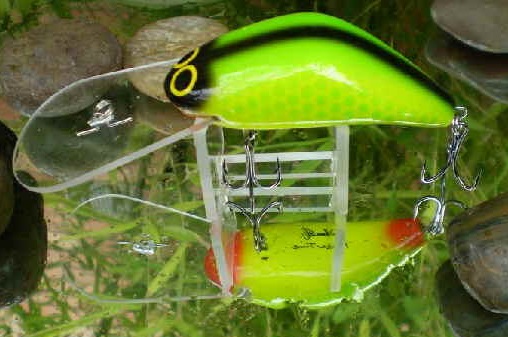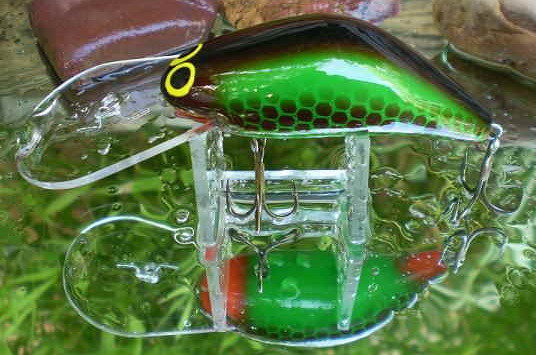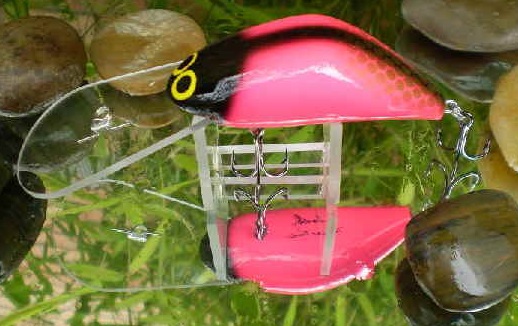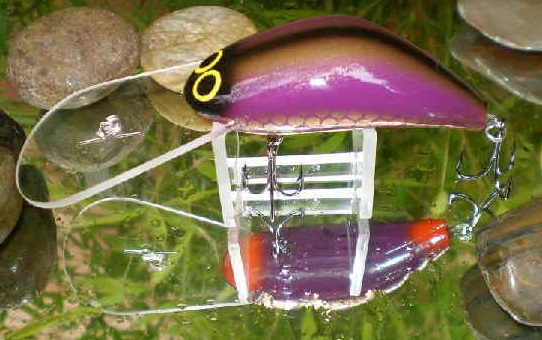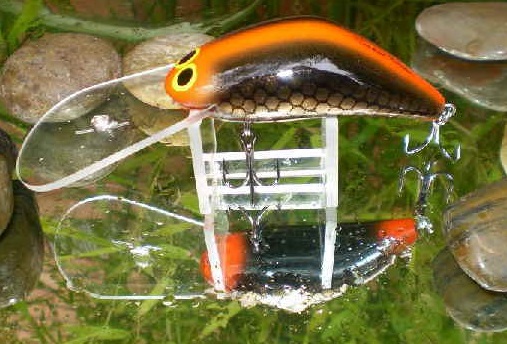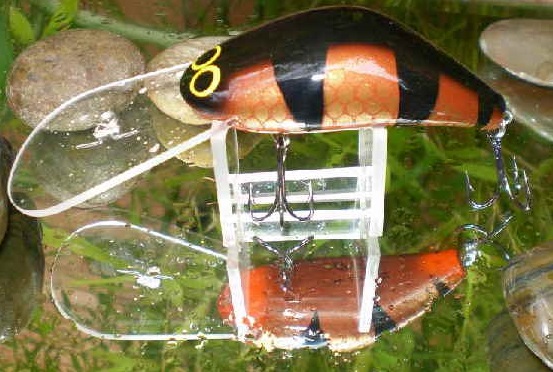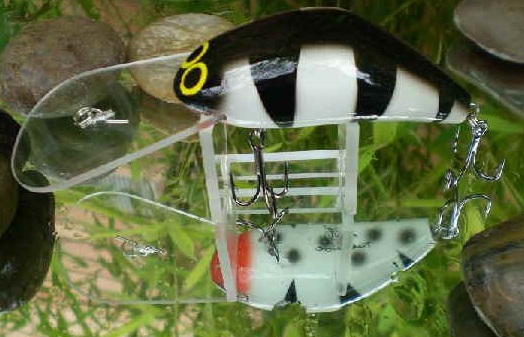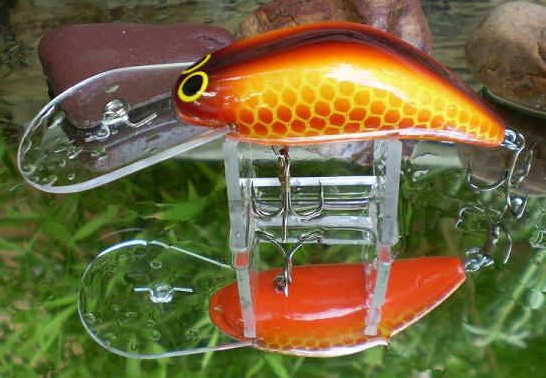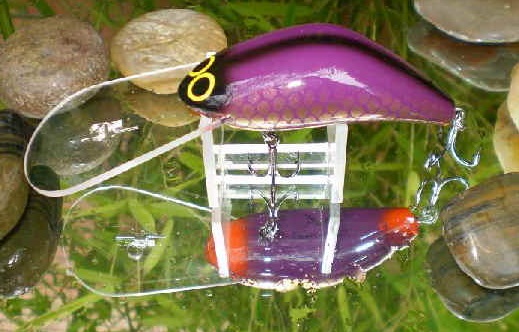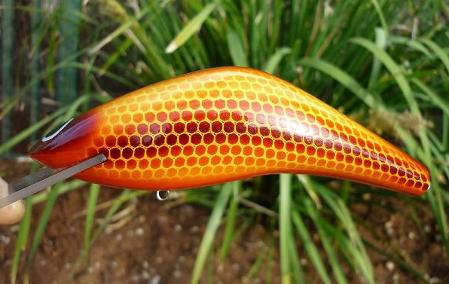 The wooden models came in 60mm, 80mm, and when correct size cedar available, 155mm. Shallow diving, deep diving and with or without rattles. Below shows some of the work Heath has put into his mould making.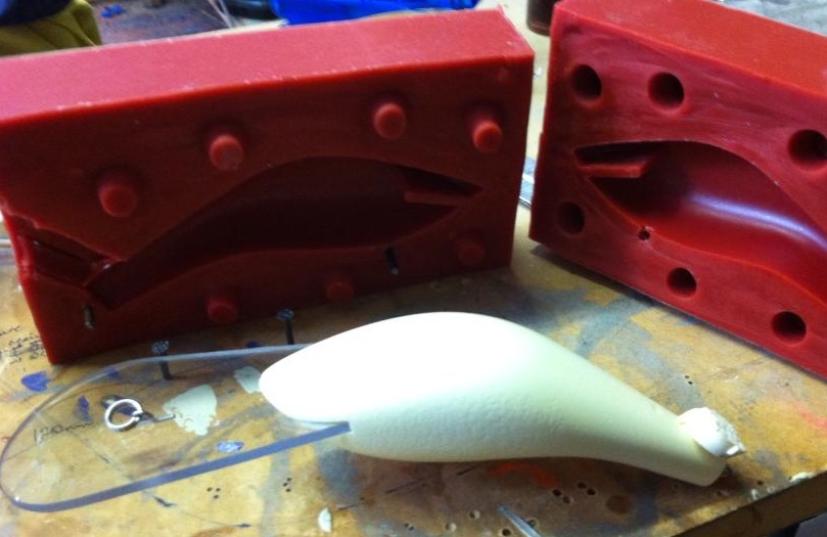 Twin River Lures - QLD:
Twin River lures are made in Deeral, North Queensland. Extremely well made lures with pinned bibs. Available on a blue card c.2013. Opposite is the 'Sardine' and below is the 'River Pike' and they are available.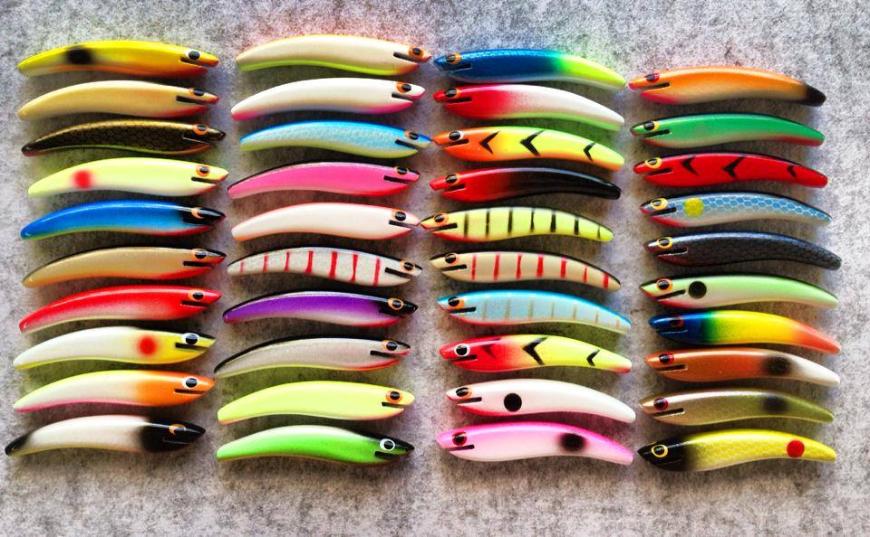 Twin River lures colour range from the Facebook page
Twitchy Lures - NSW:

Peter Walker makes some nice little lures for trout, bass and native fish. All hand shaped from selected timbers. Twitchy Lures are based in western Sydney and continually comes up with new ideas. Below is shown the Twitchy 'Skullies'.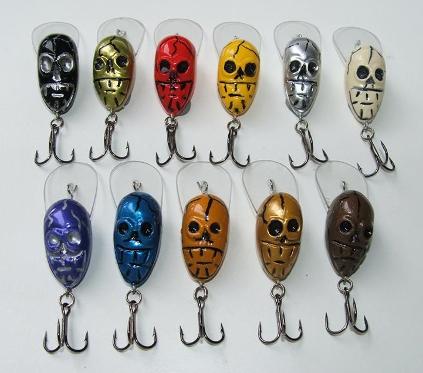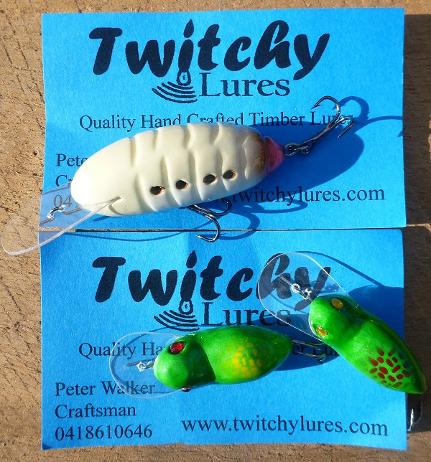 Typha Lures - NSW:
Made by Mike Shelton prior to starting Kingfisher lures. The Typha 'Tempest' was available in 3 sizes of 55mm, 70mm and 85mm. The display board below was recently acquired (2017) by Alaister Hills who thoughtfully had Mike sign the back of this awesome display piece showing the 3 sizes that were available and 16 different colour patterns.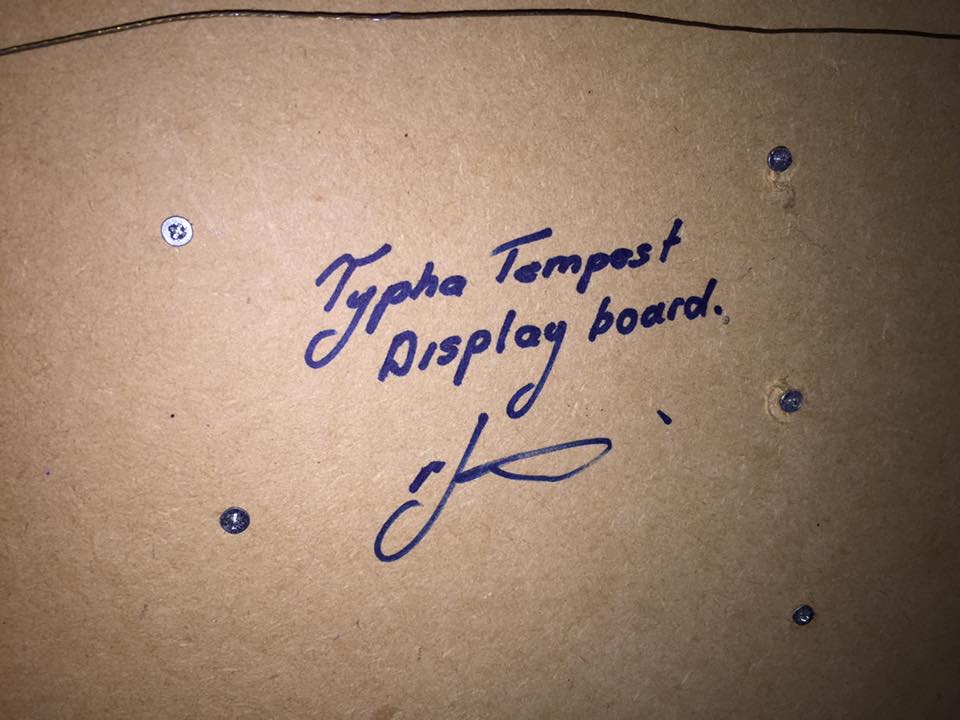 Two different cards for the Typha Tempest