Australian Lure Manufacturers H
If you know of an Australian lure maker no matter how young or old that we have not mentioned in the following list feel free to contact us to have the details added or updated.
*Banner image - Hard At It Lures in two sizes
Halco Lures - WA:

Halco are a mainstay of the Australian tackle industry and have been producing and manufacturing lures for over sixty years. Halco was started in 1950 by Hal Cooper from his garage in Mossman Park, Western Australia. See full page history for Halco Lures.
Halfcast Customs:

Halfcast Custom Lures were released onto the market at Expo 2019 with a small range of saltwater and game poppers suitable for Giant Trevally and big pelagics. The patterns are stunning showcasing the best of indigenous dot art and original designs. More information coming soon . . .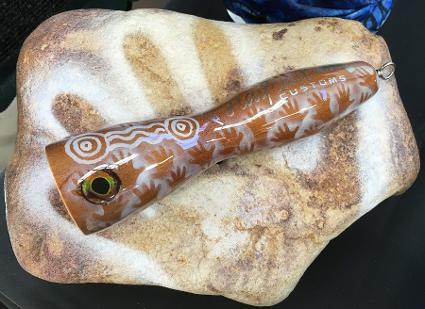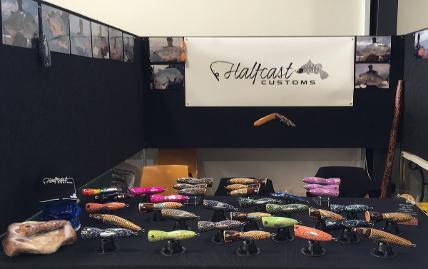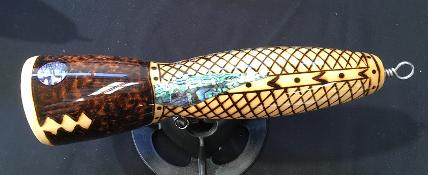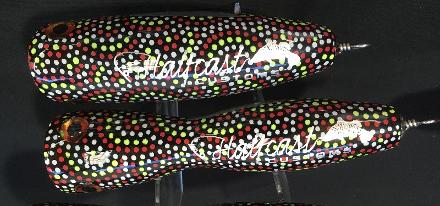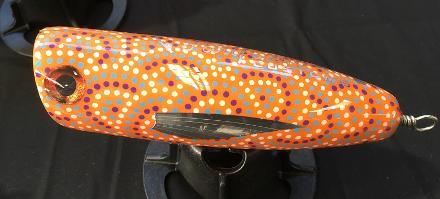 Halfcast Customs won the award for best bluewater lure at Expo 2019 - lure shown below.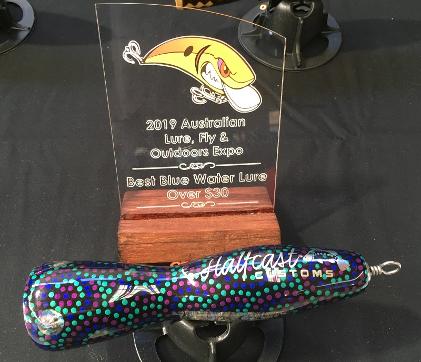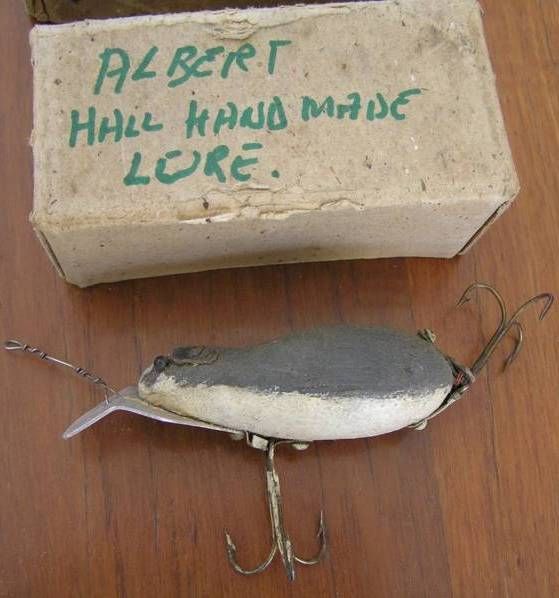 Hall Lures, Albert Hall Lures:

Albert Hall made a classic mouse lure in the 1950's and this lure came up for sale on Ebay Australia in 2011 and was further posted on the Lure Lovers forum after it sold in the same year. Albert was a legendary fisherman who also made large surf reels which was documented in Dunns book.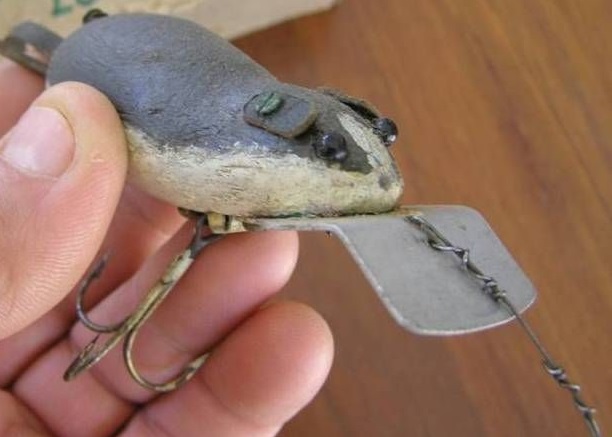 Albert Hall was obviously a very innovative maker of all sorts of things including lures and was heavily influenced by makers of the time such as Heddon who made the 'Meadow Mouse' and also the 'Crazy Crawler' which was based on an earlier American design by Donally. The lure below is Albert's copy of this lure.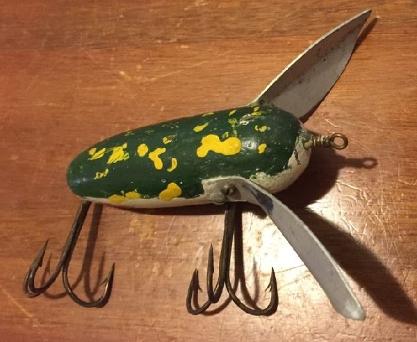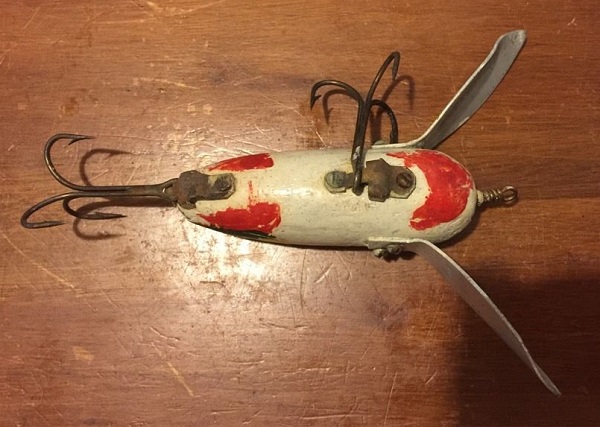 Hall Lures, Henry Hall Lures - Nth QLD
Hall lures were originally made by Henry and Aileen Hall. Henry started selling the lures commercially in 1981 under the brand 'Barra King' from the address 127 Alchera Drive, Mossman. Prior to this Henry had made wooden lures and sold them as 'Hall Lures'. See Barra King Lures.
Happy Hooker Lures:
Happy Hooker Lures are an unknown entity however they were discovered in a group of lures from Victoria so were possibly made in the southern state(s). Shown is an unnamed larger spinner (far left), the 'Perch Spin' which is an unmarked 'Ondex' copy and the 'Fluted Hogback' shown right. Possible samples as there is no evidence of other lures being attached to the tear off cards.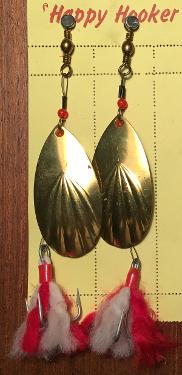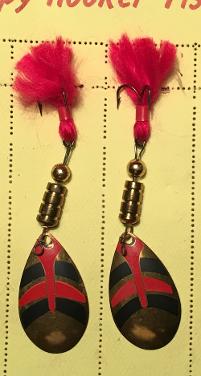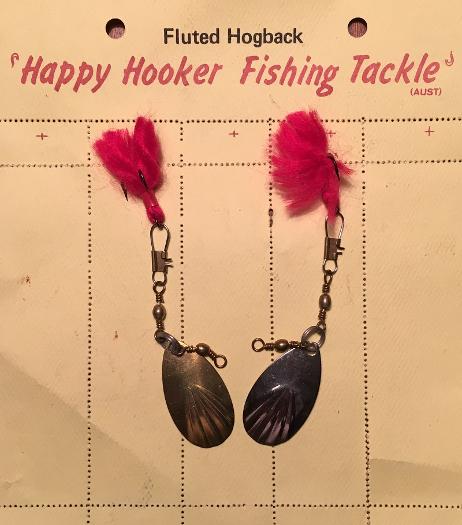 Harbourne, Nigel Harbourne Lures - QLD:
The lure opposite was uncovered in 2019 and was made by Nigel Harbourne from Townsville. A large offshore trolling timber lure for larger pelagic fish

Hard At It Lures - NSW:
Made by David 'Smiley' Glenn from Inverell. Will be marked on belly and hand written 'Hard at it'. Still being made in small numbers. Some of the earlier models will have used a checker plate bib material.
'A good country bloke, born and raised in Inverell. A 1953 model.
David has always been a slaughterman in the local meatworks with time spent working in Stanthorpe and Warwick abattoirs.
David can remember the many fishing hours with his Dad when bait was the go. He started experimenting with lures around 1981 by making jelly bean shaped lures with bibs, to use in the rivers around Inverell. David fished Copeton and Pindari Dams and started to make larger lures made from pallets with checker plate bibs. That was 1988. He was selling them at the Oxford Hotel Inverell where he was a member of their fishing club and later to sell them at the Aussie Hotel and Inverell Tackle Shop.
Some of the early checker plate lures had stick on dolls eye until inset dolls eyes were used and still are today. There are many styles of Hard at it lures and even a few jointed models were made using two- wire connections and this year a large surface lure was released to the market.
The name originated from Davids favourite saying when asked how he is doing "HARD AT IT."
By Debbie Dare 2016.



A less common model is the 'Football' shown above. There have only been 6 or so sold on Ebay in the last 6 years and they fetch a little more than the standard model which is seen far more often. Lower left shows checker plate bib model.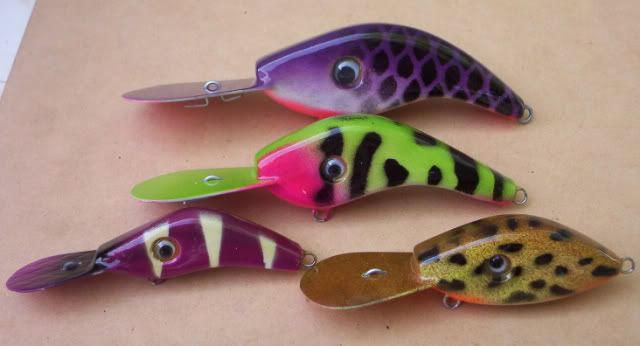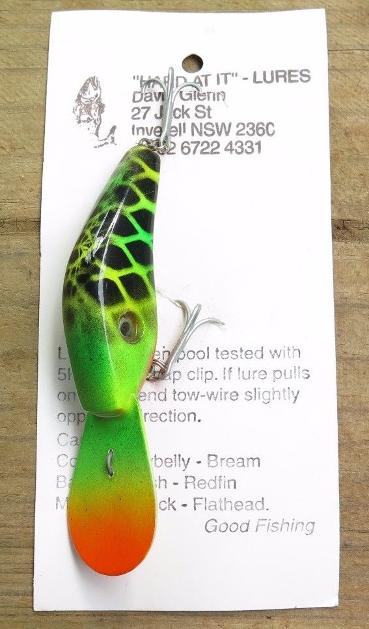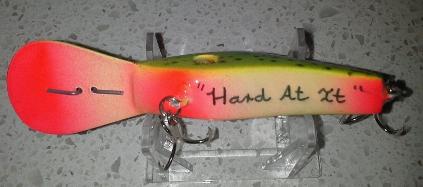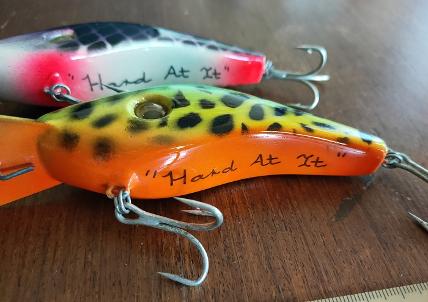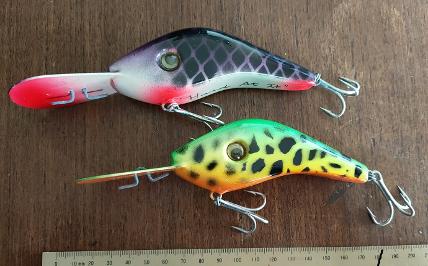 Hard Workin Lures - QLD:
Made by Kevin Weston. Hard Workin Lures were originally called 'Kev's Lures' in the early 1980's.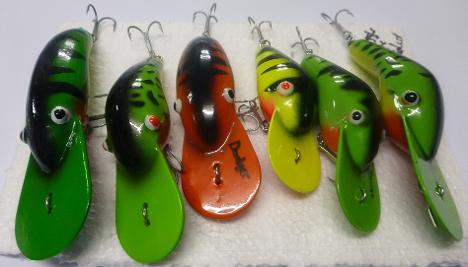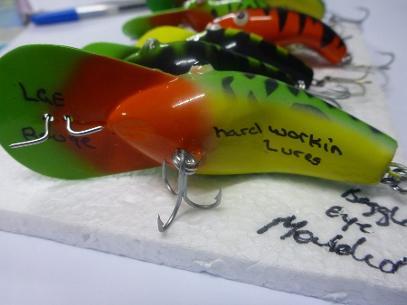 From the 1990's the Hard Workin range was moulded.
Hardy's 'Supersport' Lures, Wal Hardy - NSW:
Wal Hardy was an avid fisherman who was making metal plugs in the 1950's under the name of W.R
Hardy

, Carlton, NSW. Wal

Hardy was an

extremely prolific writer of magazine articles back in the 60s and wrote a popular book 'The Saltwater Angler' which went into 6 editions between 1966 and 1977. See full page bio under Hardy Supersport Lures
Harrasser Lures - NSW:

The original Hirst Harasser Lures were designed and manufactured by Alan Hirst of Precision Moulds in Blacktown Sydney. This was back in 1995 and these lures looked a lot like the earlier Baltic Minnow. Harrasser Lures were re-released in 2012 in 2 sizes - 24 colours in 10 gram and 10 colours in the 14 gram size. The molds were purchased off John Willis who is a life long friend of Allan Hirst. Made in Coffs Harbour.
Harro's Lures :
Quality timber surface lures that have come onto the market in the last couple of years. Available on cards as shown in 2021.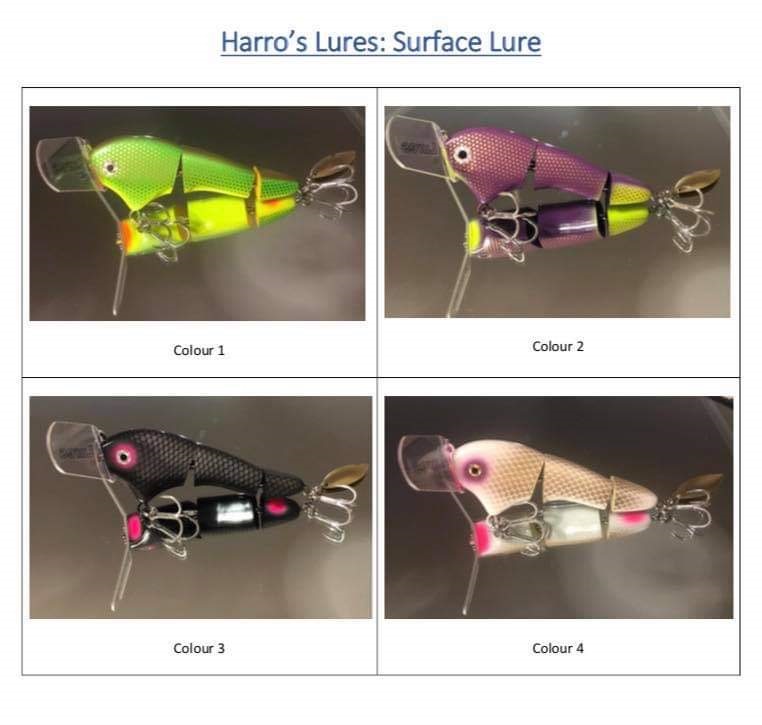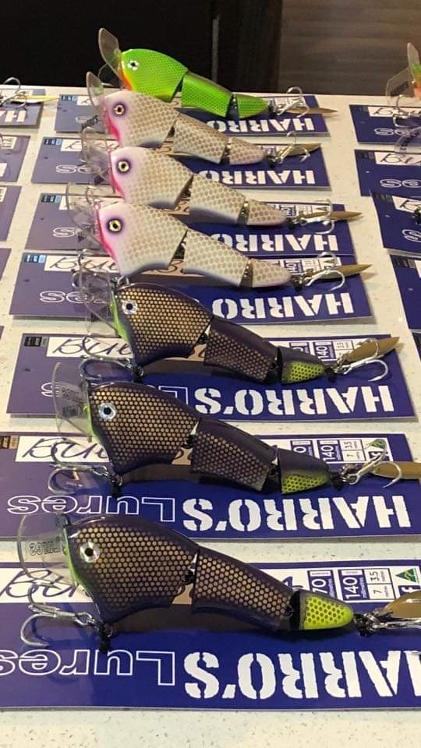 Hartsport Lures - VIC:
The Hartley's Sports Stores were an iconic part of the early Australian fishing history and were situated in the Melbourne CBD. They had two locations at Swanson St and Flinders St and later another shop in Bourke St. The Hartsport Propellor was available from 1926 (not sure if any earlier). Hartleys Sports Stores released regular catalogues for all kinds of sports including specific angling price lists and catalogues that are an invaluable source of information.
The following was posted on the Lure Lovers forum in 2013.

'I'm a U.S. collector and purchased a group of lures last year at an auction that I was hoping to find some additional information on. They were apparently part of the Pflueger research archives and marked with their inventory tags as Hartsport Propellers from Hartleys Pty. of Melbourne, Australia. I did some Google searching without any success and was wondering if any of the folks that frequent this board might be able to share some information. Additionally the card indicates that they were received from R.F. Higgs & Company Ltd. The receipt date on the card is 1927, so they are fairly early pieces and came in a variety. I've included some photos below in hopes that someone can help with the identification and even value.'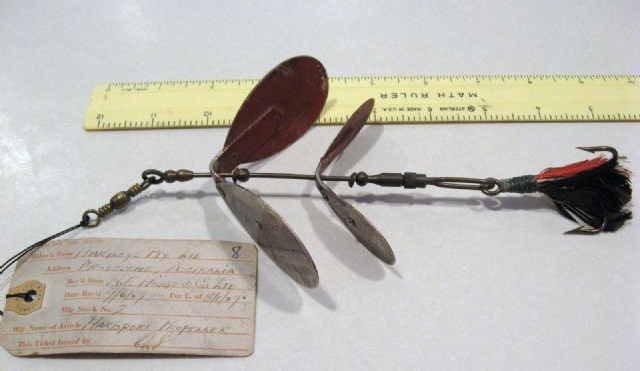 The Hartleys catalogues listed eight sizes of 'Hartsport Propellor' lures in the September, 1926 catalogue which was No. 6. The catalogue below dates to 1937 and shows a wide range of lures that includes five sizes of Kidney spoons, the 'Warnambool' spinner, Wizard Wiggler and Natural baits. The Hartsport Propellor range will be stamped with the Hartleys logo and number which indicated size. They were available with silver or copper blades and have a distinct design that makes them easy to identify from the later Alpha and Forbco aeroplane spinners. The larger sizes and smallest size seems to be the hardest to find and they fetch good prices depending on condition.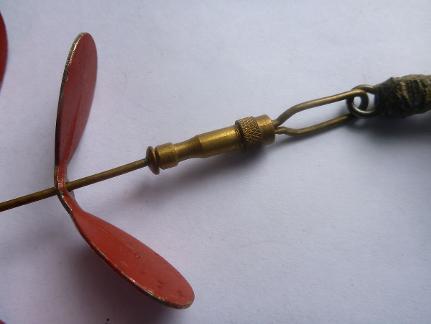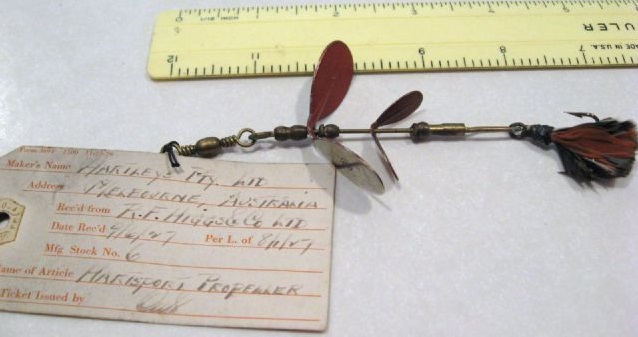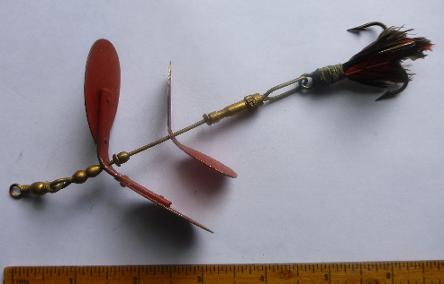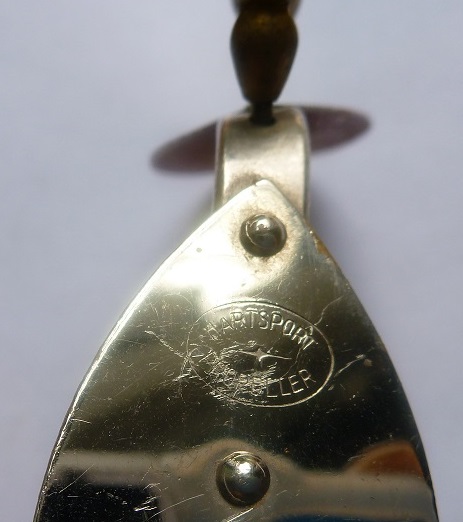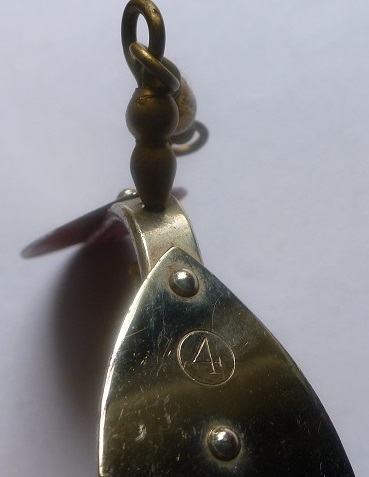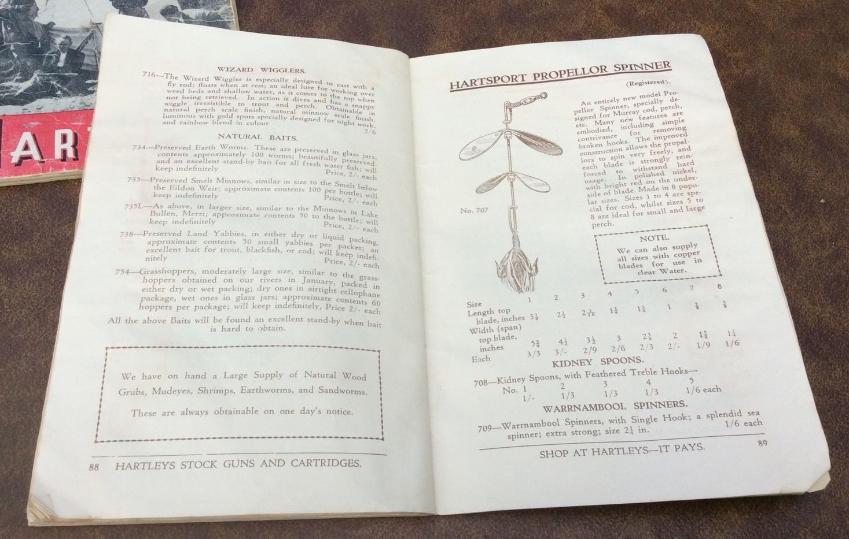 Hawkeye Lures - QLD:
Hawkeye Lures were made by Dennis Hawkins, who lives in the Sunshine Coast area of QLD. He at one time had a tackle shop in Beerburrum and used to sell his lures at various flea markets as well. He had to change his name when Gus Veness took legal action over the similarity in name to their 'Hawk' branded product. He changed his name to Lizard Lures and some are still kicking around in bargain bins as are some of the older 'Hawkeye' branded ones can be found from time to time. He had several models including Fighting Whiting, Maniac 105, Maniac 80, Noddy and Raw Prawn. Available c. 2000 but discontinued.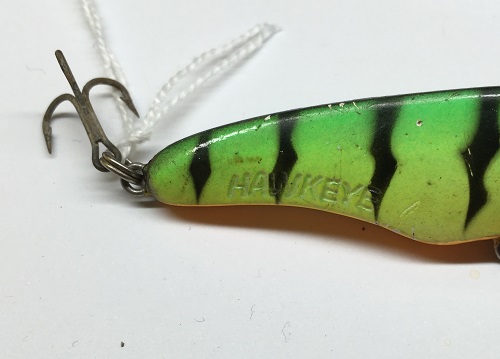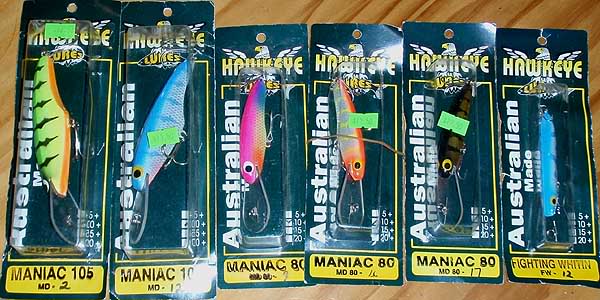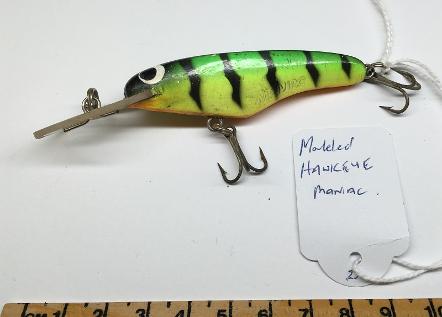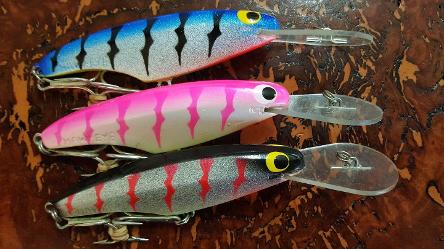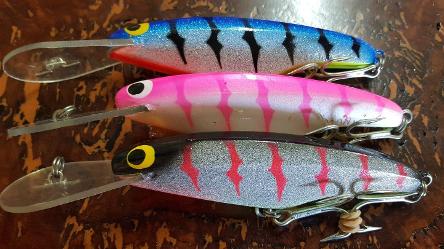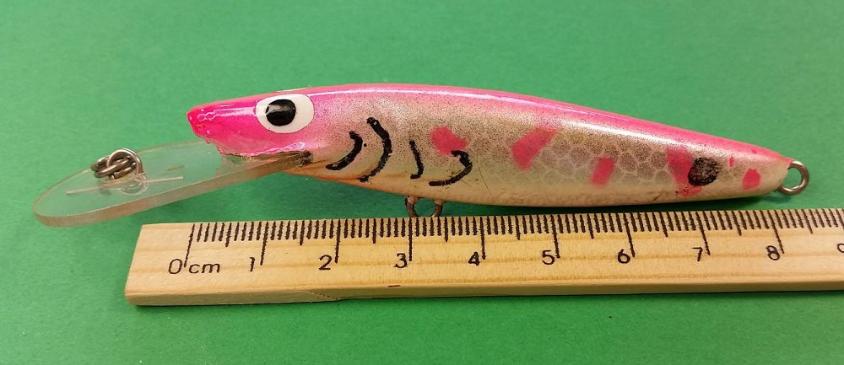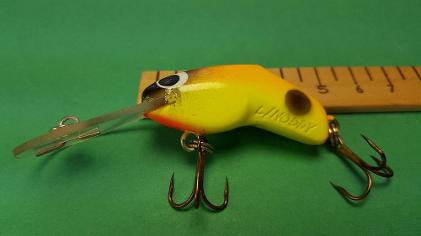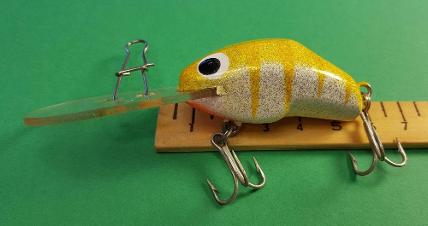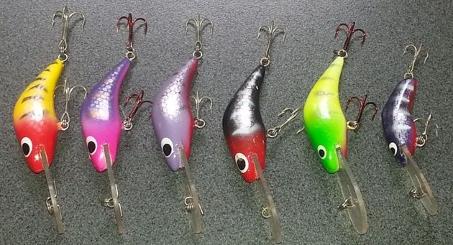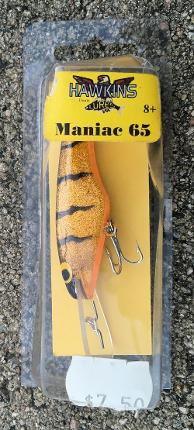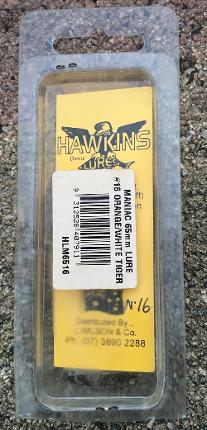 There is also a Hawkins 'Maniac' which suggests Dennis Hawkins was either involved in the manufacture of these lures or the rights were sold to Wilson as they are distributors on the packaging.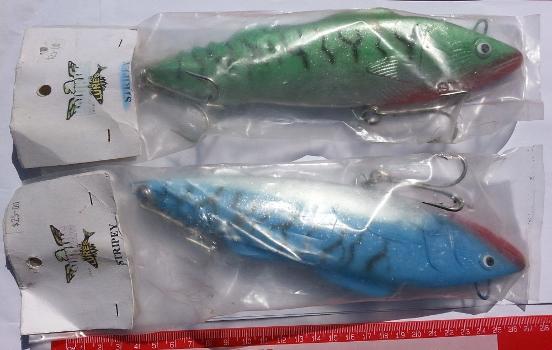 Hawkins Lures :
Hawkins Lures are a range of lures including large bibless plastic bluewater trolling lures that are 'Australian Made'. The two examples of the 'Stripey' model came up for sale on Ebay in January 2018. Unsure if they are currently available or an older model.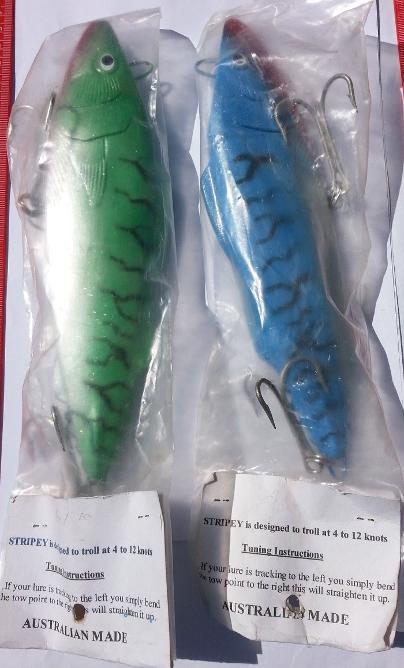 Haynes, Peter Haynes Lures - QLD:
Peter Haynes is another of the avid Queensland anglers who had a go at making timber lures. Made in Cairns in the 1980's. The lure shown uses a metal drink ring-pull for a bib. Only ever made for personal use.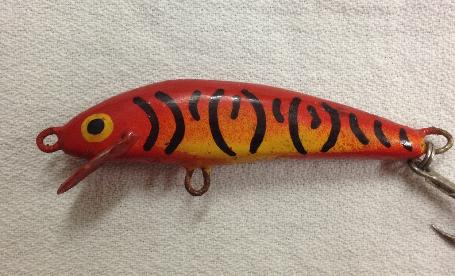 H.C Lures :

H.C Lures are an unknown entity. Definitely vintage with a model called the 'Bandit'.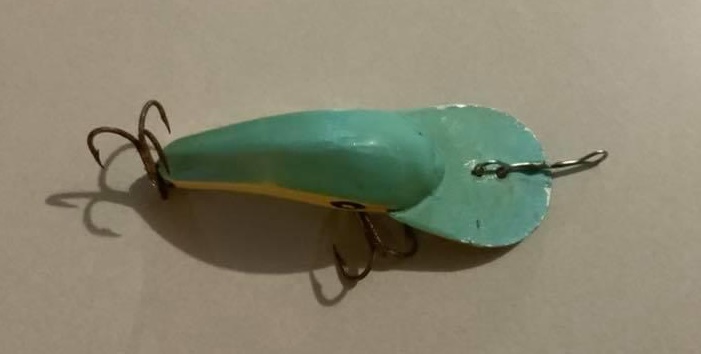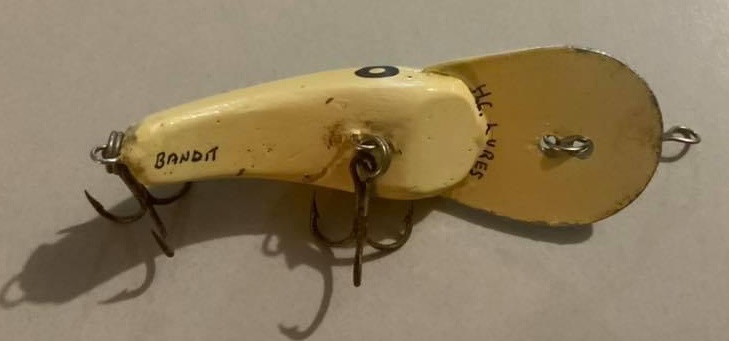 Headland Lures - QLD :

Headland Lures make large poppers suitable for GT fishing or large tropical pelagics and other diving bibbed models. Made by Cam Cupitt from the Innisfail area of Queensland.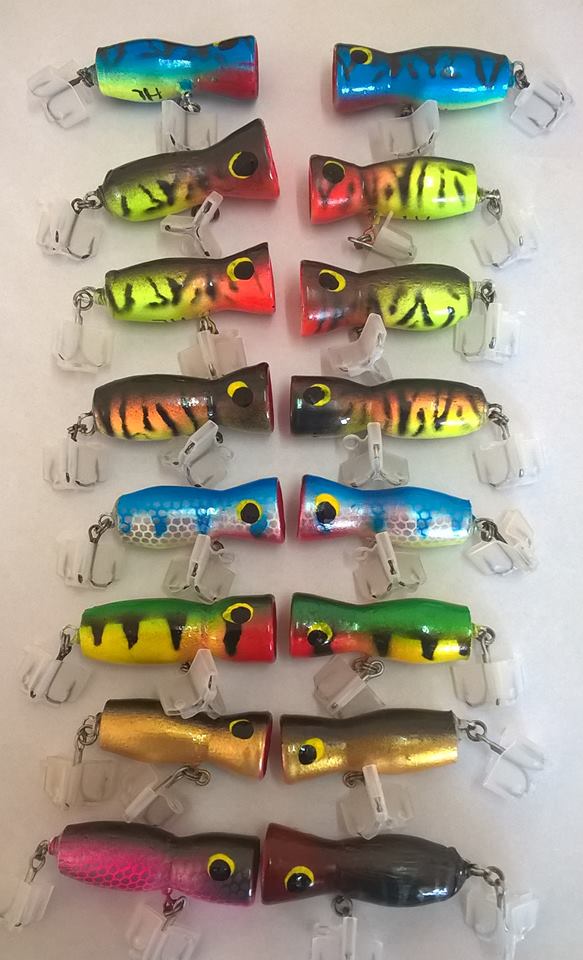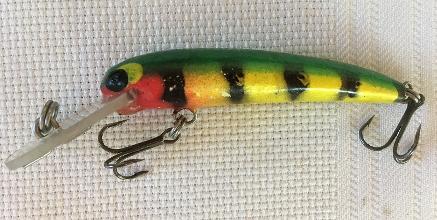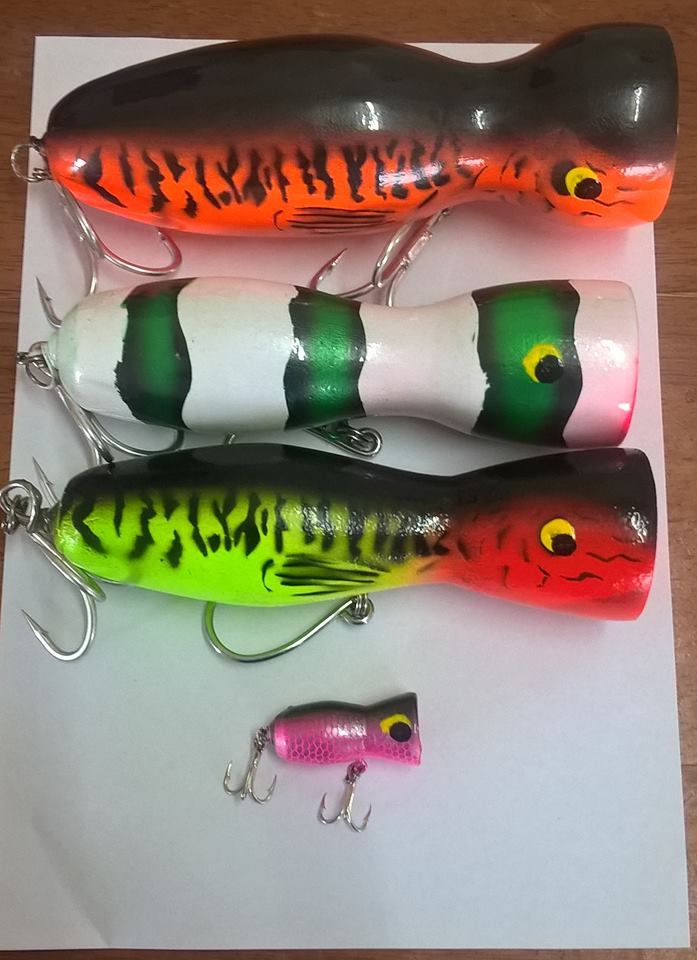 Hebert/Herbert Lures - VIC:

Hebert lures are sometimes referred to as Herbert Lures however the maker was Hebert Safiones and his handcarved creations were available in the late 1980's - 1990's. See full page bio under Hebert Lures
Henderson Handcrafts - QLD:
Ron Henderson who makes Local Lures also manufactured game fishing pushers and other products under the name of Henderson Handcrafts from his home in Cairns. His wife was a crucial part of this business. The major part of this business stemmed from Ron's interest in game fishing and the range included leader wallets and storage options.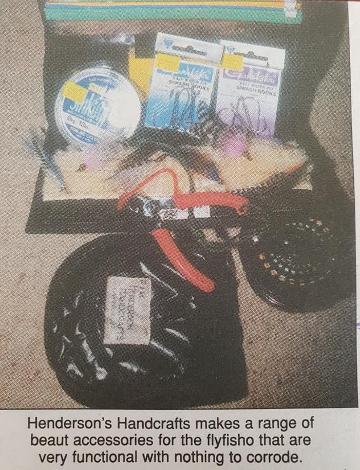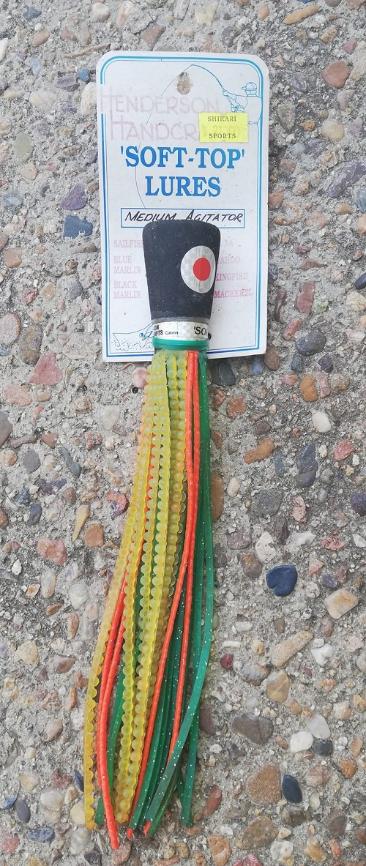 Shown below is the only example of the Henderson Handcrafts 'Medium Agitator' seen attached to original card.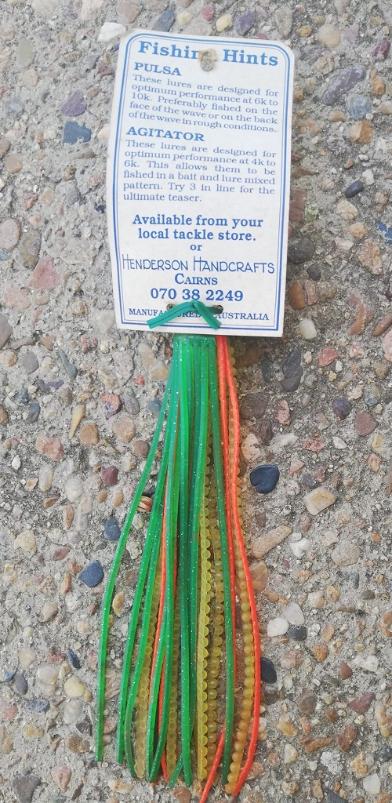 Herberton Lures - QLD:
Early John Collett lures have a "H" written under them and these were his first commercial ones with the 'H' standing for Herberton. If you find one of his lures with no writing underneath it is his earliest. If his lures have 'WR' underneath then they are his later ones with 'WR' standing for Wild River.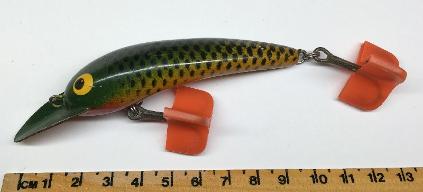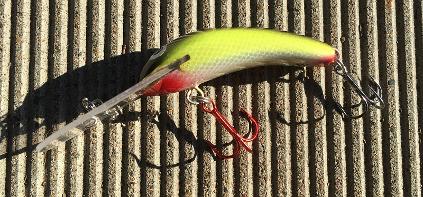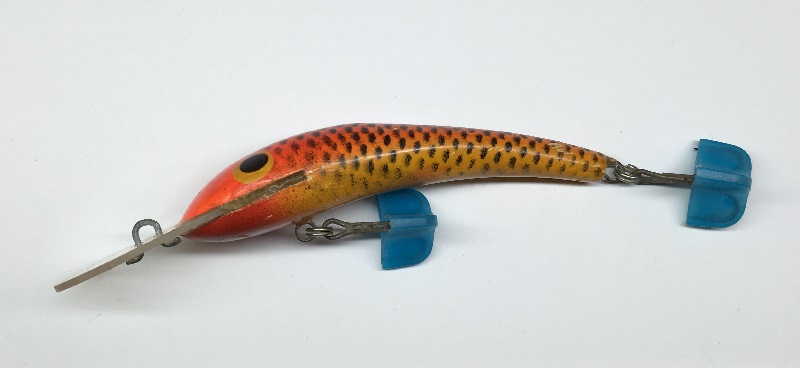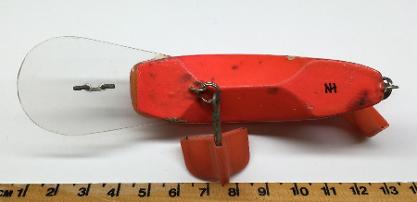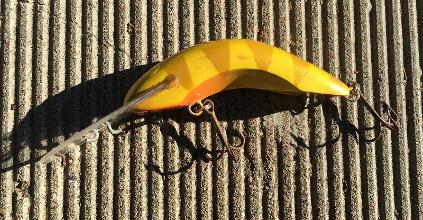 Hicks, Noel Hicks Lures - NSW:
Little information other than Noel is from Lismore area of NSW and has a philosophy for making a big lure for large Australian Bass - he figured that big bass (2-3kg+) would prefer one large meal hence using larger lures.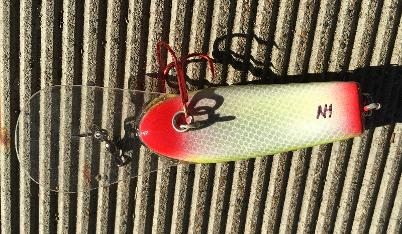 The photographed lures below shows a lure heavily influenced by the Boomerang shape with initials near the tail on the belly and soldered towpoint.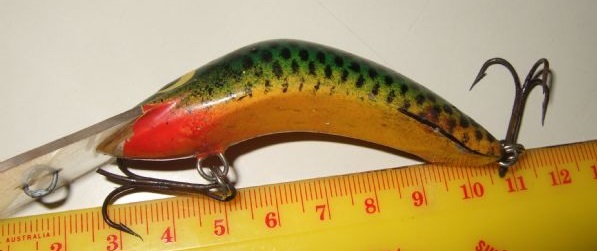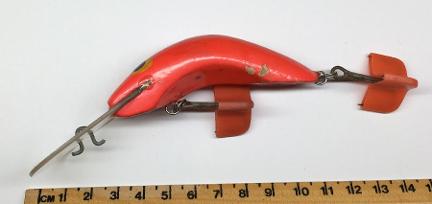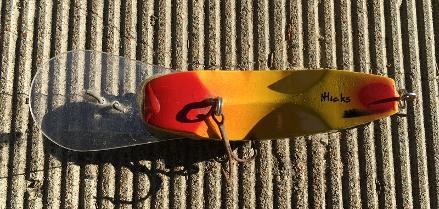 Hill, Dave Hill Lures - S.A:
Dave Hill is the owner and maker of Mad Dog Lures. Following shows photos of the 'Redfin' and signed on belly.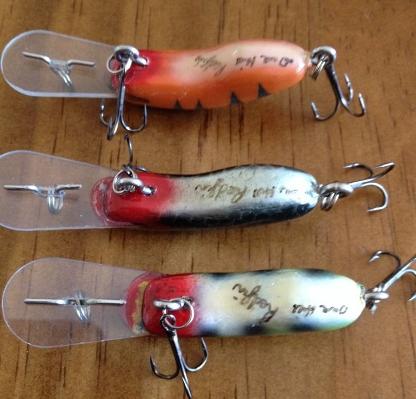 Hill, Jim Hill Lures - SA:
The following information was kindly supplied by Dave Hill about his father who made timber lures. Another talented backyarder who has sadly passed away.
'After being in WW2 fighting against the Japanese for 4 years he came home, Jim was his name and most people knew him as Jimmy.
Most people said he had a good eye for things, enjoyed a coldie at the pub,loved his black FJ holden, also his shooting and fishing up the River Murray in South Australia.
Around 60's he started making fishing lures, only freshwater ones , selling them in clay shooting clubs and to farmers at the pubs in country towns.
Dad did sign them,dated them, also numbered each lure and sometimes he did name special ones.
He stop making lures in the late 90's to early 200's and also he had a book with all his lure sizes, shapes and model numbers.' Dave Hill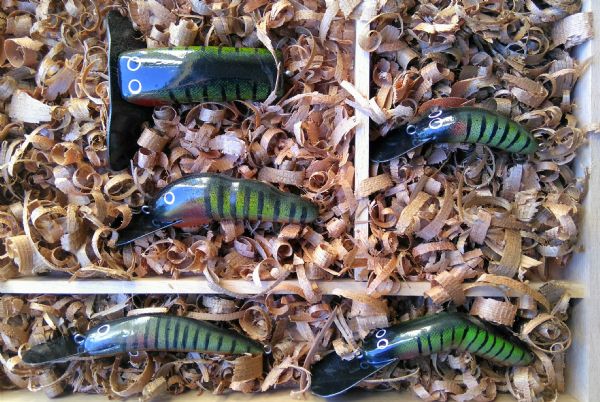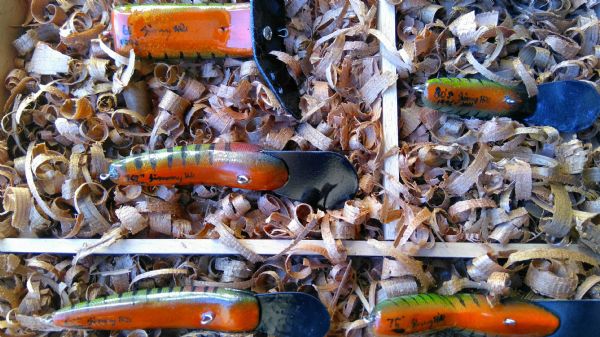 Hillies Spinners and Lures - QLD:
Hillies Spinners and Lures are hand made lures by Neil and Ann Hill who have had a stand at Lure Expo 2018 and 2019. In retirement Neil has started selling a small range of custom spinners made from high quality imported and locally sourced components.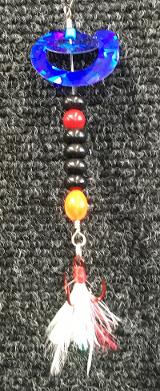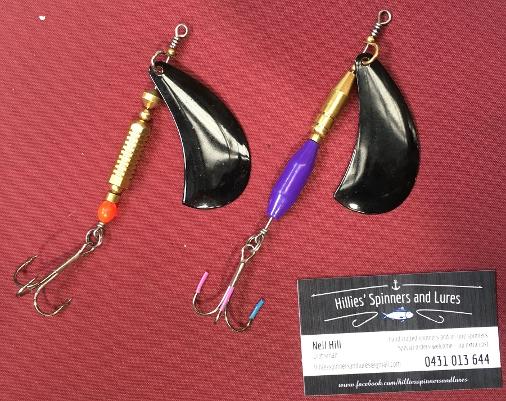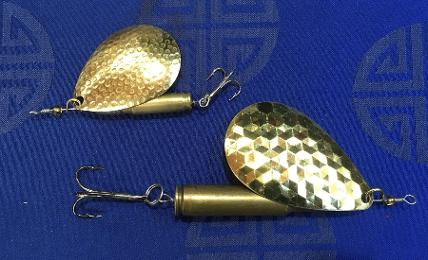 Hillies Spinners made from old rifle shells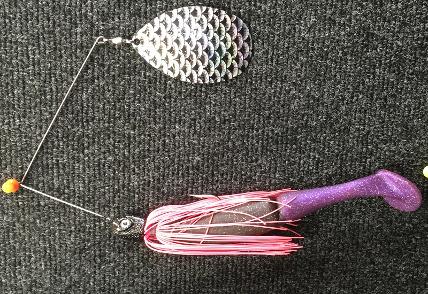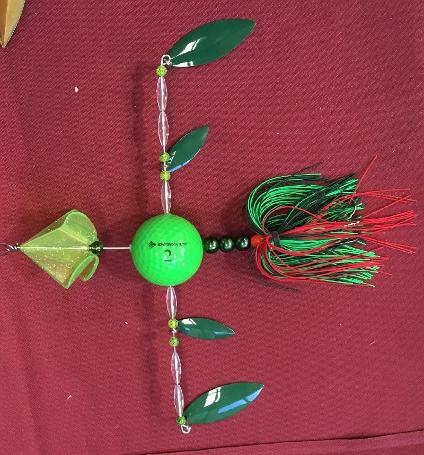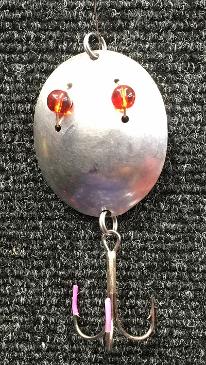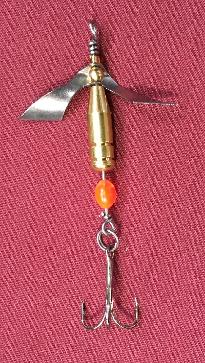 Above - a 'Red Eye' wobbler copy and old school spinner
Left - Hillies 'Golf Ball' Spinners - a big lure made for Murray Cod that are feeding on bird eggs that drop in the water
Hindmarsh Lures, Snow Hindmarsh - NSW:
Snow Hindmarsh was making the 'Bellinger Valley Cedar Wiggler' in the early 1950's. It was a copy of the famous Pflueger 'Globe' and shaped from the local Australian Red Cedar. Bellingen is situated at the base of the Dorrigo Plateau on the Bellinger River which is reknowned for good bass fishing. An early iconic lure. No current photos.
Hirst Harrasser Lures - NSW:

Hirst Harasser Lures were designed and manufactured by Alan Hirst of Precision Moulds in Blacktown, Sydney. This was back in 1995 and these lures looked a lot like the earlier Baltic Minnow. and Baltic Flash that was made by Bernie Schzot in the 1970's. See reveiw right.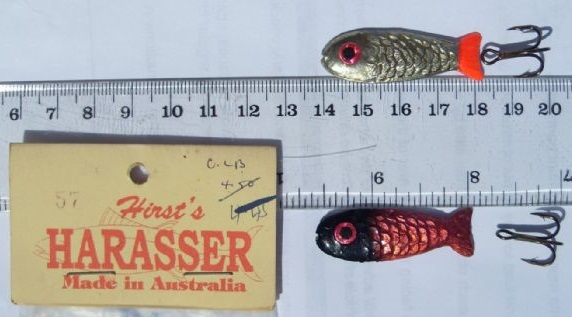 Hitman Lures :
Timber lures that have been available for while now. The Hitman 'Widowmaker' is shown below along with a signed original.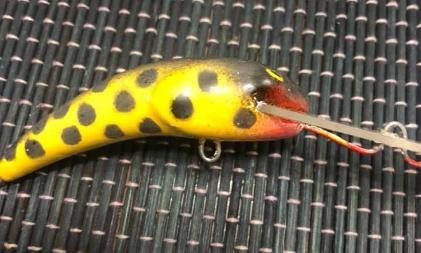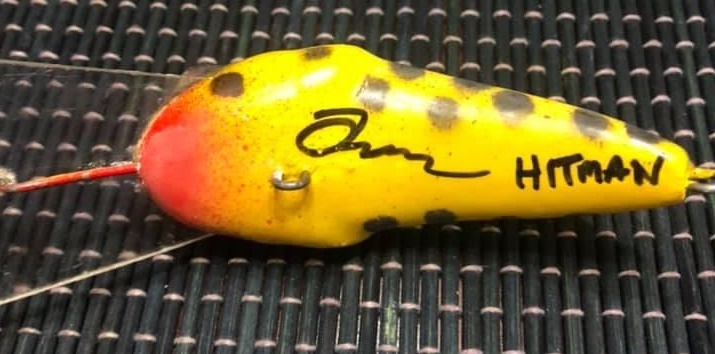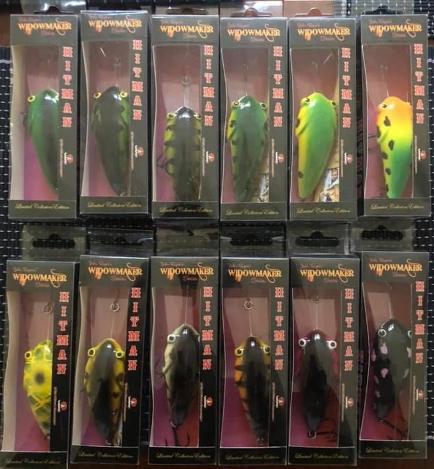 HJ Lures - QLD:
Timber lures made by Helen and John Wicks in Townsville, QLD. There are not many female lure makers around in Australia so HJ Lures are uncommon in that regard (it should be noted that women have played pivotal roles in many male lure makers lives including assisting in many lure making processes).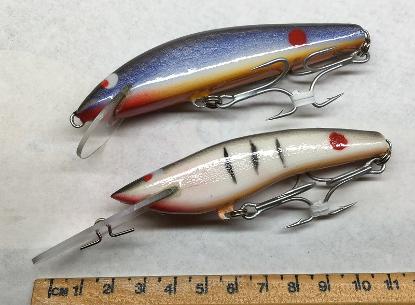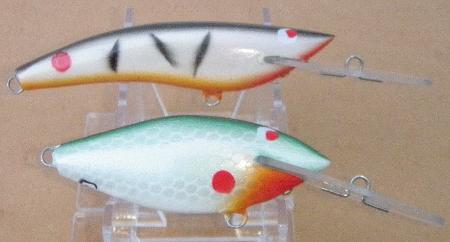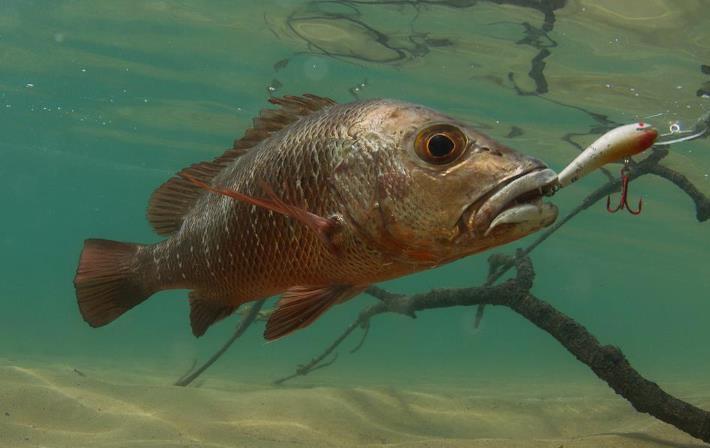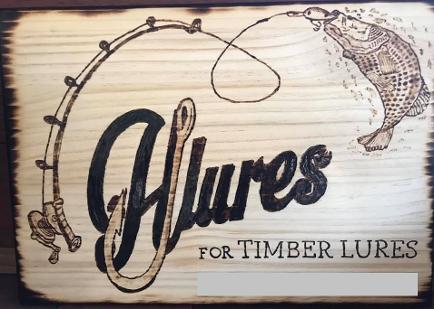 (Left) HJ minnow and 'Prawn'.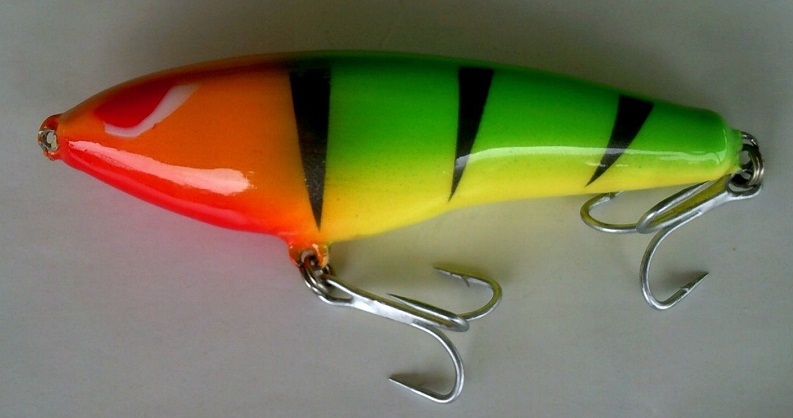 The lures are made out of white beech timber and dive from 2.5 to 3 meters. The lures left are the HJ 'Prawn' and 'Herring'. See extract below for more information.
HJ Lures
Coming from almost the other end of the country is another relatively new lure maker going by the name of HJ Lures. HJ's are made in Townsville by the husband and wife lure making team of Helen and Jono Wicks. HJ do a nice range of smaller minnow lures in typical barra shapes which are ideal for snag bashing and general tropical estuary work. It's Helen who does most of the actual lure making, while Jono gets to do the fun bits like tuning and testing. Again, when you consider that Helen is a relative newcomer to the lure making business she's made very rapid progress. One thing is for certain, once you've seen HJ lures in action, you'll know that as a team they have a strong understanding of what a good barra minnow should swim like. That's hardly surprising though as Jono does the majority of their product testing in the Hinchinbrook Channel which has a plentiful supply of ideal test subjects.The lure that really caught my eye from the HJ range is a deep sided model called Hel's Herring. This little lure stands out because it is quite different to the skinny profile you find on most barra lures. It also has a frantic pulsing action which puts out lots of vibration. It's the closest thing I seen to the old Hypa Actives from Lively Lures and that was one very under-rated lure for tropical fishing. Another thing I liked about the HJ lure range is that you can swap around between models to find the right level of buoyancy to suit the way you want to work your lures. The Rats Arze for example is a nice slow floater which is perfect for when the barra are being a bit coy and you need to hang the lure in their face to get them to bite. Simply changing to a broader bodied Flat Arze will give you a lure with the same side on profile but a much more rapid rise, which allows you to walk your lure through the snags with minimal hang-ups. Again, online social media outlets are the place to look for HJ lures and I purchased mine directly from their Facebook page.
Extract from Fishing Monthly, Dave Magner, 2012
The following shows the colour codes and models in the H.J Lures range as of 2018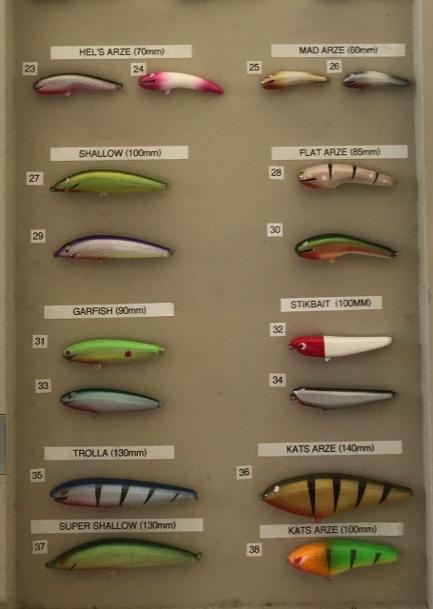 HJK Lures - QLD:
Timber hand made lures produced in small numbers in Innisfail by Howard Kelly. HJK Lures will mainly be constructed from silky oak timber and are made for targeting mangrove jack and barramundi. HJK lures was also a sponser of the Pedder 'Homebake' but only makes lures in extremely small numbers for himself and friends. Howard had a rest from lure making for a few years but is back making a range of amazing lures in 2019.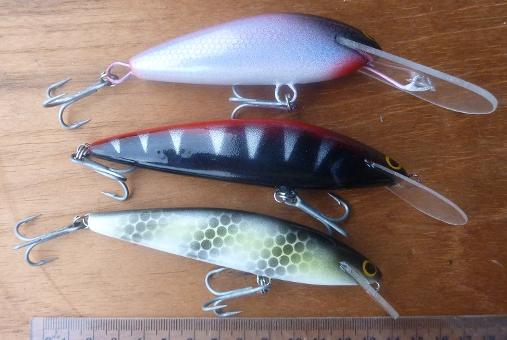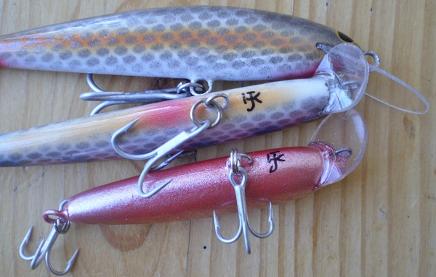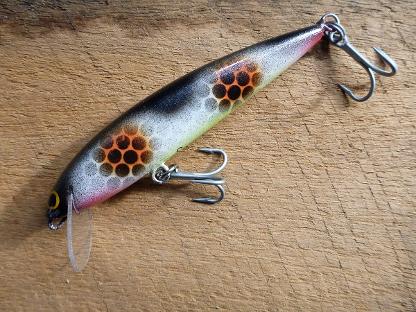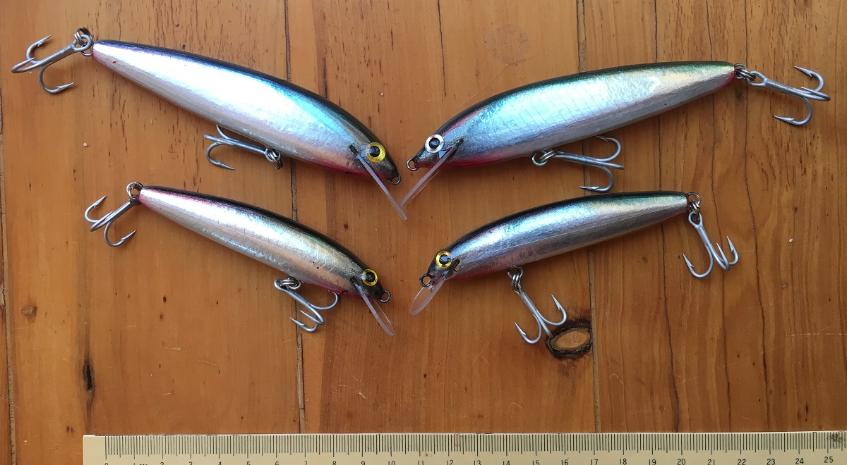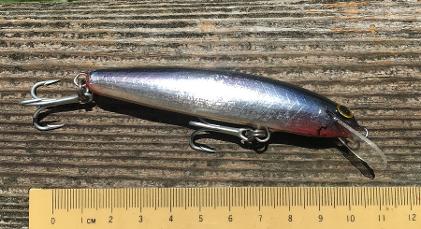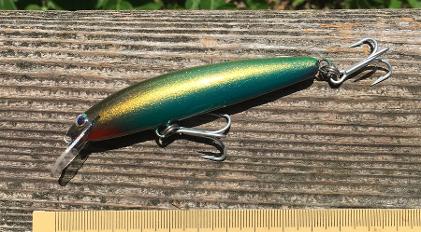 The HJK range in 2019 features through wired bodies and includes some very nice foil jobs on some models and a hard wearing high gloss finish. Great lures for a wide range of fish species.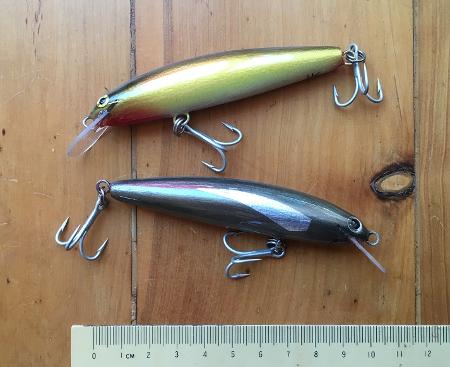 Hobbled Lures - Sydney, NSW, TAS:
Ben Campbell made bibbed and bibless versions aimed at imitating Rainbow Fish. He sadly passed away in October 2020. His models included the 'Weaponhead' and some diving models in various sizes that proved effective on Australian Bass but also were good enough to take out the Pedder 'Homebake' prize for biggest fish in 2013.
Right and below shows examples of the early Hobbled lures prototypes for the bibless 'Rainbowfish' pattern. There was alot of experimentation and variation - long noses, no noses, fat bodies, skinny bodies before a final design was decided upon.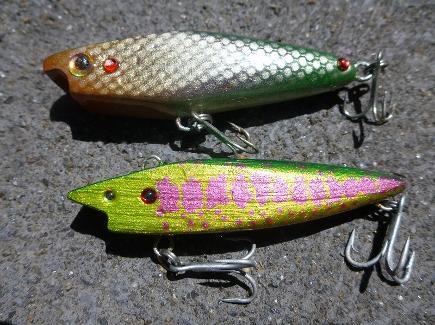 It took Hobbled Lures approximately 12 months to settle on a final product and it was decided that there would be some bibbed models including the small bibbed 'Weaponheads' and the larger bibbed 'Rainbowfish' that would target barramundi since Australian Rainbowfish are native to most waters that barramundi inhabit.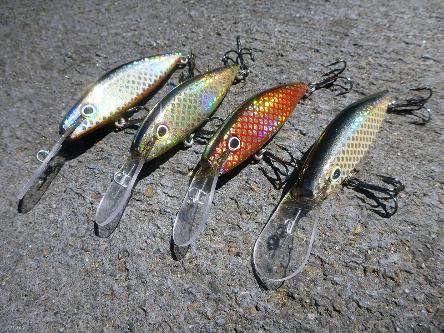 Above - Hobbled large bibbed holographic 'Weaponheads'
Photo below shows the silky oak blank used for the small bibbed 'Weaponheads'. Another innovation is the use of 'colourshifting' paints (paints with polarizing properties) which has proved popular with native bass and estuary species such as flathead and bream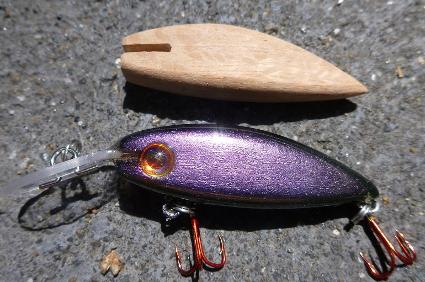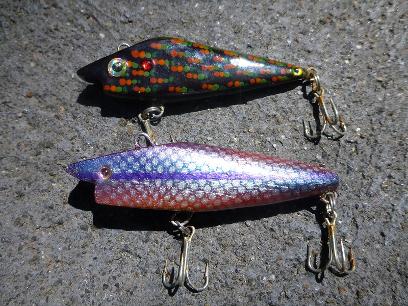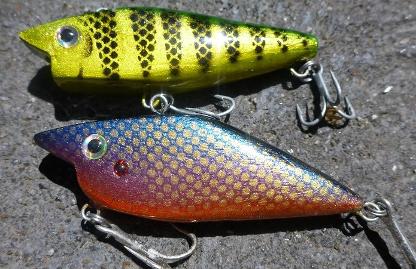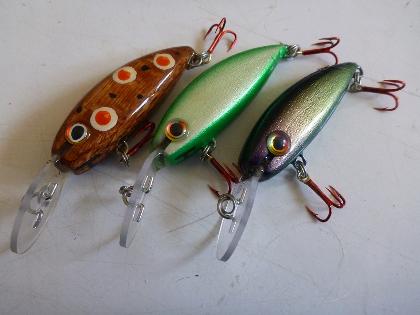 Above - Hobbled small bibbed 'Weaponheads' including the nude silky oak 'Pedder Dog' that won Pedder Homebake 2013.
Photo below shows the western red cedar blank for the larger 'Rainbowfish' model. The lures are ballasted for optimum action. Bottom photo is an underwater shot showing the colourshifting properties underwater.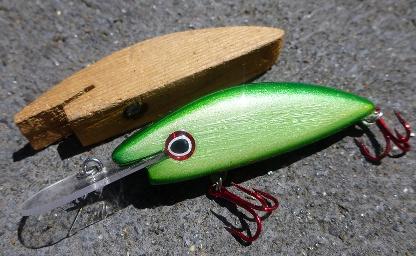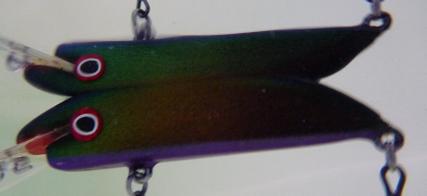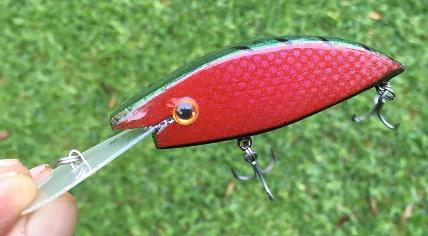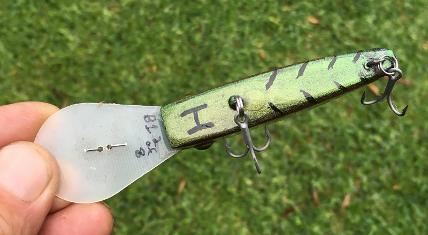 Above - Hobbled large bibbed Rainbowfish prototype from first batch when testing weights and balasting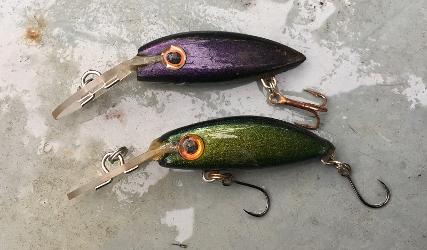 The earliest mini Hobbled 'Weaponheads' with hand made twisted eyelets. and colourshift paint.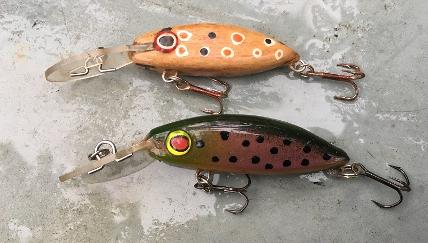 The earliest trout Hobbled 'Weaponheads' made for Lake Pedder. Bottom rainbow trout colour is the only one.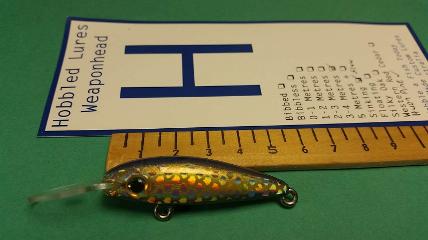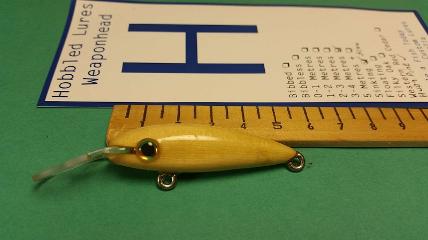 A rare pair of 'Weaponheads' made from Huon Pine - not many were ever put out on cards which makes these doubly rare
Since moving to Tasmania in 2016, Ben has starting working on a range of minnow patterns targeting bream, estuary species and trout in the Derwent River and surrounds. In 2019 Ben began honing his carving skills moving towards more detail and interesting new designs. These lures will be showcased here in the future . . .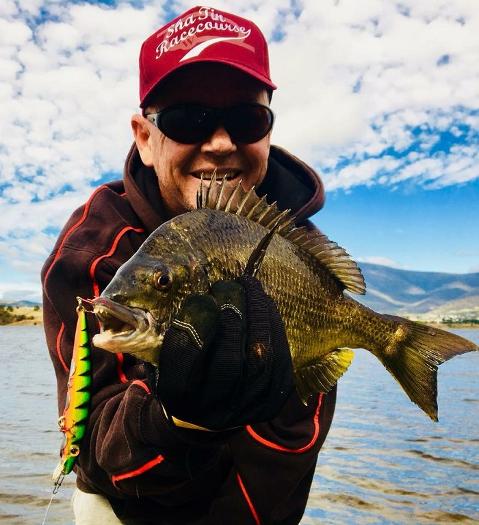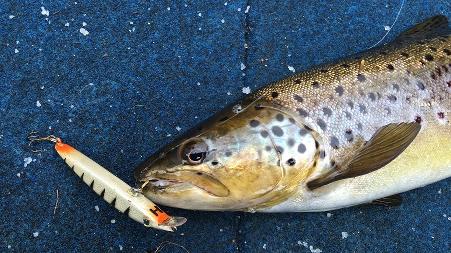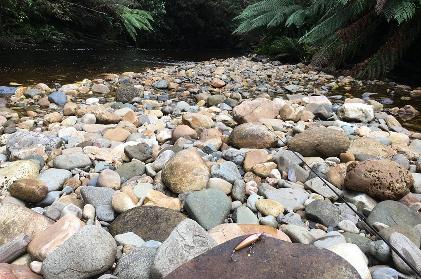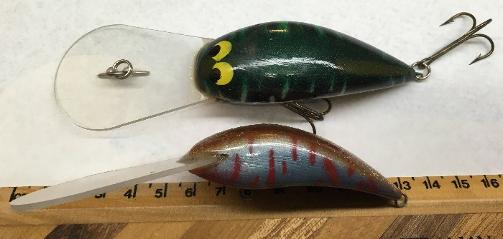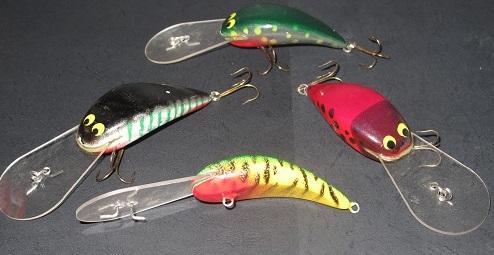 Hodge, Dave Hodge Lures - NSW

Made by Dave Hodge who lived in Tamworth for a time. Lures were only ever made for personal use and are characterised by a 'square' wire tow point on the bibs. High quality hand made timber lures made by a man who is known as the 'Barefoot Fisherman'. Still being made in small numbers.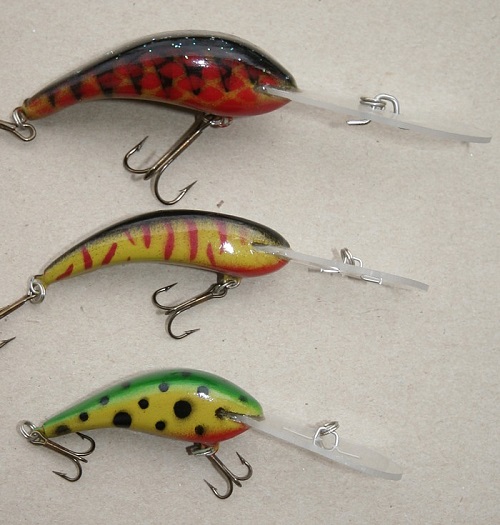 Below are two rarer metal bibbed Dave Hodge lures - solid well made lures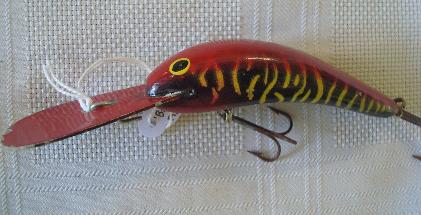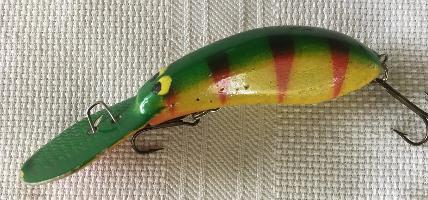 Hold - On Lures:
Specialist lure maker Brian Holden makes a small range of larger lures that replicate real fish species such as whiting but also lures that resembles prawns such as the one shown opposite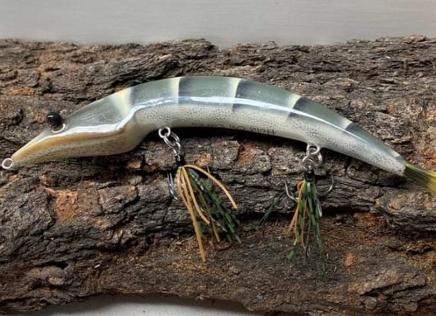 Holder, Boyd Holder Lures - NSW :
Hobbyist lure maker based in Woolgoolga, near Coffs Harbour. Boyd is a specialist northern NSW mulloway fisherman and his range included minnow and popper style lures. Photos show a range of different models.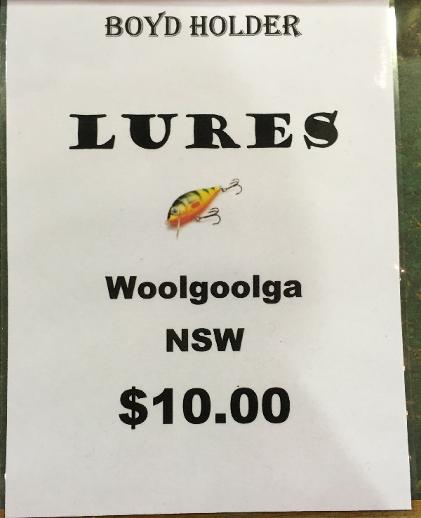 Sign is from the 2017 Fly and Lure Expo in Ipswich where the lures were being sold for $10 each.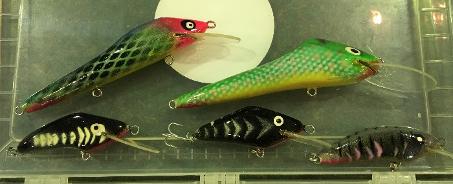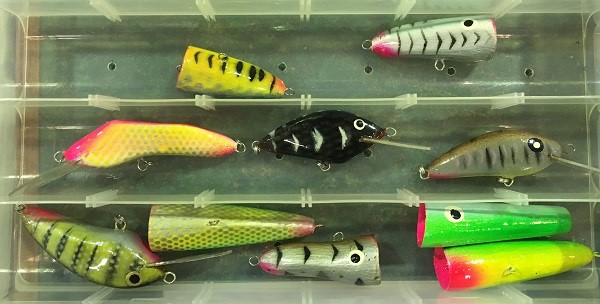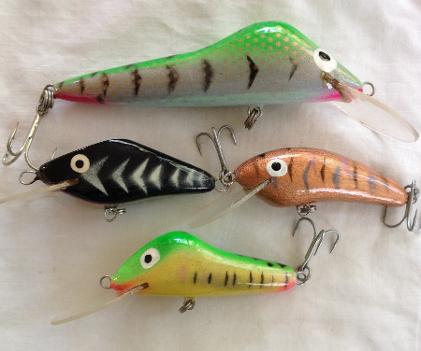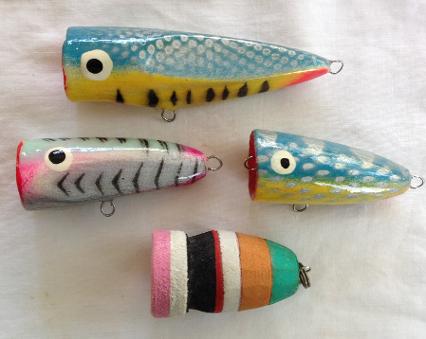 Hollendale, Peter Hollendale Lures - QLD :
Hobbyist lure maker from Eagle Heights in Brisbane area. Various sizes and models that feature a soldered 'Tenterfiled Towpoint' and distinctive raised black eyes. A high gloss quality finish.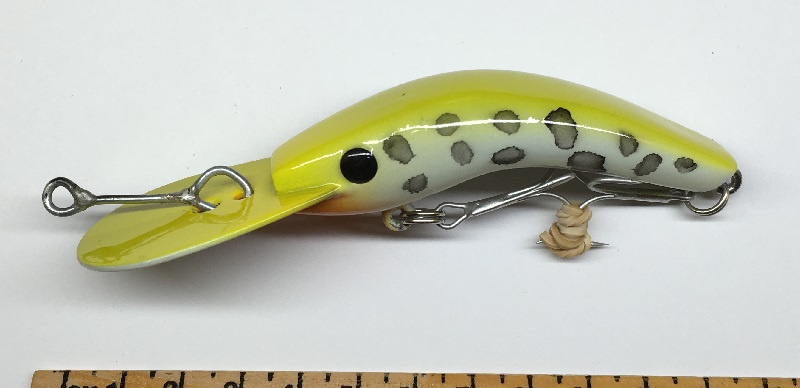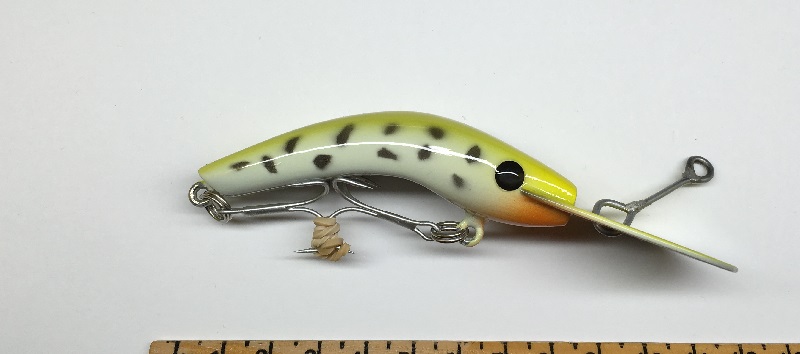 Holman, Terry Holman Lures - QLD :
Lure maker from Cairns, QLD who made quality poppers with large dolls eyes in the 1980's but also bibbed lures such as the one shown. Terry was a FNQ fishing guide who worked around the Cairns area. Uncommon lures if found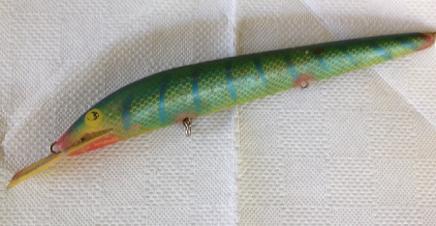 Holmes, Stan Holmes Lures - QLD :
One if the early lure makers from Cairns, QLD who made quality timber lures in the late 1960's.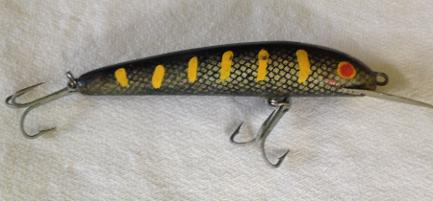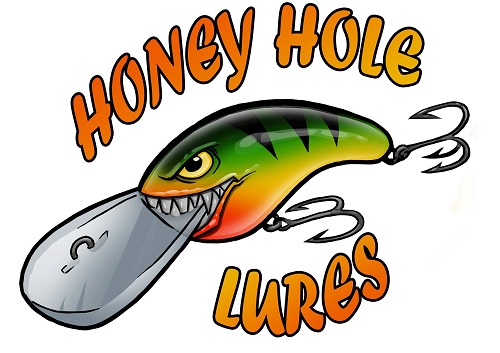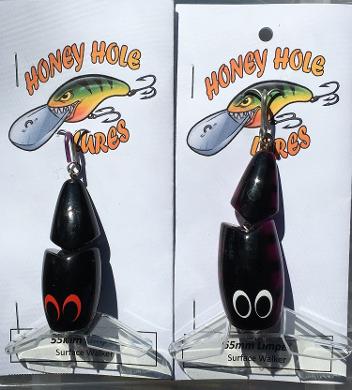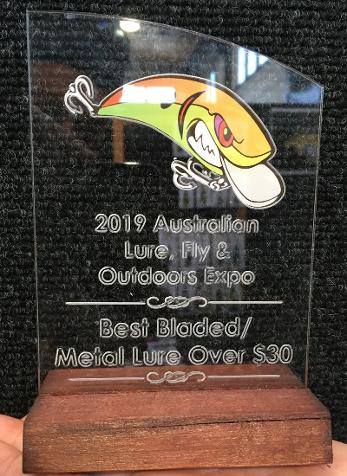 Honey Hole Lures - QLD:
Honey Hole lures are made in Camira and have entered the market in the last couple of years with nice quality timber lures that target native Australian species. Made by Peter Standing, the range has expanded to include diving bibbed lures and surface paddler style lures in sizes suitable for bass and larger fish such as Murray Cod.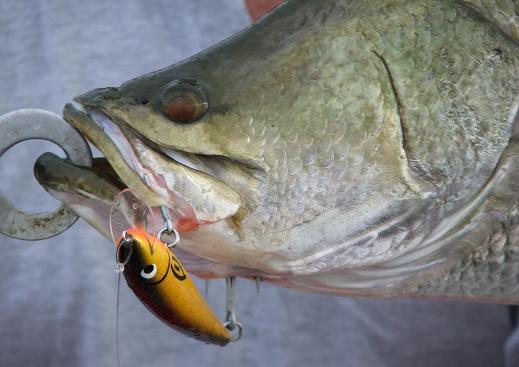 Above - a nice Honey Hole caught barramundi.
Left shows the 55mm and 65mm jointed 'Limpet' model.

Above -shows the 45mm Guppy.
Left - 'Crusty' is a bladed yabby lure which won an award at Expo 2019.
A brilliantly designed chatterbait.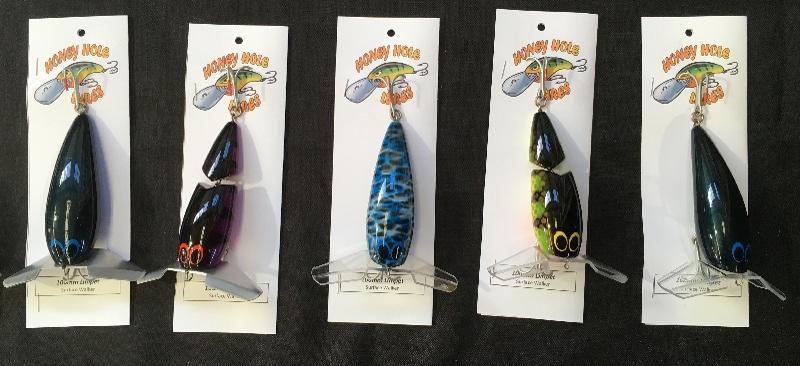 Hooker Lures:
Hooker Lures show up occasionally and are a timber 'Kad style' that will be marked on the belly. Lure below right appeared around 2011 at the first Lure and Fly Expo. Lure below left is another lure and shows signature. Of unknown origin.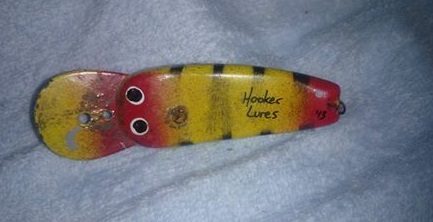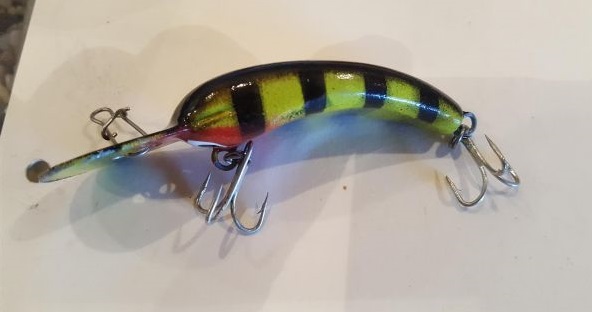 Hooper, Tom Hooper Lures - QLD:
Tom Hooper is one of the early pioneers of lure fishing this country and was making lures as early as the mid to late 1950's from his Gordonvale home. His lures were often referred to as 'Peg' lures.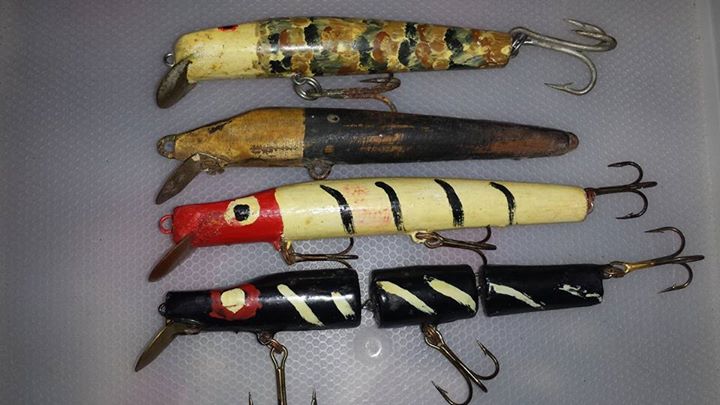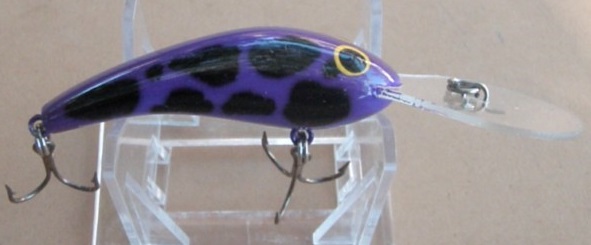 The lures shown have two early eye variations c.2007 . The extract below is written by Barrie Gill and was on
Lure and More
Forum.
'G'Day All,
Just a short note to let you know that if you do have an Horizon Lure it was given to you in some way or you found it, "I have never sold a lure" only gifted them. It may be worth holding onto as I no longer have the time or drive to produce them for the lure market.
My normal work commitments just takes up way to much of my time. I will still be having a play at painting them when I can but, not in any commercial numbers or for sale. Some information that may be useful is that only 1,500 have been made and that will probably be the final number. Only about 500 are out in the world, the rest are in my shed waiting for some paint.'
Horizon Lures - NSW:
Made by Barrie Gill, Horizon Lures are no longer made but are a quality timber lure made by a hobby lure maker, specifically designed for estuary fishing and native fish such as bass.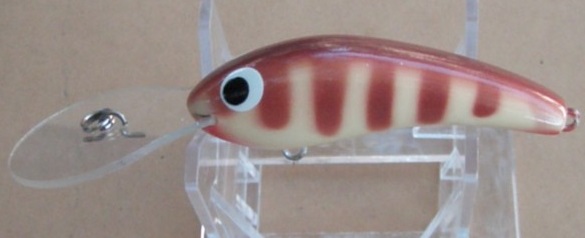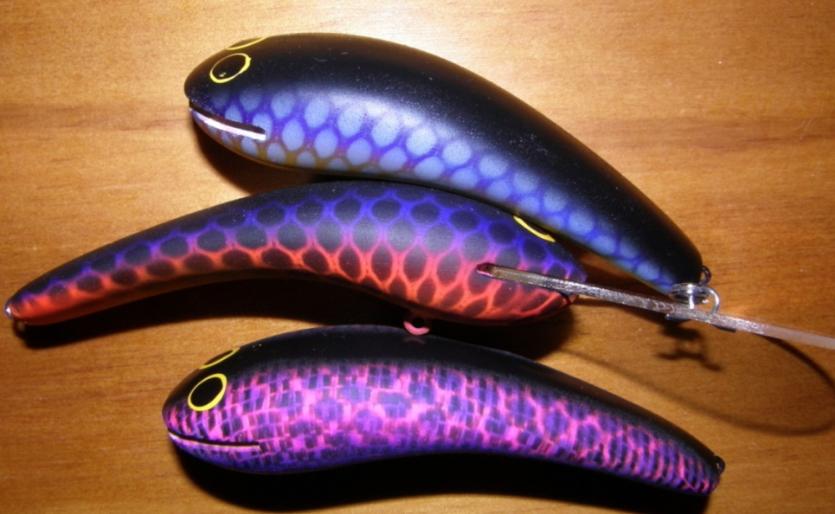 Horsey's Lures - QLD:

Made by Kev Horsey c 1980's-90's - there are a number of models including the early 'Boggle Eye'. The 'Mustang', 'Dirty Harry' and 'Tini Titan' are fairly late models that were aquired after a partnership with another lure maker. Kev made his own rubber moulds & hand poured each lure himself. The 'Boggle Eye' design is based on the Ashley Probe due to its diving and fish attracting capability.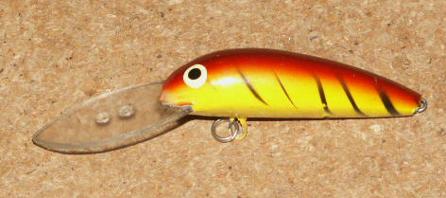 An early timber version of the 'Baby Bandit'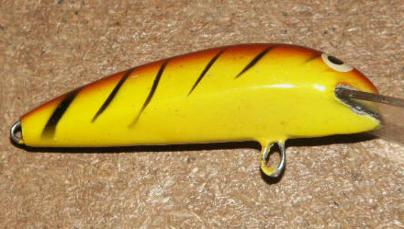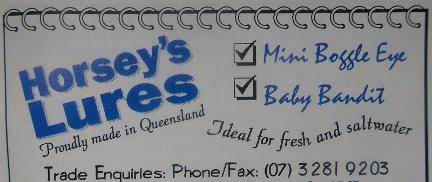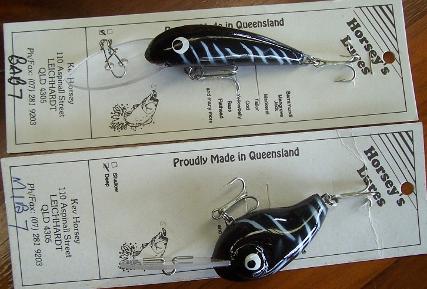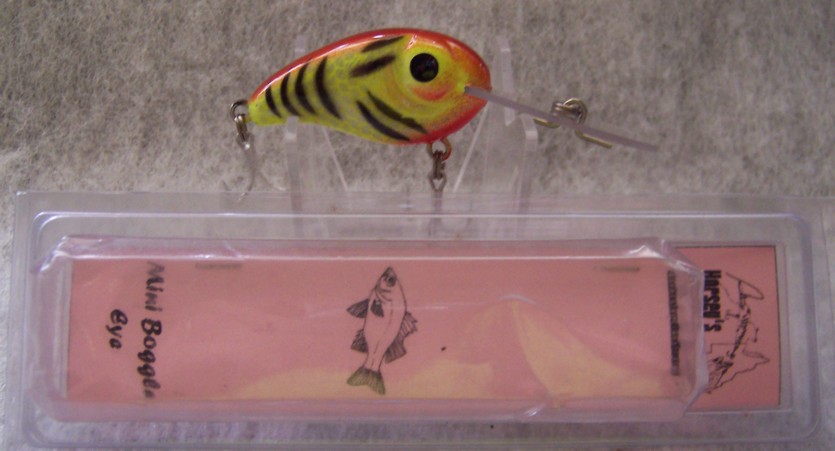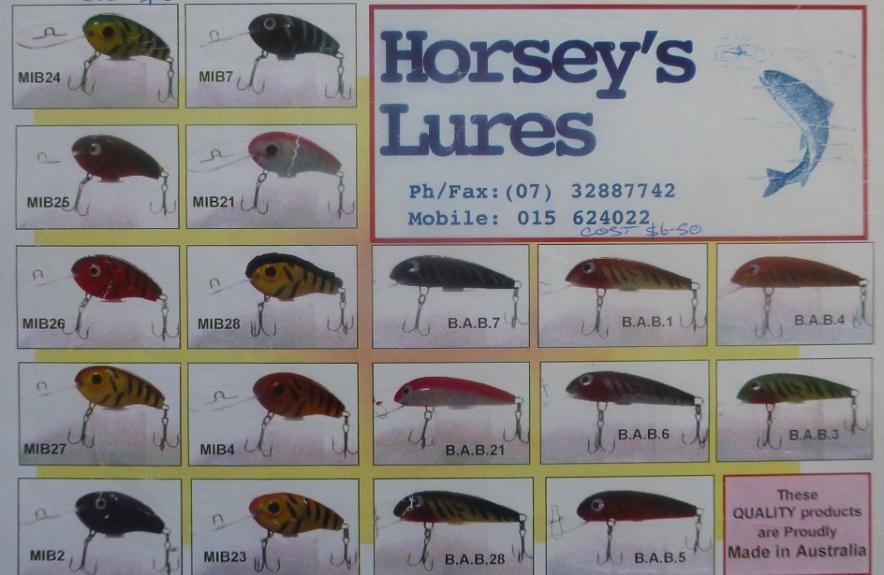 Hot Bite Lures:

Hot Bite are a heavy vibe that are suitable for deep flutter jigging and are an Australian product released in the last few years. Shown is the Hot Bites 'Jets' 18gm. Endorsed by Jason Ehrlick.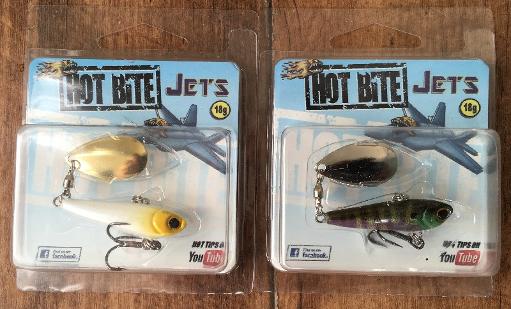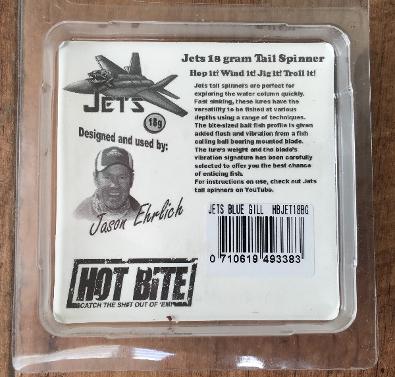 Howard, Brad Howard Lures - NSW:

Hobbyist lure maker from Inverell who only ever made lures in small numbers for personal use. Initialled by maker on bib.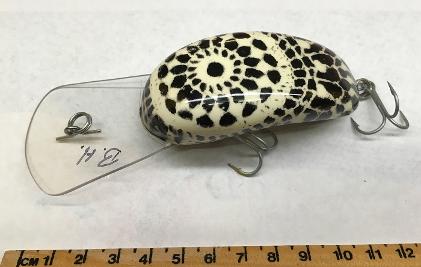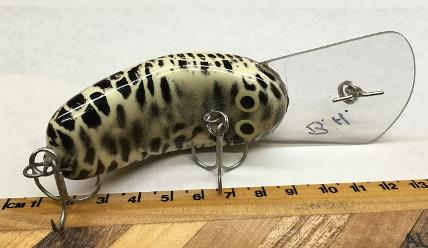 Howie Lures - QLD:

Made by Howard Rankin who made Sure Lures. Howie lures were the precursor lures to the Sure Lures stable.
Howison, Steve Howison Lures:

The lure shown was made by Steve Howison who is a keen angler and hobbyist lure maker. Called the 'River Rat', the lure is large at around 25cm.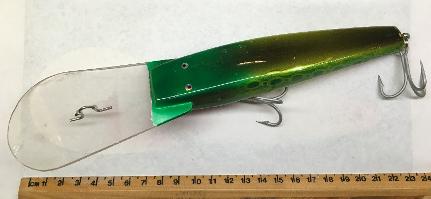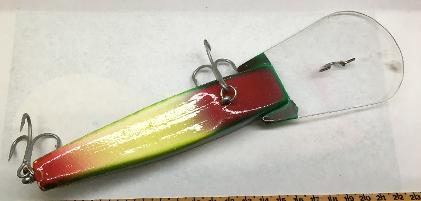 Hueys Lures - TAS:
Made by Carl Hyland in George Town, Tasmania. Started around 1991 and earlier cards will be the green cards with the first Hueys Lures logo which was found in the 1994 Tasmanian Angling Report before Carl started with his 'Lure Logic' article in this publication. Later cards are shown below. There are a number of colours and models suited to trout fishing.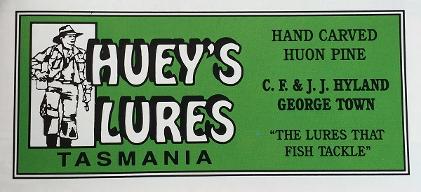 There are also smooth bodied versions as shown below.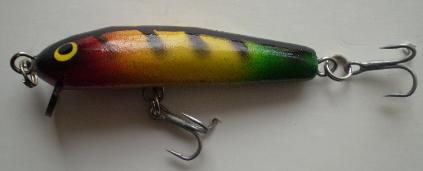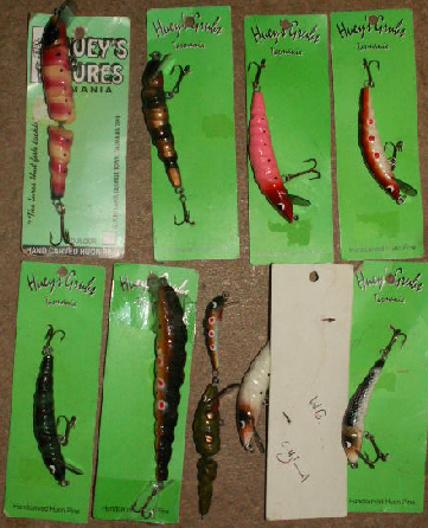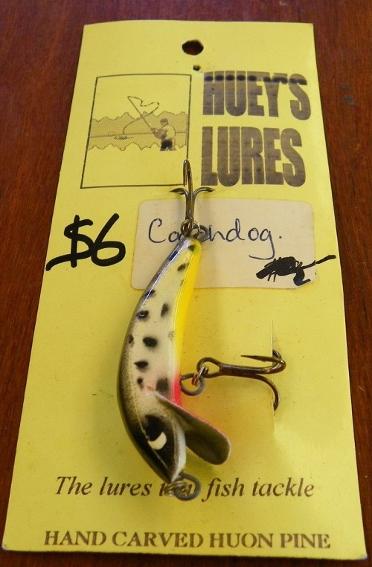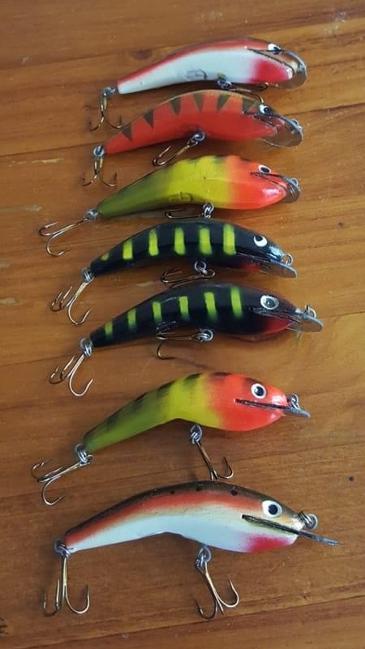 There is also a yellow card for Hueys Lures (the earliest card) that will have bibbed minnows that have an 'H' stamped on the belly within a circle. These lures are carved and shaped from Huon Pine as many Huey Lures are sourcing recycled Tasmanian timber for lure bodies. There are also some modern Hueys Lures that have been moulded and made in plastic but these date from 2015 onward.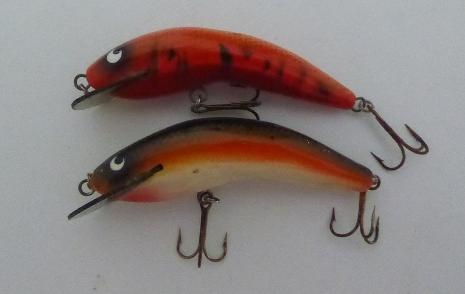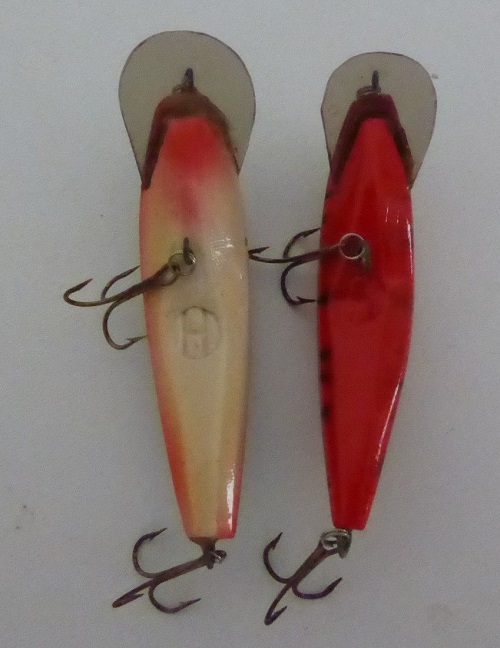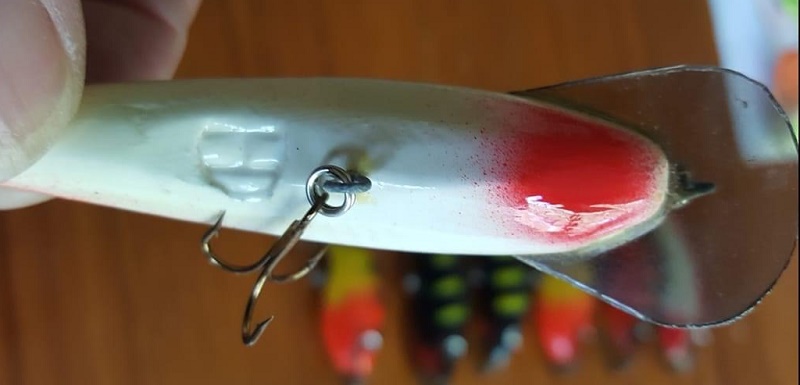 Huff, Sid Huff Lures - QLD:

The lures below were confirmed on the Lure Lovers forum as having been made by Sid Huff from Rockhampton. Sid had a saddlery shop called Huff and Aspen in William St, Rockhampton from the mid 1970's till the mid 1980's and he was a very keen Barramundi fisherman making many of his own lures which proved very successful in the area around Rockhampton. Made a wide variety of lures including the 'Popeye' mullet.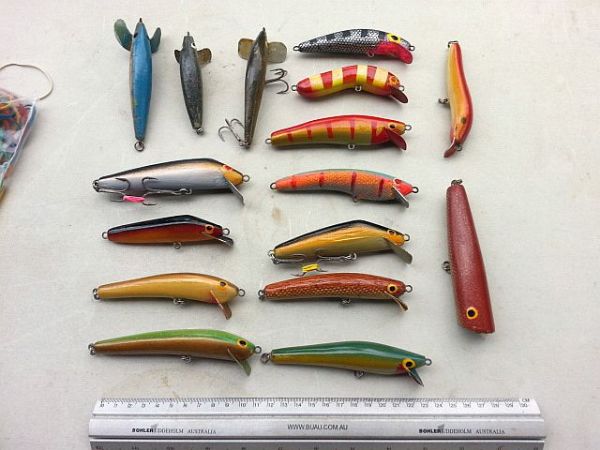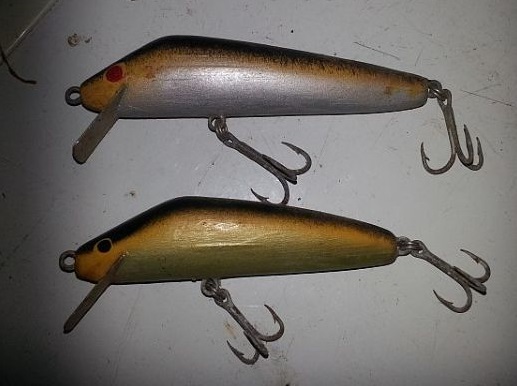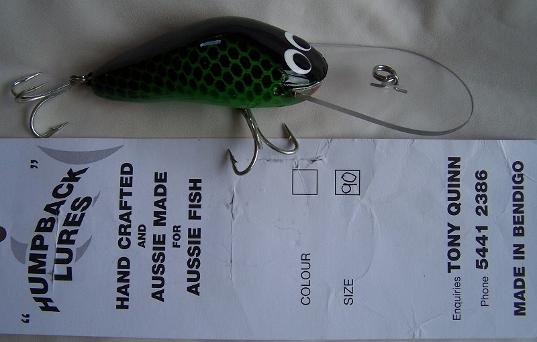 Humpback Lures - VIC:

Made by Tony Quinn of Bendigo in the 1990's and uncommon - a quality hand made timber lure that can be found on a white card.
Will have a hand signed logo on the belly near the tail and high quality gloss finish as shown below.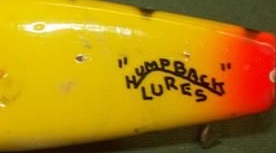 'Im Tony Quinn's son and was very interested when i stumbled across this forum. I will get dad set up on here so you guys to chat to him yourselves but in the mean time just wanted to pass a couple of things on for him. The issue casting the big lures has now been corrected and the big guys cast just as well as the smaller ones now. Also the 110ml has been back in production for a little while now and should be available at your favourite tackle store. If however any of the readers on this forum dont live in an area where there tackle store stocks humpback or you are after something in particular and can't find please feel free to contact Tony as per the information on his lure cards. Ive been trying to upload a few photo's of the new 110ml as they have a bigger bib set up and are a very impressive looking lure. At this stage i havent gotten the photo's to work but bare with me and ill have them up shortly. There is also a bigger lure in production but i wont say too much about it this stage, ill let dad fill you all in when i get him on here.
Cheers to all that have commented on this forum is great to see so much positive feed back.
Cheers for now'

Zeke Quinn
Humpty Lures, Paul Nicel - VIC:

Humpty Lures were originally handmade from Australian red cedar made by Paul Nicel from Euroa, Victoria. Humpty Lures was Paul's initial name for his earlier lures where later on he marketed lures using his own name - Paul Nicel Lures. Humpty lures first came on the market c. 1992 and advertisements soon appeared in Freshwater Fishing magazines with two models available as shown right with this advertisement from 1993 and a review below from the following year. See Nicel, Paul Nicel Lures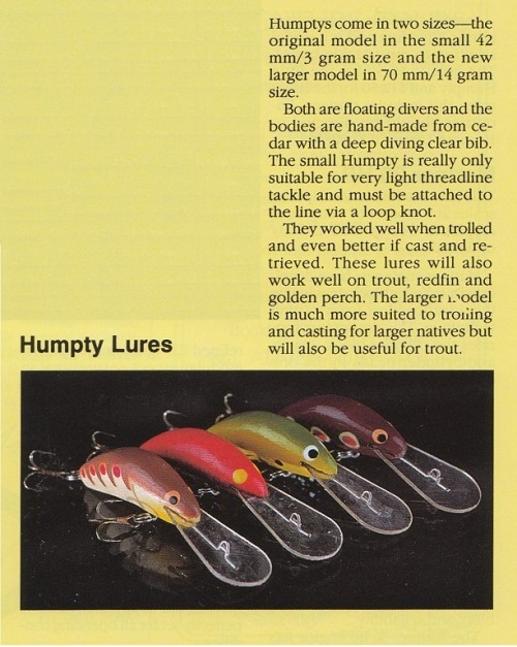 The above review mentions 2 models as does the advert right showing the 42mm and 70mm 'Humpty'. By 1994 the Humpty range had expanded to 5 models as shown in the advert below.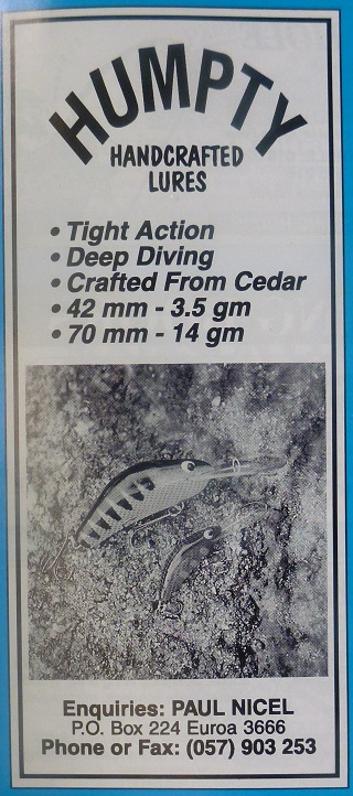 (Below) The range changed again in 1997 with 4 models available and the dropping of the 'Pimple' which suggests the reason this model is hard to find and in demand from collectors. In fact all Paul Nicel Lures hold their value.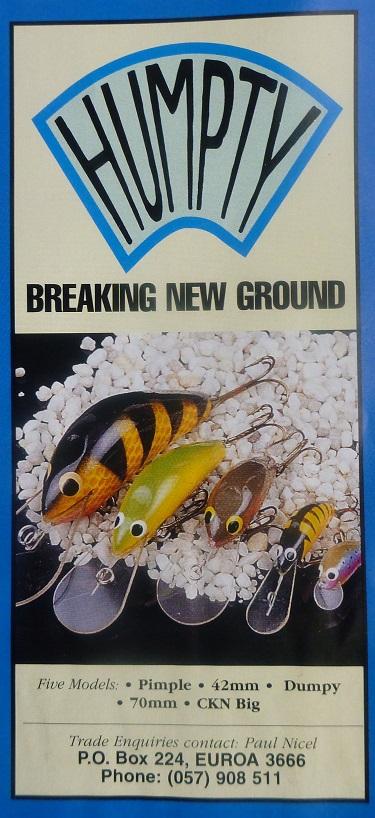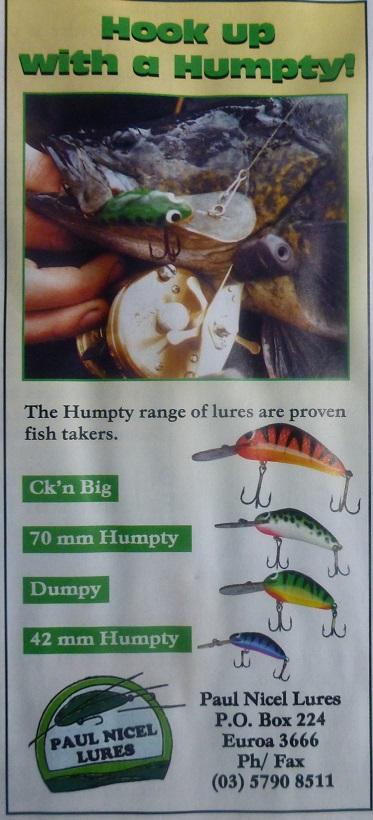 (Above) From 1997 onward the lures were marketed using the Paul Nicel Lures logo right after which they were no longer marketed as Humpty Lures. You will also notice in this advert that the telephone codes have changed to modern area code.
(Below) An earlier advert that predates the release of the 'Pimple' and when there were only 3 models released. c 1992

Hunter Lures - NSW:

Hunter lures are made by Brad Seagrott who now lives in the Port Macquarie area. Very original shaped lures and good fish catchers. Available c 2009.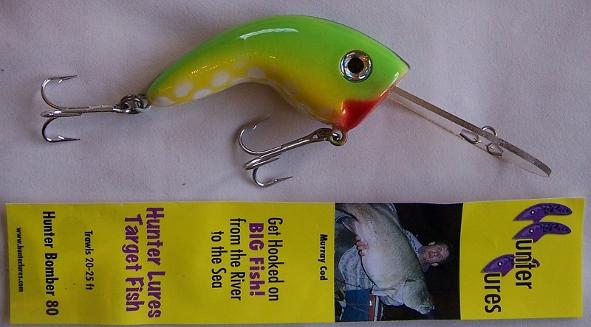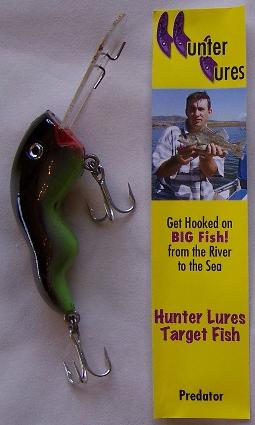 Hunters Lures:

Hunter Lures are another unknown. Lure shown appeared on Ebay many years ago now and is the only one ever seen.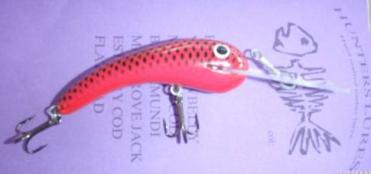 Huon Spinner - TAS:
Unknown maker from the Huon valley area in Tasmania. The lure is a translucent devon spinner tied to a simple white card. Unknown vintage.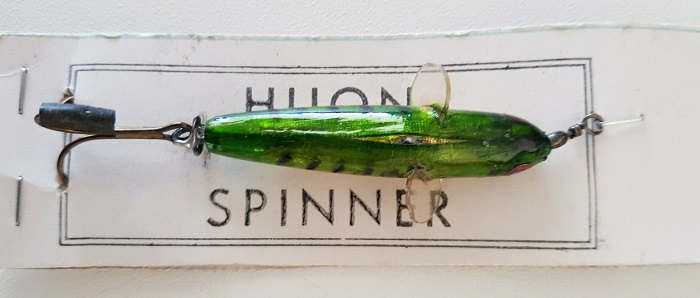 Hydro Bug Lures - NSW:
Owned and distributed by Peter 'Buck' Redman of Ashford. No information other than reference to a range of lures in Mo's Catalogue, Coffs Harbour in 1990's. Hydro Bug 'Dysticcus', 45mm long and a longer profile model called 'The Chaser'. Made from plastic. Available c. 2011.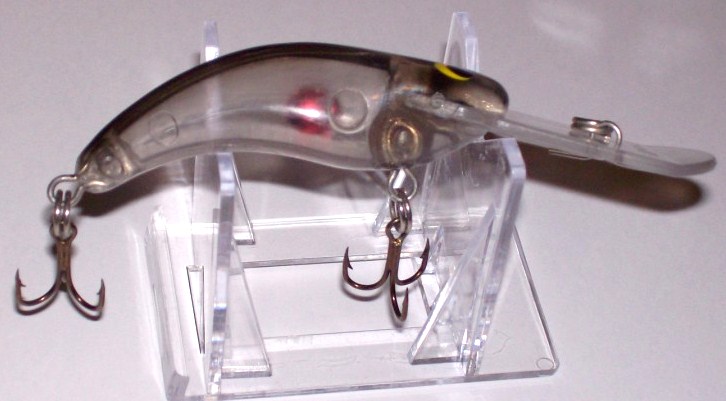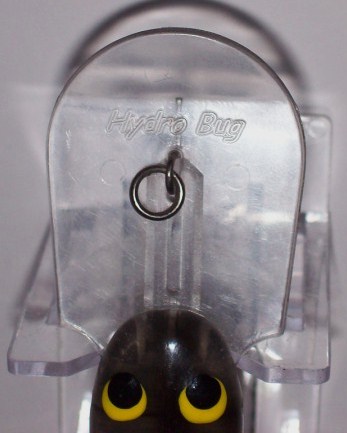 Timber Hydrobug Lures are uncommon but do show up occasionally. The one below appeared in 2017 and was sold in collector circles.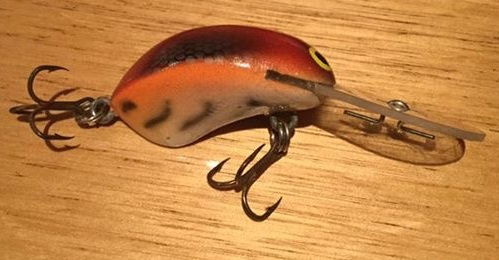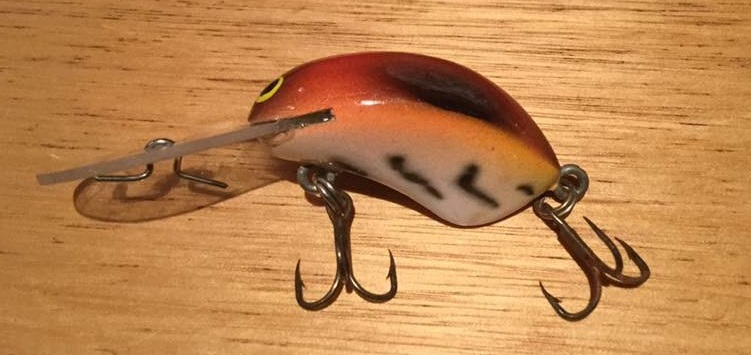 Timber Hydrobug 'Dysticus'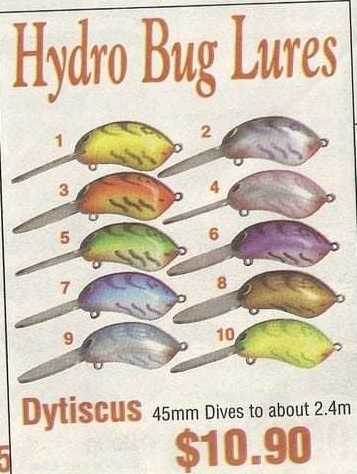 Hydrobug 'Dysticus' moulded
Timber Hydrobug 'Severn Chances' on the card - a large model suited to Murray Cod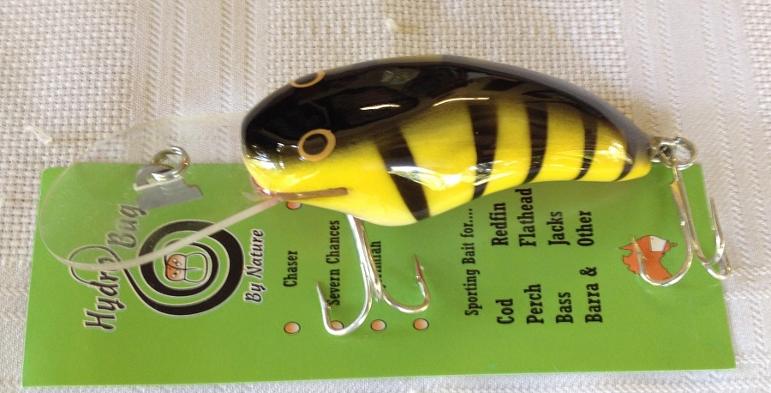 Later moulded model on card with round plastic mindow - modern packaging

Hyper Lures - QLD:
Handcrafted timber lures by Brian Harris showing business card right.