Australian Lure Manufacturers I
If you know of an Australian lure maker no matter how young or old that we have not mentioned in the following list feel free to contact us to have the details added or updated.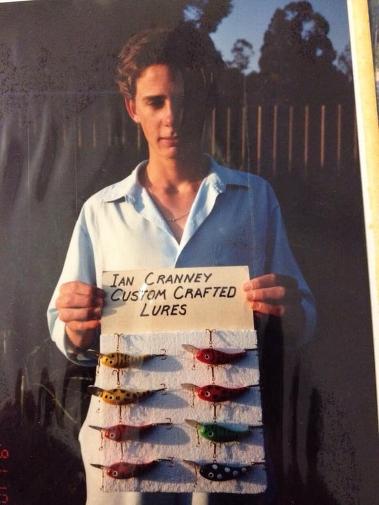 I.C Lures - NSW:
Ian Cranney made lures in small numbers before the Viking brand was founded. Ian was a tool maker by trade from Orange but started making high quality timber lures by the age of 14. In an article written by Bill Ryan in Freshwater Fishing (1995), Bill describes meeting a young Ian Cranney and writes ' the youngster put a parcel of lures in front of me and my hair slowly stood on end. These wewre no lures made by an amateur'. Earlier timber lures are sometimes hard to identify and uncommon. High quality finish.
Marketed under the I.C Lures label or Ian Cranney Lures. Rarely found on a yellow card.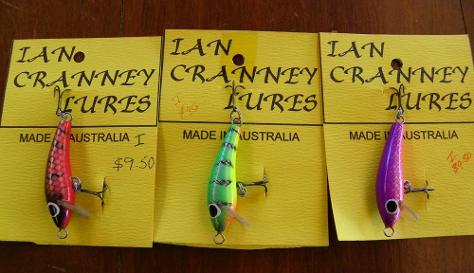 Illusion Lures - QLD:
Illusion Lures was started in 1997 by Wally Muffet at Ballina. Allen Oliver joined the business for approx 3 months in around 2000. In 2002 Wally moved to San Souci for 9 months and then to the upper Hunter Valley by 2004. Wally ceased production on Jew lures in 2006 but was still making bass, barra and mackerel models. In 2016 Wally began making lures in small numbers and had a stand at Expo 2019. Watch this space.
Wally was making lures long before Illusion was started and these two small lures are dated to the mid 1980's.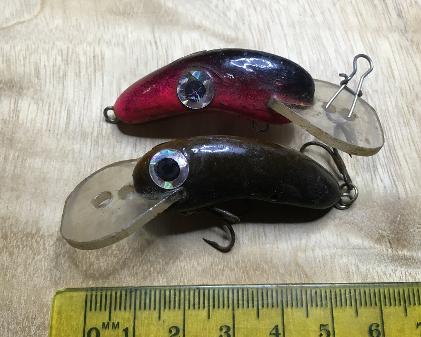 These small 7cm minnows date to the early 1980's and are from a bunch that Wal's father helped spray. The Illusion shape is obvious with early spray can finishes.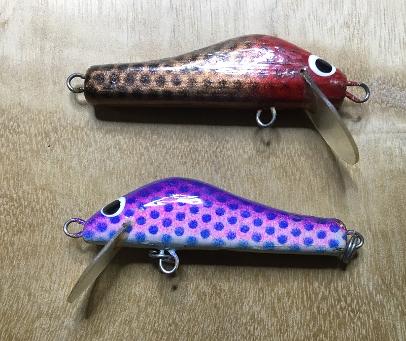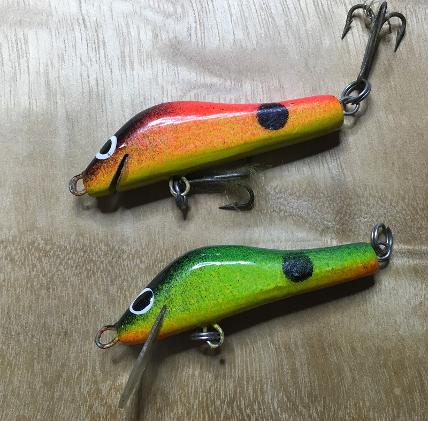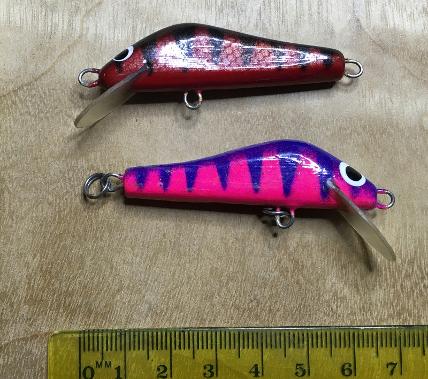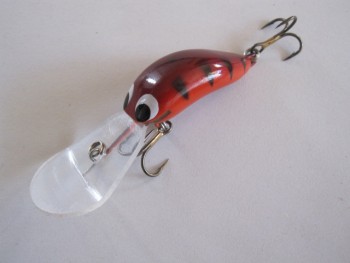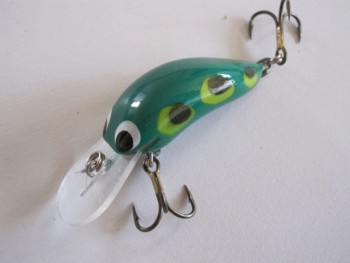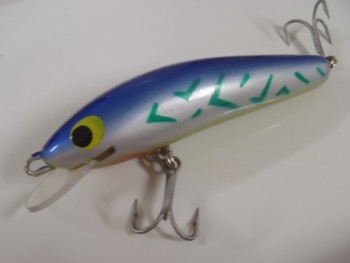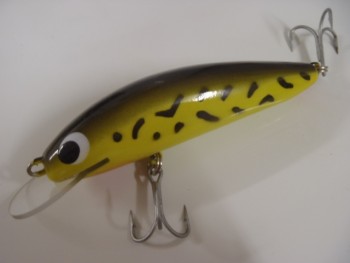 'Wedgetail', 65mm, Dives to 3.5m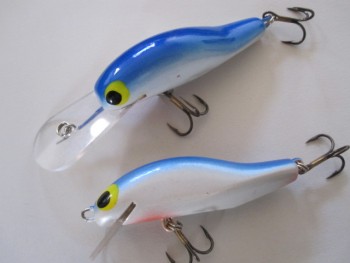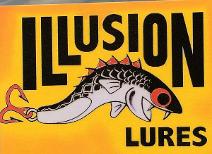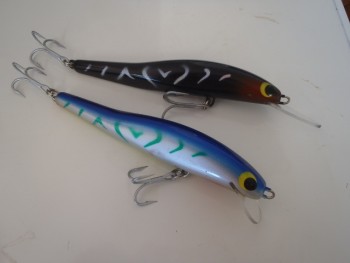 Above - 'Wedgetail', 18cm.
Left and below - Grinner on orginal card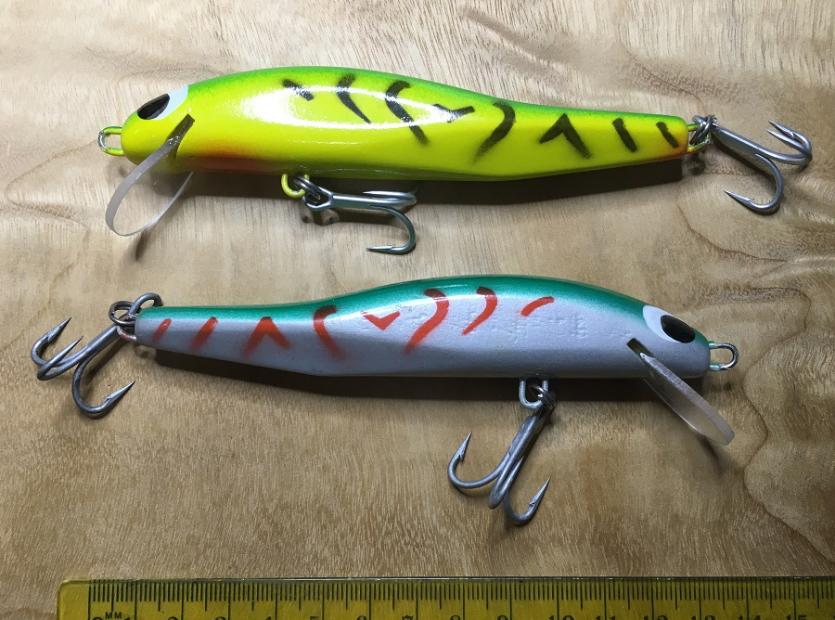 Illusion 'Wedgetail' model - hand carved and through wired - magnificent lures.
Ironbark Lures:
Ironbark Lures are an unknown entity - the lure shown is a beautifully made bibless timber lure.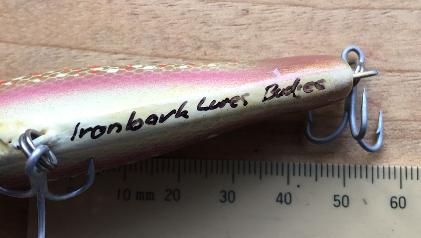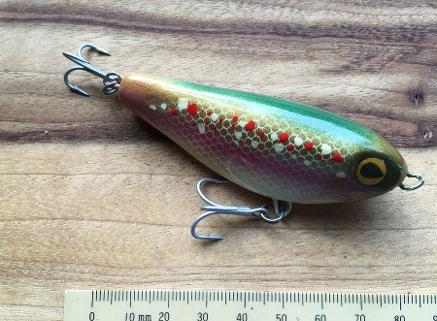 Irons Lures - NSW:
Irons Lures were originally developed by Joe Gospel and made in Coffs Harbour, NSW by Sportsfishing Australia Pty Ltd. There was a range of lures available in a wide range of weights as shown on the card below. Classic names with the largest being the 'Strangler' at 10.2 oz (290 gr). They were available in the 1970's are are long discontinued. Like many of the metal plug style of lures, they don't seem to fetch high prices from collectors.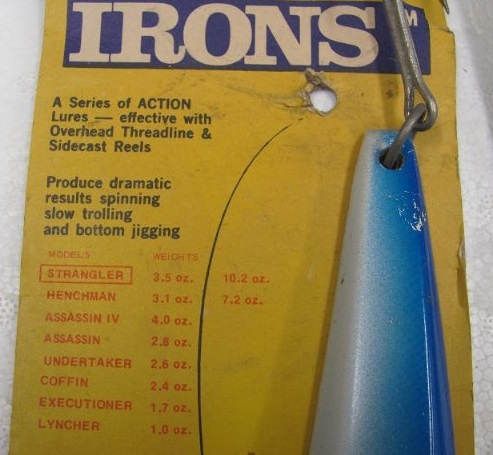 (Above) Two examples of the Iron 'Henchman' probably the most common Iron's lure that will be found. They were available in two sizes at 3.1 oz (85 gr) as above and the larger 7.2 oz (200 gr) version. The full range of 10 lures is shown on the card left.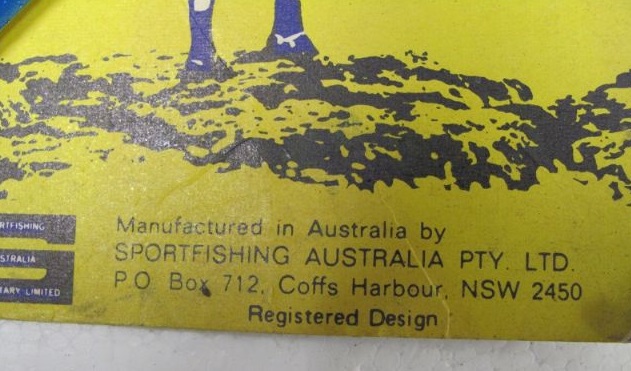 Example of original Irons Lures mold showing how they were made. Rare items.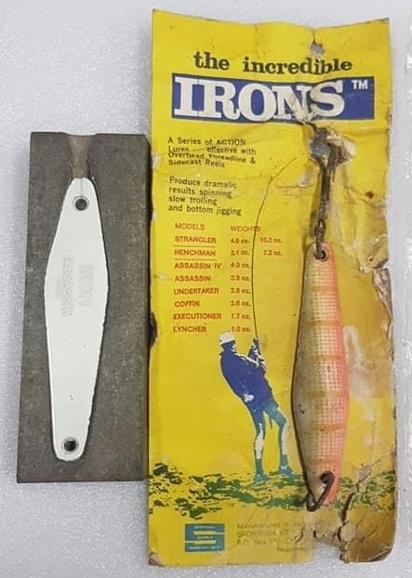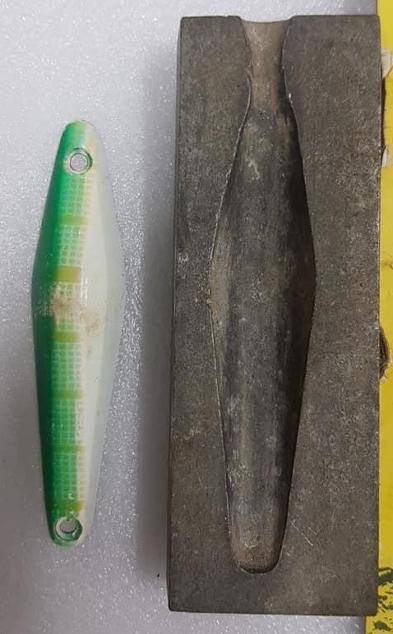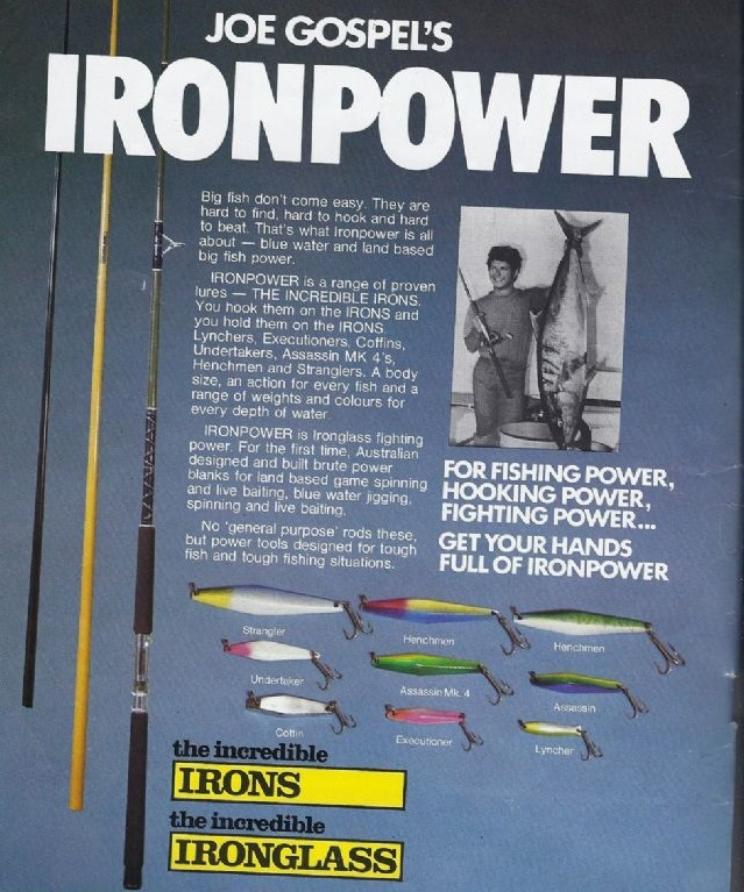 I.S.K Lures - W.A:
I.S.K Lures are a Western Australian product of unknown vintage. Carded lure shown has a contact address in Hamilton Hill and old phone number.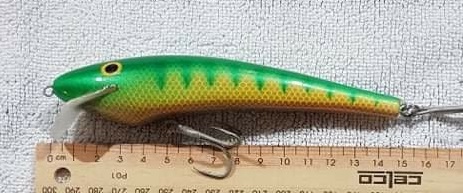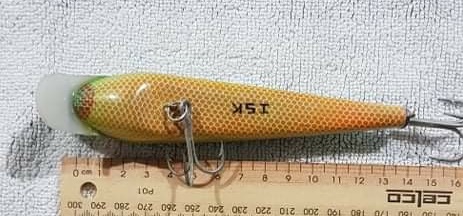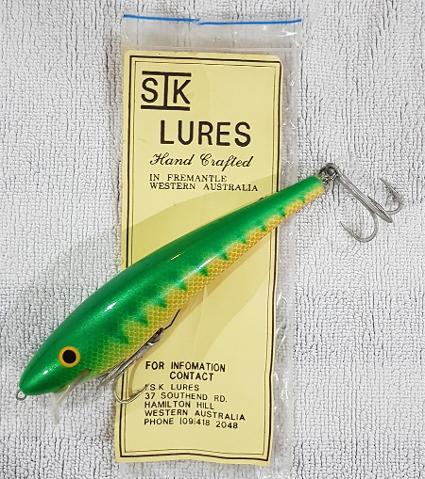 Australian Lure Manufacturers J
Jabi Lures - VIC:
A moulded lure made by Jason & Liza Robinson - chart shows 16 colour options for the 'Ganoo' which was available in one size.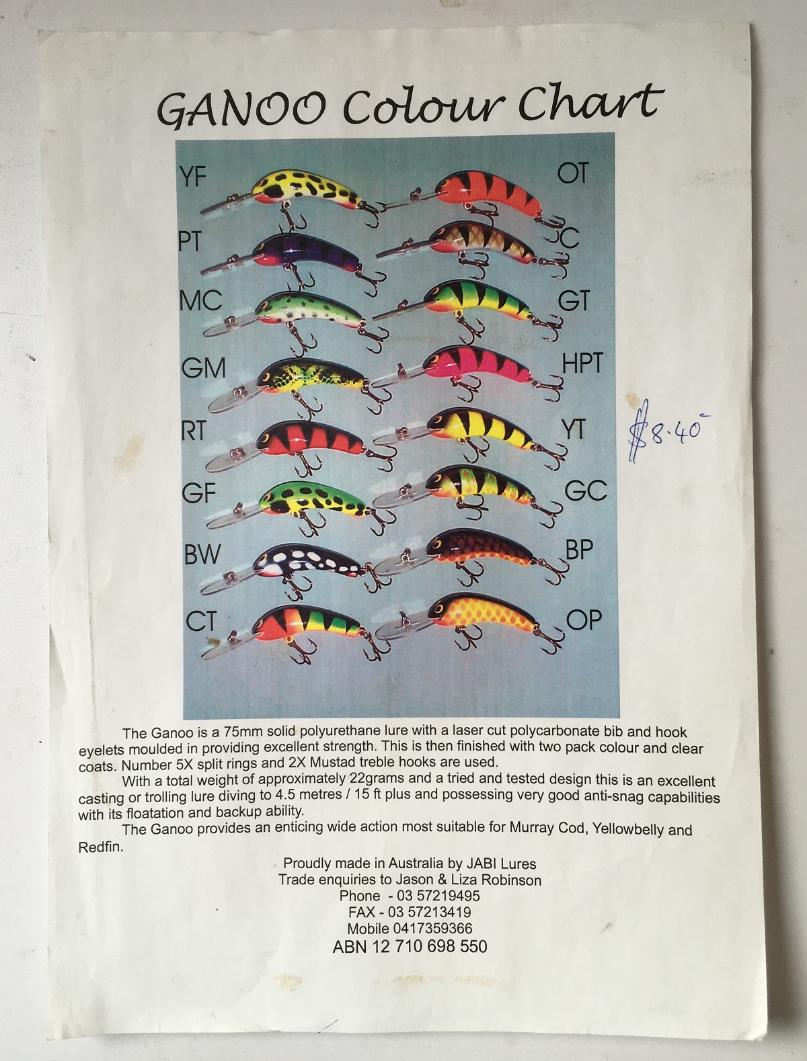 Jabiru Lures - QLD:
Made in Ipswich these lures were originally carved by Steve Timperley from timber up until 2008. The model 'Brolga' which was made in deep and ultra deep versions are now made under the Smak label. The rights to make them were purchased by Smak who have decided to have them moulded. Nearly all of the models were named after birds - interesting lures.
(Right) The barramundi model the 'Gannet'.
(Below) Unknown early timber model from the early 1990's.

(Right) Jabiru lure that was the prototype and forerunner to the 'Kingfisher' which Steve hopes to be making again soon.
(Below) Jabiru 'Osprey'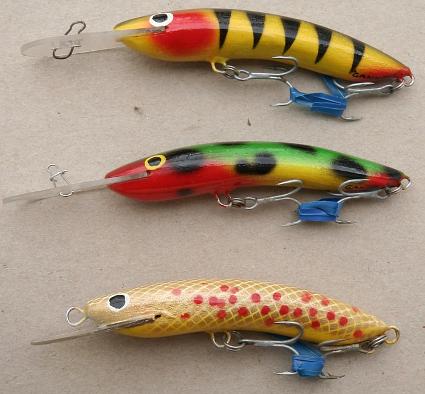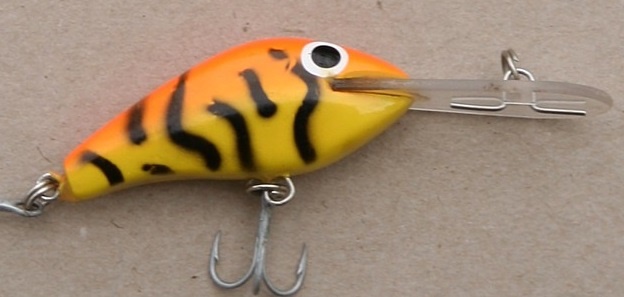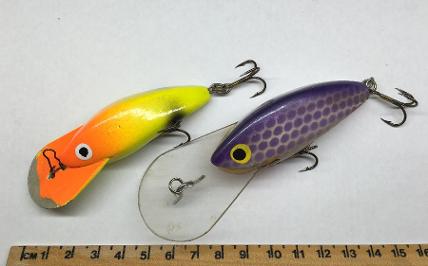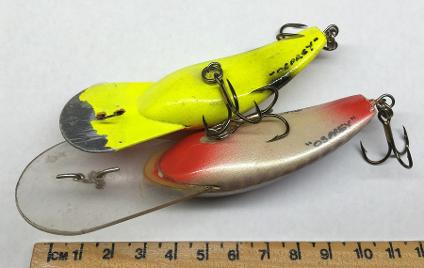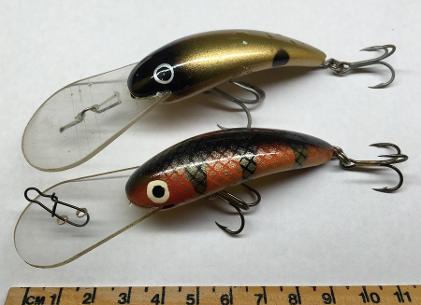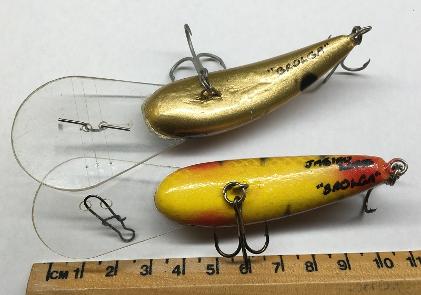 Early timber 'Brolga' above and the moulded versions below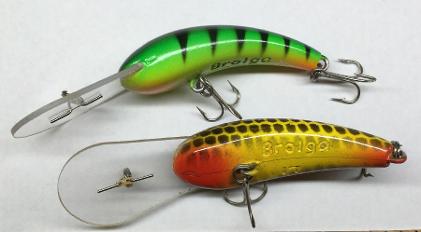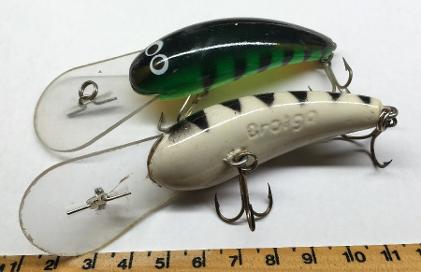 Jackpot Lures:
A relative newcomer to the market making large multi-jointed wake baits . . . more coming soon.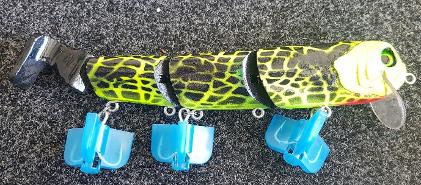 Jackson, Bill Jackson Lures - SA:
Made in Adelaide, South Australia, Bill Jackson made large minnow style lures and poppers. The lures shown below were made in the early to mid 1980's while the lures right were shown on the Lure Lovers forum and were the last of this model Bill made.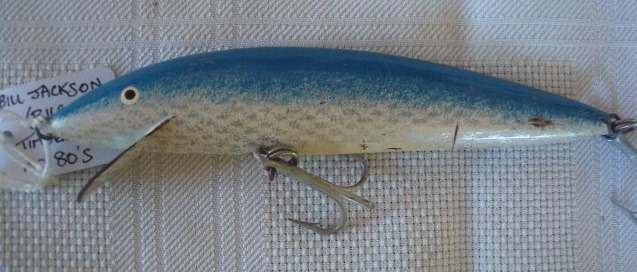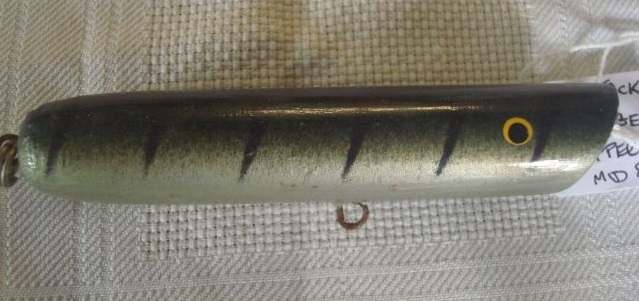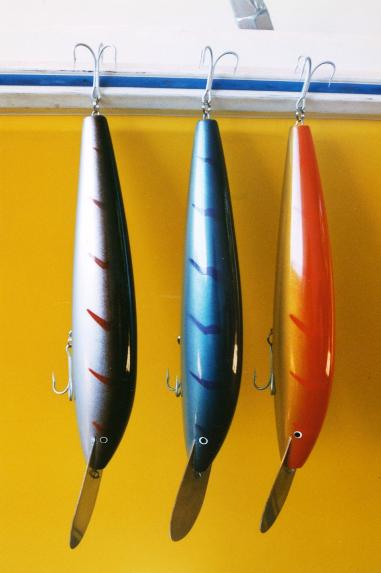 A magnificent large nude cedar model from 2012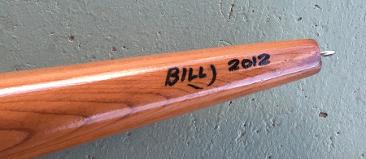 JAM Aeroplane Spinners:
JAM Aeroplane Spinners are a large painted cod spinner. Unsure where in Australia they were made but not released recently. Barcode would indicate lure is no more than 15 years old. Suitable for 'Cod and Yellowbelly'.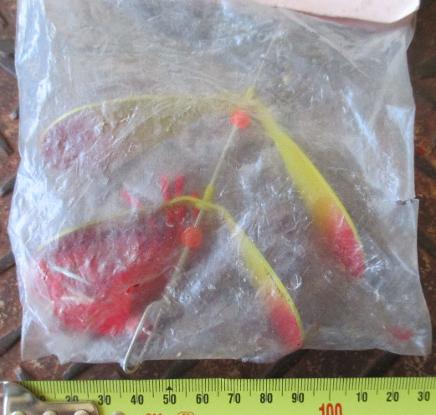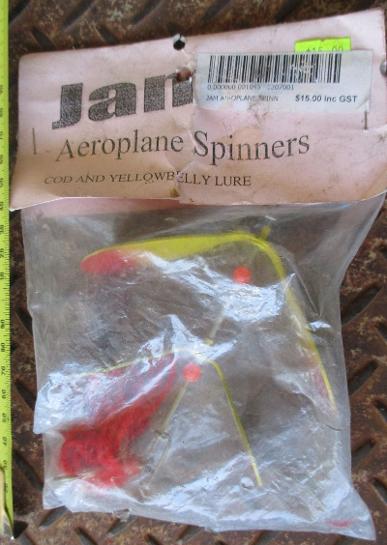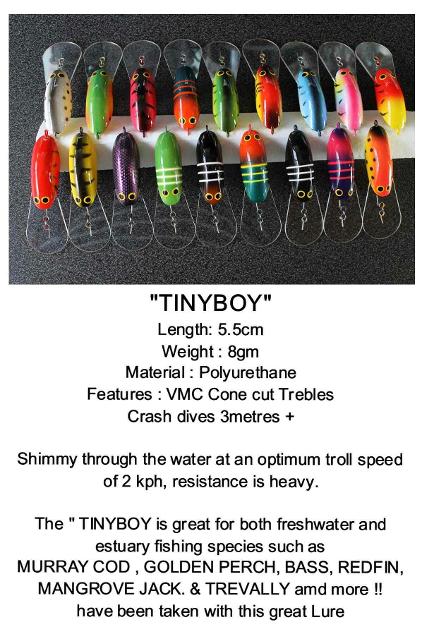 J.A.R Lures - QLD:

J.A.R Lures own the rights to make the A&B 'Tiny Boy' and 'Barrablaster' a lure developed by Alan Sloman many years ago. They are now a moulded lure and are made by John and Allana Roberts in Morningside, Brisbane. Lures are still being made and are available.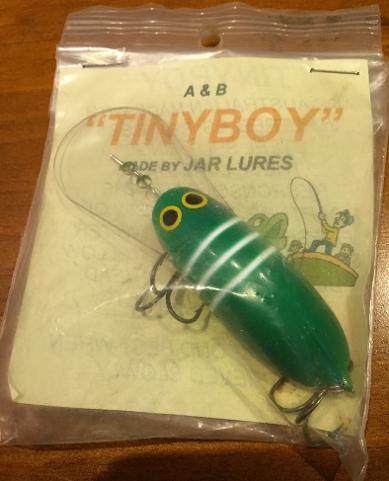 Javelin Lure Company - VIC:
The Javelin Lure Company were based in Melbourne and sold a range of lures that were good quality and sold relatively cheap in the late 1970's and into the 1980's in places like K-Mart. The range included an original model called 'Shiner', a copy of the Pegron Tiger Minnow called 'Catcha', a shiny multicloured jig and the 'Big T' - a big Abu Toby spoon copy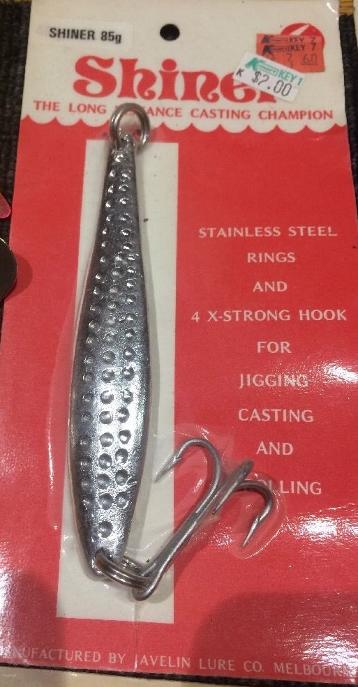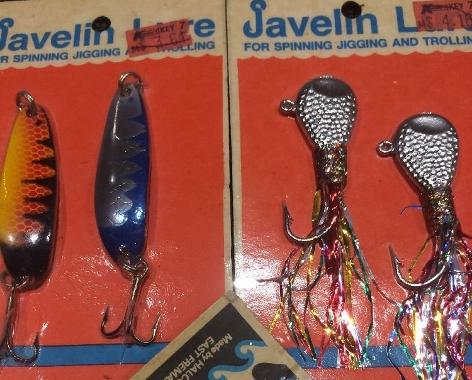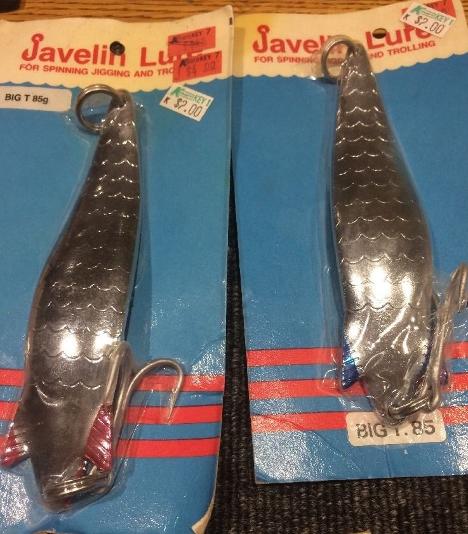 Jayem Lures - QLD:
Jayem or J.M lures are made by Jim Mc Connachie who has been making lures since 1971. A master lure maker.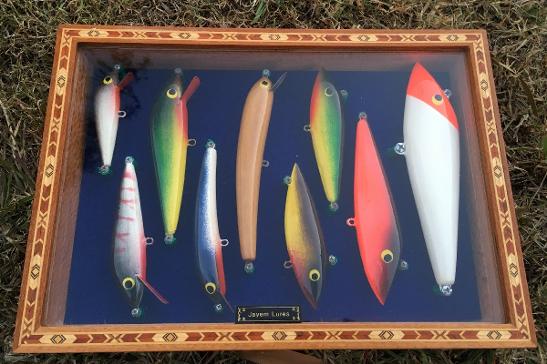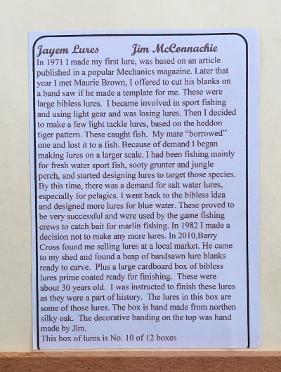 Jaysea Lures - QLD:
Jaysea Lures was originally owned by Warren Nicholson from Noosaville between 1987 - 1997. Jaysea was then sold to Brett Choyce (Tewantin) who ran the business between 2001 - 2005. The right to make Jaysea models was then owned by Daryn Goile from NT. The business has been again sold on since then.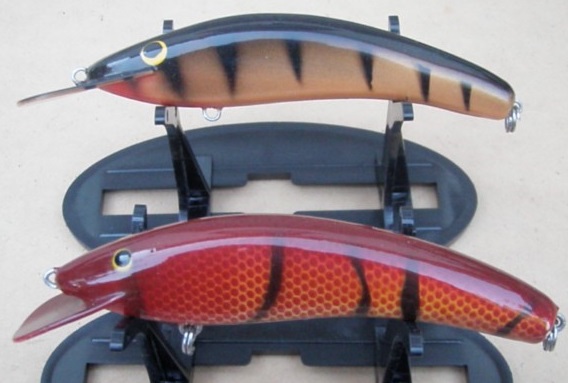 Since the Patriot was made in polyfoam from about 1992 onwards it is reasonable to assume that all timber Jaysea lures including the Neeko probably pre-date 1992 or thereabouts.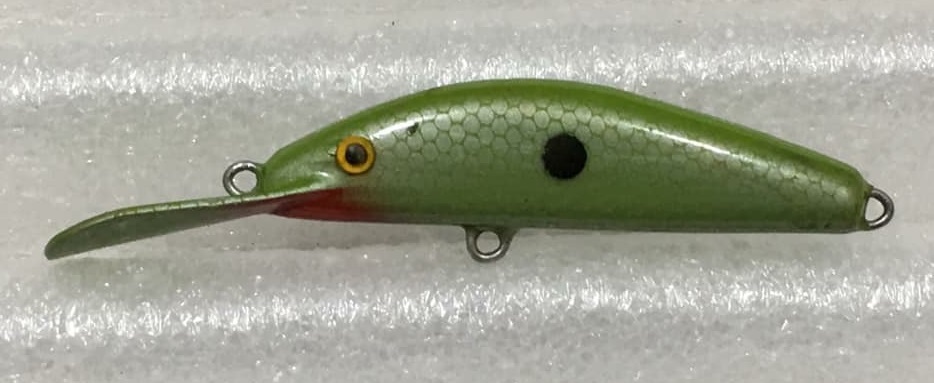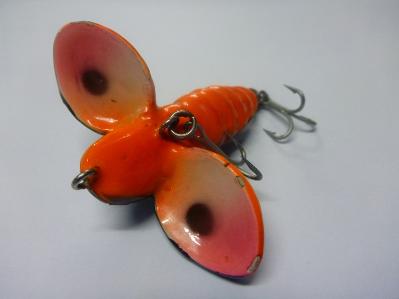 Jaysea lures released the 'Baker Kray' which was named by Warren Nicholson.
The photo above shows the underside of an early Jaysea 'Gremlin'.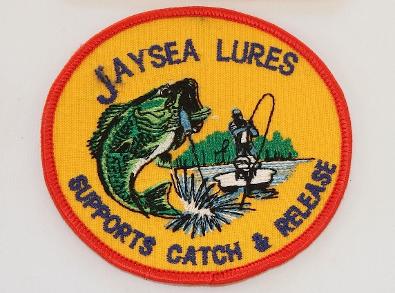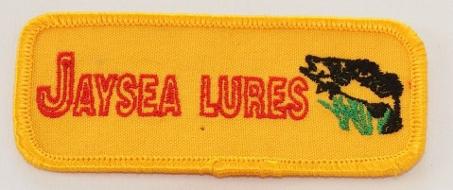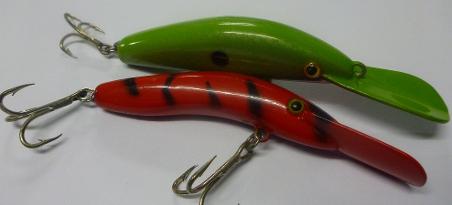 Two colours of the early timber 'Neeko'.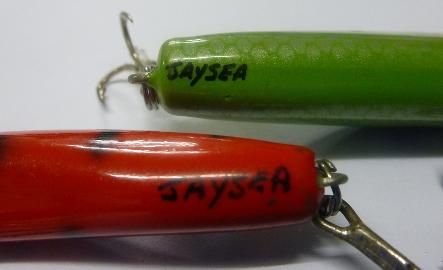 The photo below shows an early unpainted prototype and a Gremlin on the card which was posted on the
Lure and More forum.
Jaz Lures:

Jaz Lures are made in China and are mentioned due to the lures they made. They release versions of Trevor Mc Feeters Tenterfield Lures which are even mentioned on the front of the packaging. These two below are c.2009.

J.C Lures and J.O Lures - QLD:

J.C and J.O lures were originally made by John Charles Wust Senior who made them in small numbers and sold at local flea markets. These lures were marketed under his own brand and were signed J.C but this name was changed due to Jaysea being in production at the time. J.O was then used and lures were signed 'J.O' instead of 'J.C'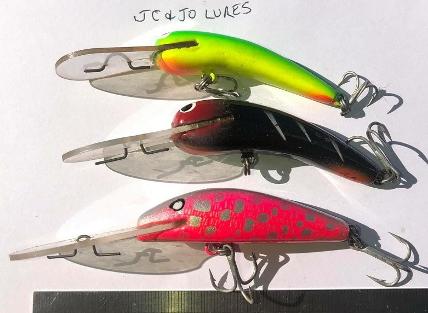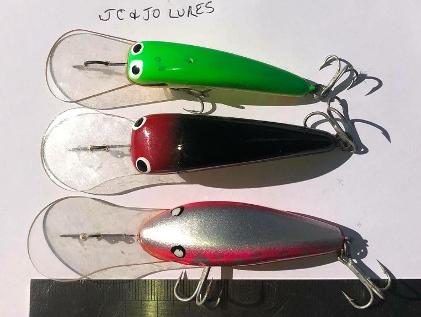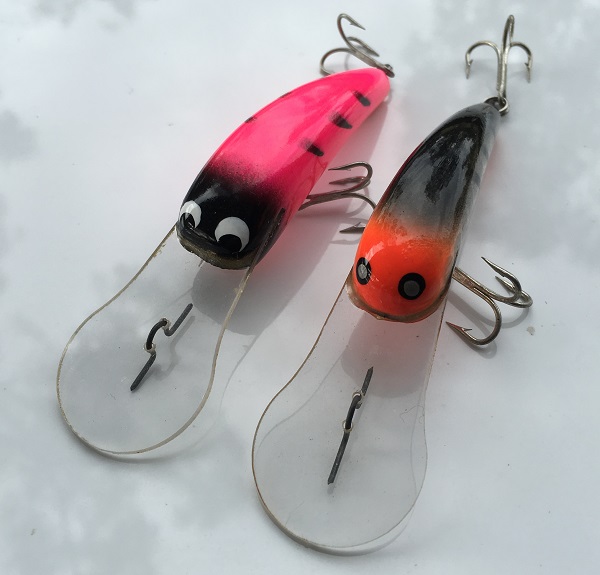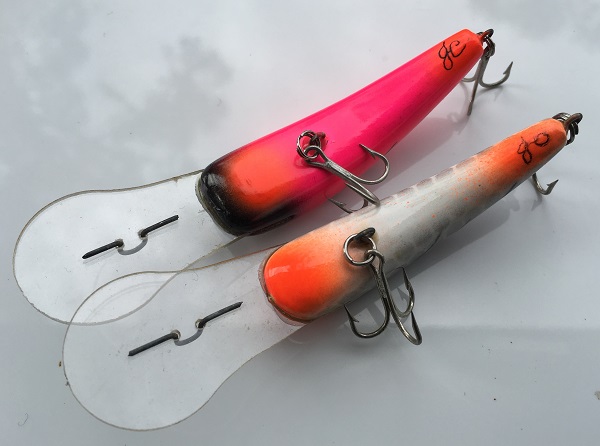 Above shows examples of different signatures on the same model lure. J.C Lures were made before J.O Lures.
Some nice example of J.O lures are shown below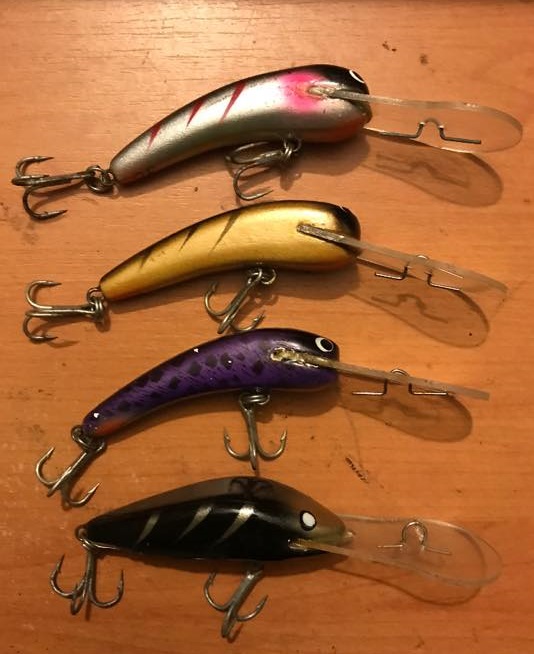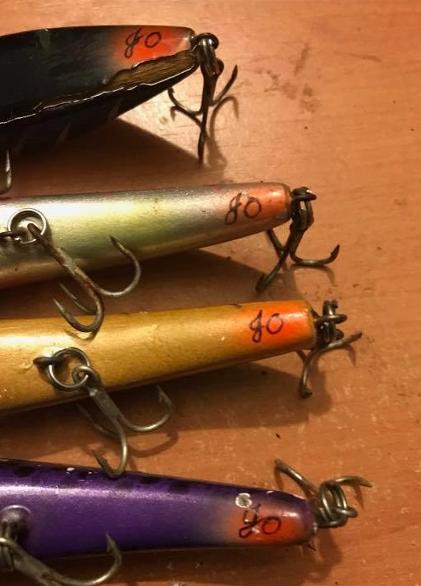 JD Lures - TAS:

Jamie Harris is the maker and is based in northern Tasmania. JD lures official registration date was in 2005 however Jamie was making lures for family and friends for many years before this. JD lures is also the owner of Eddy lure patterns including Lip Ripper, Wasp and Dam Buster. JD Lures also has a reputation for making some of the best crash diving lures aimed at the Murray Cod with his 'Python' lures. In 2013 the rights to making the 50mm suspending minnow were sold to Rick Strang from Strangalures which will be back in production soon. Jamie starts his lure designs by shaping up a prototype for future moulding from urathane and was originally making lures from timber.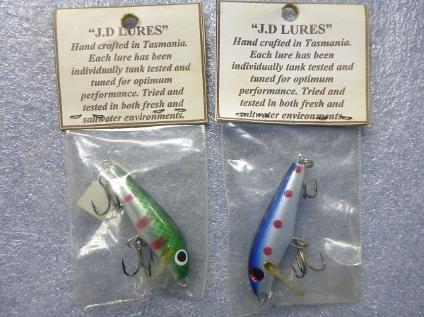 JD 5cm suspending minnow is an excellent lure for trout.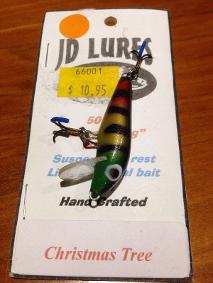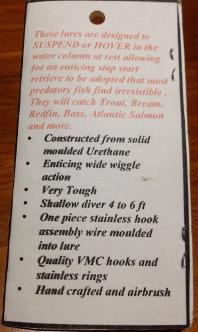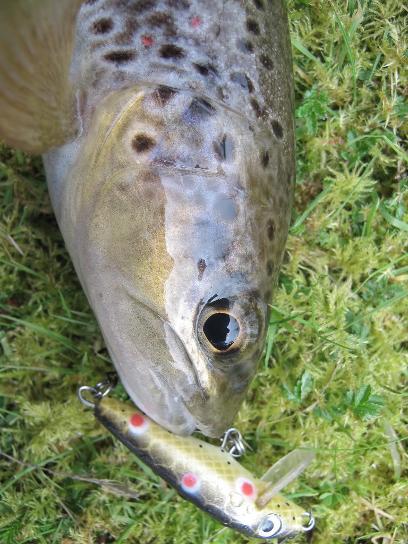 The 60mm Depth Master (below) is another moulded JD lure that was aimed at native fish and especially Australian Bass. Not really a common model and sold in small numbers.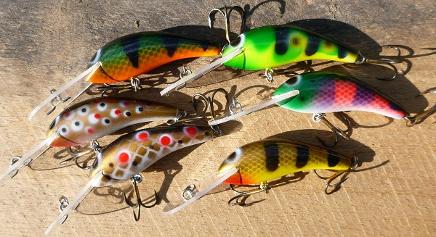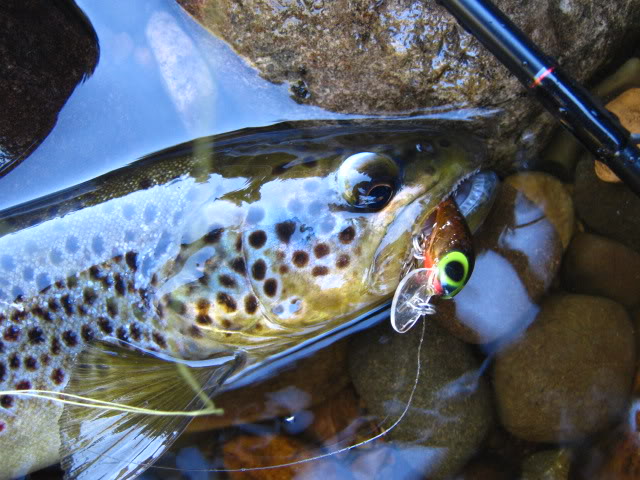 (Above) A nice Tasmanian brown trout that took a Eddys 'Lip Ripper' made by JD Lures.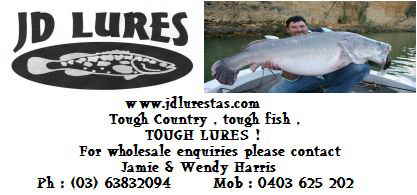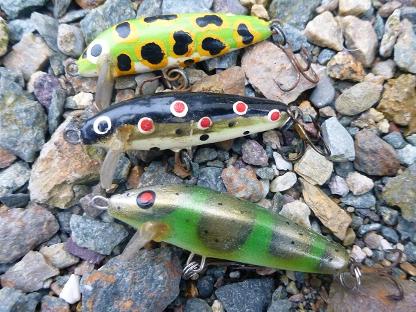 (Above) Three examples of early timber 50mm JD suspending minnows. Top two in frog spot and spotted dog with the bottom lure being a slightly larger version.
(Left and Below) Earlier packets for moulded JD 50mm suspending minnows. Colour patterns were printed on card as illustrated below. Colours of two lures are 'Silver Dragon' and 'Pilchard'.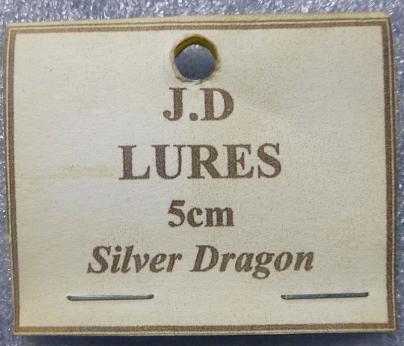 (Below) A nice fish caught on a JD suspending minnow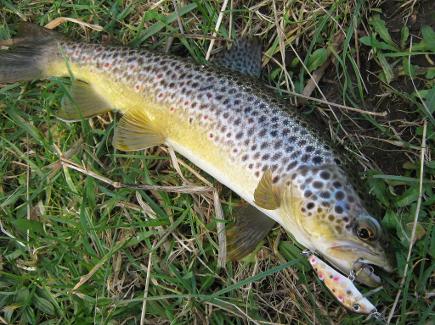 One of the Eddy Lures models that is lesser known and made by JD Lures is the 'Lip Ripper' (below) which is a tiny lure around 5cm that works extremely well on trout and native fish like bream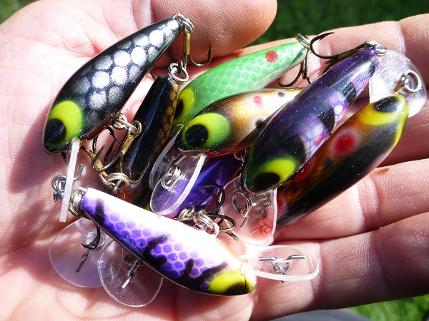 (Below) The colour range for JD 85mm Super Bugs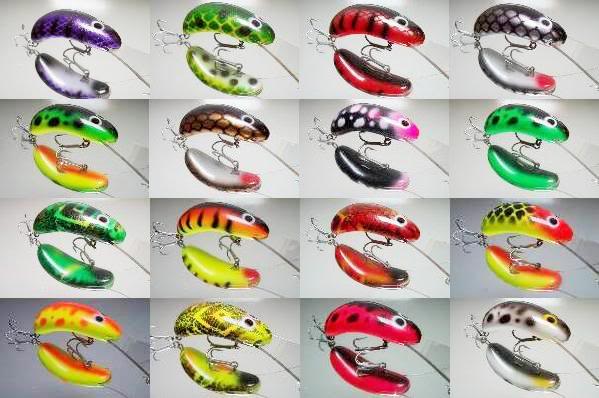 JD/Eddy Lures were sold to Russell Sandford in 2015.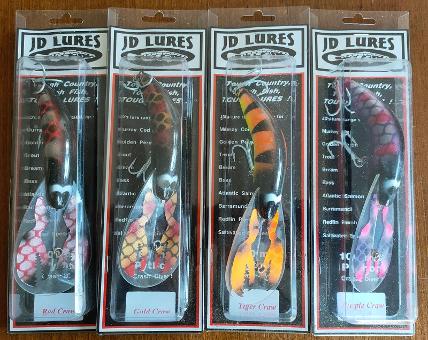 JD Lures Python Craw series 100mm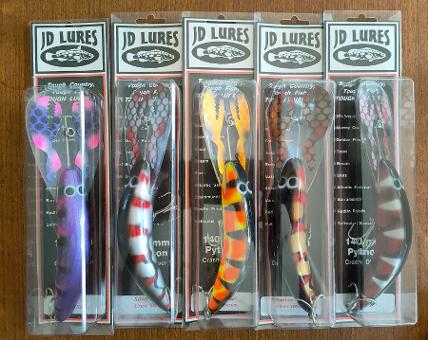 JD Lures Python Craw series 120mm
(Below) JD Lures colour set 150mm Superbug, 140mm Python Crash Diver, 140mm Python standard with mathching chatterbait.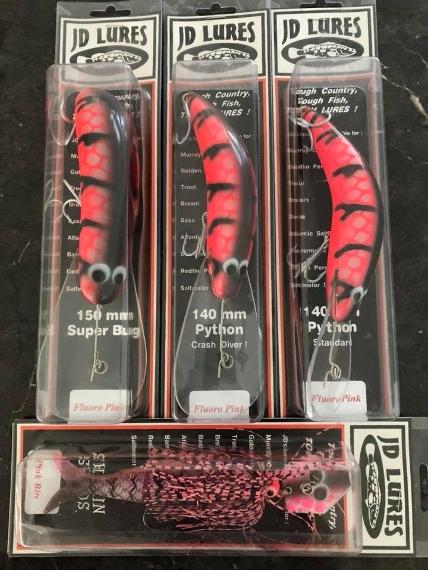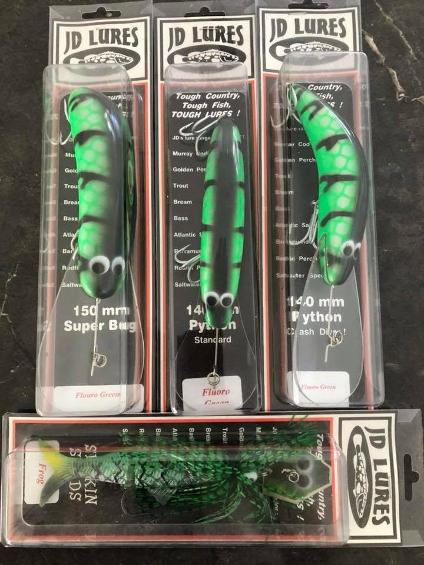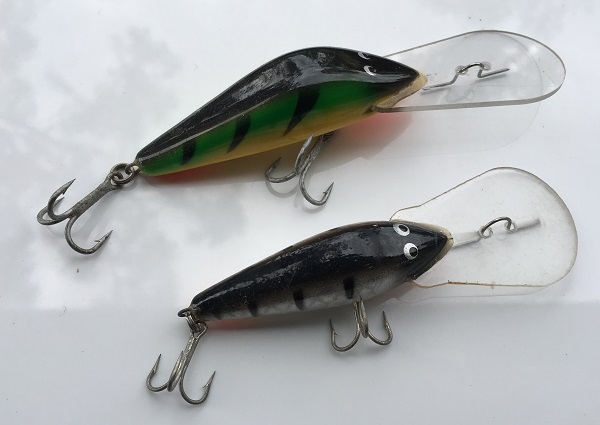 J.D.K Lures - QLD:

Made by John Charles Wust Jnr who was the original maker of the 'Little Ripper' model. There is a 'Mini Ripper', 'Little Ripper and 'Large Ripper'. There is also a newer model shown below on card which is slightly larger.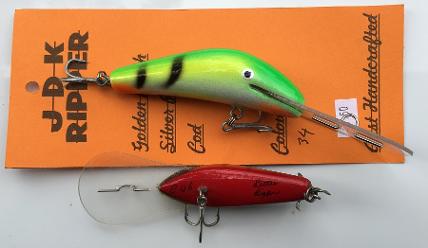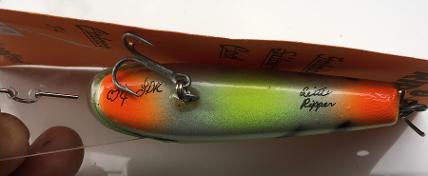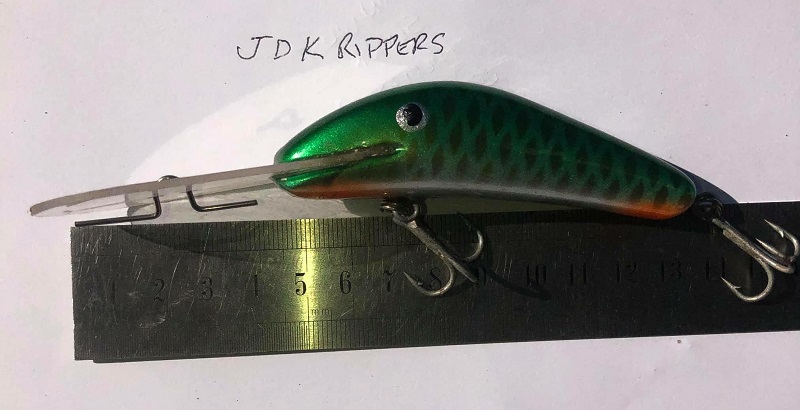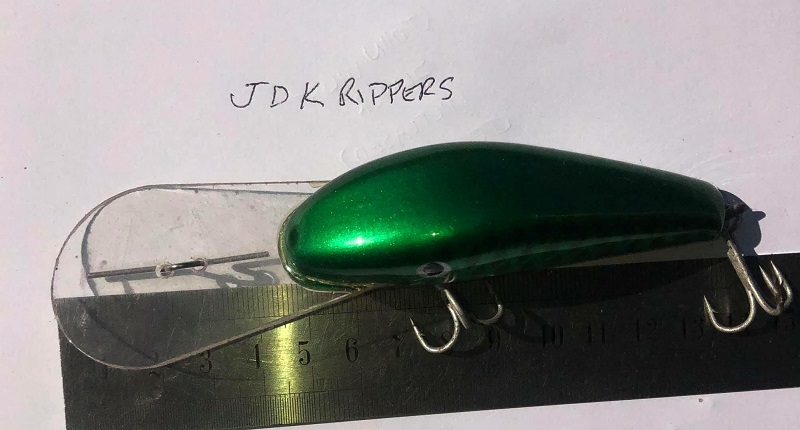 J-Dog Lures:

Well made lures that are constructed of red cedar. The video gives you an idea . .
Jenkins, Russell Jenkins Lures - QLD:

Extremely well made timber lures. Made by Russell Jenkins and still being made today. High quality timber lures that are in high demand and sell for good prices. See R.J's Lures
J.H Lures - QLD:

Made by Jeff Hobart who made some nice presentation sets for the 2016 Lure Expo as shown below. Jeff uses high grade timber to create his little laminate and specialist timber minnows, some with abalone shell eyes.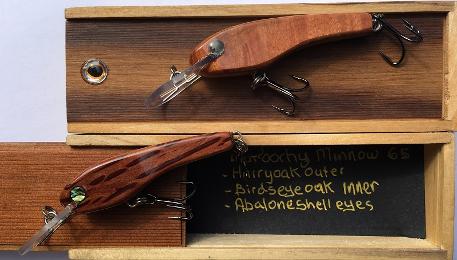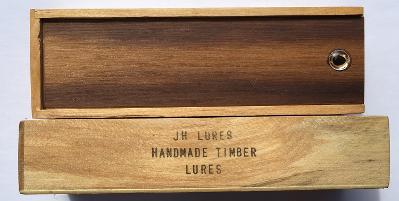 Presented in slide top boxes these sets present beautifully.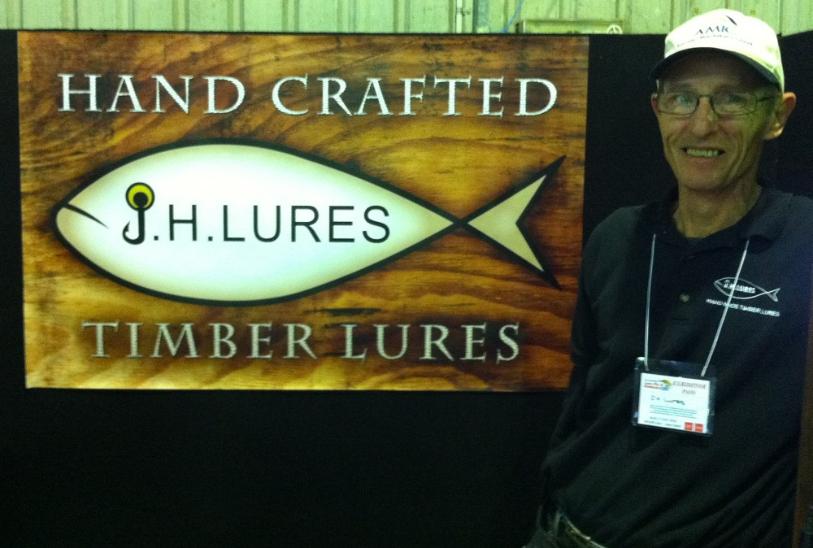 JJ's Stumpjumper Lures - QLD:

The classic lure that was originally made in timber by John Ellis and now a well regarded all round lure originally made in 3 sizes. Timber Stumpjumpers were first made and sold with silver and black, and gold and black eyes and in 10 colour combinations. The early timber models are now rare and highly collectible having been made in plastic since the 1990's. See full page history and biography for JJ's Stumpjumper Lures - John Ellis
JM Lures
- see Jayem Lures and

McConnchie Lures - QLD:
Joey Lures - QLD:
Obscure maker from Peregian Beach in Queensland, Joe and his wife Yvonne shape interesting timber display fish and a range of very nice, cheaply priced lures.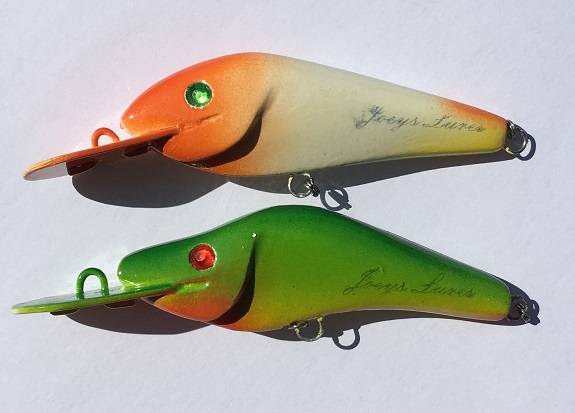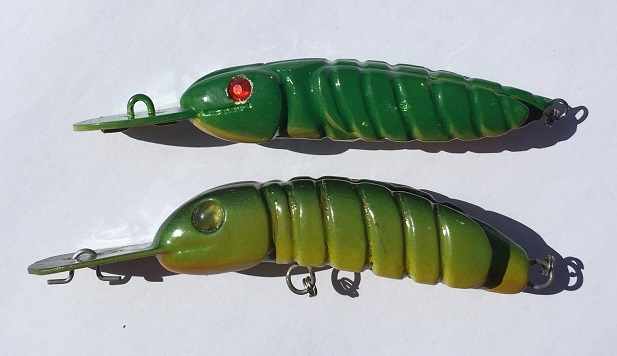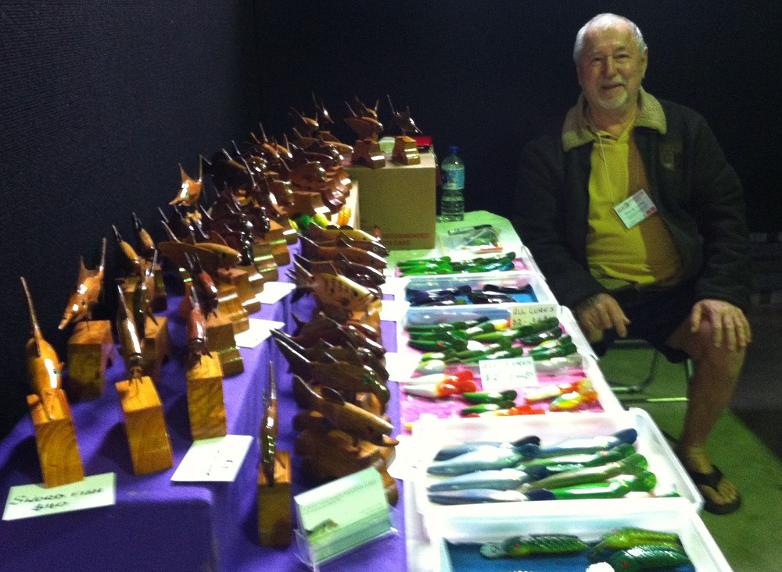 John Roe Lures - QLD:
Little known lure maker John Roe started Tropical Trout Guided Tours based in Borumba in the 1980's and made lures up until 1999 when he moved to Tasmania. Some of his lures will have 'Troll Hand Crafted Lures' written on the back. Constructed of timber and dipped in clear lacquer these lures are uncommon.
Johnson Super Lures - TAS:

Legendary Tasmanian lure company that started in 1949 by Brian Johnson. Marshall Johnson made his first Devon minnow around 1950 however by 1957 he had developed a plastic injection moulding technique for making the Cobra style of lure. Before this the lures were made by gluing two half shells of celluloid over a lead core. These early lures were painted on the outside with Raven Oil paint. He retired in 1991 and the family continues to run the business. See full page biography under Johnson Lures
Johnson, Johnno Johnson Lures - NSW:

Johnno Johnson has been making lures for many, many years and has always carved a wide range of timber lures of high quality. Originally from Gunnedah area, he was often referred to as the 'meat inspector from Inverell' as his job at one time was working in this area. His lure making is prolific and his creations are often unidentified of misidentified if they do not have a signed model name near the tail of the lure. They were marketed under the name of Johnno's Lizard Lures. See Lizard Lures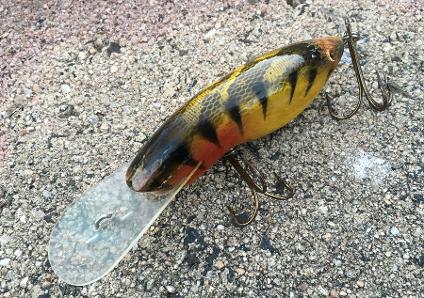 The 'Gila' is a larger yabby style lure - once you study the lace patterns and colours on these lures side by side, the work of Johnno Johnson is unmistakable. This guy really knows how to make a timber lure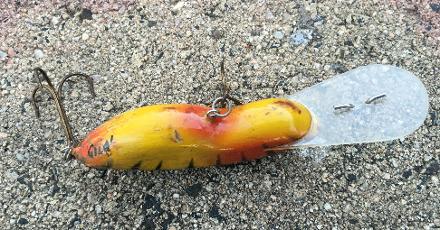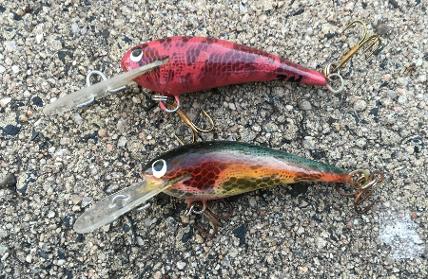 Model is the 'N2' - small minnow, medium diver with heavy duty hand made towpoints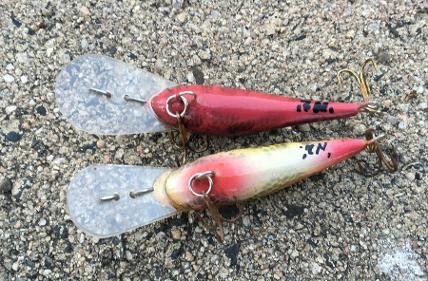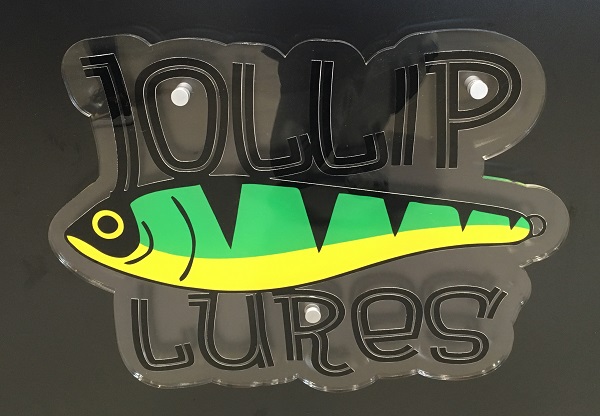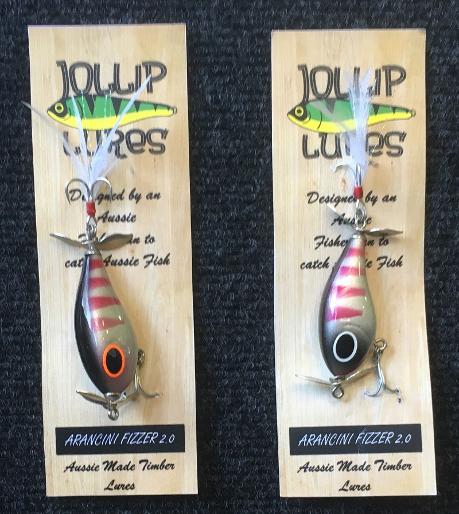 Jollip Lures - NSW:

A relative newcomer to the Australian lure scene in 2016-17. Quality timber surface and diving models. Jollip Lures was at Expo 2018 for the first time and impressed with a nice range. Earlier cards shown below for 'Arancini Fizzer'.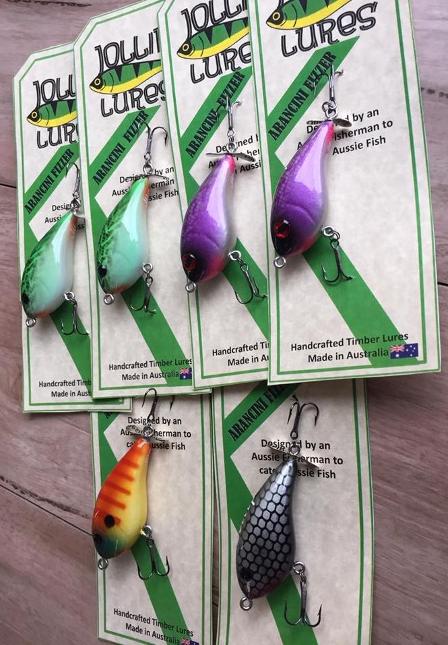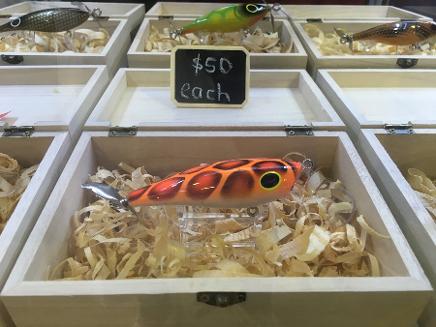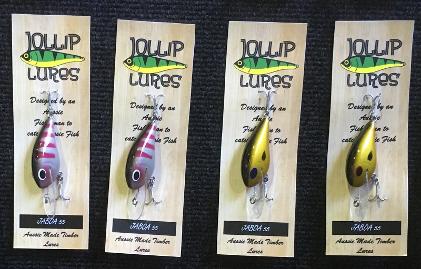 Part of the Jollip Lures range at Expo 2018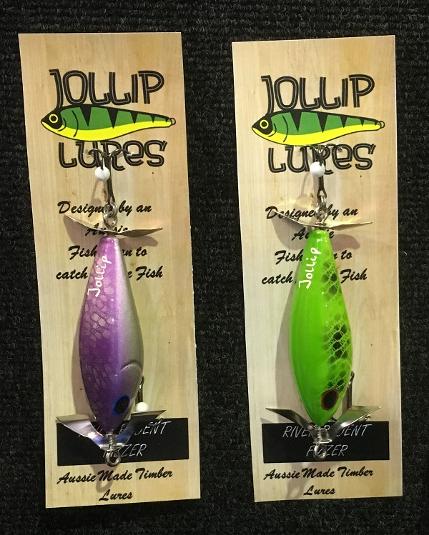 Jollip Lures attended Expo 2019 and had an impressive display with a wide range of handcrafted lures.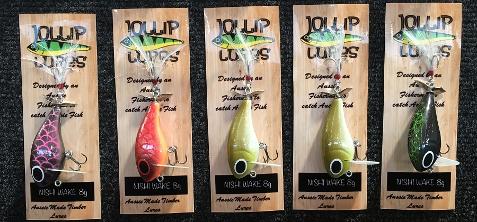 Jollip 'Oki Fizzer' (large) & 'Naha Fizzer' (smaller)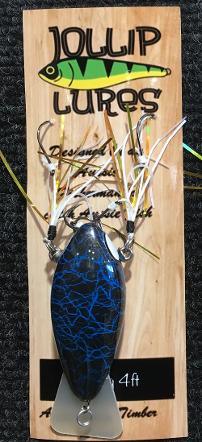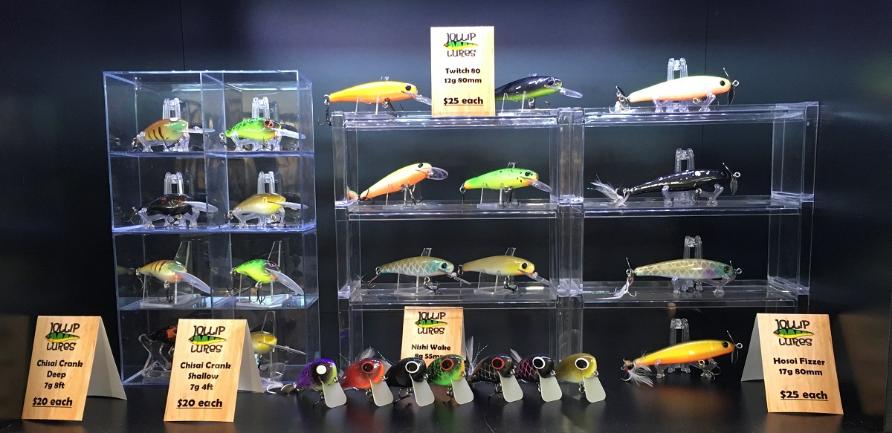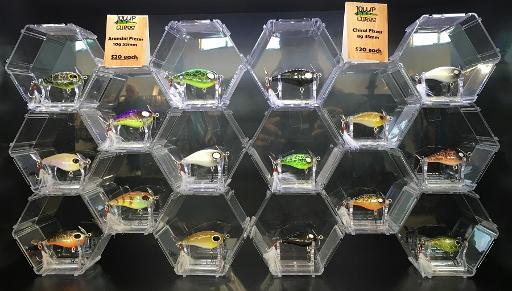 Above - Jollip 'Arancini Fizzer' & 'Chisai Fizzer' (smaller)
Below - Jollip 'Rodents'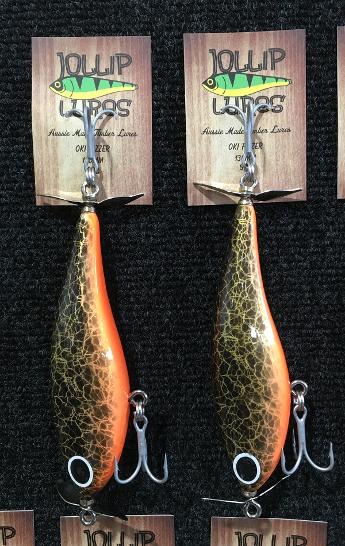 Jolls 'Bounty Hunter' Lures - NSW:

Steve Jolly makes a fantastic range of heavy duty timber lures that had a reputation for catching and holding up to Papuan Black Bass. Lures are made on the north coast town of Bellingen. Originally marketed as the 'Jolls' Bounty Hunter lure and available in 3 sizes, 70mm, 75mm, and 120mm in Mo tackle catalogue 1997. The 70mm was a new size for 1997 and they were offered in 10 colour variations. The 'Bucket Mouth Popper' was available in 2000 in one size 100mm and 40gm.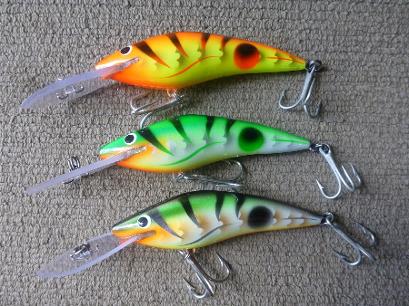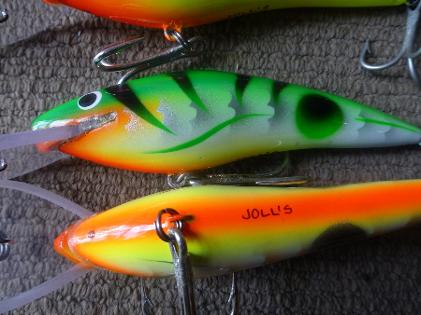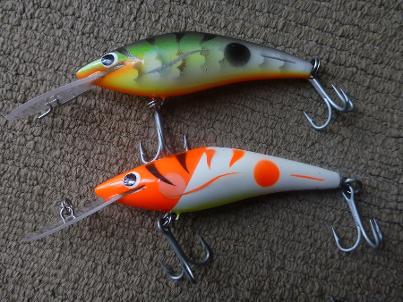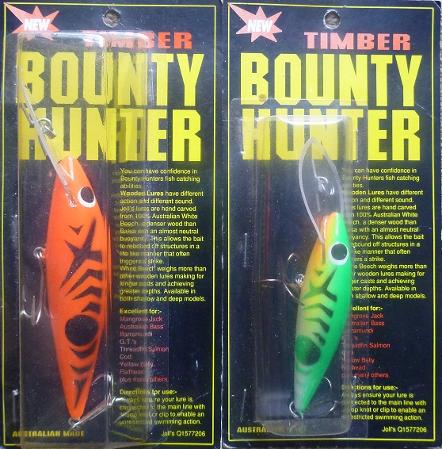 (Left) The Original 'Jolls' Bounty Hunter Lures that were designed for the Papuan Black Bass were the deeper bodied timber lures as shown. They will be signed on the belly as shown left. The bottom lure in the photo has a pinned bib which not all similar models have so uncertain of whether this was very common on older versions.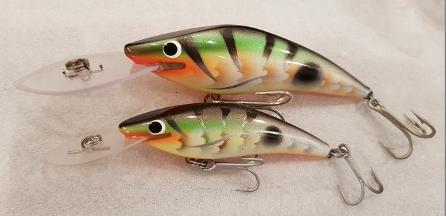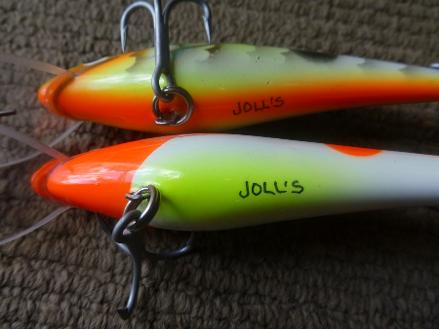 The Bounty Hunter range was eventually made in high impact plastic and the lures did not change in appearance much however it is easy to identify timber from moulded models by looking at where the bib meets the body.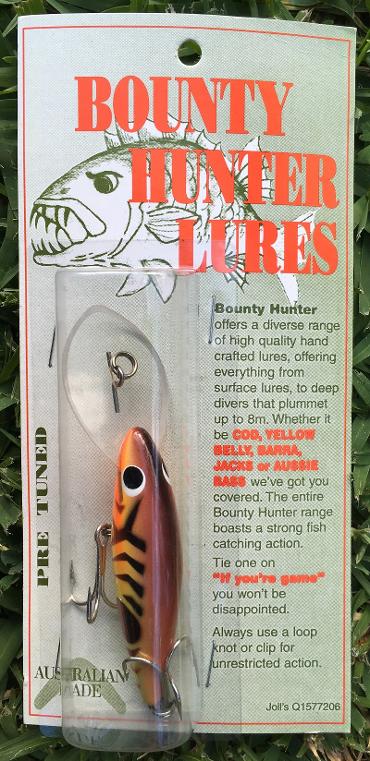 Shown above is the 75mm timber model in original packaging.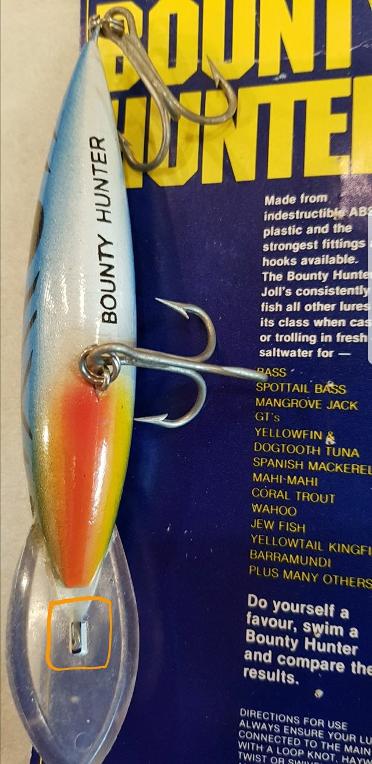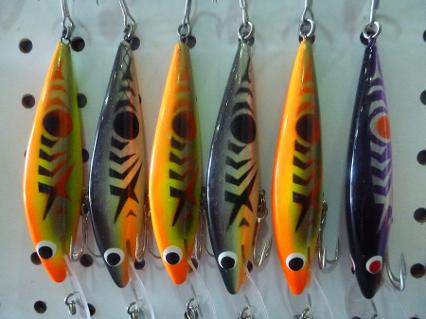 Above photo shows a few different colour variations
(Above) The Bounty Hunter Lures 'Cane Toad in the earlier packaging pre. 2000. Notice the name has changed where the Jolls part was dropped as the Bounty Hunter name was marketed for other models.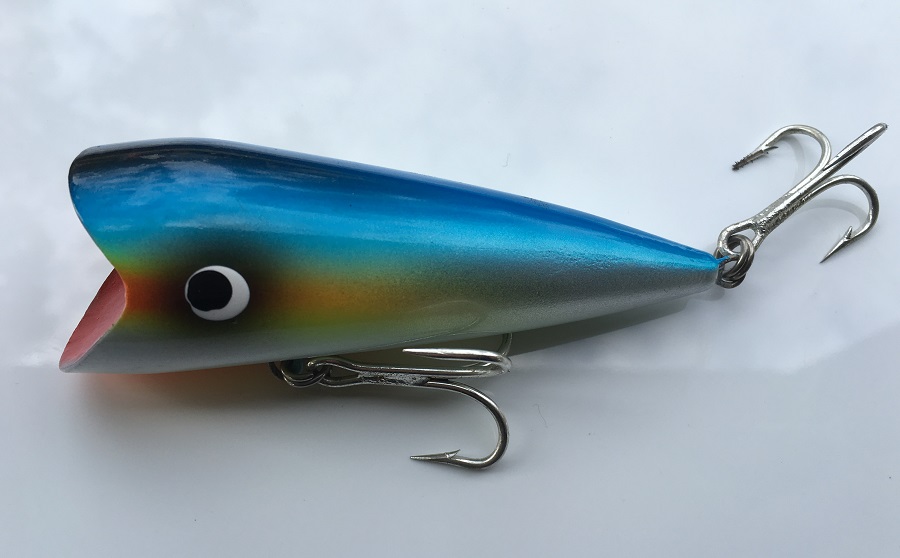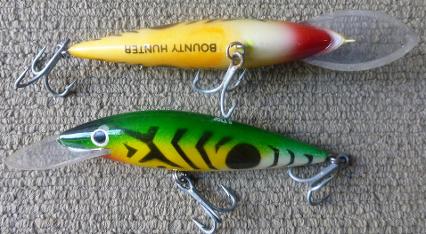 (Above) The traditional model that most people recognise as Bounty Hunter Lures - the slimmer profile with the characteristic pattern. Marked Jolls on top and 'Bounty Hunter' on the belly. These lures are both timber.
(Below) The small squarish hole in the bib will indicate a plastic model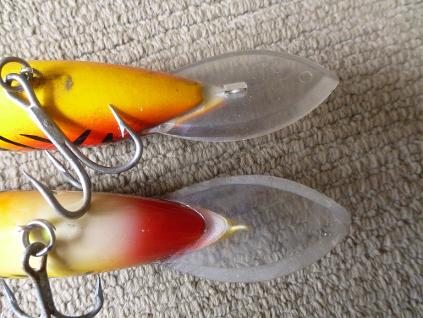 The front towpoint will be recessed into the slot where the timber versions will have the front eyelet sitting on top of bib.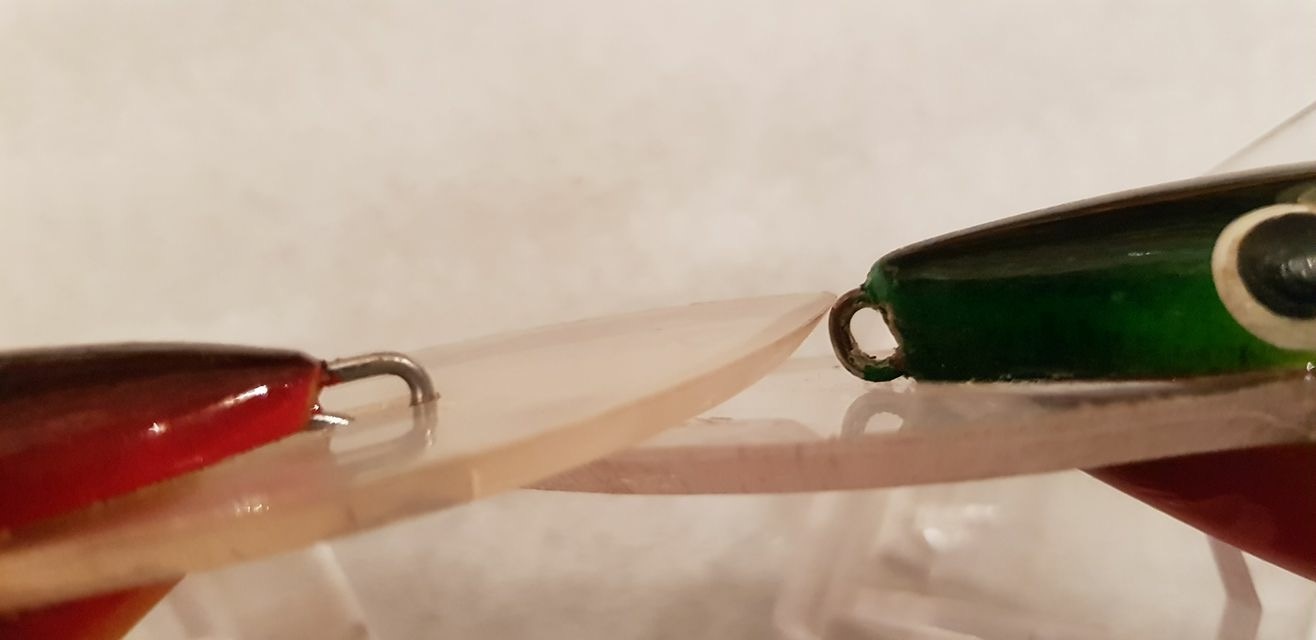 Rear eyelet will be more rounded and less elongated on the timber models as shown below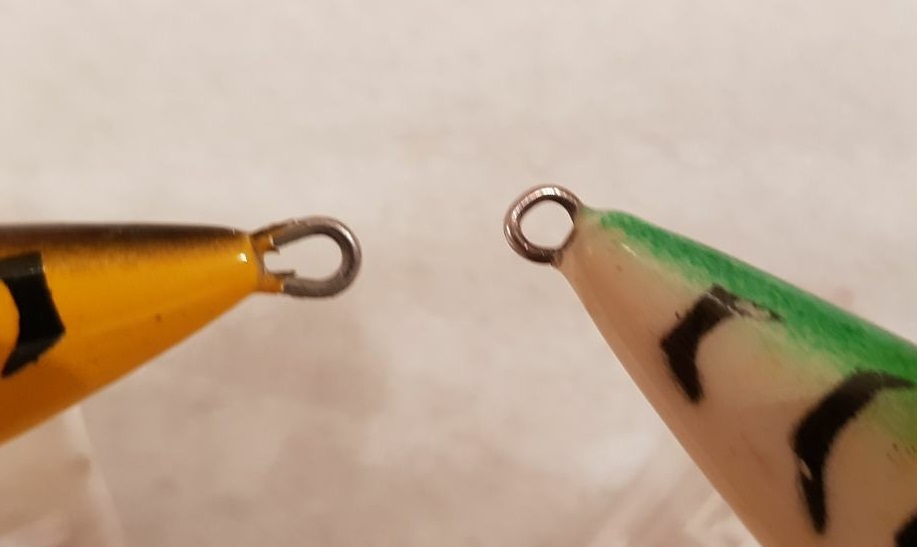 The small squarish hole in the bib is obvious on the packeted model below and the plastic model left has this highlighted in the photo.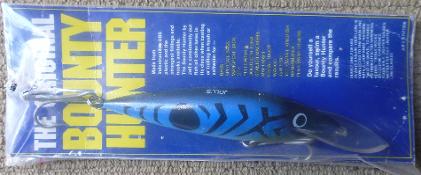 Below shows The Bounty Hunter range as available in 1997 at Mo's Tackle.

Also available was the 'Cane Toad' in 5 colours.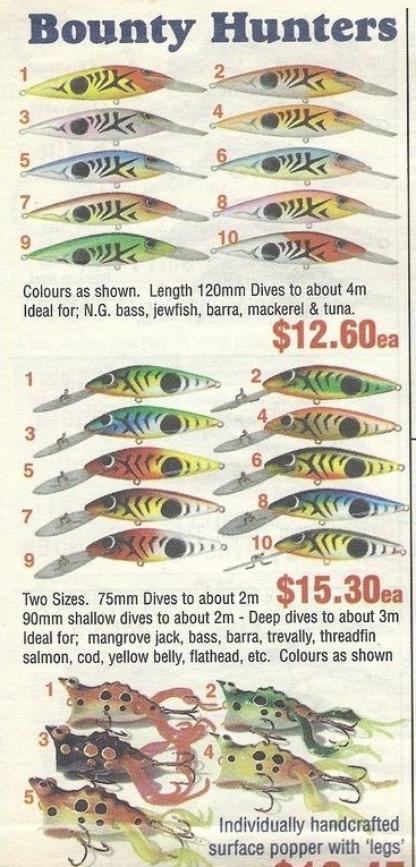 (Below) The Joll's 'Bucketmouth' Popper which appeared on the market around 2000. A mid range sized popper at 100mm and 40 grams in weight.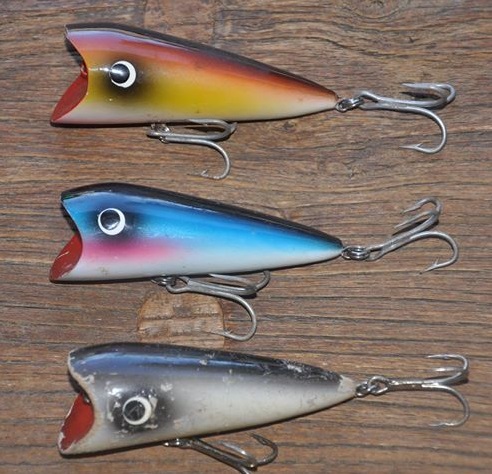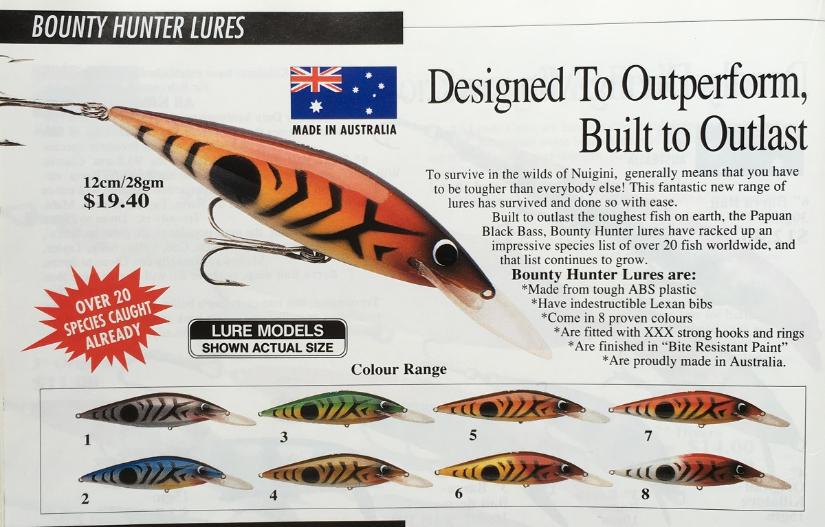 Harbord Tackle Supply 1994
The Joll's 'Bounty Hunter' ranger is still available and being made today.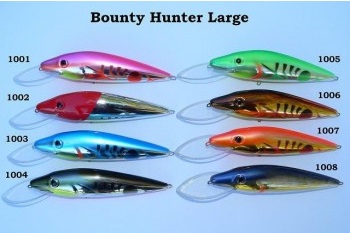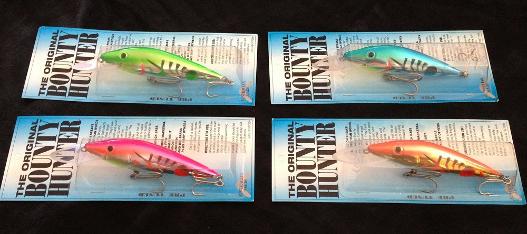 J A Jones Manufacturing Company - NSW:

This company was located in River Road Revesby, Sydney and manufactured the Marcie Stainless Steel Garfish Spinner in the 1950's. The company made a number of other fishing products including lures.
Originally
the Marcie Garfish had a painted red beak which was a small piece of plastic tubing placed over the stainless steel beak as shown. There has also been an example found with blue tubing shown below which looks original.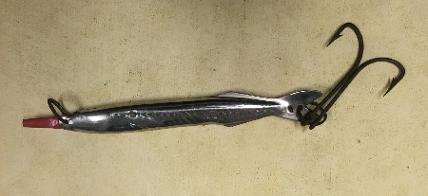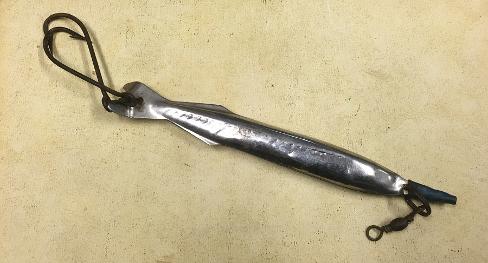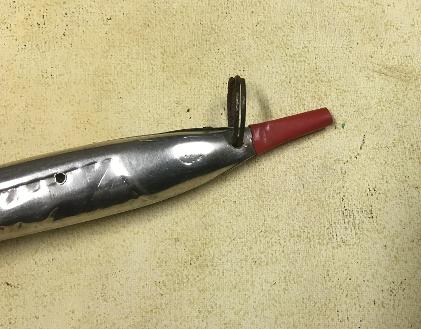 The advertisement right is from Shooters Monthly, June 1956 and states that the lure came in 3 sizes and was suitable for targeting a wide range of fish species.
The advertisement below was published in Anglers Omnibus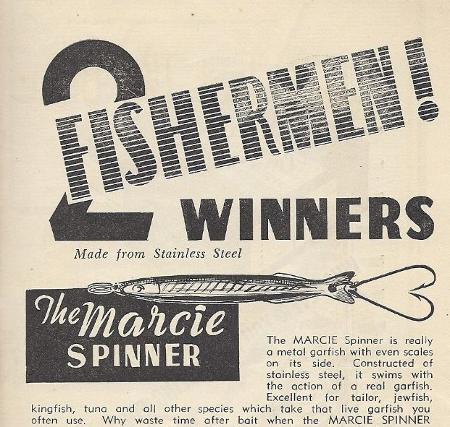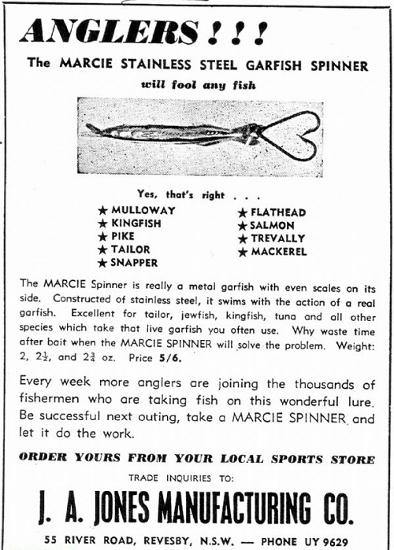 The two advertisements below and right appeared in 1957 and are shown courtesy of the Australian Fishing Museum - http://australianfishingmuseum.com/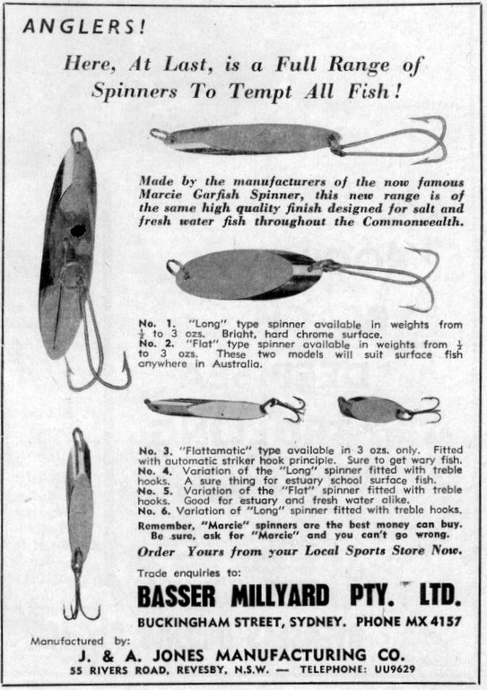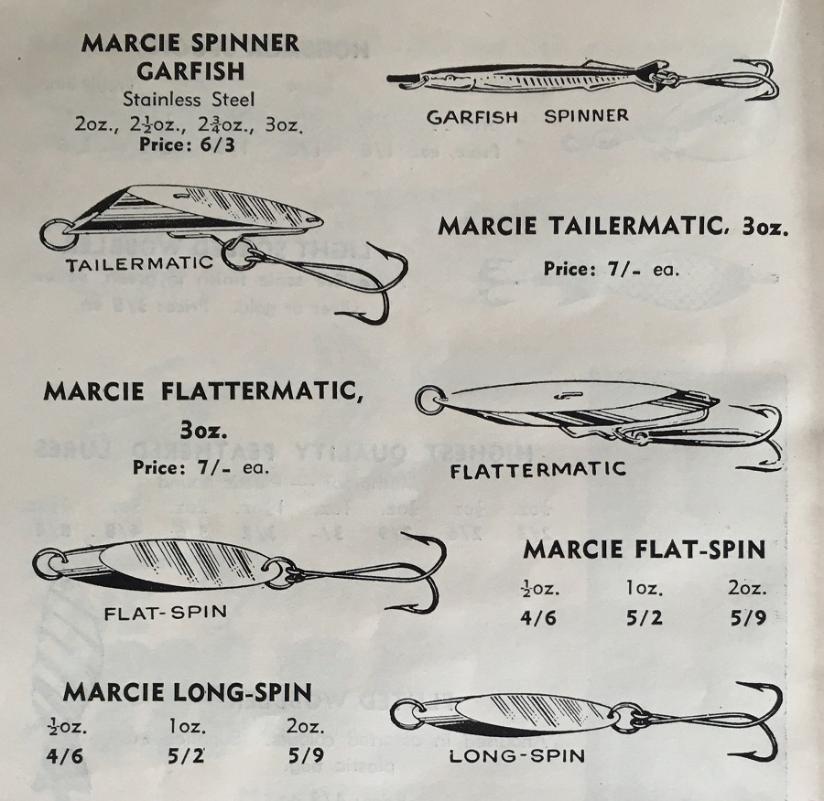 Jonesy Lures - QLD:

Made on the Gold Coast, Jonesy Lures are moulded with full wire hardware. The Jonesy 'Elle' is a bass lure named after Elle McPherson. The 'Nifty' is like a Shad Rap. Surface lure named 'Mi Dog' and offshore bibless, '9 Mile'. Model 'Rhino' won 2007 Barra Classic. Lures will be signed on belly.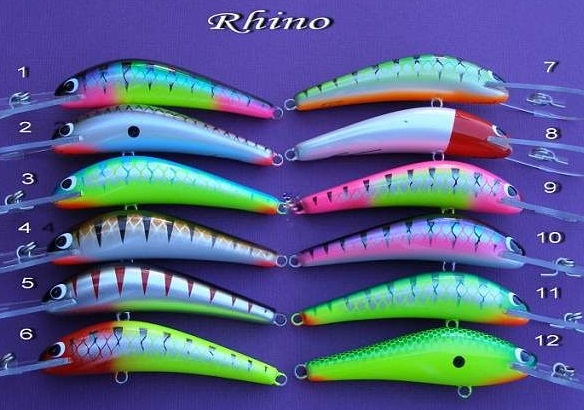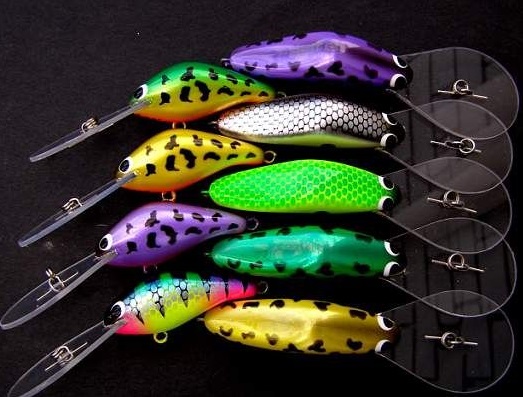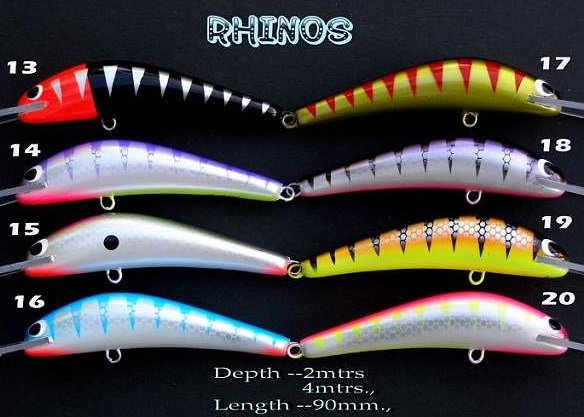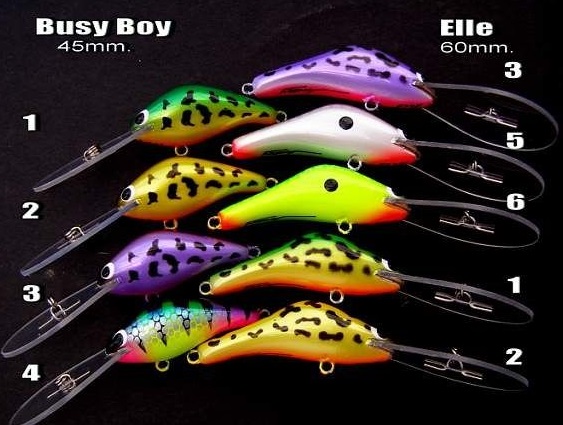 Jordan, Dave Jordan Lures - NSW:

Based in the Hunter Valley of NSW, Dave Jordan sells a small number of lures under the name of Flapper Lures.
JP Lures - NSW:
Made in Orange, west of Bathurst by Joe Priest who died in tragic circumstances in 2004. Available in 2000 was the JP 'Hornet', 60mm, 8g and 'The Runt', 50mm, 3g. The legendary 'Extra Deep Driver' penis lure was also available on a pink card with in depth instructions.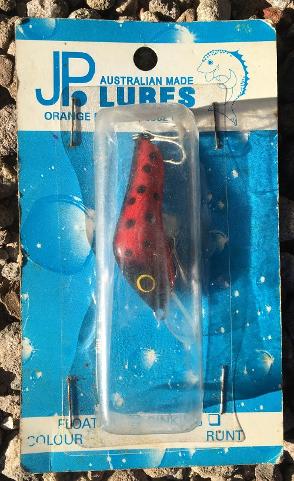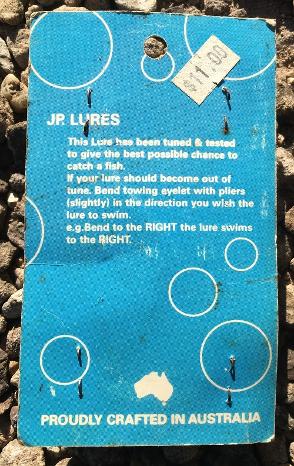 The first type of packaging for the 'Runt' is the blue card backer with stapled plastic shell. Reverse of card shown. This model came in a coup,e of different sizes. Later clam shell packaging is opposite.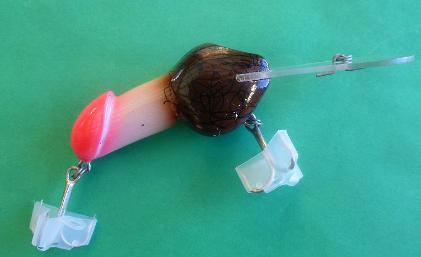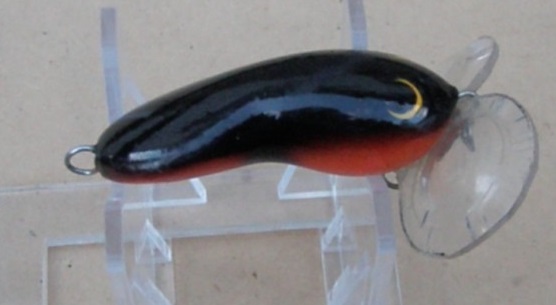 (Above) A rare prototype JP surface lure.


Below is shown a few of the original moulds for the larger JP 'Hornet' and the 'Krazy Kraw' which is an uncommon JP model. These were uncovered at Lure Expo 2017 and are an interesting part of the history for JP.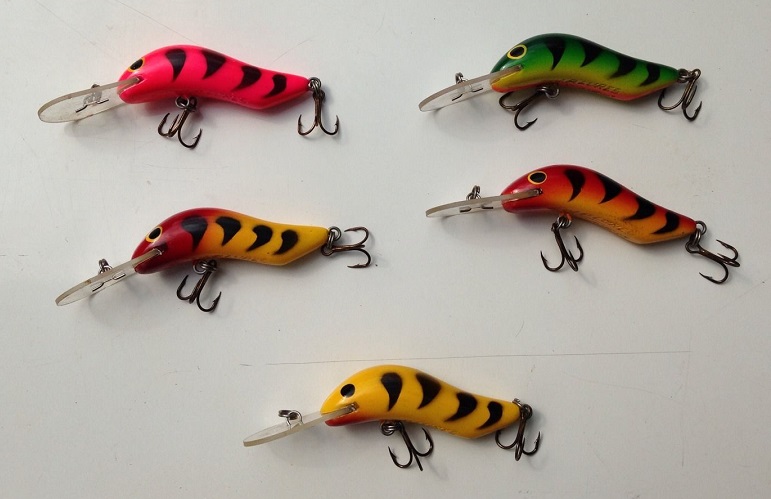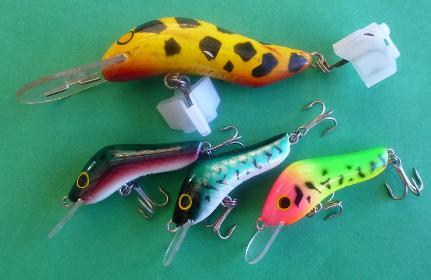 (Above) A comparison of the standard sized JP lure and the JP 'Runt'. Below is a close up of the markings in the belly and bib shape. These lures are only 5cm or so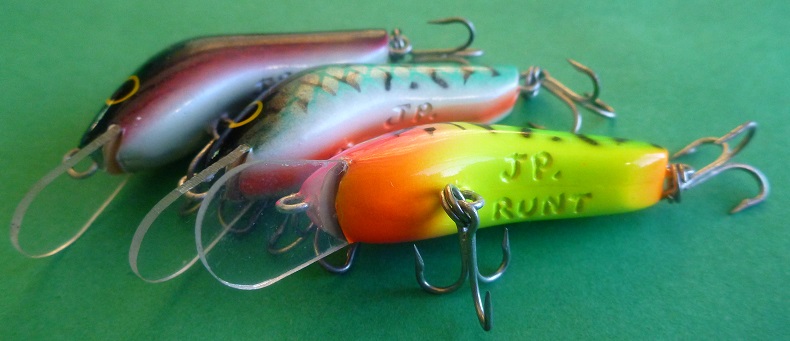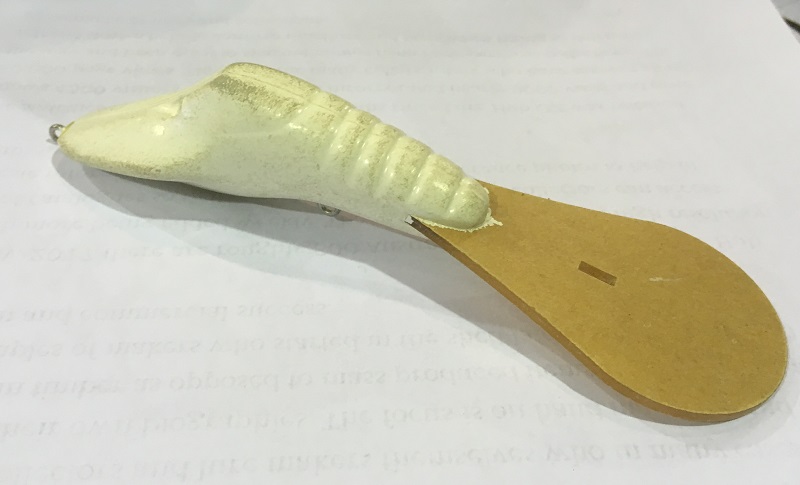 J.P 'Krazy Kraw' colour set which was painted by Don Lawson. This model was available in three sizes.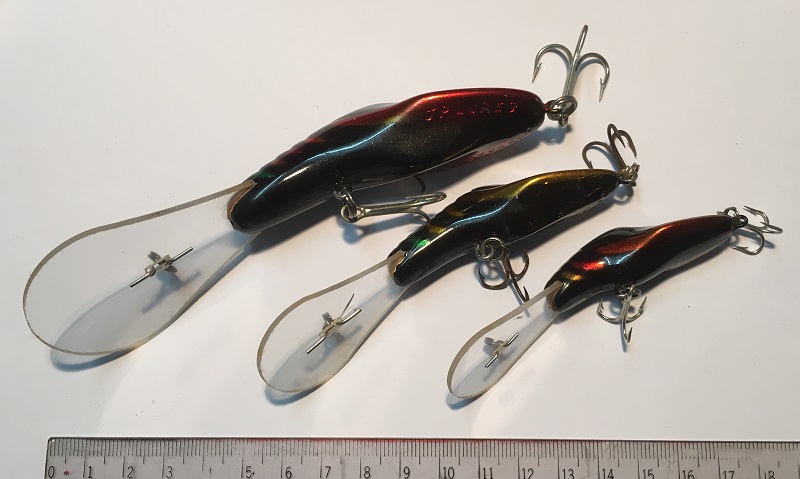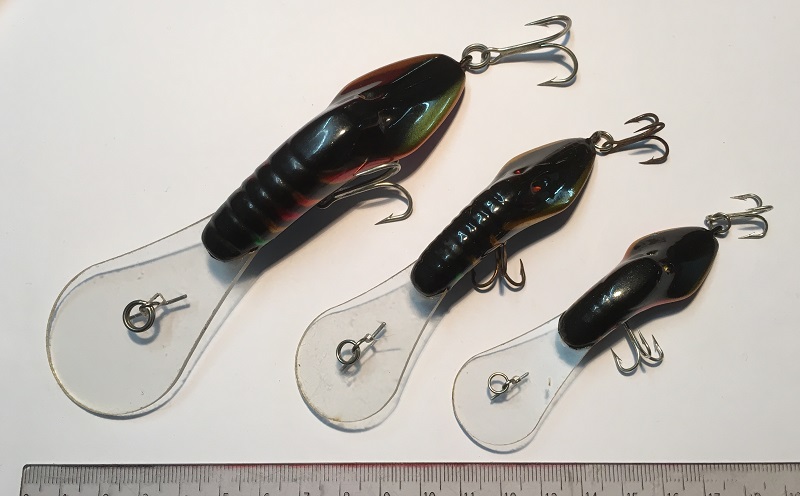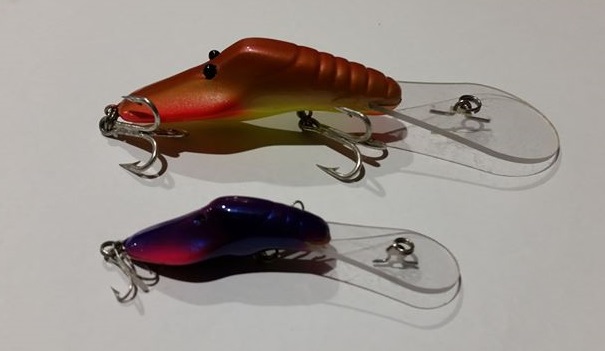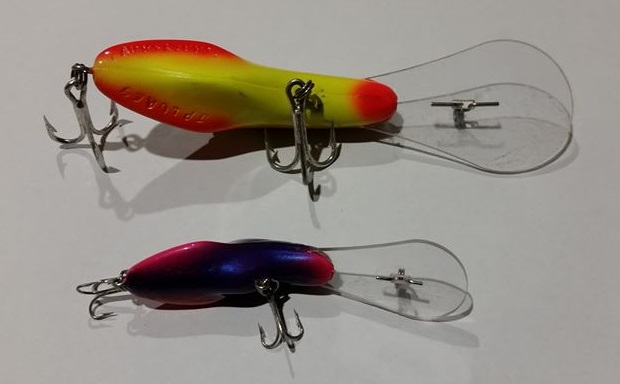 J.P 'Extra Deep Driver' series showing packaging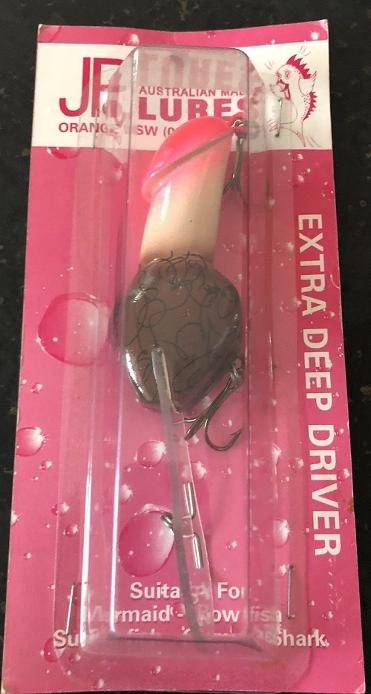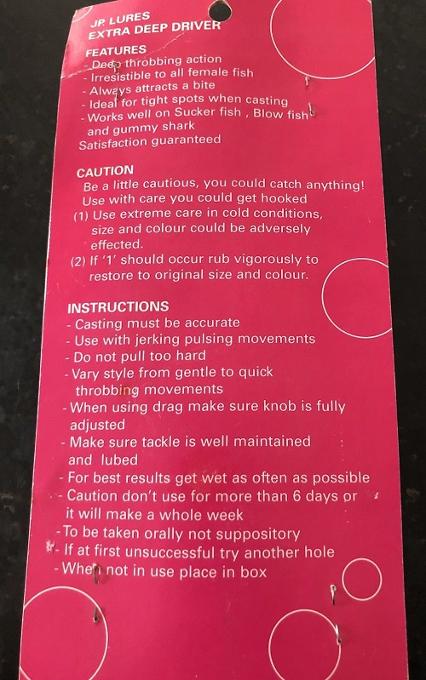 JRC Lures - NSW:

Little known lure maker John Chapman is from Bathurst, NSW. The big timber cod lure below is a model called a 'Bosscocky' similar to a flatfish with a bib and rubber skirt at the rear c.2009. Not sure that JRC lures are still being made and were never common or available on the market.
The lure pictured bottom right is made in the style of old USA prop baits and was made from imported parts from the USA.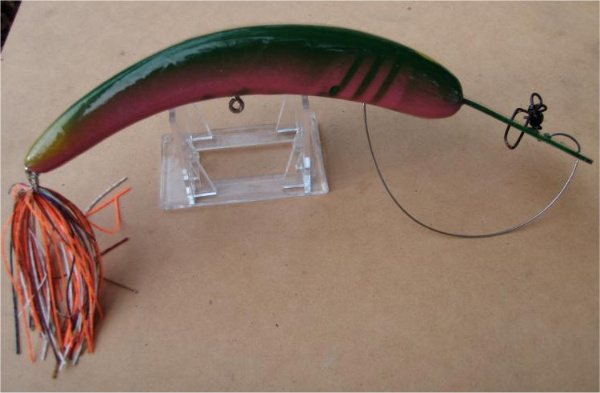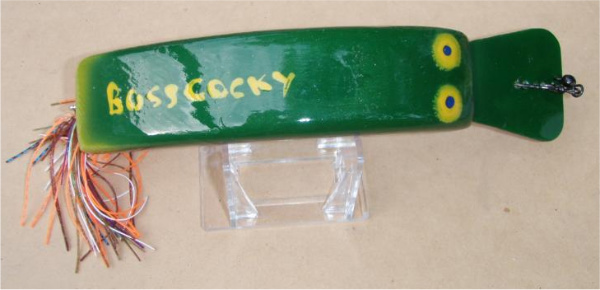 The lure pictured below is made in the style of old USA prop
baits and was made from imported parts from the USA.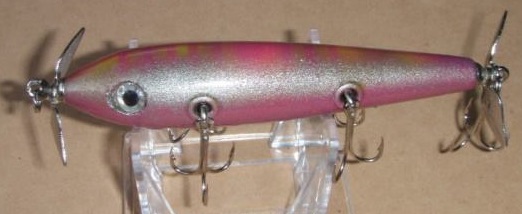 J.S.K Lures - QLD:

John Kieboom from Mansfield in Brisbane made some timber lures. More a hobbyist carver making lures to use and catch fish. J.S.K Lures will sometimes be marked on the bib or have a signature near the tail as shown with the lure below. No known names for models.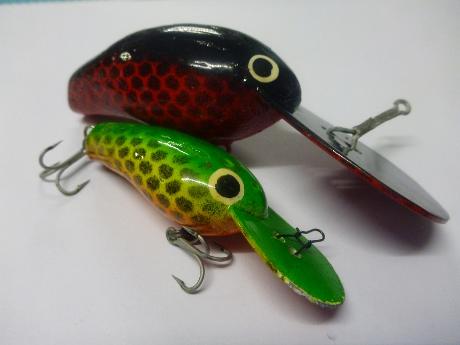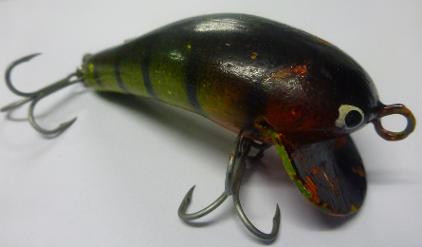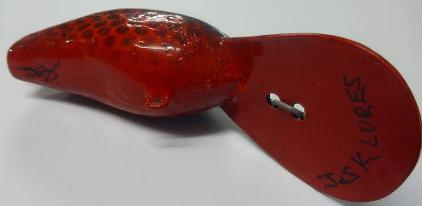 J.S.K Lures:

This lure has been added separately as it is marked JSK Lures but signature and style of lure look a bit different. Not confirmed as having been made by John Kieboom. Marked J$K 'Bullet Head'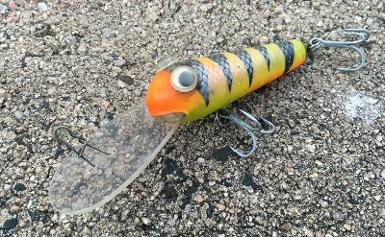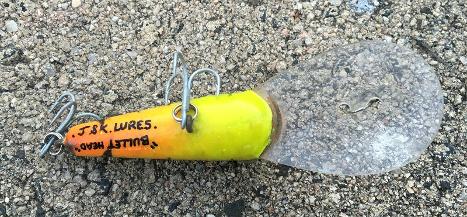 Junction Lures:

Little information. Facebook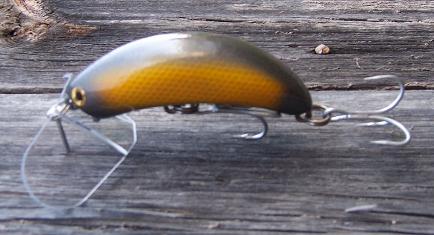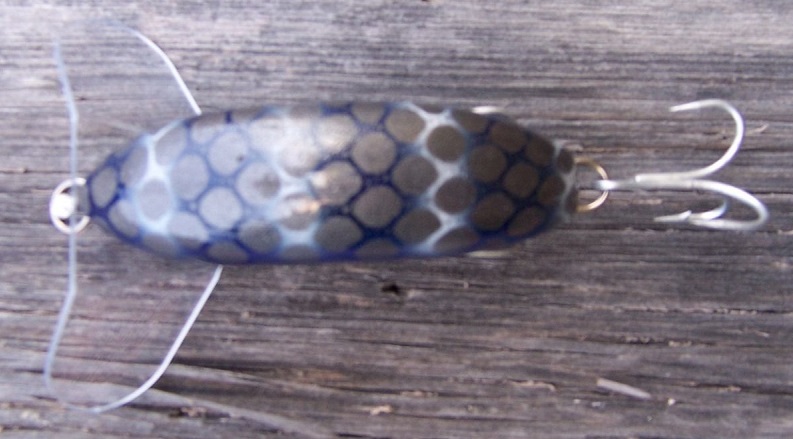 Jungle Lures - QLD:

Handcrafted by Jimbo in Cardwell, QLD. Jungle Lures are a cottage maker who produce some high quality diving lures and timber poppers/paddlers. Lures will be signed on the belly as shown.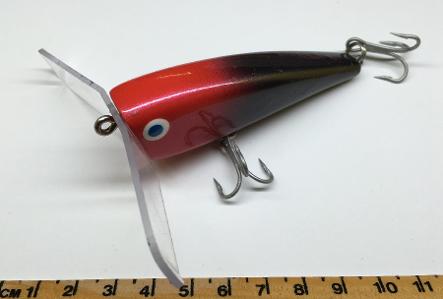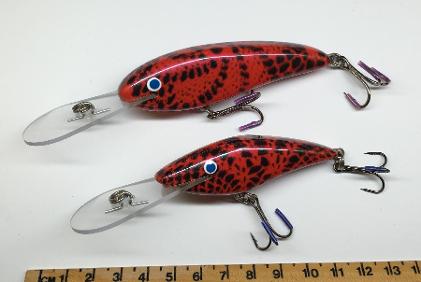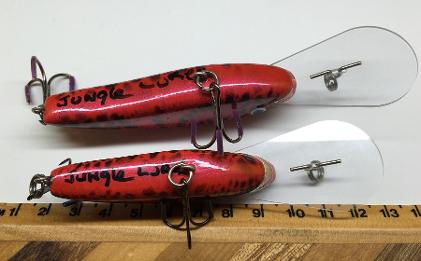 Juro Lures:

Juro have been around since the 1990's and started with metal spoons like the 'Little T' which was one of many ABU copies on the market. The 'Baitfish 55' series shown below was a metal slug suitable for rock spinning and the 'Suicide' balsa minnow is shown below in original packaging. The Juro product was not manufactured in Australia but imported and sold under an Australian brandname. Later packaging will have 'Made in Taiwan'.