Mudeye Lures - NSW:
Jamie Flett is a superb lure craftsman who has been making lures for over 35 years (since 1985). Born and bred in Inverell, Mudeye Lures are a unique range of lures that were originally made of timber but later moulded. Jamie has however always carved lures from timber. There are so many Mudeye models that there will be room for much expansion of this bio in the future.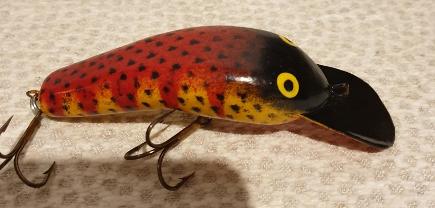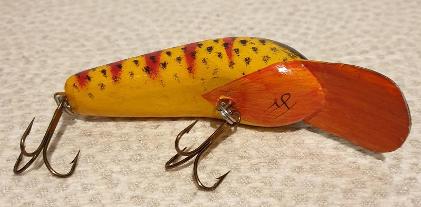 (Above) An early Jamie Flett lure - an early prerunner to the Mudeye pattern. Lure is painted with spray cans and also hand painted. Jamie was also making lures with his father as a teenager and Dennis Flett is a fine lure maker in his own right.
(Right) Shows a very early timber 'Mudeye' with the original paperwork. This is the earliest of the Mudeye Lure cards and lures were presented in a clear bag with card inside. This lure is pre-1997 since the telephone codes for Inverell and Armidale changed in that year. A magnificent specimen in 'Lady Beetle' colour pattern. Possibly dates to the early 1990's.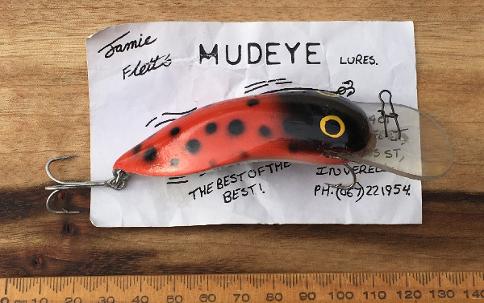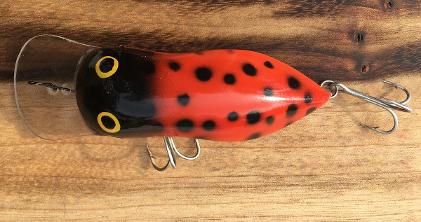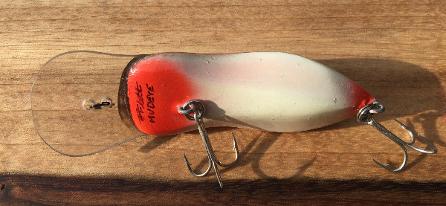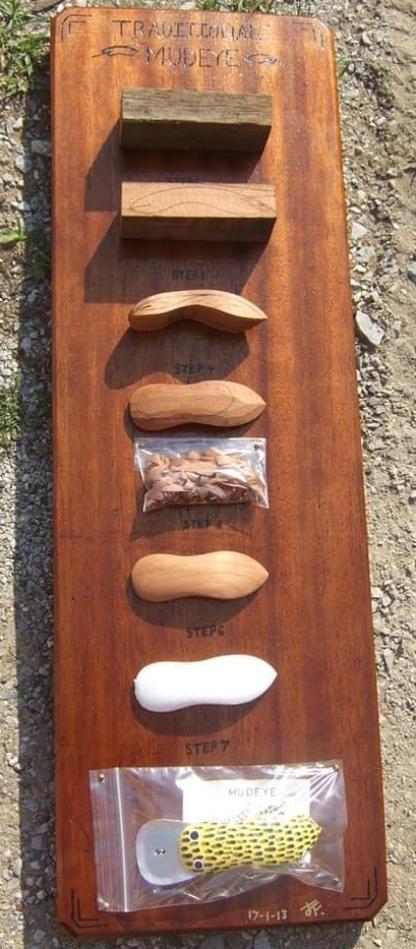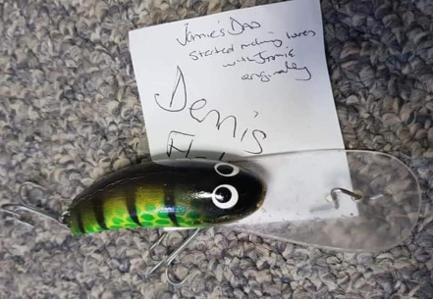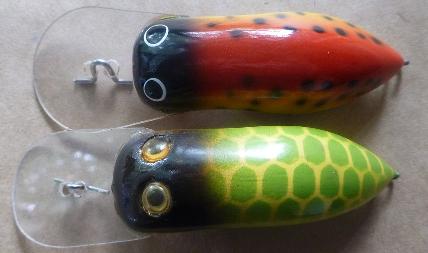 Early timber 'Mudeye' model with different eyes - both signed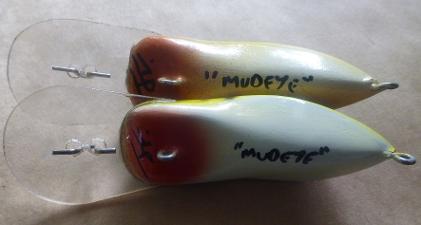 Left - A display showing stages in making of the original hand carved Mudeye that was produced by Jamie in 2013.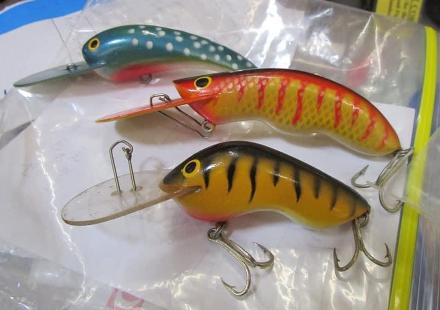 The lures above are some early models
(Below) Another earlier model called 'Mystique'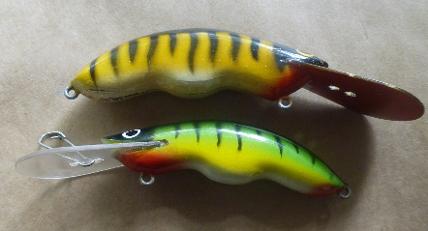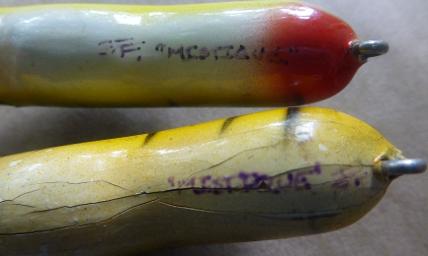 (Below) Shows an early timber 'Mudeye' and the classic shape that became typical of the successful Mudeye range along with two other early unmarked Mudeye lures. Top lure is a very early metal bibbed version of the later popular model.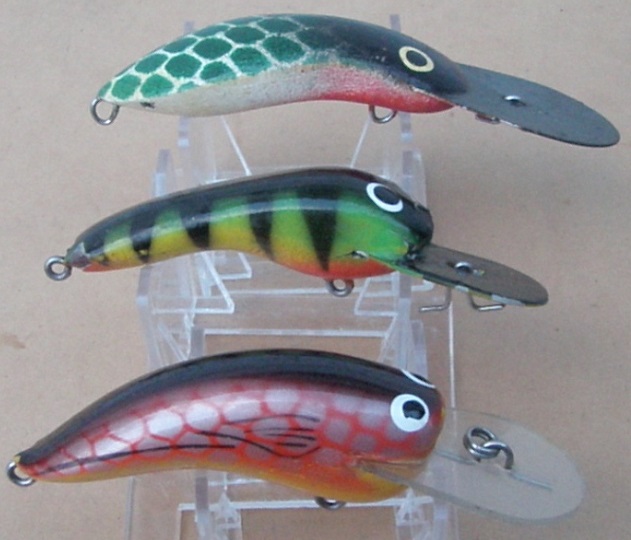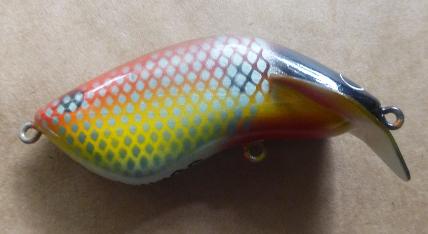 Another rare model called 'Jumar'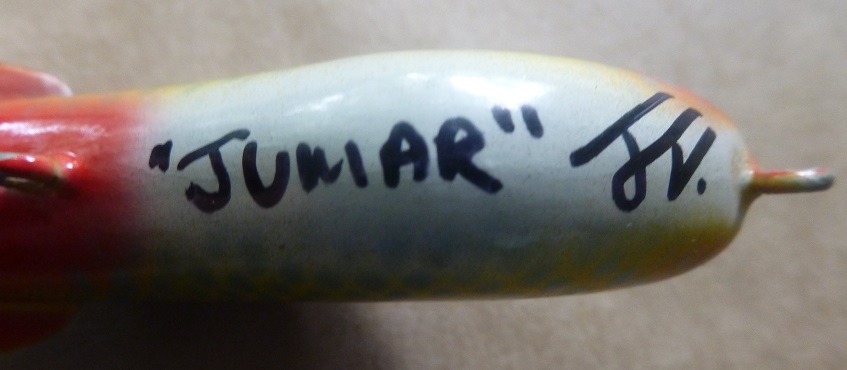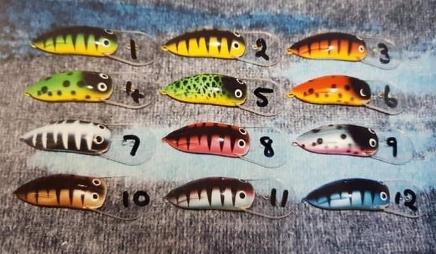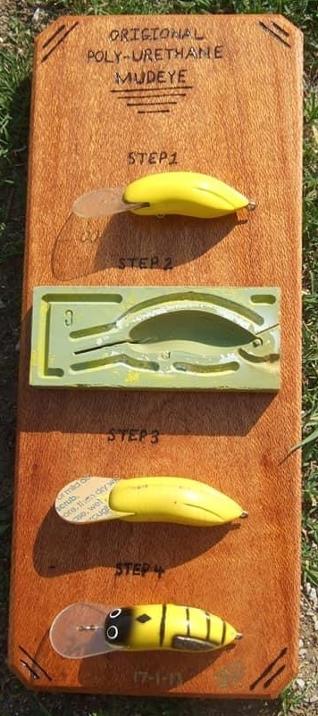 Left - Early numbered colours in the moulded Mudeye range
Below - The advertisement below was found in an early 1990's publication of Freshwater Fishing where the lures show the plastic bibbed versions with Luxon clips.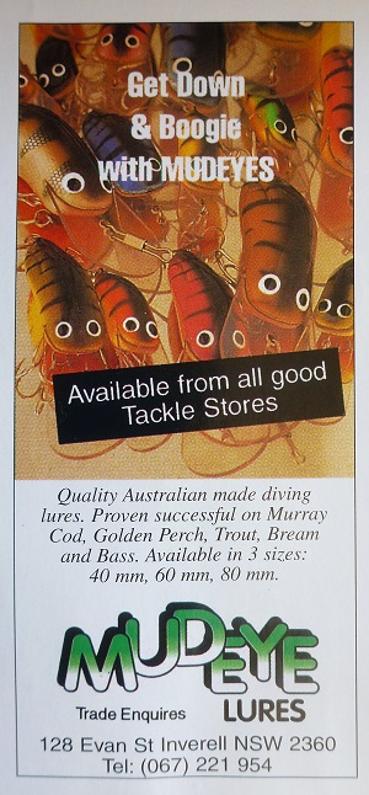 The display opposite outlines the steps in making the moulded polyurathane Mudeye models. Display dates to 2013.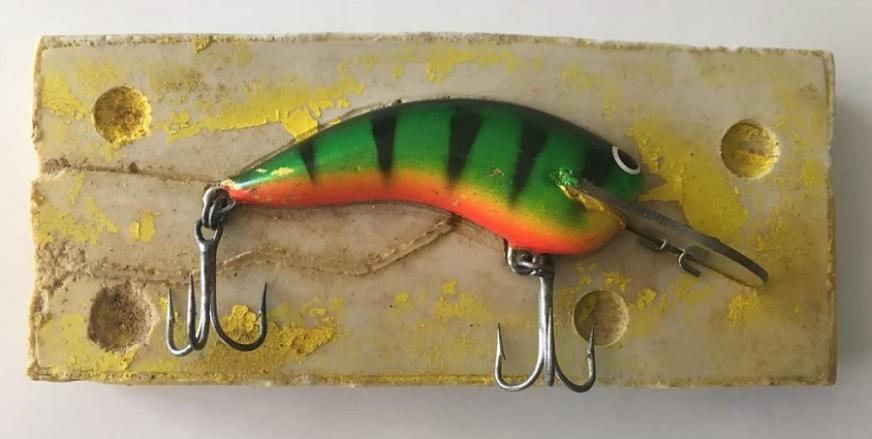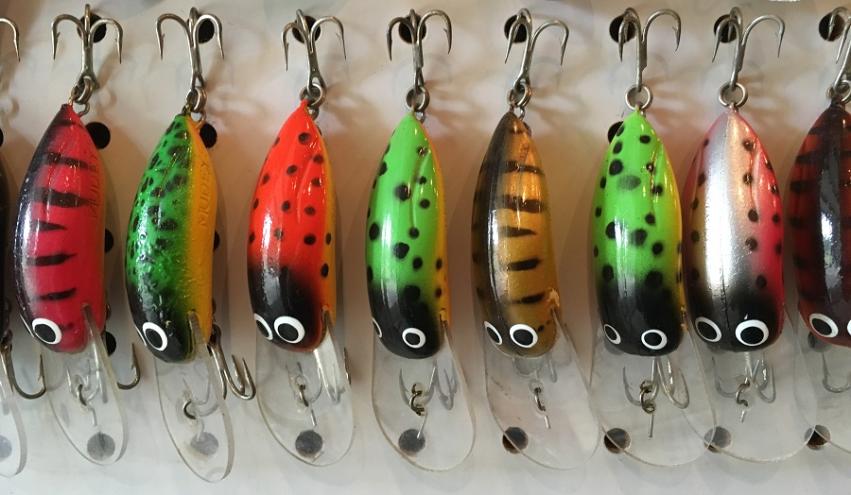 (Below) Wholesale and retail price codes for the Mudeye 80mm, 60mm, 40mm range and the larger 130mm 'Popeye'.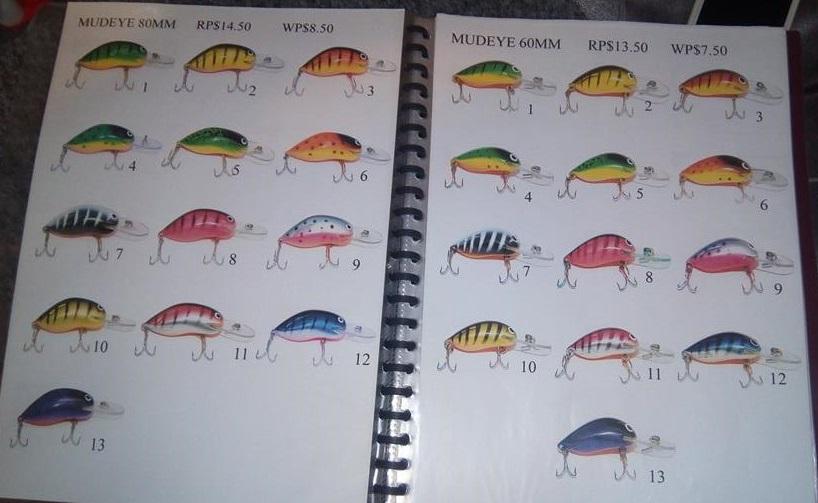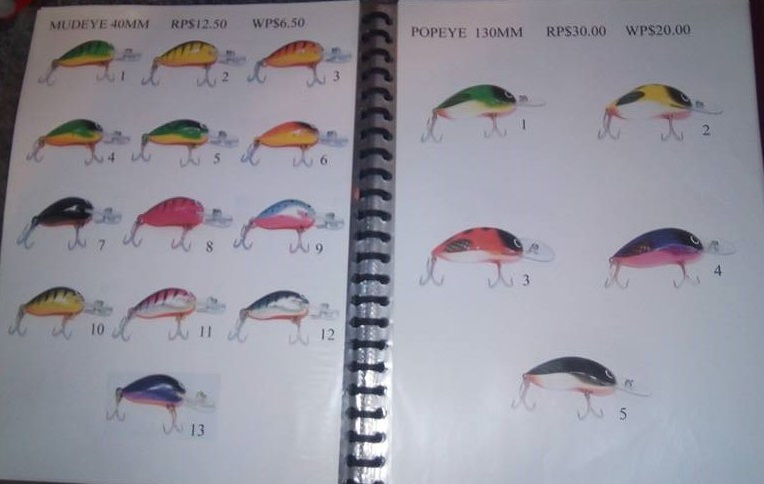 Jamie is a magnificent craftsman and the following photos will showcase some of the timber 'nudes' and laminate lures he crafted from Australian timbers.
80mm Mudeye laminated timber - red cedar/white beech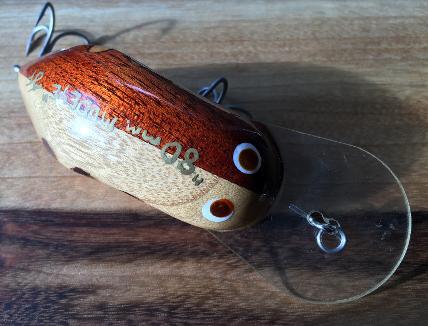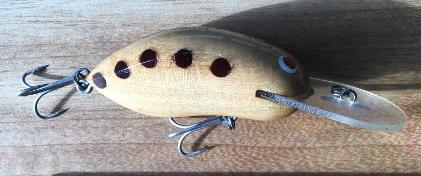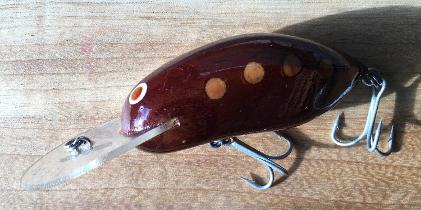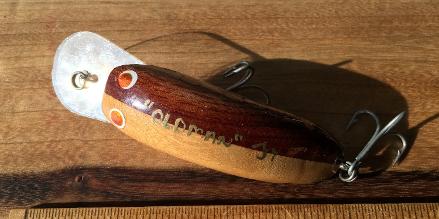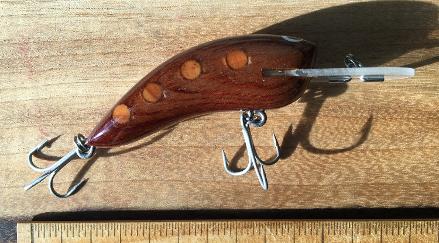 Mudeye 'Oldman' lami red cedar/silky oak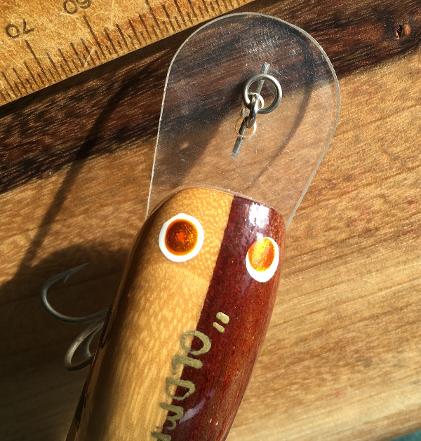 Surface paddler 'Depthcharge' in red cedar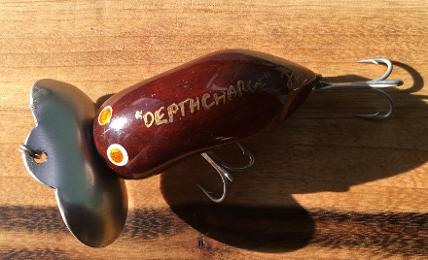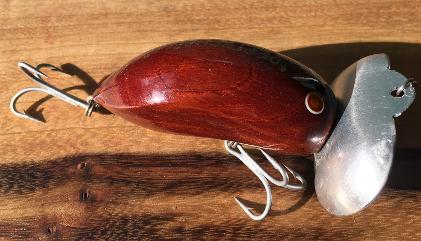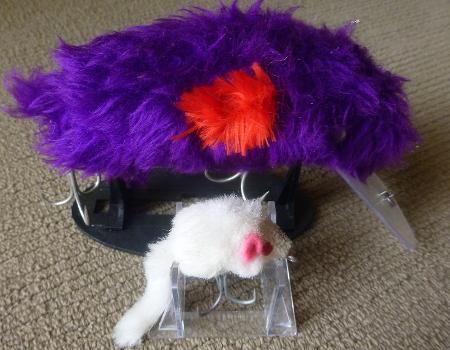 Jamie has made some extremely interesting lures including the following furry mouse and rat imitations called the 'Thingy' - there were three sizes including the massive cod sized one pictured with the smallest version. Look like a fluffy toy fitted with hooks;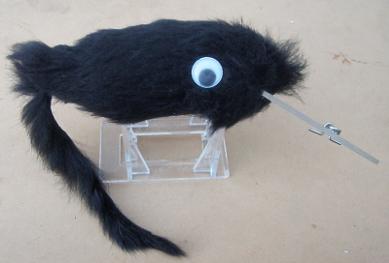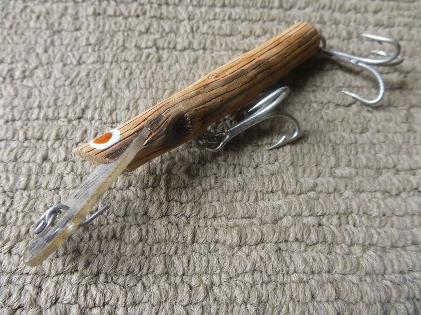 There are only a few of these in existence. Jamie certainly has a sense of humour. The 'Dead Stick' - apparently only made 3 (possibly more?) but the two known have different colour eyes - green/orange and white/green and the third has no eyes at all.
Jamie sold the Mudeye brand in April 2013 and has stopped making lures himself however the Mudeye brand will continue to sell lures.