Jayem Lures - Jim McConnachie - QLD:
*Banner image - A number of Jim Mc Connachie minnows from the collection of Barry Cross.
McConnachie Lures - QLD:
Jim McConnachie has been making lures since the mid 1970's. A. The following biography and history for Jim's lures is an extract from the Lure Lovers forum;
'In 1978 Jim was supplying Jack Erskines shop and had been since 1974 with some fantastic handmade lures. The most sort after were his bibless in the 7" and the 10" which were used by all the game boats in the fleet at that stage. Born in Ayr in 1940 Jim grew up in near Berdekin and neighbouring rivers and creeks. He moved to Cairns in 1970 and soon got involved in the sportfishing club. Some of the early members of the club were George Bryden, Laurie Woodbridge, Allan Cullington, Doug Hudson, John Mondora, Jack Erskine and Eddie Pratt.
However as per a lot of anglers in the early days Jim found good lures hard to get and quite expensive so he decided to make his own. He liked using the 6lbs and 9lbs line for fishing but loosing lures was expensive. He read an article on Luremaking in the USA magazine Popular Mechanics and that is when he gave it a go. The first minnow style ones were as per the article with a saw cut down the underside of the lure and he made a frame out of welding wire then soldered it all together. The wire was then layed in the groove and glued. He made a bib out of a piece of laminex which he hand filed, and never ever used that first lure. Some of Jim's first sportfishing was in the freshwater and as a result he made some quite small lures for this. One of those lures was the Wounded Guava which went on to be highly successful for Black Bream (Sooty Grunter). The theory is that when the decaying guava's fell from the trees into the water the Bugs and maggots inside them would fall in too and this is what the Sooties loved and it did not take Jim long to realise that when they were falling regularly the Sooties would pounce on them immediately they came to rest on the water. Jim was fishing one day with Gary Wright and Gary asked if he could try one of his lures.Gary soon lost it and asked for another and as time went on many of Jim's mates wanted his lures so he thought bugger it I am going to make a few more and charge them a $1 each for them hoping it would slow them down but it didn't.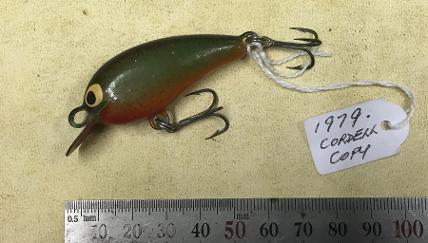 In 1971 he first met Maurie Brown who was already making a few handmade lures and Jim made some blanks for him. Jim noticed some of Mauries minnows and this led to making his own minnow lures. Not long after Laurie Woodbridge gave Jim a bibless of his that needed repair. Jim soon started making his own version of the bibless after Laurie told him of their great success in the bluewater. That would have been about 1975.
(Left) An early Jim McConnachie lure - copy of the Cotton Cordell 'Big O' which was a popular lure through the 1970's.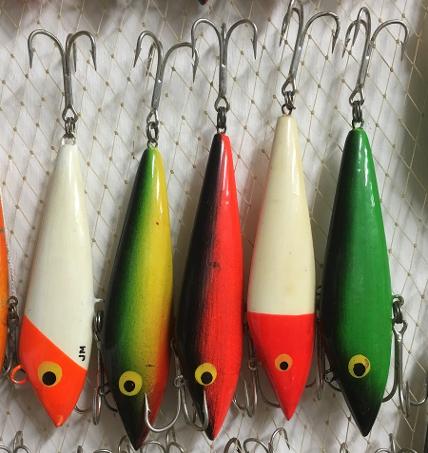 Photographs below illustrate the processes in making the bibless lures and date to the late 1970's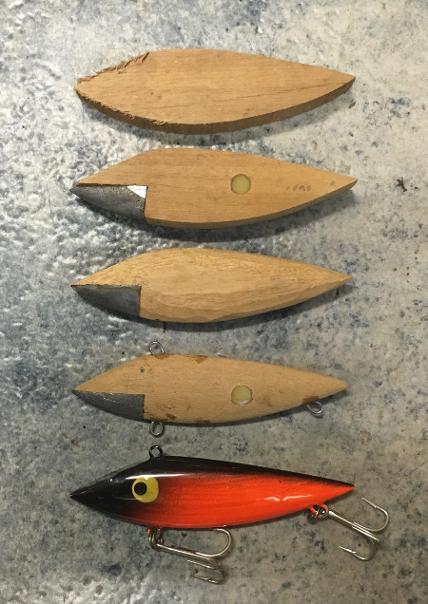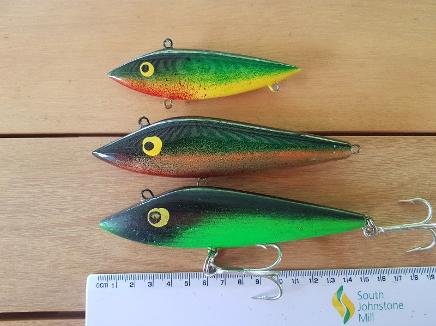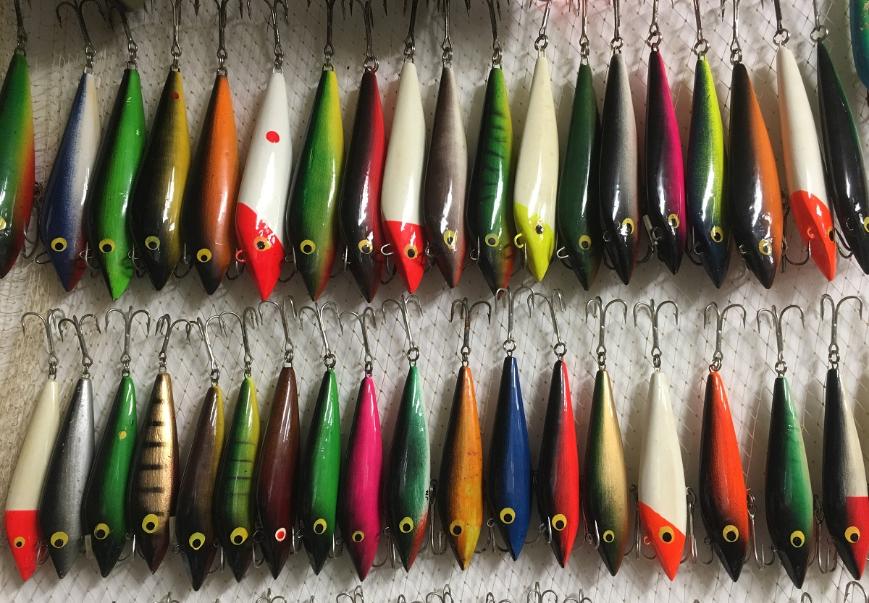 The minnow below is a special lure - a moulded lure - the only plastic Jayem lure ever seen. Unsure of exact date but definitely shows an influence from the old Heddon Tiger model which was another popular import through the 1970/80's.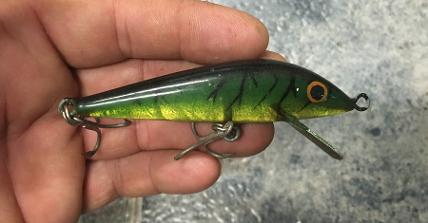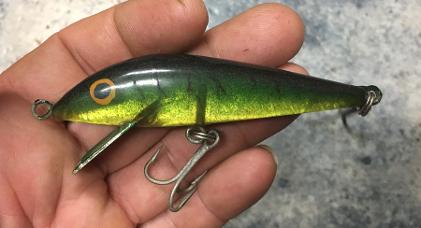 J

im got into making freshwater lures for Jungle Perch, Sooty Grunter and Barra and was getting a few orders from Bransford's Tackle Shop on the waterfront in Cairns.Things started to get a bit tedious cutting the bibs out with tinsnips so Jim made a punch to do this job in 1978. He started twisting all his wires with a nail and pliers but that was too slow so a hand drill in a vice and a pair of pliers at the tail end stared moving things along more efficiently. The wires were mostly Gal with the latter bibless going onto heavy duty Stainless Steel wires.
All the lures were made from White Beech. Initial painting was with Spray Cans but this soon became too expensive so in 1975 Jim bought an airbrush and used a car tyre for a compressor. In 1977 he then bought a Clisby compressor and used it with great success.
Jim's first templates for lure shapes were cut from Coke cans but soon that went to Gal Tin with a bit more thickness. For painting patterns Mosquito net was initially used. Jim was having trouble with clear coats but Jack Erskine came to the rescue with his Diamond One Coat rod finish which worked a treat but increasing costs later on led Jim to using Envirotex 2 pac epoxy.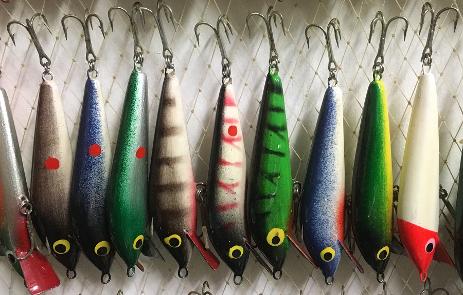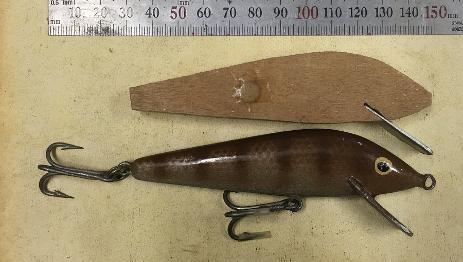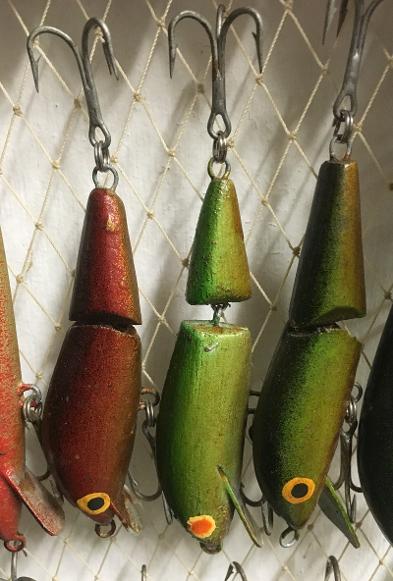 Dribbling paint was a major problem for Jim when painting so he came up with an idea similar to Jack Erskines rod drying machines. Jim made his own rotisseri oven wooden boxes for drying. They took approximately 30 7" bibless or 40 bibbed lures at the one time. As Jim went more and more commercial he gradually upgraded efficiency. He had trouble boring the holes accurately in his lures so he made a wooden bench for his lathe and turned the lathe into a horizontal boring machine which in turn sped up the boring process and gained greater accuracy at the same time. The hole for the front top eyelet on the bibless was bored into the lead weight to gain greater strength for the eye as well as keeping the lead better in place.
The blank timber was cut out with a bandsaw and then all the holes were drilled so as to give centres for the carving process.The handcarving was done with a Stanley knife and then the shaped lure was hand sanded with a small sanding board to the painting stage.The bibs were then glued in and the back of the lure sat into a piece of coolite so while drying they would stay upright and square.
Most of Jim's early lures were not signed but most of the latter ones had JM on them.The bibs were initially cut from alloy window frames and flat but these tended to bend too easily so Jim made a hand machine out of water pipe to concave the zinc anneal bibs. Jim seen the need to make a copy lathe so started to make one however in 1981 circumstances changed and he stopped making commercially and moved to Mareeba in 1982. He has made an odd one between 1982 and 2010 just so he had enough for his own fishing.
Hopefully Jim will get back into it as he is certainly an important part of Australian Lure history.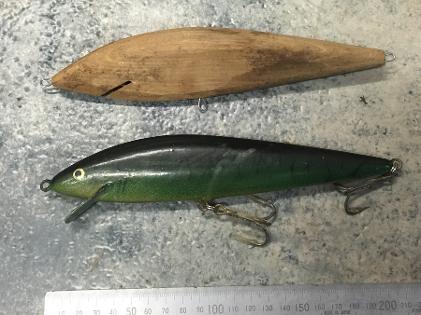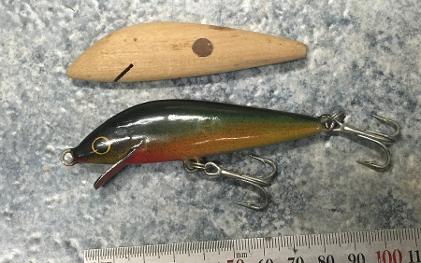 Jayem smaller minnow with rattle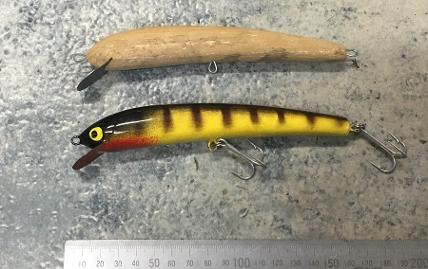 Jayem 160mm Nilsmaster minnow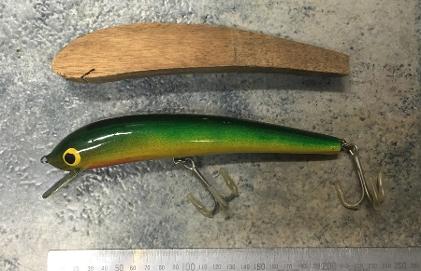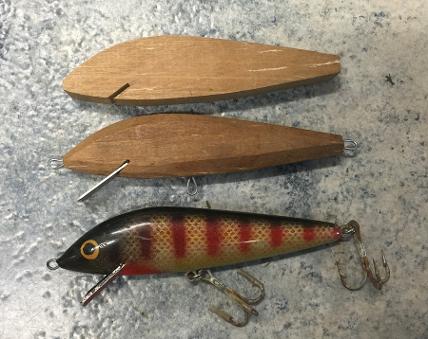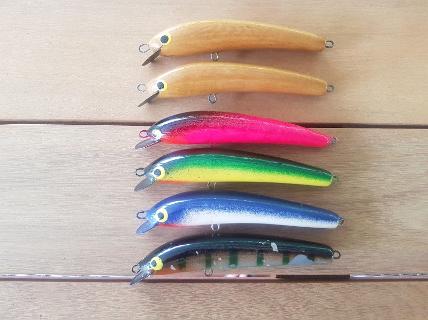 The Jayem 'Nilsmaster' minnow is only named as it is similar to the famous lure that most influenced this shape. The Finish-made Nilsmaster 'Invincible' range took barramundi fishing by storm in the mid 1970's.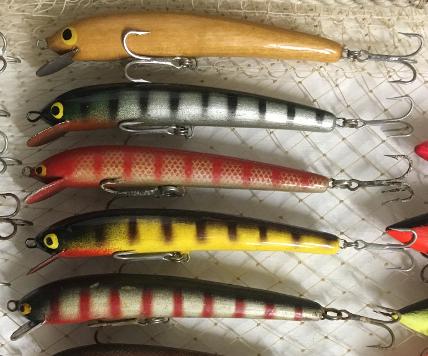 Jayem 200mm Nilsmaster minnow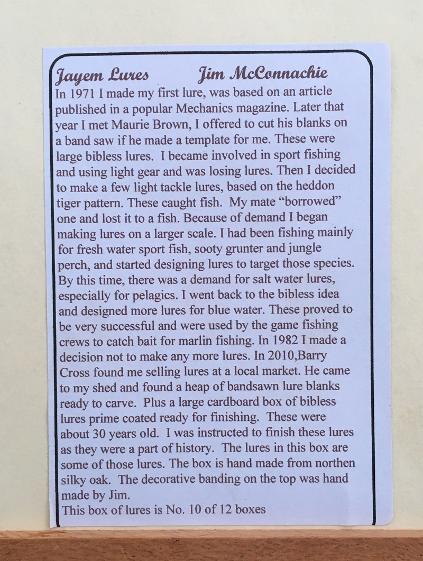 Jayem Lures are made by Jim Mc Connachie who has been making lures since 1971. Jim makes the boxes for these and shows the entire Jayem range.