Fugly Lures - QLD:

Chris Sinclair makes a fine lure and is based in Ipswich, QLD. Fugly Lures are made from timber and also moulded - Chris is a very versatile lure maker - wooden models include the Fugly 'Floorboard', 'Funky Haggis', 'Dr Tooch', 'Frugal Dougall' and Chris has kindly provided this background for Lure Hub OZ.
'Like most luremakers I started off making lures for myself as a way to reduce the cost of lost tackle. At the time I was fishing mostly for the wild Bass in the Brisbane river using Juro, Producers and the expensive (or so I thought at the time) Rebel teeny craw . The year was 1985 when I first put knife to timber and started carving ugly nondescript but reasonably well painted lures (I already had several years experience painting bad murals on panel vans).
Earliest lures were carved from radiata pine and balsa and many didn't swim properly because I had no idea of hydro dynamics at the time, it was 1985 after all and knowledge was not as freely available as it is today, however luremaking articles by Vic Mc Cristal and Peter Newell in fishing mags were invaluable in my luremaking education and bit by bit I picked up the gist of it. By 1990 I was making a lot of my own lures and occasionally a few for friends. I'd caught plenty of flathead ,catfish and bass and decided to do my first trip to New Zealand and caught trout on lures which is still one of my favourite forms of fishing even today. The trout also got me interested in flyfishing and for quite a few years it was my main form of fishing and the lures were forgotten for a while - fly tying was also a big favourite for me and my obsession saw me tying hundreds of flys a week at one stage.
I cant remember exactly when the luremaking bug struck again but this time it bit hard ,it must've been around the late 90's. Something clicked and my lures took on a more professional look and caught more fish a fact not lost on my mates who now asked me all the time to make lures for them ,I think it was at that point that I thought others may be interested in them and so set about making a few standard designs and having the occasional stall at the local markets. By 1999 I had two or three designs on the go and it was also the year I started working at the Alvey factory. At Alveys the main focus was fishing ,even at smoko and lunch we talked fishing. I learned so much from there that was transferable to my luremaking, from molding , punching out small parts on presses right through to production line style techniques. I will be forever gratefull for the knowledge learned on that job.
It was 2000 when my mate muttered the unforgettable words ''that lure is flamin' ugly!'' ,we were at Mt Crosby testing oddly enough my Mt Crosby minnow that I'd fitted a new round concave bib to. Thats where the Fugly tag came from, although I had to change it to ''Puglee lures'' for a little while as a Christian shopkeeper who'd been selling a few for me took offence to the name. It was also about 2000 that I made my first novelty lures and also the year I made the first ''bitebak'' lure. The Bitebak was basically just one of my'' Bandicoot'' lures with a bite in it ,the idea had been suggested to me by my good friend Tony Robinson who reconed a lure with a bite may give the angler an edge where predatory fish were concerned. Unfortunately the Bitebak swam like a wounded fish too and people didn't like the action and so the mold sat in the cupboard till 2008 where I trundled it out again made 50 more numbered lures with unique paintjobs for collectors and retired it forever - although the bite theme continues with other lures that I make.
The last fourteen years has seen me making all kinds of lures from trout lures to Mackerel lures through to huge ''one of'' arty lures. At times I get tired of it and wont make a lure for a year but I always seem to come back to it. I guess its like an itch I have to scratch. Ive never worried about trying to become a big business because I know that's what kills the fun and creativity - just being a small time hobbyist is enough for me.'
Chris Sinclair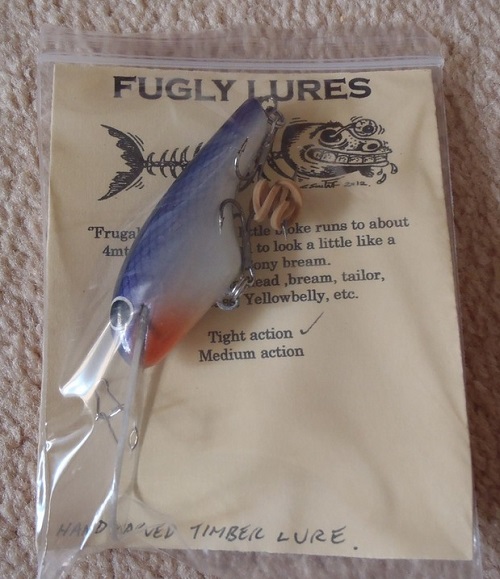 Fugly 'Frugal Dougall' in packet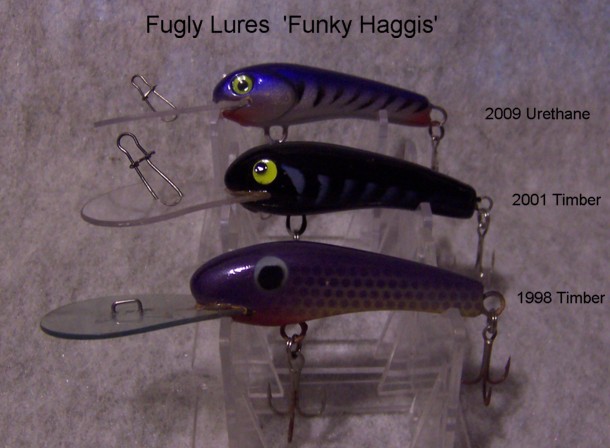 Fugly 'Funky Haggis' evolution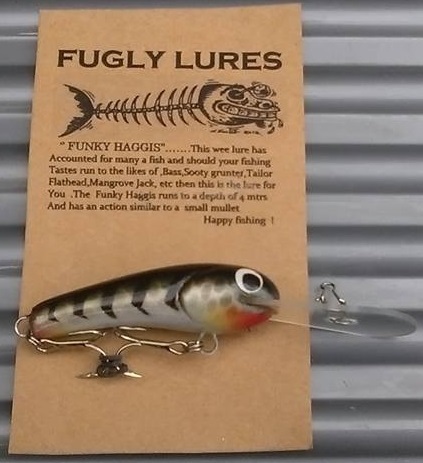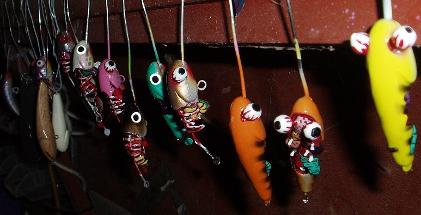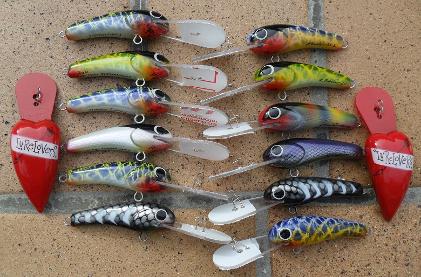 The Fugly 'Floorboard' is one of the older Chris Sinclair models that is still made in small numbers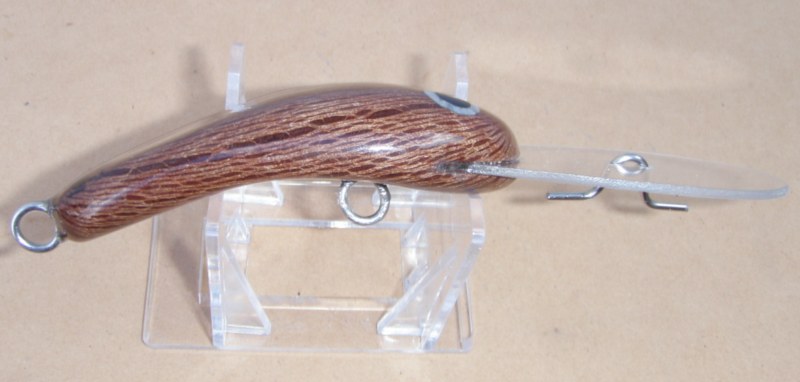 Nude lure above and two older 'Floorboard' models showing older signatures. Another older signed version below.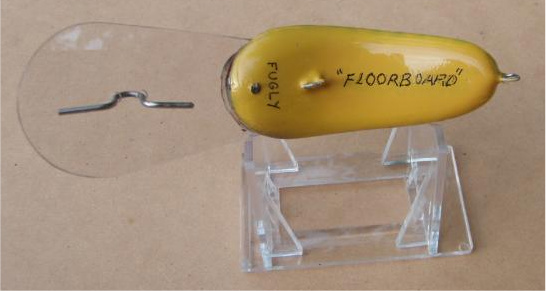 Right shows the modern version of the Fugly signatures which are dated 2012.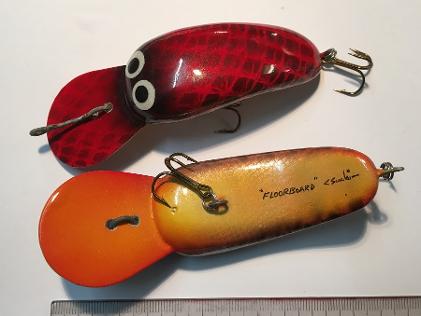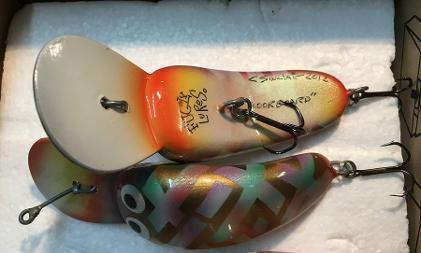 The 'Fuglyfication' of lures has been a long tradition with Chris Sinclair and his creations are in high demand. In 2017 Chris made a decision to scale back production and they are now only made in small numbers. There have been many beaten collectable lures that have been given the Chris Sinclair treatment. There are a few showcased here.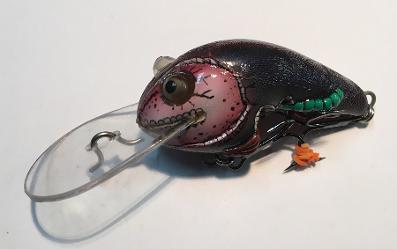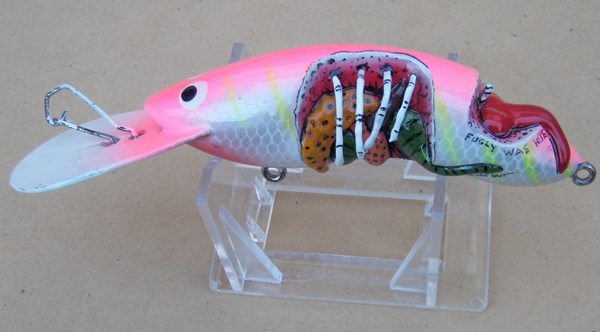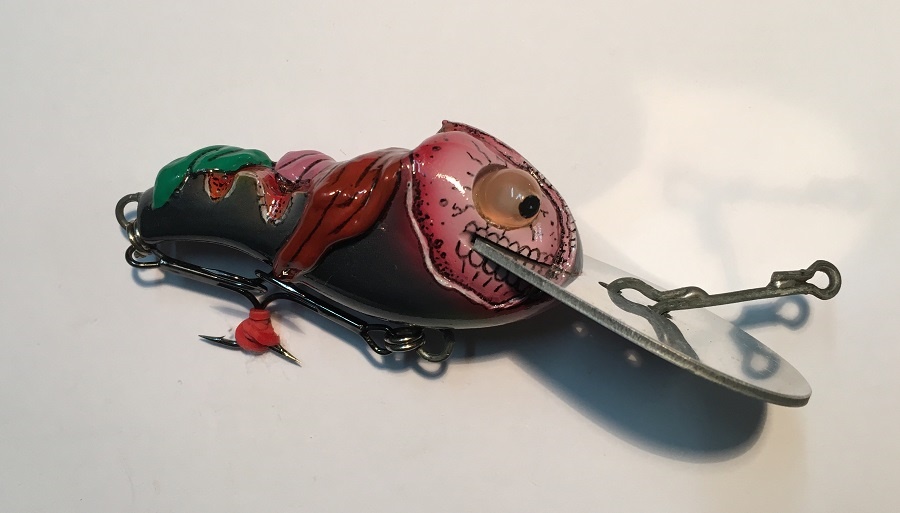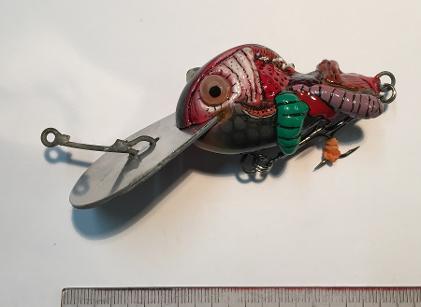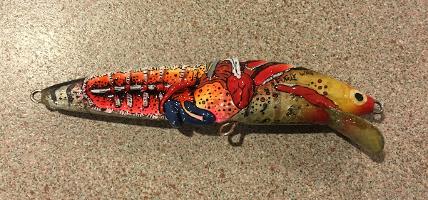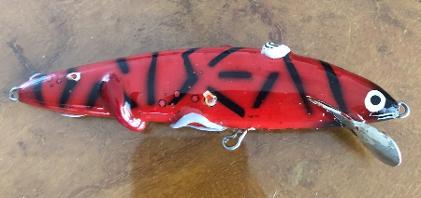 A couple of old timber Edwards lures given the treatment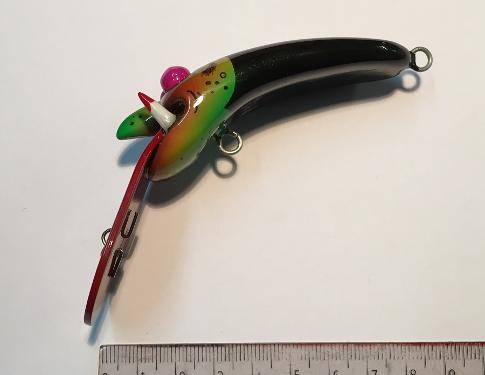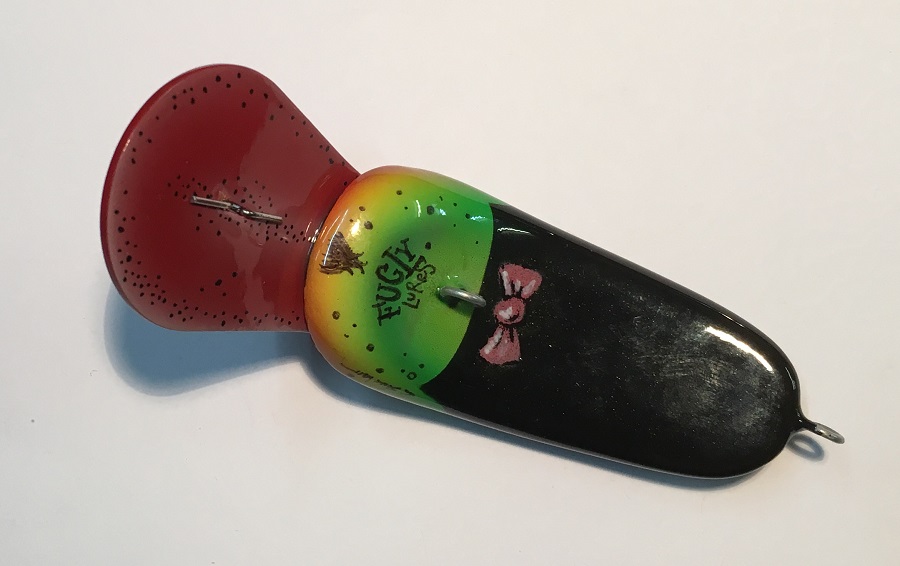 Fugly 'Dracula' on a Floorboard blank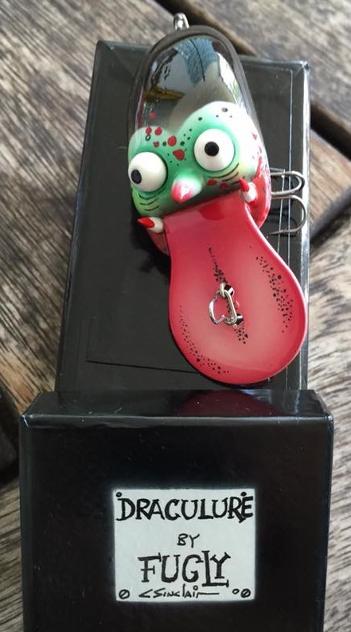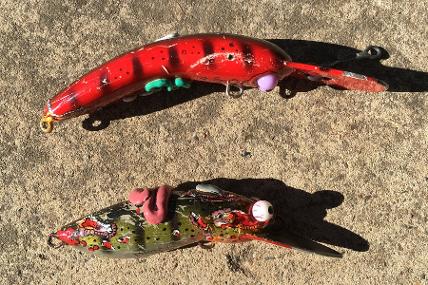 Two old Peter Newell lures - Kadaitcha and Scorpion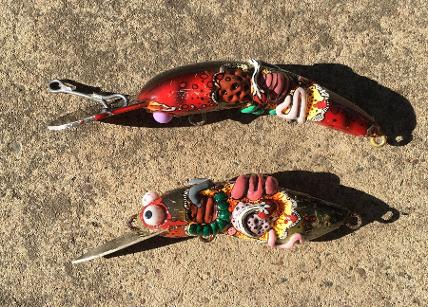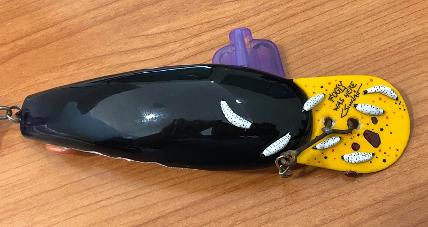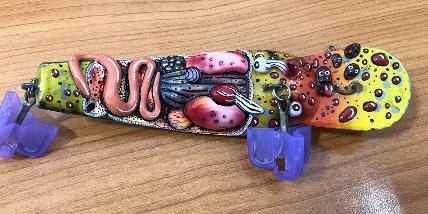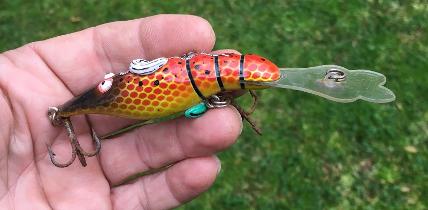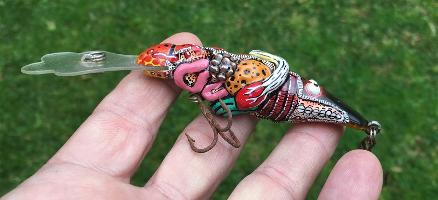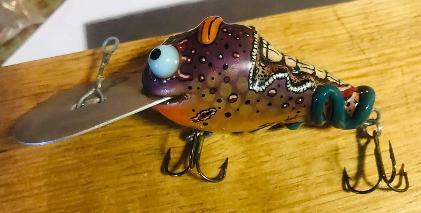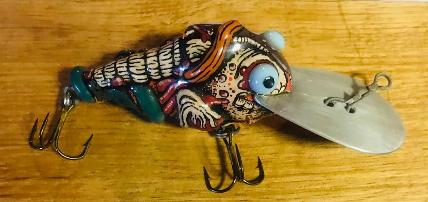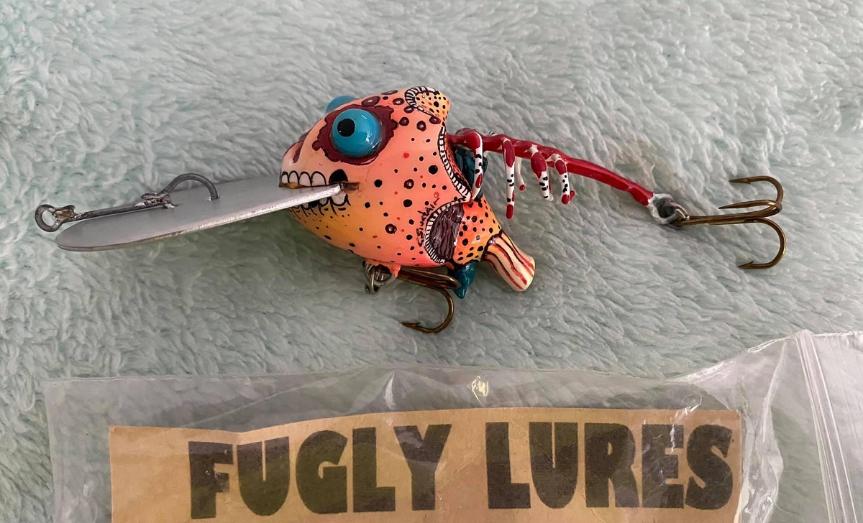 The lure below is a moulded creation that you will see occasionally - a work of art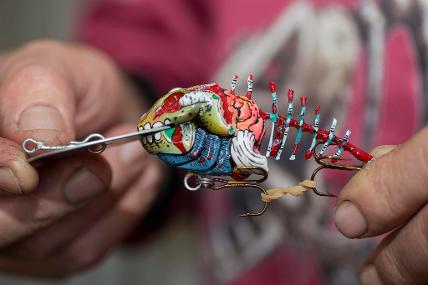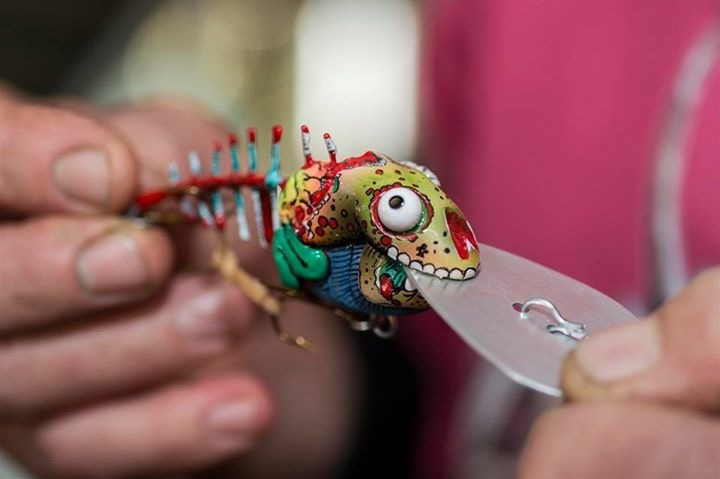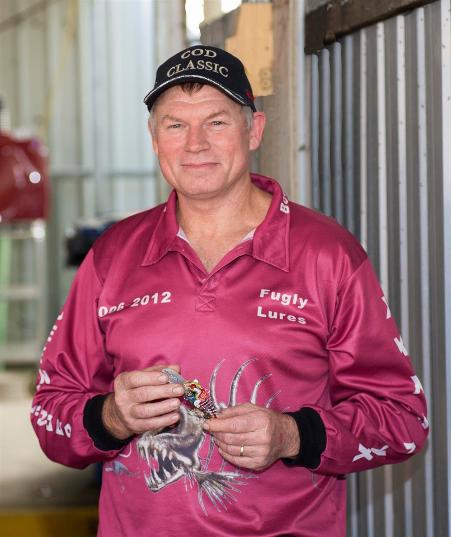 Photos shown here are courtesy of Murray Sugden who took these photos at Expo 2017. Chris has taken out numerous awards at the Lure Expo for his outstanding work.
Below is the Fugly 'Pig' which is an epic work of art and functioning lure.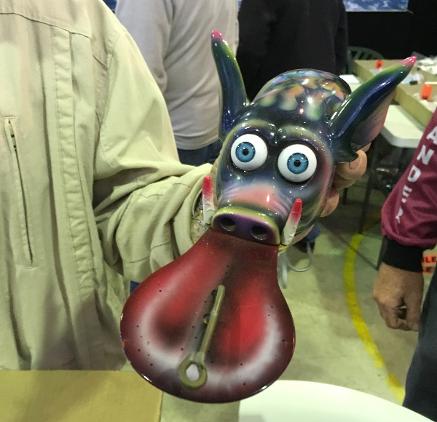 Photos below show some of the Fugly Lures that arrived at Expo 2019 - it seems that each year another lure is created that takes artistic lure making to another level. Not only is Chris a fine craftsman he is also generous to fellow collectors and lure anglers alike.