* Banner image is of an early colour in the Oar-gee model
Wayne Lennon from the Albury area has forged a reputation as one of the premium lure makers in Australia. There is an early Lennon lure named 'The Bug' which was made in the late 1980's before the Oar-gee name came to be. Early Oargee lures are hand carved from white beech and are purpose built as suggested by the names.
When Oargee Lures hit the market in the early 1990's, they gained a reputation fast and although the timber models were made in reasonably large numbers, they still command good prices if in good condition or better.
An article in Fishing World, January 1993 lists 9 models and 26 colour patterns available through major tackle retailers or by mail order to Naretha Street, Wagga Wagga;
'Intruder' - 13cm crash diver to 30ft.

'Proline' - 14.5cm & 10.5cm dives to 12ft.

'Plow' - 75mm (15ft) & 60mm (10ft).

'Barra' - 120mm & 85mm aimed at 15ft.

'Pee Wee' - 55mm

'Wee Pee' at 42mm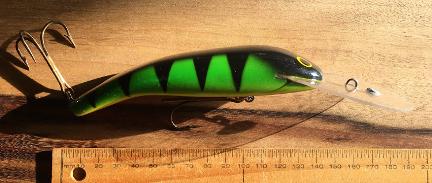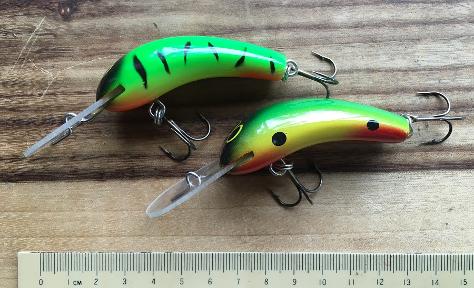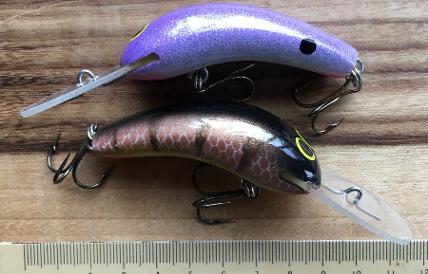 Oargee 'Plow' showing signature. This model was always made of cedar for extra buoyancy.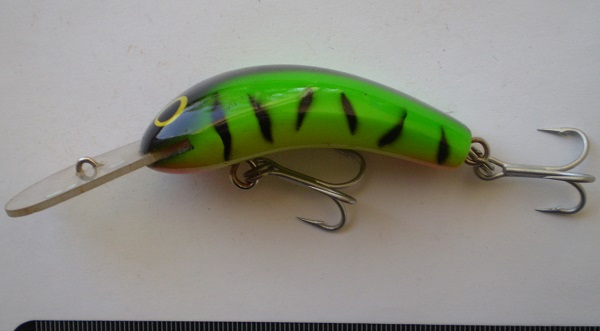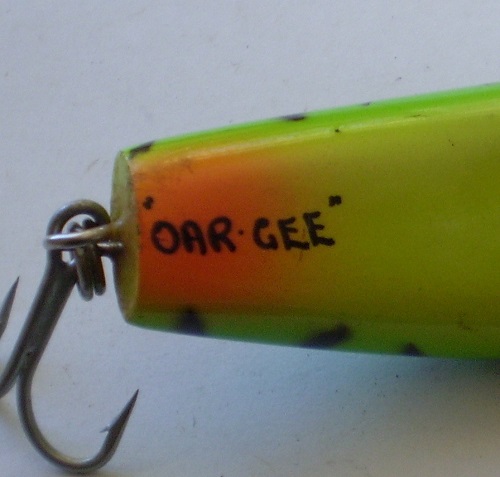 'Plow' in spotted rainbow trout (left) and larger version right which has the sinker embedded in the bib
.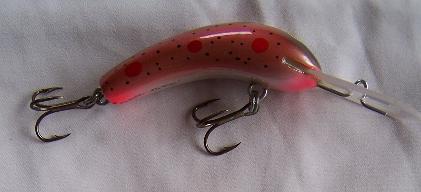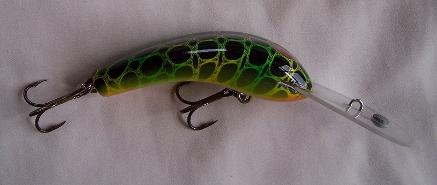 The following timeline was kindly supplied by Dave Magner
Year Event
1985 First lures hand carved from timber.
1986 Switched to balsa bodies coated with fibreglass resign.
1986 /7 Started using Australian white beech, hand making bodies using a band saw and belt sander and lots of sand paper. This was the start of the Plows, Pee-Wee and Wee-Pee.
1992 Displayed at first fishing show Melbourne.
1993 Television show with Rex Hunt
1993 Changed to polyurethane bodies made by Lively lures.
1996 Set up our own polyurethane injection moulding machine, and did own on-site moulding.
2000 Changed all lures to plastic injection moulding. 75mm Plows, 60mm Plows, Pee-Wee, Wee-Pee, Shads and Lil Ripper
2004 First Barra Classic and team the Daly Oargees finished 5th.
2006 "OAR-GEE" becomes registered trade mark.
2006 Bib locking system and Oarsome barra lure are granted Patent Pending.
2006 Released the first of the Oarsome range of Barra Lures.
2006 Released the painted bib range of Plow lures.
2008 Released the 100mm Plow lure.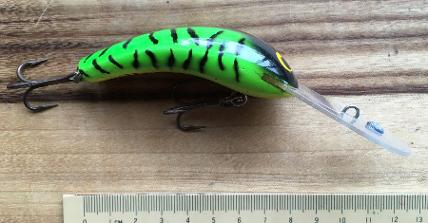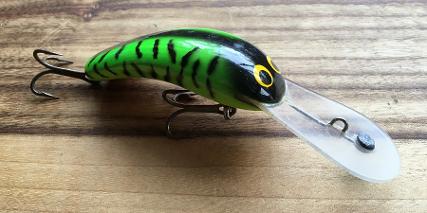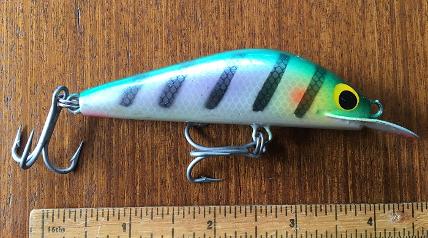 The Wee Pee and Pee Wee are excellent bass lures and were a popular model when they were released. Shown here are some early timber models and a comparison with the early moulded versions. The first lure is moulded and the following three are timber versions. The key is to look at the hangers and the front wire towpoint.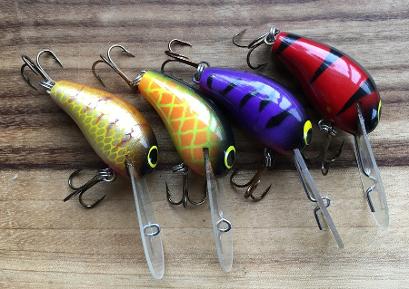 The Wee Pee comparison - top lure is timber, bottom is moulded.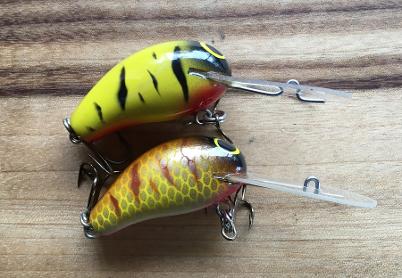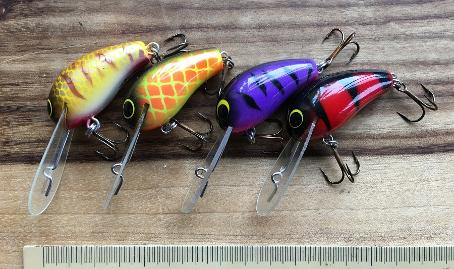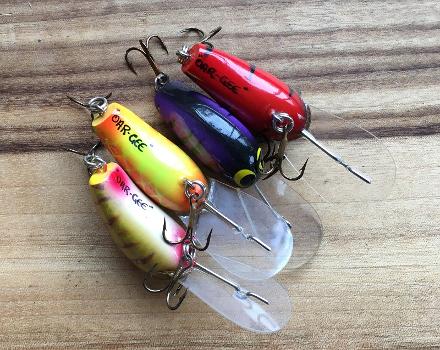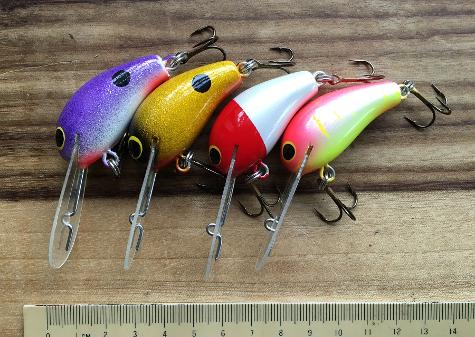 Early moulded Wee Pee model pre 2000. Note the hangers and seam line. Sometimes the seam is hard to see but eyelets are a giveaway as well as the colours that were added to the range. In the late 1990's as the moulded range was introduced it was not uncommon to have timber and moulded lures on the shelves together.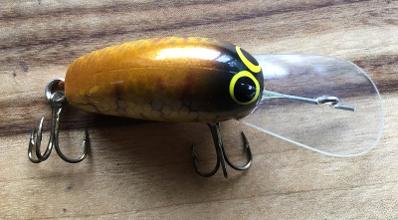 The Pee Wee is the larger version. Shown here are some early timber models.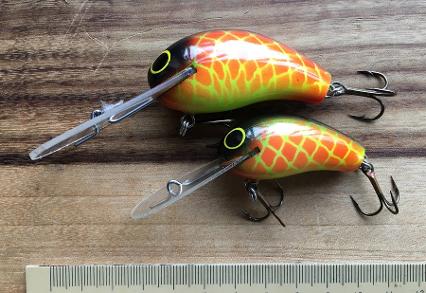 Comparison of sizes of the 'Pee Wee' and 'Wee Pee'.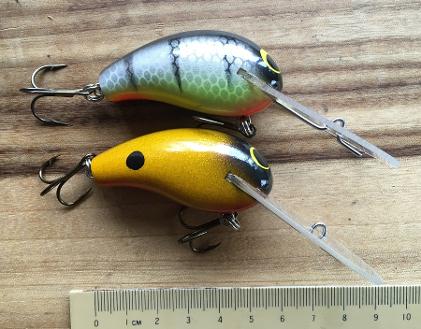 In the early 1990's Wayne started producing lures in polyurathane and moulded plastics including the 'Mongrel' (very few made) and 'Lil Ripper' but all Oargee lures are now moulded and will have markings on the bib.
Early 1990's Mo's catalogue lists the 'Lil Ripper', 40mm, available in 12 colours which is a moulded lure, two sizes of 'Plow', and 3 new colours (13 in total) in the 'Wee-Pee' and 'Pee-Wee' range and these lures will be signed on the belly.