Australian Lure Manufacturers M

If you know of an Australian lure maker no matter how young or old that we have not mentioned in the following list feel free to contact us to have the details added or updated.
*Cover banner photo - Darren Mac Queen or D Mac Lure
Macka Lures - NSW:

Advertised in Fishing World 1988, Howard Mackenzie made lures exclusively for the Compleat Angler and were produced in limited quantities. 'Mini Macs' and 'Mad Macs' are made of cedar and and have a prominent rattle and came in a floating and sinking models and a wide range of colours.
Shown opposite is an original Macka label and reverse explains construction , weight etc.

Below is a review in response to an article written by Rob Harrison in 1988 called "To Lure a Bream" referring to the Macka Bass lure as a 'Compleat Angler Bug Eye Special'.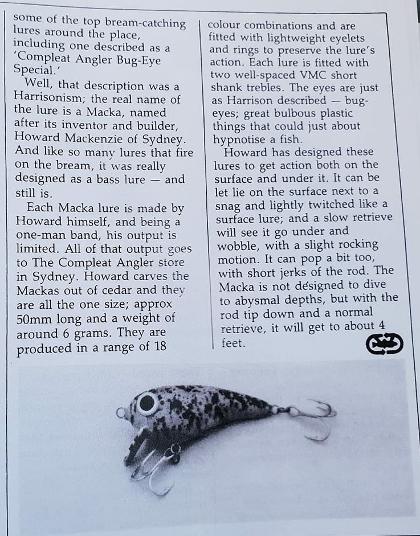 Some examples of Macka bass lures made by Howard Mackenzie. The smallest lures are 40mm long (including the bib) and the bigger one is 90mm. They were sold at Compleat Angler Sydney in the 1980/90's or were available by mail order direct from an Eastwood address in Sydney.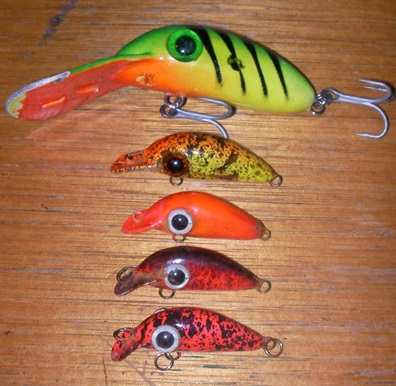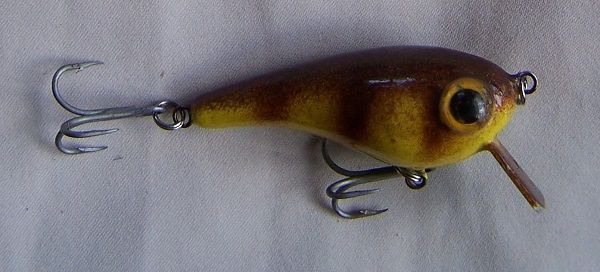 Macs Lures - QLD:
The information below as provided by Malcom Trotter the current owner of Mac's Lures.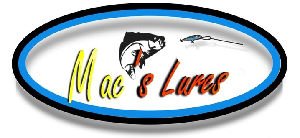 Macs Lures was the brainchild of Gold Coast lure fisho Pete MacGregor. Pete was a keen flathead fisherman who lived in the Southport area, the home of the annual Flathead Classic, a lure only tournament run by the Gold Coast Sportfishing club since 1992. In the early 90's a lot of guys were using lures like the Jaysea Patriot with good effect on the unlimited sandy banks and drop offs around the Southport Broadwater. This was before super small lures were in vogue in trolling for flathead.
Most of the lures used at this time were created for yellowbelly and bass etc. Pete had an idea to create a more slender profile saltwater lure with a bib that would still allow a diving depth of around 7 meters. This proved to be irresistible around the Pin and the Southport Broadwater where big flatties were normally taken.
This lure became the famous 70mm Macs Mauler and was soon joined by a shallow diving model (1.8 meters). A Mini Mauler 55mm and a Micro Mauler 45mm would soon follow. Pete had learned a bit about moulding from Al Dolan of lively lures fame and thus the Mauler was moulded for mass production in 1997. Like the lures from Al's factory all Macs Lures are made with the bib and wires internally moulded so they are indestructible (see Pic attached). Early Maulers can be distinguished by an oval shaped yellow eye with a large black dot that covers most of the yellow. Pete originally sold the Maulers at Markets around Brisbane and the Gold Coast but before long they were filling the shelves at Mo Tackle and other well-known tackle stores as word of mouth spread. There were not many purpose built flathead lures made locally in the 90's.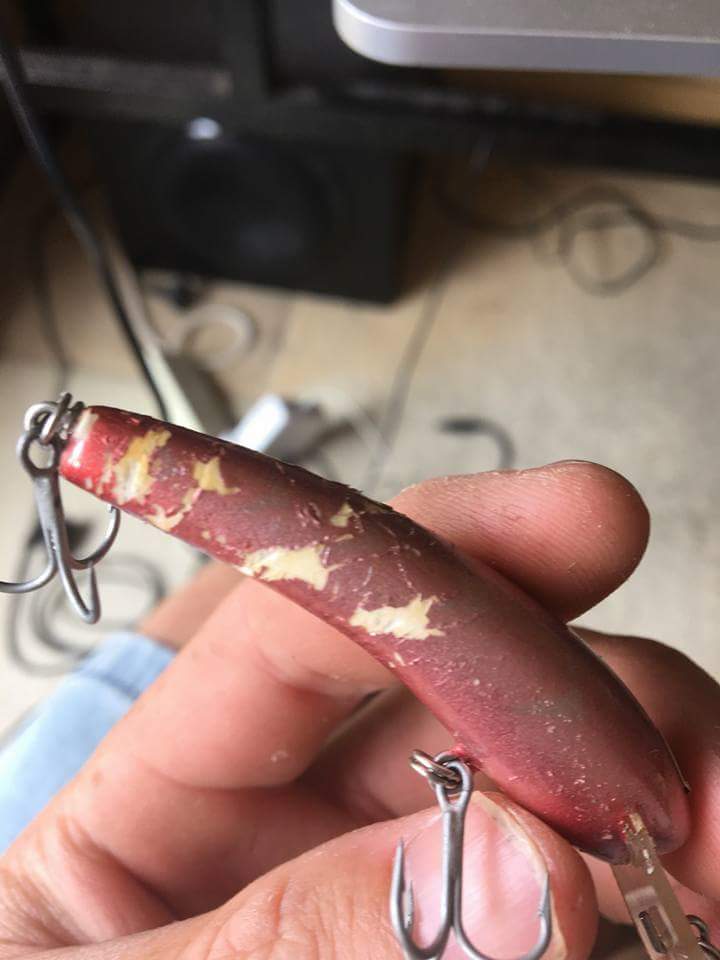 By 2000 Pete had also shaped and Moulded the 95mm Jackhammer (see photo above left) and the 90mm Demolisher (see photo attached right). These, coupled with the Maulers, all sold well in SE QLD. Unfortunately though due to family problems, Pete sold Macs Lures in 2000 to andother Gold Coaster named Glen Palmer. Glen had the business a short while and sold it onto Ronny Woods. Ronny was heavily involved in the Hinze Dam Fishing club and the Maulers had a second coming.
This time, like most Aussie cottage lures, with freshwater natives , ironically bass and yellowbelly. The Mauler was quickly established as a favourite with QLD impoundment fishermen winning tournaments at Somerset and Cania in the early 2000s and enjoying write ups in many fishing Mags of the time. At this time local Gold Coast fishing identity Des Charles (a guide on Hinze Dam) was also making and producing his own lures, the Bug (see pic) , the Scallywag popper (see pic) and the Twink. When Des sold up and moved on in the early 2000s Macs Lures took over these shapes and added them to the stable. Lures of this era can be distinguished by a smaller black dot on the same yellow oval eye.


Work pressures saw the Macs brand sold again, this time to Leigh Bachmann of Laidley QLD. Leigh continued to produce quality lures. Leigh was very talented on the airbrush and really revolutionised the spray jobs and colour range of the lures. Leigh's influence saw Macs Lures spread from their traditional home in SE QLD to different states and even NZ. The next big milestone came in 2006 when Leigh sponsored a team for the Flathead Classic that year (Team Bluefin Boats). Fortuitously that year saw Darryl McMahon from Team Bluefin land a 98cm Flathead on a gold Mauler, a record still held today as the largest Flathead recorded in the annual Flathead Classic (see photos attached). Lure cards from this era were white and the lures came in a blister pack. Leigh's Maulers all have the eyes slightly further back on the head roughly in line with the front treble.
Macs was sold again in 2013 to Current Owner Mal Trotter from the Gold Coast. Lures from Mal's era currently have either a silver oval eye or a white oval eye and are sold in a blister pack with a royal blue card. Given it's tournament success in both fresh and saltwater the original 70mm Mauler has to go down as a true classic of Aussie versatility! Mal has gone back to the original roots and sells at the same Markets that the mauler made such a splash at 20 years earlier. Mal also runs a Facebook page called Mal's Maulers where fans of the Mauler can post pics and share stories (oh and of course buy lures). This is also a good place for collectors to verify the era of their Macs Lure.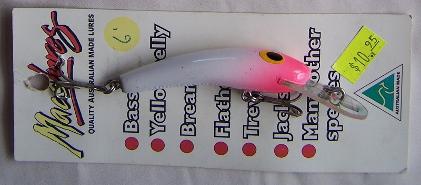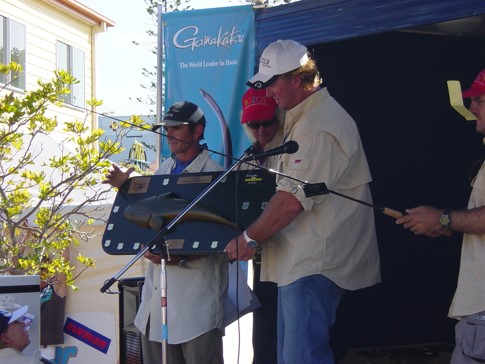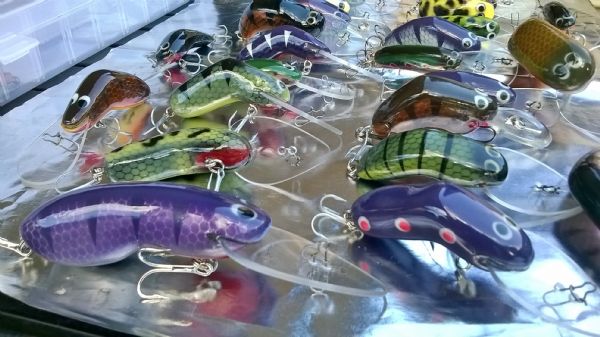 "I love the passion of making timber lures, the art that goes into it and at the end seeing a fish caught them"
Mad Dog Lures - QLD:

Made on the Sunshine Coast, QLD by Dave Hill. A newcomer to the market in the last couple of years crafting timber lures and with a number of interesting models. Dave started making timber lures in 2011 as Hills Timber Lures keeping his father's lure making tradition alive (Jim Hill). Having a background as a cabinet maker Dave has a passion for timber and fishing and now markets his lures under the Mad Dog banner.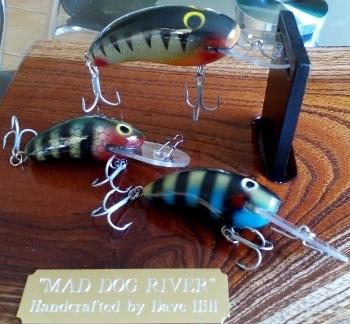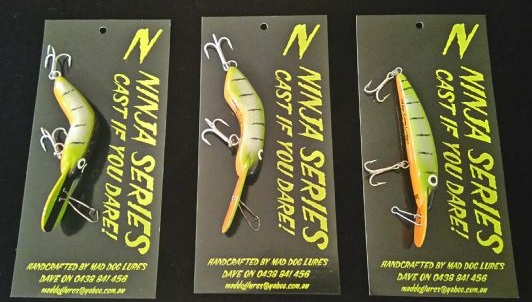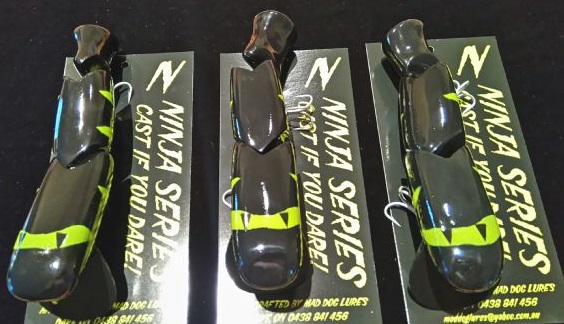 Mad Dog Lures were at Lure Expo in 2018 with a small range of lures suited to most lure fishing applications and were featured in Freshwater Fishing Issue 151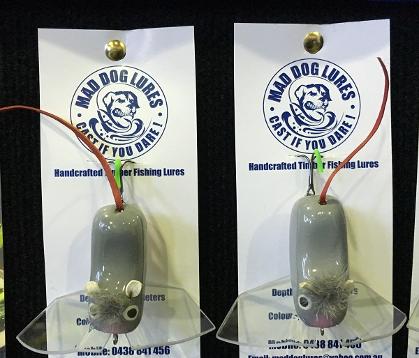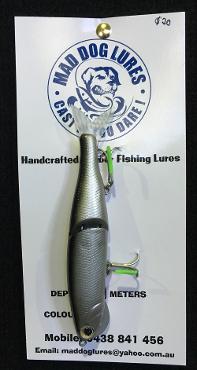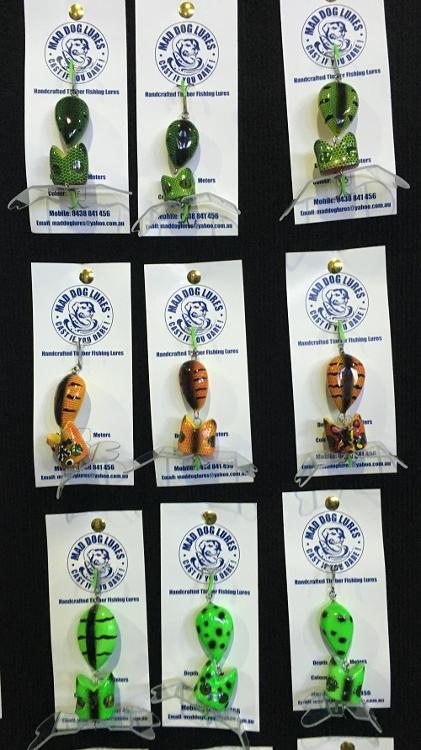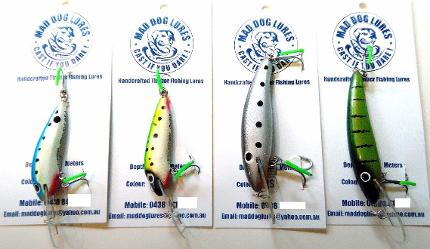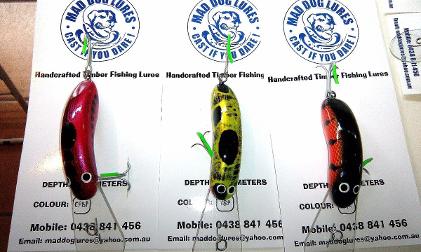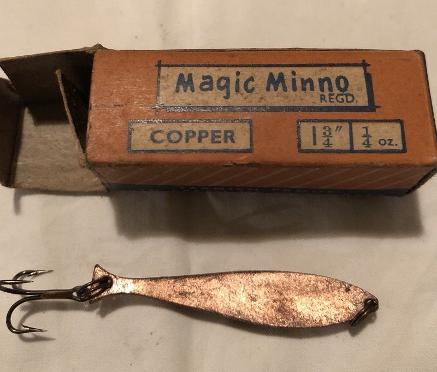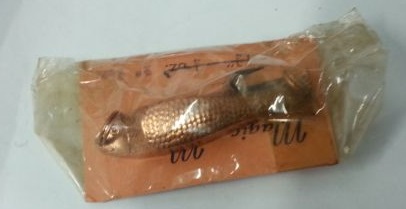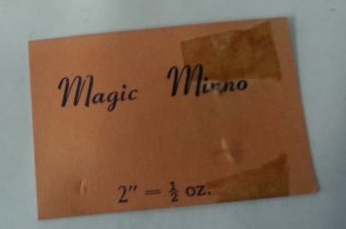 Magic Minno Lures:

The Magic Minno is a lure that shows up in Australian tackle boxes. The packaged lure was found in Tasmania with a bunch of vintage lures. Unsure if Australian made or imported. It is a small metal lure, heavy for its size and with a distinctive profile.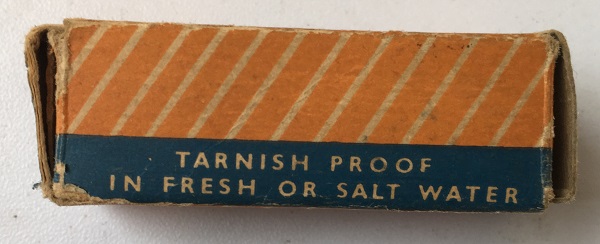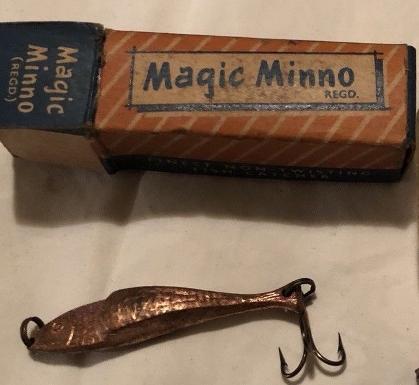 The above lure was offered for sale on Ebay and shows the older box for the Magic Minno. A different packaging in cellophane is opposite for the larger size. The lures below have a slightly different stencil on the top but have the same shape and profile. They were found in a tackle box with old lures from the 1950's and 60's.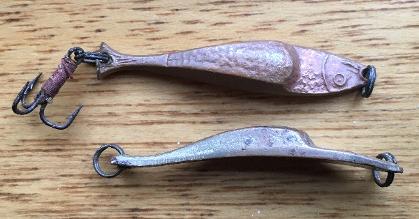 The Magic Minno was in the 1954 catalogue by Craig and Aitken Pty Ltd who were a distributor of angling products.
Lure was available in 2 sizes and 6 colours.

Magnet Lures - VIC:

The Magnet range of lures were originally made by Fischer and Sons Pty Ltd up until 1954. After this time the Magnet line of devon spinners were made by R.W Stewart Pty Ltd after 1955. Both companies were located in Melbourne, Victoria.
Mahogany Lures - QLD:

Mahogany Lures were made in Kennedy (just north of Cardwell) in far north Queensland by Chris Jones - this is the only example ever seen and of unknown vintage. Chris is still making lures under the CJ Lures label.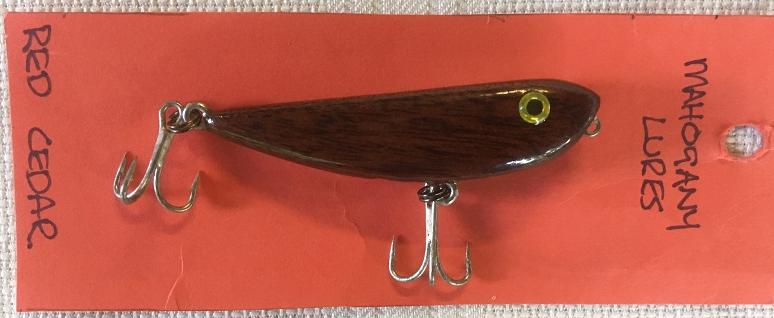 M. B. Wragg and Company Pty Ltd - VIC:

M.B. Wragg & Company was among Australia's oldest trading companies and in many ways its history reflects the social and business changes that have taken place over the same period. M.B. Wragg & Co. manufactured the 'Alpha' range of fishing products including the 'Aero Cod Spinner'. See full page bio under Alpha Tackle.
Majik Lures - QLD:
Majik Lures were made in timber in small numbers before being produced in plastic. Brad May kindly supplied the history of Majik Lures after contacting Lure Hub OZ in 2018;
"Majik" lures were handcrafted commercially by Bradley ( Brad) May from 1993 to 2003. Some earlier wood lures were made from 1984 – 1992 in small numbers and sold under "Brad may lures". I first starting making lures as a teenager after catching a Flathead on a 7cm Nilsmaster Invincible lure bought at Davo's tackle in Noosaville, Qld. It was a black and gold colour which I still have and I could not believe that I'd caught a fish on a piece of wood and metal. I set out to make my own lures influenced by Nilsmaster and Killalures amongst others. These earlier lures were sold in small numbers to friends and at fleamarkets and amazingly caught fish. I starting making lures as a business in 1993 under Majik Lures and continued for 10 years until I opened a small fishing tackle store and could no longer operate the lure business.'
Timber Lures:
1984 - 1992 - 5 unnamed wood lures sold under Brad May's lures
1993 - 1997 – 9 wood models ( BB in shallow and deep, Bullet, Missile, Pilly, Torpedo in 2 sizes, Scud and a Popper)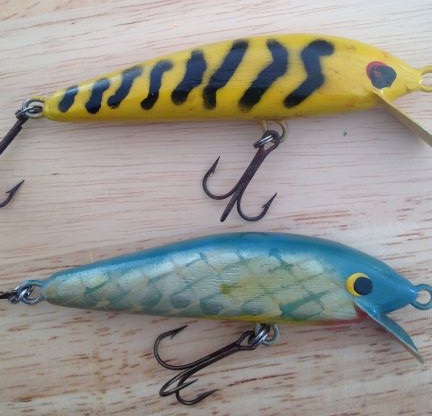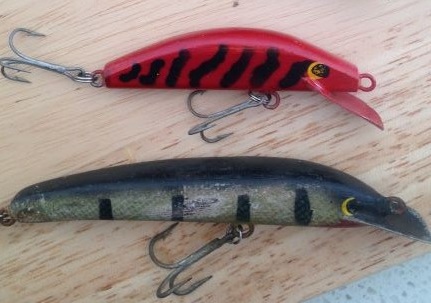 The lures shown above are some of the earliest Brad May lures which were sold before being marketed under the Majik Lures banner.
The following is a full list of models that were produced by Brad May including dates of manufacture and size. All moulded lures will have the name engraved in the belly of the lure. This biography would not have been possible without the help of Bradley May, the maker of Majik Lures.
Wooden lures – made from 1993 -1997
o BB Shallow 45mm o BB Deep 45mm
o Bullet 58mm
o Missile 72mm
o Pilly 150mm
o Torpedo 80mm (variations may include Doll's eyes)
o Torpedo 100mm
o Scud 75mm (Variations may include Doll's eyes and/or Handwritten name or stencilled name MAJIK)
o Pop wooden popper 80mm
o Unnamed wood lure 80mm**cod style lure looks like the Spider .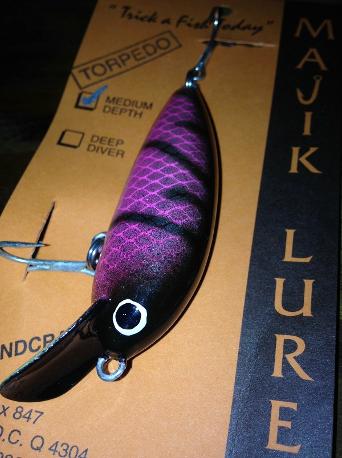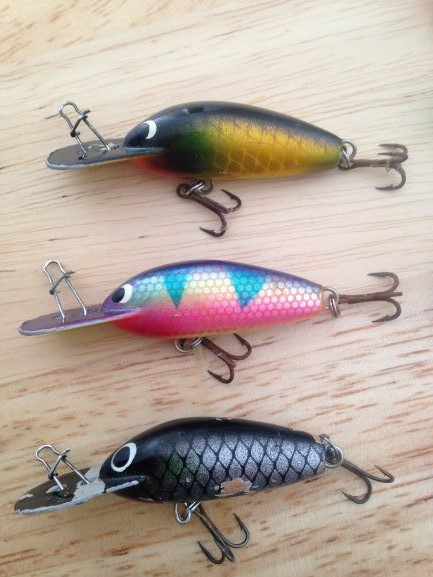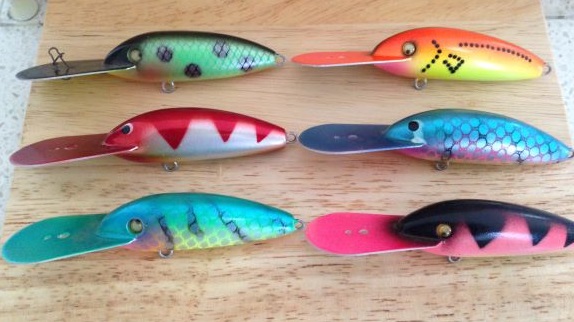 Scud 75mm including dolls eye versions
'There were other models not released including the BB shallow model as a plastic lure which would have had a fully moulded bib and body , The Torpedo range in plastic and a large 15cm Mulgar which was to be made into a plastic lure with a fully moulded body and bib. Patterns were made in preparation for that but I think the bibs were too breakable so the polycarbonate option was used instead. There is also a **Cod style lure that would be collectable as there is only one or two of them made (in wood) I noticed them in a photo of mine and to be honest I forgot that I made them. Someone has them out there.
As you can see there was a rapid growth and lots of change within my range of lures as I tried to find a successful combination and good construction and design methods. It was a lot of late nights I can tell you. It is a totally different game when you try to make a living from it as opposed to a hobby. I hope this information helps those keen collectors. Perhaps there will be some new lures to collect from me in the future, as I still have many ideas, and I have found plans for several lures which I forgot I had designed.'
Moulded Lures:
1997 – 1998 – 6 plastic models (3 from the old wood range + 3 new lures) BB Deep, Bullet and Missile converted to plastic + new Manta, Sprat 38mm and Sniper popper)
1998 – 1999 – 3 new plastic models ( Spider lure in 2 sizes + New Sprat size)
2000 – 2003 – 6 new plastic models (the new Mulgar range in 3 sizes , upgraded versions of the Spider in 2 sizes + new Hijacker) The highly successful sprat was also still made until 2003.
'Brad May was one of the really good guys in lure making. He sent me a whole bunch of his early lures and a large number of his timber early lures. They are still in storage, but like many makers there were quite a few additional models that were made in small numbers. Brad also gave me signed copies of the first plastic castings of several of his lures which I treasure and feature in my super duper special display cabinet. For example - I have a wooden barramundi lure called a Torpedo that was apparently made for one customer in the Northern Territory and has a different type of card with it. Interestingly, the last Majik lures that I bought were from a seller in the States who was a mate of Brad's' - Frank P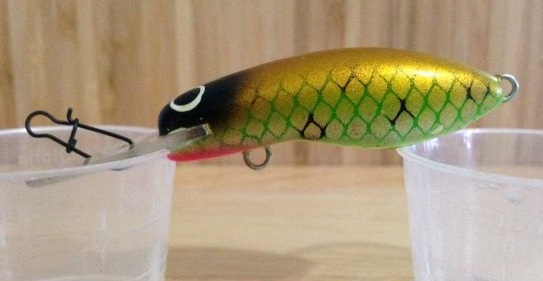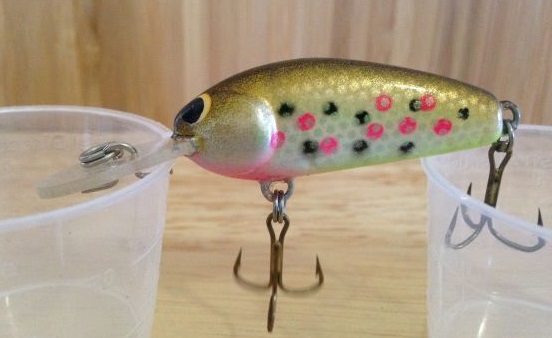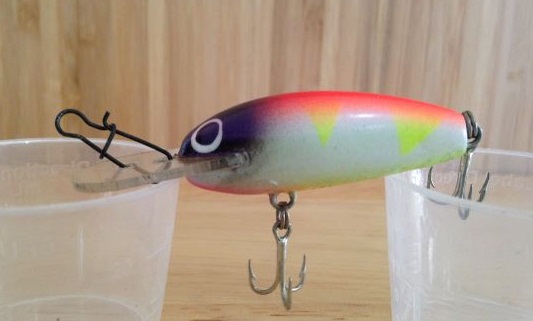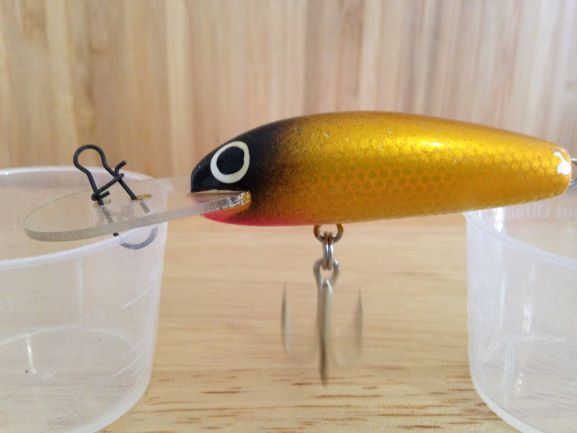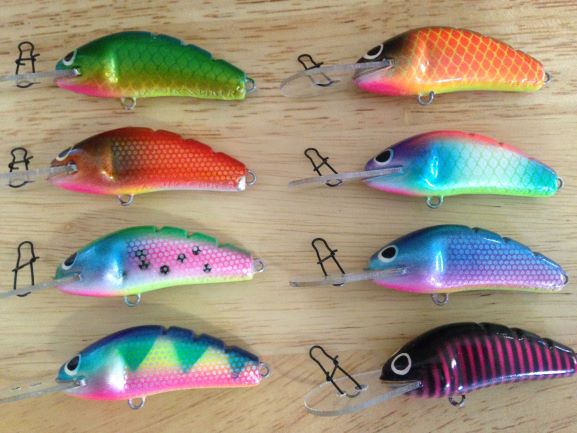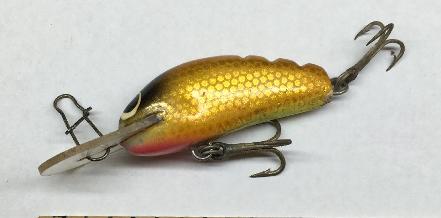 Catalogue listing for 'Sprat' (45mm ultra light deep diver) and the 'Spider' in two sizes.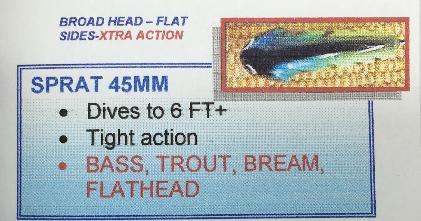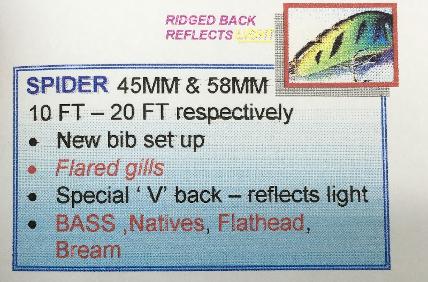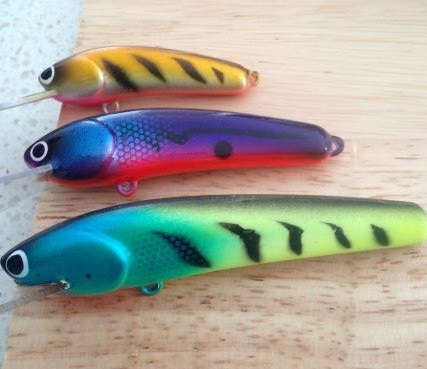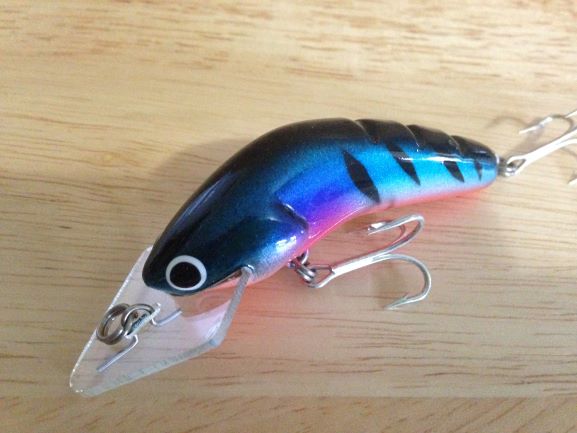 Hijacker showing bub shape
October 1997 Qld Fishing Monthly shows the 'Spider' with the logo 'Trick a Fish Today' and mail order to PO Box 847, Booval DC, 4304.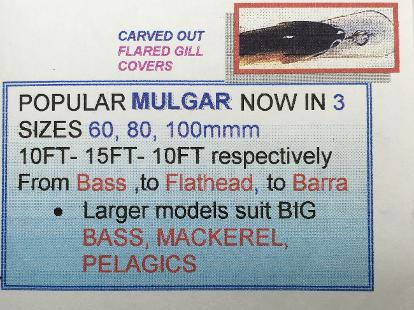 March 1998, Qld Fishing Monthly, Majik Lures 'Sniper' (a small cup faced popper), 'Sprat' (37mm ultra light deep diver) and the smaller 'Spider'.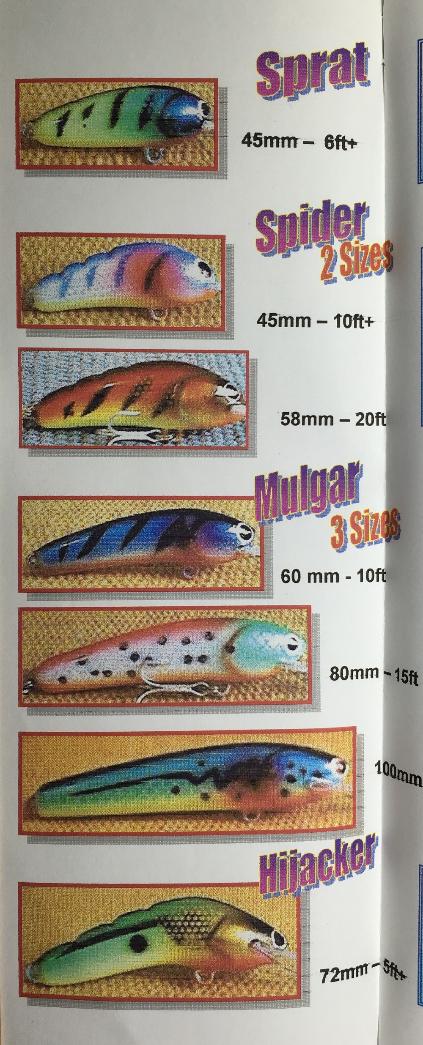 Extracts are from the Majik catalogue showing colour range and models available.
Below is a later colour catalogue showing 15 colours that are slightly different.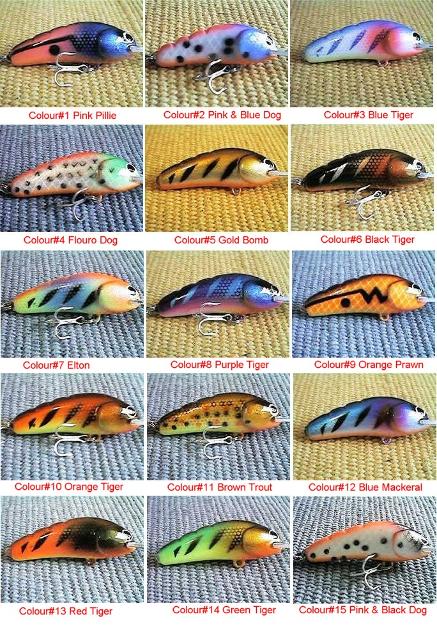 Makka Lures - QLD:

Makka lures were originally made by the North Queensland Tool and Die company which were located in Aitkenvale, Townsville
with a post office box in Aitkenvale. They made a range of lures under the Makka name marketed at the saltwater angler that included jigs and metal spoons similar to the Halco Tuna lures.
The lures shown right are a metal alloy jig similar to the legendary Smiths jigs from Tasmania.There are also metal spoon type of lures that were made by Terry and Christine Edwards from Brisbane. Production started in 1993 and lures were constructed of stainless steel and heavy duty hardware. Uncertain if they are still available.
Below is two advertisements from Queensland and Fishing Monthly 1994.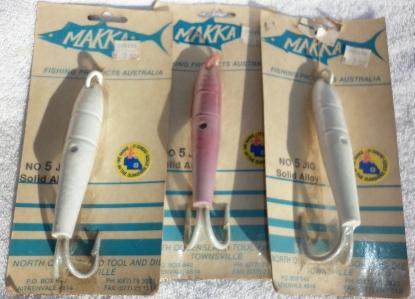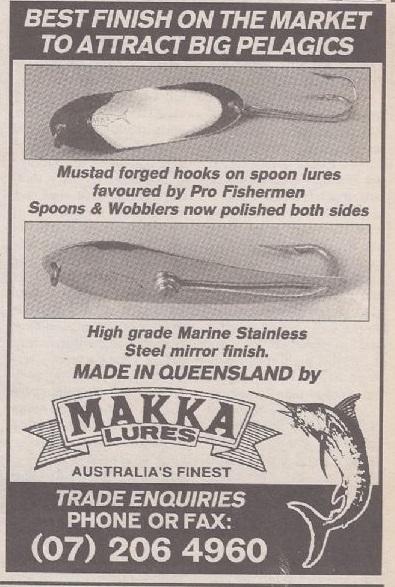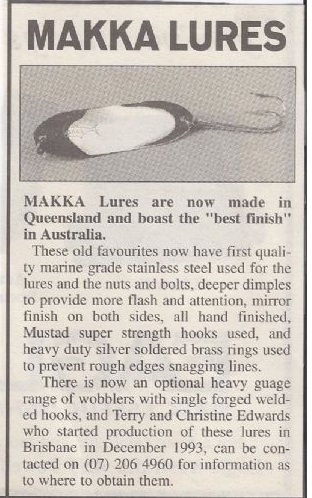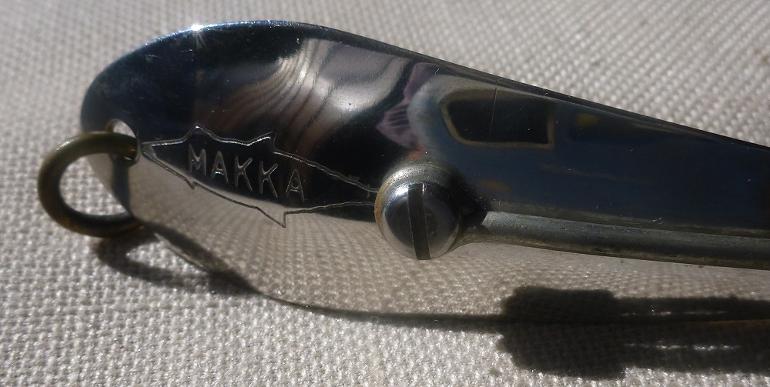 Mal Florence's Masta Blasta Lures - QLD:

Mal has been in the Australian lure scene for what seems forever. His range of lures included the original 'Masta Blasta' and 'Bass Masta' models. Lively Lures started moulding the Masta Blasta in the 1990's.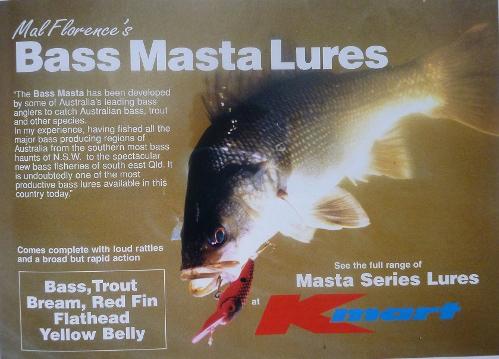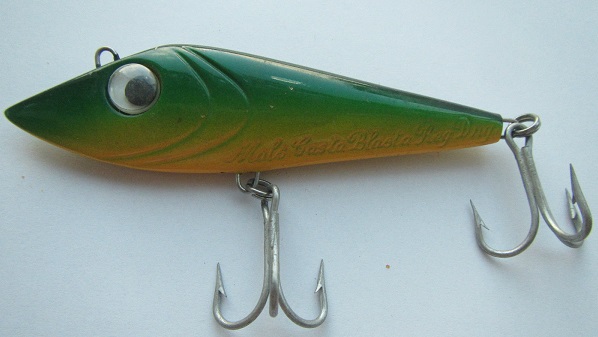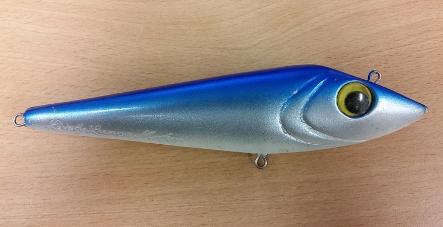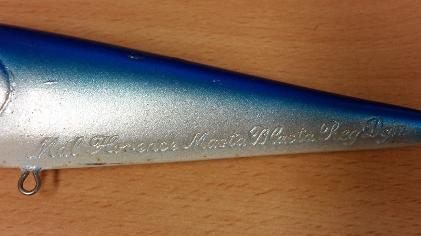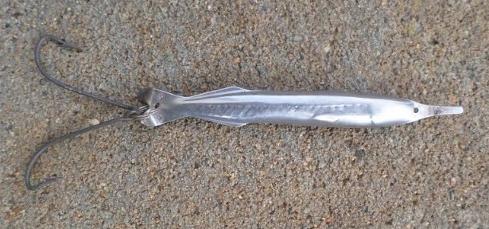 Marcie Stainless Steel Garfish Spinner - NSW:
These lures show up occasionally and are a metal garfish imitation. They were called the Marcie Stainless Steel Garfish Spinner and came with a painted red beak and two single hooks on the rear. Trade enquiries were to J A Jones Manufacturing Company who were situated in River Road, Revesby in Sydney. See J A Jones Manufacturing Company
Ma-ree Lures - QLD:
They were produced in the mid 1990s by a local Gold Coast resident, Gordon Turner. There were a few models including the 'Ewok', 'Sprats', 'PG-8' and 'E.J Deep'. Lures are moulded.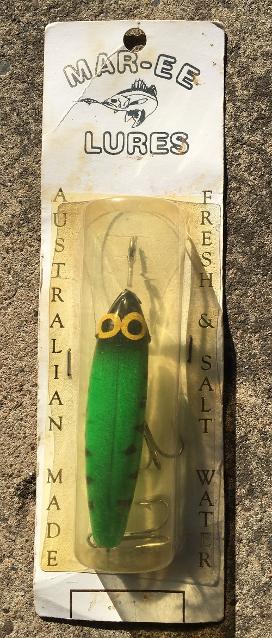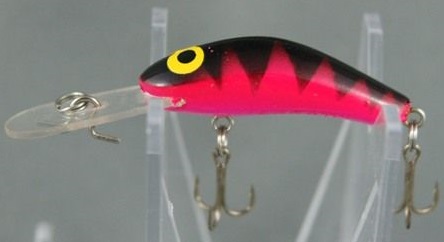 Lure below is an 'E J Deep'. The lure name will be moulded into the body as shown in the photo.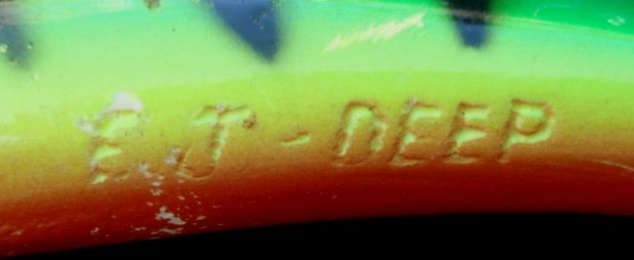 Mark 'A' Lures - QLD, N.T:

Mark Andrews has been making lures for many years and his lures are original and made of timber. His patterns show many influences and are particularly suited to tropical applications however Mark has a wide range of models and styles to suit most angling applications in salt and freshwater.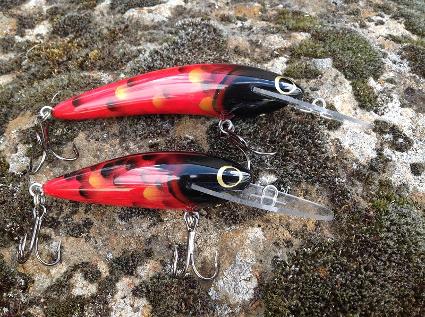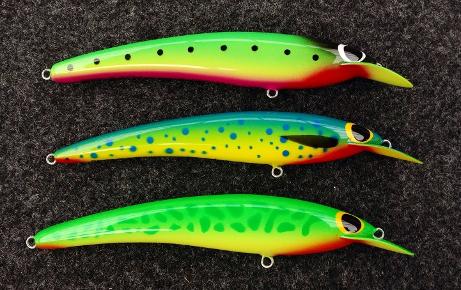 Shown below is the basic colour chart for Mark A lures as of 2017 and as can be seen there is a vast array of patterns to choose from. Mark also emphasised that this is just the basic colour range and that any custom pattern can be achieved and is possible.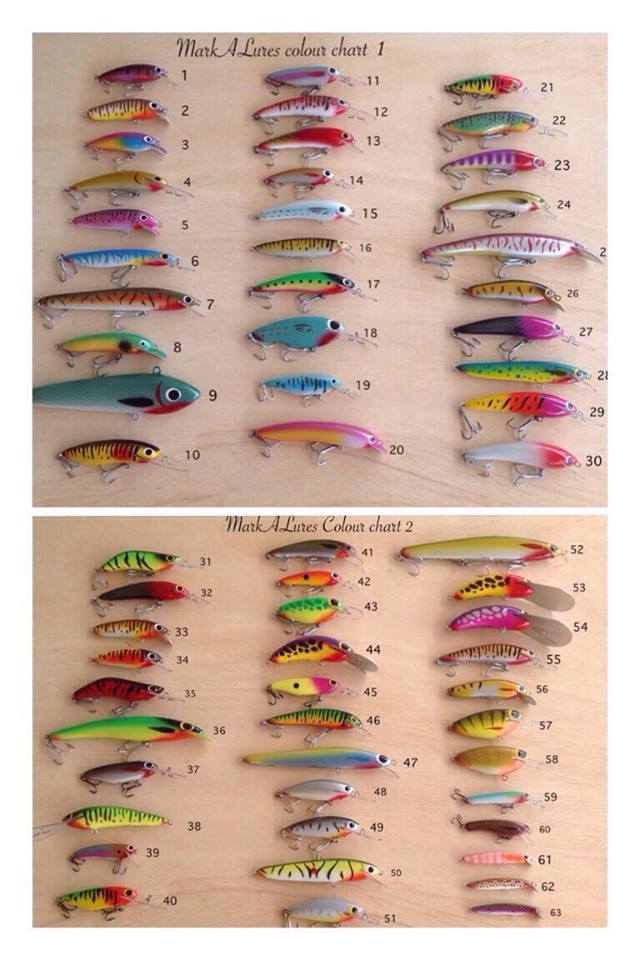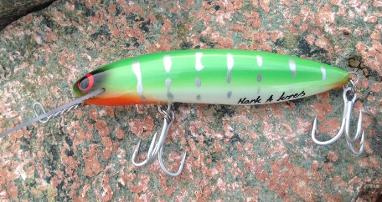 A couple of custom colours that Mark has created.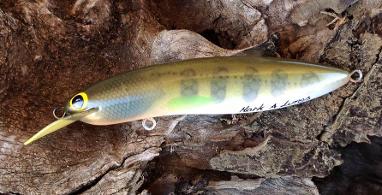 The naturalised custom cod colour shown below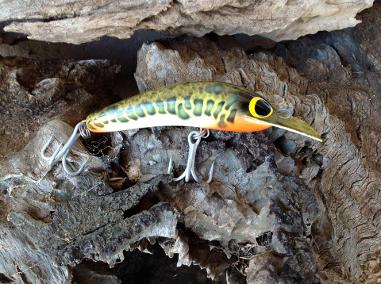 Shown here are some of the models available in 2017. This includes 36 separate models with some being different sizes of the same model such as the Barraboof which comers in 3 sizes.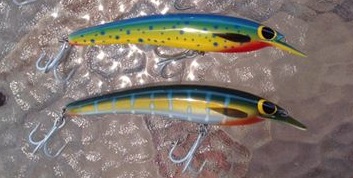 Shown below are some of the older models that were available in 2014. All material for this profile was supplied by Mark Andrews with permission.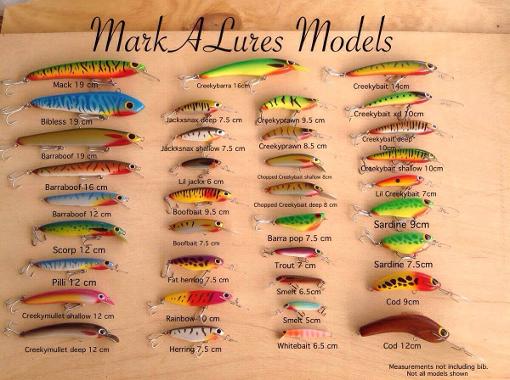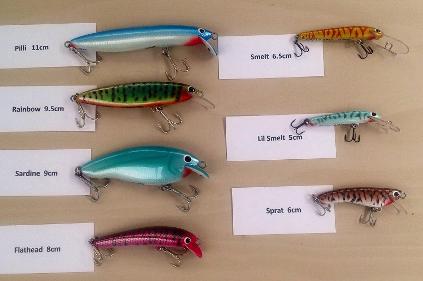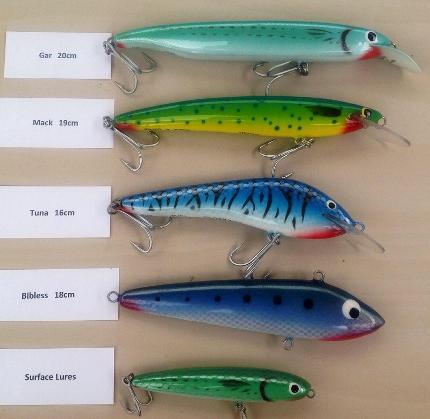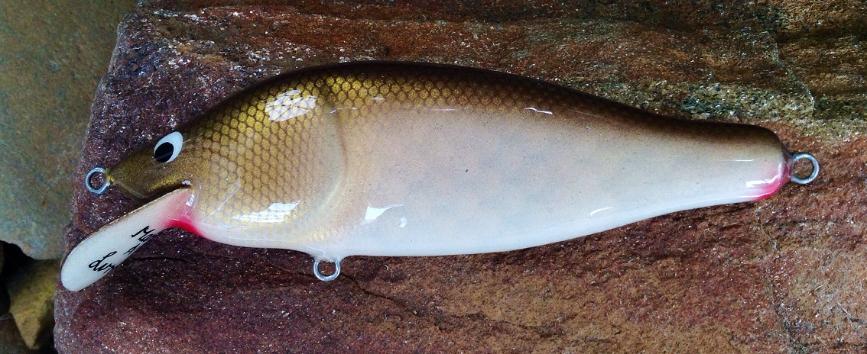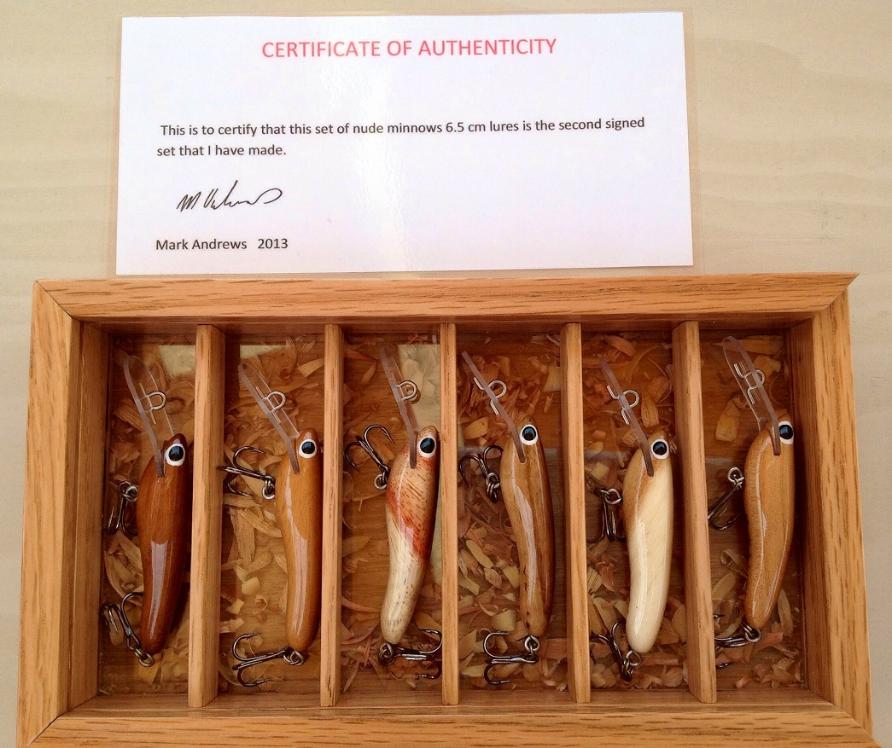 Marouski, Moose Marouski Lures - QLD:

Moose Marouski is an iconic Queensland angler who made lures in small numbers for personal use. A highly respected lure maker and lures are quite distinctive and easy to identify with real character. At least two distinct models were made.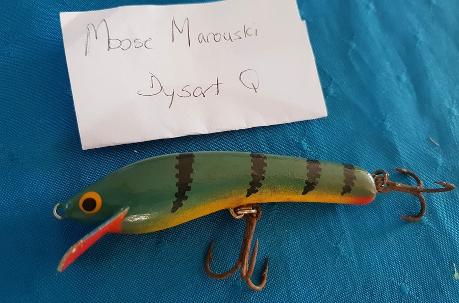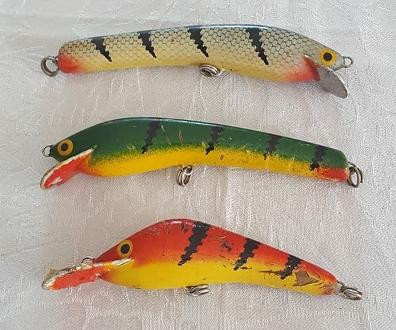 Marshall, Terry Marshall Lures - QLD: For more information See 'Garra Lures'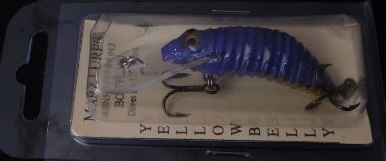 Marz Lures - NSW:

Maurice Marsden has been making lures for many years and his lures are original and distinctive. Shown are few different types of packaging.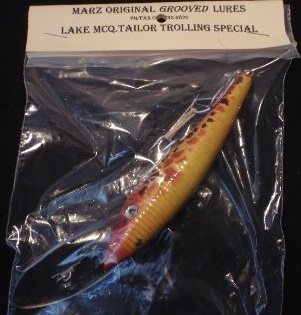 Maverick Tackle Company - NSW:

Maverick Lures were a metal slug style spinner that were highly effective and relesased in the 1970's by the Maverick Tackle Company from Beaconsfield. There are a number of models including the Boa, Diamond Head and Maverick.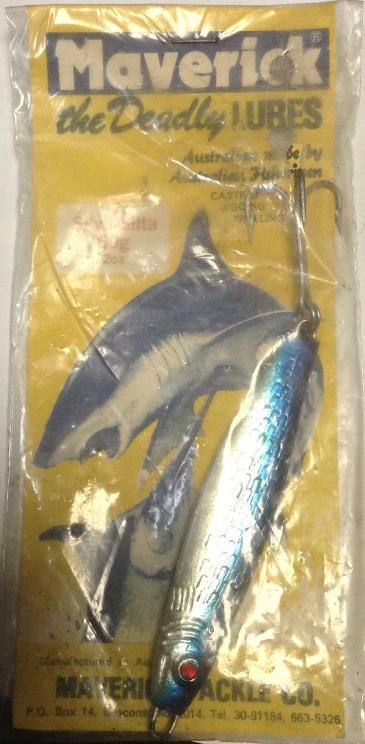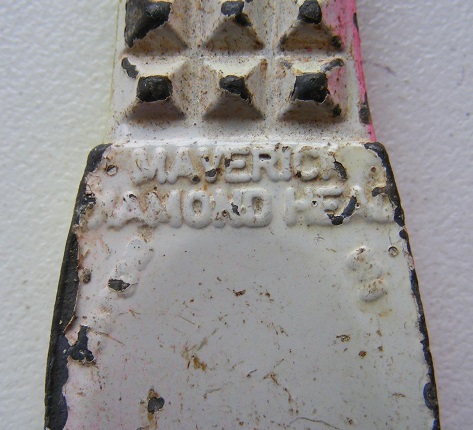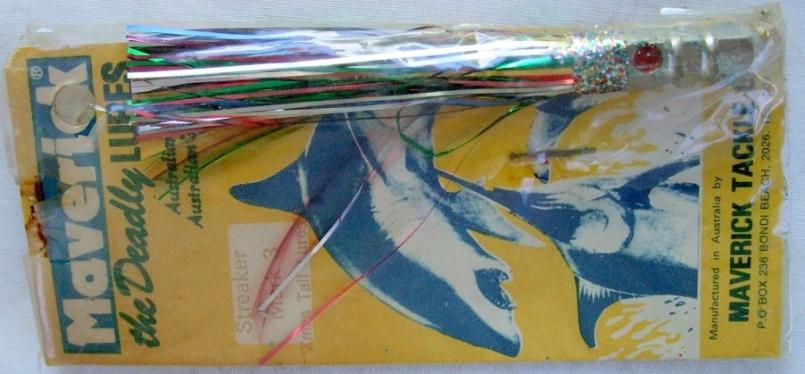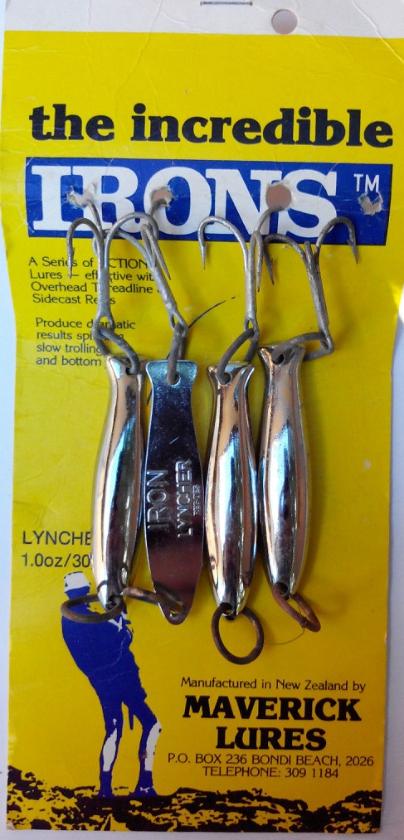 It seems there was a change of manufacture to New Zealand with the 'Irons' range as shown below where the phone number stayed the same but the contact post office box is now in Bondi, Sydney. Before this there were some models that were in older style packaging but also with a Bondi address and still made in Australia. Cards have changed from 'shark' to 'hooked-up' cards.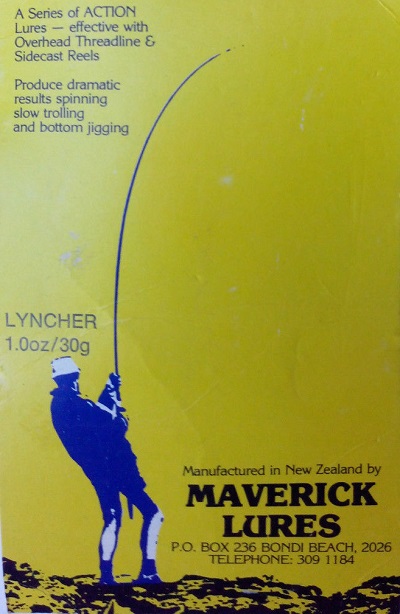 Maxi Lures:
The only example of a Maxi Lure appeared on Ebay in August 2011 with a lure that was a Kadaitcha copy named the 'Witchdoctor' and signed on the bib and belly near tail.


Mc Cod Spinnerbaits - NSW:
Mc Cod Spinnerbaits are made by Les Reibelt in Gilgai, NSW. Mc Cod Spinnerbaits are built tough and in larger sizes and have accounted for many large cod. The lures pictured were provided by Les in 2019 at Glen Lyon Dam. Available in a range of sizes.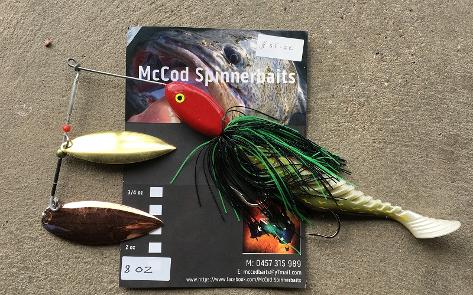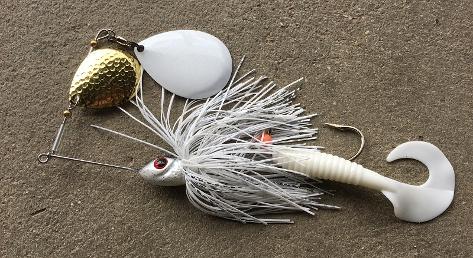 Large 8oz (225gr) spinnerbaits in fish catching colours. Built on stiff heavy wire core and double rigged hooks. This is the largest in the range.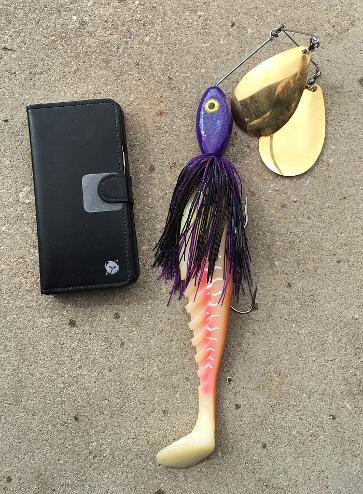 McConnachie Lures - QLD -
Jim McConnachie has been making lures since the mid 1970's. See full page bio under McConnachie
McCray, Alan McCray Lures - QLD:
Alan Mc Cray was a small time hobbyist maker who was based in Cairns and carved timber lures in the 1980's.


McFarlane, Brian Mc Farlane Lures:
Brian Mc Farlane is another of the dedicated hobbyist lure makers this country has to offer. Makes a quality timber diving lure with basic effective colour patterns.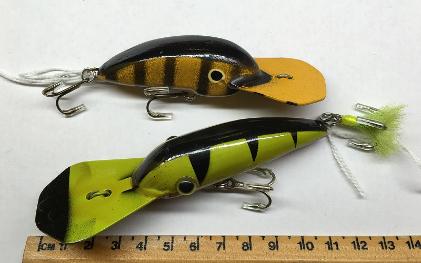 McFeeters Lures - NSW:

Legendary lure maker Trevor McFeeters, is another lure maker from Tenterfield, definitely a 'hot spot' of the Australian lure making scene. Trevor's early yellow business cards list his Rouse St address and they are marketed as 'The Original Tenterfield Lure'.
See Mc Feeters/Tenterfield Lures full page bio
McGrath Lures - NSW:
McGrath Lures carried on the original design by John Bennett and Steve McGrath after the business partnership separated and by this stage the design was well recognised as an excellent fish catcher especially suited to impoundment trolling. See McGrath Lures full page bio
McIlwain Maulers:

A marked timber bibless lure by an unknown maker. Definitely Australian made and vintage. Signed on belly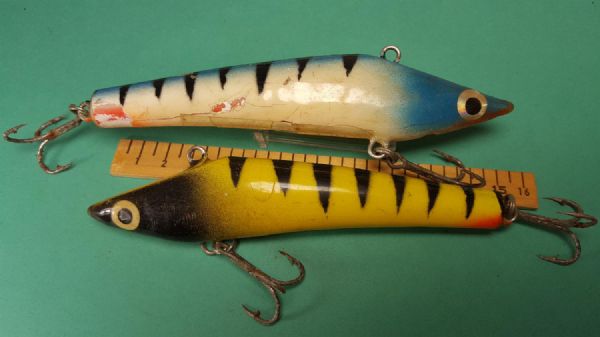 McIntosh, Kevin McIntosh Lures - QLD:

Little known and obscure lure maker that made quality hand made lures through the 1990's and still making lures in small numbers today. Based in Townsville, Queensland.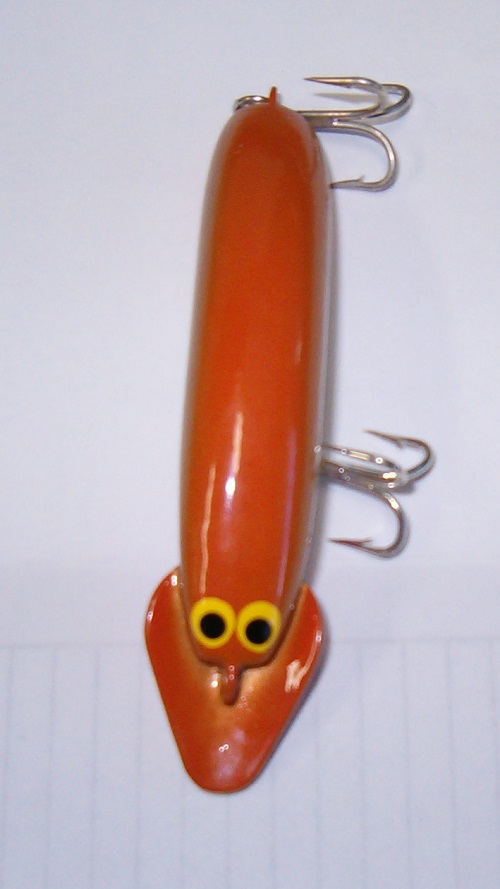 Kevin contacted Lure Hub OZ in 2018 and provided some background history on his lures;
"The two older lures you pictured I made in the early 90's. These were airbrushed with enamels and finish dipped in clear varnish. The two lures in question, if my memory serves me correctly, both have stick- on eyes I punched from available product at the time. I've attached some other lures which I made around 2008 and were painted with Super Cheap spray cans. I still make lures when I have time as its good for the soul. I've been fortunate to meet some interesting and creative people due to making lures. There seems to be a comradery among those I have met and a willingness to assist each other. This can also be said for Carl Grist (original C Lures) who visited by brother-in- law and I many times in Townsville to discuss and swim lures in my pool - Carl resided in Charters Towers at the time."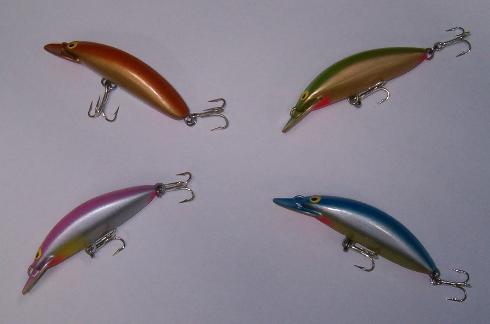 The following lure was shown on the Lure Lovers forum. Lure is signed on the bib 'K. Mc'. The other was purchased from a Townsville tackle shop in the 1990's. These lures do appear and most are easily identified and will be signed as shown.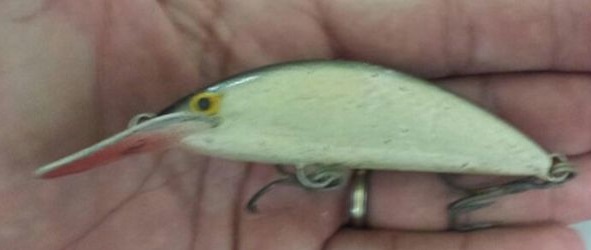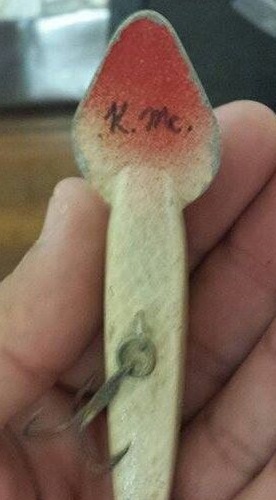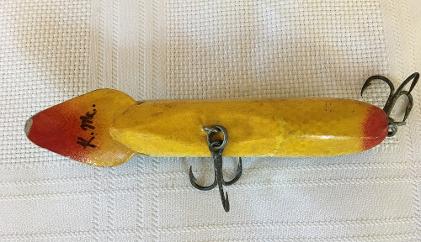 The small lures below are two lures from Kevin named the 'K-Rap' and 'Guttertrash' c.2010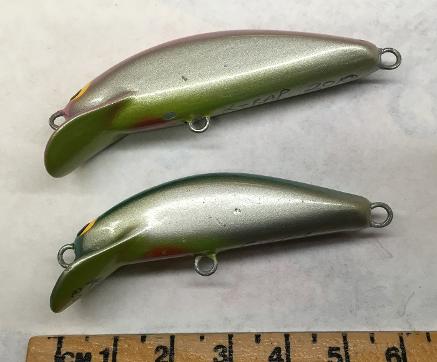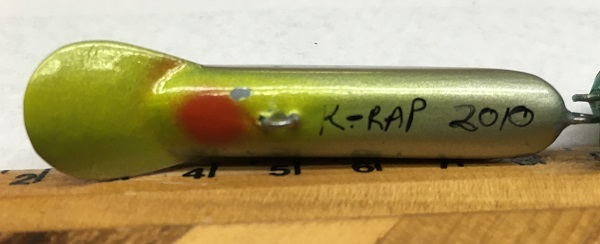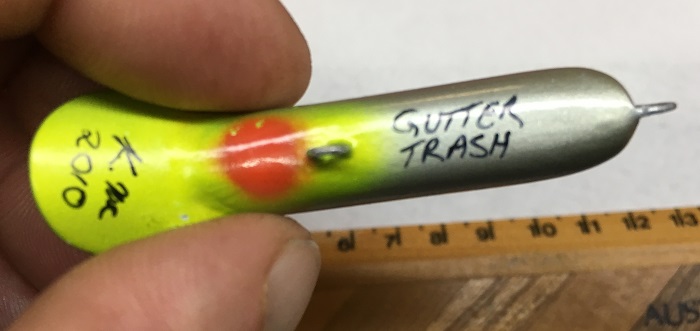 McLaughlins Lures - NSW:
McLaughlins Lures were first available in the 1990's and produced a wide range of lures suitable for a wide range of fishing applications. Their products are injection moulded plastic and the range included hard poppers and larger foam poppers, metal slug lures and skirted game fishing lures. Lure models are all shown right with a full page advertisement from Freshwater Fishing magazine c. 1995. Lure below is a popper from the 1990's which will have McLaughlins printed with a map of Australia.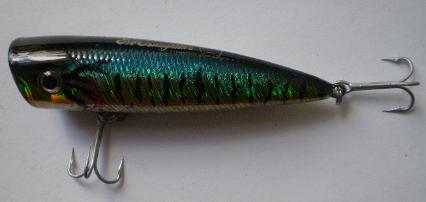 Mackenzie, Howard Mackenzie Lures - NSW:
Howard Mackenzie lures came in a couple of sizes and all lures have rattles. See Macka Bass Lures, NSW.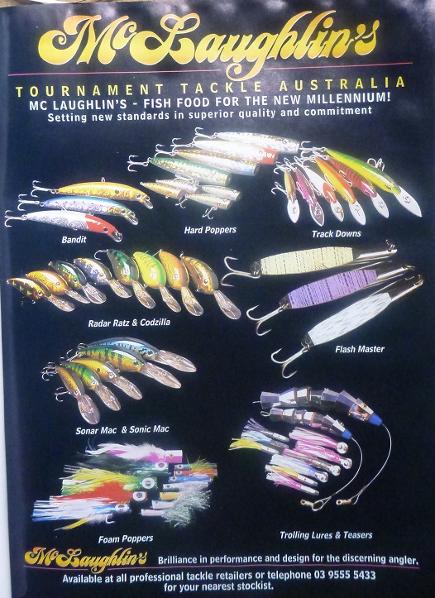 McLean, Peter McLean - QLD:
Peter McLean made a distinctive lure which imitates a yabby. Hand carved timber with simple enamel paint work and three black stipres each side. Some will be signed 'Pud' which is Peter's nickname. Stanthorpe area.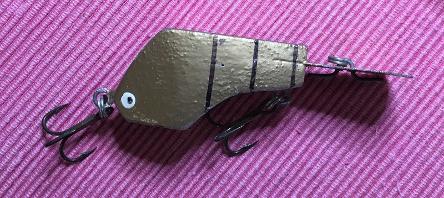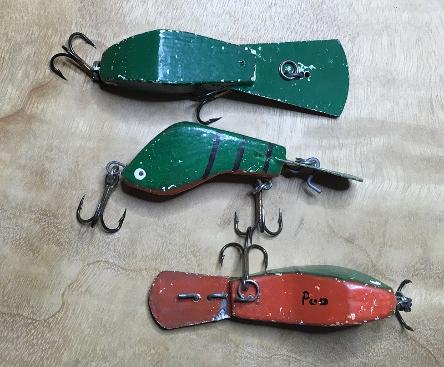 McQueen, Darren McQueen Lures - NSW:
Darren McQueen lures are beautiful carved creations with names like 'Roger Rat' and 'Gudgeon'. He also works with foiling lures including foiled humpback and bass shad. He is based in Casino NSW. Lures are uncommon as they are only made in small numbers.They may also be referred to as 'D Mac Lures'.
Lures shown are an unknown 'Kadaitcha' style lure and 'Roger Rat', a very realistic black mouse imitation. Some Darren Mc Queen lures will have his name and/or model etched into the bib whether it is metal or polycarbonate as illustrated.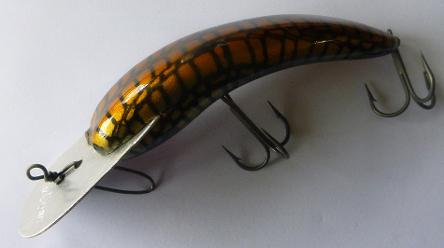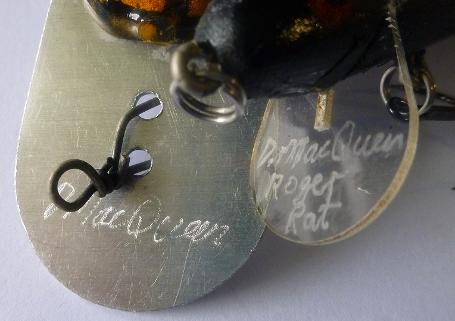 Photos below shows two examples of the Mc Queen foil finished lures. Opposite most recent examples c. 2020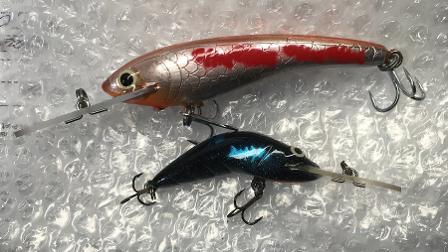 MD Lures - QLD:
MD Lures are made by Mark Dunham of Cairns. Mark has been making lures since the 1990's and has forged a reputation for making a quality timber lure. Lure shown top is an old deep diving model with signed bib.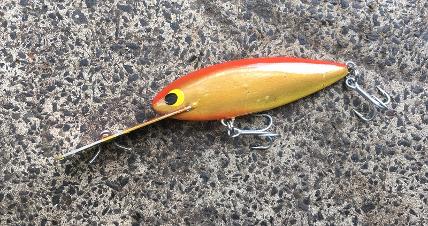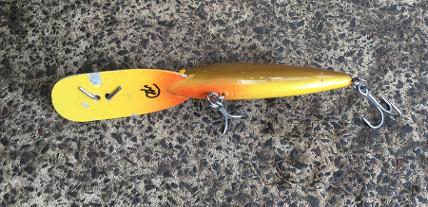 Lures shown below is an early model left and a more recent model c. 2011 shown right.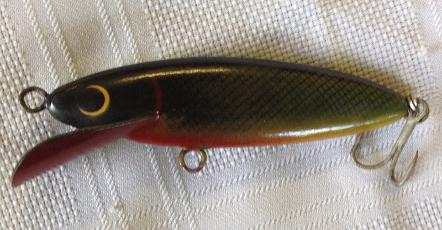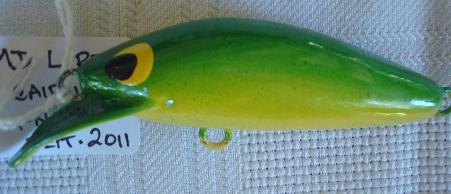 Photos courtesy of Tony 'Captain Seaweed' Bartlett.
Melguard, Neville Melguard Lures - VIC:
Another obscure maker from Victoria who made quality medium sized deep diving lures for cod. Bibs could be metal or polycarbonate and were pinned into the body visible underneath the lure. Rare and uncommon.
Mencho Lures - NSW:

Darcy Menchin makes some interesting lures and is based in Raymond Terrace. Father and mentor to Jayden (Bobbles Lures), he has been making lures since the 1980's and has some classic models including the 'Horny Toad'. So many different lure names for this maker who is prolific.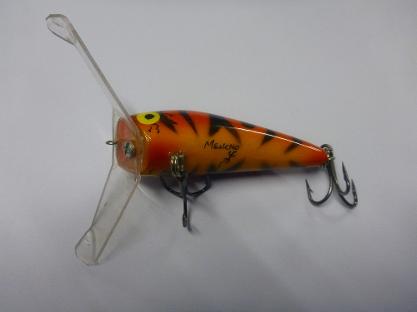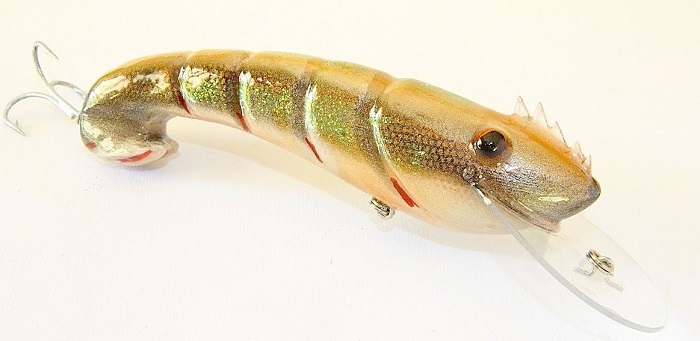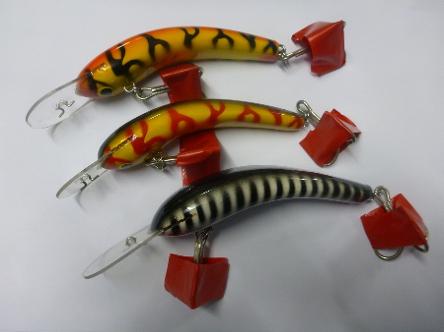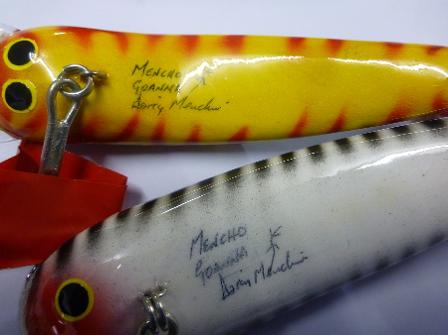 Mencho lures will be marked on the belly and will often feature a stylised goanna or lizard along with the name of the lure and signature. Some Mencho lures are experimental and there are many variations of models and individual pieces.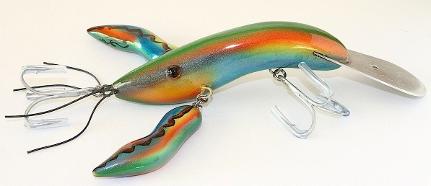 Darcy Menchin has a great sense of humour and this is the Mencho 'Horny Toad in the Hole' with pants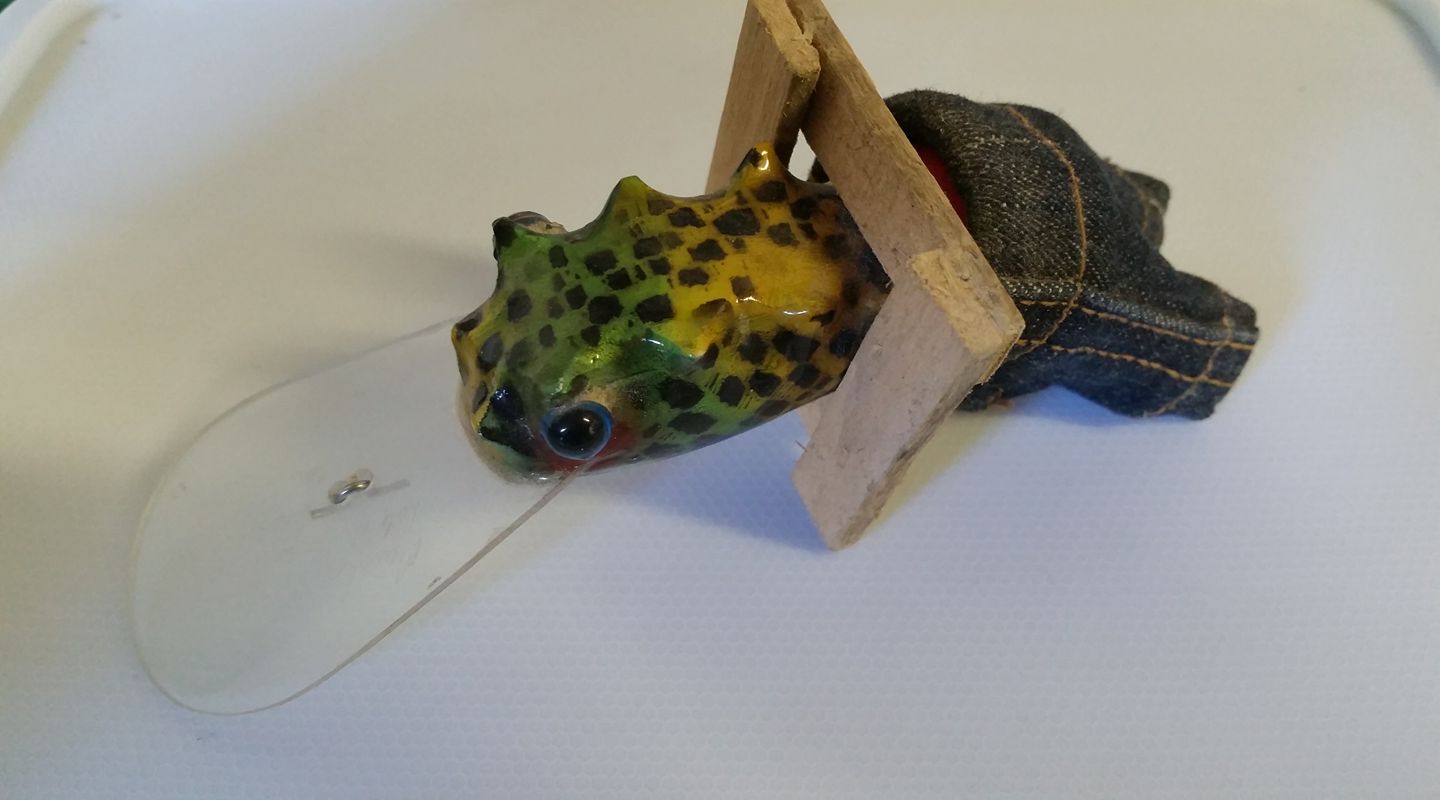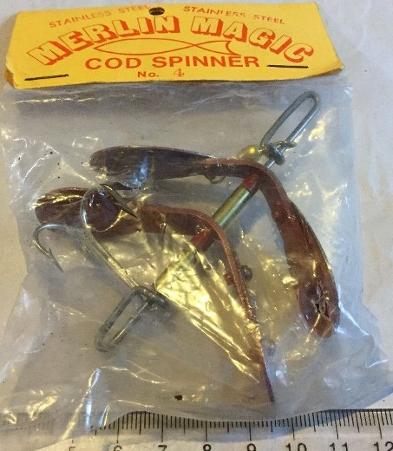 Meridian Lures :
No current information
Merlin Magic Lures :
Another classic of unknown vintage but would probably guess 1970's by the hardware. Looks heavy duty with riveted stainless steel blades as shown in photo left of a Cod Spinner No 4 in original packaging.
MFL (Moore Fish Lures) - QLD:
Moore Fish Lures (MFL) are made by Col Moore in Townsville. A quality lure by another of the Queensland hobbyists.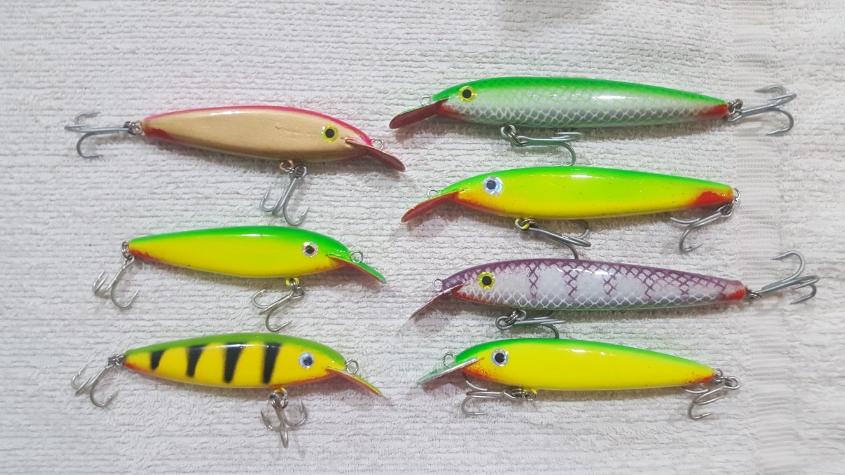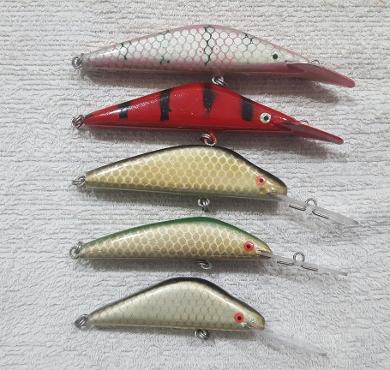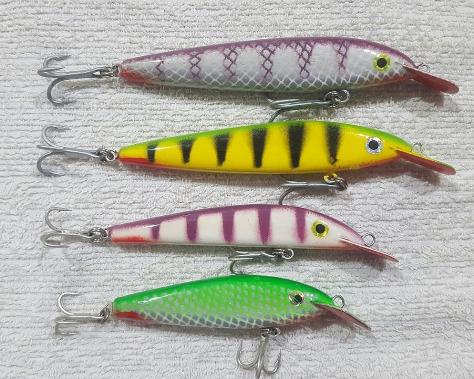 Milligan, Mark Milligan Lures - QLD:
Mark Milligan is from Townsville and shapes timber minnows. Hobbyist maker influenced by George Dempster which can be seen in the example opposite. Generalised shape similar to Dempsters with scooped bib but without the finesse. Note thin wire hangers.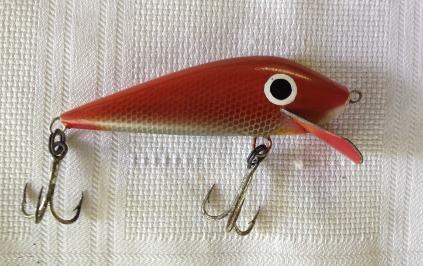 Mills, Bob Mills Lures - QLD:
Another backyard maker/ cottage maker shaping wooden minnow style lures in the Cairns area. Lure shown is dated to the late 1970's.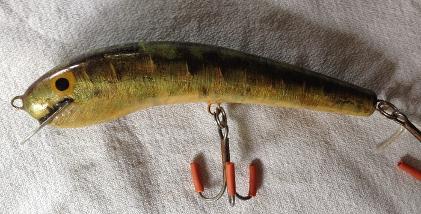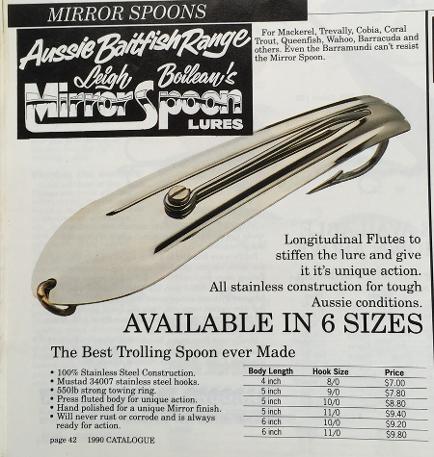 Mirror Spoon Lures - QLD:
Mirror Spoon Lures made by Leigh Boileau of Brisbane marketed a range of metal vibe lures under the name of Mirror Spoon Lures and Bladerunner Lures. The Mirror Spoon models are very similar to the older Pflueger spoons that had a single hook secured to a polished spoon with a screw and split pin arrangement.
The following extract below is c.1995. Left is Harbord Tackle catalogue for 1990. See also Bladerunner Lures.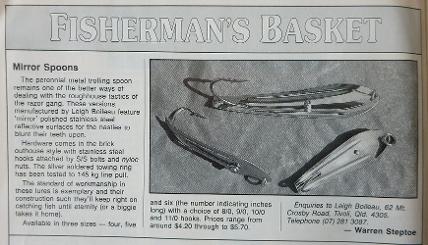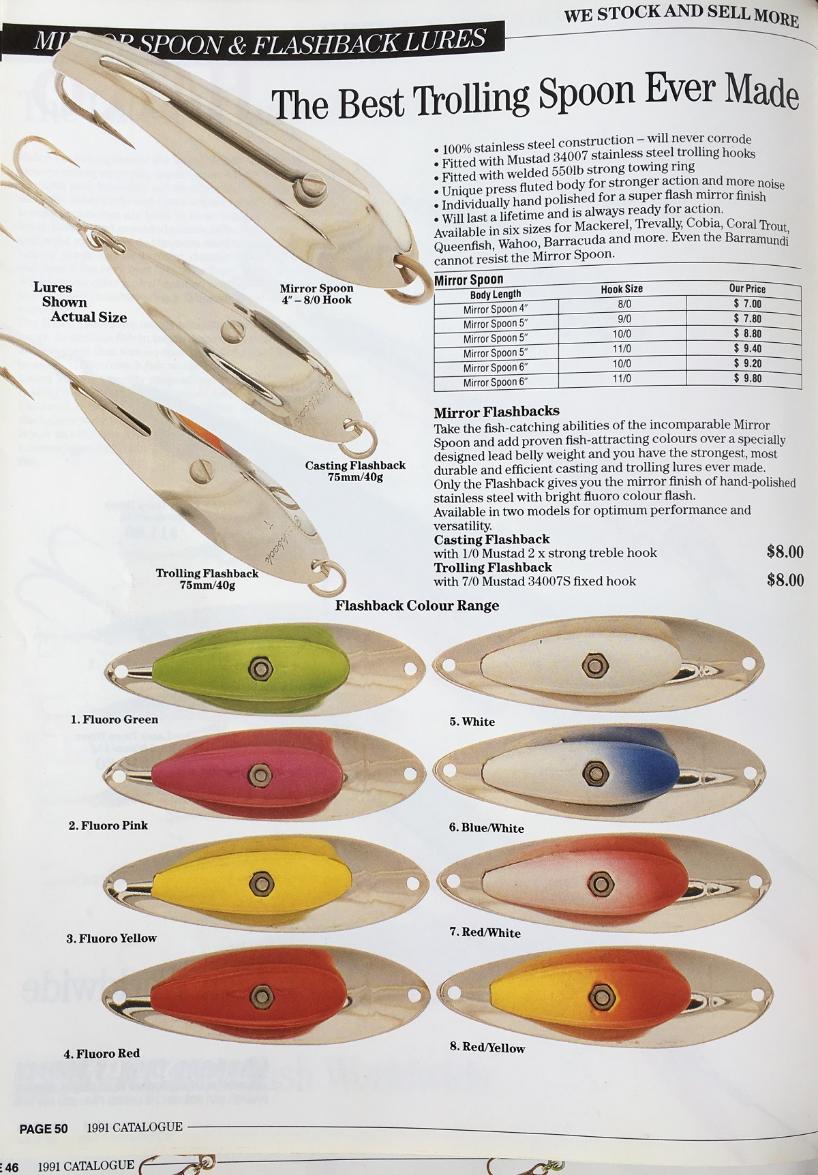 Harbord Tackle catalogue 1991 showing the colour range for the 'Flashback Spoons'
Mitch Lures - NSW:
Mitch Lures were made in the early 1990's by Grahame Bray from Swansea and were essentially a yabby imitation. They were only ever made in small numbers and are difficult to find. There was mention of Mitch lures in Fishing World, January 1991 and there is some association with Nick Babic who made Swansea Lures in the same area with Grahame and Nick knowing each other. The Mitch yabby is a very interesting design with radical curves and came with two bib configurations - a shallow bib and a deeper diving polycarbonate bib. Photo from article shows both versions and three colour variations. Scarce and hard to find.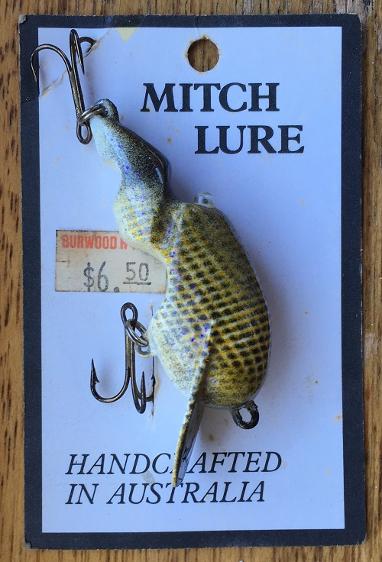 The lure above was unearthed in 2018 on an original card with price sticker. There were other models shown opposite with a distinct influence and styling of Nick Babic.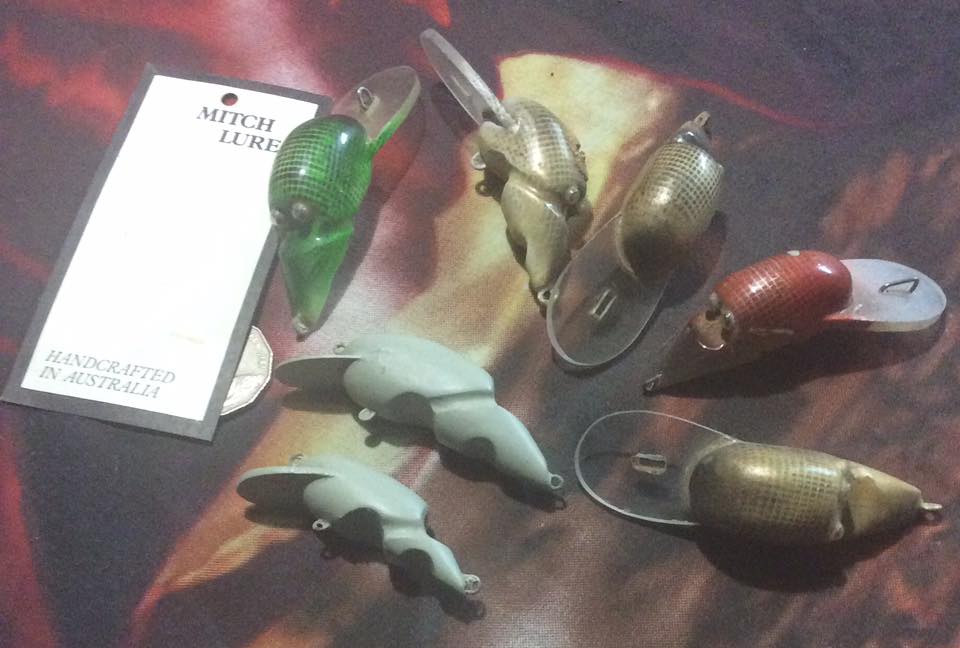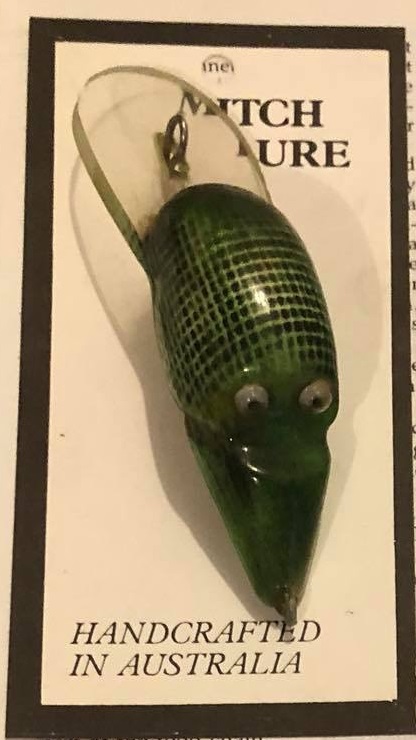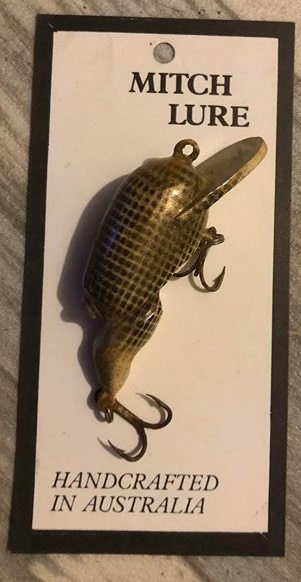 Grahame Bray confirmed 'I made about 2000, started making them in 1985 and stopped in 1994. Made by hand from jelutong timber.'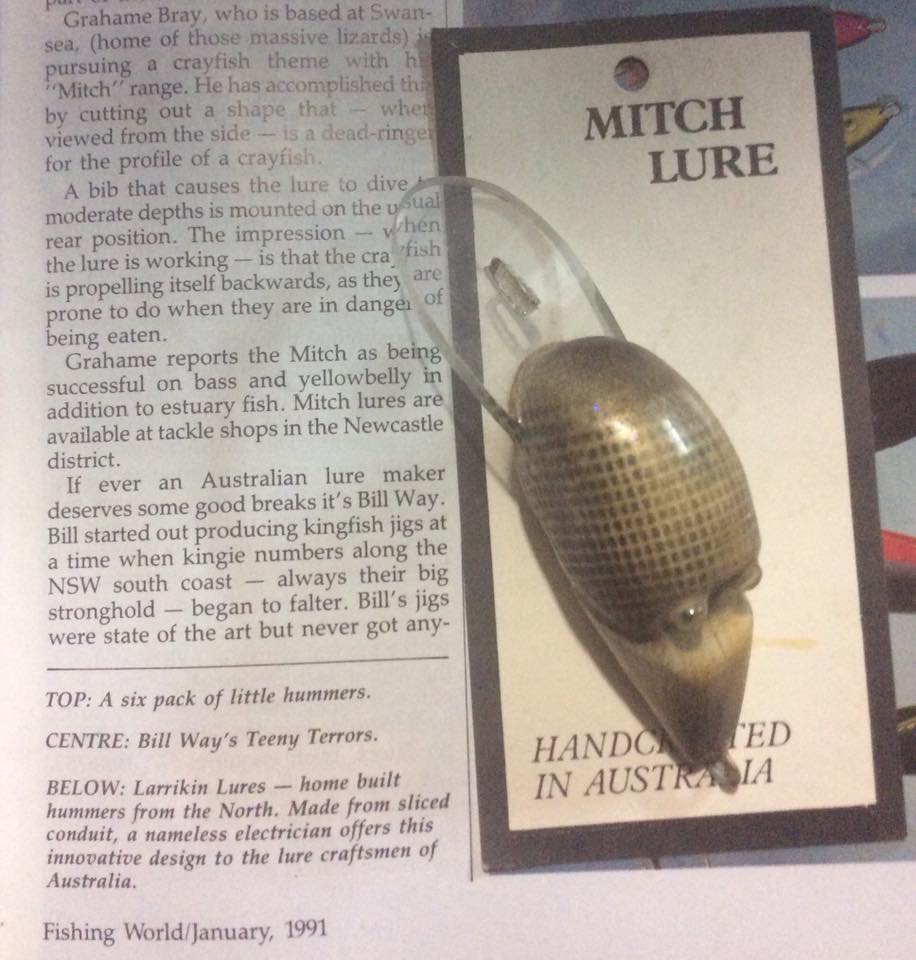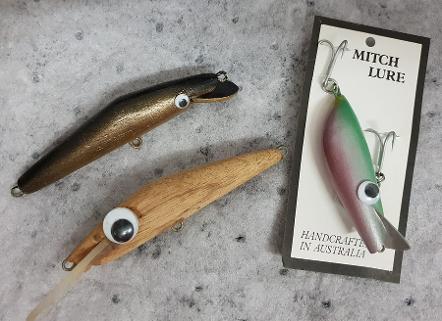 Mitto's Lures - NSW:
Whilst the maker Darren Mitten now lives in Newcastle, he took up a teaching position in Tenterfield between 1991 and 2007 which is why his lures have been heavily influenced in shape and with the 'Tenterfield Towpoint' setup. Darren is one of the few modern Australian lure makers that uses spray cans to paint his lures as opposed to an air brush. See the 'Mitto Story' below. Hand crafted from Cedar or Jelluton. Models include the big DM1000 is 110mm long, DM100, DM80, DM70, 'Big Fatso' and 'Fatso'. Mittos lures also does 10 patterns in the 'Tiger Range', 9 patterns in the 'Fluoro Range' and 8 'Spotted Dog' colours. Ideal lures for Australian native fish.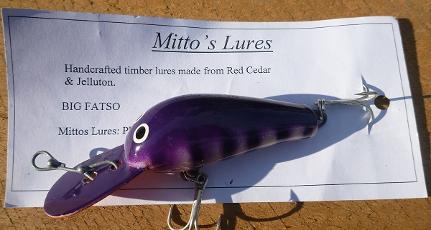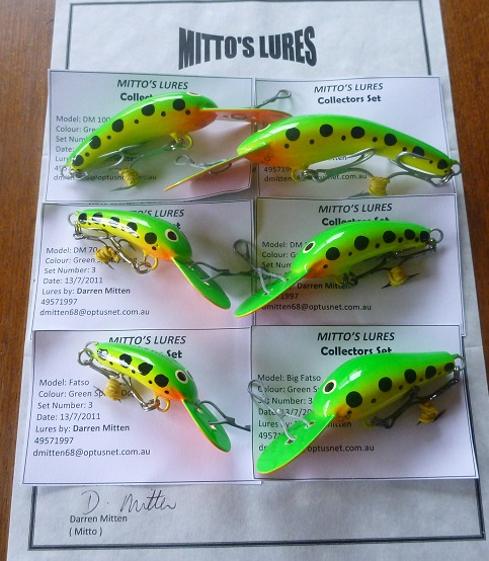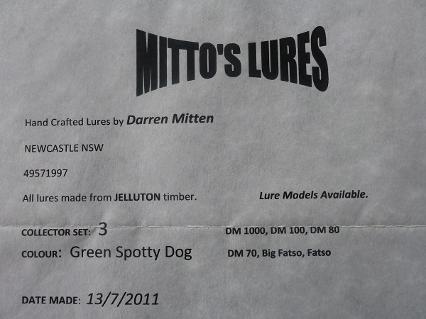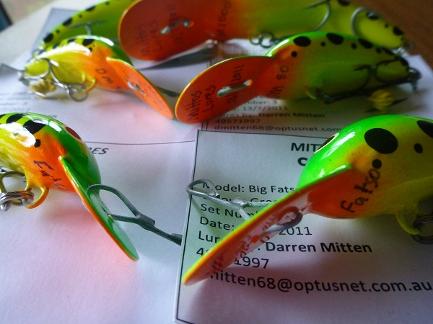 MK Killers - NSW:
These lures were made by Mark Kirkman who was from Sawtell. Signature on the belly, lures and handcarved from timber. Older lures but unsure of exact years of manufacture.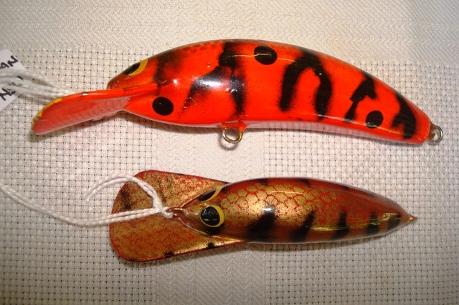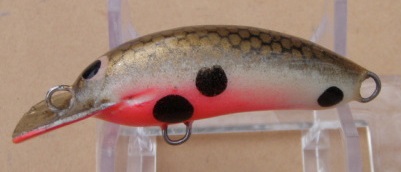 These lures below were uncovered at Expo 2018 and are three unsigned Mark Kirkman lures including a plastic bibbed model (handcut bib).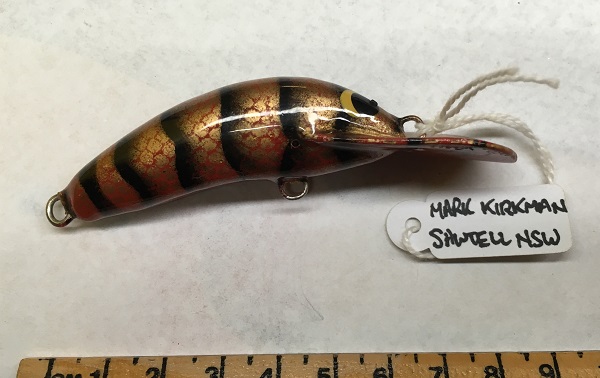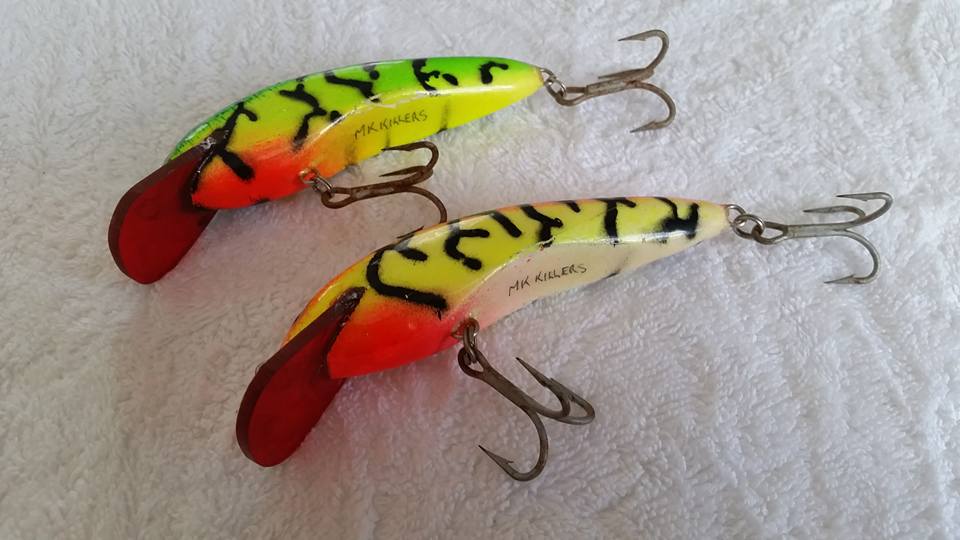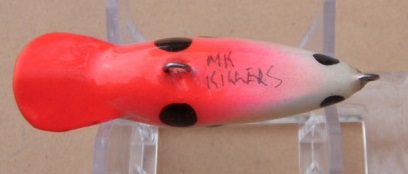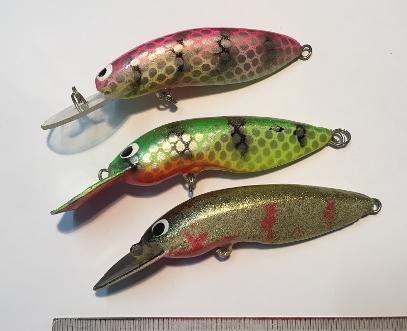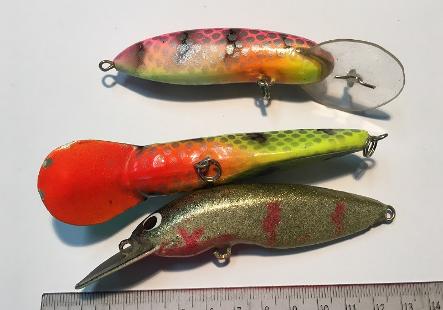 MK, Morry Kneebone Lures - NSW:
Morry is a prolific maker of timber fishing lures and has developed his own method of making lures with all lures being through wired and many with the characteristic metal or plastic keel. Morry Kneebone lures have been made for many years since the 1990's.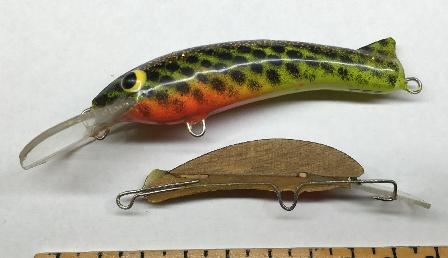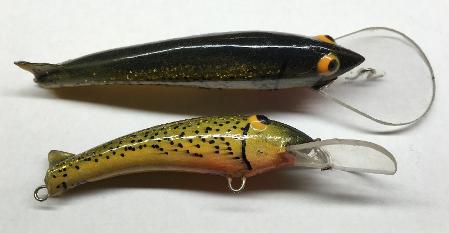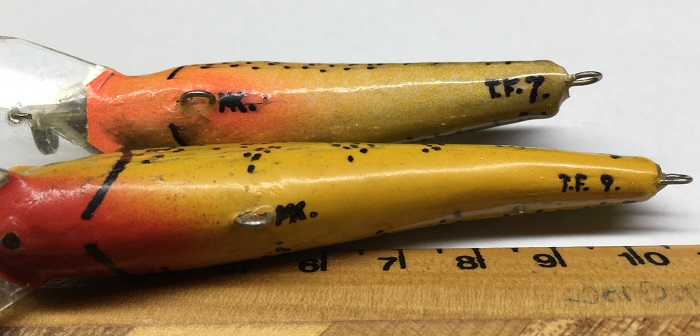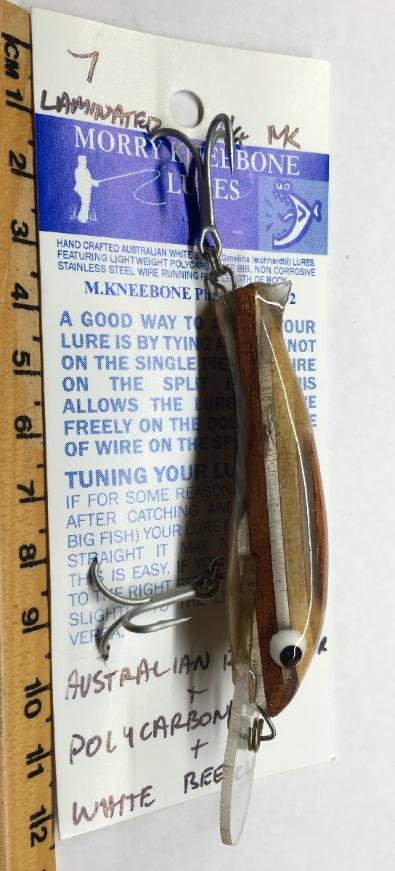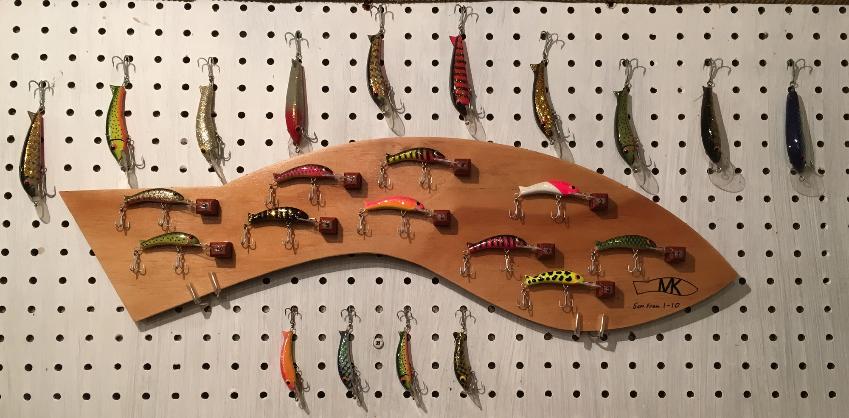 Morry released the surface garfish in a number of sizes in 2019 - through wired and a magnificent lure
Moller, Eric Moller Lures - QLD:
Eric Moller is one of the most influential lure makers from the early days of Australian lure making and influenced many of the Queensland makers who copied his 'Moller Minnow' and cite him as one of the iconic Aussie lure makers. See full page bio Eric Moller Lures.
Monster Lures - QLD:
Monster Lures are made by Craig Olive from Gladstone area in Queensland. Solid well made lures that have been proven fish takers. Only available in small numbers. A selection of the range is shown below.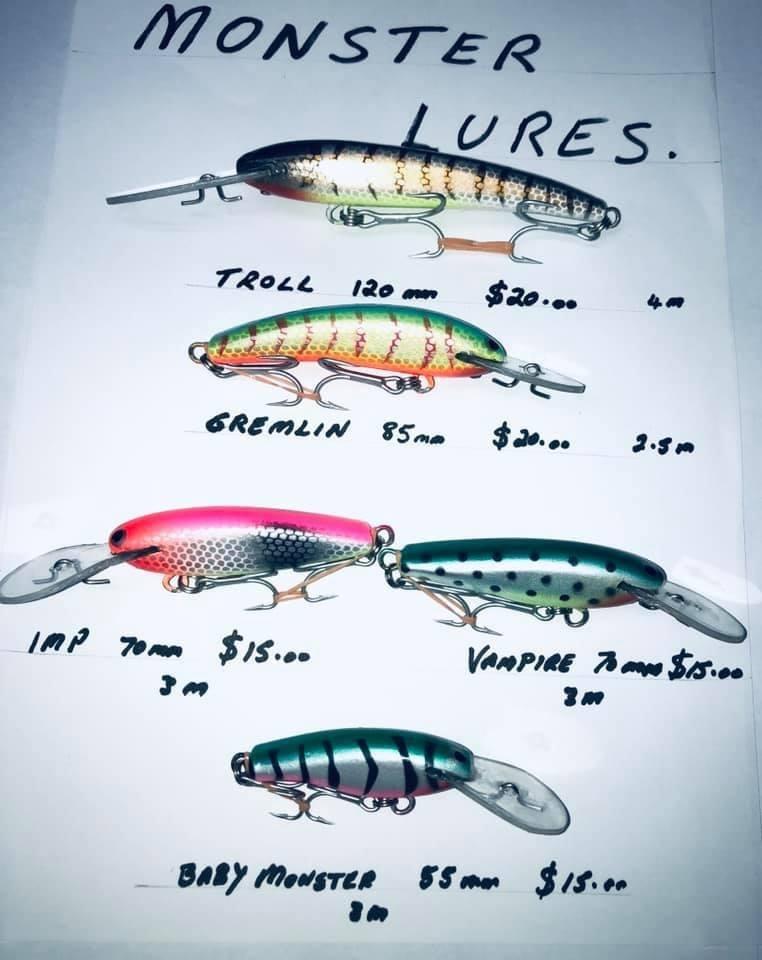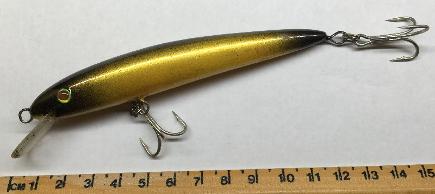 Moore, Brendan Moore Lures - QLD:

Another of the Australian cottage makers that only makes lures in small numbers and is based in Kingaroy. All lures are shaped from timber and signed near tail. There is wide variation of models including larger minnows such as the lure shown left, surface lures and smaller diving models.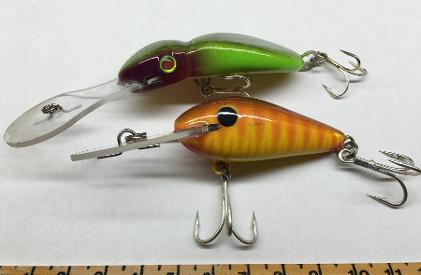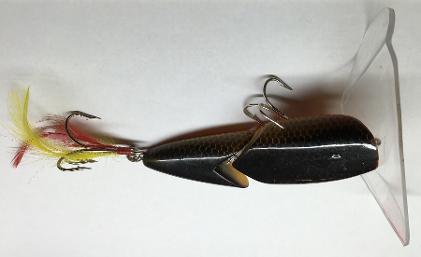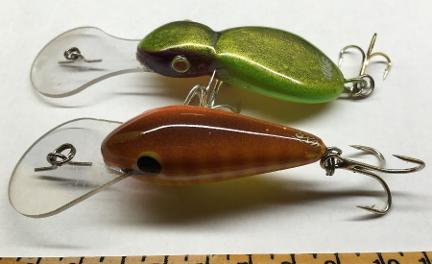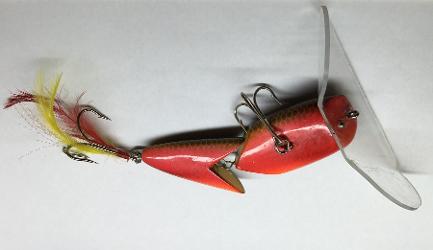 Morton, Dennis Morton Lures - NSW:
Dennis Morton used to live at South West Rocks and made this classic popper style lure that accounted for a large kingfish in the day. Interesting foam head attached to a piece of painted dowel. Eyelets are heavy duty and lure is large at about 180mm. No longer made and were only ever made for personal use of friends. Photo courtesy of Ted 'Lofty' Sartori from Esoteric Lures.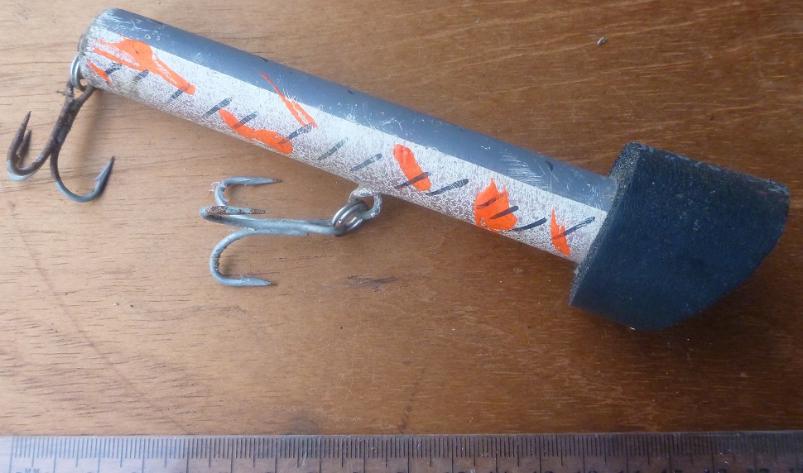 Morrie Kneebone Lures - NSW:
Morrie Kneebone has been making lures for many years and also used to make ARC Lures. See MK, Morrie Kneebone Lures.
Mr Jinx Lures - NSW:
A newcomer to the scene and making a quality product. Based in Wagga Wagga NSW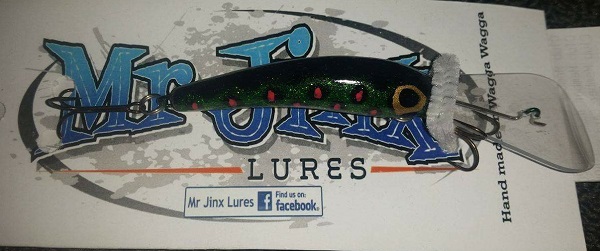 Mr Poppa's Lures - QLD:
A vintage lure maker that was active during the mid 1980's into the 1990's before ceasing production. Mr Poppa's Lures do show up occasionally and are often unidentified. Quality made timber models that were made in Mackay area. The following information was provided by Darren Ringelstein
"Mr Poppa lures were made in Mackay by brothers Tim and Mitch Galletly, and Ron Cariage in the early 90's. These lures were produced on a copy lathe and were weighted with lead in the back end to improve the action of the lures. Ron did all the painting. These lures were used mainly on big GT and Queenfish underneath the Hay point jetty but also on the islands surrounding Mackay on species such as Northern Bluefin tuna. Back in those days it was legal to fish under the Hay Point jetty and many fish were caught and lost to those pilons. In the early stages, Giant trevally (among other species) were caught on bare timber lures with no paint on them at all. Mitch and Tim were heavily involved in the ANSA Mackay sport fishing club where they both held executive positions of Club President at various times. Tim, Mitch and Ron were all heavily involved in the Mackay Game Fishing club also. Mr Poppa lures were also used for example, as prizes in the yearly Blue water and Seaforth fishing competitions. The 'Skippa' was the most popular model sold from the tackle shop – Fishing World Mackay on Shakespeare Street. Mr Poppa lures were well made lure with SS eyelets and eagle claw trebles. They were the 'go to' lure for surface fishing in the district."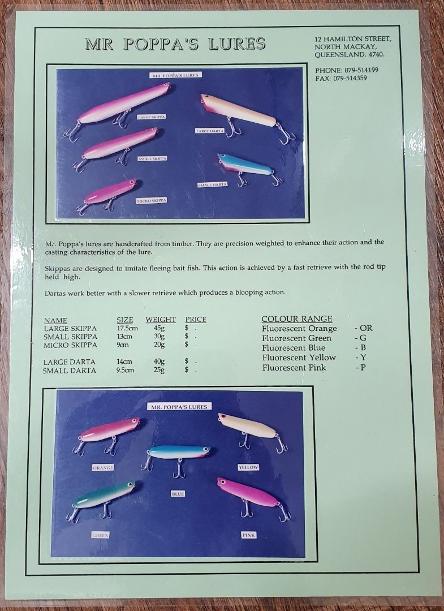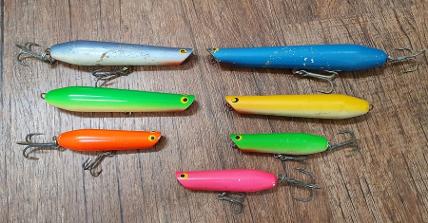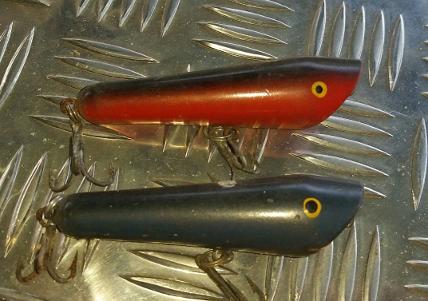 MTR Lures - TAS/USA:
Mick Robertson is another up and coming lure maker who is a native Tasmanian from Devonport but currently living and working in the USA. Making his first lure around 2012 for the Pedder 'Hombake', MTR Lures are made form Huon Pine and are some of the most unique lures around. Each lure is individually named and hand crafted to a high level and made for fishing.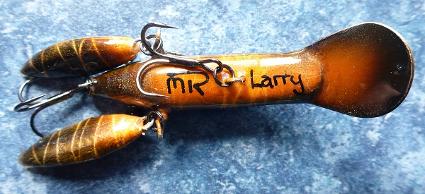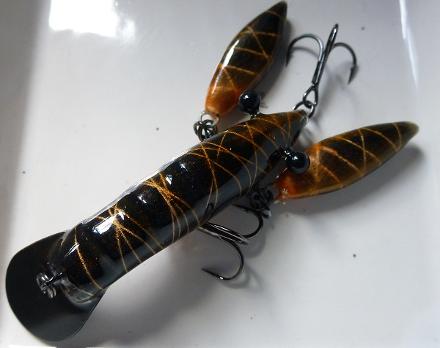 Mudeye Lures - NSW:
Jamie Flett is a superb lure craftsman who has been making lures for over 30 years (since 1985). Born and bred in Inverell, Mudeye Lures are a unique range of lures that were originally made of timber but later moulded. See full page bio under Mudeye Lures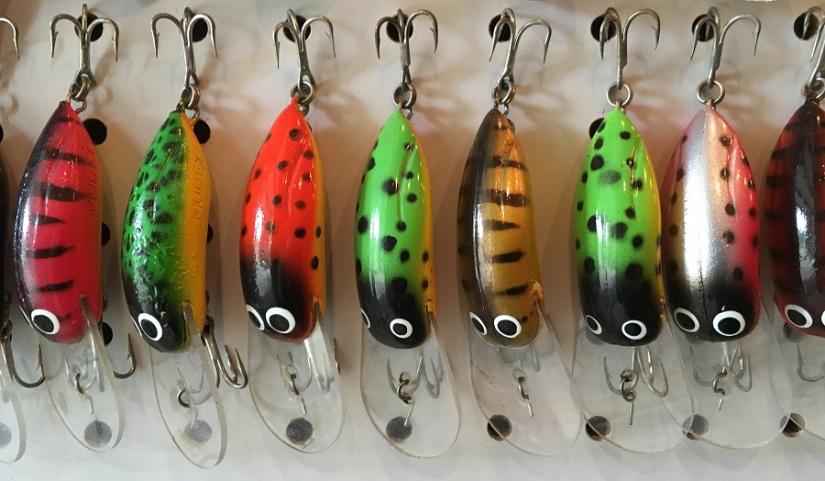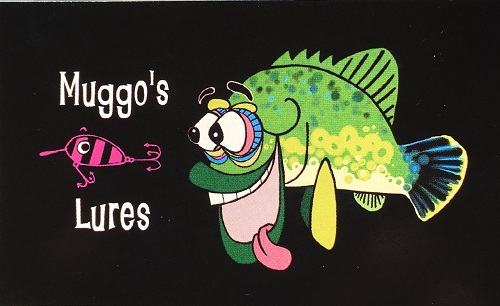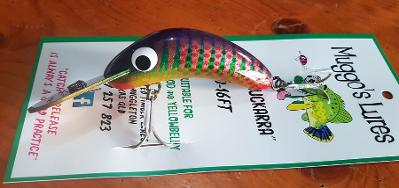 Muggo's Lures - QLD:

Muggo's Lures are made by Paul Muggleton from Texas, QLD. Photos shown are from his 2016 Lure and Fly Expo display. Below left is most recent release early 2019.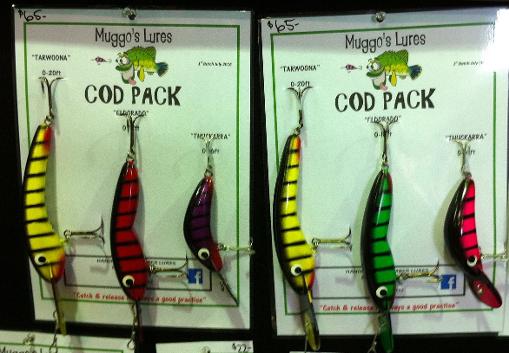 Muggo's had an impressive stand at Expo 2019 and won the award for best bibbed lure in the under $30 category.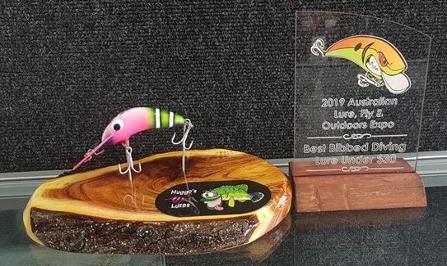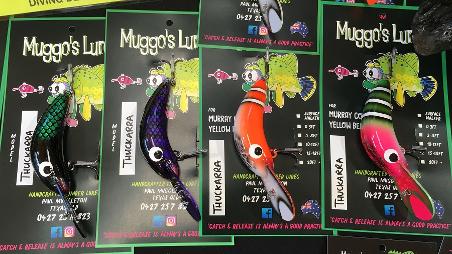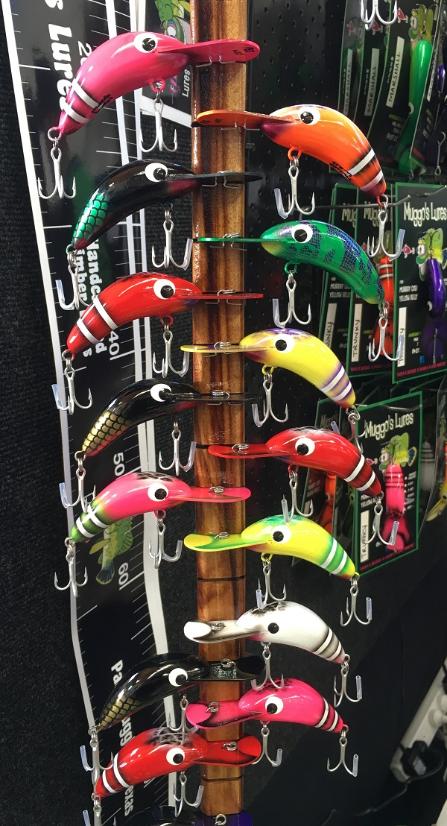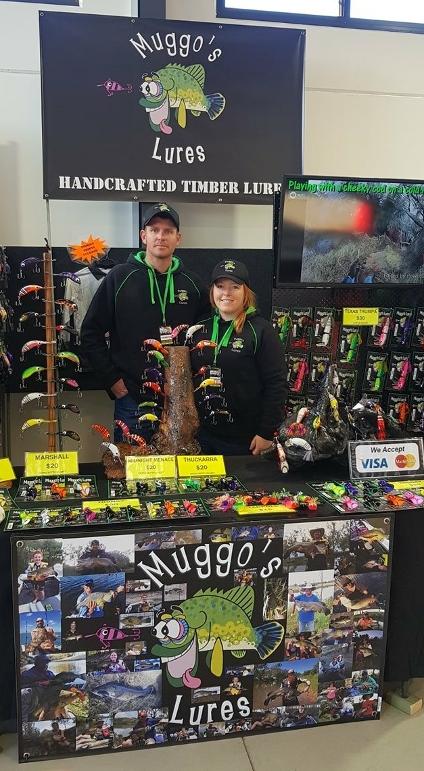 The Muggo's stand at Expo 2019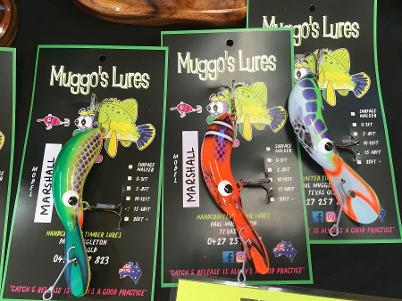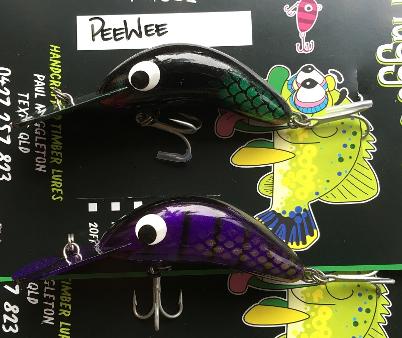 Muldoon Lures - NSW:

Muldoon Lures were made in North Wagga Wagga by Jason Mullarvey and have a reputation of being excellent Murray Cod lures. Their range includes some extra large crash diving models characterised by big wide bibs and robust body design. Originally constructed of timber, Muldoon lures are now produced by injection moulding hence older timber model are much sought after and more highly valued.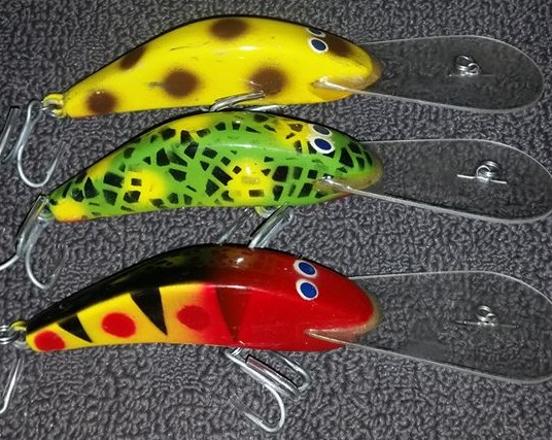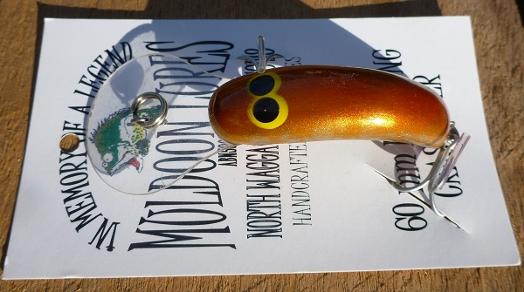 (Left) Early King Mong prototypes
(Below) is a timber jointed 130mm 'Big Mong' & 60mm body 'Mini Mong'.

(Below) Early carded timber 80mm 'Mong Mong' crash divers. This model came in deep and extra deep diver. Note the earlier cards have the printing 'Handcrafted Timber Lures'. Later moulded models will have 'Hand Crafted Lures' on the card. The 60mm 'Mini Mong' does not have the models printed on the cards as they are much shorter.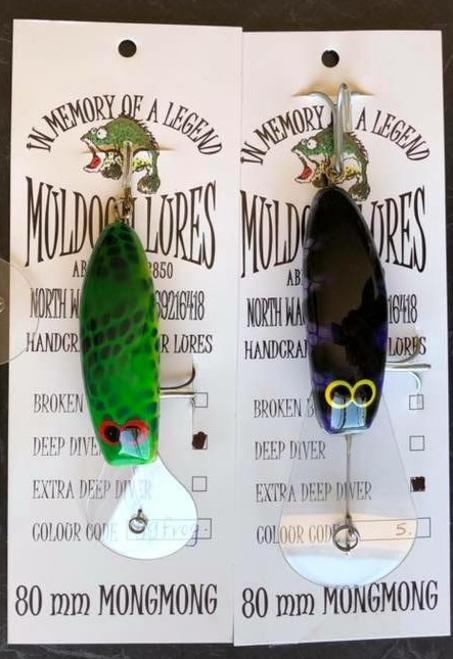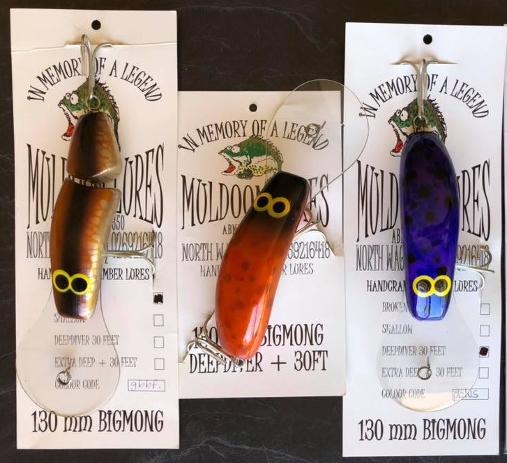 (Above) Early carded timber 130mm 'Big Mong' crash diver showing a jointed model and smaller Deep Diver 30ft card.
(Right) The Muldoon 'Big Bopper', 120mm surface paddler
(Below) Later versions of the moulded Big Mong 30ft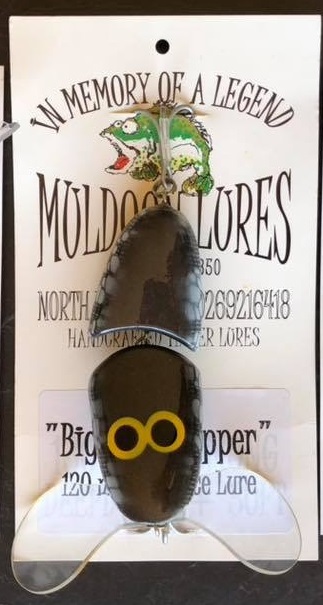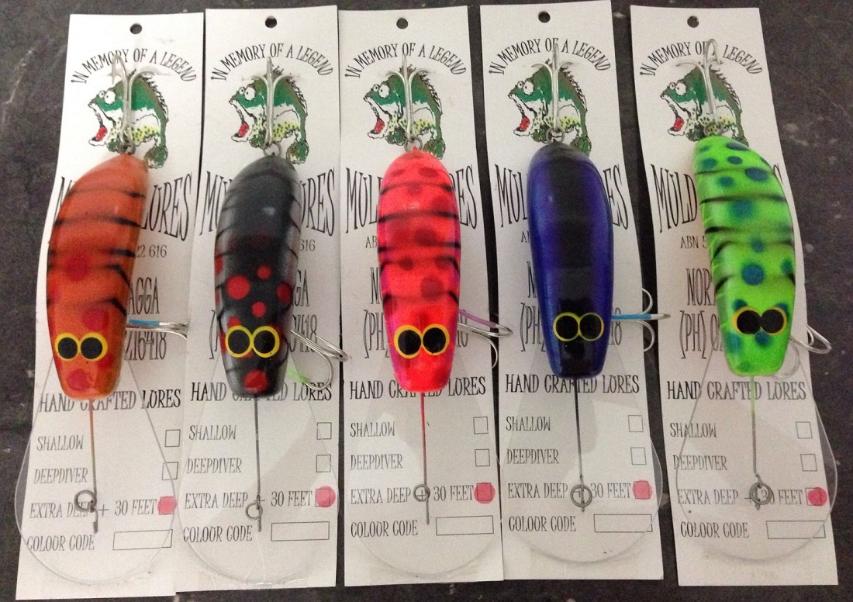 (Above) The cards after the range changed from timber. You will notice that it now says 'hand crafted lures' as opposed to 'hand crafted timber lures'.


(Right) Muldoon Lures most recent card for the moulded plastic range. Lure shown is the 'Big Willie'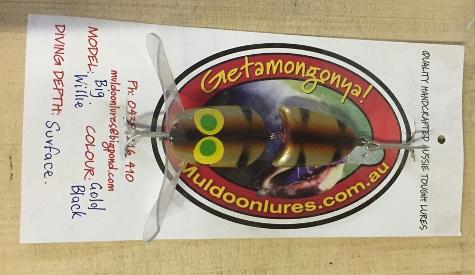 Mulga Lures - QLD:

An uncommon lure anywhere outside Queensland, Mulga Lures are a timber lure, a quality product from the shed.
Multitroll Lures - ACT:

An obscure trolling spoon rig that was made in Canberra, ACT. No known information other than what is on the cards.
Mundi Lures - QLD:

"Mundi Lures"
are the brainchild of Kelvin McArthur who lives in Sarina, Nth Qld. A most accomplished barramundi angler, Kelvin followed the piscatorial path of many

"

baby boomer

"

anglers by graduating from bait fishing to live baits to lures and flyfishing and beyond.

Kelvin loves exploring with all manner of lures - analysing and identifying the various attributes of new and different lures as he seeks his beloved barramundi. He is a great admirer of the late Ken Richardson

's "

Richos

"

lures and has had a lot of success with his collection of Richos.
Then Kelvin began crafting his own lures from white beech, incorporating the features he felt were necessary to be a successful barramundi lure. Satisfied with his design, he then began to research alternative manufacturing processes, and this resulted in him moulding his design in polyurethane and painting them in his favourite colour schemes. After a short period of success, other more urgent priorities caused him to shelve his project temporarily, but with retirement looming in the near future, more
"
Mundi
"
lures are on the horizon! . . . .
contributed by Ken Stien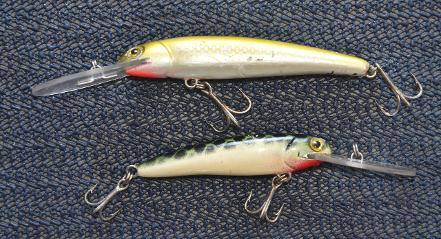 "Mundi Lures" - the two examples shown above are earlier timber models made from white beech while the three examples opposite are the later polyurathane models. Note the top lure which is very close to the original timber version in every respect.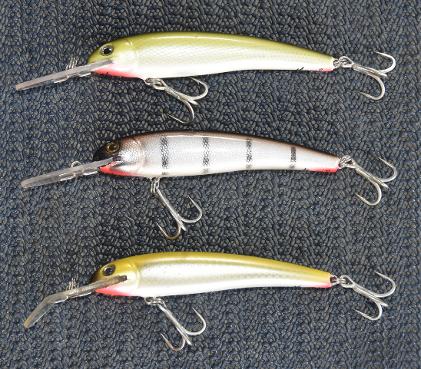 Munt, Peter Munt Lures:

Peter Munt has been making lures for many years and is a prolific lure maker. His lures are not the easiest to recognise and there is a wide range of models and styles as shown.
There is a good indicator of Munt lures which is the front towpoint and markings under the bib on models that have 'Eric Moller' like paint patterns.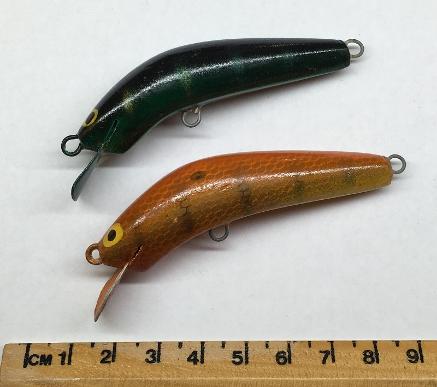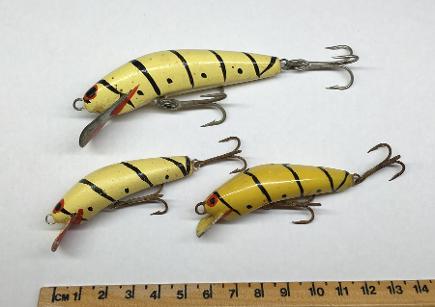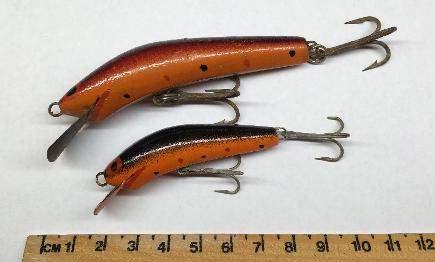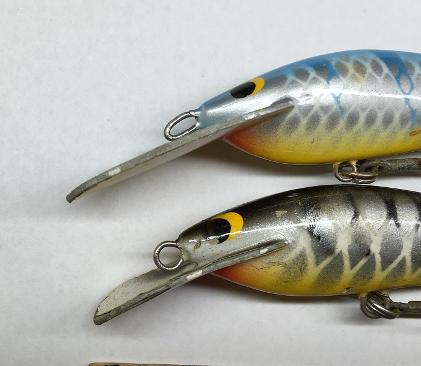 The extended flattened towpoint on some lures indicate a Munt lure and Peter elaborated on this recently; ' we elongated the towing eye before gluing it into the lure (mainly on my "Moller Minnow" lure and "Spearheads") because I found that 100 percent of them produced the action that I wanted as opposed to app 75 percent with the standard round towing point.'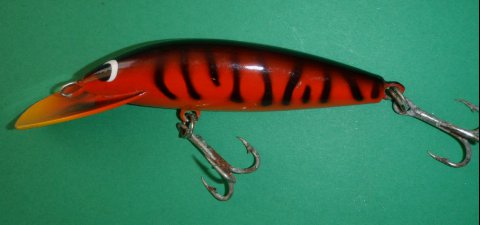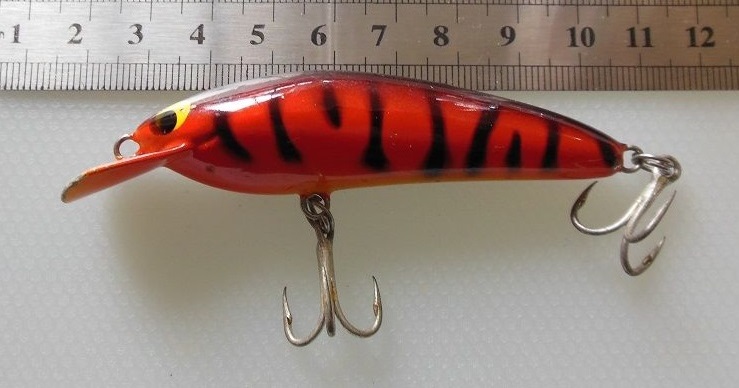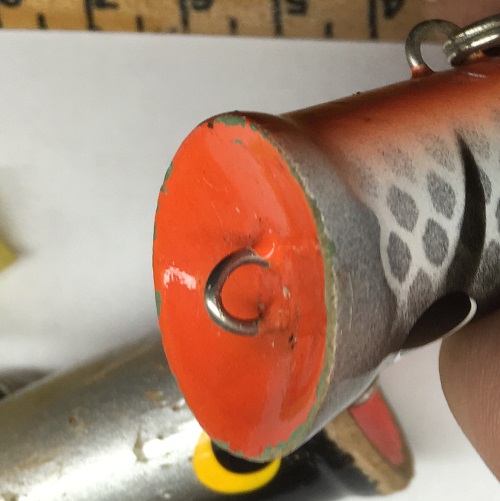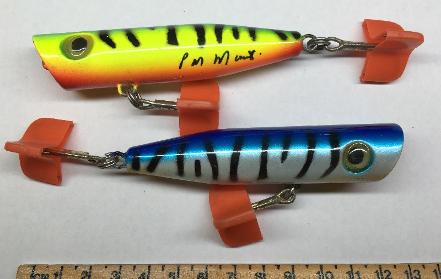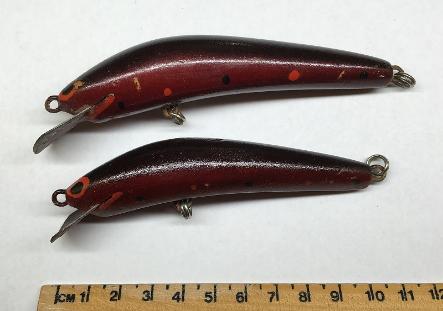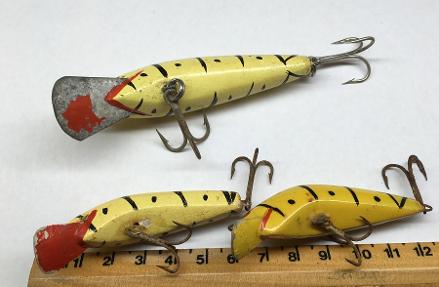 Early Peter Munt larger minnows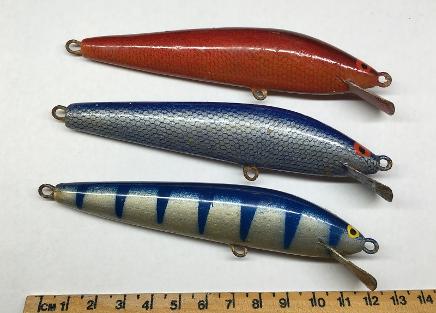 There were a lot of different popper styles that are made by Peter. The first two photos below are earlier than the characteristic lipped poppers that came a bit later.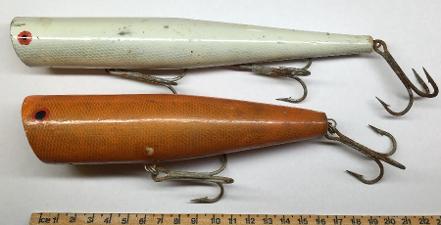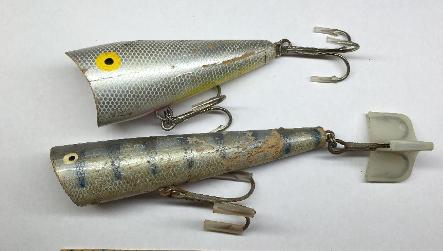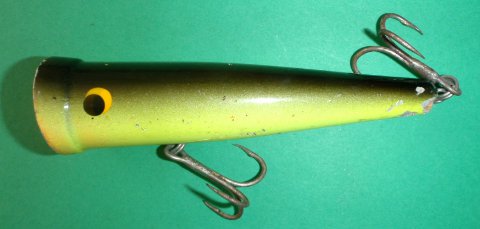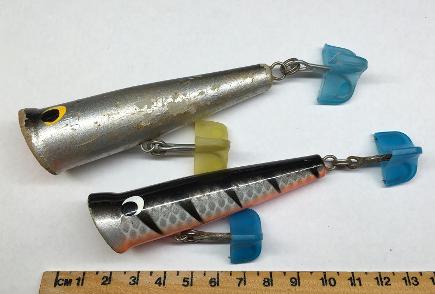 An uncommon jointed popper and two more recent signed models.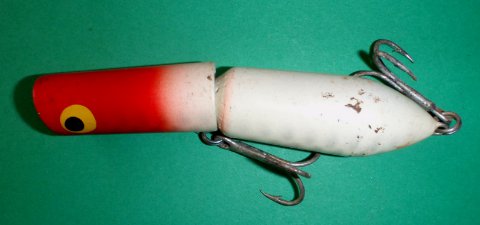 Murphy Lures - QLD:

Ray Murphy has been making lures for many years and is based in Yepoon. More info coming soon . . .
Below Mud Herrings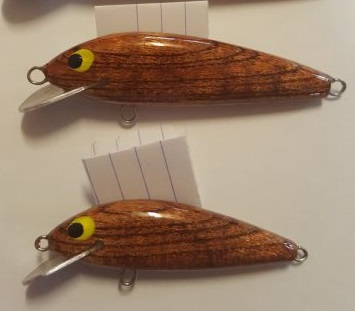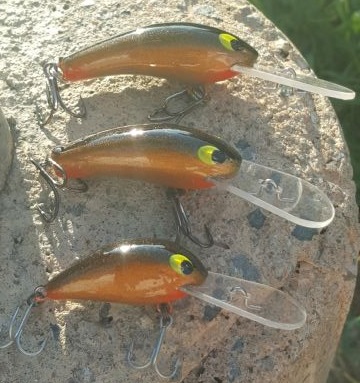 Murray, Tom Murray Lures - QLD:

Tom Murray is one of the iconic cottage timber lure makers that emerged from northern Queensland. More information coming soon.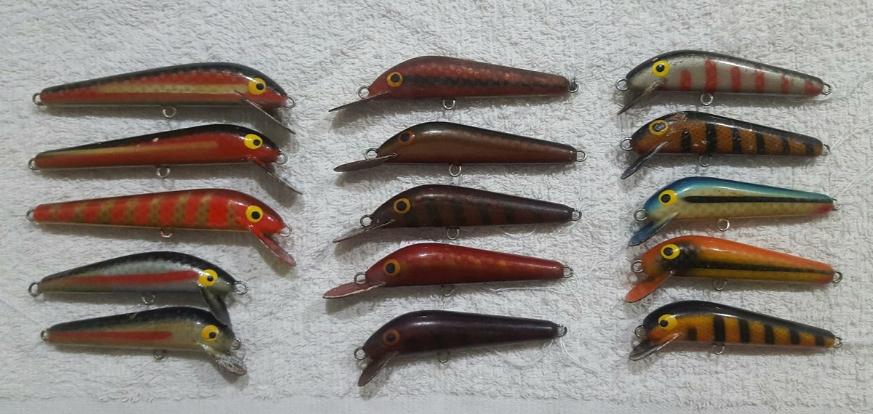 "I first started making lures in the 80's. Those days I was inspired by the timber Dam Busters and how successful they were in catching fish. I never had a boat in those days and all my lure fishing was done from the bank which led to a lot of snags and lure losses. Dam Busters weren't cheap so I decided to make my own. I u
sed to purchase 20mm pine and cut the lures out with a fret saw then secure the blanks in a vice and rasp and file into shape. Bibs were sourced out of the sheet metal shops waist bin
next to my work . Stainless steel bibs was the preferred
choice. Tow points and hook hangers were made out of 1.57mm gal wire. Dip the lure in a under coat/
sealer and paint with aerosol paint tins.
I never used a temp plate all were cut by eye
hence so many variations.
In the late 80's the Newell and Mc Feeters lures were all the go and extremely popular. I copied scorpions and darts and they were a real success. Never sold lures in those days, only used them myself or gave them away (I stumbled across 2 old lures recently). In the 1990's I was in the process of building a new home and couldn't find the time to make lures, or even go fishing. In 2001 I started again this time using templates and my own design models, purchased an air brush and a variety of auto paint. I couldn't afford a compressor so I got a spare tyre with two valves inserted and used to go down to the service station to pump up the tyre to around 60psi . I used this for years to paint my lures. Using the template meant there was some consistency and lures mostly all looked the same.Most of the lures had real big bibs and comment was made they look like a large ducks bill . I needed a name for my lures but "duck lures " didn't seem the right name. So I googled Duck species and found Muscovy Ducks . What a great name 'Muscovy Lures'.
2016 was the turning point with Muscovy lures. I had a mate David Ball who was a spray painter by trade. 'Bally' had been out of the trade for some time and I asked him one day would he be interested in painting a few blanks for me. I supplied him with 4 wooden cedar lures which he primed and painted for me. I gave 3 of them away and to date still have the first lure made in the new venture. 2016 also was rewarding as my wife (an aged care nurse) looked after Terry Marshall's father and Terry used to visit him regularly. He used to tell Terry that Leonie's husband Wayne makes lures. Little did they know Terry and myself played Football together in 1974. Terry was a great influence. He taught me so much and showed me so many tricks, hence his success with Garra Lures. My lure making became a small time business when Lisa my daughter started up a Facebook page and I started selling hand carved lures. I could only manage around 10/20 per month, the demand was much greater than what I could produce. I needed to find a way to make them quicker.
In 2017 I met Dave Bullard ( Daves Lures ) at Glenlyon Dam and he showed me a short video of his lure copier. I had a mate Lurch Hunting an absolute genius and showed him a video of a lure copier and asked him could he build one . Ironically Lurch is David Balls step dad. After 6 months of building , pulling down and modifying the machine it was ready. Production went from 20 per month to 60. All the hand carved lures now I only make to order . Model 001 , 04 ,104, 204 ,201, 200 ., 22, frog and snake . The 3 models made on the copier 002, 003 and 004 are my main focus.
Wayne Cosmo
Muscovy Lures - QLD:

Made in Stanthorpe by Wayne Cosmo and David Ball. A fine looking traditional style range of lures featuring metal bibs and soldered 'Tenterfield towpoints'. High quality finish.
The history of Muscovy Lures was provided by Wayne Cosmo;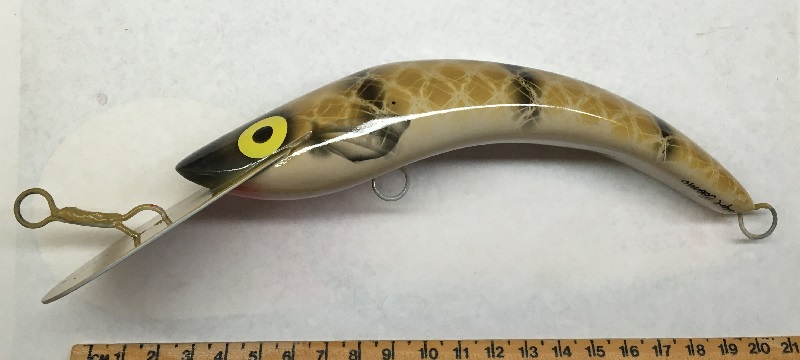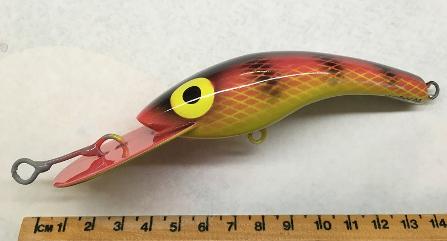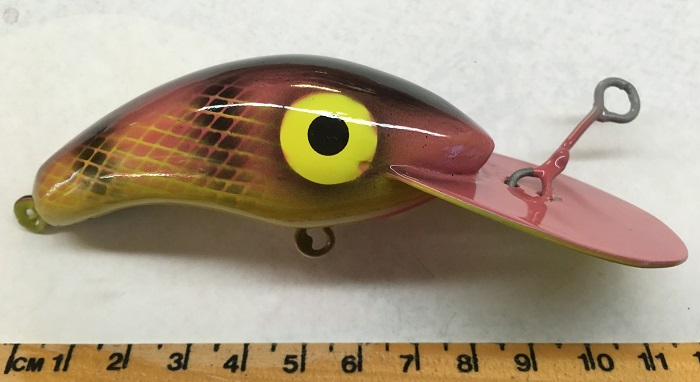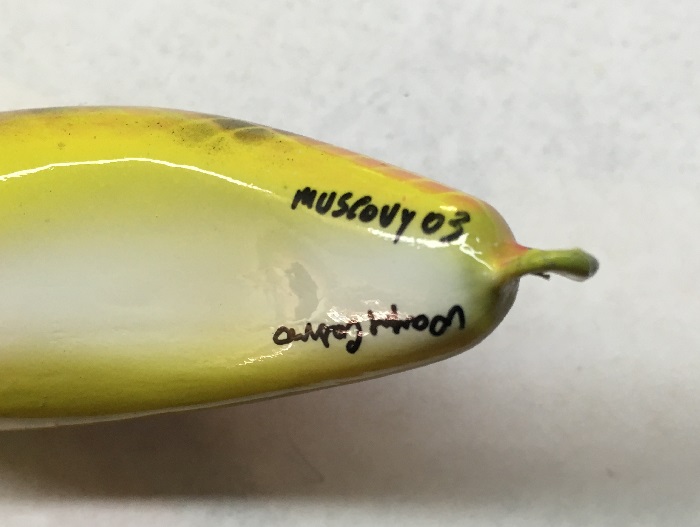 The most recent lures will have a different signature - 'Cosmo and Ball' which reflects both makers of Muscovy Lures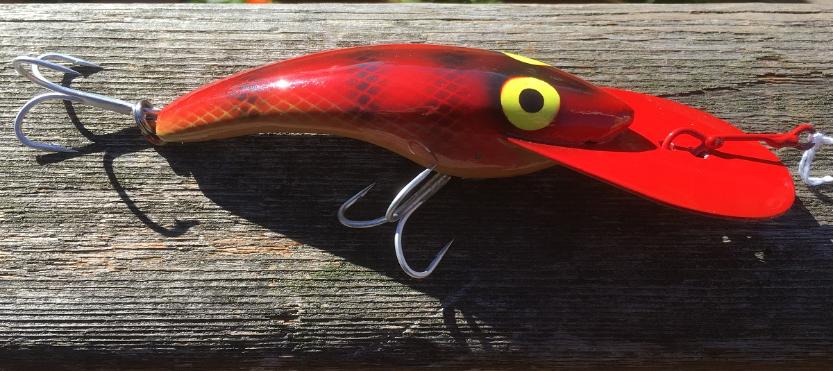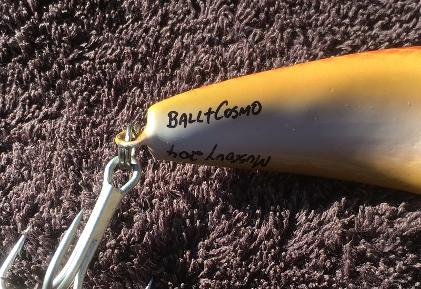 Tim also makes an excellent vibe lure and is responsible for other designs.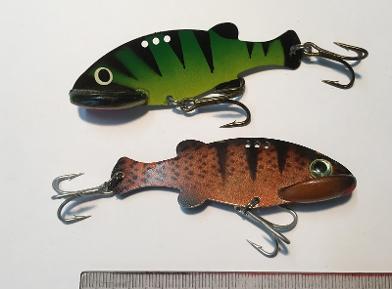 Mutimer, Tim Mutimer Lures - NSW:

Tim Mutimer from Inverell makes lures from bending metal pipe under heat and his lures have accounted for many fish over the last decade. The lure shown below was posted on the Lure Lovers forum in August 2014.
Tim was also responsible for producing the 'Mazzy Vibe' (below left) and is a very inventive lure maker.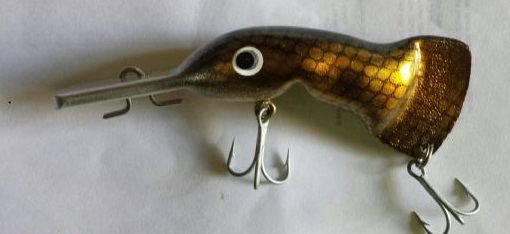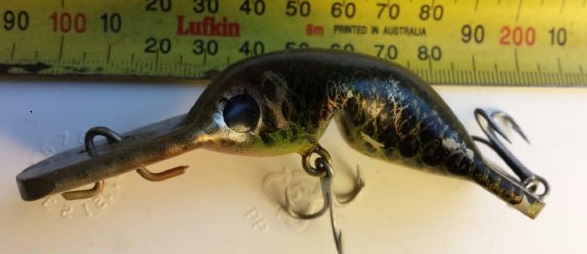 Below is an extra large version and different design again. This lure is about 1 foot long.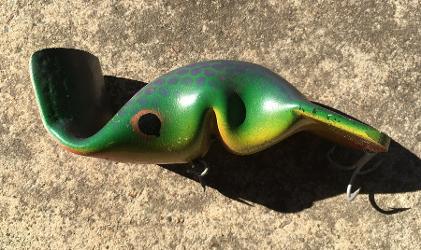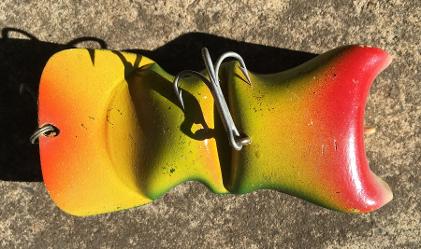 Muttley's Lures:

Muttley's Lures are made by Paul Mihailidis. No current photos.
MXB Lures - Sydney, NSW:

MXB Lures are hand carved timber lures by Roger Dayle from the Northern Beaches of Sydney. The history of MXB Lures is the first primitive poppers shaped from balsa in early 1990. MXB Lures utilise recycled timbers and many are clear coated nudes that showcase the timber they were made from. Classic Australian carving timbers are preferred and the majority of lures are made from red cedar, white beech, King Billy Pine but also unconventional timbers such as banksia, protea and yellow cedar.
'Originally inspired by the creations of Peter Newell and Carl Crist. After making approximately fifty lures between 1990-92 the spinning outfit was put away and I mainly fly fished for about 10 years until about 2002. From this stage onward I started making lures again going back to basics and finally asking Ted Sartori from Esoteric Lures if I could be his lure apprentice in 2007/8. In 2009 I decided on taking things a bit more serious and trying to create a distinctive pattern I was happy with - I had carved a few basic yabby style lures and some minnows that I had always used for bass and trout. Growing up near the ocean I had always fished estuaries and the lures started becoming a bit more advanced for targeting specific species.'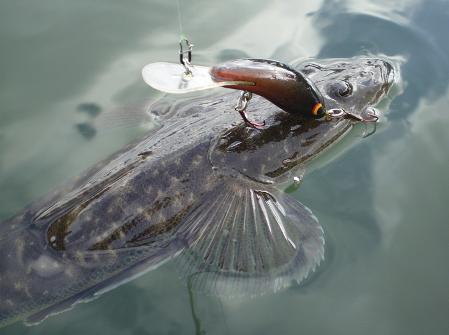 (Below) The MXB 'Skinny Shrimp' was born after shaving too much off a standard yabby blank and this is the original lure with the first run of blanks in silky oak and white beech. Eyes were changed to stick on or red plastic rhinestones for the skinny instead of hand painted on the fatter
'Yabby'.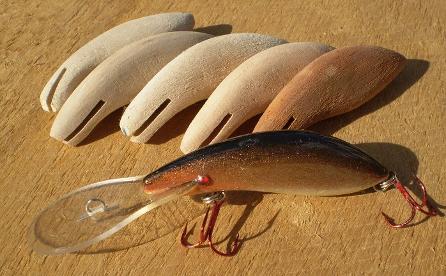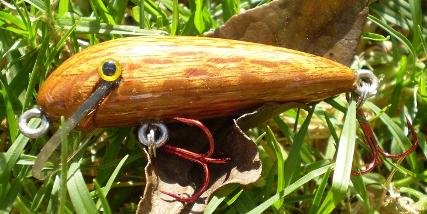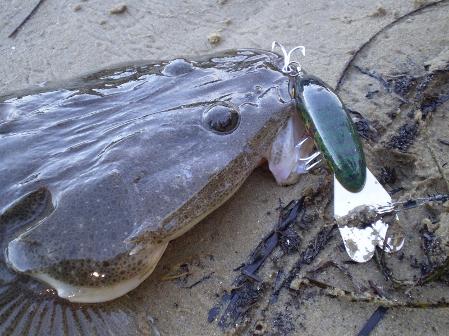 The lure above was the first of the series of MXB Yabby lures that were streamlined under the watchful eye of Ted Sartori in 2009. After two metal bibbed versions using vintage bibs sourced from the USA they were named the 'Manly Dam Special' after bagging several large bass in freshwater and flathead in the salt. The two earliest colours were called 'Death Stare' and 'The Hulk'. These lures were made with imported screw in hangers and by 2011 all lures were made with hand made twisted wire hangers.
The first run of MXB Yabby lures were done with yellow and black hand painted eyes where the later versions will have white eyes base.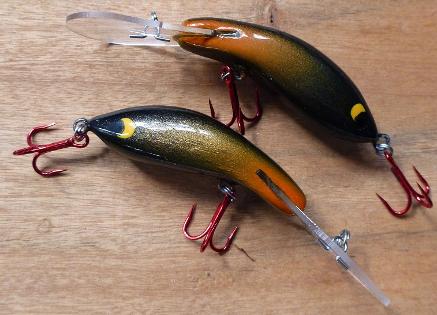 (Below) A few minnows and shads shaped up in Tasmania with David Dick from Tas Highland Lures - still using split pins and screw ins on some. c 2009/10.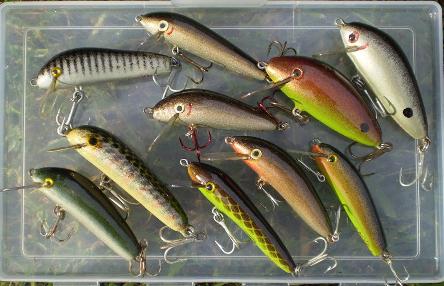 (Left) MXB 'Bass Minnow' - nude silky oak and with screw in hangers and hand cut bib c. 2009.(Below) Narrabeen Lakes mulloway on the original metal bibbed yabby - now retired