Lure Manufacturers Australia B
If you know of an Australian lure maker no matter how young or old that we have not mentioned in the following list feel free to contact us to have the details added or updated.
*Cover photo - Early Buck lures c.2009
Bad Boy Lures - NSW:
Made by Matthew Lennon, the son of Wayne Lennon from Oar-gee Lures. These lures are moulded and are a simple effective pattern. They were made in the mid 1990's.

Bad Boy lures are rarely found as they were made in small numbers however a couple were sold on Ebay in 2009 and sold in the range $15 - 30.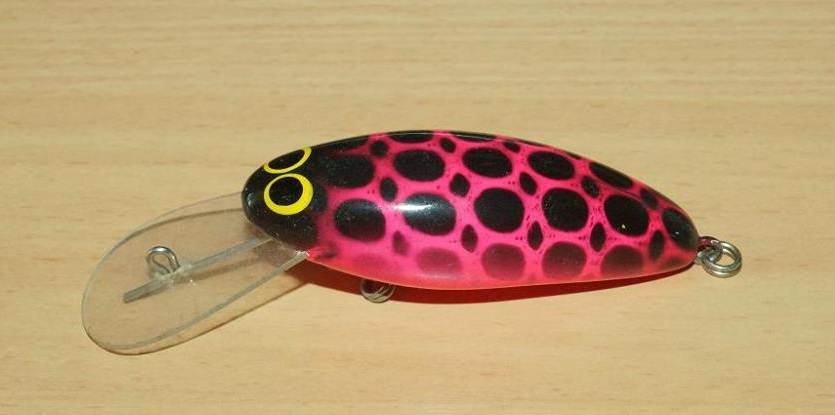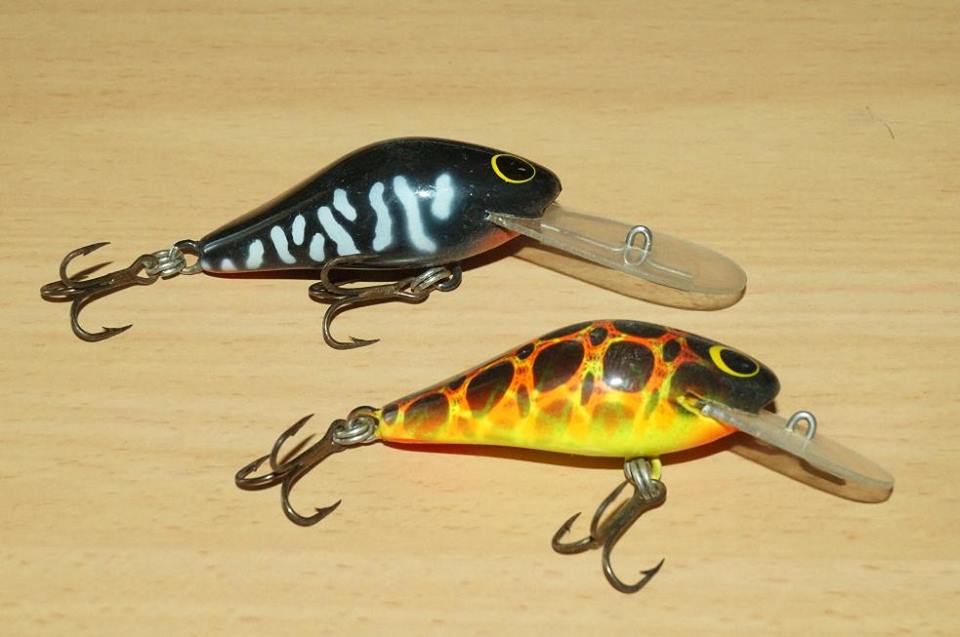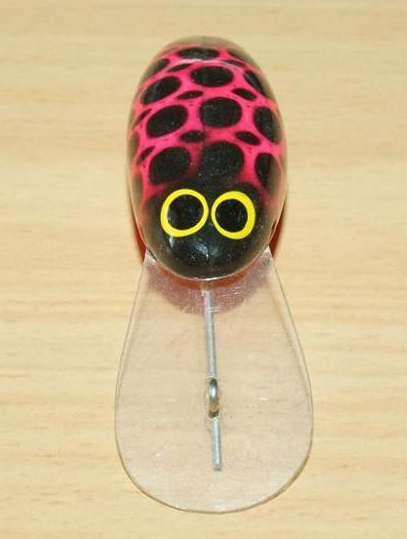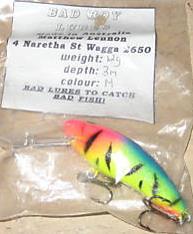 Close up photos show lure construction with full wire insert from bib through body using heavy gauge wire. They were a good fish taker and no longer made.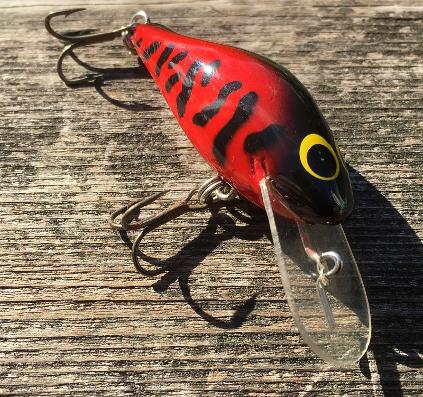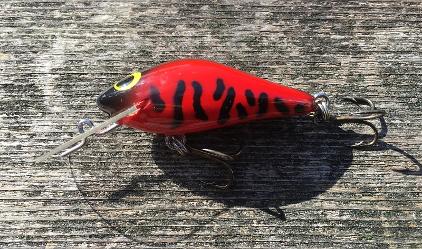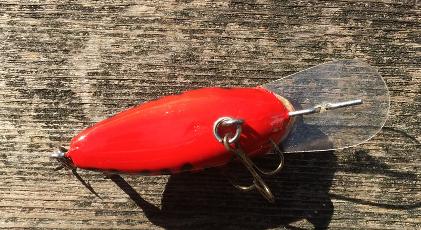 Baga Lures - NSW:
Made by Murray Sugden from the early 1990's, the earlier timber Blitz Bagas were labelled as Baga Lures. Originally handcrafted from timber the lures went to moulded construction c. 2002. Whilst there is no denying they were modeled off the highly successful Flicks Cobras, they are one of the best ultra deep divers made for impoundment trolling. Murray started making these out of necessity when Flick Robertson was unable to supply his Cobras. The profile was altered slimmed down and refined enough not to be a direct copy as well as adding a shallow and medium bibbed version in two sizes. The Blitz Baga went on to be a highly successful lure in Sth East QLD impoundments for recreational anglers and in fishing competitions. They have only been available in moulded now for many years which makes the timber versions highly sort after by collectors. Murray sold the rights to make them to 'Smak Lures' (Matthew Mott & Co). Murray currently lives in Ipswich, QLD.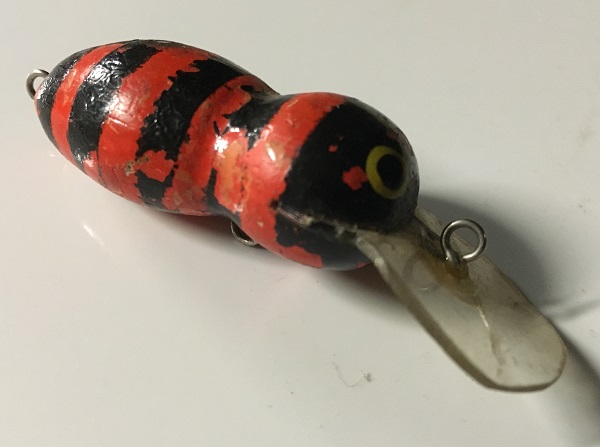 Murray kindly showed Lure Hub OZ some of his earliest lures at Expo 2017 including the first he ever made. A little diving beetle.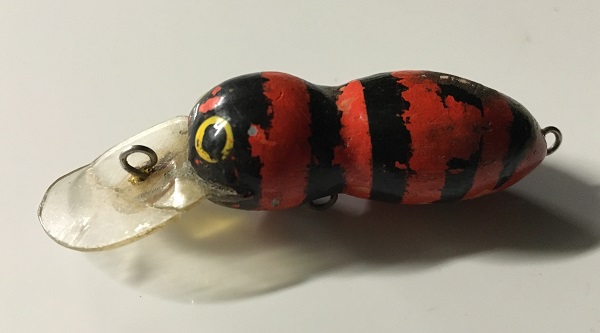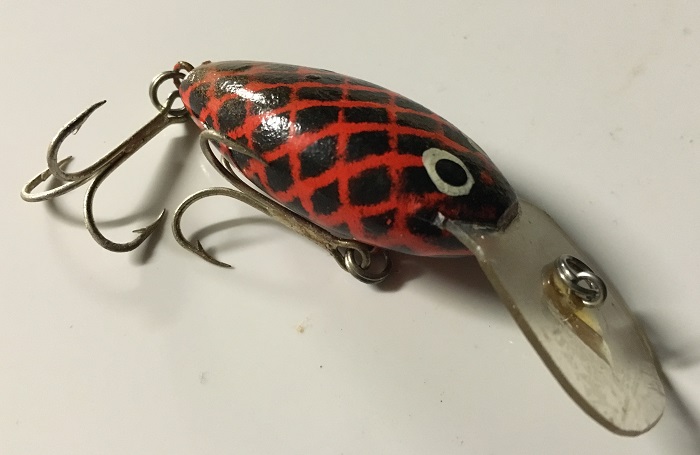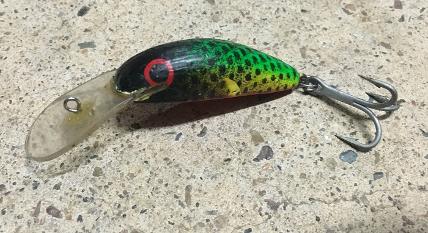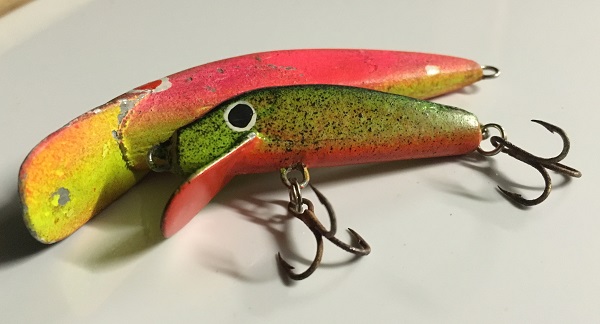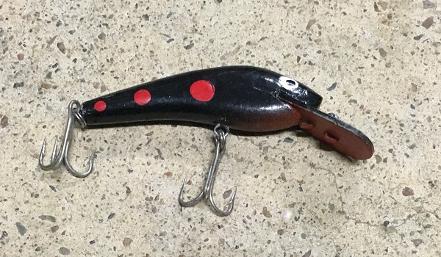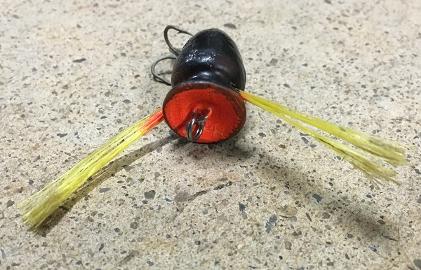 Above shows some of the lures made by Murray before producing the Blitz Baga in larger numbers.
The following is taken from the
Lure and More
forum and the history was supplied by Tony 'Ausbass' Payne. Below shows a long slender lure called the 'Bang a Baga' which was used for fishing 'for flathead down the Gold Coast and surrounding waterways'.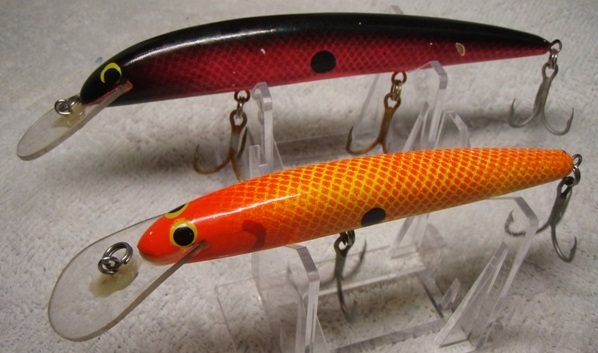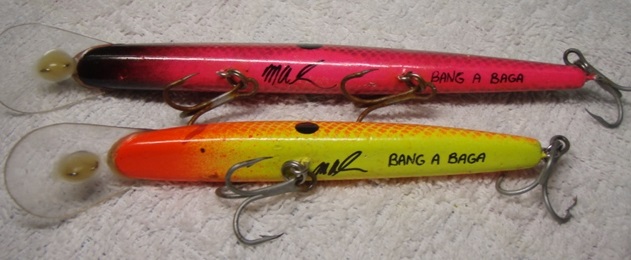 Lure and More Forum -
'' I made a mini blitz baga and I also made an earlier basic looking lure called a bass baga . . . About the change to plastic, the paint job changed because I don't paint them anymore they have been done by 3 different people over the last 5 years. I can't believe that there are still some around in their packets.''

Cheers Murray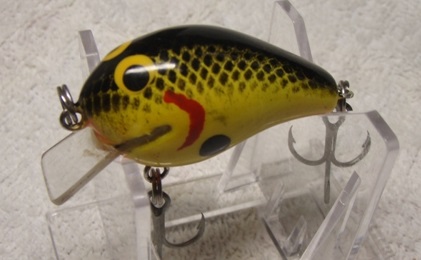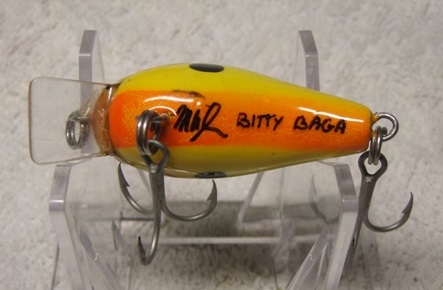 Early examples of Murray's Blitz Baga before the sharp chiselled sides appeared on his now famous lures. When he was refining them a few were made with the smooth round sides.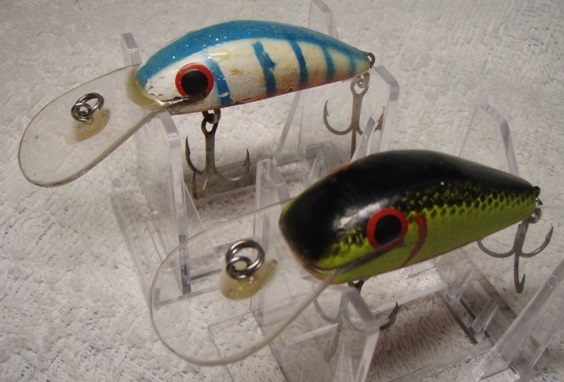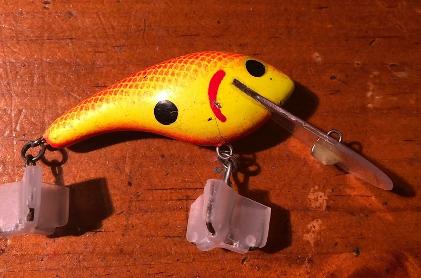 Above is the 'Boss Baga' - an early model reminiscent of the Cotton Cordell 'Big O'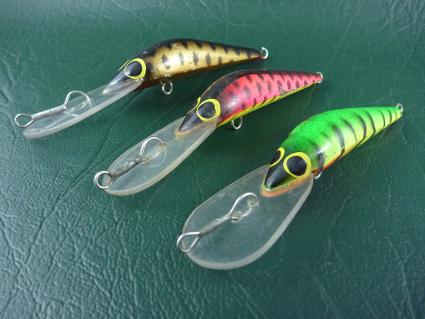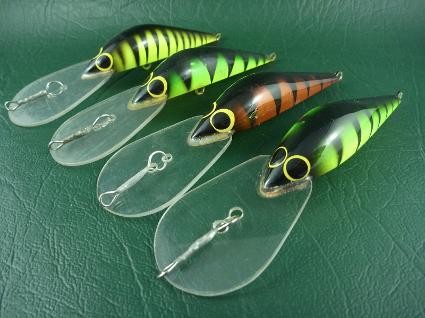 Above shows the early packeted Blitz Baga.
The early small profiled lures were called 'Bitty Baga', 'Bass Baga' c.1990's and were successful on the bass in all of the Southeast QLD dams.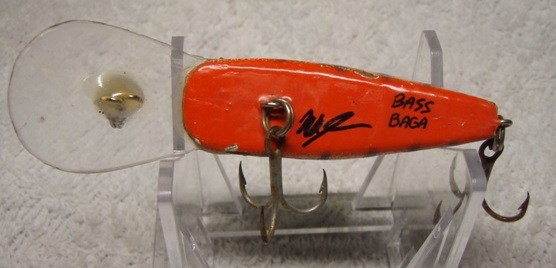 A lure made for the Flathead classic in 1994 but never used.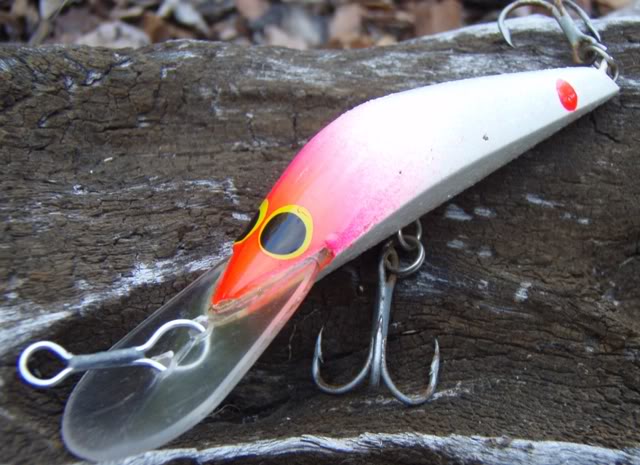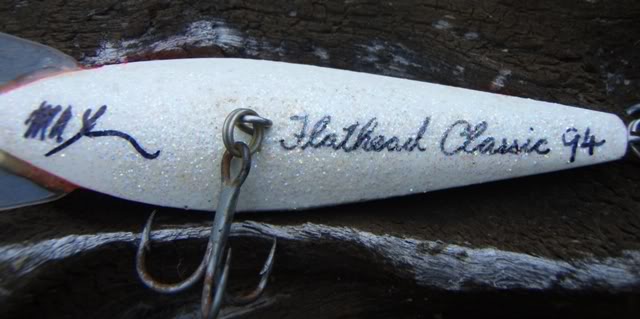 Baigent, C.A Baigent - NSW:
An historic company that made the legendary 'Catchmore Spinner', C.A. Baigent was advertising in 1949 including advertisments where they were lsited as being situated in Morden Street, North Sydney. See Catchmore Spinner
Bailey, Don Bailey Lures - QLD:
Little known maker who is sometimes mentioned in angling and lure making circles. Lures shown right were offered for sale on Ebay in March 2017 and show a wide range of influences from both Australian and overseas lures such as the classic Nilsmaster copy third from top. Don sadly passed away in 2019.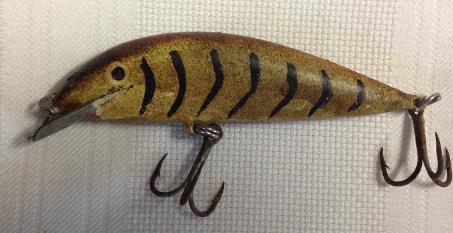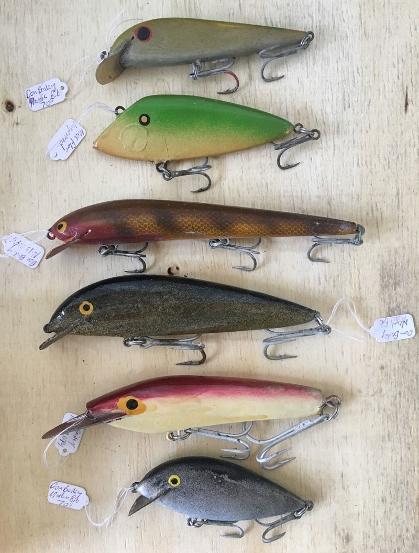 Baileys Lures, Steve Bailey - NSW:
Made by Steve Bailey from Abermain, in the Hunter region of NSW. These strange looking lures have awesome actions and are a very original shape. All lures are hand shaped from timber.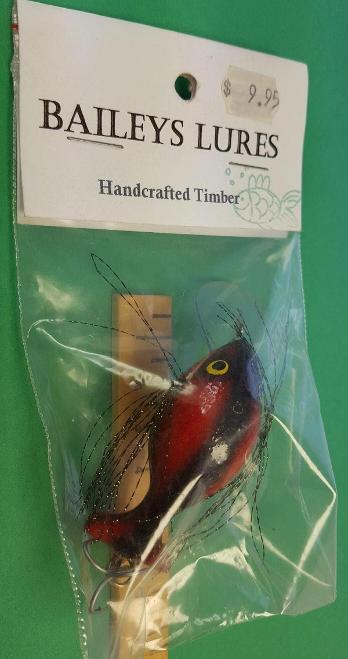 Several of the timber lure models have a 'whale tail' as shown in these photos. They will also have crystal flash inserted in the bib slots before the bib is glued in. Classic lures.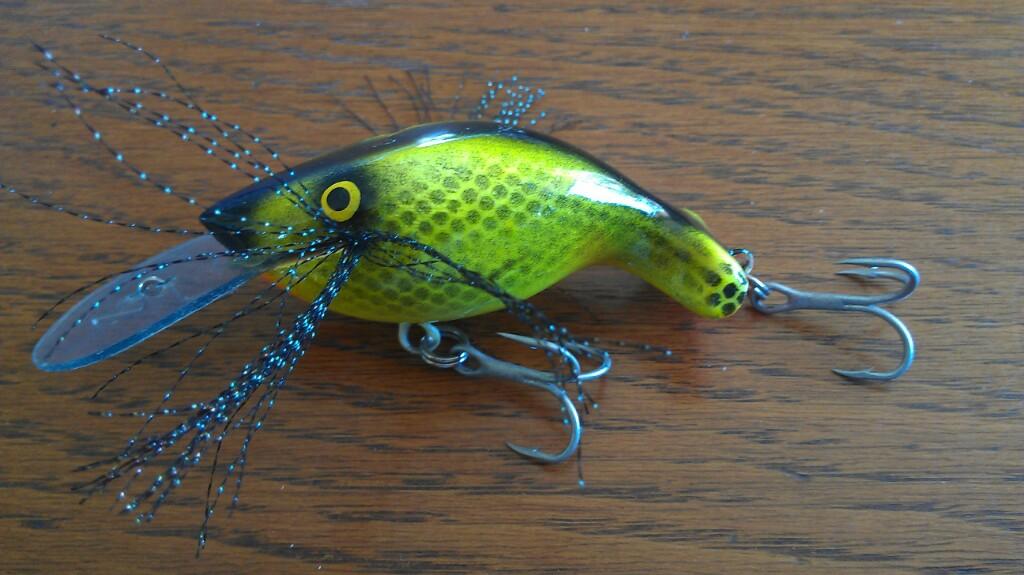 A rare Steve Bailey minnow with dolls eyes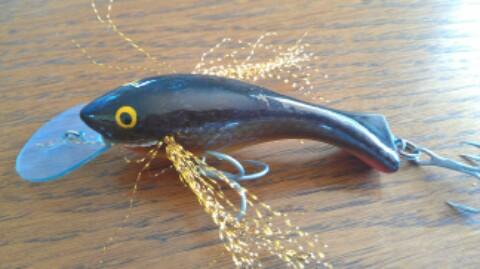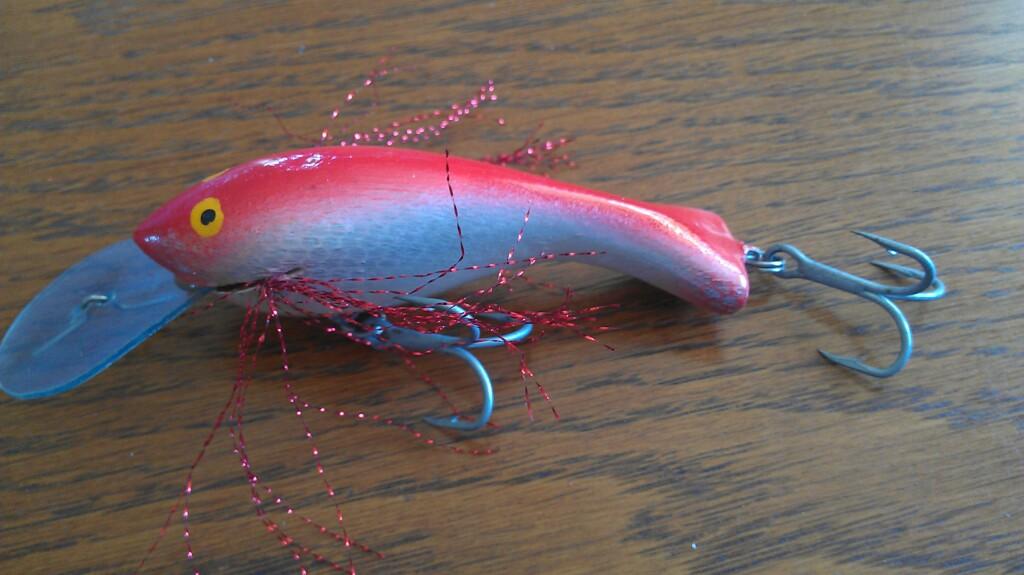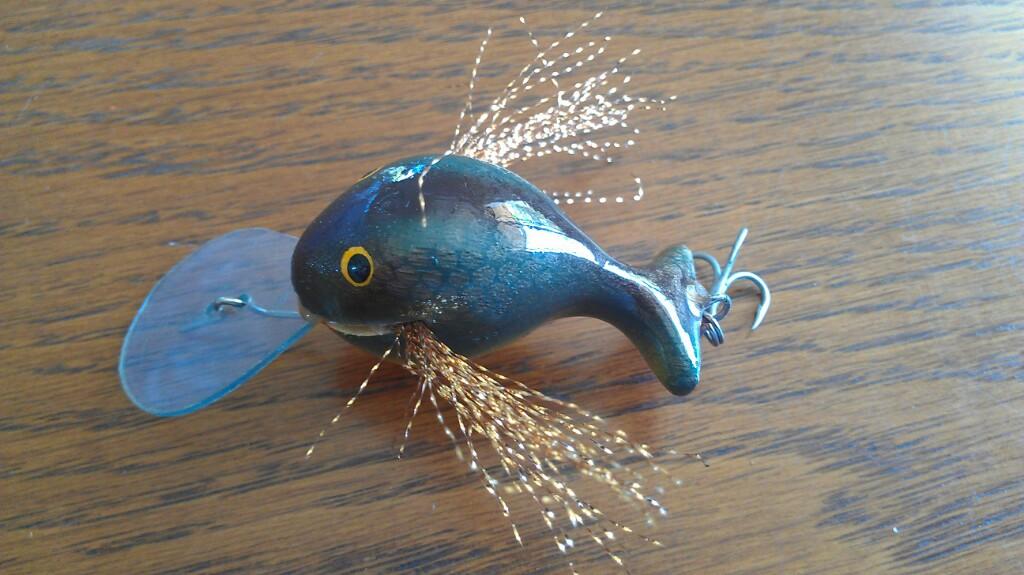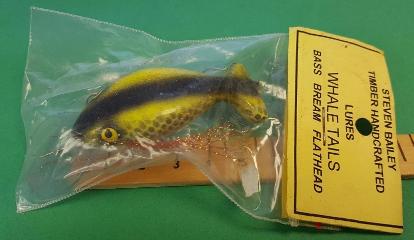 Baker, Keith Baker lures - NSW:
Keith Baker has become one of the most admired of Australian lure makers in recent years with collectors placing a high value on anything Keith has made. He carved his last lures in 2012 after many years and Keith is now in his 7o's. Keith grew up on a Dairy in Vic and he showed a keen interest in entomology spending time in the bush studying bugs, insects, plants and animals of interest.
See full page in
Keith Baker Lures section
Baltic Lures -NSW:
Available in the 1960's, 70's and 80's, made by Boleslaw (Bernie) Szot and his wife Ksenia at their Marrickville home. The Baltic range including the 'Baltic Minnow', 'Baltic Flash', 'Baltic Bobber' and 'Baltic Gardie' were distributed under the name of Lakeside Lures. They have recently been fetching good prices with lures still in packaging fetching $25-30 each.
"The lures on the right are both 'Baltic Minnows' from different times periods along with the original paperwork. The Baltic Minnows look different as Ksenia for a while would add bits of reflective tape and/or raised eyes. The label in the packet is a bit confusing as in an attempt to reduce printing costs the one label was used for both the 'flash' and 'minnow' for a while. Several lures of the one type were attached to a larger piece of cardboard for display sale indicating if it was the flash or minnow. This display board also had their trading name 'Lakeside Lures'." John Killeen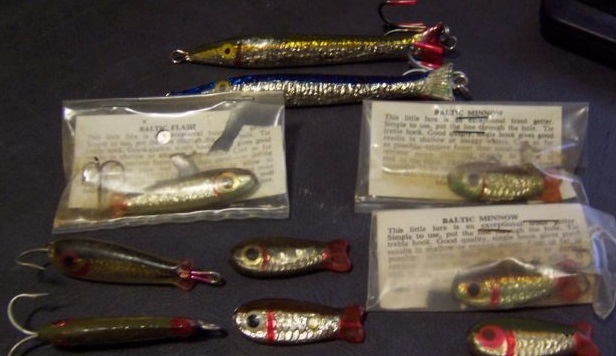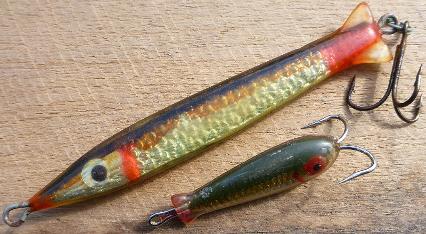 (Above) An example of the Baltic ' Gardie' which was a highly effective garfish imitation that was heavy and could be thrown great distances. Other lure is the 'Baltic Bobber' which was highly regarded as a lure for the introduced redfin (English Perch) and trout.
Banbury, Scott Banbury Lures - NSW:
Scott is originally from Inverell and grew up fishing Copeton Dam. He is a regular at Glenlyon Dam
and makes a nice timber lure
. Photo shows Scott with a nice Murray Cod caught on one of his own lures.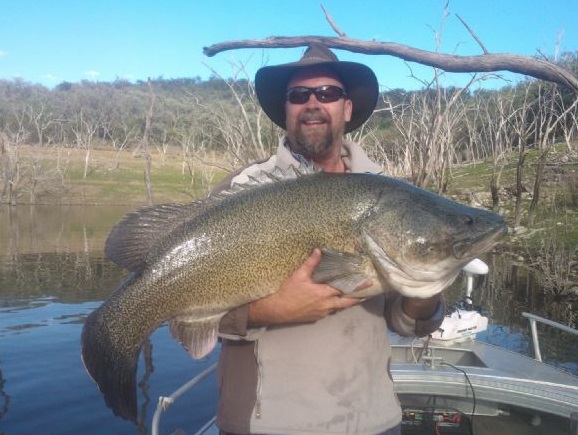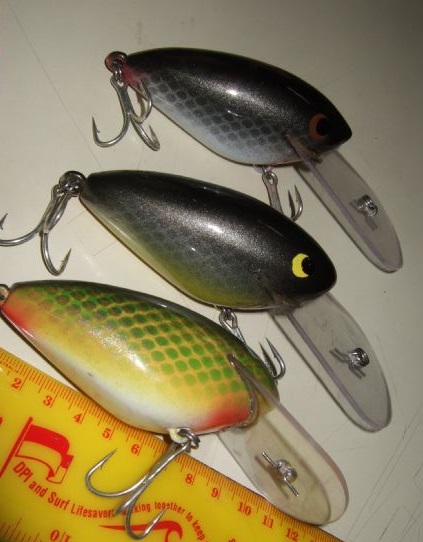 Barambah Lures - QLD:
Hand made timber lures by Matt Fraser who creates some very interesting lure designs and exhibition pieces. Matt is really at the cutting edge of the modern lure maker; he is both an angler, lure maker and an active contributor to online forums and social media.
See full page bio under Barambah Lures barambah.php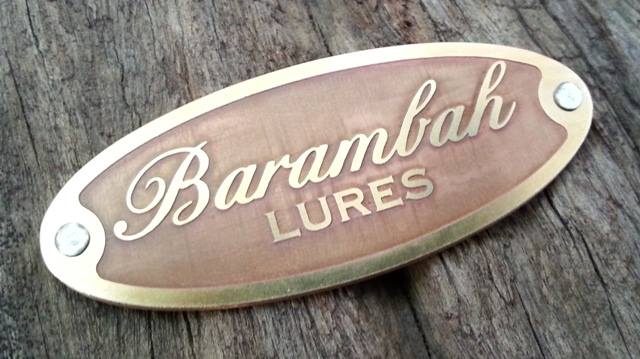 Barlow, Les Barlow Lures - QLD:
Les Barlow started making lures in 1987. He has 14 different styles and his colour patterns vary immensely. Initially he sold his lures from the side of the road and local markets but nowadays from the back of his shed at his Mc Gregor Terrace, Stanthorpe address. Les prides himself on the fish catching ability of his lures;
Rex Hunt once said to him "You make a good lure young Barlow but you're a rough painter". Les's simple reply - "Fish aren't art critics!"
Every lure that leaves Les's shed is signed "Les Barlow Lures, the model name, $5.00 and Stanthorpe". An interesting point to note is that every lure he sells is for a mere $5.00, the main reason being so that kids can afford them and go fishing. Les's pet hate is people who "load up" and buy multiple numbers of his lures with the intent of making money off them instantly either via e-bay or on selling them.
Taking into account time spent making, painting and hardware costs (hooks, split rings & bibs) he should be selling them for alot more but that's not what he's
is about. Les says they are made to be used. Over time the biggest Cod reported on one of Les's lures has been 56lb while his personal best stretched the scales out to 32lb. Asked how long he'll keep going for? He smiled and said "As long as the fingers keep hanging in there"! Lure Lovers 2014
Les Barlow at his lure making bench and photos of his well organised bench with blanks and bibs.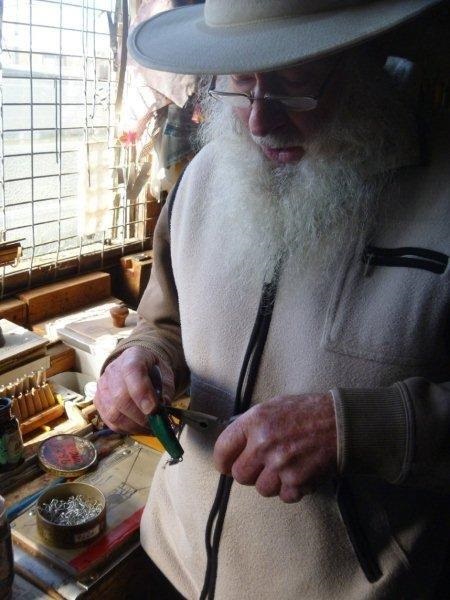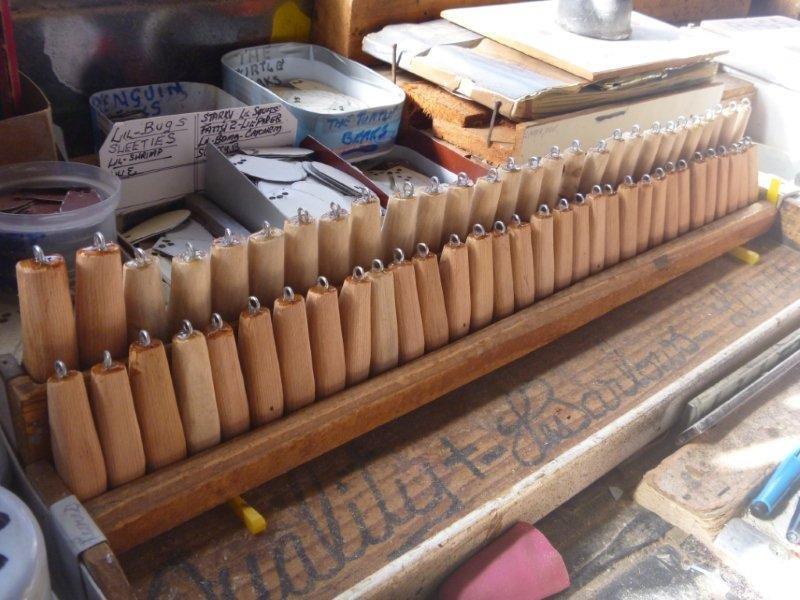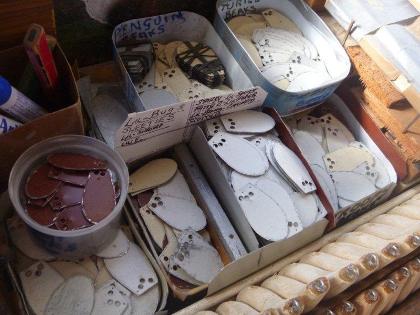 Les Barlow from Stanthorpe is now in his eighties but has been making lures since 1987 when they were mostly for himself. Originally called 'Les Barlow Quality Lures', there are 14 different models that inlcude the 'Lil Piper', Lil Squirt, Lil Bug, Lil Shrimp, Lil Bomb, Lil E, Troopie, Storky, Sleetie, Fatty 1 & 2, Scotty B and Jumbo'. Various timbers are utilised and lures may be signed on the top of the lure. Not all lures are signed.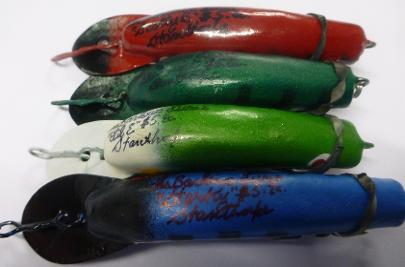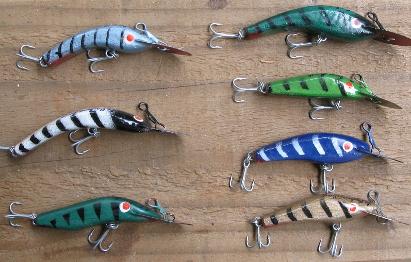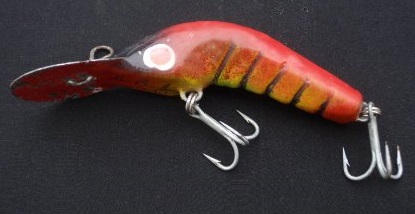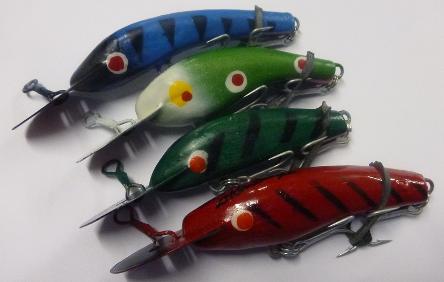 Les is still making lures and each lures signature will have the model with the price (which is still $5 or so even today in 2018) and 'Stanthorpe' on the back or belly or bib. All lures will have hand painted eyes.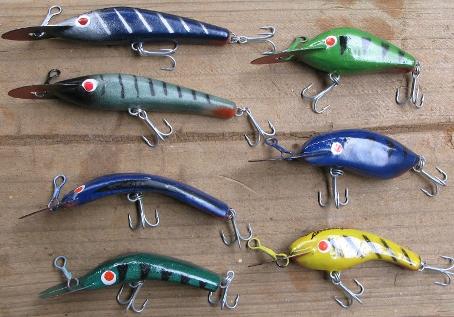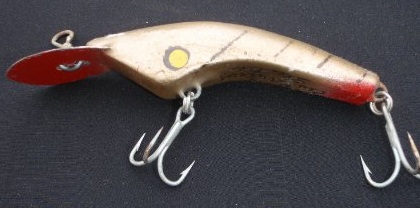 Barnard, Allan Barnard Lures - QLD:
These are an obscure timber lure that were made by Allan 'Punchy' Barnard from the Cairns area during the 1970's. Lures may be a number of different styles such as the lures shown below. An uncommon lure if found and often hard to identify due to wide range of styles, models and finishes that Allan employed when making his lures. Definitely a high quality product from a cottage maker who was well respected for his lure making skills. Letter below supplied courtesy of Katherine Alice Davis.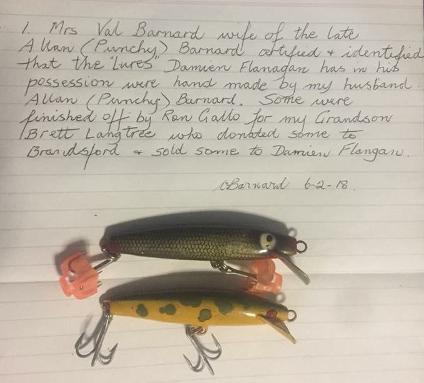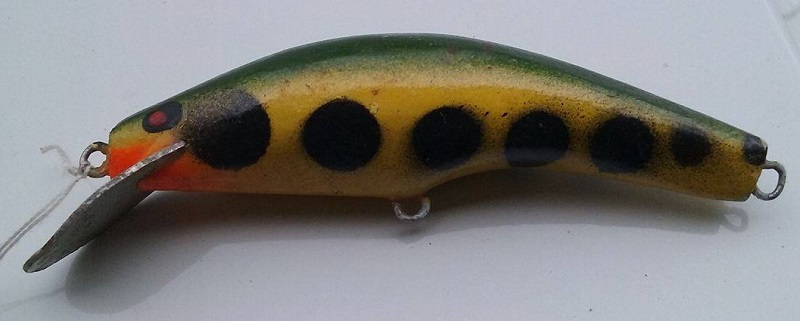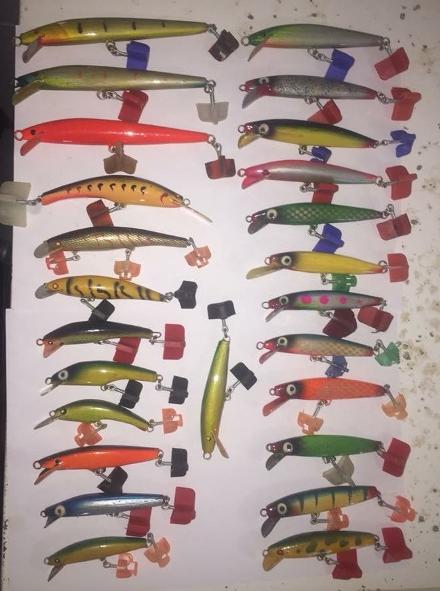 The lures shown above with the larger eyes were finished by Ron Gallo after Allan Barnard passed away.
Barra Biffa Lures - QLD:
These are a moulded lure that were made by Victor Day in the Cairns area. Unsure of exact years of manufacture and whether they are still being made. Reference photos below were posted on the Lure Lovers forum and show two models. Lure body is approximately 11cm for both models. One has a down sloping cup face and the other a diving lip built into the body
Bottom lure was listed for sale on Ebay in May 2018. Lure right was listed on Ebay in October 2018. Both lures fetched reasonably high prices.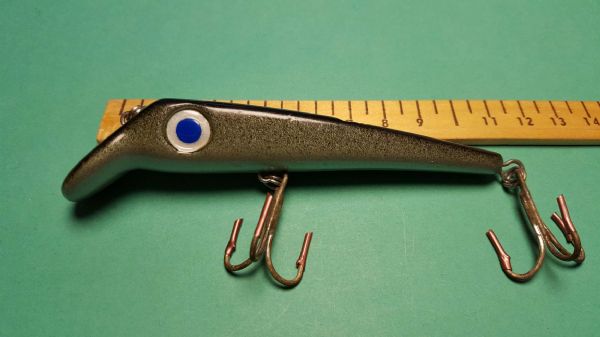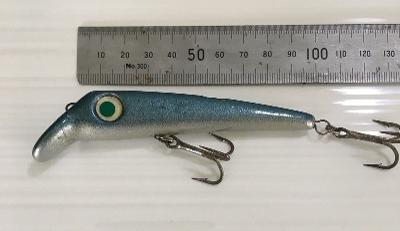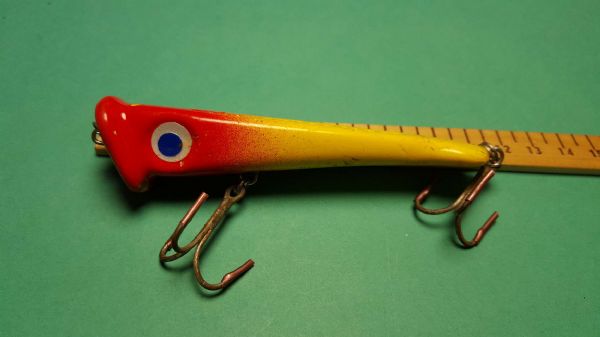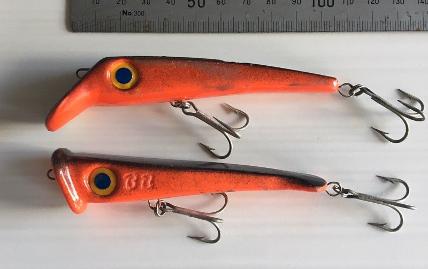 Lures shown here were listed on Ebay in January 2019. Lures fetched reasonably high prices. Note the embossed markings of 'Barra Biffa' on back or 'BB' behind eye.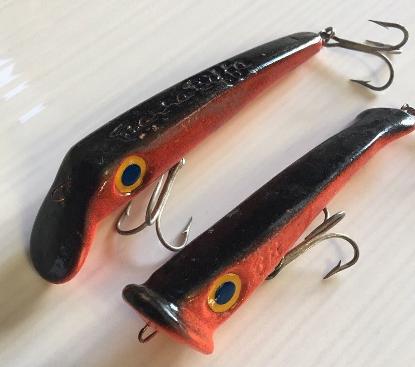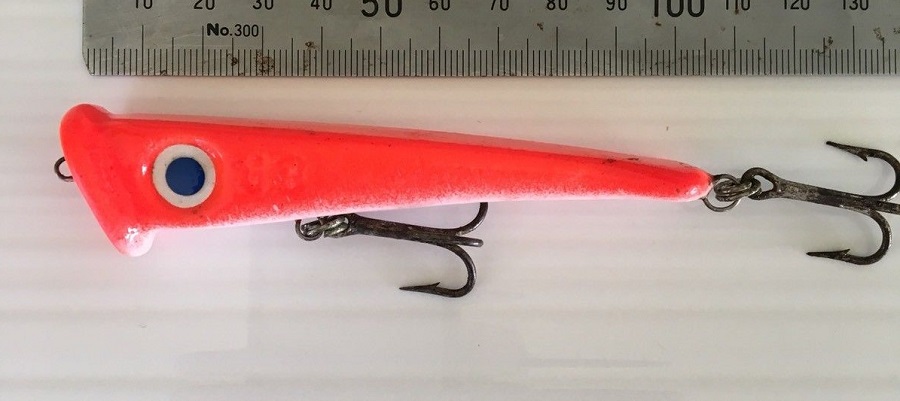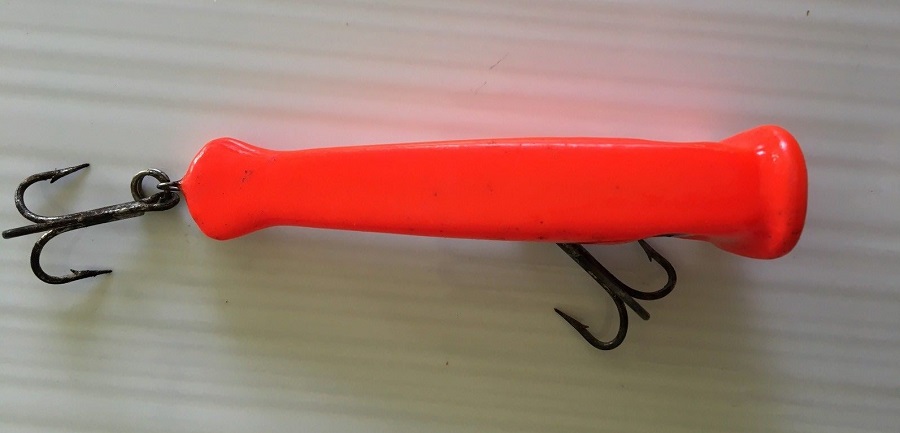 Lures below again listed on Ebay and sh0wing a small single treble bibless Barra Biffa lure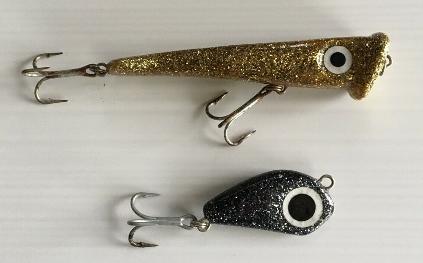 Barra Boss Lures -NSW:
These are a moulded lure that were made by Rob Gaden. Were available on a yellow card and packaged as Robs 'Baby Barra Boss'. See Rob Gaden full page bio.
Barradise Lures, Richard Orchard - QLD:
The lures made by Richard Orchard were also marketed and known by the name of Barradise Lures. See Orchard, Richard Orchard
Barra Frog Lures - QLD:
These are an iconic lure first attributed to Sid Boland when fishing for large barramundi. There were however a few copies and it is very difficult to identify a true Sid Boland Barra Frog. See Boland, Sid Boland Barra Frog Lure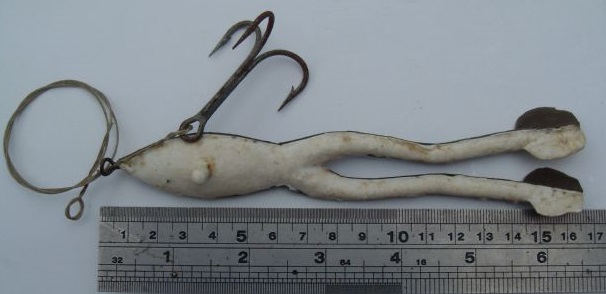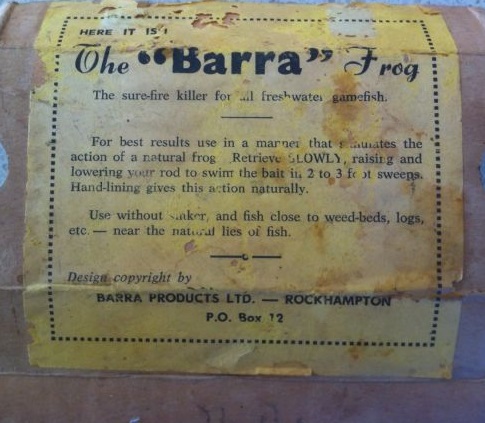 There are alot of variations however the above product was made by Barra Products Ltd in Rockhampton which would be c.1960's. The original Sid Boland Barra Frog had three raised posts on the underside as shown in Vic Mc Cristals article.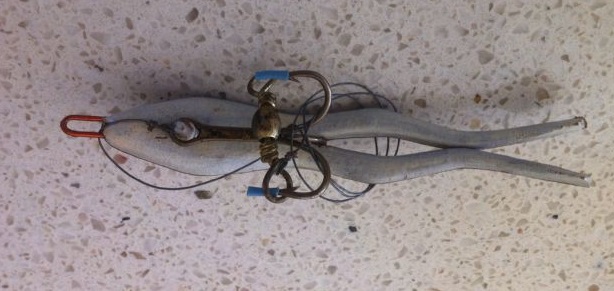 This one has a number moulded into the body as shown below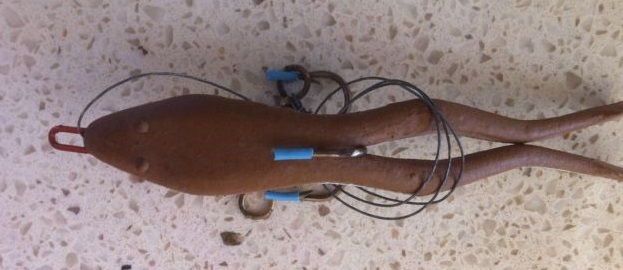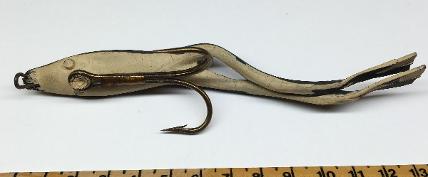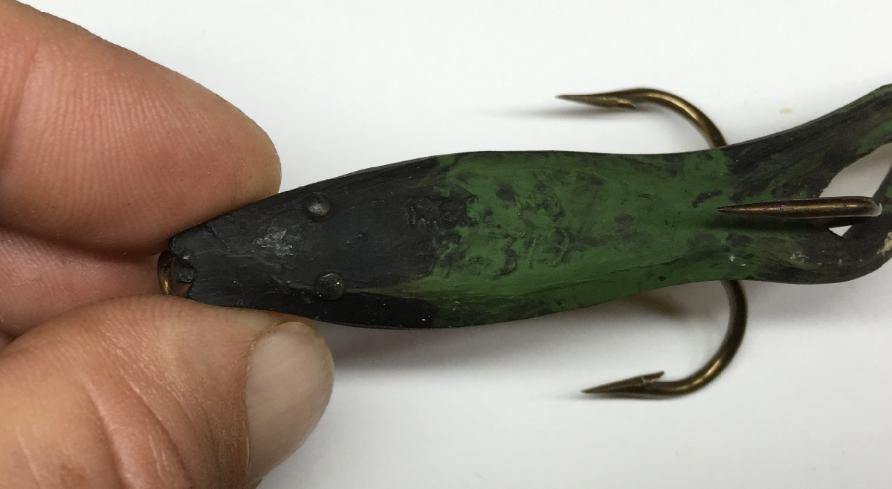 Barraguru Lures - NT

Made by Tony 'Captain Seaweed' Bartlett of Wulguri, NT, who is an avid collector of Barra King lures and contributor to lure forums. Barraguru lures are made in the traditional style of the northern Australian barramundi lure. Cottage maker and lure enthusiast. Tony has however been making lures since 1988 in small quantities.
The lures opposite are two of the earliest Barraguru lures and accounted for many barramundi before being retired.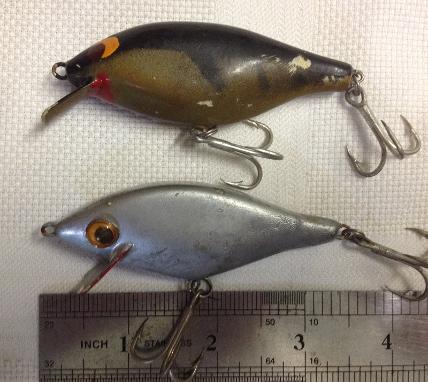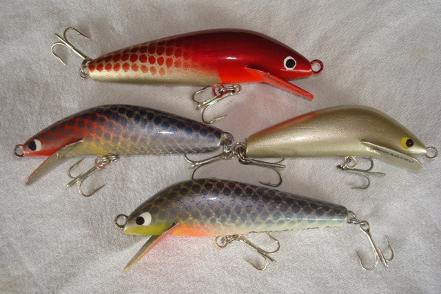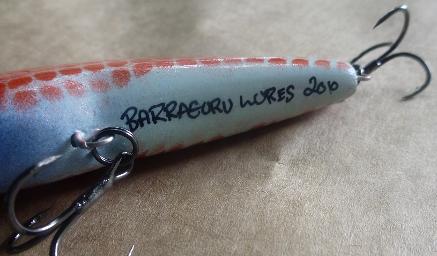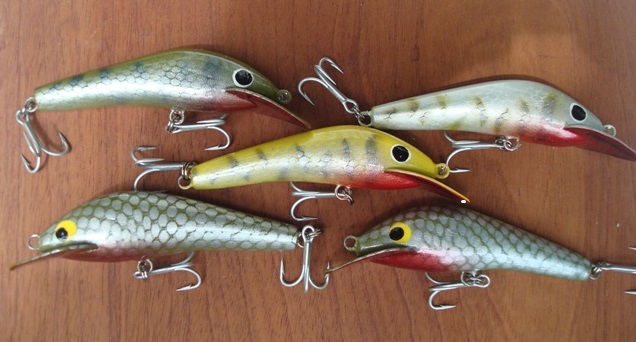 Above shows a batch of Barraguru 'Bigeyes'.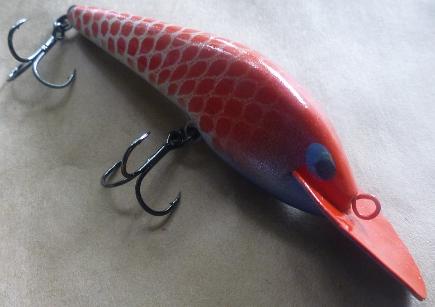 Barra King Lures - Mossman, Nth QLD
Barra King lures were originally made by Henry and Aileen Hall. See full page bio under Barra King Lures. barraking.php
Barra Trooper Lures - NT:
Barra Tropper Lures are made by David Lovegrove in Palmerston, Northern Territory. Started around 2011 and makes a quality handmade timber lure.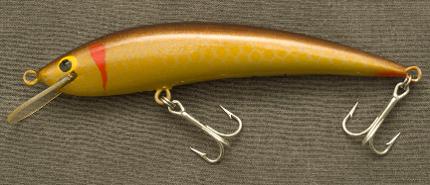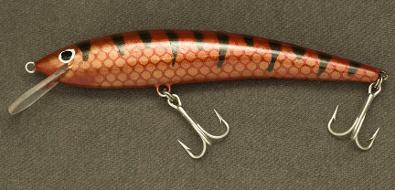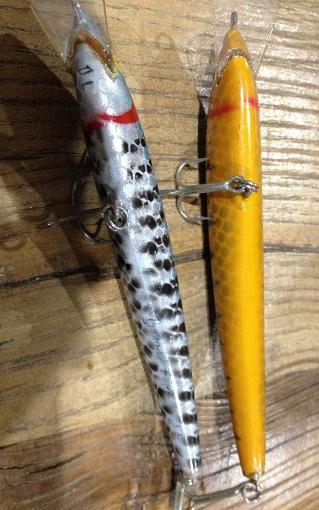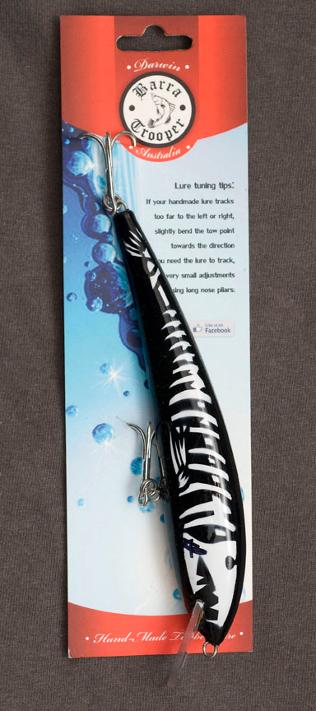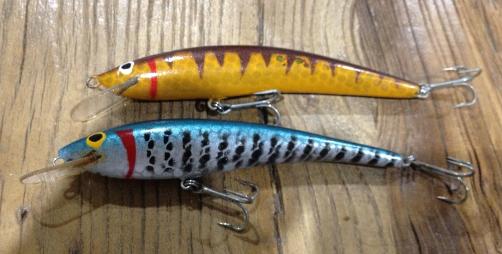 http://i1187.photobucket.com/albums/z389/Pecheur1/BT_06_zps10f78c31.jpg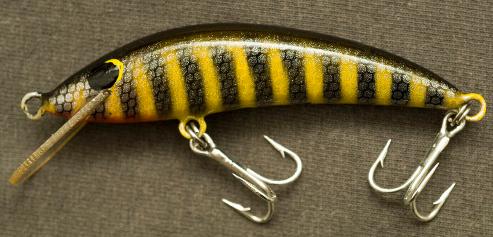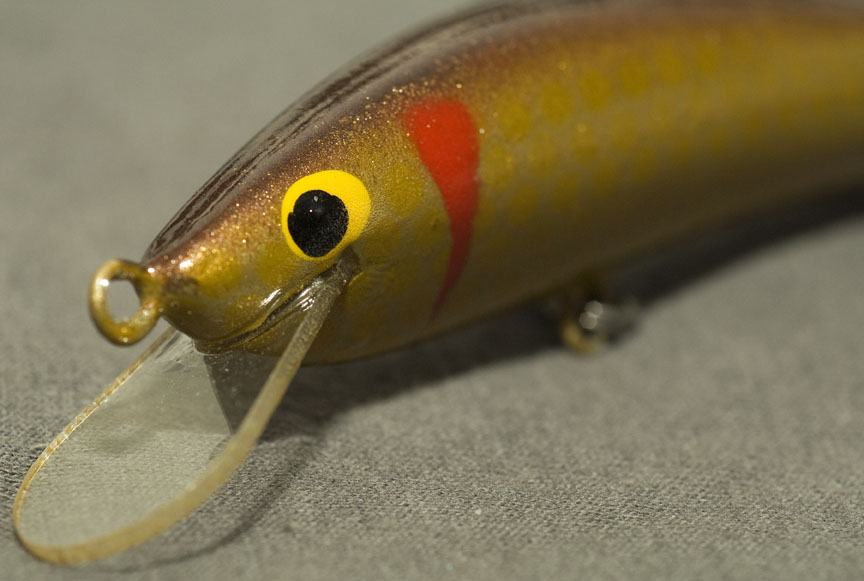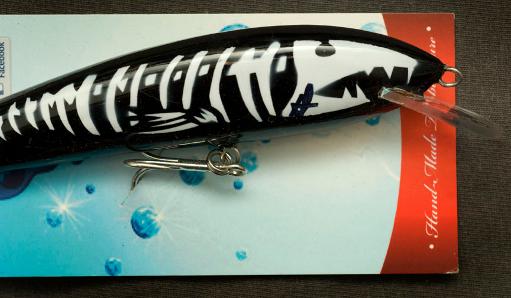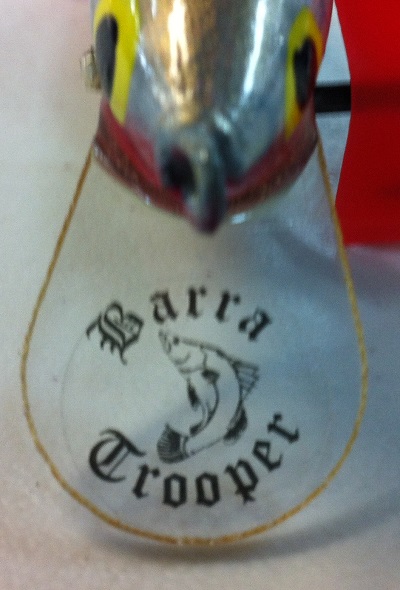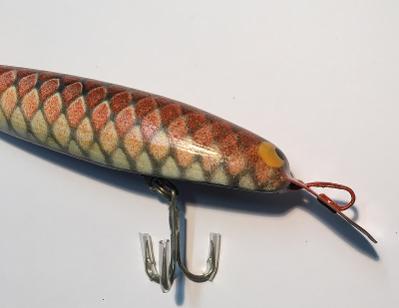 Barrett, Jack Barrett Lures - NSW:
Jack Barrett made timber lures and lived in the Glen Innes and Deepwater areas in northern NSW. Quite easily recognized as they are quite distinctive in style and construction. Old school spray can scale patterns, metal bibs with sturdy front loop tow point that is fixed to bib. Many of the larger models have a flattened belly as shown. Smaller models with a hand made snap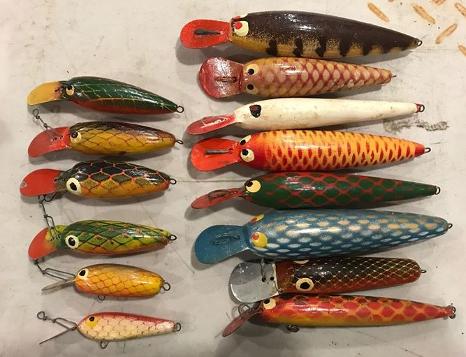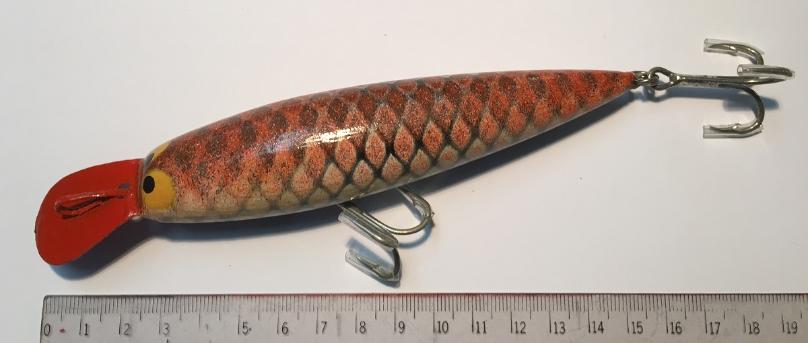 Basil, Philip Basil Lures:
Philip Basil shaped up a small number of timber lures in the 1980's. A cottage maker with lures only ever intended for personal use.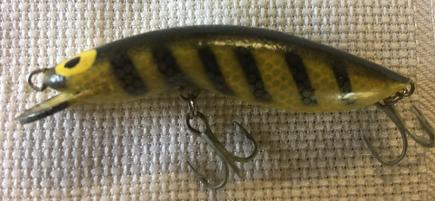 Basko Lures - NSW:
Basko Lures are made by Peter Baskerville in Singleton, NSW. Some Basko lures are named after rivers and all lures are hand shaped from timber.The following information was kindly supplied by Peter;
"The first lures I ever made go back to when I was about 12 (25 years ago). Unfortunately I don't have any of them left. They were very rough made from balsa and what ever I could find in the shed. Caught redfin and trout on them though. I started getting more serious about making them in 2005.
At the moment there are 8 models in numerous sizes and bib configurations.
The 'Cudgee' comes in 4 sizes - 45,65, 90 and 140mm all deep divers.
The 45 and 65 also come in a wakebait and there is a 65 paddler as well.
The 'Hunter' comes in 3 sizes - 75, 85 and 110mm.
The 'Sprat' is a narrow 65mm mid diving lure aimed at Bass, trout,redfin etc.
The 'Shrimp' and 'Cray'. Same shape different size. The Shrimp is 70mm the Cray 85mm.
The 'Nutria' is a jointed 2 piece wakebait aimed at Cod. 140mm.
The 'Cantil' is a jointed 3 piece wakebait. 240mm.
The 'Codaitcha' is my version of Peter Newells Kad. 170mm total length.
There are a few discontinued models as well.
Hope that helps. Pete Baskerville, Basko Lures "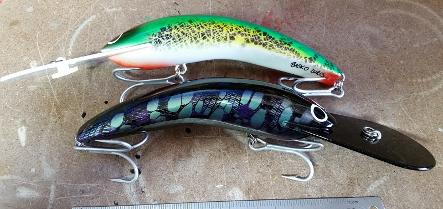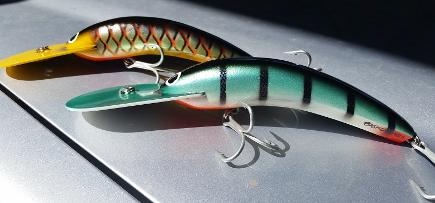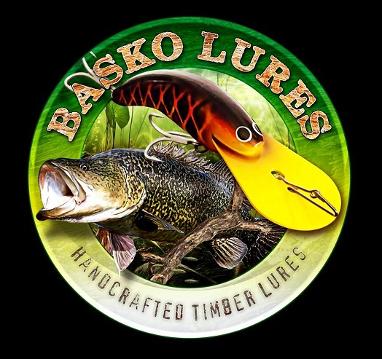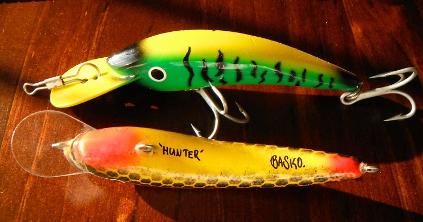 (Above) The 'Hunter' shallow and deep 110 mm body length.
(Below) The 'Cudgee Shrimp' or CS 70mm body length. The 'Cudgee' is short for Cudgegong River, 'where I spent a lot of my early years fishing and still love to get back there whenever I'm home'.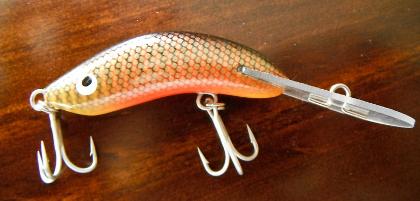 (Below) The 'Meroo' 100mm body length

(Below) The Nemo Set - what else is there to say!!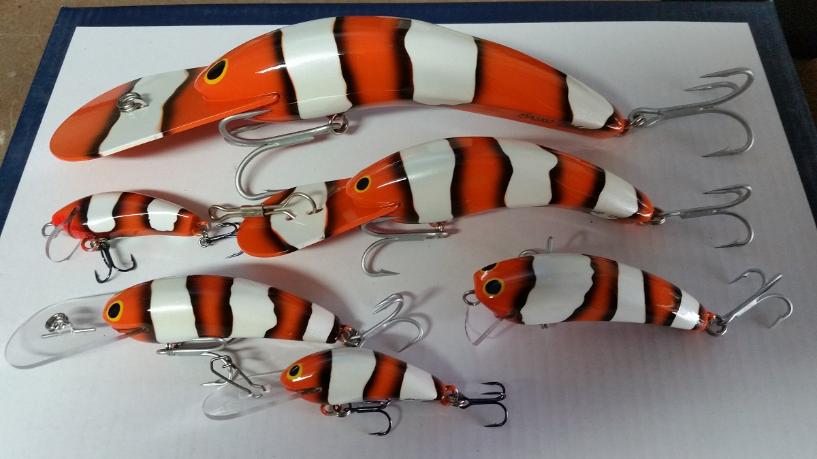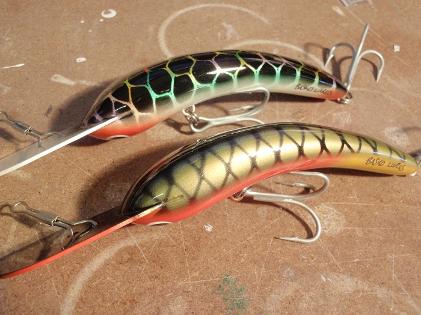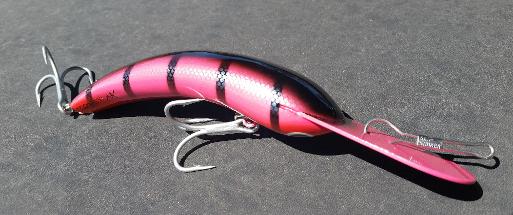 The Basko 'Codaitcha' - the paintwork and finish on these is exceptional. A high quality model with the obvious imfluence of Peter Newell. The lures as shown will be signed.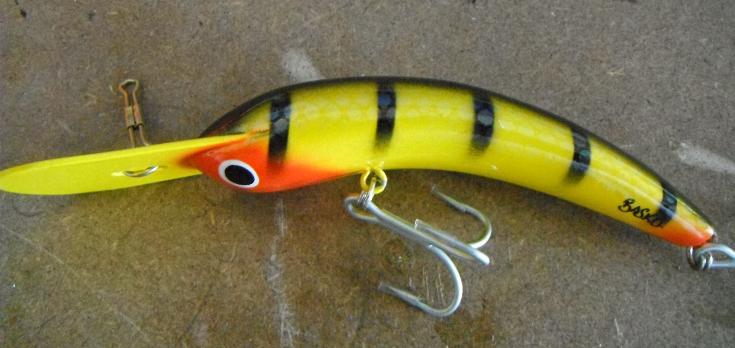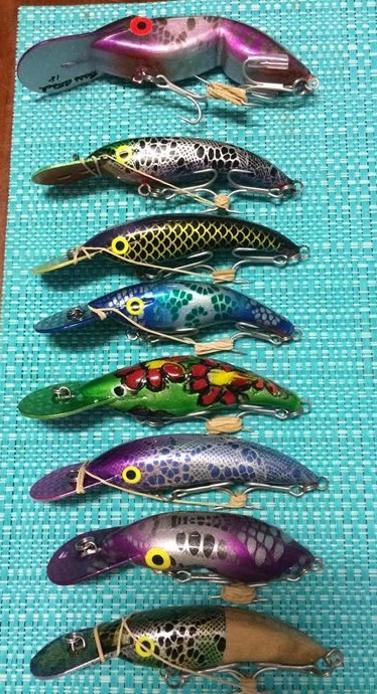 Bass Attack Lures - QLD:
Bass Attack Lures are made by Sean Sly who has been making lures for many years and also a good friend of Christopher Neilsen. Quality lures and original designs.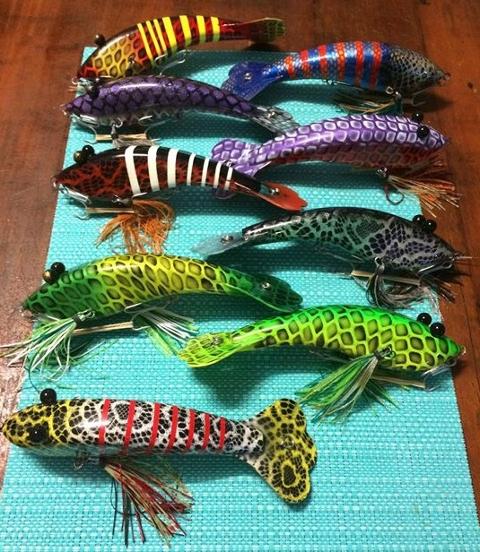 Bass Tad Lures - N.T:
Bass Tad lures were made by Bob Forrester and distributed by Forrestwood Products. The Forrester brothers were keen anglers and lure makers from the Northern Territory and both were shaping timber lures for the market. Bass Tad lures are made in Howard Springs and feature twisted eyelets and a hard durable finish with a great range of fish attracting colours. There are two different colour charts shown below - an early Forrestwood Products version c.1999 and a slightly later MO's catalogue after 2000. Unsure if Basstad lures are still being made today. Sales remain strong in the $15-25 range for mint packaged models.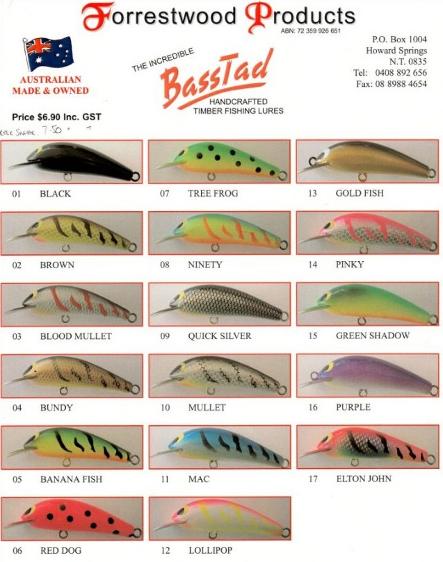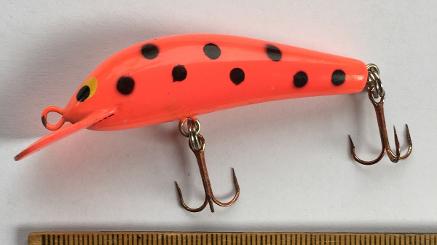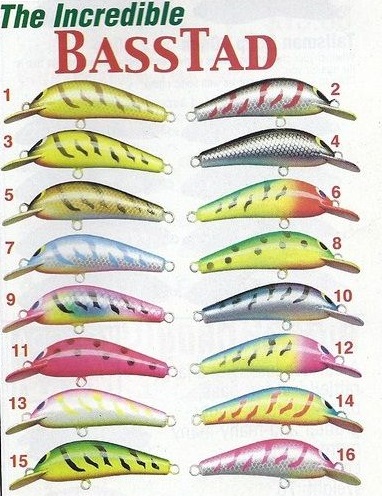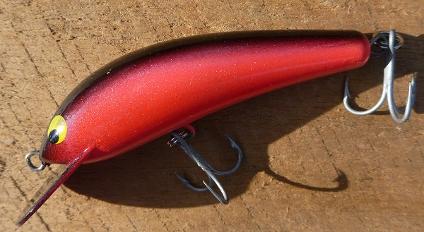 (Below) Bass Tad lure salesmen ring showing some of the colour codes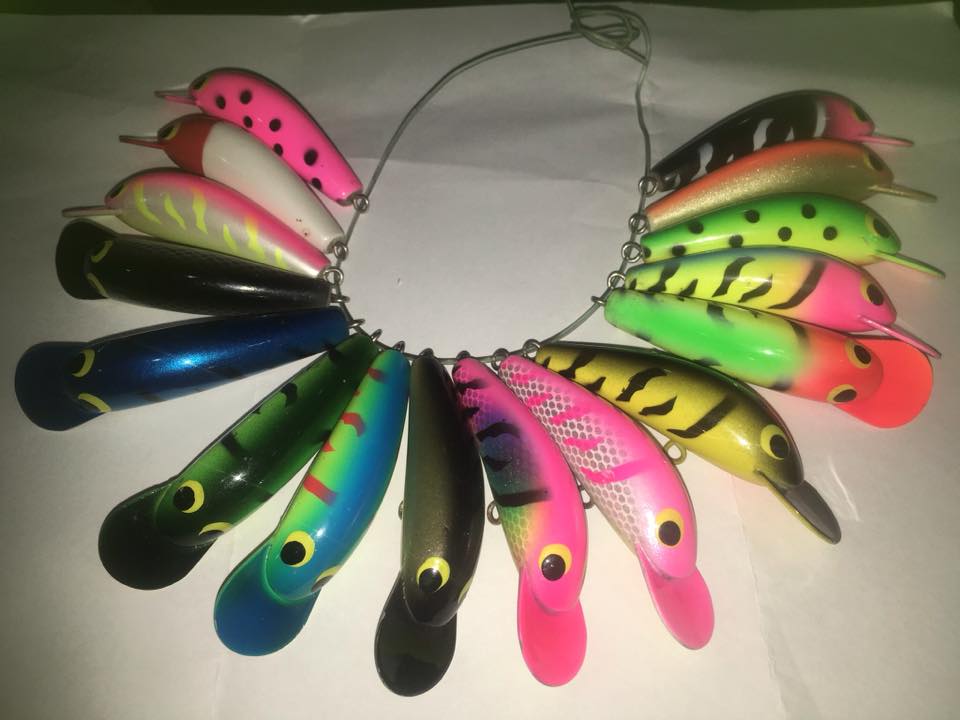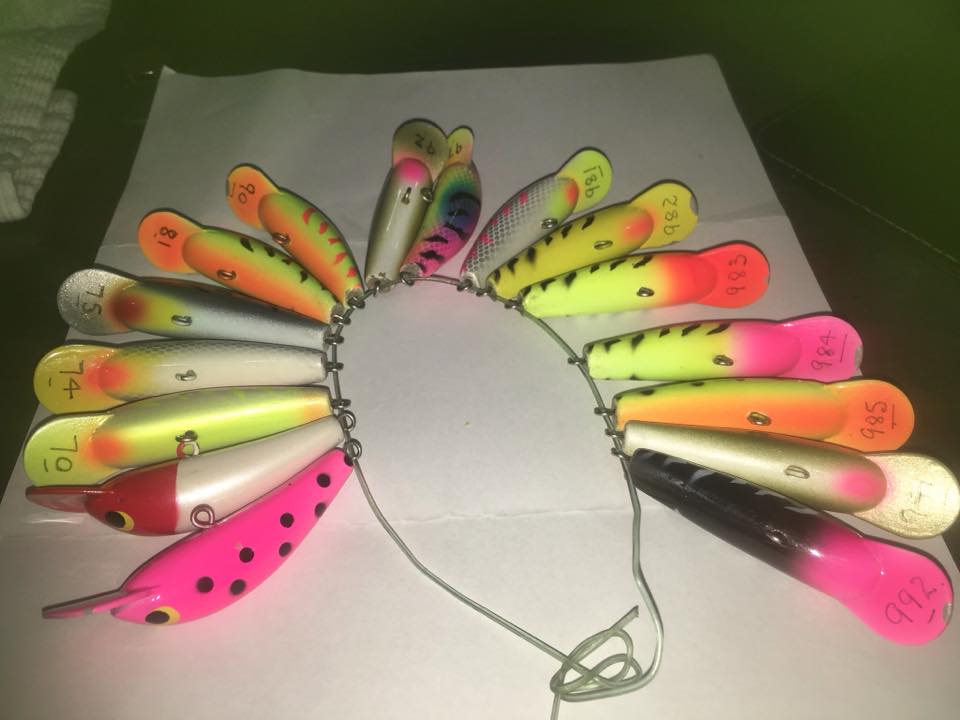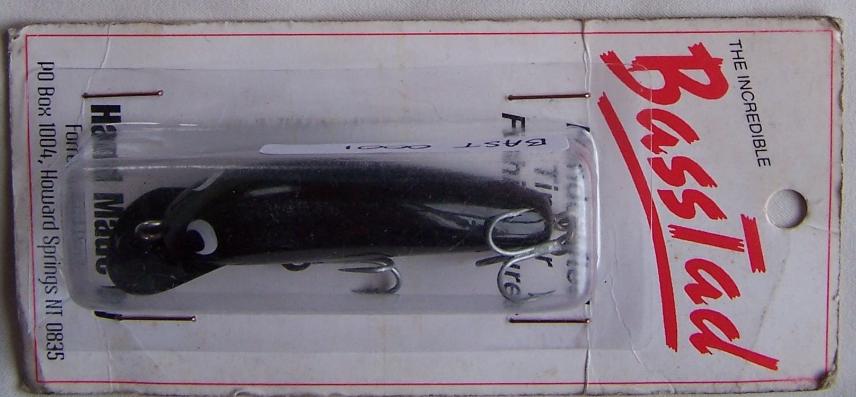 Bass Zone Lures - NSW:
Bass Zone lures are a timber handcrafted lure made by Marko Spehar. The lures shown were made c.2011 and the lures had a good reputation in the Hawkesbury River region of northern Sydney.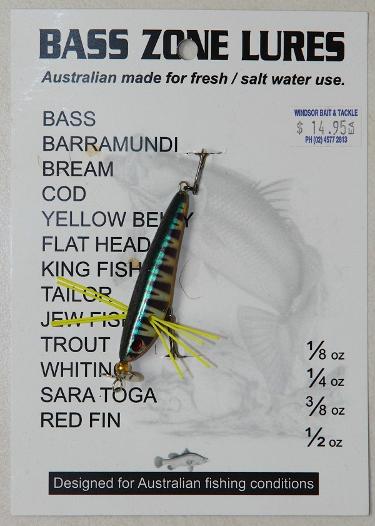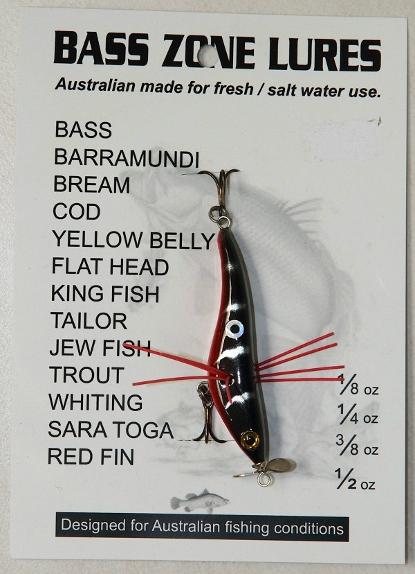 The lures shown are a 6cm and 7cm version which are both fitted with a front prop. As the cards show they are available in 4 sizes. Unsure of how many colour patterns.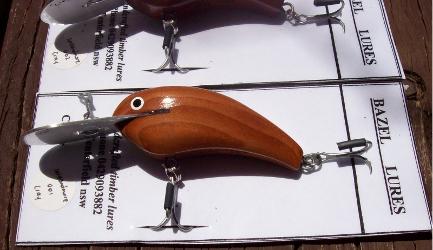 Originally called Baz Lures the name was changed when Elliot his son joined the lure making process hence Baz-el Lures. Baz Lures (2000), Bazel Lures (from 2006).
There were a lot of Bazel Lures made for the
Lure and More
forum which were signed and numbered.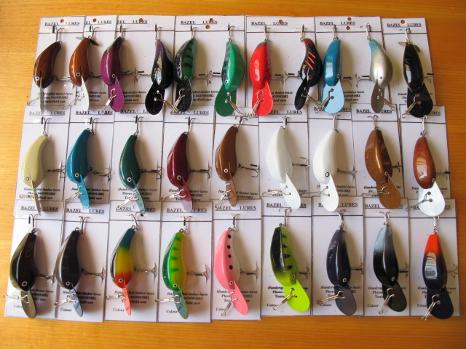 Bazel Lures - NSW:
Bazel lures are made by Barry Daly in Tenterfield from select timber and target native Australian fish. Normally found on a white card with black border and writing. Quality made and a few are released as 'nude' lures or where the timber is clear coated only. A lover of all things fishy, Barry has a passion for cod and yellowbelly lures.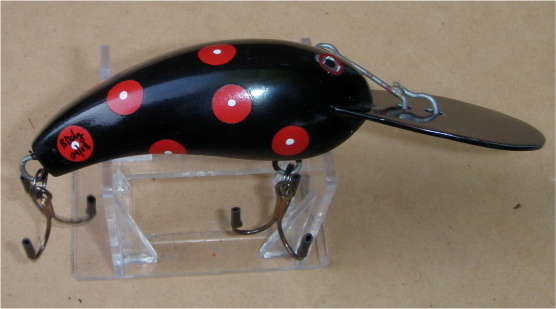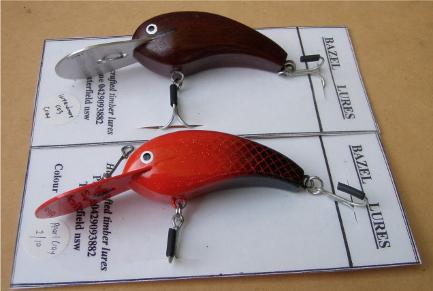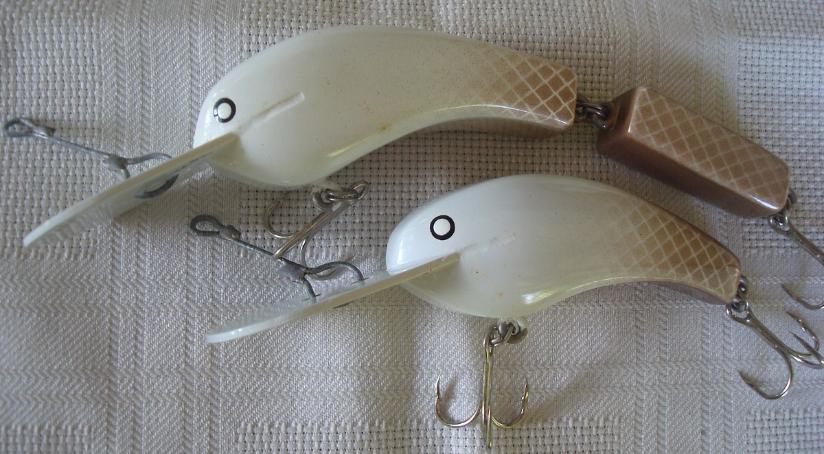 Bazza's Lures - NSW:
Bazza's lures are made by Barry Voysey in Armidale which is high country in northern NSW. Barry makes a wide variety of diving timber lures that will feature hard metal bibs. A quality product from a cottage maker.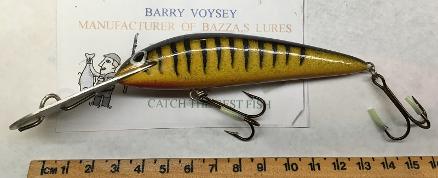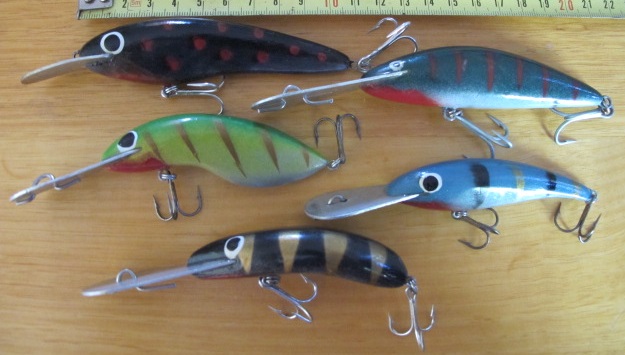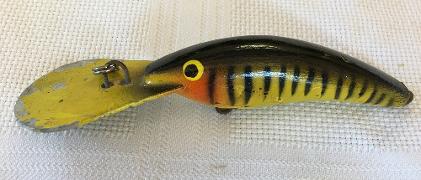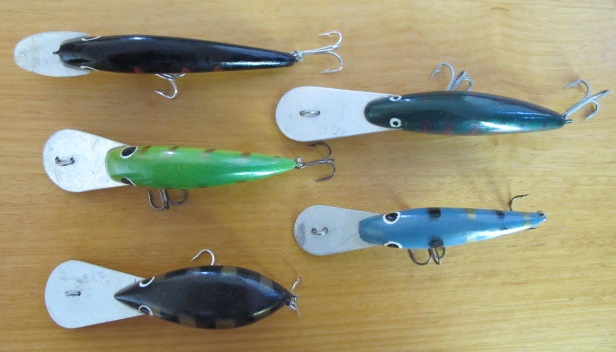 BDL Lures - :
BDL Lures . . . Black Dog Lures??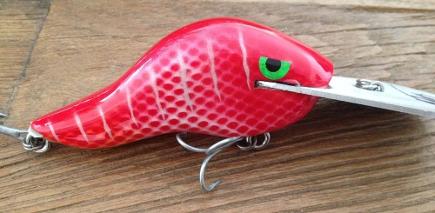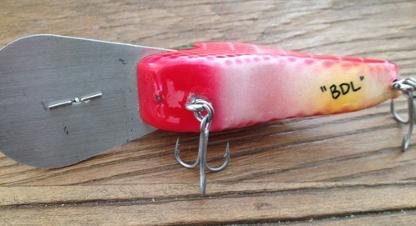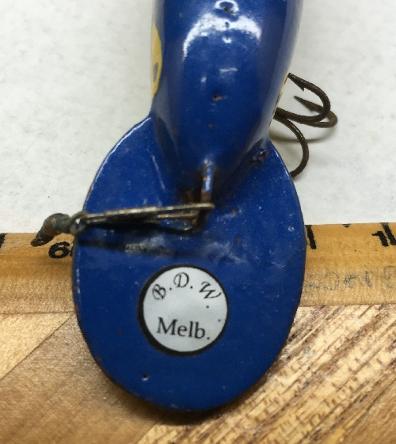 B.D.W Lures, Barry Wright Lures - VIC:
Barry Wright was small time maker who was shaping lures from timber and was later marketing under the B.D.W label in Melbourne.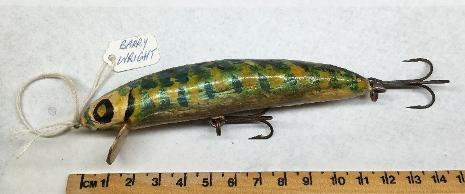 Beagle, Neville Beagle Lures - QLD:
Neville Beagle is another of the obscure Queensland makers who was from Bowen in the mid north of the state. Obviously a skilled backyard maker, his lures are well made from timber and as shown right are well finished.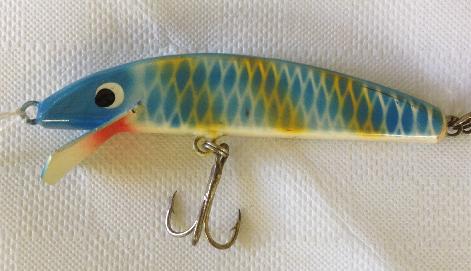 Beardys Lures - VIC:
Beardys Lures are hand made in Beaconsfield, Victoria. A good quality lure with some inventive designs. Started selling lures around 2013 and still available.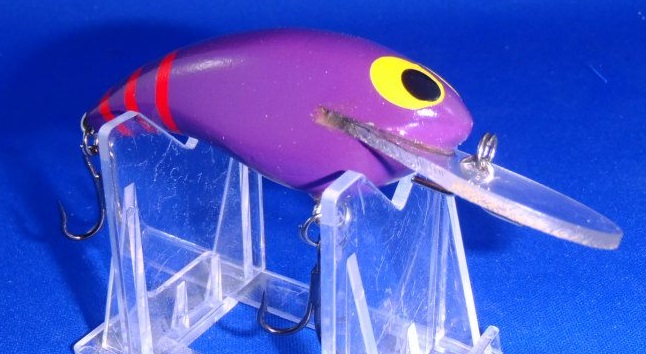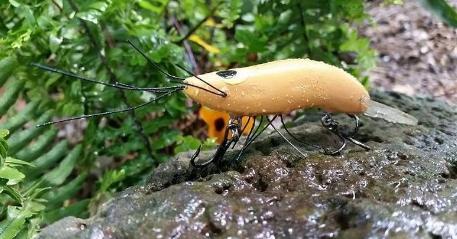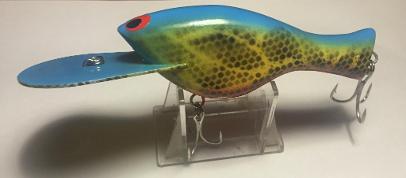 Beardys Paddlers in the first six colours at Expo 2018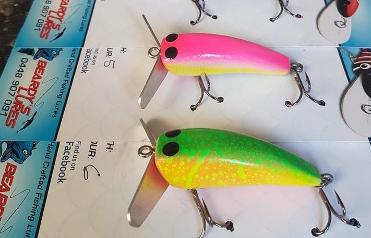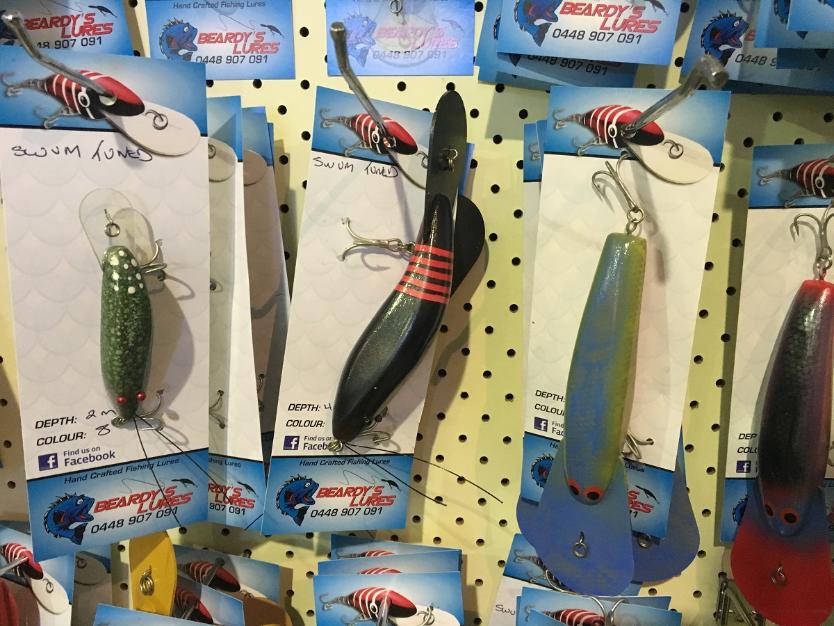 Above - Beardys Lures at Expo 2017 in Ipswich
Below - New range 2018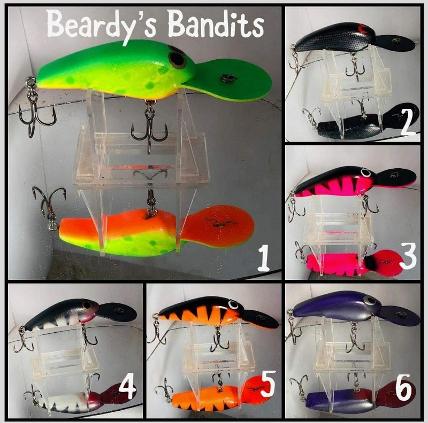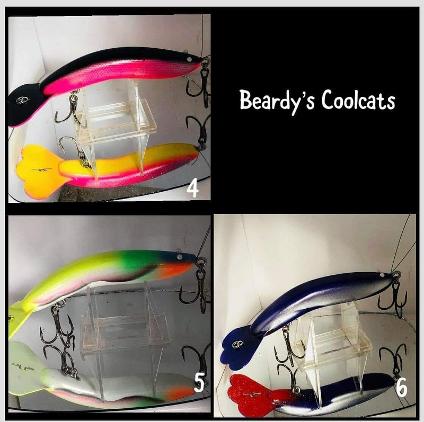 Bebendorf, Karl and Bryce Bebendorf Lures - QLD:
Karl Bebendorf was making quality timber lures and heavily involved in angling clubs in northern Queensland for many years. He has now sadly passed away but some of his lures occasionally enter the collector market and are sometimes hard to identify. These photos were kindly shared by Mick Maskell after talking to relatives.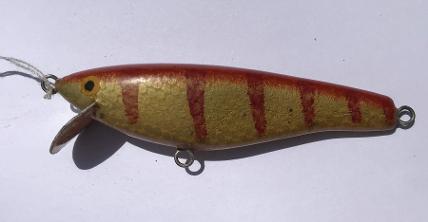 Bryce Bebendorf also made lures under the name of 'Bryce's Lures' and obviously picked up lure making from his father along the way.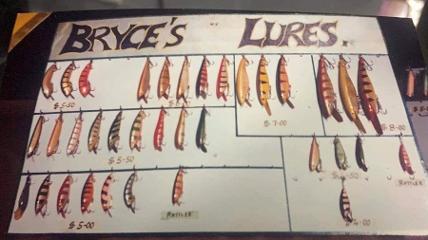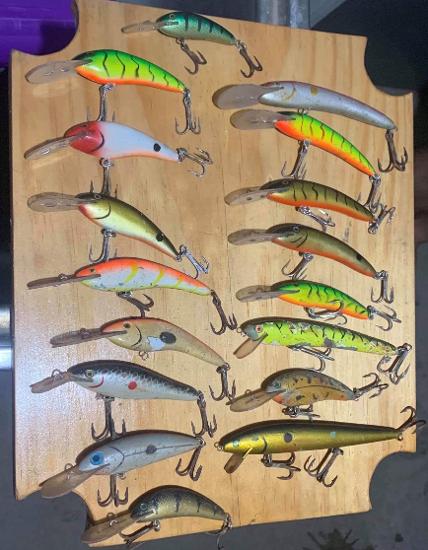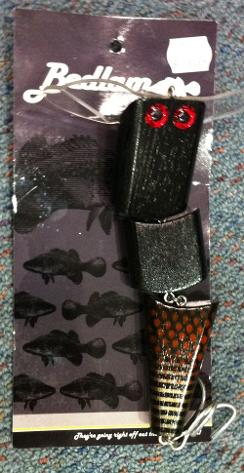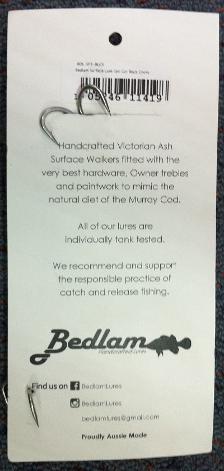 Bedlam Lures - VIC:
Bedlam Lures are a large handcrafted multi- jointed cod lure that is made from Victorian Ash as shown on card left.
This lure was found at Fishing Tackle Australia at Coffs Harbour, NSW and Lure Hub OZ thanks this organisation for allowing photographs of this lure. Stocked in 2016 and a relative new comer in the last few years
Bee Dee Lures - S.A:
Little known South Australian lures made by Bruce and Jenny Dowell. Lure models include the 90mm 'Exocet' and target species are listed as snook, salmon, flathead and tropical species such as barramundi, jacks and threadfin salmon according to the card. Earlier lures may be found on a number of different coloured cards as shown. The Bee Dee 'Scud' shown right is stapled in cellophane pouch with a green cardboard header stapled to snap lock bag. These lures are uncommon and were made of timber in the 1980's/90's and are no longer available.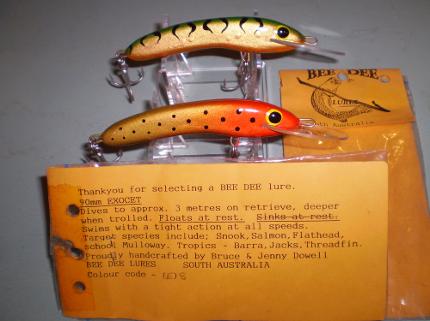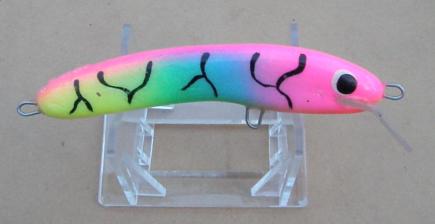 Another model, the 40mm 'Scud' was also available in both floating and sinking models. Later carded lures featured Glow in the Dark finishes and the 'Bee Dee' logo of a fish. Lure below shows a 4omm Scud and the reverse of the card lists colour as 'Mullet Killer'.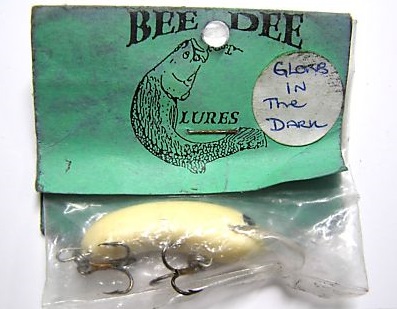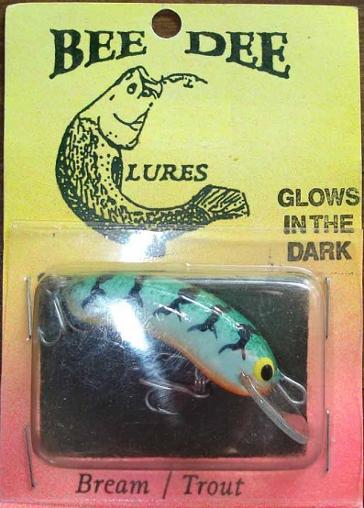 Belford, Greg Belford Lures - QLD:
Little known lure maker Greg Belford of Townsville made timber lures in the mid 1980's. His early lures were sprayed with a can then a hobby airbrush using a large inner tube inflated to work the airbrush. He started making lures about 1988 and stopped in 1999 and was inspired by Eric Moller and Vic McCristal. He learnt how to make lures by doing a TAFE coarse in Townsville. Eyelets are gal wire. He dipped his lures in the undercoat, applied the pattern and then dipped the lures into Estapol allowing 3-4 days for drying. Pine was the preferred timber. The rough lures were cut on the template marks with a fretsaw. A 12" sanding disc hooked up to a washing machine motor was used to sand the shape right down and then hand sanded before painting.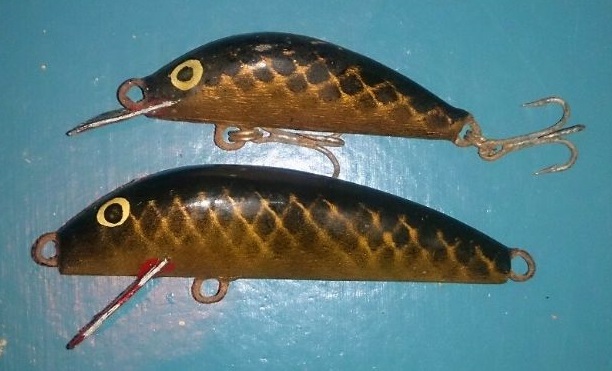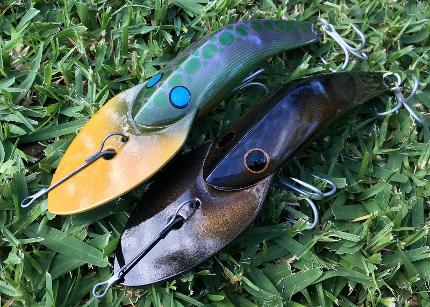 Justin Bell's 'Magic Marker' - a pair from one of the earliest runs of this model. Below is the first in this style and is signed on belly and bib with message. All made in early 2017
Bell, Justin Bell Handcrafted Timber Lures - NSW:
Justin Bell has been marketing his handmade lures since 2016. Going under the name of 'Handcrafted Timber lures by Justin Bell', this maker has created a high quality product for both the collector and the angler. Mainly targeted at larger native freshwater fish such as Murray Cod, these lures look exceptional in and out of the water.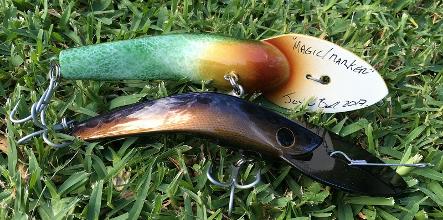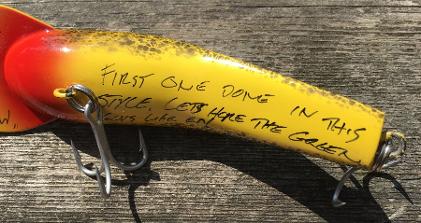 Bellbrook Lures - NSW:
The 'Bellbrook' brand of lures was a product of the manufacturer Wm. Southam Pty Ltd from Artarmon in Sydney. Included the series of Bellbrook Wobblers and Swayback series of lures. See Wm. Southam Pty Ltd. wm-southam.php
Bellingen Bobber Lures - NSW:
The Bellingen 'Comma Bobber' is an historic bass lure that was developed in the Bellingen River area of NSW - The Bellinger River heads towards Coffs Harbour with the headwaters deep in the lower Dorrigo Plains near Upper Thora. It is referenced in a couple of publications including Vic Mc Cristals book 'Freshwater Fighting Fish'. These lures are rarely seen and highly collectable.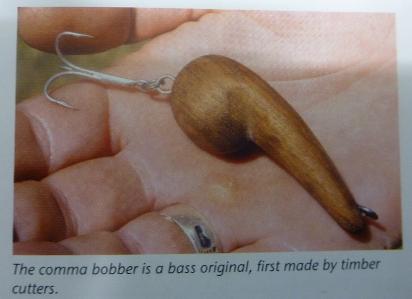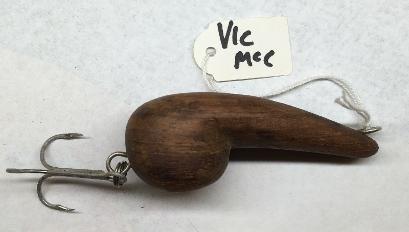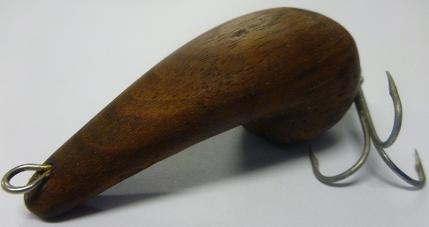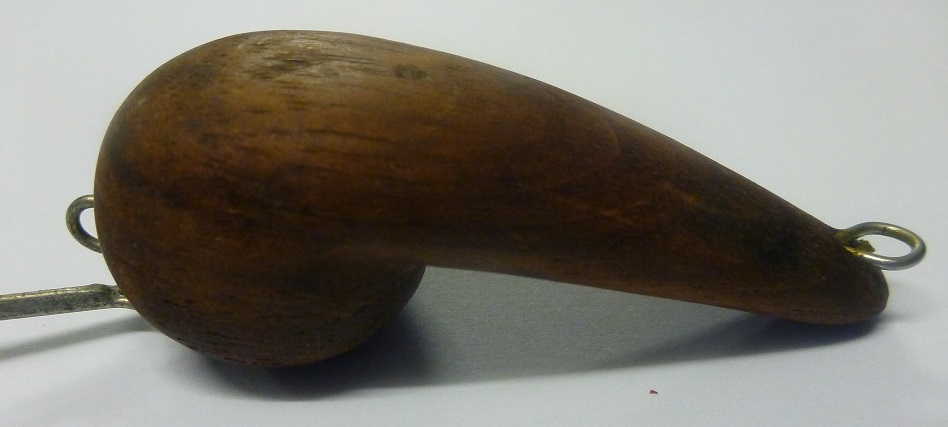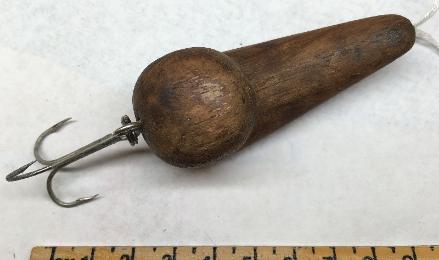 Benda Lures - QLD:
Timber lures made by Bob Simpson from Bribie Island in QLD according to the lure and card on the right. Lure shown right is called a 'Creek Benda'. Lure below looks to be an early Benda. Little information on these lures.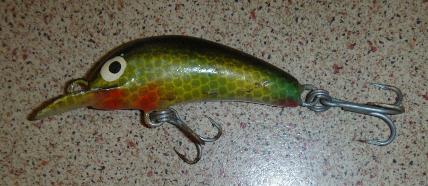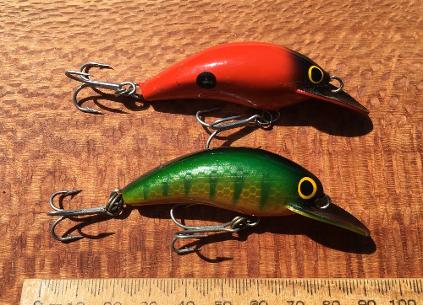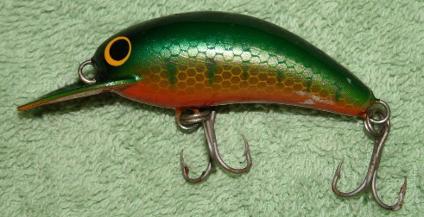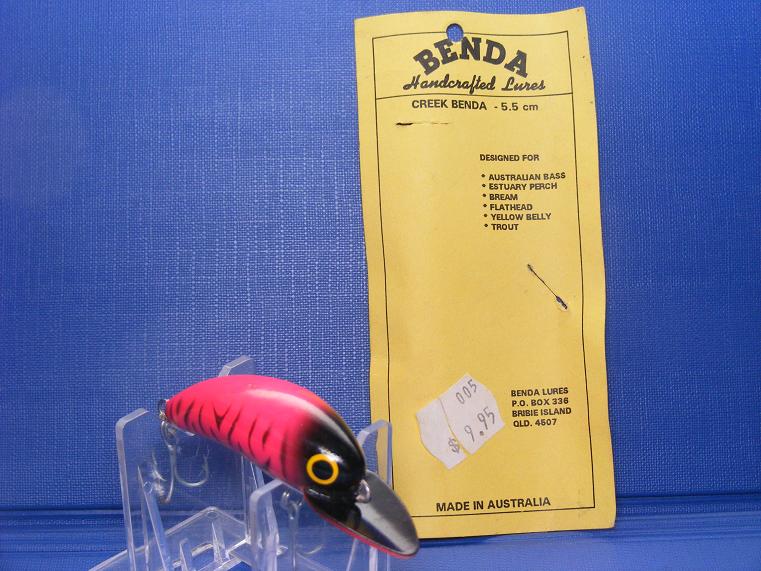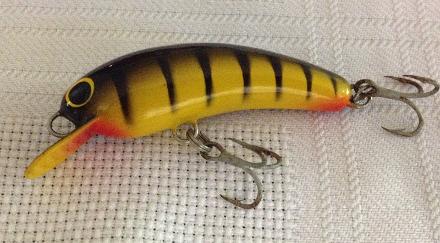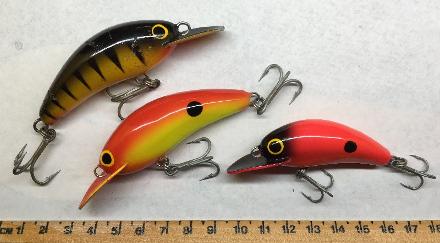 Bennett Lures - NSW:
John Bennett went solo after the split with Steve Mc Grath and is still producing both plastic and timber lures to this day. His paint finishes are one of the best around and his high level of craftsmanship means he remains one of the most influential Australian lure makers. See full page for Bennett Lures.
Bennett/Mc Grath Lures - NSW:
The Bennett-McGrath lure story starts pre 1984 when John Bennett and Steve Mc Grath started developing an ultra light lure targeting trout and Australian native fish in the Albury/Wodonga region. The history of Bennett - McGrath Lures has been covered under McGrath Lures. See full page bio under McGrath Lures. mc-grath.php
Benos Lures - NSW:

Lures made by Robert Bennett, Forster NSW. Hobbyist maker who makes a solid timber lure. Signed on belly with pinned bibs. Lure below sold on Ebay in November 2019.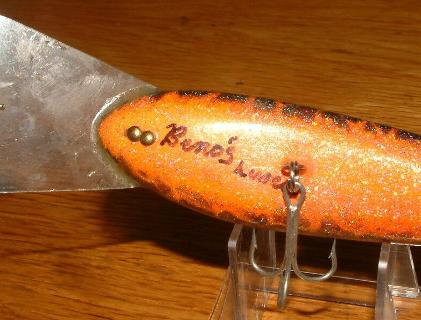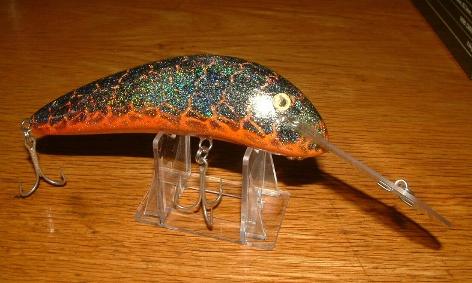 BG Lures:

No Information.
Bespin Lures - NSW:

The Bespin 'Skipper' lure was released in the early 1950's and was made in Bondi Junction, Sydney. The two advertisements below show two variations of the same advert. The bottom left is c. 1952 when Bespin Products sold from the factory in Bondi and the other advert is from 1953 when the Bespin 'Skipper' was sold through Fullers Agencies located in Clarence Street, Sydney.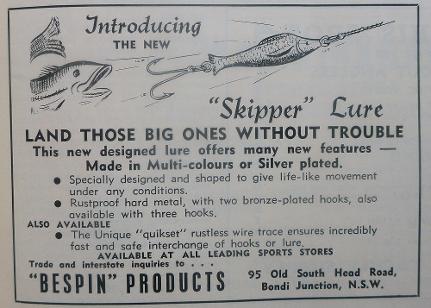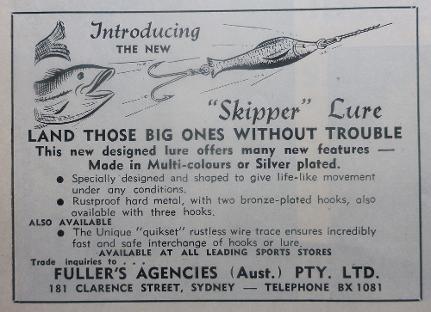 Bespoke Lures:
A new lure maker that emerged onto the market in 2018 with a quality product. More to come . .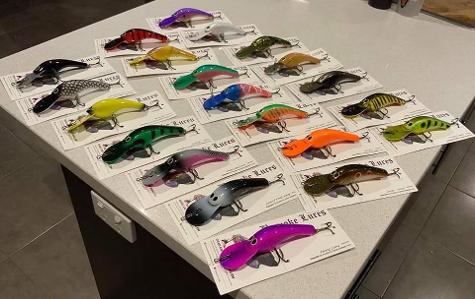 Bevan, Barry Bevan Lures - QLD:
Lure maker from Cairns area that was making timber lures in the 1970's. True cottage industry backyard maker as were many avid anglers at this time with the advent of lure fishing and the expense of imported fishing lures.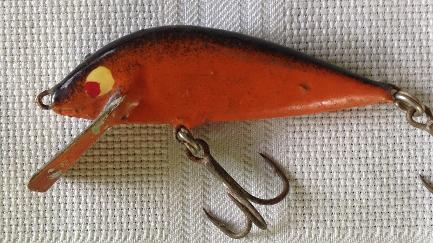 B.G Lures - QLD:
B.G Lures are a quality lure that was also marketed under the name of Rainbow Lures. Made in Boonah. Lures are currently available and are moulded.
Models shown are the 'Allrounder' deep (opposite) 'Allrounder' standard bib (below left), the 'Topender' (below right) and the smaller 'Bass/Bream'. Different coloured cards in clam shell packaging.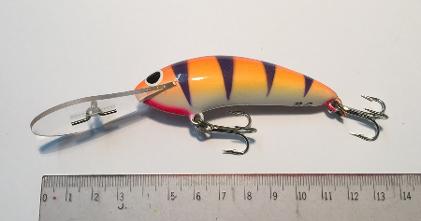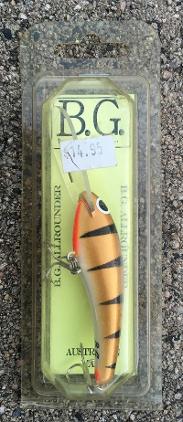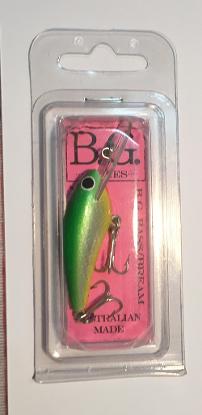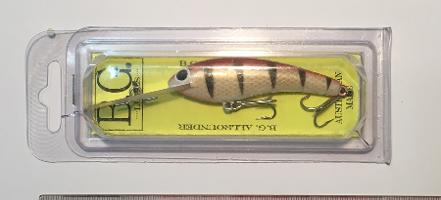 Bibby Lures:
Adrian Bibby makes a range of hand crafted timber minnows suited for fresh and saltwater species. More to come . . .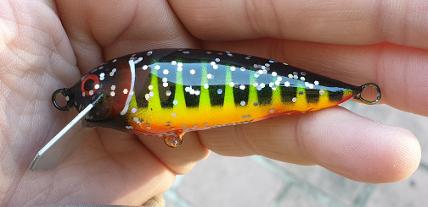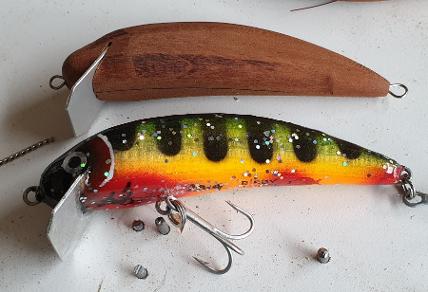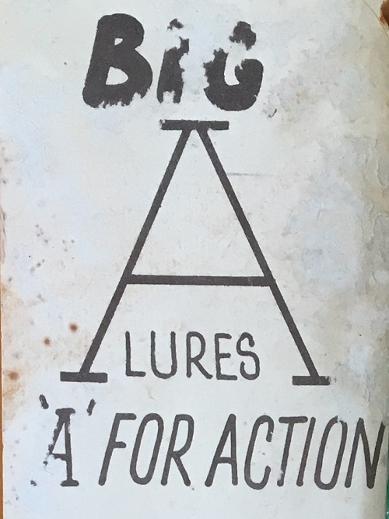 Big A Lures:
Big A Lures are a vintage metal spinning lure. No information other than what is provided on the card. Only example ever seen. 'A' for Action . . .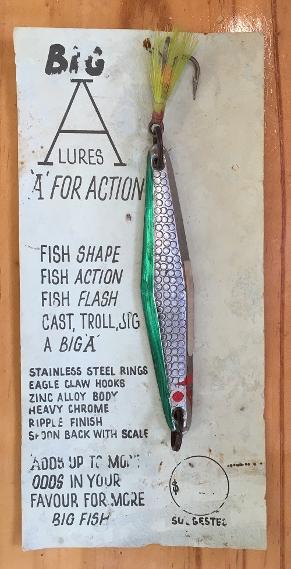 Big Bugga Lures - NSW:
Big Bugga Lures were marketed out of Sydney by David Lowis with a small range of imported chromed spoons similar to the Abu Toby and other products including feathered jigs and spinners. Advertisements appeared in the mid 1990's. Product review shown right for large pusher style skirted game lure.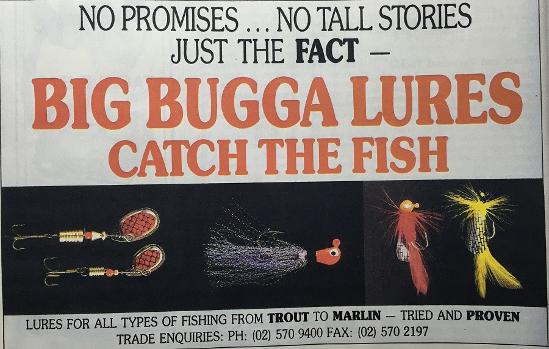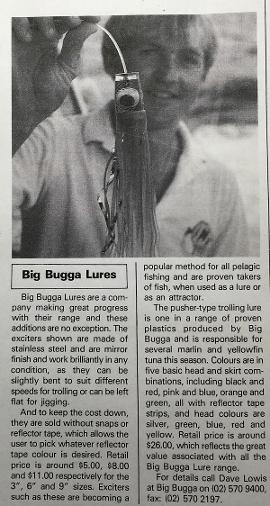 Big Daddy Lures - QLD:
Big Daddy is a relative newcomer to the Aussie lure scene. Quality timber lures made by Rob Bell in Mackay, North Queensland. Facebook page.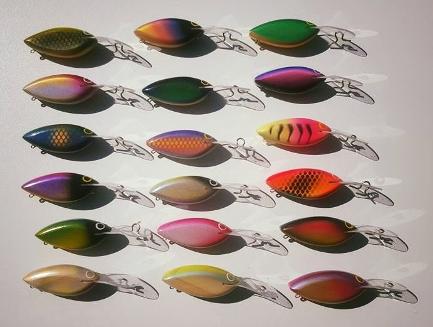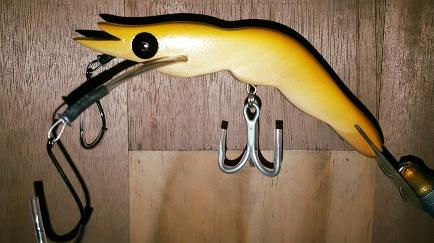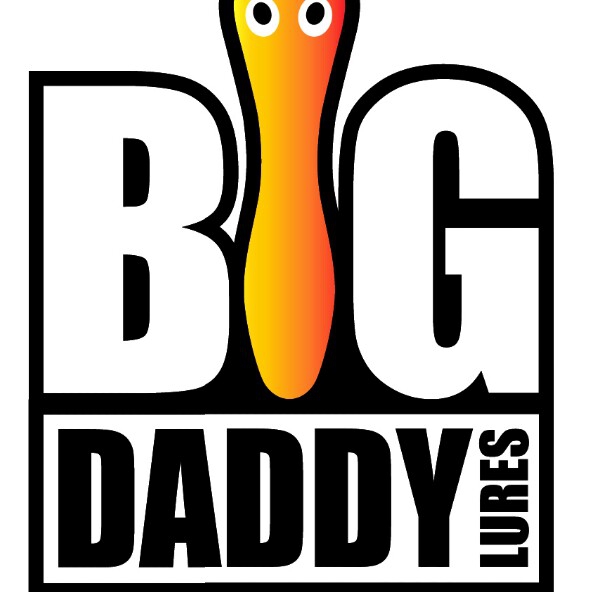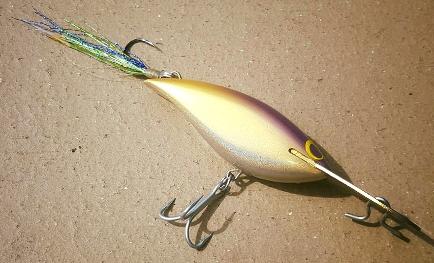 Big River Lures - NSW:
Big River Lures was a venture by Paul Kneller to focus on some surface lure designs. Models included the 'Kelpie' and smaller 'Pup' (right) which are walk the dog style lures. Another model is the small popper called the 'Kidney Slapper' which is pictured below.
The designs and copy lathe were sold to Tom Barrett of Gidgee Lures prior to 2010. Big River Lures were sold on a white card with logo at the top as shown in photos. Handfinished and constructed from timber, there was a large range of colours and colour variations available.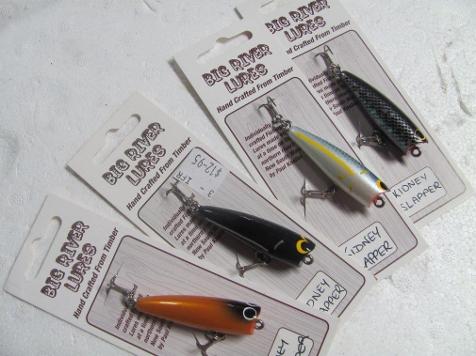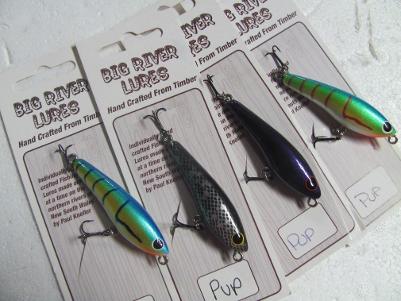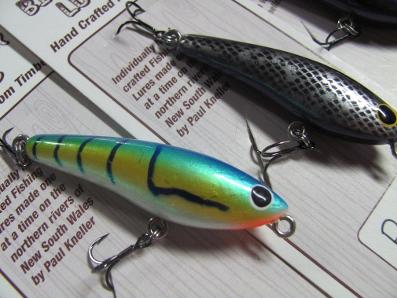 Big T Lures - QLD:
Big T Lures are made by Adrian Thompson from Toowoomba. Designed for Murray Cod and yellowbelly fishing there are a number of models being made including the 'RIP', 'Duckbuh'.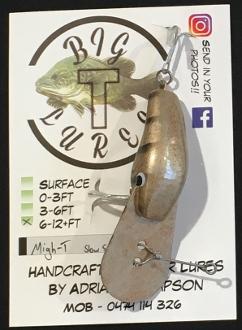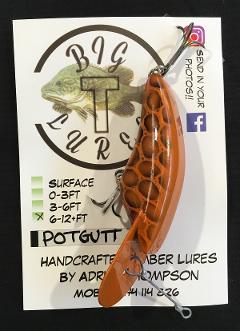 Big T Lures had their first Expo stand in 2019 with a nice range of well finished lures and designs.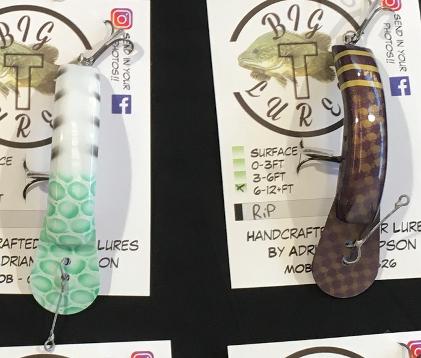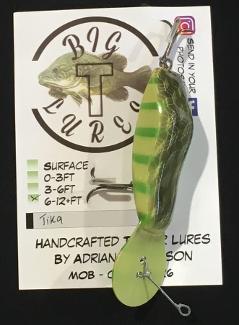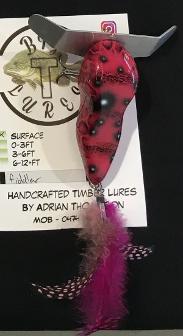 Bills Bugs - NSW:
Bill Clark is a very inventive lure maker from Yamba in northern NSW. Maybe his most famous lure was the 'Flutterbug' which came in a number of sizes suitable for any surface feeding fish. Originally shaped from timber with heavy duty metal bibs Bills Bugs were available from the late 1980's and then moulded plastic as demand became higher.
Other models include the 'Fuzz Bug' with either metal props (earlier models) or clear perspex props (later models). Bills Bugs also made small minnows like the 50mm 'Mantis', large minnows 'Barra Bug' (135 and 155mm), 'Jewfish Bug' (160mm) and green and brown frogs. Earlier lures both wooden and moulded may be signed 'Bills Bugs' on the belly. See full page bio under Bills Bugs
Bills Lures - N.T:
Uncommon 'Scorpion' shaped timber lures made by Bill Feast from Palmerston, Northern Territory with metal bibs, hand painted eyes. Lures are unmarked. Also makes other models including poppers. The lures below came up for sale on Ebay between 2014 and 2018 and all have the characteristic masked arrow paint jobs.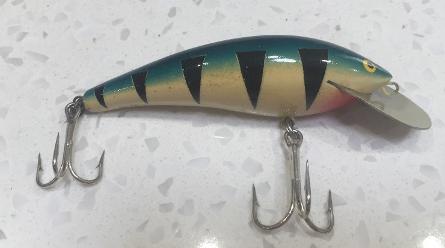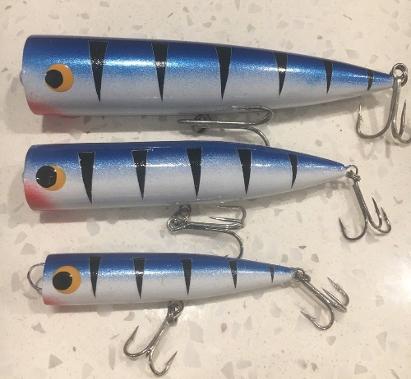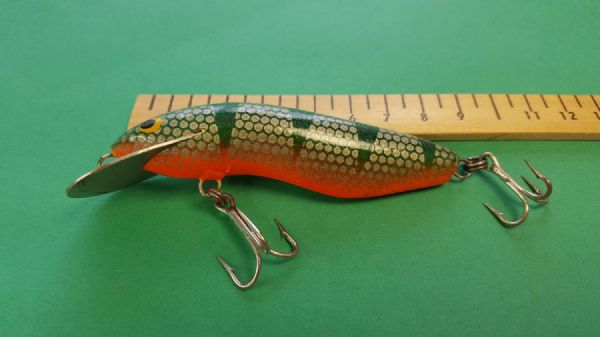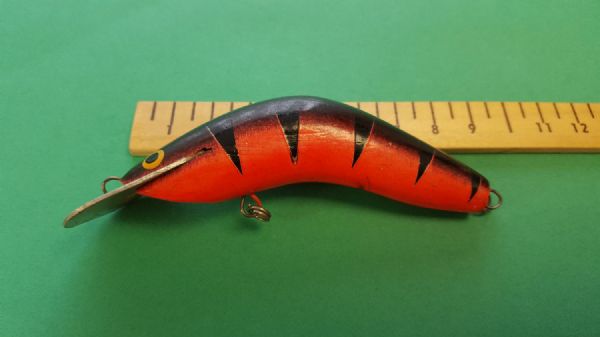 Bills Popeyes:
Vintage metal slug style lure marked 'Bills Popeyes'. Made by Bill Way and was part of the Nat Nat range.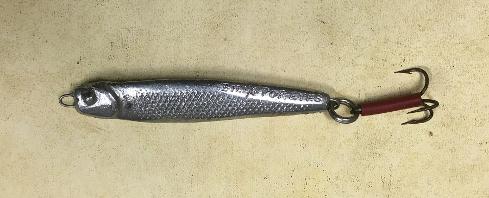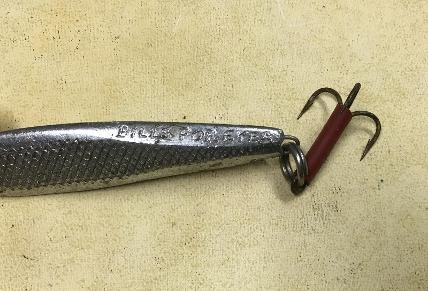 Bingara Lures - NSW:
This lure came up for sale via Ebay in April 2016 and was signed on the belly Bingara 'Kerra'. An unknown entity at this stage but looks to be a well constructed lure.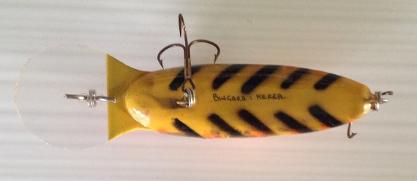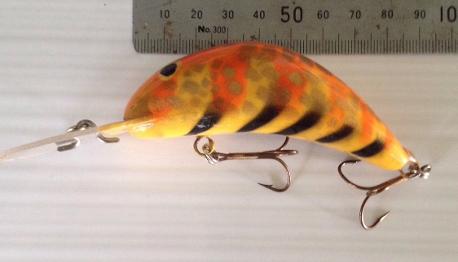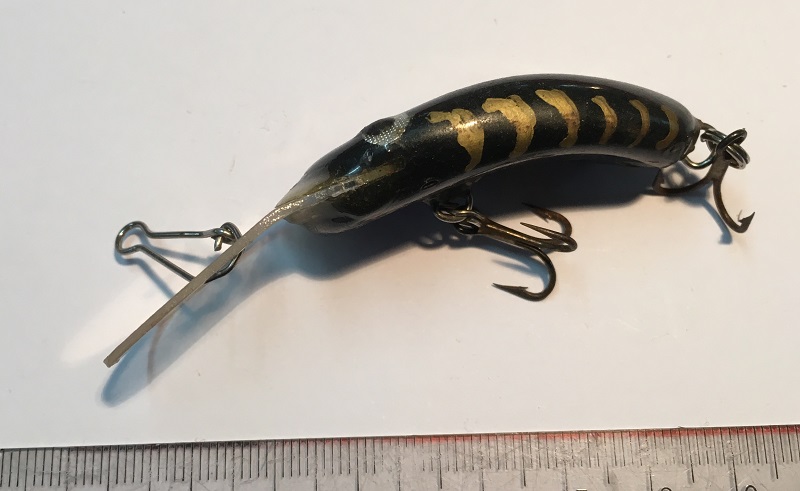 Earlier lures may be signed HJC.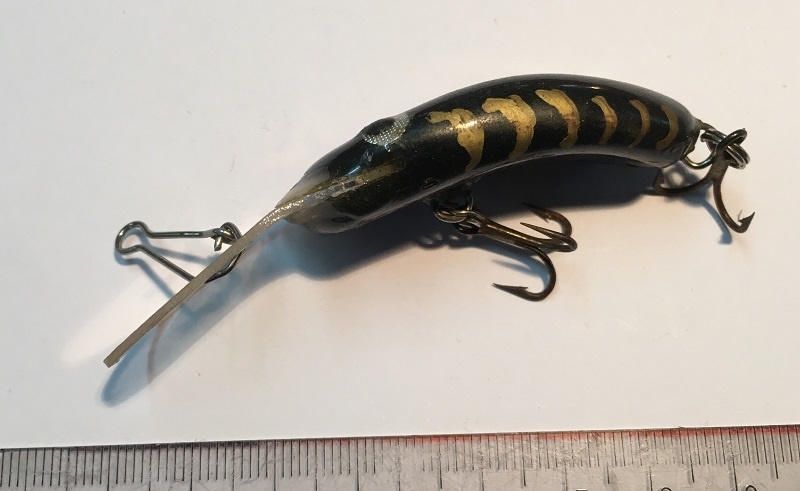 Another deep diving model and popper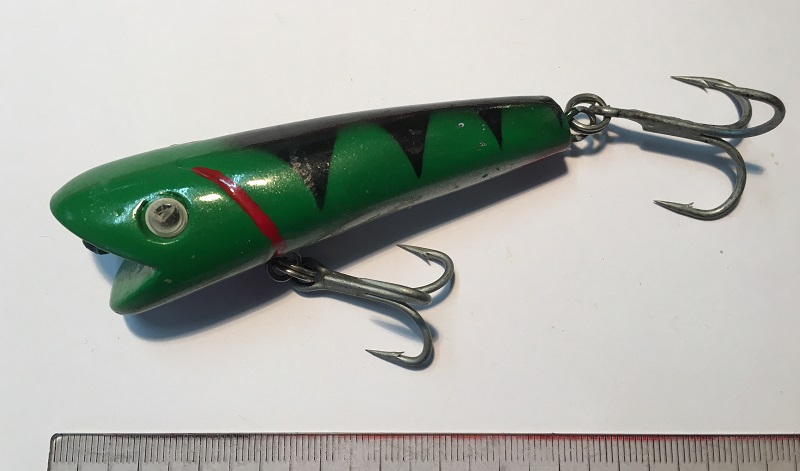 Bite Me Lures - NSW:
Timber lures made in South West Rocks by hobbyist Harry Cooper who is a keen angler. There are various models including poppers and interesting bibbed lures.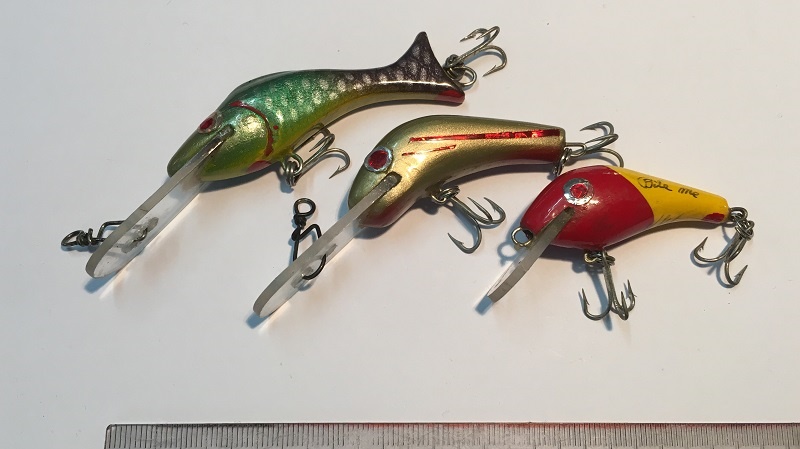 Later signed models some utilising strips of prismatic tape.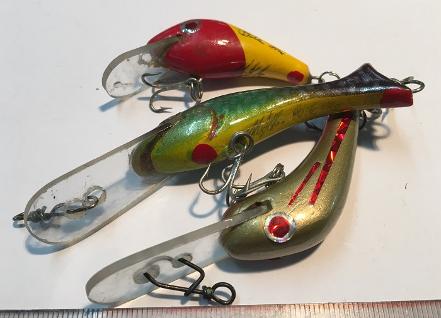 Earlier lures may be signed HJC.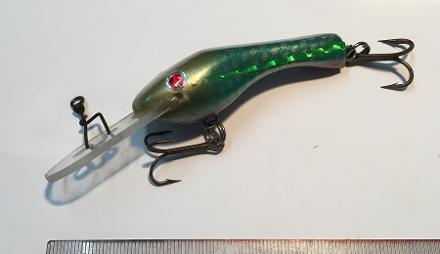 B.J's Custom Baits:
The following information and history of B.J's Custom Baits was supplied by Brian Bochow;
"B.J.s Custom Baits is the brain child of Brian J Bochow. The little backyard operation began life back in 2007. Brian had previously worked with two former Australian national spinnerbaits companies but he soon found a desire to create products of his own designs and so like so many others he imported in from the U.S.A. a range of mold and parts to construct his own spinnerbaits. Originally he played the game and used the standard silicone skirts that was the accepted skirt material of the day. The little operation was just simply called B.J. Spinnerbaits. Within this time frame a customer from Berri in S.A. used a twin spin designed bait complete with silicone skirt and a Atomic soft plastic curl tail grub measuring 5 inches.This bait caught the first 100lb cod in South Australian waters on a bladed lure presentation. Unfortunately though the rubber bands that hold the silicone skirt in place would deteriorate leaving the skirt to just fall off and come apart. In 2008 Brian changed tact and start tying rabbit fur zonkers to his spinnerbaits range with huge success.
A name change to B.J.s Custom Baits was facilitated some 2 years later in 2010 reflecting Brian's attitude in thinking outside the square of more conventional lure making standards and creating his own custom designed lures with varying degrees of success. These days Brian has developed a large range of designed lures that are sold under the custom baits logo. All models sold are firstly put in the field to make sure each design catches fish. When they are proven fish catchers they are then added to the Custom Bait range for buyers consideration. Sales have boomed World wide with lures heading to overseas buyers on more than one occasion. The Custom Bait range has caught many fresh and saltwater fish species in North America, Amazon River South America, PNG black Bass, etc to name just a few locations."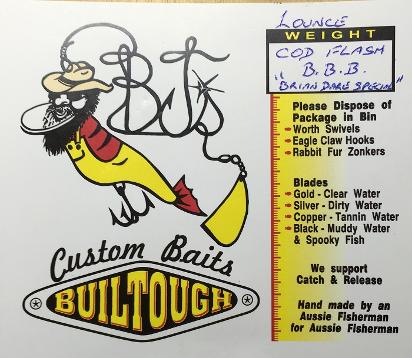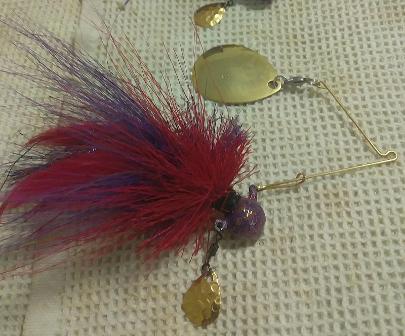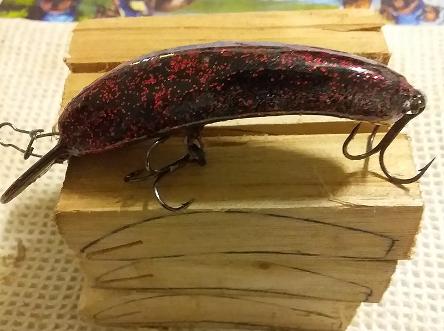 There were some timber lures made by Brian before focusing more on spinners and other styles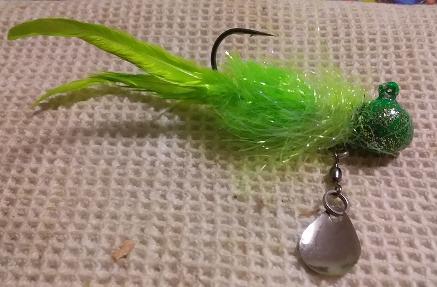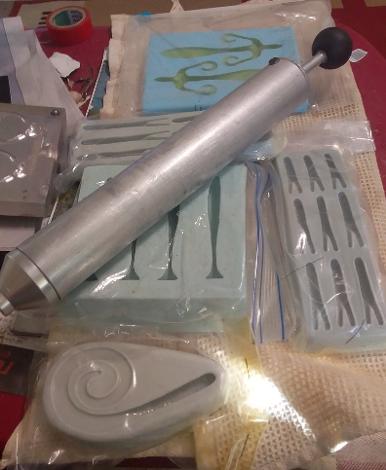 Tools of the trade - some of the plastic jig moulds and assorted materials for making jigs, spinnerbaits and plastic tails.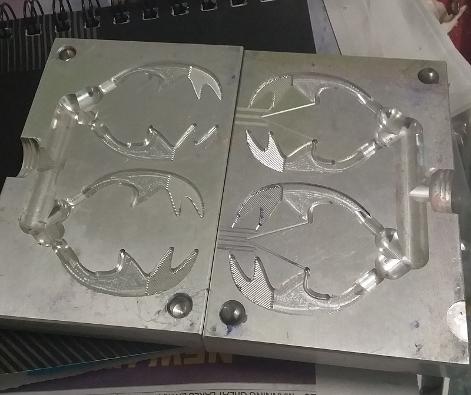 BK Lures - QLD:
B K Lures were started by Bruce Kilpatrick who lives on the Atherton Tablelands in North Queensland. He made his first lures at school in 1973 and proceeded to make them for friends and family for 20 years until 1993. Early lures were quite crude and were cut from Red Cedar or White Beech with a jigsaw then machine sanded and then hand sanded for painting.
From 1993 - 2002 BK made lures commercially for shops and markets. An airbrush was used in conjunction with auto paint. His early lures are characterised by gal twisted wire hangers, hand cut s/steel bibs while his later lures have s/steel hangers and alloy bibs. In 1997 BK made a bib press that cut 2 alloy bibs of 2 different sizes at the same time.
An early business card for 'Lures and Things' in Atherton, FNQ when Bruce was selling gemstones, plants and BK Lures.
Below shows a BK blank as they come from the copy lathe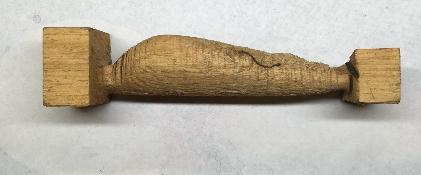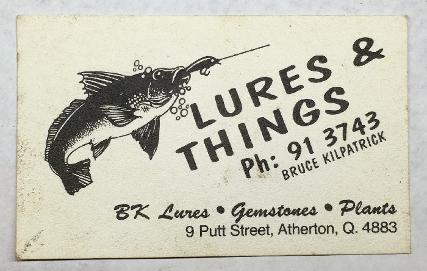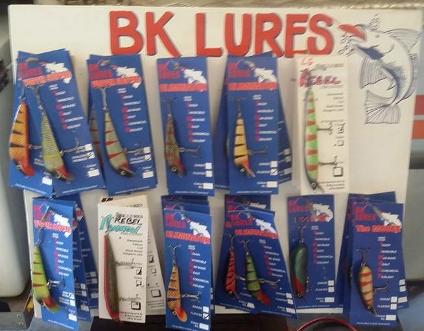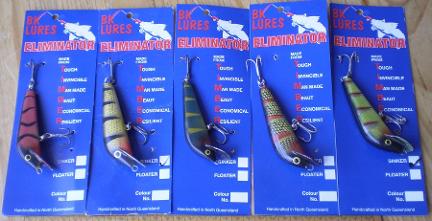 Bruce Kilpatrick also made a few bluewater deep diving Mackerel lures as well as only about 20 large high speed bibless lures. He also made a range of poppers from small to quite large with a very unique spinning blade called a 'Spin'er'Pop' (pictured on early white card above right). All his flat sided lures like the 'Eliminator' were made using a spindle moulding machine where the lure blanks were first cut out with a band saw and then 'shaped' in the moulder after which they were sanded ready for painting with a linishing belt.
In 1998 BK made a copy lathe to create many of the other shapes and by 2002 BK Lures stopped producing lures due to quality timber getting harder to source and overseas imports flooding the market.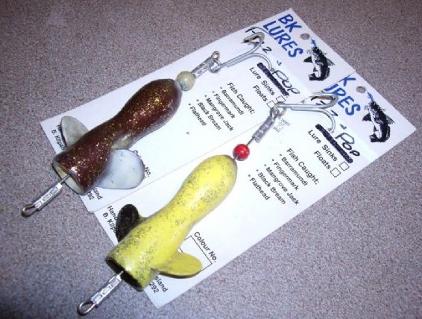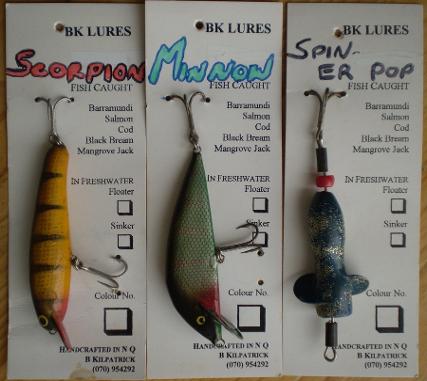 Earlier carded BK lures were on a white card with lure model name hand written as shown above. There is another white card shown further down the page that has the same logo printed on top as the blue cards that are shown.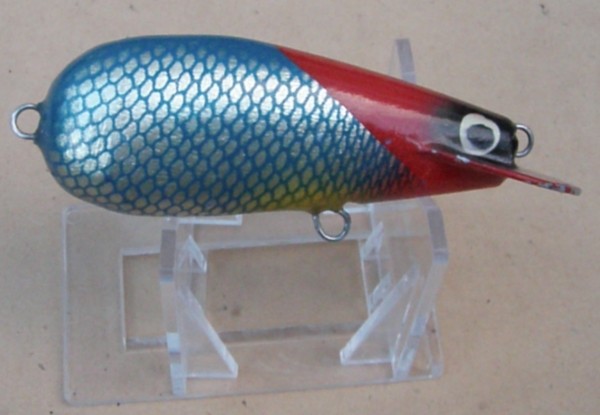 There is lots of great information about BK Lures on the Lure Lovers forum for those that are interested.
Two BK 'Mouse'lures that sold on Ebay in 2021 in the $20-25 range. There was also a BK 'Little Rat'card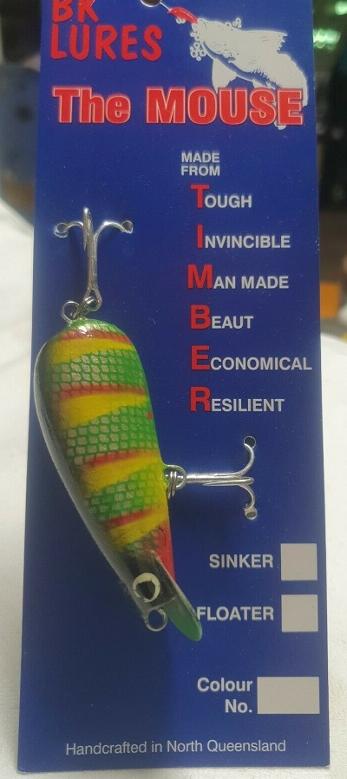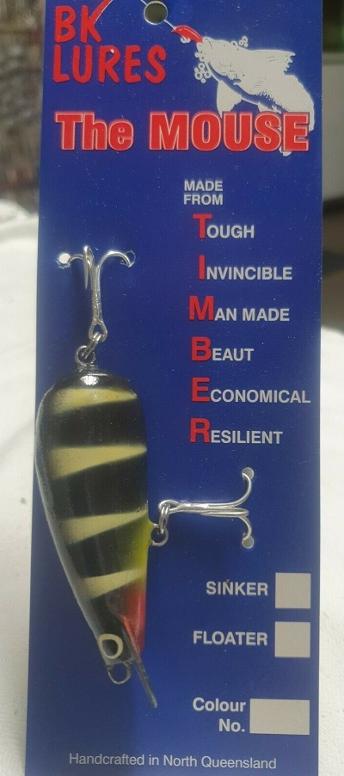 The photos below show some of the many prototypes and variations of the 'Spin er Pop'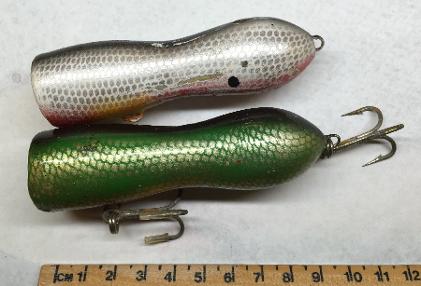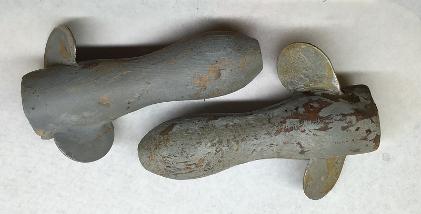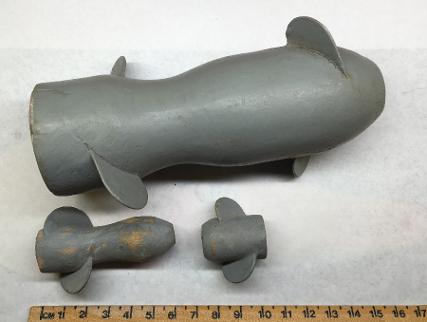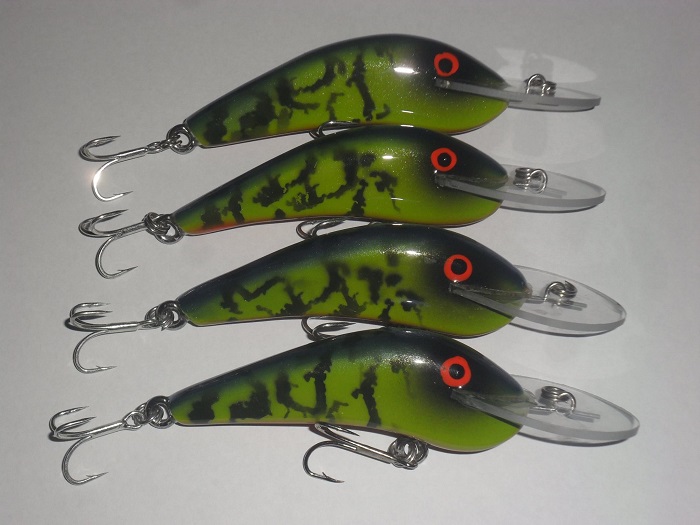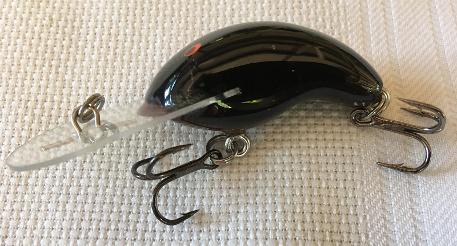 Black Dog Lures - QLD:

Black Dog Lures are made in Brisbane by Adam Murray and have had a Facebook page since 2013. The original reason for Black Dog lures being made is to raise awareness about mental illness. Lures are hand made from timber and there are a number of models as shown.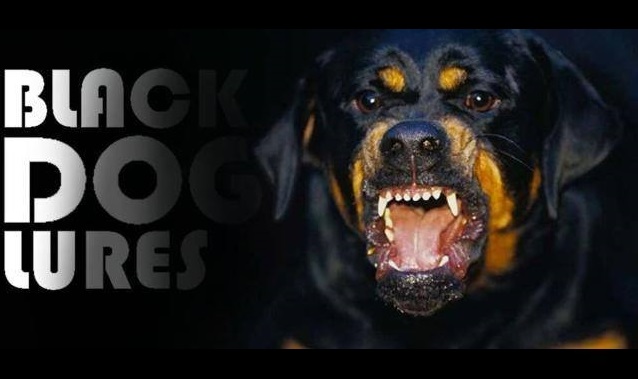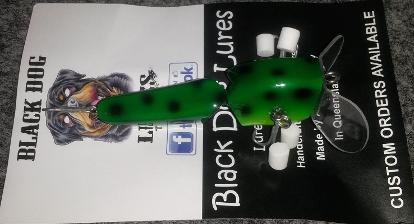 Blackman, Dean Blackman Lures - NT:

Dean Blackman was a keen angler and hobbyist lure maker who made a timber lure called the 'Barratastic' (which is shown left). Lures were made in Palmerston, Northern Territory and were aimed at targeting saltwater barramundi in Darwin Harbour. Vintage and no longer made.
Blackwater Lures - NSW:

Blackwater Lures are made in the Clarence area of NSW by Barrie Stark. Little other information. Barry was heavily involved in the sports fishing scene and was a very knowledgable angler.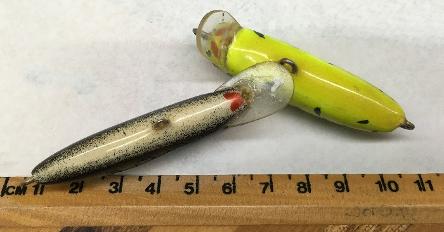 The lure shown below right is utilising an old Nilsmaster bib. Many lures will have a foiled finish under the final coat.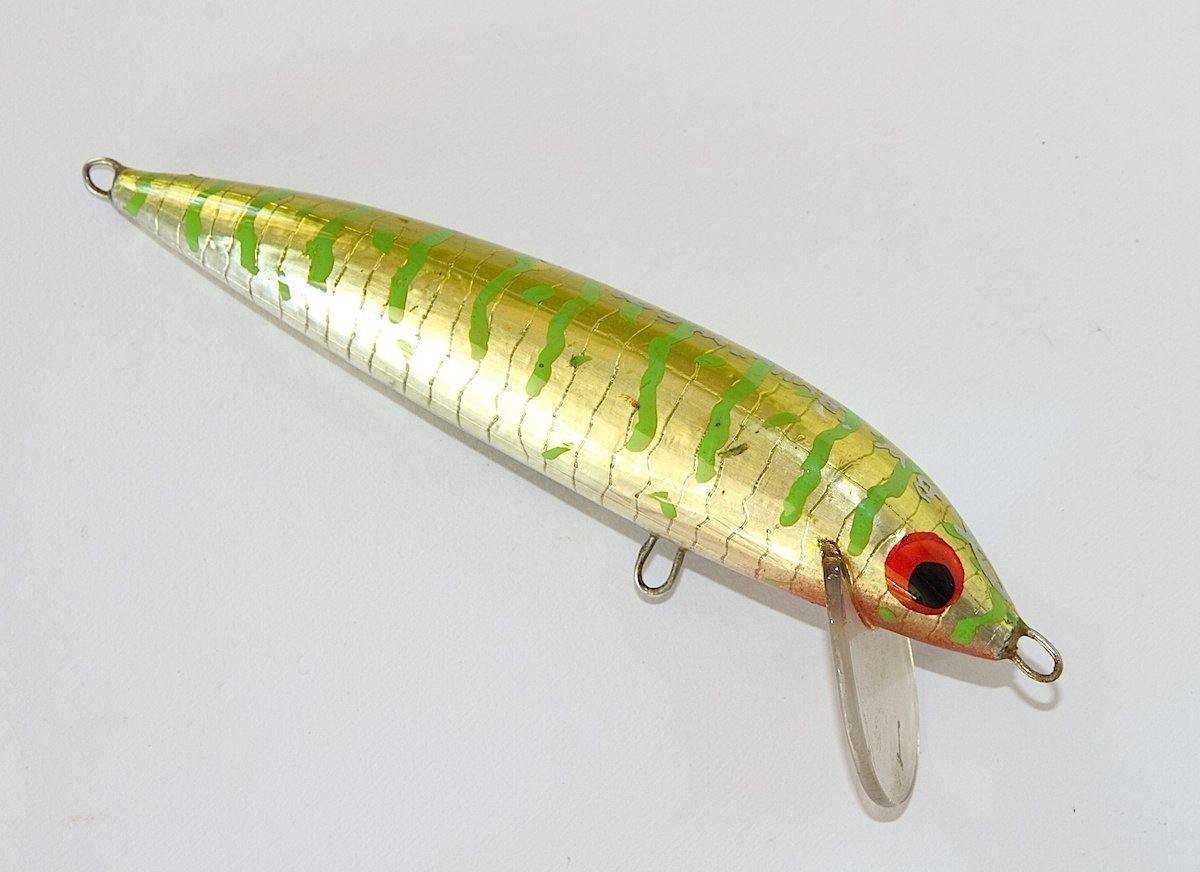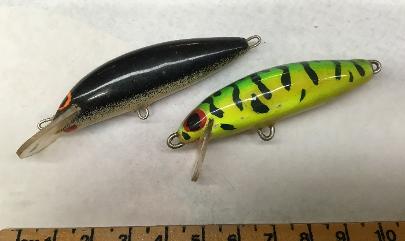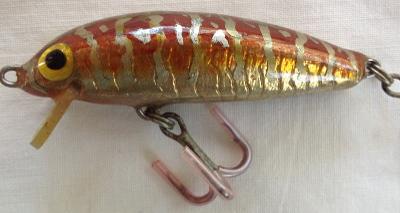 Blade Runner Lures - NSW:

Blade Runner Lures were made by Leigh Boileau under the Mirror Spoon Lures name and were a metal vibe lure that came in several sizes. Leigh first marketed his products under the Magician Tackle label and also made the omega clips for the first run of Boomerang Lures.
The 'Blade Runner' pictured is approx. 7cm with the name stamped onto the side of the lure. Heavy duty vibes. There was also a 'Mini' version. See Mirror Spoon Lures
Extract below is from Harbord Tackle Supply 1992 catalogue.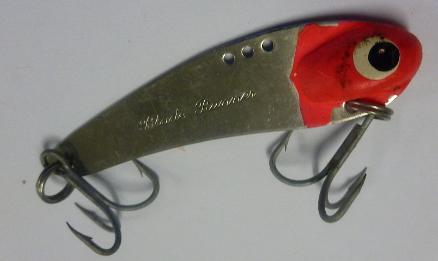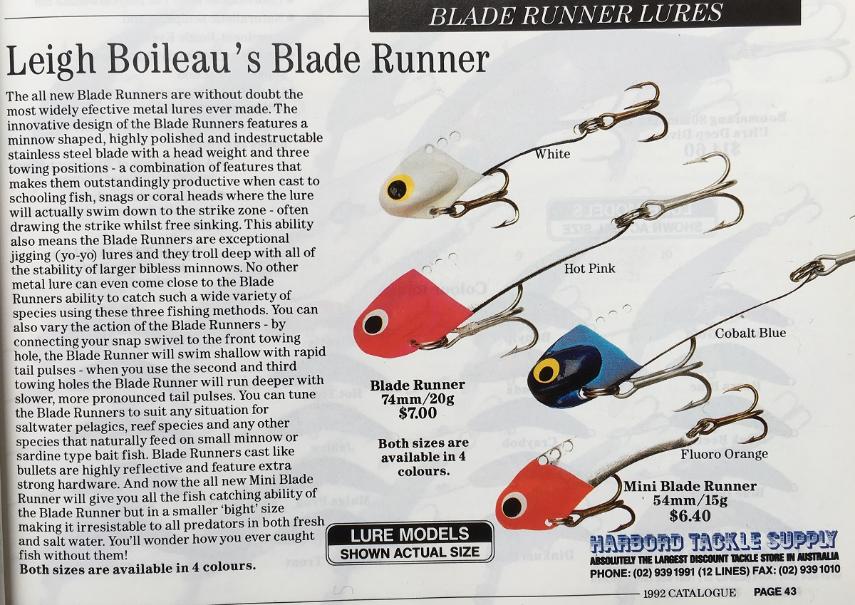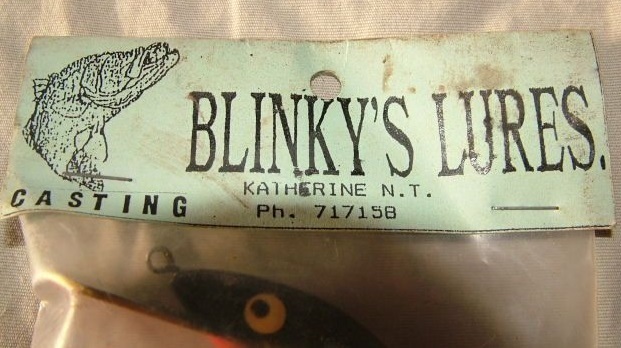 Blinky's Lures - NT:

Blinky Lures are made in Katherine and now Darwin in Northern Territory by Shane Blenkinsop. Earlier packaging will be a clear bag stapled to a blue cardboard header and to a full cardboard backing around 1991. Shane explains below that he started experimenting around 1983 and produced his first run of lures around 1991. Great read.
The two articles were written by Shane for NTMag in 2009 and 2010 and give a great background into Blinky's lures.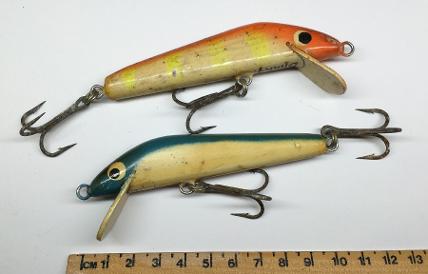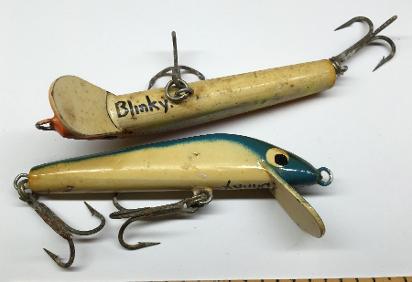 Blinky's Lures are no longer made today after Blinky sadly passed away in 2019. Modern packaging and 'Barradise' model is shown below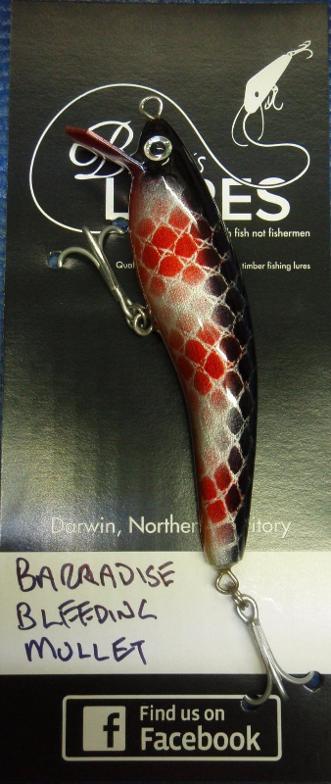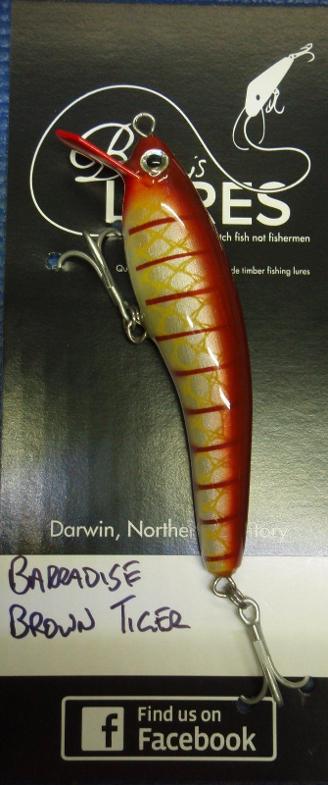 Blitz Baga Lures - QLD:
Blitz Baga lures were made by Murray Sugden c. 1995. Originally handcrafted from timber the lures went to moulded construction c. 2002. The name Blitz Baga has been commonly adopted when referring to these creations however they were marketed under the Baga Lures name. See Baga Lures
Blockhead Lures - NSW:
Made in Leeton, NSW around 1996 - no other information.
Bloomfield's Fishing Lures - NSW:
An obscure vintage lure maker, the line of Bloomfiled's fishing lures were manufactured Rosebery Spray Pty Ltd who were located at Greens Road in Greenwell Point. The 'Parallax Flasher' is shown below in size number 2 which indicates there were other sizes made. The example of the 5-pack illustrated is the only example ever cited.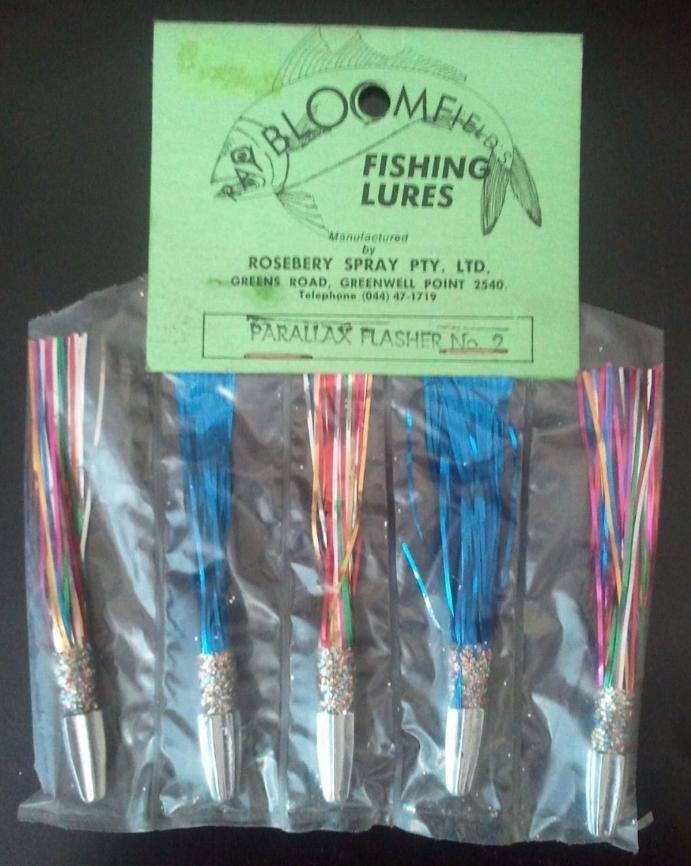 Blue Heeler Lures - VIC:
Made by Daniel Baker. No current photos.
Blue Nic Lures:
No information other than the photos - this lure appeared on Ebay in 2014. Marked 'Blue Nic' on back and 'Bill' on the belly.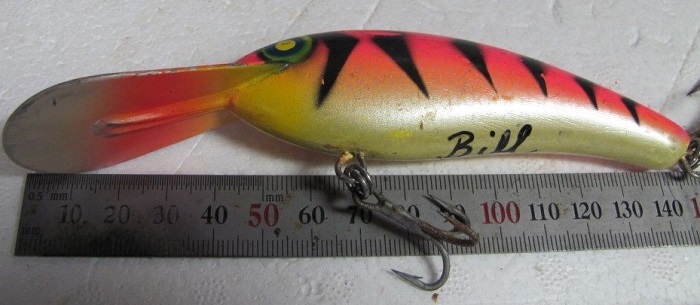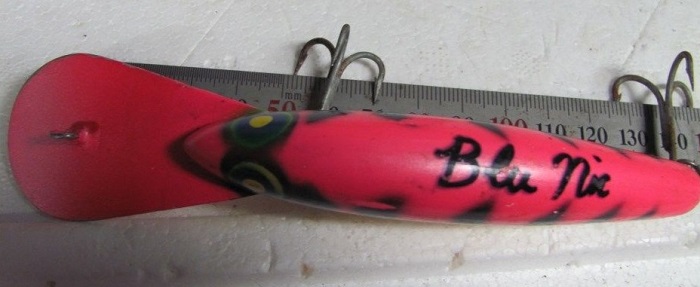 Bobbles Lures - NSW:
Jayden Menchin is the son of Darcy Menchin (Menchos Lures) and makes some extremely interesting wooden lures. Based in Raymond Terrace.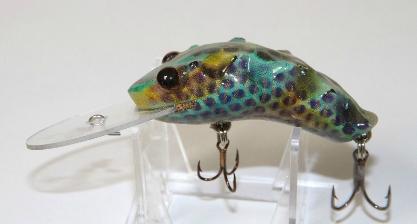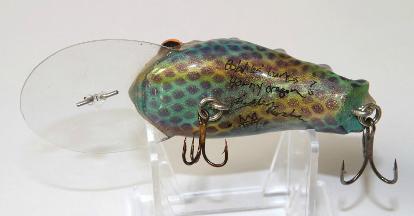 The lure shown is a Bobbles 'Horny Dragon' - signed on belly and and one of the many interesting designs that Jayden has created over the years.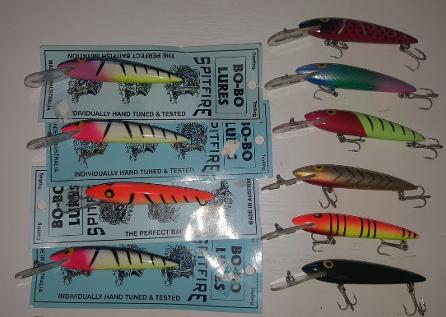 Bo Bo Lures - NSW:
Made by Scott Eaves who was originally from western Sydney and has moved to Tuncurry. Otherwise little information. Models include 'The Spitfire', 'B52' and 'Hurricane'. The lures are moulded. Belly will have the name engraved. Shown below and left is the Bo Bo 'Spitfire'.

Below is a review of the Bo Bo 'Hurricane' from 2003/4.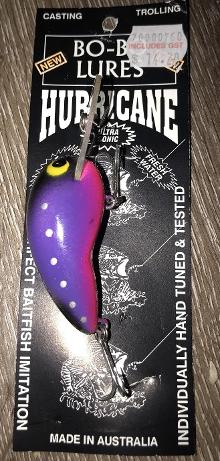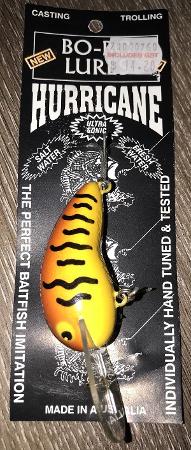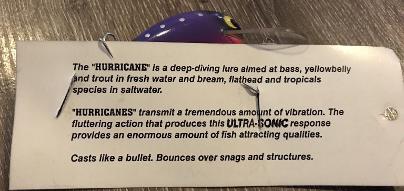 Reverse of black cards shown left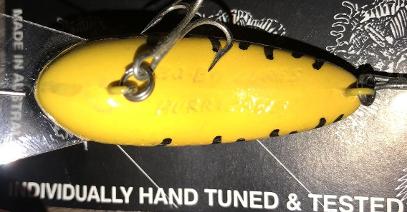 Below shows some of the catalogued colours for the 'Spitfire' and 'Hurricane'.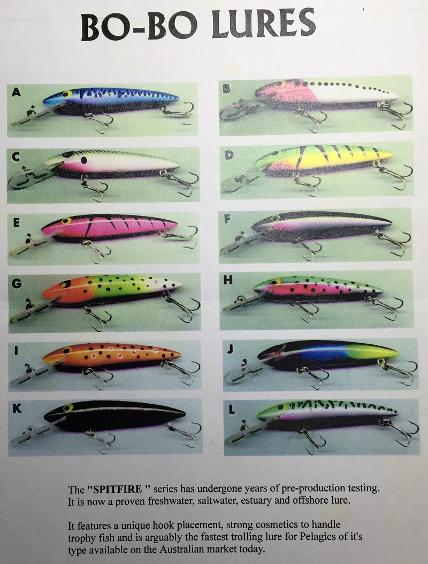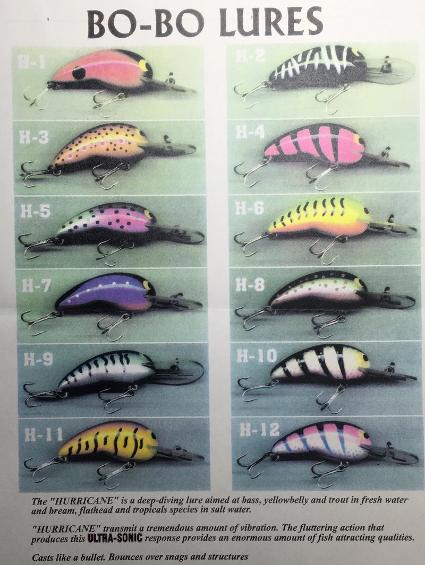 B.O.B Lures - Newcastle, NSW:
Bob Schofield has a distinctive style to his lures and is a very inventive lure maker. More info coming soon.
Boland, Sid Boland Lures - QLD:
Sid Boland is one of Australia's early lure makers who created the legendary Sid Boland's 'Barra Frog'. He was from Ingham and created the lure in the Depression Years of the late 1930's. The following extract from Vic Mc Cristals book tells the whole story;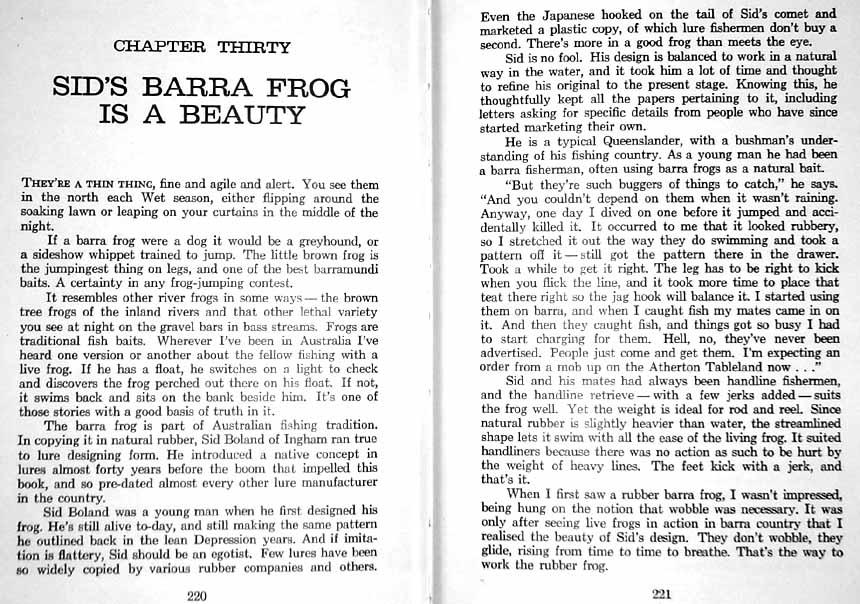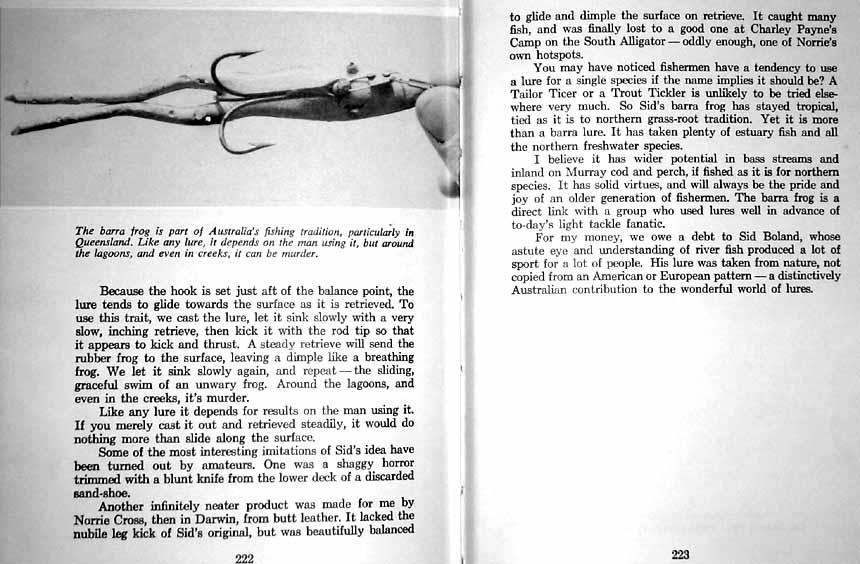 Bommie Knocker Lures - NSW:
Bommie Knocker emerged onto the market at Expo 2019 with an impressive range of handcrafted saltwater poppers made to tackle large pelagic fish. Made in Woolongong, the Bommie Knocker is 0ne to watch. More information soon . . .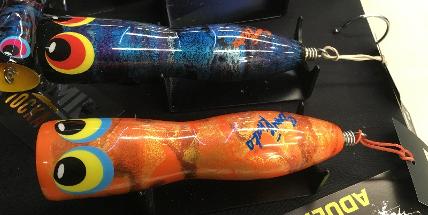 Bonza Lures :
Little information on Bonza Lures other than they are foam popper style lures . . . more coming soon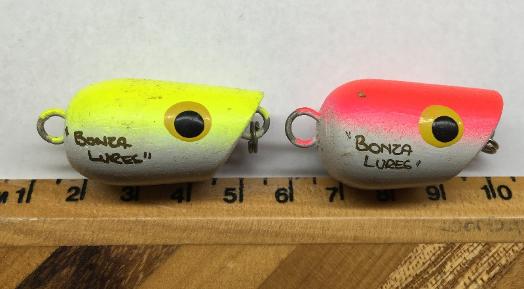 Booth, George William Booth Lures - QLD:
Little information on this vintage maker. The lure shown has interesting construction with multi segmented body being held quite rigidly with a one piece 'spine', hook hangers rear and belly are heavy duty wire with nose tie using a wire noose glued into the body.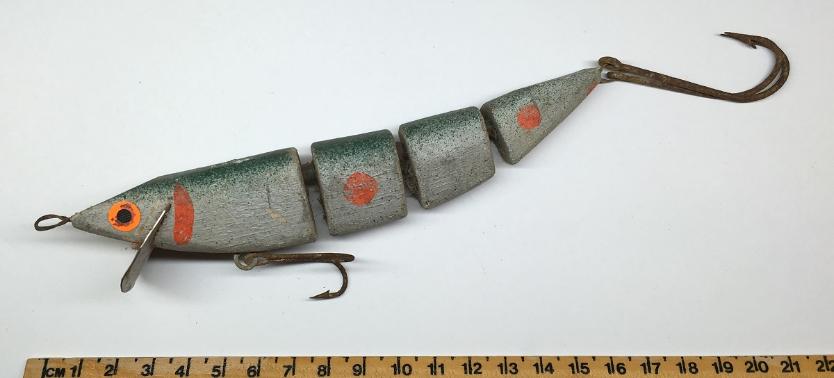 Borella, Ross Borella Lures - NSW:
The lures below were offered for sale in early 2019 and are a moulded yabby style lure that were made by Ross Borella from Albury area. They were originally made in the late 1990's in small numbers and were moulded from original hand carved timber versions.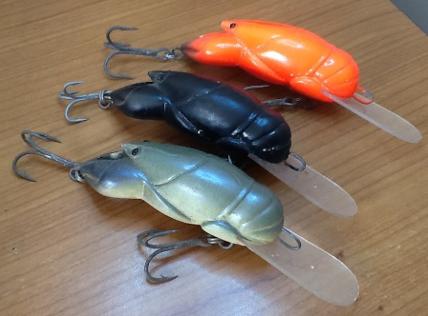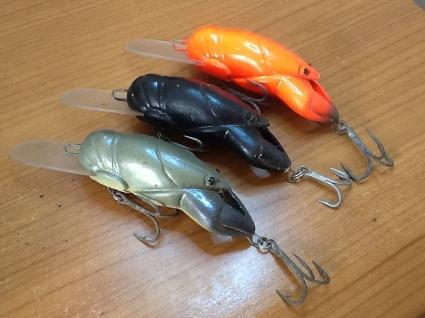 Boss Lures - NSW:
No current information other than an Australian company selling skirted game lures.
Bounty Hunter Lures - NSW:
A recent addition to the lure makers scene c.2014 and with no affiliation to Steve Jolly and the original Jolls Bounty Hunter range which is still available. The lure pictured right looks to be a copy of a Stuckey's lure including a squared rear towing eyelet.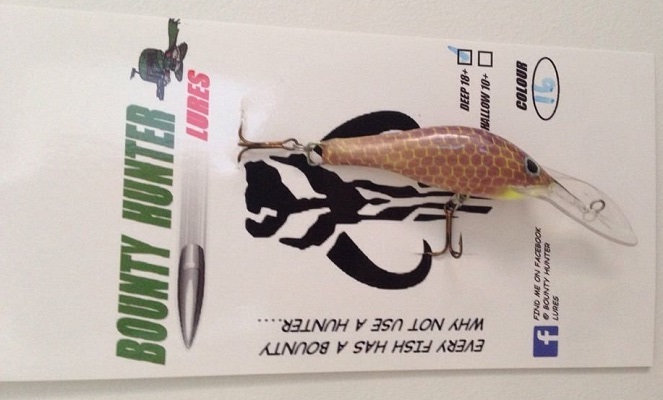 Bounty Hunter Lures - NSW:
Steve Jolly made a fantastic range of heavy duty timber lures that had a reputation for catching and holding up to Papuan Black Bass. Marketed as the 'Jolls' Bounty Hunter lure and available in 3 sizes, 70mm, 75mm, and 120mm in Mo tackle catalogue 1997. The 70mm was a new size for 1997 and they were offered in 10 colour variations. Also available was the 'Cane Toad' in 5 colours. The 'Bucket Mouth Popper' was available in 2000 in one size 100mm and 40gm. The advertisement below is from 2003. See Jolls Bounty Hunter Lures.

Bowdo Lures - NSW:
Bowdo Lures are made by Rob Bowden from Harden in NSW. Hand crafted timber lures only ever made in small numbers and localised distribution. Models include diving and surface paddlers. Carded lure only one ever seen.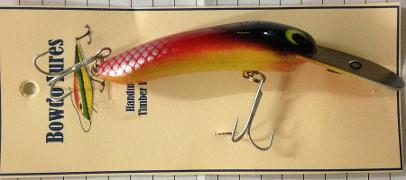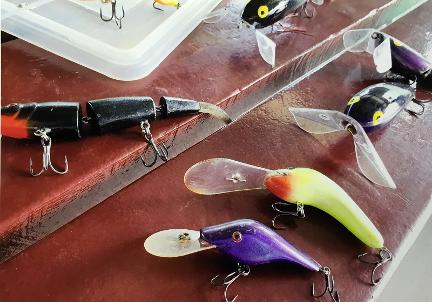 Bowker, Steve Bowker Lures - NT:
Made in Nakara, Northern Territory, another of the cottage makers who build specialist lures. Steve is a barramundi fisherman who knows his stuff and makes a few lures in colours and patterns that he knows work.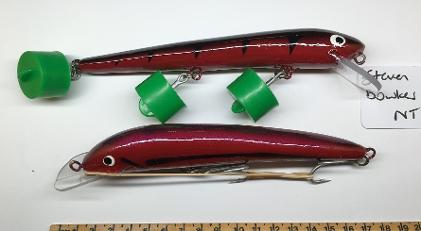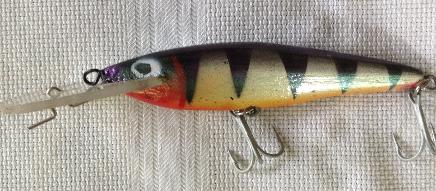 Bowman, Ziggy Bowman Lures - QLD:
An uncommon lure but quite easy to recognise when found. Through wire construction and interesting design. Lures shown are in various colours but with a common striped stencil theme. Vintage and no longer made.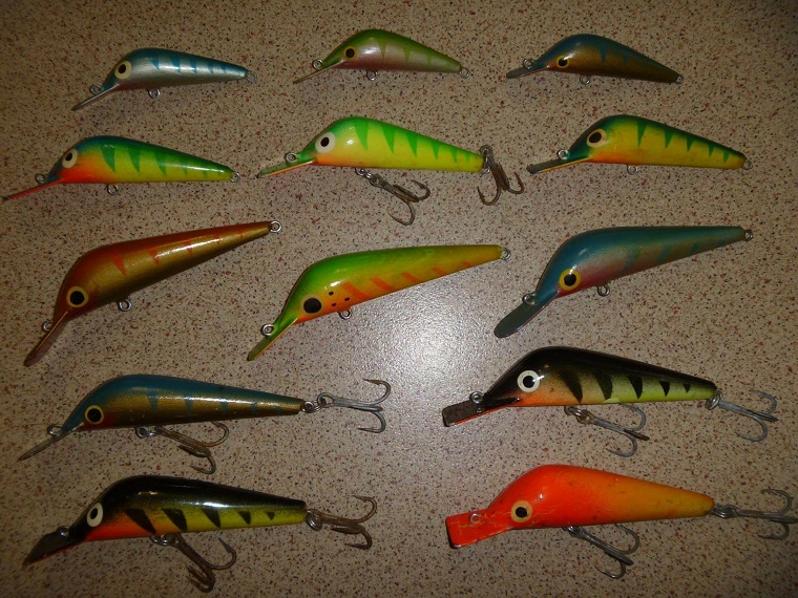 Boys, Keith Boys Lures (Boysey Lures) - QLD:
Keith Boys from Townsville, QLD made some amazing lures including the 'Boys Mouse' and many other original patterns. Keith passed away in 2012. Many but not all of Keith Boys lures can be identified by a red or black paint spot on the belly. The early mouse patterns will have a shoelace attached to the rear treble to imitate the mouse tail. The more recent lures will have elastic instead of shoelace as the tail. Keith also made surface poppers, minnow shapes and wide variety of lure designs that were both original but also had similarities to some of the earlier QLD lure makers.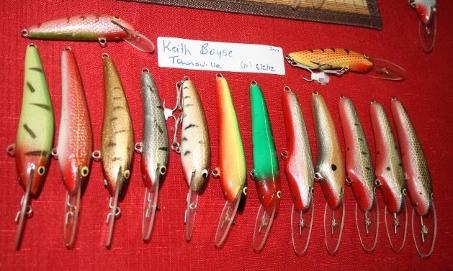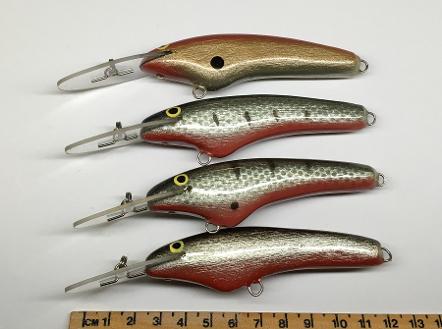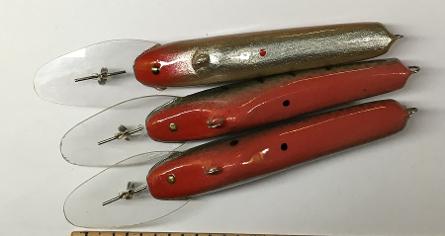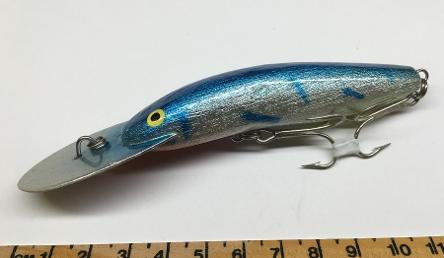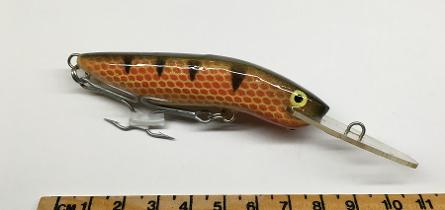 Boysey Lures may be found with metal bibs or polycarb plastic bibs and were sold at local markets as well as local boating and tackle outlets.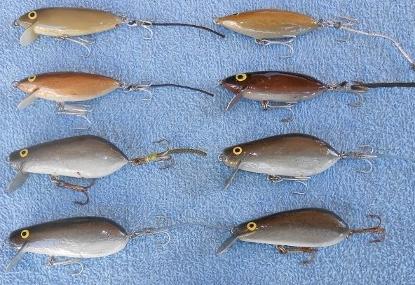 Above shows a nice group of Keith Boys Mouse Lures.
After his death he had 400+ lure templates and designs that were inherited by Gavin 'OCD' Marshall of OCD Lures. There are lots of great photos of Boysey Lures can be found on the Lure Lovers forum.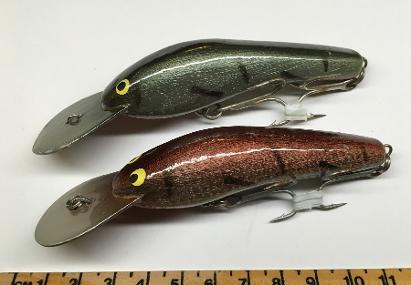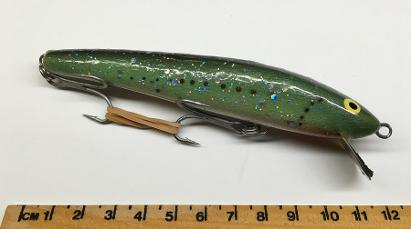 Bozos Lures - QLD:
A range of chatterbaits and plastic lures made by Phil Adler. Advert below from NSW Fishing Monthly, 2010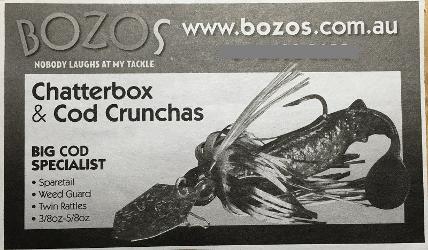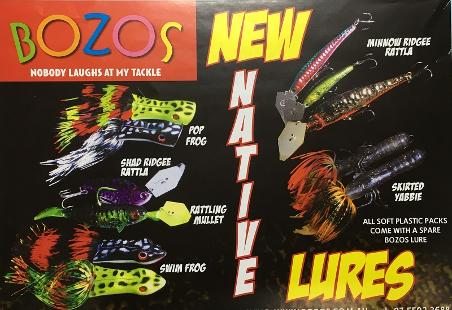 B.R.A Lures - QLD:
Made by Billy Allen in Cambooya, Queensland. Billy makes a nice range of hand crafted timber lures and spinning baits . . . more soon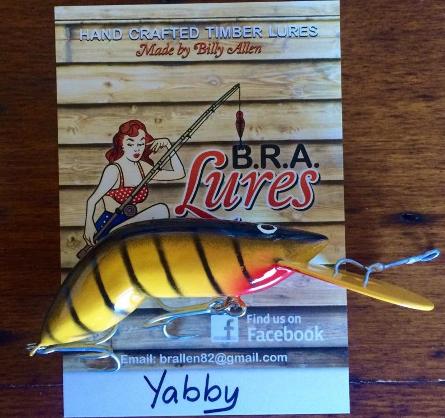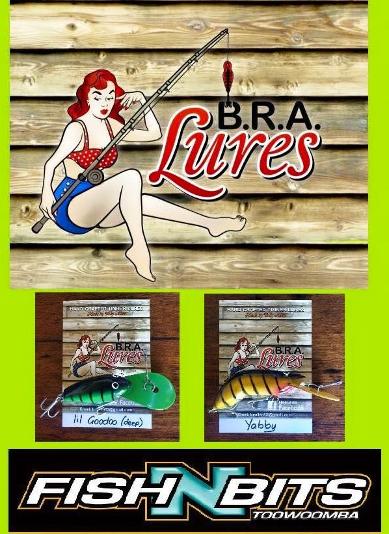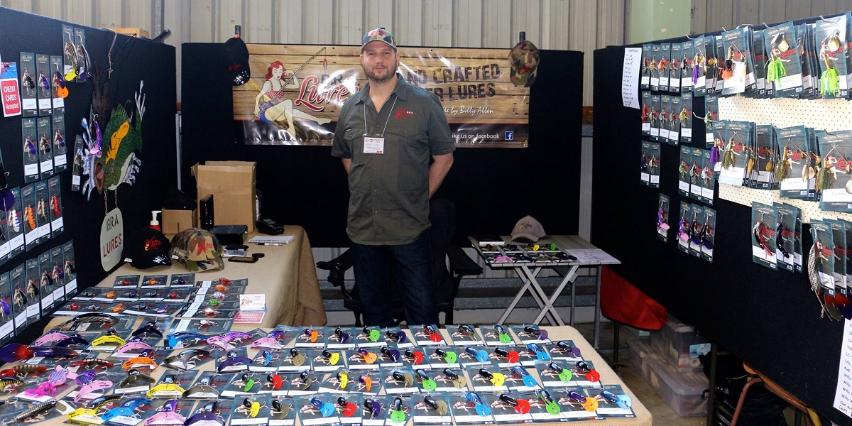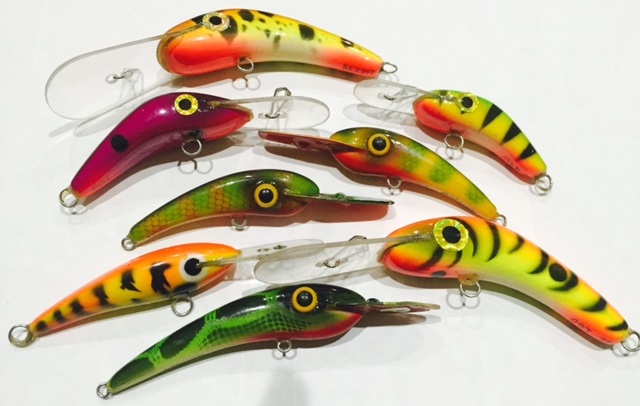 Bradkek Lures - NSW:
Bradkek Lures are a hand made timber that are made in Muswellbrook by Robert Hayne. The photo left emerged in 2015. Signed on belly.
The photos below were posted on the Lure Lovers forum and show some older models that were unearthed in Tasmania in the 1980's.
They show the following models;
019 Scuba
038 Scuba
065 Bega
072 Bega
078 Bega.
http://www.lurelovers.com/forum/bradkek-065-bega_topic2257_post190270.html?KW=bradkek#190270




Brad Smith Lures - QLD:
Brad Smith is a local identity on the Gold Coast and owns a tackle shop on the banks of Currumbin Creek including some fishing guiding. The lures were developed in the 1990's to suit local conditions and species. The 'Lil' Mate' was the original model designed for the bream population in the canals of the Gold Coast. The 'Digger' was for flathead, jacks, trevally and the 'Yobbo' is the newest model. Originally moulded by either Mac's lures or Lively lures however newer models are made in China.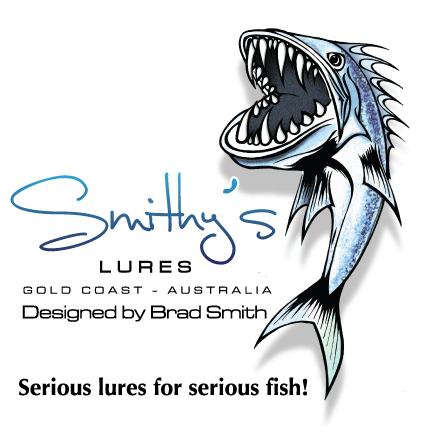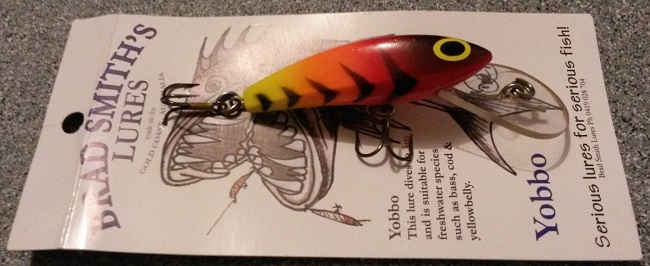 Brooks, Eddie Brooks Lures - NSW:
Eddie Brooks is from the Lismore area of New South Wales. Little information about this vintage lure maker. Flopy copies are evident and interesting eyelets on front and rear of lures. Photos courtesy of Gary Wade from Reel Deal Fishing.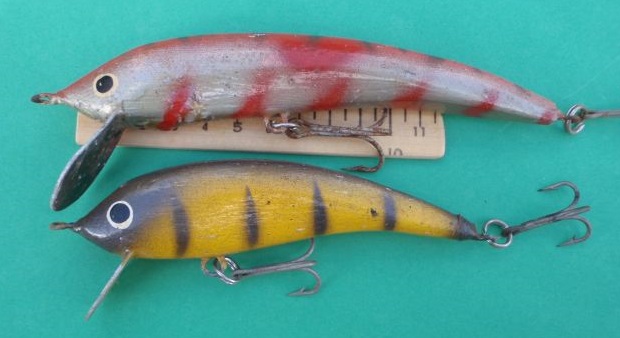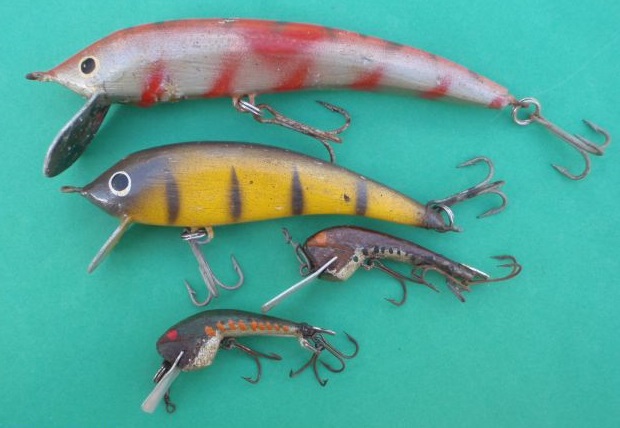 Brook Tandem Spinners:
The Brook Tandem Spinner was advertised in one size in the 1936/7 Mick Simmons Surcatch Angling Guide. Unsure how to distinguish from other early cod spinners however these predate anything Alpha produced.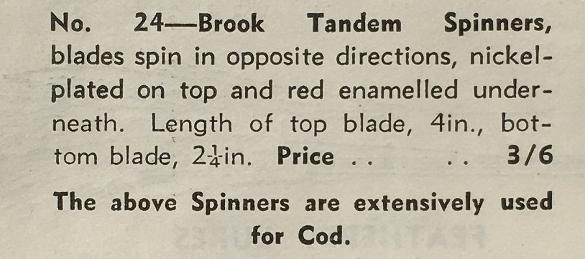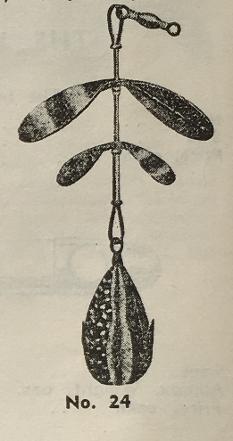 Brown, Maurie Brown Lures - QLD:
Maurie Brown is another of the keen northern anglers who made timber lures in small quantities to fish. Made in the early 1970's and into the early 1980's in the Cairns area. Maurie made a wide range of different timber models such as the Nilsmaster influence below but was probably best known for making bibless trolling lures. Maurie was an ex-navy petty officer who moved to Cairns prior to 1970 and was a boilermaker by trade having lived in Weipa at some stage.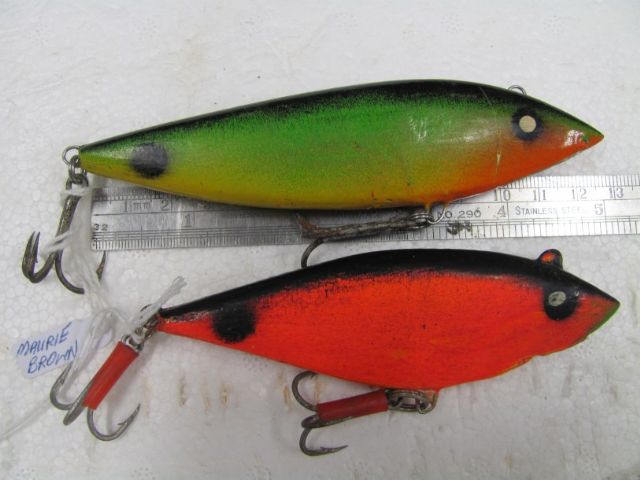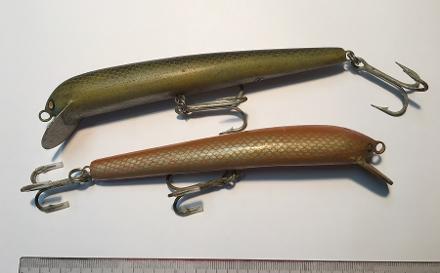 The green lure top left is one of the first bibless minnows that was made by Maurie.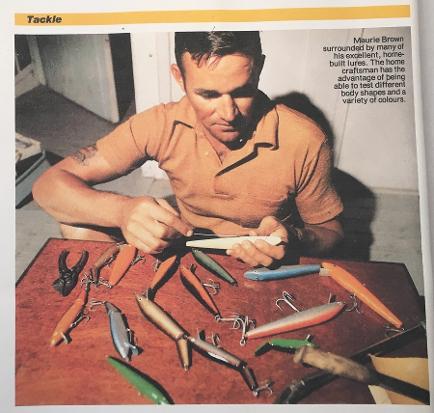 Some of the earliest jointed minnows are sometimes overlooked and not recognised as Maurie Brown lures. Recently there have been a few that have reached collectors and have been identified as early examples of Maurie's work.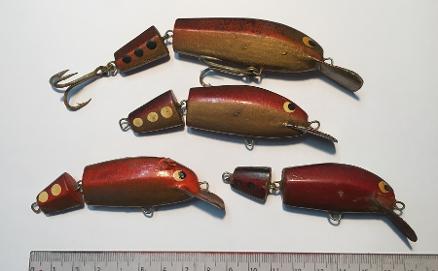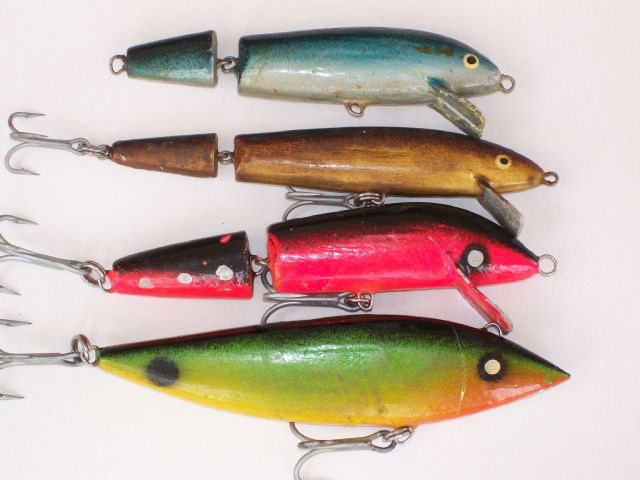 The photo below was published in 1972. Lure Lovers forum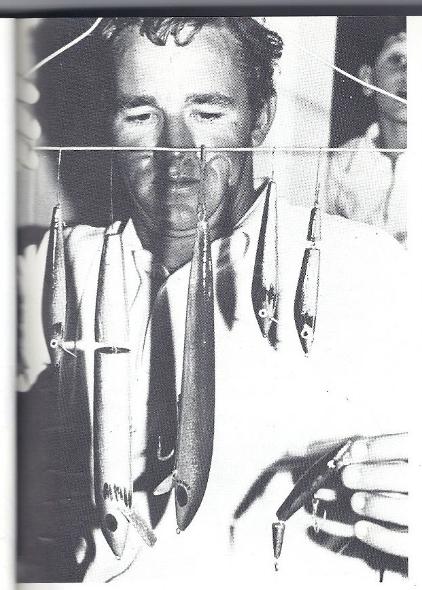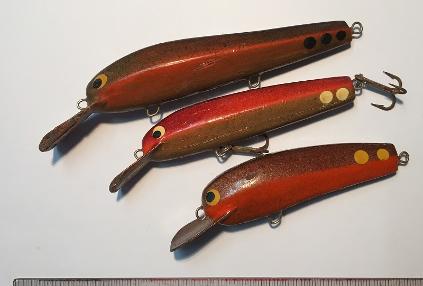 The shaved sides and facetted edges of these minnows are indicidative of an early Maurie Brown minnow. The paint scheme are a giveaway as can be seen by the mini jointed bibless below. Some lures may be marked and signed 'MB'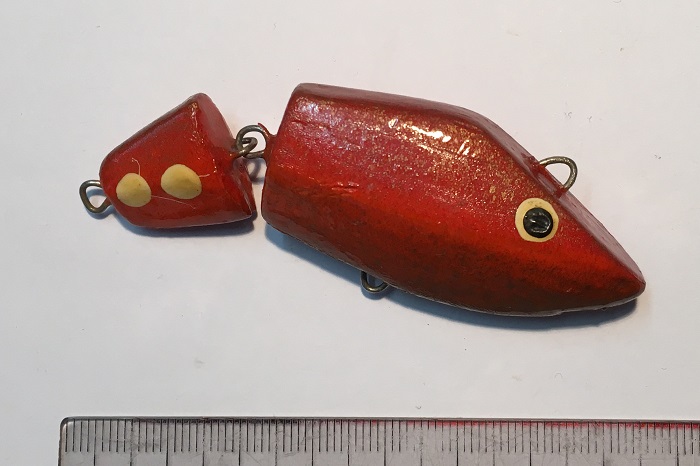 Maurie made a wide range of different timber models.
The lure below is an early Maurie Brown creation and close up of bib right shows the distinct crimping lines in the bib.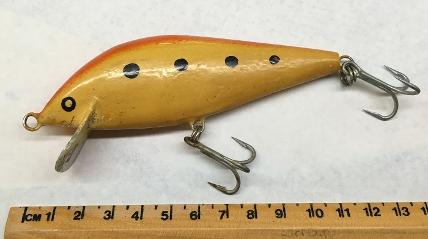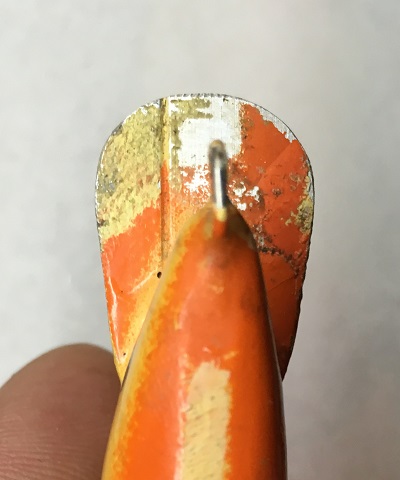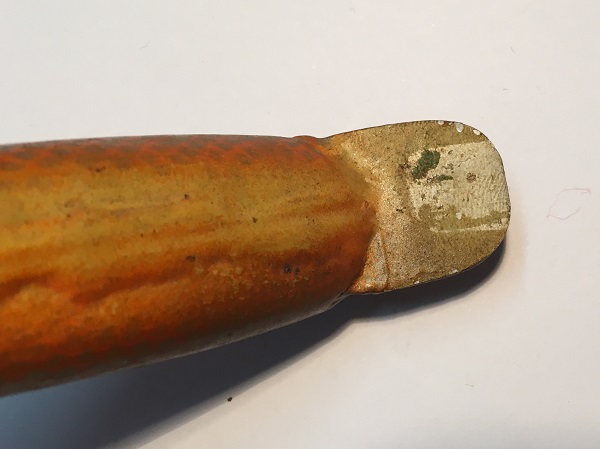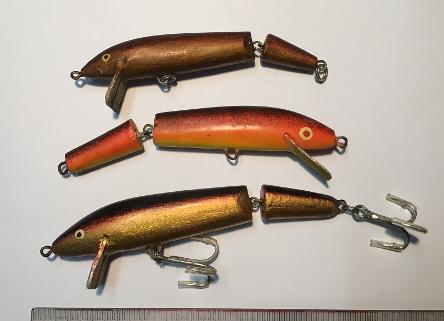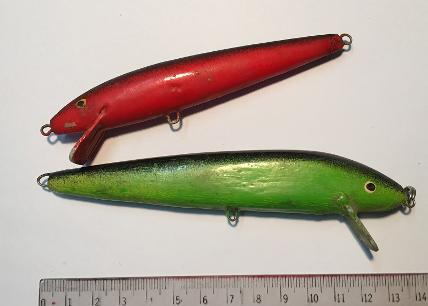 BTD Lures - NSW:
Benn Durkin formerly of Texas, QLD, now Gin Gin, QLD. Makes high quality lures from red cedar and white beech. He was awarded 'Lure of the Year' at the 2013 Australian Lure expo. His lures are designed to target Murray Cod and he is a keen competition angler. He is now looking at producing more lures to specifically target barramundi.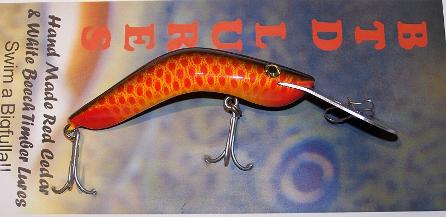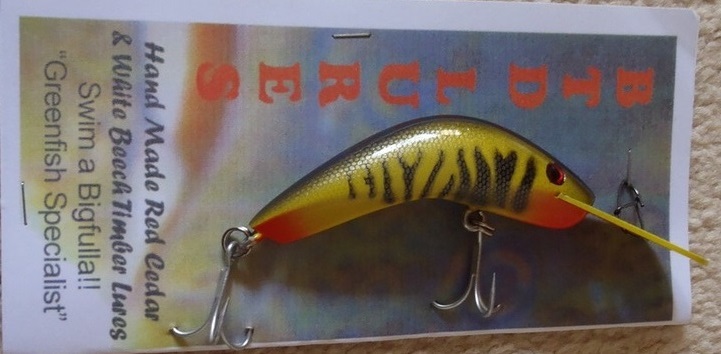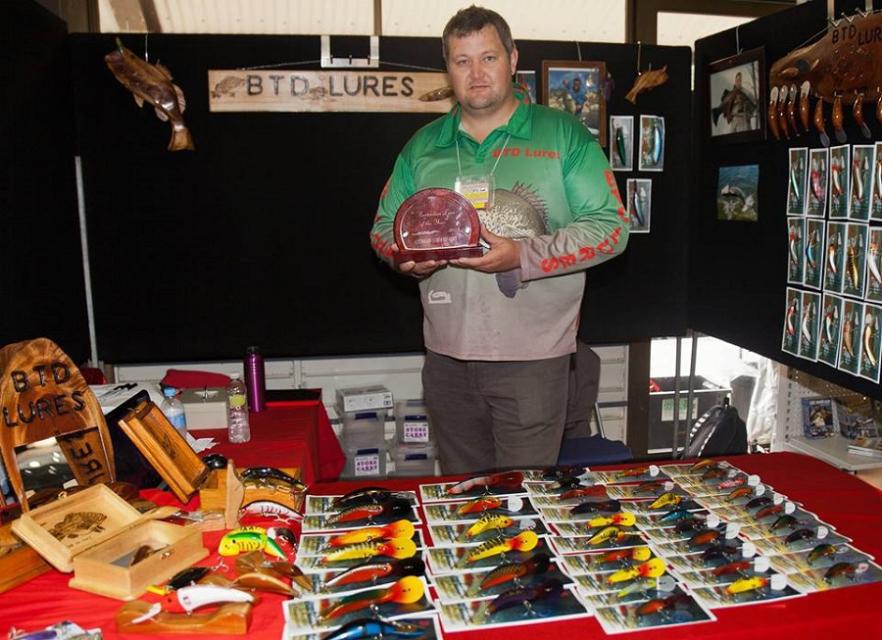 Photo from https://www.facebook.com/AustralianLureExpo
Buckley's Lures - NSW:
Dean Buck from Queenbeyan, ACT was making lures for a while around 2008-2010 but due to family committments has been unable to produce many lures since 2010. Characterised by big deep diving bibs, Buckleys Lures are designed for targeting yellowbelly and Murray Cod . . . deep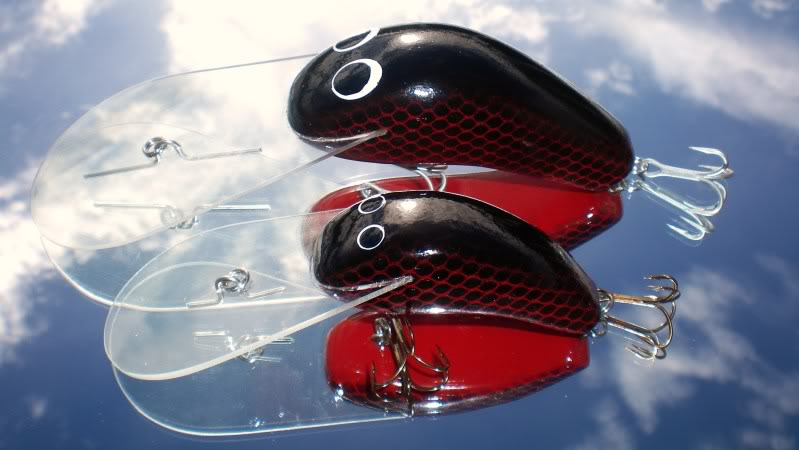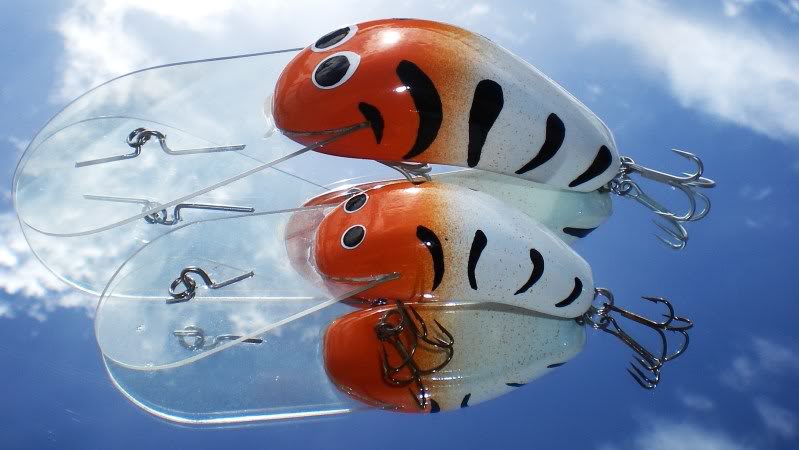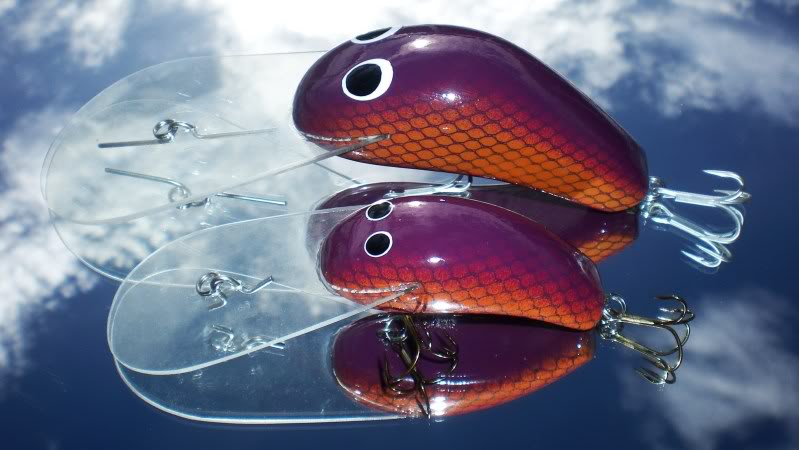 Budda Lures - QLD:
Budda Lures were made by Keith Holland in small numbers and were handcrafted from timber. For those who recognise the shape there is a connection here with Ashley Holland who made Ringtail Lures being related - Keith is Ashley's uncle.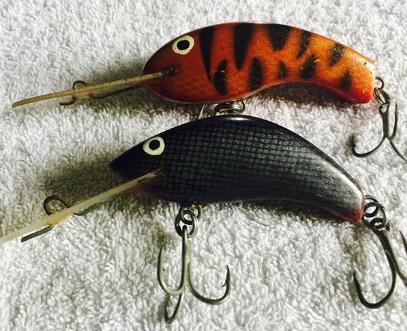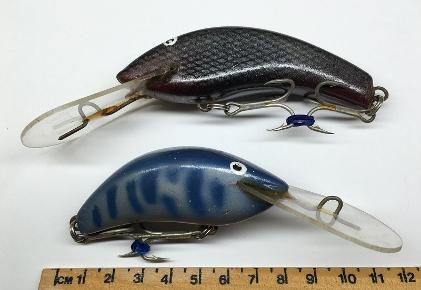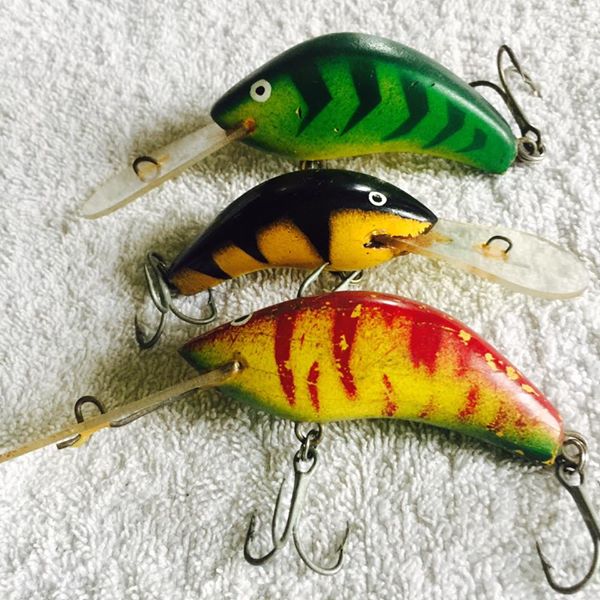 Bullet Lures:
Made in Australia by Jason Pace . The packaging has a small logo in top left corner that indicates Australian ownership of the company. Advert below is from 2010. Bullet Lures are still avaialble.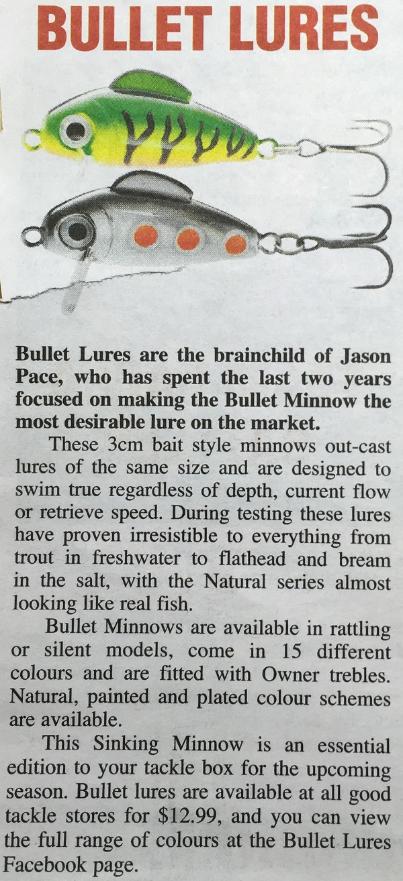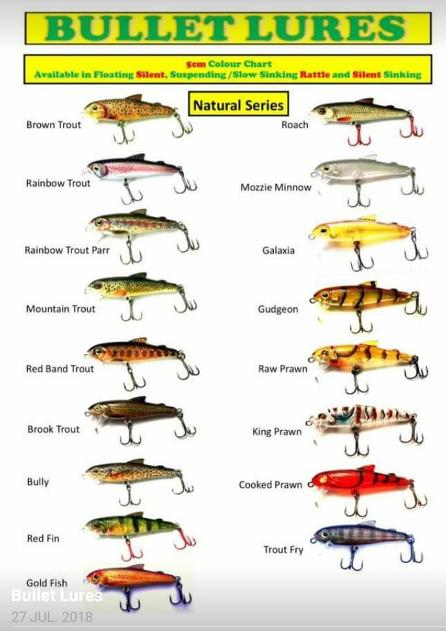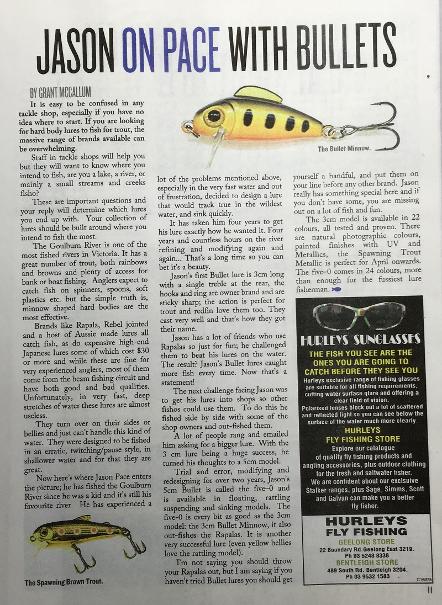 Buffalo Crafted Lures:
Buffalo Crafted Lures are another of the obscure cottage industry makers that has remained unknown. Lure shown is 150mm and is a diving model suitable for Murray Cod.

Bug Eye Lures :
No information other than a couple of reference photos showing that the Bug Eye lure have dolls eyes and are signed under the bib.
Buiadah Lures - Tas:
No information other than a single lure that was found in Tasmania in 2014. No indication of where the lure was made but lure is in the style of the early Australian Warrnambool Spoon or USA made lures like the Johnson Spoons. Fitted with early box swivel, the lure is painted red on the belly.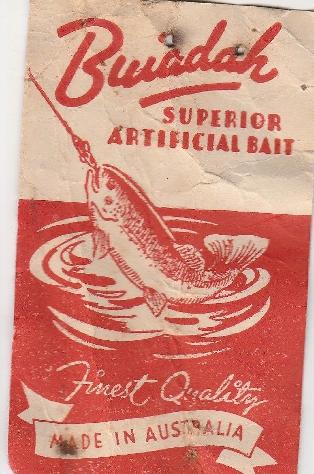 Bullrout Lures - NSW:
Made by Dave Bridge from Lake Macquarie near Newcastle, NSW. Dave has been dabbling in making timber lures for a few years now and decided to call his lures Bullrout Lures in 2014. Dave is an avid collector of Australian fishing lures and does not produce lures in large numbers. His models remain unnamed at this time and are made to target native fish. A few lures that he has given to friends have proved successful - Dave Jordon of Flapper Lures swears by them as a go to lure. All models are aimed to dive deep and were made c.2012.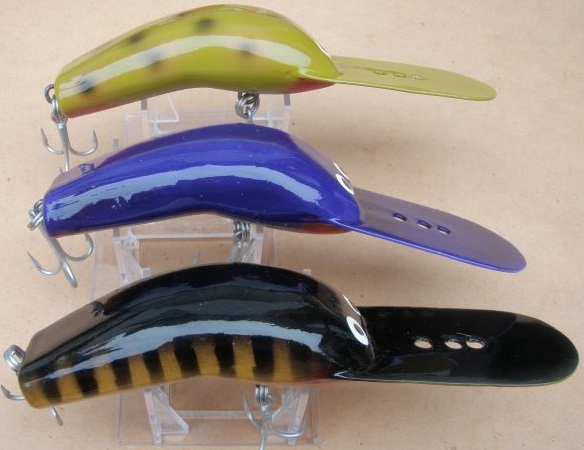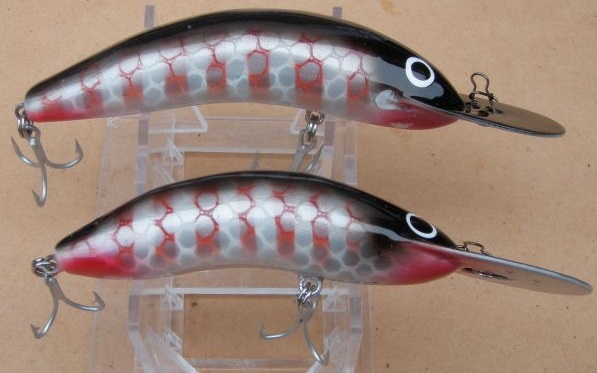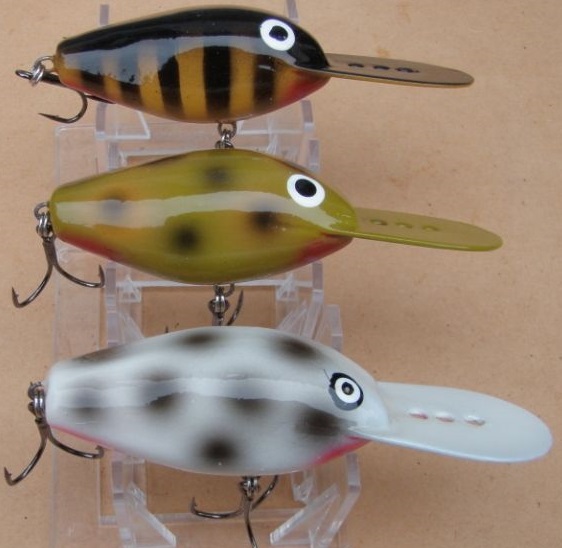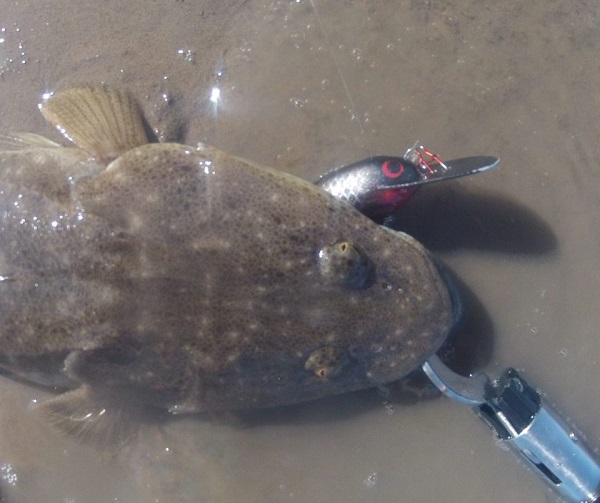 Bullship Lures - QLD:
Made by Peter Griffiths who has been making lures for many years since the mid 1990's. Shane Murphy from Viper Lures showed Peter how to make lures around 1994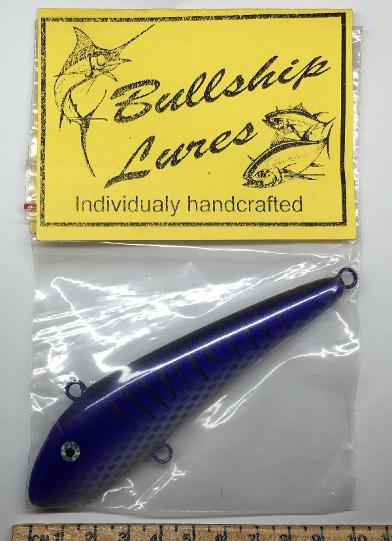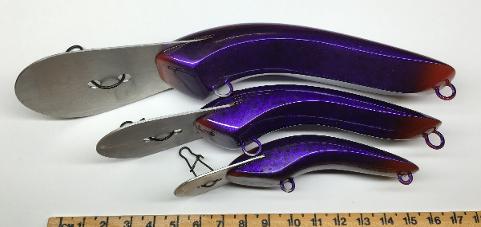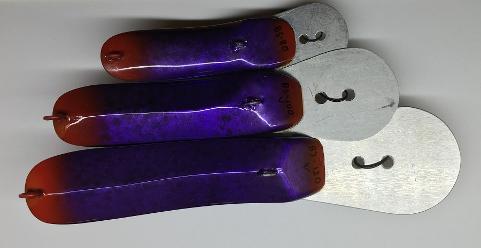 Unsure of when the name Bullship Lures was adopted but colour patterns are very nice and lures are hard wearing with a high gloss finish. Lures are marked near where the bib meets the body.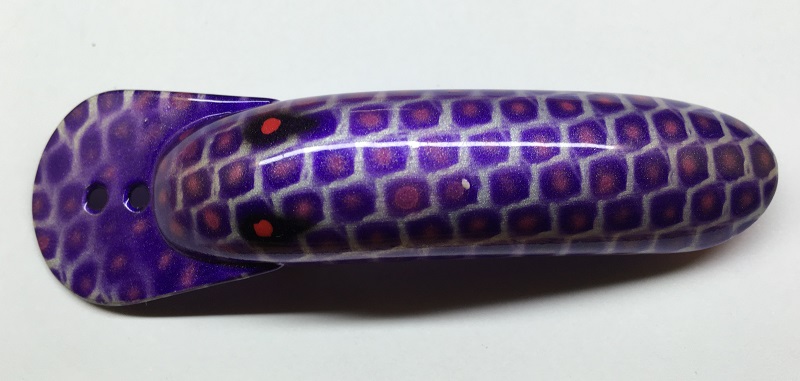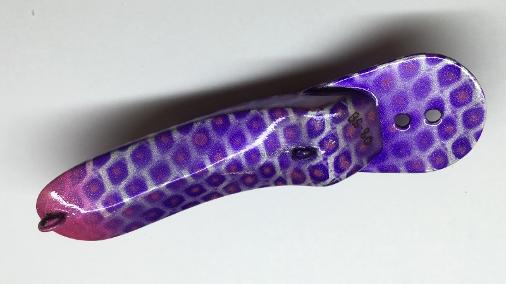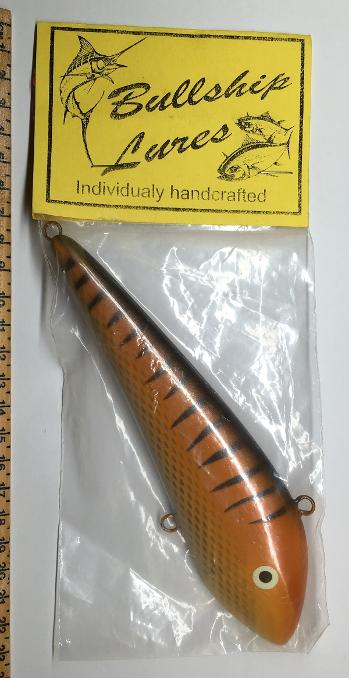 Bumpa Bar Lures - QLD:
Made by Jim Rowe in Bowen, north Queensland. The review right was written by Steve Starling and appeared in Modern Fishing in 1991. Bumpa Bar Lures were first made around 1980 and the original standard size weighed 50 grams and was 10cm in length. Lures are made from 316L marine grade stainless steel.
Jim Staudinger was the contact for sales at a later date as shown by the advertisement which lists 4 sizes at 5, 10, 30 and 40 grams.
The following background information below was published on the Lure Lovers forum in April 2014;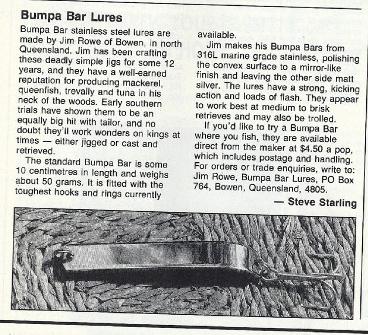 'Bumpa Bar lures are well known in north Queensland and have been around since I first made them commercially around 1980. Prior to that I was making them out of car bumper bars and having a ball. I was catching more fish and bigger fish than I thought was possible. I am going to tell you how to make them and why they were so succesful. The original bumper bars came about through neccesity like most good things. My brother and I were broke and couldn't afford the Wonder Wobblers any more, but we weren't going to stop lure fishing. We converted spoons and fork handles and even a can opener into lures, until my missus caught on to where the cutlery was going. My brother Terry got the idea then of cutting up bumper bars for lures. We tried to copy the Wonder Wobbler shape and other similar lures but they were too hard and fiddly to copy, so too hell with that we'll just cut the bumper bars into strips and see how we go.After trial and error we came up with the most effective lure we had ever used and the cheapest. Here is how it was done.
Get a nicely chromed bumper bar (from the wreckers or tip) and cut it into 4" sections, don't worry about the holes and gaps. Now you have a number of C sections, using your vice and a bit of elbow grease straighten these out. Now using a hacksaw(18t blade) cut them into 1/2" wide strips.I know it makes a terrible noise doing this but just remember the money you'll save and the fish you will catch.You will have seen by now that 4" is as far as you can cut with a hacksaw. For the next part you will need an 1/8" drill bit(I use the double ended ones) to drill a hole in each end,don't drill too close or too far as you have to fit split rings in these holes. With all this done and before you bend them run over the edges with a grinder to smooth them down.Now to give them action, using your vice again bend what will be the hook end (the widest end) about 30degrees, about 3/4"up the blank.
Fit your lures with good quality split rings and trebles and you have the most effective metal lures possible.'
Jim Rowe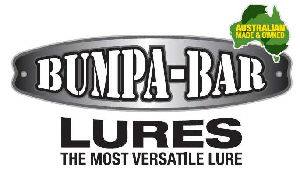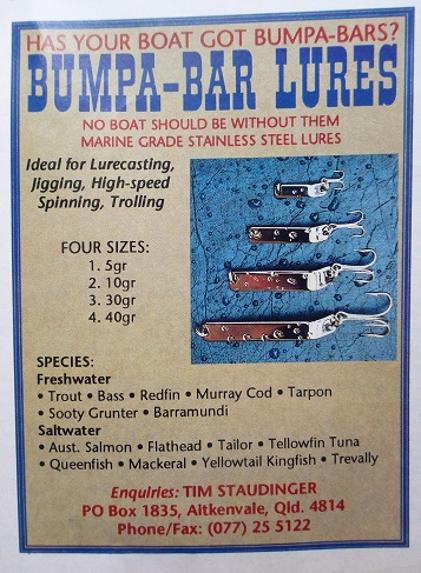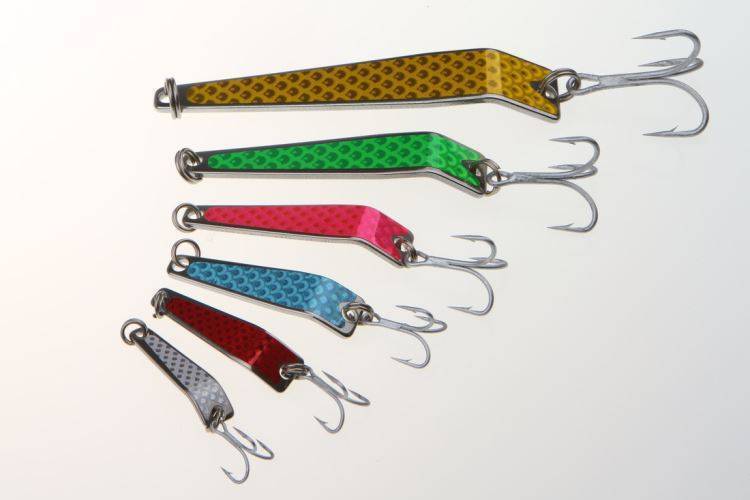 Bunyip Brand Baltic Flash:
These are a Baltic Flash style lure and this version in the original packet came up for sale in a large group of Baltic minnow lures on Ebay in 2017. Note the Bunyip Brand with stars under the Baltic Flash name at the top of the card. These have a different colour to the original Bernie Sczot 'Baltic' range of lures with the back being a lightish brown and the eyes different from the originals. All Baltic Minnows and Baltic style lures have recently starting fetching suprisingly high prices. Its a bit paradoxical as these lures were always cheap to buy but were always an absolute fish attractor particularly with trout and salmon - this may explain why they command such high prices in 2017.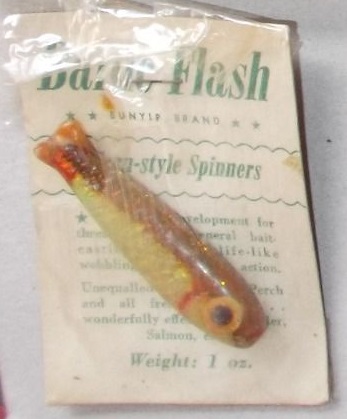 Burgess, Bob Burgess Lures - NSW:
Made in Iluka, Bob Burgess is a cottage lure crafter that makes lures in small numbers for personal use. Below is two earlier models - right is a more recent model. Most of Bob's lures are designed for deep trolling work for native fish.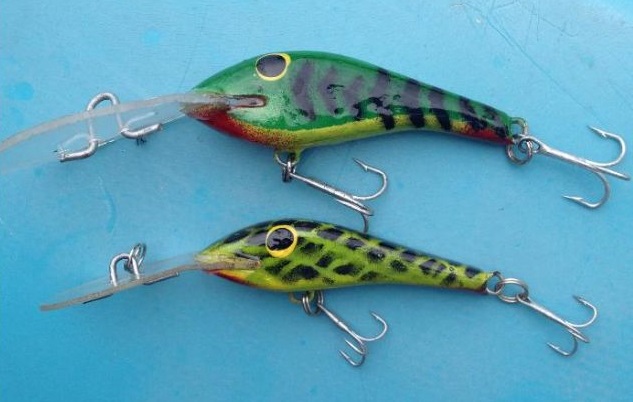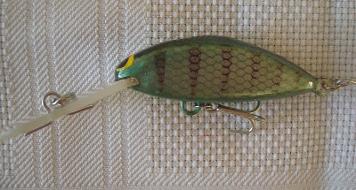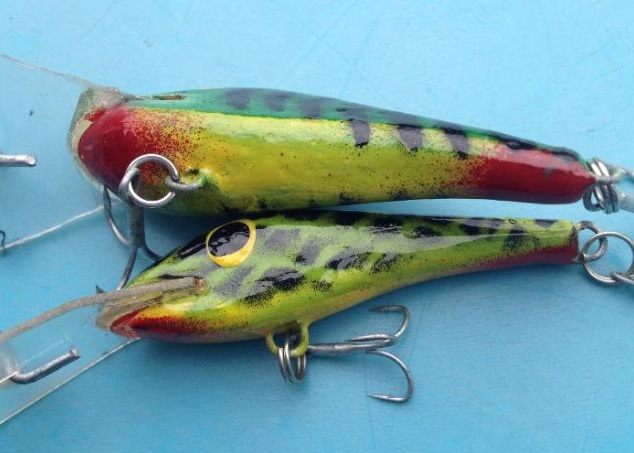 Burton, Ray Burton Lures - NSW:
Hobbyist maker based in Tamworth who shapes timber lures suitable for native fish. A good quality lure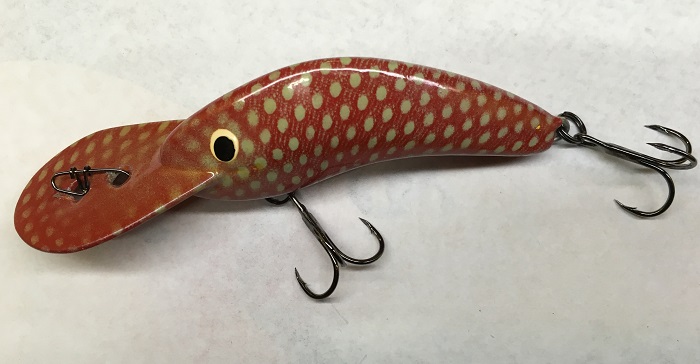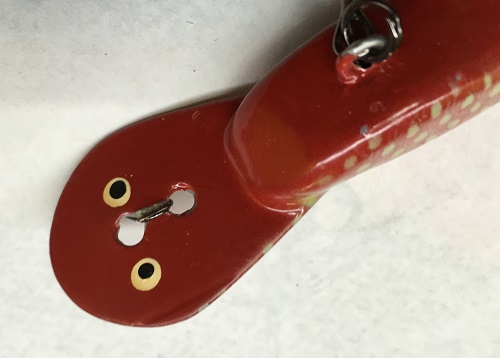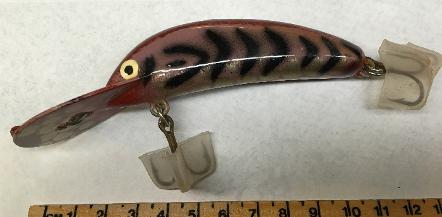 Bush, Keith 'Seppo' Bush Lures - NSW:
Made by Keith 'Seppo' Bush in the late 1980's in Wallangarra.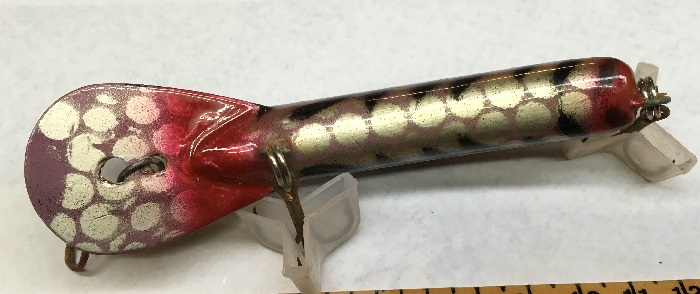 Bushtucker Lures - QLD:
Unknown maker but this timber lure was sourced in Maryborough, Queensland under the name of 'Bushtucker Lures' in 2011. Interesting paint finish on this bibbed minnow with heavy duty eyelets. A well made lure.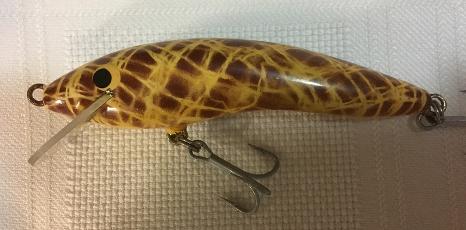 Bush Pop Lures - NSW:
Made by Ken Colmer from Erina on the Central Coast of NSW. Ken is a hobbyist lure maker who has been making both timber and moulded lures for 20 years since the early 1990's.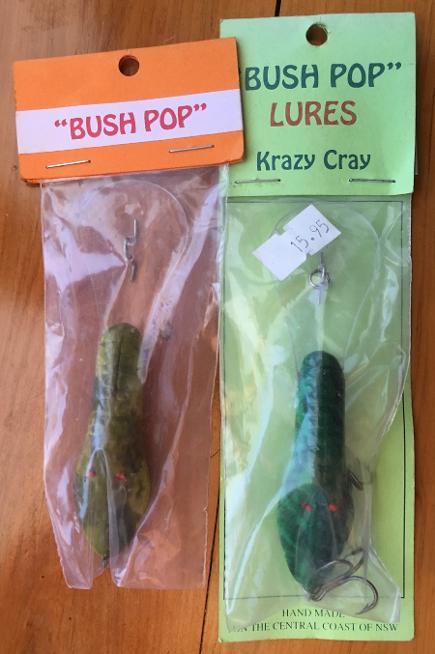 (Above) Moulded lures in packets - a very close copy of the JP 'Krazy Kray'
(Right) Bush Pop signatures which will be found on the belly near the tail. These are from timber models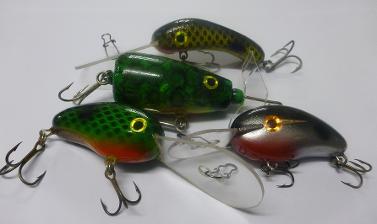 The Bush Pop Lures shown above are earlier timber models - there is about 5 timber models and the same amount of moulded models.
(Below) Moulded lures including a very realistic cicada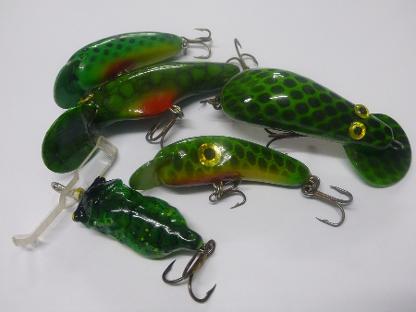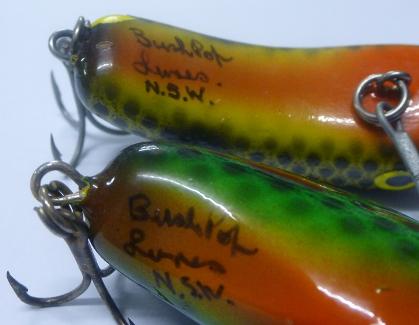 Bushy's Lures - NSW:
Kaj Busch has been shaping lures from timber or many years for personal use. This fishing legend has written many articles on fly and lure angling over the last few decades. All lures are shaped from timber and buiolt to the highest standards. Reports are that Bushy Lures catch fish and the designs are original and hard to find. A number were released for sale on Ebay in 2020.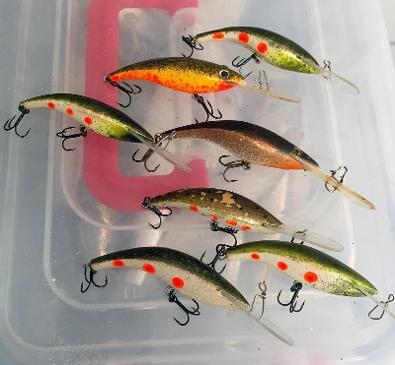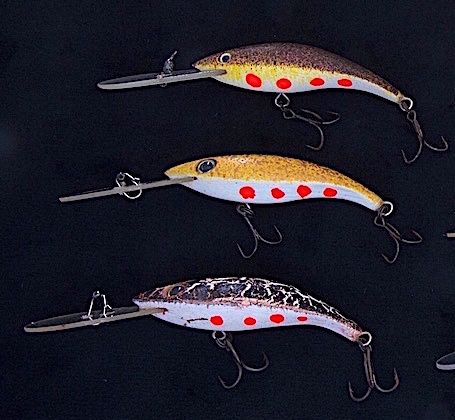 Bushy makes a wide range of lures for all applications. Above is some early trout lures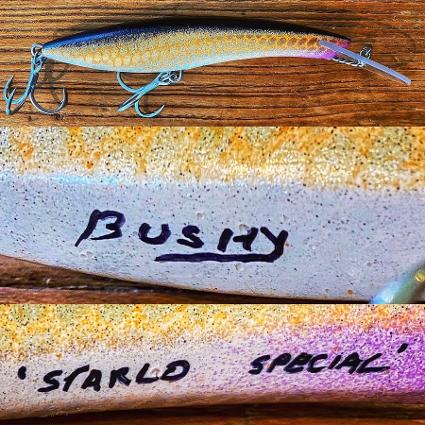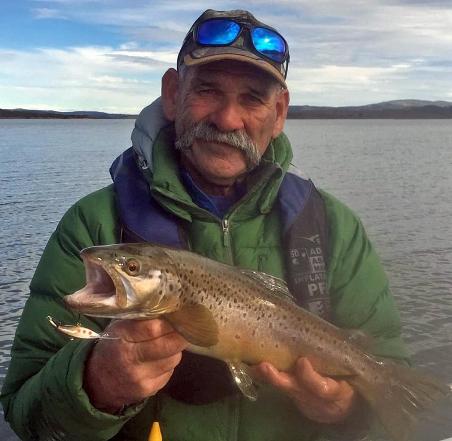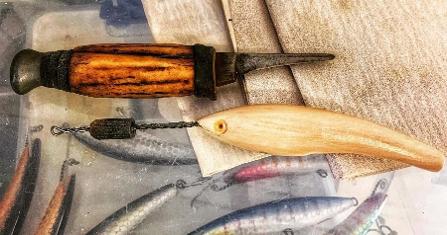 The Bushy carving knife that was found under a wharf in southern NSW and has been used ever since to carve lures.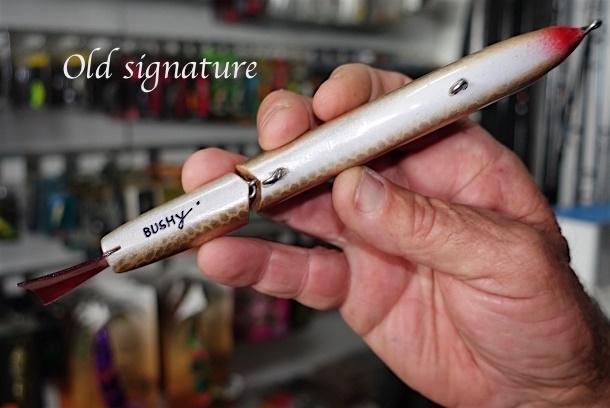 Signatures have changed slightly over the years
Above: Good friend Steve 'Starlo' Starling has had a lure signed for him. This model is a well made with a distinctive shape made for targeting barramundi.
Below are some photos that were posted on Facebook and the Lure and More forum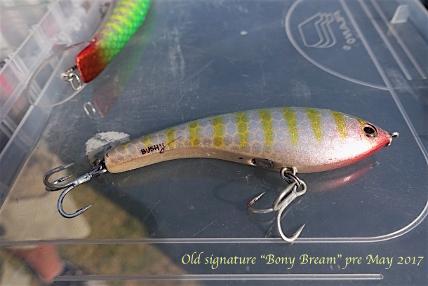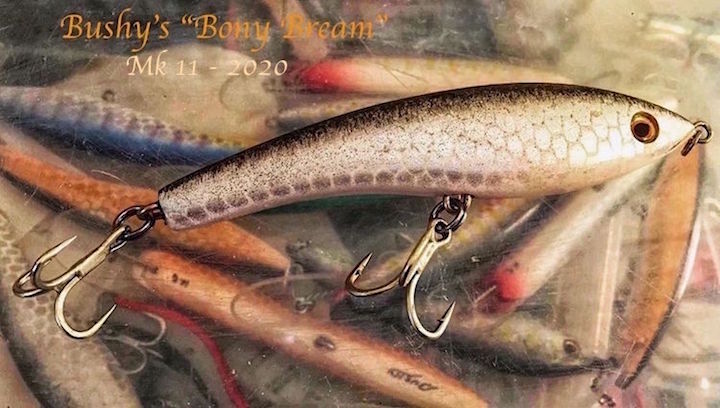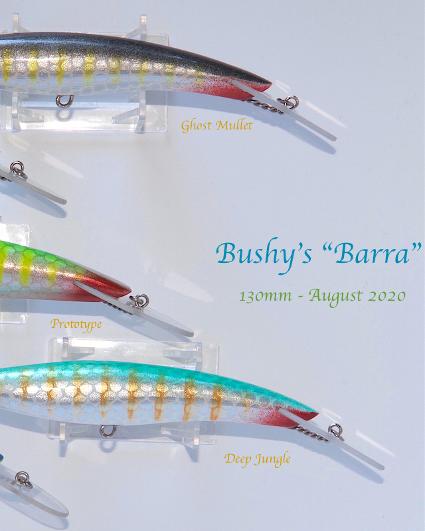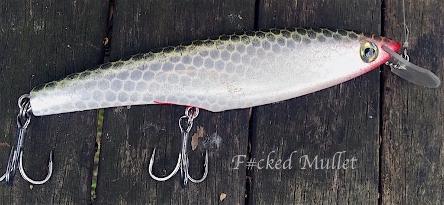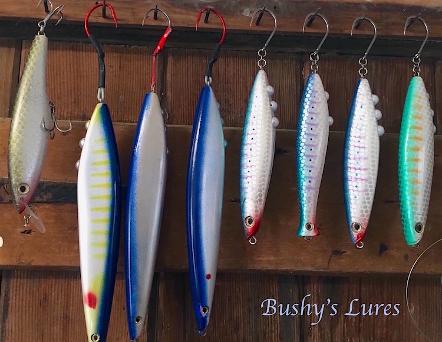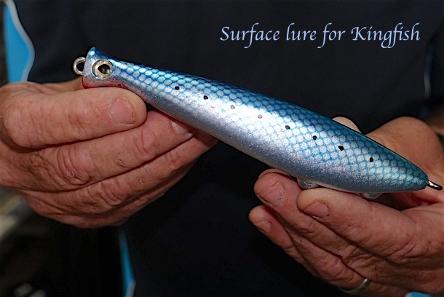 Butler, Harry Butler Lures:
Made by Harry Butler. Unknown other than these examples that appeared on Ebay in 2014. Marked on belly with initials.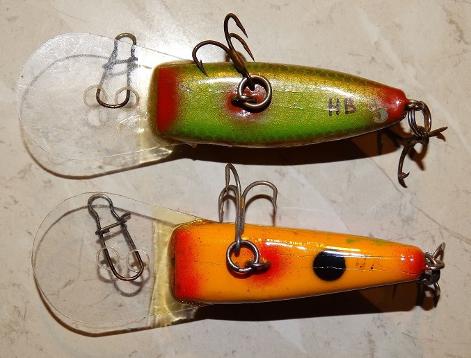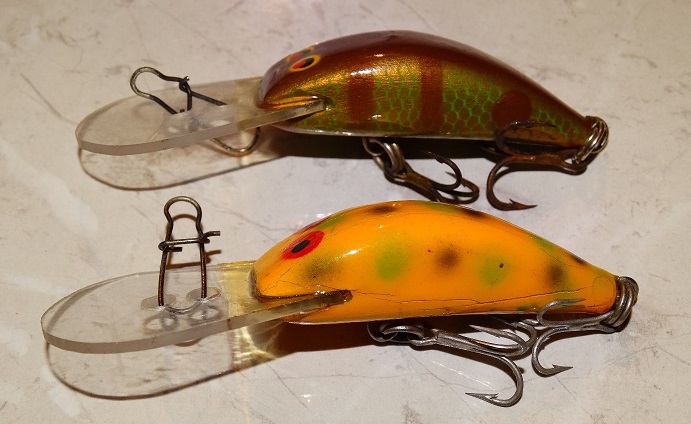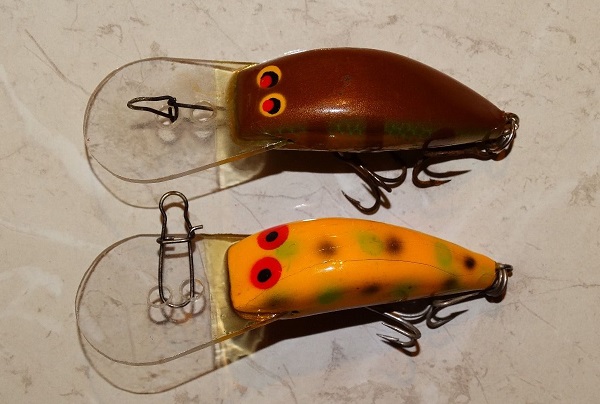 Butler Lures - NSW:
Made by Ernie Butler who grew up in Wallangarra and who moved around with the railway, Roma, Mt Isa and Toowoomba and now resides near Stanthorpe. Typical Tenterfield influences and normally signed on underside of lure. Maker used to work as a train driver and now runs a boutique brewery. Lures not made for many years and hard to find.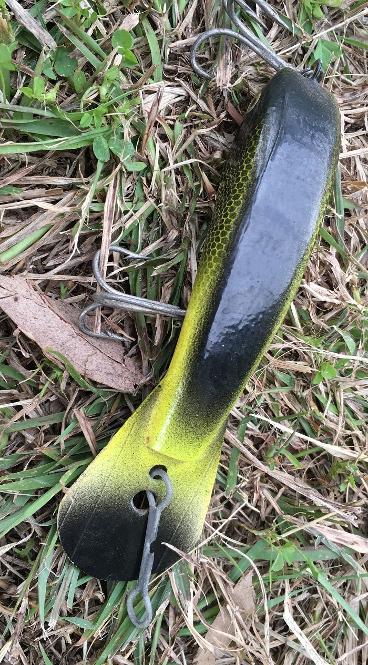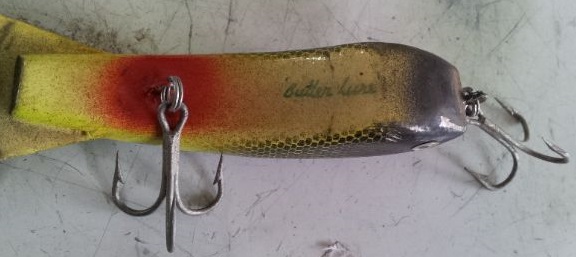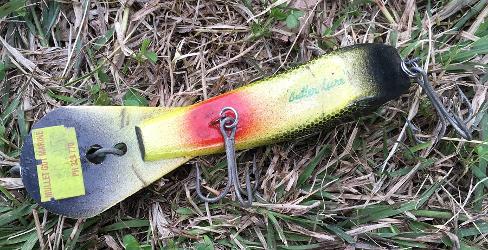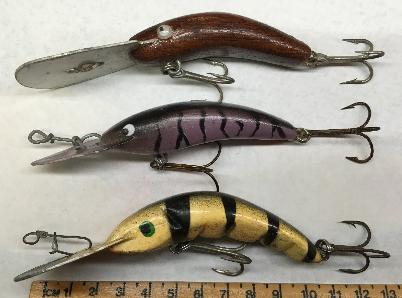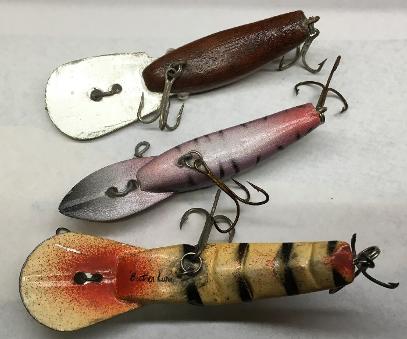 Model above is most often found however there are a number of different Ernie Butler lures that may be signed or unsigned.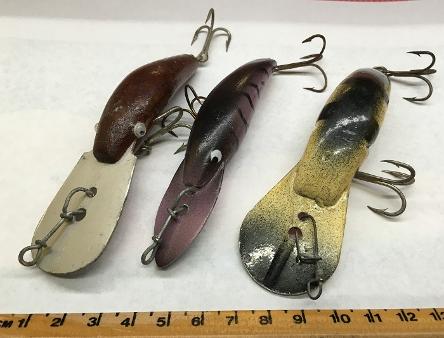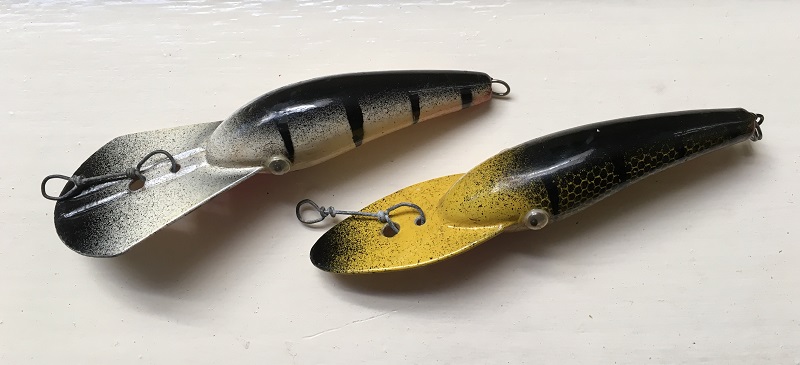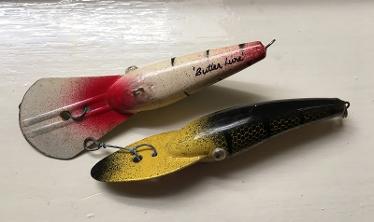 Butler, Stewart Butler Lures - NSW:
Made with conduit in Deniliquin by Stewart Butler. An extremely interesting design.