Hardy's Lures, Wal Hardy - NSW:
Wal Hardy was an avid fisherman who was making metal plugs in the 1950's under the name of W.R
Hardy

, Carlton, NSW. Wal

Hardy was an

extremely prolific writer of magazine articles back in the 60s and wrote a popular book 'The Saltwater Angler' which went into 6 editions between 1966 and 1977.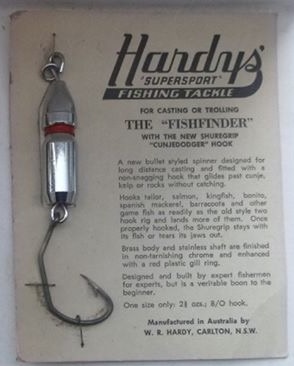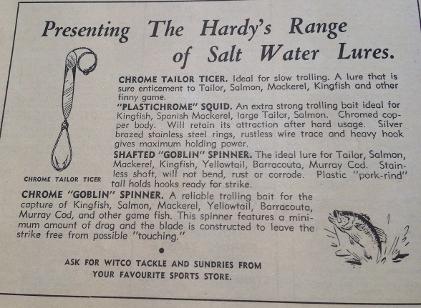 Advert above is dated to 1953
W.R.
Hardy

will be marked on the bottom of the lure cards or advertising with the logo of Hardy's 'Supersport' Fishing Tackle in the 1950's. He had a range of metal

lures

(including the 'Tailor Ticer from 1949 through to late 1960's/early 70's). Advertisement below is dated to 1950/51 and introduces the 'Fishfinder' with the new 'Cunjedodger Hook'.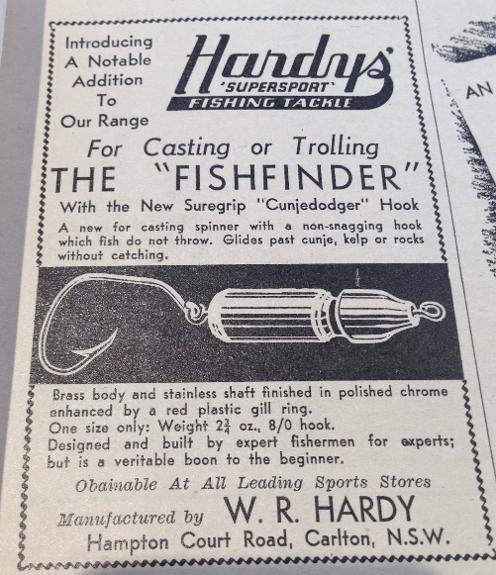 W.R.
Hardy

advertisement from Outdoors and Fishing 1955
Tony Orr stated on the

Lure and More

forum when talking about the old Hardy products several years ago . . .'

As an aside, W.R.

Hardy

's

lures

were great! I used a tiny gold

Hardy

'Imp' spoon to good effect on redfin in Sth Qld as a kid, and later on sooties and jungle perch in NQ, eventually losing it to a jack in 1974. Should have bought ten of them- the replacement Halco copies just didn't quite have the correct balance or weight distribution and weren't nearly as effective.'
Below is an advertisement for the Hardy 'Shafted Goblin Spinner' from 1954.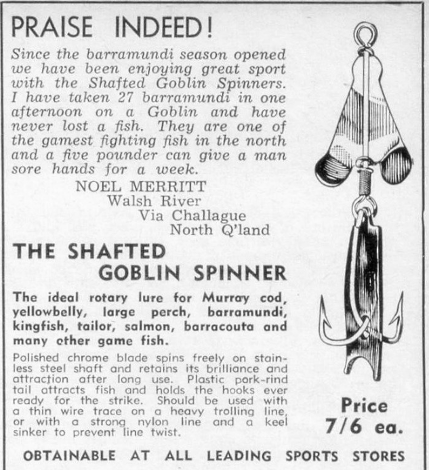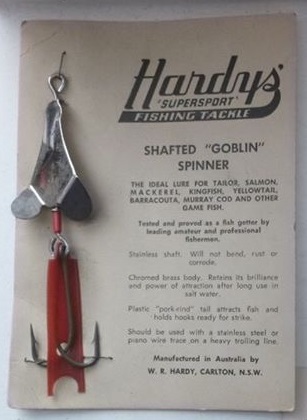 Right is an advertisement for the Hardy 'Mackerelmaster' which appeared in
Australian Outdoors
magazine through 1957 into 1958.
ANGLERS OMNIBUS TRIVIA : In editions 2, 3, & 4 of the Australian 'Anglers Omnibus, most of the
lures

pictured are lead-head feather jigs and

Hardy

rock & surf spinners, with a Bellbrook Swayback. There is a full-page advert for

Hardy

's

Lures

in the 2nd Edition featuring the 'Tailor-Ticer', 'Shafted Goblin', 'Riggle-Rite', 'Twirler', 'Mackeral Master', 'Fish Finder' and the classic 'Cunje-Dodger' as shown right with a scanned copy from 1958/9. The 'Tailormatic' is an early Halco copy of the earlier Hardy lure.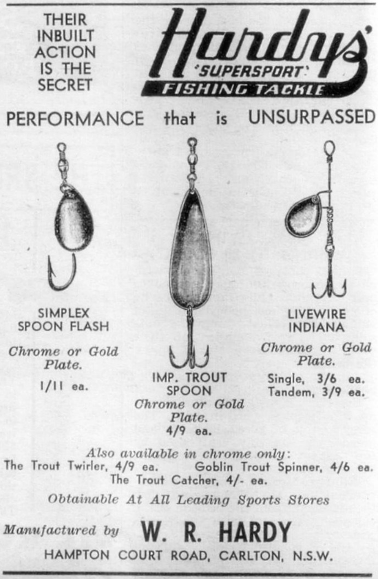 (Above) 1955 advert from Outdoors and Fishing.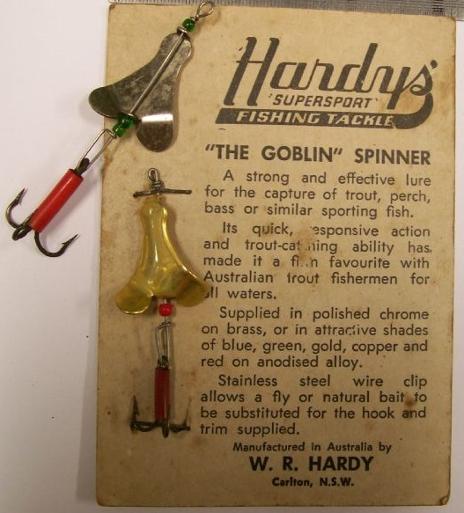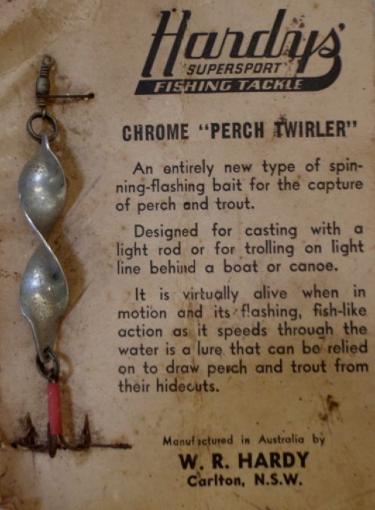 Hardys 'Riggle-Jig' is a lure that turns up occasionally. Name is embossed in an oval and stamped with number. Mid 1950's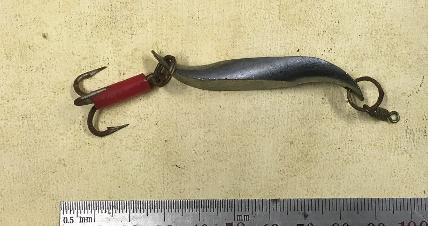 This lure, the Hardys 'Diamond Devil' was one that Frank Prokop asked a few questions about some years ago and seems there is little information about this model but it is listed in the advertisment below and available in 3 sizes.