Lure Manufacturers Australia D
If you know of an Australian lure maker no matter how young or old that we have not mentioned in the following list feel free to contact us at to have the details added or updated.
*Cover banner photo is a Doc Yarrum 'Bellringah' lure
D & D Lures - NSW:
D & D Lures made by Dave Dumpleton of Nowra, NSW . He had a couple of models including the 'D & D minnow' as shown right. The 'D & D Stinger' and 'Redfin Bobber' were both lead alloy slugs with mylar braid and an epoxy coating. c. 1992. The review right is from Modern Fishing c.1993 and shows the D & D Minnow which looks more like a type of soft plastic with a stinger hook. No further information.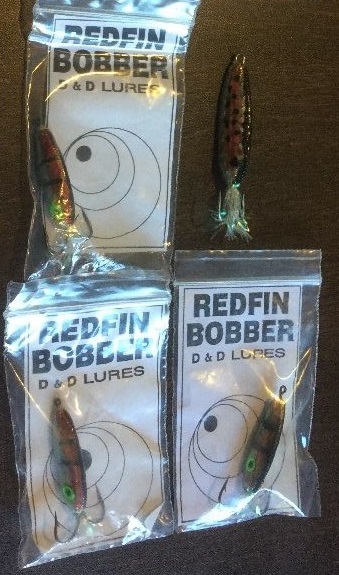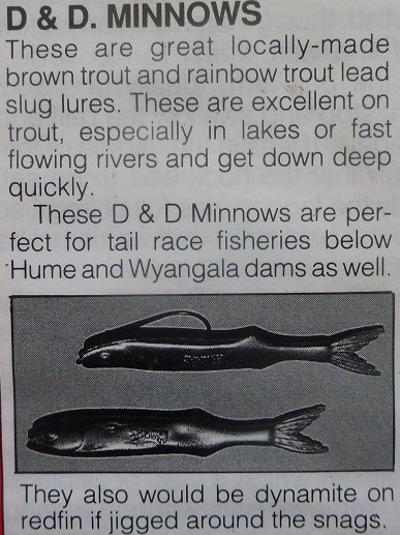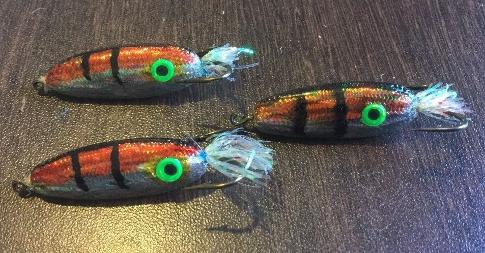 D & S Lures - QLD:
D & S Lures stands for 'Draper and Sons' which is Al and Matt Draper from Camira in QLD. They make bibbed lures, poppers and surface walkers of high quality. The photo right shows a couple of different models including a mid sized bibbed lure and small popper which is made from cedar.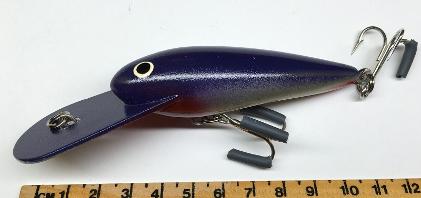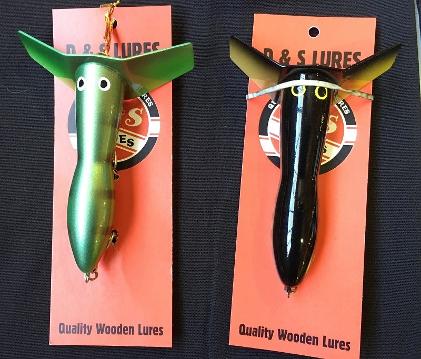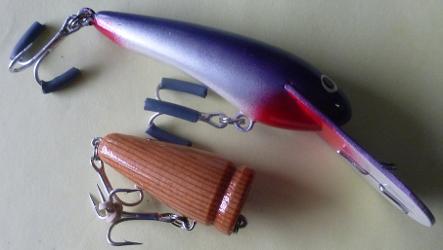 D&S Lures have been actively selling lures at the last couple of Lure Expo's in Ipswich some of which are showcased below.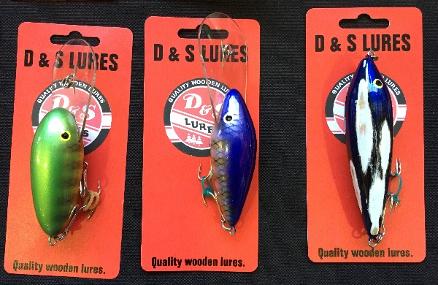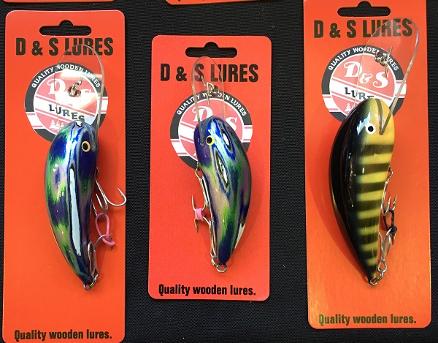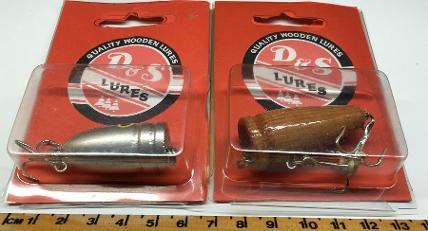 A large multi-jointed D&S Murray Cod surface paddler c.2016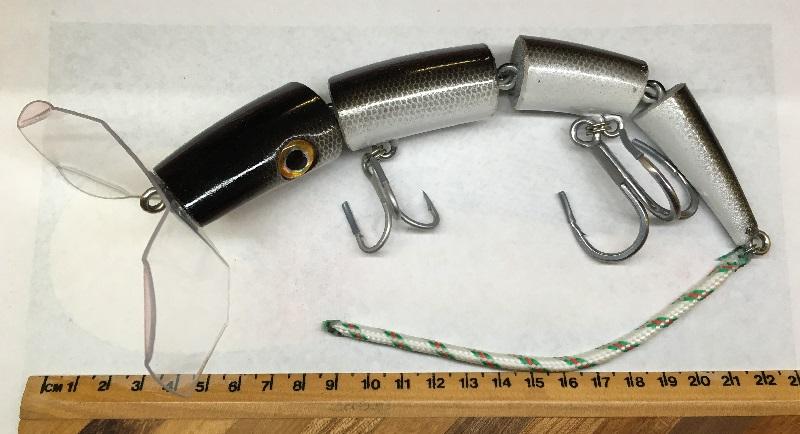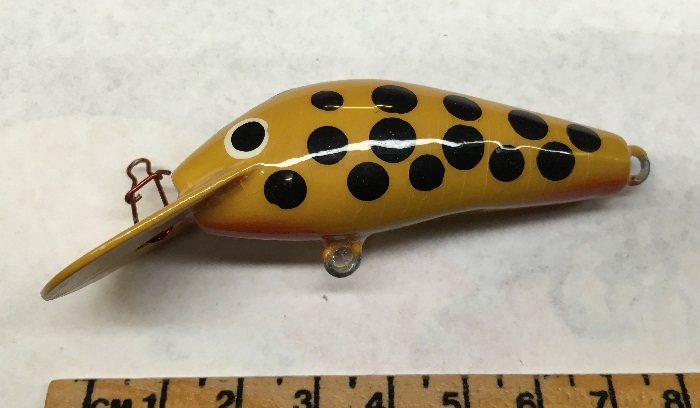 D.A.B Lures - NSW:
D.A.B Lures were made by David Bridge and are some of his earlier attempts at lure making. D.A.B Lures evolved into Bullrout Lures and Dave is an active member of collector forums and a keen collector of Australian timber lures himself.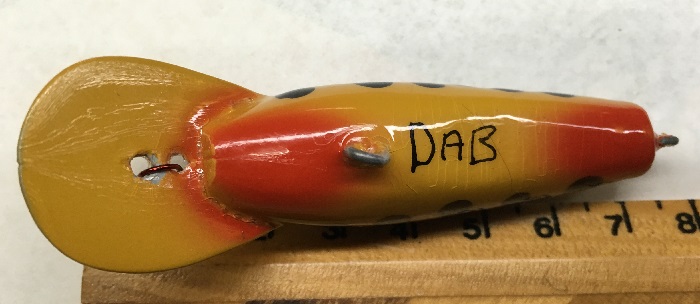 D Mac Lures:
D Mac Lures were made by Darren Mac Queen. His lures are extremely well made and his lures may be signed or unsigned.
See MacQueen, Darren MacQueen Lures.
Dam-Good Lures:
Obscure lures from an unknown 'backyard' maker marked on belly. Surfaced in 2014 and are through wired and made of timber.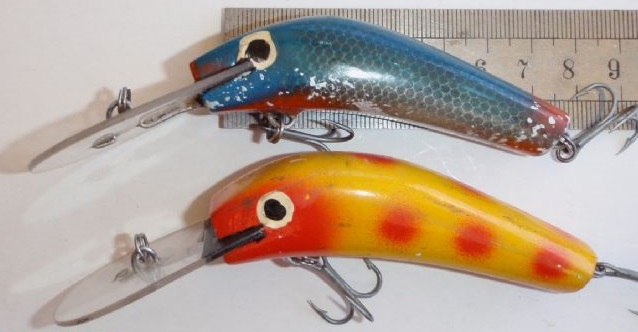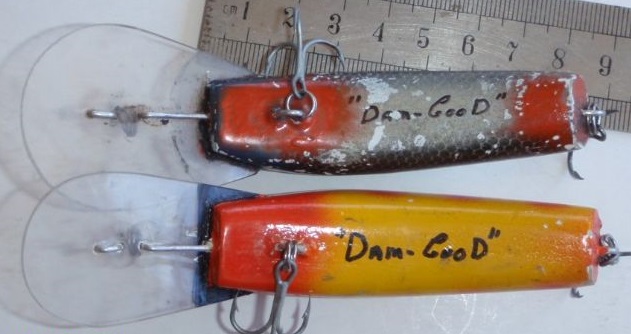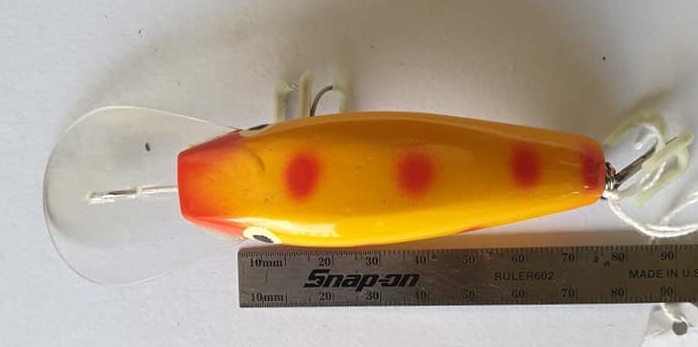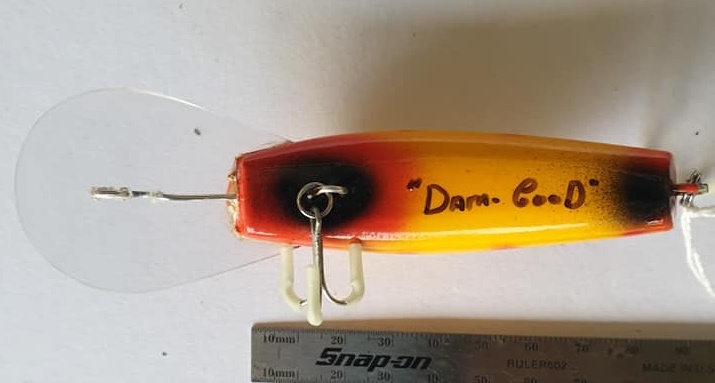 Damper Diver - NSW:
Ron Cockbain started making lures at a young age and was born in Coff's Harbour in 1946. Before 1983 all of Ron's luremaking was in Coff's Harbour with the evolution of the prototype Damper Diver, a lure derived from his love of the Storm Hot n Tot. The lures are carved from white beech.
In 1983 Ron moved to Cardwell to further his luremaking skills and this is where the Damper Diver came to be and got it's name. There is a small creek just south of Cardwell called Damper Creek and Ron started to perfect his creation in this creek. The stretched Hot N Tot with a big wobble and tow point on the bib turned into the lure seen from 1984 till 1999.
As the lure evolved the tow point was changed to the front of the lure (rather than connected to the bib). The shape was changed to a flatter sardine style and the wobble became tighter. The belly was carved to a thin point rather than rounded. An air brush was used to paint the lures and they were finished with a 2 pac clear coat.Ron advised that this new design was certainly influenced by Eric Moller and Vic McCristal. Ron kept on making lures till 1999 and since then has just made enough lures for family and friends as well as for himself. Ron still has all the jigs and equipment that he devised years before to make the unique and original shape of the Damper Diver.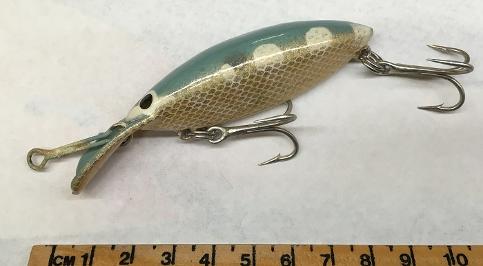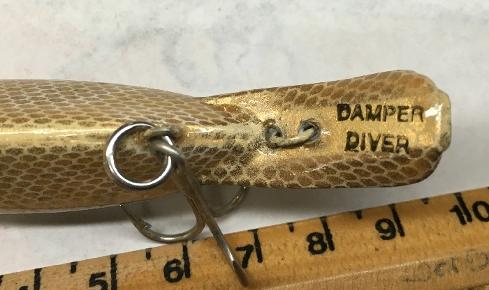 The earlier models will have a pleated bib with the edges upturned and either stamped on the base of the bib or body. There are other front eyelet designs also with soldered towpoints and modified Luxon style clips.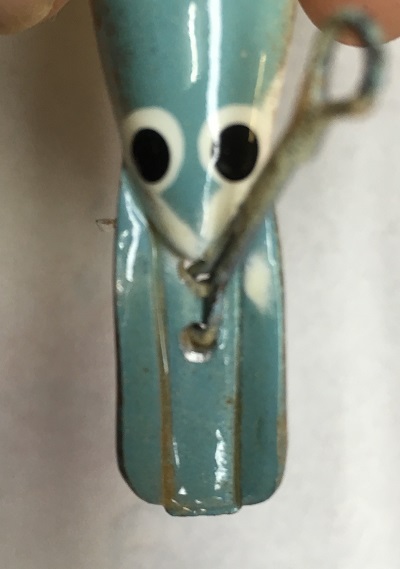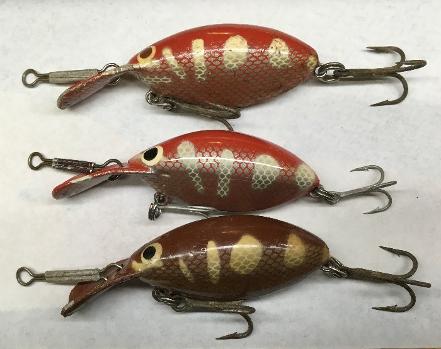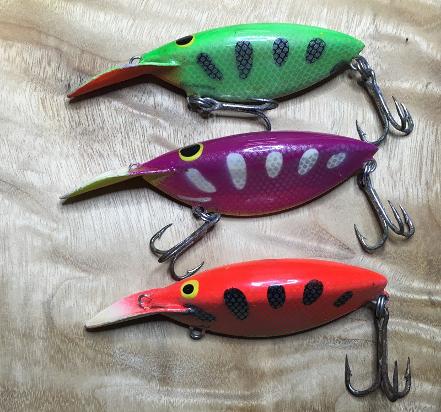 There is also at least a couple of sizes including the smaller versions shown left. Rounded shape and early painted eyes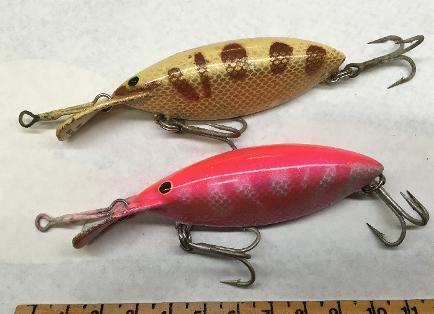 Above - older body shapes and painting style
Below - Variations in stamps on these three and some are unsigned. Flatter body shapes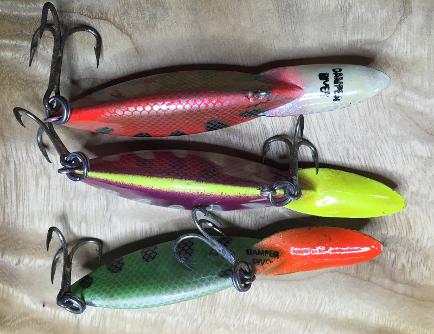 Early Lexan bibbed models - not that easy to find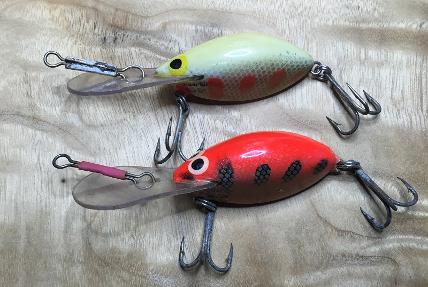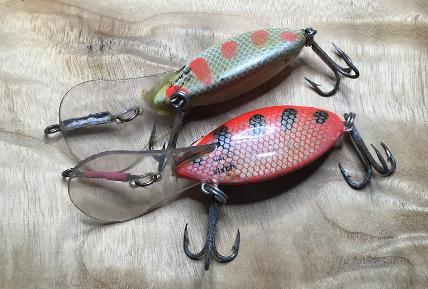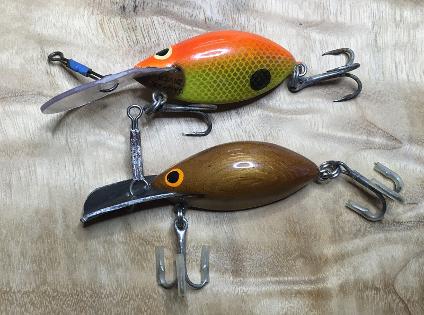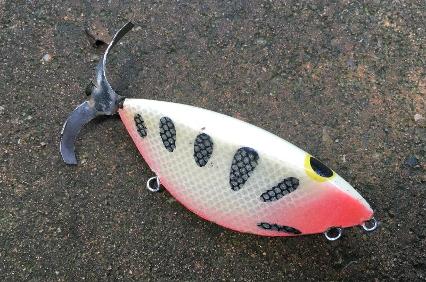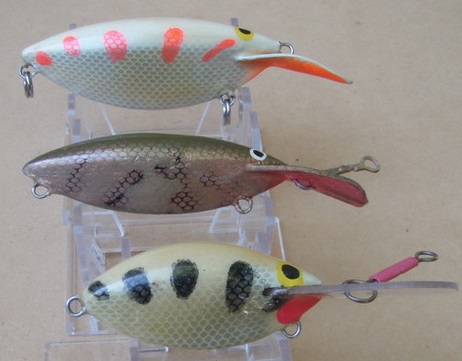 The earlier models will have a pleated bib with the edges upturned and either stamped on the base of the bib or body.
Below left is a very rare Damper 'Fizzer'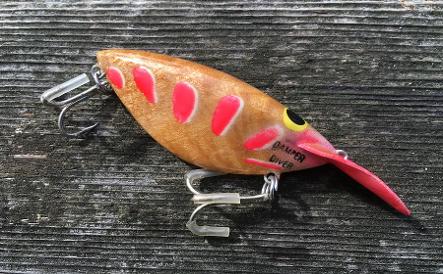 Below is a spectacular Damper Diver semi nude - pink markings and bib. Newer model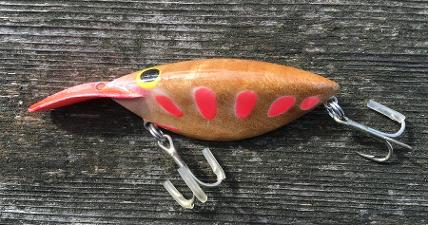 Daniels, John Daniels - QLD:
John Daniels was an extremely talented lure maker who constructed hand made timber lures in the 1970's. John was originally from Brisbane and that is where he made his lures. He also wrote a number of articles in fishing magazines. From the Lure Lovers forum;
'He was a member of the the Brisbane Sportfishing Club and heavily involved in ANSA and shifted to Adelaide where he became State President for a while. He was a great friend of Vic McCristal and used to head north from Brisbane to fish along with Mick Dohnt who was ANSA recorder Queensland. The photo in the magazine I reckon was taken in his shed in Morphettvale SA. Sadly John has passed away several years ago'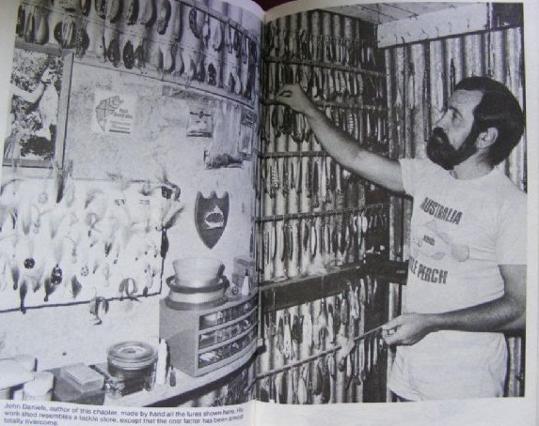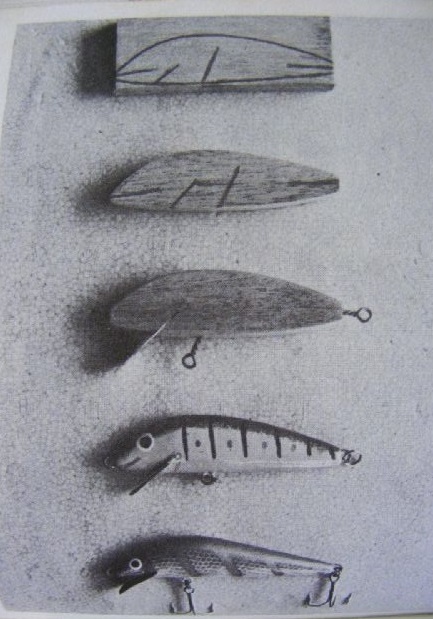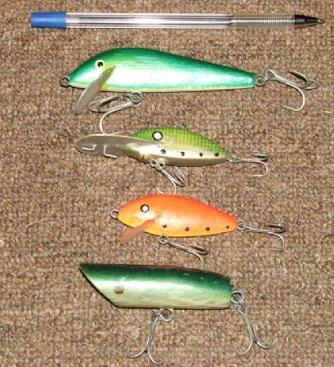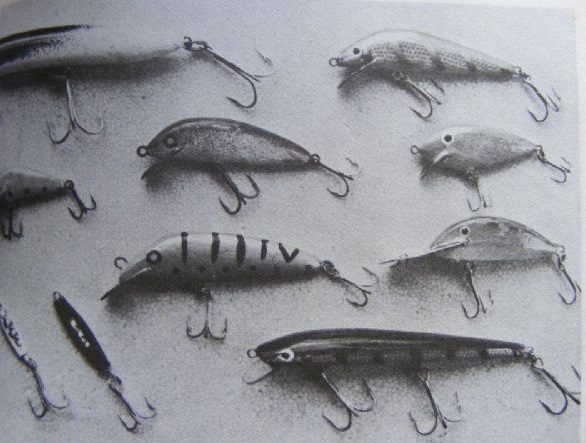 Dansar Lures - QLD:
Dansar Lures were made on the Gold Coast (around the Miami area) and are crafted from timber (Western Red Cedar). Available in the 1990's. The advertisement shows Dansar listed in the Beenleigh area.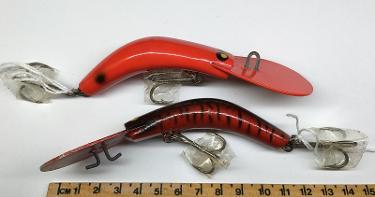 The illustrated lures are a mid sized lure with extremely heavy wire hangers and front tow point.
Shows the typical Dansar lure signature which may be on the bib or belly of the lure.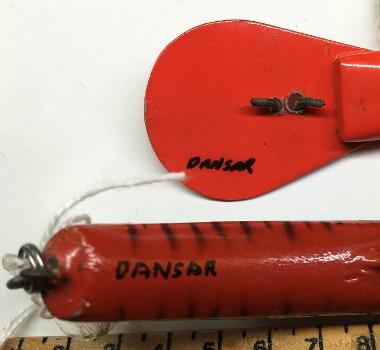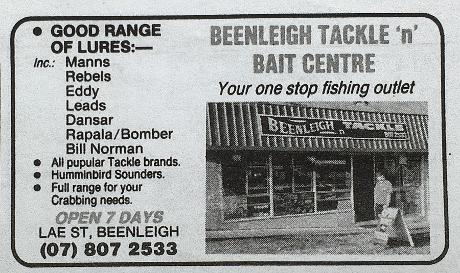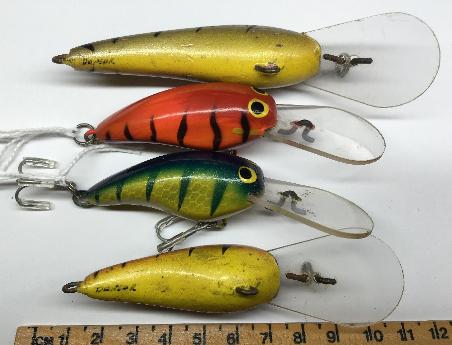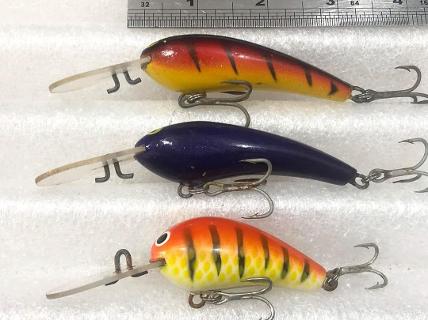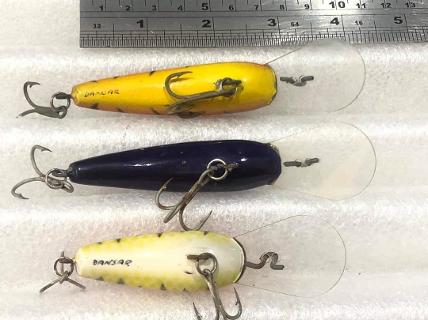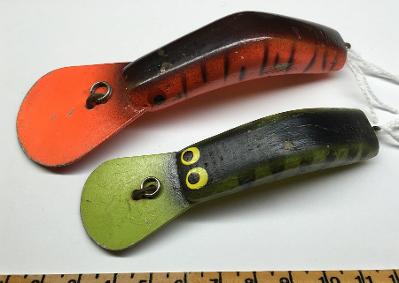 There are also examples of other shapes and models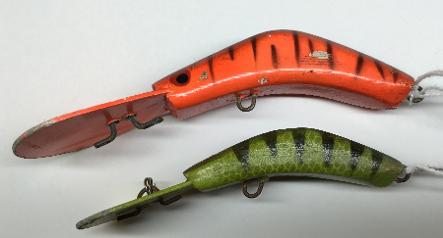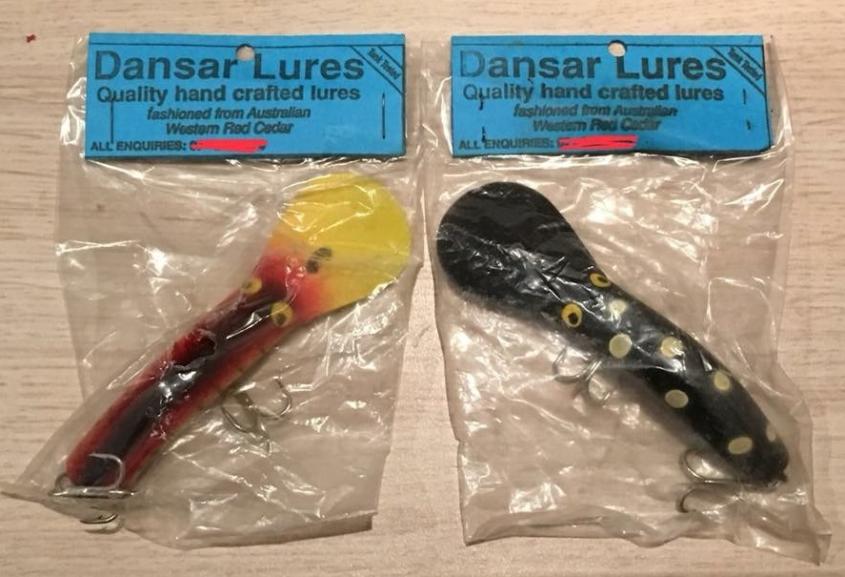 Dark Star Lures - QLD:
Dark Star Lures were made by Alan Filewood and started at Kewarra Beach, Cairns. Main production started with timber bodied lures then developed in urethane models. The maker later moved to West End, Townsville where manufacturing ceased. Lures are marked in gold lettering transfer on back of lure near tail and are a great looking lure suitable for targeting larger freshwater fish or saltwater species.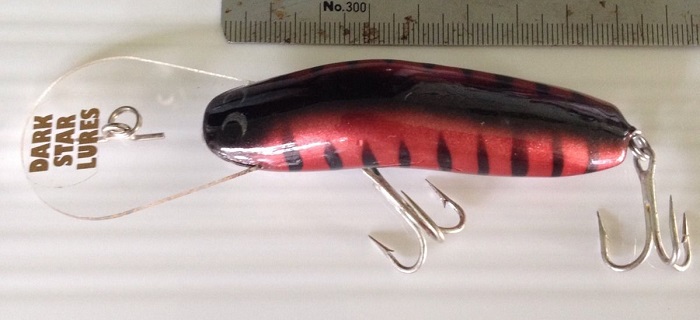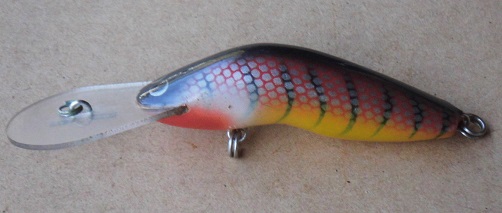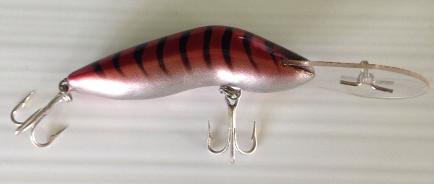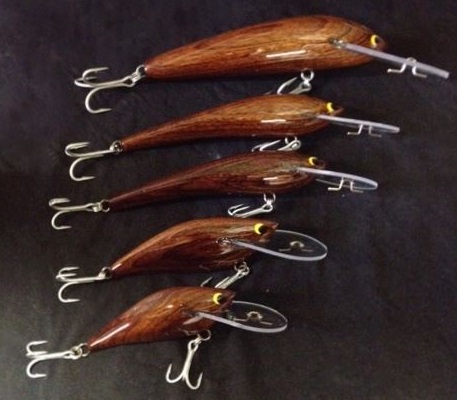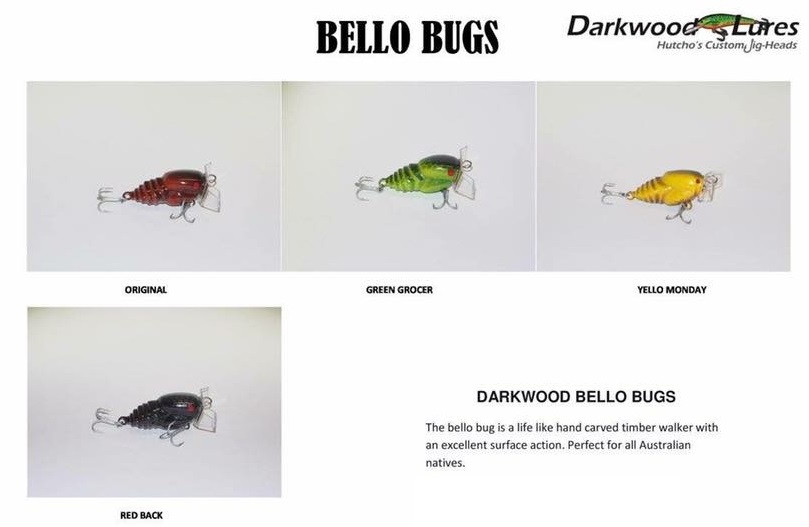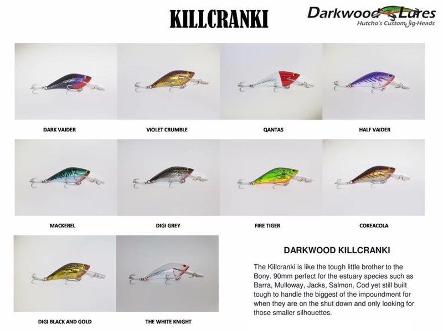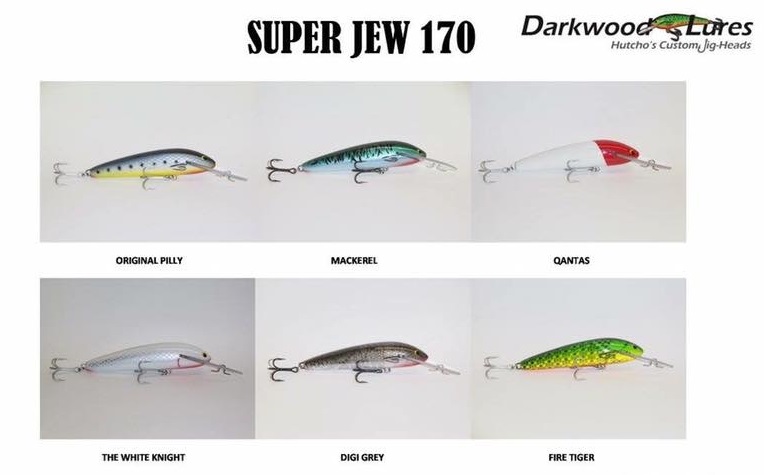 Darkwood Lures - NSW:
Darkwood lures are timber lures made in Bellingen. Chris Casey is the lure carver who is assisted by Matthew Hutchison from Laurieton on the mid north coast of NSW. Photo left shows five nude, clear coated models. Darkwood lures have recently (2016) hit the market with a range of lures for many applications and are a high quality product.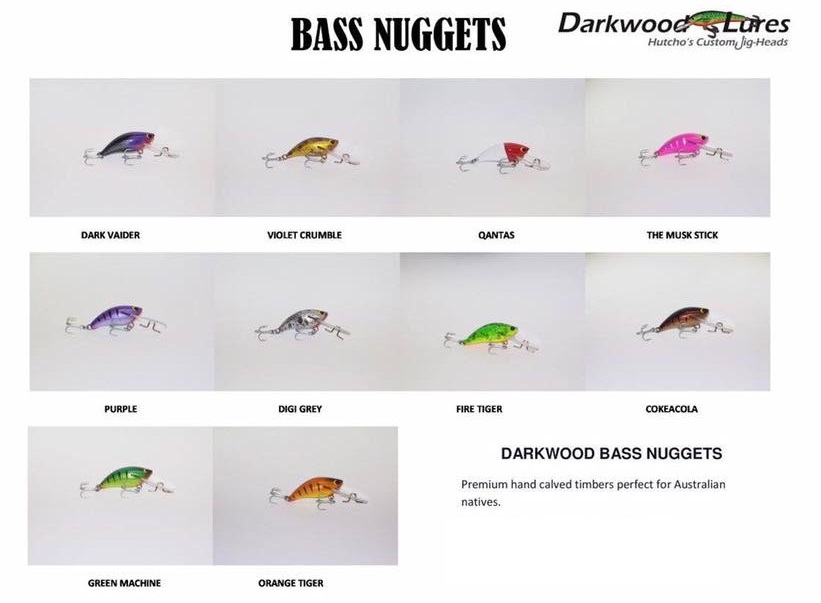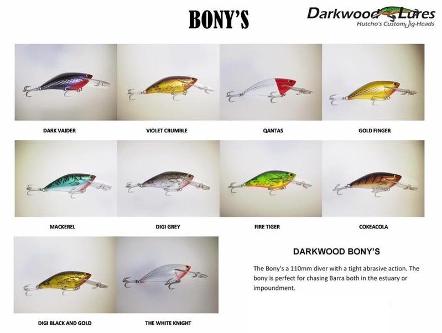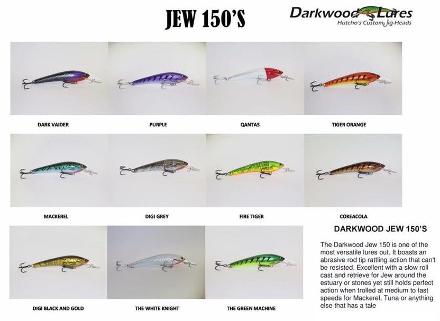 Darn It Lures - NSW:
Darn It Lures are made in Tamworth, NSW and are rarely seen. They are a larger lure designed for Murray Cod fishing and these models were available in 2012. Unsure if they are still being made.
Darn It Lures 'Sharky' and 'Diamond'



Dauro Lures:
Dauro Lures are an obscure vintage lure that possibly originate from southern NSW but this is unconfirmed. Maker is unknown however the lures shown were advertised and sold on Ebay in early 2018. A quality metal bibbed timber lure that came with a name tag of 'Dauro Lures' from old shop stock dating to the late 1987 from Eden Outdoors. There were three different colours and due to unknown provenance sold in the $30-35 range.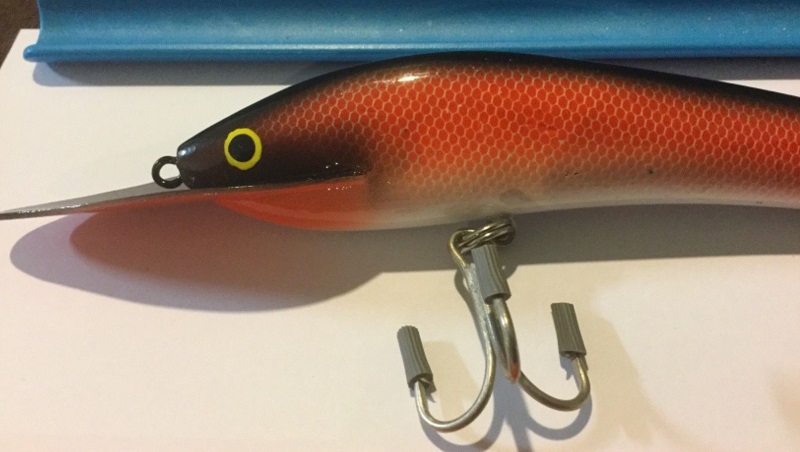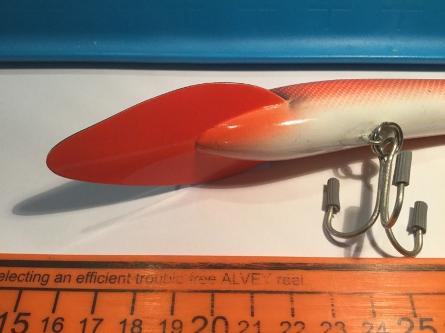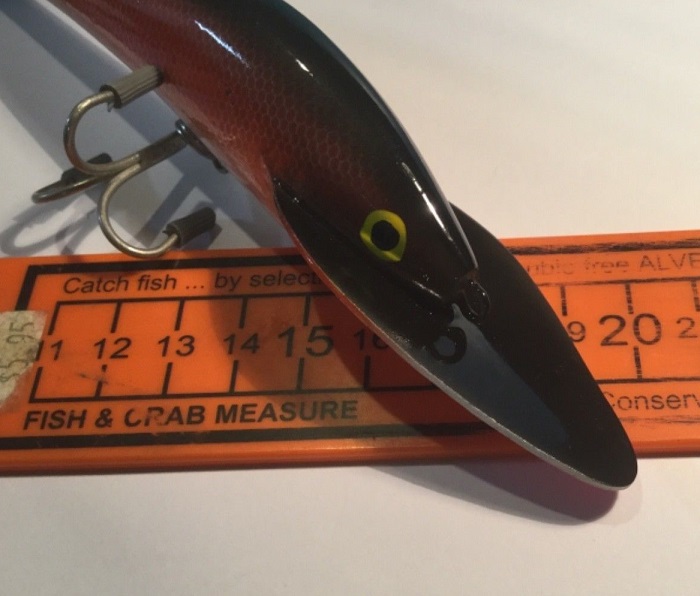 Dave's Lures - QLD:
Dave's Lures are made by Dave Bullard from Ipswich who is a hobbyist maker and has been making lures for at least 15 years. Lures are sold cheap and are of good quality. Lure shown is called the 'Gummomo'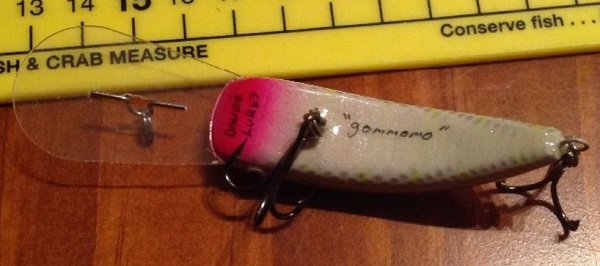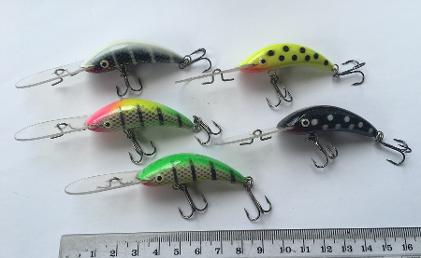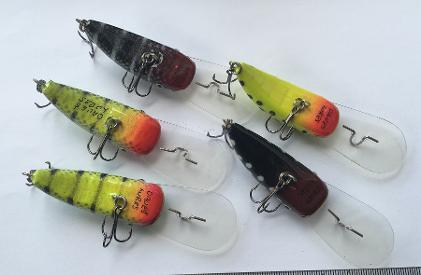 It was good to meet Dave at Expo 2017 and the following lures are only some of his very nicely made and well priced products.

Dave's 'Cod Dog' - metal bib timber version
Dave's 'OXY' (Approx 10cm body) and 'NEWT' (approx 8cm body shallow version)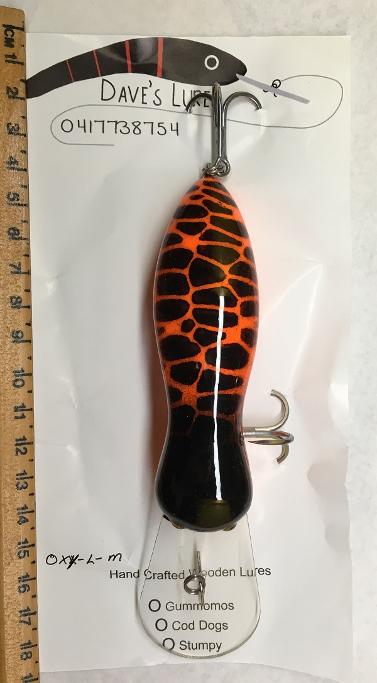 Dave's 'Cod Dog' - moulded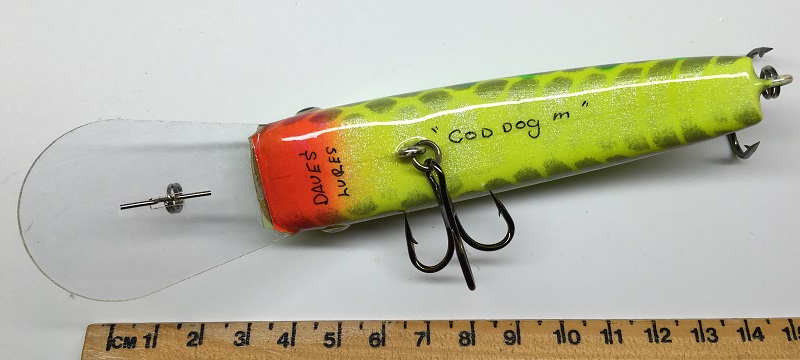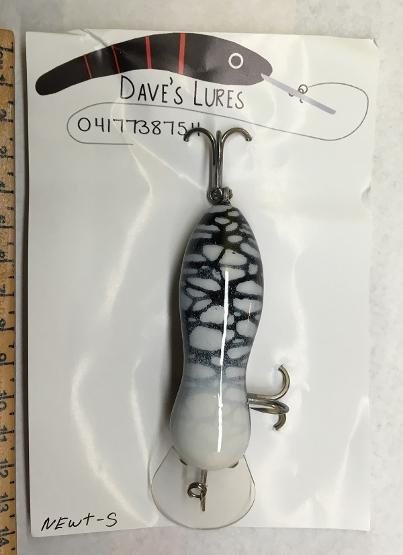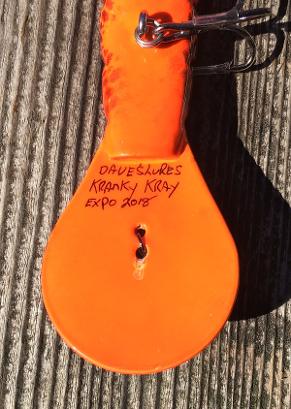 Davies, Ron Davies Lures - NSW:
Ron has been making lures for over 35 years and is now 'an old man' (his words). He is a good friend of Gary 'Flacco' Akers (AK Lures) who started teaching Ron to make lures. See D Dads Lures
Davo Tackle - QLD:
Made by Dave Hill in Beerwah. Apparently there are 42 models that are all made in timber and belonged to Dave's dad who used to make lures for a local company. Some of the model names include 'Super Bug', 'River King', 'Outback' and 'Dusky'.
Dawn Buster Lures:
This is another of the quality Australian made lures where a maker has been unable to be found. The lures shown were purchased in Bundaburg, QLD around 1999/2000. Unsure of exact area of production but there seems to have been at least two models and at least 34 colour combinations.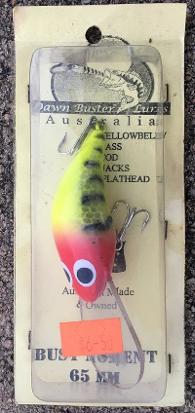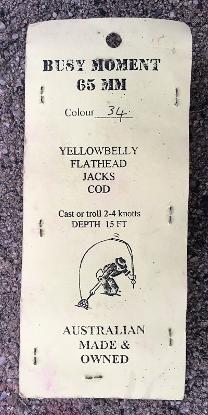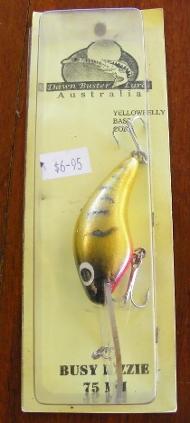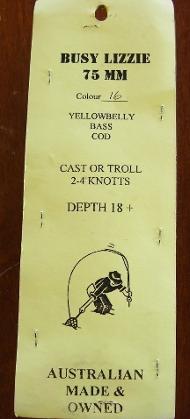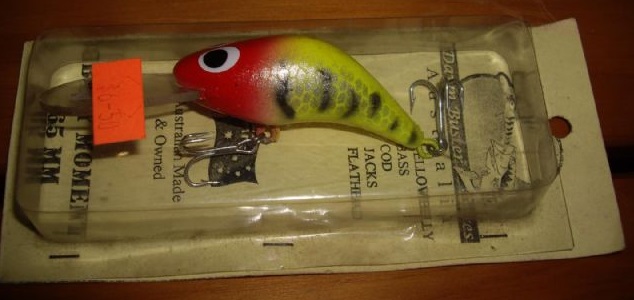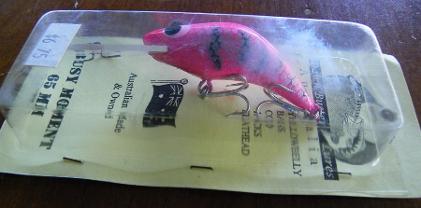 Day, Brad Day Lures - NSW:
Brad 'Moose' Day made large foam paddlers called the 'Swallow' with the slogan 'fresh to salt -Murray cod to barra'. See Lures by Moose
D Dads Lures - NSW:
Ron Davies has been making lures for over 35 years and is now 'an old man' (his words). He is a good friend of Gary 'Flacco' Akers (AK Lures) who started teaching Ron to make lures. His passion for making timber fishing lures the traditional way never ceases and Ron can always be found in his shed experimenting with different designs. His lures feature twisted wire hangers, hand stamped metal bibs and one of the smallest signatures you will see. Ron is based at Cessnock in the Hunter Valley near Newcastle, NSW and is a regular part of the Hunter Lure Makers meeting which has been going for many years.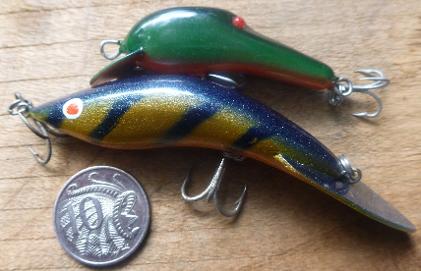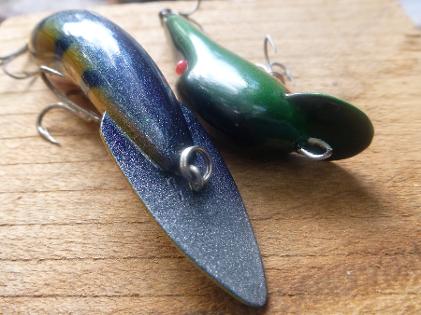 Above and left shows some of the earlier creations from Ron Davies in the late 1980's and 1990's. His influences are many but include hand carved creations inspired by the Rebel Crawdad, and the Bass Magnet - highly successful imported lures. But D Dads Lures also has many very original patterns as he moved away from copying his favourite lures from the tacklebox. His Crawdad and yabby imitations are excellent and all hand carved from timber and include tiny models and shallow/deep diving.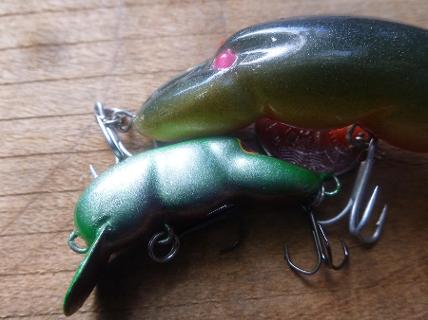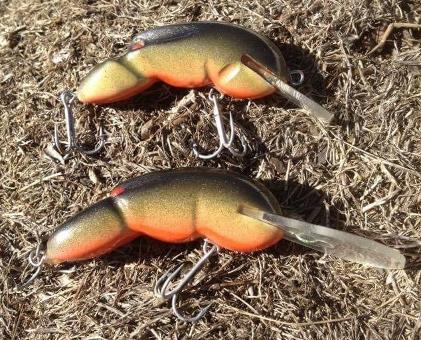 Below shows some of Ron's smallest creations which are 4-5cm in length and have an extremely nice finish. The top lure in this photo is has been one of the most successful lures in the box.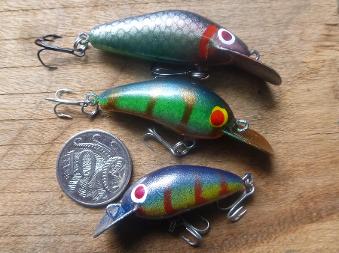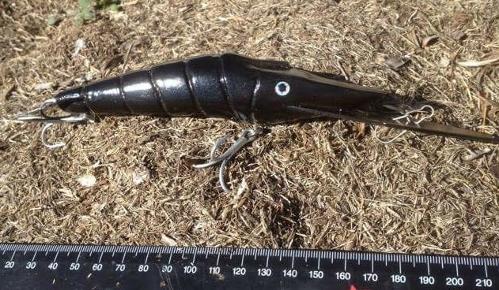 Above is a spectacular prawn like creation that was made by Ron many years ago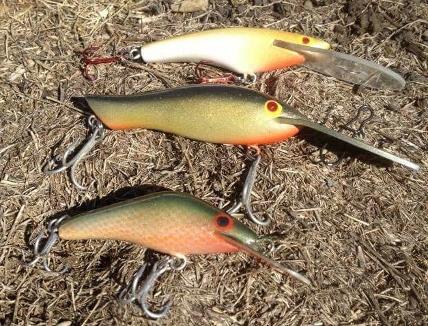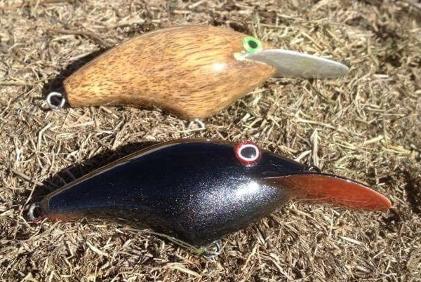 There are so many experimental designs that it is hard to catalogue all of them. More will be added in the future . . .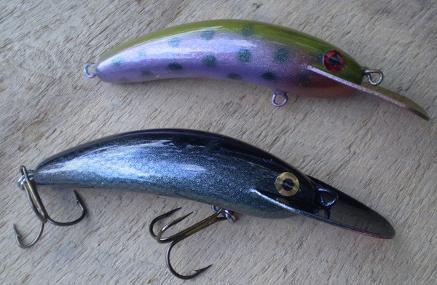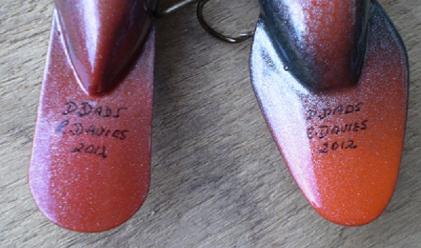 Deans Tidal Water Lures - NSW:
Deans Tidal Water lures were made by Dean Hayes who unfortunately passed away with cancer in 2009. He was a passionate angler and fishing guide on the Hawkesbury River in NSW.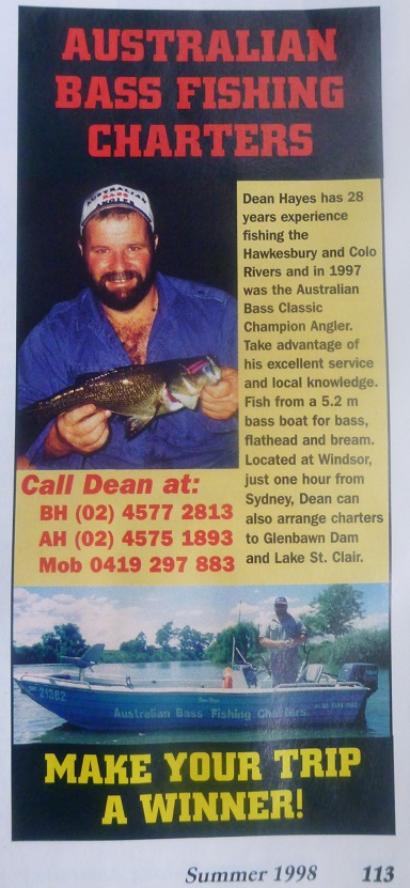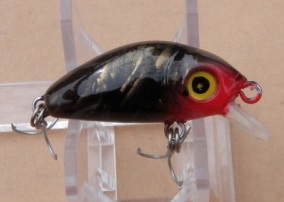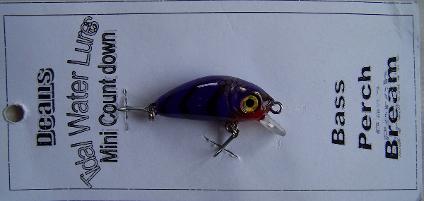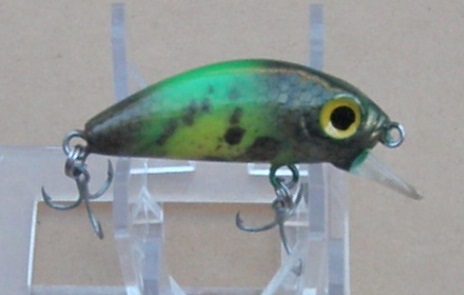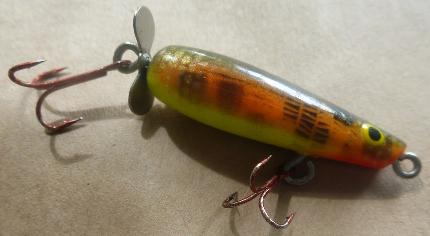 Deception Lures - NSW:
Paul Kneller has been making lures since the early 1990's and is one of the most successful of all the Australian lure makers who have made the the transfer from cottage lure making to commercial success. See full page Deception Lures - Paul Kneller - Kneller Lures
Deep River Lures - QLD:
Deep River lures are exceptionally well made timber lures made by A J Barnard from Nathan, QLD. There are a number of models suitable for both fresh and saltwater applications and most of the lures are very original shapes with excellent hard wearing finishes. Most of the lures will be signed. See full page bio at Deep River
Dempster, George Dempster Lures - QLD:
George Dempster is one of the pioneer Queensland timber lure makers who was making lures in the 1970's and his lures do show up from time to time and quite easy to identify with curved metal bibs, colour schemes and body shape. George sadly passed away aged 86 years of age in October, 2017. See full page bio under Dempster
Denmen, Peter Denmen Lures - TAS:

Peter Denmen is a bit of a Tasmanian fishing legend. For many years he has commercially tied trout flies and supplied Bridges Brothers in Hobart with flies many years ago when they were still trading. Reknowed for his 'Prettyfish' pattern and many others including the 'Yum Yum', Peter has also made fishing lures for many years and has been an ongoing supporter of the Pedder Homebake competition.
Denmen Lures will be made of King William Pine (King Billy Pine) and are painted by hand although more recently Peter has started using an airbrush. Only made in small numbers and really only ever been available locally in Tasmania. The lures shown are still available in 2017 and some are from the Pedder Homebake 2016.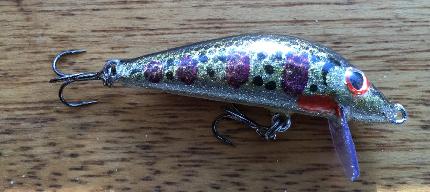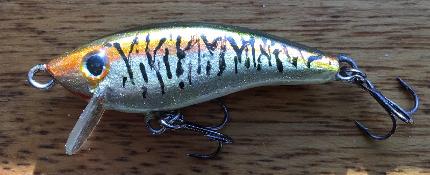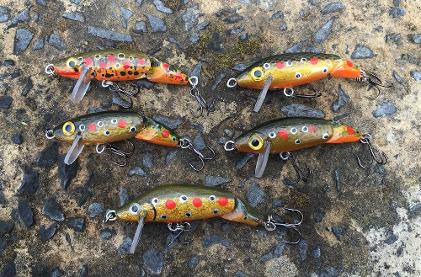 Denmen Lures broken back minnows c.2017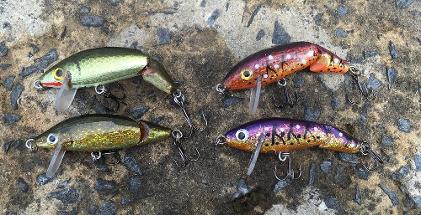 Depth Stalker Lures - QLD:

Made by Gary Peake from Dundowran, QLD, these lures are a moulded lure that is through wired and made for trolling up to speeds of 15knots.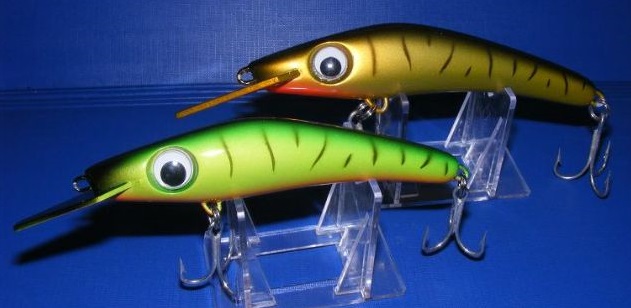 Dereel Lures:

Derrel Lures are made by Mick Gillard and have been available since 2014. They are presented on an ornate card and are a large timber lure designed for Murray Cod and large natives and are hand crafted from cedar.
There is also a surface lure model as shown which show the customary eye of the modern Dereel lure.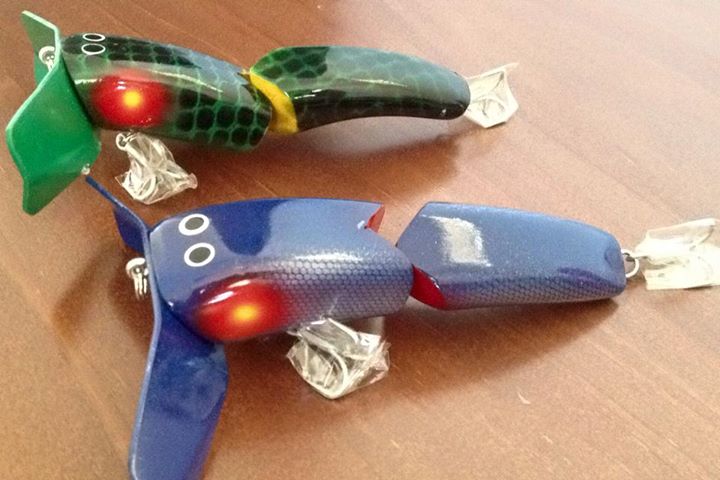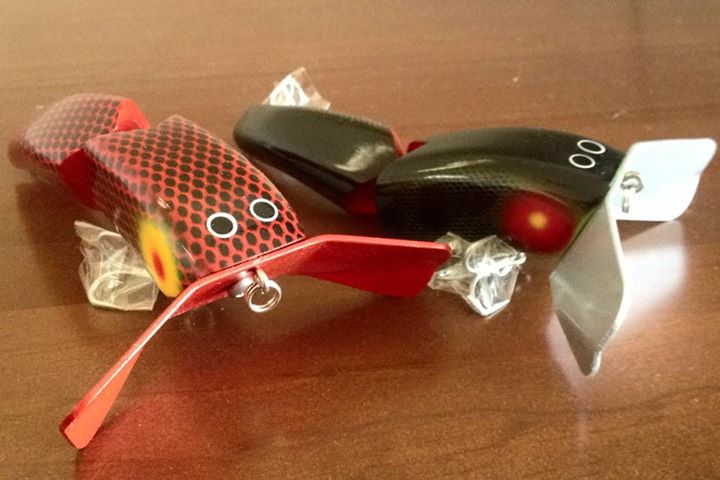 Early Dereel Lure - signed No 1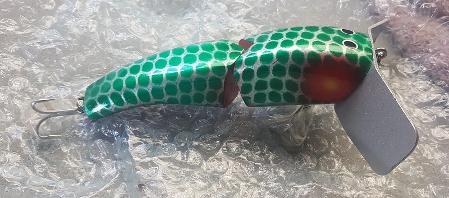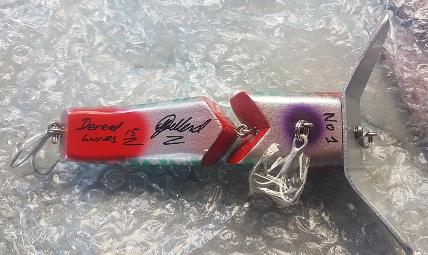 Photo showing two earlier carded Dereel Lures c.2014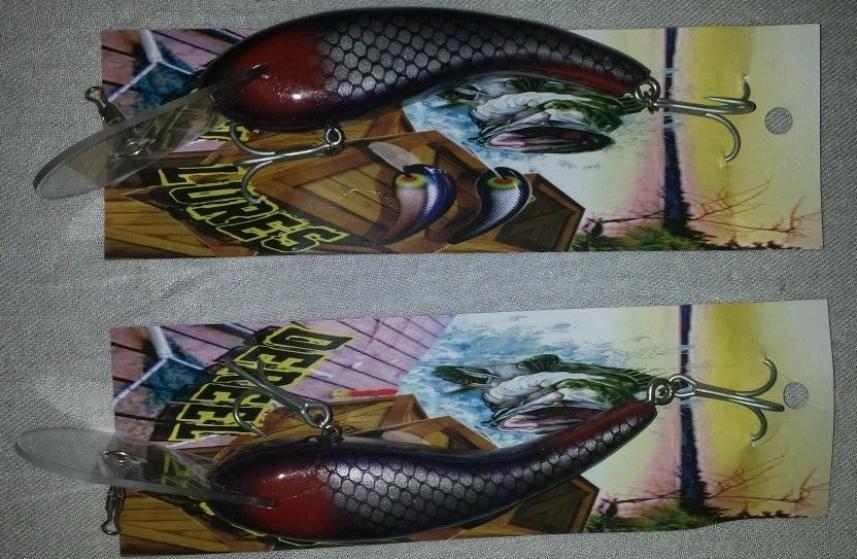 Dickson Lures:
Dickson Lures released a large range of imported plastic lures into Australia from 1966 through the 1970's. They had copies of practically everything that was popular at the time such as Flatfish, Heddon, Bellbrook and also had a range of soft plastic imitation baits that replicated frogs, grasshoppers, yabbies and bugs. The advertisement is from Australian Outdoors and also shows copies of the Wm. Southam Pty Ltd 'Bellbrook' range of lures. Most Dickson lures were made in Japan and were of good quality.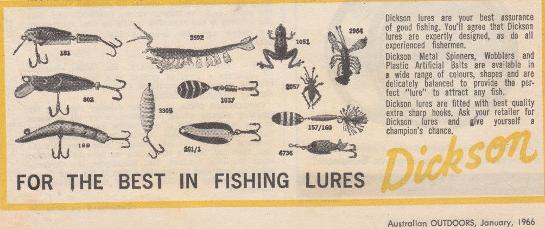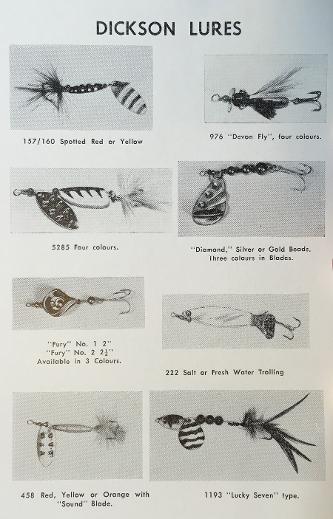 Dinah Island Diver - QLD:
The Dinah Island Diver is a lure that was made by Peter Munt and sold in the Staaten Island area. An excellent looking shape with transfer on belly with name of lure. High quality as expected from a master lure maker like Peter.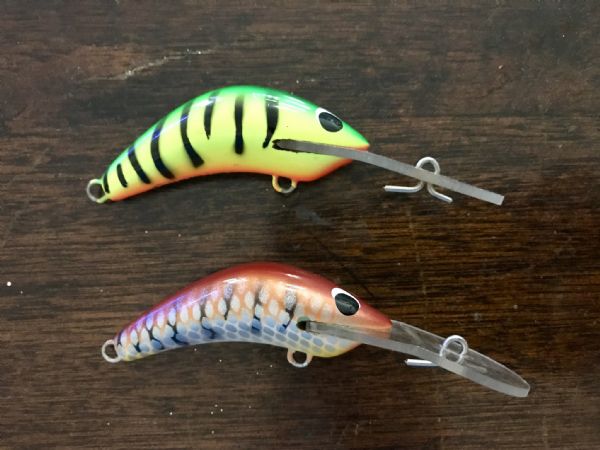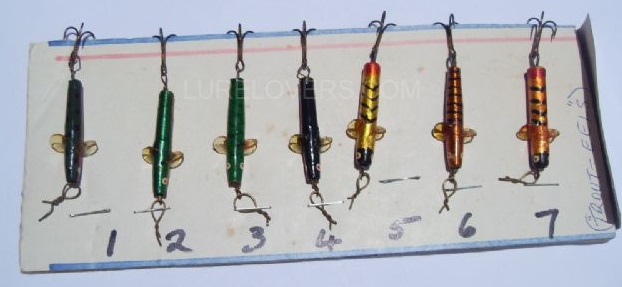 Dishington, Spencer Dishington Lures - TAS:
Another of the obscure Tasmanian cottage lure manufacturers who was based in Burnie. Vintage but little information other than the photo opposite which was kindly shared by John Eales on the Lure Lovers forum.
Lures shown are devon style spinners.
There are also examples of timber 'Fish Cake' style lures that are attributed to Spencer and shown below. There is alot of anglers in Tasmania who make their own props after taking the old Helins 'Fish Cake' lures apart and making templates from these.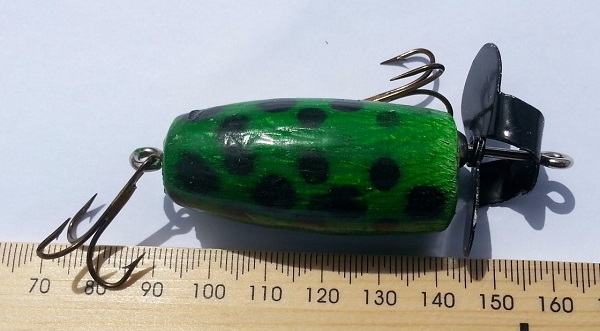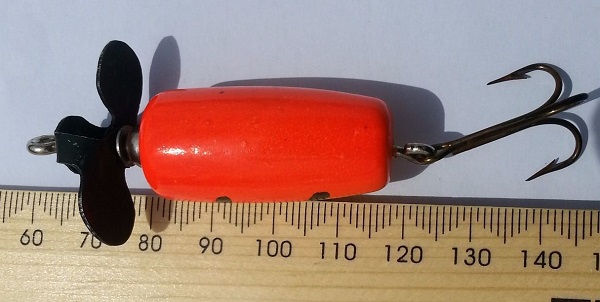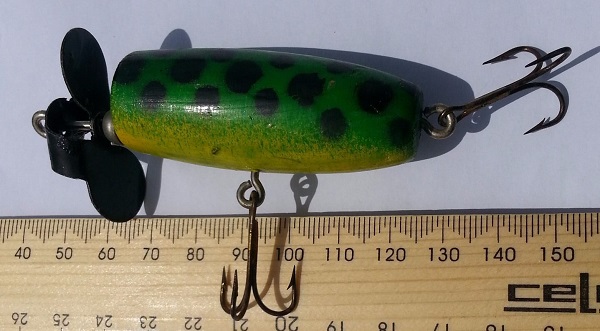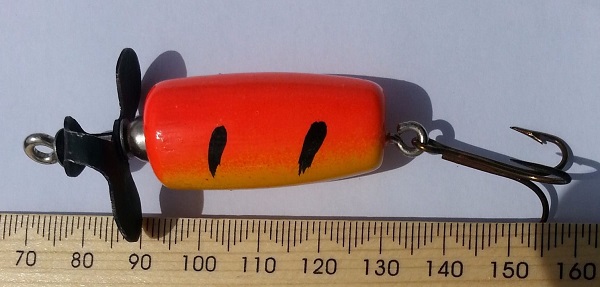 Dizzy Fishing Tackle - NSW:
An uncommon range of lures by Mark 'Dizzy' Borg . This is a moulded lure that was made for a very short time and is hard to find. North coast of NSW with a P.O Box in Iluka.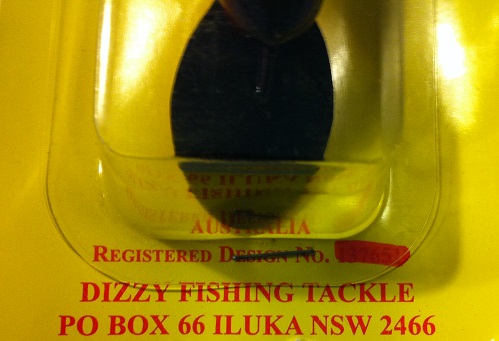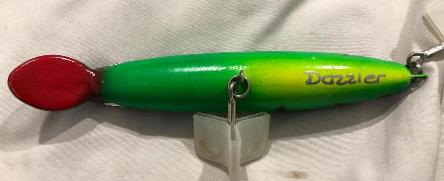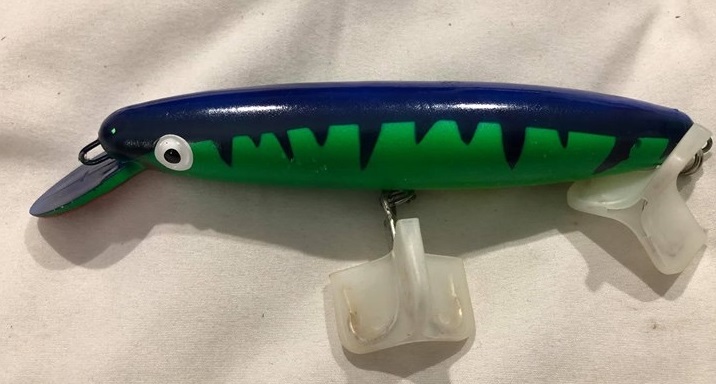 There was also a surface popper in the range - note slightly different packaging. Unsure of model name.


DJ's Lures - NSW:

Little known other than information from advertisement that appeared in Freshwater Fishing magazine c.1992.
Made in Dungog area, NSW and looks like there were a few models for different fishing applications including deep diving and shallow running models. No lure photos available.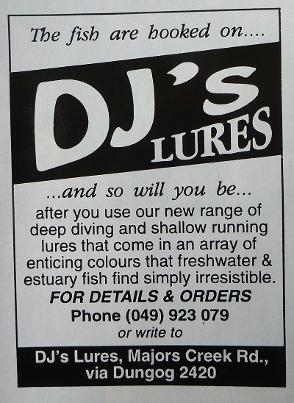 DJR Lures
The following information and history was contributed by Darren Ringelstein the maker of DJR Lures:
Early attempts at lure making began in 1992/3 where some pencil poppers were made on a wood lathe for catching Queenfish and Trevally under the Hay point Coal jetty, south of Mackay. These had galvanised wire eyelets, stick on eyes and very basic paint work. These were very successful and were inspired by the locally made Mr Poppa's lures.
DJR lures were originally made in Mackay, Queensland in 2012 to fish in the local creeks for myself and my brother Steven who lives in Proserpine. Him and I did the early field testing. They were predominately made to target local mangrove jack, barra, sooties and toga.

All timber lures are hand carved with a Stanley knife, hand sanded and made from Australian red cedar. The original lures had hand cut lexan bibs with SS pins. More recently some minnows have been made out of kauri pine and silky oak. Each lure is swum slowly and at speed to test the action of the lure under a variety of conditions. Some of the DJR models made are: Narra Barra, Jack hammer, Sooty Hunter, Creek Freak, Barra Brute, Slim Reaper. Each DJR model has a different action. The paintwork on these lures is fairly low tech with a spray can finish. The eyes are hand painted with several sized drill bits. Most lures were signed and dated, but not all.
Some of the first lures made. Early DJR creations from 1992/93 'Pencil Poppers' are shown right.
More recently, DJR lures have been tested in Weipa with local lure maker and fisherman Steven Gane. Testing lures in a variety of conditions with different people has helped the evolution of DJR lures immensely.

DJR lures are simple made lures with solid construction and highly successful fish catching ability.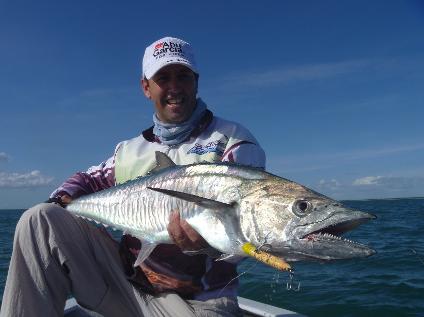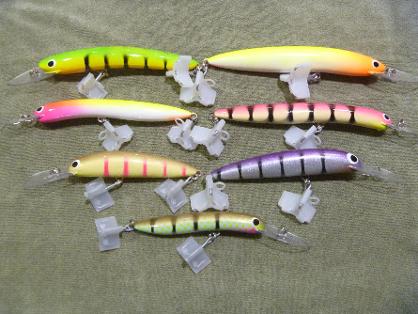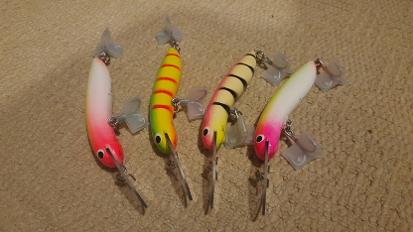 (Left) A solid Spanish Mackeral caught on a 110mm DJR Creek Freak in 2016. (Below)
90 and 80mm DJR Jack Hammers.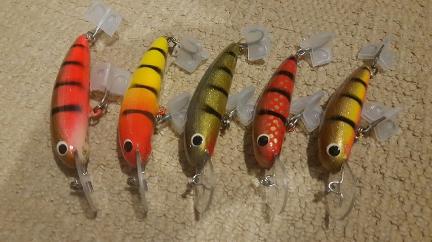 (Left) An assortment from 2015.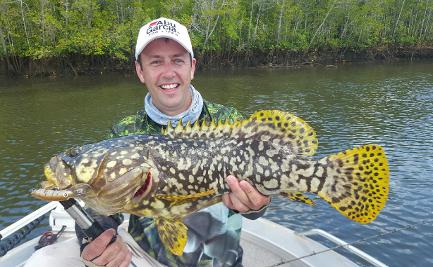 (Above) A 90mm DJR Creek Freak lure attracted this juvenile groper in 2016.
Lures shown left are the 110mm Creak Freaks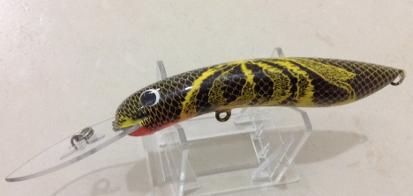 A group of DJR 'Tigers' from 2015 are shown below while right is the model 'Slim Reaper'.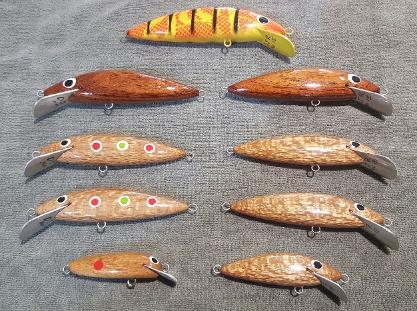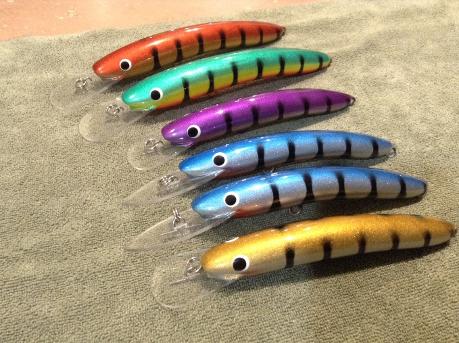 Darren has accounted for some great fish on his DJR Lure range including a
n early morning barra caught on a DJR lure in Weipa in 2016 and a
90cm King Salmon caught on a 90mm Narra Barra lure in 2013.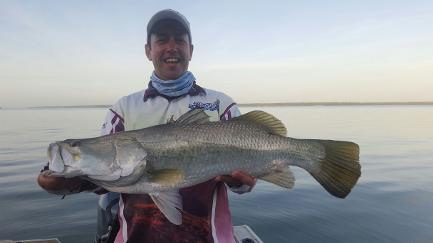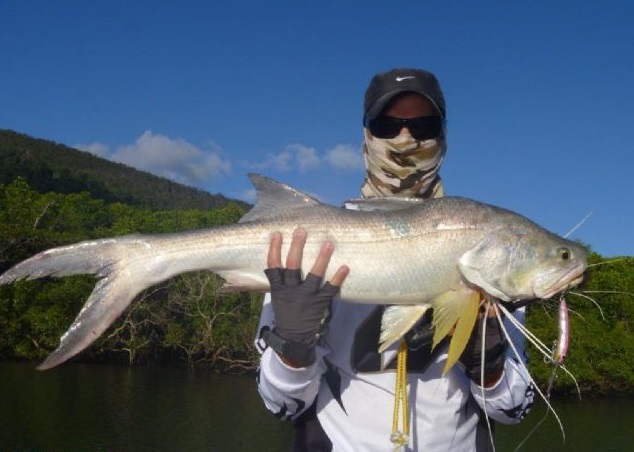 DK Authentic Lure Company - QLD:
DK was a company owned by Dave Killelea and closed down in 2006. An example of carded lure is shown right.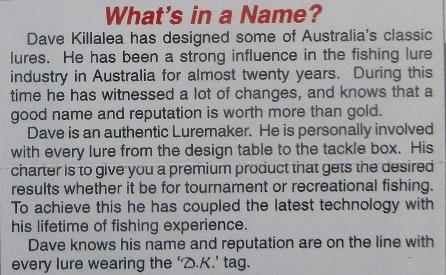 The information above was taken from some early promotional material that was designed to be sent to retailers. It included the colour chart below which illustrates the colours that were available.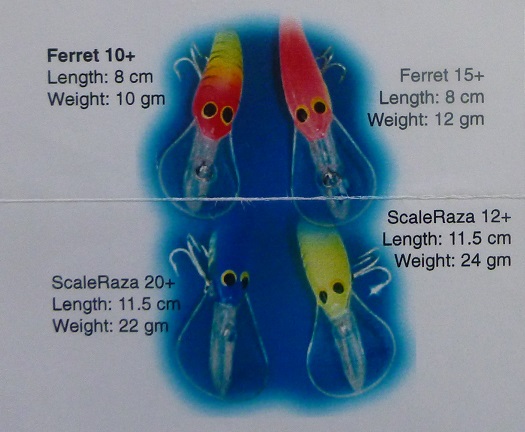 D.K Lures - VIC:
D.K Lures made the legendary King Codder lure that was available in the 1960's. Alot of people are not aware that they also made a range of metal and plastic lures including direct copies of the Heddon 'Sonar' and 'Sonic' - the names were not even changed from the original Heddon model names and were available from the late 1950's when advertisements appeared in early publications like 'Anglers Digest'.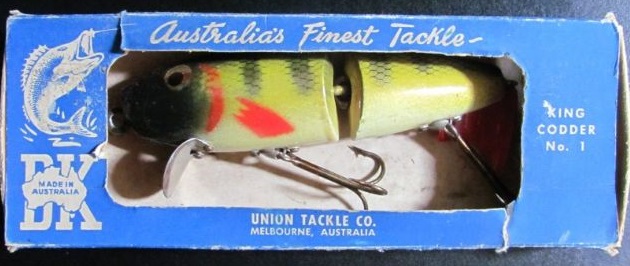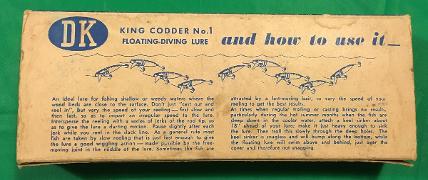 The packaging is for the DK 'King Codder' No 1 which was the larger of the two sizes available. Colours were listed as 'silver' and 'natural'. One side of the box also lists some of the other available models. The blanks below were unearthed at Expo 2018 - the story goes that they were produced in Melbourne (blanks not outsourced from overseas) and blanks came in two sizes, with bibs and pilot holes drilled for the surface belly hook hangers.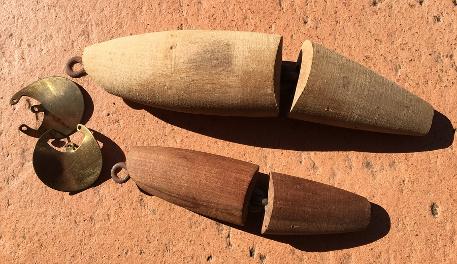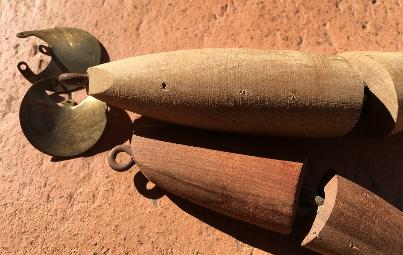 The page below is from 'Spinning for Murray Cod, Redfin and Trout' by Lance Wedlick and dates to late 1960's.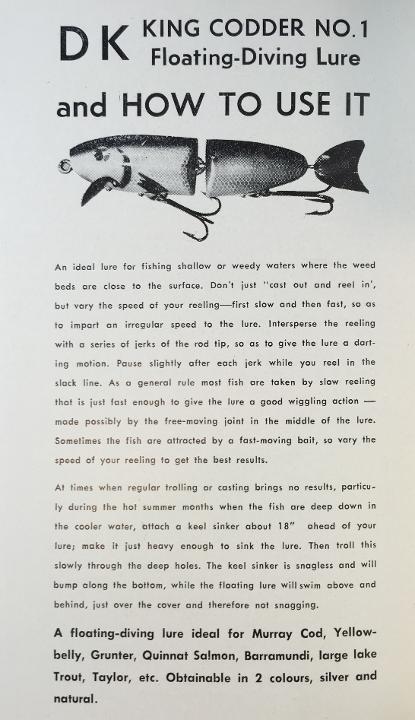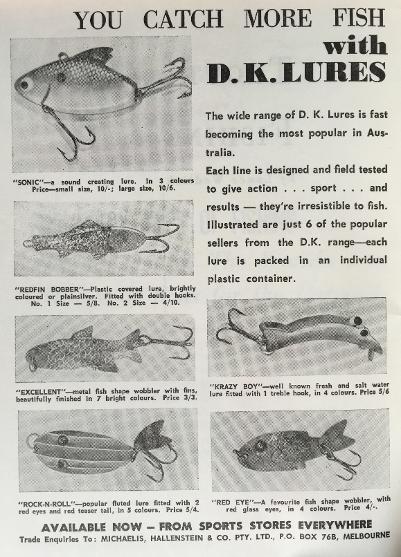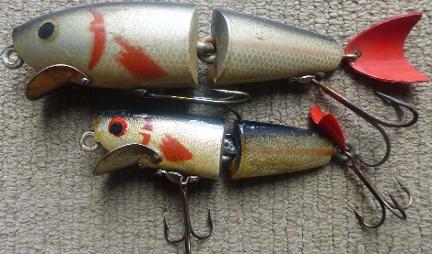 There was also the 'Excellent', the 'Redfin Bobber' (see below) and the 'Flaptail' which was an interesting spoon with a small rectangular piece missing from the middle of the spoon as illustrated below.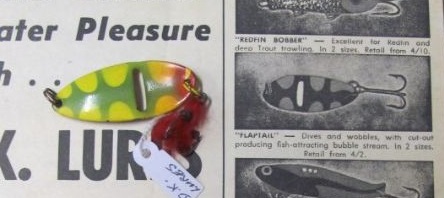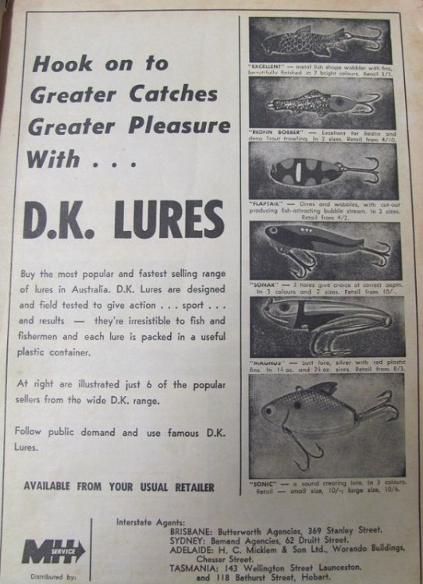 The D.K 'Magnus' - an uncommon lure and hard to find
The advertisement above shows pre-1966 prices and dates to 1964 or before. The models include the 'Rock n Roll' and the 'Krazy Boy' which were both produced earlier by Stewarts in the mid to late 1950's. This opens the question of whether they purchased the rights to make these or copied them without permission which may explain why they are not seen in other advertising. The D.K range of lures were primarily copies of other popular lure patterns with King Codder a copy of the earlier German made D.A.M lures, the 'Sonic' and 'Sonar' a Heddon design with the name copied exactly. Another interesting lure from the above advertisement is the DK 'Magnus' which came in two sizes. The 'Redfin Bobber' were released in a plastic tube with paper insert and the 'DK' logo spray painted onto the bottom of the 'Clearsite' tube which must have been a company at the time that manufactured these type of plastic products. The No 1 is approximately 3 inches long.
Below is an advertisement for the 'improved' Redfin Bobber with metric price which dates to the late 1960's.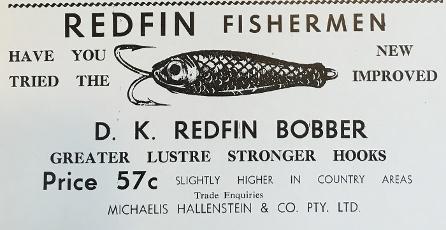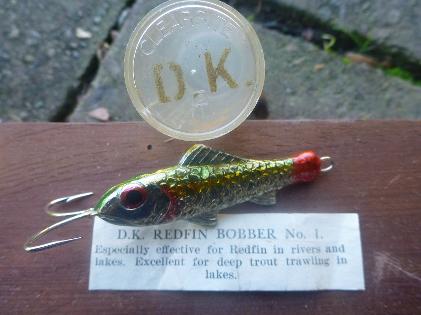 DKW Lures - NSW:
DKW stands for Darren Kerry White and started making lures in Canberra around 2000 designed for trout. Opened a tackle shop that was unsuccessful and closed down. The 'Tiddler' model has small dolls eyes and is a well made lure. Carded lure is tiny.
Little other information other than what is on the cards showing the DKW 'Aggressor' as a deep diving moulded lure with original price tags. There are a number of different but similar cards as shown with far right written in a different font with colour deleted from the card. An earlier model is the 'Thunderhead' shown in packaging below right with logo on back of card shown below right. There was also the 'Wiggla' which is 55mm.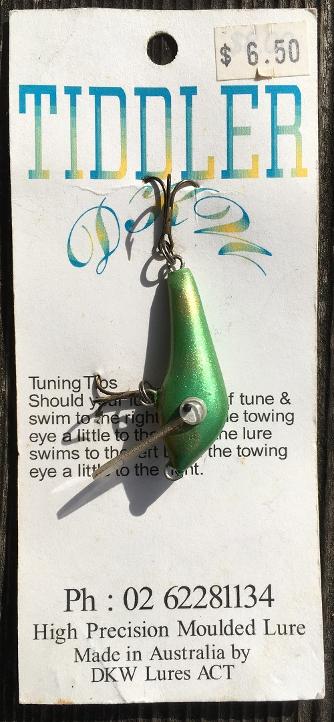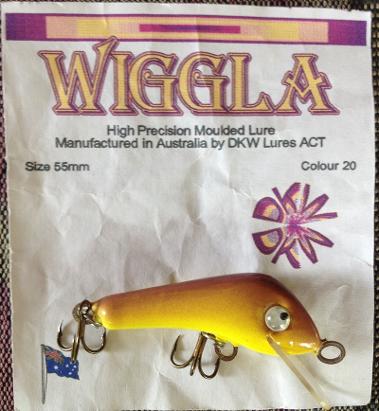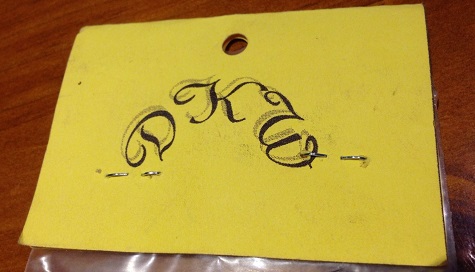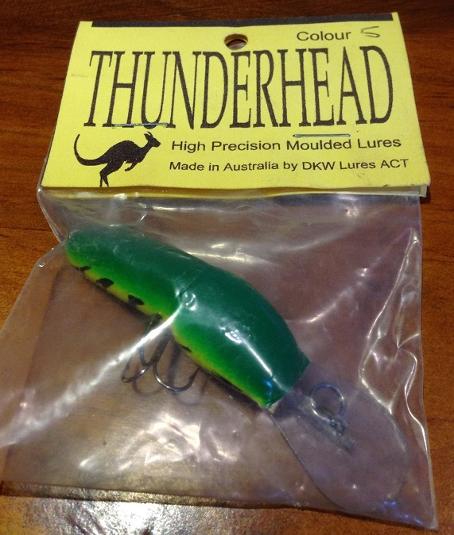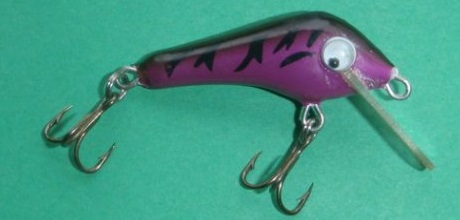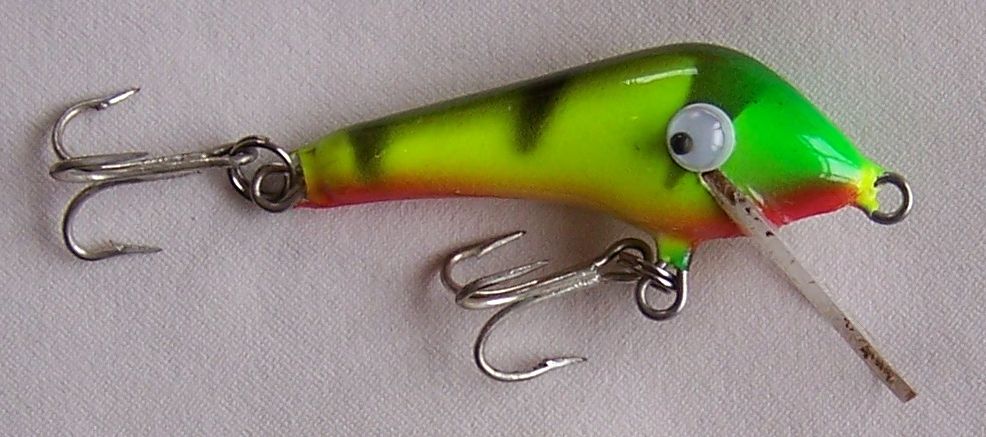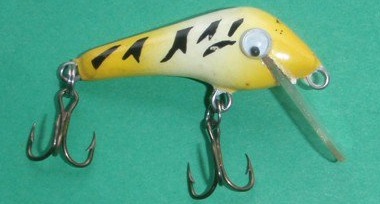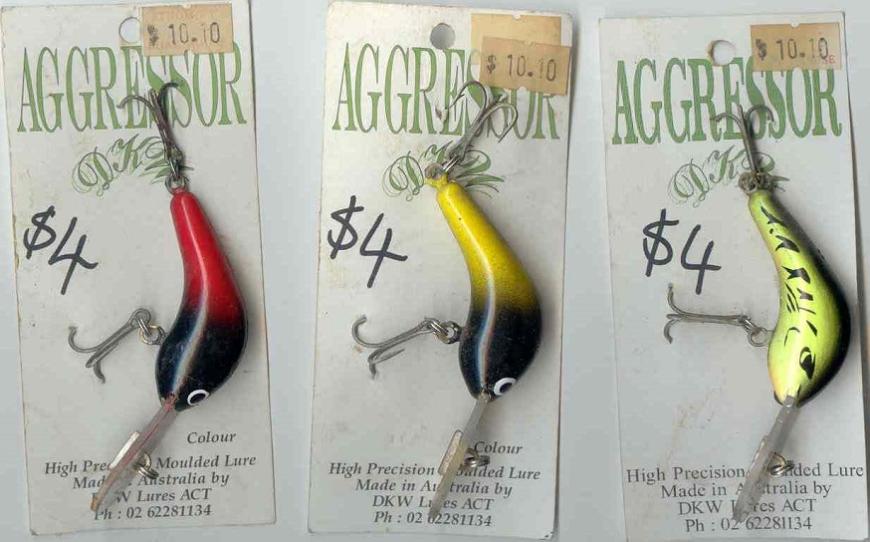 Do Lures - QLD:
Do lures are made by Bruce Noy who is the brother of Rob Noy. Lures were made at Murphy's Creek, Toowoomba through the 1990's until approximately 2000. Do Lures are no longer available. Lure below is moulded and marked 'Do Mo 19' on the belly.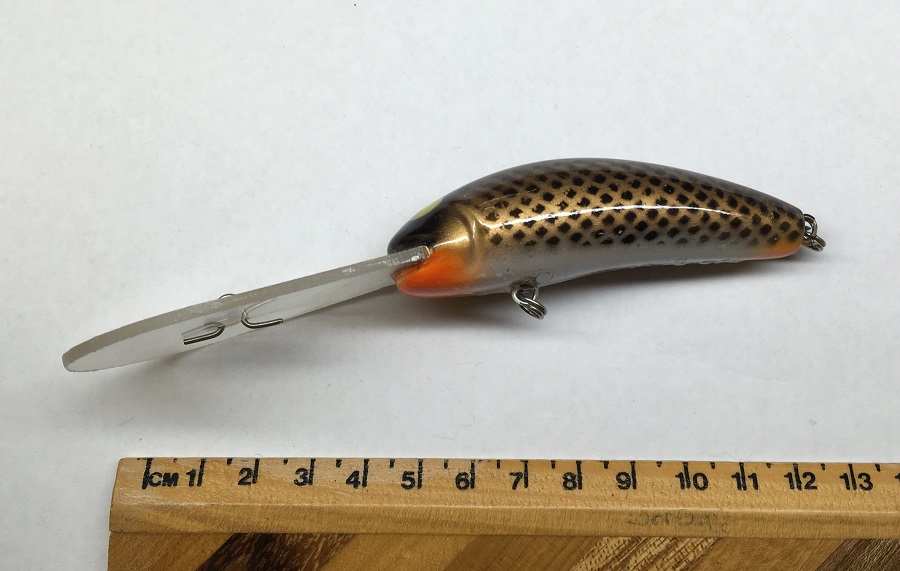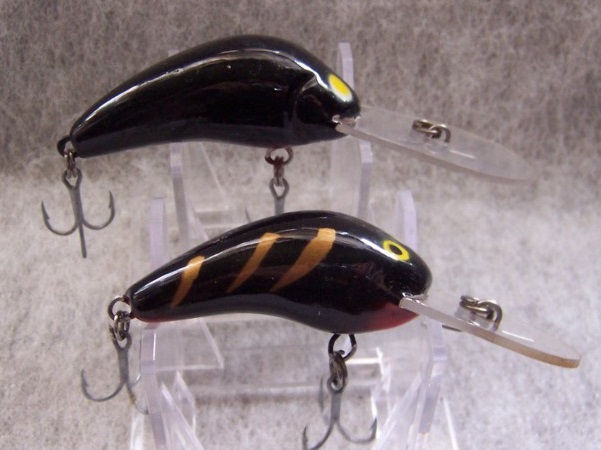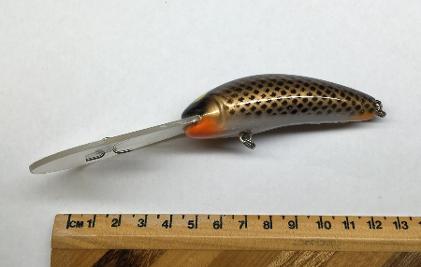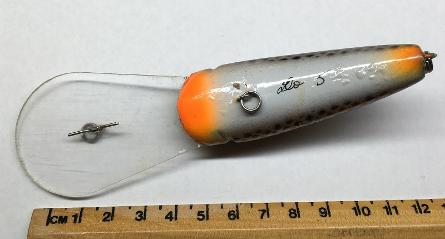 Doc Yarrum Lures - QLD:
Doc Yarrum lures which is Murray Cod spelt backwards are made in Toowoomba by Troy Bryant who is related to Kerry Ehrlich from Kezza Lures. Troy caught the biggest cod at 92cm in the 2016 One Lure Comp held at Glen Lyon Dam each year. Models include the 'Bellringah', 'Lumberjack', 'Wizz Kid', 'Wild Child', 'KoiBoi' and 'Tellum'. High quality finish and excellent lures that are hard to find and only made in limited numbers.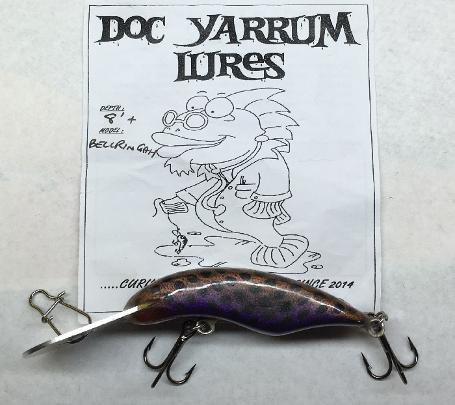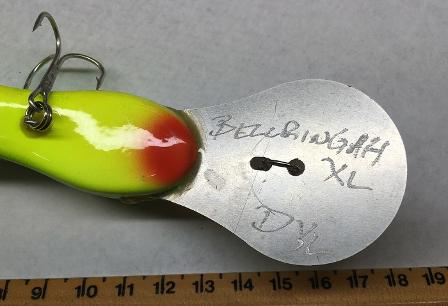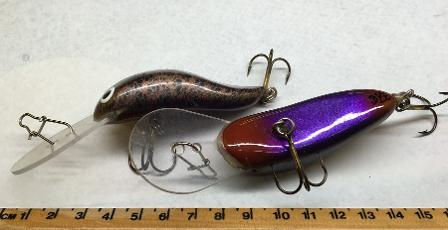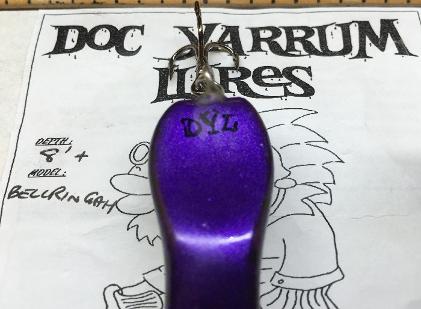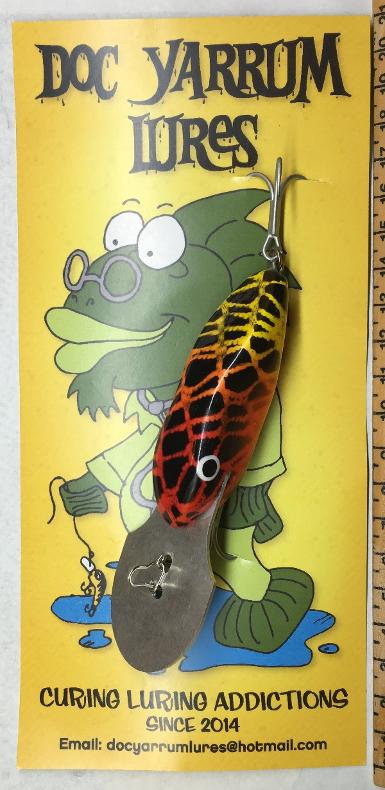 The following Doc Yarrum lures were shown on the Lure Lovers forum a couple of years ago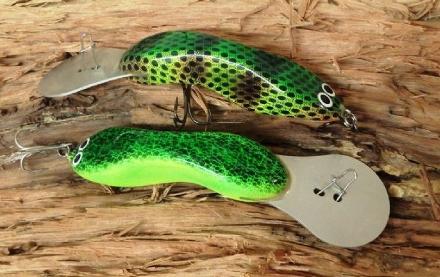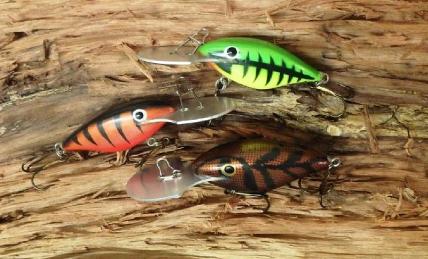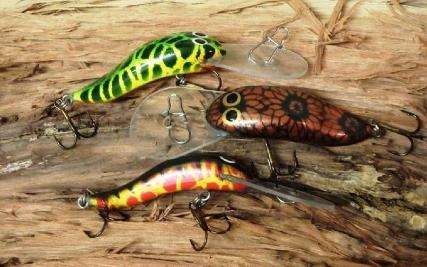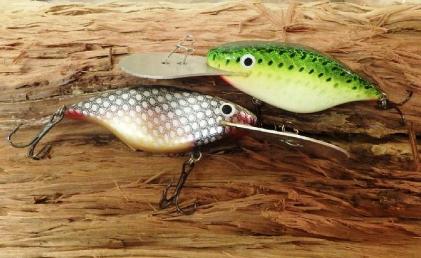 Doe, Bill Doe Lures - NSW:
Bill Doe is credited with making a metal lure for rock spinning in the 1970's. He was based in Avoca and the lure became known as the 'half by quarter' (1/2 x 1/4). There is an article in Modern Fishing, July 1984 that discusses this lure. Original Bill Doe lures will have a tuna mark embossed onto the top of the lure.
Donohoe, Laurie Donohoe Lures - QLD:
Laurie Donohoe makes approximately seven models in 22 colours. Sizes include 100, 75, 70, 65, 60, 55mm and a smaller model at around 45mm and they are made of timber. All lures have double pinned bibs and are not signed. The models and colours are shown below which was supplied by Laurie.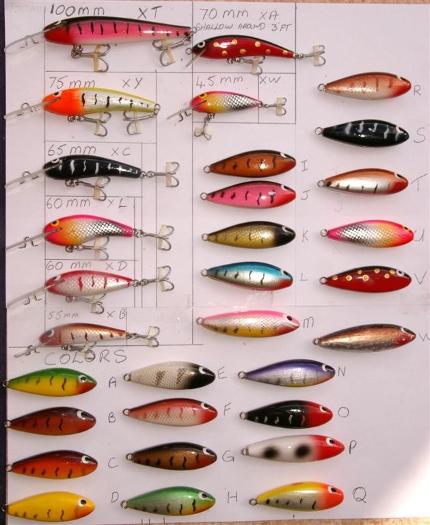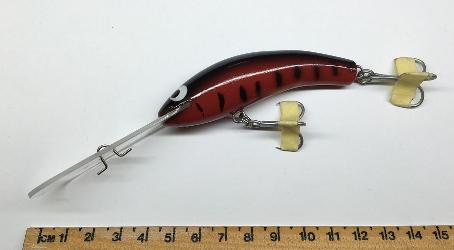 The lure shown here is an example of a Laurie Donohoe lure that is slightly different to some of the featured models and approx 75mm. Note the double pinned bib and extra hold for shifting front eyelet forward if required.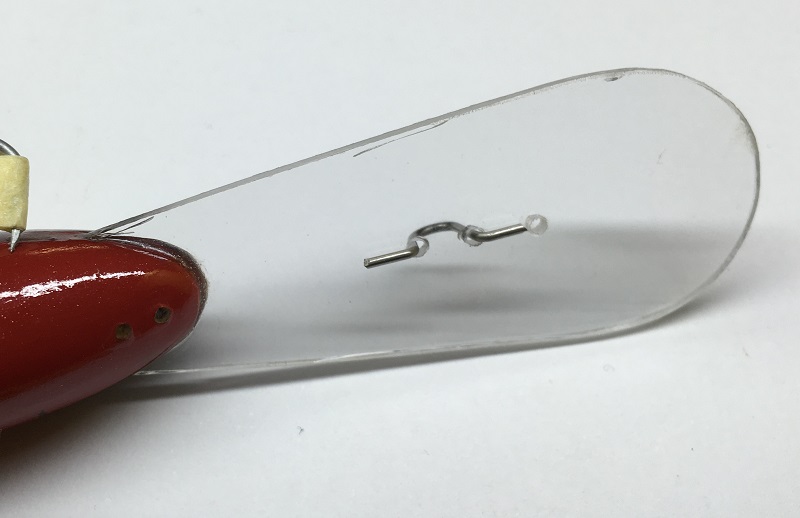 Doof Doc Lures - NSW:
Made by Graham 'Chickie' Chique. Article in Freshwater Fishing Australia . 131, 2015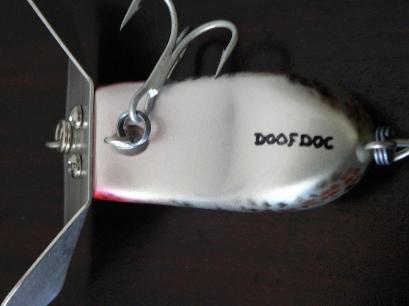 Dougie's Lures - TAS:

Dougie's Lures are made in Westbury, Tasmania by Doug Poulton. Most are in the style of the legendary Helin's 'Fish Cake' lure that took Tasmania by storm in the heyday of surface fishing at Lake Pedder in the early 1970's. His lures are designed for using around the Great Lake area and Doug is a keen angler who makes are great product from his shed. Photos courtesy of Trout Trollers Australia Facebook Page
https://www.facebook.com/groups/300686163597892/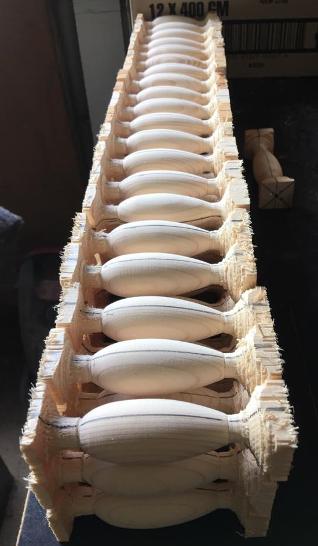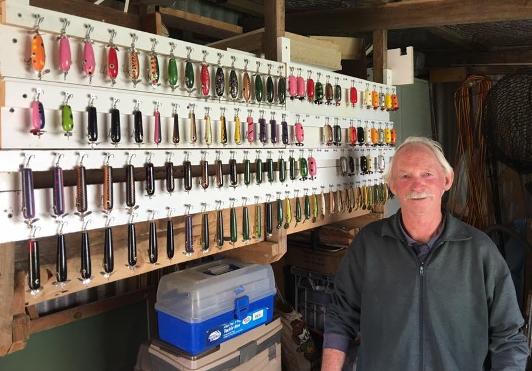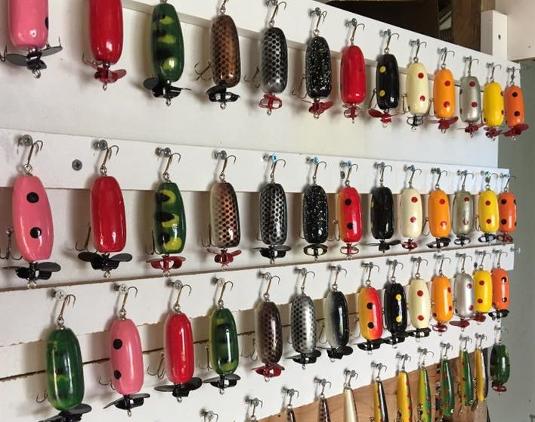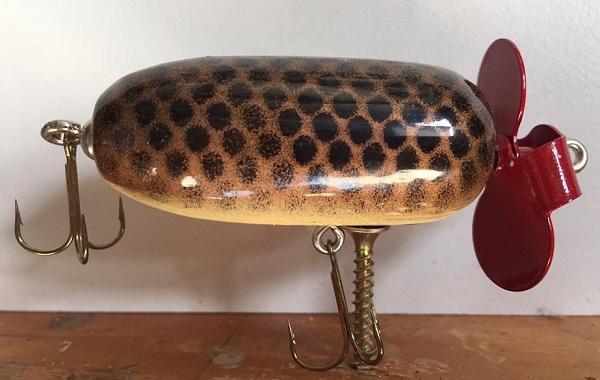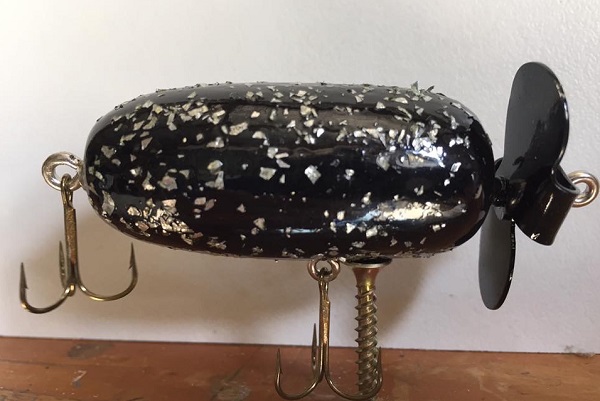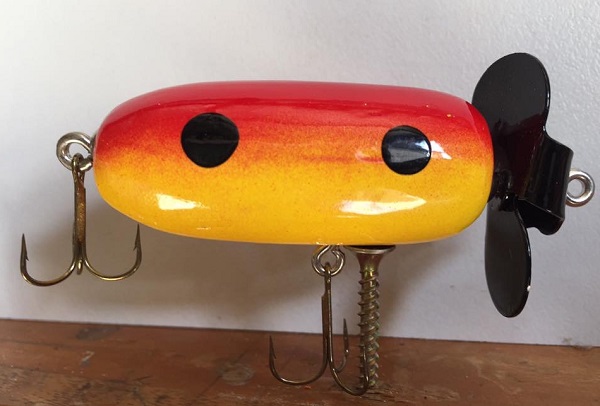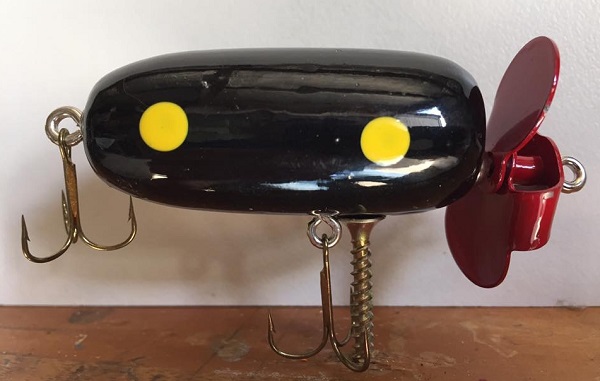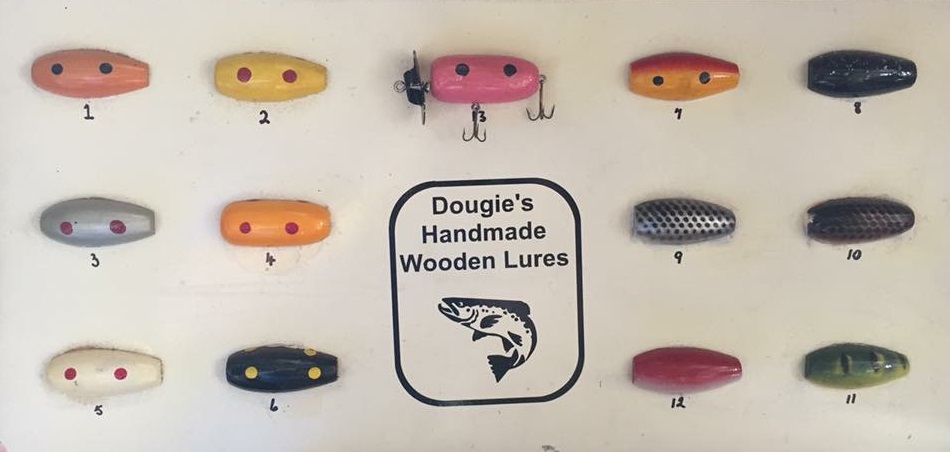 Douglas Devons:

A vintage Australian maker of Devon Minnows. Unknown maker and area of manufacture but Patent No. may reveal some information in the future. These are the only examples ever seen. The lure below belongs to the Australian Fishing Museum.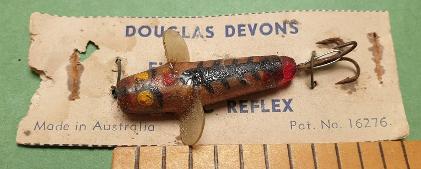 Dover, Bob Dover Lures - QLD:

Bob Dover from Kingaroy, QLD was heavily influenced by Eric Moller, shaping minnow lures from timber. An active member of Kingaroy Fishing Club, Bob was a hobbyist lure maker who made lures for himself and his friends. He never sold any lures and has not made lures for many years. Classic old school lures.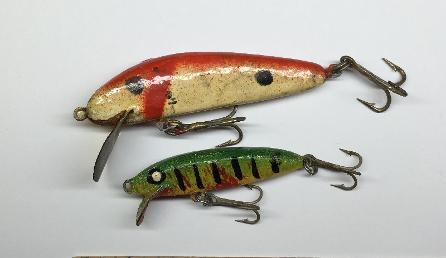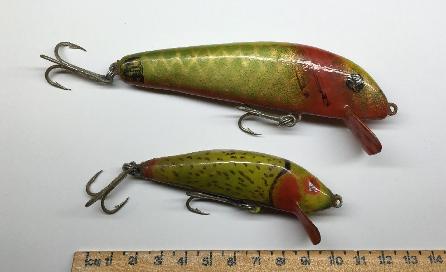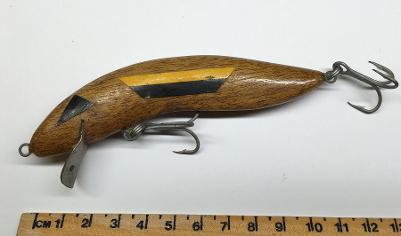 Lure above is a classic clearcoated lure with twisted hook hangers. The eyes and body decoration are some type of stick on or adhesive material.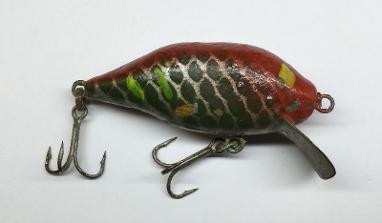 Downunder Lures - NSW:

Robert Smith, Frank Gaukroger and Kevin Clarke are the names behind Downunder Lures and the famous 'Boomerang' lures model. See full page bio and history for Downunder Lures
Driscoll Minnow - NSW:

A Boomerang copy that was first made in Glen Innes and then Tenterfield - more info coming soon
Drop Bear Lures:
Drop Bear Lures have emerged in 2018 with a small range of handcrafted timber lures. Four models with prices are shown below. Range is expanding all the time.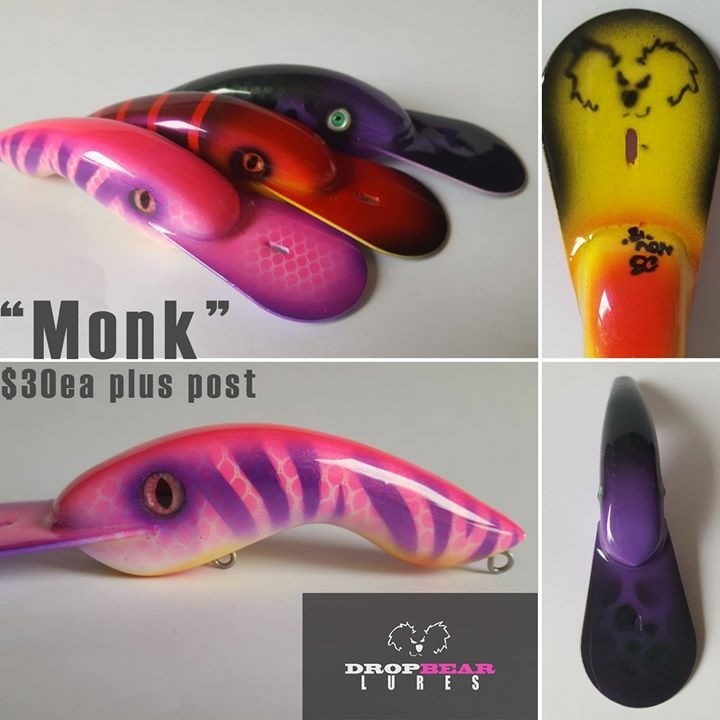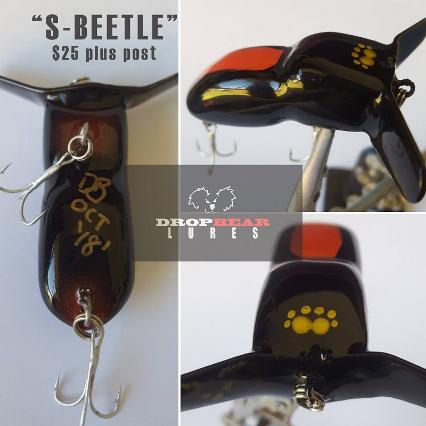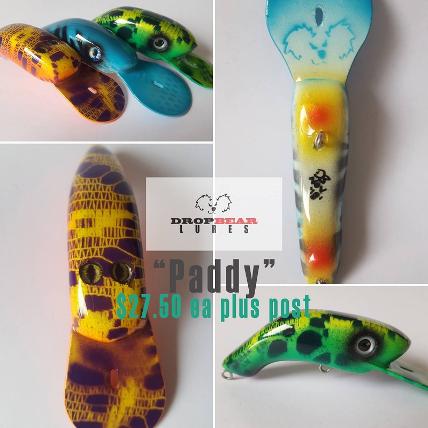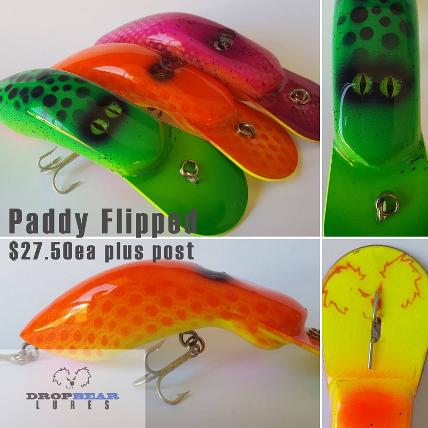 D.S Lures - QLD:
D.S Lures are made by Dylan Sqarci from Townsville. Dylan started making lures- early 2000's he was shown by Igor Zangrande during his school holidays as he lived across the road, but got serious around 2015. Inspiration for building- fishing the reef flats on the GBR got expensive when losing 5-10 lures a day so he figured he would make his own stickbaits and poppers. Over time he progressed in his build quality and finish and starting producing lures that he was proud of. As his fishing range is very broad he also started making lures to catch Barra, in deep and shallow variations.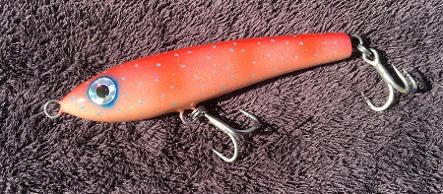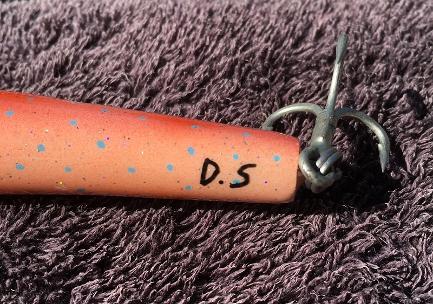 D.S Lures will mostly be signed on the belly near the tail as shown.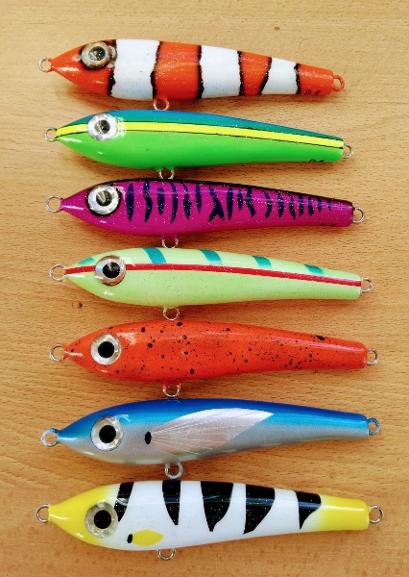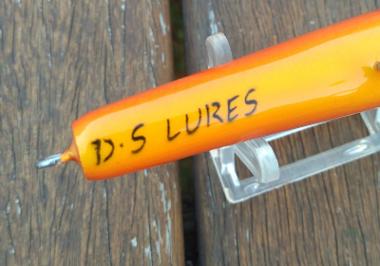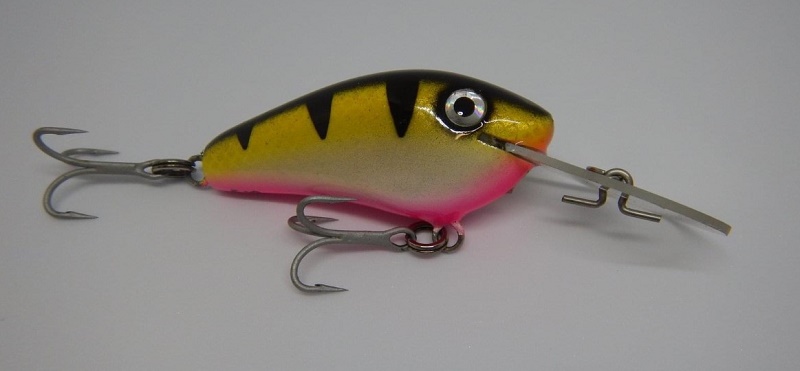 Dylan makes a wide range of lure styles including smaller diving lures suited to bass and native species as well as larger sliders and stickbaits suitable for light game fishing and heavier saltwater applications.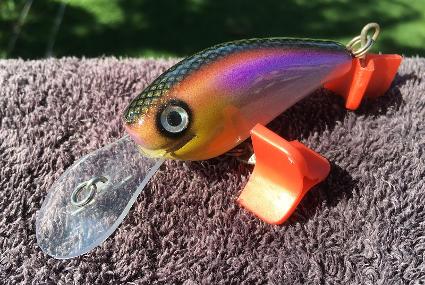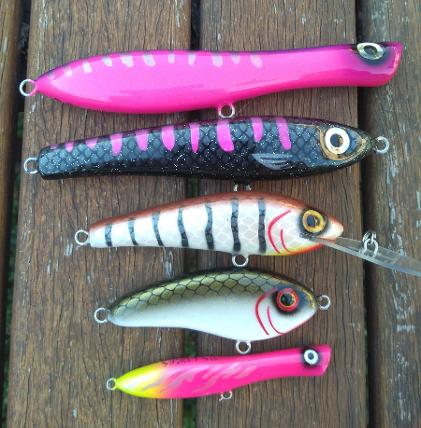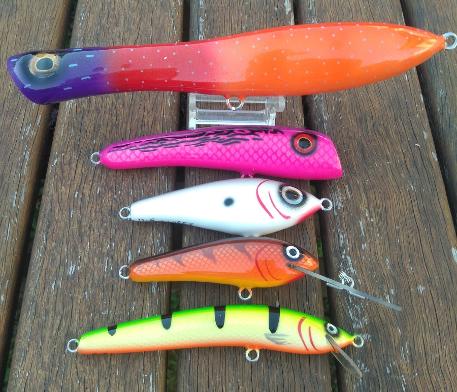 Dude's Lures - NSW:
Dudes Lures are made by James Reid from western Sydney. James kindly sent Lure Hub OZ a history -
'I started making lures in high school back in 1987/88 for the Parramatta river and Lake Parramatta bass. Pocket money was a month worth to buy a Rapala. These are signed P.Jay near the rear hook hanger. There would be 30 of these given away to close mates and those at school that paid 5 bucks. Painted with enamel paint by hand. I was 15, Move on 30 years. Sailing The Bay Of Islands NZ and throwing soft plastics for snapper I decided to carve some hardbodys to try out in 2020 for our trip. 1 week sailing 1 lure was only used. It smashed it. I took three over, gave two away and the killer lure is on the wall of the Pohoi Pub. These deep divers track at about 30 feet, but given the success in NZ the Gosford flatties have a new chew toy. At work the boys call me dude. Hence dudes lures"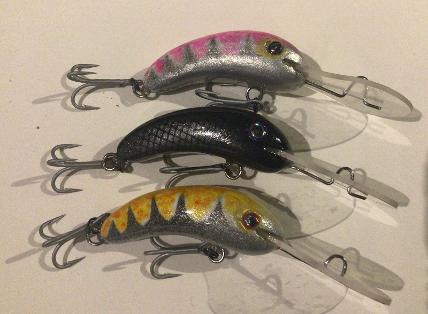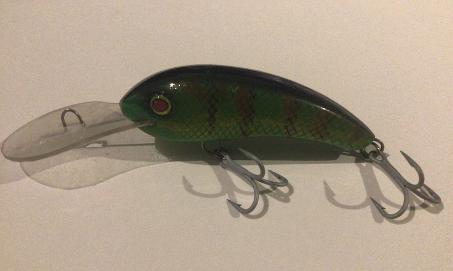 Dugong Lures - QLD:
Dugong Lures are made by Tony Cush of Noosaville, QLD. He only makes one model in a number of colours that are named after gemstones. Tony has been involved in the 'One Lure Comp' run by Ashford Fishing Club and is an avid Peter Newell collector. Below is an earlier large Dugong minnow

At the 2013 Lure Expo Tony had a stall outside, near the test tank with one lure on show as he wasn't ready to produce numbers then. He has invested in a factory and full setup, which as we know has overheads.He has a product which is different, presented well in a round cylinder and it's early days yet. The following is taken from the Dugong Lures website.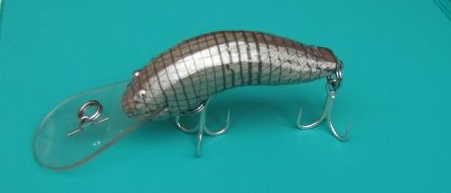 The following is taken from the Dugong Lures website.
''Dugong Lures™ are manufactured in our state of art factory on the Sunshine Coast, using cutting edge technology, innovative procedures and superior materials. Our factory has been created specifically to manufacture this truly world class product. You can be confident that every single lure we produce has been quality checked and made to the highest possible standard.
The first series of 16 lures (8 Shallow & 8 Deep Divers) comes in a selection of colours and film finishes. The Full spectrum of colours have reflective qualities of the gem stones by which they are named after.
The Shallow Diver will get to a depth of 1 meter and is ideal for Barramundi, Flathead, Mangrove Jack, GT & Sooty Grunter. The Deep Diver is able to get down easily to 5 meters where the fish are feeding and is ideal for Cod, Yellowbelly or Barramundi. The premium metallic paint colours are fully sealed and finished in high grade durable film to give texture, natural markings and added protection.''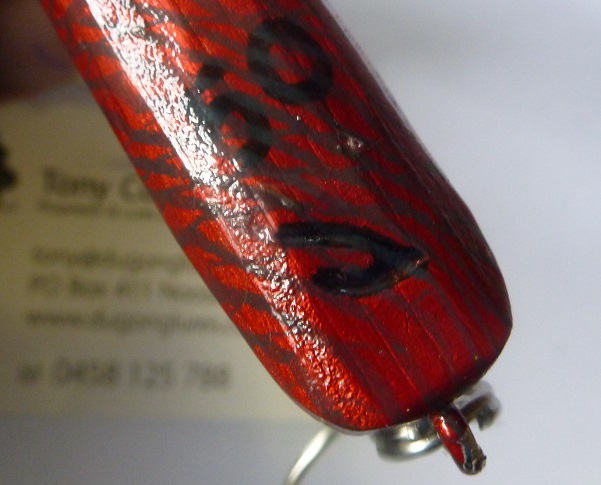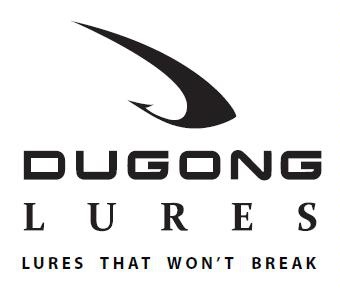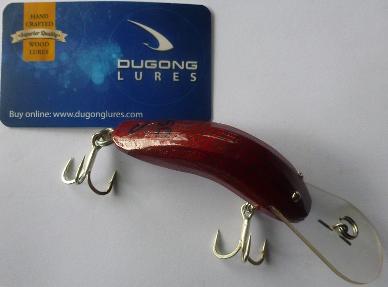 ''Dugong Lures™ are internationally patented wooden lures designed and hand crafted in Australia. The body has been created to imitate that of a crustacean and proving irresistible to fish. The unique flat dugong-like tail enables suspension & slow rising to consistently keep you where the fish are feeding. Every element of the Dugong Lure™ has been rigorously tried and tested over the past 12 years. Our research and trialing is evident of its effectiveness and unparalleled performance.
Grade A wood has been specially chosen for its buoyant characteristics to suspend in the strike zone then slowly rise to allow retrieval of lure should line break.

Flat tail creates a perfect balance to deliver a natural vibration to attract fish and increase hookup rate.

Extra thick and wide mechanically pinned bib enables diving depths to 5m and jumps stumps to allow fishing in prime fish holding structure.

3D screws provides strength, balance & realistic protruding crustacean like eyes.

Segmented sanding lines imitating the body of a crustacean an essential fish food required for spawning.

Superior treble hooks made from harden Japanese Carbon Steel (70) which hold large Trophy fish.

Snags are limited as the hook is protected by the width of the body so less lures are lost.

Available in 8 PPG premium metallic paint colors world's best paint.

Finished in high grade durable film to give texture, natural markings and added protection which fish love.

Complete with top quality split rings & hardware made of high grade steel components to secure Trophy fish.''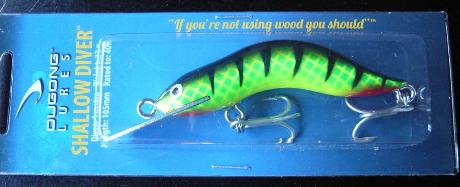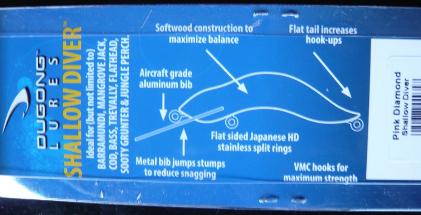 Dunham, Mark Dunham Lures - QLD:
Mark Dunham is another of the cottage north Queensland lure makers that forged a reputation for making excellent timber lures. Also known as MD Lures. Check out profile under MD Lures.
Dynamite Lures - QLD, N.T:
Dynamite Lures are made by Jason Brittain and have been made for approximately 25 years and since 1993. Dynamite lures were made by Jason in the Northern Territory for fishing around Darwin in the 1990's. Jason is still making lures in small numbers and was at the 2017 and 2018 Expo in Ipswich.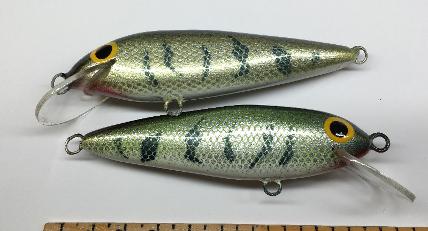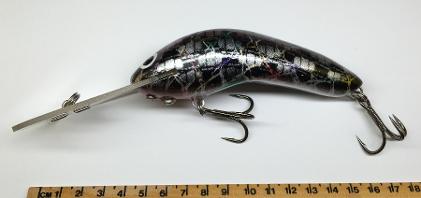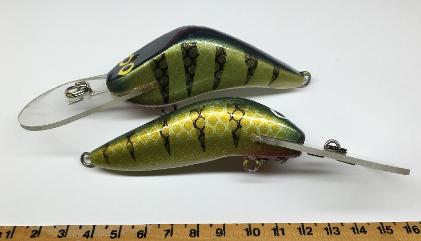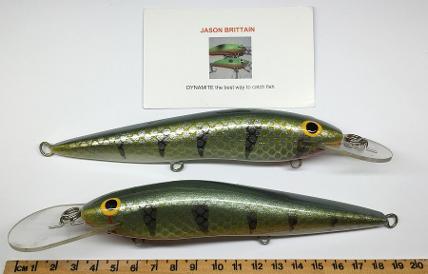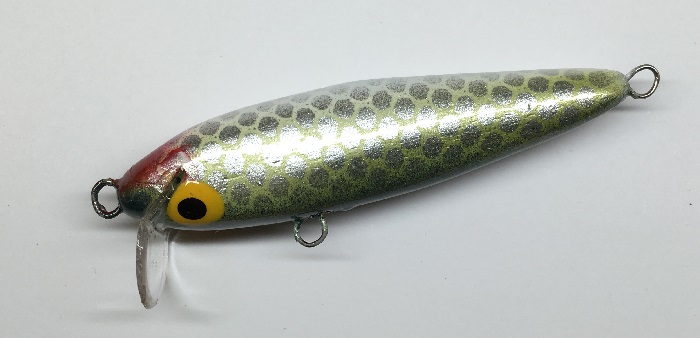 The lure below is marked Dynamite on belly near tail.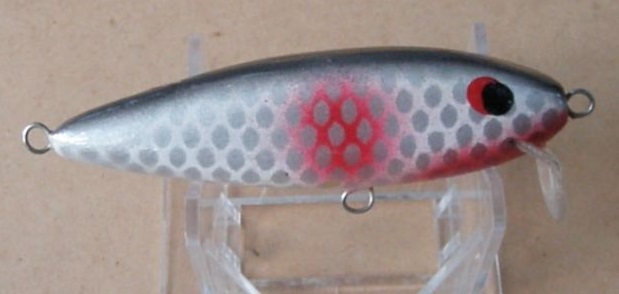 The lures below are a new Dynamite surface paddler that come in a couple of sizes and were available at Expo 2018. Great action on these and very nice finish.