*Banner Image - an extremely rare timber Reidys lure
Reidy's Lures - QLD & NT:

Master lure maker Jeff Reid was born in Victoria and moved to the Cairns area around 1980. He had moved from Dampier around this time and by 1982 was carving his own lures from timber selecting white beech and calling the lure the 'Exciter'. The story goes that after Jeff moved to Cairns he purchased a Norm Edwards lure and after fishing Lakefield he 'got the bug'. In Fishing World 1989 advertisements contact address is Cairns later moved to Mirani, QLD after all lures were injection moulded.
Originally the lures were sold from Jack Erskines shop after Jack asked Jeff to make 30 lures a week for sale in the shop. However demand meant a replicator was built to shape bodies allowing Jeff to make 60 lures a day. After all lure models were injection moulded, capacity was 1000's per week. Jeff and Cheryl Reid soon relocated to Darwin where the production of Reidy's lures evolved. The business was sold in 2008 to Colin and Helen Burton.
"Jeff made first lure in 1982-3. Made with a bandsaw and belt sander and later then copy lathe . On his first trip up to Lakefield and he took 8/9 Norm Edwards lures and lost the lot. He decided on way home that he could make lures, then a few friends asked for some. Lures were made by hand for 12 months. He with the help of Henry Hall (Barra King) designed a copy lathe. (Later bought by Wild River Lures).
Jack Erskines rang while they lived at Smithfield, 'I believe your making lures, when you have spare time come and see me. Jeff denied he made barra lures. Jack said I can sell everything you can make. One shape Minnow (made exclusively for Jack Erskine) and a few for Henry to sell at Mossman servo. Jeff was approached by northern angler and a few other outlets (Darwin, SA) to make lures for them, this is when he made the Exciter. REIDY'S started making the moulded lures in Cairns briefly before they moved to Mirani, QLD." Ian and Ann Leighton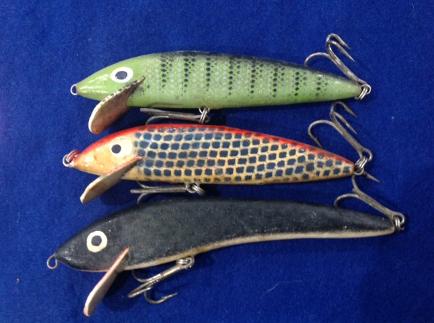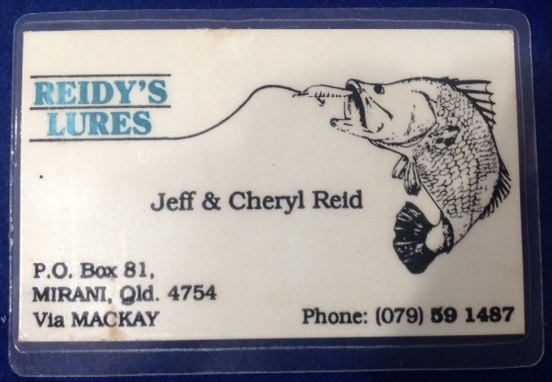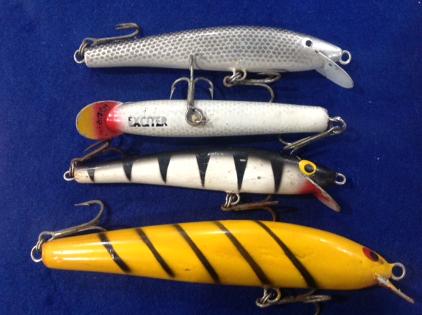 (Left) Early timber Reidys lures before Jeff had built a copy lathe as outlined above.
(Above) The Exciter - an early Jeff Reid creation
Early timber Reidys lures are difficult to find and do not seem to hit the market very often. This may be as they were not made in large numbers before Jeff started injection moulding all his lures.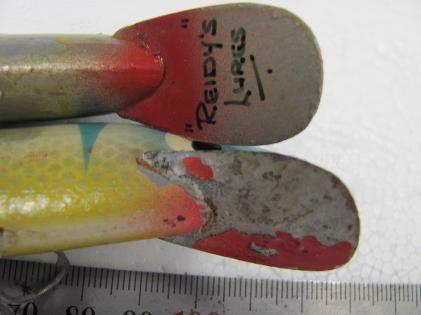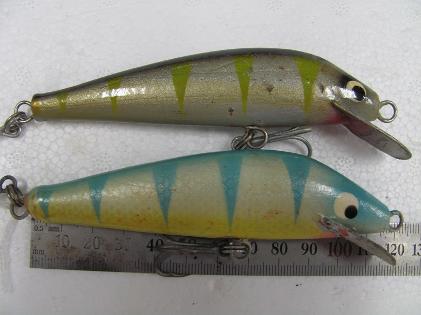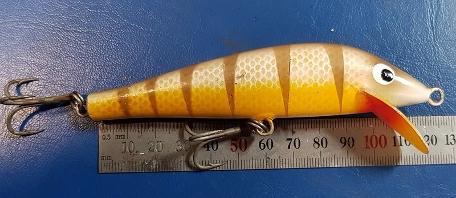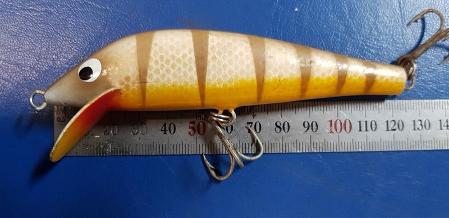 The early Reidys timber lure shown left was offered for sale in 2019 - an extremely rare item indeed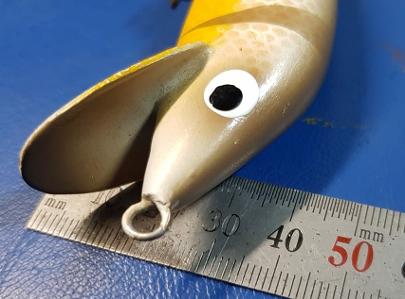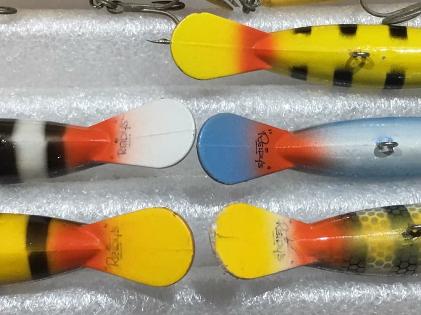 Many early Reidy's lures will be signed under the bib - both timber and plastic. The photos show early signed moulded examples - some escaped the signature.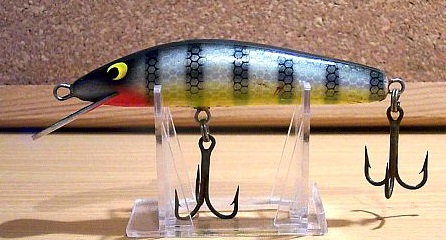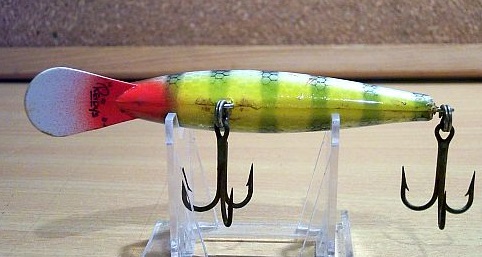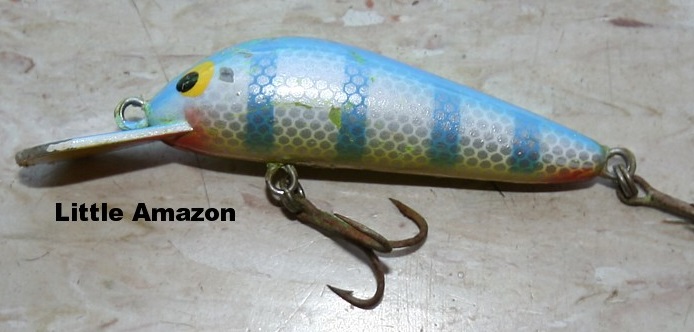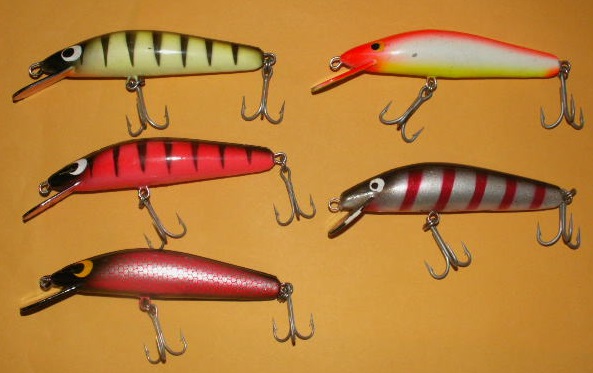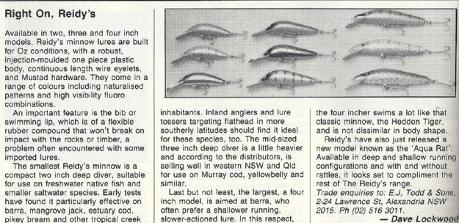 The two lures pictured below are a couple of the earliest plastic 'Big Barra' models that were made by Reidy's.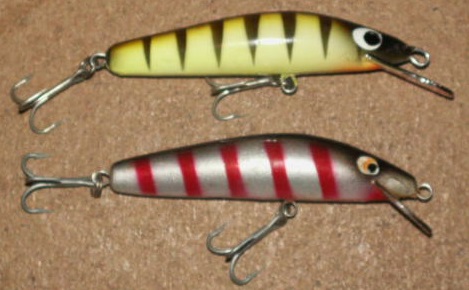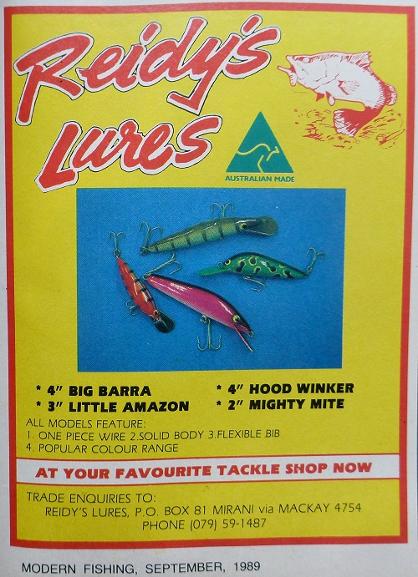 Above is an Reidy's lure ad c. 1989 that mentions the 4 inch 'Hoodwinker' which doesn't show up often. Mentioned are the 'Mighty Mite' as shown below and the 'Little Amazon' - earlier versions will have metal bibs as shown in photo below.

Modern Fishing April 1990
lists the range as the Reidys minnows available in 2, 3 and 4 inch models. All lures are injection moulded plastic, one piece body construction and fitted with Mustad trebles. The 'Aqua Rat' is listed as a new model in 1990 and was initially available in deep and shallow diver, with or without rattle. At this time trade enquiries were via E.J Todd and Sons in Sydney.
Early Reidy's lures are timber with hand signed bibs. By 1990 the lures were moulded with an obvious seam but may also be hand signed. Models include the 'Big Barra', 'Mighty Mite', 'Little Amazons' and 'Prop-a-Pop-a'.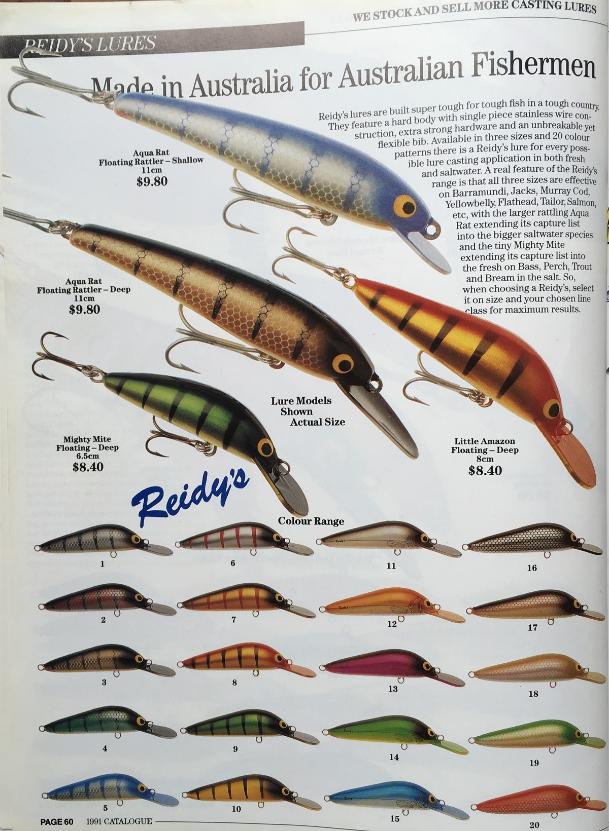 Harbord Tackle listed the 'Aqua Rat' in shallow and deep models at 11cm long in 1991, 'Little Amazon', 'Mighty Mite' - all models in 20 different colours. Later models include the 'Goulburn Jack', 'Taipan' (shallow and deep), and 'Little Lucifer' which appeared around 1993.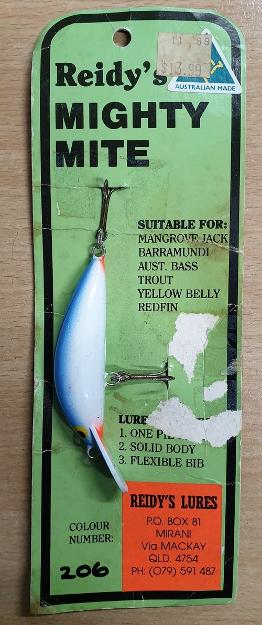 By 1993 Reidys had released the 'Goulburn Jack', a model which had an interesting bib design as shown from the advertisement which appeared in Freshwater Fishing c.1993. A review from the same magazine is shown below and mentions the 'Taipan'.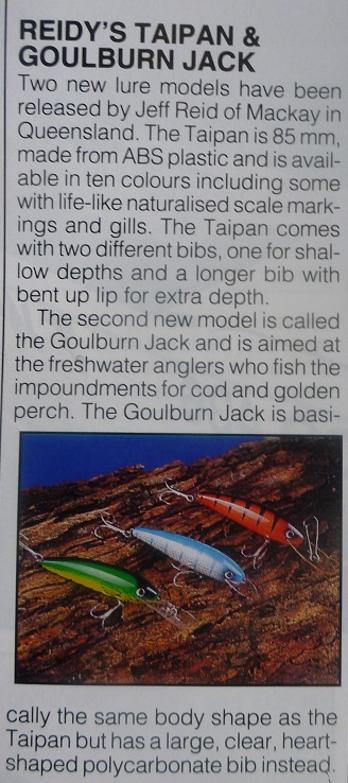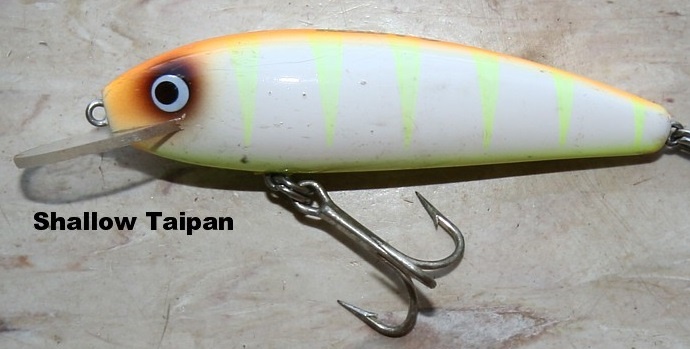 The 'Taipan' was also released and went through some evolution over the years. Above shows an early version, right shows some eye comparisons over time and below shows some bib variations.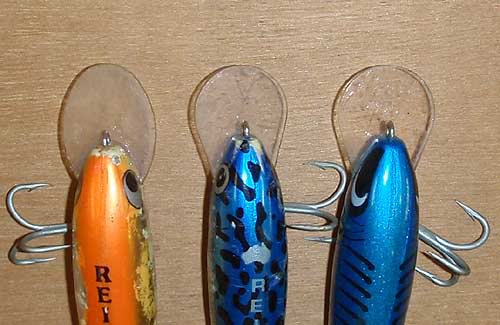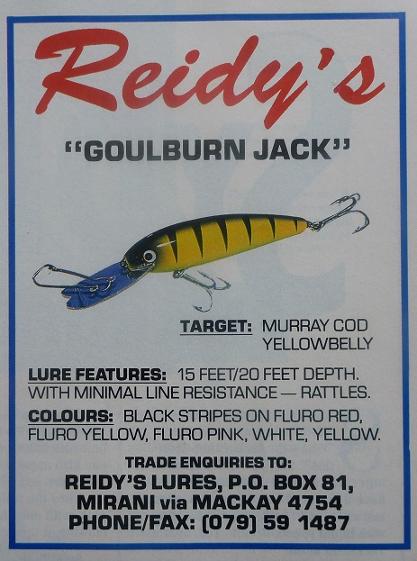 Below shows an early Reidys 'Goulburn Jack' compared to a later version where the bib changed.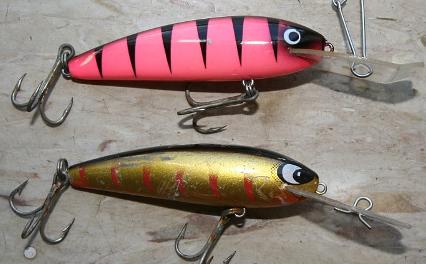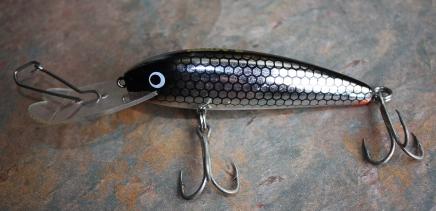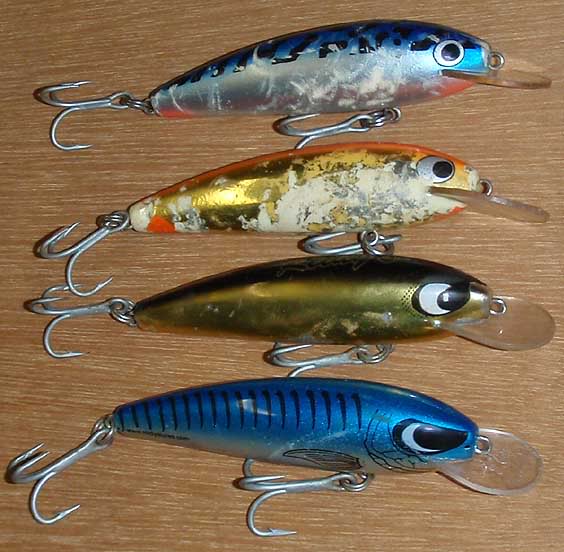 Below shows an early 'Little Lucifer' in the packet which was manufactured out of West Mackay/ Mirani address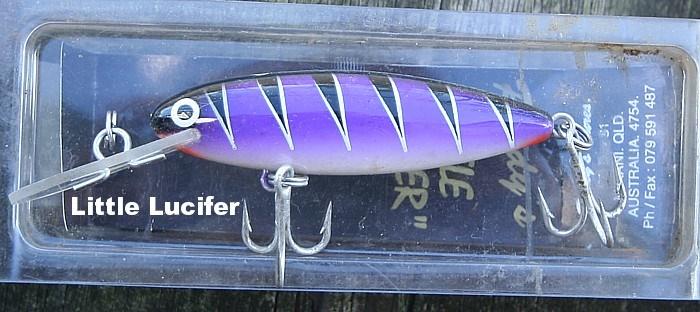 There is a great Reidys 'Special Lure Selection' that was made c.1997 and was given out as prizes in low numbers. The lures were marked with Tackle World Mackay on the side.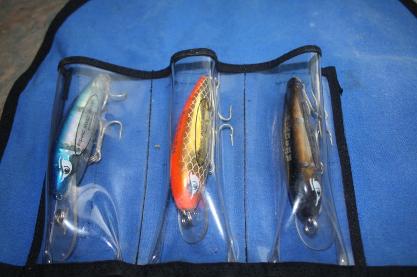 (Right) Later model Reidy's 'Little Lucifer' lures c.1994 - 2005. The middle lure in purple is the earliest with smaller eye and was sent to Lure Hub OZ by the Reidys factory after writing to them as they were not available in Sydney at the time.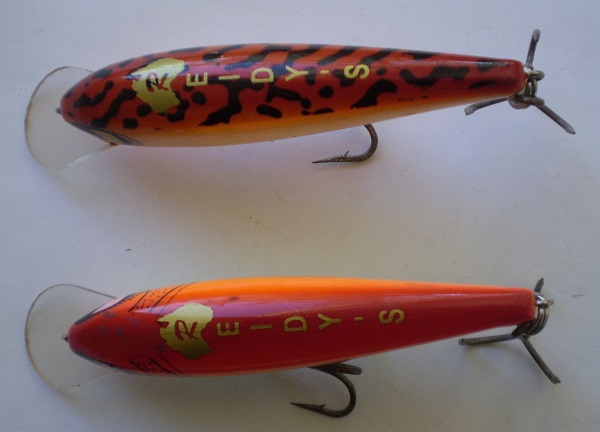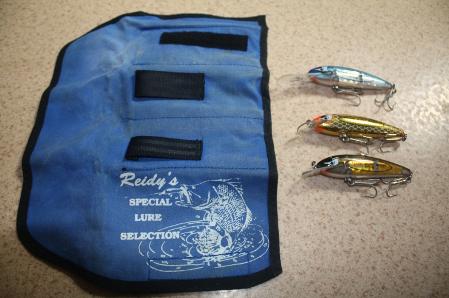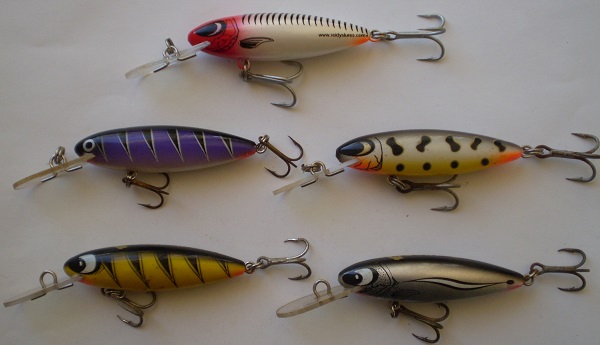 (Left) Characteristic stamp on top of modern Reidy's models. These have also changed over time.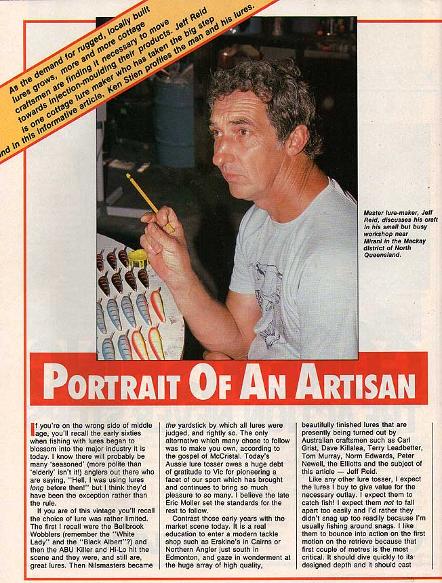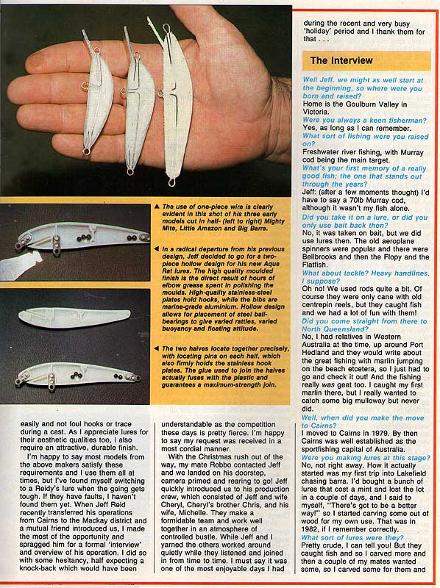 Above - The article 'Portrait of an Artisan' was published in Modern Fishing 1990 and is worth tracking down as it has a great interview with Jeff Reid.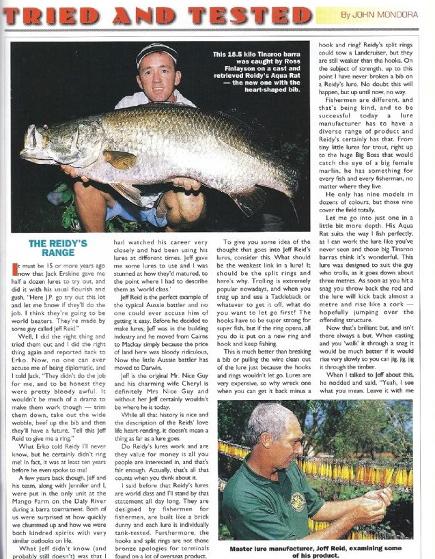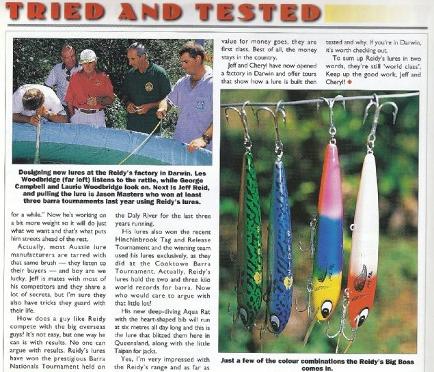 Left - An article by John Mondora in Modern Fishing 1997 called 'Tried and Tested' focuses on the Reidys range at that time.
Below - Even later models as listed in Mo's catalogues dating to mid 2000's include 'The Judge' at 26g, 140mm and the 'Daly Devil' at the same weight but a bit shorter at 120mm. The original shape of the 'Little Lucifer' has changed to a more slimline, elongated shape around 2010.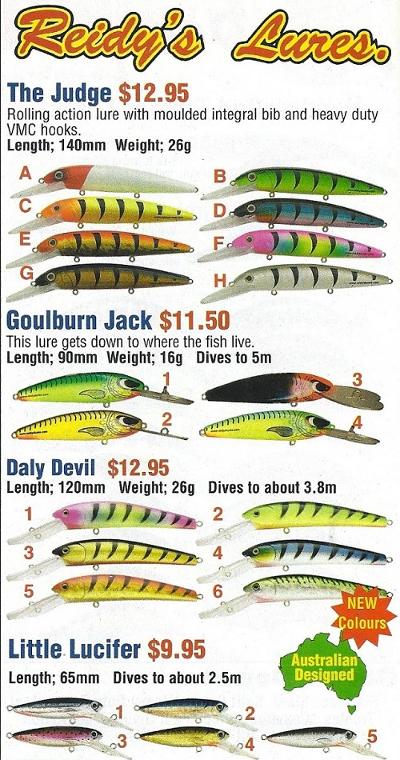 There are also some interesting promotional lures that have been released on Reidys lures over the years;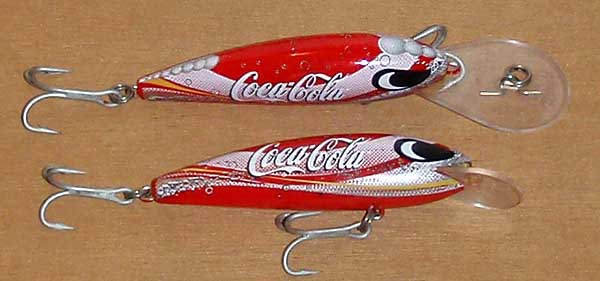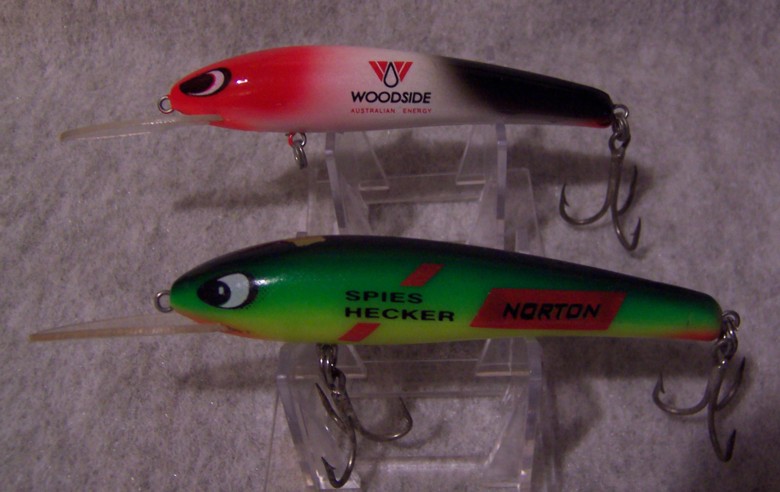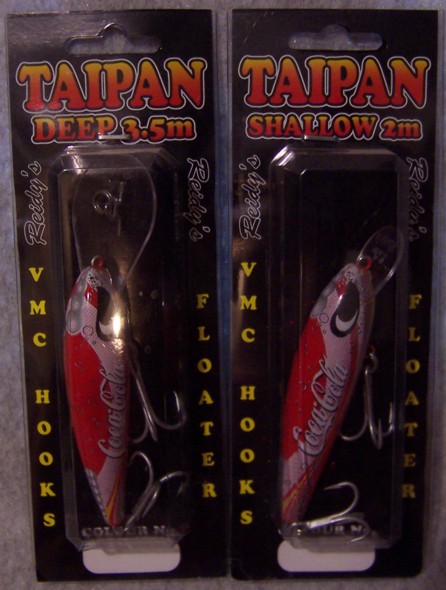 Reidys have a great website that gives you a tour of the factory and shows how the lure manufacturing process is done for those models that are still being made in Australia. The Reidy's Lure Factory is situated on the outskirts of Darwin at Wishart Siding on tyhe Stuart Highway about 100 metres before the turnoff to Kakadu National Park which is the Arnhem Highway.
The following lures are produced at the factory c.2016;
2, 3 Metre LittleLucifer
2, 3, Metre Taipan
5 Metre Goulburn Jack
3, 5 Metre Big Boss
Rattlesnake
http://www.reidyslures.com/tours.asp
http://www.reidyslures.com/tours.asp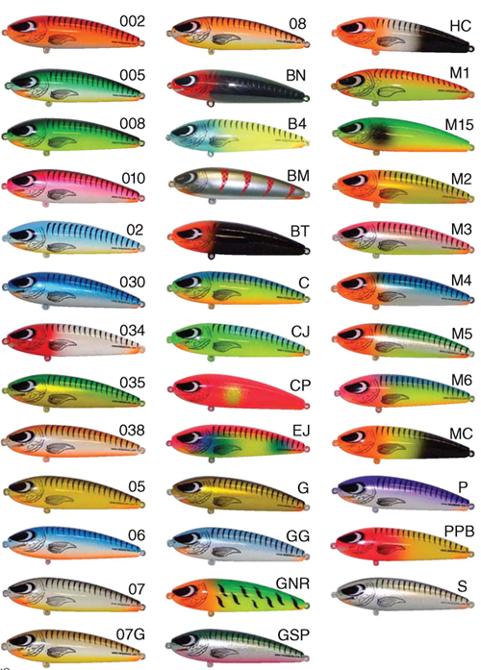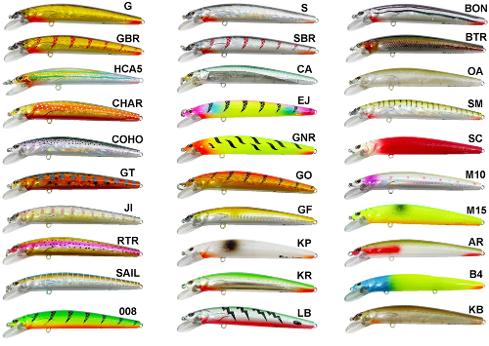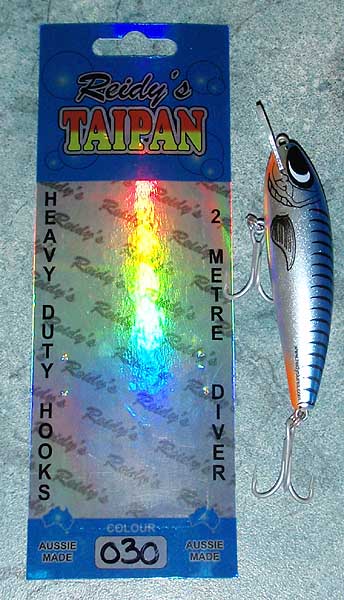 Reidys lures c 2014 have unfortunately gone the way of many other lures that are made offshore - here are some of the packaging to show the distinction between the modern Chinese made models which still account for some epic catches even today.