Brett Campbell Lures - NSW

It is estimated that Brett created close to 400 shapes and variants which will be properly catalogued in the future. However at this stage it will only possible to record the most common of Brett's creations with photos but there will be a register of names and prototypes listed and added to in the future. In 2011, a commemorative 25th anniversary set was released by Brett - 1986 is the starting point for Brett Campbell Lures after Brett completed a lure making course where Peter Newell was sharing his vast knowledge of lure making. Remember in 1983 and 1984, there were articles released in Modern Fishing where Peter had written about lure making and shared some of his patterns.
As a Tenterfield resident, Brett quickly picked up an interest in lure making and fishing with lures in general.
His first lures were primitive and used screw-in hangers and aerosol can finish and
were crude copies. Brett quickly started developing a style of his own with distinctive lines and curves. The early flatfish/Kadaitcha style lures soon evolved into the distinctive Brett Campbell style with the Goodooga 12 finishing Brett's 'handmade era' and his lures becoming noticeably more streamlined. By 1991/92 Brett had moved forward and accepted a lure designing job with Berkeley in USA. There are a number of specialist Brett Campbell collectors and his original designs are highly valued. In 2011, Brett released a 25 year anniversary as a boxed set. Brett retired from lure making in 2014 and is one of the most inventive of the Australian lure makers who had a great eye for shapes and ideas that are recognized worldwide.
The Early Days:
Many of the earliest of Brett's creations dating from the mid to late 1980's remain unnamed and were made at the same time the well known models that were sold in the 1990's were developing. Looking closely at them you can see where the later patterns so valued by collectors become so valuable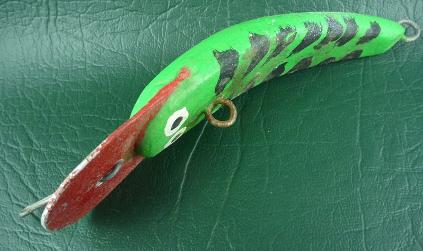 The above two lures show the influences of the early Campbell lures with the classic lines of a deep diving lure already with the 'Tenterfield Towpoint' a common feature.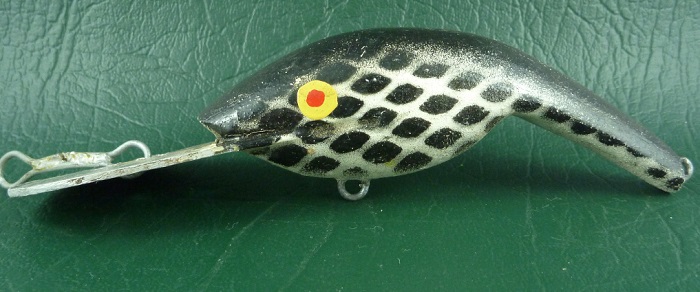 ''These lures form a significant part of the Brett Campbell lure making history and I am extremely grateful to Brett for making them available. They are posted here for the benefit of lure collectors seeking to understand the early years of Brett's inspiration - my personal belief is that they were made before Brett had even thought of becoming a 'Luremaker' in the true sense of the word.

Every luremaker had to start somewhere, find their niche, work out the models that essentially represented their brand and move forward from there - attached are some very, very important lures in the history of Brett Campbell lures. They represent the very first lures that Brett ever made, in fact, include the very first and second lures that Brett ever made. There is no doubt that you can see the inspiration from his very close relationship with Peter Newell .... all of these lures are circa 1985 and all within the very first few lures ever made by Brett. One of the features of Brett's very early lures is the very large and solid hook eye. Not surprising, they are quite large and clearly aimed at the local Cod population.'' Rob Dunn.
The 'Barcoo':
One of the earliest designs and one of Brett's favourites
The 'Snyper':
One of the earliest designs and one of Brett's favourites