Lure Manufacturers Australia U
If you know of an Australian lure maker no matter how young or old that we have not mentioned in the following list feel free to contact us to have the details added or updated.
Undataka Lures - QLD:
Little known lures that were available and designed for bass, cod and yellowbelly. Presented on a a black and white card where the white portion is in the shape of a coffin. Lure came with two style of bib - a rounded or squarish bib that seemed to dive deeper than the suggested 15ft range but was less stable at higher speeds than the round bib versions.


Information from the now defunct Lure and More forum was as follows;
'Undertaka lures designed by the late David Arnold of Fish'n'Bits, Toowoomba and moulded by Kerry Mogg of SK Lures.'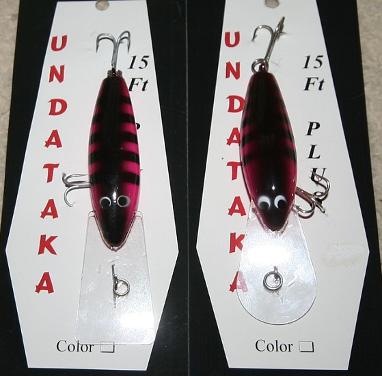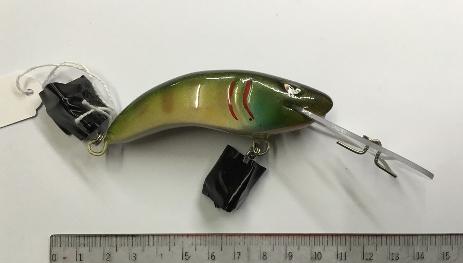 Undertow Lures - NSW:
Little known cottage maker Luke Paul from Maitland area makes a fine hand carved lure in small numbers for personal use.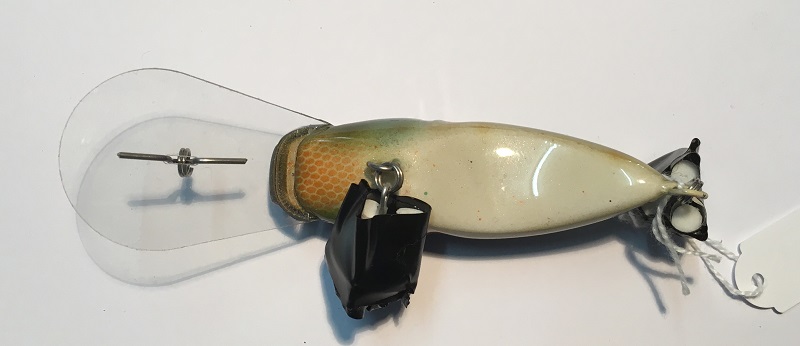 Union Tackle Comnpany - Melbourne, VIC:

Early Australian lure maker that manufactured the popular 'King Codder' lure in the late 1950's- early 1970's. Cardboard boxes are blue and white and marked 'DK - Australia's Finest Tackle'. The 'King Codder was made in two sizes (No 1 & 2) and in two colours - red fin and trout. See DK Lures
Upstream Lures - QLD:

Upstream Lures was the brand name used by Anthony Barnard before changing the name to Deep River Lures. The Deep River Lure name came into existence in 1990 so any Upstream lures will predate this and be pre-1990. They were made in small numbers and are uncommon if found.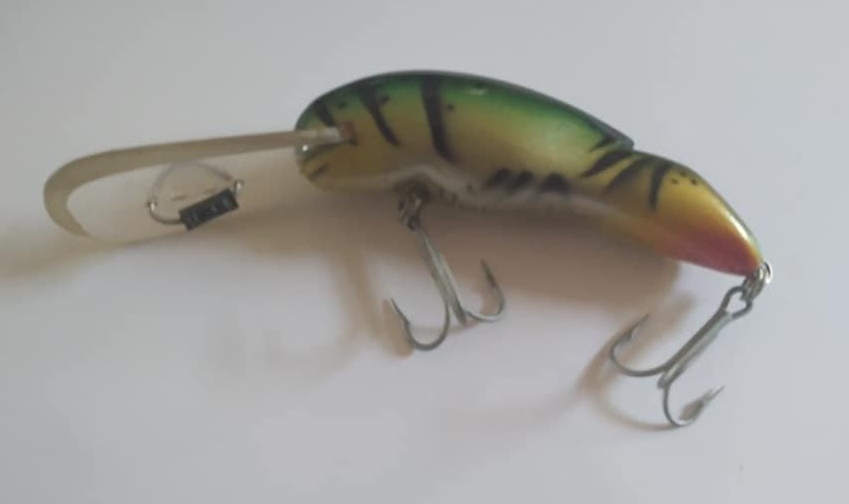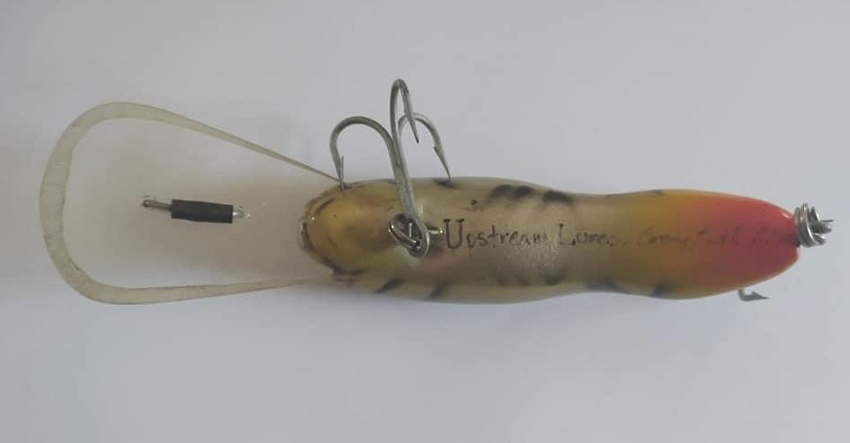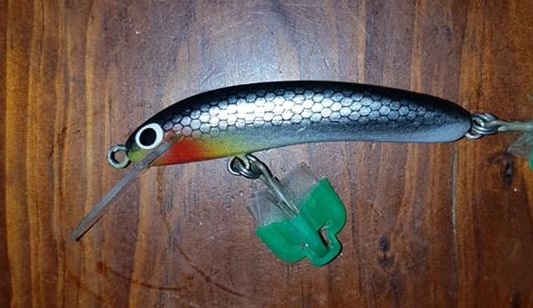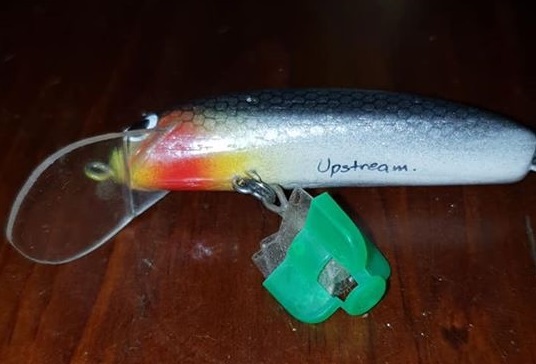 Lure Manufacturers Australia V
Van Elven & Smith Lures - W.A:
These lures are an historic Australian made lure from Western Australia. There is little information available on these lures and they are rarely seen due to localised production in Margaret River, Western Australia. This area is reknowned for big surf and there has never been many lure makers from this area and Western Australia generally. Neil Otter made lures under the name of Otter Lures before 1970 but Van Elven and Smith were advertising in catalogues as early as the 1950's. The image right is courtesy of the Australian Fishing Museum.
http://australianfishingmuseum.com/vintage-fishing-reels-and-tackle-advertisements/#bwg25/839
Vector Lures - NSW:
These lures have a classic look and are an offshore trolling lure that was made of wetern red cedar - finished with holographic strips down the side the packet states that they are suitable for speeds up to 12 knots. Lures were made in Bermagui on the south coast of NSW originally made by Fred Proctor from Cobargo, about 10 kms west of Bermagui. Fred passed away and the entire lure blanks, gear and equipment was handed down to his son Roger.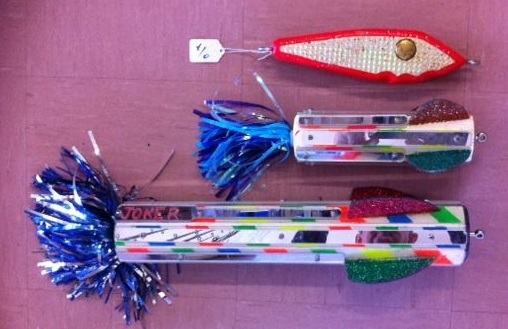 These three lures shown below are on a display wall in Darryl Stuart's Tackle shop in Narooma. The large teaser named 'Joker' is 3 kilos and the small ones around 12 inches long.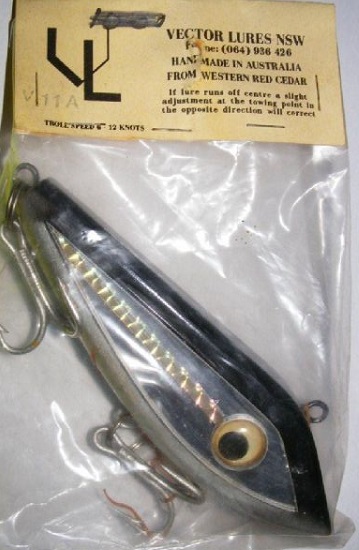 The four lures left have been named as Vector Lures from Bermagui and are a moulded lure with large dolls eyes. Most probably the same maker.
Venn, John Venn Lures - QLD:
Another of the northern Queensland makers who made a wide range of different styles of lures. Most lures will be signed on the bib as JVN or JVN Nth QLD. A very talented and well respected maker. There is some great information on Lure Lovers forum that was written by Barry Cross and other examples of John's work.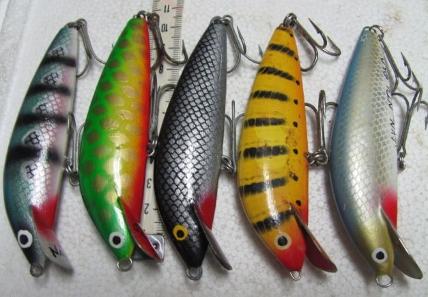 Velos Lures:
Another of the obscure vintage lure makers that were producing devon style lures from the late 1930's. Bob Dunn mentions a Velos Reel in 'Australian Fishing Reels' which was manufactured from bakelite and was made by E.W. Tilley in Melbourne c.1939. It is most likely that Mr Tilley manufactured a range of fishing products however no advertising material has been uncovered to support this theory.
Opposite - Small devon spinners sewn to a card marked 'Velos'. Exact vintage is unknown however style of packaging and type of lures suggest early vintage from 1940's-50's.
The lure below is a squarish metal devon on a similar card to Buiadah superior artificial baits. Possibility they were connected or same maker.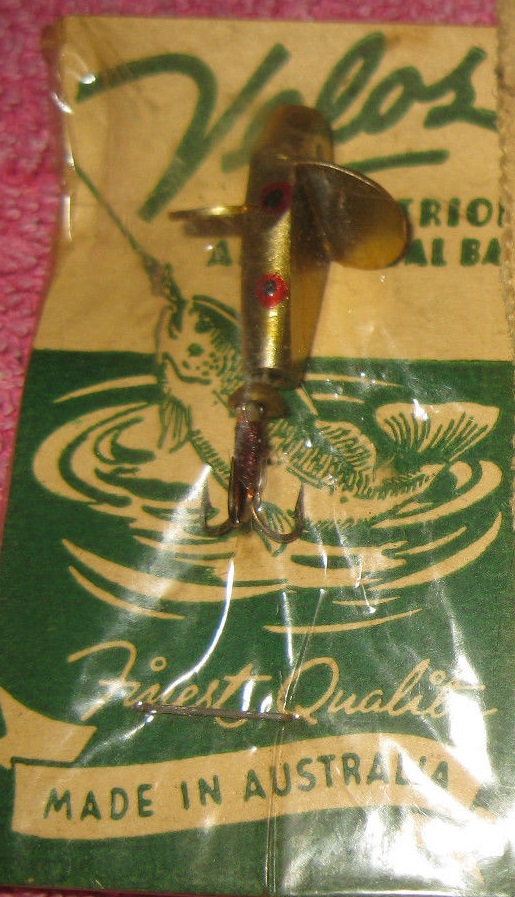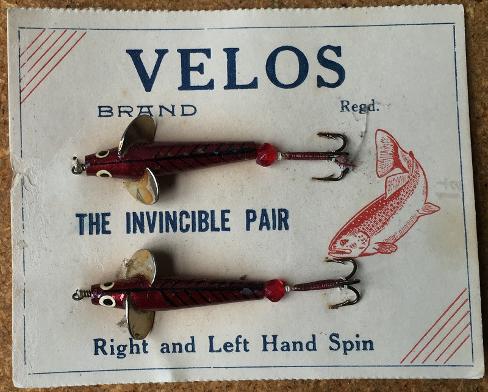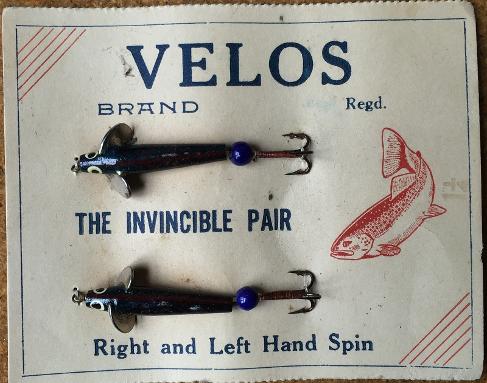 Venom Lures - QLD:
Little known about these lures. Made by Wayne Blundell.
Vibro-sonic Lures - VIC:
Vibro Sonic Lures are sometimes referred to as Vibro Bat Lures by old time anglers. There are number of different types and they are all vintage except for those being made by Curley Lures in extremely small numbers. Also see Fresco Lures who made versions of this lure.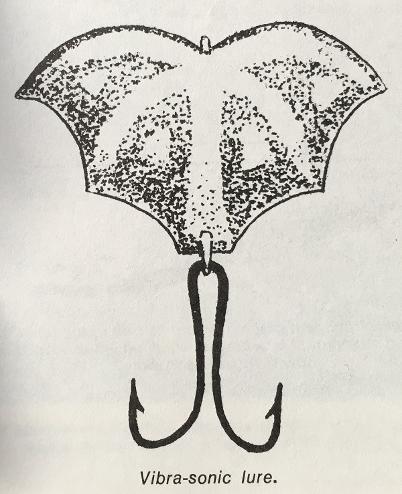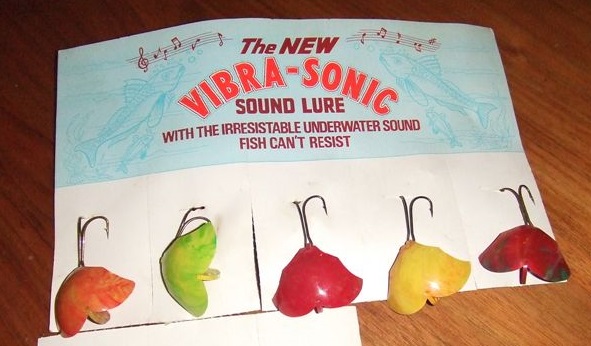 Lance Wedlick mentions the Vibro Sonic lure in his book and extract is dated to 1964/5.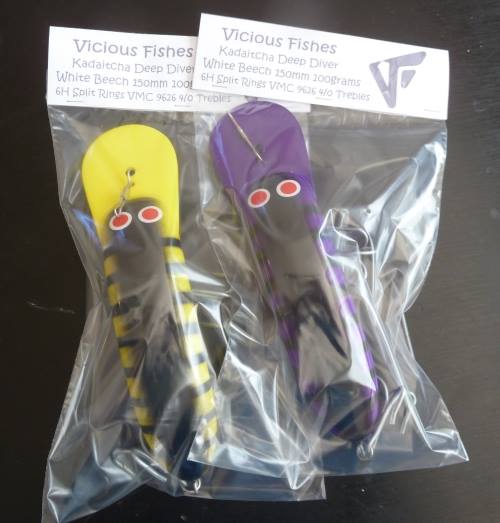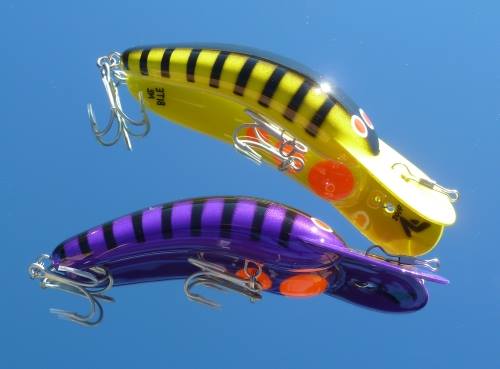 Vicious Fishes - ACT:
Vicious Fishes Lures are another lure maker to emerge in the past couple of years although Stephen Burden has been creating an extremely high quality product for many years. The Vicious Fishes range is inspired by the original 'Peter Newell article 'Roll Your Own' around 1983 when Stephen was first inspired to try lure making. The lures are a Newell Kadaitcha style lure among others and are made to target Murray Cod and natives. High demand in a short time with anglers and collectors chasing a limited hand crafted product which have been sold in the last few years since 2014.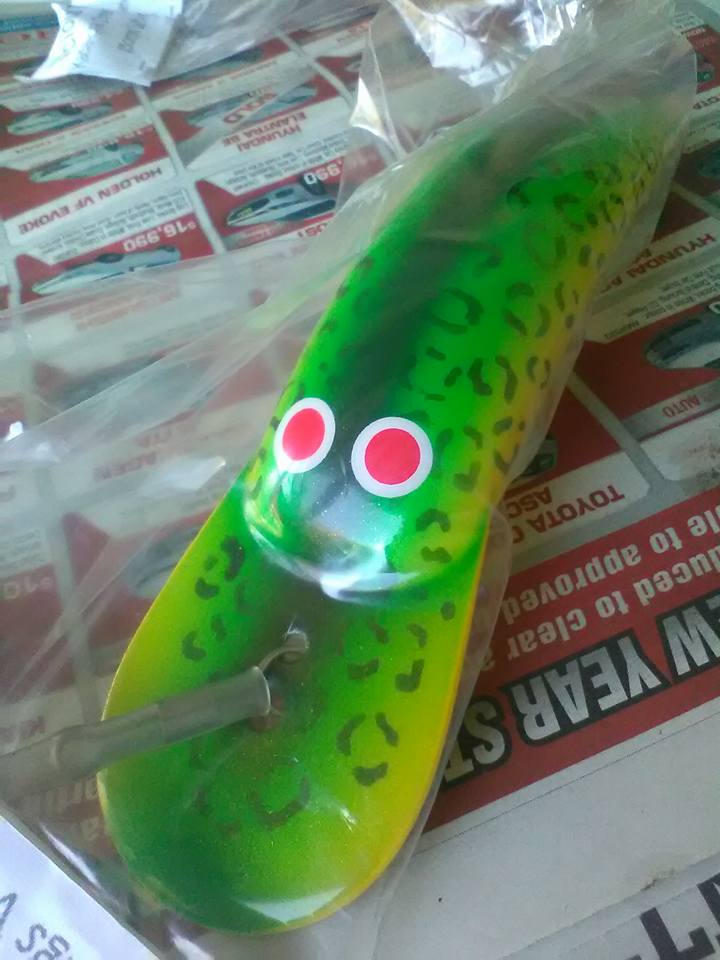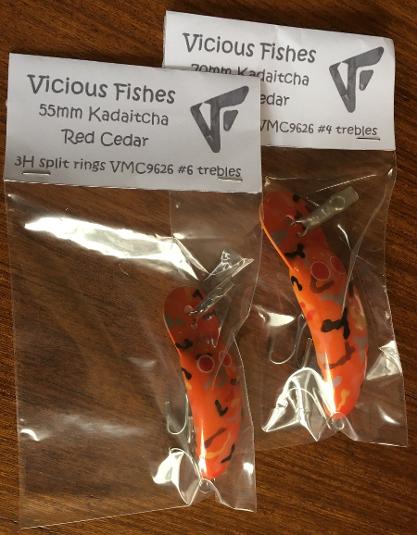 A couple of recent VF Kadaitcha sets in the smallest size Stephen makes - namely 55 and 75mm in Orange Camo and Murray Cod.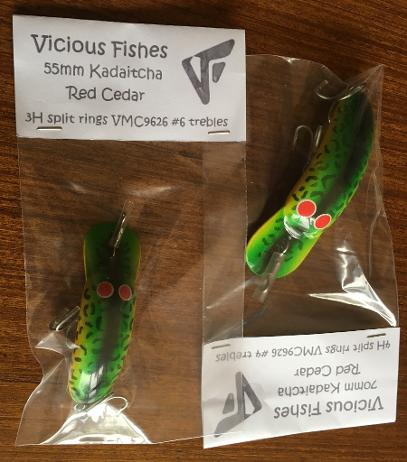 A spectacular VF Kadaitcha 55mm in custom colour brown trout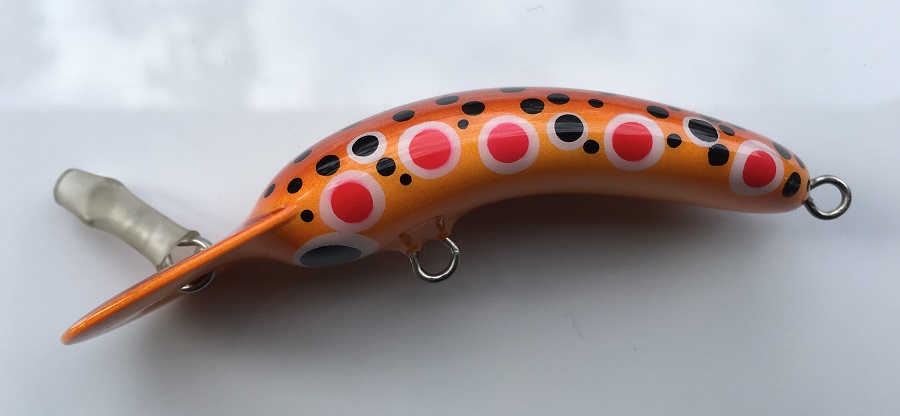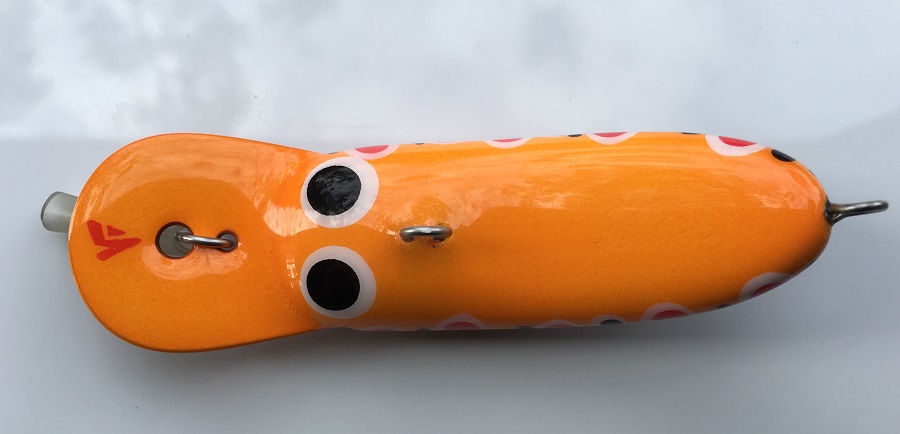 VF 'Mini Fat Boy'surface lures
Stephen has been commissioned to make some amazing commemorative sets including these Stumpjumper inspired creations.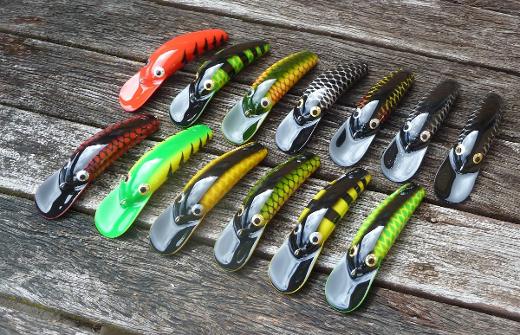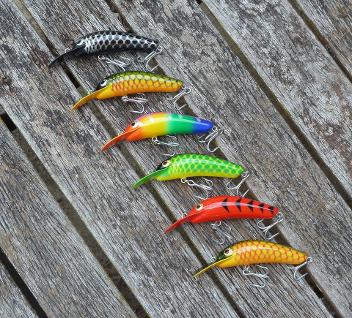 Vicious Fishes 'Yabby' lure set created in 2019 - spectacular work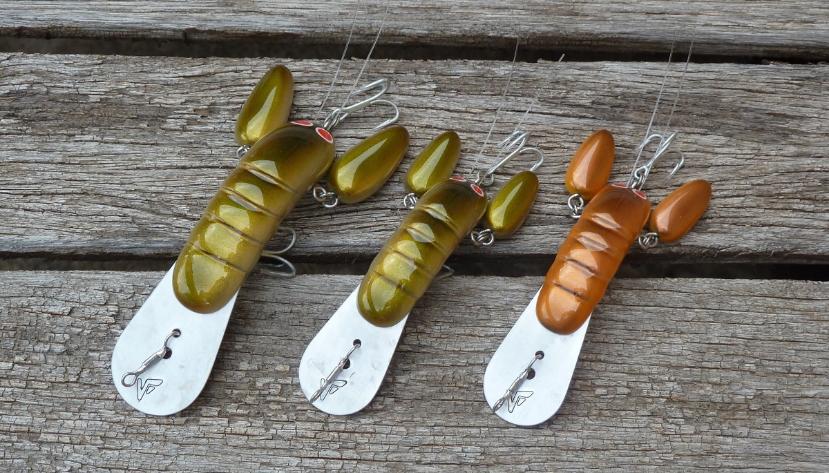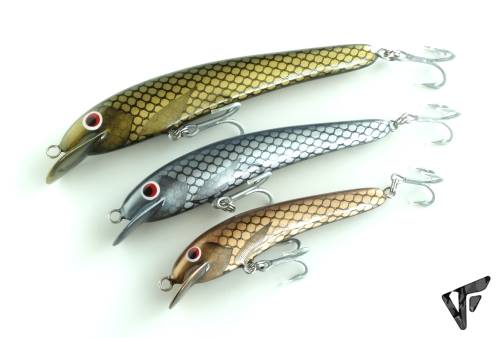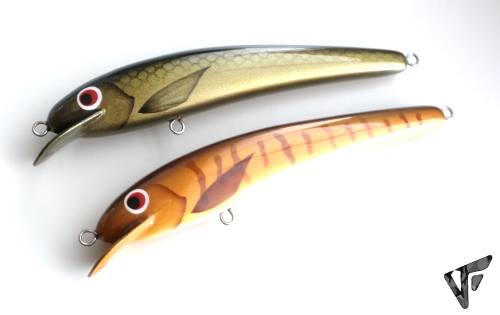 Vicious Fishes 'Havok' lure proving it works with the capture of a sooty grunter 2015 from the Vicious Fishes Facebook page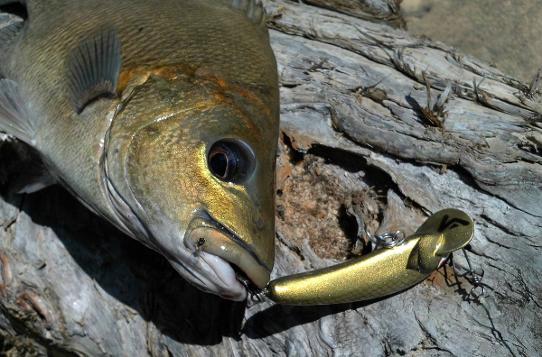 Vicious Fishes 'Havok' models 2019 including jointed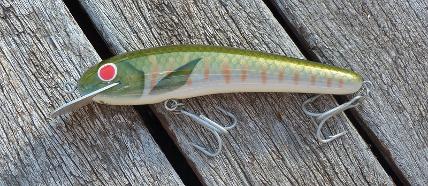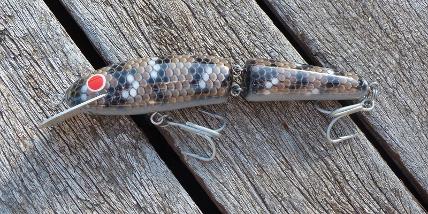 Vicious Fishes bibless model with dual tow point options.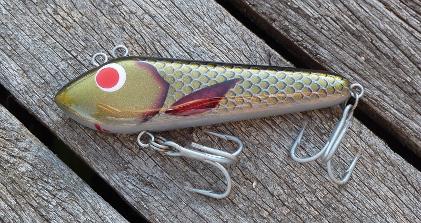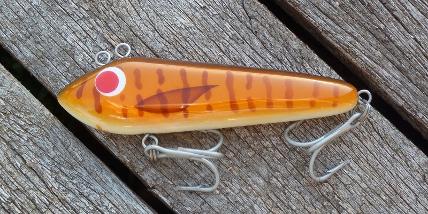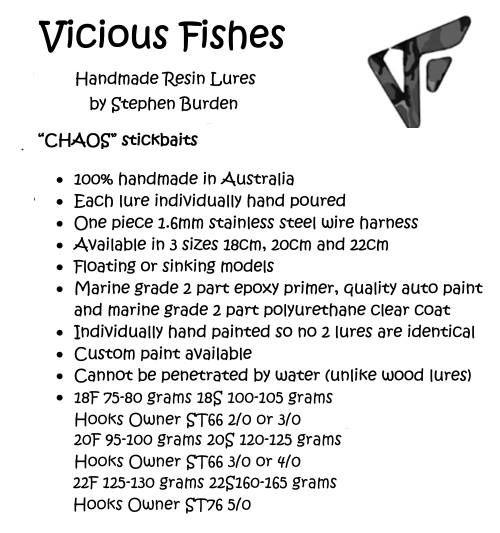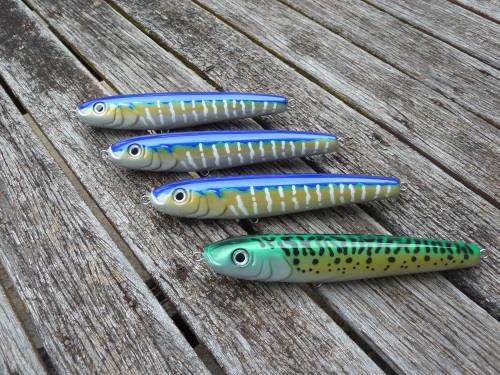 Victa Lure:
A vintage metal slice lure that is Australian made and was released under the Alpha brandname. Dated to the early 1960's and was advertised in 1968/69. Photo shows stamping of 5/8 which would be the weight in ounces.

Victom Lures - SA:
Victom Lures are made in Victor Harbour, South Australia by 'Uncle Roy'. Little current information.
Viking Lures - QLD:
Viking Lures were made by Ian Cranney and have been around for a few years now and well known for the reputation of the Viking 'Talisman' model. The carded lure below right is a Viking 'Talisman' 60mm. They are a moulded plastic lure. The review below also mentions the maker in ABS plastic as Alex Hickson so uncertain where this fits exactly into the timeline for Viking Lures but looks like the business was sold to Alex around 2001.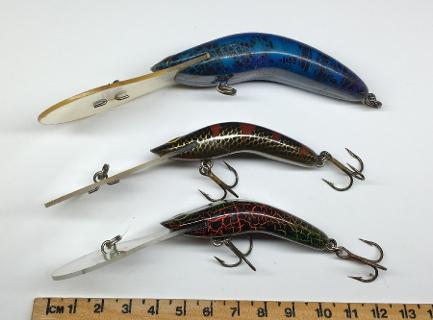 Part of the colour range is shown below.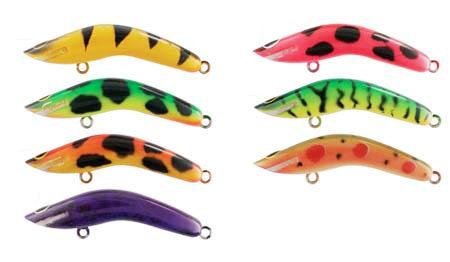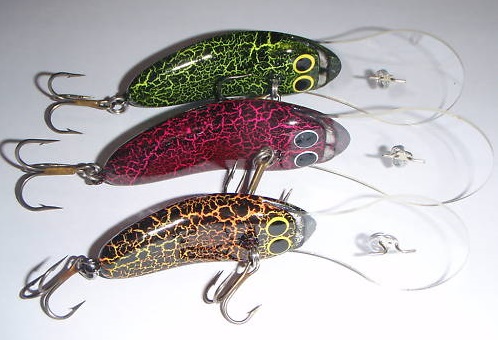 Below - Viking Lures review from Freshwater Fishing magazine 2003. The 'Lancaster' model was originally a Paul Kneller design.
Opposite is from NSW Fishing Monthly 2008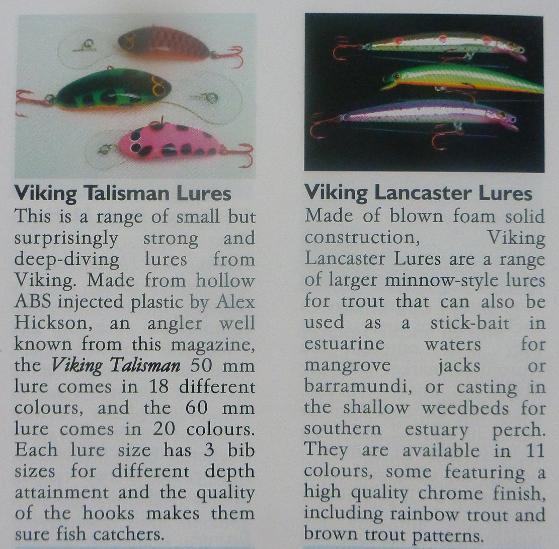 Viking Lures catalogue for 2006 is below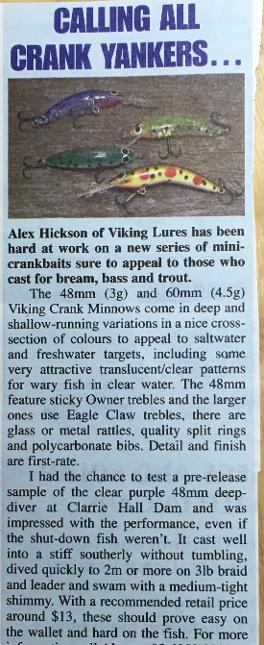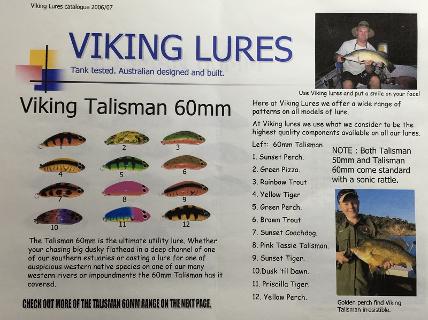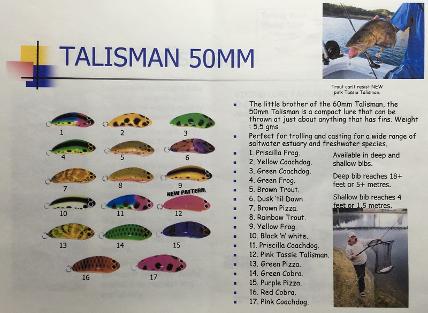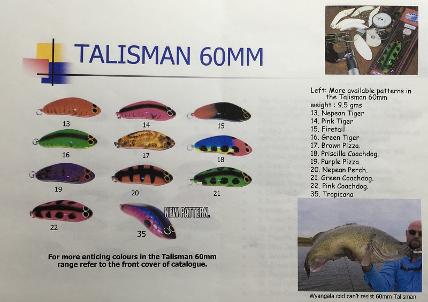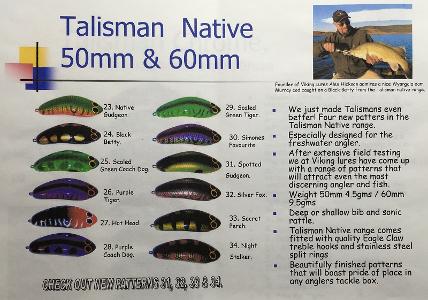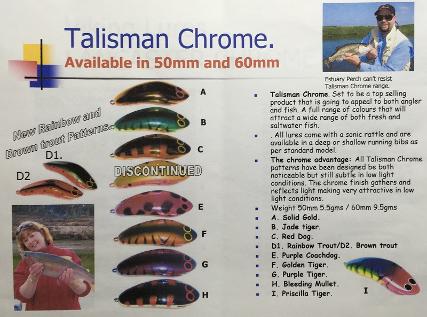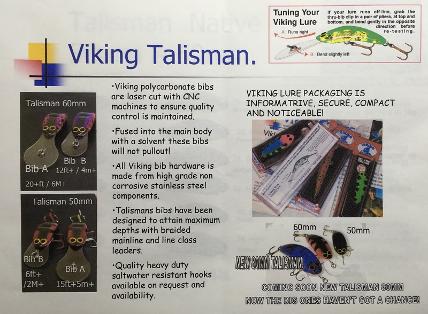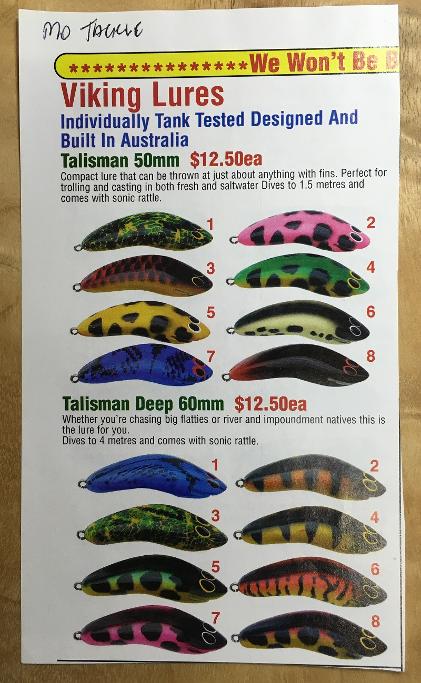 Viking Lures advertising material from Mo's Tackle and New South Wales Fishing Monthly.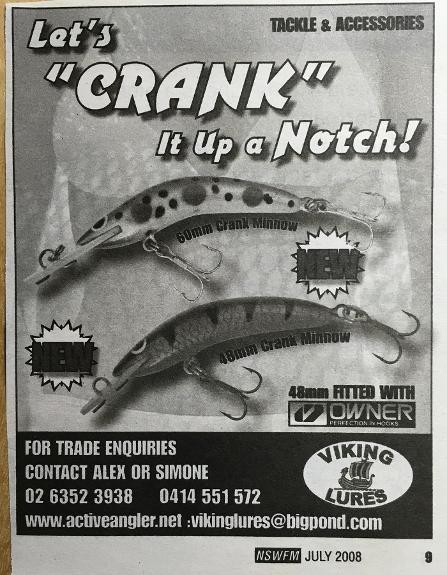 Viper Lures - QLD:
Shane Murphy started making Viper lures from the early to mid eighties and is still making lures today in small quantities. Check out the full page biography under Viper Lures.
Visual Lures:
Visual Lures have been marketed on Ebay in recent years in very small numbers. They are a timber lure with a similar shape Tenterfield Dart or Ringtail lure with a polycarbonate bib. They were sold at Glen Lyon Dam in small numbers many years ago.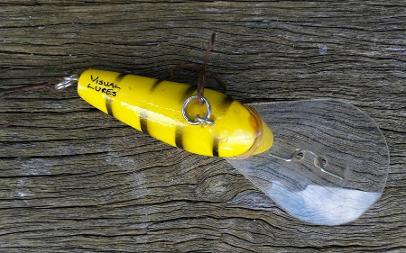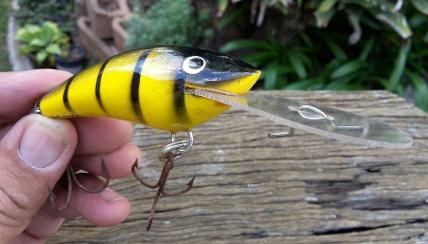 VJ's Lures - QLD:
Made by Vern Bryson - Stewart in the 1990's from timber - these lures have real character with big google eyes. This lure sold on Ebay in 2010 and was listed as a VJ's 'Barra Lure'. There were seven of these lures that sold in 2010 and fetched prices in the range $24 - $51.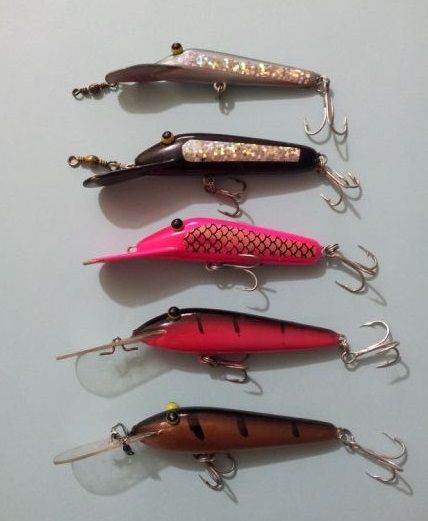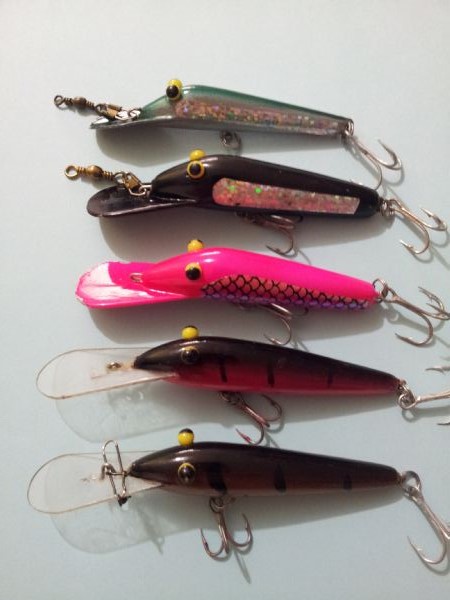 Voodoo Lures - QLD:
Made by North Brisbane Sports Fishing Club, blanks were molded by Lively Lures and painted by Shane Murphy (Viper Lures) who is a member of the club.
The lures were originally timber and then later moulded and started around 1995/96. The club was still making Voodoos in 2009/10 and there were 2 models - V15+ & V30+ both in 6 colour variations.
There are also a number of other colours out there many which were deleted from the line of colours or were prototype colours before final colour selections were made. There were some production problems with the V30+ at some time so it would probably be fair to say that the V15+ model is more common.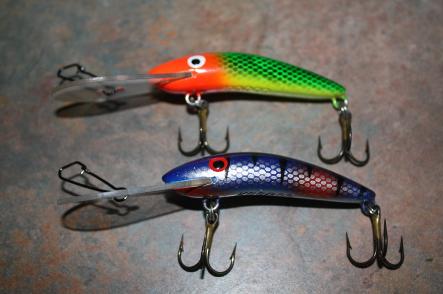 The moulded versions of the Voodoo V15+ will have the name moulded into the belly like in the lures below. You will also find a number of eye colour variations also.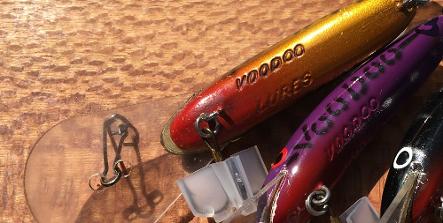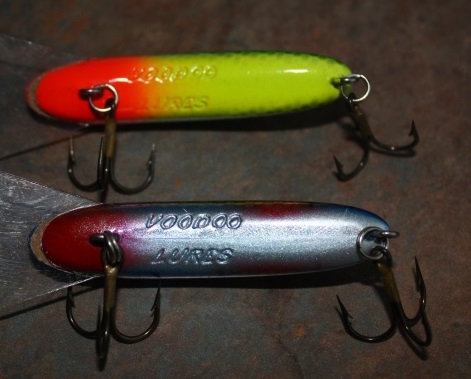 Voodoos may be found on a pink card as illustrated in the photo opposite. V15+ model and the North Brisbane Sportsfishing Club are a supporter of the QLD fish stocking program supporting their local anglers.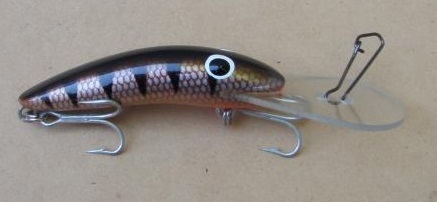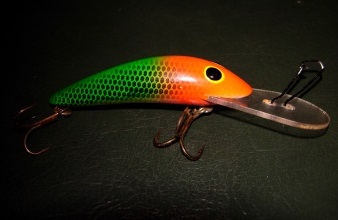 There are only a small number of wooden Voodoo Lures out there. The lure above is an example of the parrot colour. The overall length of the lure is slightly shorter than the moulded versions which are shown left.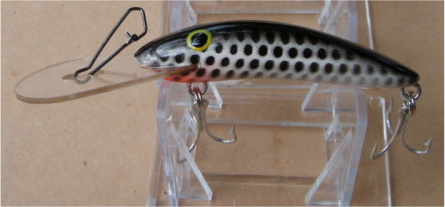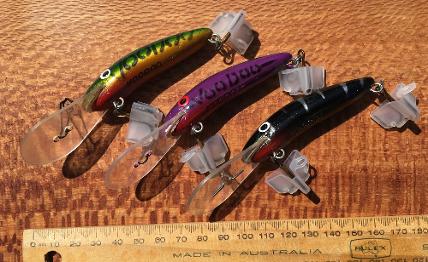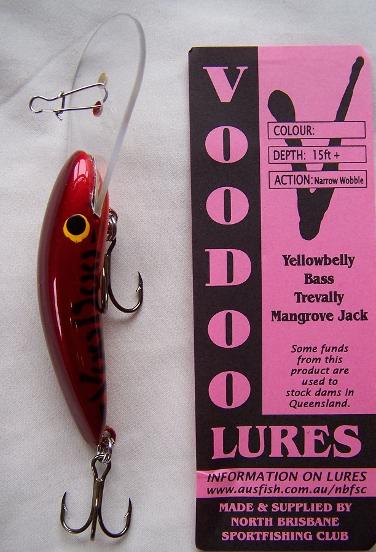 **Robbie Rayner

currently owns the rights to the voodoo lure via Shane Murphy and with Shanes guidance and support we now reproduce this lure as a timber lure and injection moulded ( via lively lures ) we currently run 18ft and 30ft models. Lures are painted and assembled under the Pimp My Lure / Impact tackle banner and Distributed via Somerset Fishing tackle. $1 From each lure sold is also put aside for stocking groups, (2019) $150 was donated to the Brisbane river Mary river cod project.
Voodoo Lures and the North Brisbane Sportfishing Club
Shane was active in ANSA and heavily involved with the North Brisbane Sportfishing Club, through the nineties. When the club president, Brian Harvey was looking for fundraising ideas in 1996, they came up with the idea of making a lure they could sell. Shane gladly took on the job of designing the lure and working out the various features in manufacturing. The lure was named the Voodoo and turned out to be a great success for the club. Shane put a lot of time and effort into getting it up and running, and often did the lion's share of work required in the painting, hooking and packaging. Although he was paid for some of the work he did, he never took any commission for the design of the lure. When the club folded in around 2004, the Voodoo lure disappeared along with many of the era. But has recently been put back into production with Luc Van Openbosch managing the production and sales.
**Extract from article on Lure Lovers forum that was completed by Matt Fraser - January 2015
V.P Lures - NSW:
A highly talented and innovative lure maker from Sydney who has been making lures since the early 1980's. V.P Lures are made to target all manner of fish but the majority are smaller to mid sized lures aimed at trout, bream, flathead and Australian bass. Most lures are fully through wired with hand punched bibs with the maker creating jigs or modifying tools to create effects he requires.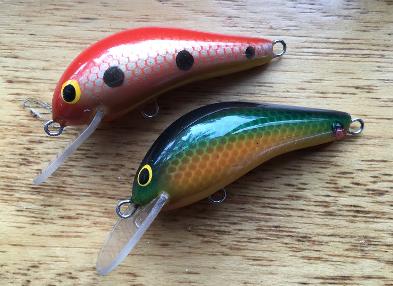 The lures shown above and right are 25 years old and were made in the early 1990's. Called the 'Gooseneck' and only ever made for personal use.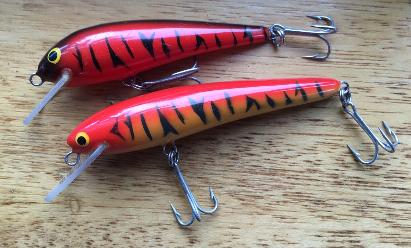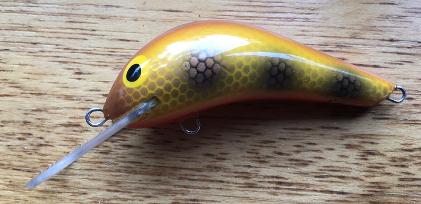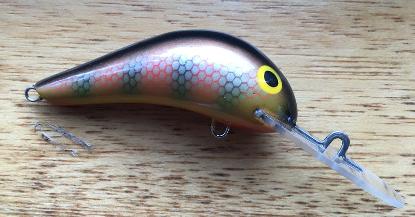 An early 'Gooseneck' and un-named jointed minnow.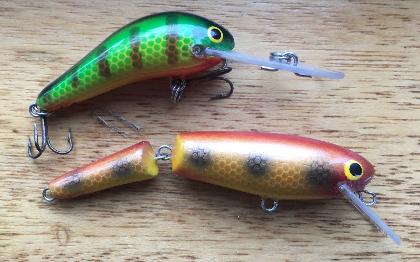 The lures left are a couple of V.P 'Minnows' utilising a hand cut stencil for the markings. Through wired with a tough finish.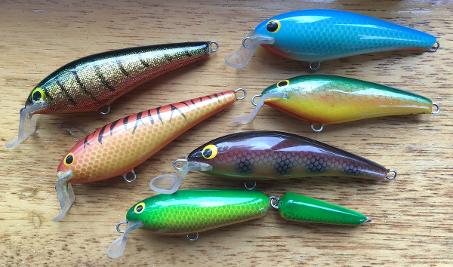 The 'Step bibbed' lure group shown left. A special technique is used to achieve the finish on the lure above.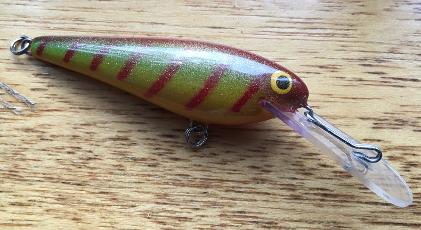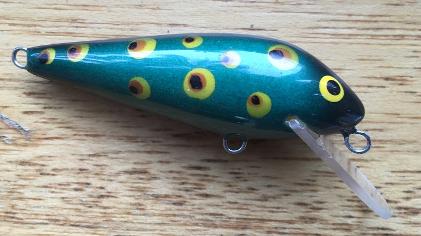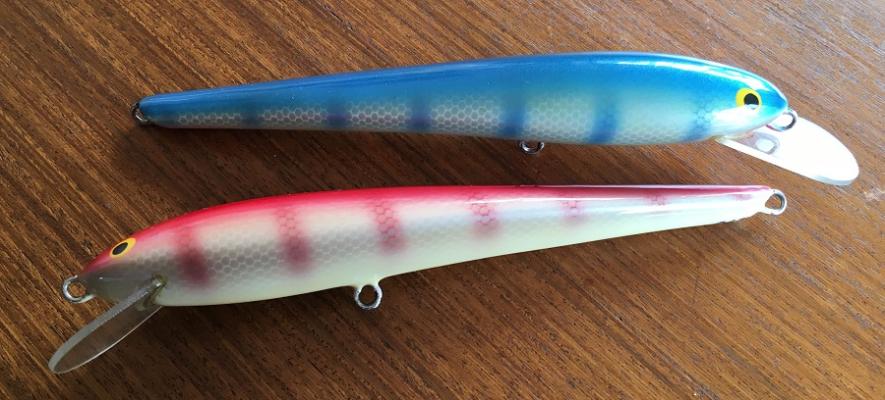 There is an extraordinary amount of innovation showcased in V.P Lures such as the 'Nilsies' above. Extended bibs, different models, poppers and the range includes handmade trout spinners and many other little lure masterpieces. Another unknown master craftsman and good friend.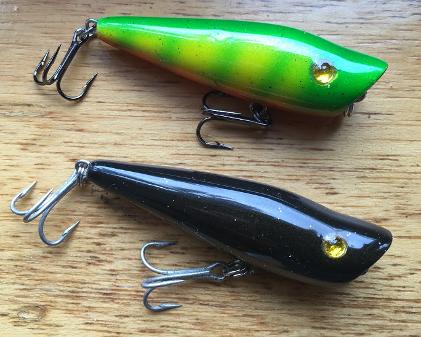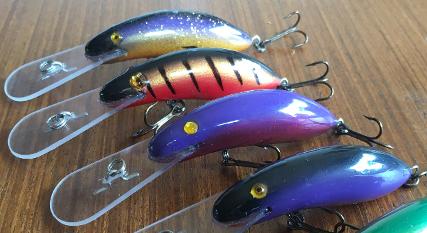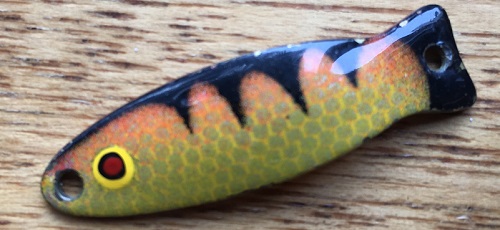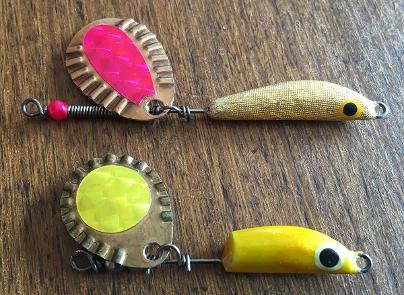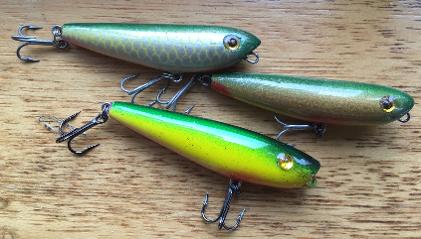 Most V.P Lures will be signed near the tail as illustrated below.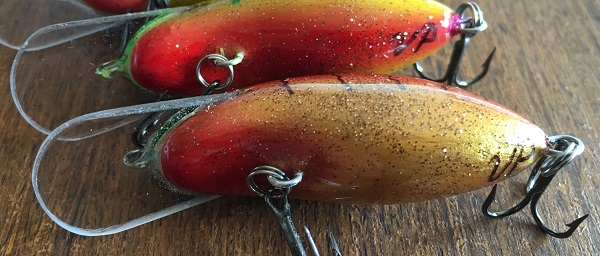 How about a couple of hand made trout spinners with hand made and crimped blades? Or a mini Pegron spoon copy . . .
Trolling spinners shown left. Top one is a hand made mould for the jig head covered in foil wrapping from Bensen and Hedges cigarette packets.
V.R. Lawler & Co - VIC:
Another older manufacturer of the devon spinner which was a particularly popular lure through the 1950 -60's. The brand name is 'Crown Devons'. There were different distribution agents in Victoria and Tasmania and Queensland. The carded lure below right shows the 'Crown' in Blue Tiger colour. The age of these will be evident by the mount which is the older style where the hook is bound to the mount and fitted with a red bead. The backing card will also have a blue border which is absent later. This part of the lure is normally perished so finding these lures still attached to the card in good condition and intact is reasonably uncommon.
(Below) Showing the earlier card for the Crown Devons. The dot - dash card is the rarest of the Crown Devon cards.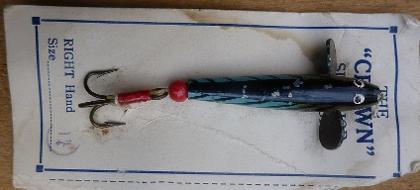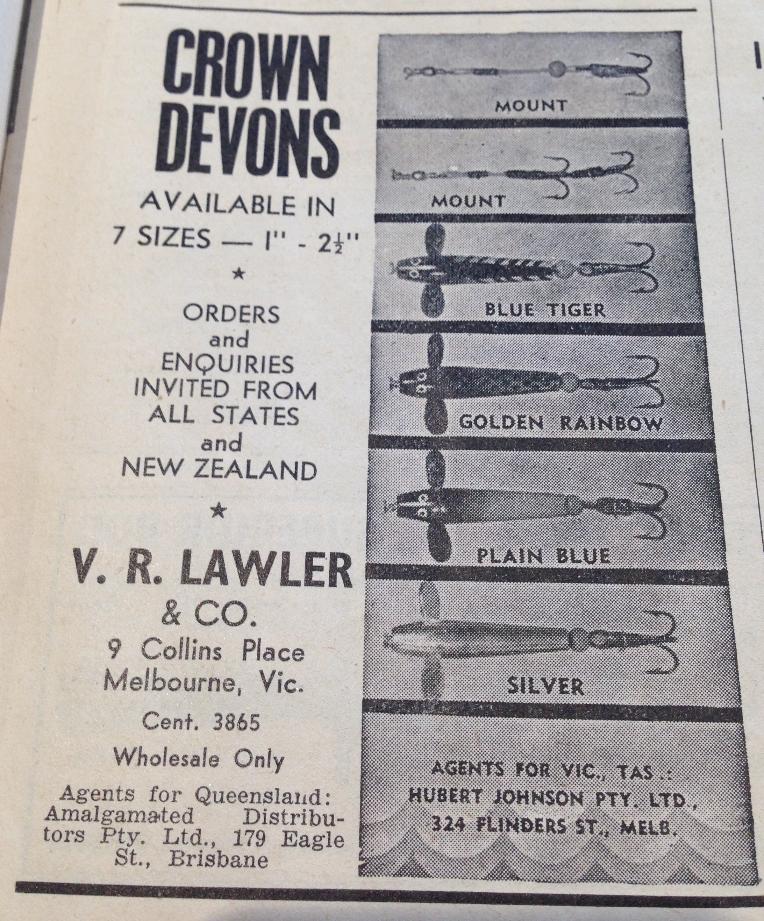 A spectacular Crown Devon lure display was unearthed in Tasmania - it was an old shop display and shows the full range that was available in the early to mid 1950's. Dated by earlier mounts which are still twisted horse hair with older dull bead. Later were red beads. There is also a double treble harness which explains why Crown Devons are sometimes found fitted with these but without a bead. Note the smaller eyes - many of these patterns are rarely found in good order. The 'Tiger' range was the most popular and more heavily marketed. Sixteen colours were available including plain silver and gold.
Advertisement is from Outdoors and Fishing magazine c.1949.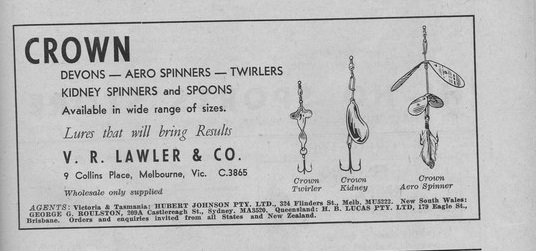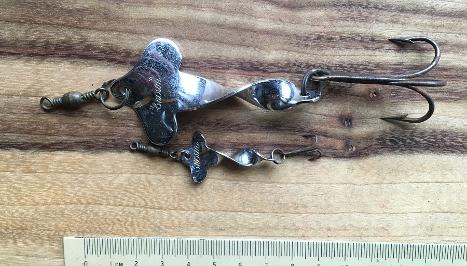 A pair of early Crown Twirlers in two sizes - both marked "Crown'
(Right) Crown Aeroplane Spinner shown with earlier triple border card with address at 5/5 Elma Road, Cheltenham. Unsure if this address predates the Collins St address.
(Below)
There were also other products which were released on the straight border card such as the Crown 'Kidney Spoon'. These spoons were very popular pre-1950 and were made by the big American companies such as Pflueger. The Crown versions are easily identified as they will be marked on blade as shown.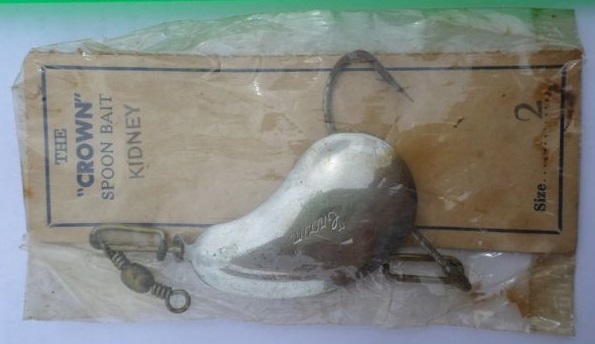 (Above Right) Crown Devons on the tear off cards which date to the mid 1960's into the 1970's.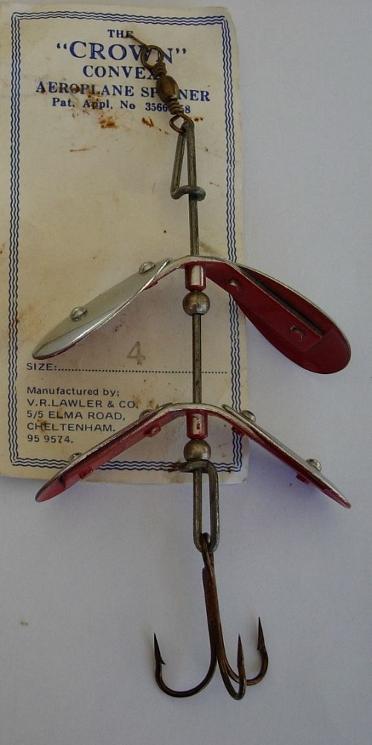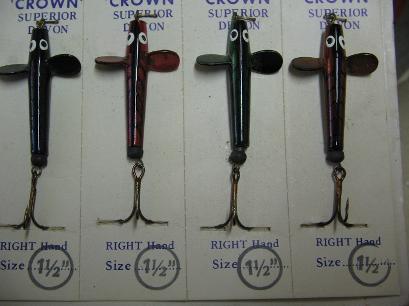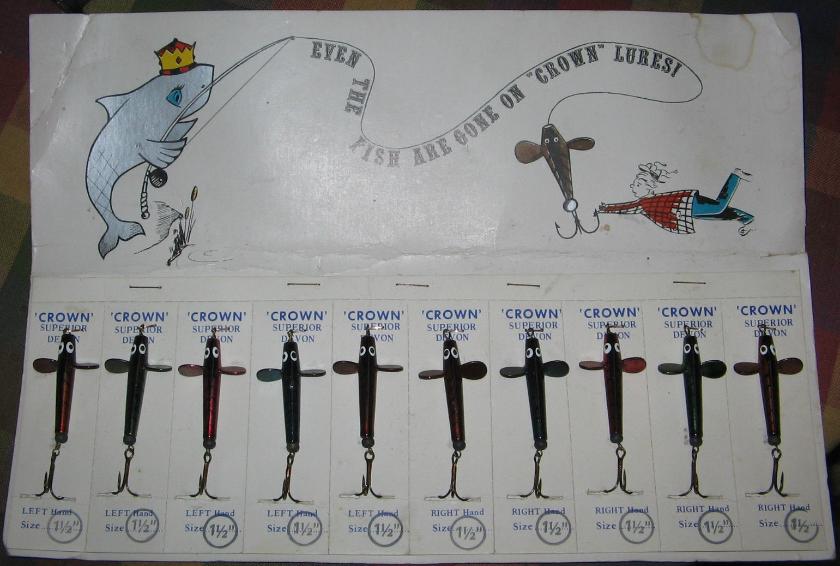 (Above) A classic early display piece as they would have been seen in the mid to late 1960's. They appeared on tear off cards and were available in left and right hand spin and were still being measured in inches. Note there are no borders on the cards and eyes are bigger on the lures than earlier smaller eyed versions of the early to mid 1950's.