Whittys Lures - NSW :

Whittys Lures were made by John Whitfield of Glen Innes, NSW and were originally hand crafted from timber - they have forged a reputation as great native fish catchers. For quite a few years John carved them from timber then later had them moulded from plastic. They haven't been made for several years as John was forced to take a break for health reasons. Whitty's Lures are extremely well made and highly valued by collectors. The colour patterns have character and are easy to identify with wide scale back patterns and side stripes.
(Right) Whittys T Shirt graphics.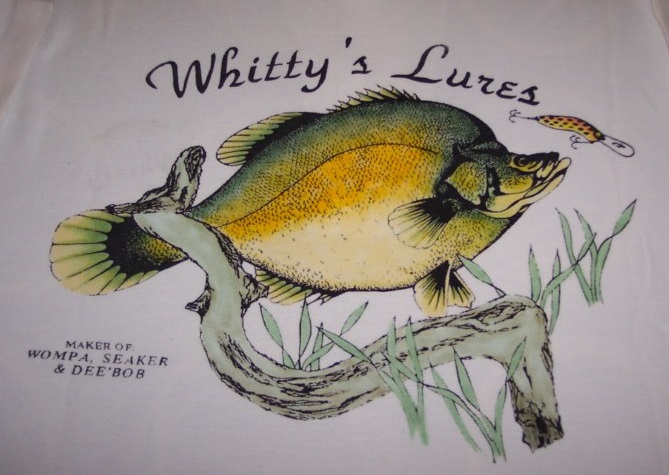 The lures shown below were photographed by Debbie Dare at Glen Lyon Dam when John Whitfield visited mid 2019. Many ogf these lures are from John's personal tackle box and date to some of the earliest Whitty's lures. Many have been signed.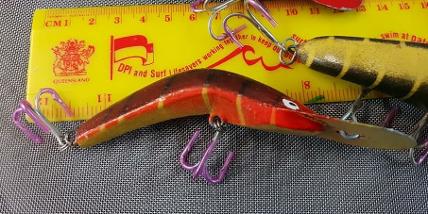 A fine 'Boomerang' influenced model with early paint job.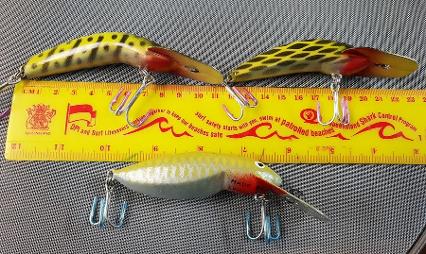 A 'Scorpion' shaped design with the deep spladed sides and earlier versions of later Whitty's models.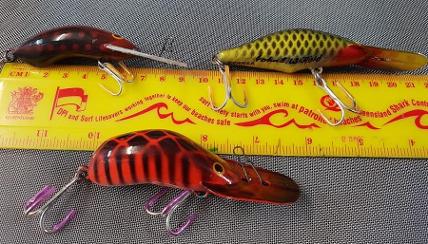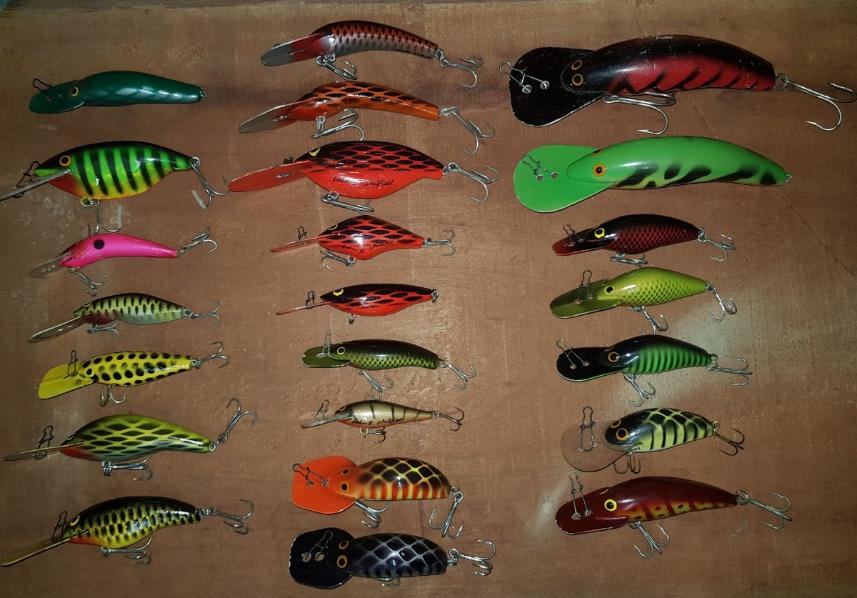 (Below) Shows two models and style of Whitty's cards. The card left is the earliest version with a metal bibbed 'Wompa'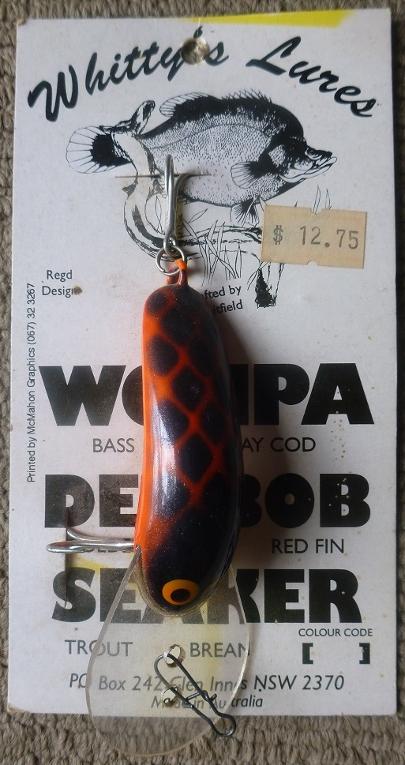 Some early metal bibbed Whitty's 'Wompa' models from John's tacklebox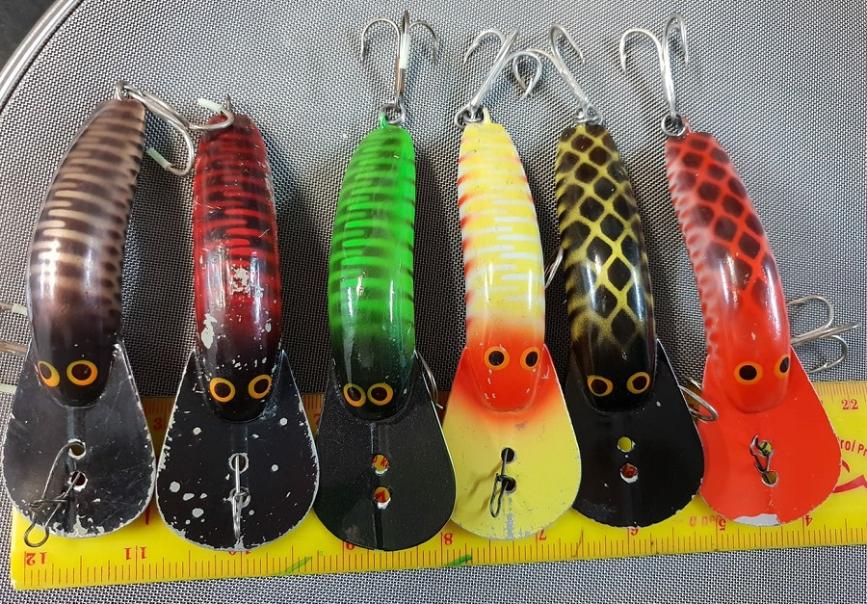 The images below were shared by Matt Fraser on the Lure Lovers forum and show some fine early 'Wompa' examples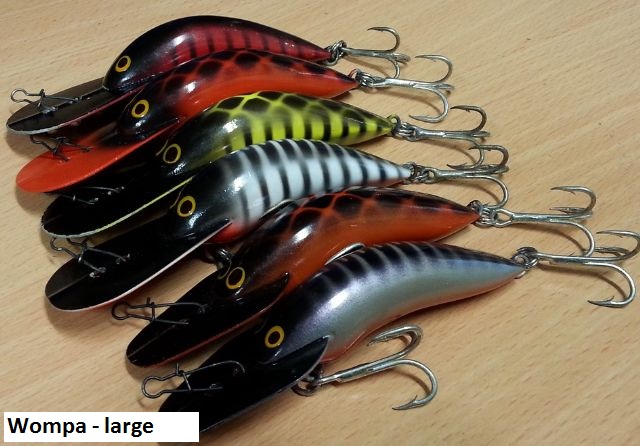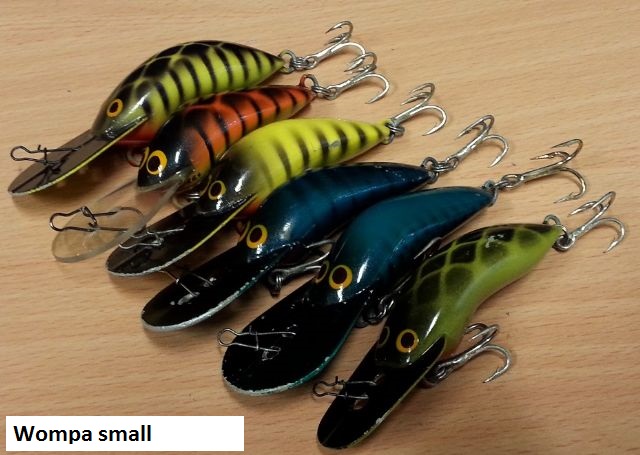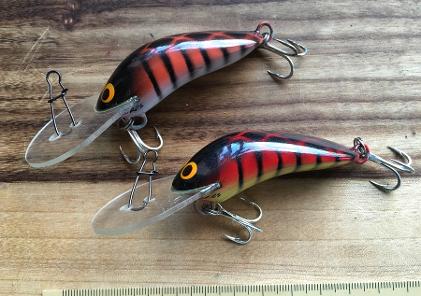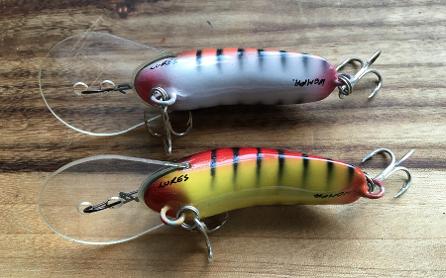 A fine group of Whitty's 'Seeker' models that have caught a few fish in their day.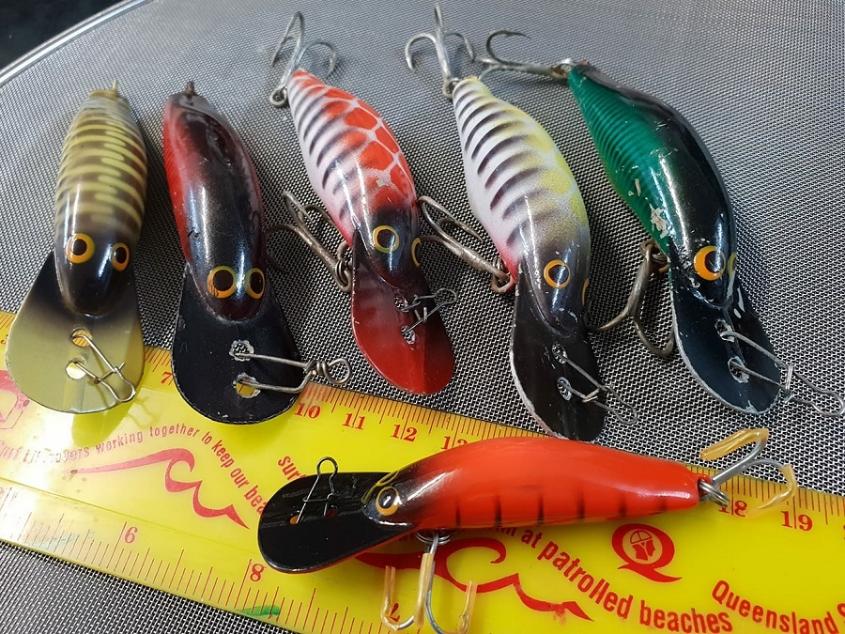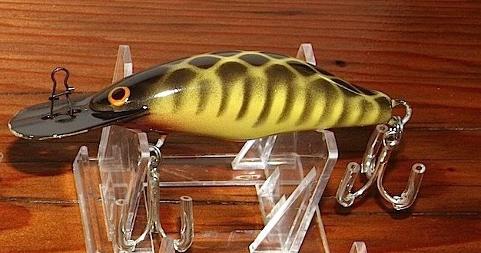 An early large 'Seeker' and a fine group of specimens including a rare small metal bibbed version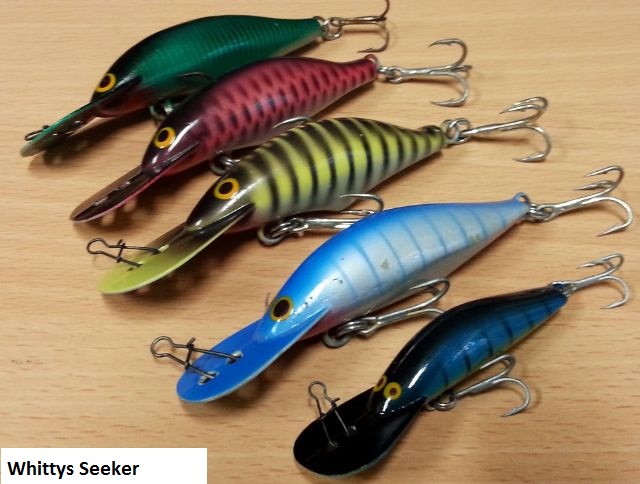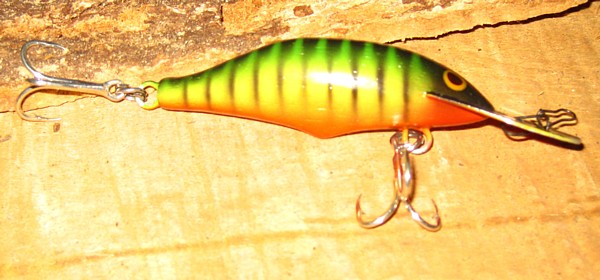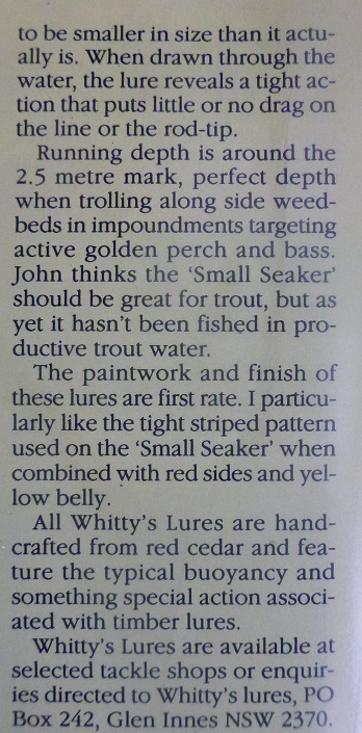 (Below) The extremely rare Whitty's 'Big Muma' showing slight bib variation. There is also a square bibbed version.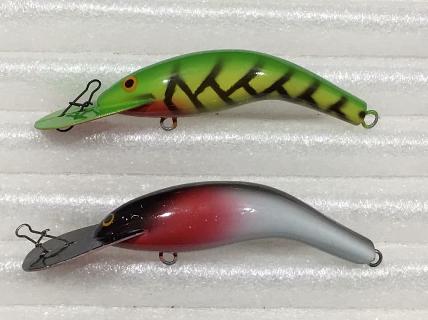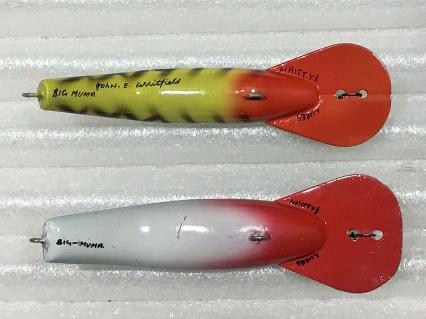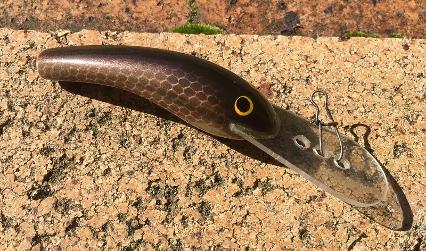 This lure was made by John Whitfield - a unique lure without a model name.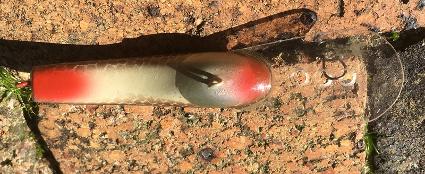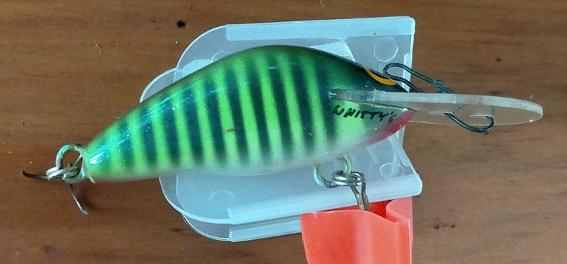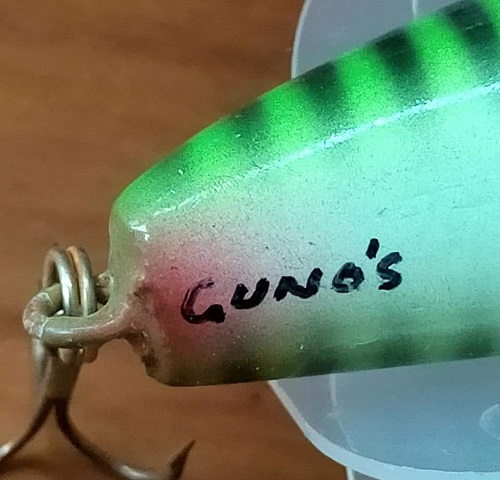 Whitty's 'Flatybait' is another uncommon Whitty's models which was only ever made in small numbers.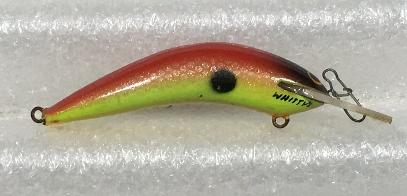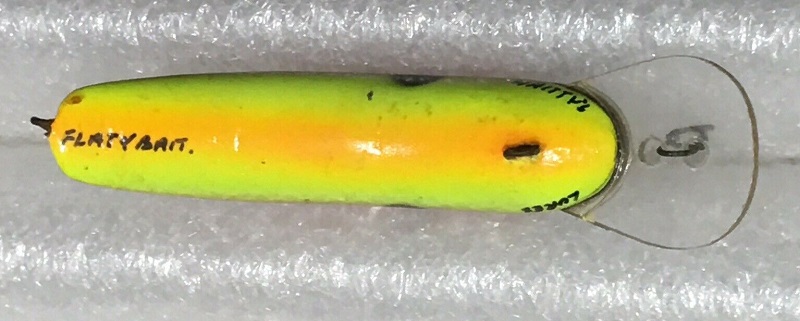 Whitty's 'Dee-Bobs' are possibly the most common of the lures made by John Whitfield.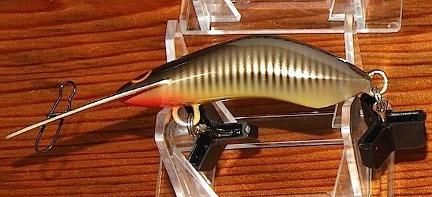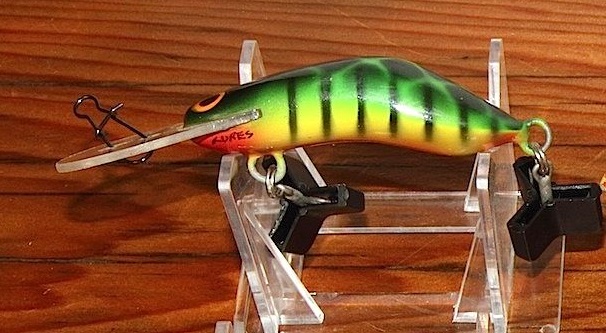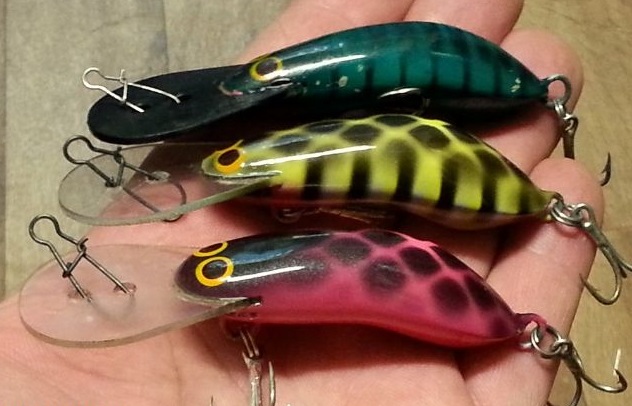 Early Dee-Bobs including a metal bibbed version