*Banner Image - Early non marked bibs Bennett-McGrath minnows
The history of McGrath Lures really starts with Bennett-McGrath Lures. The Bennett-McGrath lure story starts pre 1984 when John Bennett and Steve Mc Grath started developing an ultra light lure targeting trout and Australian native fish in the Albury/Wodonga region. By September of 1984, Bennett/Mc Grath lures was born and commercial production began. With little money, the business developed slowly and was successful until a major setback in July 1986 when the factory was destroyed by fire. The business was rebuilt and by 1988 the Bennett/Mc Grath balsa minnow was available in 7 colours (yellow attractor, electric blue, green tiger, frog, euro carp, tiger and rainbow trout). The factory was at 400 Griffith Road, Lavington, NSW. By the early 1990s, John and Steve were no longer in business together, Steve was about to put McGrath up for sale and John had just opened his own tackle store in the Philips Marine complex, in the New South Wales border city of Albury Wodonga.
McGraths, as they are now known start out as a rectangular block of balsa that gets turned into shape using a copy lathe. After the body is shaped it then has slots cut into it to take the frame and bib, and these are glued in. To protect the delicate balsa wood body, a special plastic coating is then applied to the lure, before it gets painted and the hooks and rings are fitted. Back in 1986 this automated style of production represented a real departure from the standard lure making method at the time, which traditionally involved carving out the lure body by hand and simply gluing the eyelets and bib directly into the wooden body.
The process was so radically different that at the time Rod Harrison described the Bennett McGrath production process as 'a quantum jump in domestic lure technology' and 'arguably the most sophisticated manufacturing technique amongst Australian lure makers' (Fishing World, November 1986, 'Balsa from the Borderlands').
There are some early skeleton variations in the Bennett Mc Grath lures before the final production models were formalised. There are examples in collections that have a brass and stainless steel skeletons however these are extremely uncommon. The lure below not only has the brass skeleton but is also an uncatalogued frog spot pattern - a special lure.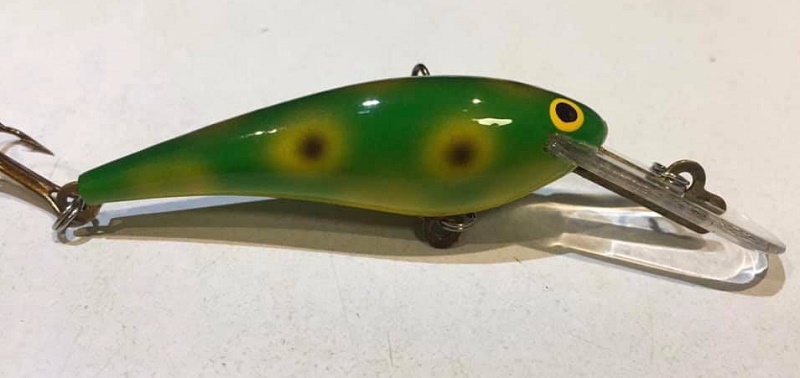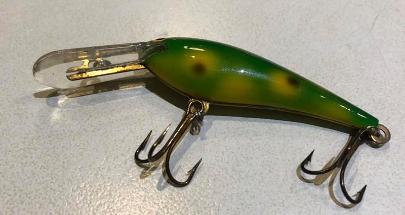 (Below) Shallow version of an early Bennett -Mc Grath minnow. There were fifteen colours available in 1991 after John Bennett had left the business. There were seven colours originally offered when John Bennett was involved as a partner.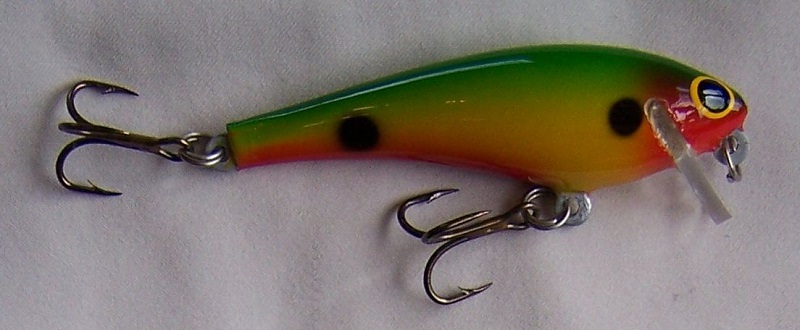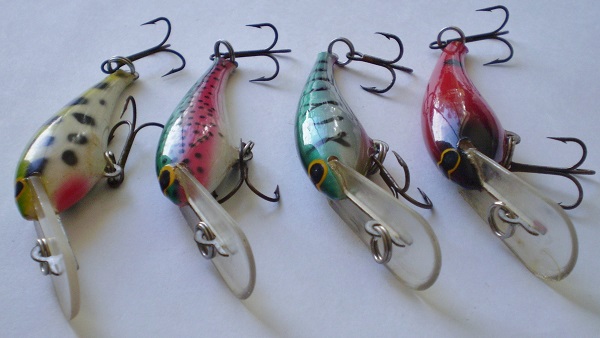 Bennett/McGrath lures will have no markings on the bib (above) where later Mc Grath diving minnows will be marked on the bib.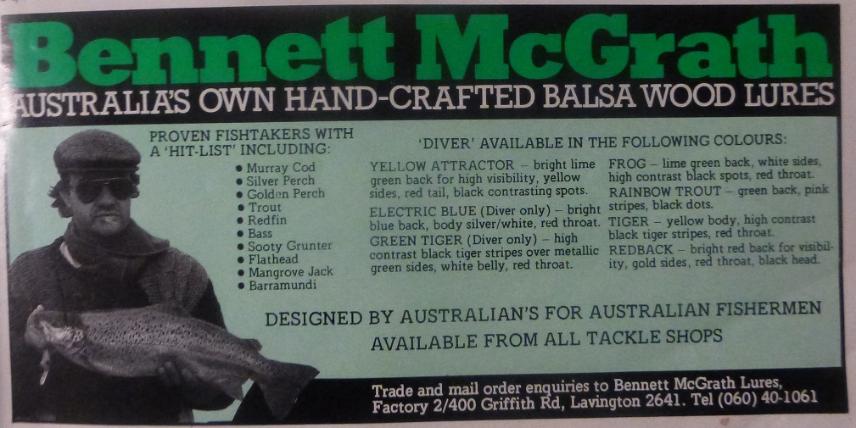 Mc Grath Lures:
Mc Grath Lures carried on the original design by John Bennett and Steve Mc Grath after the business partnership separated and by this stage the design was well recognised as an excellent fish catcher especially suited to impoundment trolling. John and Steve were no longer in business together, Steve was about to put McGrath up for sale and John had just opened his own tackle store in the Philips Marine complex, in the New South Wales border city of Albury Wodonga. By the early 1990's there was a range of 15 standard colours available. The promotional material opposite was available to potential retail stockists and included a colour photograph of the Mc Grath range,
By 1992/3 there were 2 new colours added to the range - brown trout and fluoro pink which was reviewed in Freshwater Fishing magazine in 1992.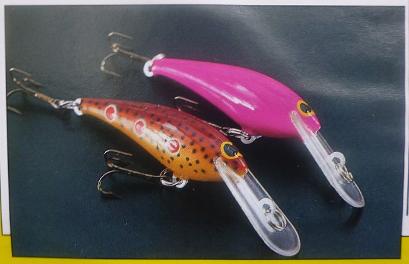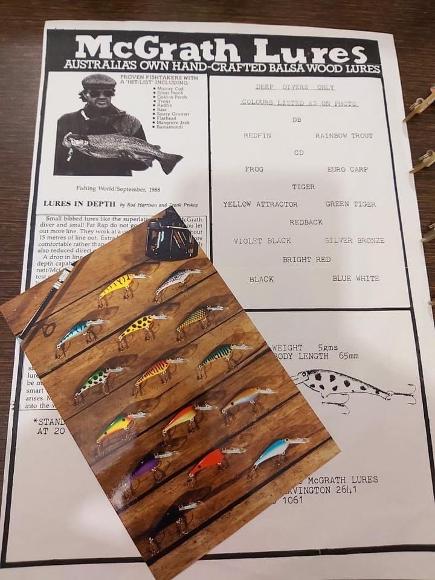 Note the lures above have unmarked bibs so if you have a Mc Grath lure in either brown trout (17) or fluoro pink (16) and the lure bib has no markings you will know that it was made in the transition period when the colour charts changed from offering 15 colours to 17 colours. It makes sense that these colours would have been in production before the release dates with prototypes and final decisions being made.
McGrath Lures advertisements opposite from Freshwater Fishing in 1991 (left) and 1992 (right). There were 15 colours offered in both.


Below shows the 17 colours after these were added




Above shows the first style of packaging dating to 1991/92. Lures will have unmarked bibs.
The advertisement below dates to 1992 and shows the original 17 colours and the larger style marketing.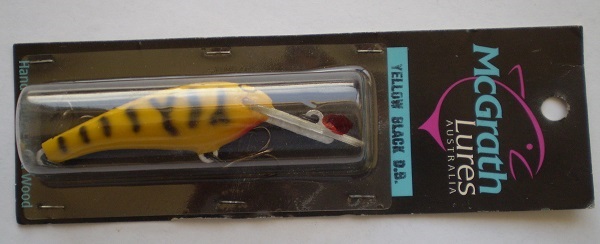 Fourth generation packaging had black background and blue text box for colour. This lure has an unmarked bib and is actually a Bennett - McGrath model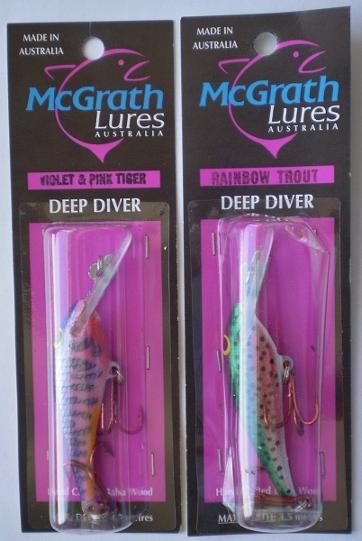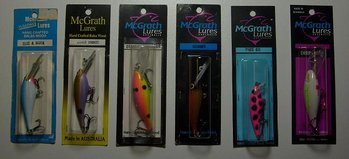 Above shows the most recent packing c.2014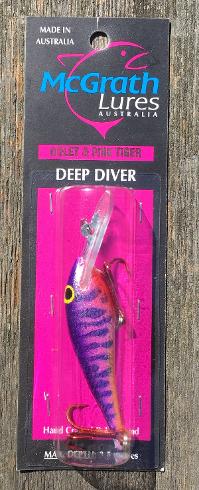 The Harbord Tackle Supply catalogue for 1994 lists 17 colours however colour 16 (fluoro pink) now has the black stencil marks similar to colour 7 (yellow black CB)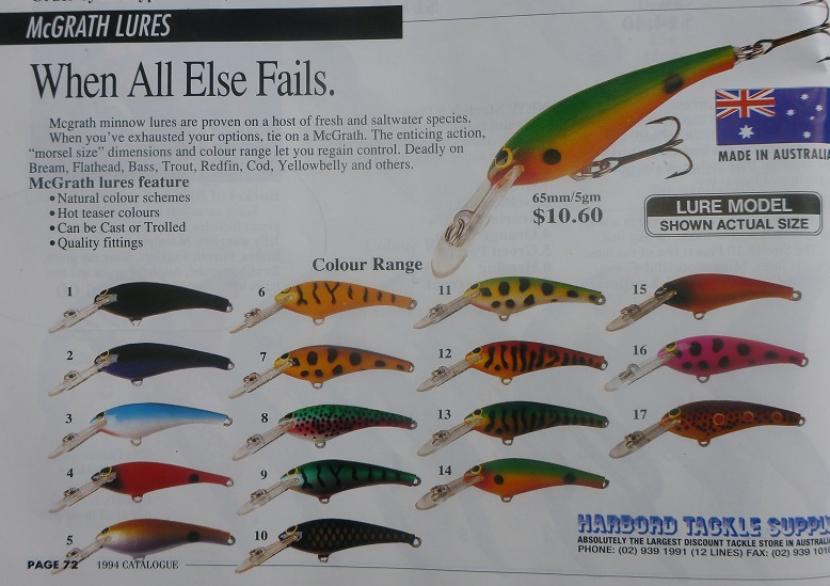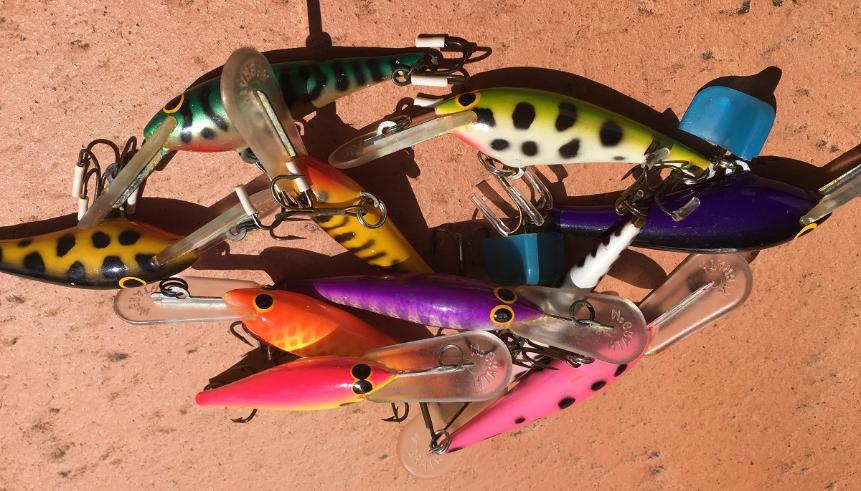 Left shows an early Mos Catalogue - the numbers do not correspond with the Mc Grath numbers as they normally only carried a part of the range however in this case they carried 16 patterns. Notice also the Mcgrath 'Wide Body' advertised.