Esoteric Lures - Jerseyville, NSW:
Ted Sartori has been hand making lures since the mid to late 1970's with a huge range of timber diving lures. Esoteric lures include laser cut bibs, twisted wire hook hangers and are airbrush finished using 2 pac epoxy finishes. Ted is a master lure maker who loves a challenge and will happily experiment with lure patterns for individual orders or specific fishing applications;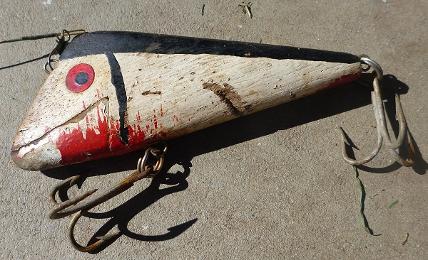 (Above) An early Esoteric bibless offshore trolling lure that dates to the early 1980's.
The lures shown opposite are some early Esoteric lures dating to 1979/80. The tangerine coloured lures have the characteristic triple wonky eyes that Ted does purposely. These lures were purchased on Ebay in 2013 and were identified by Ted as being made from Tasmanian Oak and named the 'Shot' - this name was shortened because the lures were 's$£% hot'. The 'Shot' series includes the 'Hot Shot', 'Big Shot', 'Long Shot' and 'Mini Shot' as shown which measure 4-5cm.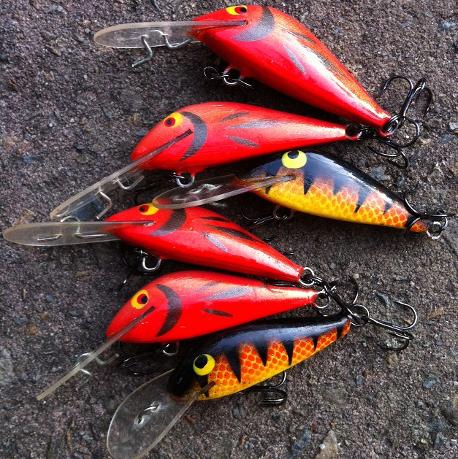 The lure above is the Esoteric Big Rock Prawn with claws. In 2010/11 Ted went through his crayfish stage and made some amazing large lures that mimicked large crayfish, yabbies and prawns.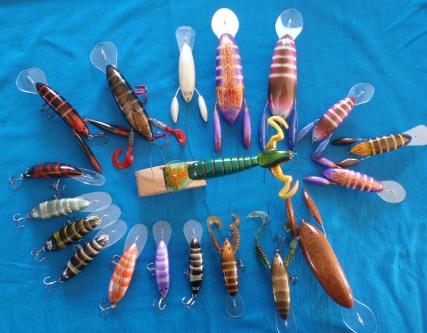 Left is shown some of the yabby and shrimp creations including the 'Mantis Shrimp', 'Hoik Yabbies' with nips, Hybrid yabbies with soft plastic nippers and standard 'Hoiks' which are shown below.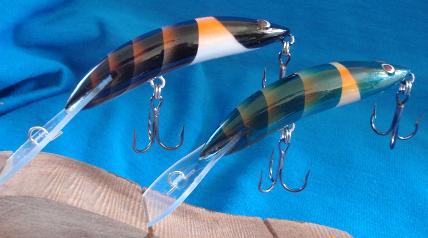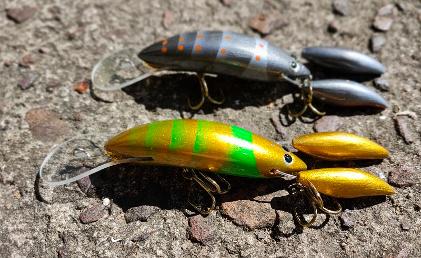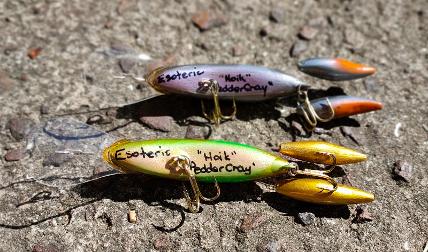 Above shows the Esoteric 'Pedder Cray Hoiks' that were made for the Pedder Homebake competition in 2012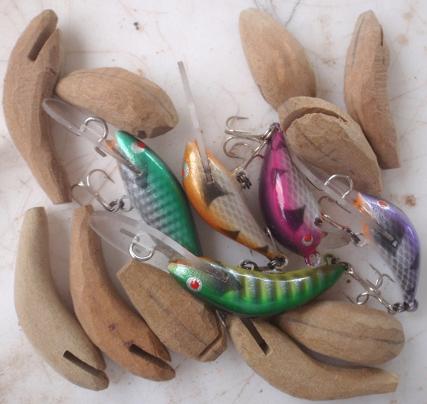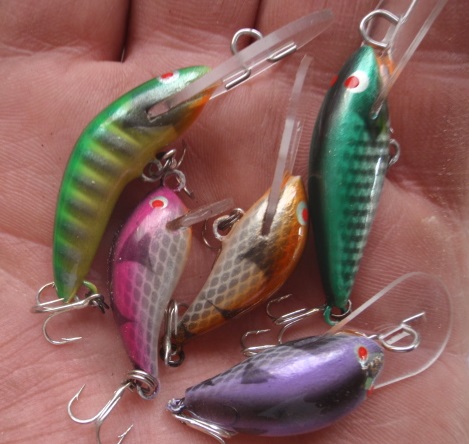 The lures above are some of Esoteric Lures smallest ever creations including the 'Titch' which are between 3-4 cm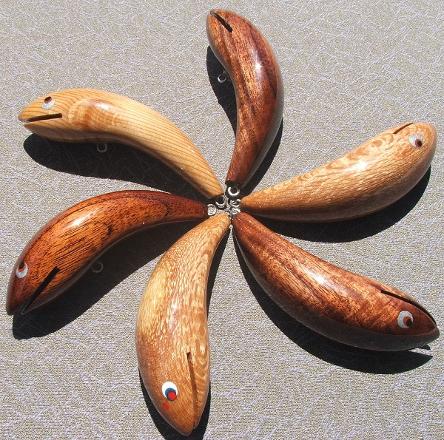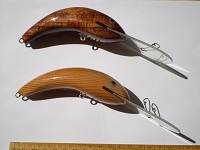 Left shows the Esoteric 'Bent Stick' Medula Series c.2011 before bibbing.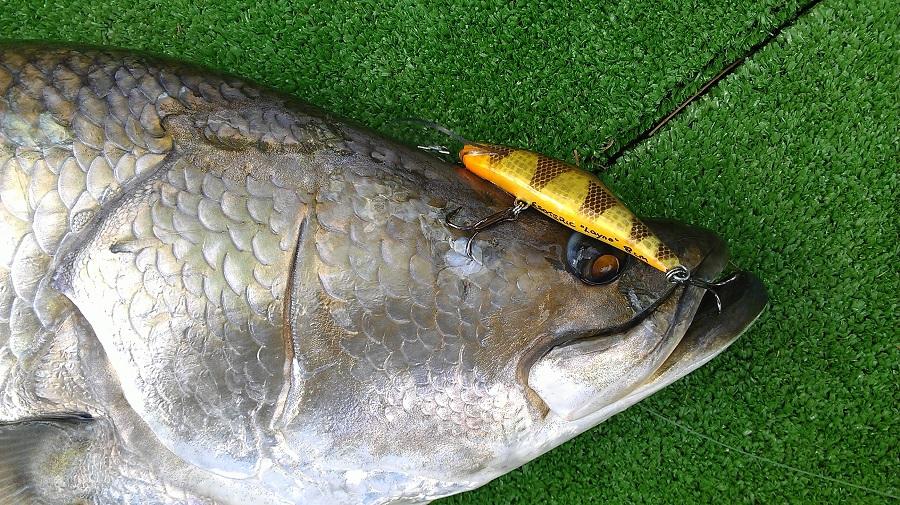 It is not possible to list all the models that Ted has made and developed over the years however these photos will tell the story and show how versatile Esoteric Lures are - these is a lure for most applications.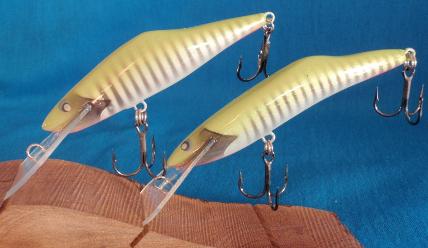 Above is the Esoteric 'Layno', a highly successful lure on natives including barramundi as shown with the 80cm fish shown below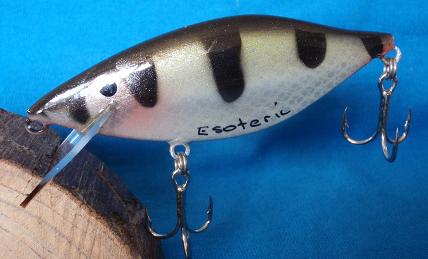 The Esoteric 'Archer Fish'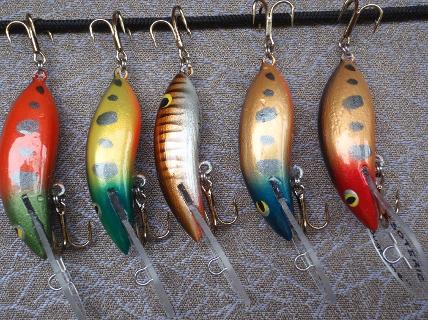 Above is the model 'Buggame' an extremely good bass lure that has proved highly successful downrigged for yellow belly too.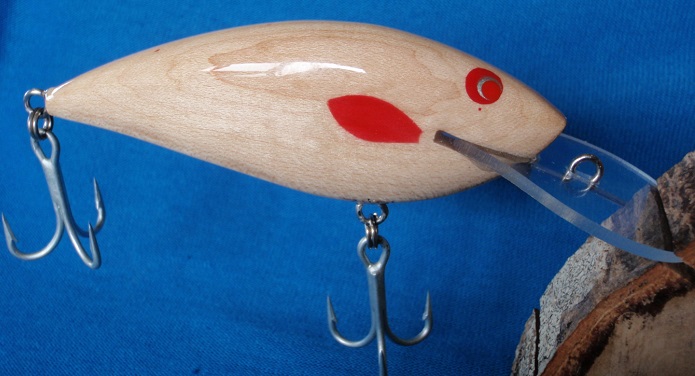 The 'Mondy Special' made from Canadian Maple
Possibly one of the most incredible lures that have been made by Ted in recent years is the 'Quasi' which is named after Quasimodo the Hunchback
. The photo right shows the profile from the front - constructed from a laminate of timbers that includes silky oak, banksia and cedar.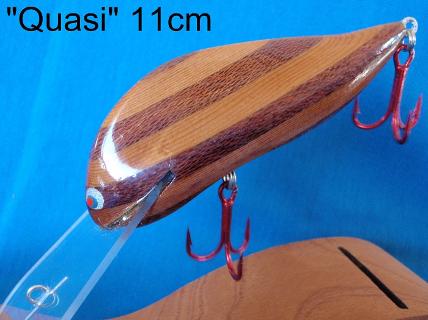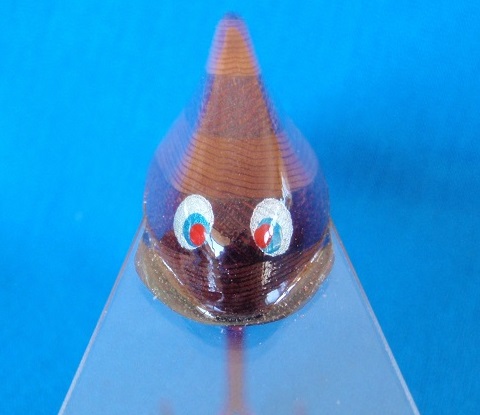 The physics behind this lure really suggest it shouldn't swim however it has one of the most amazing shapes and actions in the water - a spectacular lure.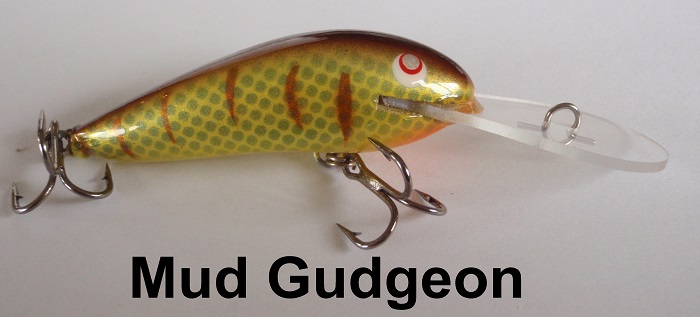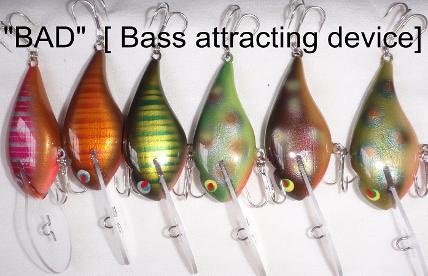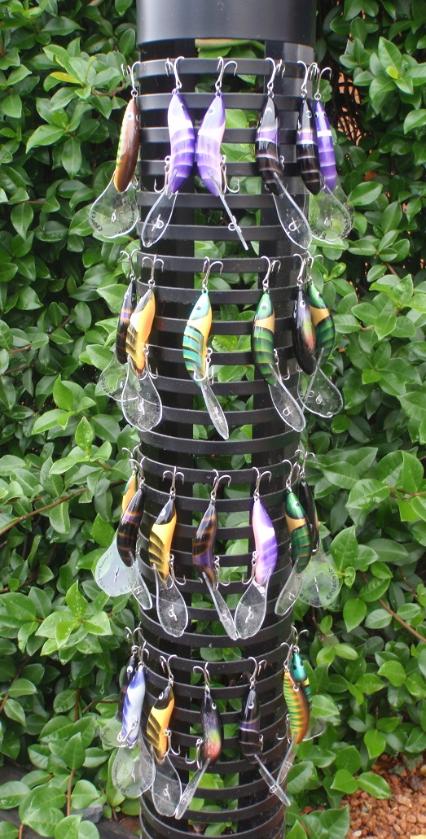 (Above) Esoteric 'Hollagut'- There were only ever 6 of this model made
Left) The 'Lure Tree' made up of XD 'Rock Prawns' and 'Hoiks'.These lures are used for deep trolling and will reach 6m+ in depth.