Fresco Lures/Sydenham Products Pty Ltd - VIC
Sydenham Products Pty Ltd:
Sydenham Products was a large manufacturing company from Melbourne, Victoria. Many of the Sydenham products were made and distributed under their own labels and will be marked as shown. It seems that from the mid 1960's the lures were no longer stamped with the Sydenham label but just the model name and the weights which will be measured in pre-metric ounces. This is when the company can be traced to the S & M Manufacturing Co.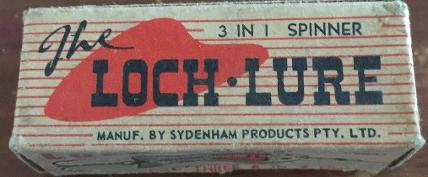 The lure shown below is an uncommon model that rarely shows up in the original packaging. The Sydenham 'Loch Lure' claimed to be a 3 in 1 spinning lure and is similar to the later Chameleon with movable plastic wings that was marketed under the Fresco banner.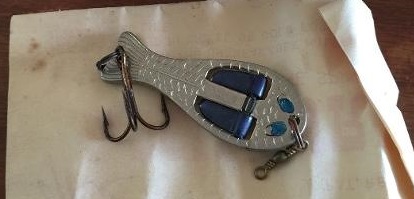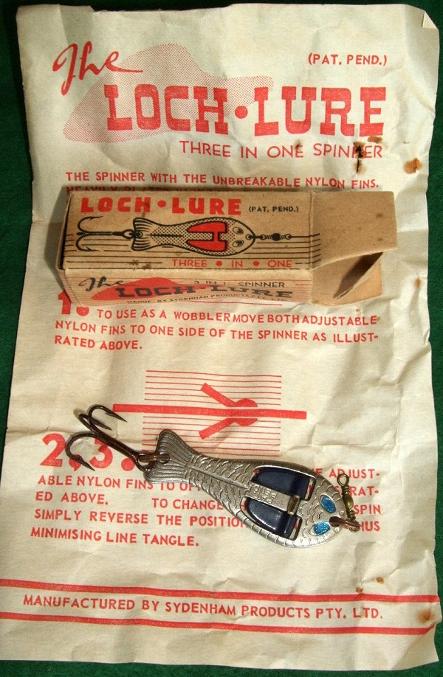 Fresco Lures with the logo 'Fish with Fresco' were a lure brand of Sydenham Products manufactured in Melbourne, Australia. These lures were made during the 1960's and including a number of copies of popular lures of the time including the Fresco 'Duchess' which was a a straight copy of the Abu 'Toby' spoon. Fresco lures will be marked with manufacturing name and weight in ounces. They were also made by S & M Sporting Goods in Carrum Downs.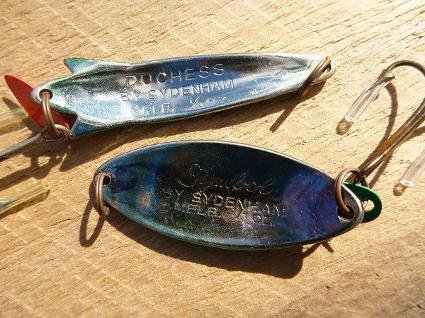 Early Fresco lures in two piece plastic boxes showing box markings which will have Sydenham Products, Melbourne, Australia. It seems that Fresco took over or merged with Sydenham Products after 1965 and later models will not have the Sydenham markings. Underside showing markings of Fresco 'Duchess' and 'Symbol' - small spoon lures.
Fresco catalogue below dates to 1965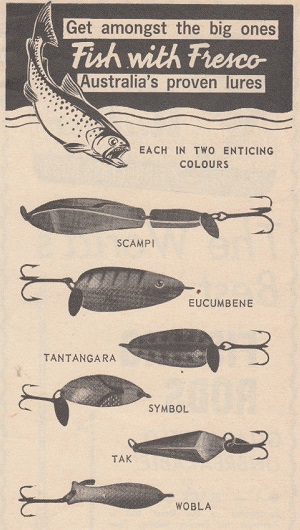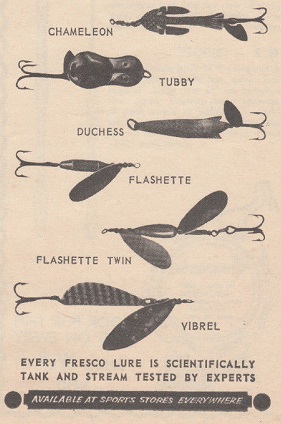 Fresco 'Chameleon' - marked with Sydenham label and one of the more interesting lures ever released. It came with replacement wings in three colours as shown. Patents in Australia, New Zealand and United Kingdom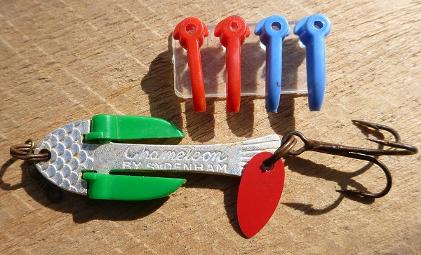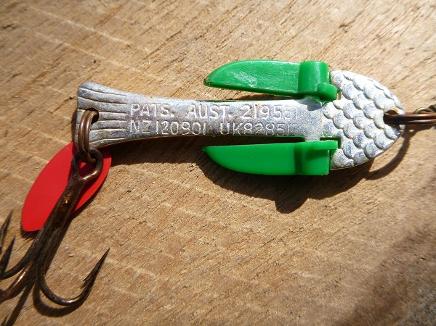 Fresco 'Scampi' - marked Sydenham Melb. 1 oz and one of the heavier lures ever released by Fresco. Have seen them with red and green plastic tail piece but this one has light blue.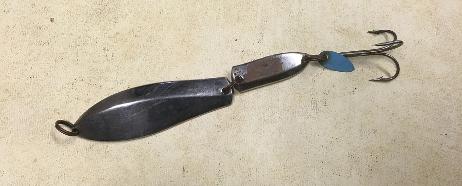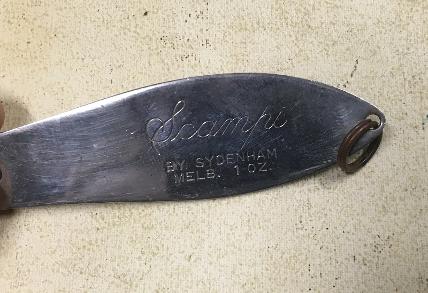 Fresco 'Wobla' - showing two different markings. A small wobbler style spoon that came in a large range of colours.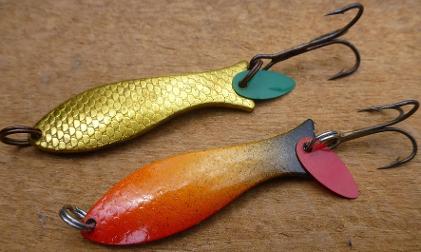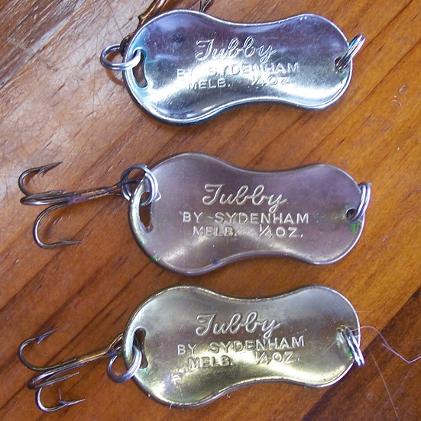 Fresco 'Tubby', an original shaped spoon and not that common. Will be marked on belly as shown below with name and weight. Carded lure below is a later version of the Tubby. This was the way Fresco lures were sold after the plastic boxes were stopped. Unsure of exact dates when this happened but probably after 1966 when Australia went metric.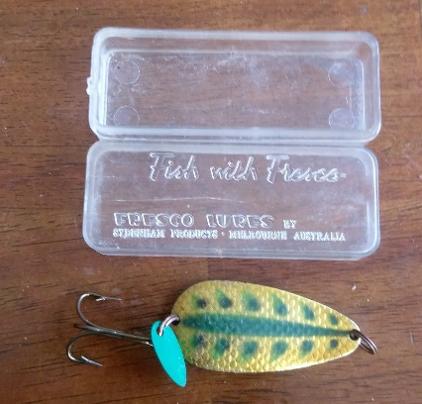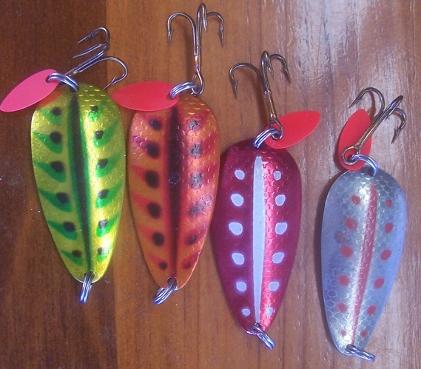 Fresco 'Tantangara' was a smaller sized spoon than the 'Eucumbene' and weighed 1/3 oz. Named after the famous Snowy Mountains dams that were stacked with trout. Fantastic spoons that have always caught fish. The lure left is an earlier version of the Tantangara and there is a couple of ways to tell the difference. The rear plastic attractor changed from green to red plus the paint finishes changed.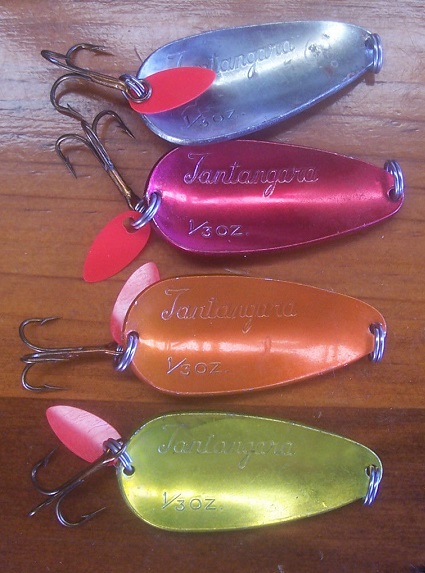 The

Fresco 'Eucumbene' is a smaller sized spoon that is 1/4 ounce in weight.' It is a classic and highly effective metal lure that is named after Lake Eucumbene, NSW Snowy Mountains which is a renowned trout fishery. They were released in at least 10 colours (some are shown here) - interestingly, the colour patterns used are one of the ways to recognise Fresco. Above is two earlier versions with original plastic boxes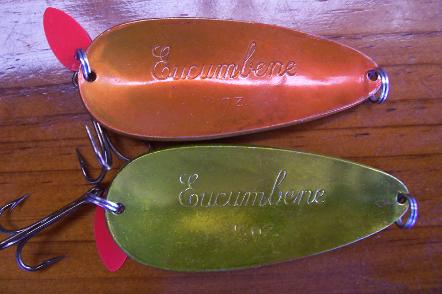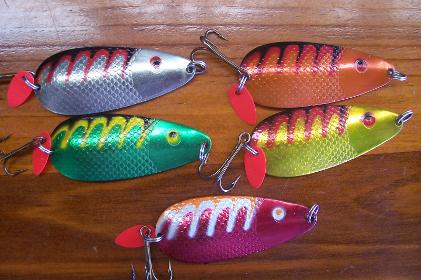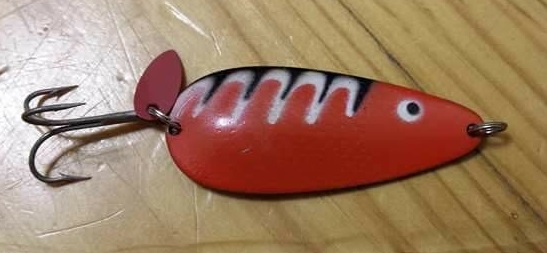 Below is shown the Fresco 'Flashette' spinner. This one is marked with the Sydneham markings and it is shown in the Fresco range c.1964. There was also a model called the 'Flashette Twin' which had two spinning blades and a different shaped body.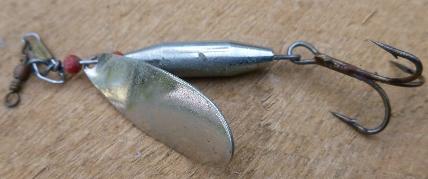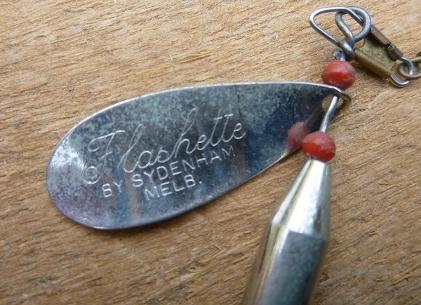 Fresco 'Duchess' spoons which were exactly the same as the Abu 'Toby'. The carded lures opposite are now made by S & M Sporting Goods in Carrum Downs. This model stayed through the range for many years and will be found with Sydenham makings also.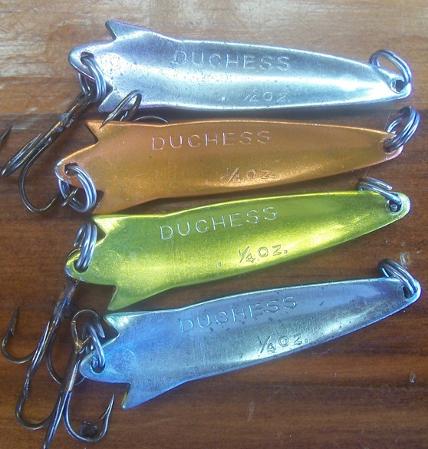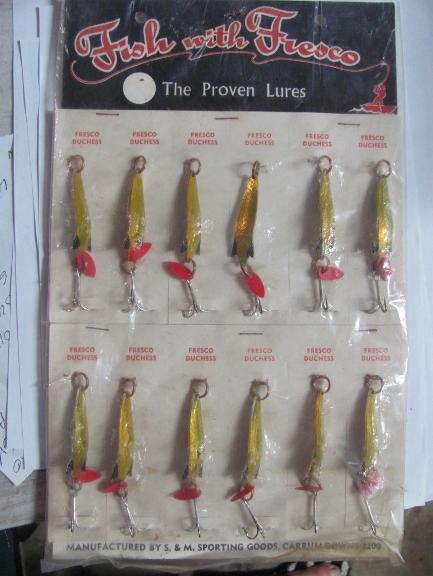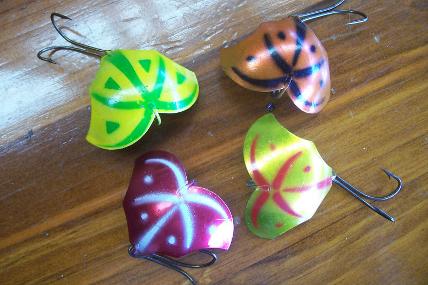 Fresco 'Vibrobats' - these are the small metal versions. There were a number of manufacturers of the Sonic Vibrobat which was originally a USA made lure.
Fresco used the same paperwork as used by S & M Manufacturing in 1971 and it looks like they took over manufacturing rights after this until production ceased. Plastic and metal Vibrobats have also been made by Curleys lures in more recent times.
The publication by the Victorian Piscatorial Council for 1964/65 features a Fresco advertisement on the back cover. 12 models were available which are shown in the 1965 advertisement showing all models. There was definitely more than two colours available into the late 1960's.