Australian Lure Manufacturers E

If you know of an Australian lure maker no matter how young or old that we have not mentioned in the following list feel free to contact us to have the details added or updated.
*Banner photo is the Esoteric 'The Craw' No 1 - full sized adult Murray River crayfish c.2011
East Coast Lures - NSW:
Mick Munns from the Central Coast, NSW made alot of interesting poppers and fizzer style lures for native fish like Australian Bass. The lures are no longer being made by Mick but much of the machinery and templates were sold to Next Bend Lures.
Below shows the 'Tiny Tantrum', 'Mungrel' and 'Dizzy 2' on the Easy Coast Tournament cards.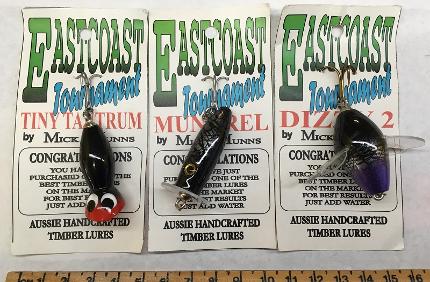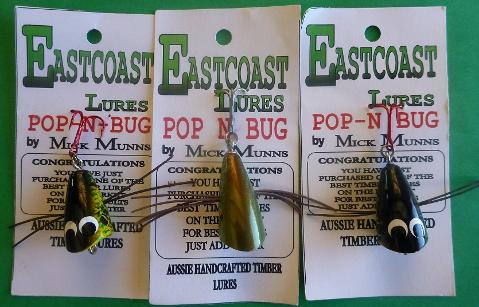 'Pop n Bug' shown below right on original East Coast cards.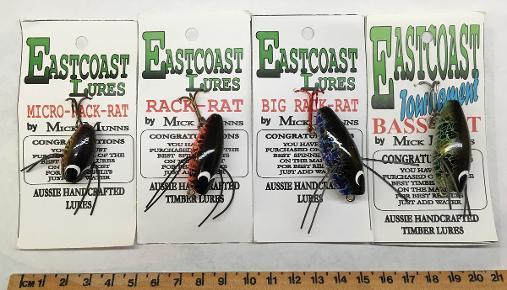 'Micro Rack Rat', 'Rack Rat', 'Big Rack Rat' and 'Bass Rat' shown on original East Coast cards. Right is the 'Wiggle Whort' and 50mm 'Rover'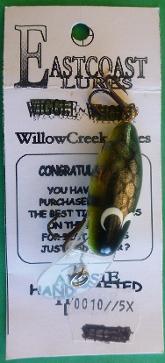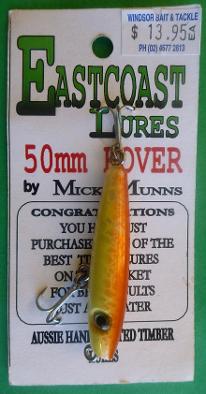 Echo Lures - ACT:
Echo Lures are a high quality timber lure that are made in Canberra by Daniel Orwin. Excellent finish with some real innovative designs and fine air brush work. All photos were kindly supplied to Lure Hub OZ by Echo Lures.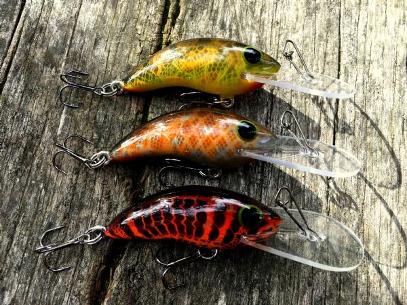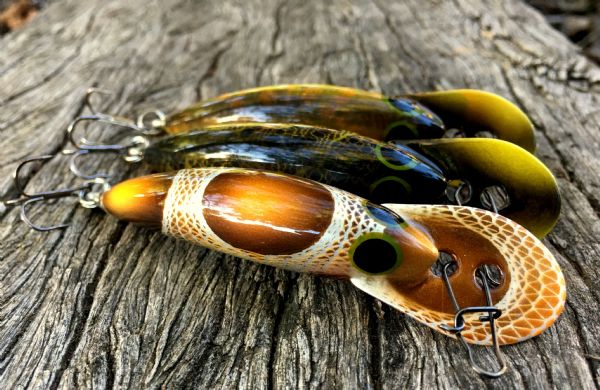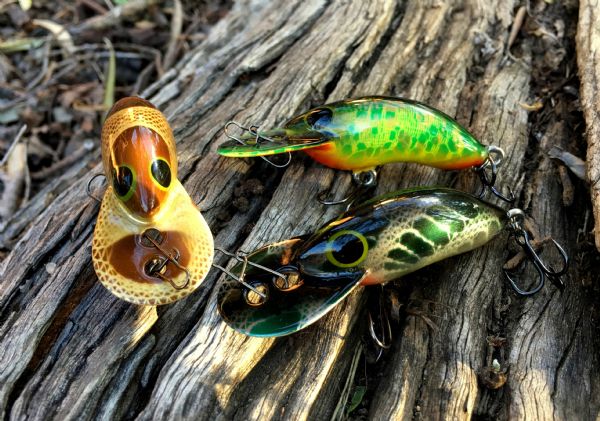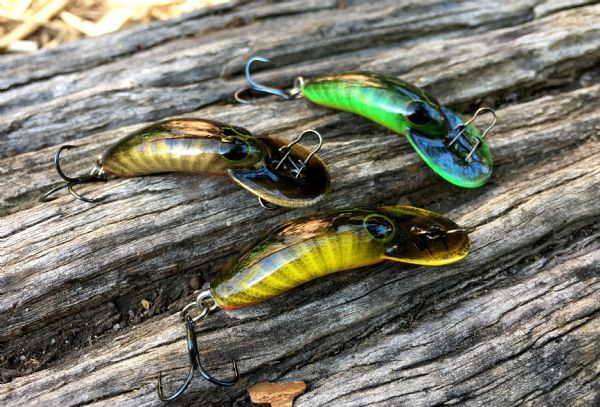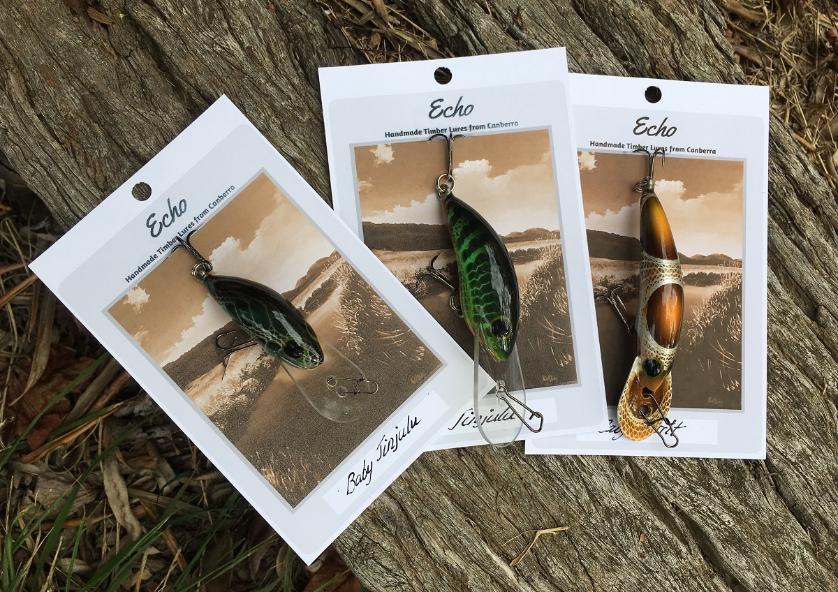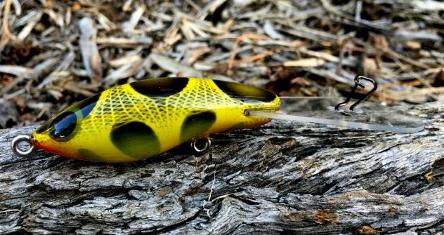 Above - Echo 'Eurabbie'
Right - Echo 'Jindy Eurabbie'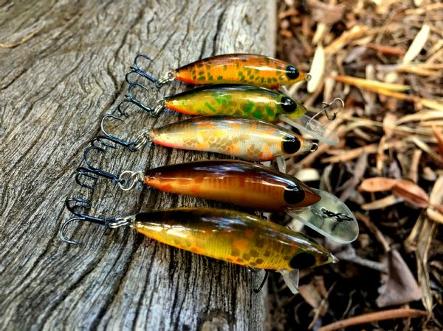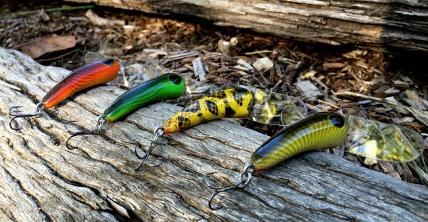 Above - Echo 'Plunkett'
Right - Echo 'Jindy Marlock'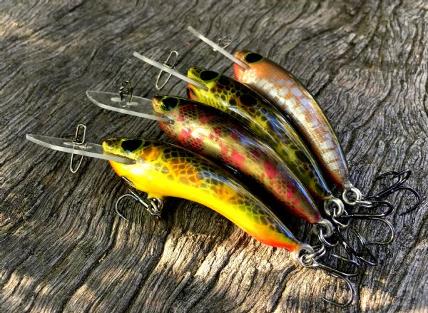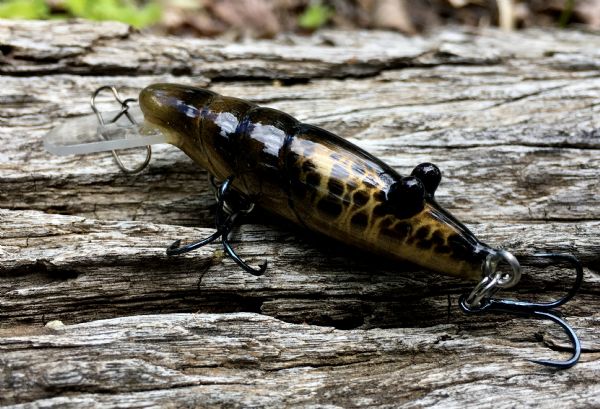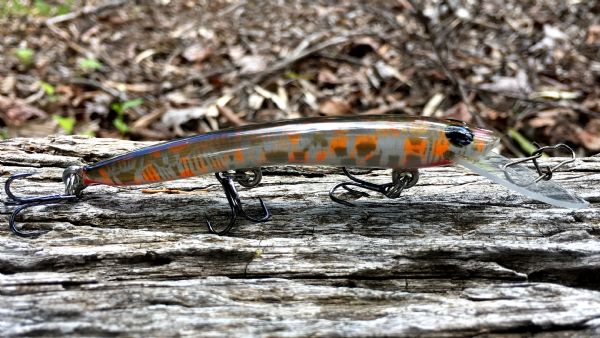 Left - Echo 'Nawa'
Above Echo 'Jounama'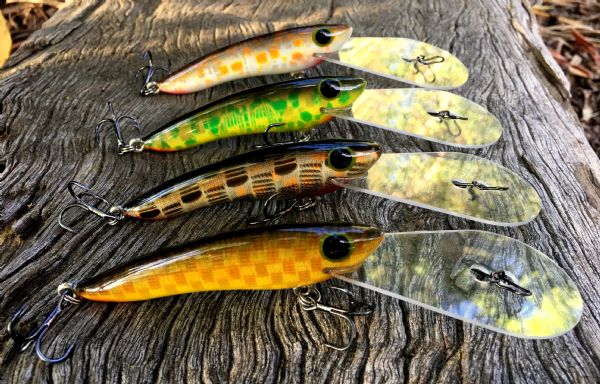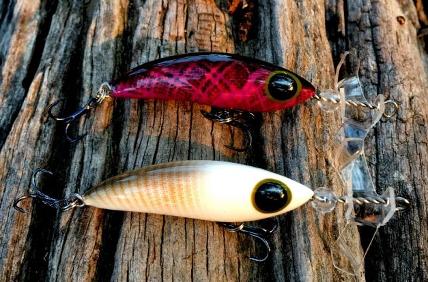 E &D Lures - NSW:
Quality handmade timber lures made in Inverell by Edward O'Dell. Hobbyist maker who only ever made lures in small numbers with the 'Cod Muncher' model. Lures shown date to 2010 and feature dolls eyes and treble hooks are attached without split rings directly to eyelet.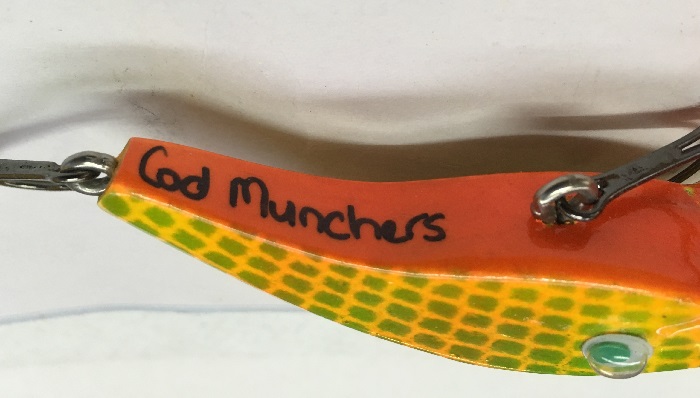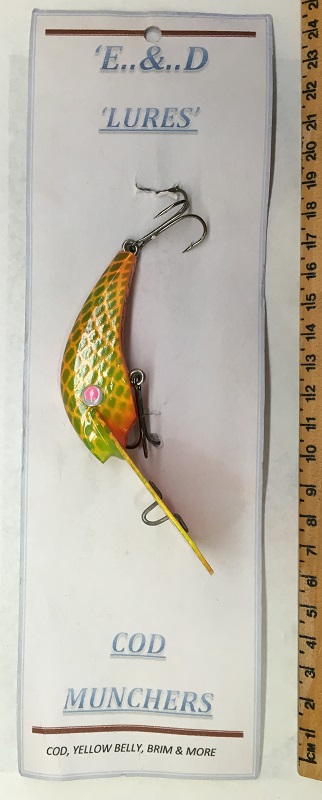 Eddy lures - QLD:
Dave Edwards was born and schooled in Brisbane before marrying and settling in Toowoomba. His love of fishing gave Dave and a chance meeting with Peter Newell and this inspired him to try his hand at lure making more seriously. The deeper diving lure formed into the 'Stinger' and 'Dam Buster' patterns in 1988 and were made of cedar. By 1989 with demand outstripping supply the lures, Alan Dolan from Lively Lures was enlisted and the lures were moulded in plastic. By mid 1993 two new models, the 'Mini Dam Buster' and 'Wasp' were released. Acknowledged as reliable fish catchers in fresh and saltwater the deep version of the 'Stinger' was released by 1995 along with the Magnum 'Wasp' and the large Stinger.
See full page bio . .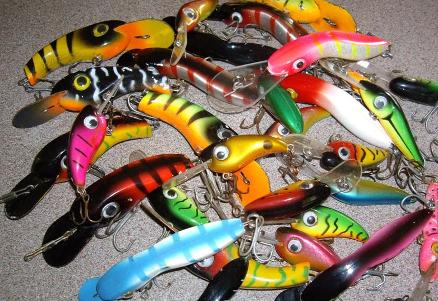 Eden, Bob Eden lures - QLD:
Another rare Queensland lure that was made in Burnett Heads. Large bibless trolling or bluewater lures characterised by hand painted glitter eyes and classic shape. Made in the 1990's and little information available.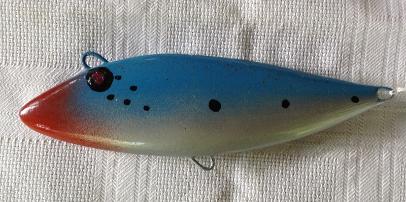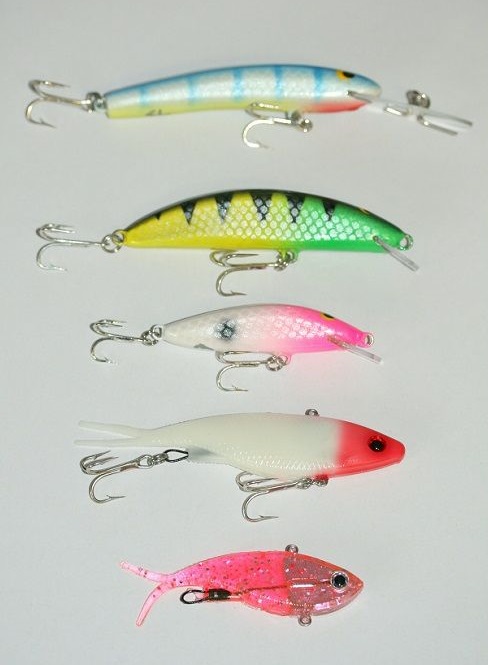 Eden Lures - QLD:
Currently available and made by Roy Priestley is a nice range of hand crafted timber lures and various other designs. The lures left were posted on the Lure Lovers forum in 2014. Models currently available include the 'Slappa' (95mm), 'Prawn' (95mm), 'Barra' 95, 120, 150, 'Basstard' (65mm deep and shallow), 'Grub' and 'Topdogz'. Eden lures also do a number of nude timber lures and laminates.

Edwards, Norm Edwards Lures - QLD:
Another highly respected lure maker from Queensland who built a reputation for making high quality hand carved lures that were successful in catching large fish. Norman Edwards marketed his lures under his own name and was selling a number of models in 1982 however had started making lures a number of years earlier. Looking at his lures today as hand carved masterpieces, Norms lures have held up over time. See full page bio . .
Eisen Lures -NSW:
This lure came up for sale on Ebay in 2018 and is labelled 'Eisen Lures' with an old phone number with (066) prefix. This indicates the lure originates from the Ballina, Casino, Coffs Harbour, Grafton, Lismore or Murwillumbah area since (066) was the telephone area code for these areas. This dates the lure to pre-1996 and style of lure fits these dates and it may have been made much earlier. No further information has been found.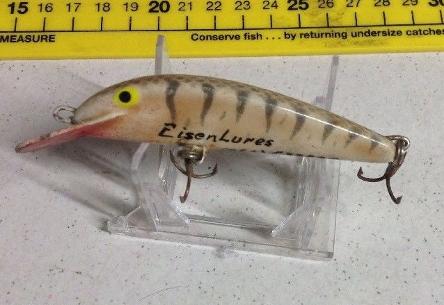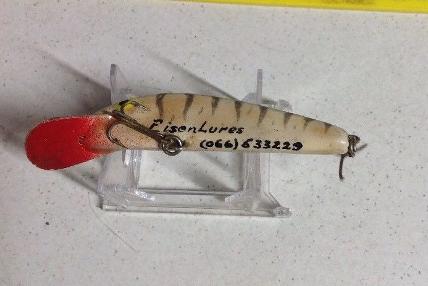 Elders 'Country Catchers' Lures - NSW:
Made by Frank Elder from Narrabri many years ago. Uncertain of exact dates when they were made and little information is available about Elders Lures however the advertisement opposite names the lures Elder's 'Country Catchers'. PO address in Narrabri with pre 1995 phone number.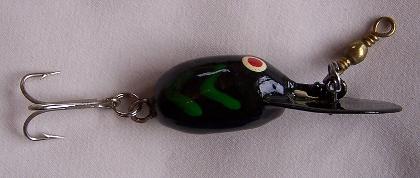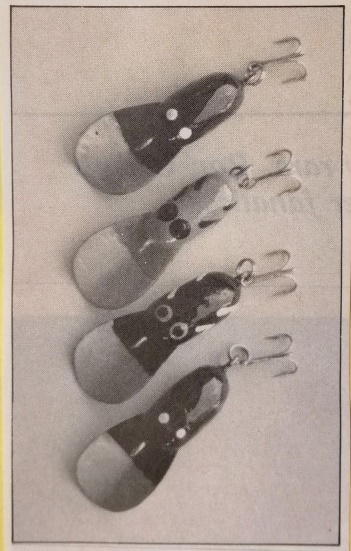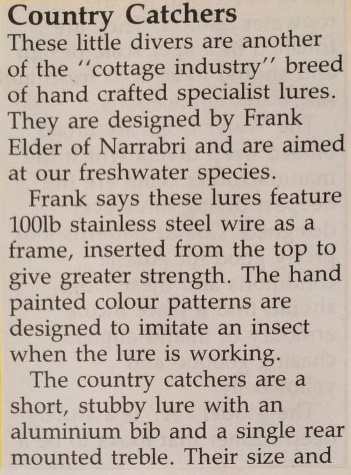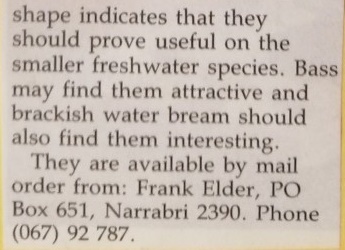 Elliots Lures - NSW:
Mick Elliot started making lures in 1983 and his 'Darwin Dart' became a popular fish taker. Originally they were all hand carved from timber however due to demand Mick invested in a copy lathe and by 1989 was making all his lures in moulded plastic. See full page bio under Elliots Lures.
Elvins Lures - NSW:
Elvins lures were made by RP & KJ Elvins (Dick and Karen Elvins) and are the wooden forerunners to the Gwydir Gobbler. Characteristic bib with two large holes for towpoint.
There is also a connection with 'Disumat' and 'Sumat' lures.


Emperor Lures - QLD:
Emperor Lures were made in Deagon, Queensland and are a vintage hand crafted timber lures from an unknown cottage maker.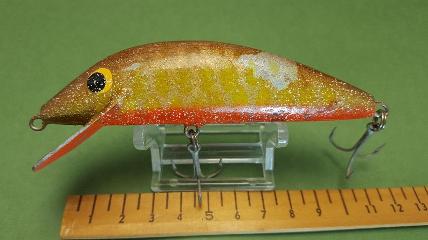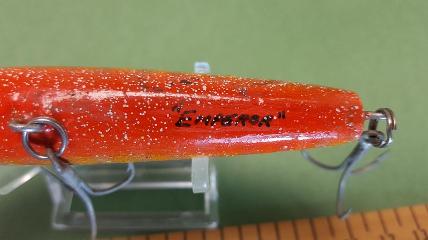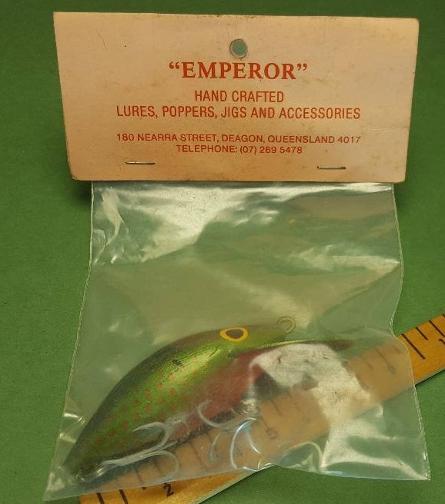 Emperor Lures are signed near the tail as shown left. Unsure if all lures were signed.
EMU Lures - TAS:
An obscure Tasmanian lure from the mid to late 1960's/70's with a cobra style bent body, handpainted foiling and an interesting stepped wing design that looks to have been hand cut. No current knowledge of maker or region in Tasmania where they were made however they were advertised in the Melbourne Sports Depot catalogue for 1963/64.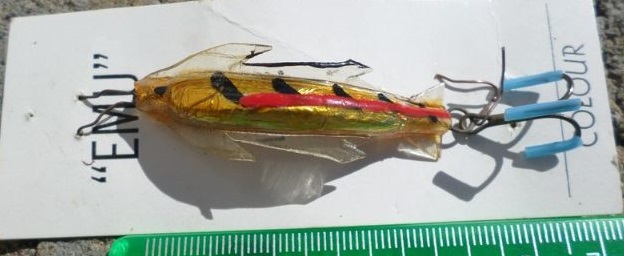 As shown in the photos there are two types of card. Unsure which is the older version as one card has a crossed out Registration number and the lure is called the Emu 'Wobbler'. These lures do show up reasonably often in vintage tackle lots and are quite recognisable.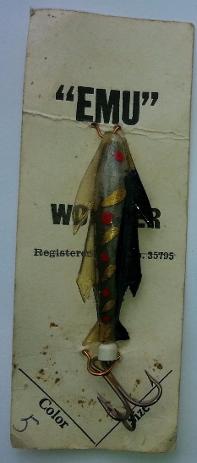 Esoteric Lures - Jerseyville, NSW:
Ted Sartori has been hand making lures since the mid to late 1970's with a huge range of timber diving lures. Esoteric lures include laser cut bibs, twisted wire hook hangers and are airbrush finished using 2 pac epoxy finishes. Ted is a master lure maker who loves a challenge and will happily experiment with lure patterns for individual orders or specific fishing applications. See full page bio under Esoteric Lures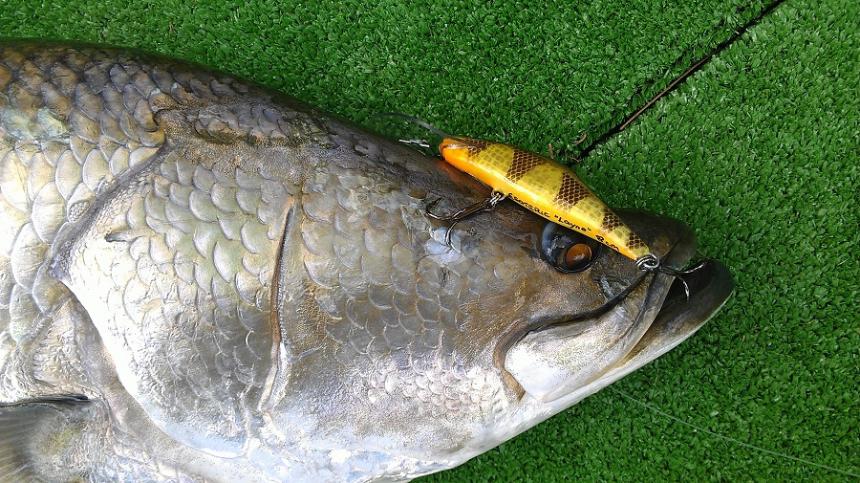 Evans, Dave Evans Lures - QLD:

Another obscure QLD lure maker from Proserpine. Lures are carved from timber with double lines down the sides similar to BK style however lures are hand painted. Shown right is a shallow and deep diver model in same colour pattern.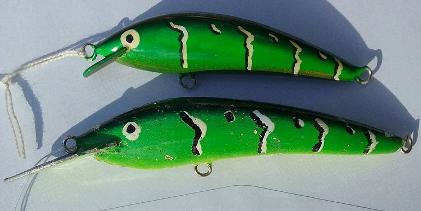 Evil Beetle Lures - NSW:

An older lure that were made by Paul Gill from Wauchope - unsure of exact dates of manufacture. An interesting design and would be a great little fizzer for the estuary or river. Rarely seen.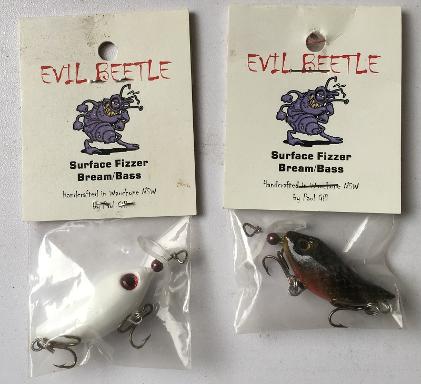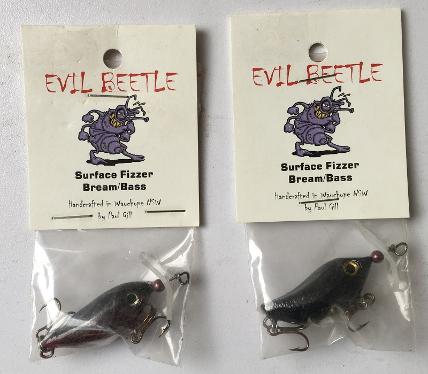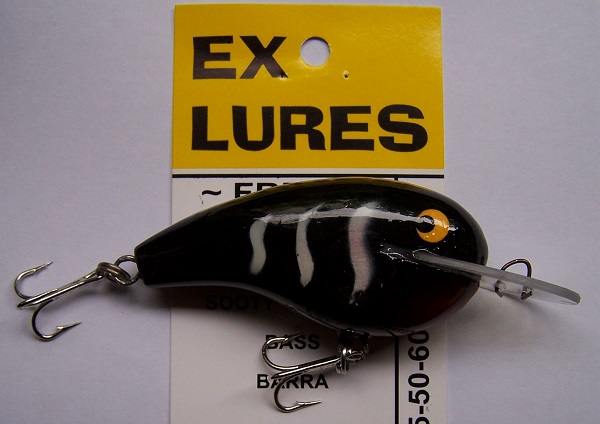 (Below) Ex 'Froggy' deep and shallow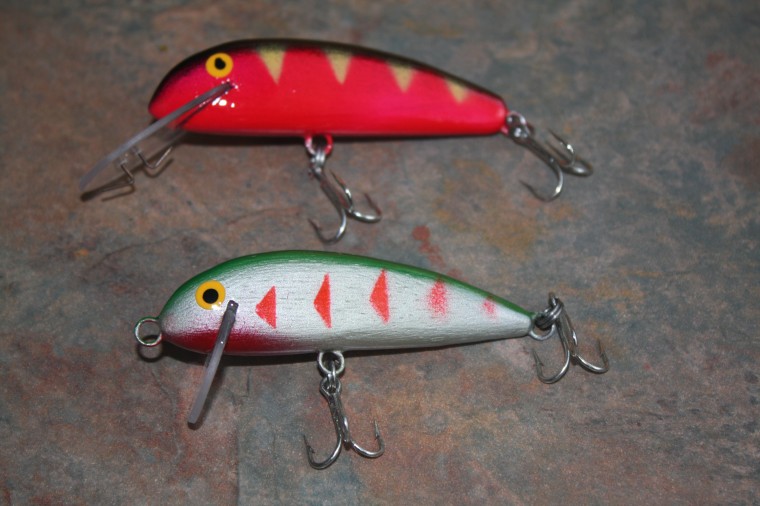 (Right) Ex 'Top Catch' shallow. (Below) Ex 'Pilly'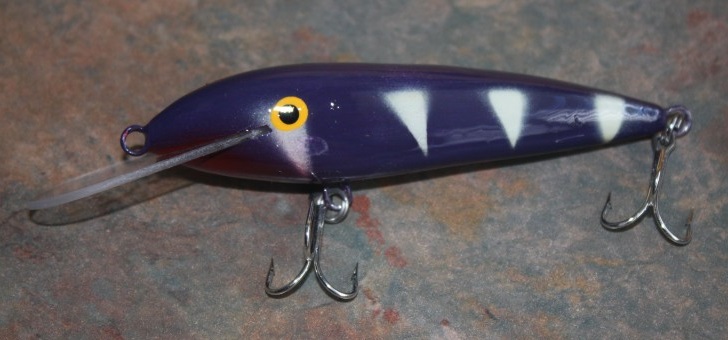 Ex Lures - QLD:
Tony Bennett from Bribie Island. Ex Lures were available c 2011 in a localized area around SE QLD on a yellow and white card. Models include the bibless 'Terminator'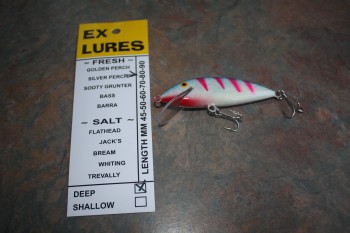 (Above) Ex Lures card with Ex 'Sardine' c 2010.
(Below) Ex Popper