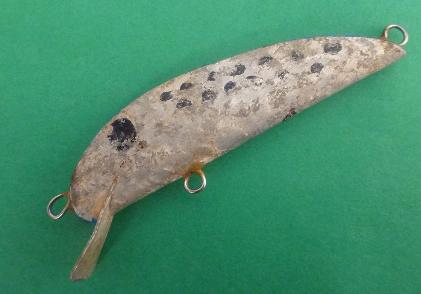 John Knol made some interesting lures that gained a good reputation in the 1990's and is a very innovative lure maker. His early lures are even more interesting including the Knol's 'Metal Jacket' shown below which is a lure with a wooden core and a folded metal sleeve encasing it which was developed by John when he lived on Magnetic Island and was chasing pelagic and tropical species.
Knol's 'Metal Jacket'. Not many made and lure left came from John Knols tacklebox. This model was structured so as to eliminate damage from toothy fish which would rip traditional lures apart. The lures lasted longer before being lost . . .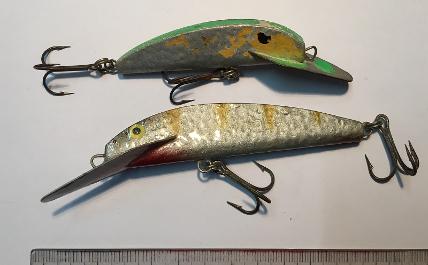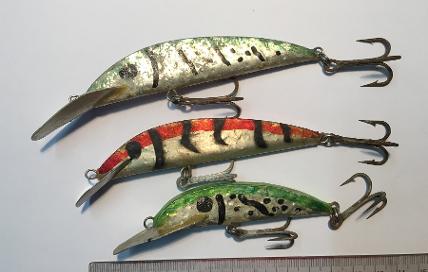 Three sizes (above) in early single dot eye that belonged to Vic Mc Cristal. The 'Full metal Jacket' model was credited with accounting for 53 species of fish and they date to 1984/85 at the earliest.

Metal bibbed (arrow style)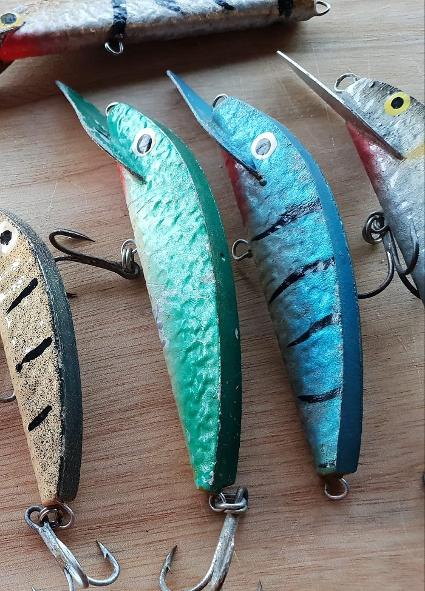 The following photos showcase the variation among the metal jacket model alone. Deep diving models with differing bibs, shallow bibbed versions and smaller sizes.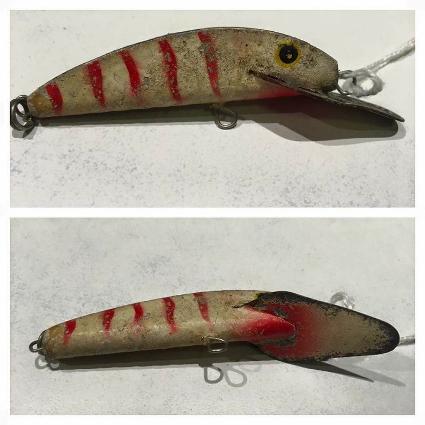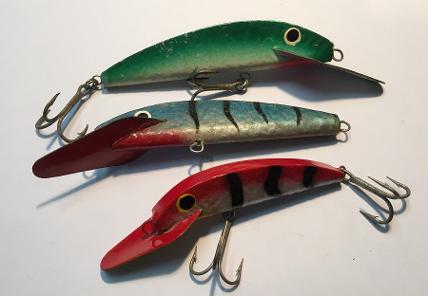 Below - clearly shows back and timber insert (body)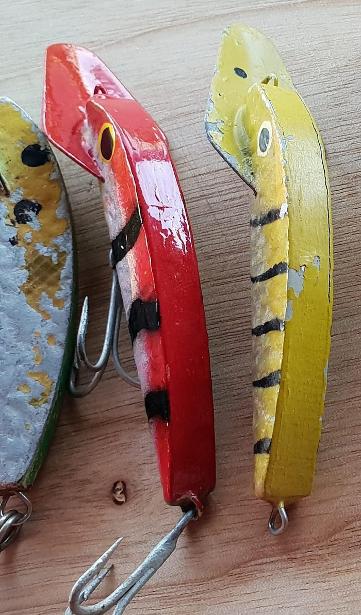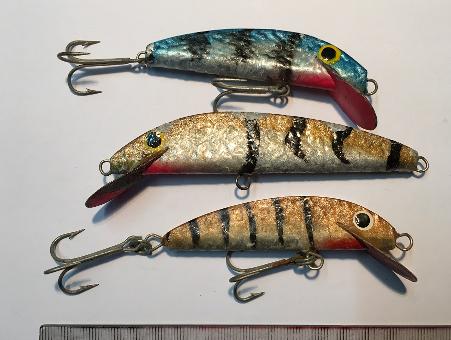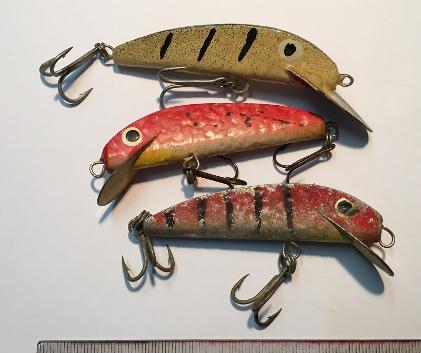 Older metal bibbed (shallow)
Not many people are aware that John carved nylon and plastic lures before beginning the moulding processes that became the established Knol's Lure range. These lures were hand carved and shaped from nylon and were a staple lure in John's fishing arsenal when he moved south and based in Sydney.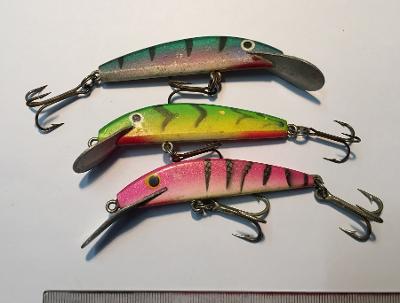 Metal bibbed (round style top two)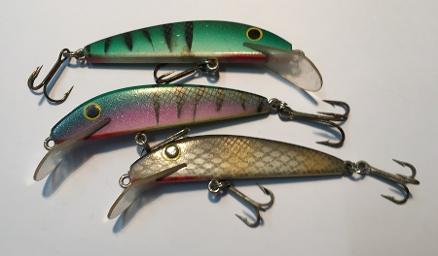 Polycarbonate bibbed hand carved nylon
Below shows later deep diving bib variations with bottom lure having a manufactured bib hand made from heavy duty plastic. Top lure is a metal bib slightly turned downward.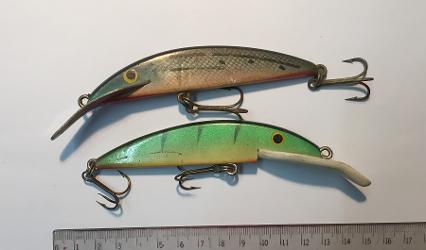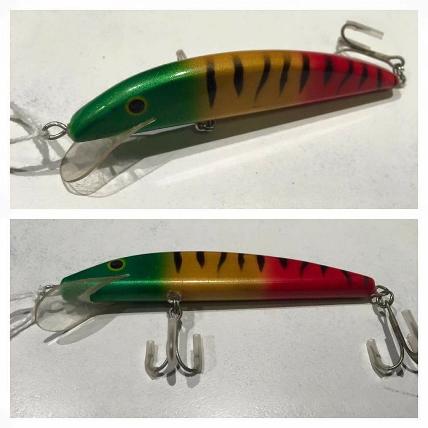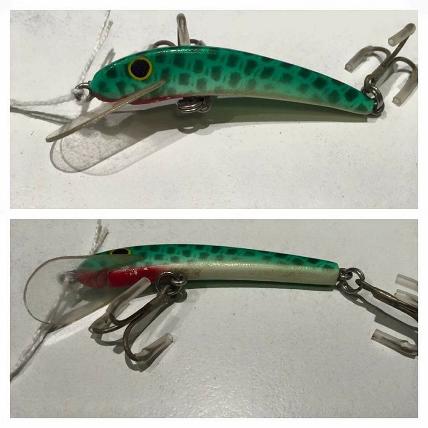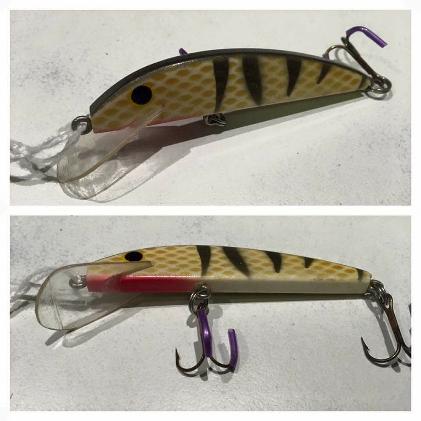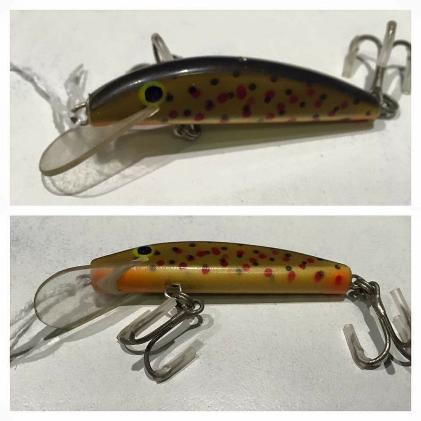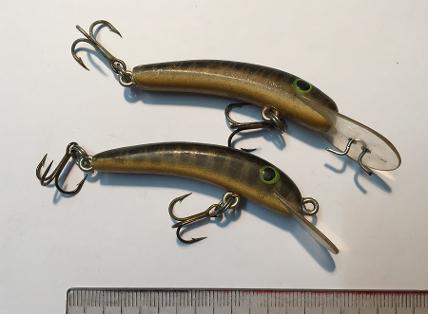 Polycarbonate bibbed hand carved nylon - shallow and deep. These two resemble the later Knols Native Minnow in shape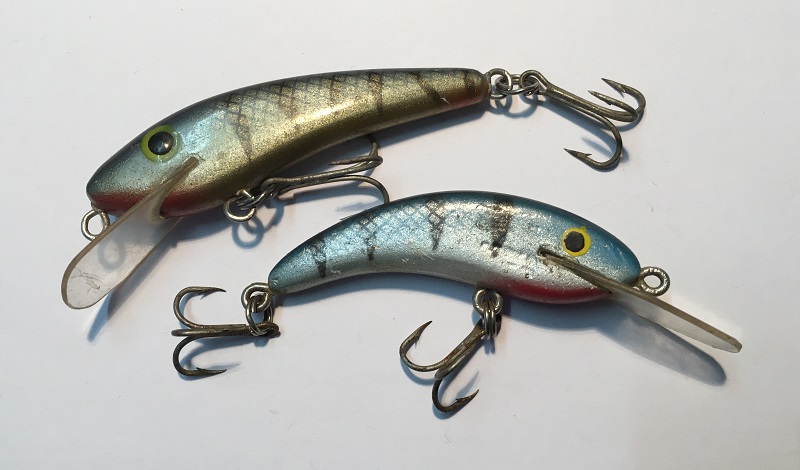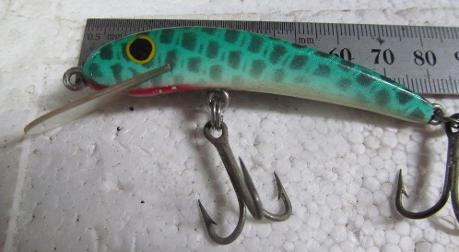 John also hand carved some plastic/nylon as experiments and came up with the following designs - there are small lures suited to bass fishing or estuary work and larger models for bigger fish and tropical applications.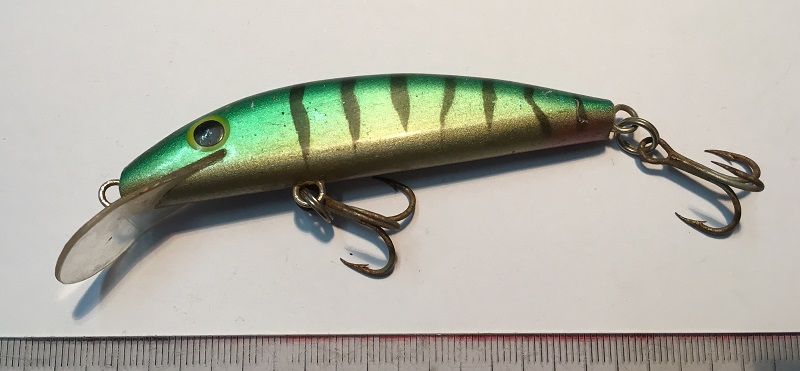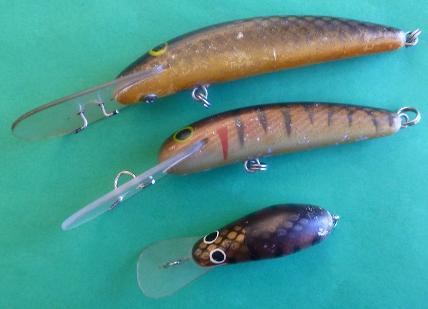 The photo shows one of the first hand carved Knols Native models next to the later product.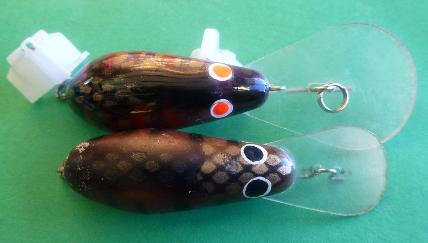 These lures are some of Johns early creations showing a heavy duty model with a pinned bib.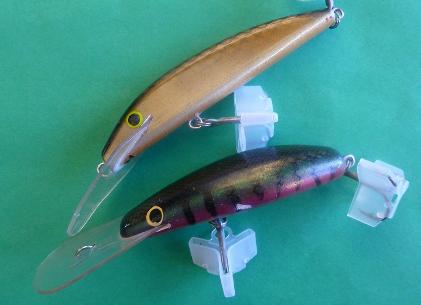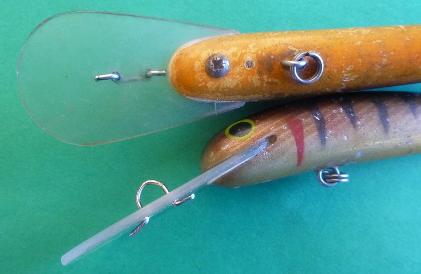 John Knol released the Knols Native 50, Native 75 and the Native Minnow around 1994. Below are shown some of the early prototypes and experimental models that eventually became the Knols range. Many of these lures were developed during the testing phases and moulding processes.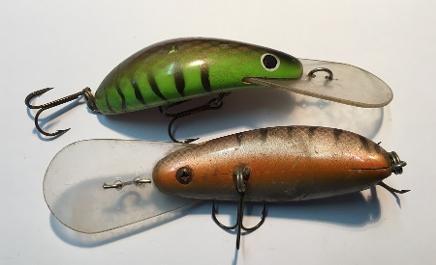 Prototype Knols Native 50. Bib variations, shallow and deep, pinned/unpinned, painted eyes, decal eyes.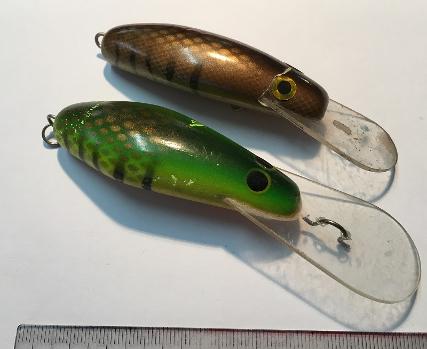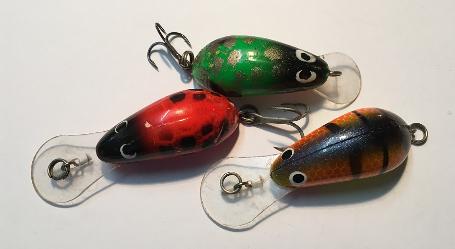 Prototype Knols Native Mini measuring 30mm body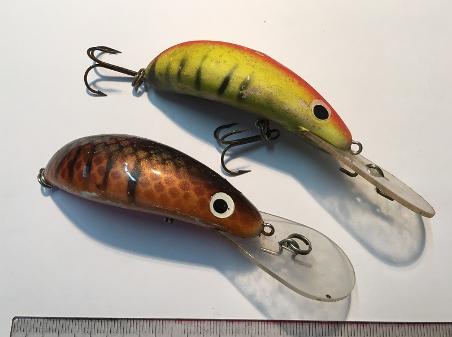 Below - Knols Native 50 1st generation and blank. Opposite - first generation through to later belly stamps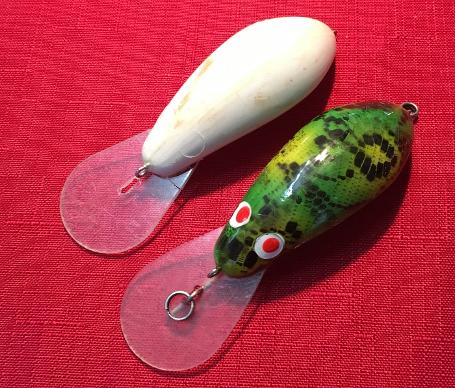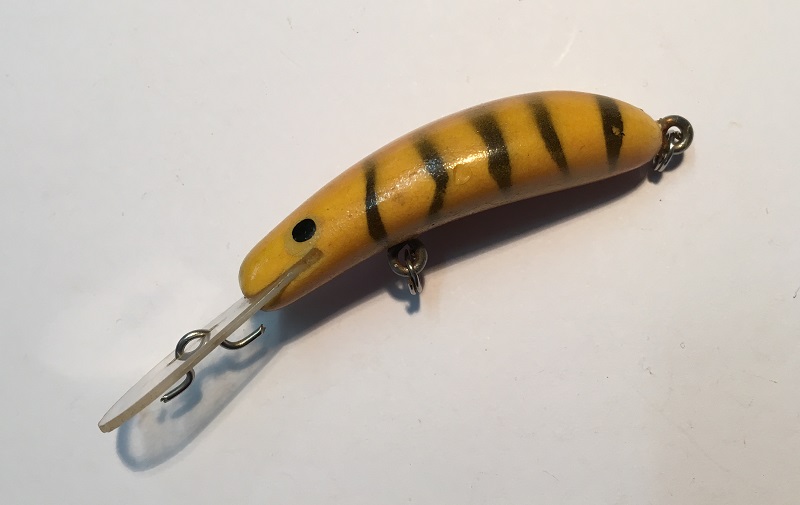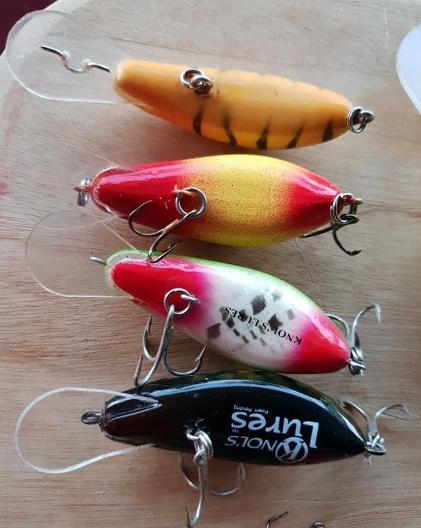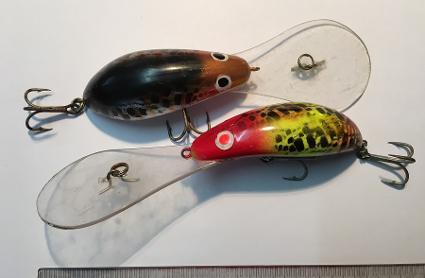 Knols Native 75 Extra Deep with front tow point. Right later with slightly different bibs.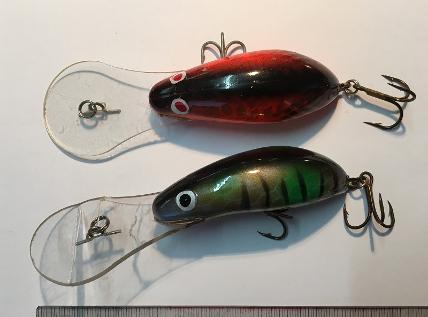 An uncommon large metal bibbed Knols Native that turned up on Ebay in 2012. Metal bibbed versions seem to be uncommon although many lures were released with front eyelet present on deeper diving models towed from the bib.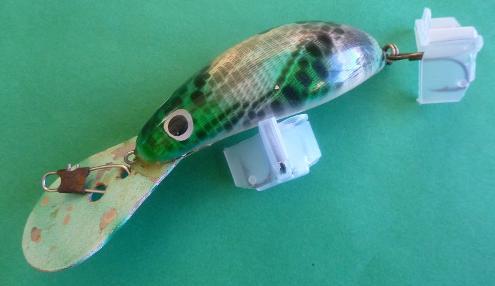 The advertisment right started appearing in the magazines c.1997 after Simon managed to land an Australian Record brown trout. It was really after Simon Jackson claimed the Australian record for the fish above that was caught on a Native 75 in colour 9 that the Knol's lure popularity really took off.
'Simon was also a keen fly angler that I used to tie a few flies for back around 1994/5 who had started a company selling various angling products based in Sydney.' R.Dayle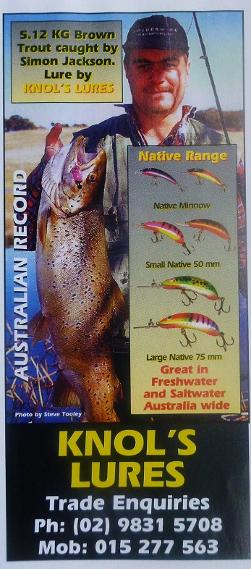 The Knols Native Minnow was an excellent fish catcher and is a great lure to collect as it was made in many colours with lots of variations and rare colours. A few are shown below with the earliest card.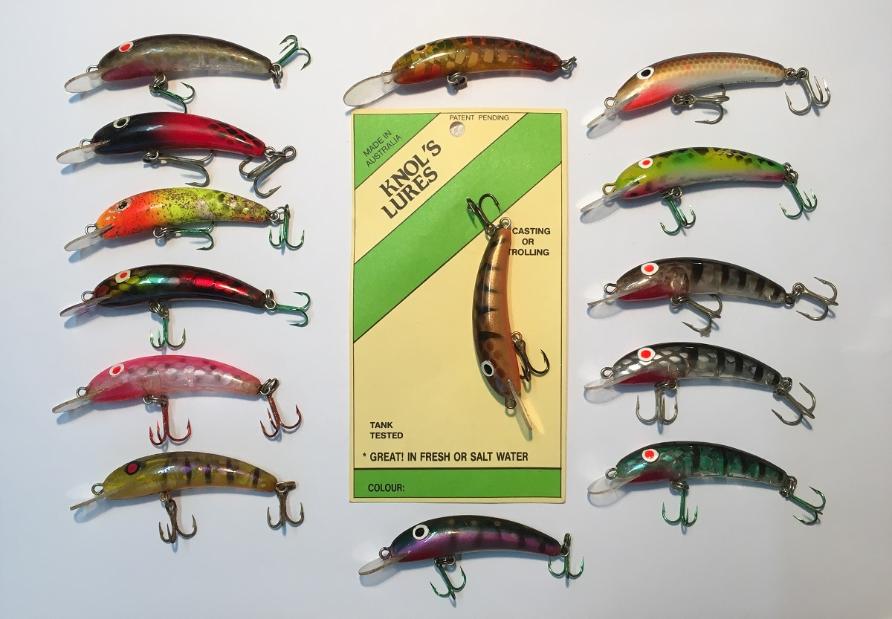 Shown here is two different types of cards. The original cards are shown with the words 'Tank Tested', 'Great! in fresh or salt water' and are on a cream card with diagonal green stripes. The bottom strip for the colour is very often not filled in and the card was used for all models. There is another card variation with 'Leaping Lizard' printed onto the card in the central diagonal green strip. These can be seen in the collection lower down the page.
The other card shown nearest right is a later card after Simon Jackson claimed the Australian Record in 1996. It keeps similar graphics but has added the phone numbers into the bottom green panel with 'Knol's Lures' and 'Sydney - Australia'. The slogan 'Great in fresh and salt water' has lost the exclamation mark after the word 'Great'. There is also a list of the targeted fish species.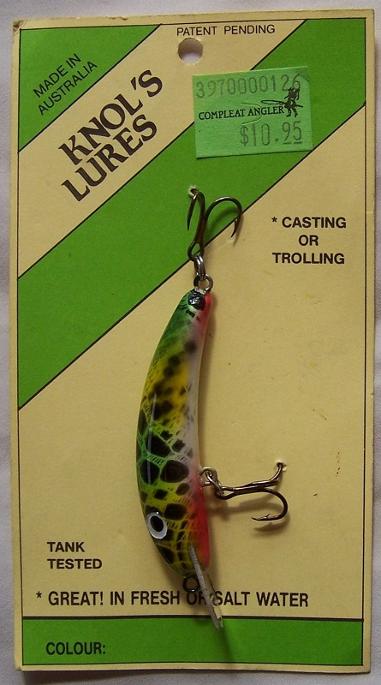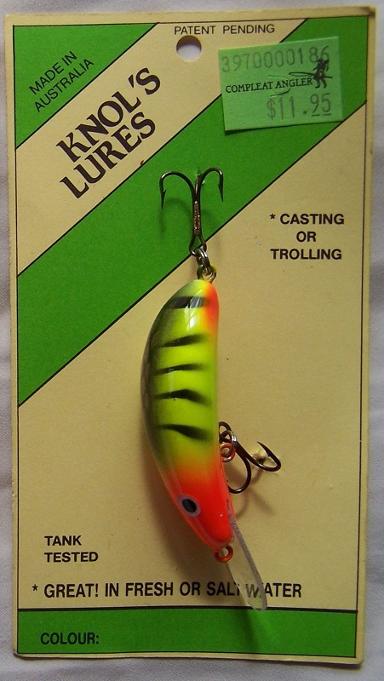 The article below reviewed the Knols range in 1999 and notice a change in number to a Sydney based number 9420 as opposed to earlier 9831 phone number and introducing new colours.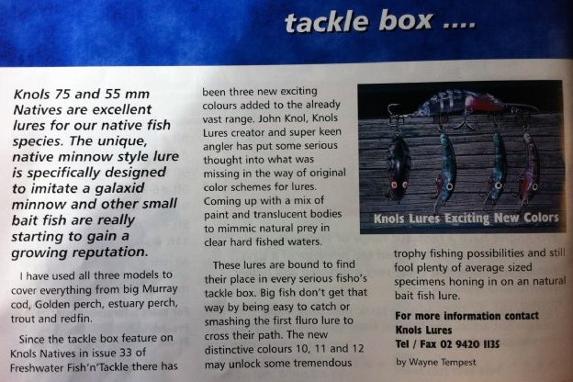 Although the Knols 'Leaping Lizard' was an early model it was not advertised as heavily as the other models before 1999 although the ad opposite has the Leaping Lizard introducing the other 'new' existing models. Note the larger Native 75 has an older style bib and front towpoint.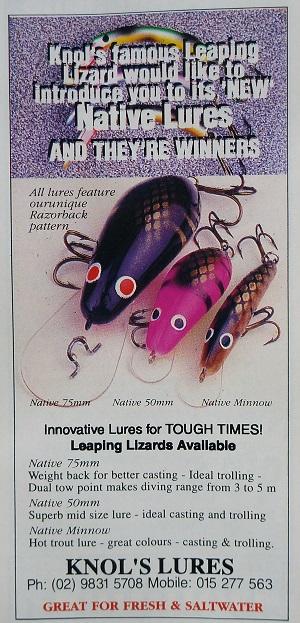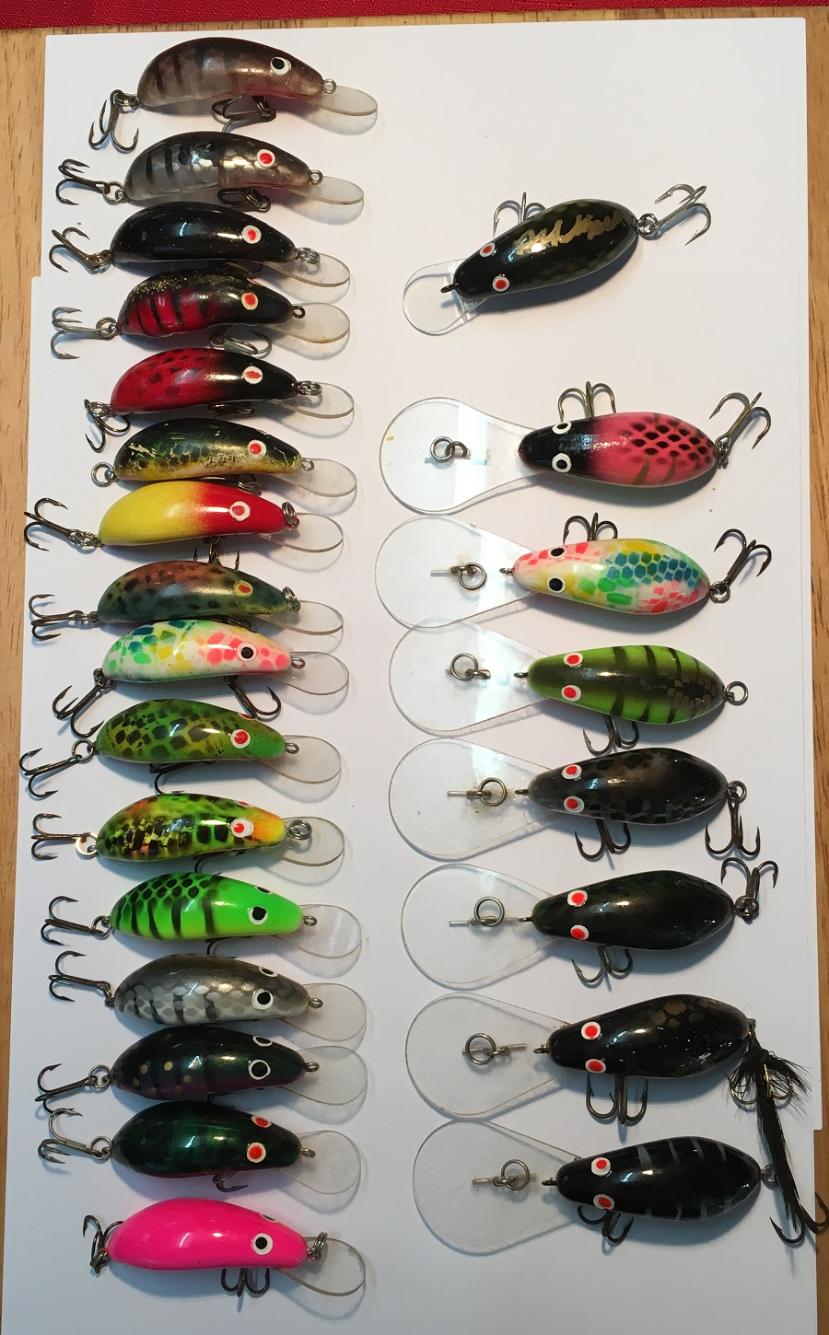 The Knols lure pack was available in the mid 2000's and included 7 lures and a keyring. Short lived and rarely found intact.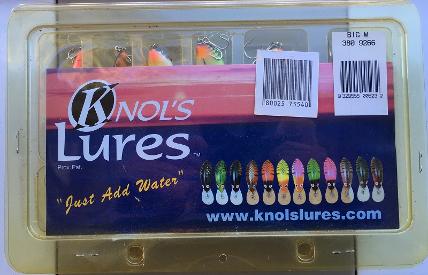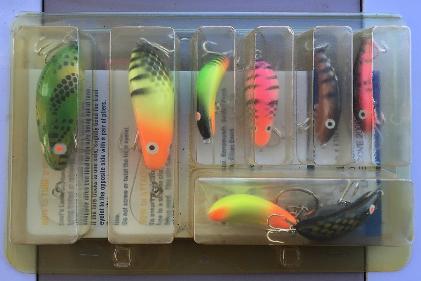 The Knols Leaping Lizard: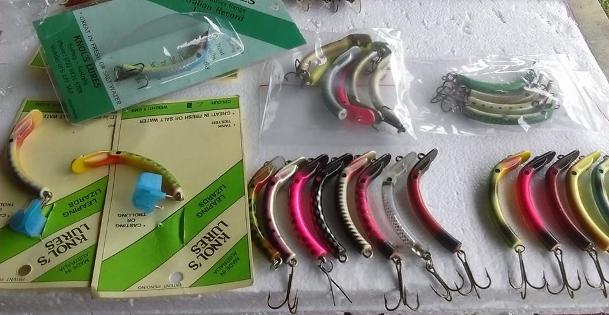 A nice collection of 'Leaping Lizard' lures showing cards and some of the many colours that were available.
The 'Leaping Lizard' had its own card from the early days of production. Shown is early card and information on reverse of backing card and later card opposite.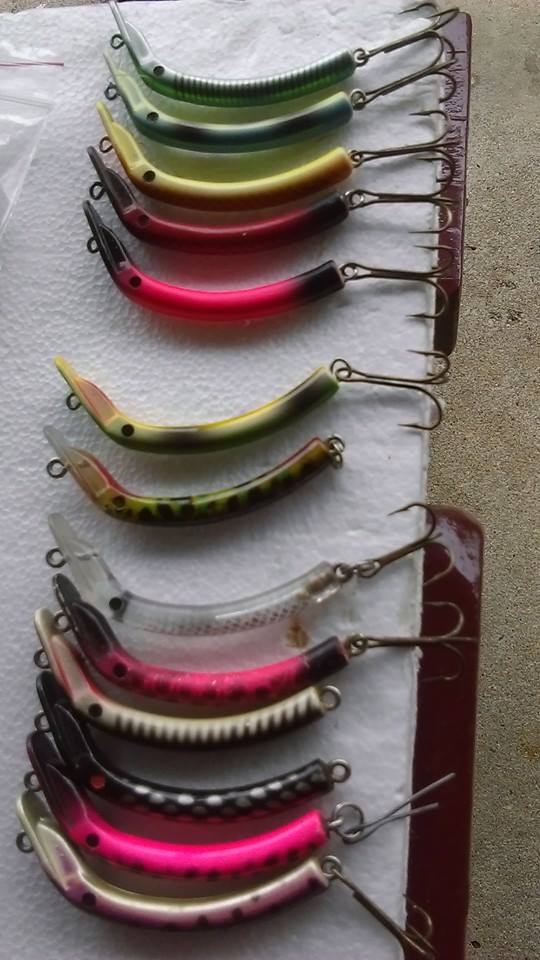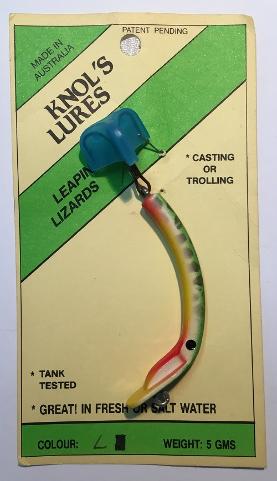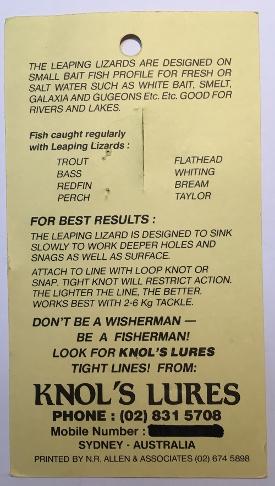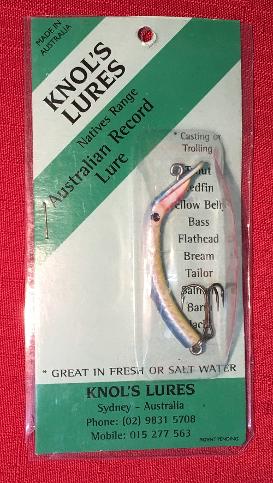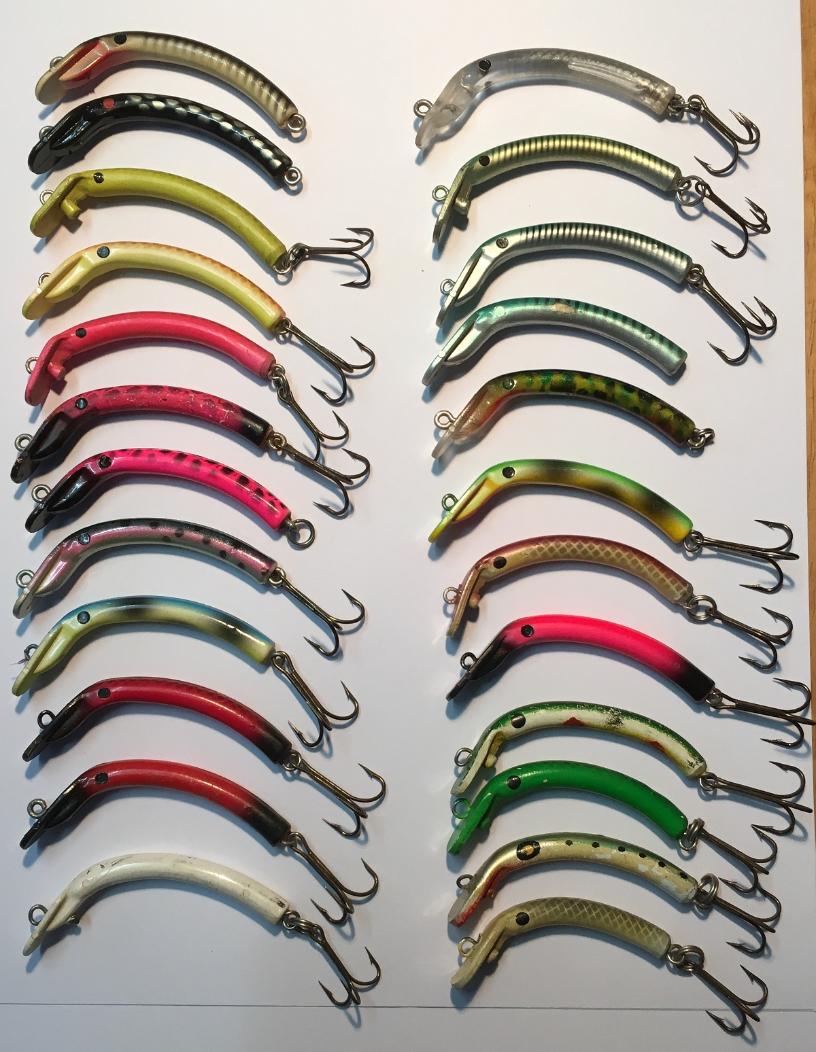 There was some variation in bibs on the 'Leaping Lizards' as shown below. The squarish bib is the more common one but they were also done in a round shape at some time.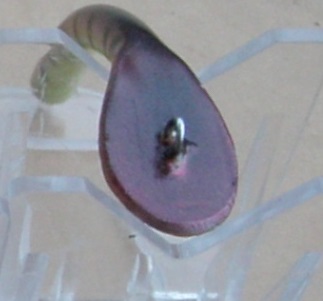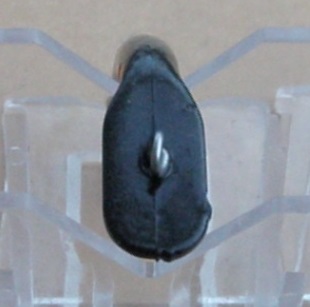 The models John made during his production years include;
Baby Native Shallow
Baby Native Deep
Native Minnow Deep
Native Minnow 60 Shallow
Small Native 50 Shallow
Small Native 50 Standard
Small Native 50 Deep
Large Native 75 Super Shallow
Large Native 75 Standard
Large Native 75 Standard Dual Tow
Large Native 75 Deep
Large Native 75 Super Deep
Leaping Lizard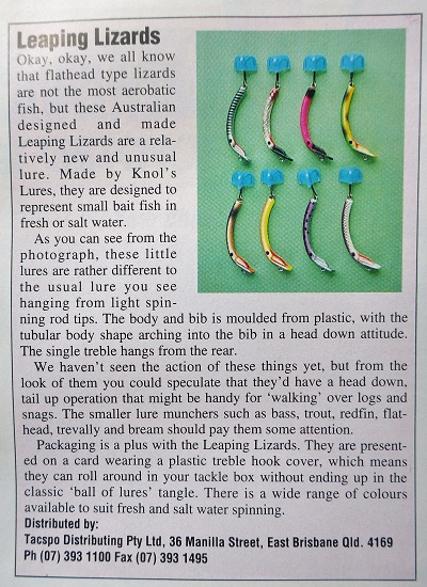 The 'Leaping Lizard' was available from Fish Tackle Australia No 15 which was the forerunner to Mo's Tackle in Coffs Harbour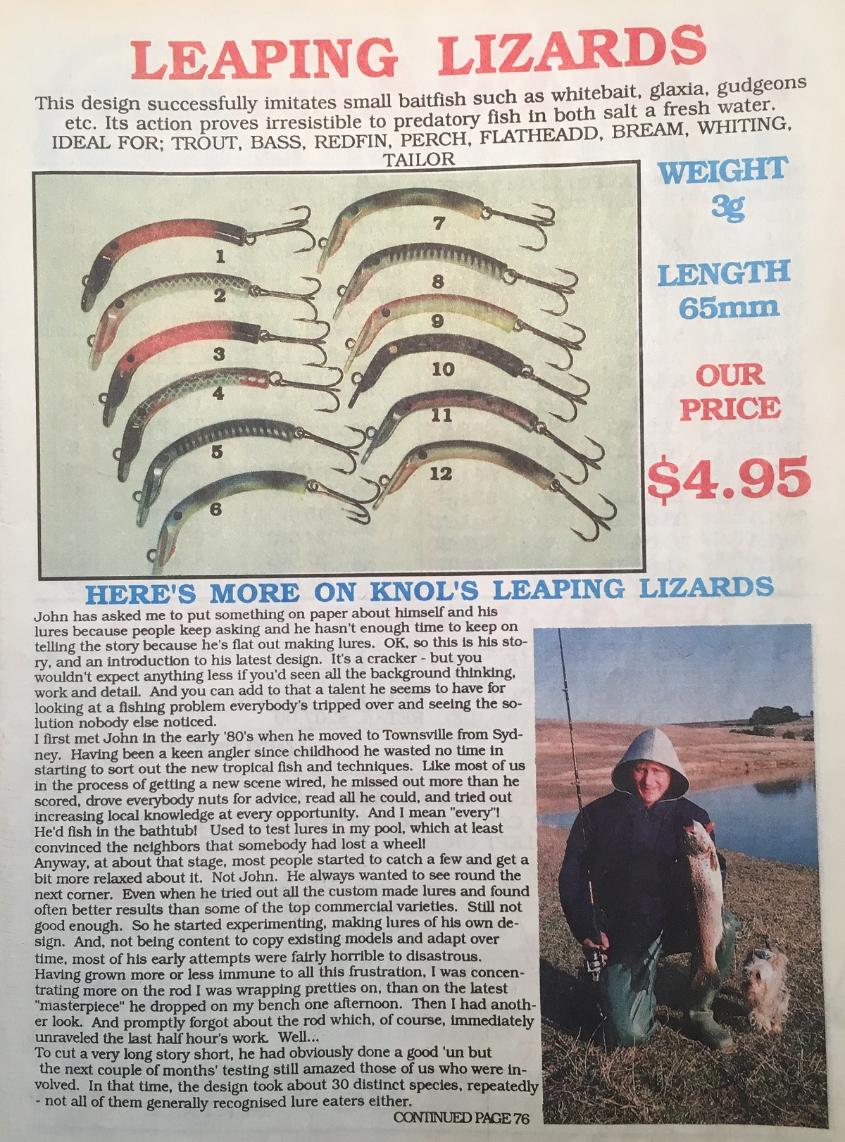 Later colour codes around 2000 after production was changed and the Knols with a large 'K' became the logo on the belly of the lures and advertiseing.