Australian Lure Manufacturers W

If you know of an Australian lure maker no matter how young or old that we have not mentioned in the following list feel free to contact us to have the details added or updated.
*Cover banner photo is an early timber Whitty's Dee Bob in rainbow trout
W Lures - Adelaide - SA:
No information for this giant lure which is nearly 11 inches long. Unknown maker and vintage but marked on bib so hopefully someone will know something about this lure and its story will be heard one day. It is currently residing in South West Rocks, NSW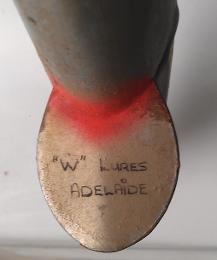 W. Carter and Sons - VIC:
Little information for this company however it seems that W. Carter and Sons manufactured the 'Tru Life' Minnow. The address on the back of the card is Glenhuntley , Victoria with old phone card c.1950's, There was a range of other lure models available as the Tru Life packets shows up regularly on Ebay each year.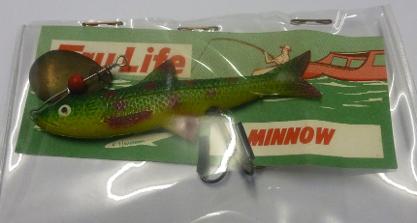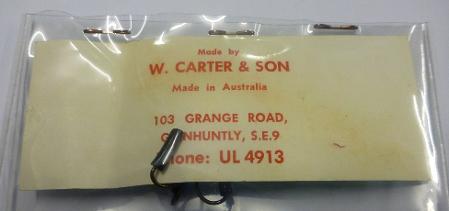 Wachtel, Max Wachtel Lures - S.A;

Max Wachtel was a legendary Murray Cod fisherman from South Australia and this is a lure that came up for sale on Ebay in 2017. Dated to 1968 this lure is a handmade Max Wachtel Cod Spinner.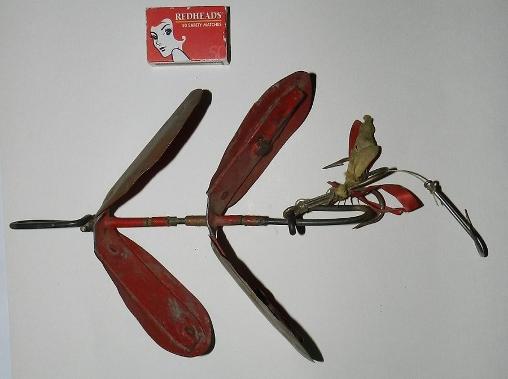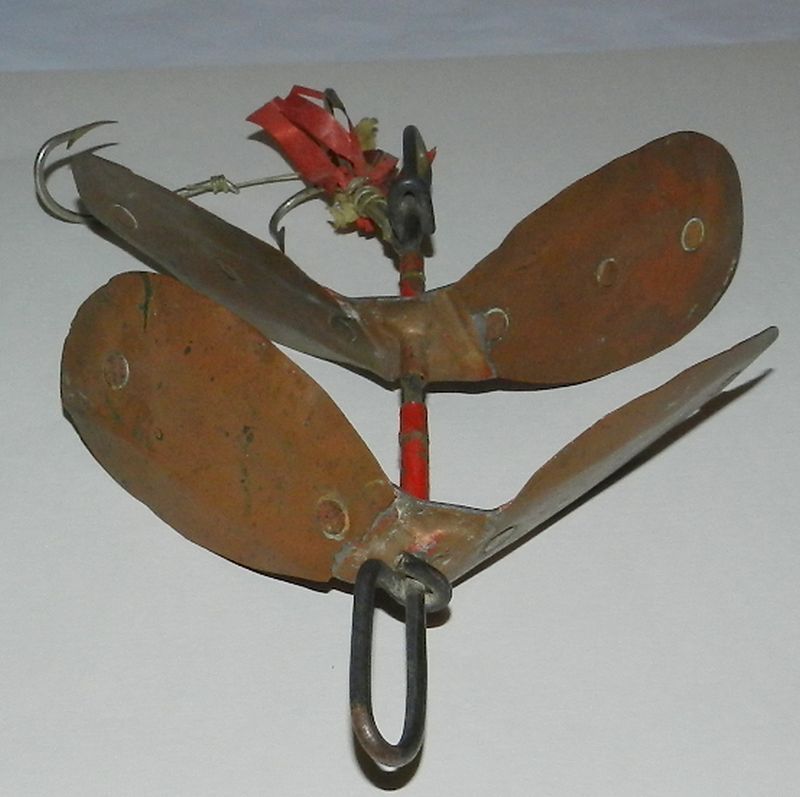 Walkabout Jack Lures - QLD;

Made by Matthew Bradford on the Gold coast, these lures have been around for a few years. They were originally made in timber before being moulded. The Walkabout 'Stumpy' is an interestingly shaped lure that resembles a map of Australia and is shown right on the card c. 2010. Unsure if they are still available in 2017.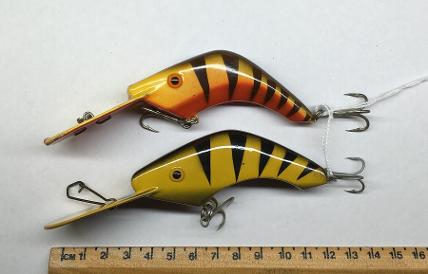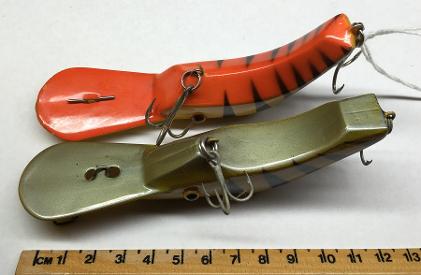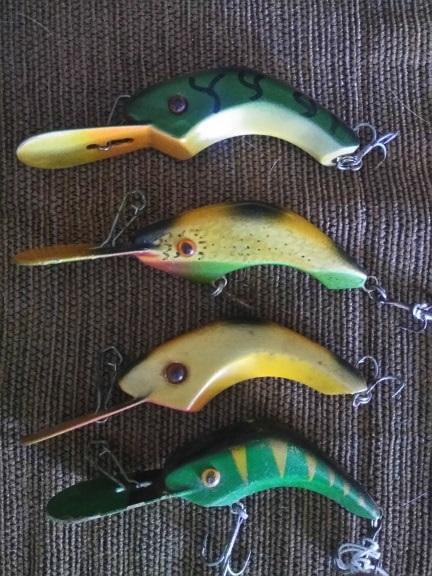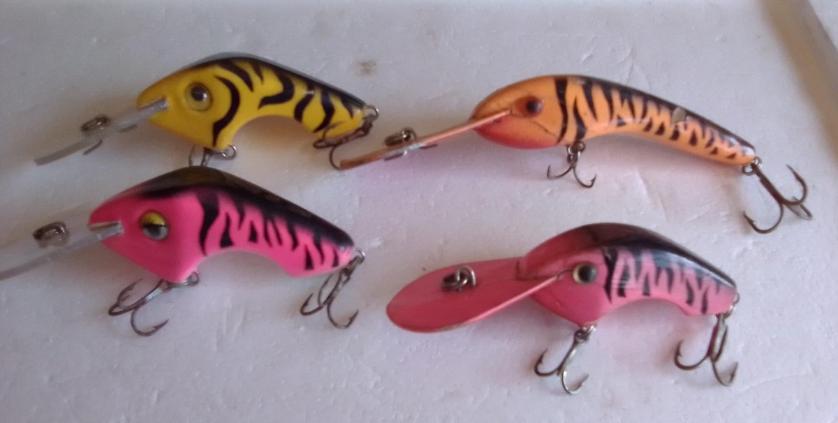 Above is shown a comparison between some early timber versions of Walkabout Jack lure. Timber versions do appear occasionally but they are uncommon as they were never made in large numbers before going to injection moulding. There is also alot of variation in the earlier timbers.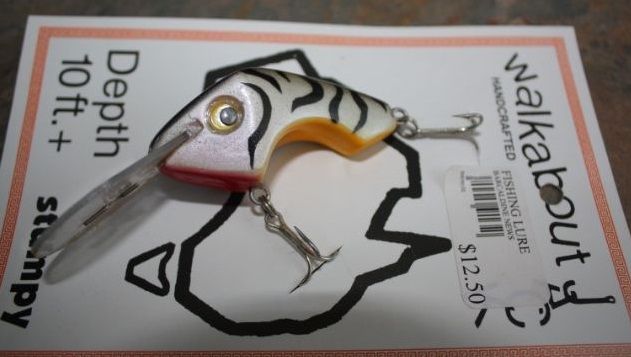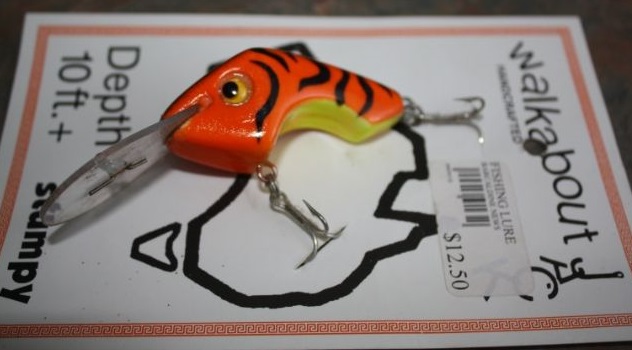 Walker Wobbler Lures;

Unknown maker of these lures that is a direct copy of the Wonder Wobbler but stamped 'Walker Wobbler' without any weight markings.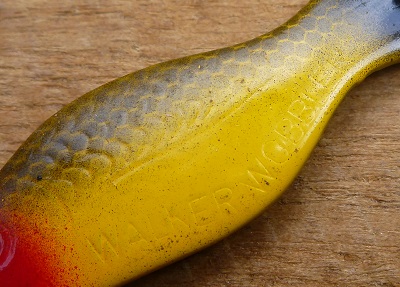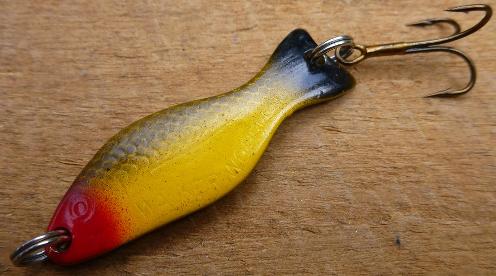 The lure is the same size as a 1/4 oz or 7gm Wonder Wobbler. No information or reference has ever been found to 'Walker Wobblers' and this lure was found among some Wonder lures that dated to the 1960's and 70's.
Walures - TAS;

Classic hand made lures by Tony Holan in Orford, Tasmania who has sadly passed away. These lures are highly collectable due to the craftsmanship of construction. Shaped from rare Tasmanian 'Pencil Pine', Walures (jointed model) were sold up until 2010 and were available in 15 colours and 50mm in length. The non jointed model are actually harder to find. Presented on a yellow card with red printing they were available up until about 2000.
The following quote is from the old Walures website;
"If you like trout fishing or any other lure fishing for that matter, here is a lure that some fisherpersons use exclusively in Tasmania.
They are hand-crafted by local timber ( mainly Pencil Pine, as seen in some background scenes in the B.B.C documentary "Walking With Dinosaurs").
Being hand-crafted, each lure has action unique to itself, but be assured that it is critically tested and appraised before being offered to the fisherperson.
If you have a tacklebox full of "Walures", one particular colour or action may just be the ticket for the particular fishing occasion."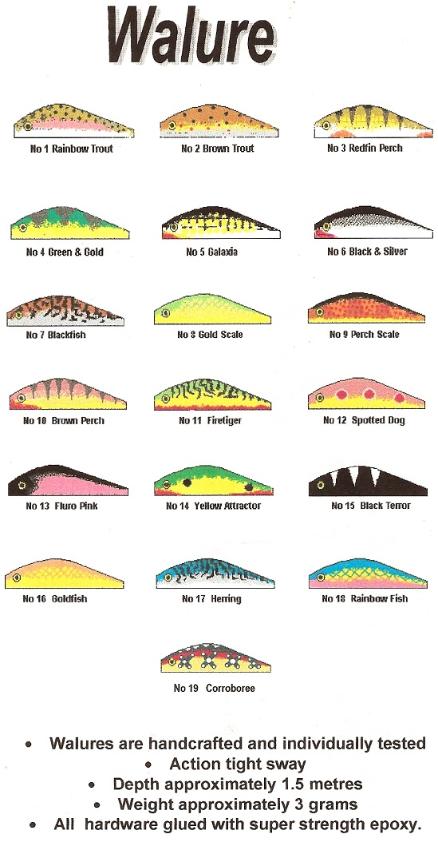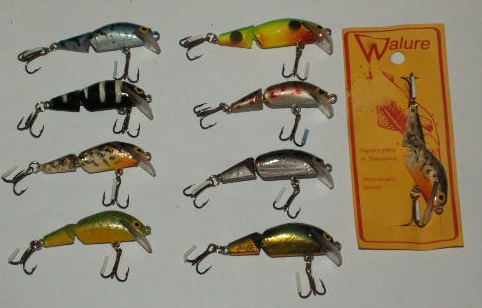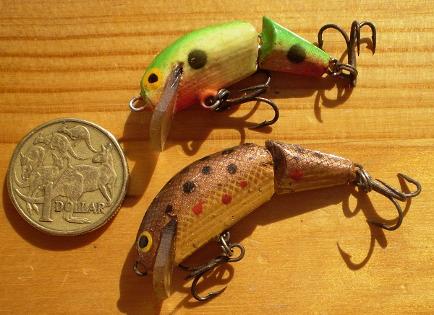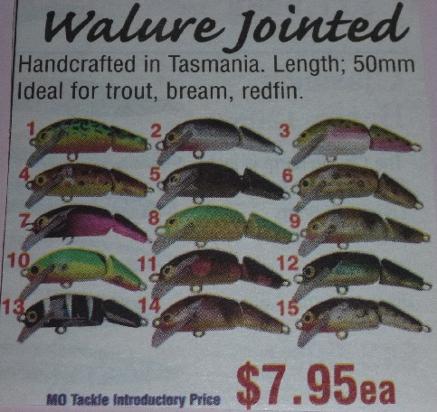 The above clipping is from an early Mos Tackle catalogue when they were changing the name from Fishing Tackle Australia. This does not show all the colours that were available and most of the colour codes are different on the original digital colour chart.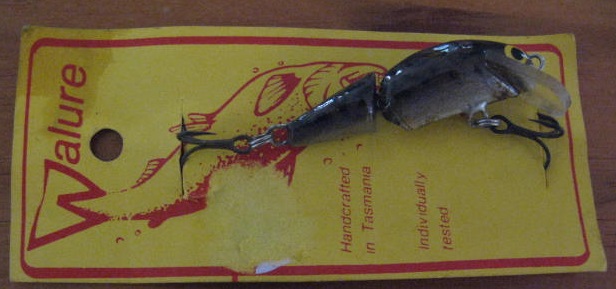 There are a few different types/colours for Walure cards and packaging including these two variations.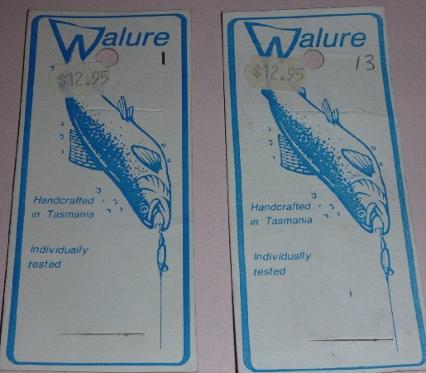 A fine Walure display including minnows (both broken back and straight body versions) and other lures either painted or made by Tony Holan. The spoons at bottom of display were made by Wigstons, the maker of the Tasmanian Devil.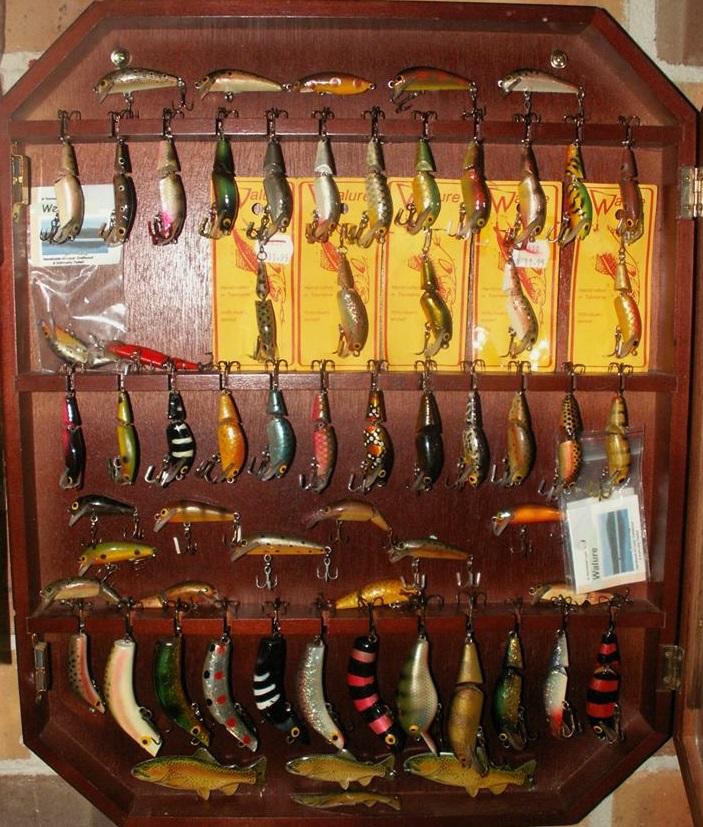 Walures are a great fish catcher - below is a few smaller Tasmanian trout caught on a jointed Green and Gold (originally pattern 4).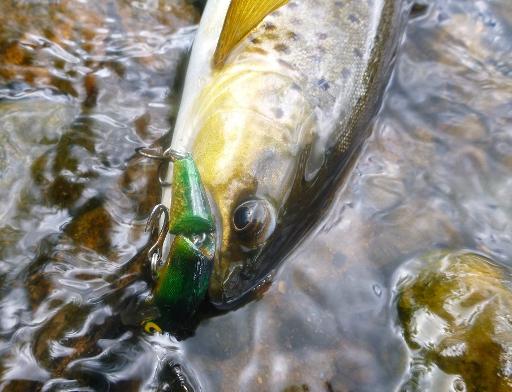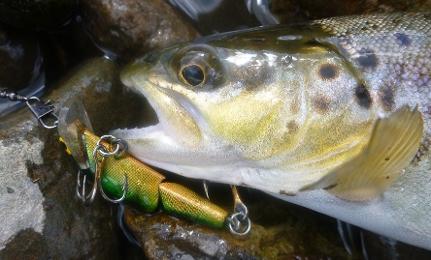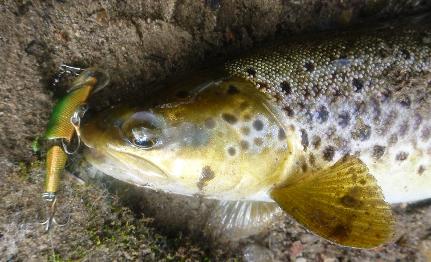 Warby, Larry Warby Lures:
Larry Warby is attributed as being the pioneer of the metal lure named the 'Half by Quarter' - the dimensions of the metal bar being 1/2 inch by 1/4 inch. The example shown here is an original stamped Warby Lure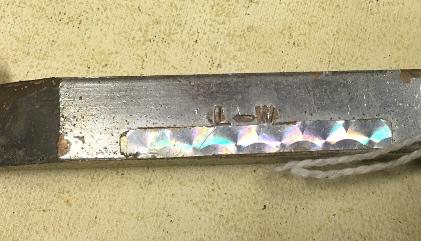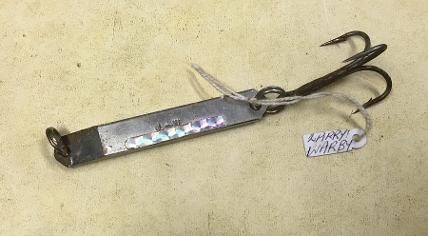 Ward E Lures, Eric Ward Lures - QLD:
Eric Ward has been making and shaping lures for many years and still continues to this day. Eric is a tall gentleman who showed me the following lures at the Lure and Fly Expo 2016. Eric is also renowned for making tiny lures and lure earrings for the ladies. Eric is a good friend of Carl Grist and works closely with Carl producing lures with a combined pedigree.
The lures shown below and right are some of the smallest lures possible and the ear rings always sell out fast .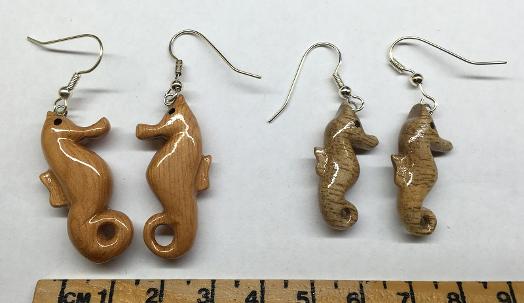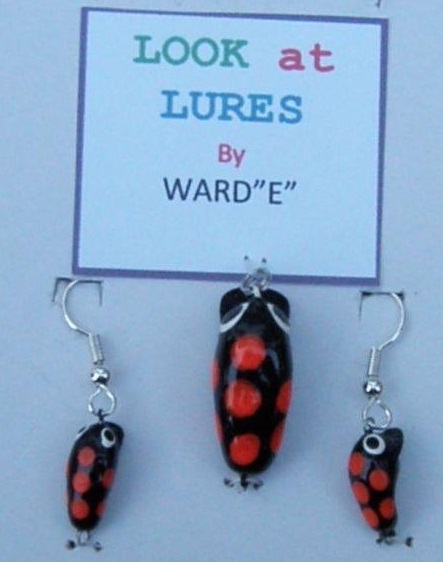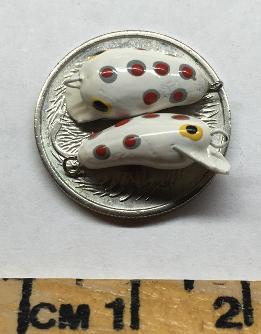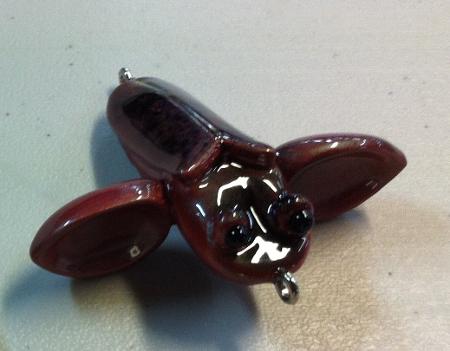 The lures shown below were made by Eric for the Lure Expo 2017 and show a good sense of humour as well as an individual style and skill in shaping timber. Eric was involved in forestry since his teens and has a deep knowledge of timber and timber-craft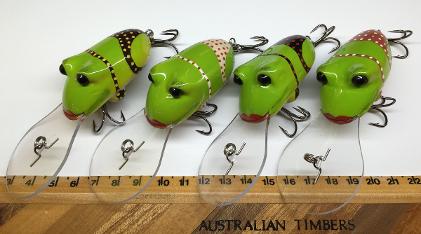 Ward E 'Bikini Frogs' complete with lipstick and a standard deep diving frog opposite.
Set of clear coated yabby down to the tiny 2cm model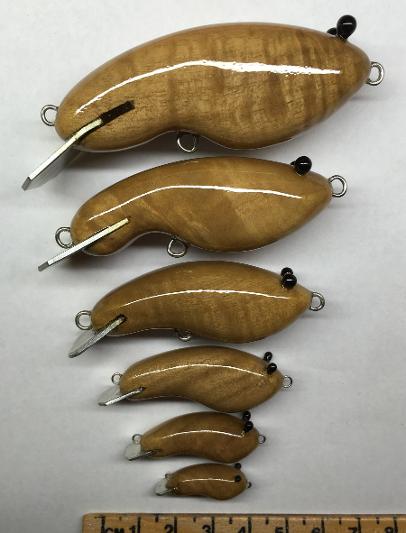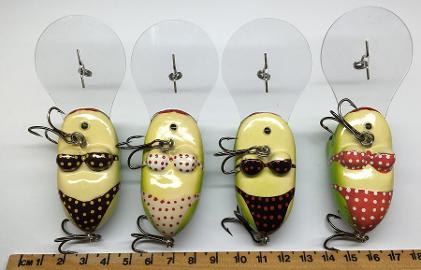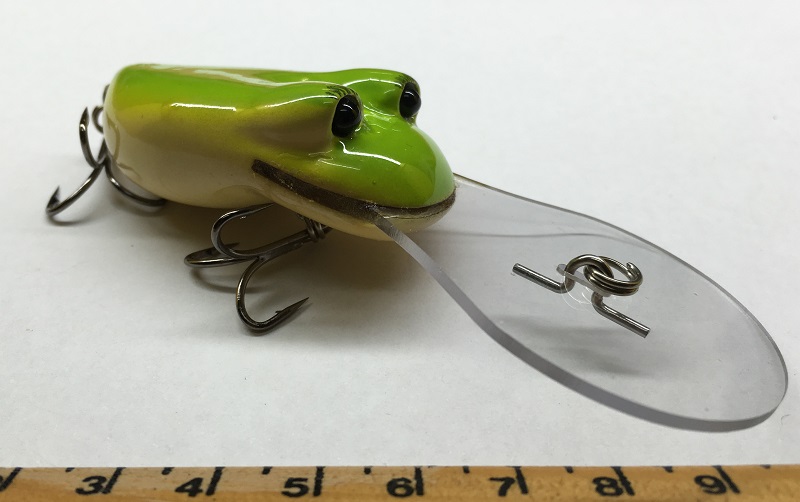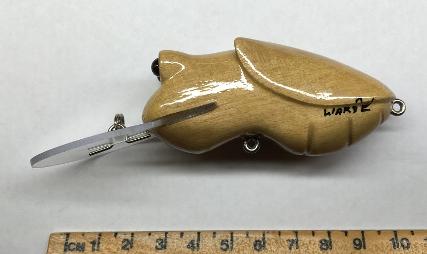 Ward, Jeff Ward Lures - NSW:
Jeff Ward made some excellent timber lures and is a great experimenter when it came to lure design. Lures shown are all timber and were made in northern NSW. Only ever made in small numbers for personal use and friends.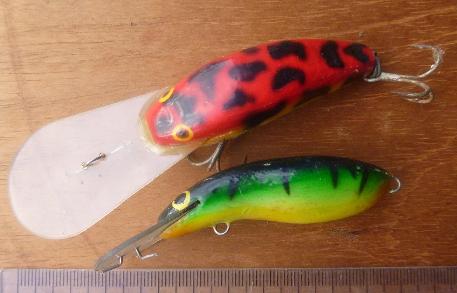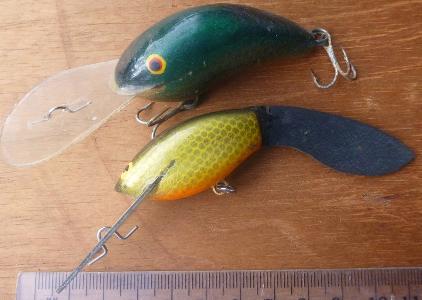 Wardle Lures - VIC:
Marked on card as E.R Wardle this lure is a simple wonder wobbler style metal spinner. Unknown vintage from Malvern address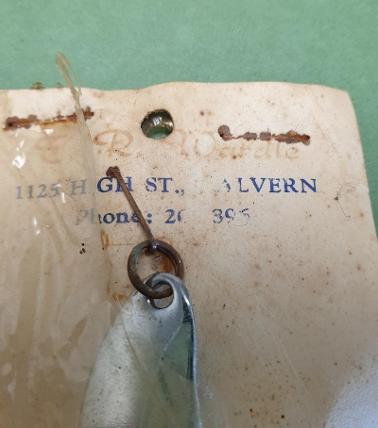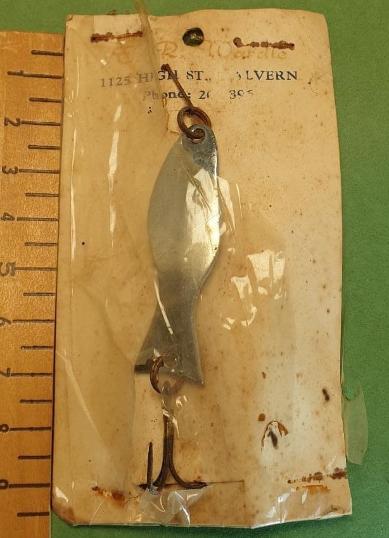 Warmisham Lures - TAS
Warmisham Lures are made in Launceston, Tasmania by Joe Warmisham. Range includes photo finish spoons in a range of sizes. Shown opposite is a jumbo salmon spoon in rainbow finish. Available in 2020.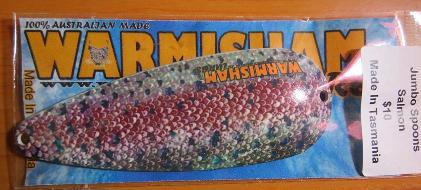 Warnambool Spoon - VIC;
The Warnambool Spoon is an iconic Australian lure that consists of a simple metal spoon with a long single hook permanently attached. Normally silver with the underside painted red.
Advertised as early as the 1920's, the advertisement shown right is from a Mick Simmons 'Surecatch' catalogue from 1936 where this model was available in three sizes.
Extract below is from Craig and Aitken Pty Ltd, Sydney in 1954 where the lure was offered in one size only.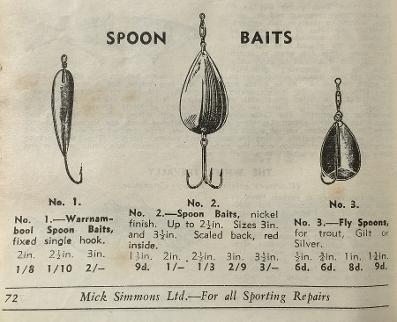 Water King Lures - NSW;
Water King Lures were made c.1950 and were distributed out of Broadway, Sydney by Sydney Fishing Tackle Supply Pty Ltd. With a range of lures that resemble some lures made in USA including Woods Lures and a direct copy of a much earlier pattern known as the Rush Tango Minnow released c 1920 which was called a 'Jitterbug'. Lures shown - a small 'King Minnow' below and the 'Diver' opposite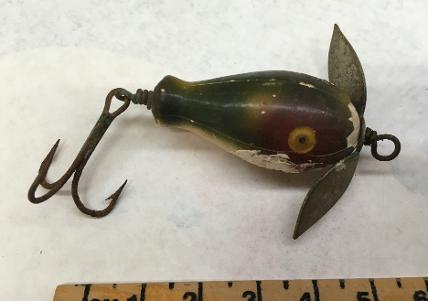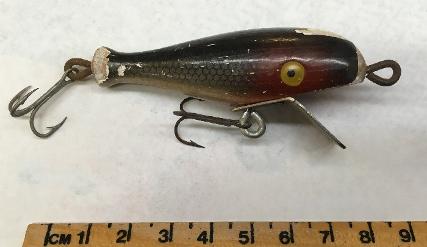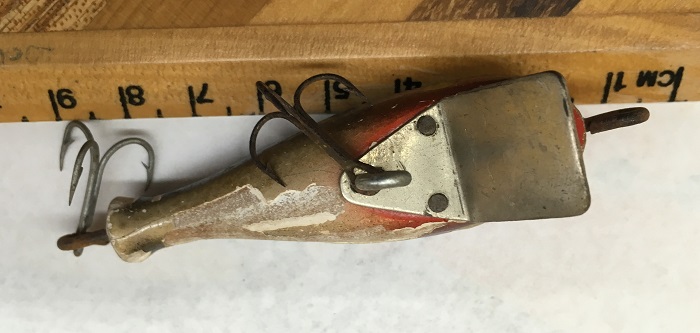 Advertisement was released in
Outdoors and Fishing magazine , May 1950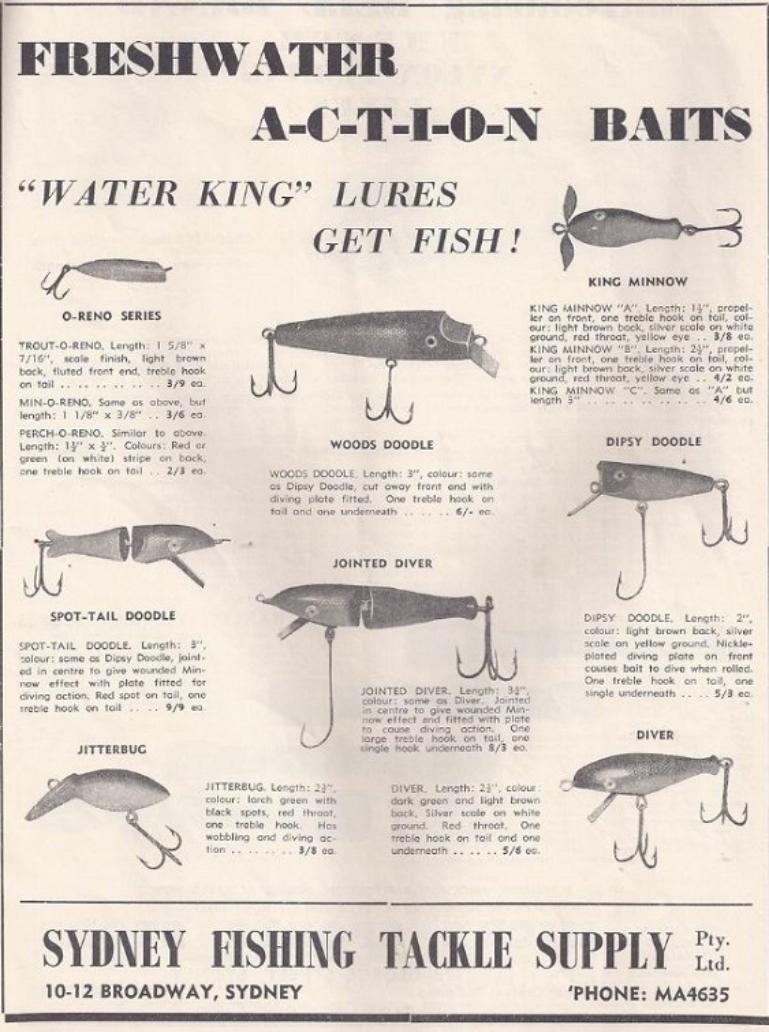 Water Stalker Lures - NSW ;
Water Stalker Lures are made by Peter Dunlop, who is a cabinetmaker from Inverell. Lures are recently made c.2013/14 when Peter starting making lures. Shown bottom is a model called 'Jekyl' on the card . Still available in 2017 and a high quality product.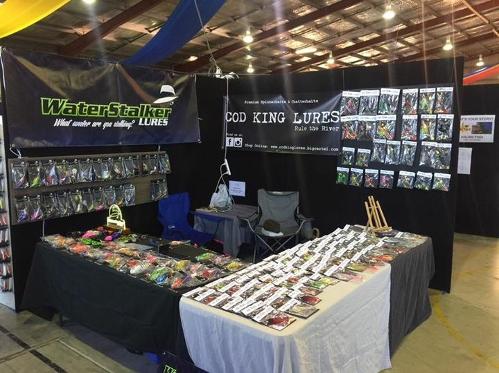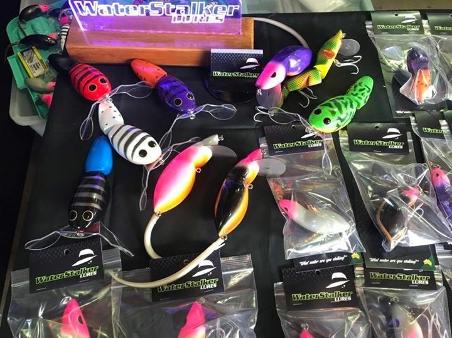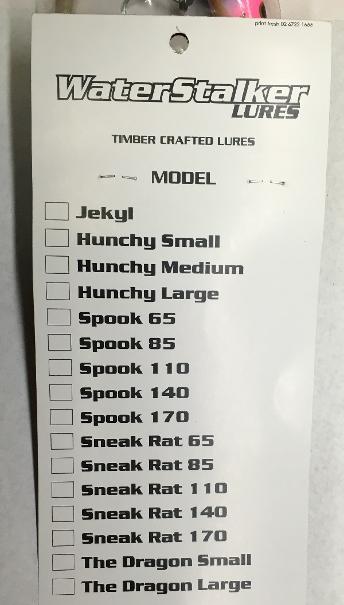 Photos are from Expo 2017 in Ipswich. Above shows the models available from Waterstalker Lures.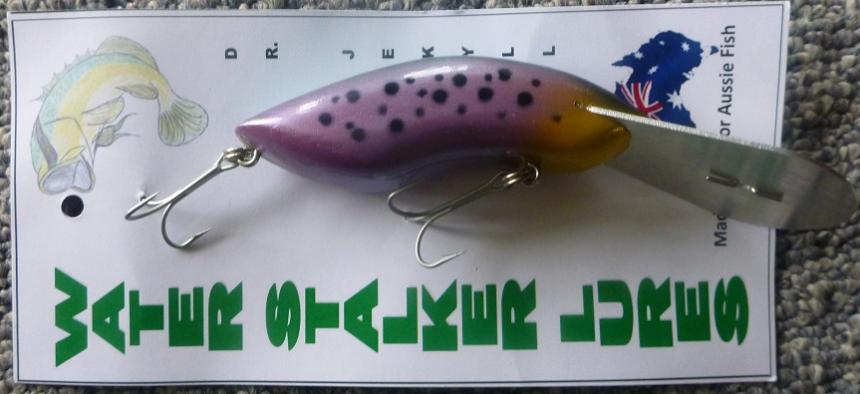 Wax's Lures - NSW;
Wax's Lures are made by Roland Davis who was originally inspired to make timber lures after purchasing a Travers Powell Lures kit.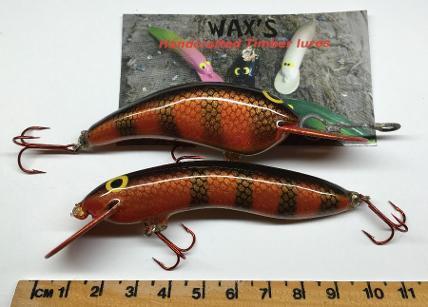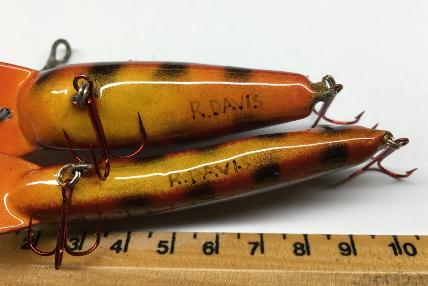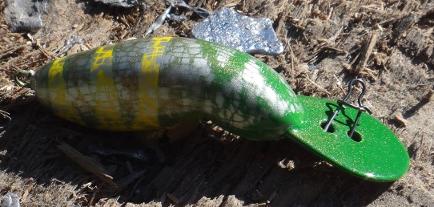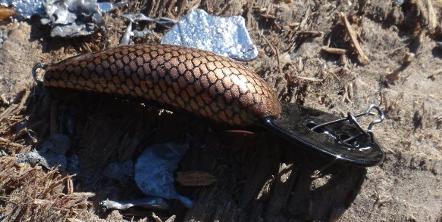 A nice group of Wax's creations from the last few years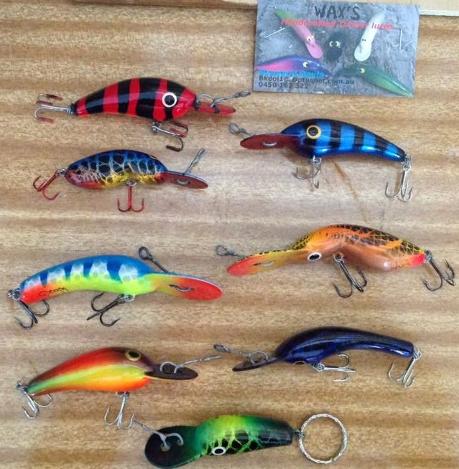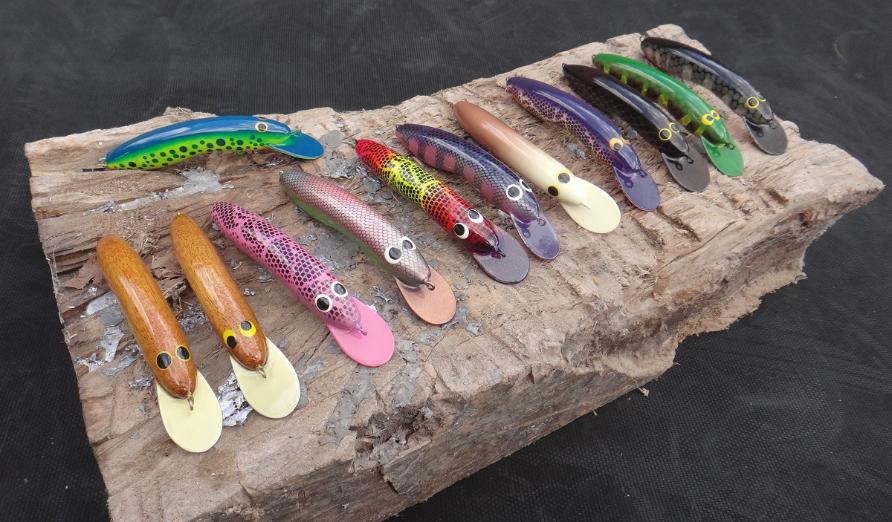 Wax's Lures have really evolved in the last couple of years and Roland kindly supplied the following photos showcasing what he has been creating.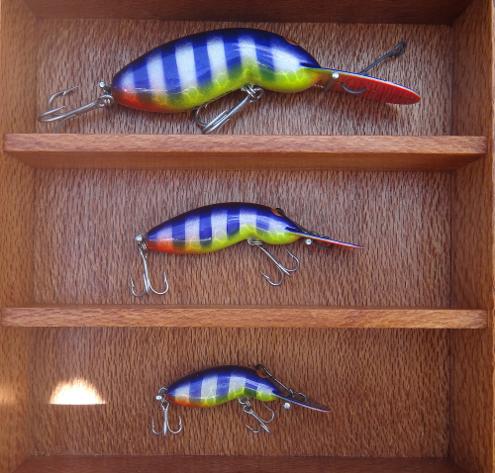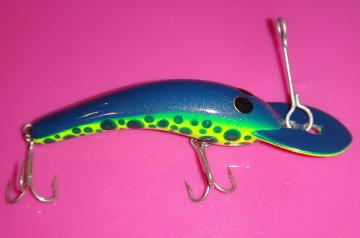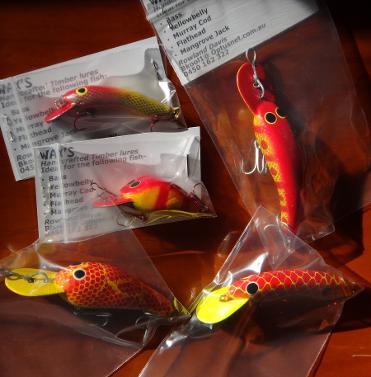 Weavers Lures - VIC;
'Weavers Lures are made in Murray Bridge and were started in 2008 with an aim to build strong, quality lures to handle any size native fish. Lures are in sizes, weights, combinations and colours that are suitable in all areas across the Murray/Darling basin and beyond. They are built extra tough to handle our natives and be thrown all day at all types of structures. The best possible quality blades and components are used on Weavers spinnerbaits, heads are powder painted and all lures are shaped, poured, sanded, painted and assembled with help from the Weaver family.'
Wee Willy Lures - VIC:
Wee Willy Lures are a timber lure that are made in Shepparton, Victoria.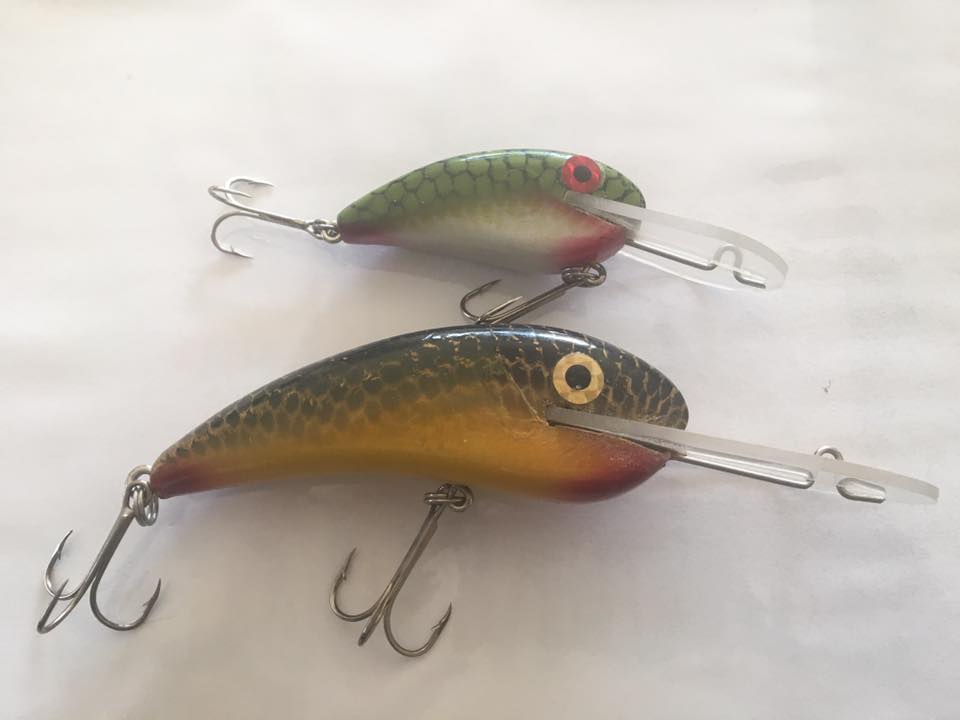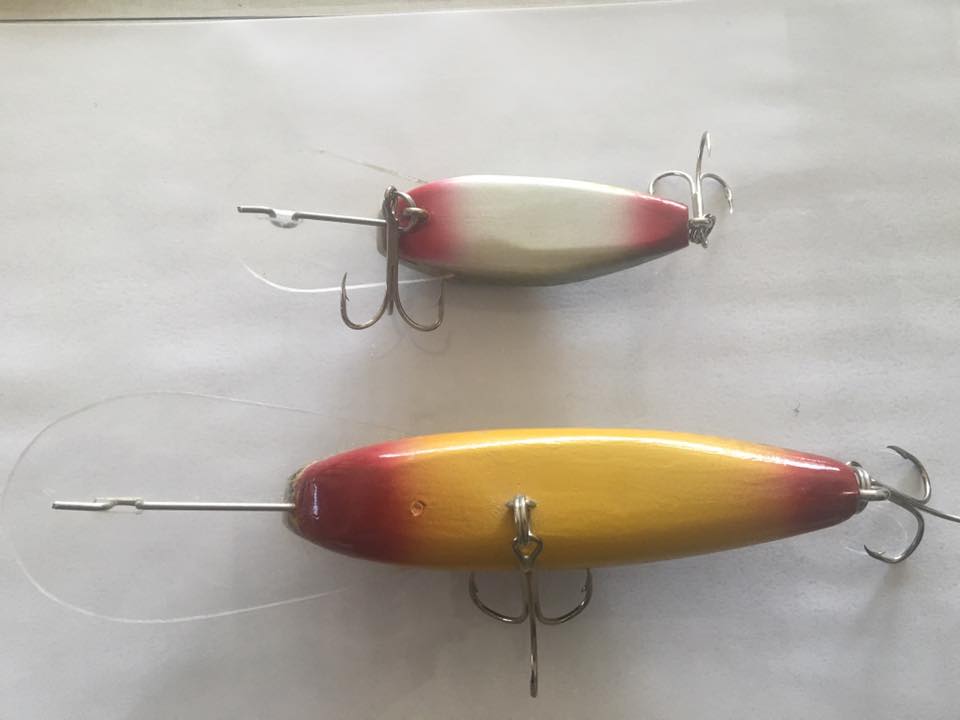 Wegerif, Ron Wegerif Lures - NSW:
Ron Wegerif was an avid rock angler who made his own lures and was acknowledged in a small publication entitled 'Rock Fishing Secrets and Ocean Safety' which is quoted as follows;
"This book is dedicated to the memory of the late Ron Wegerif from Terrigal, NSW (1928 - 89). Ron was an extremely well known and respected angler, with a wealth of knowledge and experience gained over fifty, incident-free years of rock fishing on the Central Coast.
Everyone respected Ron. He was a true gentleman who always took time to say 'G'Day Mister', before sharing a fishing story or safety tip with anyone who asked advice. A perfectionist craftsman, he made hundreds of rods, floats and lures for his many friends, always refusing to accept any payment for his time and effort. Ron enjoyed solving problems simply, by improvising. He made his own hook extractors for blackfish, by cutting a fine slit into the eyelet of an old toothbrush, and was the first angler I know of, to add home made metal sprigs to the soles of plastic sandals, to provide grip on slippery rock surfaces. He pioneered the sport of high speed spinning with tiny lures for frigate mackerel at Terrigal Haven after fluking his first Frigate on a piece of green weed being retrieved quickly below a blackfish float on four pound (2kg) line. . . .
A fit and active angler to the end, he died soon after a heart attack. I know I speak for all of the many people who knew him when I say 'Thanks for the good times and advice. Rest in peace, Ron"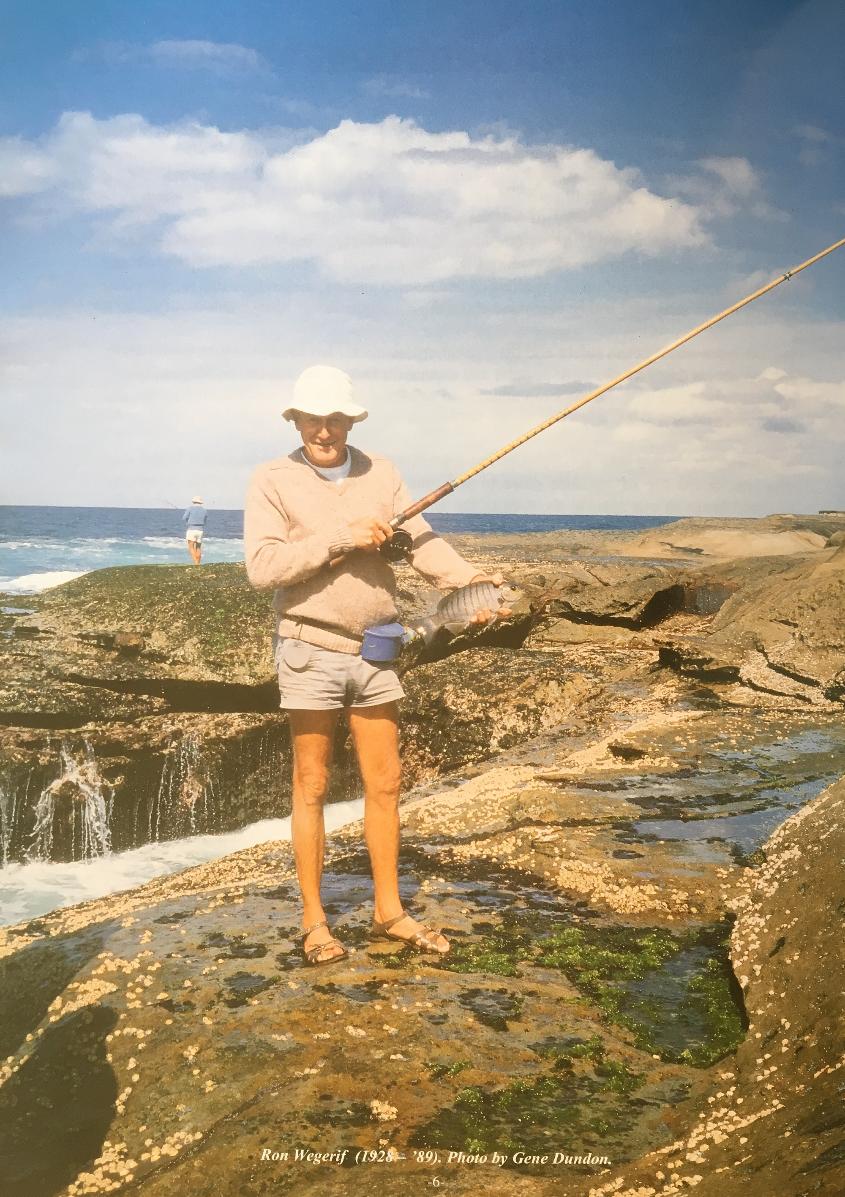 Welch, Bert Welch Lures - NSW:
Bert Welch from Mallanganee was making timber lures from the 1960's through till the 1980's. Unfortunately due to arthritis Bert is unable to make lures. In 2018 he was 90 years old and has made many lures in his lifetime.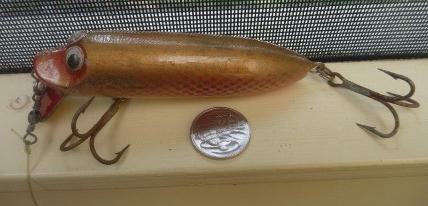 This large River Runt/Bellbrook copy is an old classic and a popular lure in the 1950's through into the 1960's. This lure is an older model.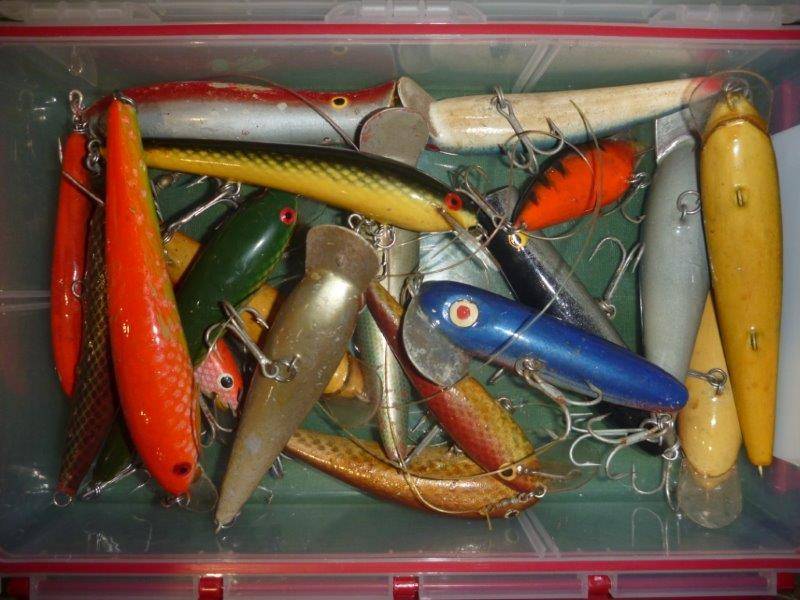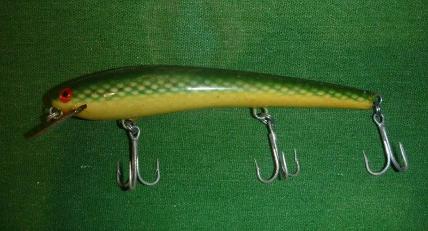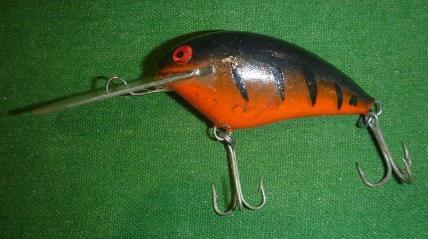 The lures showcased here belong to the family and show the wide range of influences for Bert's lure making.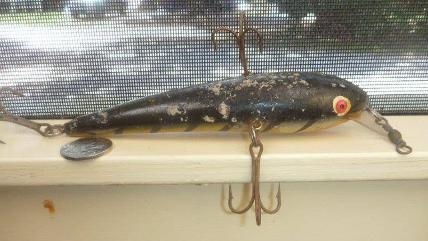 Trebles out the side of the lure and similar design to the older Nilsmaster 'Bidgee' (above) and an Arbogast Musky Jitterbug (below). Left shows the last remaining Bert Welch lures so hopefully this will help identify some unknowns in the future that can be attributed to Bert Welch who was a fine lure maker indeed.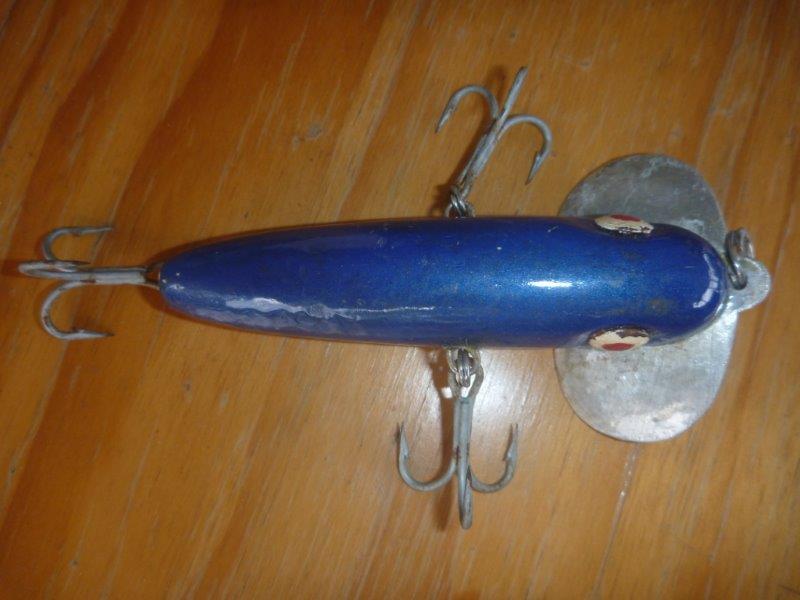 One of the biggest influences is the Nilsmaster 'Invincible' which is a killer lure - Bert was reknowned for his Nilsmaster inspired copies.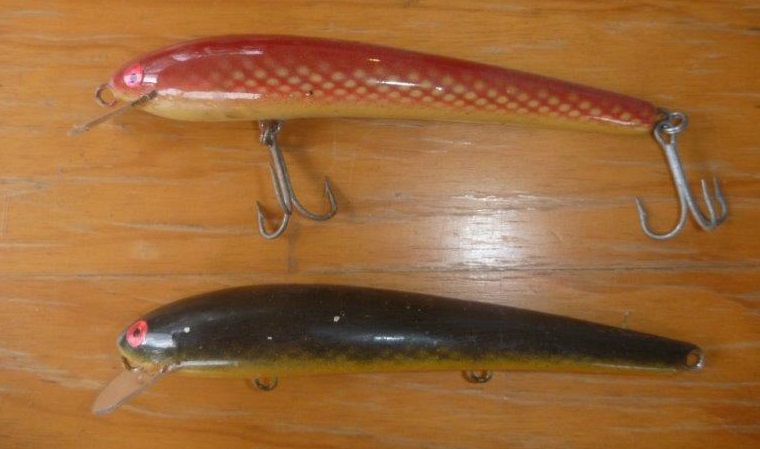 Western Sniper Lures - QLD:
Made in Winton by Paul Clarke. The following history was kindly supplied by Paul and Liarna Clarke;
"Paul started making lures when he was living on the Clarence River in the early 90's and continued when he moved to Gumlu in North Queensland. These lures have no identifying marks." These earlier lures are shown right.
"Lures made in the early 2000's while living in the Kingaroy area may have KML (Kingaroy Made Lures) on the side in gold." Shown below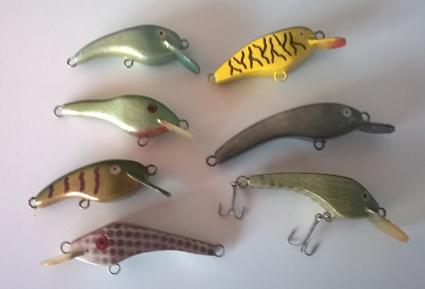 Western Sniper Lures have been available for a few years now. Below is the most recent card and model.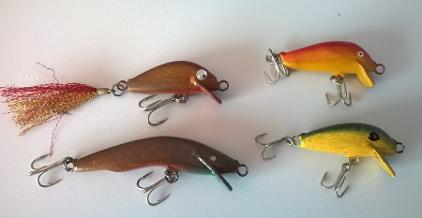 "2012 in Winton was the first of the true Western Sniper Lures and the first time Paul used the fish symbol to sign his lures. (There were only 12 lures made that year)"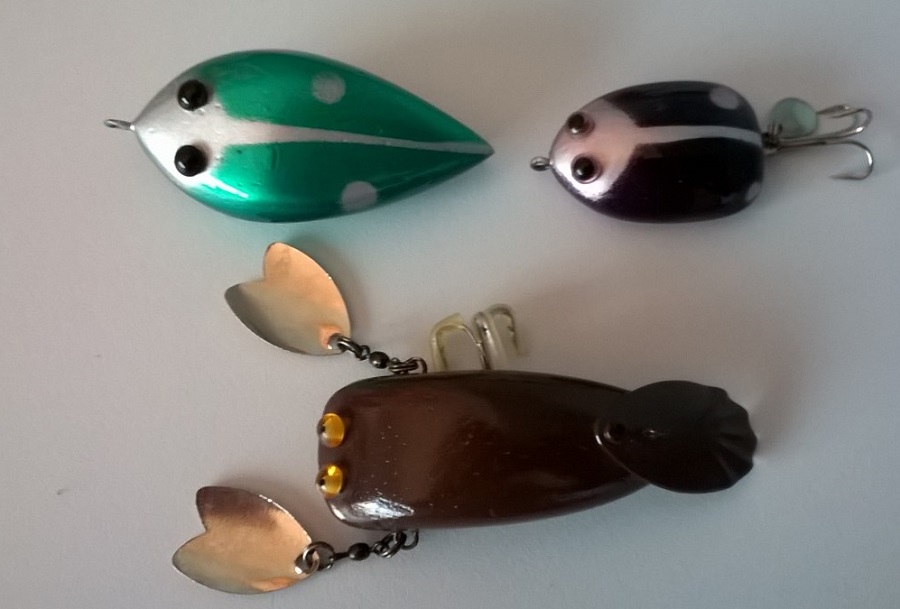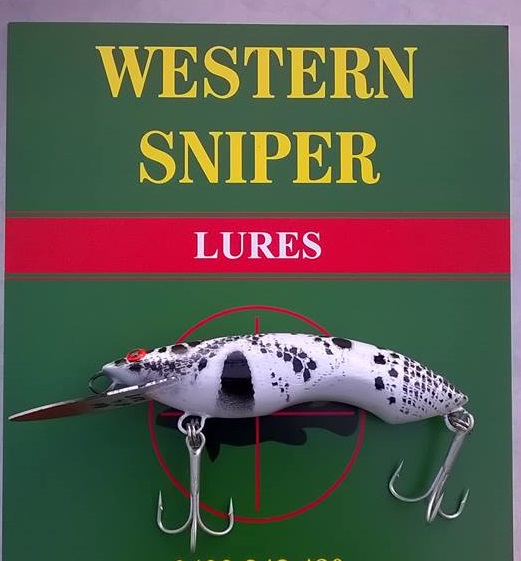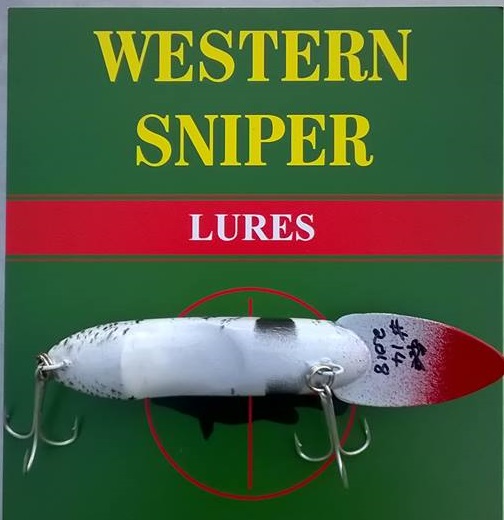 Wetherspoon, Ken Wetherspoon Lures - NSW;
Ken made lures through the 1980's and 1990's and was from Glen Innes. Ken passed away a few years ago and his lures are not common but do show up occasionally. Quality made timber lures that normally feature the soldered towpoint common to the New England area of NSW.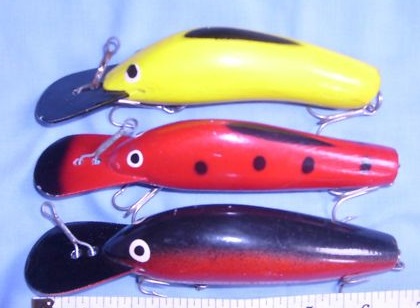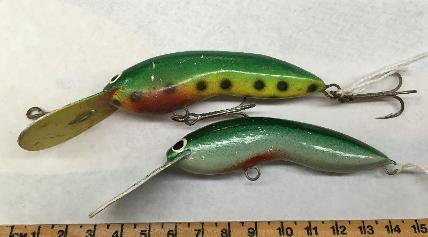 Whiptail Lures :

Whiptail Lures are made by Wade Garland and have emerged on the scene in 2017 with a small range of handcrafted timber lures utilising simple but effective colour finishes. Images taken from Facebook page. More information coming soon.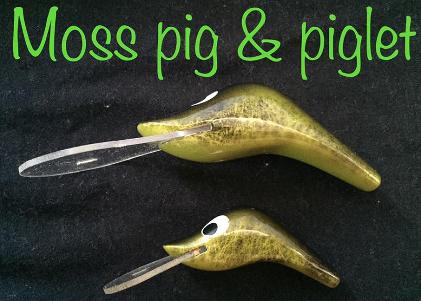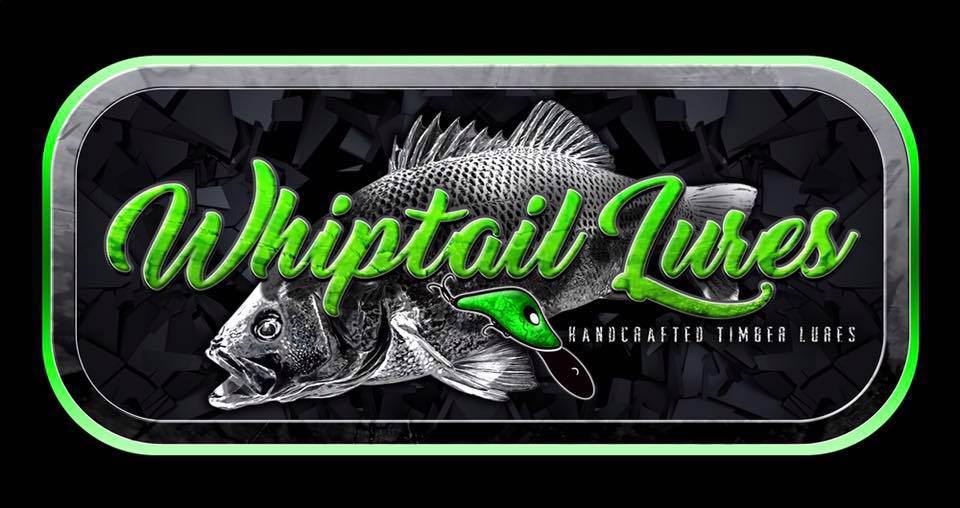 The lures below were offered for sale in 2017.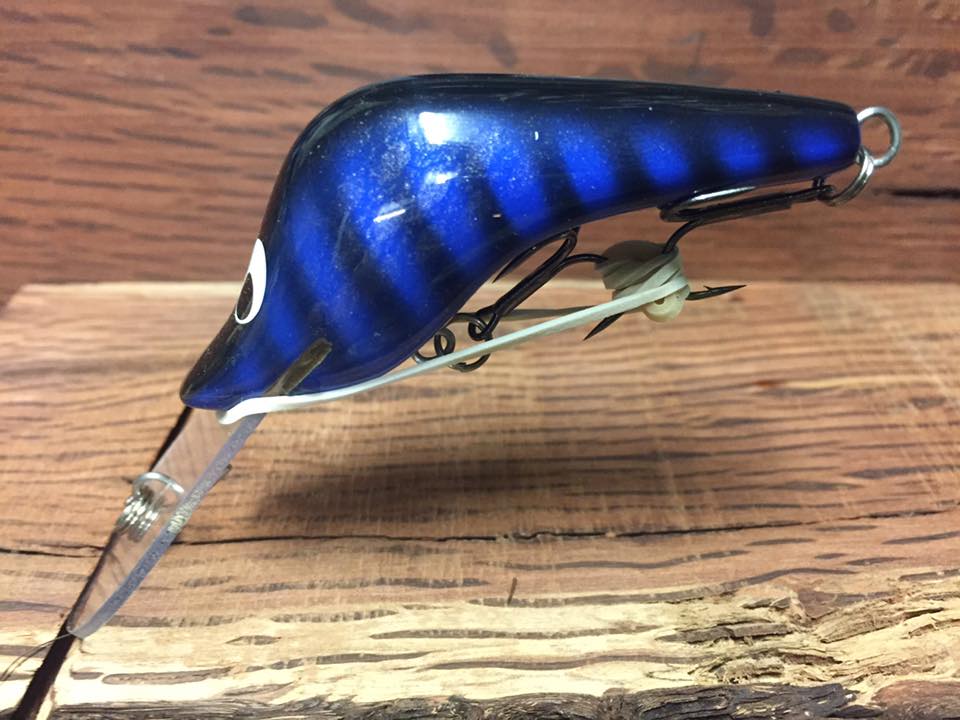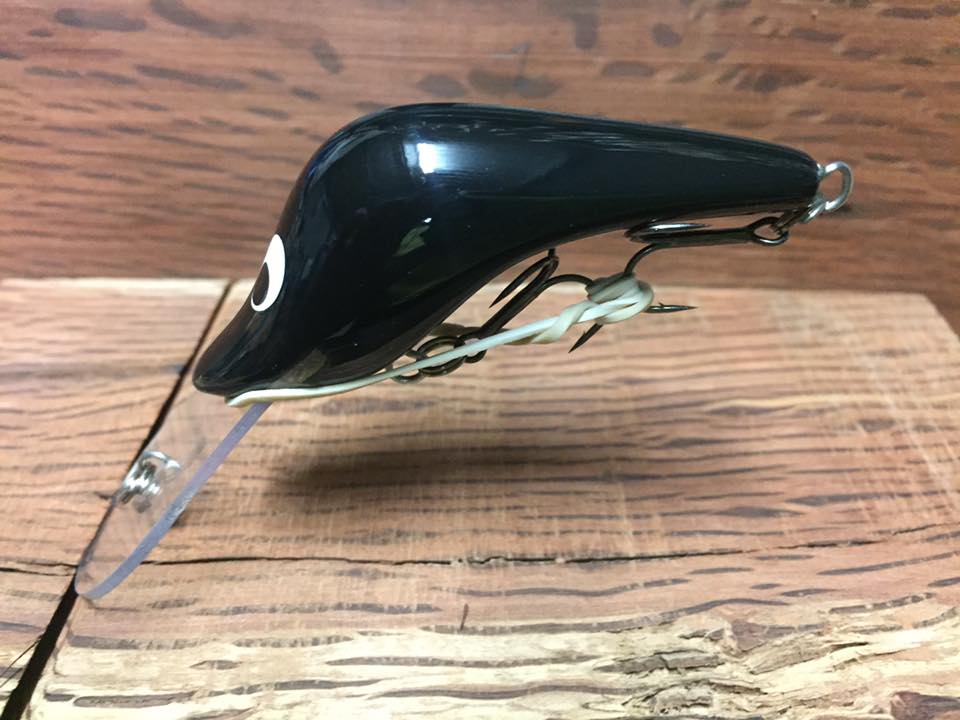 Whiptail Lures released a jointed surface paddler called the 'Wake n Bacon' in early 2018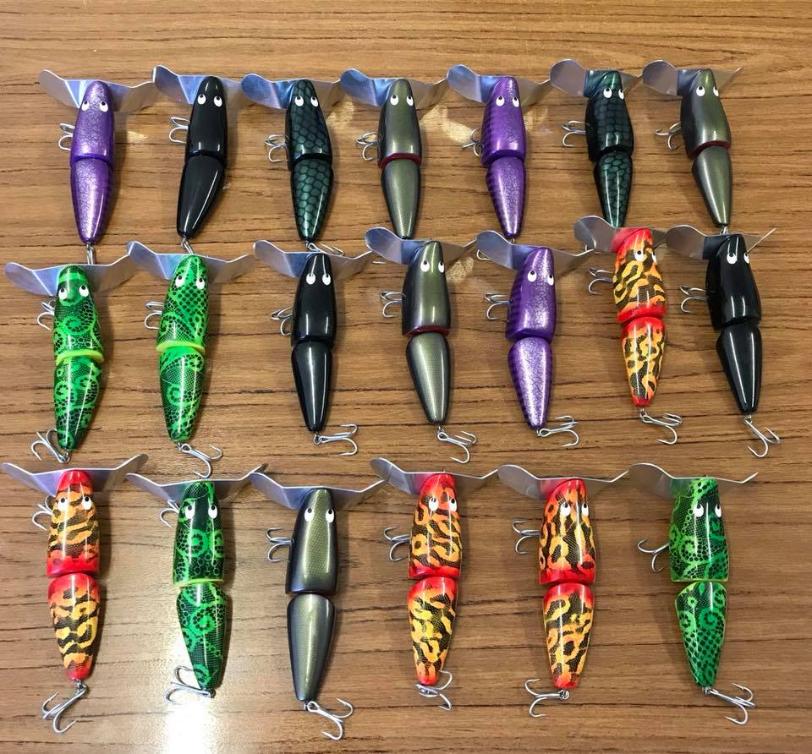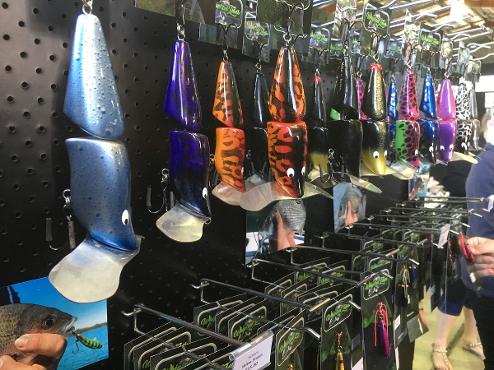 Right - Whiptail Lures surface 'Skitta Prawn'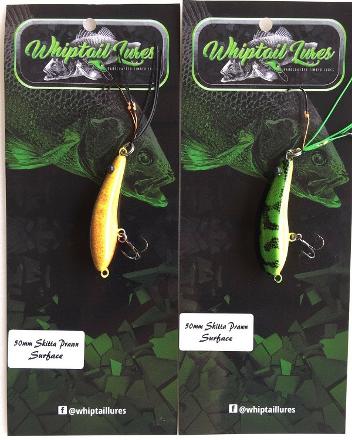 White, Lionel White Lures - QLD;
Lionel White is an inspirational lure maker who has been making lures for over 35 years. He used to make 200 lures per week in the 1980's, shaping 4 days a week and then testing and fishing on the other days. Lionel White lures have the look of the typical QLD minnow style as epitomized by Eric Moller and other historic QLD makers. His lures will often have the painted 'chevrons' down each side of the lure and most will be signed.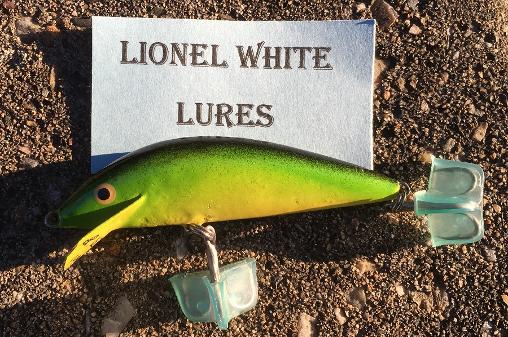 Lionel White lure with original card from 1979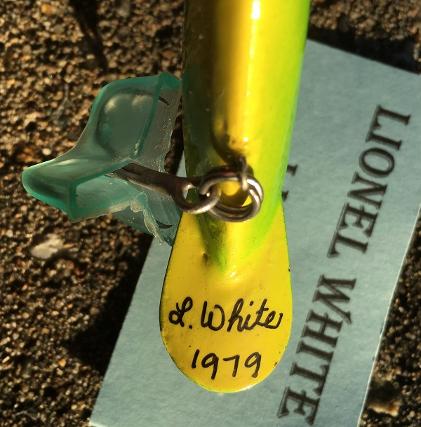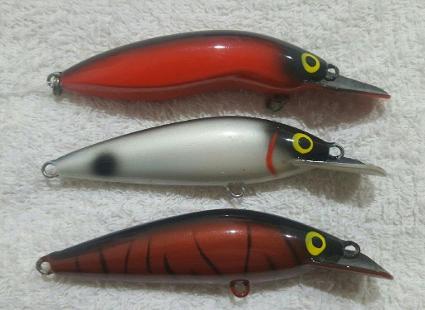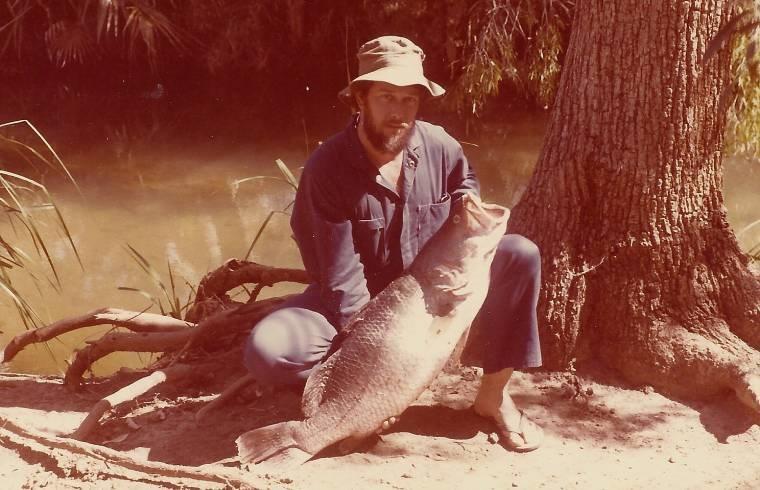 Lionel White in the late 1970's with a nice barramundi.
(Right) An early obscure Lionel White lure pattern showing timber construction and painted model.
(Below) Two early models c. early 1980's.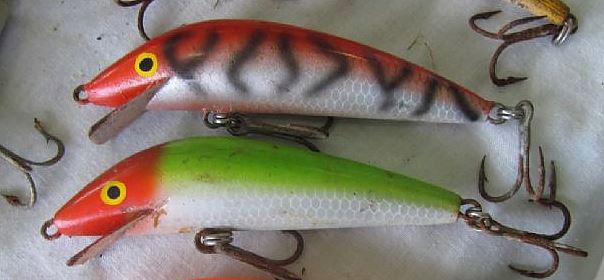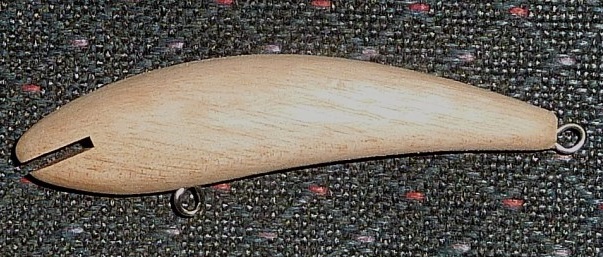 Thanks must go to Lionel for sharing his story as his lures have their own style and are exceptionally well made.
'I have always enjoyed fishing and often went to my wife's family property on the Gregory River in the Gulf. I made many trips to the Northern Territory. As I kept losing too many lures I decided to make my own which was in the late 1970's. I travelled once a year from Nambour to Cairns supplying tackle shops with my lures.
In 1984 we moved back to Townsville and I continued to make lures in my work shop as I had started a Cabinet Making business. I stopped making lures around 1997. I gave fishing away in the NT as the crocodiles got a bit big as well. In 2001 I got my first Harley Davidson. That and photography became my interest. Travelling all over Australia. In August 2010 I had a stroke. This effected my right side, speech and confined me to a wheel chair. It was like being reborn, learning to speak, walk etc. In hospital 6 months, then home but continuing rehab. Since then I am managing to do most things. Unfortunately I am unable to drive due to medication and short term memory loss.
One day on lure lovers I saw a man with one arm making lures and this gave me the incentive to try making lures again. This has given me more strength in my right hand. Also an interest in fishing which I am managing to cast left handed. I have a good friend that I used to go fishing with when we were young and he now takes me out in his boat. Making my lures is little different from then as I used to hand carve them, now I rely on machinery. I use a band saw to shape the lures, a belt sander to sand them and a modified biscuit machine to cut the bib slots. I still spray paint the lures like I used to except it is now with the left hand.'

Cheers Lionel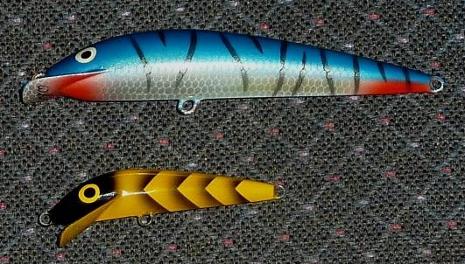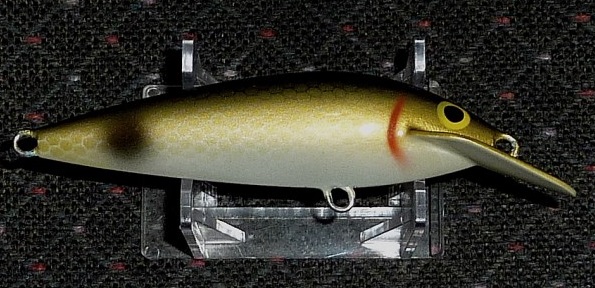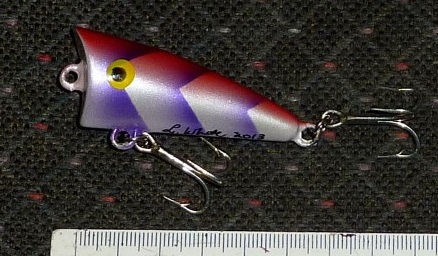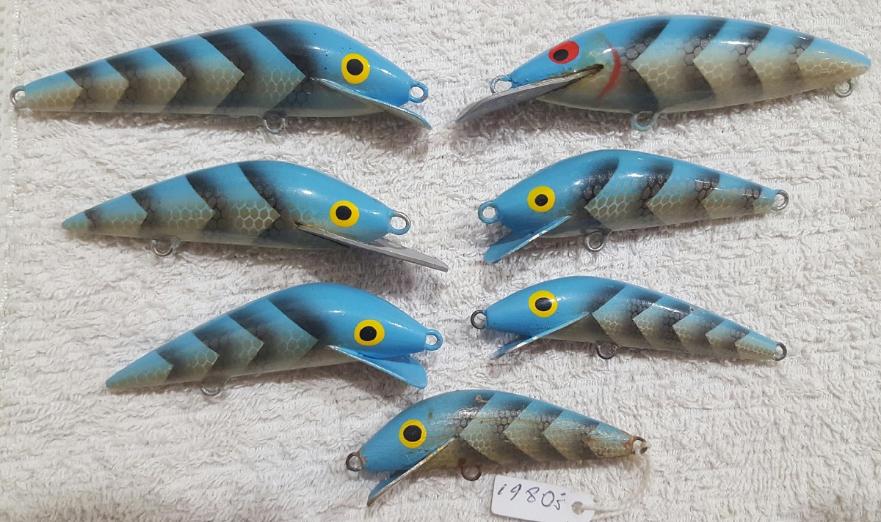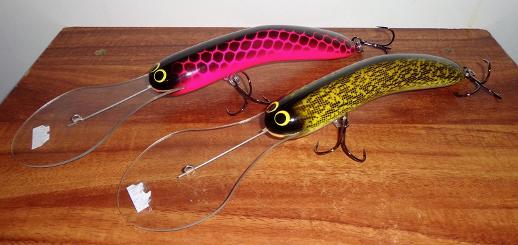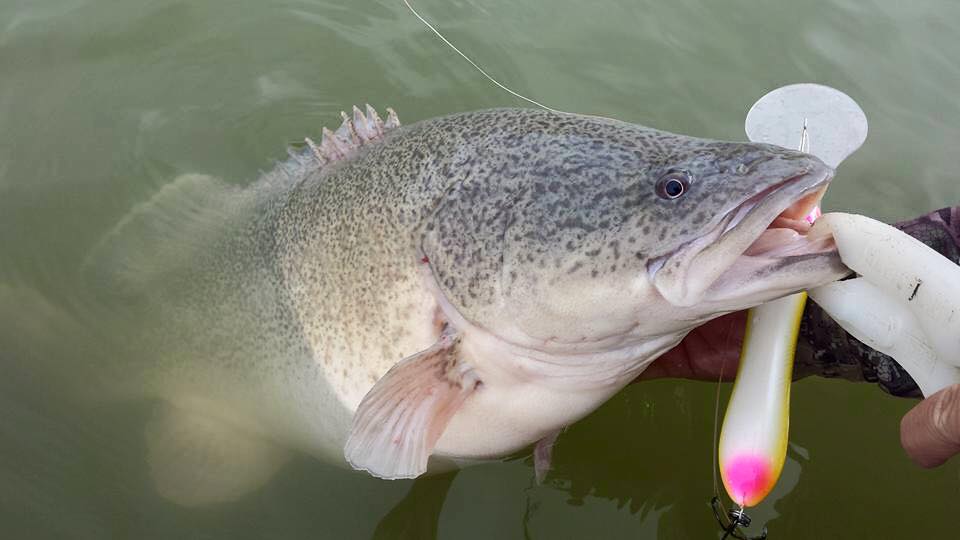 White Crow Lures :

White Crow make a range of lures aimed at Australian native fish such as Murray Cod. Emerged onto the lure making industry in 2016 and with 18 patterns in the colour range, the deep diving 'Warthog' is proving itself as a good fish catcher.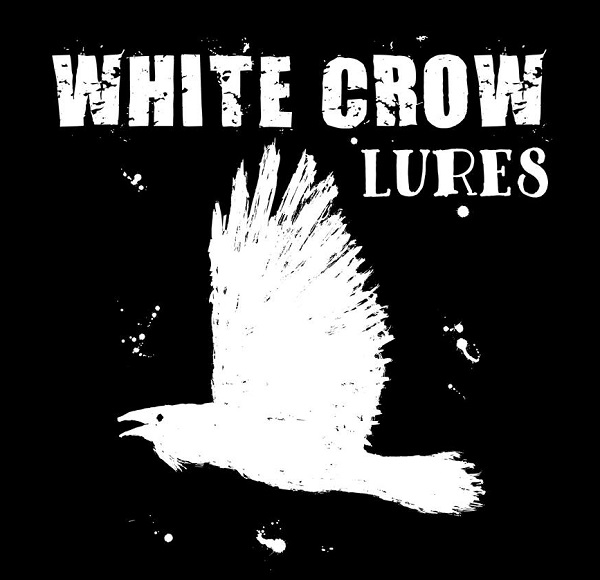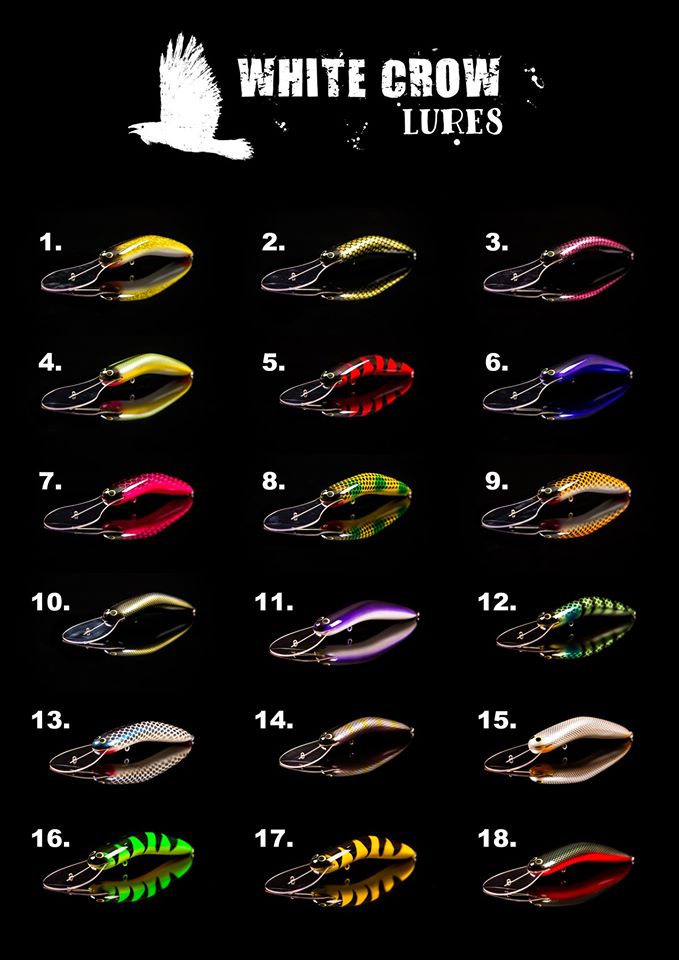 Whithead, Phil Whitehead Lures:

Phil Whitehead has been making good quality timber lures for many years which have a close resemblance to Killalure minnows although they are easy to tell apart. The finish and colour patterns are different to the early Killalure range.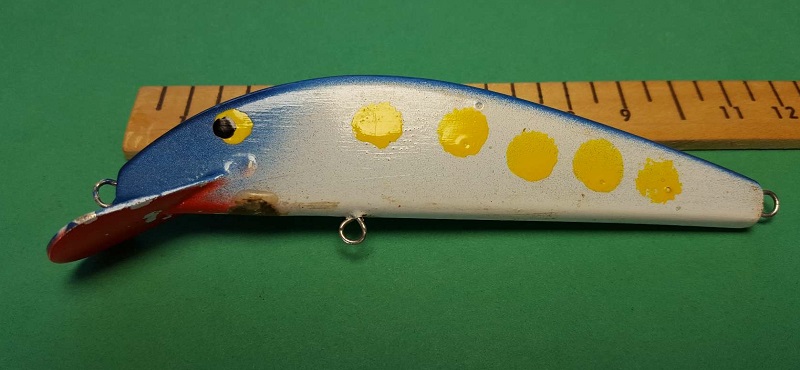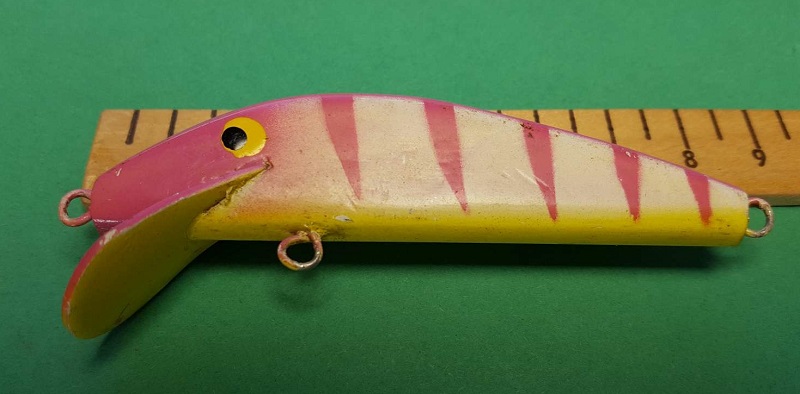 Whitmore Lures - NSW:

Ray Whitmore made some classic wooden lures. Whitmore Lures forged a reputation as excellent fish catchers with the classic 'Whitmore Cray' pattern which competed with the early Deception lures made by Paul Kneller. There was also the Whitmore 'Barra' and the 'Mega Boomer'. See full page bio at Whitmore Lures whitmore.php
Whittys Lures - NSW :

Whittys Lures were made by John Whitfield of Glen Innes, NSW and are hand crafted from timber - they have forged a reputation as great native fish catchers. Models include the 'Wompa', 'Seeker' and 'Dee-Bob'. See full page bio under Whittys whittys.php
Whyte, Rodney Whyte Lures (R.S Lures) - QLD:
A hobbyist maker who made a small amount of lures for personal use. Based in Townsville. The signing of the lure was explained by Rodney - "I call them rats shit . . . if they dont catch anything I'm rats shit hence the initials RS"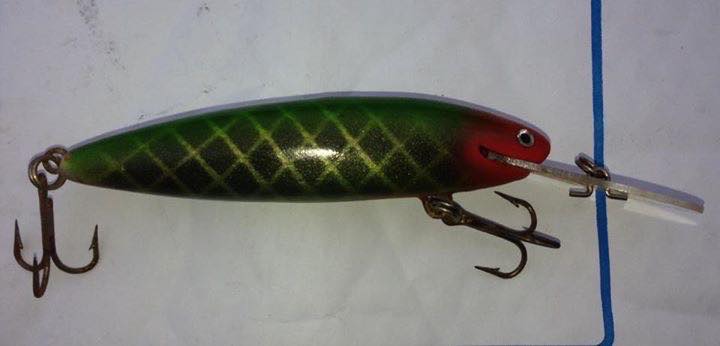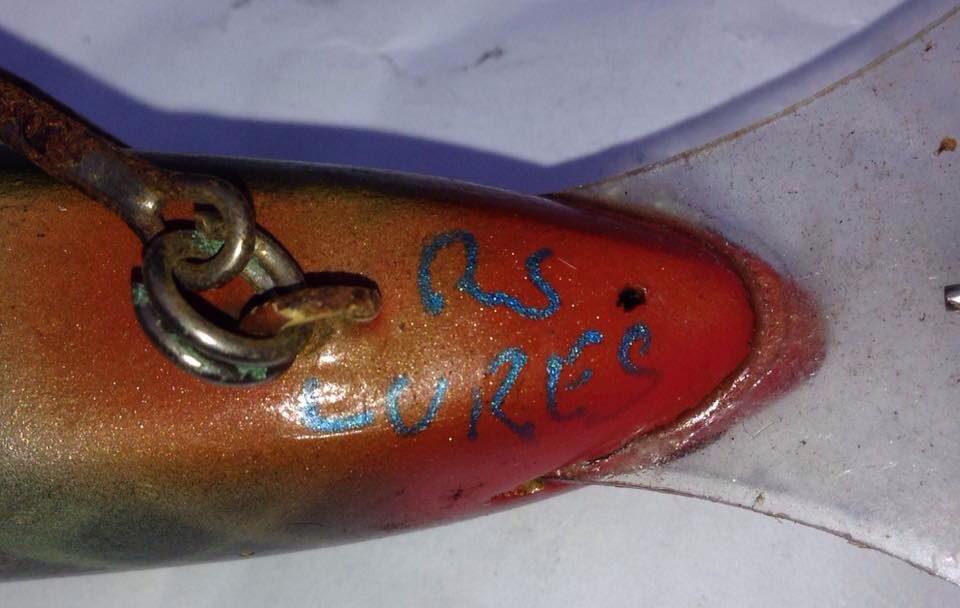 Wiggler - Woggler Minnow Baits:

Wiggler- Woggler Minnow Baits were advertised by Mick Simmons in their 1936 catalogue under the 'Special Lures' section of their annual Surecatch catalogue that focused on angling products. Unsure if they were imported or were a locally manufactured copy of American models that were made in Australia. The Rush Tango Minnow was a lure design that hit the market around 1920 and continued production until the war years.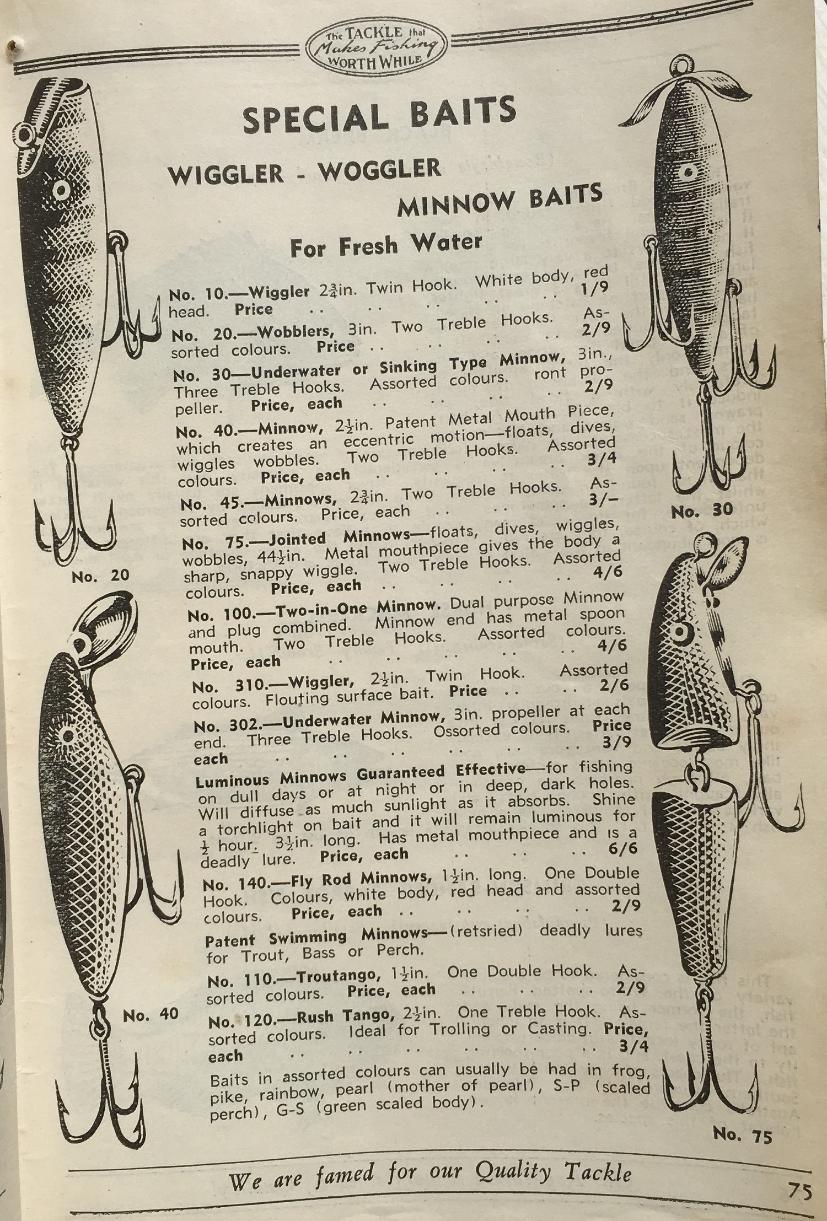 Wigo Lures - QLD:

Wigo Lures are made by Travis Wigful who has been hand shaping lures since 2017. Travis has worked it out quick and his early lures are of excellent quality. The lures showcased on Lure Hub OZ are from Travis's personal tacklebox and photographed on a visit to Glen Lyon Dam in August, 2019.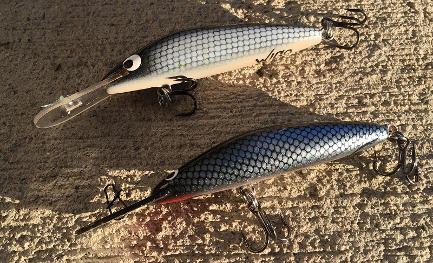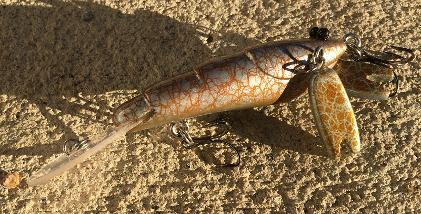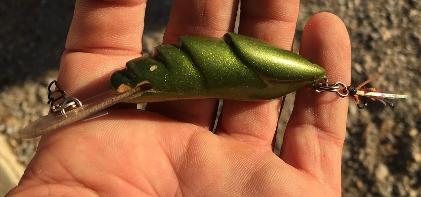 Wigo Lures are aimed at targeting Australian native fish such as freshwater bass and saltwater estuary species. Some impressive yabby imitations have been created so far suited to a wide range of applications. Lures are signed on belly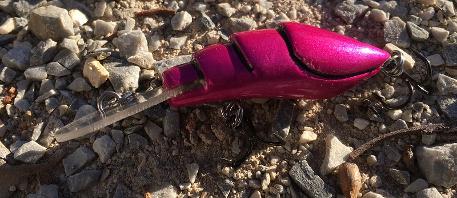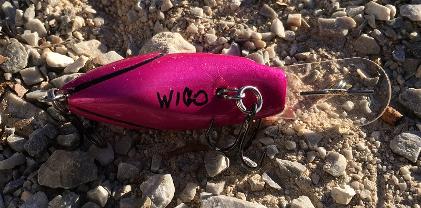 Some outstanding small minnow patterns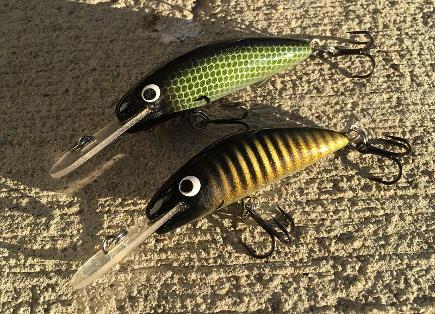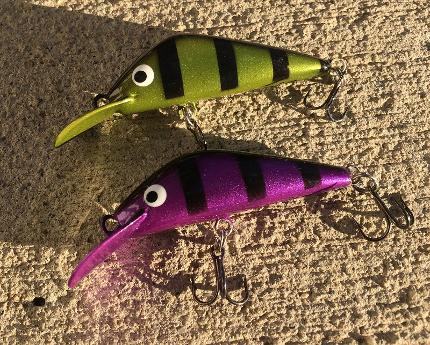 Wigstons Lures - TAS:

Wigstons is an historic company and manufacturer of the now world famous Tassie Devil Lures. See full page bio. wigstons.php
WildBait Lures - VIC:
A maker of extremely well made lures. An impressive product made in Pakenham. Information and photos from the Wildbait Facebook page;
"The ultimate precision bait for predatory fish. WildBait Lures are designed and developed with the utmost dedication to quality and performance.
WildBait Lures are not mass produced, they are developed with great detail by a skilled craftsman for fisherman who appreciate a premium product that works every time.
Each and every WildBait Lure is hand made, individually tested and tuned out in the field to maximise its unique action and appeal to fish.
WildBait is an Australian owned business."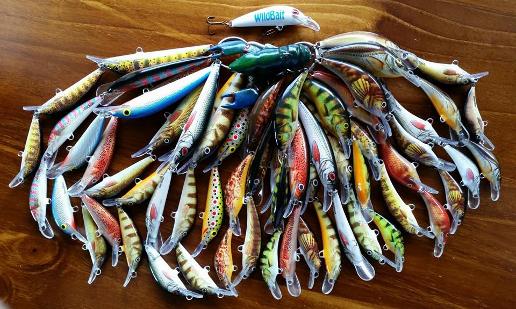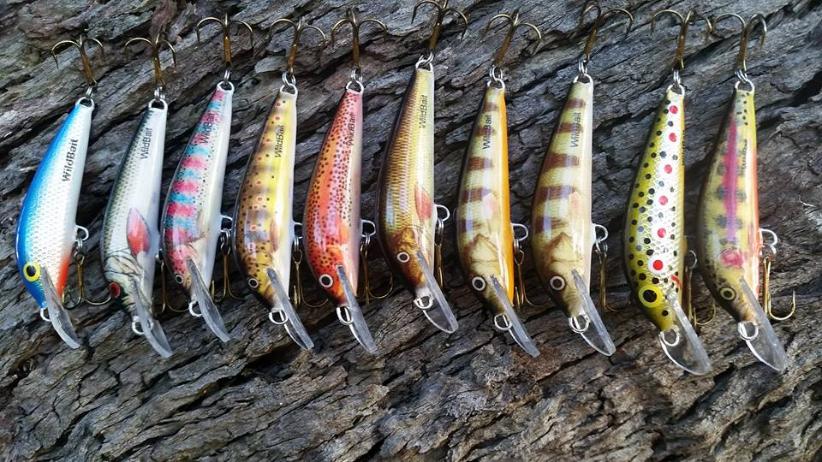 Wild River Lures - QLD:
John Collett is the man behind Wild River Lures and was a keen angler. John started making a few lures for himself and friends in 1977 and started to sell his lures to tackle shops in 1980.
He used a modified copy lathe that was made by Jeff Reid but set up a little differently by John so as to fully utilise the shapes and sizes of his lures. John then set about making a bib punch and concaver and then a custom wire twister to go with his customised triple head drill press.
John is a firm believer in making things easy because he has only one arm. In the early days he used to cut out the timber around an alloy template and then sand it down on a large open cut white stone wheel. He then hand sanded the rest. He now uses the copy lathe.
All eyelets are stainless steel and bibs are alloy. The paint finish is achieved by using acrylic paint with an airbrush. His very first lures were Red Cedar, then White Beech, then Western Red Cedar and finally he used old Pine. If his lures have a "H" written under them these were his first commercial ones with the 'H' standing for Herberton. If you find one of his lures with no writing underneath it is his earliest. If his lures have 'WR' underneath then they are his later ones with 'WR' standing for Wild River. The numbers underneath his lures are for colour coding charts.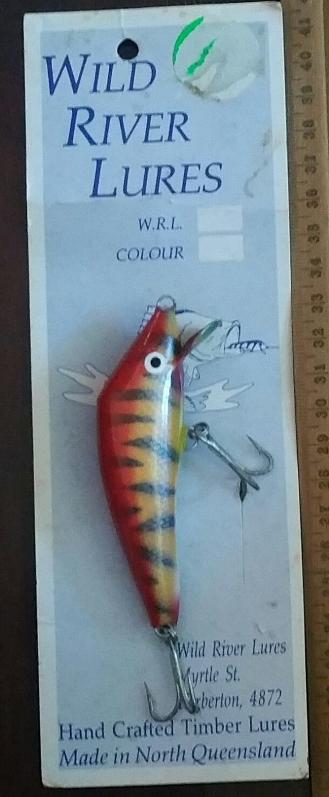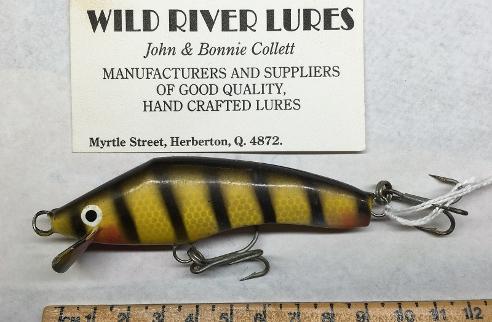 An early business card and probably the most recognisable of all the Wild River models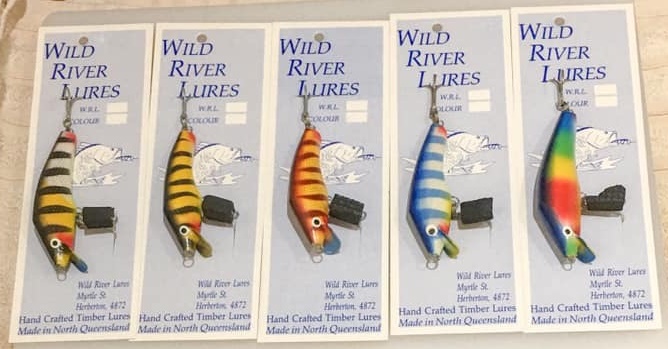 Above and left shows a spectacular colour pattern of Wild River on the card that was offered for sale on Ebay in 2018.
Below shows some early examples of Wild River Lures including an old display with some carded lures.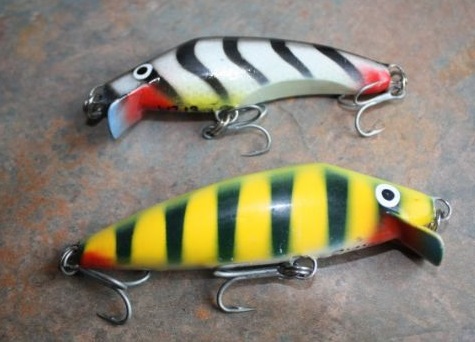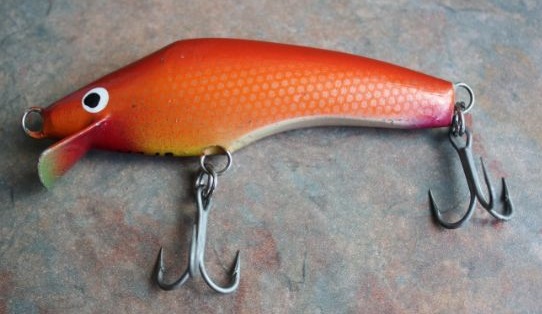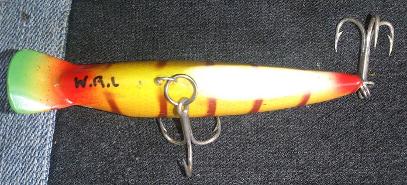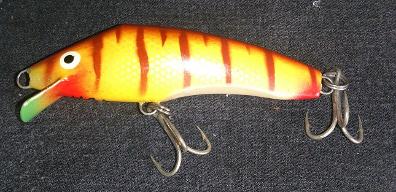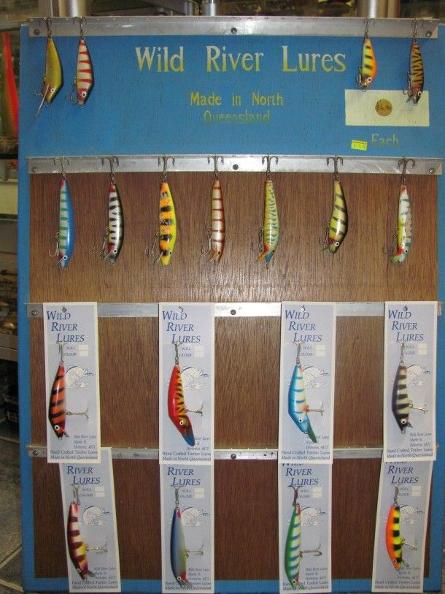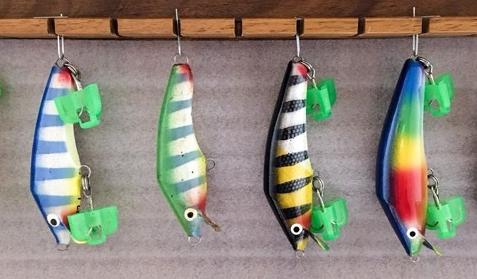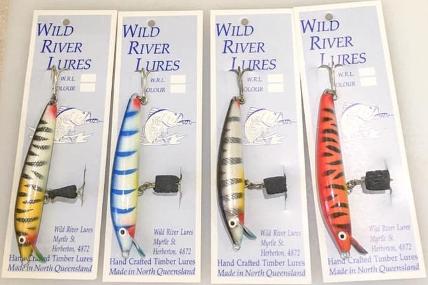 Some of the different Wild River models and shape variations are shown here including the longer minnow shape opposite.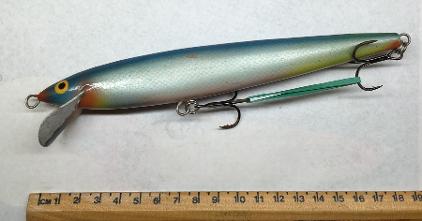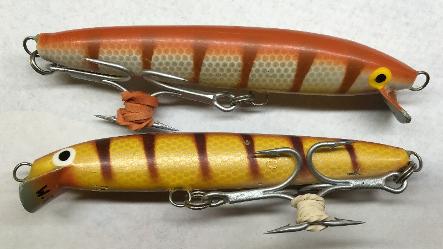 Some Wild River models were only ever made in small numbers like the minnows opposite which has two variations - the bottom two lures have a pronounced curved belly.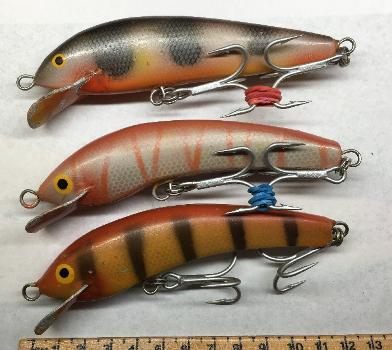 Wild Thing Lures - NSW:
Wild Thing Lures were made by Brett Coombes and Gary Hoban from Wilberforce around 1998/99. From 1999 the Wild Thing range and replicating machines were sold to East Coast Lures and Ian Stimpson. The Wild Thing logo is a razorback hog. Several models were made including a couple of different sized fizzers and bibbed diving models.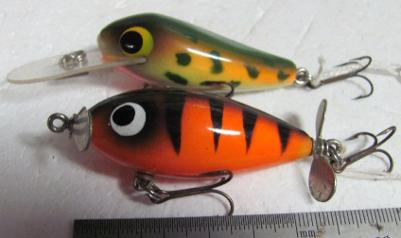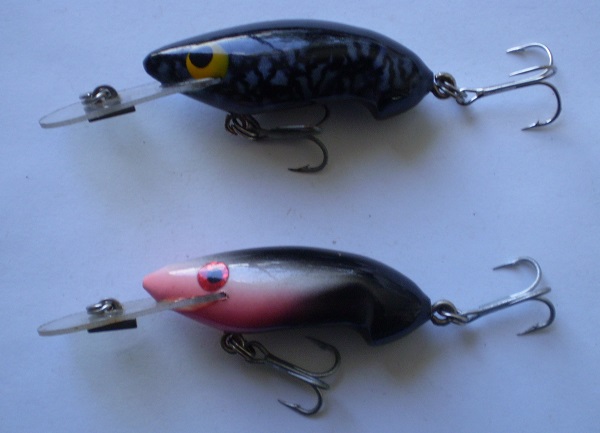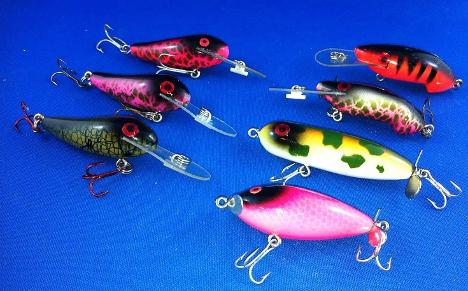 (Above) Some of the Wild Thing range including the bibbed diving models and the surface lures.
(Left) The early Wild Thing card showing reverse and contact address of Warilla, NSW.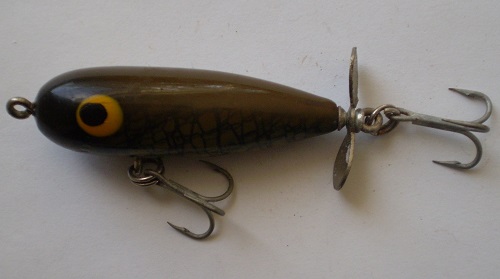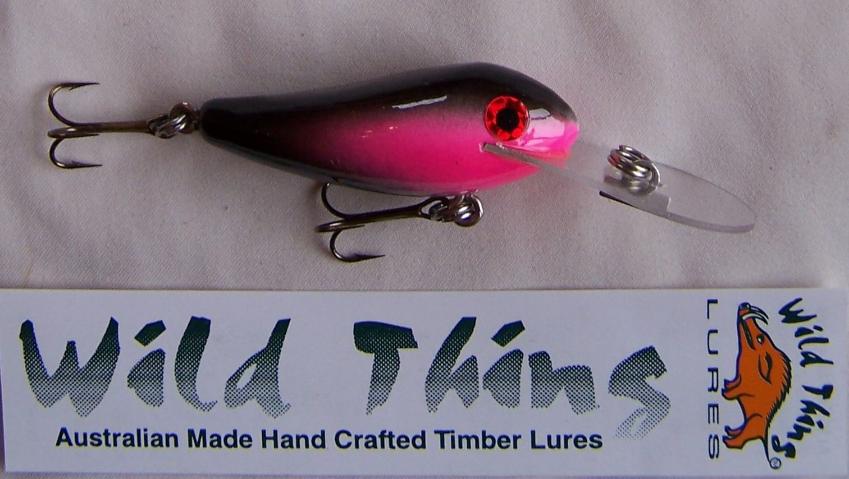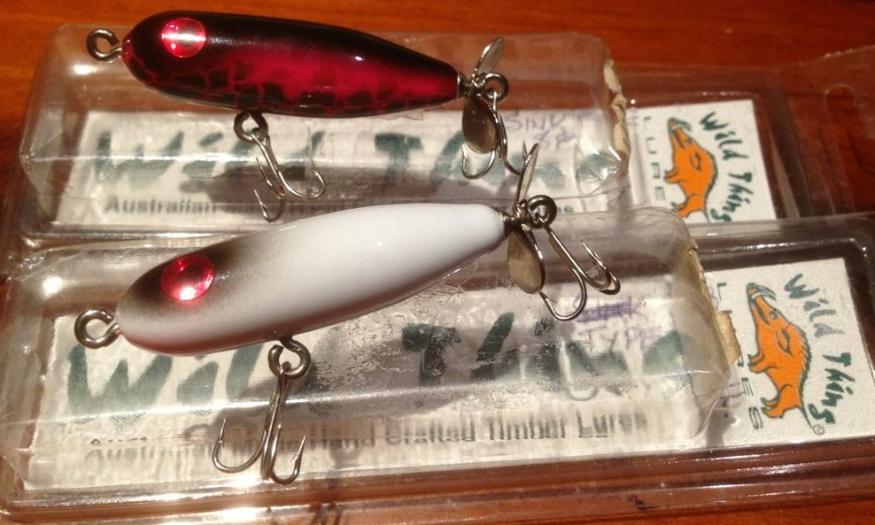 A review about Wild Thing Lures and Ian Stimpson c.1997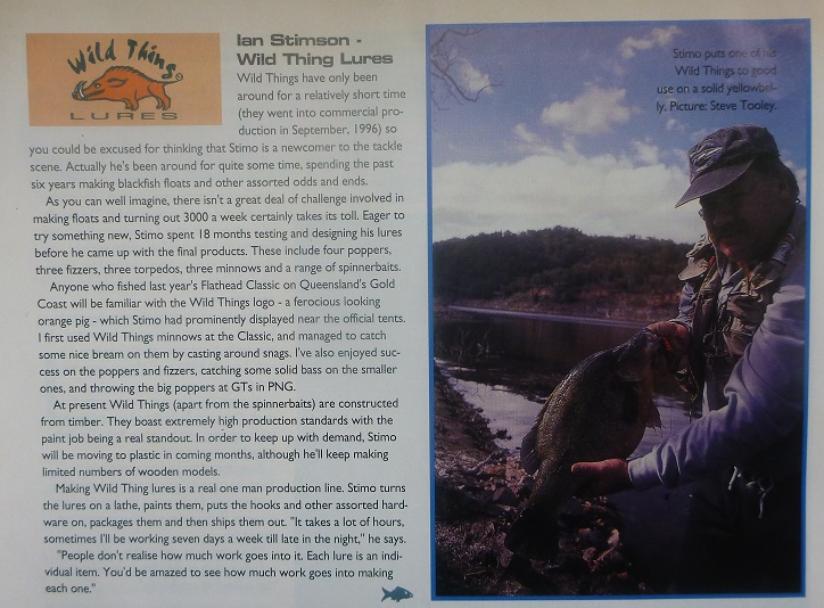 Williams, Henry Williams Lures - NSW :
Williams Lures have been marketed recently (2017) via Ebay and models include a moulded Flopy imitation as well as a larger minnow style lure. Made in Murwillumbah, NSW. Lures will be signed on the belly as shown.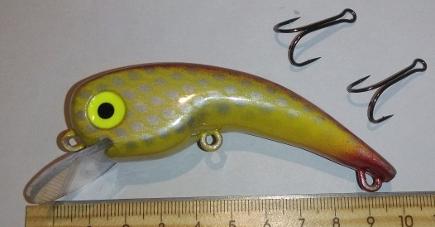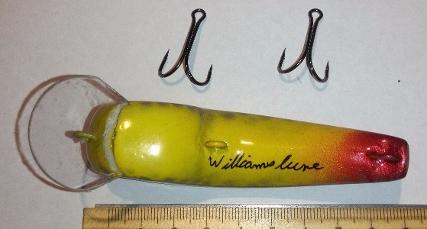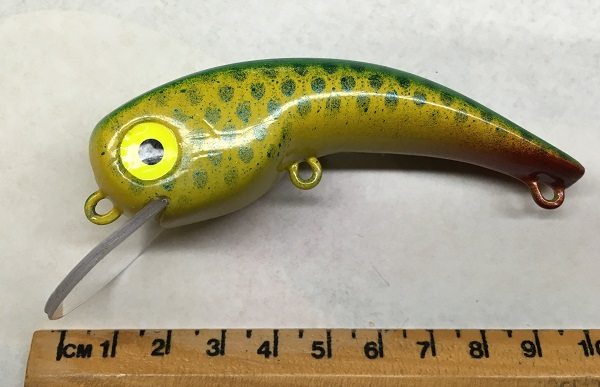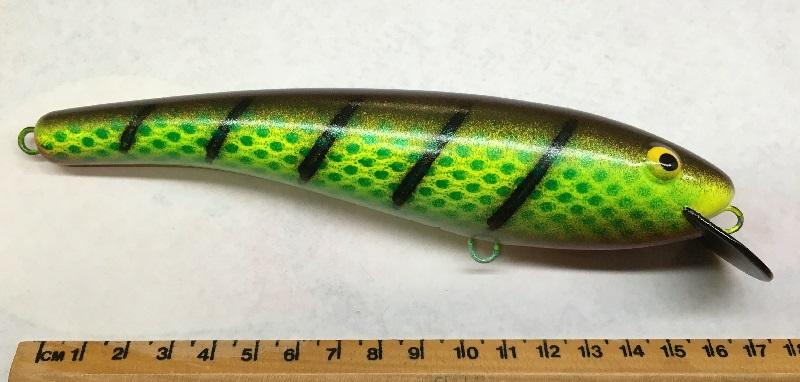 Willo Lures - QLD:
Willo Lures were made by Peter and Craig Wilson in Brisbane. Have been found constructed of timber and also moulded with 'Willo' on the side. Timber lures should be signed near tail of lure on belly. From the Willo website . .

''The Willo Group of companies can trace its origins back to 1992 when two brothers Craig and Peter started manufacturing fishing lures in their parents garage, under the family home. The brand name used for these lures was 'Willo Fishing Lures'. Although there was success with their designs and investors lined up, the two brothers decided to place these ideas on hold around the year 2002 while they completed studies and trades.''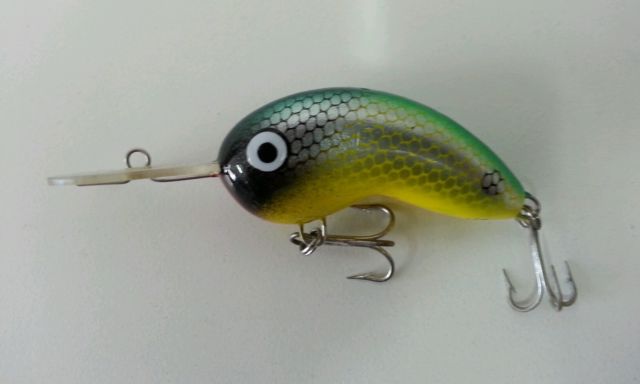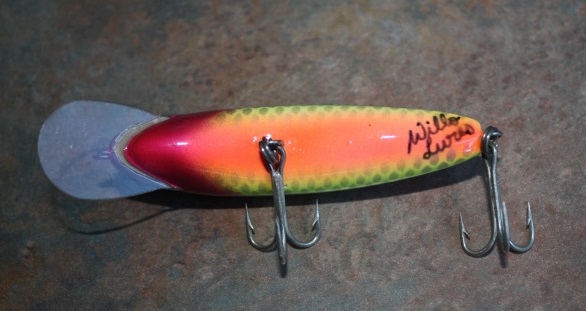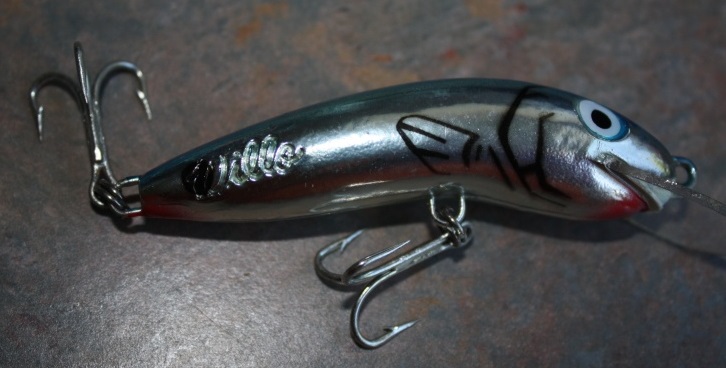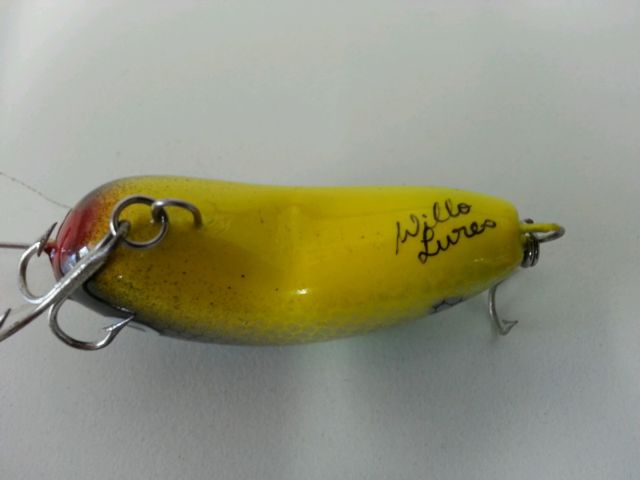 Press Release 20th November 2012;

Willo, a brand of Australian cottage-industry lures loved by fishermen all around the country in the late 90's - are finally making a comeback after more than a 10 year absence. Peter Wilson, co-founder of the original Willo brand has teamed up with French company 'Delalande' to re-launch the Willo brand with a range of exceptionally high quality lures. The lures, designed in France are innovative and the last three months of testing have proven their effectiveness in Australian waters. The modern range focuses on soft plastics as opposed to hard body lures.
Wilson Lures - NSW:
Wilson Lures were made available by Wayne Wilson from Aberdeen who was affectionately known as 'Weary Wilson' and is now deceased. He used to contract the body/blank making to someone from around Port Macquarie area. When he received the bodies he would spray, bib and finish the lures. The lures were very big in Glenbawn Dam with the locals. Nicely made lures and seeing more interest from collectors nowadays.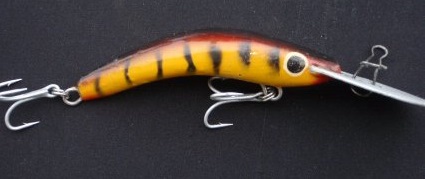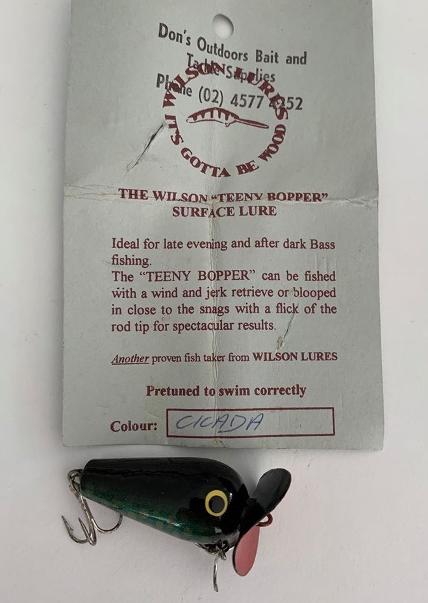 Wilson Lures also made the 'Teeny Bopper' which was a smaller surface lure with an interesting cup design that would 'spit' water. Shown left is a card for this model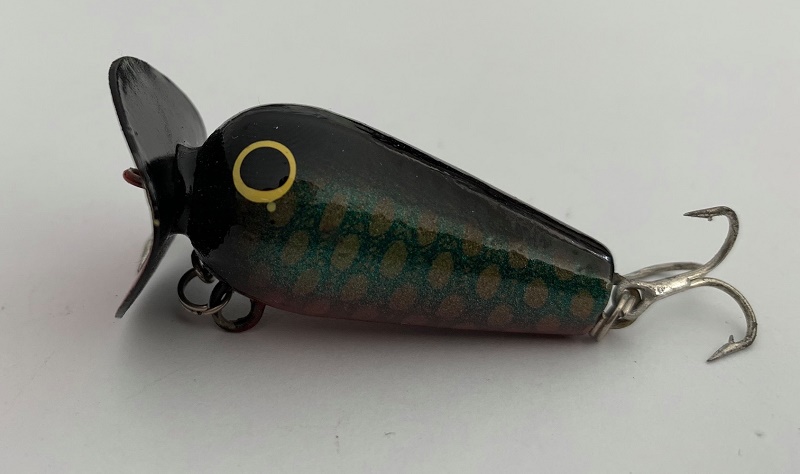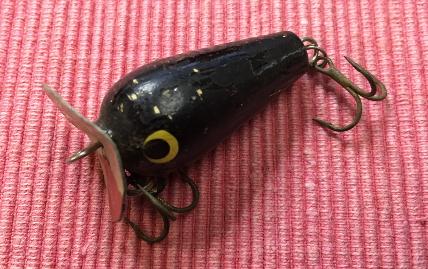 Wilson Fishing Tackle:
Wilson Fishing Tackle is an iconic Australian company that is still active in the manufacturing, marketing and distribution of a wide range of fishing tackle including lures in 2018. An active sponsor of angling shows such as Hook Line and Sinker.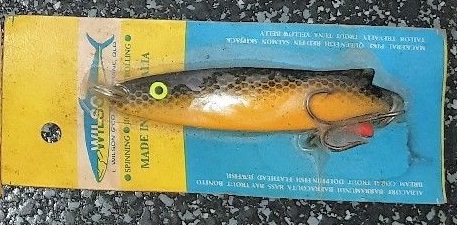 Below is a couple of older Wilson lures in packets.

WK Lures, Werner Kossman Lures - NSW:

Werner Kossman was a real character, an inventive genius as well as a being an extremely keen angler holding many Australian and World records. A true Aussie angling legend. Kossman made the WK Bristle (a straight troller or rock-spinner) in several sizes, and several sizes of the 'Arrow' and 'Action' which were metal high speed spinners. The bristles were unconventional at the time and caused a bit of a stir when released but
worked

! He died in January 2006 aged 84 years.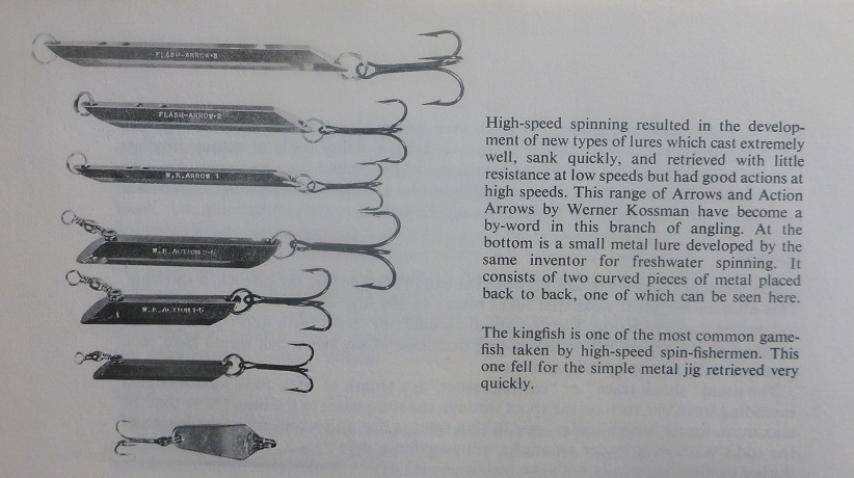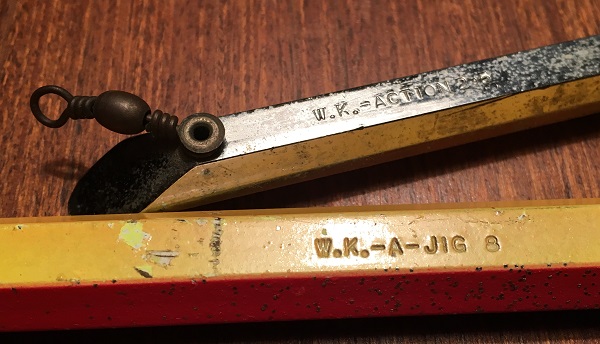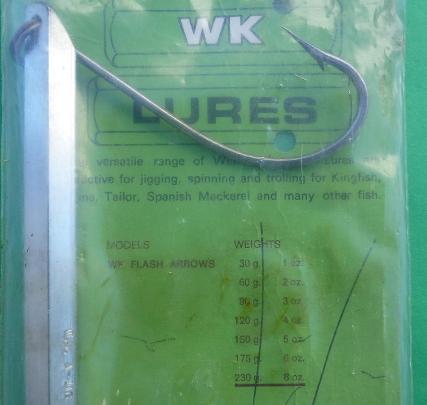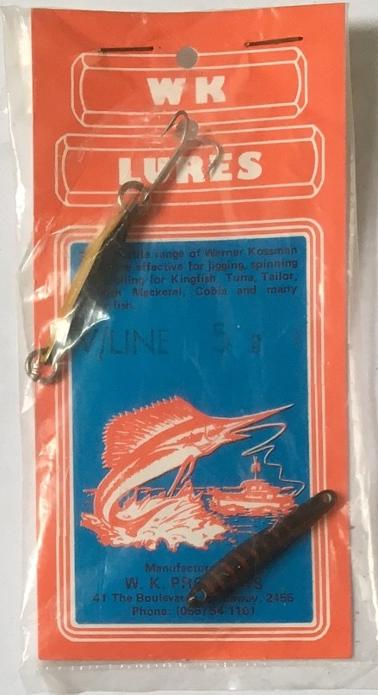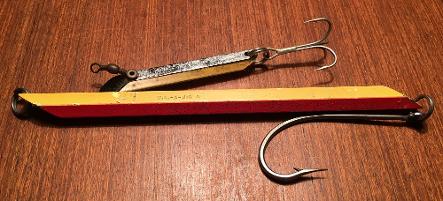 The WK 'Action' and 'Flash Arrow' are possibly the most common Werner Kossman lures found and were highly successful lures during the 1970's metal spinning craze. The WK 'A-Jig 8' is a large, heavy lure and fitted with a single treble as many WK Lures were.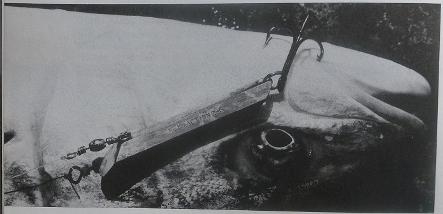 The images above are from John Turnbull's
'The Sportsfisherman's Bible
', 1974. WK Lures were extremely popular in the early to mid 1970's with the spinning boom that hit Australia.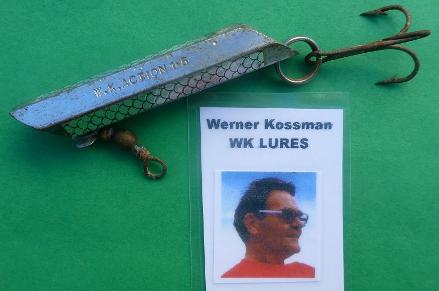 Some of the models available in the 1970's were the WK Lures are listed below. The WK Lures Flash Arrow range is shown in the photo above left on the green card and came in 7 sizes from 30g - 230g;
WK Lures Challenger 2 55gr, WK Lures Action, WK Lures Superjig 3 60gr, WK Lures Superjig 4 75gr, WK Lures Superjig 4 75gr, WK Lures Superjig 6 105gr, WK Lures V Line 65gr.
There is also a red/orange backing card with hooked marlin motif and is shown for the V/Line. This card has old phone number and address for the factory whre they were made.
Roger Hungerfords book 'How to Fish with Lures' shows the WK 'Twin-o-lure'below.

The WK Challenger 3 has an interesting shape with two ridges and a concave hollow and its heavy.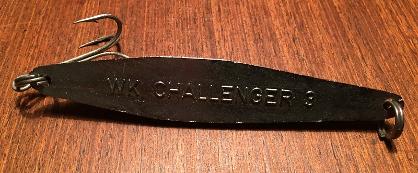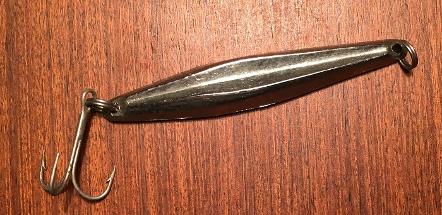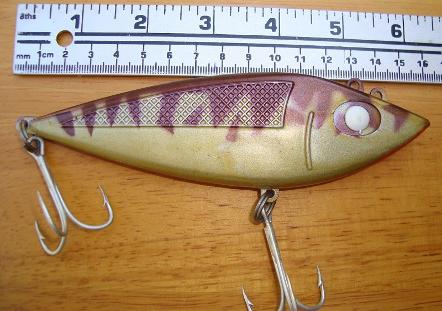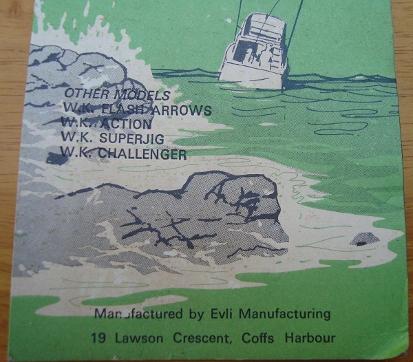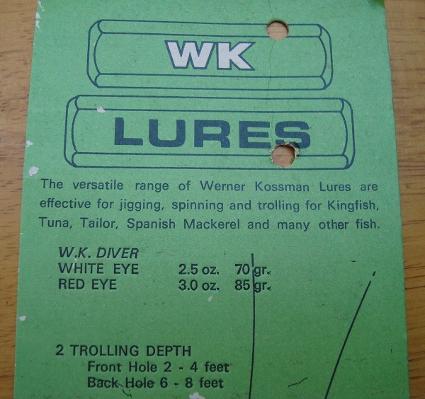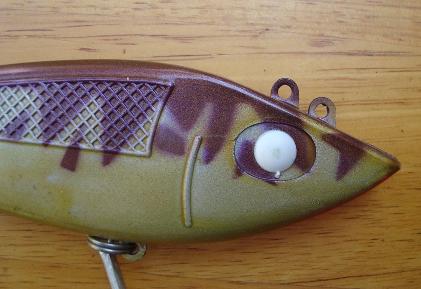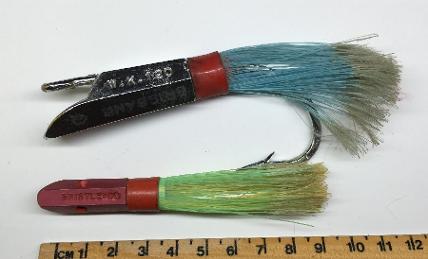 Above shows the WK 120 and the 'Bristle-do'. Werner was also known for making trolling flies which were really a feathered lure due to their size as shown below courtesy of Gary 'Reel Deal' Wade. Opposite - Australian Outdoors 1970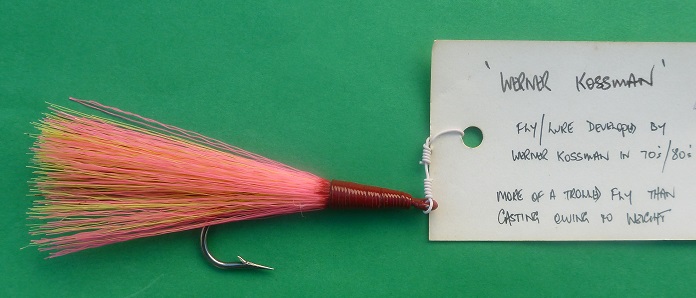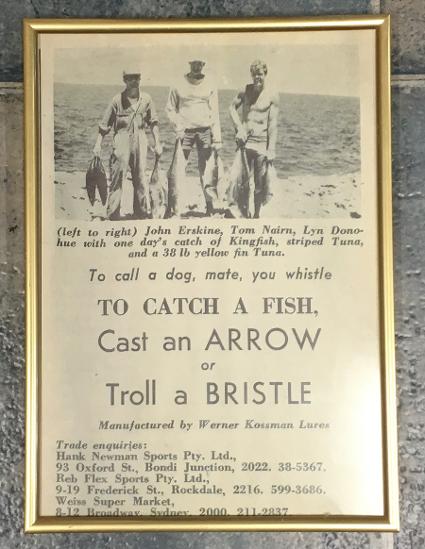 Below from Roger Hungerfords '
How to Fish with Lures
', 1975 showing the bristle range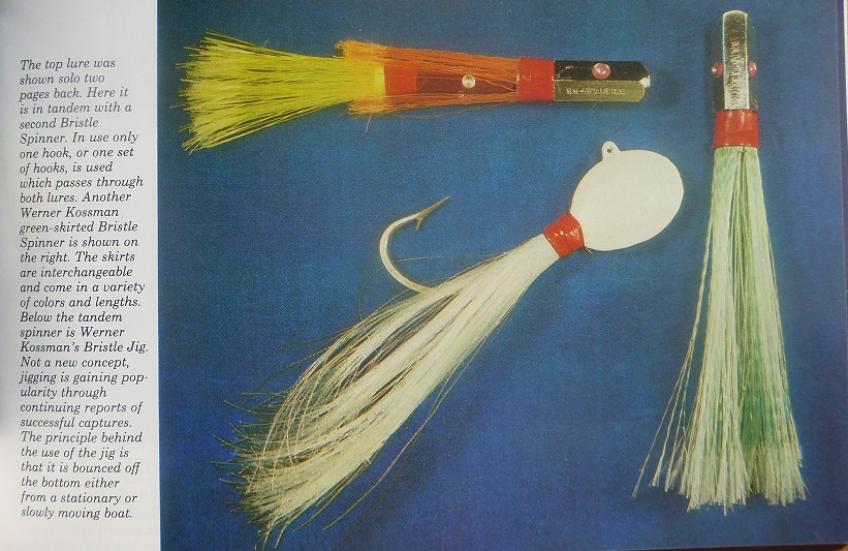 Wm. Southam Pty Ltd - NSW:
Wm. Southam 'Bellbrook' range of lures were made in northern Sydney, NSW by William (Bill) Southam. The company started in 1932 with Bill being an in demand rod builder (early rods made by Bill are highly valued). Bill Southam was making rods by 1936 and Zane Gray praised them in his 1937 book 'An American Angler in Australia' which documented his visit to Bermagui, Batemans Bay, Sydney and Queensland. Zane Grey caught a 1036lb shark using a Bill Southam rod in 1936. See full page bio under Wm. Southam.
Wonder Lures - VIC:

Wonder Lures has been around since the 1960s and was started by John Nowack (snr), a US serviceman who married a local girl and settled in Melbourne after the war. Wonder Fishing Tackle Company were situated in East Brighton, Melbourne. The Nowack family still makes metal
lures

, now on the Gold Coast under the Javelin Lure Co. brand. See Wonder lures full page bio
Woodbridge, Laurie Woodbridge Lures - QLD

Laurie Woodbridge has been credited with making one of the earliest wooden bibless lures in Australia. This lure right is c.1968/9 and was shown on the Lure Lovers forum.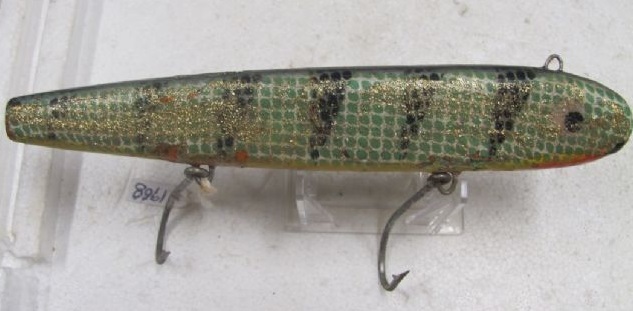 Woods Lures - NSW:

Woods Lures have been made by Dave Woods for the past few years and have been sold on Ebay and the Lure Lovers forum periodically since 2016. Woods Lures are often reminiscent of Newell models and are a tribute to the great lure designs made popular by Peter Newell. Based in Werris Creek, Woods lures are by no mean a copy and all signed and made to use. Traditional colour schemes and soldered front towpoint make these an attractive, well made lure.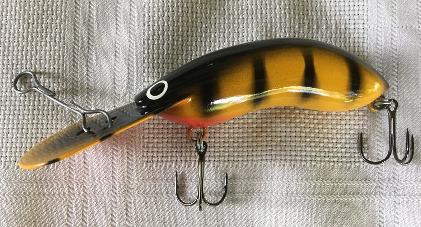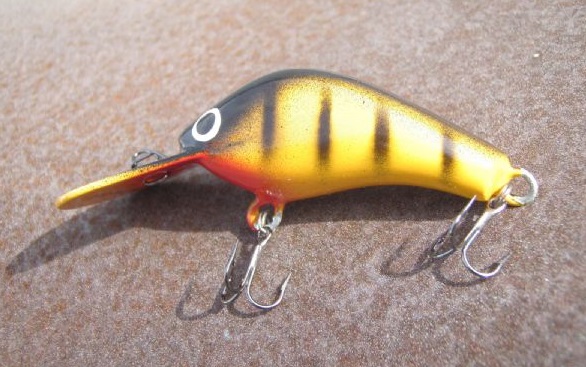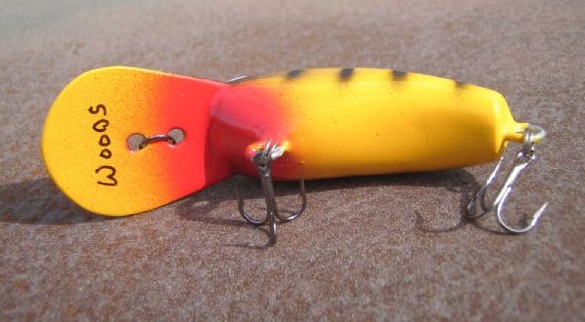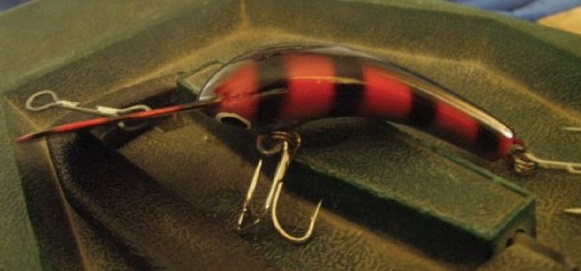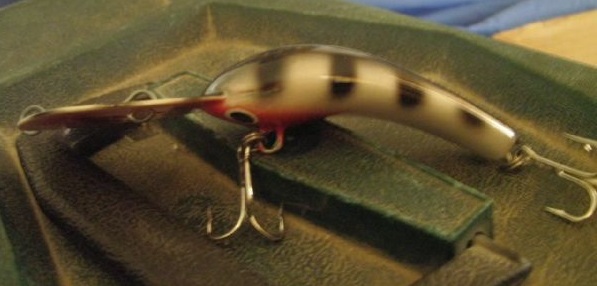 Woof Lures - VIC:

A recent addition to the Australian lure making scene making larger timber lures for Murray Cod. Made by Stephen Baynes in Doreen.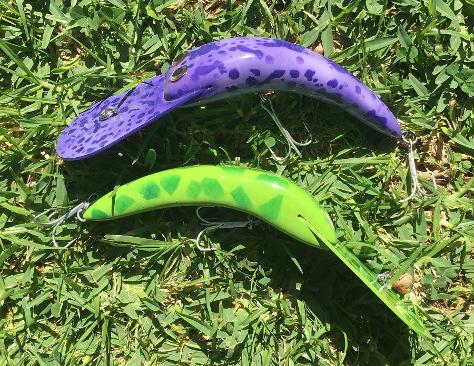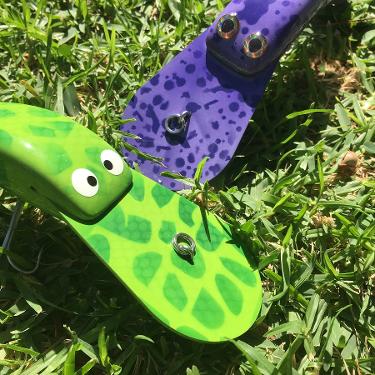 Wormhole Lures - QLD:

Wormhole Lures were only made in very small numbers when Carl Grist was starting his return to lure making after many years away from the lure making scene. These lures show all the signs of a Grist made lure including the finished paint pattern and clever placement of the signing and the high quality finish indicative of a man who has made thousands of lures in his lifetime.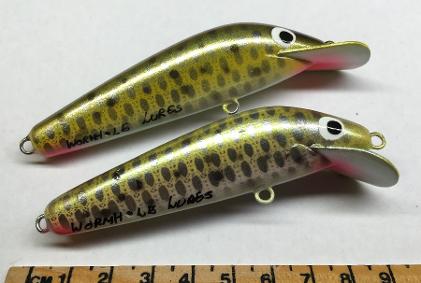 Wright, Craig Wright Lures - NSW:

Craig Wright is a hobbyist lure maker from Casino on the north coast of NSW. Lures are timber and only made in small numbers.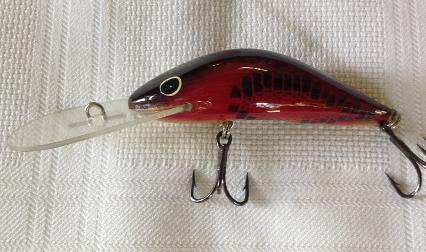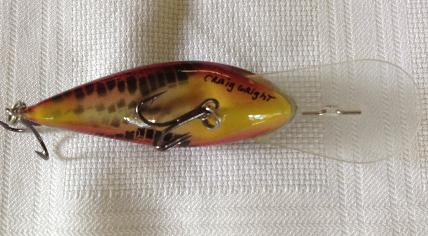 Wright, Laurie Wright Lures - QLD:

Laurie Wright is another of the hobbyist lure makers from Queensland who made lures in limited numbers for personal use. A keen angler who stopped making lures by the late 1990's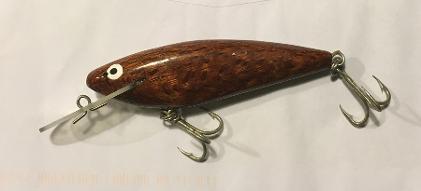 Wynns Lures - NSW:

Wynns Lures are made by Ray and Gaye Wynn from Glen Innes in NSW. Lures are mainly aimed at catching Murray Cod and are shaped from timber. There are a range of diving and surface lures but only ever made in small numbers.